Get ready to take your decor style to a whole new level with the best DIY bottle painting ideas. It is so simple to update your current decor by adding some subtle touches. Painting your own bottles allows you to do this in an inexpensive and totally fun way. You can add pops of color anywhere in your home with these bottles and they can also add function as well.
22 Stylish DIY Bottle Painting Ideas to Show-Off Your Trendy Style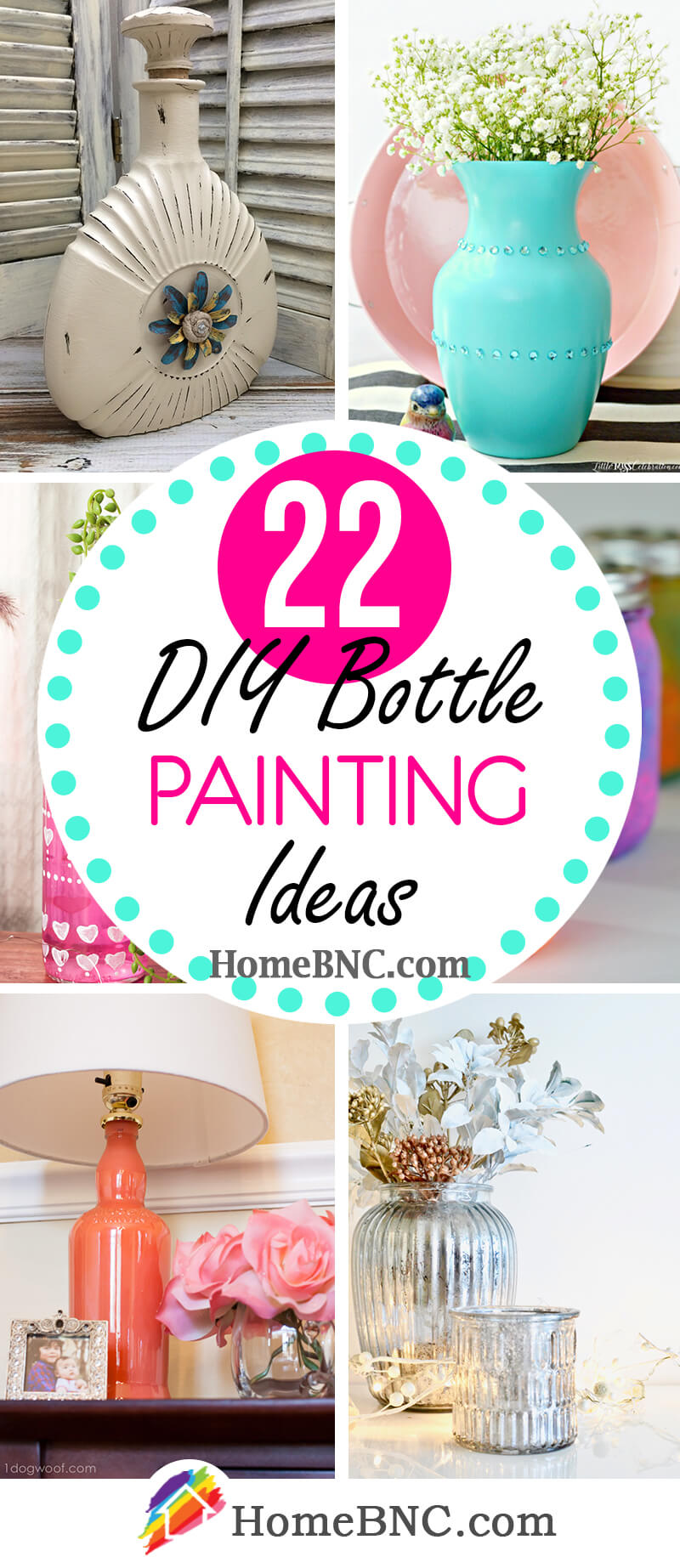 One of the most popular uses for a painted bottle is to hold flowers. A skinny-necked bottle such as a wine bottle may hold one single stem. You could also use it to display several decorative feathers. Sometimes, the bottle is left empty to be used as a decoration all by itself. If you use mason jars, they will hold an entire bouquet. You may also use painted jars to hold pens, paintbrushes, or makeup brushes. In a kitchen, they can even hold utensils such as whisks and wooden spoons. No matter the use, the bottles are a ton of fun to make. Get ready to be creative.
Texture plays an important role in the design, and DIY painted bottles are a great way to bring texture into your decor. Many bottles have a design molded into them. Sometimes it is a company logo. Other times it may just be some ridges or waves. Some are very fancy with overall patterns of flowers and vines. Different painting techniques will highlight these unique patterns and make them show up much better than they do when they are just on clear glass. You will learn how to bring these textures to life easily.
Get ready to learn lots of new techniques to help you create gorgeous painted bottles for your home. From marbling and stained glass to stencils and ombre effects, we have it all covered here.
1. Trendy DIY Glass Vase Makeover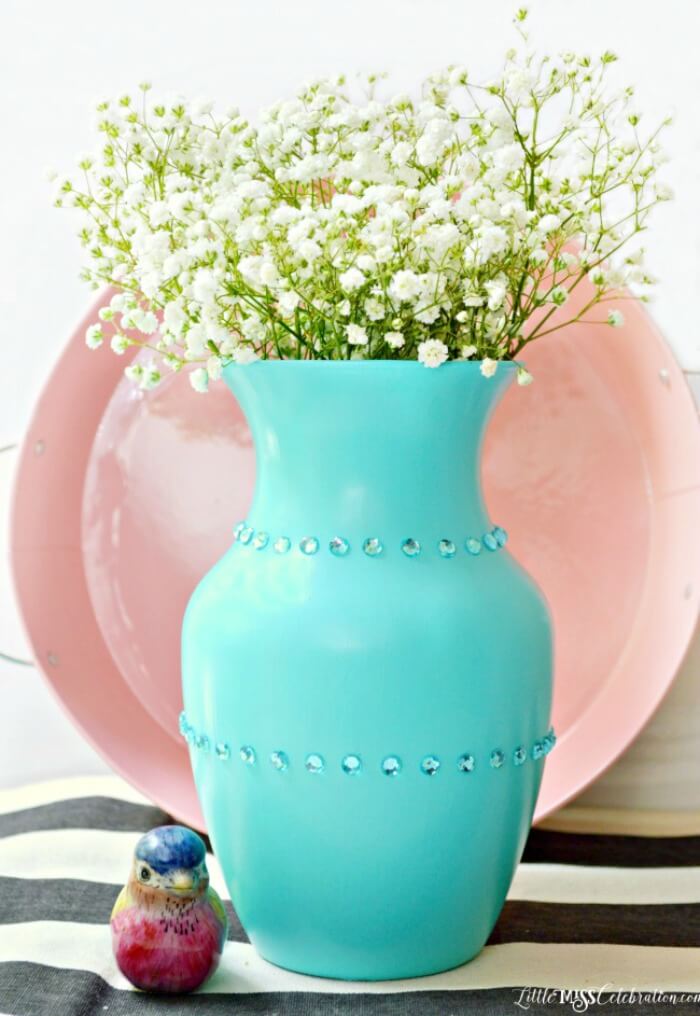 Give an old vase new life with this simple DIY makeover. You can change the color of any vase very simply with the right products. Using a multi-surface paint, this vase is transformed and looks new again. If you know which flowers you are most likely to display in a given season, you can choose your color accordingly. If you like to keep your decor more subdued, then perhaps pick a coordinating color. If you like to kick things up a notch, then choose contrasting colors. Having colorful vases for your flowers will help to brighten up your home in any season.
2. Easy Painted Glass Bottle Lamp Upcycle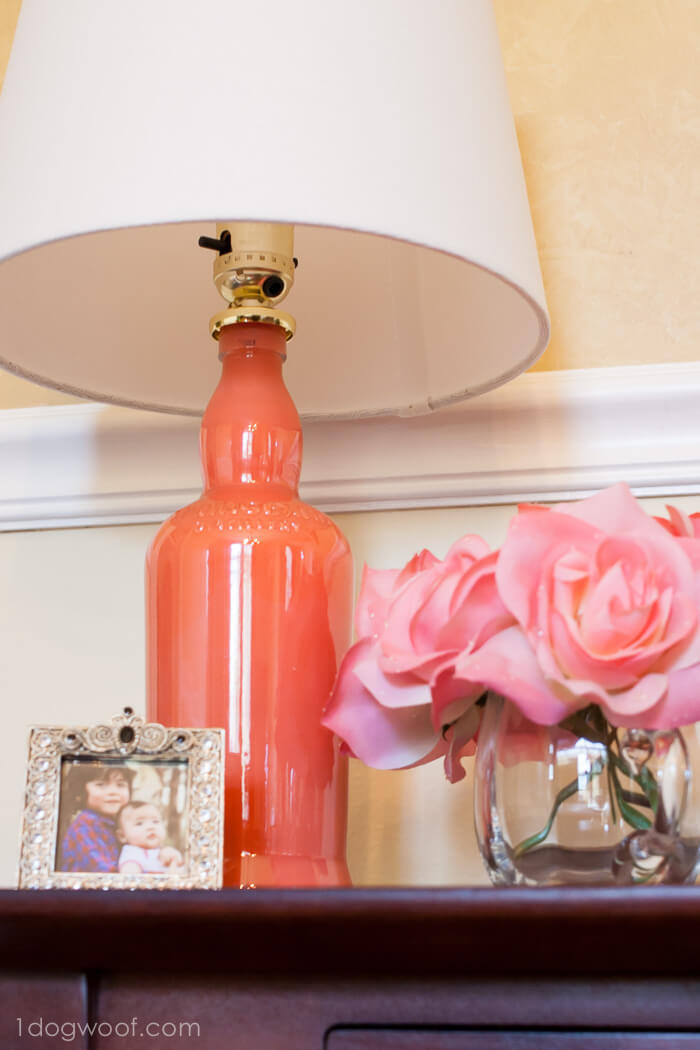 There are so many interesting glass bottles out there. Have you ever thought to yourself that you may want to save a certain bottle because it was so cool, but you did not have any idea what you would use it for? Save the next one, and try making a lamp. You can purchase bottle lamp kits to make the electrical part easy, and then you can be totally creative with the bottle. If you want the glossy look of the glass to be maintained, then follow this tutorial to learn just how easy it is.
3. Bohemian Style DIY Wine Bottle Craft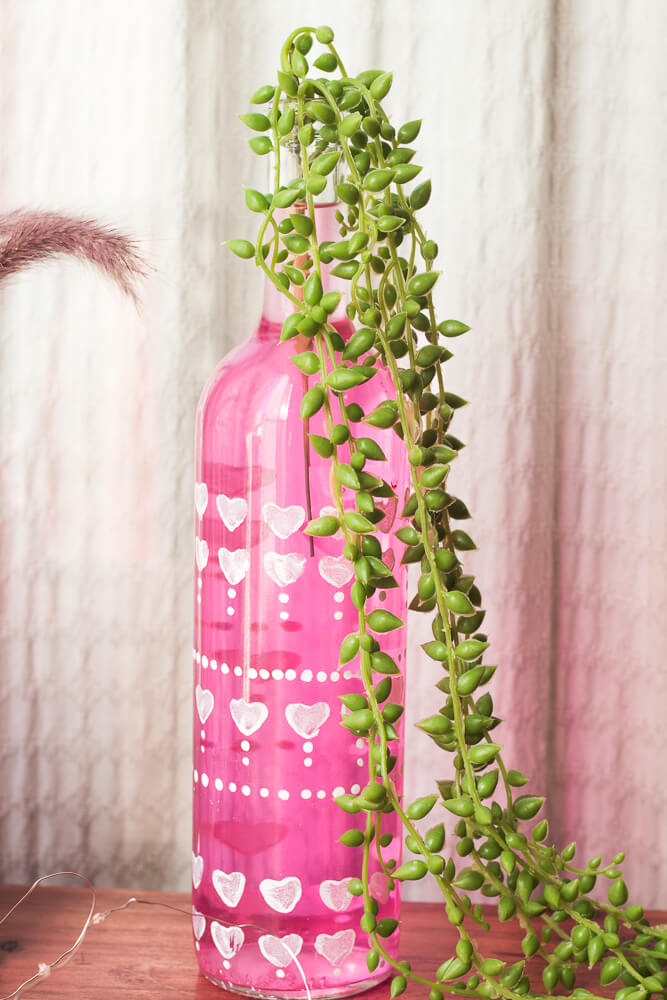 Get the Bohemian style that is so popular right now by following this awesome idea. An ordinary, clear wine bottle is transformed with some simple paint, following a simple design. Then colored water makes a real statement so that the design can shine too. The best part about this is that you can change the color of the water anytime that you want instead of having a whole pile of different colored bottles. You can add some flowers or greens if you want to, but you could also just cork it and enjoy the colored water.
4. Chalk Paint DIY Painted Bottles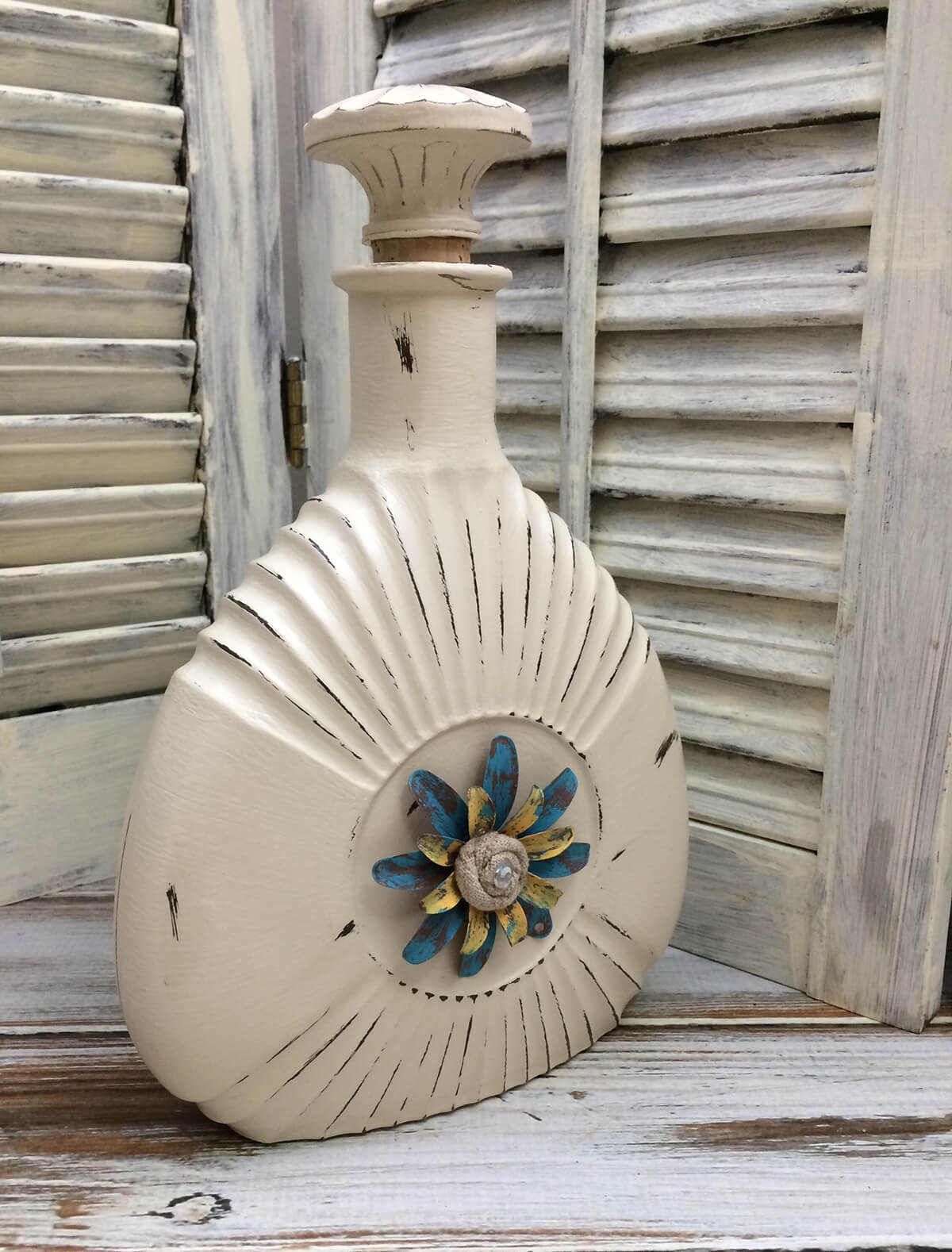 Chalk paint is so amazing because you can use it on nearly anything and it looks fantastic. It is perfect for giving glass bottles a matte finish. There are tons of colors to choose from, so you will be sure to find the perfect color to match your decorating style. Chalk paint works great on textured items too. If you can find a glass bottle that has some design molded into it, the chalk paint will help to bring out that feature. Once you make one of these, you are going to want them in every room of your home.
5. Lace Stenciled Bottle Easy Upcycle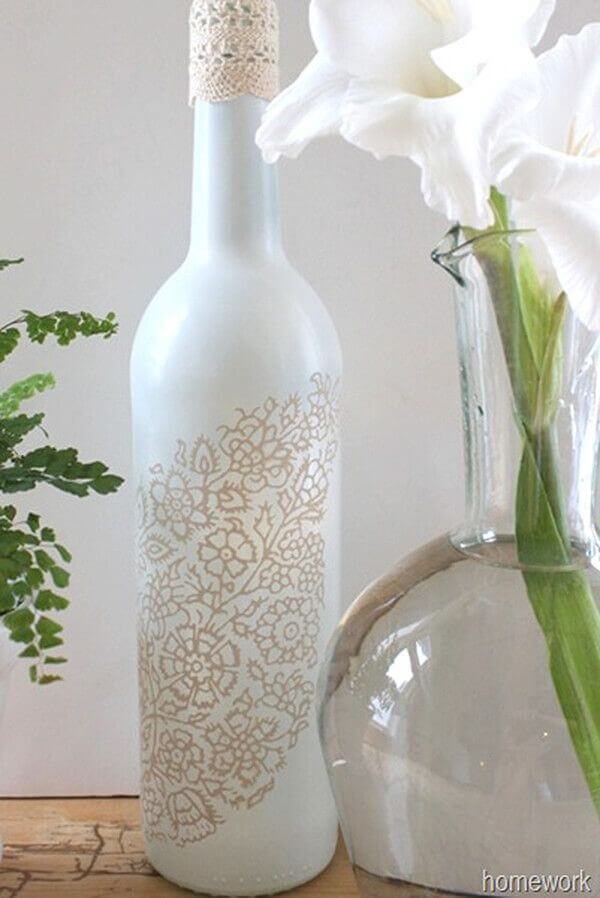 Upcycle your old bottles with one of the best DIY bottle painting ideas. With a little bit of paint and an adhesive silkscreen, you can make an eye-catching lace pattern on a bottle without the mess of trying to use actual lace. The subtle, delicate print from the stencil is so beautiful that it could easily be used for a bridal shower or a wedding. You can choose any colors to work with, making it perfect for gifts as well. A bit of lace detailing is added to the top of the bottle for some nice added texture. A beautiful flower is a final touch for this elegant statement piece.
6. Mercury Glass Upcycled Bottle DIY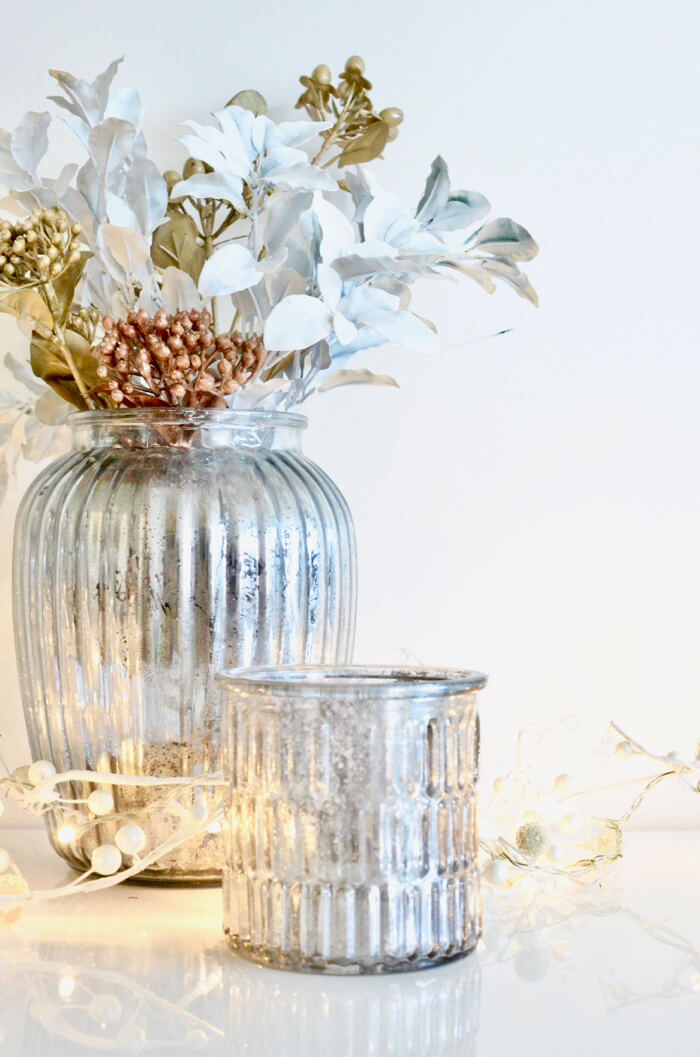 Mercury glass has a unique look because it was made by adding a silver solution between layers of glass that left it looking a bit crackly. It is reminiscent of an old mirror with a glossy, antique finish. This look can be duplicated with a much simpler process that you can do at home. Find some interesting looking glass bottles or jars. Try to find some with patterns or ridges molded into the design to create more visual interest. Then follow this simple tutorial. These will look great anywhere in your home. They also work with any color scheme or decor style.
7. Decorative Painted Glass Bottles DIY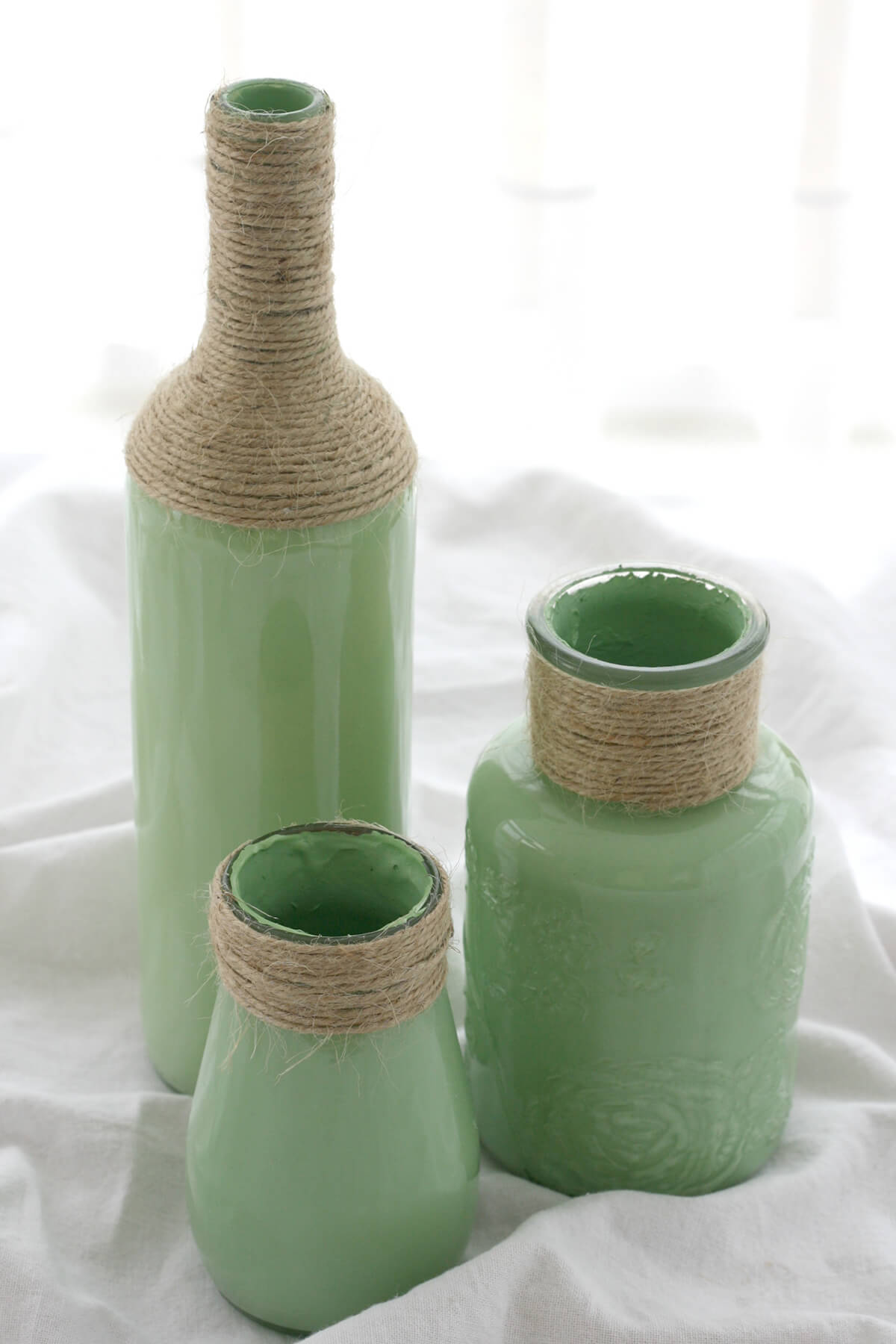 In this DIY project, you will learn how to paint the inside of the bottle. This gives you a nice, clean look since the glass is the outside layer. It will also maintain its shine. Since the paint is on the inside, do not add water and flowers. You could add an artificial flower, some long feathers, or artificial greenery. Choosing different sized bottles with different shapes to paint and group together will give your design a cohesive look. You could make a set for any room in your home, in any colors that you like.
8. Marble Dipped Ceramic Bottle Upcycle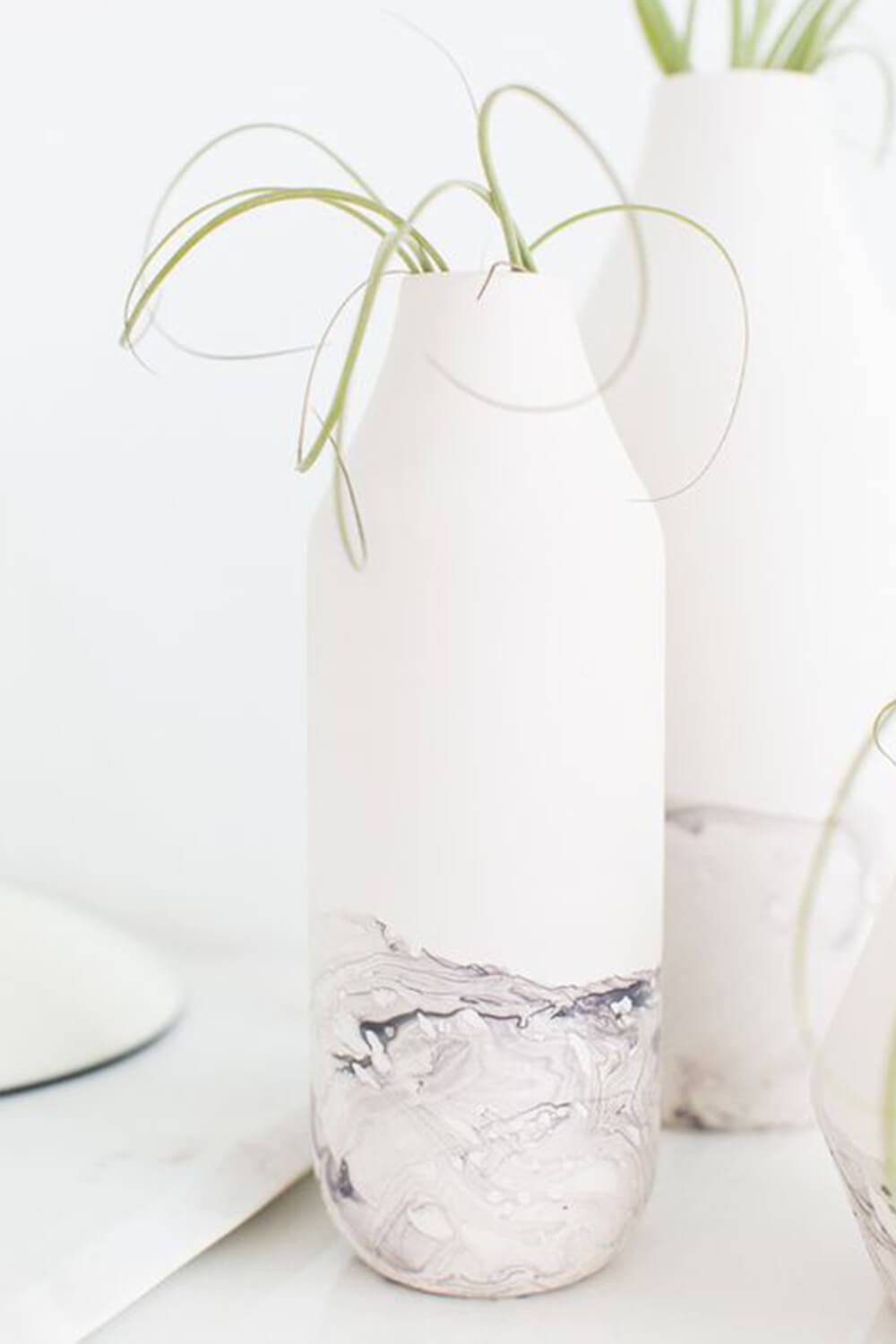 You can give old bottles a trendy new look when you learn how to marbleize them. These bottles got a stylish upgrade by having just a small portion of their bottoms dipped to add marbleizing. For this process to work well, you want to use ceramic. Be sure that it is rough, not polished or glazed. The marbleizing can be done in any color combination that you choose, as long as you can find inexpensive nail polish in the color you want. That is correct. It is just nail polish. It is really easy and leaves a professional-looking result.
9. Crafty Painted Bottle with Gemstones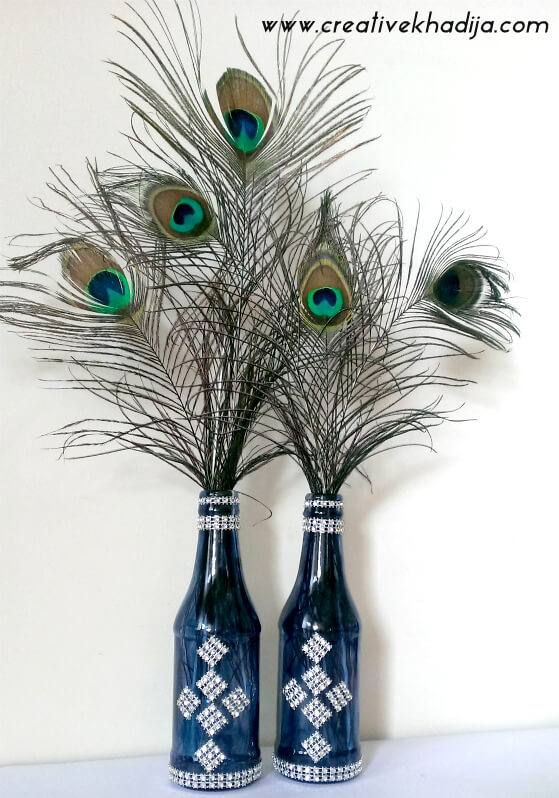 You can turn any bottle into a work of art with your favorite craft supplies. This tutorial shows gemstones on the bottle, but also gives ideas for other crafty bottles as well. By adding some gemstones to your painted bottle, you can give it a style all of its own. If you need a decoration that is a little fancier than your ordinary glass jar, then this is the way to go. This one uses glass paint, which is available in dozens of colors. The gemstones can be bought in long pieces and then cut to fit the pattern that you want.
10. Painted Bottles with Marbleizing and Decorative Striping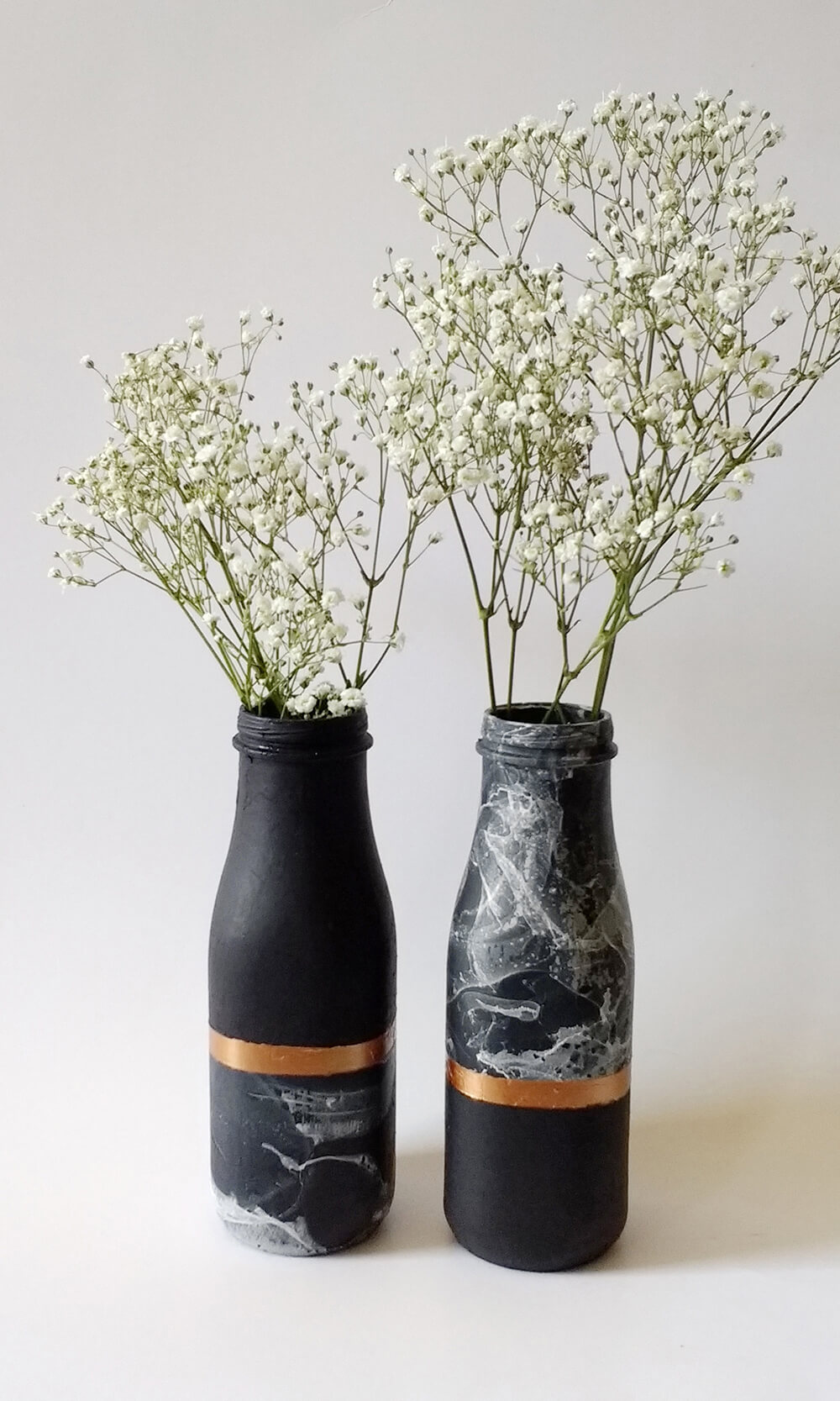 This marbleizing technique allows you to paint the bottle any color that you want before adding the marbleizing. Only part of the bottle is dipped for marbleizing. This beautiful pair has one dipped on the top and one dipped on the bottom to give them a cohesive look without being an exact match. The stripe adds interest and separates the solid colored portion from the marbled portion. A pair like this would make a wonderful gift for that person who just seems to have everything. It would also be great for decorations at a bridal shower.
11. Chalk Paint DIY Crackle Bottles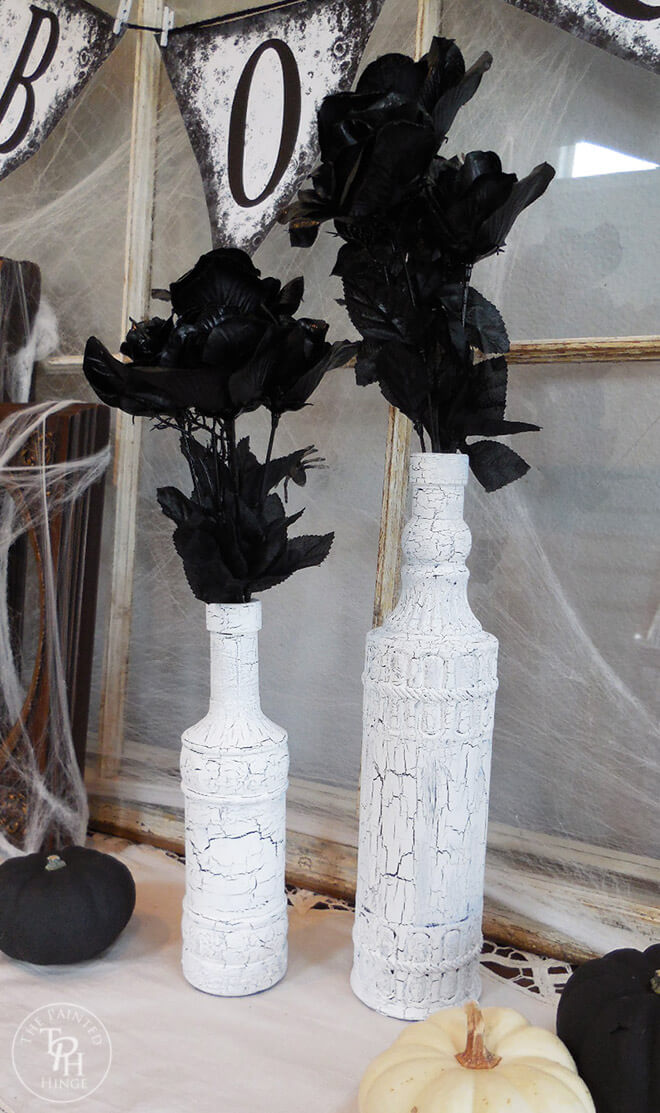 There is a fantastic product that works with chalk paint to make it look crackled. Layering this crackle medium on top of chalk paint gives it an antique look, and it does not only work on wood. It also works on glass. Find some really cool glass bottles that have some detail. Every crevasse and crack will respond to the crackle medium and it will really show off the design. These handmade painted bottles will be a hit when friends or family visit. They may even hint around about what great gifts they would make.
12. Galaxy Art Handmade Painted Jars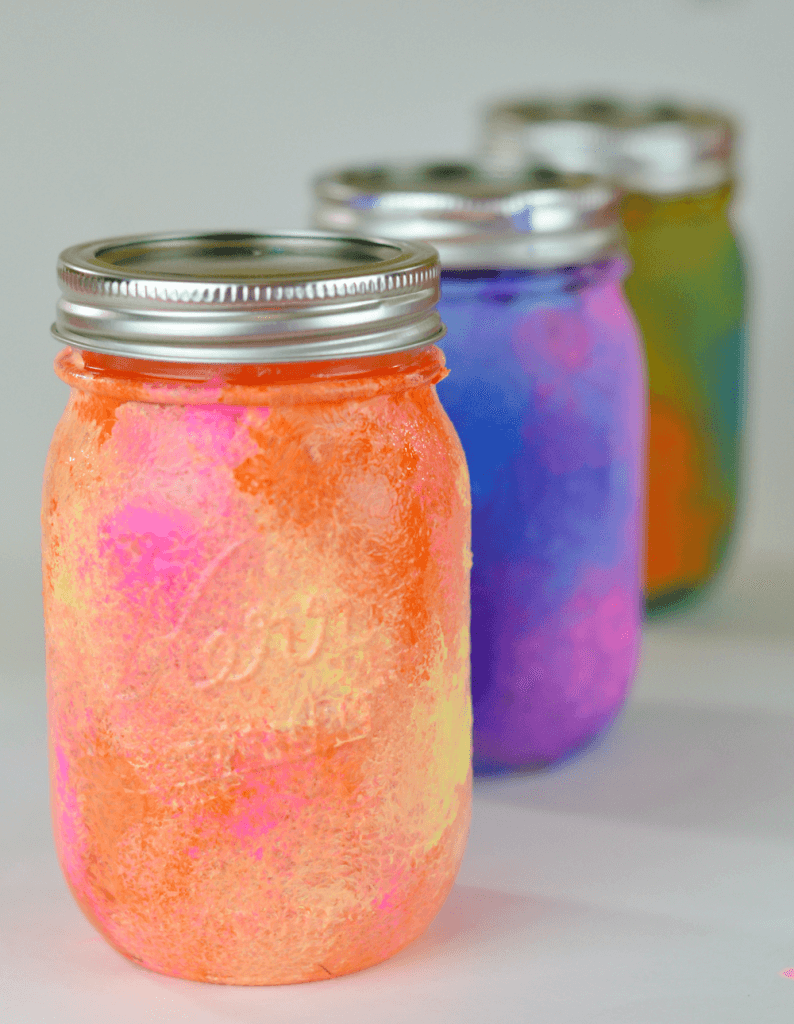 If you love the look of the galaxy, with swirling blues and purples, then you will love this DIY. It is also reminiscent of tie-dye, which is always super colorful and fun. All you need are some colors that you love, some sponges and mason jars. Then hop on over to check out the tutorial and get started. This is a fantastic project to do with kids. It is practically impossible to mess it up, so everyone will enjoy making them. When they are finished, you can add some flowers, use them to hold trinkets, or use them as pen holders.
13. Marbled Mason Jar DIY Project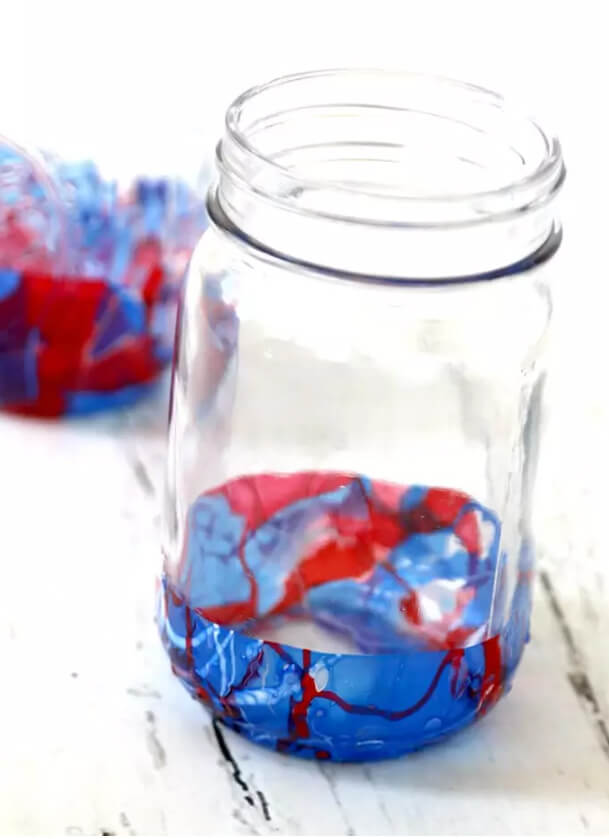 Create beautifully marbled jars for every holiday or party with this simple tutorial. Pick colors to match the theme or holiday and buy some nail polish in those colors. Follow the directions to learn how to make gorgeous marbleized patterns by dipping them. You can use these to hold flowers, pens, and pencils, makeup brushes, or even cooking utensils. The uses are practically endless if you add the lid also. You can even keep snacks or drinks in them when you use the lid. Just be sure to hand wash them rather than using the dishwasher.
14. Beach Glass DIY Painted Bottles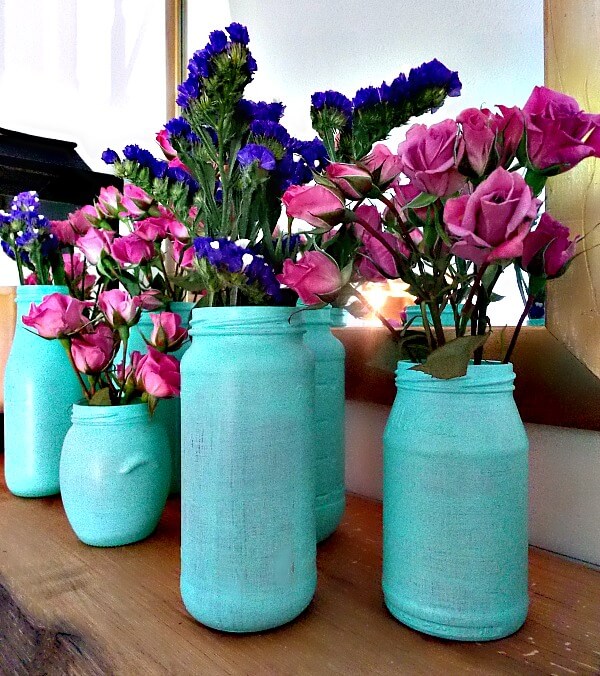 One of the best DIY bottle painting ideas is to use a bold color that truly stands out. These bottles are painted in a color called "beach glass" to give a tropical feel to the decor. The contrast with the flowers truly allows both the bottles and the flowers to shine. This tutorial will show you how to use different types of strokes when painting to achieve different effects. These look fantastic on a mantle, as part of a centerpiece on a table or simply placed on some shelves. They will brighten up any corner of your home.
15. Painted Glass Ombre Vase Upcycle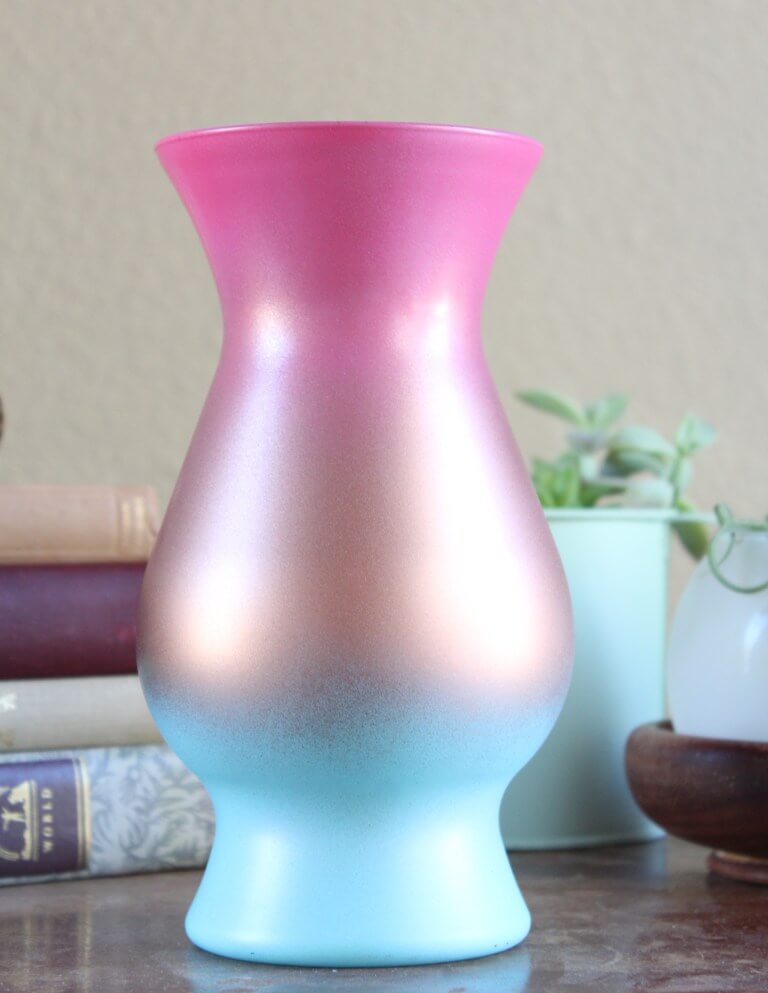 The fact that this gorgeous vase was an at-home DIY project is amazing. It definitely looks like a professionally made piece of art, but you can replicate it and make your very own too. Check out the tutorial to learn all about how to make this stylish ombre effect with spray paint. This is a wonderful way to give new life to an old vase or to a vase that no longer matches your color scheme. It will also work with any bottles or jars that you have. Once you get the hang of it, you may want to give all of your glass pieces an ombre upcycle.
16. Handmade Painted Bottles with Chalkboard Paint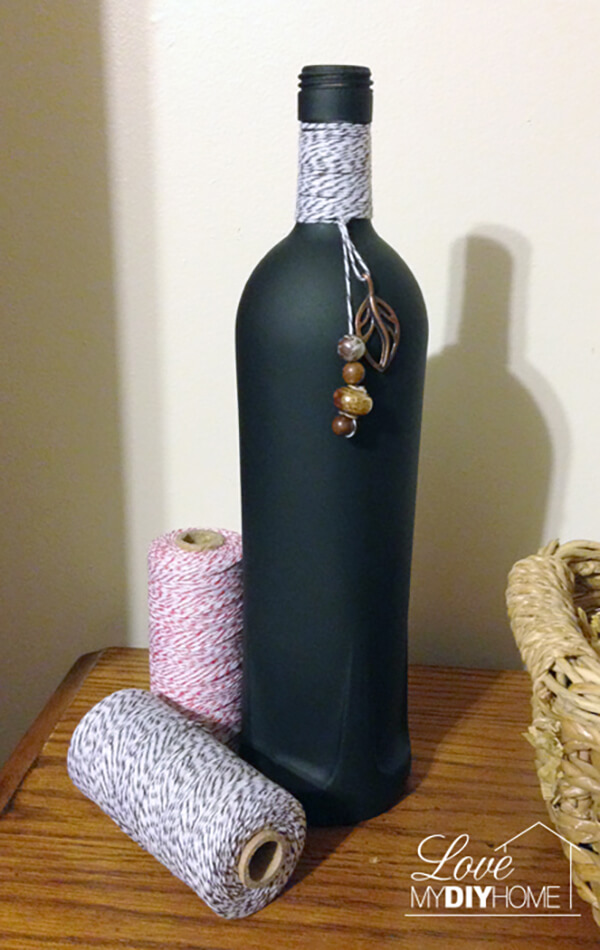 This awesome idea takes an ordinary wine bottle and turns it into a chalkboard. The sleek, all-black look is very stylish whether you ever choose to write on it in chalk or not. If you do wish to write it on though, your options for word fun are practically endless. You could give it as a gift and write the recipient's last name or nice greeting. If you keep it in your home, you could write holiday greetings on it or a special date. It is super easy to make, and you can dress it up with a few other craft items.
17. DIY Painted Bottles with Dragonfly Details
Some of these gorgeous bottles have delicate dragonflies stenciled onto them, and this is just one of the many techniques that you will learn for painting bottles in this cool tutorial. Some of the bottles have a very similar look, but the dragonfly is actually a vinyl cut-out sticker that is applied to the bottle. In addition to different techniques, you will also learn all about different types of paint that can be used on bottles. Once you learn these techniques, you will want to decorate bottles in different colors and styles for every room in your home.
18. Stained Glass DIY with Permanent Marker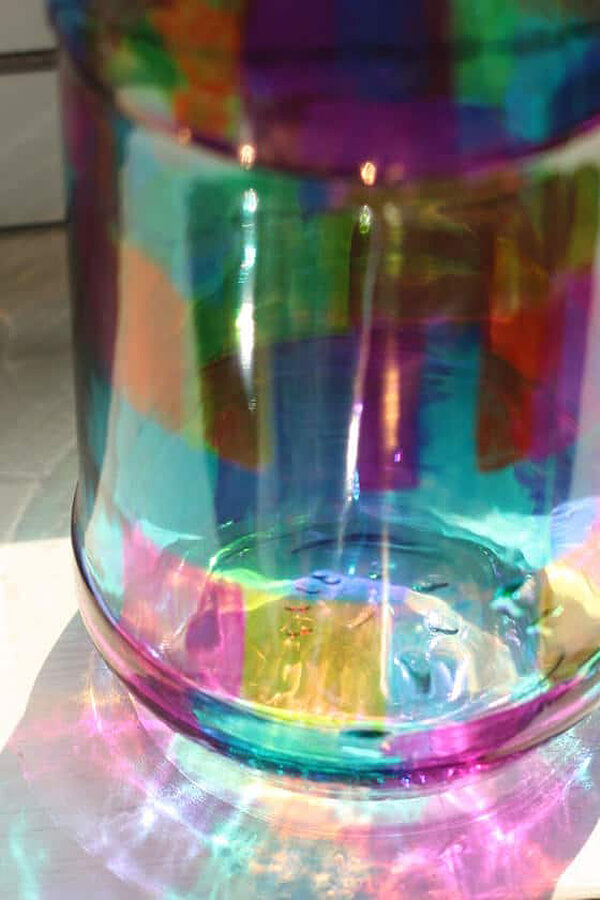 Stained glass is a timeless art that looks great anywhere. The designs and colors used for stained glass are limitless, so you can really show off your personal style when you create these unique stained glass jars. Less mess is best, right? This awesome idea uses Sharpie permanent markers for a beautiful faux stained glass look. Gather up some glass jars or old glass bottles and some Sharpies. Make sure they are clean and dry. Then check out the tutorial so you can make beautiful pieces of art for your home that can be used for holding all kinds of little treasures.
19. Gold Spray Painted Bottle DIY Project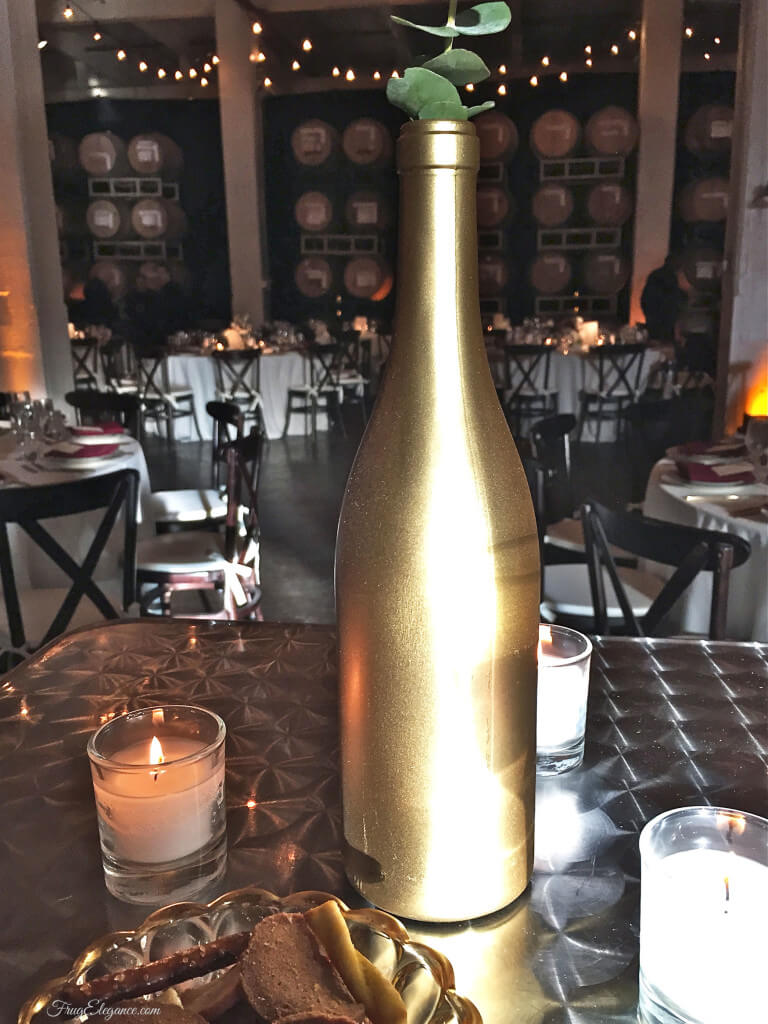 Gold is popular right now, so it can be pricey to buy items that are gold-colored. If you want to bring more gold into your decor without spending a lot of money, then consider this awesome idea and learn how to spray paint glass with a gorgeous golden finish. These are so versatile that they could simply be a decoration on your mantle, or they could be dressed up and used as wedding decorations. The options are endless. The process is very easy when you follow this wonderful tutorial, and the final product will surely be the epitome of elegance.
20. DIY Plastic Bottle Flower Vase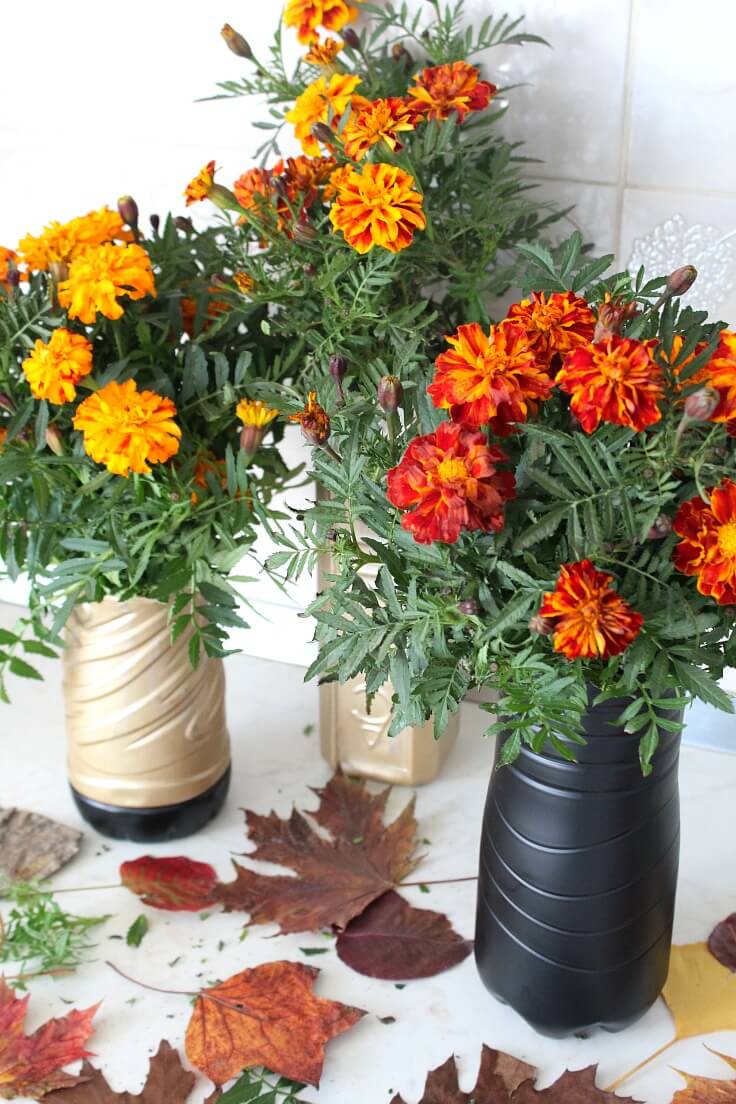 Glass bottles are great, but there are times that you may prefer plastic. For example, if you are having an outdoor party, you may prefer plastic so it is less likely to break if it gets blown over. Plastic is also cheaper and easier to find, so plastic may be the way to go if you need a lot of them for decorations for a party or shower. Textured bottles look best when painted, so be sure to look for those with patterns in them. You will find excellent instructions here about how to turn those old drink bottles into beautiful vases that actually look very elegant and expensive.
21. Handmade Painted Bottles Various Techniques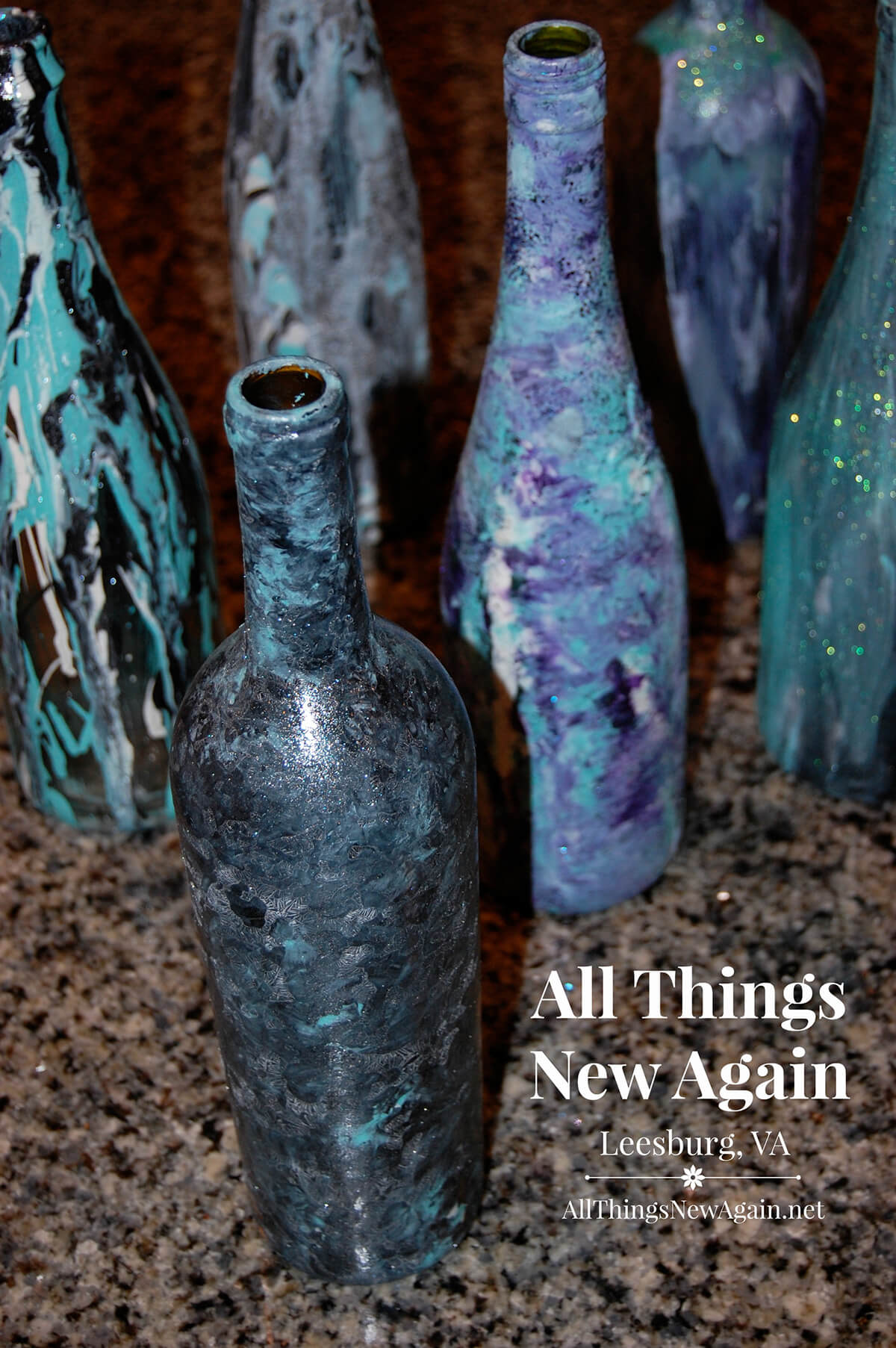 One of the best DIY bottle painting ideas that we have found uses a new product called Unicorn Spit. How could we possibly pass up something with such a unique name? Unicorn Spit is gel paint, stain, and glaze concentrate all in one. It works on most surfaces and leaves behind a three-dimensional, sparkling effect. In this tutorial, you will learn three different ways to manipulate this unique medium to create beautiful designs on your bottles. The marbling look is one of the most fascinating, but it can be as simple as finger painting as well.
22. Glass Jar with Stained Glass DIY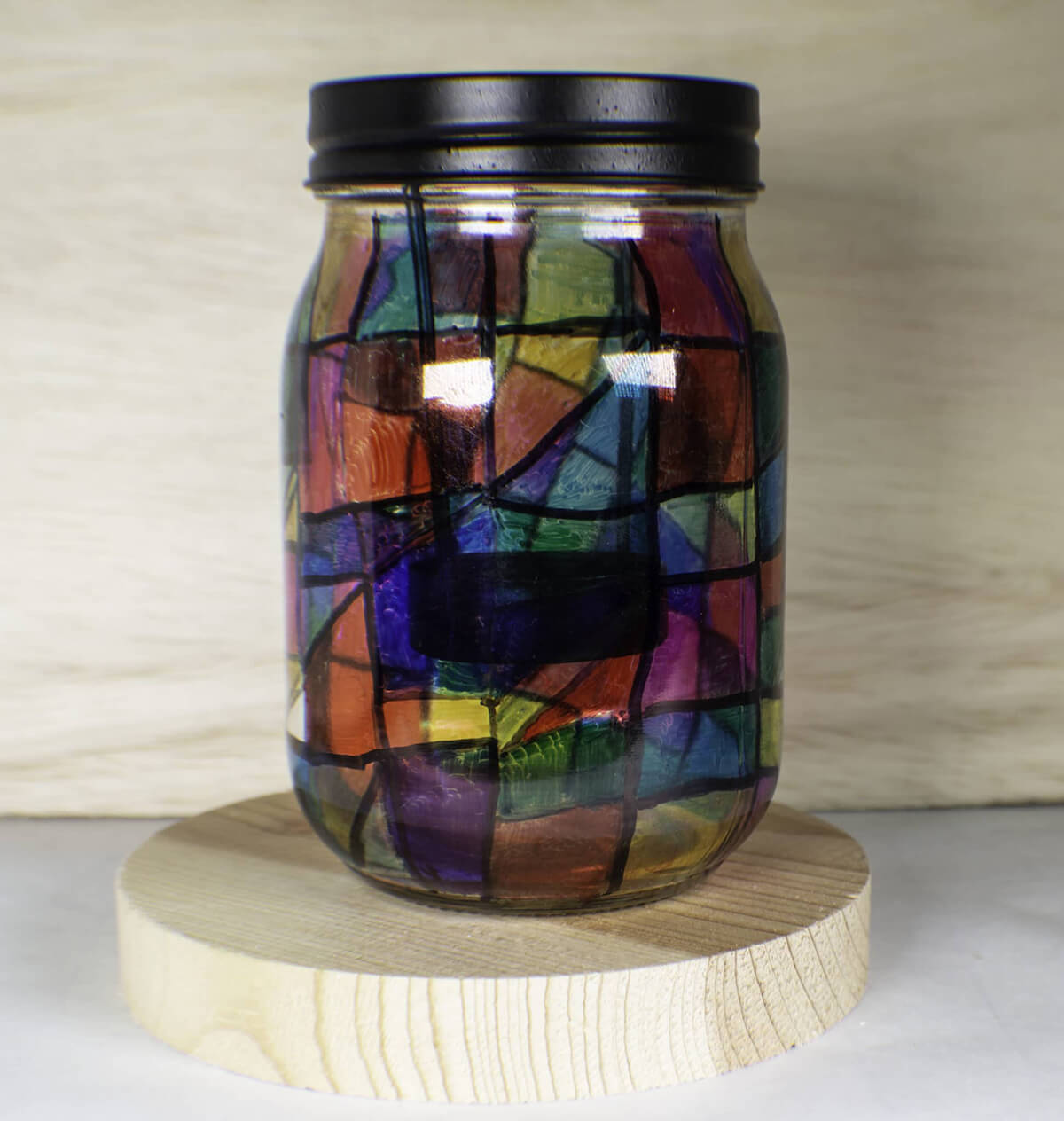 The look of stained glass with light behind it can be quite mesmerizing. The actual process for making stained glass is tedious and expensive, but this amazing tutorial will show you how to make faux stained glass. It is easy and inexpensive. It will also show you how to create add a tea light holder to a mason jar so you can have the flickering light behind your stained glass. Not only will it look beautiful, but it will also cast the colors and designs on your walls if you use it indoors. Once you see how stunning it is, you will want them all over your home.
22 DIY Bottle Painting Ideas to Up-Level Your Home Decor
There are tons of new techniques for you to try here, and we are sure that you will find something new that you just absolutely love. Once you get started, you will want to make handmade painted bottles for all of your friends and family too. Which project will you begin with? Will it be the chalkboard paint or the galaxy sponge paint?
If you are not sure where to start, then think about what you may want to use your bottle for. If it will be simply a decoration, then begin with one of the skinny-neck bottle tutorials such as painting the inside of the bottle rather than the outside. If you want to display a whole bouquet, then perhaps begin with the plastic bottle spray paint tutorial or the stained glass jar. Choose something that you think you will have fun with and use colors that you enjoy.
Begin collecting interesting bottles so you will be prepared anytime that you would like to try a new technique. You can find interesting glass bottles at most large chain craft stores. Another great place to look is in antique stores. Often you can find older bottles with more details molded into them the antique stores. Finally, be sure to check thrift shops. Have a wonderful time choosing bottles and creating new masterpieces.
Our Favorite Outdoor Decor Pots and Planters to buy on Amazon