When you use the best DIY boy's room ideas to redesign a bedroom, you might just see the special little man in your life light up with a giant grin. Because every person and every space is different, there is no single best idea for decorating a boy's room. However, there are a few best practice strategies to keep in mind.
The Top 23 Best DIY Boy's Room Ideas for a Trendy and Stylish Look

Like any space designed for daily use, durability is one of the key factors to consider when designing a boy's bedroom. Fragile decor items like glass organizer jars are best positioned out of reach. If the decor you decide on is on the delicate side, be prepared to replace or repair it periodically. When designing decor for smaller children, safety goes hand-in-hand with durability. Small parts, magnets, and materials that shatter can all become safety hazards. While these restrictions can be viewed as a challenge, they present an opportunity to be more creative.
Age is another important element when designing handmade ideas for boys' rooms. What works in a room for a three-year-old will not work in a room for a thirteen-year-old. The best DIY boy's room ideas are versatile enough to age as the child ages. Of course, a toddler is only a toddler once, and that time is to be treasured. There is absolutely nothing wrong with redecorating his room every year to reflect his maturing passions. Whether you are transforming a nursery into a big kid bedroom or looking for a few quick ways to spruce up a boy's bedroom, this list of fantastic do-it-yourself upgrades can help make your vision a reality.
1. Tasteful Toddler Room with a Dinosaur Theme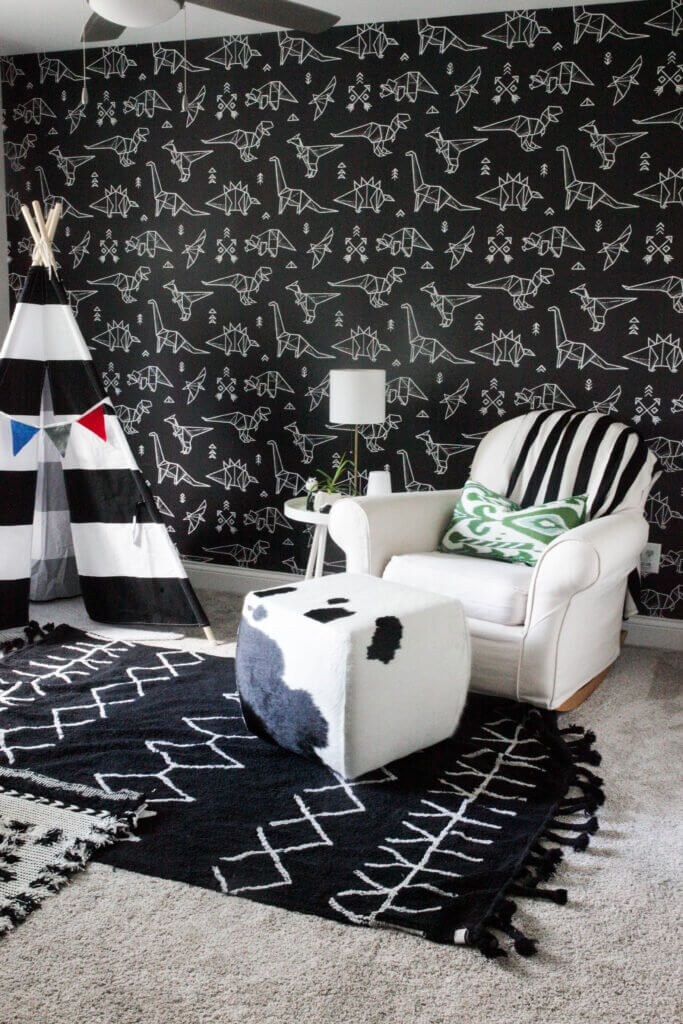 Although there is nothing wrong with a color explosion in a kid's room, sometimes the best DIY boy's room ideas are subdued. Serving as the room's focal point, origami dinosaur wallpaper exudes a laid-back playfulness that will age better than other options. Because the palette is black and white, there are plenty of options for pops of bright color. For a slightly warmer feel, you could use brown and white instead of the crisp effect achieved with black and white. Letting the child have ownership over some of the decisions is one of the best ideas outlined in this tutorial.
2. Unique Recycled Old Red Wagon Shelf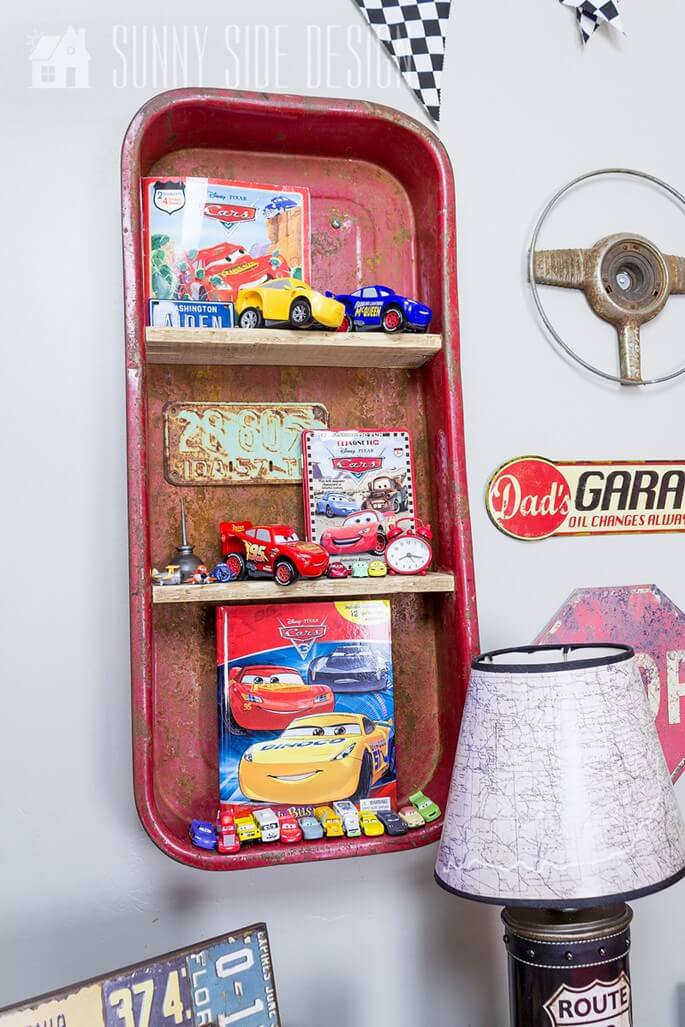 Something magical happens when you hang a rusty red wagon bed in a bedroom. Made from metal and pallet wood, this is a sturdy shelf that can withstand even the most rambunctious children. Of course, if you choose to use pallet wood as shown in this tutorial, you will want to make sure that it has been thoroughly sanded. This unique shelf can showcase models, sculptures, photographs, trophies, and even be used as a small bookcase. If a vertical shelf does not work in your space, try rotating the wagon bed 90 degrees for a horizontal shelf.
3. Fast and Easy Geometric Side Table Project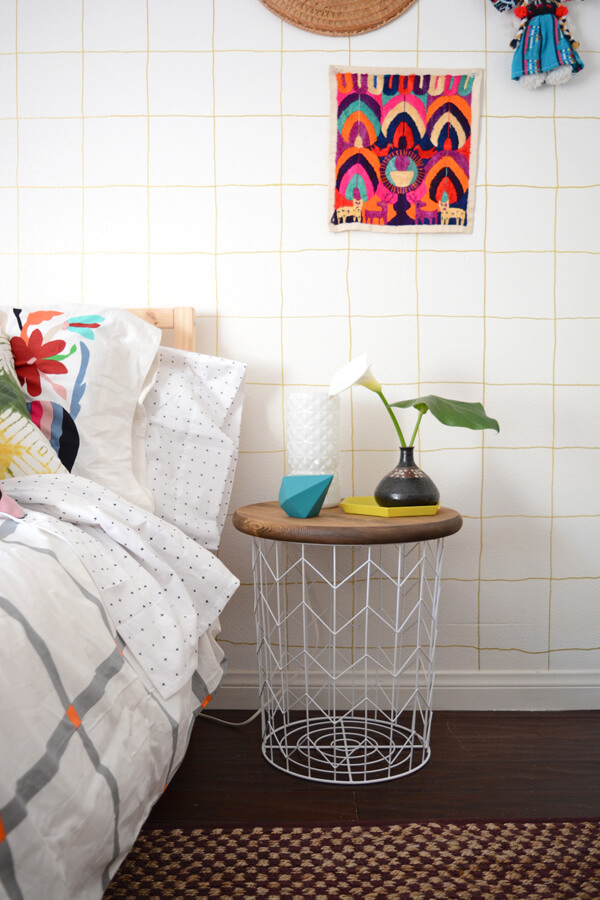 No bedroom would be complete without some bedside storage, and this small table is an affordable way to make that happen. All you need to do is screw together a slab of wood and a basket that you like. Depending on which basket and top you choose, your little man may even be able to use it in his college dorm. Like many projects, if you do not dig the basket color, you can always paint it a different color. To help give a bedroom a spacious and open feel, use a basket like the one shown in this image.
4. Recycled Tire Shelf with Three Tiers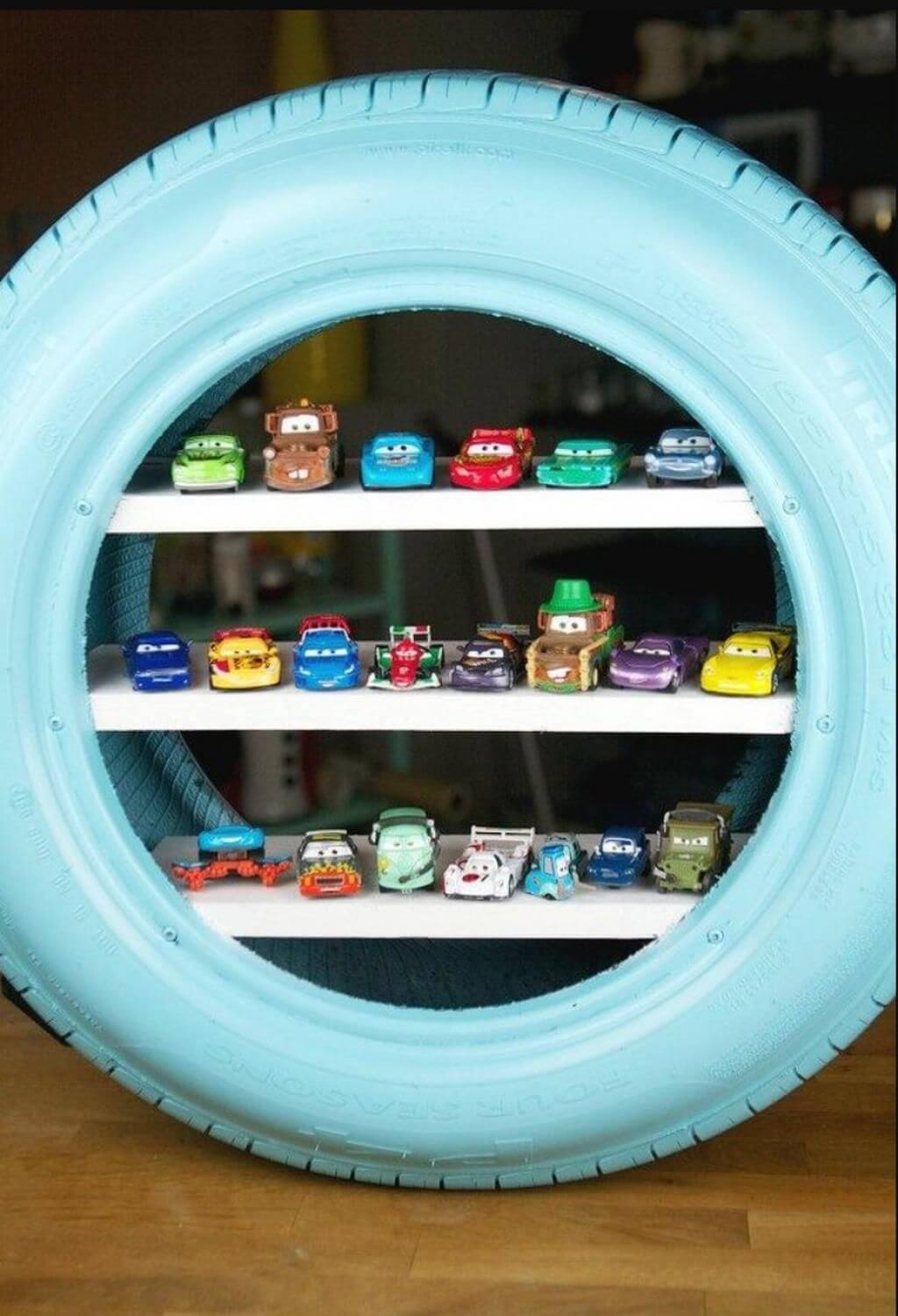 This tutorial puts the power in your hands. Does your ideal tire shelf include unexpected bright colors, or will you use a clear varnish to retain that tough used-tire personality? However you decide to finish your recycled tire shelf, it will add lots of dimension, character, and functional storage space to the bedroom. Another way to add some character would be to use wallpaper instead of paint on the wood. Of course, you could always leave the wood unfinished for a rough and rugged rustic look. If you can find them, try using differently sized tires to create some variety.
5. Colorful Jungle-Themed Hutch Makeover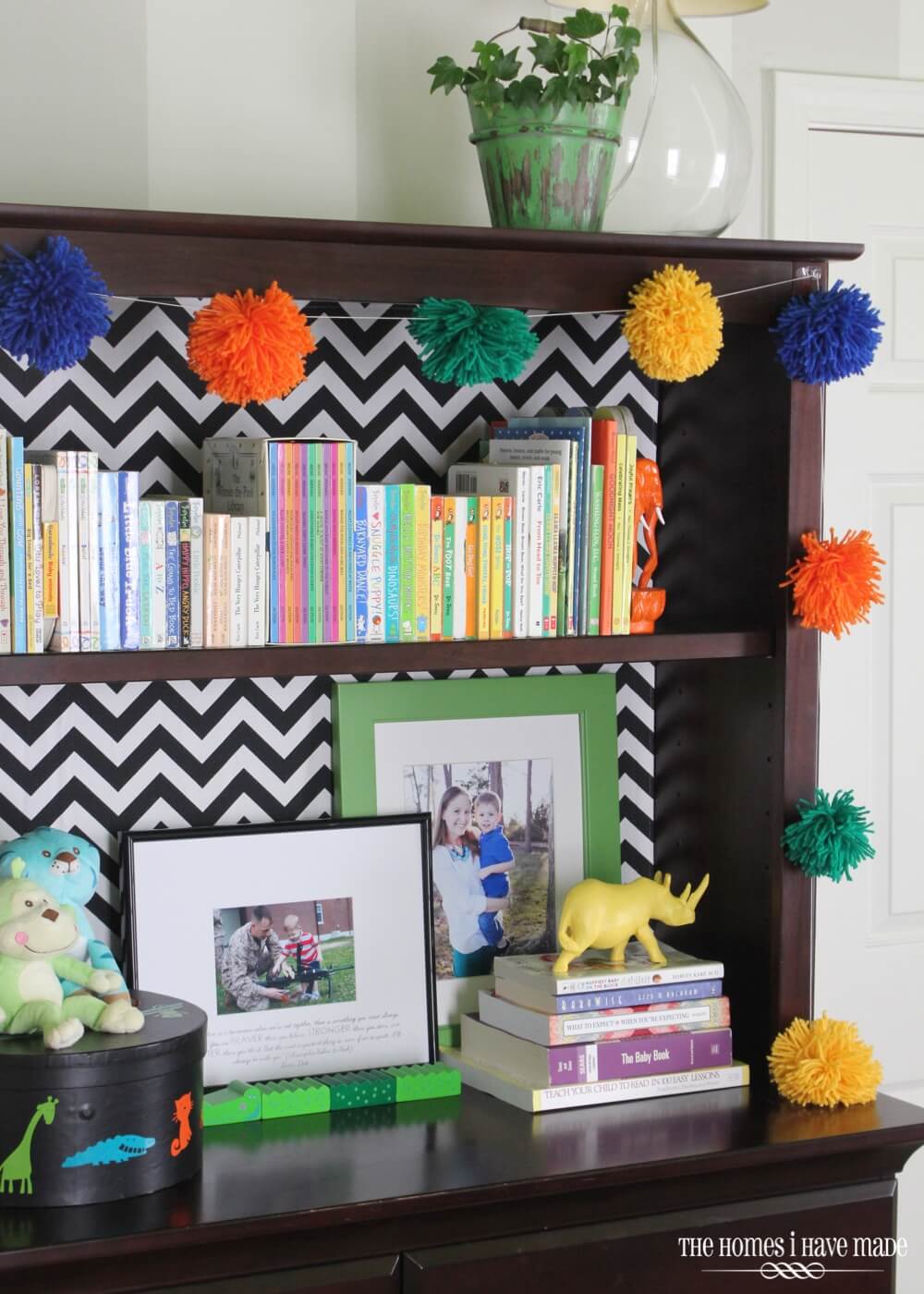 Boldly patterned fabric pairs perfectly with bright pom-poms to create an eye-catching article of furniture. Yes, it is that easy to turn a changing table into big kid bedroom furniture. Instead of using chevron wallpaper, this tutorial uses fabric fasteners and materials. Because of the modular design, all you need to do to refresh the hutch is to change the cloth panels. Painted wood animals accentuate the jungle theme while tying the hutch into the rest of the room. If the jungle is not the right theme, these ideas could easily be used in farm, space, ocean, dinosaur, or racecar themes.
6. Exciting Three-Dimensional Dinosaur Toy Gallery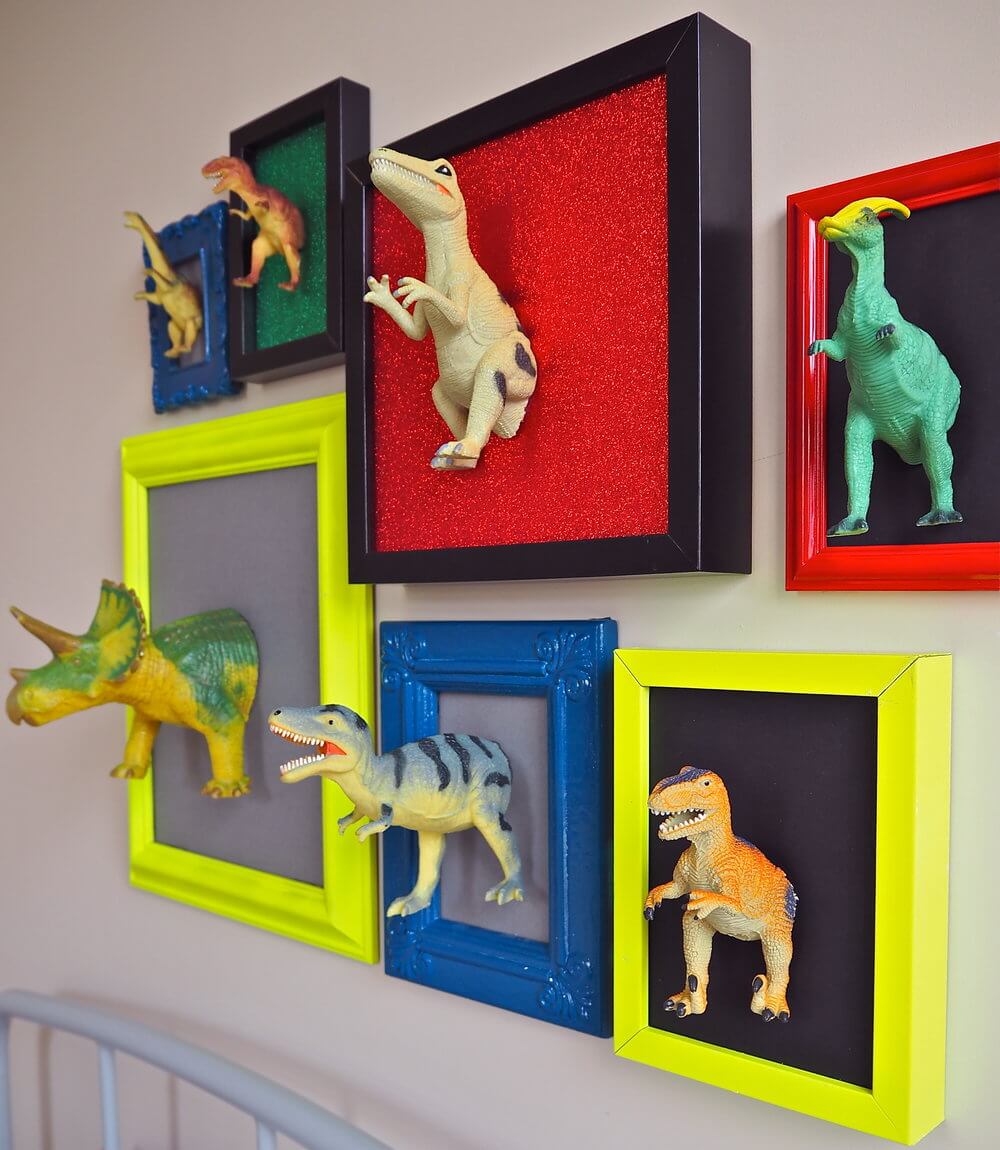 Superglue can work alchemy and brings some amazing ideas to life in an utterly fantastic way. Plastic dinosaur toys that appear to literally be coming out of the wall can take a dinosaur themed-room to the next level. You do not have to stop at dinosaurs – you could use any sort of plastic toys to add some magic to a bedroom. One way to harness this idea for an older boy would be to salvage broken video game controllers or old computer parts. This image uses mismatched frames to create a pleasantly chaotic effect, but matching frames can be used to create a more ordered feel.
7. Simple and Sturdy Floating Shelves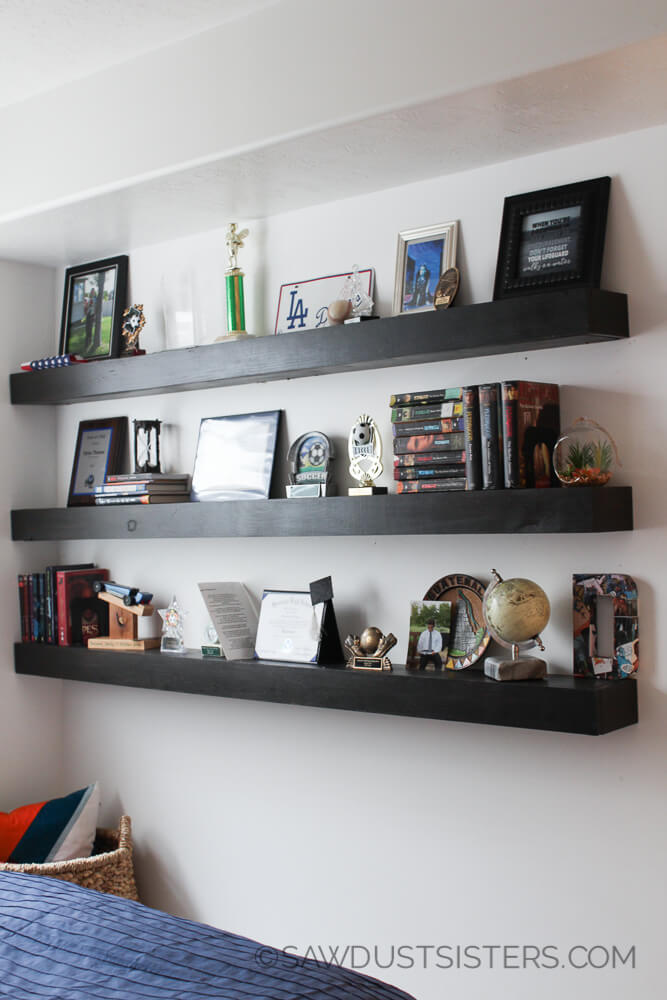 Unlike homemade boy's room decor3-6 that only works for younger children, floating shelves will not need to be discarded as the bedroom's occupant ages. Instead of refreshing the shelving itself, all that needs to change is what is on display. If anchored into studs, they can hold a good amount of weight. Depending on how you treat them, floating shelves can sink into the background ambiance or stand out as a shining focal point. Like this image, you can use a dark stain or, if it works better with your space, you can use a bright color or patterned wallpaper.
8. Galaxy Jar Handmade Ideas for Boy's Room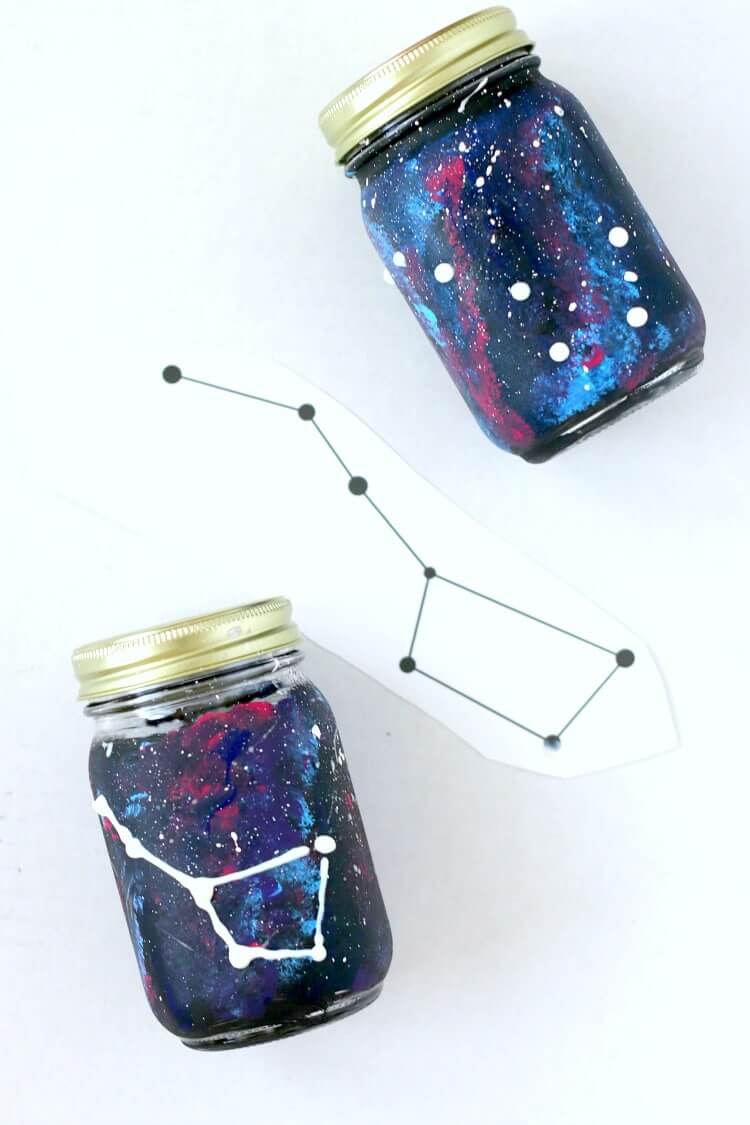 Perfect for space-themed bedrooms, a constellation jar is both a functional piece of decor and a learning opportunity. For even more fun, you can use glow-in-the-dark paint. Because these galaxy jars are made with sponged-on paint, artistic ability is not a prerequisite for a dazzling result. Dot on your favorite constellation, and you have a winner. Of course, you could use a stencil and white paint to create customized room decor. Because a child's bedroom can never have enough storage, these constellation-style canning jars are a clever addition. Use them to store pencils, small toys, or even a rock collection.
9. Easy Custom Desk with Industrial Vibes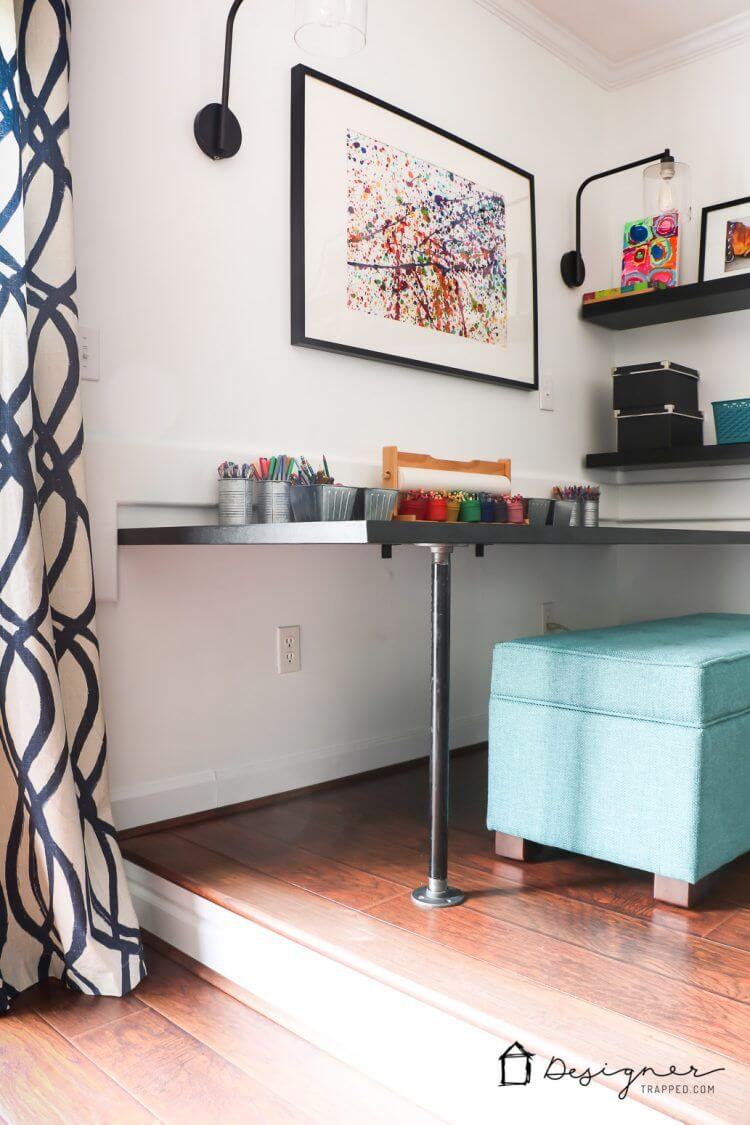 Building the perfect boy's room involves layering lots of little touches, and this desk makes that happen. Using pipes as legs adds grittiness to a masculine bedroom. To make this project budget-friendly, this tutorial uses a hollow door. However, you could use a solid door or piece of lumber instead. Because this image uses a pipe that is screwed directly into the floor, this desk is staying where it is. If you like to move furniture around periodically, you can make this desk with the more traditional four legs instead of bracketing it to the wall.
10. DIY Dinosaur Dresser Kid-Friendly Makeover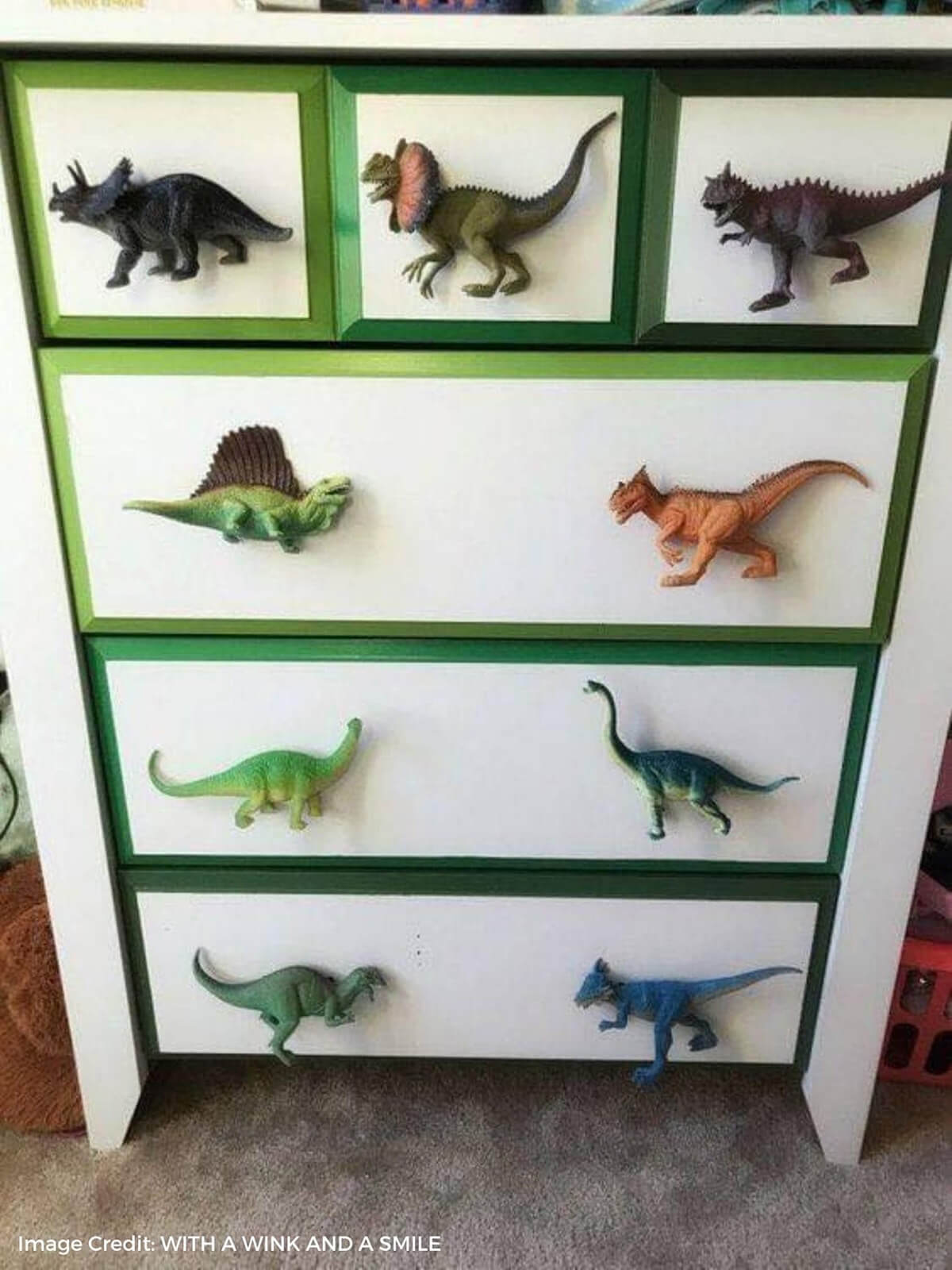 So much fun and adventure await this kid-friendly dinosaur dresser! All of the hardware has been removed and reimagined by featuring actual toy dinosaurs as the new and much-improved drawer pulls. A fresh coat of paint and shades of green accents continues this repurposed dresser that's anything but awesome now! Embark on a Jurassic adventure during the day for play and at night for sleep. Every child who loves this extinct creature will look forward to getting dressed each day as he/she can grab a dino friend to find his/her clothes.
11. Best DIY Boy's Room Ideas: Racing Edition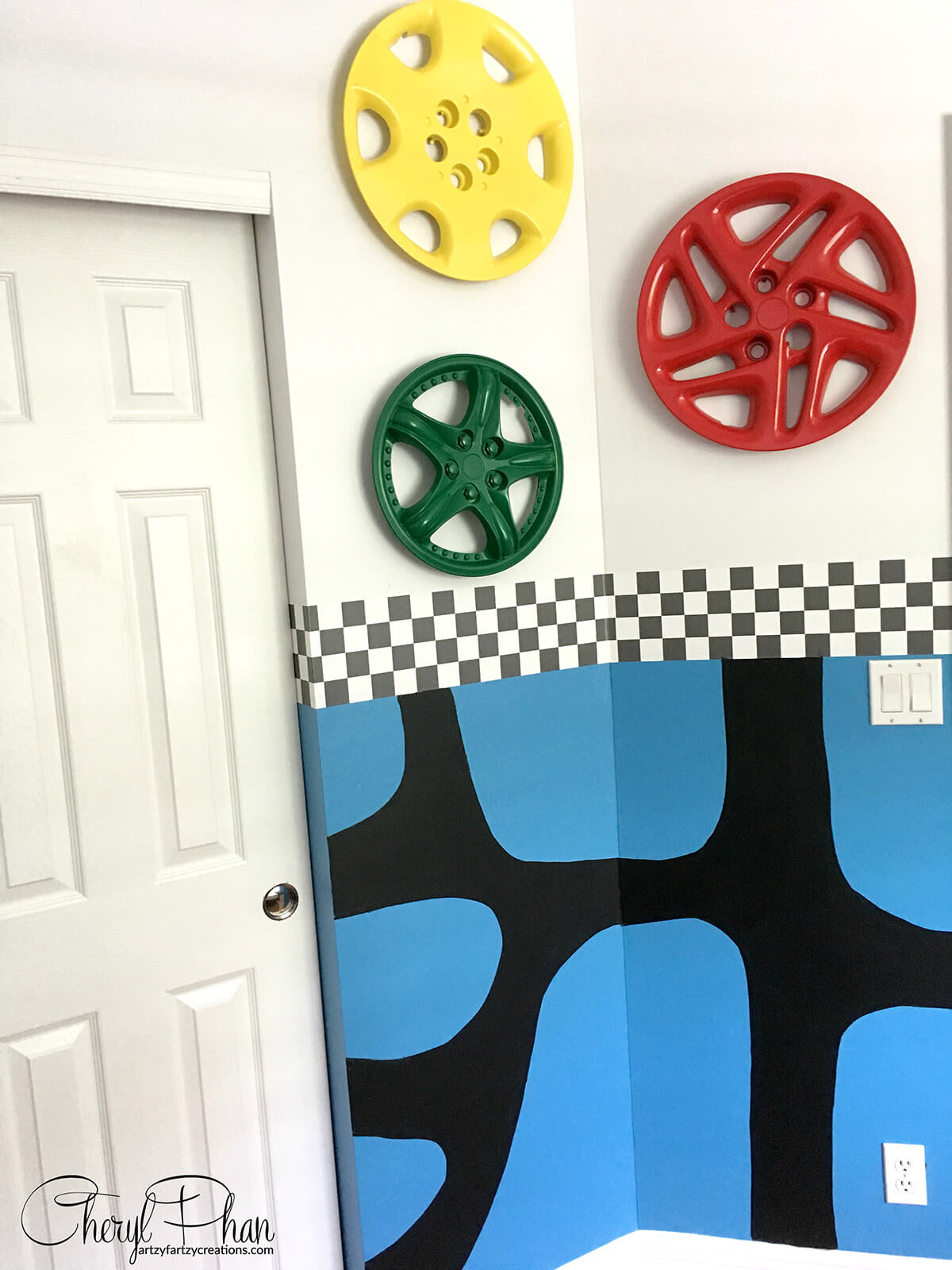 Adding hubcap wall art is a unique way to add some racecar flair to a boy's room. The bright colors might be right for smaller children, but picking a single color would create a more mature space. For older boys, consider using a clear sealant instead of the paint colors used here. Have fun filling up empty space with different styles of hubcaps. One of the more exciting features in this room makeover is the checkered-flag border. It eases the white-to-blue paint transition and is even used on the ceiling fan blades to help tie the room together.
12. Lamp Filled with Soaring Airplanes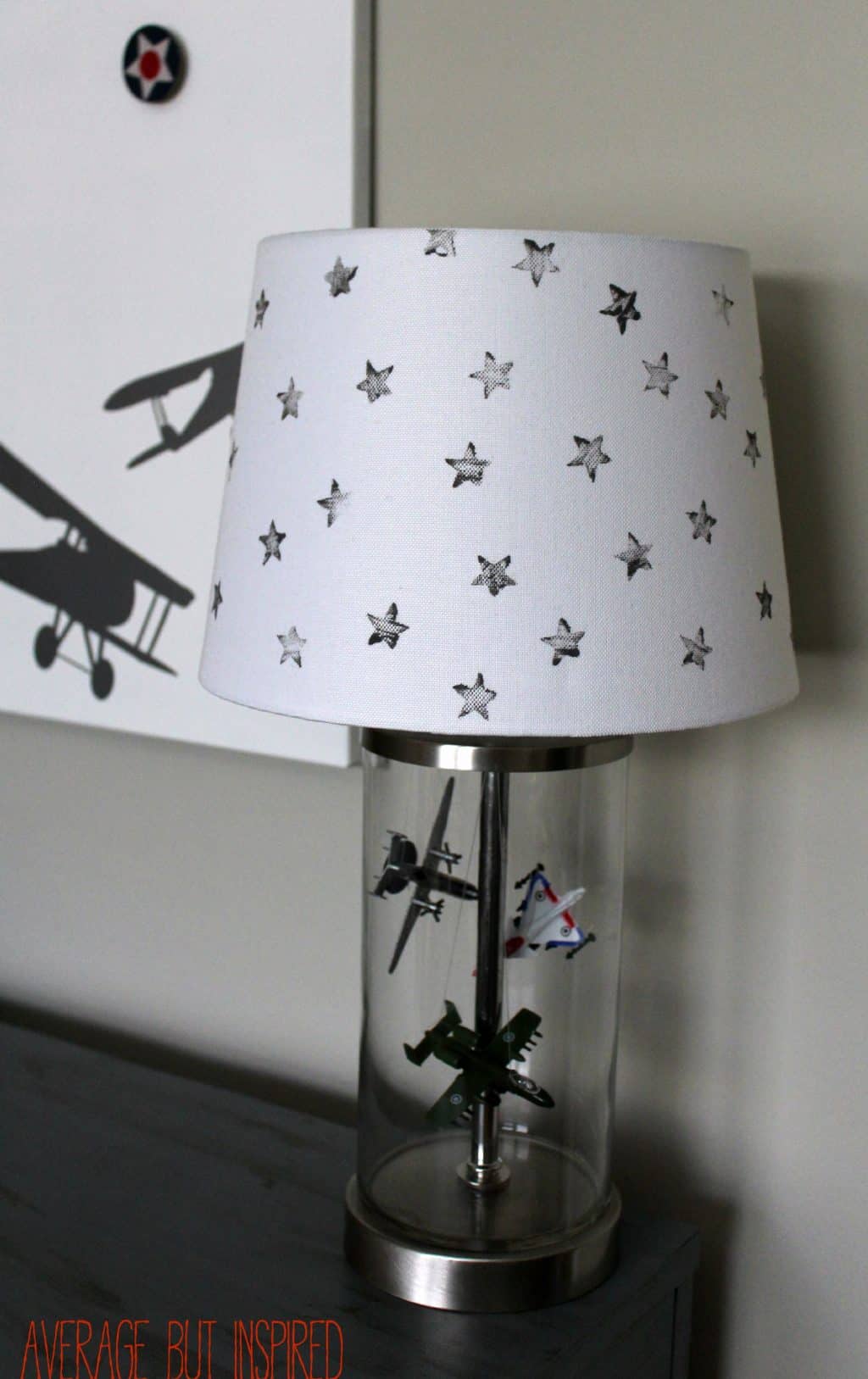 This lamp tutorial takes homemade boy's room decor3-6 that is cool and really elevates it. Because the airplanes are hung with clear string, they really appear to be flying. If you cannot find any toys that fit the desired color scheme, add a coat of spray paint. For little ones who are ambivalent about airplanes, you could use pterodactyls or superheroes instead. For an ocean-themed room, imagine switching out airplanes for toy fish or submarine figurines. Best of all, when your little one is ready to graduate to a new theme, this fillable lamp is easy to change.
13. Industrial and Wood Board Bookshelf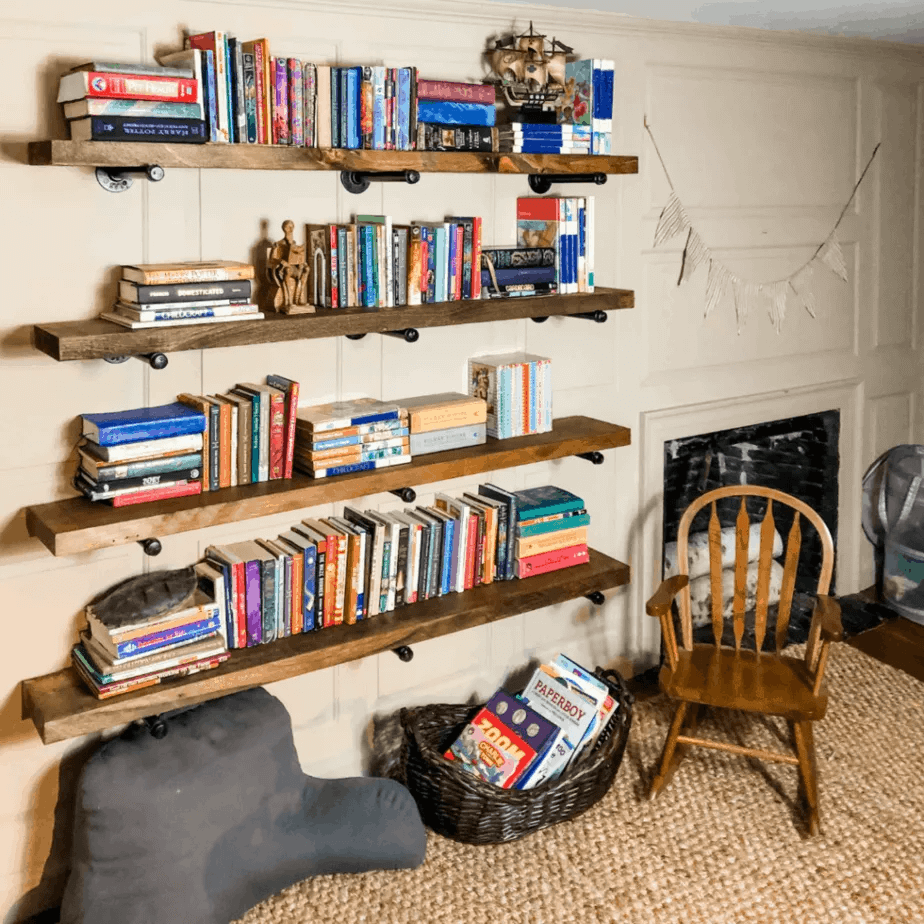 Providing plenty of strength for all your books while remaining stylish, this industrial bar and wooden board bookshelf is a great choice for adding to your kid's room. Not only will the sturdiness of the wood hold up to the generous library your child is accumulating, but the three dark industrial pipes holding up the board add plenty of character as a decorative designer's element. Arrange several of these on the wall and have a personal library space that goes from floor to ceiling.
14. Crazy Comic Covered Paper Mache Letter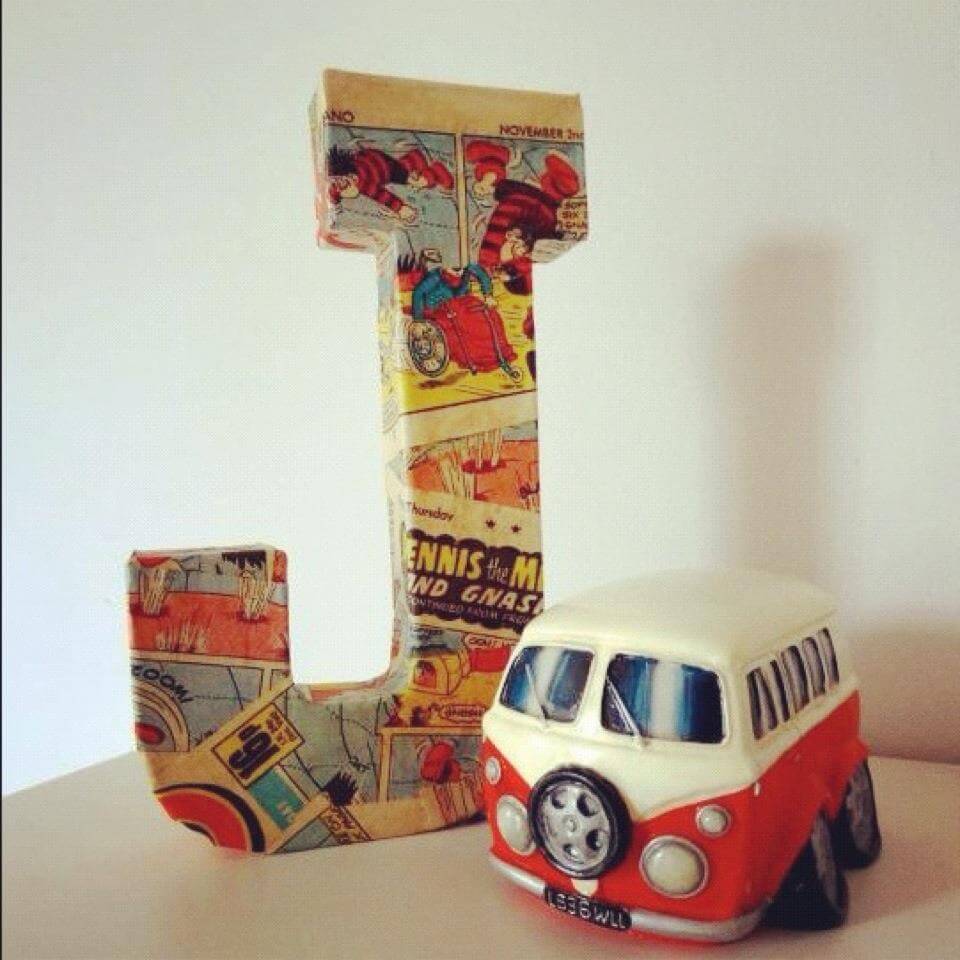 Bring out vintage love with these retro paper mache letters that feature colorful comic book pages. These are sure to be a hit with any child who loves superheroes and comic books. The faded primary colors in the images give a soft nostalgia to any room and keep the look a little more grown-up. Position your child's initials on a bedside table or open shelf to add a personal touch to his/her room. This would be a great gift idea as well for a comic fan of any age and would look cool in a home office too.
15. Budget-Friendly Cardboard Road Initial with Toy Cars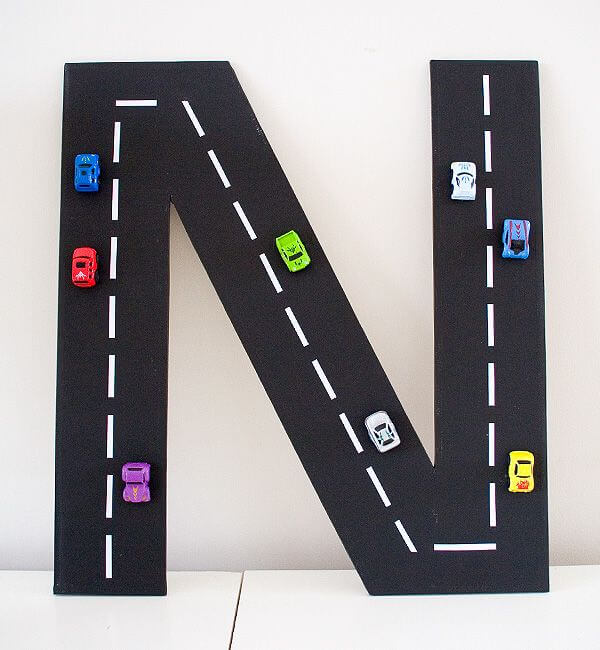 Hanging an initial on the wall might be the perfect finishing touch. With real toy cars driving along the road, this tutorial shows how to add a whole new level of dimension to your little man's decor. Because this wall art is made from painted cardboard and toy cars, it is both inexpensive to craft and lightweight to hang. It is easiest to make straight-edged letters or numbers. Depending on what your little one likes, you can add toy tractors, fire trucks, police cars, or monster trucks. Whichever you choose, be sure to place them driving in the correct direction!
16. Cool Storage Solution for Toy Cars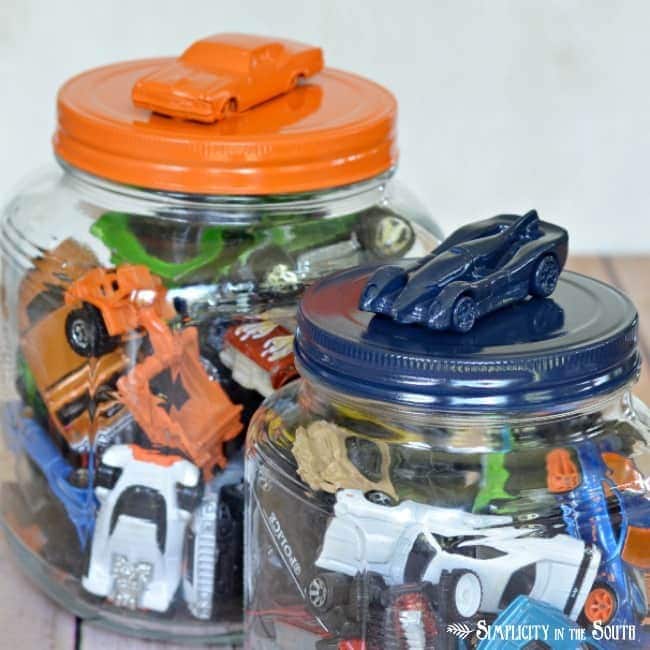 A simple upgrade with spray paint, glue, and a toy car can transform a plain glass jar into a fun toy container. When the container itself is a toy, cleaning up feels more like playtime than a chore. For smaller children, you may want to use a container that is sturdier than glass. The color-coded lids are a great idea for families with multiple kids. You can use this idea to easily organize even the most extensive toy collection. Imagine a jar collection with each lid featuring a different genre of vehicles like race cars, fire trucks, airplanes, and tractors.
17. Easy Custom Lego Storage Project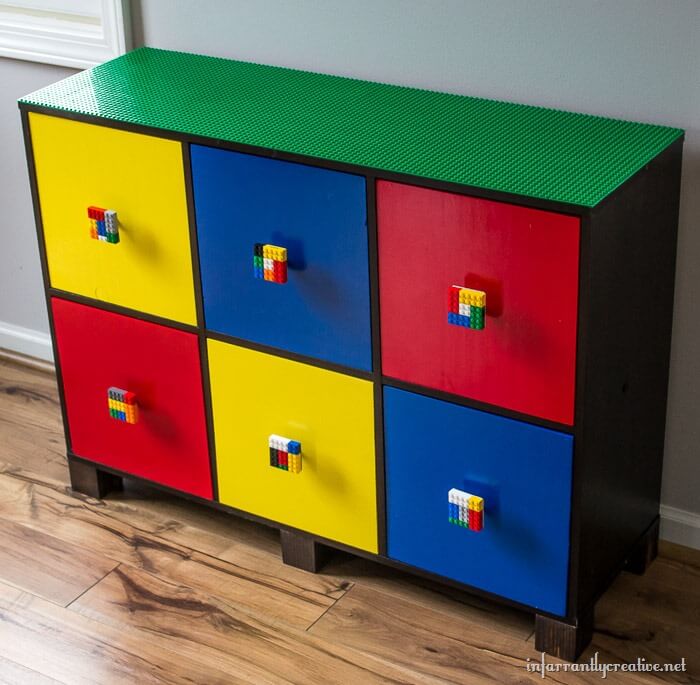 Because these drawers include both storage and a play area, containing building toys is not as impossible as it seems. You can use the ideas in this tutorial to transform nearly any furniture with drawers into a Lego play area. If the red, yellow, blue, and green colors do not vibe with the rest of the boy's bedroom you are building, you can use any color that does. As long as you incorporate Lego baseplates on top, you will have the perfect solution for Lego storage. For younger kids, you could use a larger building toy Duplo-style baseplates.
18. Fun-Filled Printable Magnet Road Toys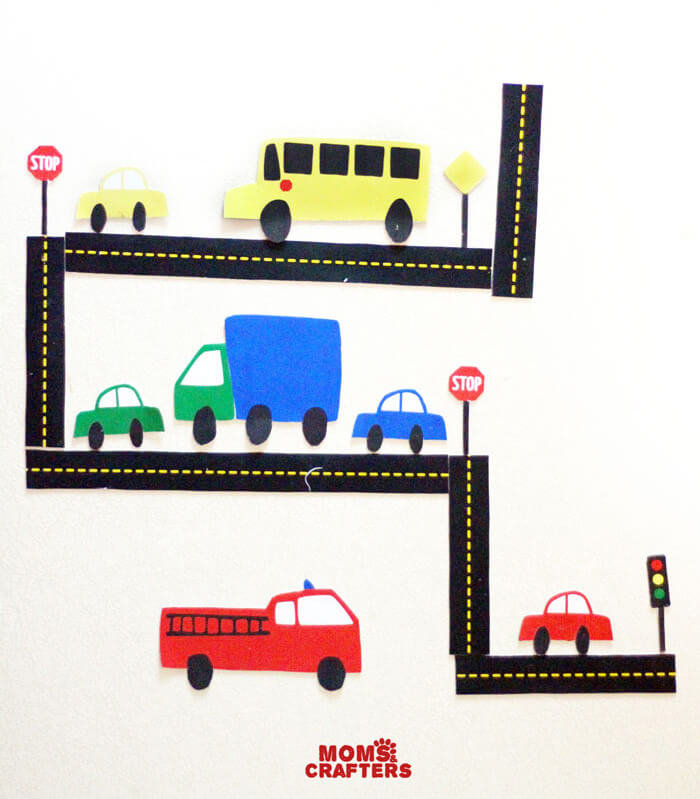 Mounting a magnetic fun board on the wall is one of the best DIY boy's room ideas to keep your little one occupied. Populating that magnetic fun board with this printable road kit will result in hours of entertainment. Because this toy is also decor, it pulls double duty. Cartoon-style cars, trucks, and busses populate the road scene in fun primary colors. If you are crafty, imagine using felt, hot glue, and magnets to make your own magnetic playground. Even though this decor will be handled and will need regular replacement, it is really easy to remake.
19. I Am a Child of God Sign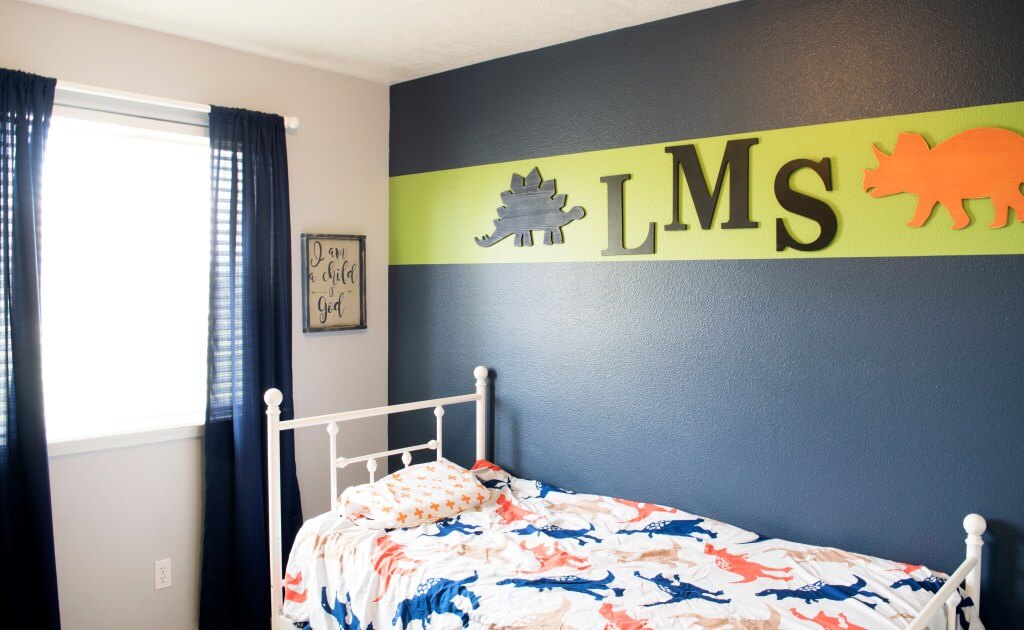 As much love and care as we smother onto our kids, it's important to put some thought into their personal space in the home. Create a room for them that speaks to who they are and what you hope for them as well. Feature some of their favorite characters, animals, and colors along with a purposeful sign. Reminding them that they belong to God is always a great starting place. Choose such a meaningful sign to hang on their wall to give them this gentle reminder as they start each day. Finish the space off with a custom wall featuring their initials to add that extra personal touch.
20. Baseball Jersey Custom Accent Pillows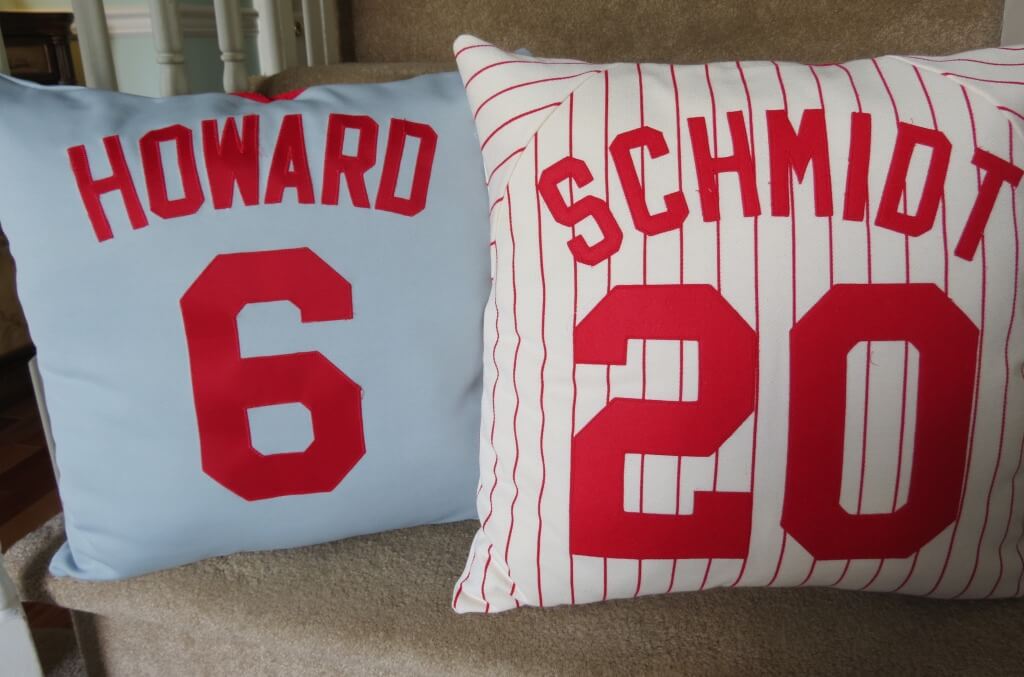 Hit this one out of the park and transform a cherished jersey into a decorative accent pillow. This creative and custom baseball jersey pillow will look amazing on the bed of your teenage son or tossed onto the comfy chair in the family room. If you're looking for an awesome gift idea for a coach, this is your go-to choice! Creating one of these easy DIY jersey pillows is fun and makes a great gifting option for so many family members and friends.
21. Classy Black & Gold Toy Car Trophies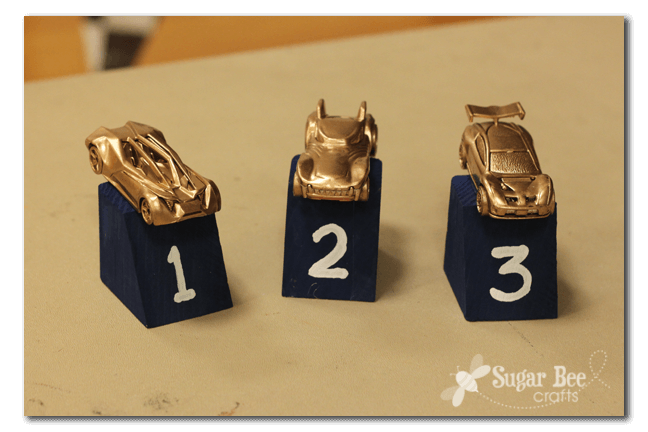 Adding little touches of automobile-inspired ambiance can be easy and inexpensive. Choosing handmade ideas for a boy's room also means that the decor is completely personalized. The black and gold color combination is elegant, but you could use whichever colors will work best in the space. Of course, you do not have to make these into trophies. Instead of painting numbers, paint letters to spell out a name. This idea can also be used far beyond the racecar theme shown in this image. Imagine using toy shuttles, dinosaurs, farm animals, or any small figurines. When selecting toys, make sure not to pick anyone's favorite.
22. Maximalist Happiness Mirror Made from Recycled Toys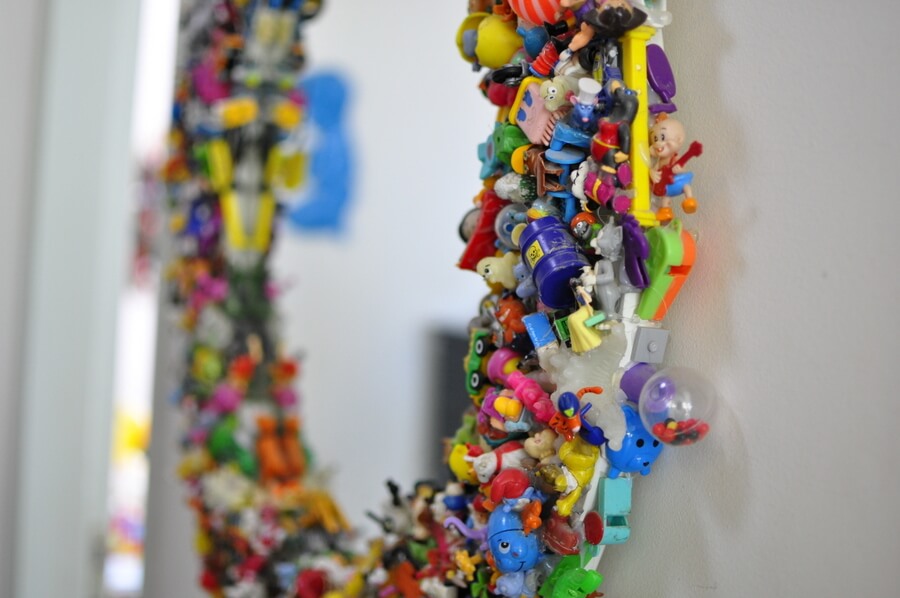 Sometimes, favorite toys get broken beyond the healing powers of glue. When that happens, you can save them to make a memory mirror like the one shown in this image. If you do not have enough toys to make this right away, there are plenty of toys at yard sales, thrift stores, and maybe even lurking in your attic. While this tutorial shows a chaotically pleasing mix of colors, you could create some interesting visual effects by limiting your palette to blend with the bedroom. Whichever toys you choose, the key to success is to avoid gaps and empty spaces.
23. Black Vinyl Monster Truck Wall Decals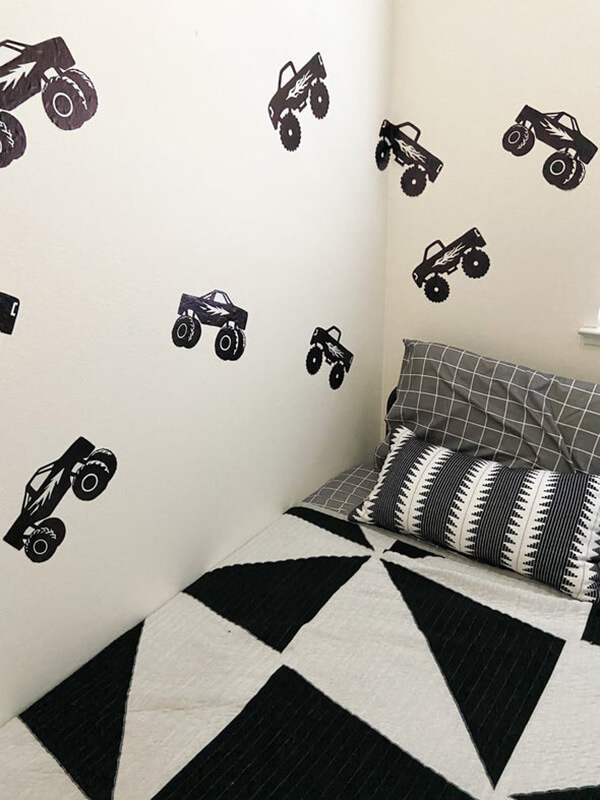 Every little boy will light up when these easy-to-use black vinyl wall decals are applied to his room! Let your imagination run wild as you position them all over the room where they can rev up and down make-believe mountains. No need to worry about their removal or re-application as these wall decals are removable in nature so nothing permanent is going onto your wall. Run some of them up and around the window and door for extra fun! They look amazing when paired with black and white bedding.
23 Exhilarating Ways to Harness the Best DIY Boy's Room Ideas for an Easy and Affordable Update
Because no two kids are alike, the best DIY boy's room ideas are exactly that – ideas. Some of the common boy's room themes you have seen are racecar, jungle, space, farm, and dinosaur, but the perfect theme for your space depends on the child. Choosing a theme is a step in the right direction, but many themes are not rigid. For example, many automotive-themed room ideas can also work in a farm-themed room. Remember to see each idea's potential and imagine how it could fit in the room you are designing.
Like any aspect of interior design, there are endless ways to execute ideas, and each results in a different feel. Incorporating recycled items like old furniture, used tires, or rusty wagons are a great way to add an ambiance of rugged authenticity. However, for safety reasons, a pristine finish throughout might be preferable. If all these decisions seem daunting, you can always include the future room occupant in the decision-making process. For younger children, this is excellent practice in skills like negotiation and understanding consequences. Involving older kids in renovation decisions will lead to increased ownership over the new bedroom.