Furniture can make for some of the greatest crafting canvases for epic renovation projects, so we made it a point to seek out 28 of the best DIY chair makeover ideas that you are sure to value. When it comes to making over a chair, it is not so simple as to just slap some paint on it and go. There are a lot of components that come into taking something that is used or simply old and giving it the breath of life, so to speak, so it can go on functioning in your home.
28 Incredible DIY Chair Makeover Ideas for Your Next Weekend Project

The freedom that you are offered over these projects is one of the things that make it so amazing. Much of what you will be able to do is largely dependent on the chair itself. Do you need to revitalize your dining room chairs to keep up with the fresh theme the rest of the room has? Are you interested in transforming that classic rocking chair? Or did you have a more unique project in mind as in the case of redesigning that long-neglected office chair?
There are seemingly endless ways that you can approach a chair makeover. You can opt to give it a full re-upholstering in the case that there is fabric and cushioning in play. Although not the quickest of tasks, it can be something that anyone can learn how to do. This allows you to enjoy yourself a bit more by completely changing the seated and back area of the chair. You can even have it match up with your chosen paint, or simply clean the chair down and not give it a fresh paint at all if natural wood is more your preference.
Also, there are options for those of you who just don't want to or can't upholster. Instead, you can take some fabric paint and cover up the design you don't like while creating something new. For chairs without cushioning, this is an even easier task where you can paint different colors or styles that line up to the décor in the room the chair will occupy.
No matter which way you decide to go with this home decoration project, you are bound to come away with something truly spectacular and personal. So, if you are ready to embark on a new DIY journey, let us go and take a look at some of our favorite ideas when it comes to chair makeovers.
1. Affordable Patio Chair Renovation Project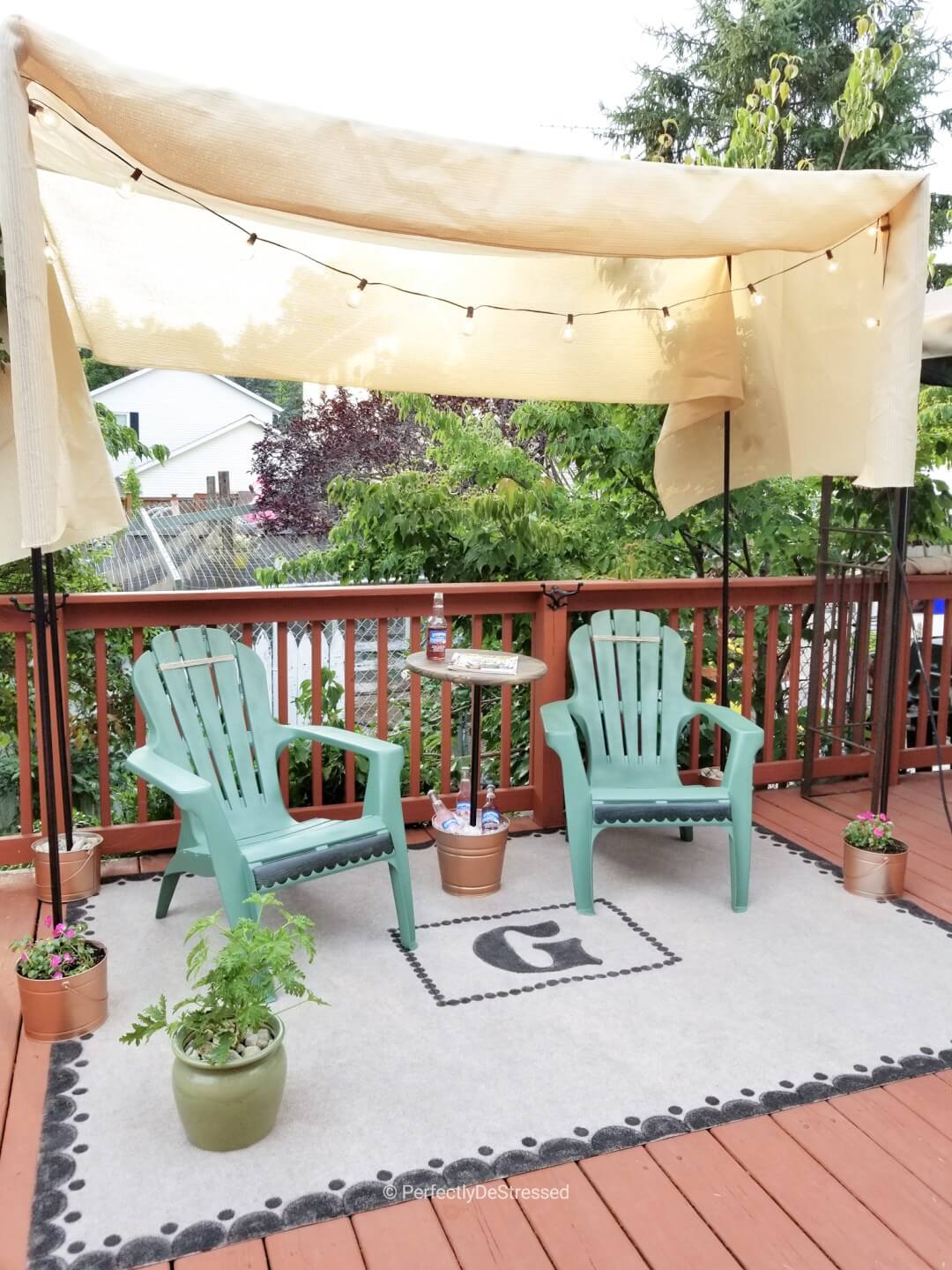 You may want to check in with the chairs that sit on your deck as consistent lawn exposure can cause some obvious harm in the form of discoloration. This is especially true when it comes to inexpensive lawn chairs. However, you can breathe new life into them with this cool DIY project. A fresh coat of paint can go a long way into revitalizing worn-out deck chairs without breaking the bank. Consider also adding a personal touch with a fun design using a simple black sharpie. It's a straightforward method, yet the chairs come away looking completely brand new.
2. Black and White Farmhouse Bar Stool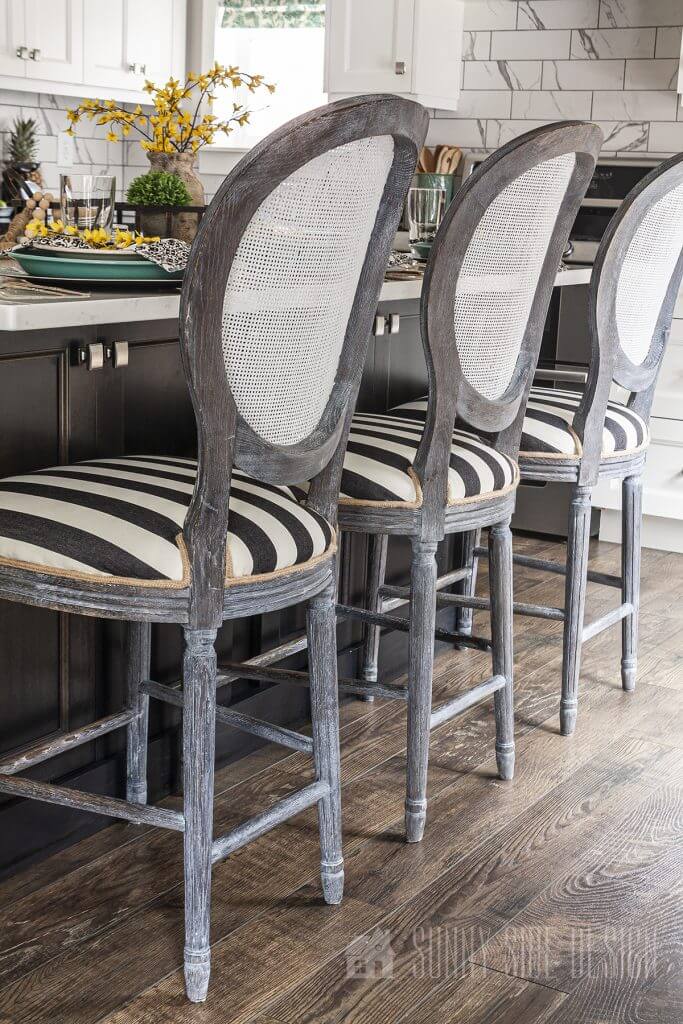 Sometimes, those farmhouse-style bar stools can look a touch bland. So, if you want an awesome idea to spice some things up, consider taking the time to give those stools a welcoming makeover. With a little patience, you can remove the old fabric and give the stools a good cleaning to reveal an amazing canvas that's begging for an upgrade. Some paint and upholstery transform the common farmhouse bar stools into conversation starters for guests. It's a good idea to go with black and white for the color scheme as well since that may help the stools stand out even more.
3. Stylish Vintage Dipped Painted Furniture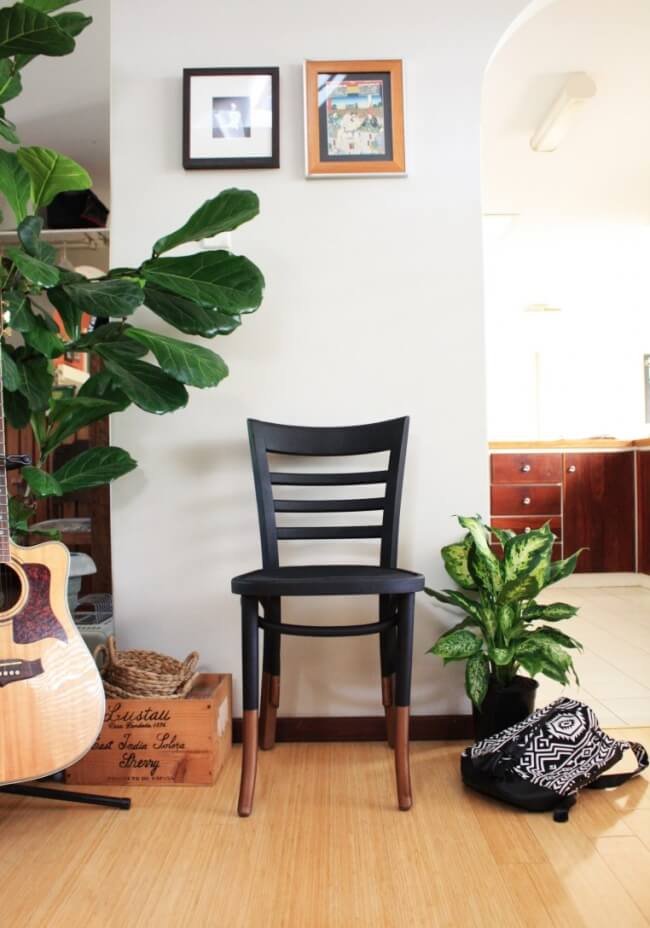 Dipped furniture is growing in popularity with many enjoying the painting process for its standout, contemporary appearance. You can spruce up a used, vintage chair with the same method to complement the rest of the layout in your room of choice. Black spray paint is a fun option to go with as it can help the chair fit with a variety of decorating themes. You can always leave the legs of the chair as-is with the natural wood offsetting the rest of the newly painted chair. However, if the wood is a bit worn down, then don't hesitate to use a similar color to the wood like copper. It's an awesome idea when you want to blend modern and rustic styles together.
4. Perfect Upcycled Re-Upholstered Sitting Chair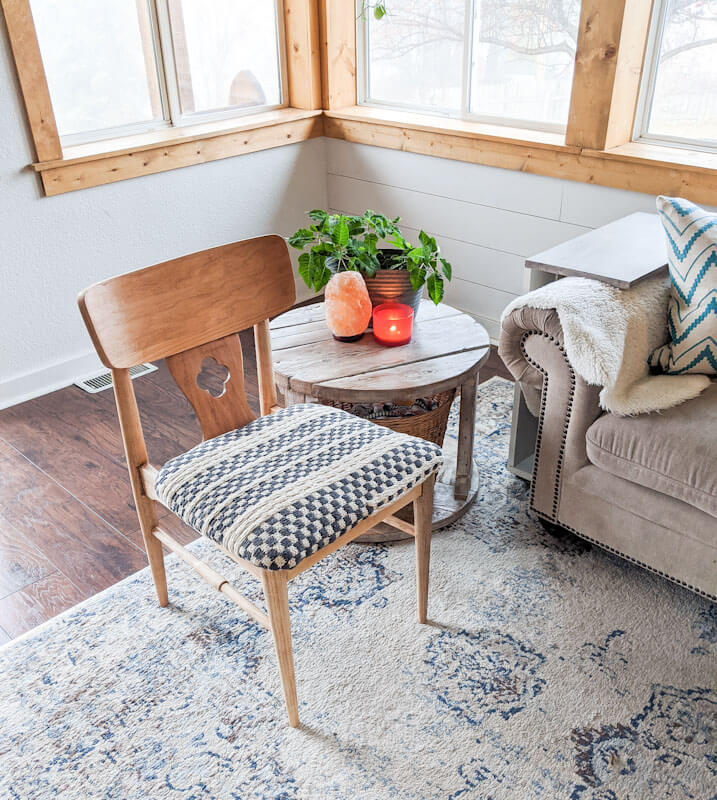 An old chair can get a new lease on life with a quality re-upholstering. This homemade chair renovation project can work on just about any upholstered chair. So, get your staple gun or upholstery gun in hand and get to work breaking this chair down only to build it back up again with some sweet fabric. This is also an exciting project where you can stretch your creativity in the type of fabric you use, so find something with an attractive texture or pattern like a rug and use it. It will not only look good but feel good to sit on as well.
5. Unique Patterned T-Shirt Renewed Chair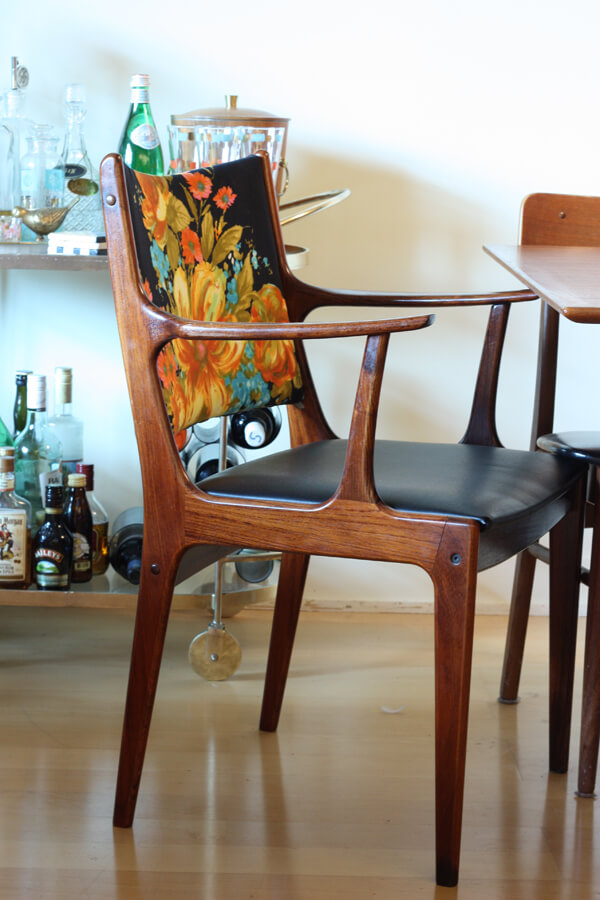 The simplest of items in your home can help you create the most beautiful accent chairs for your dining room table and chair set. Find yourself a t-shirt or tank top that's made from reliable fabric so it can withstand frequent use, and also make sure it features an attractive pattern since you're going to be using the finished furniture as an accent piece for the rest of your décor. Using this just on the back of the seat works well as it doesn't overcrowd the rest of the chair while still drawing the eye of any guests that ventures into your home.
6. Classic Chalk Paint Dining Room Chair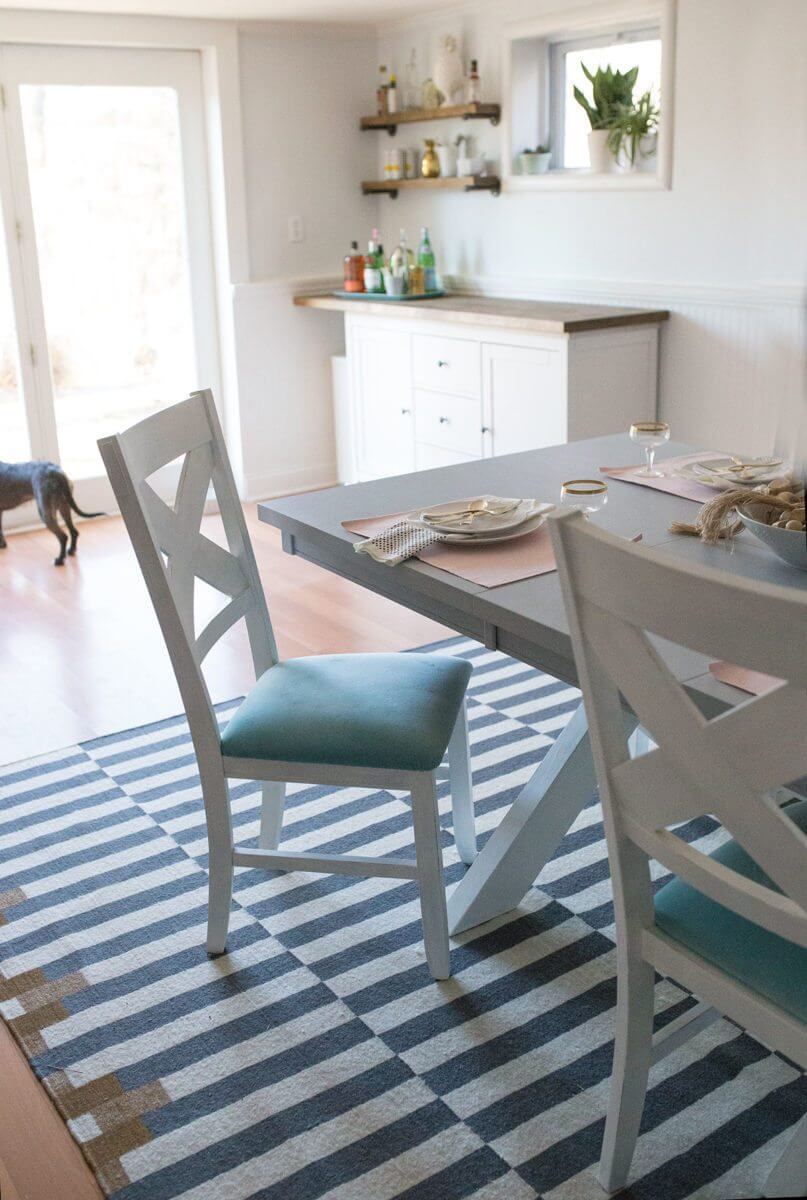 There are times when your home decoration can start to feel a touch too common, especially in the dining room where there is a standard wooden table and chair combination in play. Although they are nice to look at on their own, perhaps you are looking for something with a bit more pop and excitement. A good round of chalk paint can do the trick. It can make your chairs seem new while also bringing some gorgeous light and openness to your dining room. Adding lightly colored fabric to the chair seats is another good touch to keep up with this bright-styled theme.
7. Plastic Patio Chair Faux-Iron Design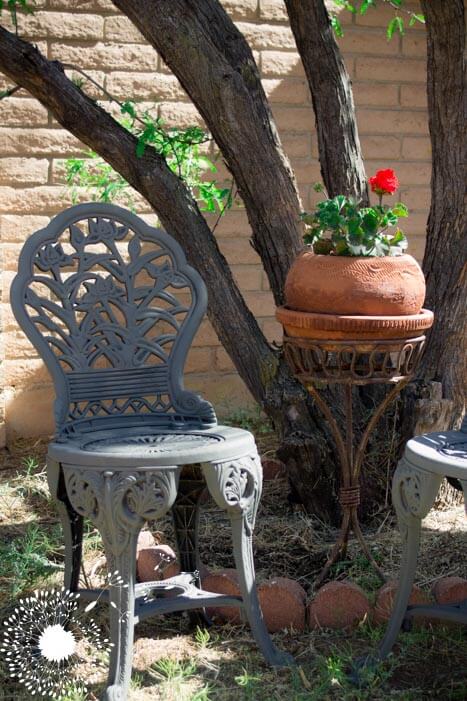 If you ever come across these stunning faux-iron styled patio chairs, then consider giving them a healthy makeover so that the plastic can truly capture that hard iron look. There is a tremendous amount of dimensional details in these chairs to work with during this project so everything stands out. It is an easy do-it-yourself idea for a chair makeover as it requires some nice gray-toned paint and some dry brushing so the plastic appears more rustic. What you end up having are beautiful plastic patio chairs with all the looks of those classic iron chairs without the heft. They'll look wonderful on the deck or out by the garden.
8. Revitalized Gorgeous Wicker Rocking Chair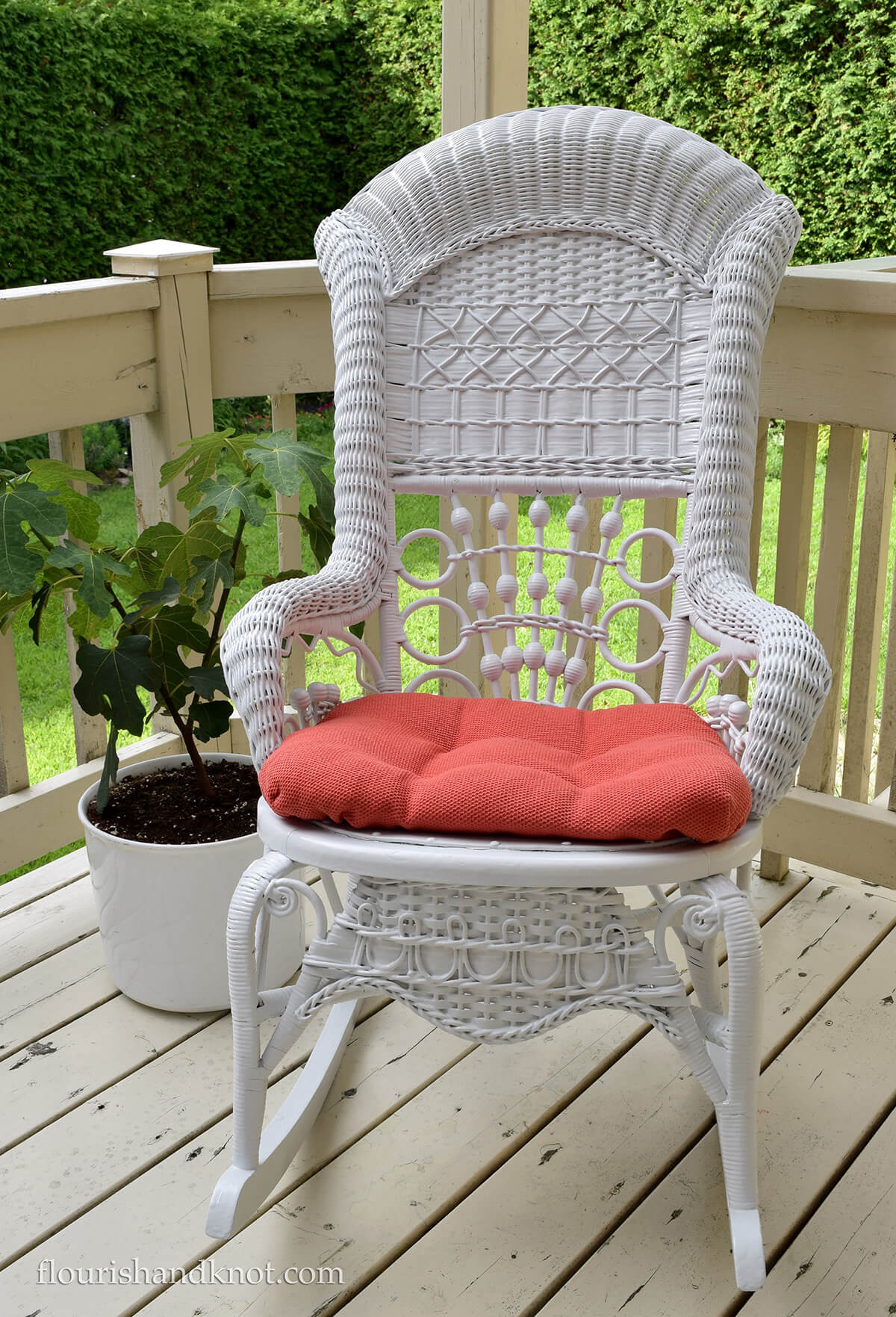 Wicker rocking chairs are always a classic. Many people can remember these in parents or grandparents' houses, so they can serve as the perfect reminder for home. With that said, not all of them will age very well, so it helps to give them a nice rejuvenation while still keeping the nostalgic feel alive and well. This project just takes some cleaning, sanding, and a couple of coats of paint, and you are left with a renewed wicker rocking chair that's begging for a cushion so you, your housemates, and guesses can sit back and relax on the porch.
9. Decorative Macrame Lawn Chair Renovation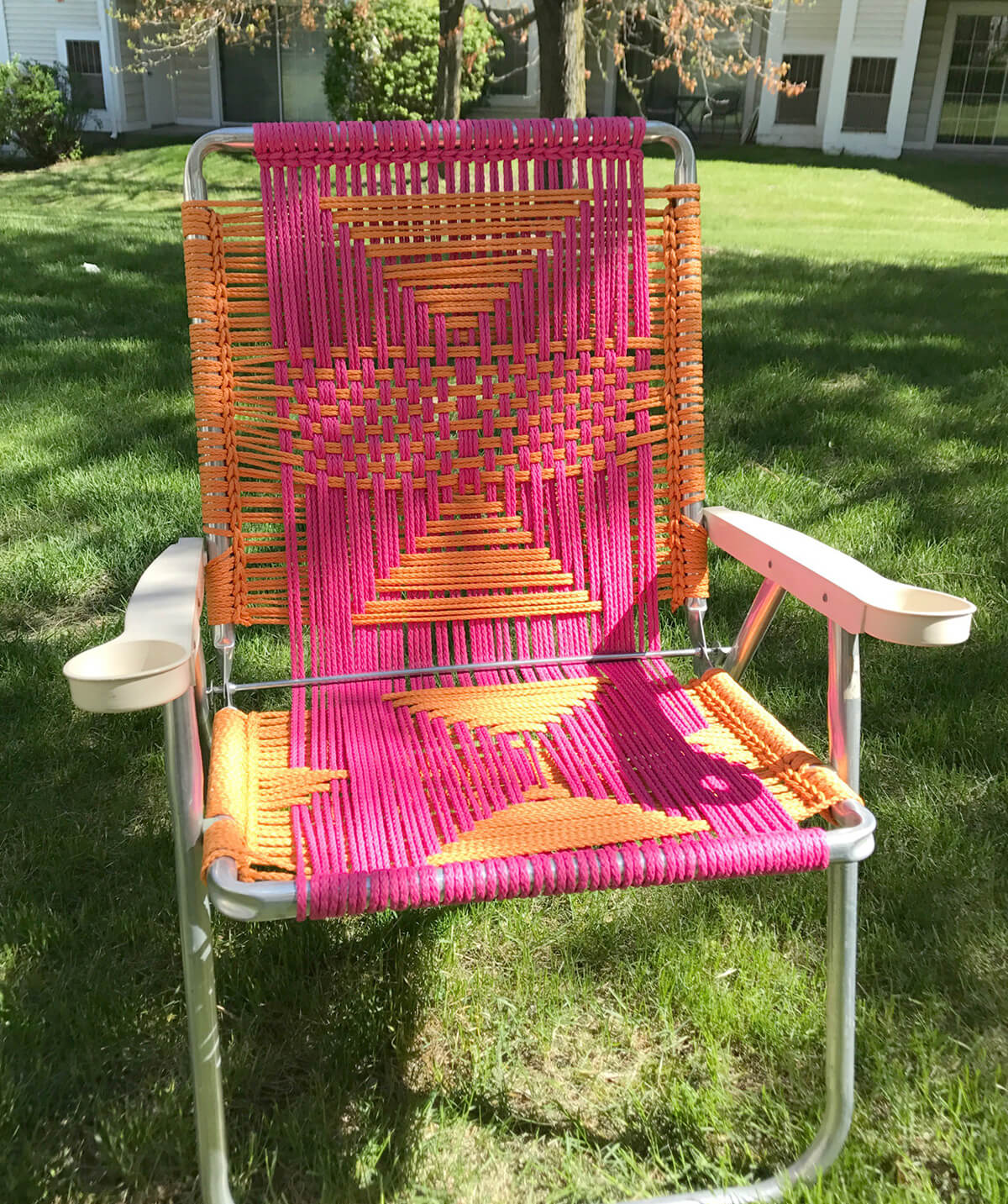 Some of the best DIY chair makeover ideas allow you to combine different crafting skills to create an incredible piece. With this project, you're going to take full advantage of macramé. It is a handy way to craft remarkable decorative patterns. If you haven't done it before, it may take some time to learn for this chair renovation piece, but it is worth it in the end. Old lawn chairs (or chairs that are too bland for your tastes) are a great place to start. They give you more than enough room to play around with different types of patterns so you can create something unique. Don't hesitate to throw in various colors too.
10. Fabulous Black and White Chair Transformation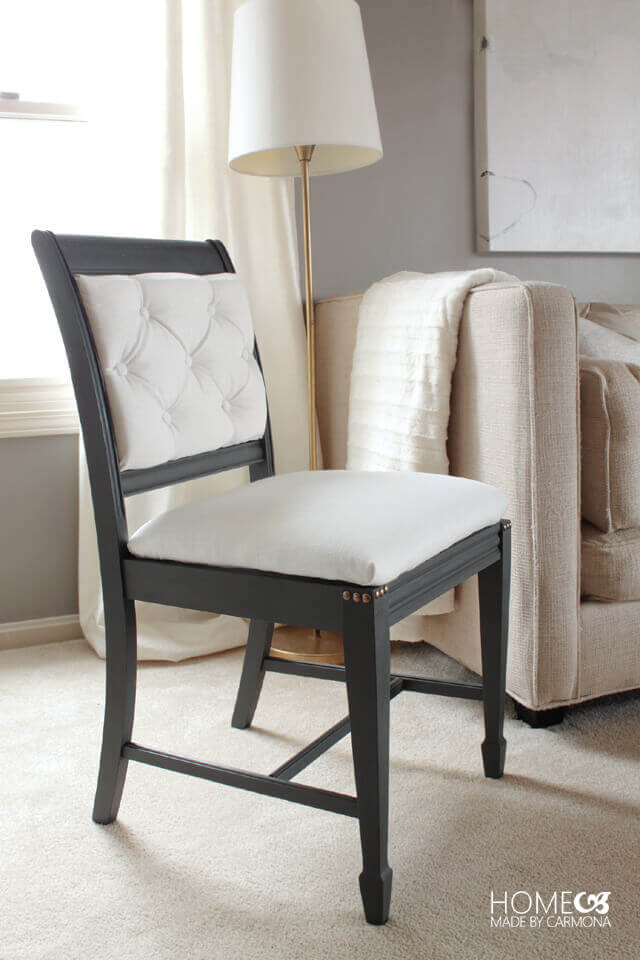 With this homemade chair renovation project, you can transform a basic, tired chair into a fabulous, elegant decorative piece of furniture. The right material along with patience and a creative drive is all you need. Once you're finished with this crafting project, the chair looks completely different. No one would be any the wiser to the fact that it started out as a typical wooden sitting chair. The fabric as well as the little detailing throughout does a wonderful job of giving the seat a classier, high-end touch without you having to spend high-end money.
11. Thrift Store Caned Back Chair Alteration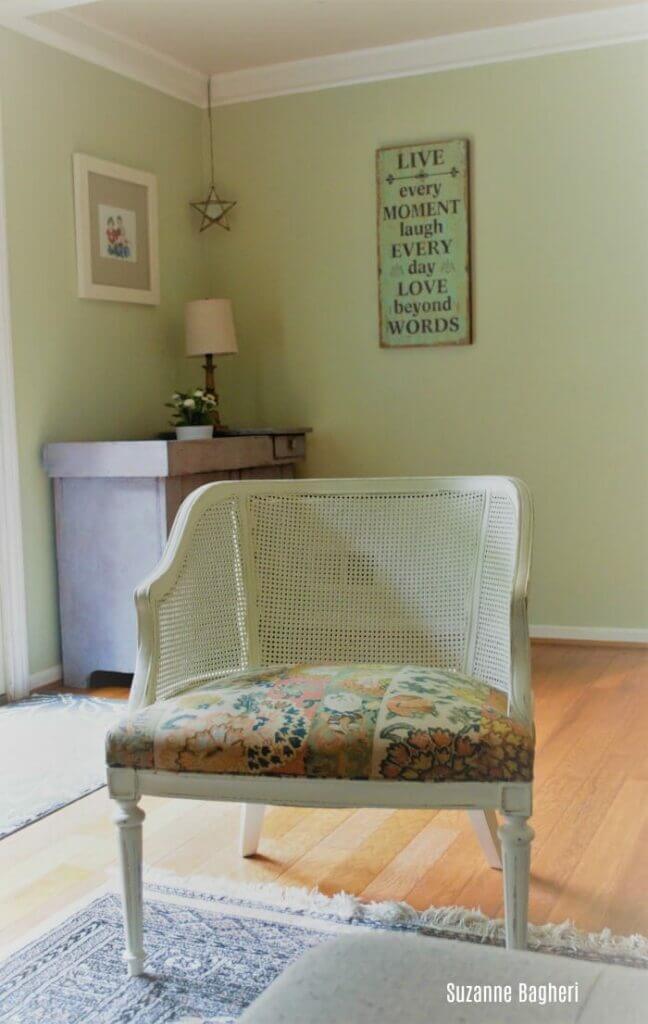 If you are looking for new inspiration for your next home project, a thrift store is always the best go-to place to search for items in desperate need of some love and attention. You've probably seen one of these chairs sitting around in a store before, or perhaps you already own one. They provide a nice canvas to work with if all you want is another easy do-it-yourself idea as all it takes is a paint job to enhance the look of the natural fabric already on the chair. It gives it a livelier, brighter appearance overall that can be a wonderful addition to your sitting room.
12. Upholstered Cushioned Dining Chair Design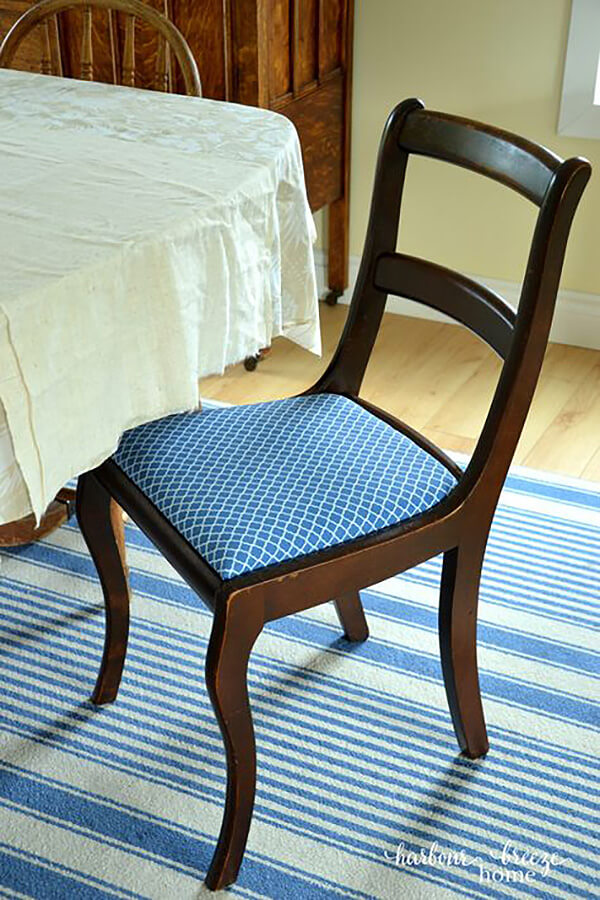 Sometimes, an old chair can still be reliable and look good, but the fabric can make them appear overused. Fabric often goes first on furniture, so ripping it out and replacing it is one of the most ideal ways of updating the entire chair. As you are tackling this project, feel free to clean and polish up the frame of the chair if the wood shows slight signs of wear and tear. A fresh shine with some brand new fabric attached can make the chair look as though you just purchased it from the store.
13. Patterned Cotton Weaved Renovated Chair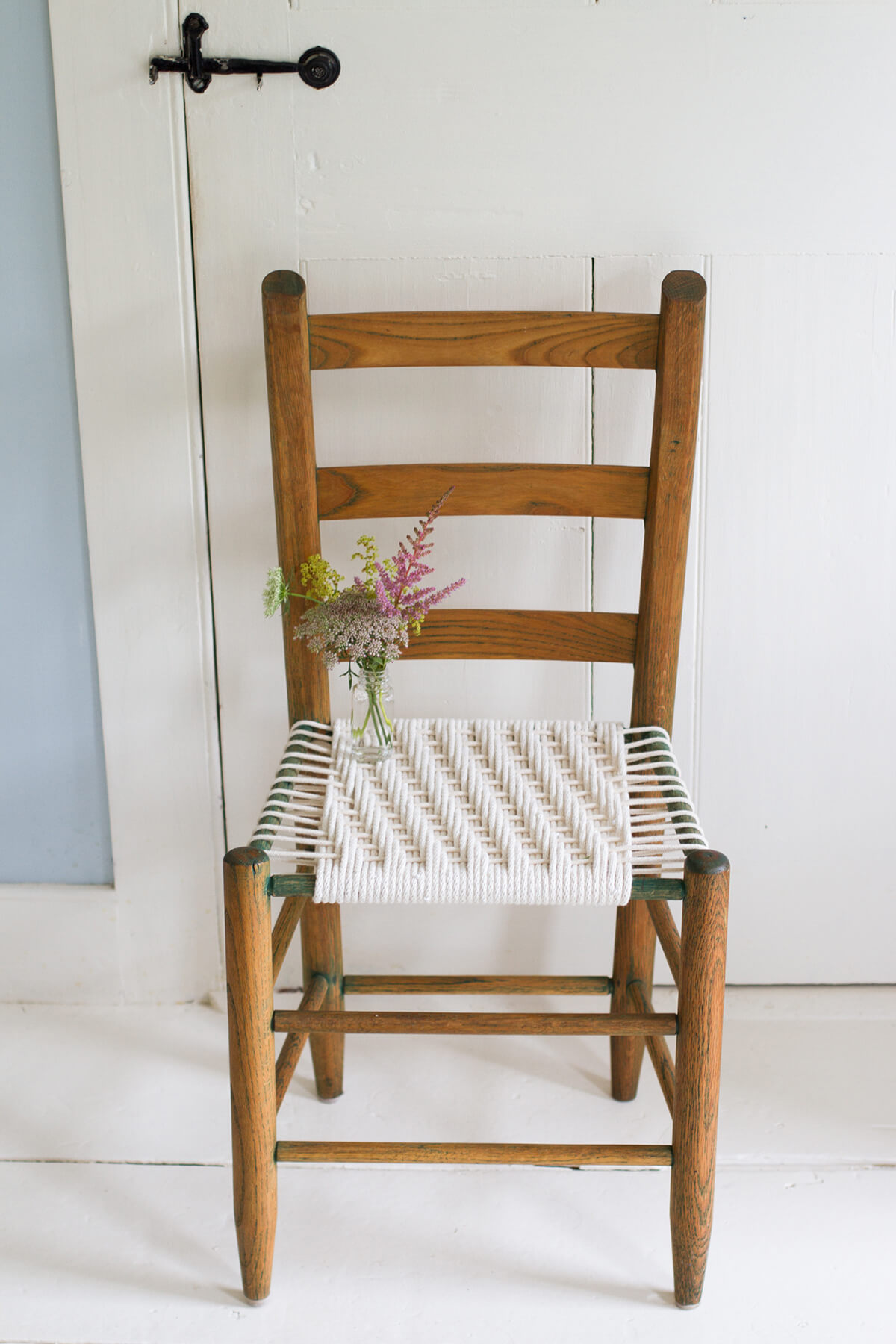 Cane is a well-known pattern that many chairs feature. Did you ever realize how much better those seats can look when you remove the woven cane and instead replace it with woven fabric? Best of all, you can use a single color or a combination of colors to match whatever the décor is in the room you're going to use the chair in. This project gives you enough freedom so you can make something that's personalized. You can weave as tightly or loosely as you'd like depending on if you would like some decorative gaps to show.
14. Finished Wood Custom Bar Stools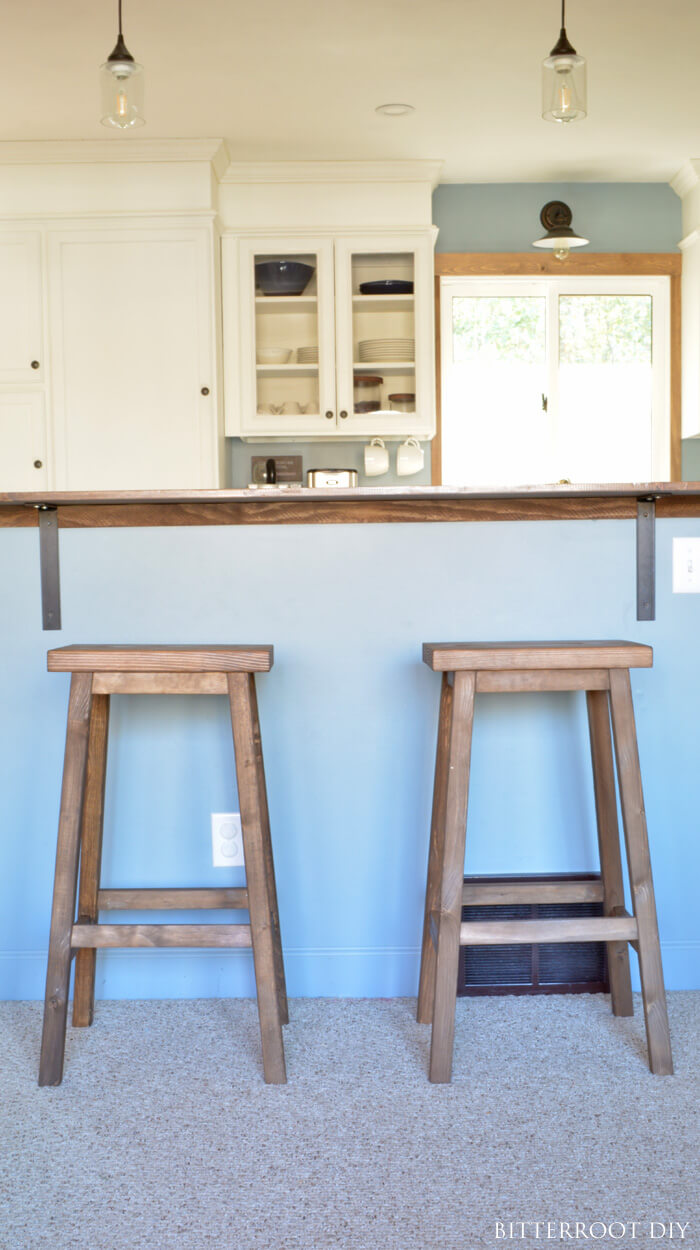 Whether you're in need of new seating at the bar or at the island in the kitchen, there are some cases in which store-bought stools just won't do the job. Perhaps the counter is too tall and they won't fit. In any case, you can put your building skills to the test with this bar stool project. Personalized bar stools are always a more appealing option as they're among the most unique pieces of furniture in your home that are sure to start up a conversation with guests. Consider touching the stools up with a quality finish afterward so they'll stay looking brand new for longer.
15. Multi-Style Re-Upholstered Cool Sitting Chairs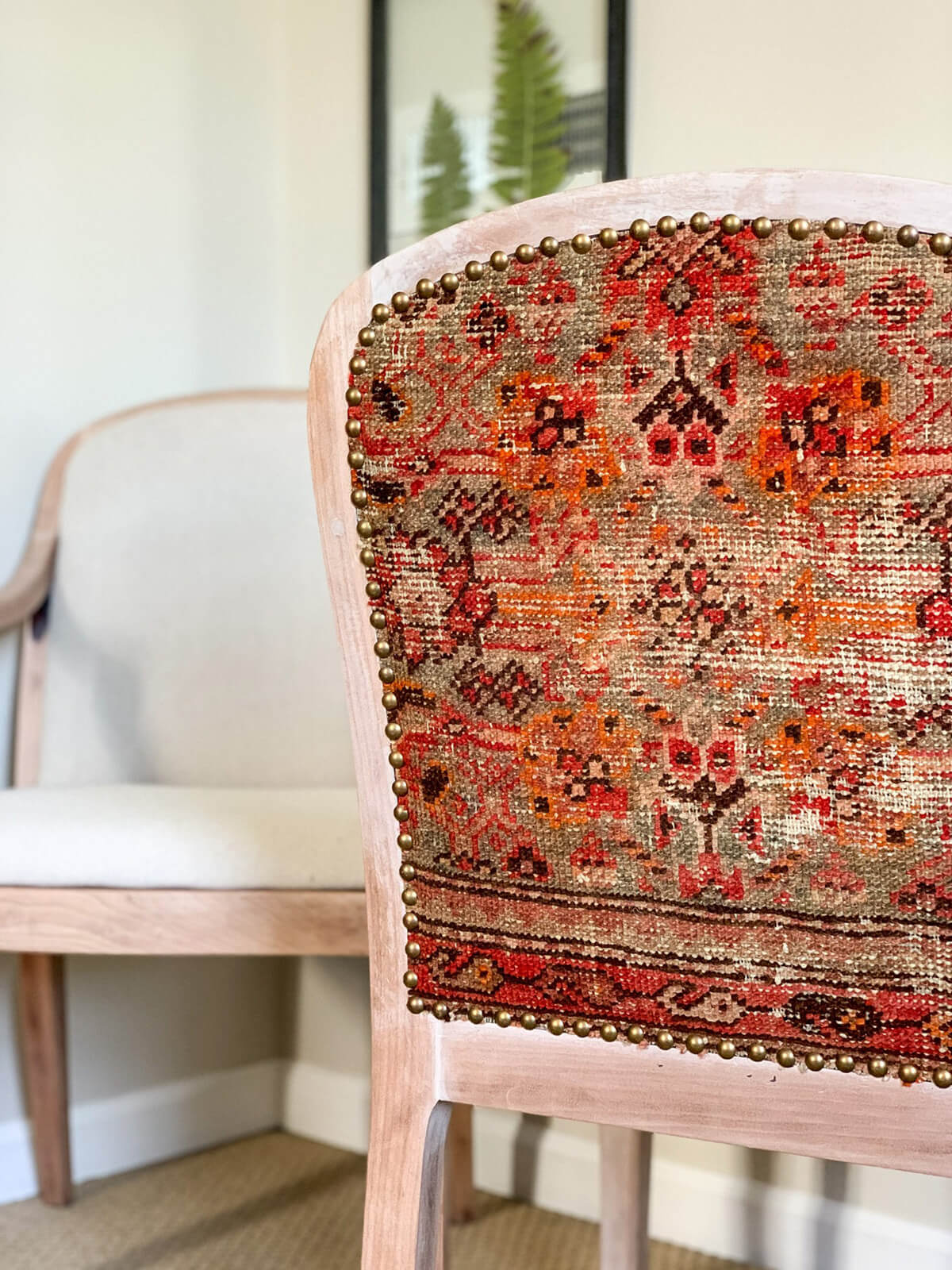 A straightforward upholstery job is sometimes all you have to do to alter some old chairs, especially if they have bland fabric attached. You can remove that old fabric, replacing it with either something patterned or a simple single color style. Throwing in a paint job for the wood will pair well with your newly upholstered seating. Another awesome idea is using a different type of fabric, color, or pattern on the back of the chairs using some decorative nails so it pops out even more.
16. Colorful Used Cushioned Rocking Chairs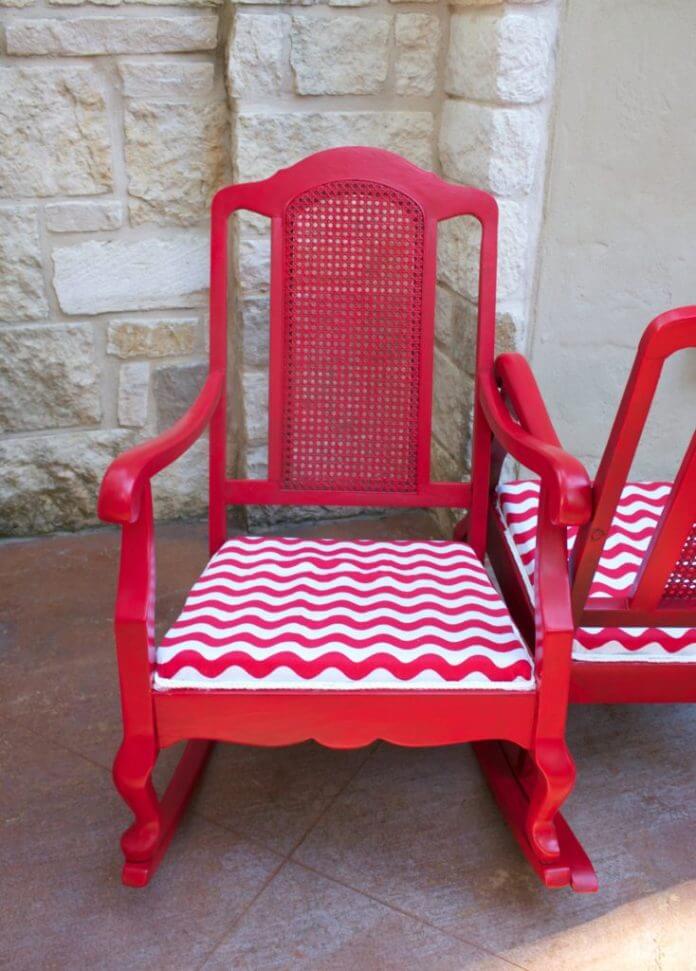 Rocking chairs are fun to makeover. They can be used anywhere too once you're done from inside a sitting room to out on the patio or deck. If you do plan to use them outside, it's best to use outdoor paint so that the chairs keep their new appearance over time as you don't want your work fading away anytime soon. Not only does the paint do a good job at breathing life into used rocking chairs, but adding in a new cushion along with a pattern on top makes people want to sit back and enjoy the chairs.
17. Finished Patterned Desk Chair Design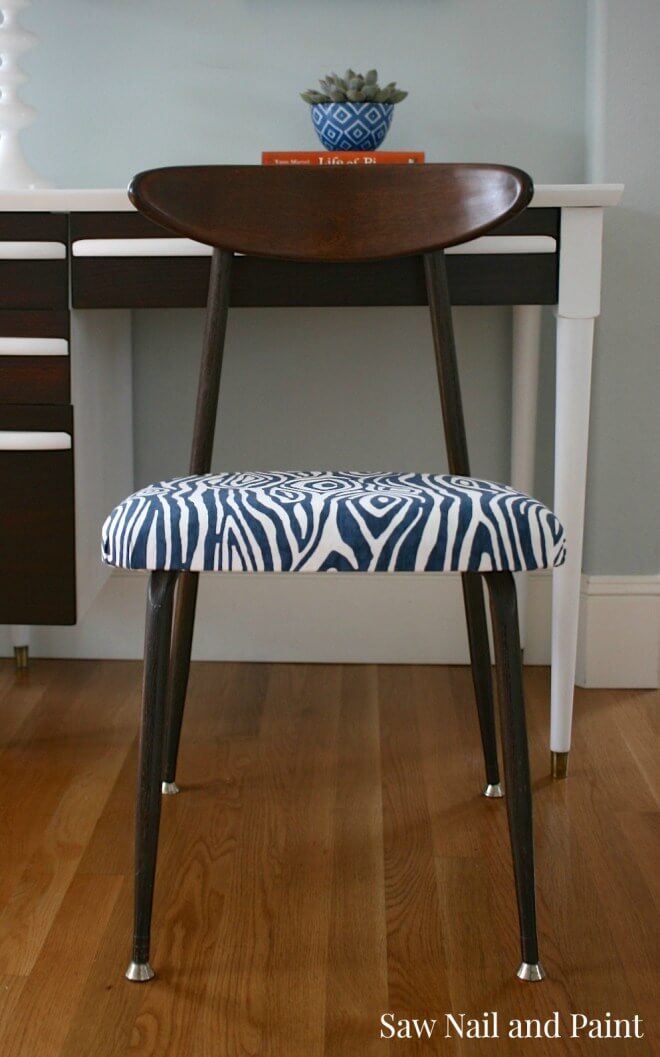 As you are figuring out where to take your next home decoration project, have you ever looked at your office desk and chair and think the seat needed a makeover? It's so common to tackle chairs in the dining room or outside on the deck, but an office chair can make for a fun renovation project. Even better if you can use a vintage chair and add a modern-styled pattern for the cushion. That bit of color can perfectly accent the rest of the office area.
18. Painted Renewed Wicker Chair Overhaul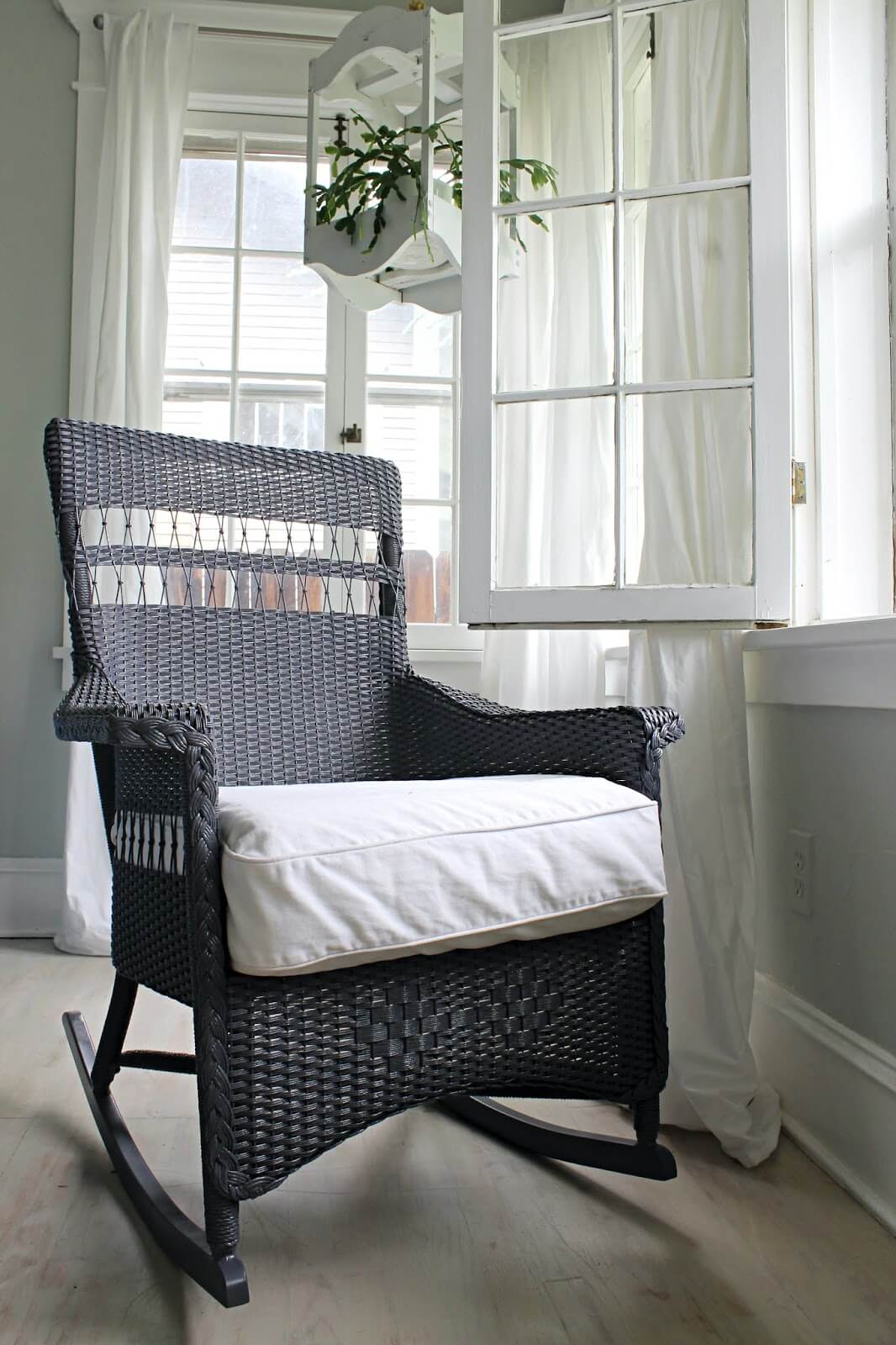 Wicker chairs can have this gorgeous, farmhouse-style feel to them that makes them so appealing. They don't stay looking so fresh, however, and that's where your next easy do-it-yourself idea comes into play. This type of chair gives you such a large surface to work with, so be sure to hit every angle so you get that new paint job into all the nooks. A relatively simple paint job is all this type of wicker chair needs. Throw on a cushion and you've created a gorgeous rocking chair that will look perfect by the window in your sitting room.
20. Quick Stenciled Painted Chair Decoration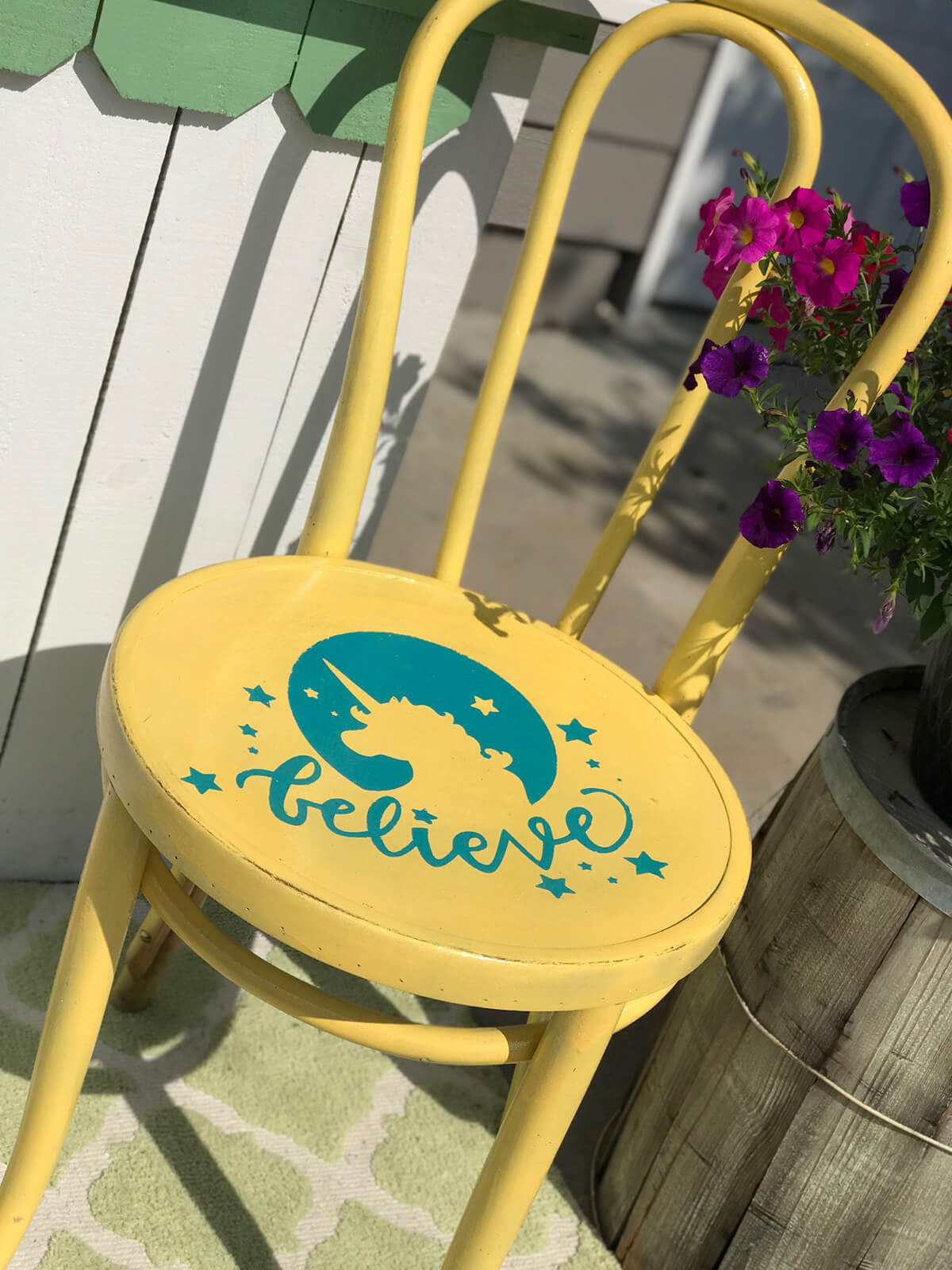 An easy do-it-yourself idea for those of you who want a quick and painless chair makeover project is to make good use of stencils. Not all chairs need fabric cushions to standout. Take an old chair, give it a fresh coat of paint, and whip out the stencil. Your options are near limitless in this case as you can stencil in anything you'd like. You may even stick to the theme of a particular room such as a kid's room or a garden-theme if used outdoors. No matter which way you take it, this is an effortless way to twist an old chair into something spectacular.
21. Chalk Painted Beach-Themed Rocking Chair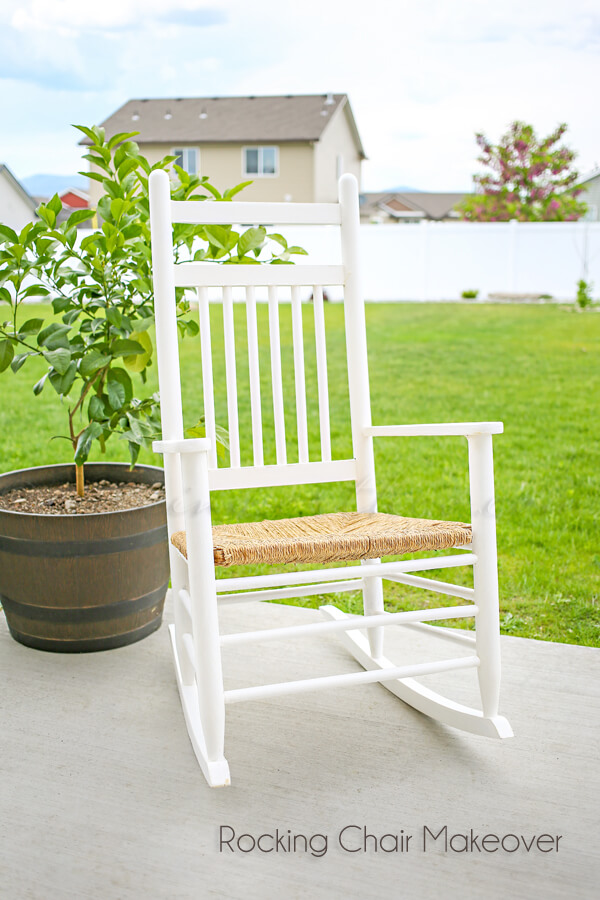 Some of those classic rocking chairs give off a cool rustic vibe, but maybe that's not what you're going for in your home décor. You can always put a new spin on a vintage chair using some chalk paint. The bold white coloring is enough to turn the theme of the chair upside down. Rather than a rural piece of furniture, you are instead left with an updated, fresh chair that sings of warm beaches. It can be a brilliant spot for relaxing outdoors on the patio with friends and family.
22. Relaxing Coastal Farmhouse Styled Chair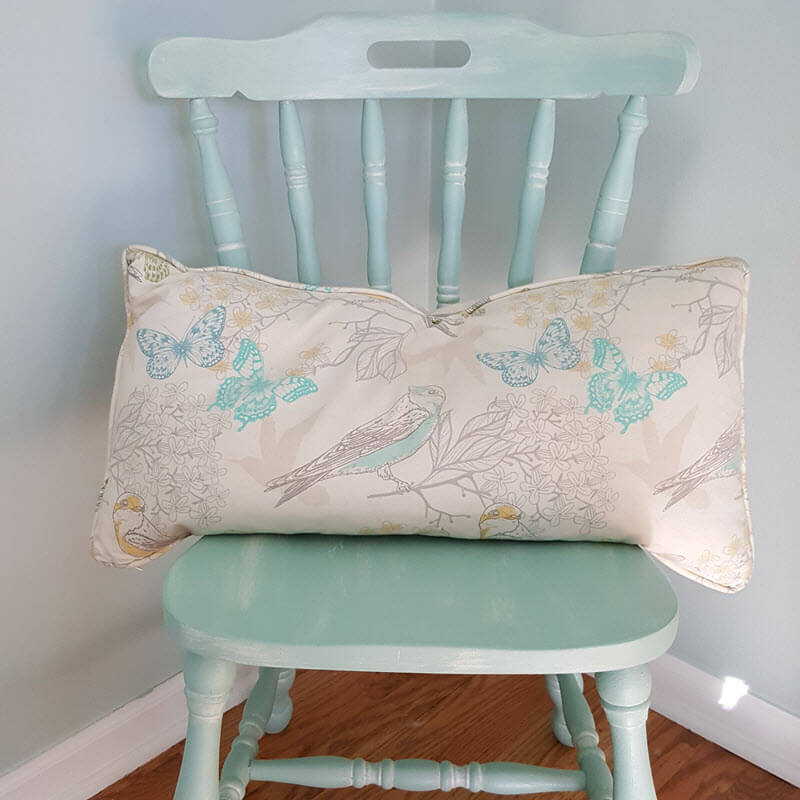 Sometimes you don't want to settle on just one style over another, so why not start combining things? It's always an exciting process when two different décor themes come together to create one amazing piece, and this farmhouse project can do just that. You start things off with a rural-style chair to get that traditional theme nailed down first. From there, you can work on adding the coastal element via the use of paint. Using nice bright colors like light blue is a good choice as it can help give off the vibe of the ocean, bringing the feel of the beach and water right to your home without eliminating the overall farmhouse design of the chair itself.
23. Paint Cover Upholstered Fabric Rocking Chair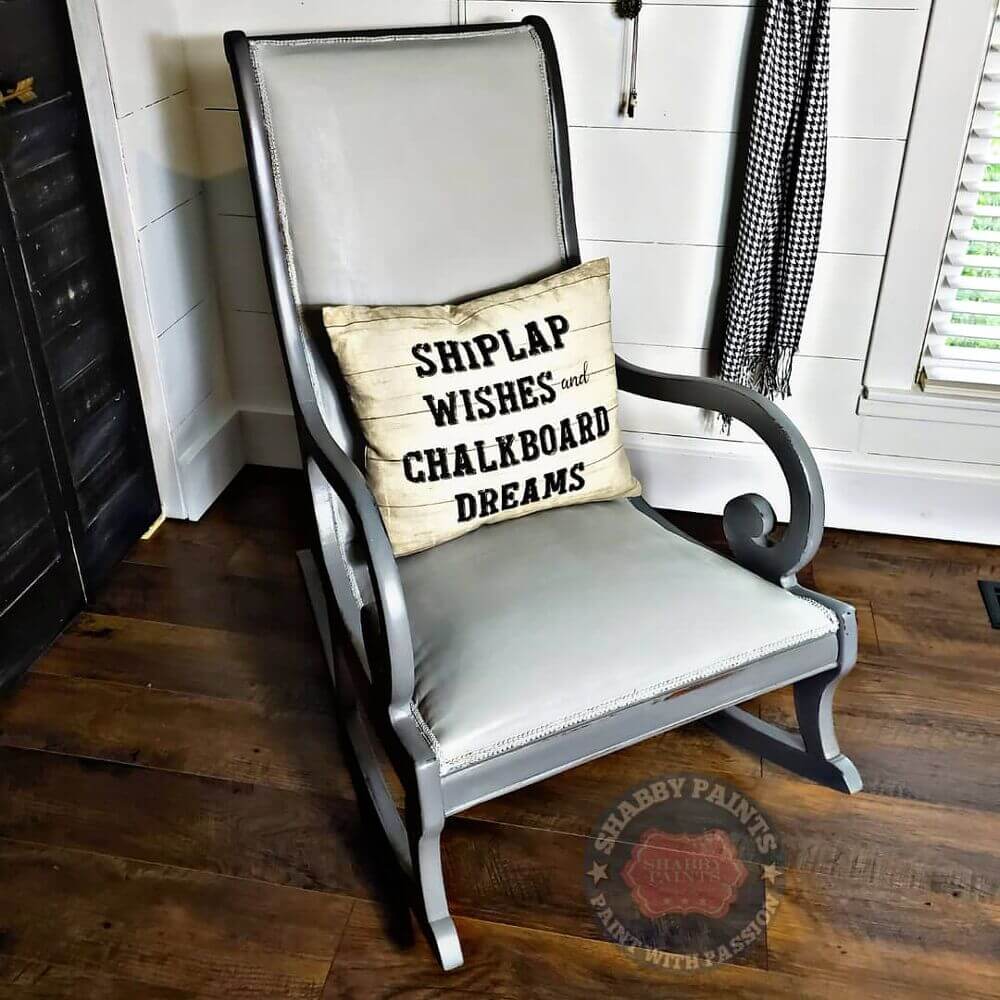 This DIY project may best serve those of you who want a faster, easier method for rejuvenating an old rocking chair. Also, this idea might help if you like the chair overall, but the fabric just isn't quite matching with any room in your house. Rather than replacing the upholstery, with the right paint, you can simply cover up the fabric you don't particularly care for. This maintains the integrity of the chair, but just with a new coat of paint that better lines up to the décor in your home. Just be certain the paint is designed for fabric and seal it up so it stays where it's supposed to be.
24. Thrifty Contemporary Styled Chair Craft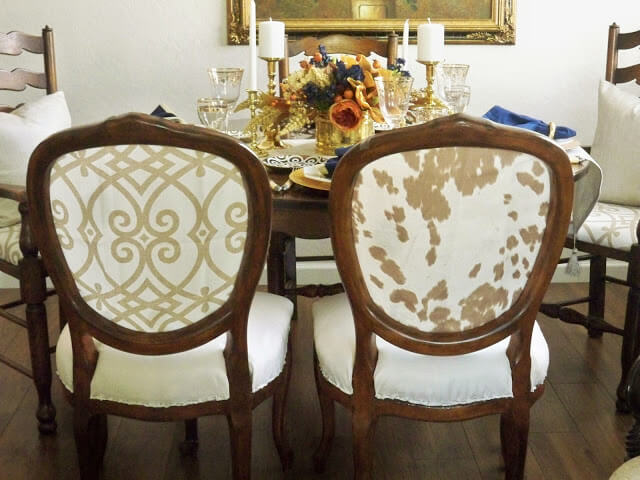 Thrifty meets contemporary with this awesome idea for a chic chair makeover. What's so wonderful about this project is that it can be done even if you have next to no experience re-upholstering furniture. This process is simple enough to follow along with that first-timers can create a fun craft that may allow the chair to look like it was done professionally. You can throw in a fun pattern too on the back of the chair rather than the front. It's almost separated from the rest of the chair, but it works well on accenting the décor in whatever room you choose to use the chair in.
25. Glam Faux Fur Golden Office Chair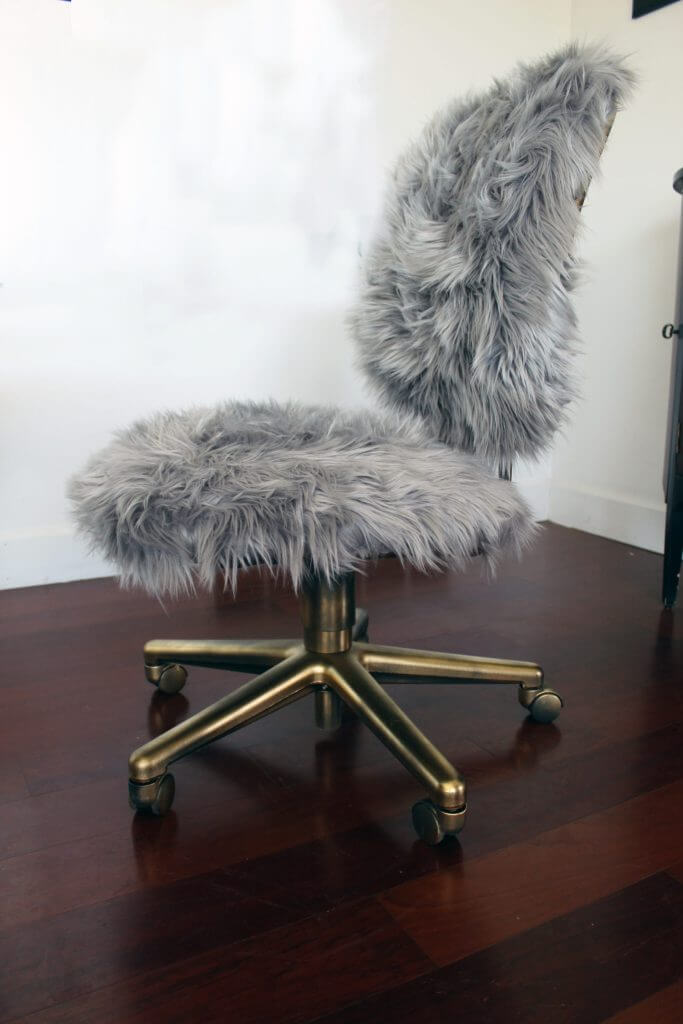 Are you the type that desperately craves a bit of glitz and glamour in your life? If that is the case, a typical wheeled office chair for your office just won't cut it, will it? You should take that chair and raise it to a new level of fabulous with this fun project. Gold paint is perhaps the perfect color to go with since you want this seat to be as loud and alluring as possible. The faux fur is the best way to round out this incredible design. Once it's added on, you get to do your work in a bit more style as you sit comfortably on a soft bed of faux fur.
26. Customized Adirondack Lawn Chair Makeover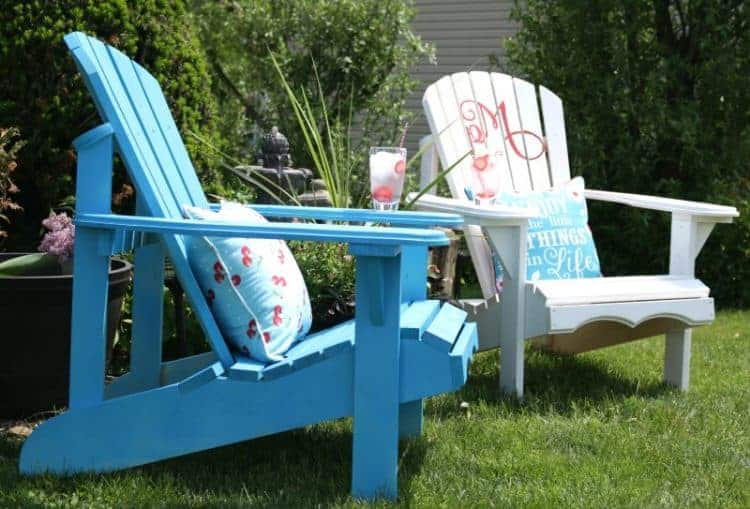 Adirondack chairs are absolutely wonderful when you need some comfortable seating outdoors. They look around the garden or simply somewhere that you can oversee the lawn with family and friends. More importantly, there is so much room for you to give chairs like these the exact paint job you want since they're basic enough in appearance. Now, another cool thing about this project is that there is even enough room for you to add some stencils of whatever you would like to further personalize the chairs to match your personality or the overarching theme of your home.
27. Upholstered Nature Theme Rustic Chair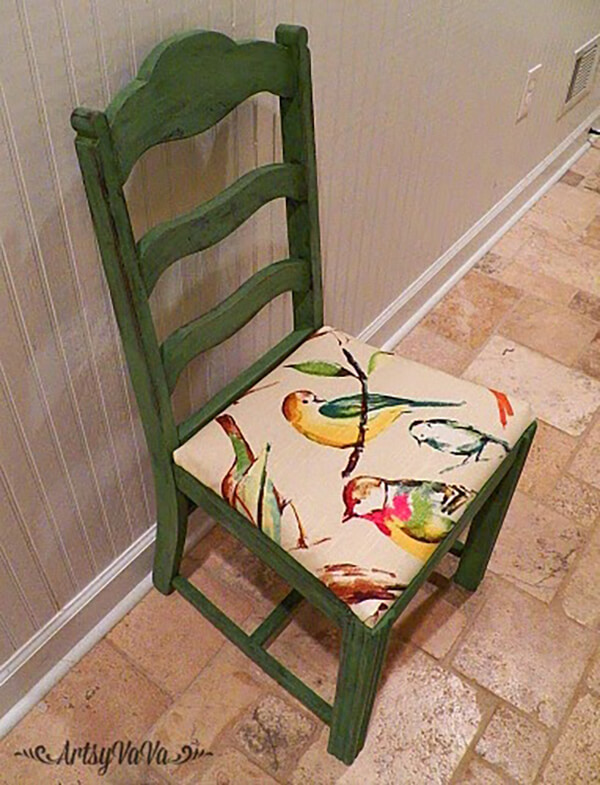 You can elevate a standard rustic cushioned chair into something far more interesting with a nice coat of paint and different fabric. When it comes to the paint, try choosing a color that's a far cry away from the natural wood the chair already has. This way, you can get some end results that are completely different than what you started with. Additionally, be sure the fabric matches the paint. If you're going for more earthly tones, consider finding some nature-themed fabric to reupholster the chair with. It blends effortlessly and highlights the total head-to-toe makeover your chair just received.
28. Large Pretty Office Chair Re-Upholstered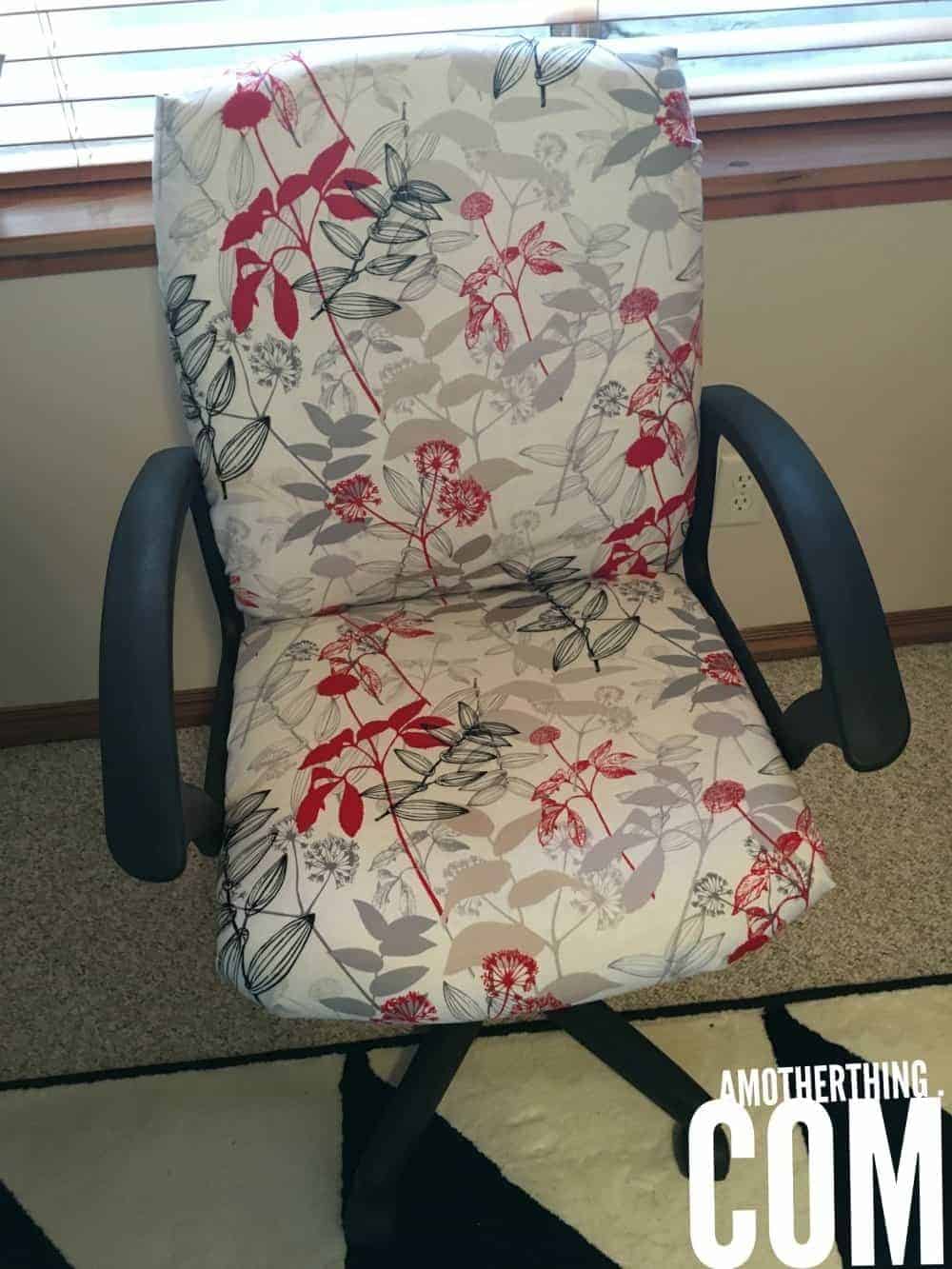 Those big office chairs can do wonders for your back if you have to sit for a long time, but with a basic leather or faux leather design, there is not much else to them in terms of appearances. More so, all that leather wears down over time and can look disappointing. A good re-upholstering can cover up any nasty wear and tear and replace it with some gorgeous fabric instead. You'll want to get them back and seat part of the chair matching so that it looks like a professional job.
28 Fun DIY Chair Makeover Ideas to Make Your Décor One-of-Kind
It's true that chairs can come and go, especially ones that are used on a daily or semi-daily basis in your home. Outdoor furniture can pay the price for earlier too. But don't think about tossing those worn down or aged chairs. There are a plethora of ideas you can pick through that will help you figure out what to do with that old furniture.
Some of the best DIY chair makeover ideas listed previously are versatile in what the finished product will look like. Some use standard dining room sets while others focus on patio furniture. It doesn't matter what your particular project is all about. All that is important is that you discover something interesting and doable out of the 28 ideas we highlighted. Some of them require more skills and time, while others work incredibly well for those of you who may be brand new to the DIY circuit.
Nonetheless, these should help spark that fire of creativity. So, the next time you see a used chair or find one of your own has scratches or faded fabric, check out one of the many tutorials on our list.
Our Favorite Farmhouse Furnitures to buy on Amazon