With the best DIY Christmas candle ideas, you can take your candle-making to new levels this holiday season. Whether you've already made candles before or are interested in diving into a new hobby, it helps to create something according to a theme. What better theme than the holidays? There are several ways you can decorate for Christmas, and handmade Christmas candles are a good way to go considering how much you can personalize them. You can create unique designs so that your décor is far more distinctive and eye-catching.
22 of the Best DIY Christmas Candle Ideas to Personalize Your Décor

Are you unsure of what to make? Thankfully, the holidays provide plenty of inspiration. Create a lovely holder for your candles to add a decorative touch. Alternatively, you can use a simple clear container yet layer on candles of different colors to create an artistic look. You can even use items not commonly made for candles like mugs and mason jars. Some of the best Christmas candle jar ideas offer plenty of room to experiment. So, take a look at our favorite homemade Christmas candles to get an idea of where to begin.
1. Essential Oil Christmas Candle Design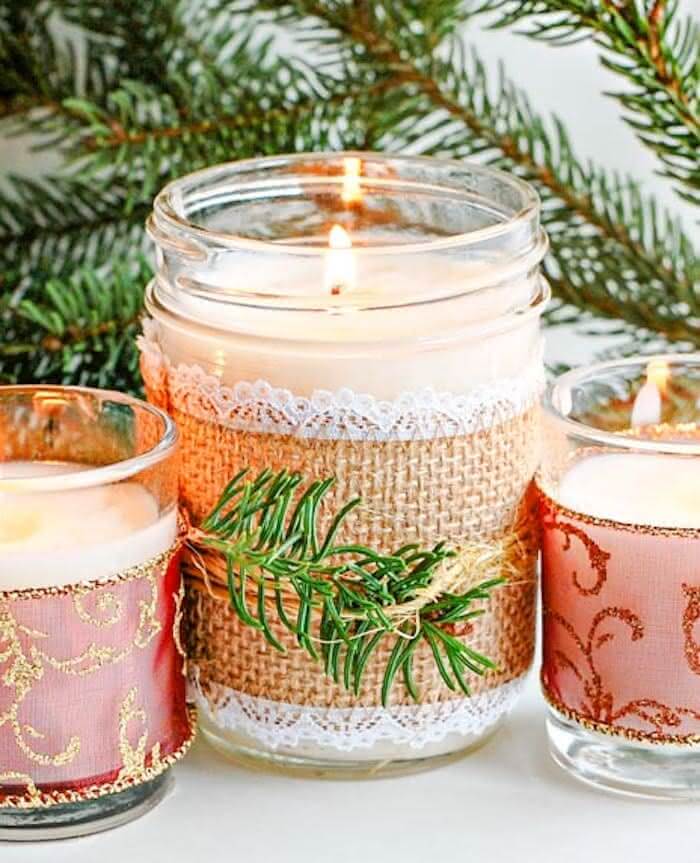 These essential oil candles are a cool way to add distinct aromas to your homemade candles. You can use standard candle jars for this project too. The decorative part comes into play by simply wrapping Christmas ribbon around the container. It is a minimalistic approach to decorating for the holidays, yet it leaves a strong impression behind.
2. Layered DIY Handmade Christmas Candles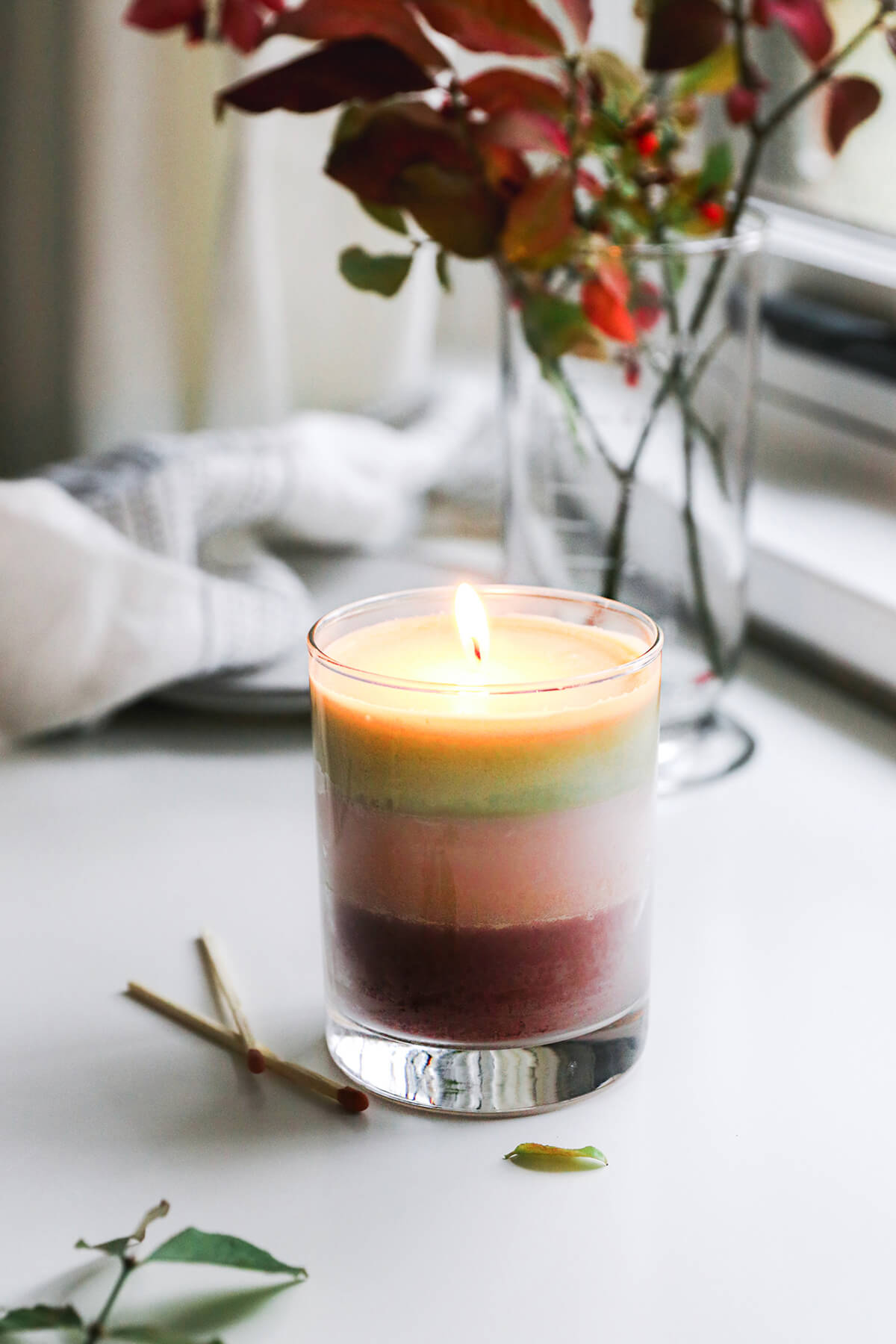 Layered candles have such an attractive look about them that you may be hesitant to light them to watch the candle whittle down over time. Other décor isn't needed for these types of candles either. The layered design says it all. You can layer in different holiday colors, creating a beautiful design befitting for the Christmas celebration.
3. Ceramic Christmas Mug Candle Design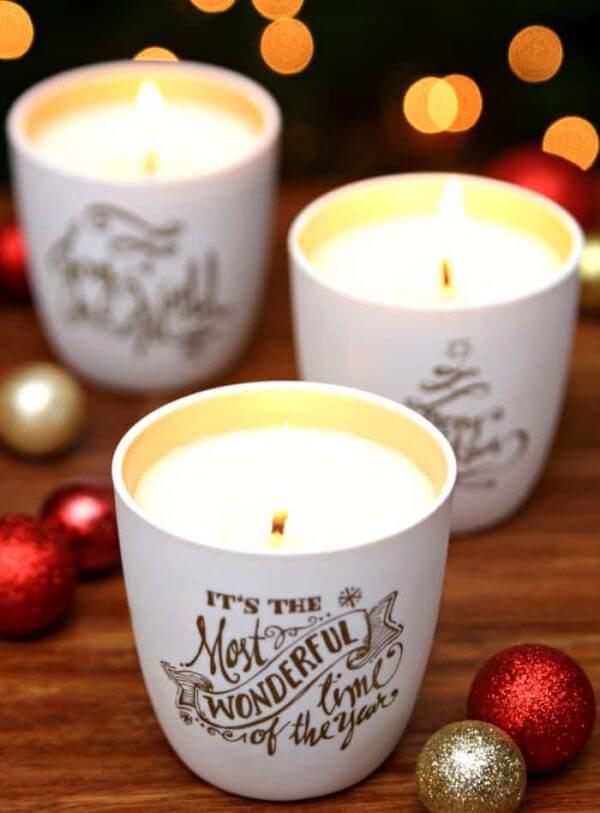 Some of the best DIY Christmas candle ideas involve taking a Christmas item and elevating it with a personal touch. That's where Christmas mugs, or even holiday bowls, come into play. They already boast a lovely Christmas look or saying. All that you need to do is add the candle inside to finish it off.
4. Scented DIY Christmas Candle Designs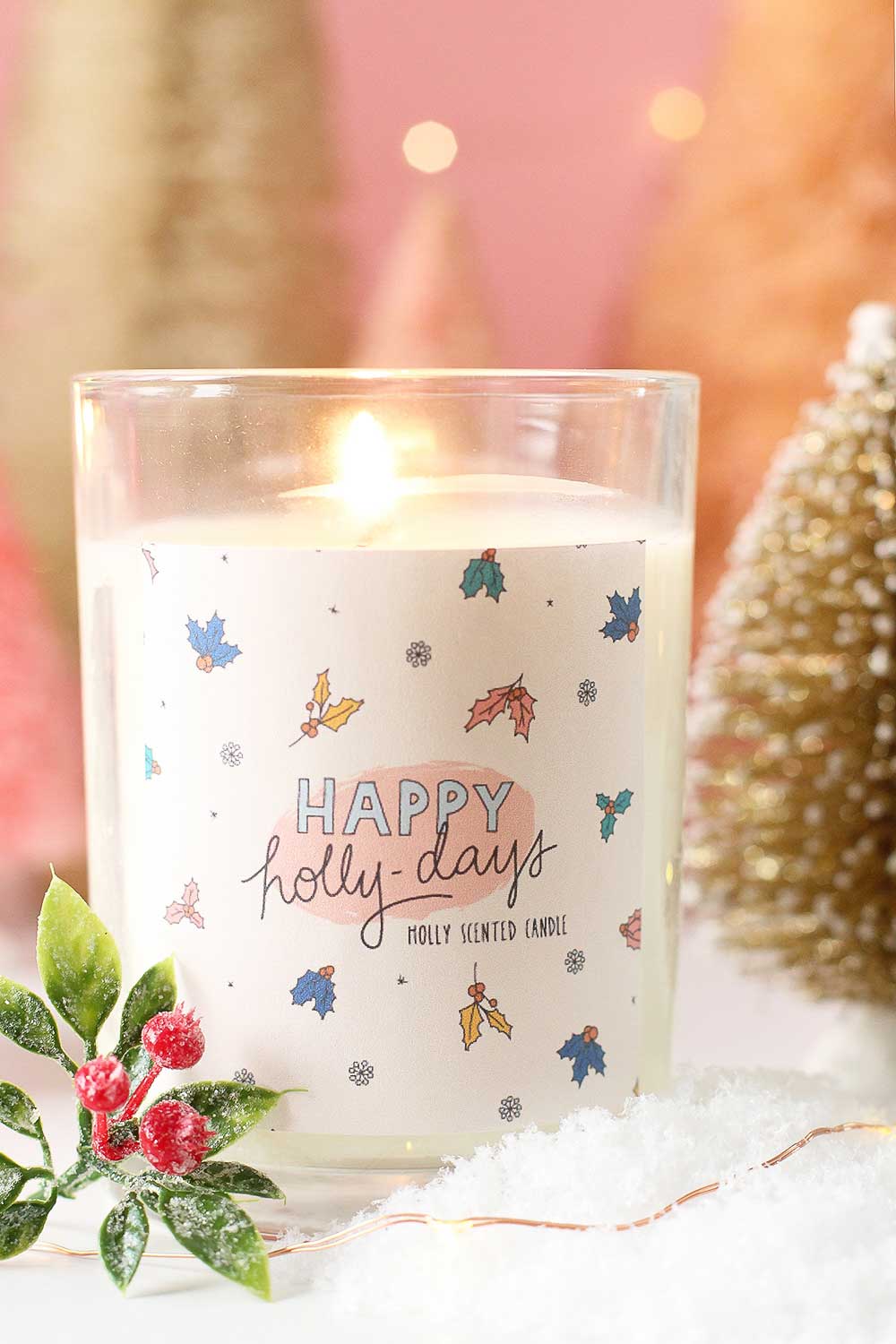 Nothing quite brings the holidays together than a room that smells like Christmas. With the right supplies, you can give your room or various rooms in your home that incredible aroma. If you wish, you can have the candle speak for itself with very little decorative flair going into the candle or the jar that contains it.
5. Charming Beeswax DIY Christmas Candle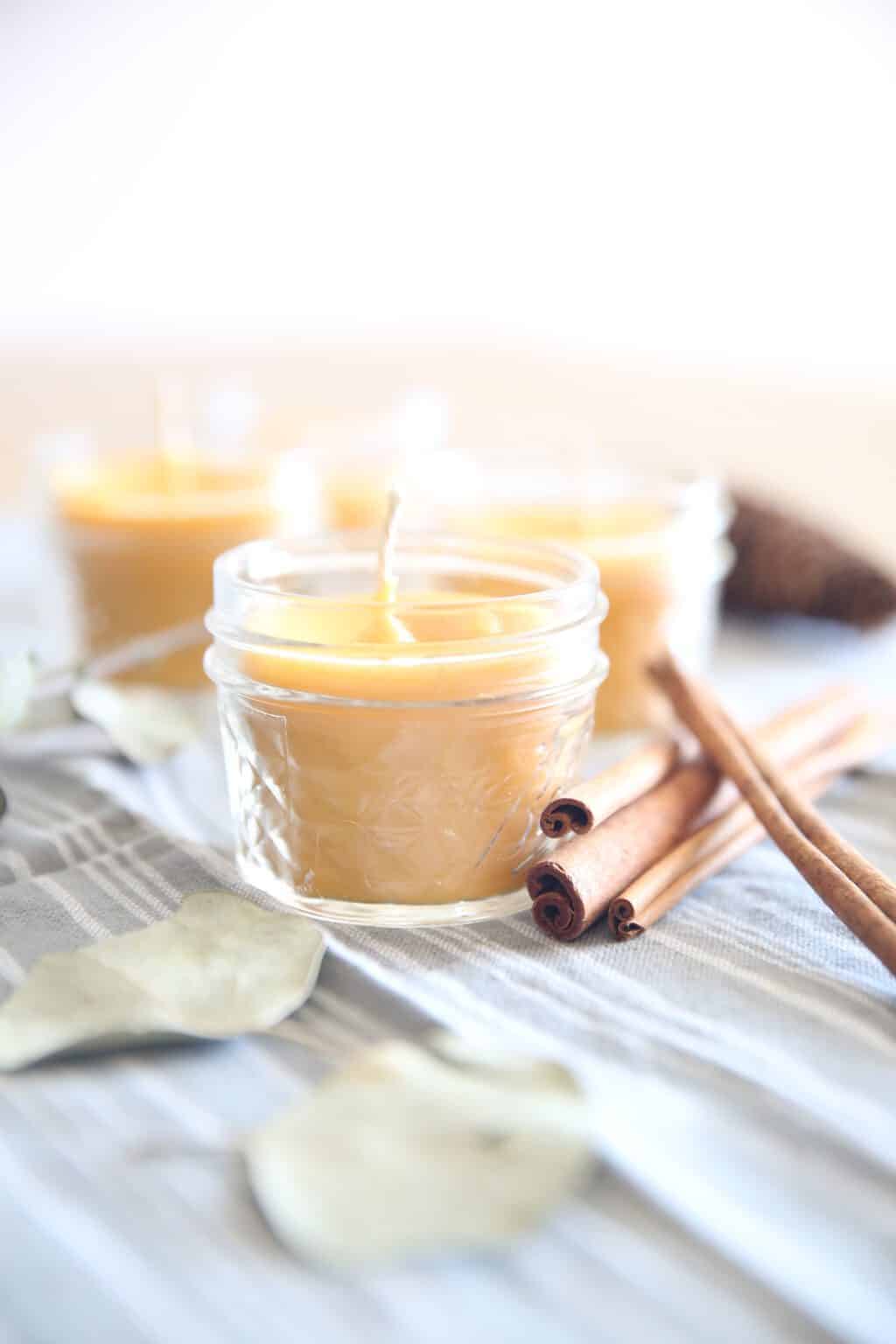 You can use beeswax to create lasting and beautiful candles in time for the holidays. Don't forget to add plenty of essential oils to capture the aroma of the season. This is because the jar itself is unassuming as there is not much in terms of design. So, the Christmas scent is what will help this blend more into your holiday décor.
6. Homemade Cinnamon Theme Christmas Candle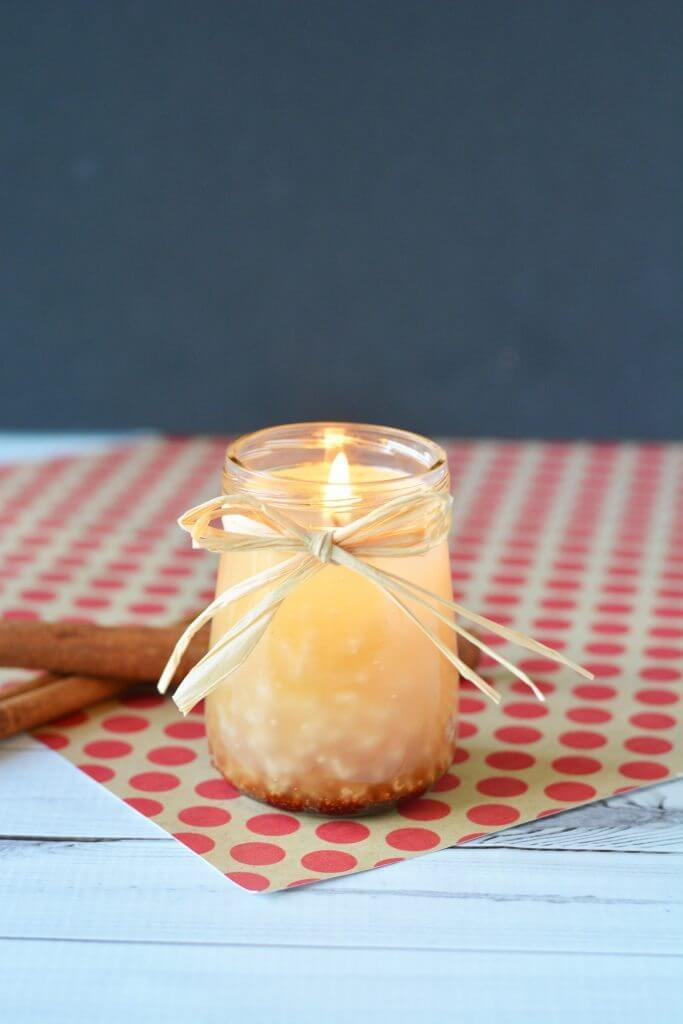 Add the charming and relaxing aroma of cinnamon to your home this holiday season through a candle you made with your own hands. This Christmas candle is straightforward and bold. It is common for it to look a deep shade of brown, but once you light it, the wax begins to melt and leave the cinnamon swimming around in such a unique manner.
7. DIY Candy Cane Peppermint Candle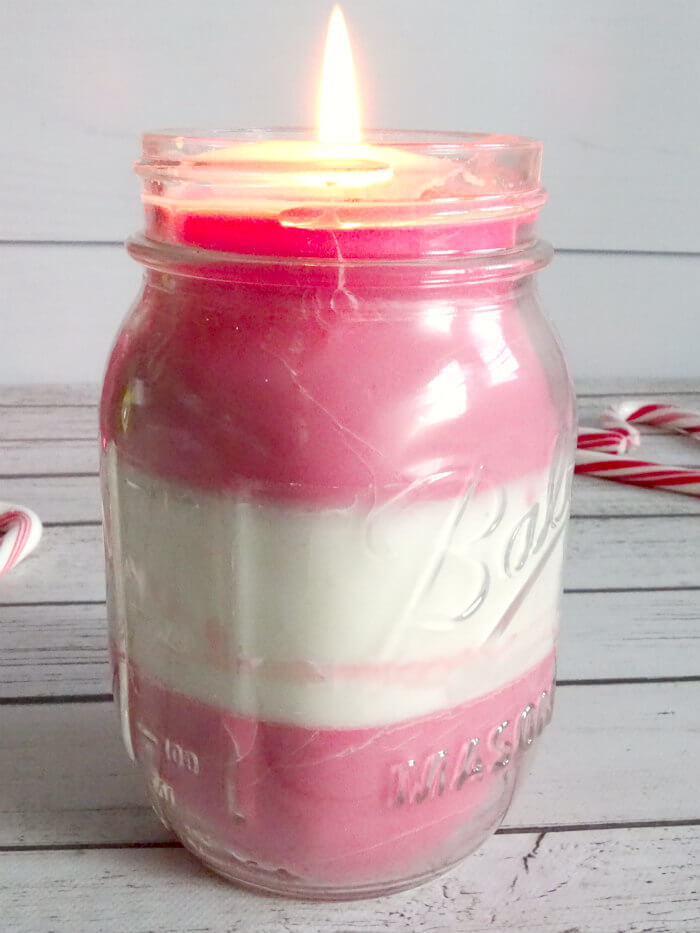 Make excellent use of a mason jar by creating this cool candy cane peppermint candle. It is a layered candle design that boldly shows off the traditional candy cane look. It is a beautiful way to prepare your home for the holiday season, and depending on the size of the mason jar, it can last you quite some time. As the wax melts down, it will blend well together to maintain the Christmas color theme.
8. Quick Mason Jar Candle Designs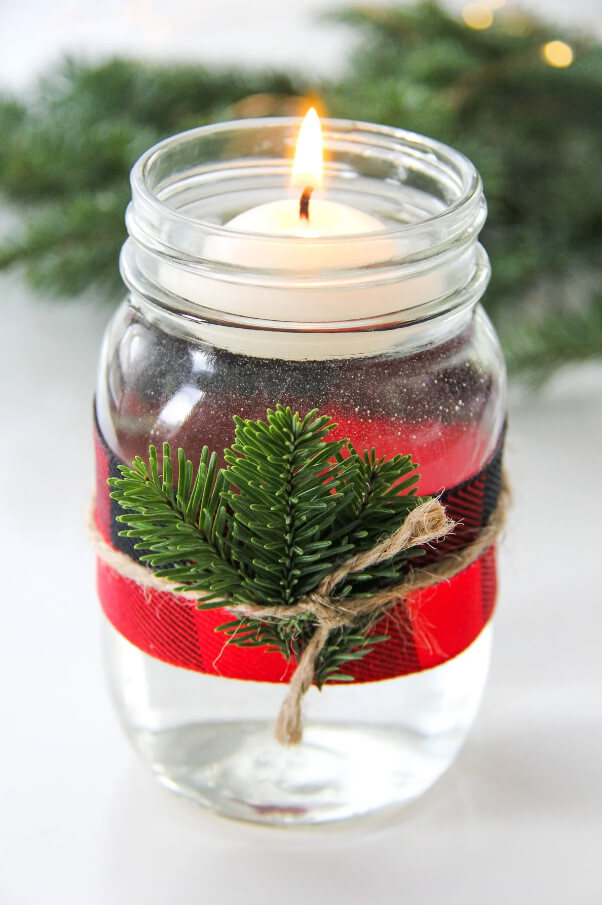 The perfect way to create an attention-grabbing decorative candle is to use some floating candles. They are small, but they are appealing to look at. The floating candles only add to the overall aesthetic of your homemade candle holder. Buffalo plaid ribbon can do plenty to elevate the appearance of the jar. Add on some twine and fresh sprigs to further cement the holiday style.
9. Simple and Rustic Mason Jar Candle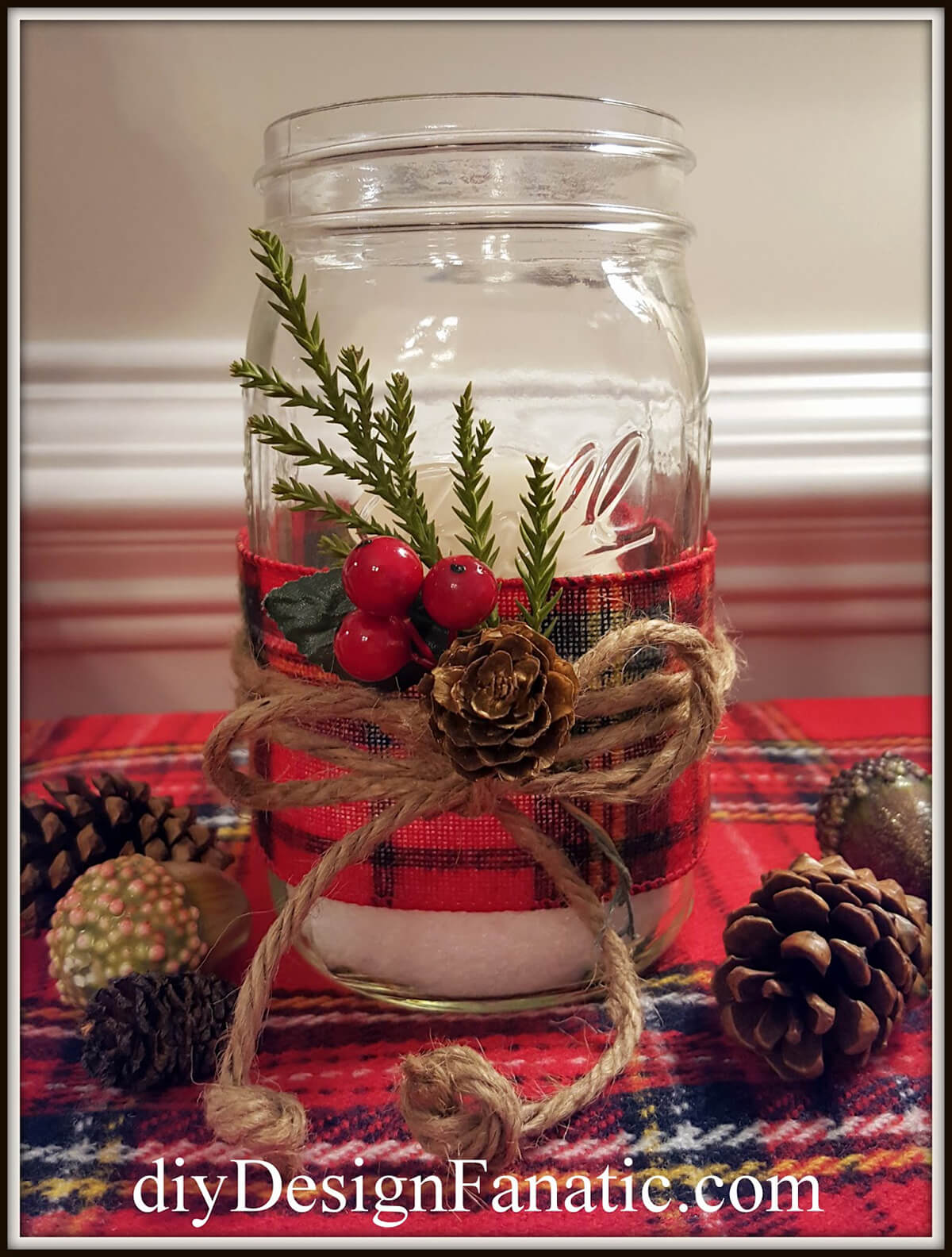 For that outdoorsy look, consider this Christmas mason candle design. The plaid is ideal for the holidays, and it may even match up with the other seasonal décor in your home. Round it all off with the twine and the faux holiday berries to give it more of an exciting and festive appearance.
10. Holiday DIY Glitter Candle Idea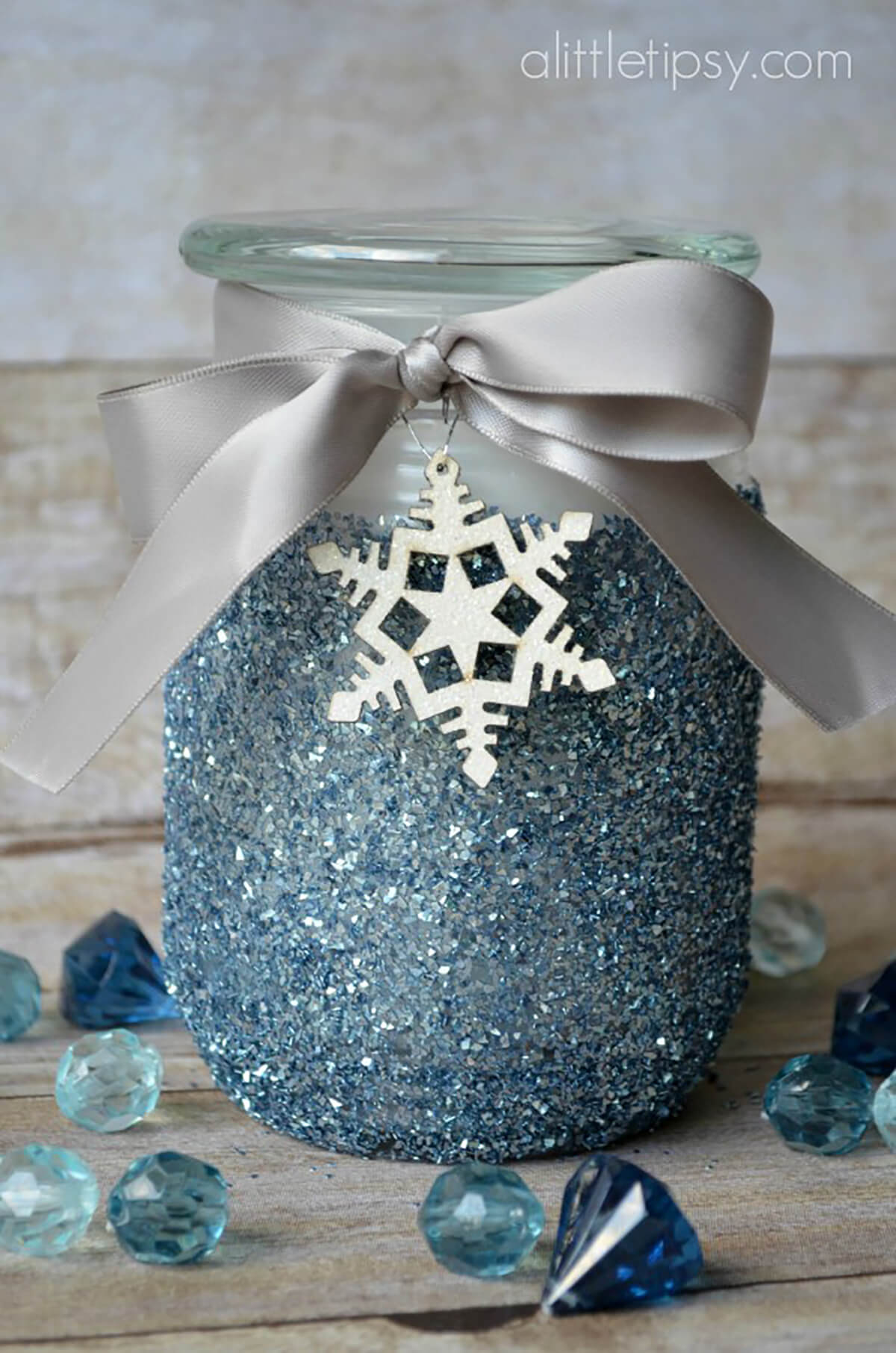 Mod Podge and glitter work well together, and this homemade candle is no different. Feel free to add whatever glitter you'd like with this project. There are many ways you can approach this to blend in with the holiday theme. Blue and white gives off the appearance of snow, aided if you add a ribbon with a snowflake trinket on it.
11. Easy DIY Holiday Glitter Candles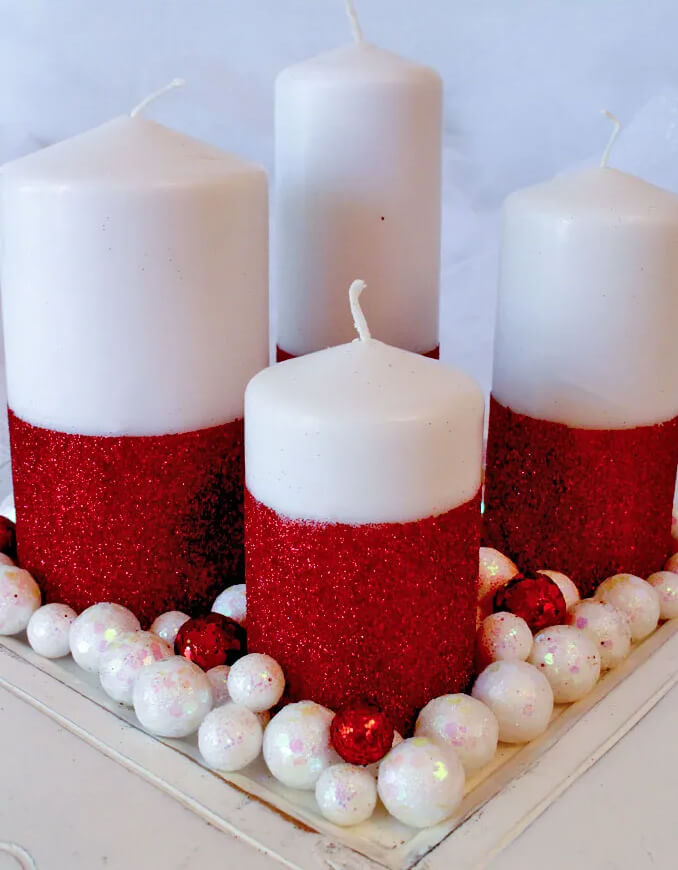 Who doesn't love the occasionally sparkly item? Well, for glitter-lovers, you'll enjoy dabbling into this candle project. It's an easy one for those of you who can't or are unable to make your own candles. Rather, you can buy some affordable candles and use some Mod Podge to attach glitter to them. They look store-bought and ready for use to give your décor a contemporary look.
12. Cute Snowman Pillar Christmas Candles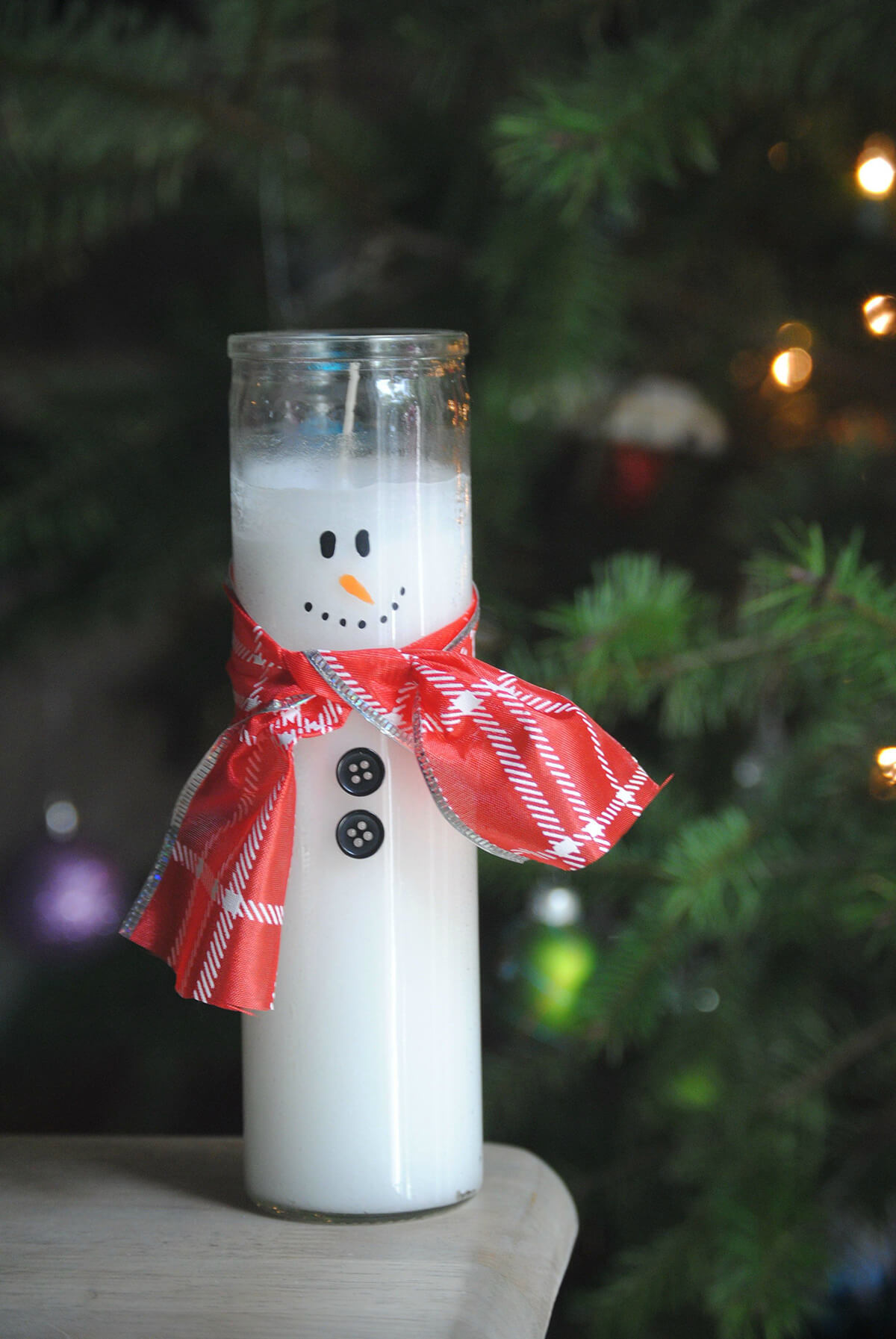 Nothing is quite as charming as a snowman, so why not add it into your homemade Christmas candles? These are simple enough to do as well in that you can possibly make it a family project. Add on the buttons, the adorable smiling snowman face, and a "scarf" for good measure to make it perfect.
13. Santa Theme Homemade Christmas Candle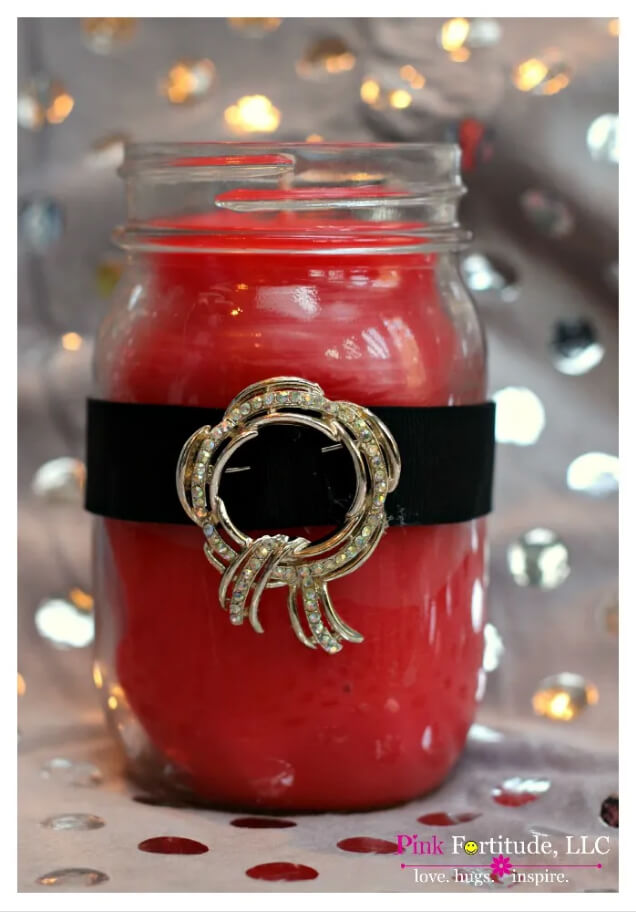 Santa is a great theme to work with when you want to design a DIY Christmas candle. There is a pleasing minimalistic look about this homemade candle too that makes it even more inspiring. The candle color takes the overall Santa role here. Meanwhile, you can add a decorative twist with the wrap and buckle that resembles Santa's coat.
14. DIY Gingerbread Man Milk Jar Candles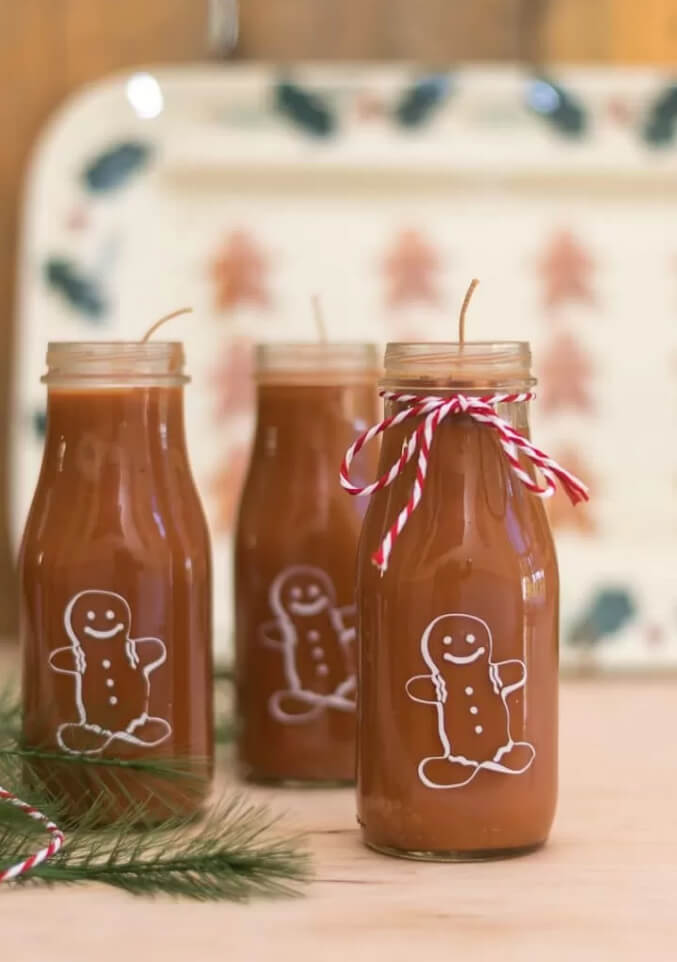 A simple way to give your home a holiday look is with these charming gingerbread man candles. The use of a milk jar is perfect thanks to the see-through design that allows you to show off the brown color to suit the gingerbread theme. Of course, the drawing of an adorable mini gingerbread man pulls everything together in a more cohesive design.
15. Cool DIY Decorative Christmas Candle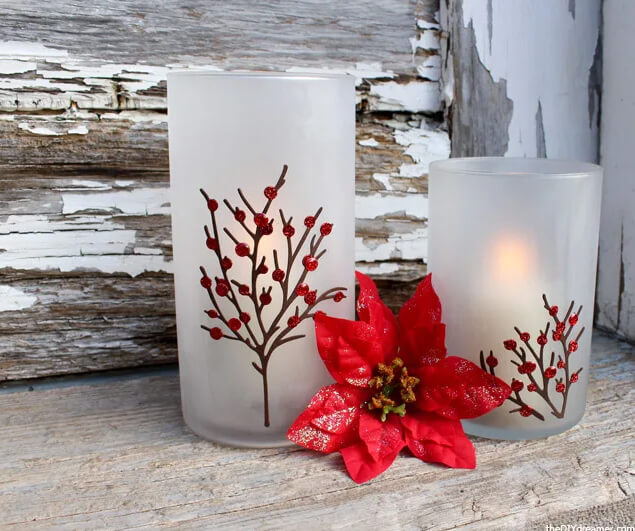 See-through candle holders are popular, but as are those that are only semi see-through. This candle design gives off a different type of vibe. There is a modern feel about them as the most thing you see inside is a smoky image of a flickering flame once lit. An incredible way to give this a holiday makeover is through the festive design on the outside of the candle holder.
16. Cute Starbucks Mug Handmade Candle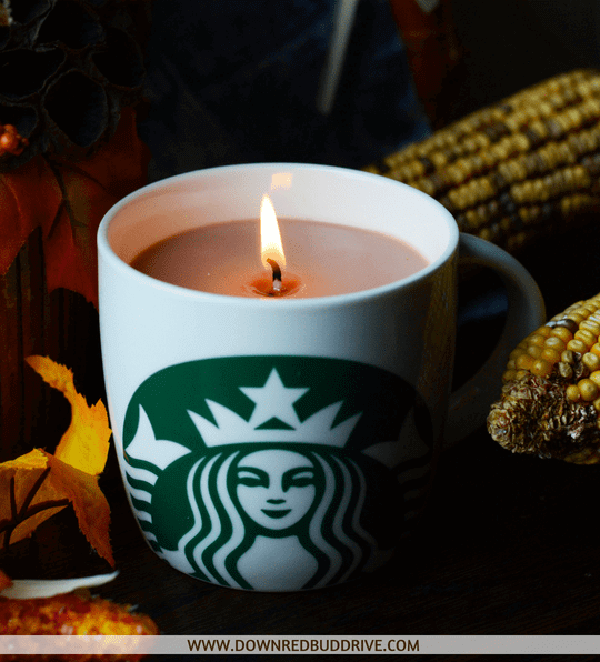 A Starbucks mug offers a solid base for your homemade candle. The color already matches the Christmas theme, so you don't have to decorate it further if you don't want to. Plus, the fact that it is a mug will cause anyone visiting your home to do a double take. The candle itself is straightforward to make, and you can personalize that even more by using a traditional Christmas color or seasonal aromas.
17. Seasonal Snowy Candle Jar Holder Project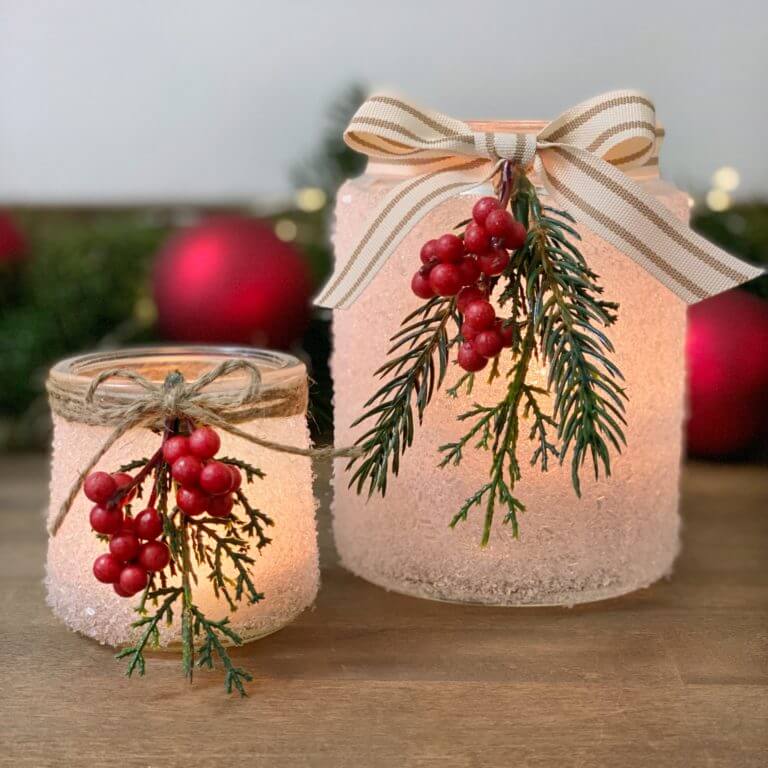 Take some basic jars like mason jars and give them a twist with this snowy candle design. The Mod Podge perfectly holds the decorative items. Layer on faux snow for that outside appearance and add in some other festive items like berries and tree branches. It's one of the best Christmas candle jar ideas that gives you a rustic vibe.
18. Homemade Apple Spice Christmas Candle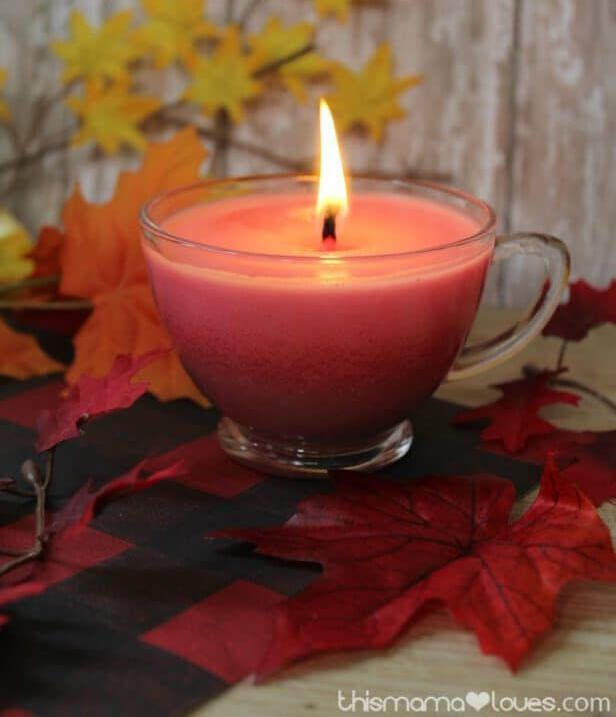 Apple spice is a wonderful fragrance to have wafting through your home during the holidays. Also, it allows the candle to have a festive appearance too in terms of coloring. You can add this to a small glass teacup to sell the theme. The teacup gives it a contemporary appearance that will only serve to enhance your room's atmosphere.
19. Cozy Coffee DIY Christmas Candle Design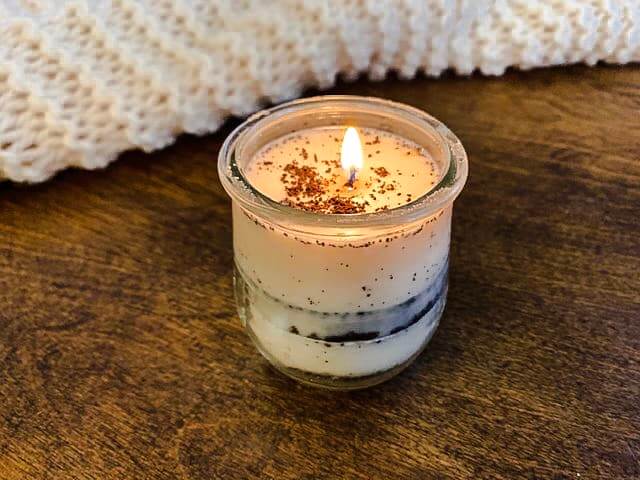 For coffee lovers, you can fill your home with this breathtaking smell by making your own candle. Besides the fragrance, the candle simply looks appealing when lit or unlit. The layered design enhances the coffee within it even more. In fact, the design of the candle with the white and the darker brown helps give the feeling of winter and the snow outside on the ground, a perfect way to connect to the holidays.
20. Holiday Mug Homemade Christmas Candle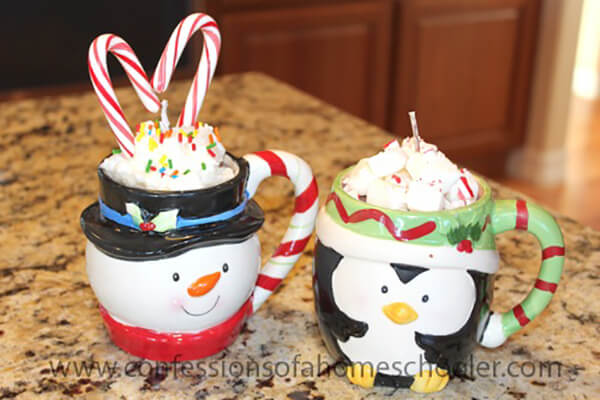 Got some holiday mugs that no one uses? Or maybe you've bought some at a dollar store? Either way, they serve as a great base for your DIY Christmas candles. It saves you some time when it comes to decorating the candle too since the mug itself is festive enough. Of course, you can still add some finishing touches to give the candle the appearance of it being hot chocolate in a mug.
21. Homemade Mason Jar Cinnamon Christmas Candles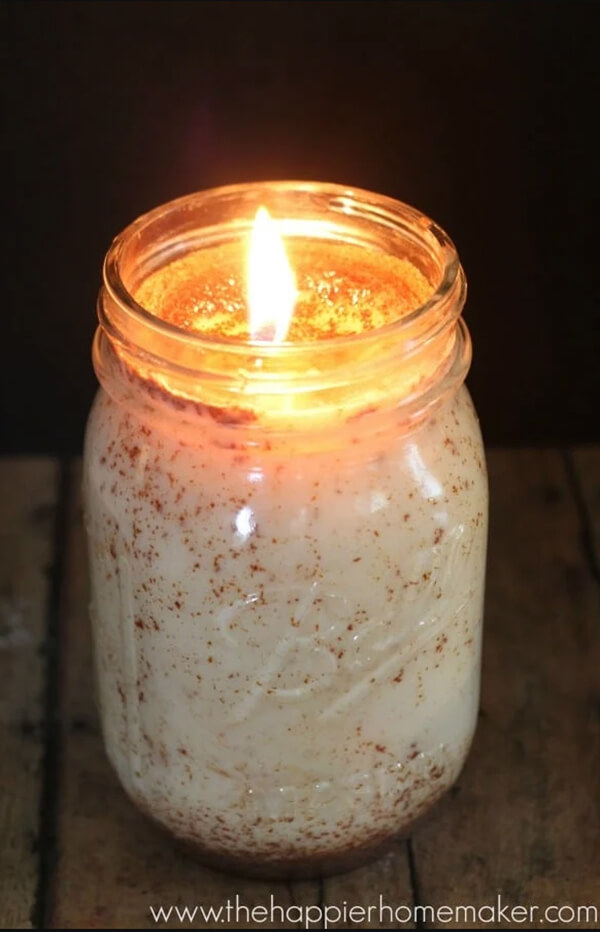 Cinnamon is a wonderful smell to bask in, especially during the holiday season. You can fill your home up with this aroma while also leaving behind some cool candles. The mason jar is a solid choice since you want everyone to see this candle. Once it dries, the cinnamon settles in different ways, making it even more interesting and worth admiring.
22. DIY Christmas Stencil Candle Jars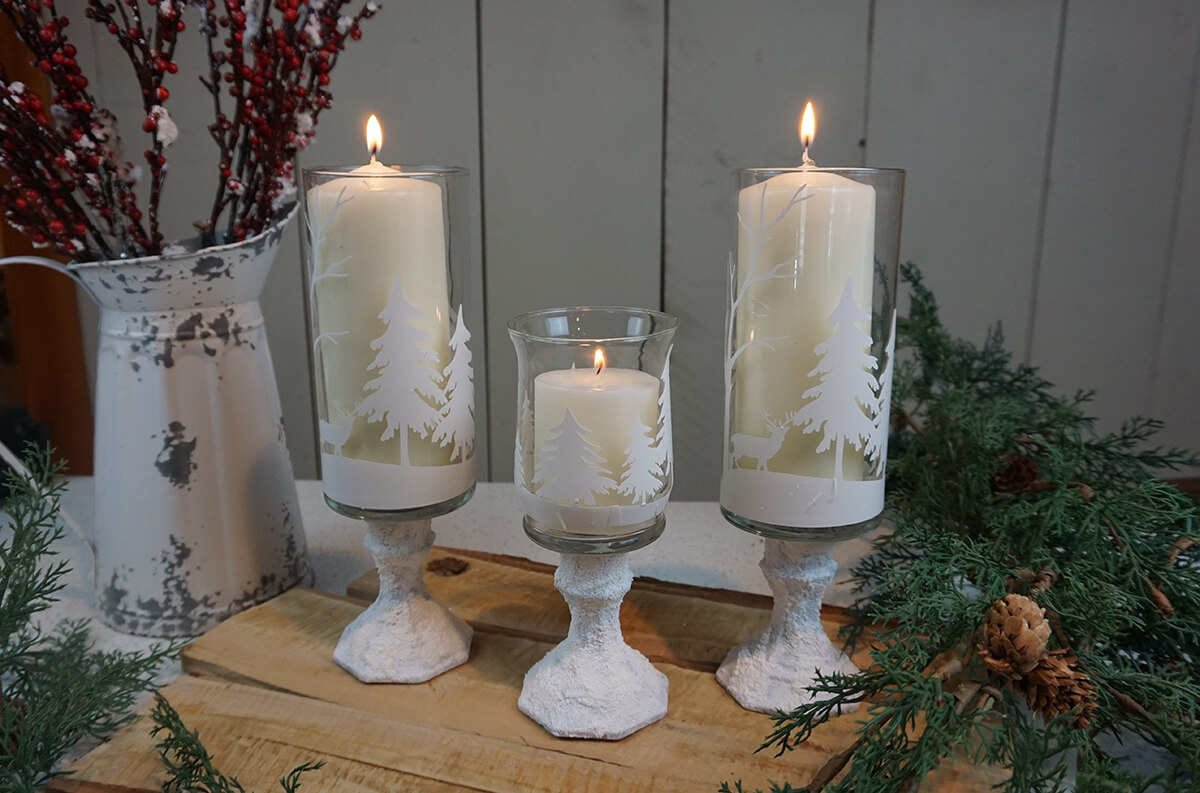 If you have a Cricut, you can make great use of it when you create festive stencils. These stencils attach well to simple see-through containers that you can use to hold your candles. Printing it out in white helps you maintain the winter theme. You can further play into that with the faux snow that covers the bottom holder of the candle.
22 Festive DIY Christmas Candle Ideas for a Unique Holiday
A candle in any room can elevate the overall atmosphere, impacting your senses in different ways. Decorative holiday candles have a gorgeous appearance, pulling together the rest of your festive décor. Meanwhile, they also provide a lovely aroma to enhance the vibe even more. You can make things more fun by creating homemade Christmas candles. This way, you will always have something that best matches your personality and style.
There are numerous ways you can go about this process too. You can use incredible Christmas candle jar ideas that will leave you with décor that is attention-grabbing. So, if you ever need that extra touch this holiday season, check out the list of our favorite best DIY Christmas candle ideas.