We all see the magazine spreads of extravagant Christmas parties. Who has the time or budget to put together these lavish table settings? If you love hosting a party that looks like a million dollars, but want to stay on budget, then you must see these DIY Christmas centerpiece ideas.
Charming DIY Christmas Centerpieces that Won't Break the Bank

With styles from classic candy cane bouquet holders to unique woodland scenes for your farmhouse table, this list provides you with an amazing array of elegant Christmas centerpieces that won't break the bank. Check out the oh-so-simple uses of table salt in some of these glittery, fun, white and metallic arrangements. Not only are these groupings lovely to look at, many of them boast aromatic plant choices that fill your home with the Christmas spirit.
No more are you hampered by a boring Christmas color theme, these creative ideas will have your wheels turning to bring holiday beauty to your table that is in keeping with your own unique style. There are abundant ideas for up-cycled materials, jars and containers that you already own and freshly cut greenery from your own yard.
Frugal doesn't have to be frumpy. These ideas include dollar store items, but with your creativity you'll transform them into stylish table settings that look magazine worthy. With easy directions and tips from top decorators, enjoy planning your next holiday party by choosing a DIY Christmas centerpiece from this creative list.
1. Christmas Centerpiece With Mini Rustic Trees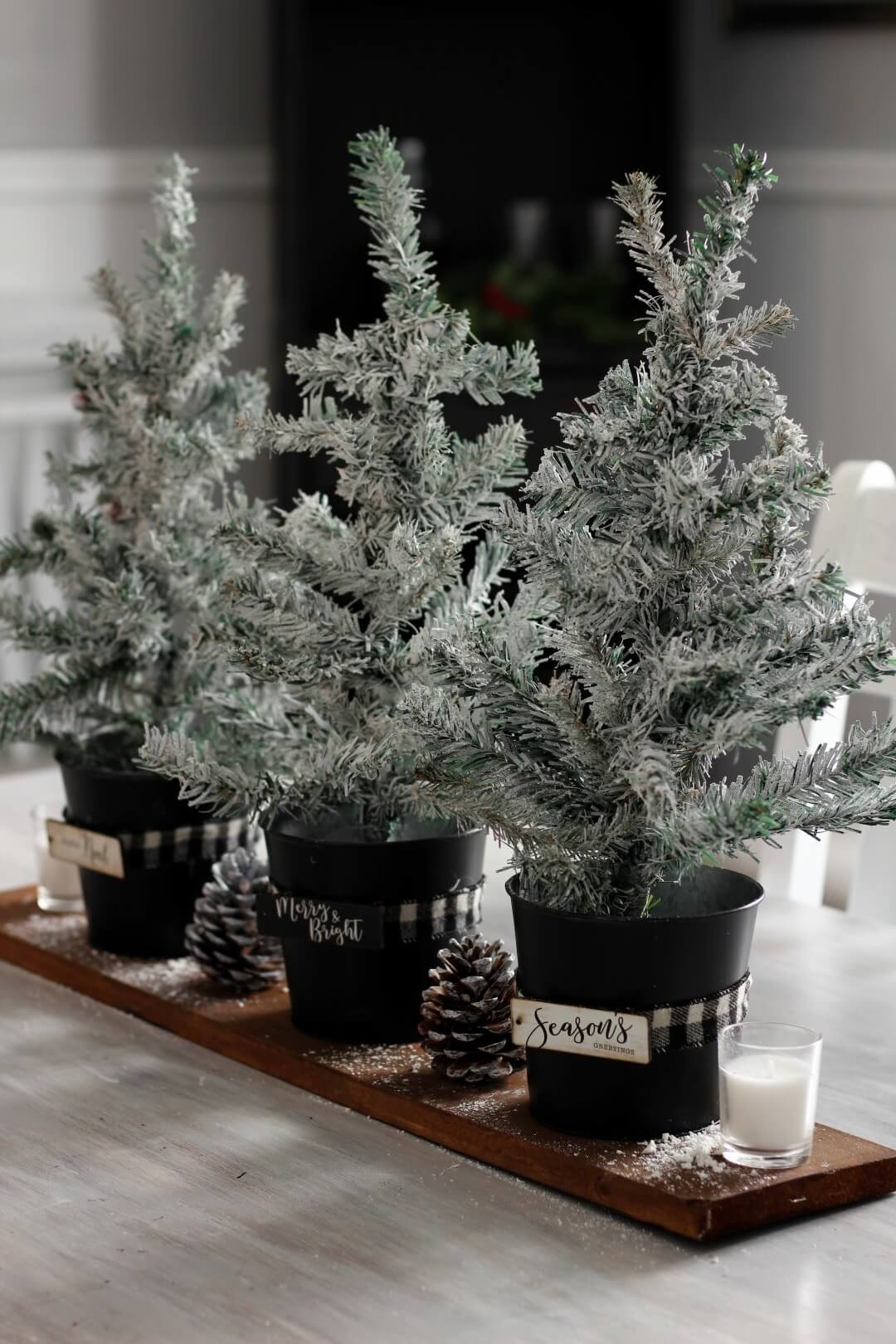 This centerpiece looks expensive, but it is really a super affordable dollar store hack. Learn how to create lavish trees with a few simple items. Add some rustic buckets and pinecones for an adorable centerpiece.
2. Lighted Domed Glass Christmas Centerpiece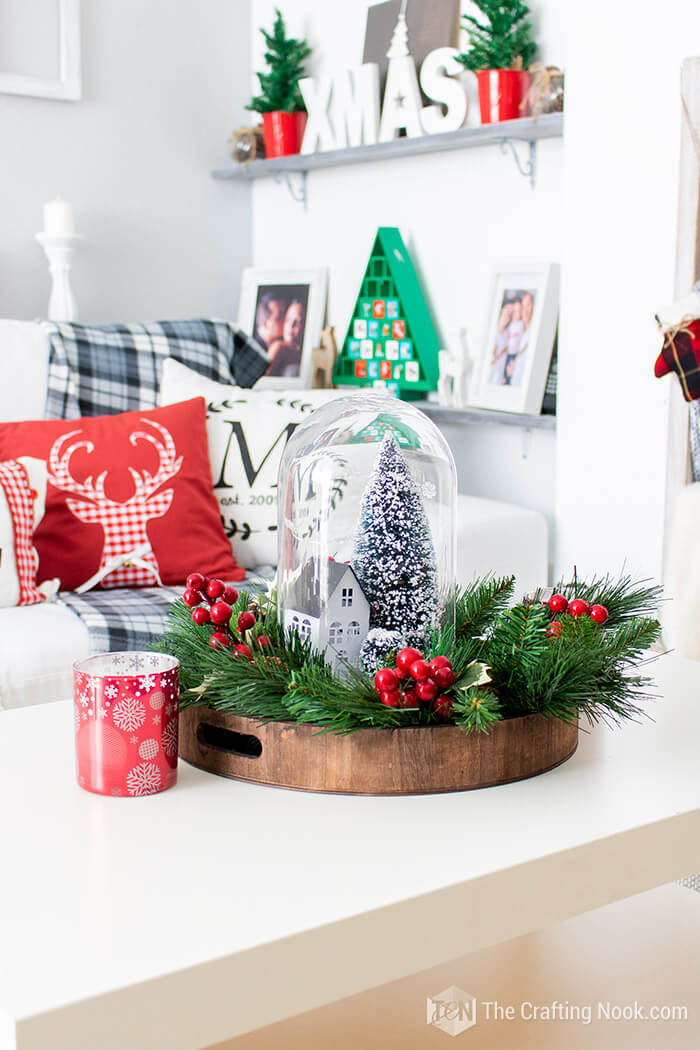 This gorgeous Christmas cloche is easy to make with just a few items. Place the Christmas village pieces with a string of battery-powered lights under a dome. Add a wreath and a tray for an upscale look at a discount price.
3. Curated Christmas Collection with Candles and Ornaments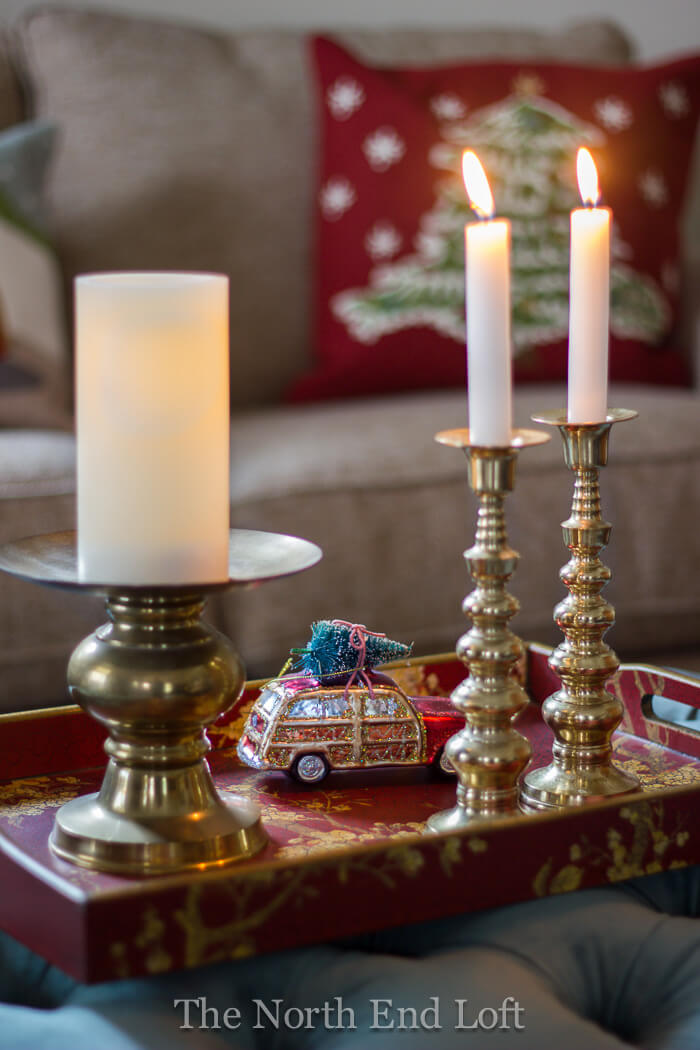 It is so easy to create a curated Christmas collection by gathering some items and placing them on a decorative tray, basket, or bowl. This festive selection includes ornate candle holders, candles, and a special ornament.
4. M&M Coated Christmas Tree Decorations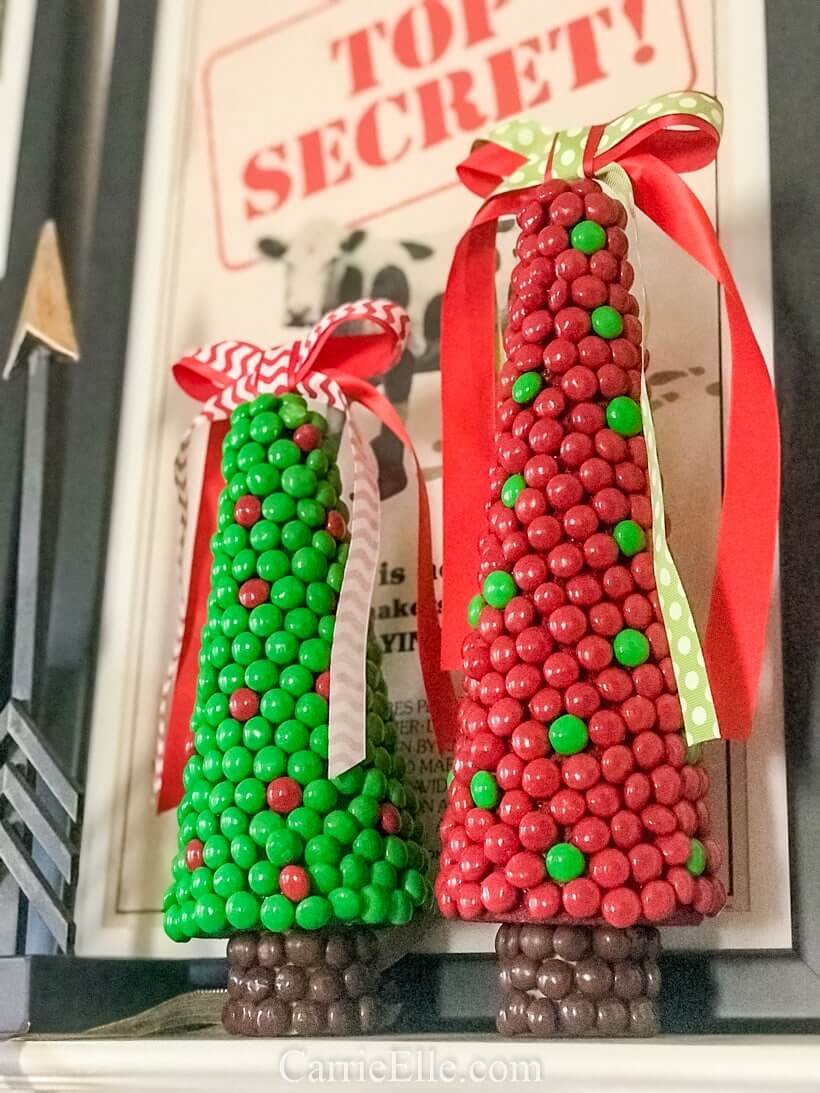 This adorable candy-coated tree can be made with a few simple supplies, including M&Ms to nibble while you create. This fun tree looks fantastic alongside a gingerbread house. It also works well on a mantle or in a kitchen.
5. Rustic DIY Woodland Christmas Centerpiece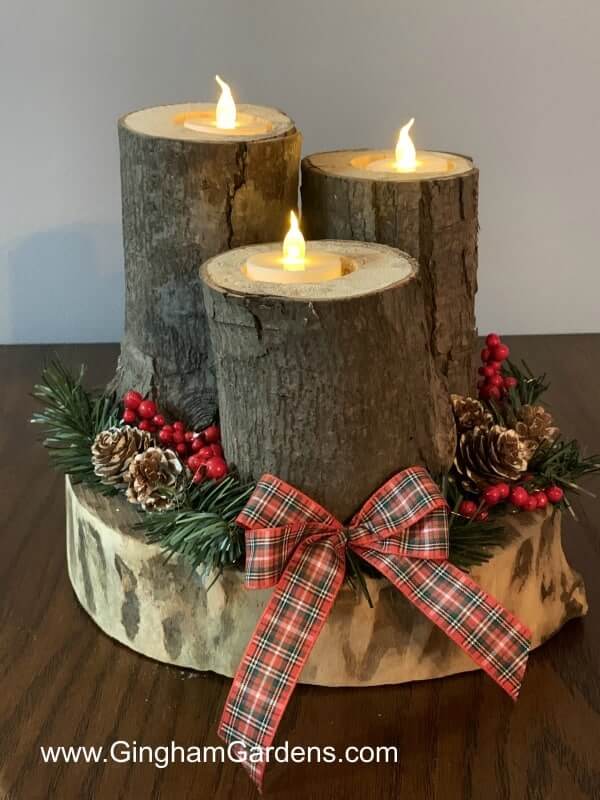 This DIY centerpiece looks like an expensive piece from your favorite home décor store, but it is super affordable to make at home. With some tree branches, tea lights, and a few decorations, you can make this stunning centerpiece on your own.
6. Christmas Crate Centerpiece with Fresh Greenery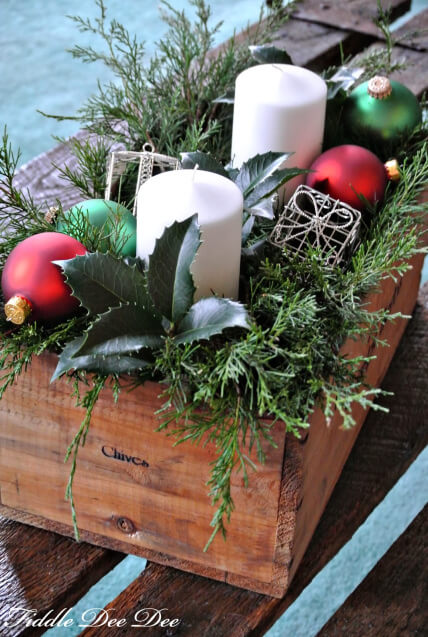 An old wooden crate is given new life with this beautiful Christmas centerpiece. This one is so easy to make at home with things you already have. A few candles, some ornaments, and some greens from the yard are all you need.
7. Tiered Tray Curated Christmas Display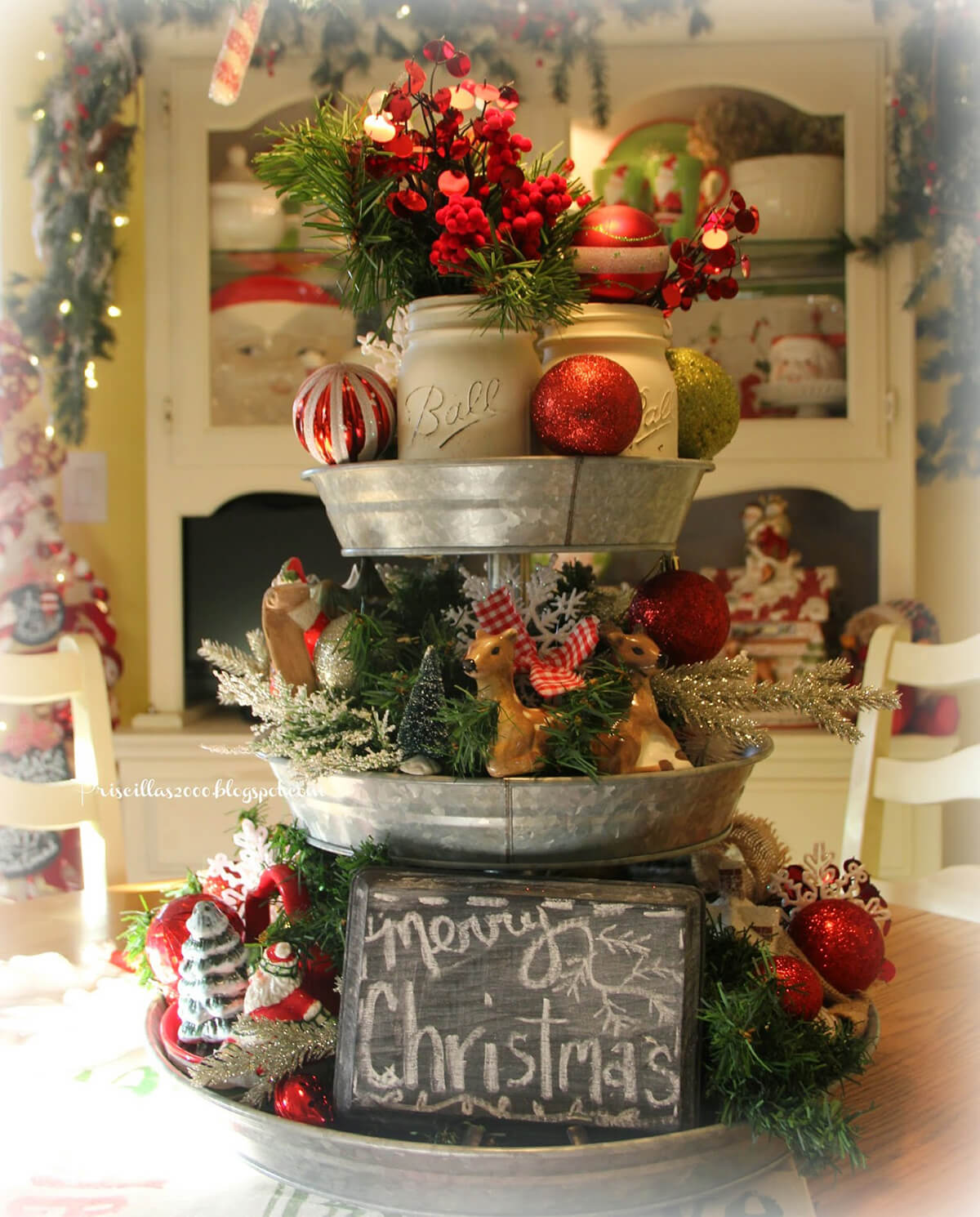 Curated displays are on-trend, and tiered trays have never more popular for something other than cookies. Gather a bunch of different items that all look nice together to display. Popular choices are ornaments, greens, candles, and small signs. Add some ribbon for extra cheer.
8. Elegant Paper Doily Christmas Trees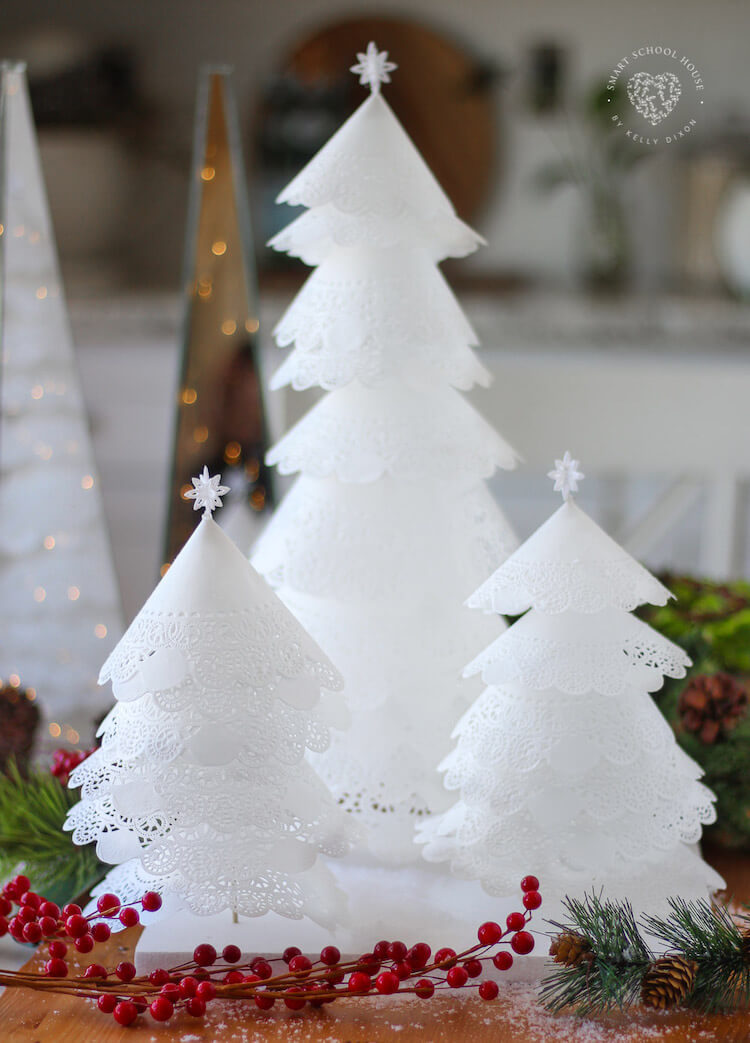 Light and airy, these trees are reminiscent of lightly falling snow. The edges of the doilies make the edges of the trees. The details are intricate and beautiful, just like snowflakes. You can customize the height for your needs, and you can also add additional embellishments.
9. Quick and Easy Ornament Holiday Décor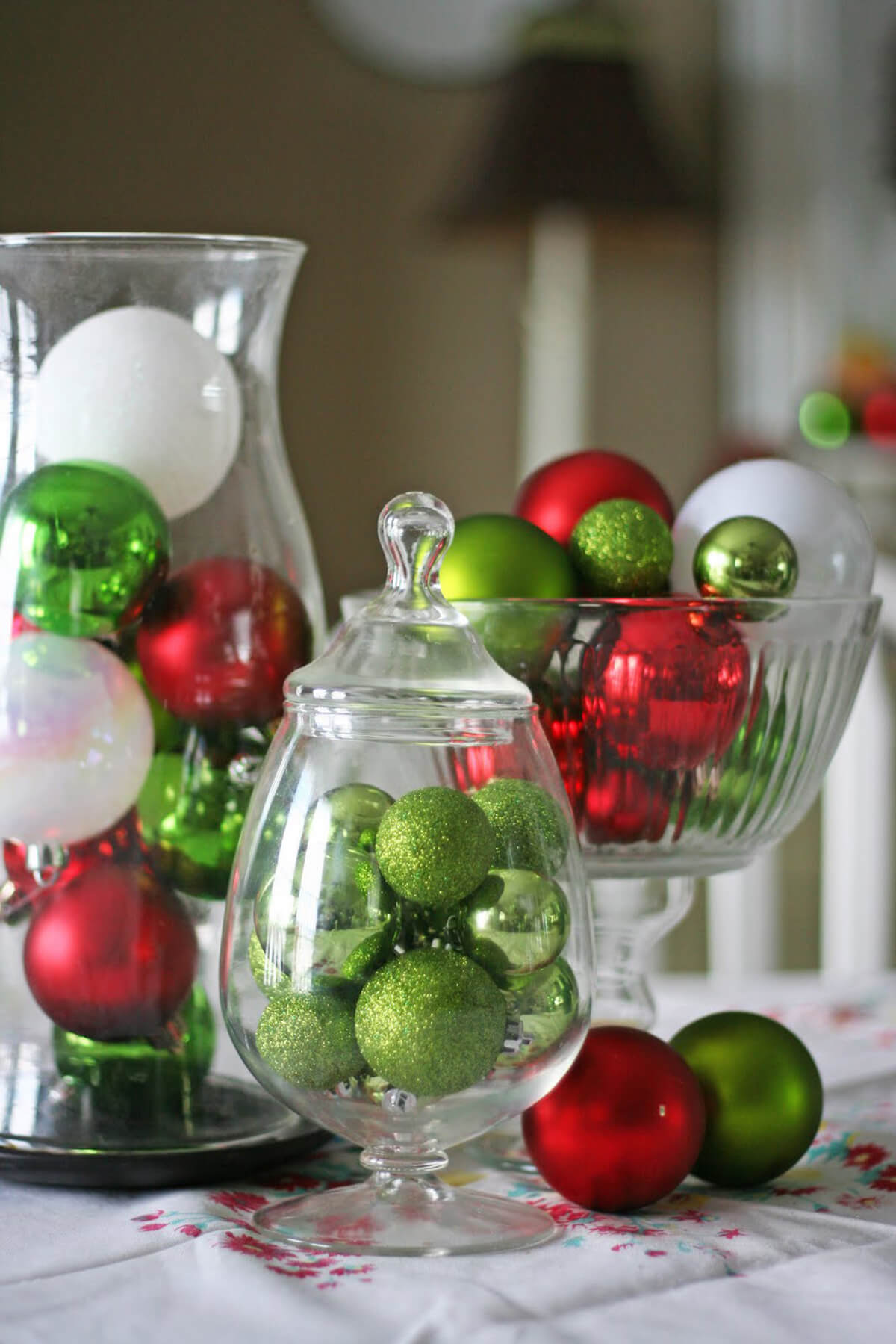 This is the best décor to create if you are in a time crunch. Gather up some glass bowls, vases, or hurricane globes. If you do not have any, visit a second-hand shop for inexpensive options. Add some of your favorite Christmas balls and enjoy.
10. Raised Lantern and Christmas Ornament Centerpiece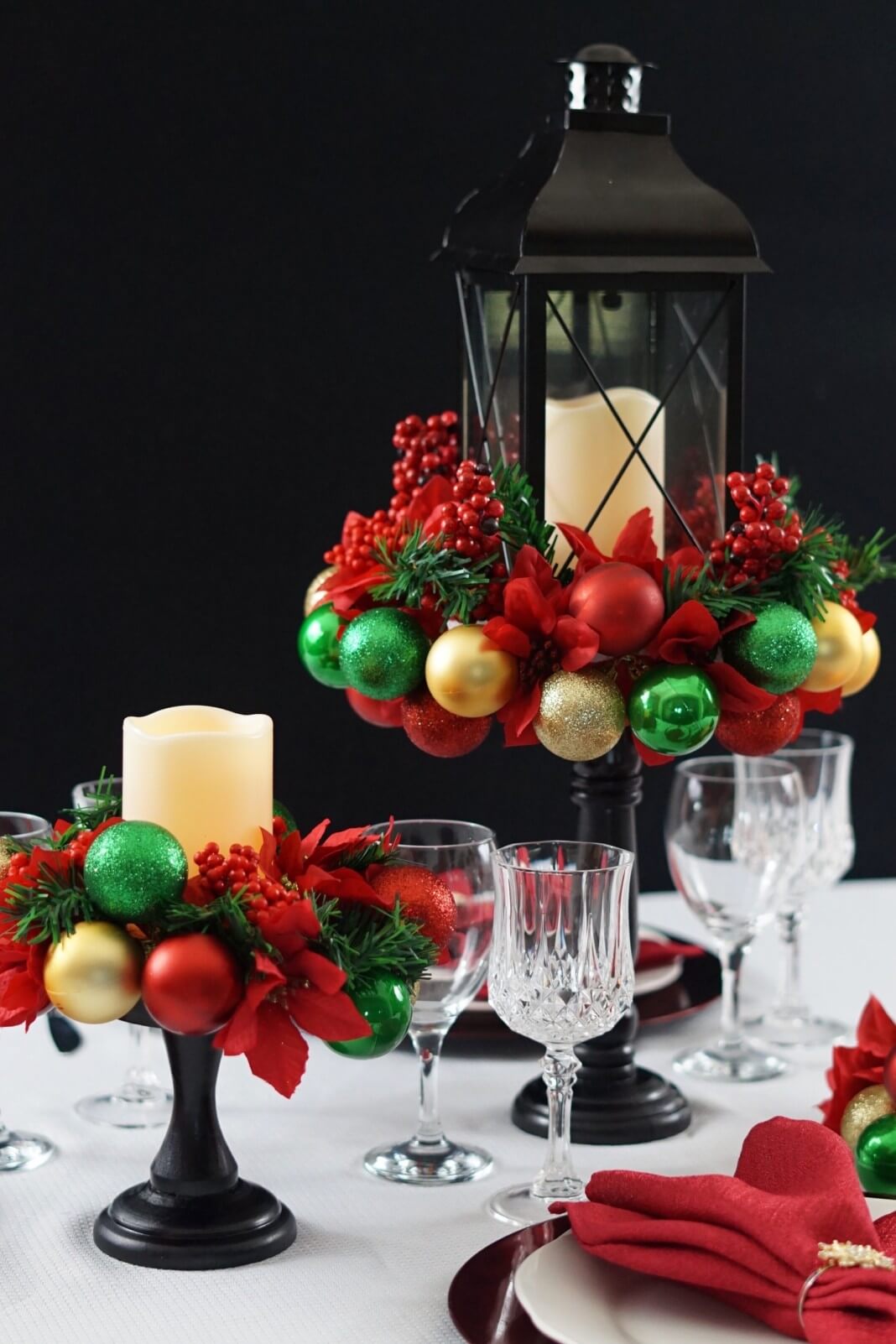 Create a unique centerpiece by adding a lantern to a pedestal candle holder to raise it. Additional matching pedestals can be used just for candles for height interest. Place ornaments and greens around the top of the pedestal for a festive, Christmas look.
11. Farmhouse Christmas Mason Jar Centerpiece with Cranberries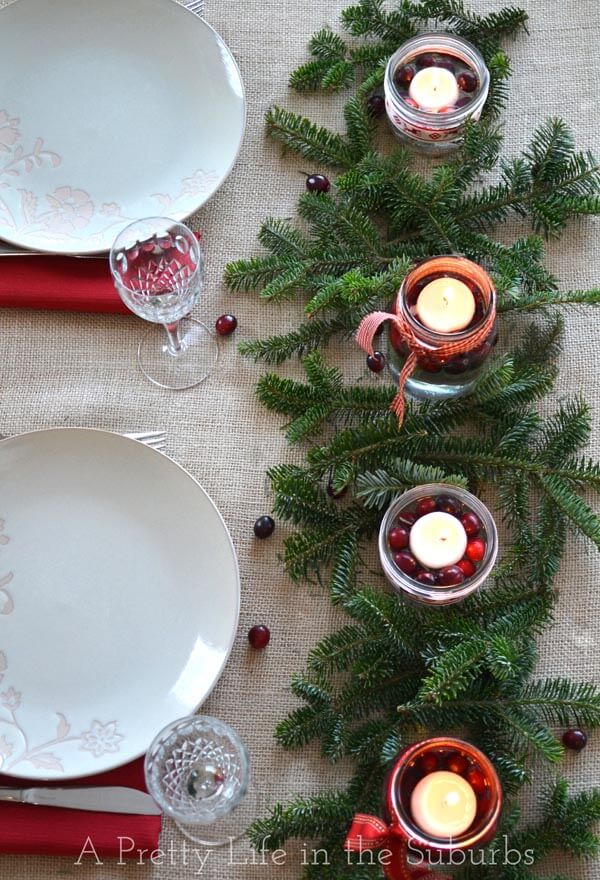 The cranberries are the star of the show in this centerpiece. A few mason jars with floating candles, adorned in Christmas ribbon, are nestled in among fresh-cut greens. Cranberries are added to the jars and sprinkled in among the greens.
12. Simple Flower Bouquet with Cranberries for Christmas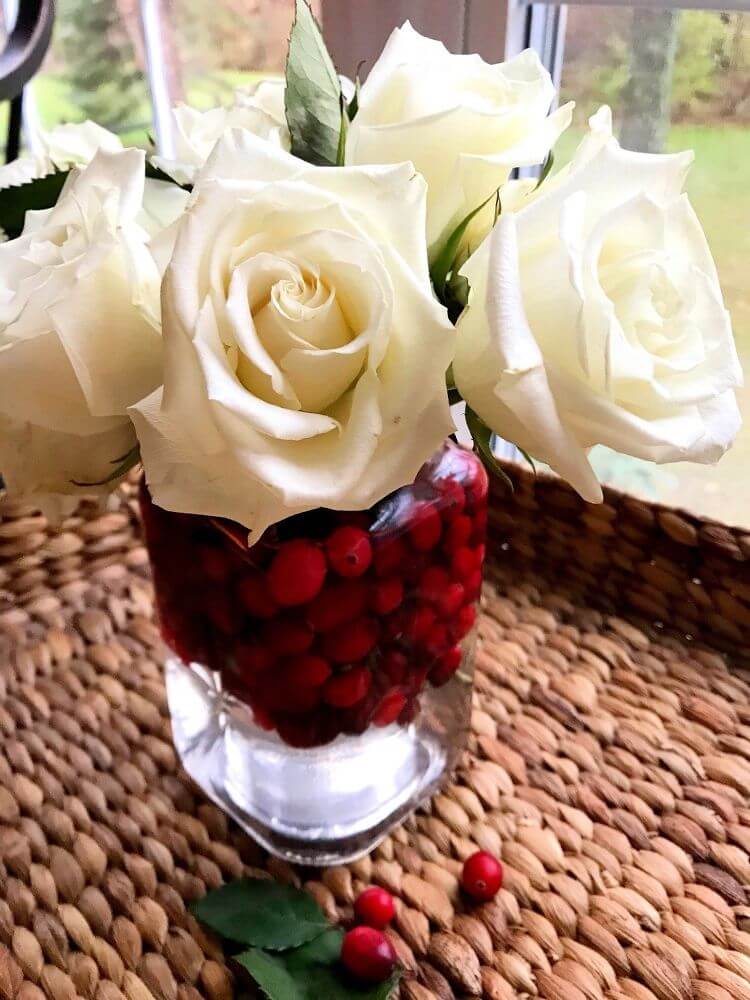 This is a great tip for anyone who loves flowers and wants something other than the traditional poinsettia for Christmas. Using a clear vase, you can turn any other flowers into festive, Christmas bouquets. Simply add cranberries to the water for a pop of red.
13. Elegant Clean and Simple Winter White Candles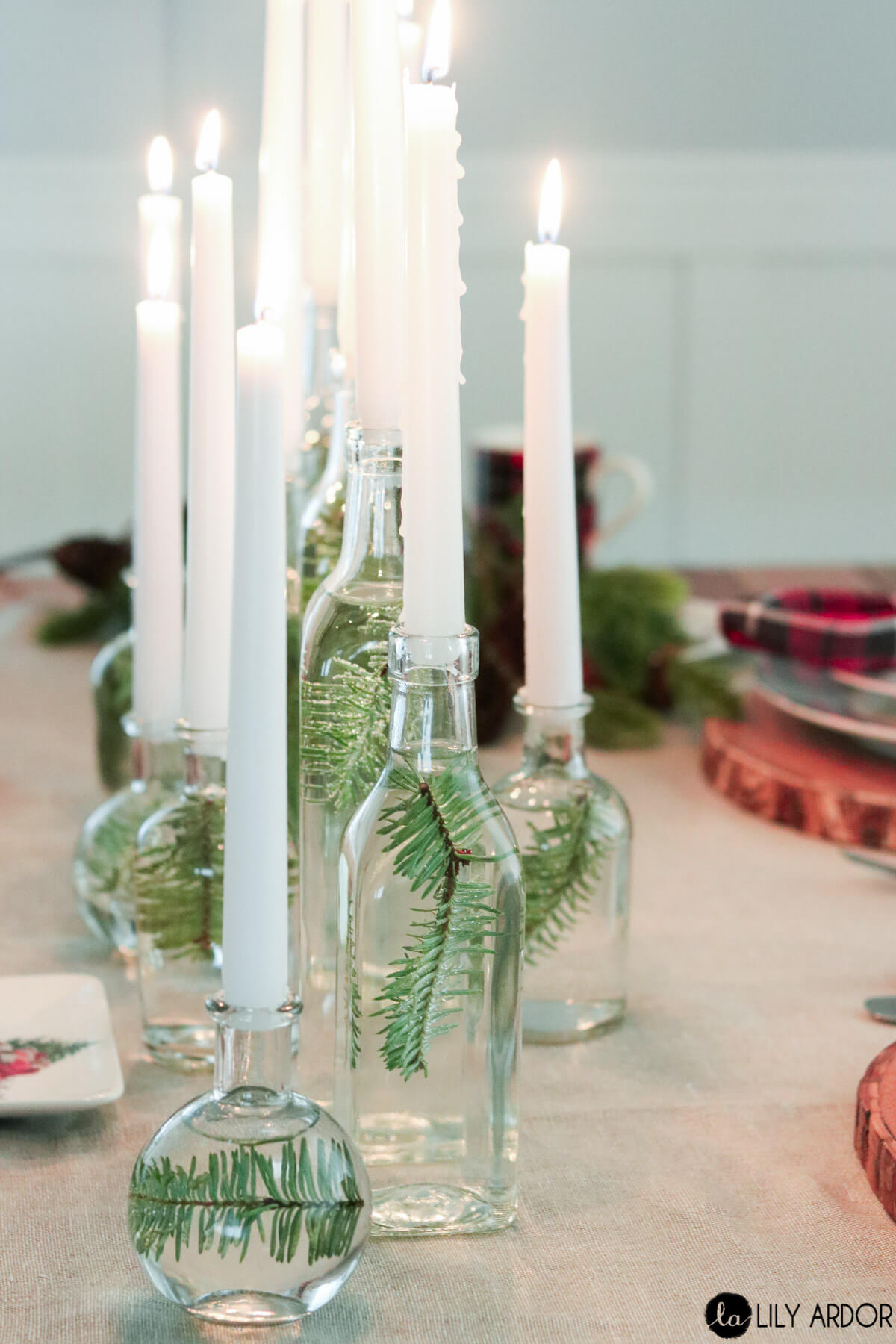 Create your own winter white candle holders with clear glass bottles in all shapes and sizes. Add water with a sprig of greenery before securing the candle for an elegant display to last all winter long.
14. Rustic Christmas Antler Candle Holders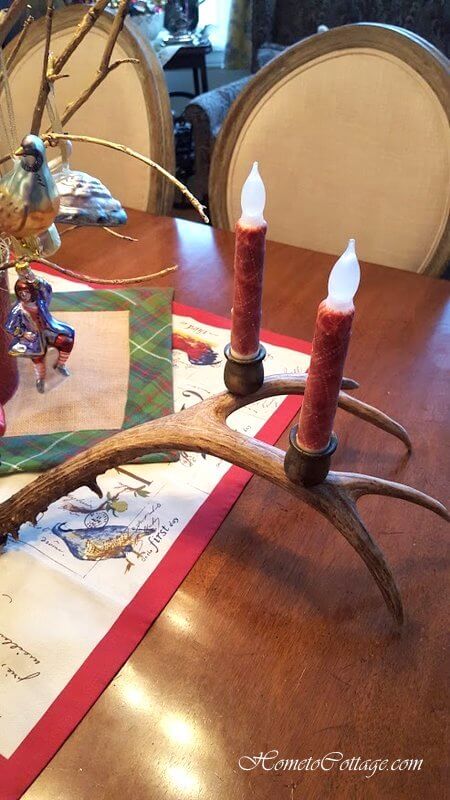 Using antlers in home décor has become very stylish. It is easy to create some of these unique pieces on your own. Wooden candle holders can be purchased at most craft stores. Adding these to antlers is perfect for a rustic Christmas.
15. Christmas Charger with Curated Collection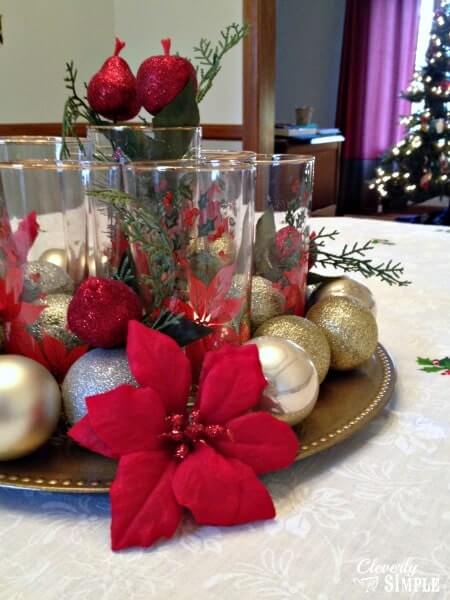 Using a charger, you can display a collection of Christmas items together to create one beautiful centerpiece. This one uses beautiful glassware with Christmas designs, surrounded by ornaments. Some floral picks boasting glittered fruit and poinsettias add some Christmas cheer.
16. Lidded Glass Jar Christmas Décor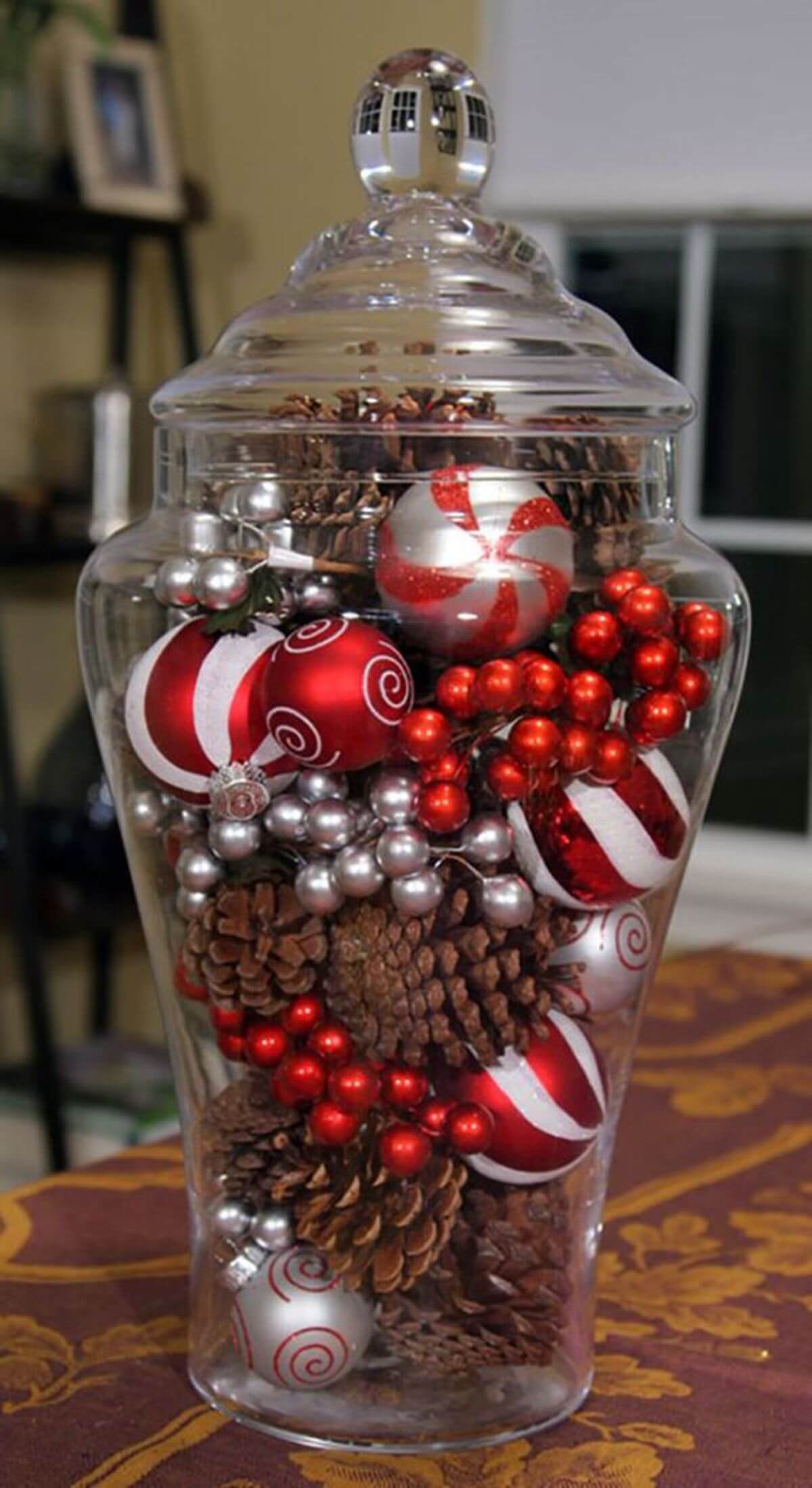 This is another easy DIY project that looks expensive, but you can make it at a very low cost or possibly even for free. Pinecones, ornaments, and berry picks are added to a lidded glass jar, but you could use other items you have on-hand.
17. Fresh Cranberry and Flower Christmas Centerpiece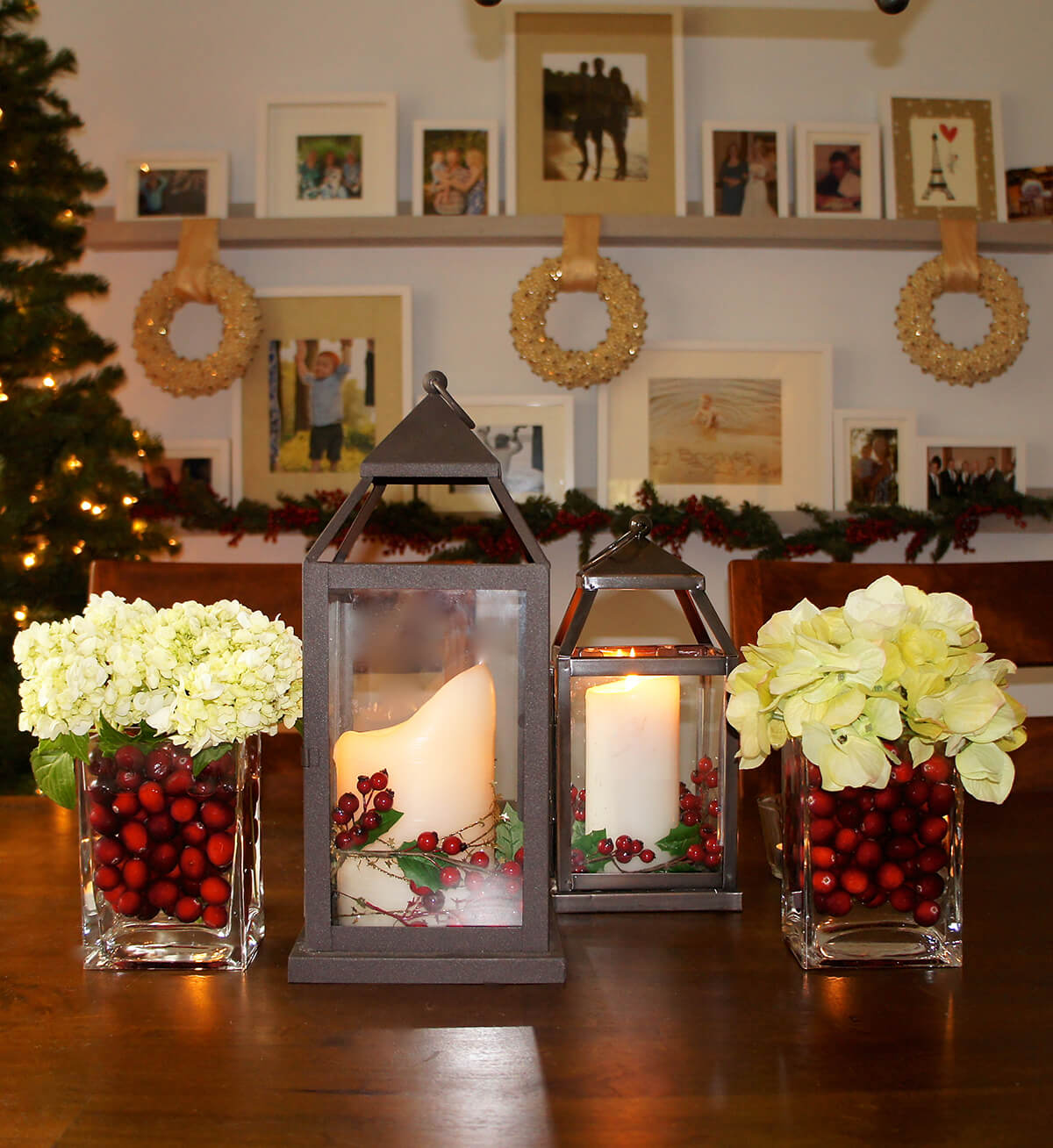 Adding fresh cranberries to your clear glass vase is on-trend this season. It is no surprise because it looks fantastic. Add a white flower to the top for pure elegance. Pair several of these with some lanterns or other décor to create a beautiful centerpiece.
18. Woodland and Greenery Snow Scene Tablescape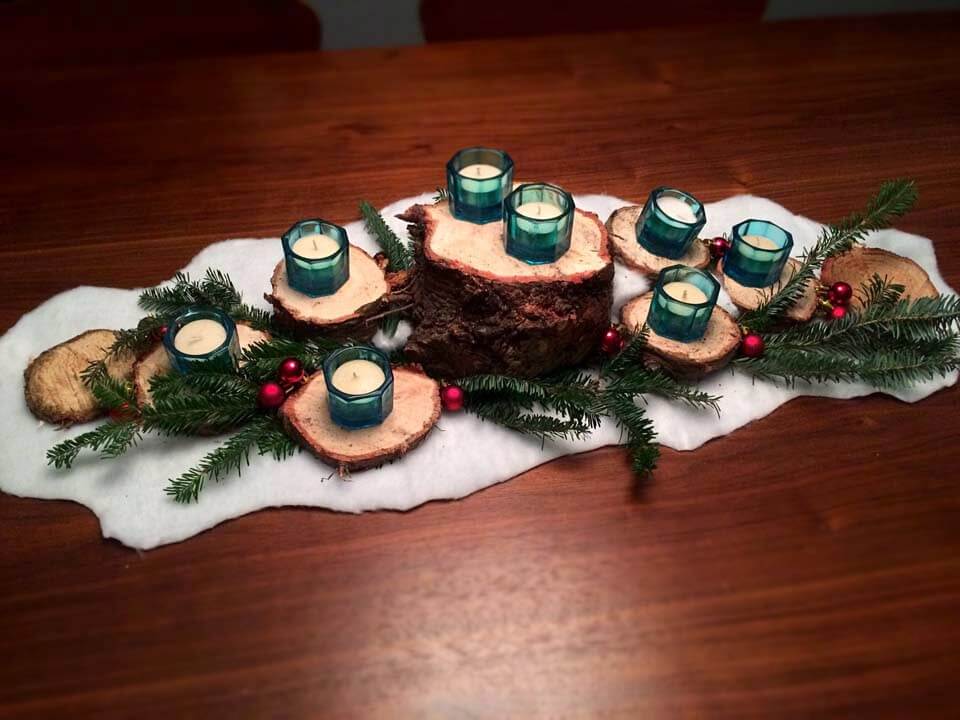 Artificial snow is the backdrop for this beautiful scene. Different sizes and heights of wood hold up green votive holders with tea lights. Greenery along with some picks with red berries is added for the perfect touch of Christmas in this gorgeous DIY tablescape.
19. Christmas Centerpiece Based on Favorite Christmas Book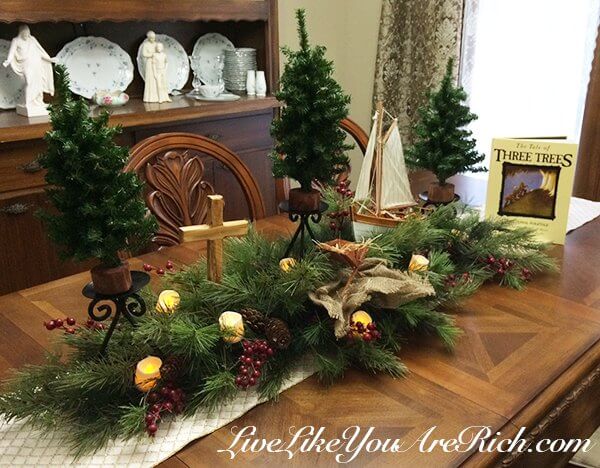 Show off your passion for books by creating a centerpiece for your table or mantle with this easy DIY. You will learn how to pull out a few key items to display from your favorite book, along with ways to arrange them for a gorgeous Christmas centerpiece.
20. Antique Meets Modern Christmas Centerpiece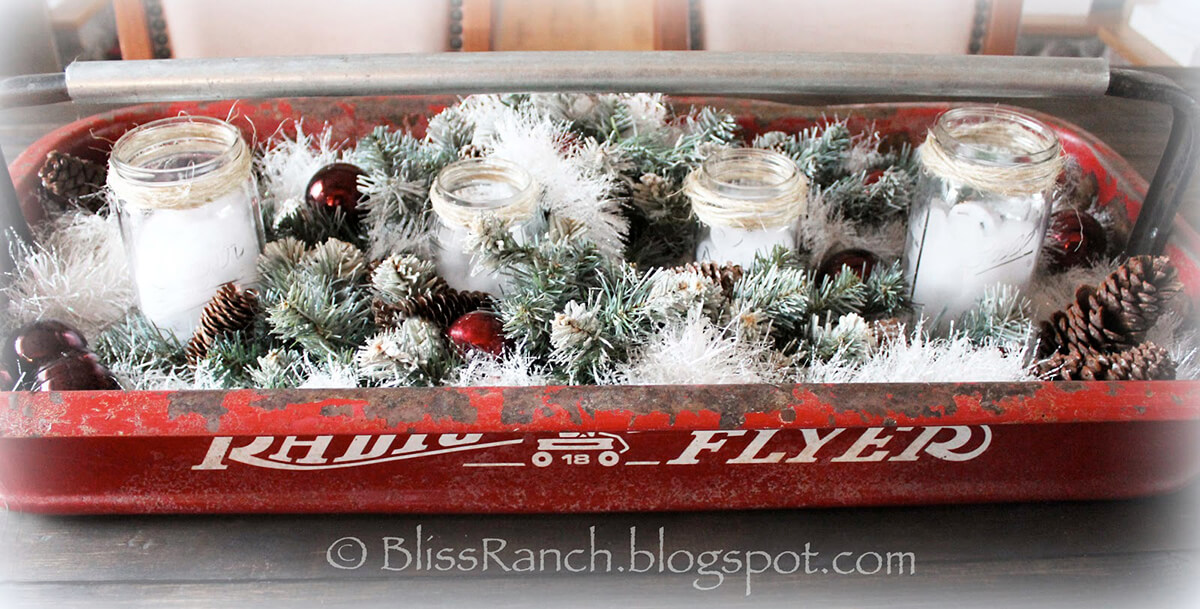 This fun piece uses the top of an antique Radio Flyer wagon as the container for the centerpiece. A handle was added for visual interest. The wagon top was loaded with Christmas candles, greens, ornaments, and pine cones.
21. Centerpiece Made Easy With Dollar Store Finds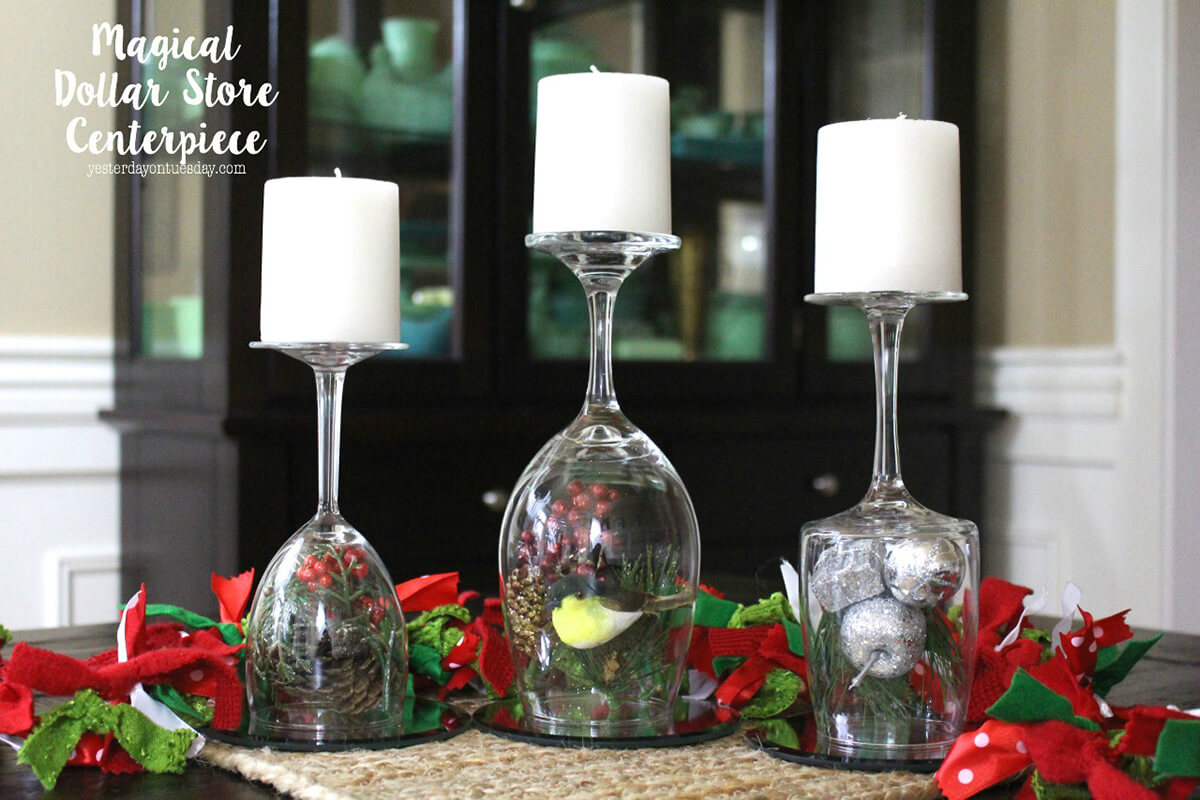 Go to the dollar store to buy some candles, long stem glasses, and Christmas picks. That is truly all it takes for this unique centerpiece. Turn the glasses upside down over the Christmas picks and place the candle on the top for an inexpensive centerpiece.
22. Expensive-Looking Dollar Store Christmas Curated Collection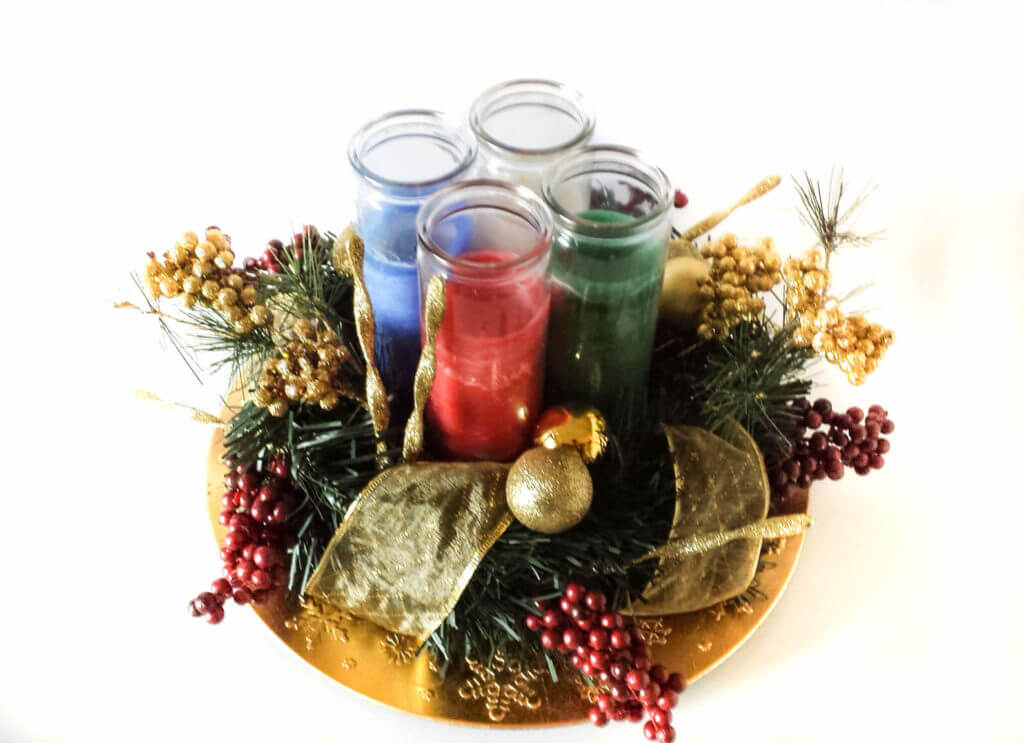 Here is another wonderful dollar store collection. A charger holds greenery, candles, Christmas picks, and ornaments. Adorn with some ribbon, and have a beautiful centerpiece for a fraction of the cost of buying it at your favorite home décor store.
23. Have a Berry Merry Christmas Lantern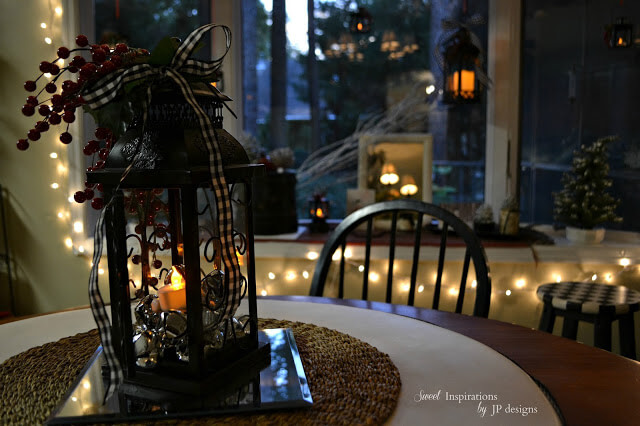 All you need is a plain black lantern and your imagination to create this lovely DIY Christmas lantern that makes a beautiful centerpiece for your holiday gatherings. Wrapped with lavish red berry garland and tied with a plaid bow, this lantern holds a battery-powered tea light to enhance your festive atmosphere.
24. Candles Aglow with Sparkling Woodland Accents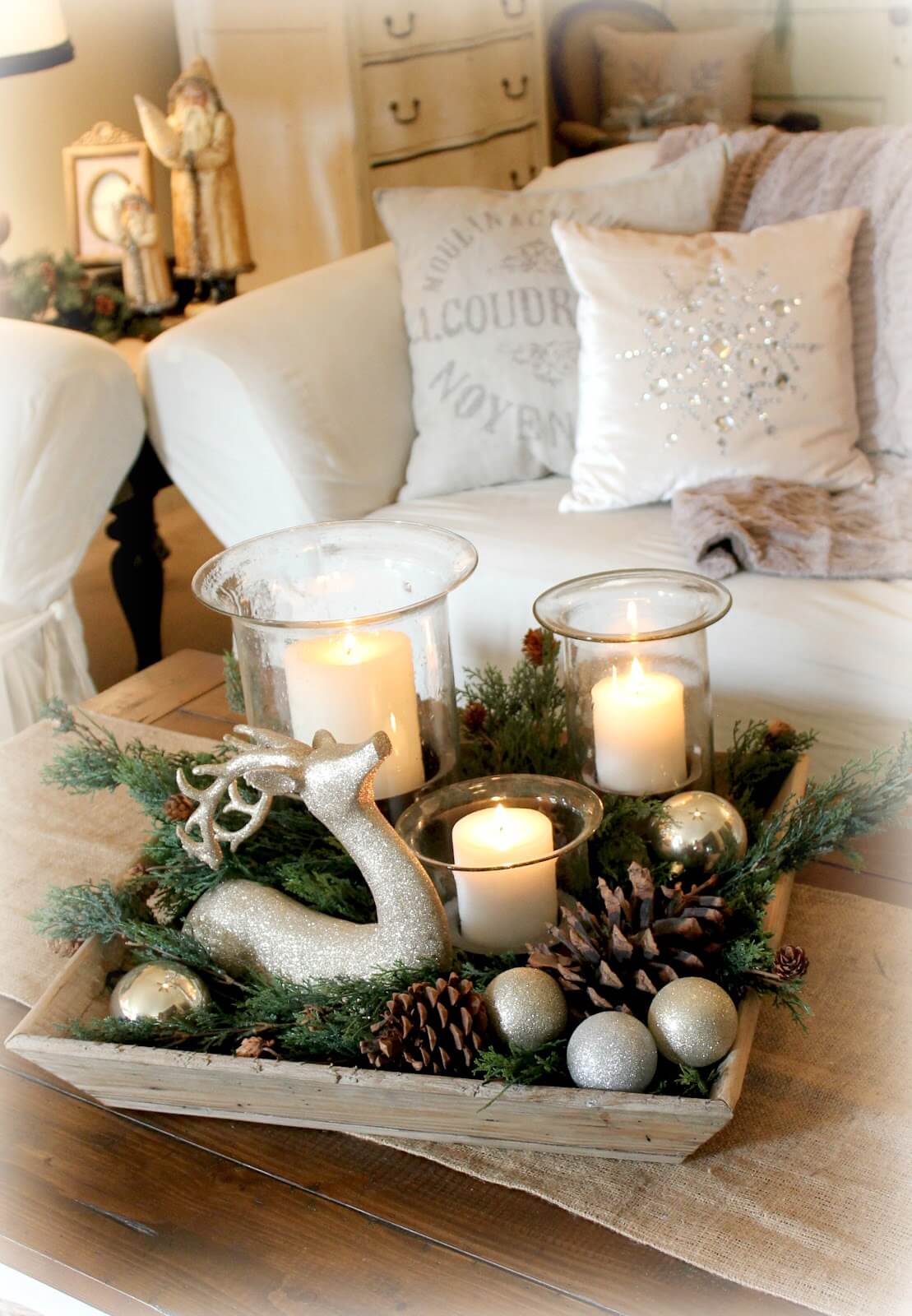 Add pastoral elegance to any room with this arrangement featuring a silver reindeer rising from evergreen boughs and winter berries in a roughhewn wood tray. Silver and gold ornaments and classic white candles add holiday tones to a natural scene.
25. Farmhouse Christmas Trees and Cranberries Masterpiece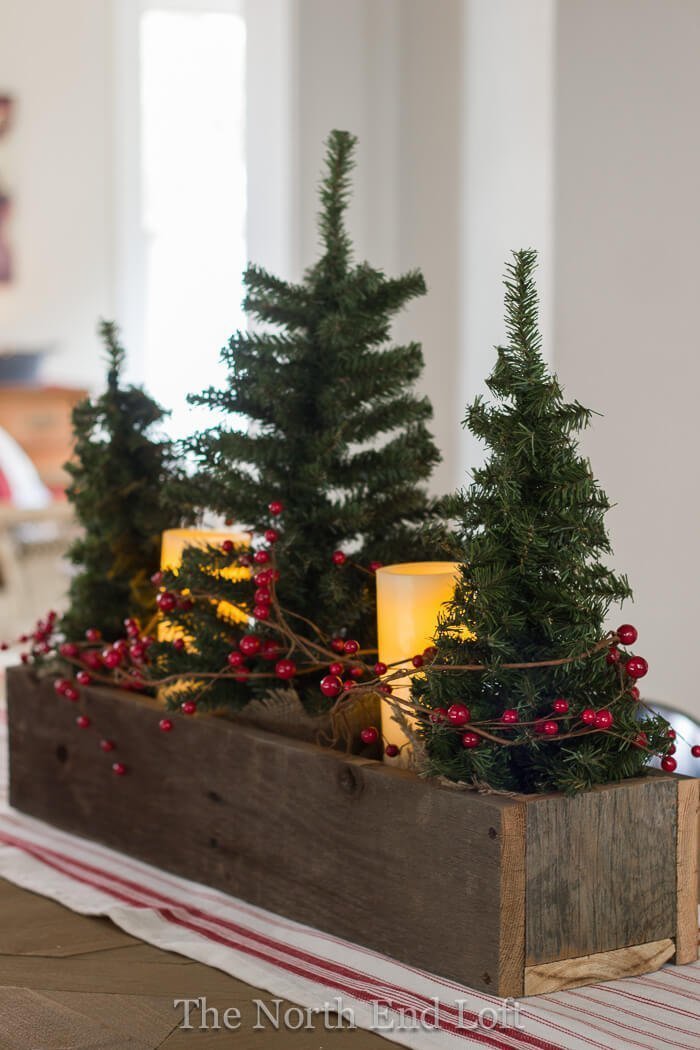 A trio of Christmas trees wrapped in holly berries and dried vines stands shoulder to shoulder with pillar candles atop burlap in a charming weathered wood container that encapsulates rustic charm.
26. Elegant Cranberry and Hydrangea Christmas Centerpiece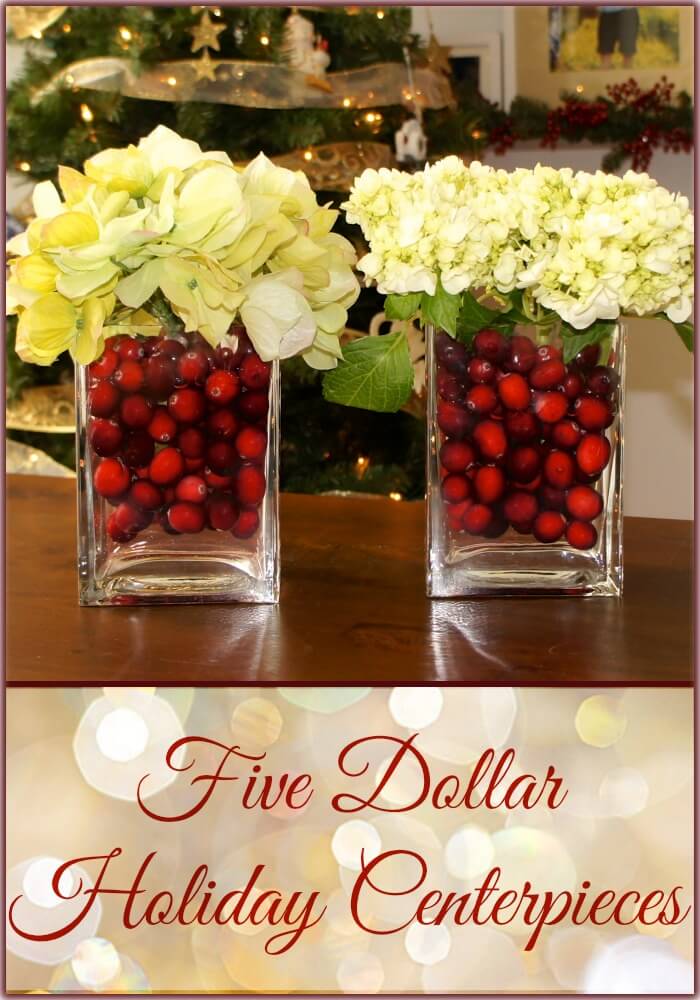 The striking contrast between cream hydrangeas and cranberries in heavy glass holders add drama wherever they are placed. Singly, or in twos or threes, these are ideal for entryways, home offices, or fireplace mantles.
27. Bling Crystal Bowls of Glittering Ornaments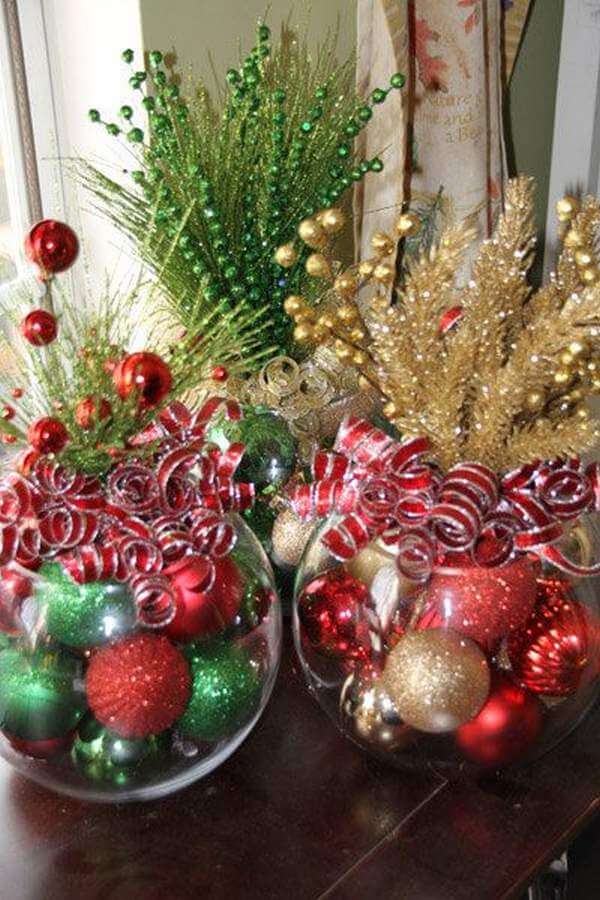 Gather the colors and textures of holiday gift giving into these glass globes of Christmas joy. The glummest Grinch will smile at bursts of glittered branches and tumbles of curling ribbon in a profusion of red, green and gold.
28. Burning Bright DIY Centerpiece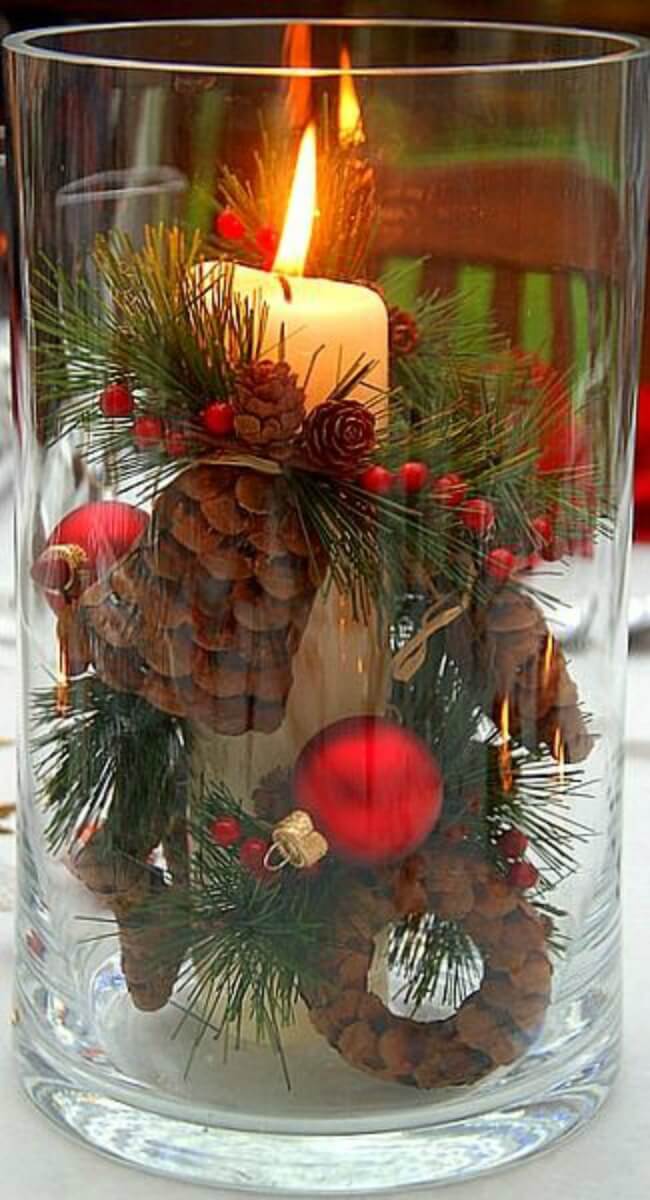 Warm the heart of guests and family with a glass cylinder candle holder filled with natural pine sprigs and cones, red berries and Christmas balls around a vanilla pillar candle.
29. Mason Jar Farmhouse Elegance Table Décor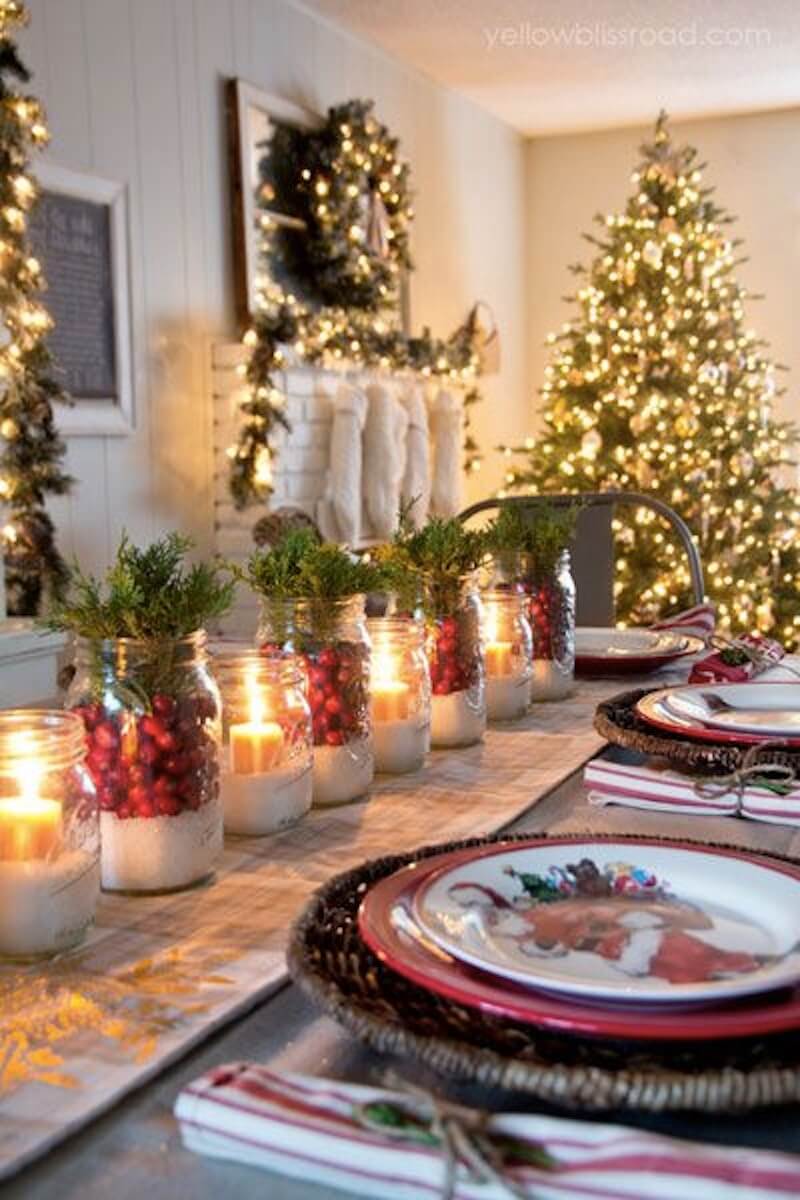 Create a deceptively simple centerpiece starring the humble Mason jar. Jars as candle holders alternate with jars of cranberries and evergreen arrangements. A layer of faux snow in the bottom of each jar unifies the arrangement.
30. Floating Flames Cranberry Holiday Decorations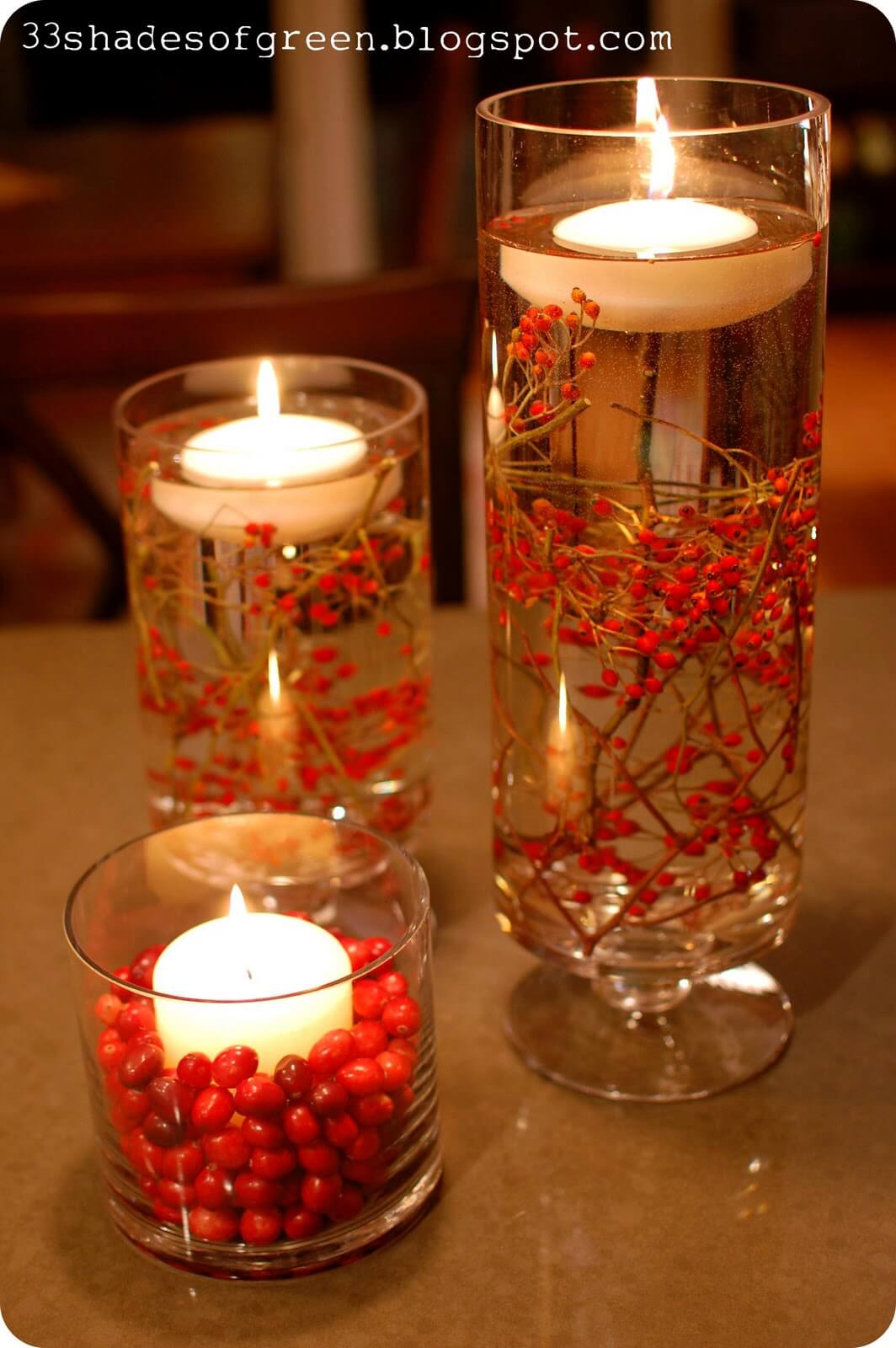 Illuminate the season, or just a small corner, with floating candles decorated, suspended vines, and ruby red winter berries. Set aside an evening to relax and enjoy holiday music by the glow of this winsome grouping.
31. Snow Dusted Winter Wonderland Pedestal Pillar Candle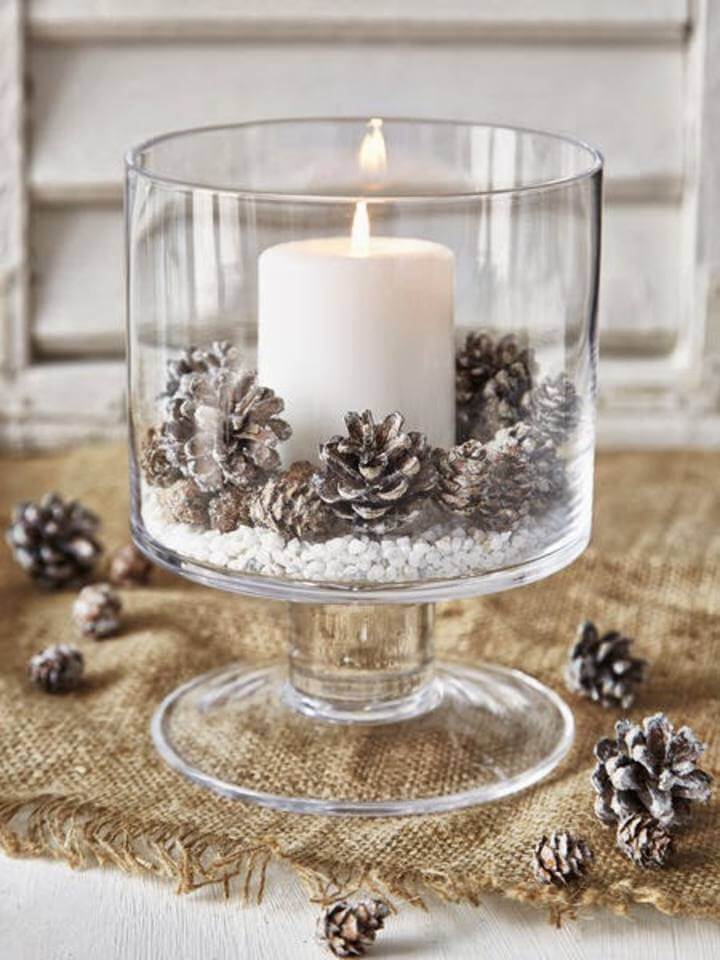 A snowy country winter is captured in a pedestal glass candleholder graced with a simple white candle, crushed white limestone, and frosted pinecones, centered on a rustic burlap table runner.
32. Crystalline Winter Wonderland Trio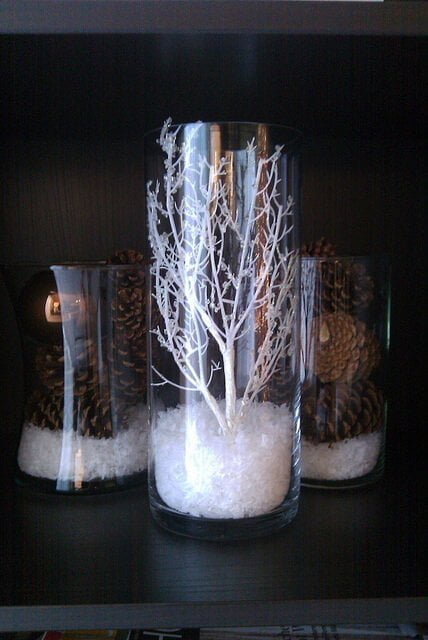 Bring the peace and tranquility of a winter woods into your home with artistically stacked pinecones in gleaming glass cylinders alongside a single white birch branch reminiscent of an entire forest at rest.
33. Fragrant Boughs and Rustic Crate Table Arrangement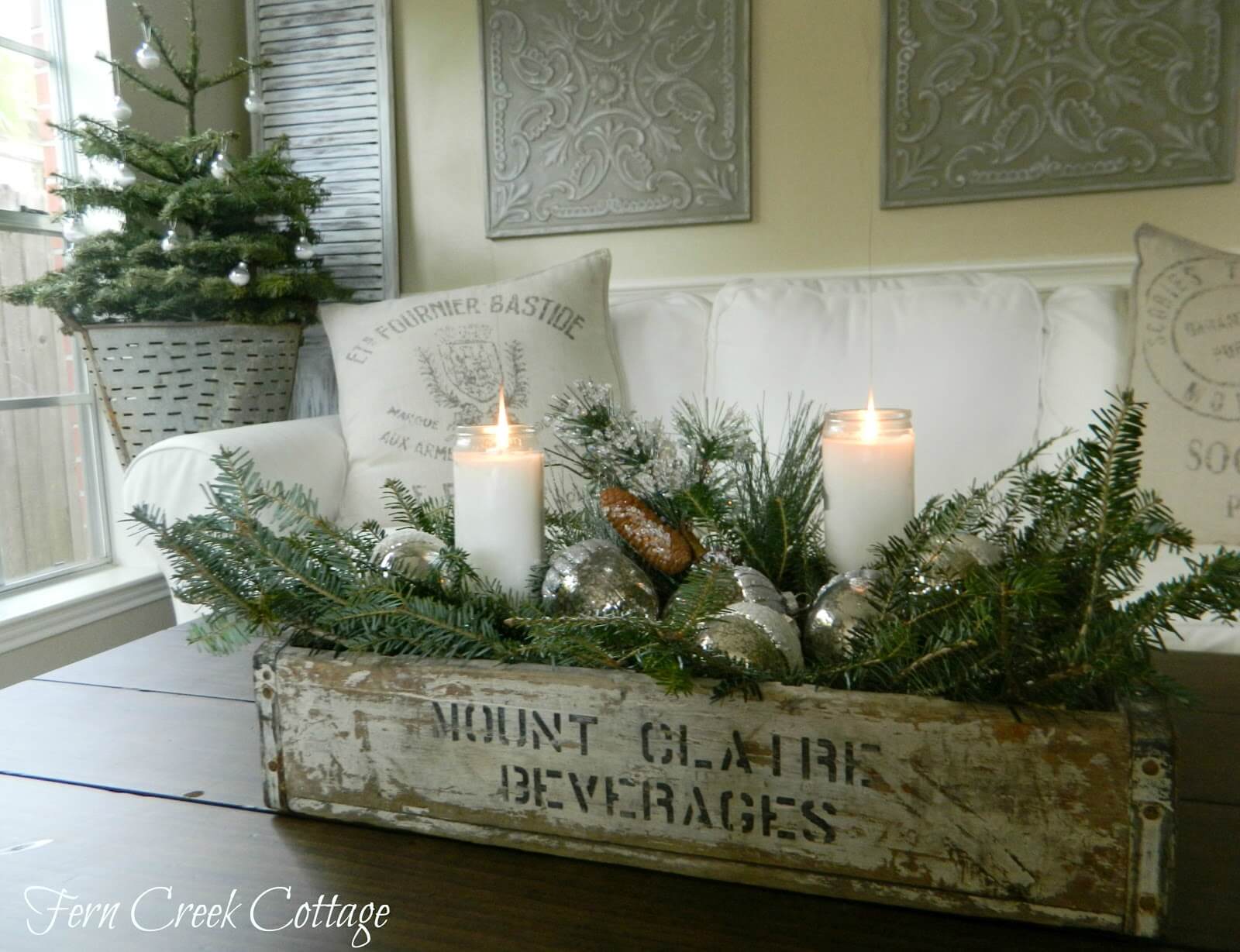 An antique bottle crate is a conversation starter on its own. Fill it with fragrant evergreens, your favorite ornaments and cylinder pillar candle vases for a unique centerpiece with the charm of yesteryear.
34. Easy Elegant Berry DIY Christmas Centerpiece Design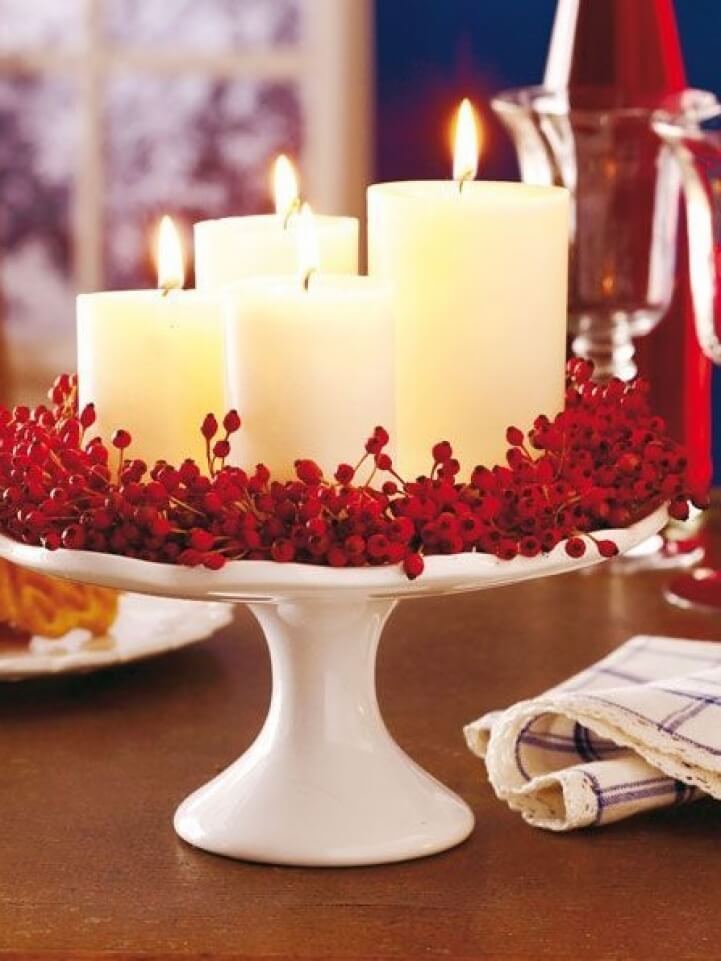 Take one pedestal cake stand, add red holiday berries of your choice, combine with graduated scented candles and you have the recipe for a quick centerpiece that will delight friends who will applaud your creativity.
35. Romantic Silver Frosted Christmas Centerpieces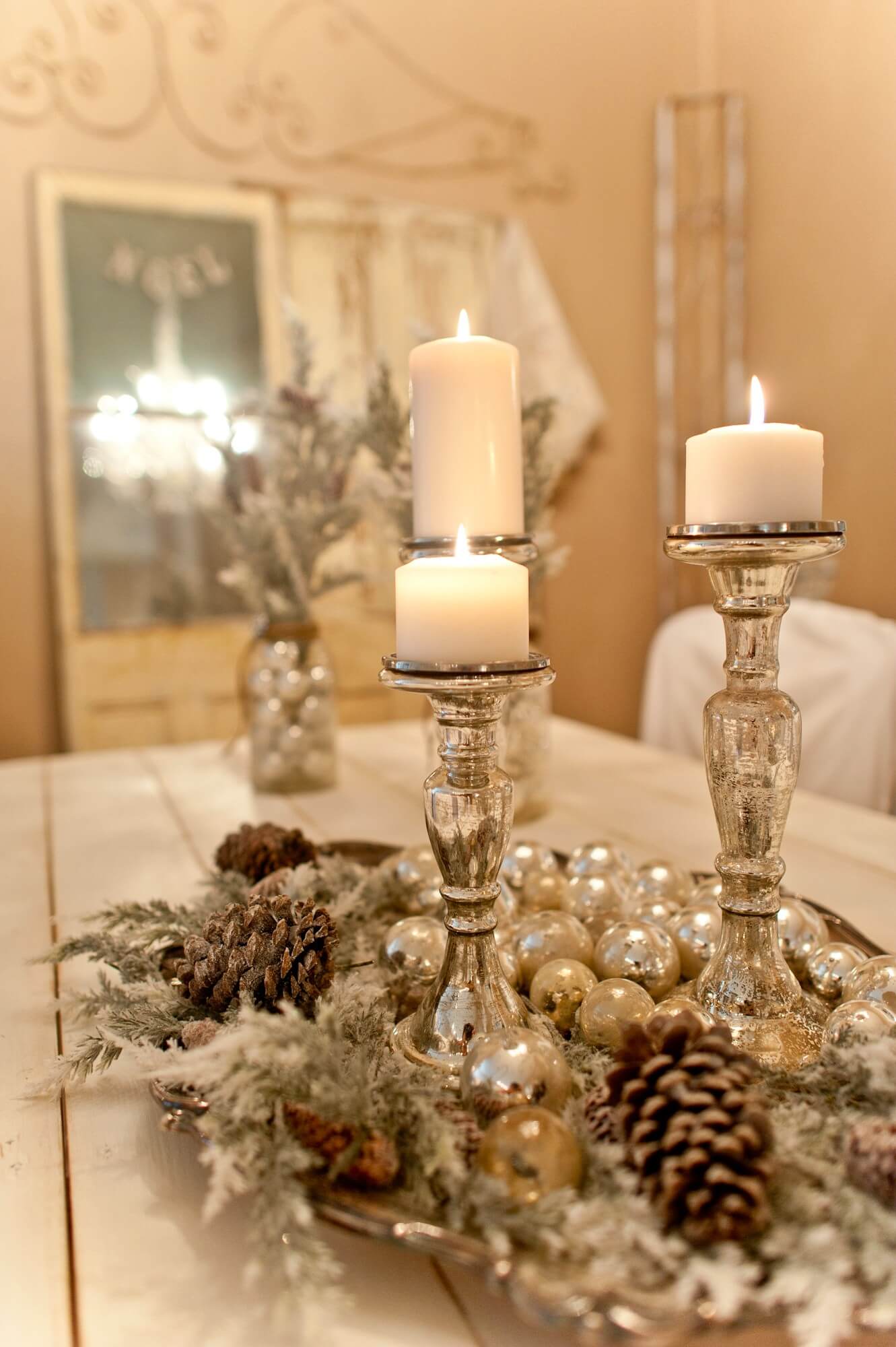 Antique silver candle holders lend elegance and sophistication to any gathering. Garnish a platter with silver and gold ornaments, snow dusted natural elements in addition to the candles for a formal holiday touch.
36. Fresh Layered Berry Candle Compote Arrangement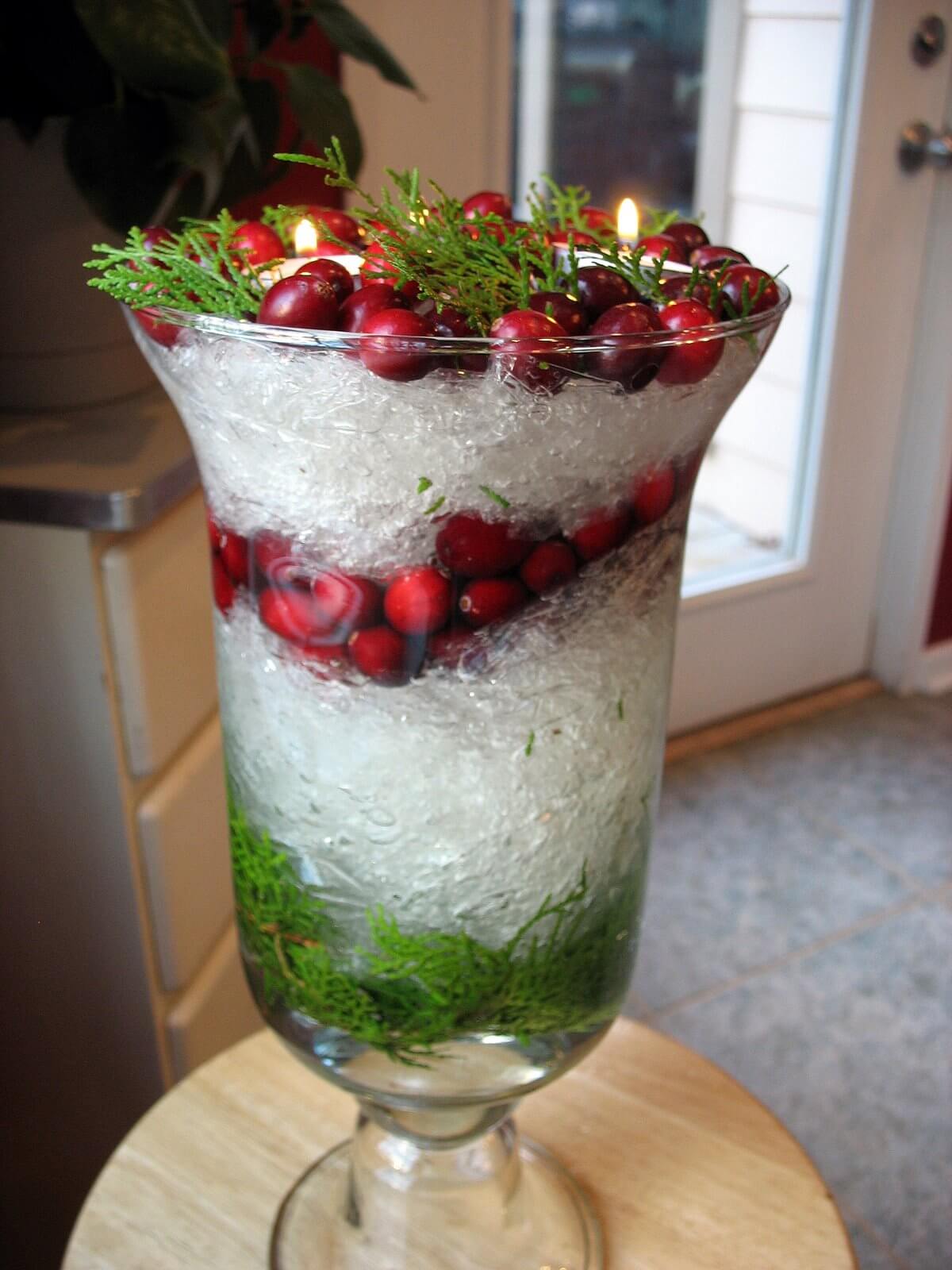 Fire and ice join forces in this parfait inspired focal piece. Winter greens and cranberries reds are dramatically suspended in crystal clear ice, topped with the warmth of candle flames.
37. Aspen Glow French Country Holiday Table Décor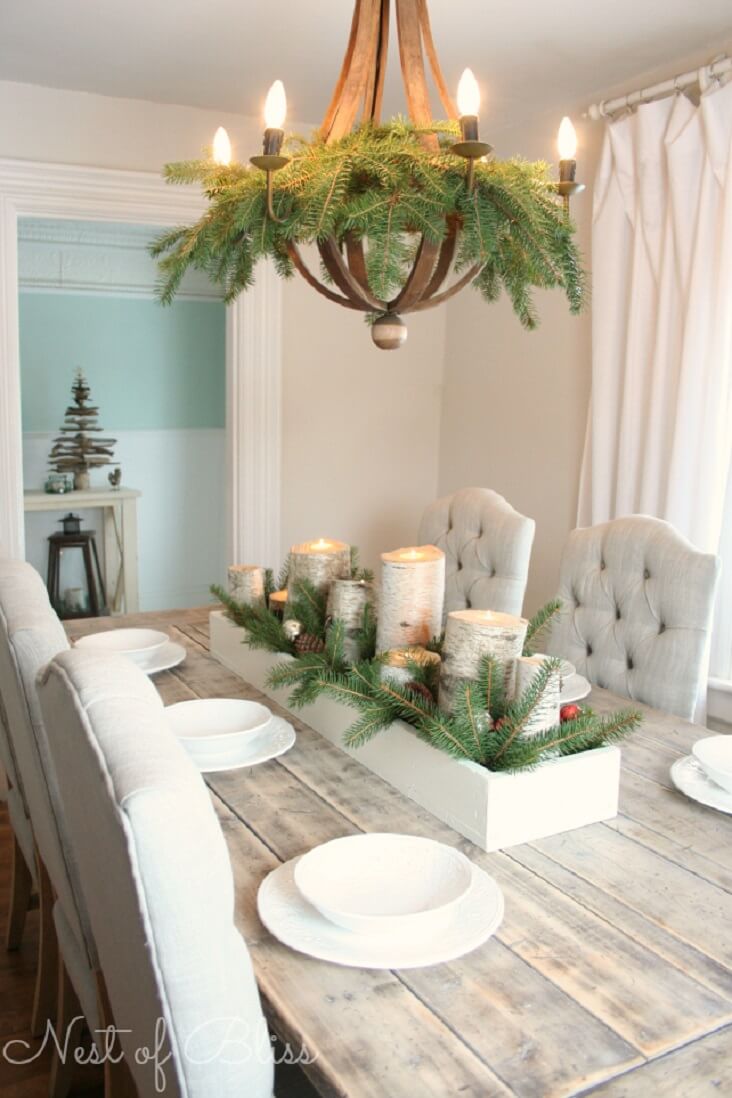 For an understated look, choose this stark white planter of evergreen fronds and pinecones. Candles wrapped in silver cord add a hint of sparkle. Natural light is all that is needed for this standout arrangement.
38. Art Deco Chic Silver Rhinestone Centerpiece

This stunning winter fantasy of ethereal white branches and pinpoints of light in a glass cylinder with glittering bands of ribbon provides warmth and illumination to a winter evening's repast.
39. Red Roses Silver Sparkles Christmas Bouquet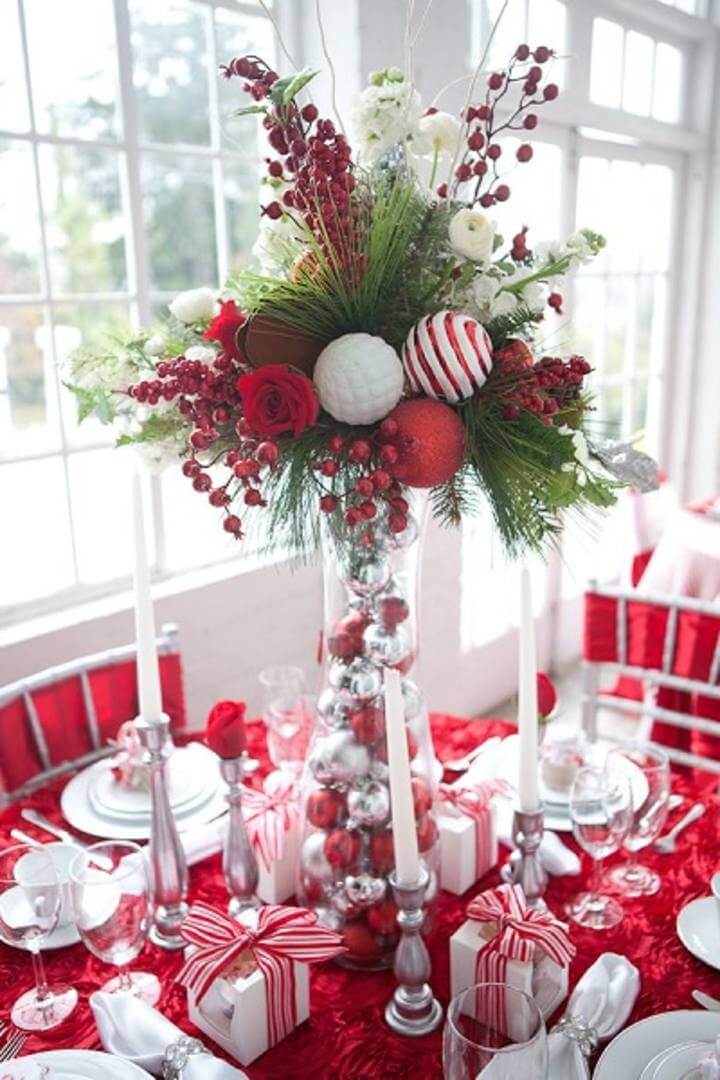 Silver candlesticks and peppermint ribboned gifts encircle this statuesque vase filled with sparkling tree ornaments and topped with a bold arrangement of baby roses, glittered Christmas balls, evergreen fronds, winter berries and dried seed pods.
40. Cheery Box With a Bow on Top Decorations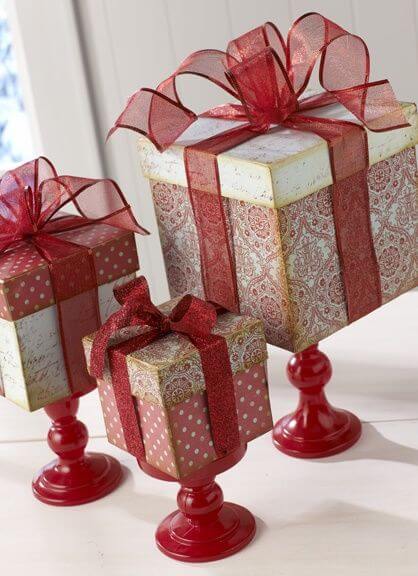 Festively appointed gift boxes in complementary colors, adorned with metallic mesh ribbon balance atop lacquered pedestals to bring the anticipation of Christmas and a splash of color to any room in the house.
41. Sweet Crisp Candy Cane Rose Bouquet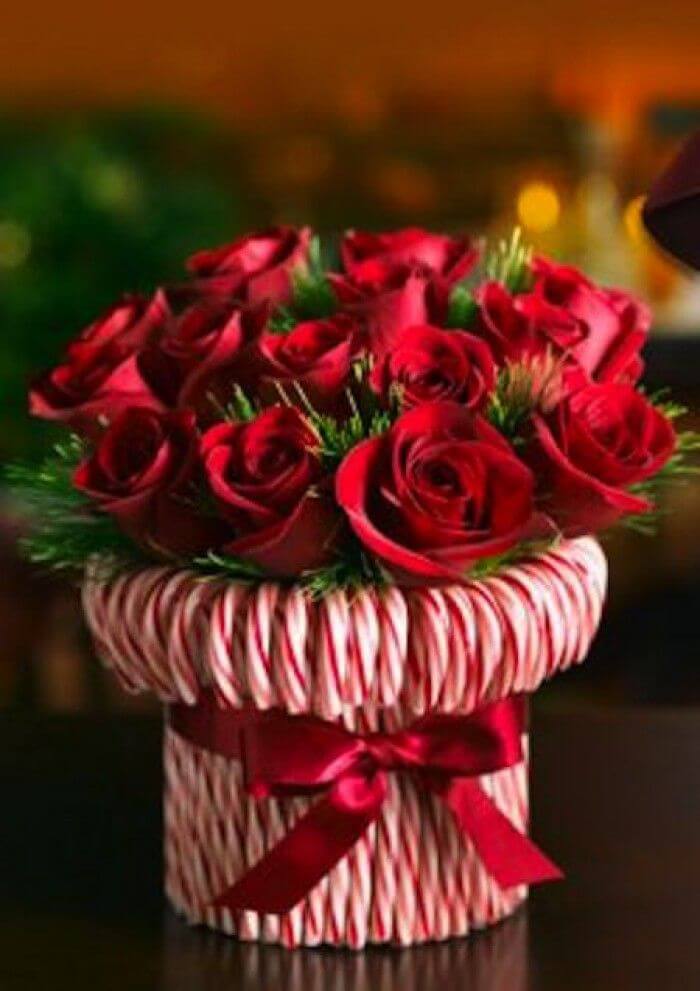 Candy canes, lined up like little tin soldiers, form the base for a dense bouquet of sweetheart rose buds and winter greenery tied to perfection with a red satin ribbon.
42. Mason Jar Homemade Holiday Centerpiece Hack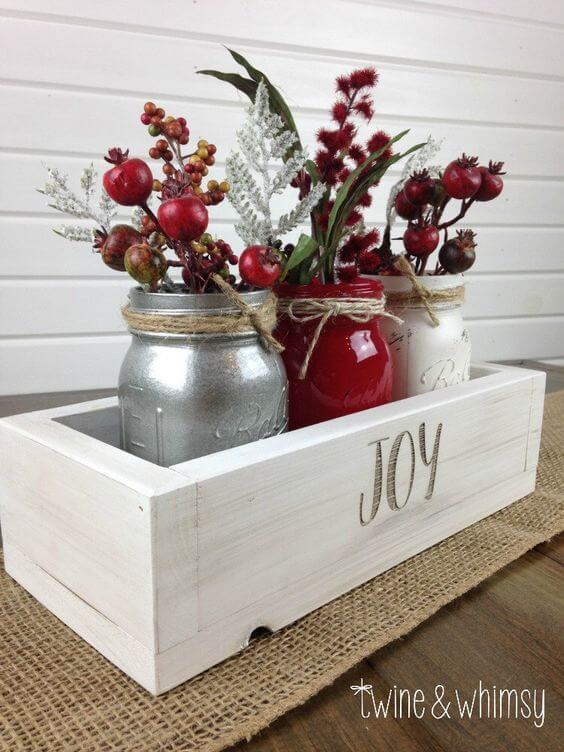 Bring joy to the table with this rectangular container of unfinished wood with a simple stenciled message. Painted canning jars with twine accents hold dried berries and varied greenery of winter.
43. Citrus Woodland Rustic Table Décor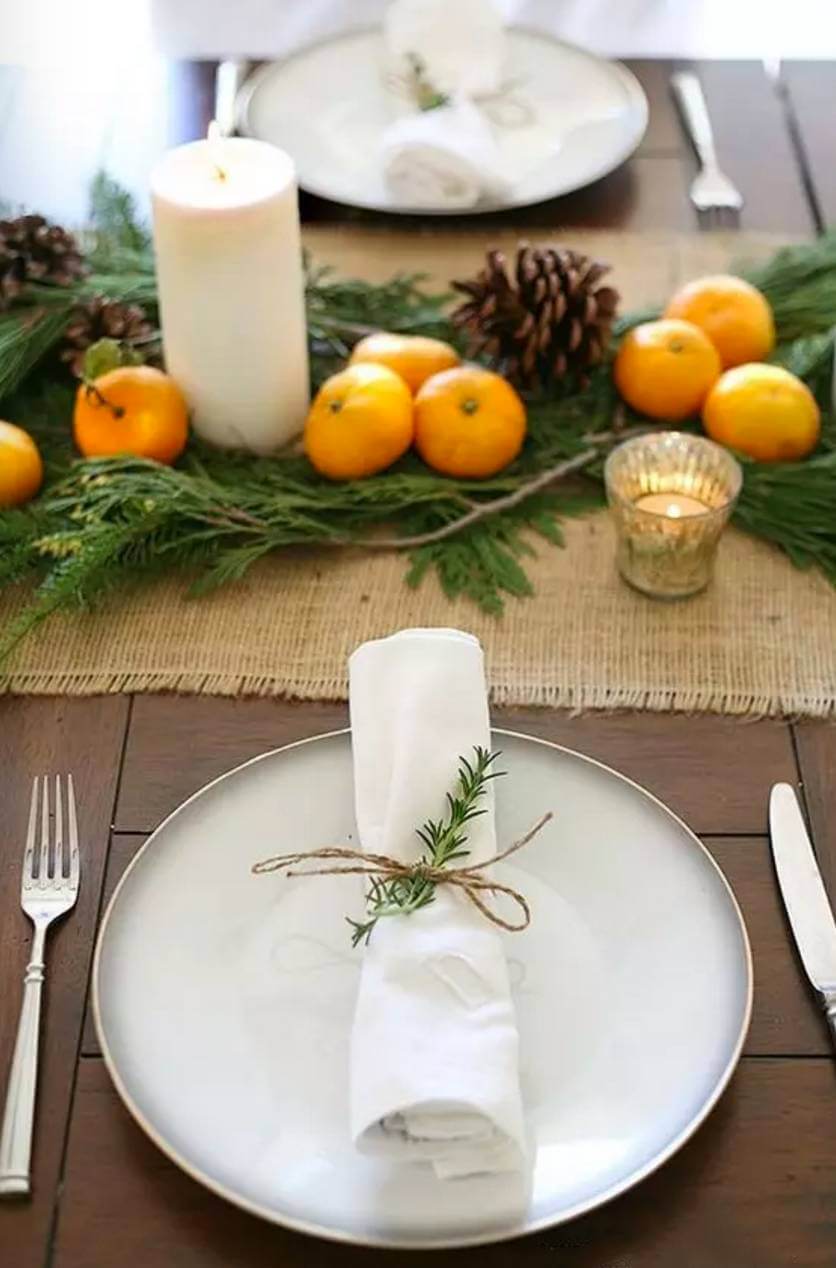 Mandarin oranges add warm color to a natural centerpiece of spruce, pine cones and candles. Carry the theme from the center of the table to individual plates, by tying a napkin with twine decorated with a sprig of green.
44. Ornament Holders of Holiday Cheer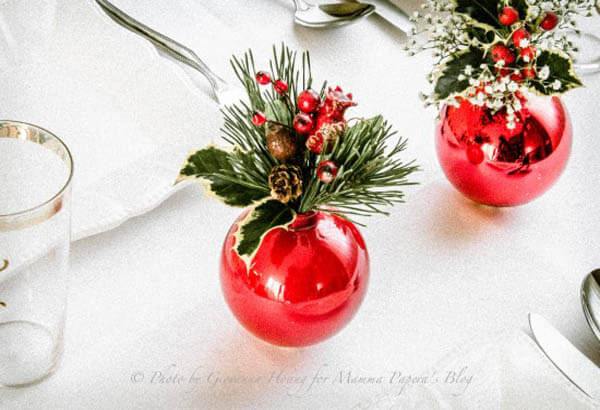 Instead of hanging iconic red glass Christmas balls from a tree, turn them upside down and use as holders for diminutive seasonal arrangements of snowberries, miniature pine cones with holly leaves and berries.
45. Classic Colonial Williamsburg Christmas Pyramids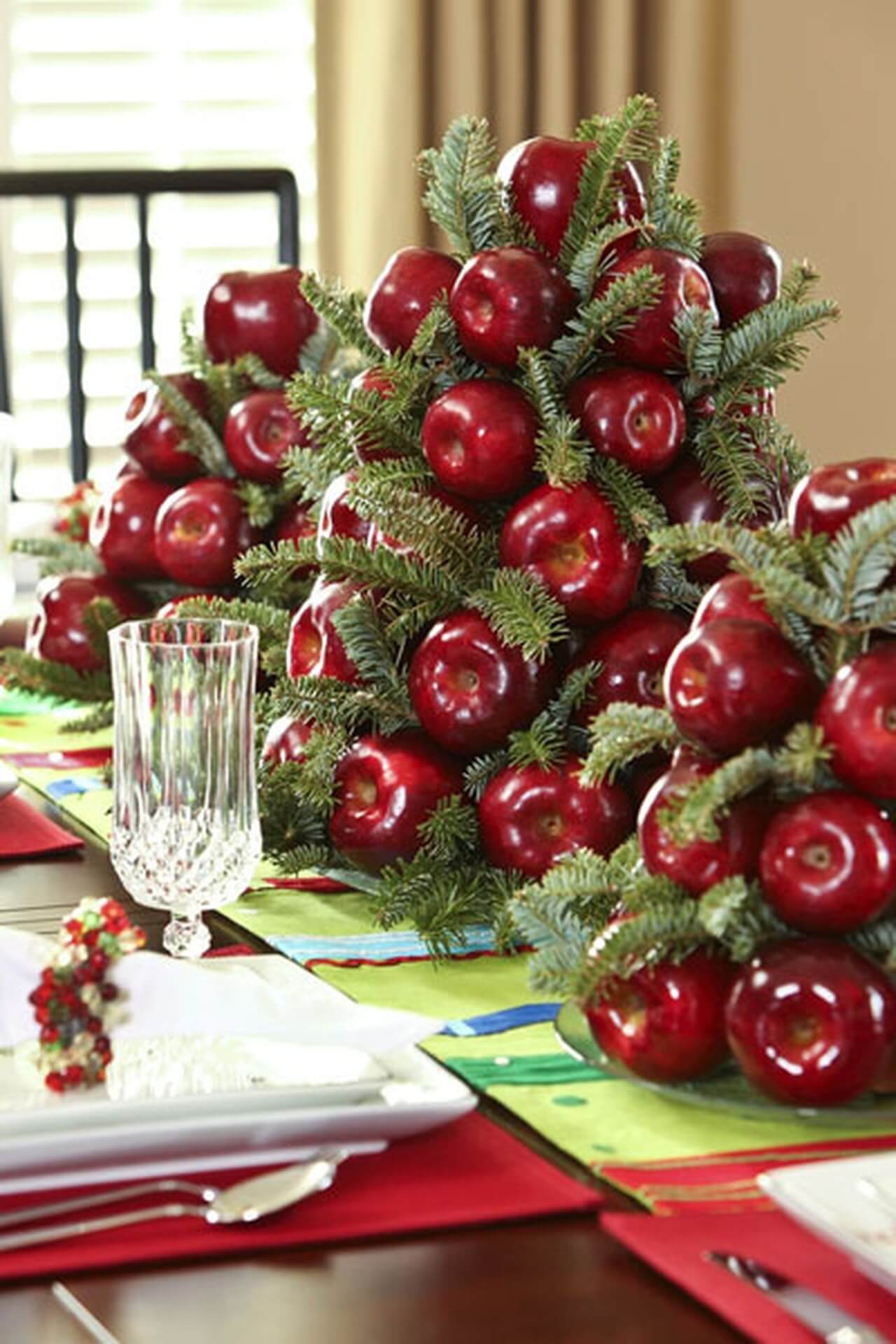 Evergreen sprays and juicy red apples form these naturally beautiful and aromatic Christmas tree centerpieces. Tuck whole cinnamon sticks beneath the boughs to add more seasonal spice to a room.
46. Woodland Elegance Meandering Table Centerpiece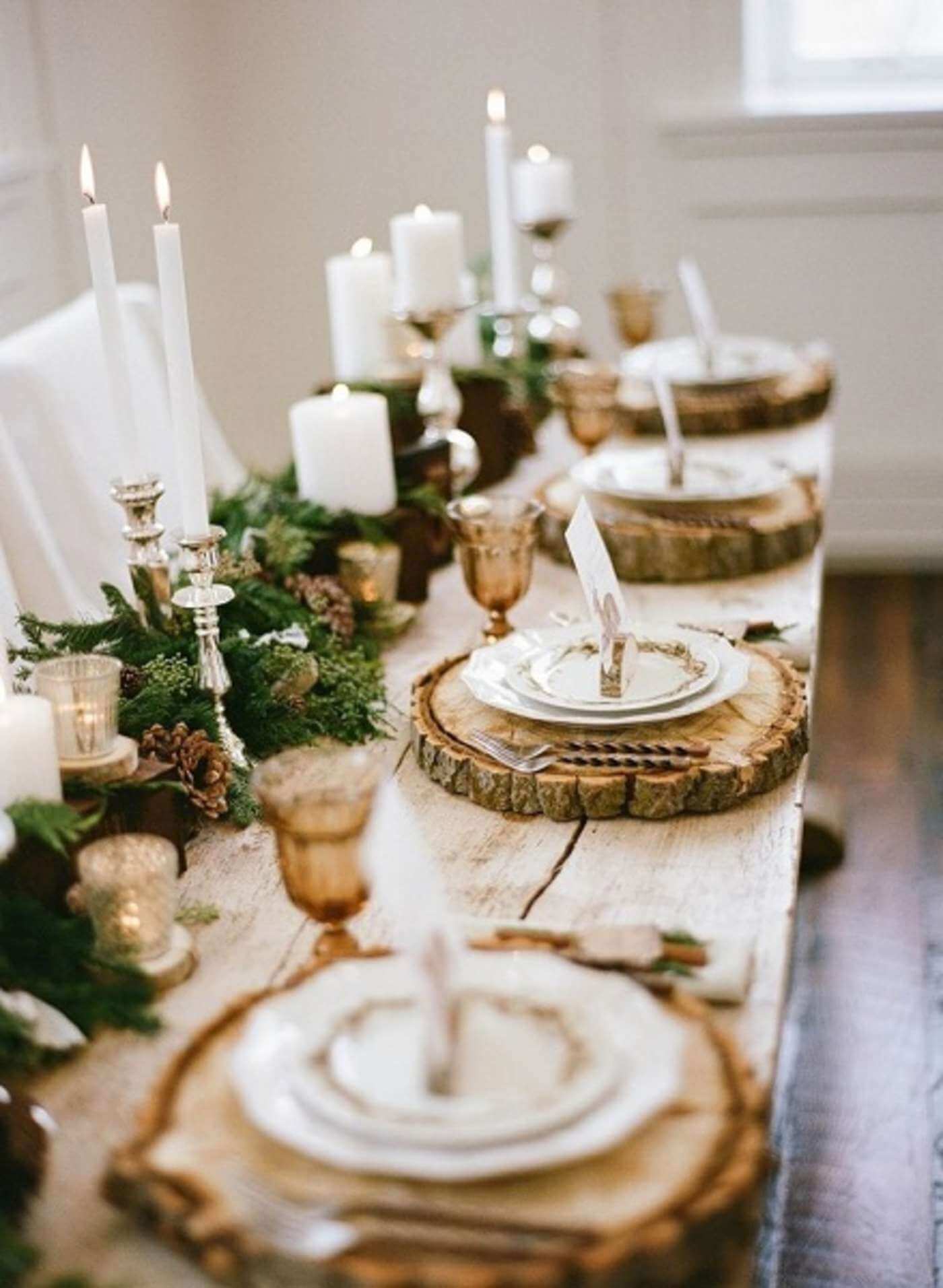 Decorate the natural beauty of a reclaimed wood table with neutral colors of the season. Silver and gold candle holders amid a braid of seasonal greens with the occasional pine cone complement the aged wood without overpowering it.
47. Crystal Christmas at the Beach Centerpiece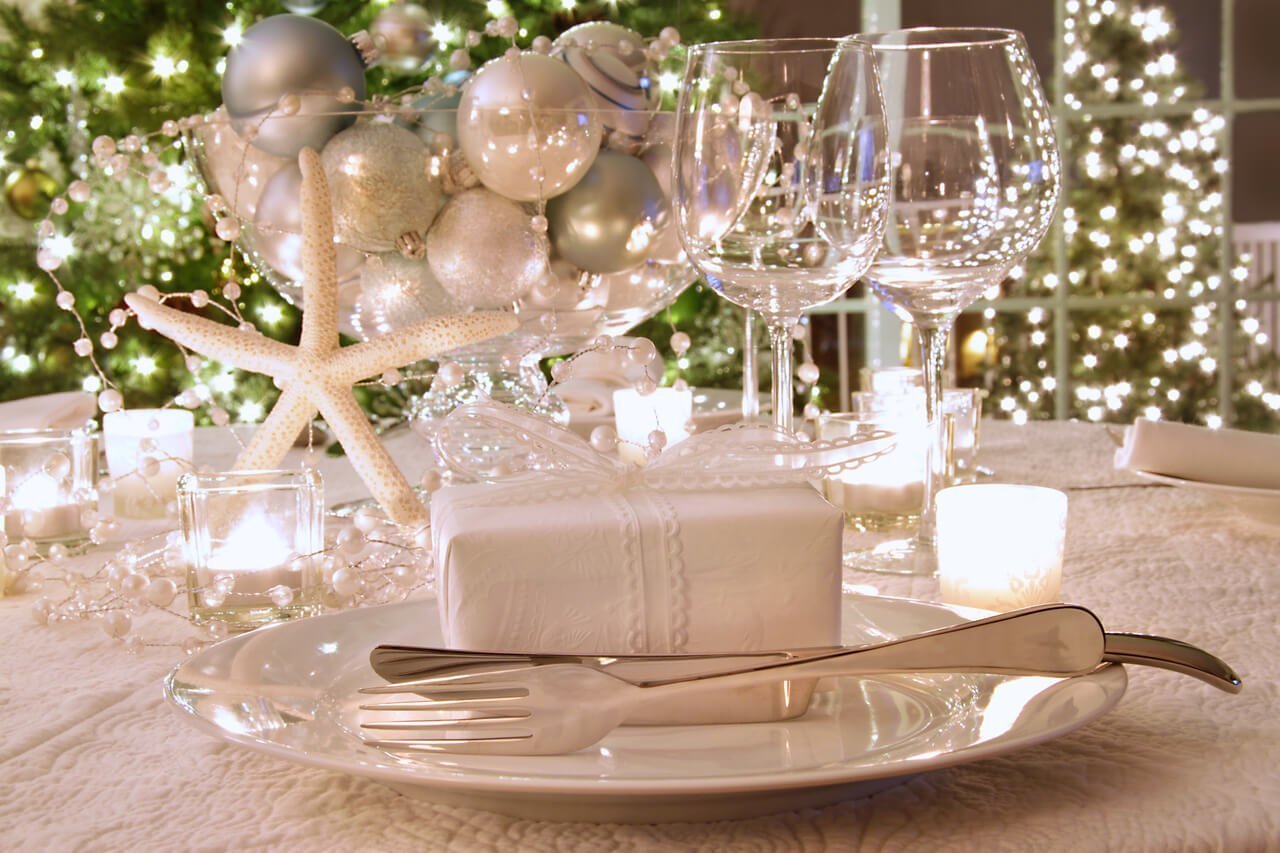 Ornaments of soft silver and muted white appear to hover above the table in a clear glass bowl. Delicate pearl beads and a starfish accent are reminiscent of a windswept beach in winter.
48. Refined Silver Platter Miniature Christmas Trees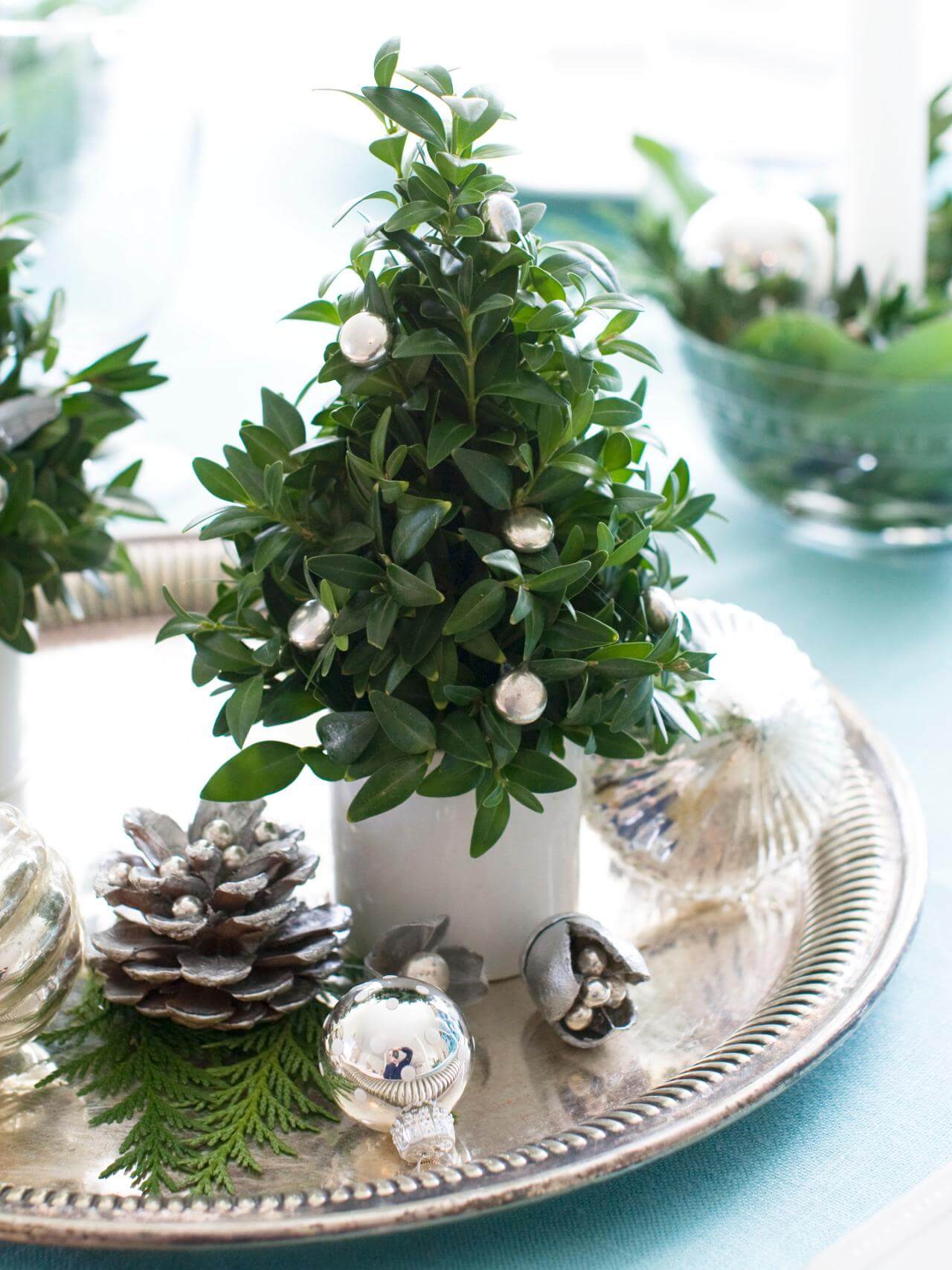 Fresh clippings from the hedge or garden pop against a backdrop of silver. Minimal decorations dress up the cup of greenery and add that something extra to a plain silver tray.
49. Simple DIY Rustic Farmhouse Centerpiece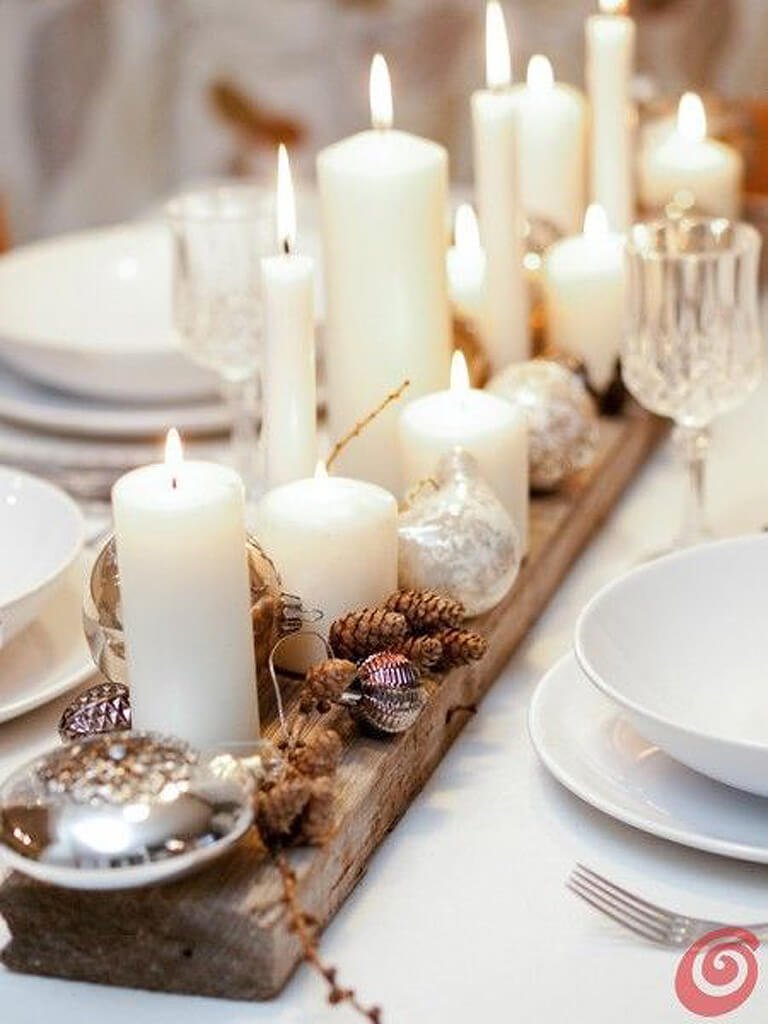 Reclaimed wood provides a hint of tradition and times gone by and is the foundation for an understated centerpiece of candles, miniature pine cones, and ornaments in white and natural tones.
50. Gift Bags Galore Easy DIY Christmas Centerpiece Idea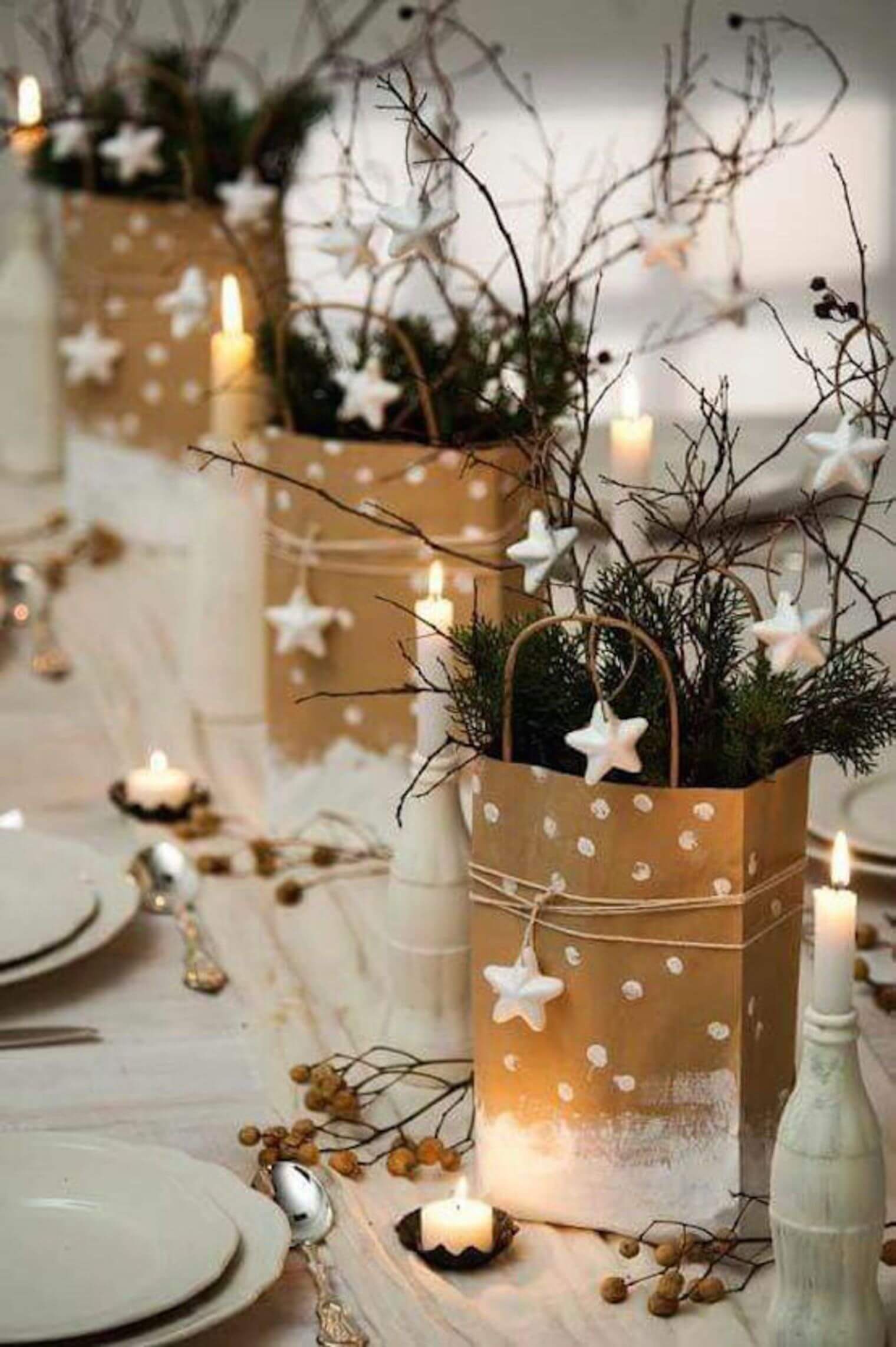 Skip the glitter and dress the table with natural evergreen and dried twig arrangements in whimsically decorated gift bags featuring twine and star accents. Frosted white bottles elevate matching tapers to complete this simple display.
51. Feathers and Crystals White Christmas Table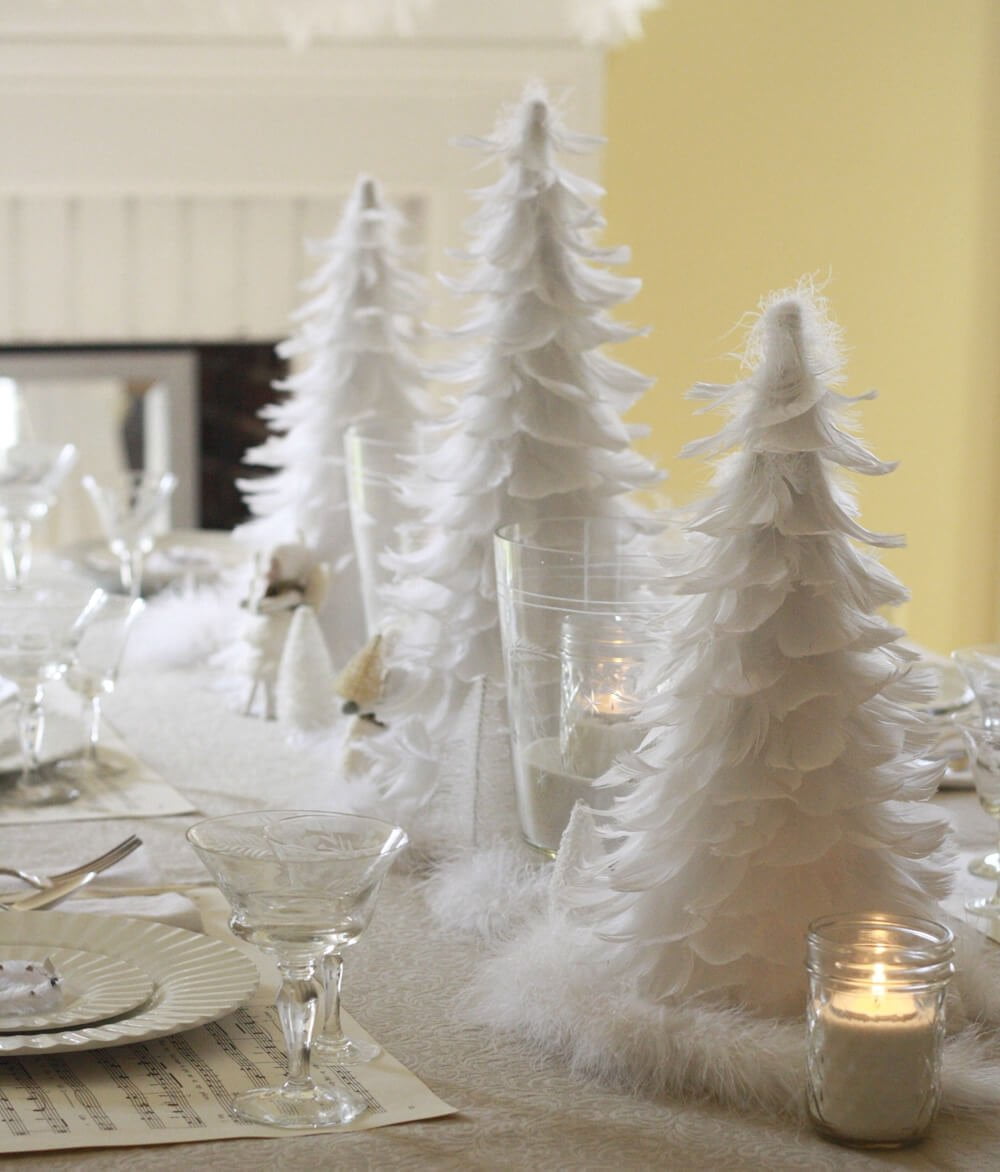 Bring the fantasy and magic of a white Christmas to your table with glimmering tea light candles nestled amid a forest of feathery white Christmas trees and marabou snow banks.
Our Favorite Christmas Ornaments to Buy on Amazon