24. Merry & Bright Lighted Sign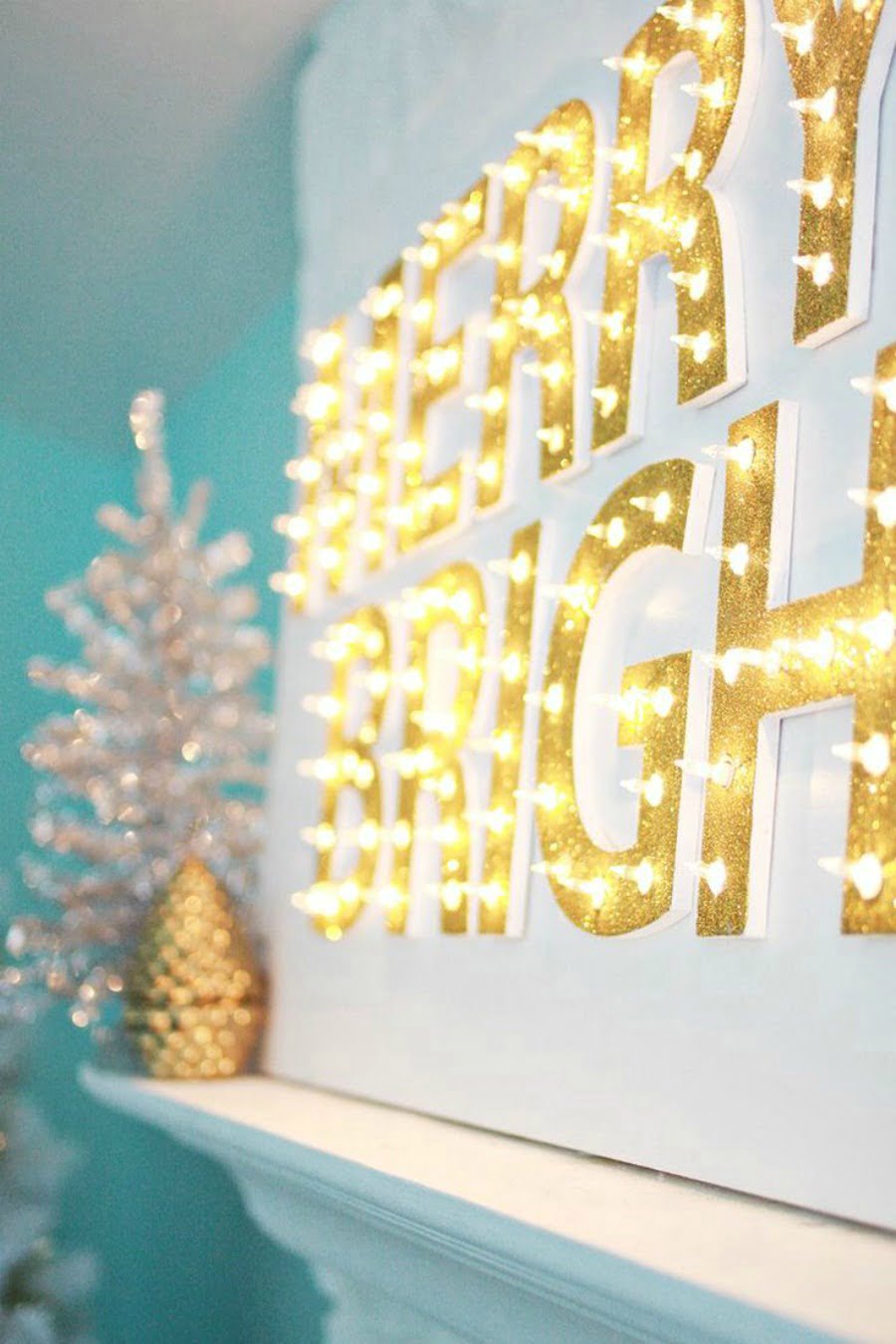 For a clean, modern Christmas, a fashionable lighted sign is definitely in order. The white background, simple font, and the glitter really make the letters pop. This probably isn't a kid-friendly project since it requires so much precision. Perfect for a mantle, shelf, or wall, the sign will convince guests that you take the holidays seriously. Make multiple signs in different sizes, colors, or font styles to display around your home. Stick a "Naughty or Nice?" sign in the bedroom! But keep the glitter away from that pristine white board and your clothes if you can. Glitter is notoriously hard to get rid of.
25. Six-Pointed Star Wrapped Wreath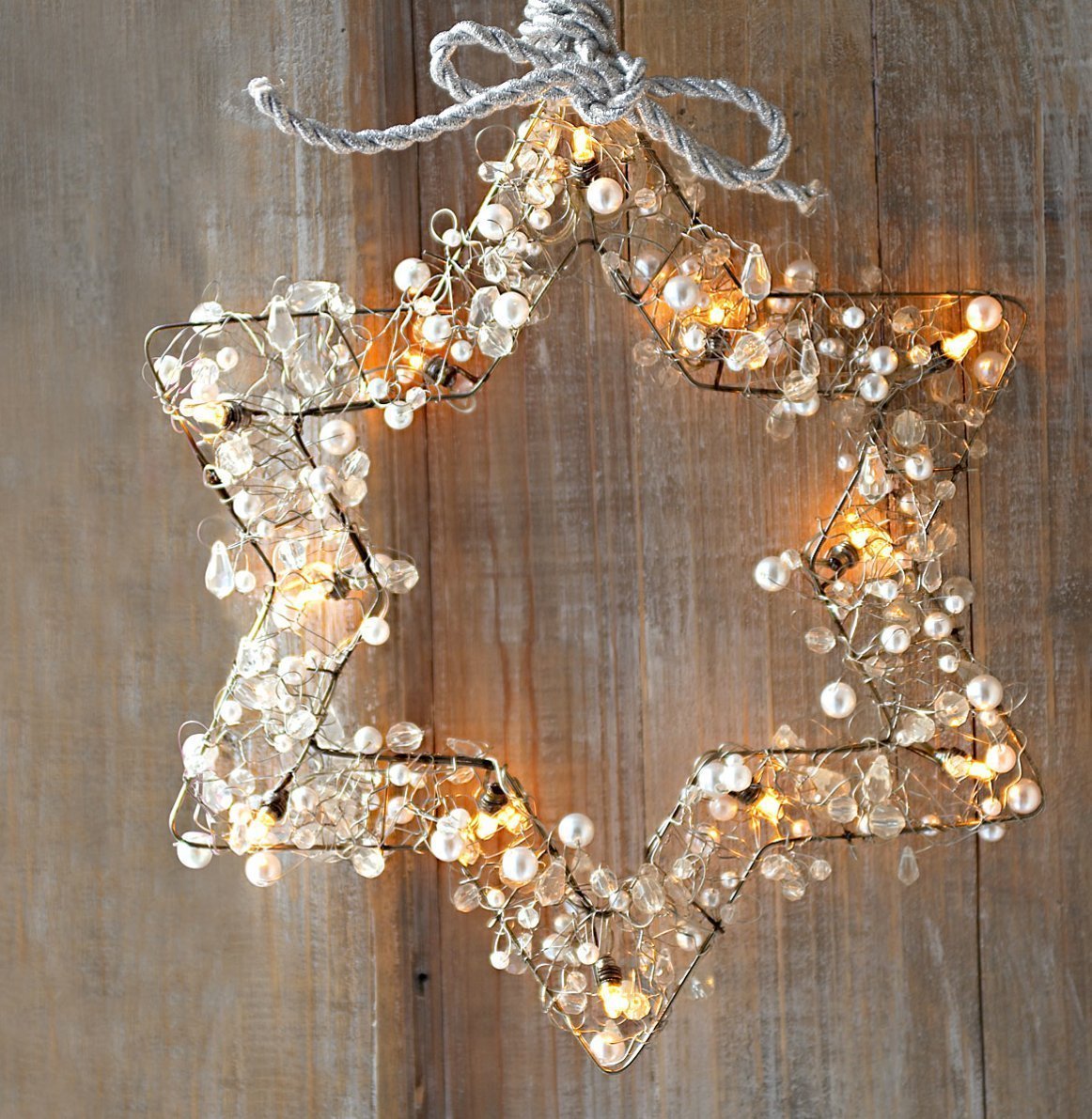 We call them "Christmas lights," but clearly you can use them for other holidays. Whether you celebrate Hanukkah or want to share the joy of the season, a wrapped six-pointed star wreath is a beautiful way to do it. The unique bulb shapes mixed with the wire and beads prevent this Christmas lights decoration from getting anywhere near tacky. The mix of clear and white beads help reflect and diffuse the light, making it a nice indoor piece that won't blind you. Letting the bead wires run a little wild and not worrying about perfect placement actually does this decoration a favor. The beads give it more volume without looking bulky.
26. Minimalist Ladder Christmas Tree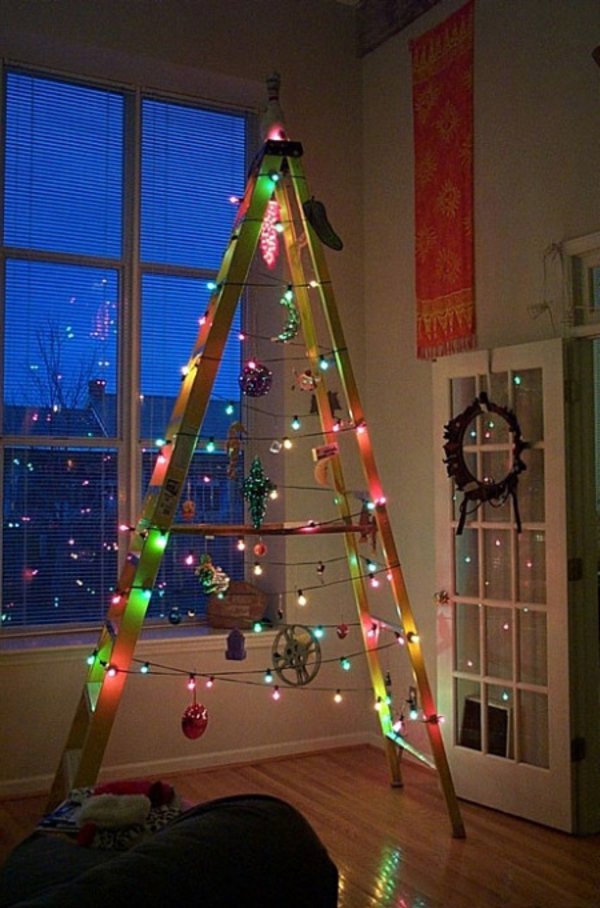 In the right hands, decoration with Christmas lights can remove the need for a tree entirely. If you value your open space, this ladder setup won't make you claustrophobic. The plain wood of the ladder and sparse lights crisscrossing around it look very modern and urban, perfect for the apartment dweller. Pull out your funkiest ornaments for extra visual interest. This probably wouldn't have the same effect if the ladder was made of plastic or metal. Keeping the light strings simple keeps the lines of this minimalist "tree" looking clean and neat rather than busy or cluttered.
27. Fairy Lights Under Glass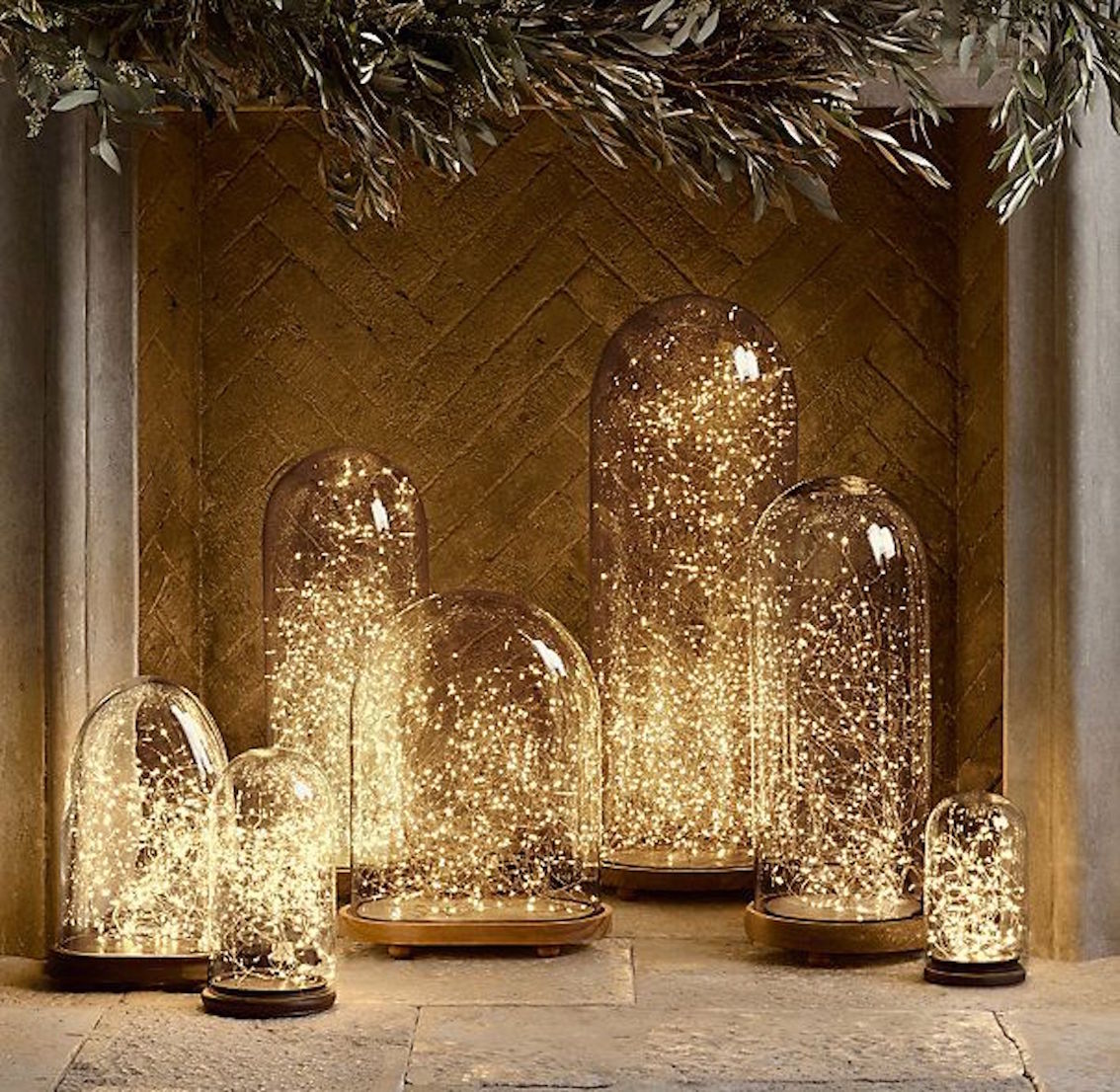 The fairy lights look almost alive under the glass domes. This as simple as you can get for a decoration with Christmas lights, but low effort clearly doesn't mean boring results. The different shapes and sizes of the domes and the tangle of lights within them make a magical, almost futuristic lighting display. You could also incorporate little pinecones, figurines, or star-shaped lights for even more magic. Surround the glass domes with tinsel or evergreen as part of a more complex display.
28. Triple Hanging Wreaths, All Tied Up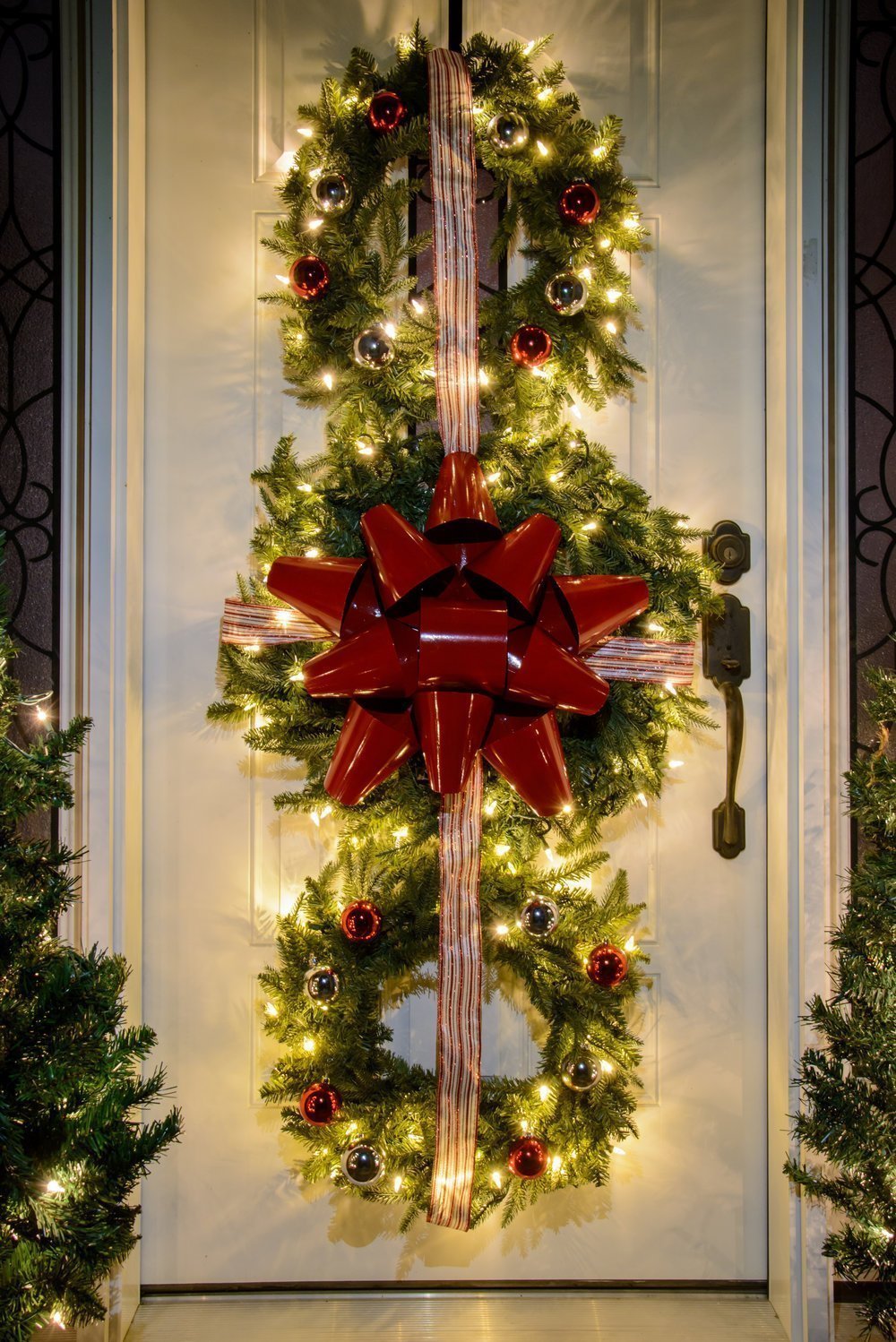 This clever Christmas door decor uses a giant bow as a centerpiece. Lights wrap each of the wreaths along with shiny red and gold ornaments. The soft glow of the lights and the care taken with the bow and ribbons take this into expert Christmas lights decorating territory. It could be overwhelming if combined with a lot of other decorations, so keeping it simple on a plain white door is a good idea. That big, shiny bow is like the frosting on the cake. A big star would be a pretty alternative, too, or a nutcracker. You'll just have to be careful when opening the door to avoid swinging the wreaths off into the wall or on the floor.
29. Christmas Light Bike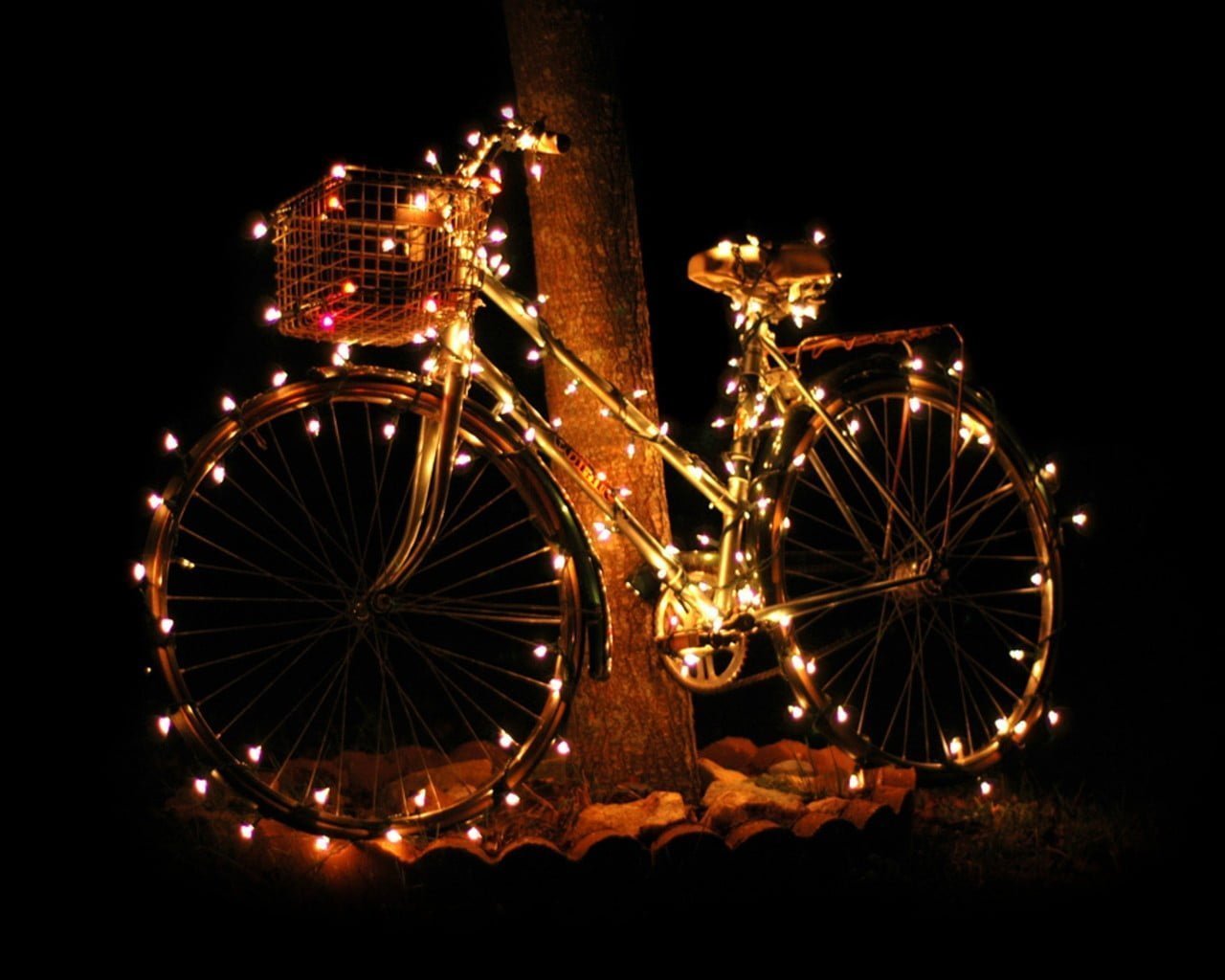 If you have a spare display bike lying around in the yard, it's time to turn it into a Christmas lights decoration for your neighbors to admire. It's a cute, low-cost way to show your holiday spirit to the world. And you don't have to stop at bikes—wrap garden gnomes, broken lawnmowers, old tires—it's time to turn the junk in your yard and garage into creative Christmas lights decorations! Take the funky approach to the holidays by wrapping random objects and obstacles in your yard with lights. Just make sure not to use your good riding bike or anything that doesn't handle cold weather well.
30. Christmas Tree Lights and Ornaments Door Decoration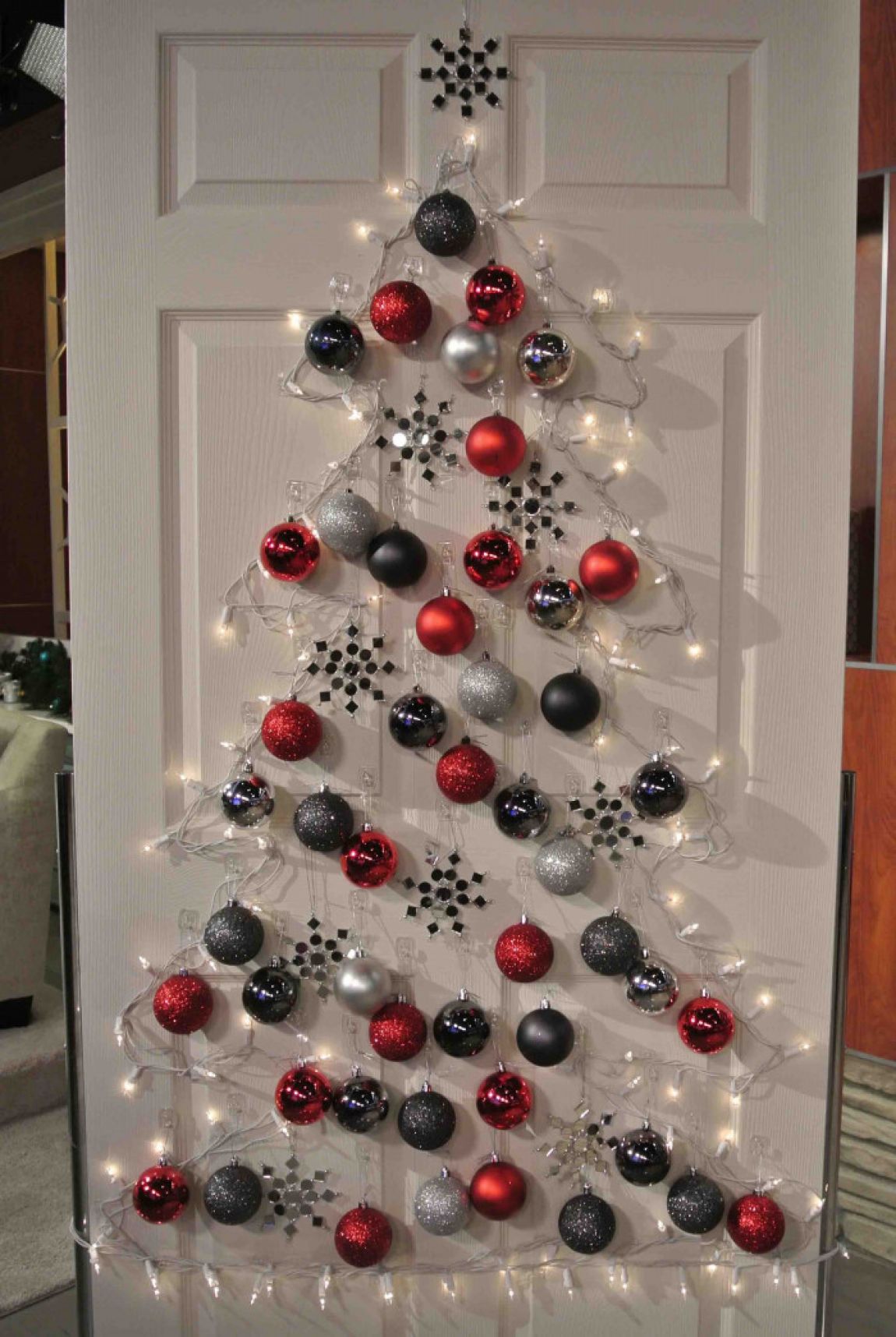 No room for a tree? Create a decoration with Christmas lights on your favorite door. The color palette and similar ornament sets give this door tree a nice theme. You could also intermix photos of loved ones or a set of themed ornament crafts, or string a beaded garland between ornaments. The snowflakes and tree topper pictured can actually be DIY'd with a few ornament kits you can find at just about any craft store. Let other household members design their own personal snowflake to hang on the door tree.
31. Light-Up Floral Frame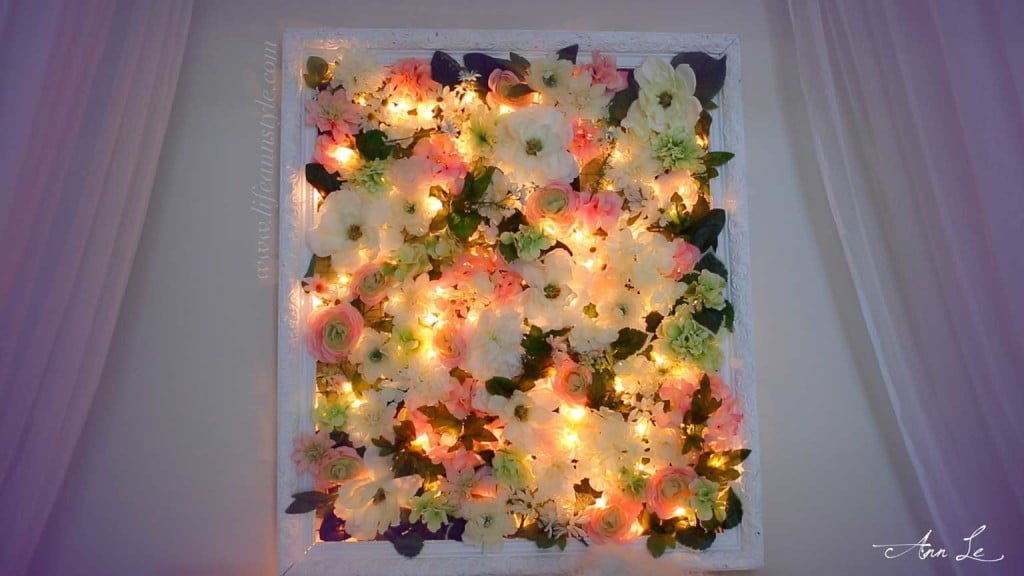 Here's a wall decoration you won't want to take down. Fake poinsettias, holly berries, pine cones, and other holiday plants would give this a more Christmassy look. Mix in a few snowflakes or bits of tinsel, and you've got yourself a party. The clean way the frame contains the thick bouquet of flowers makes this look like a pro decoration with Christmas lights. A gold or silver frame would also work well for the holidays.
32. Corner Christmas Display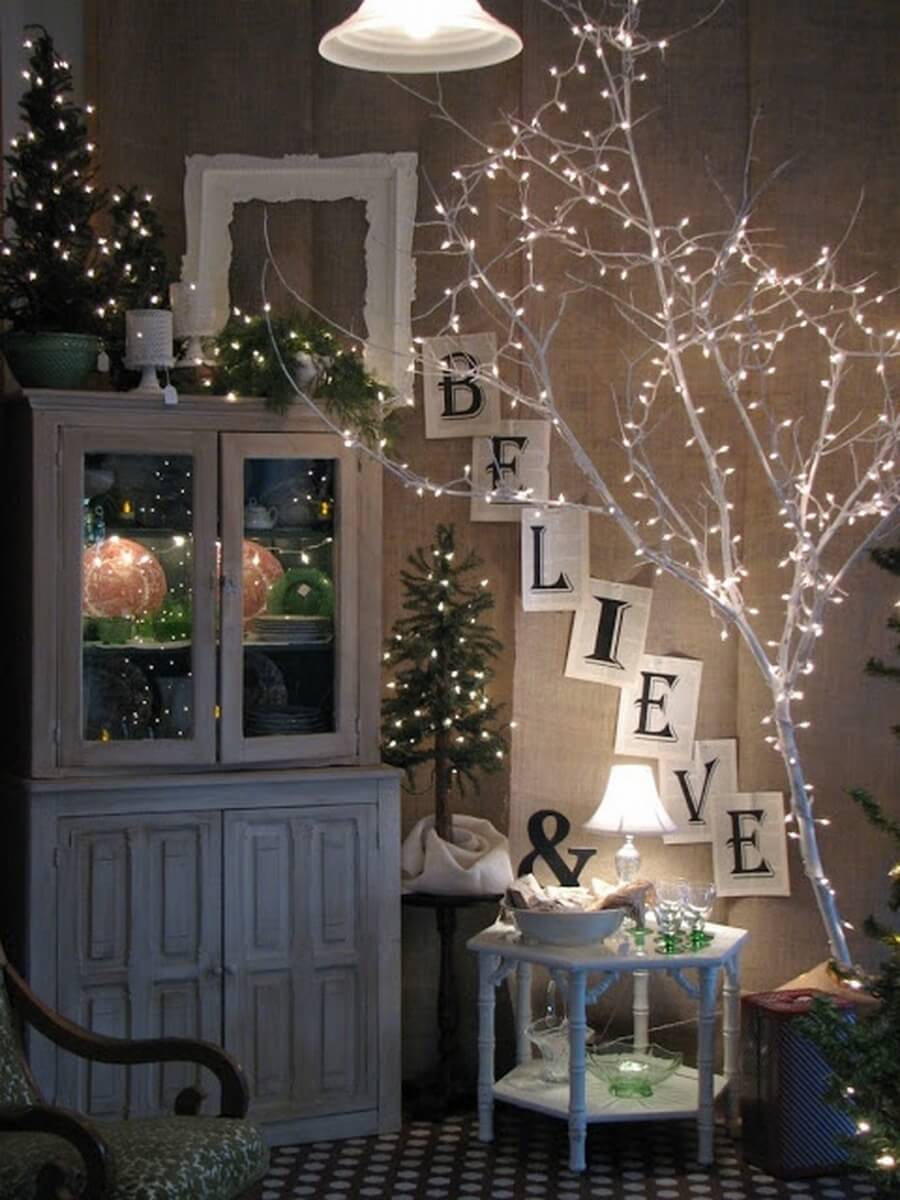 Take advantage of a nook in the living room or dining room and fill it with Christmas. What makes this one so appealing is the diagonal visual movement, starting with the white tree branch draped in lights and the slanted "BELIEVE" sign leading up to the top of the cabinet and the tallest mini tree on the far left. Also, note the focus on white and green for the color scheme to keep the multiple decor ideas all tied together. These are relatively easy materials to acquire, too: spray paint a tree branch and wrap it in lights, and grab a bunch of miniature Christmas trees from the nearest department store. The lettering will need the most work, using cardstock or some other kind of thick paper for a refined look.
More DIY Christmas lights decorations on the next page…