Unleashing the best DIY Christmas ornament storage ideas on your household means a better Christmas decoration season next year. Often, the sheer amount of Christmas decorations eclipses the rest of your seasonal décor. Bringing order to the chaos might actually help you achieve inner calm. You might even have some fun as you put Christmas away to move on to your next interior decorating adventure.
16 Clever DIY Christmas Ornament Storage Ideas for a Smooth Transition Between Seasons

Christmas decorations offer unique storage challenges because they only come out once per year and are often fragile. Some, like homemade Christmas ornaments, offer additional issues because they are exceedingly delicate and often hold sentimental value. Others, like garlands and lights, can tangle when not stored properly. From the largest tree to the smallest tchotchke, all Christmas decorations get dusty when not in use. Luckily, there are plenty of ways to keep your Christmas collection fresh for next year's display season. To figure out where to focus your organizing energy, figure out which elements of your Christmas décor need the most help. If glittering ornaments are giving you grief, consider a storage container that cushions and organizes your ornaments. Perhaps a behemoth Christmas tree takes up too much space. Even if your entire holiday décor collection needs an overhaul, there are organization ideas for every household.
1. Recycled Cardboard and Disposable Cup Ornament Organizer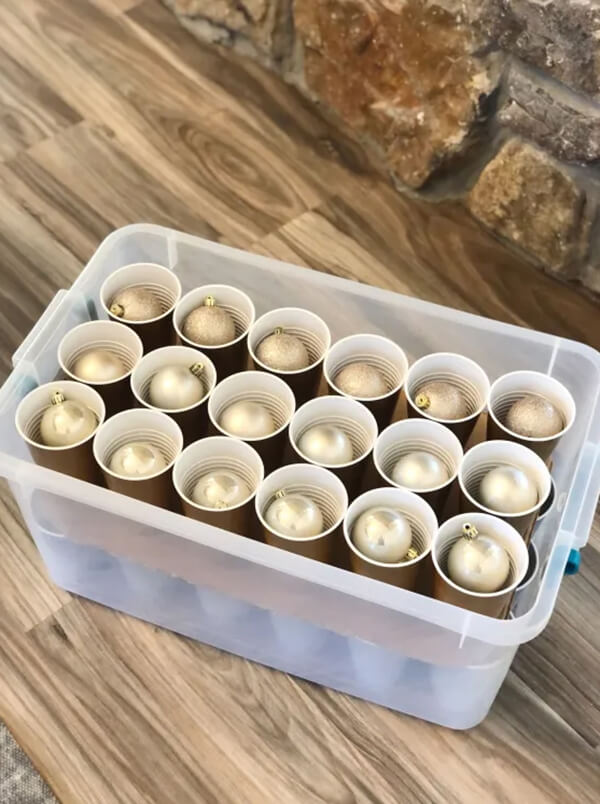 Storing ornaments loose in a plastic tote is a recipe for breakage. In this tutorial, you will learn how to use inexpensive materials to store your favorite fragile ornaments. Because they keep breakable ornaments from clanking against each other, disposable cups act as the perfect cradles for your cherished ornaments. If your ornaments are uniform in size or type, this is one of the best DIY Christmas ornament storage ideas. Cardboard and cup layers are also a great technique to separate and organize different colors and types of Christmas ornaments.
2. Large-Print Labels for Simple and Effective Storage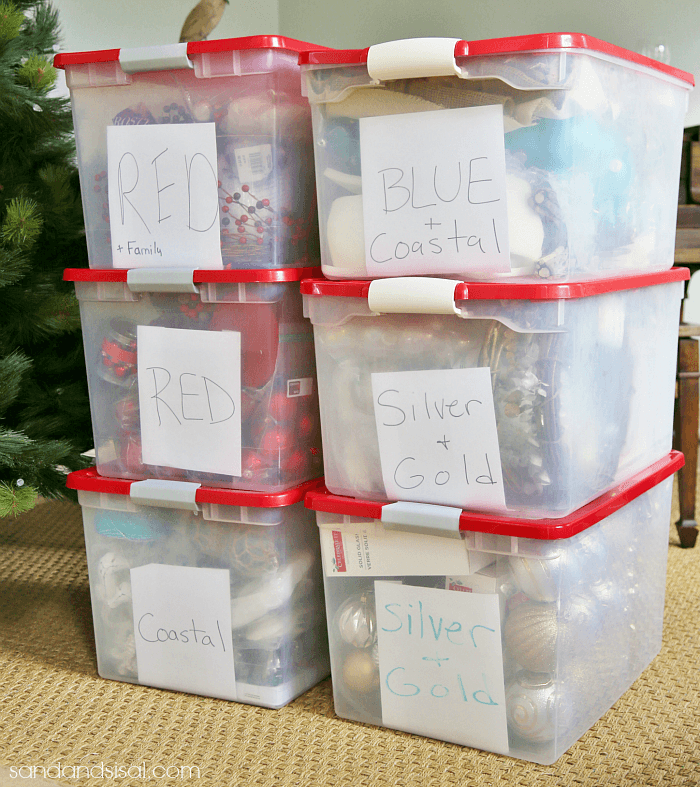 One of the easiest ways to organize your Christmas décor requires only a marker and a sheet of paper. Using simple two-word labels, you can quickly turn disorder into organization. While this strategy will work for homemade Christmas ornaments, it can be used on any type of Christmas décor. To maximize this method, use clear storage bins that will be stable when stacked. Clear containers give you a glimpse of what lies inside so you do not have to unstack and open the lids to discover what is inside each.
3. Transforming 9-Ounce Party Cups into Ornament Storage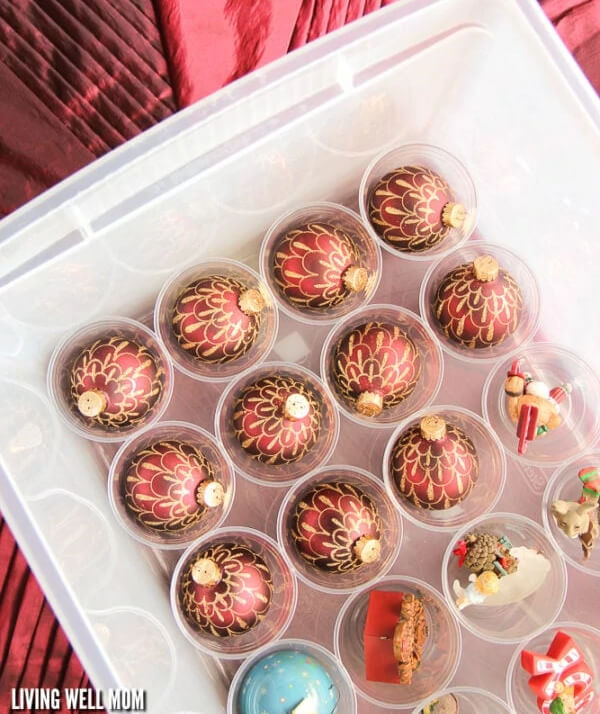 Leftover plastic party cups are a great way to prevent breakable ornament catastrophes. Depending on how tall your storage bins are, you can safely store multiple layers of ornaments in a single bin until next year. To maximize your space, use plastic cups that are only a little larger than your ornaments. A sheet of sturdy cardboard between the layers of cups keeps the ornaments happily separated. If you choose cups and bins that are both clear, you will be able to see exactly which ornament collections are in each container.
4. Best Practices for Christmas Décor Storage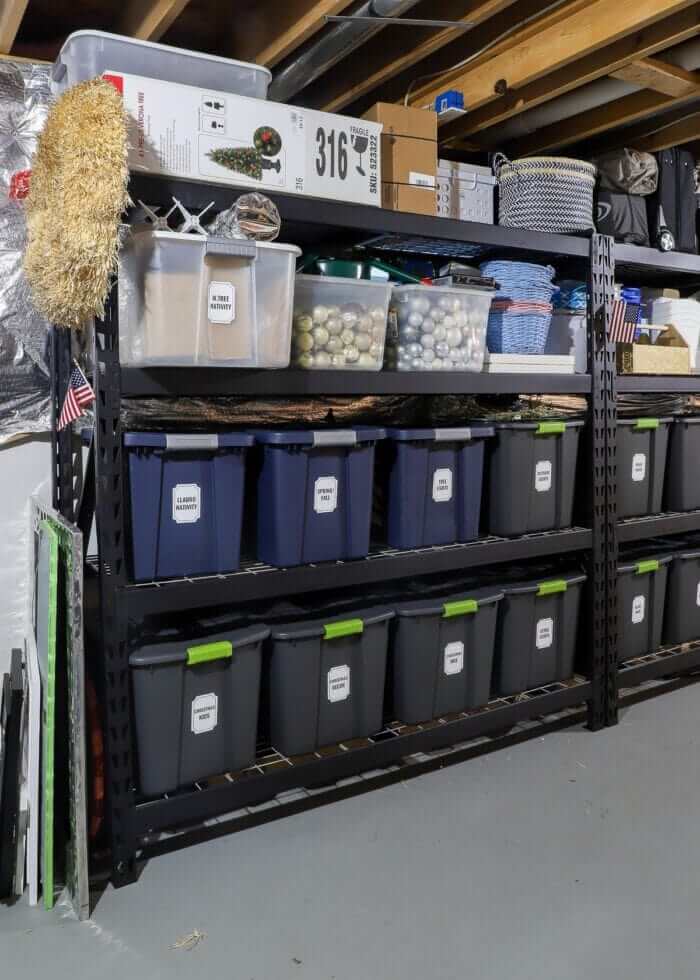 While every household has a unique method that works best, it can take years to perfect a storage method. To shake up a nonfunctional routine, try switching from a category-based arrangement to a location-based system. Instead of packing one type of item at a time (i.e. garlands, reindeer, wall hangings), try putting away each room separately. Then, label the bin with the room's location. Dedicated shelves for Christmas décor are a way to give each bin a home in the off-season. Try hanging oversize wreaths from hooks mounted to these shelves.
5. Organizing the Perfect Gift-Wrapping Station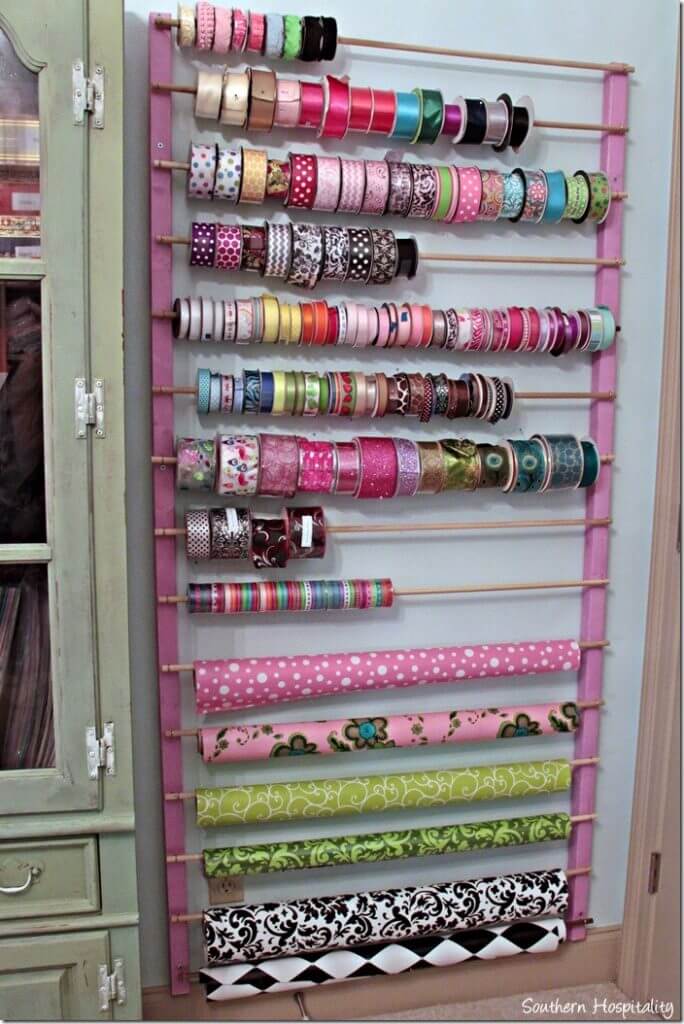 With a deceptively simple design, this is a great way to keep all your gift-wrapping supplies together. Because you can easily see exactly what materials you have, every single present you wrap this Christmas can be a jaw-dropping masterpiece. Best of all, it is easy to assemble. All you need are dowels and hooks to bring the ultimate gift-wrapping station into reality. For the ultimate visual effect, organize your gift-wrapping supplies by color. Imagine one dowel filled with cool blues and rich greens while the next offers jolly reds and opulent golds.
6. Save Precious Space by Hanging Your Wreaths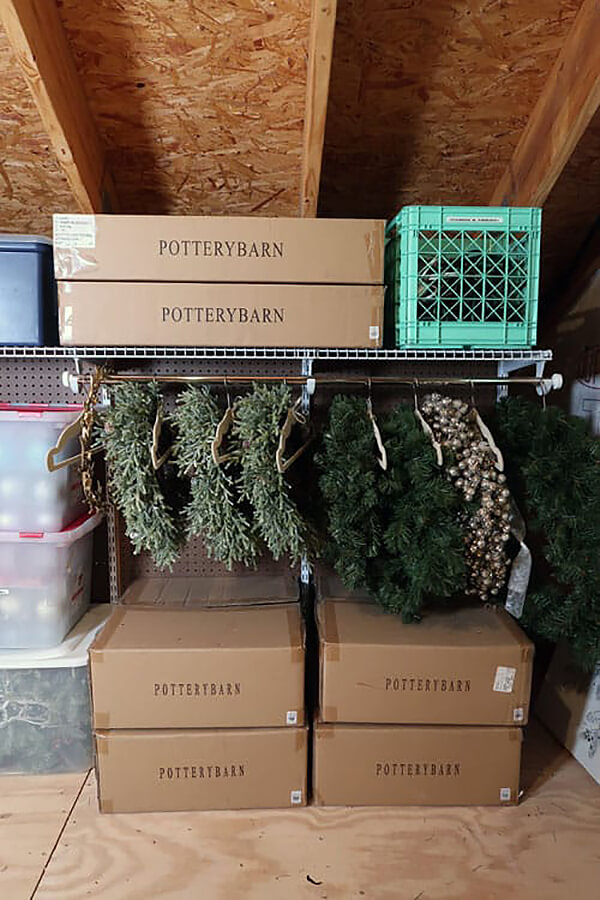 Wreaths are one of the most challenging Christmas decorations to store. If stored improperly, wreaths can lose their graceful shape or even come apart altogether. Hanging them when not in use is a unique way not only to extend their lifespan but also allows you to see exactly what you already have. Because of the visibility factor, you might end up finding ways to repurpose last year's wreaths instead of investing in new wreaths every year. From the miniature to the oversized, hanging your wreath collection is an elegant storage solution.
7. Creating a Gift-Wrapping Oasis in a Closet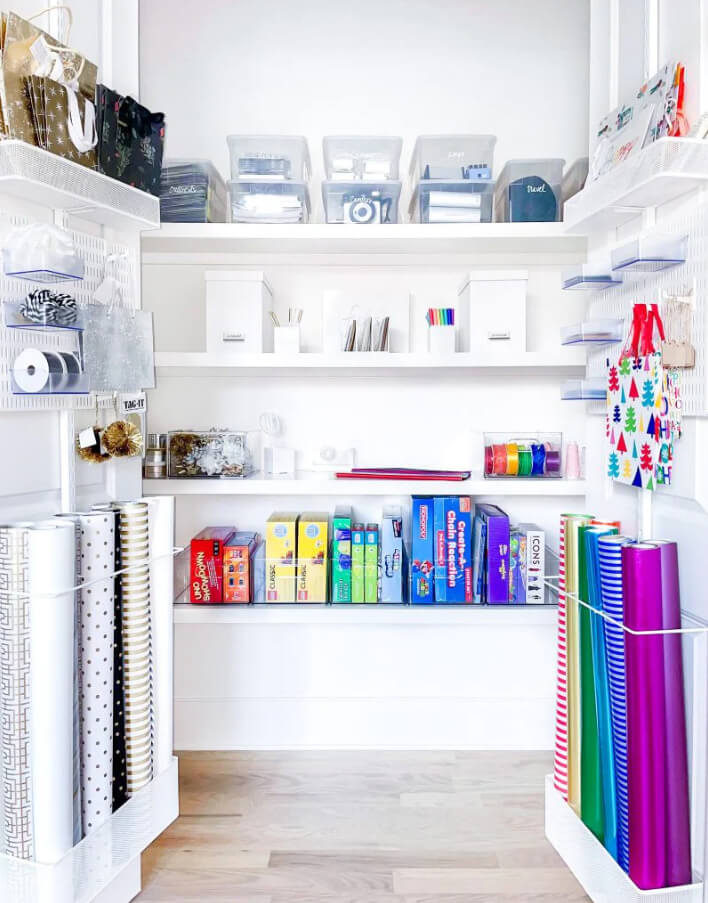 While Christmas is the busiest gift-giving season, there are still plenty of events throughout the year that call for a dedicated gift-wrapping space. Draw inspiration from this image and design your own wrapping paper supply closet. While this space features bright hues on one side and subdued colors on the other, you could easily switch it up to match your wrapping paper preferences. However, a well-wrapped present goes beyond wrapping paper. Remember to include a spot for embellishments like bows, labels, and ribbons in your gift-wrapping closet.
8. Stackable Plastic Drawers Ornament Storage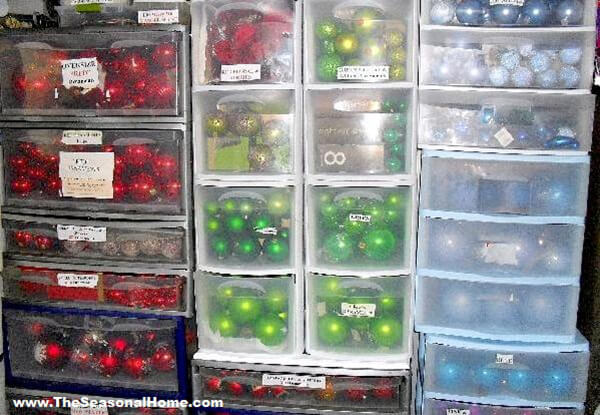 With this ornament storage idea, you might find that sorting ornaments can be a relaxing activity. Each tower of drawers includes a label and features a different ornament color. Because this storage strategy uses modular design, you can pull out only the ornaments that fit this year's theme. Because clear drawers allow you to see different ornament combinations, you can get inspiration for this year's color scheme without rummaging through bins or getting everything out. Of course, coordinating towers will result in a more cohesive visual than this example.
9. Cushioned Dividers for Handmade Christmas Ornament Storage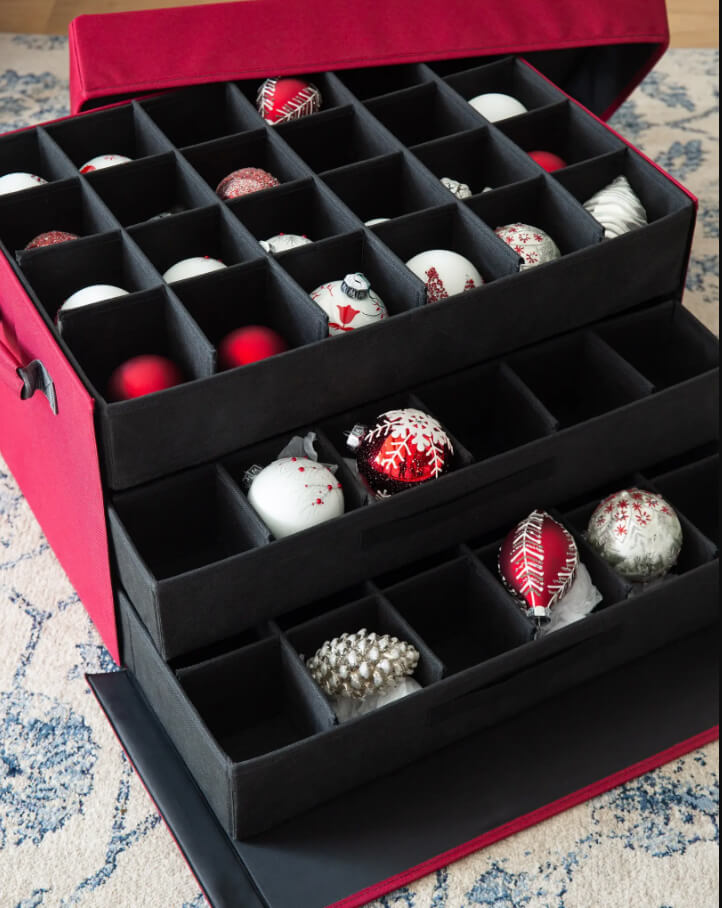 From hand-blown glass ornaments to delicate handmade creations, this storage box is built to safely store even the most precious heirloom ornaments. Because each ornament has its own space separated by dividers, you can enjoy peace of mind knowing that your breakable treasures are safely stowed until next holiday season. Because the dividers are removable, you have the flexibility to use this ornament storage chest for oversize ornaments as well. Although it might not be large enough to store your entire ornament collection, this red box is perfect for the most fragile.
10. All-In-One Canvas Christmas Organizer in Red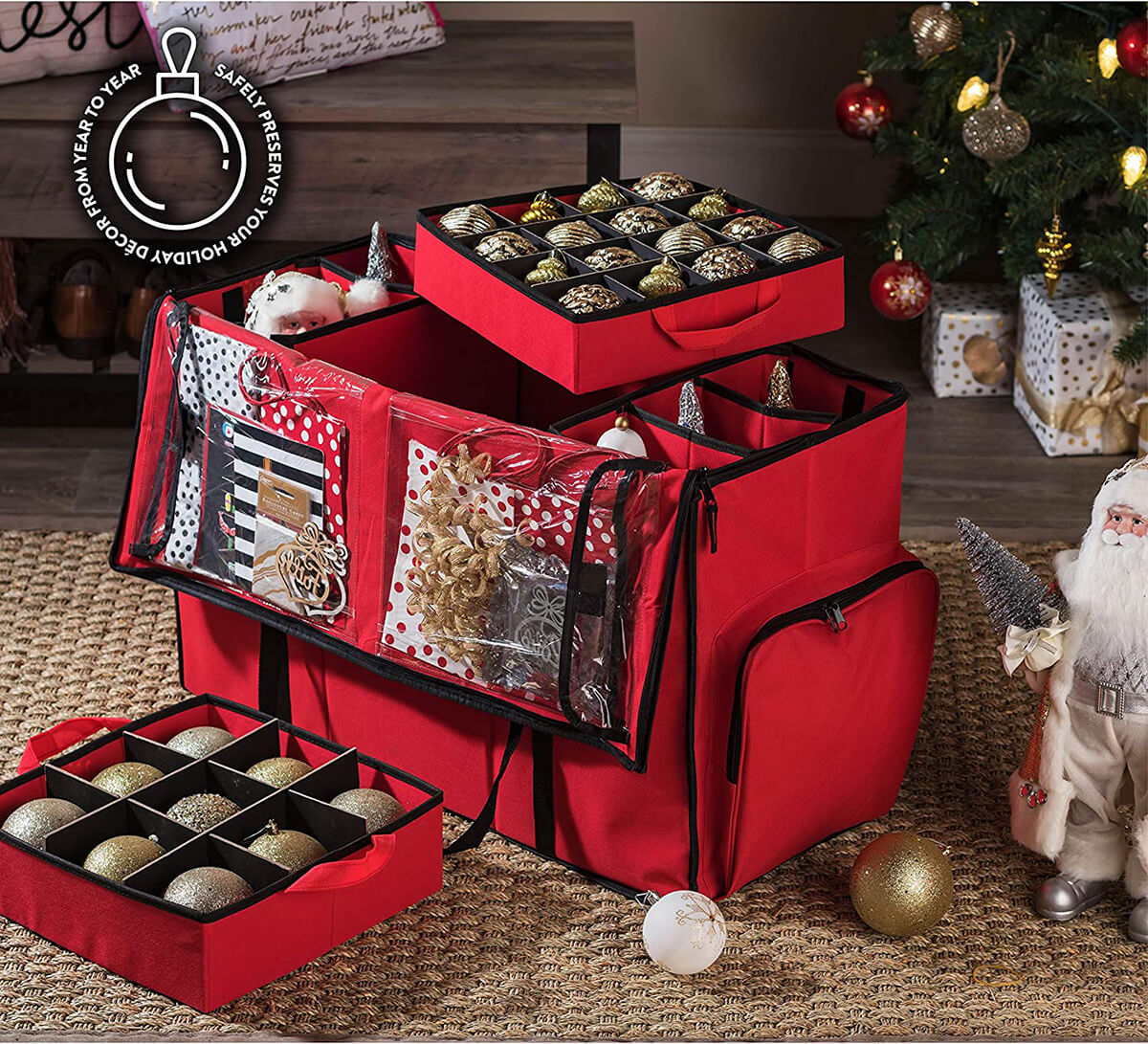 Made from high-quality canvas, this organizer will protect your most cherished Christmas decorations. Five ornament trays with removable dividers ensure plenty of storage for both standard-sized and oversized ornaments. Should you desire, you can also configure compartments to contain figurines or other Christmas décor. In addition to the ornament and figurine storage, zippered compartments are a convenient place to store all the miscellaneous odds and ends like ornament hooks or bows. Although it would take multiple totes to store a large Christmas decoration collection, each is well-suited to that task.
11. Underbed Ornament Organizer with Removable Plastic Trays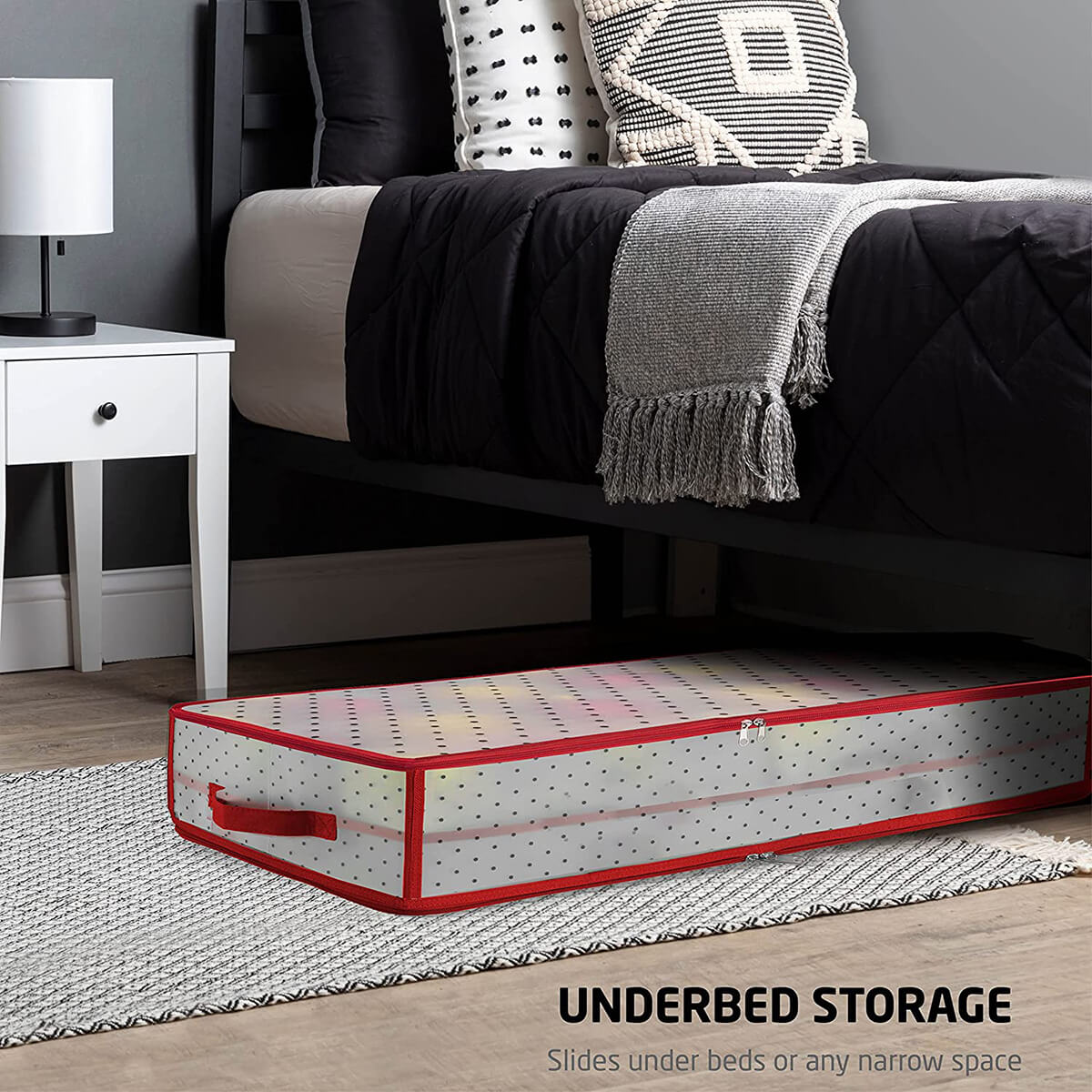 Decked in a festive polka-dot pattern, you may not want to hide this attractive ornament organizer under a bed. A long, narrow profile makes it a great match for top shelves and other awkward spaces that are often left unused. Each includes three plastic trays equipped with an ornament divider grid and a 32-ornament capacity. This design means that you can store oddly-sized ornaments in one tray and standard ornaments in the others. A vinyl exterior offers protection from dampness, dust, and nearly anything that poses a threat to your holiday decorations.
12. Quilted Ornament Container with Cardboard Dividers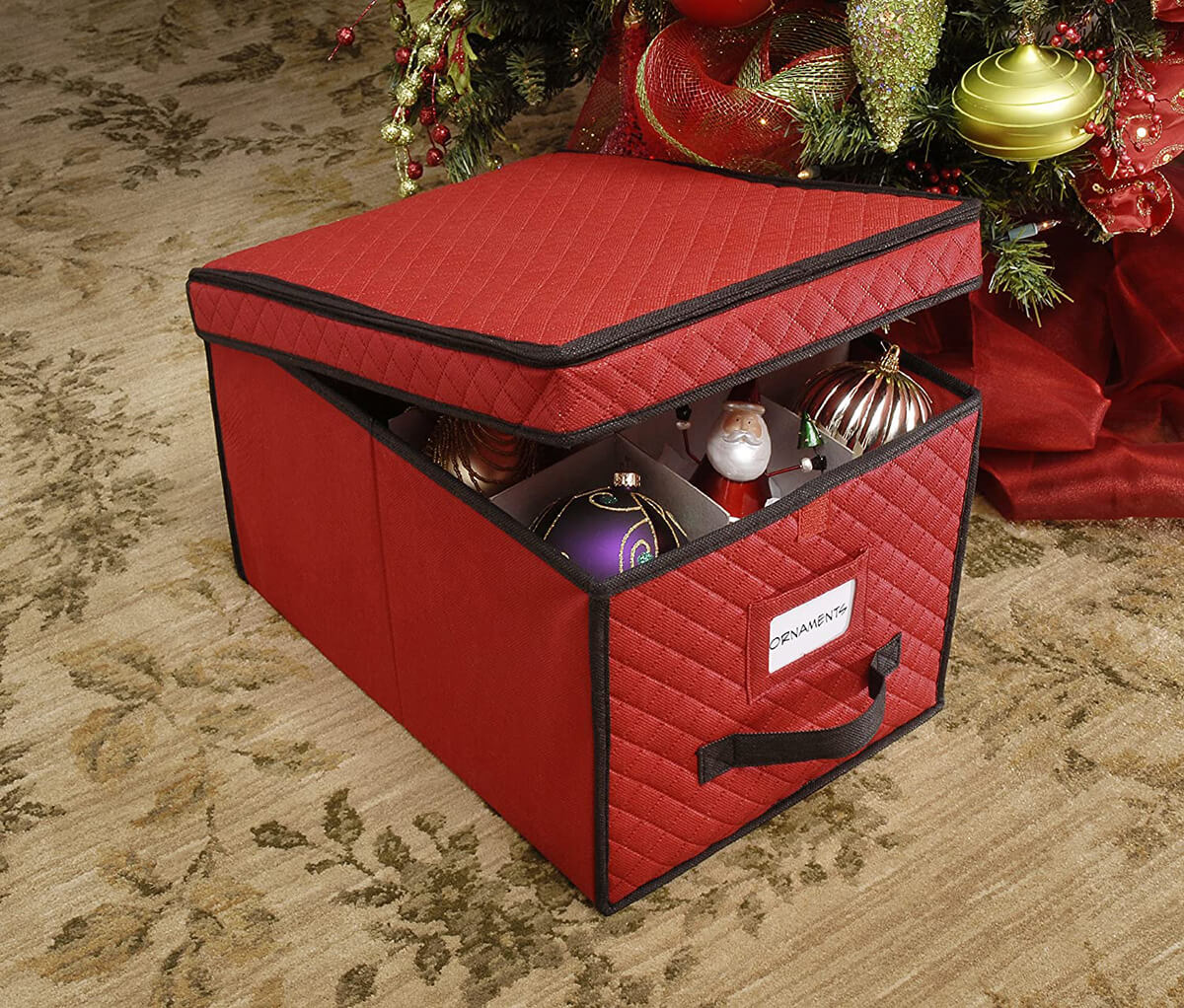 Designed for under-bed or upper-shelf storage, this visually attractive organizer offers two layers of ornament storage. Because the sides of this box are not rigid, it is not suitable for storing anywhere it might get crushed. However, the quilted exterior and crisp black trim make this a visually appealing option among the best DIY Christmas ornament storage ideas. Made from polypropylene mesh, this box will keep your favorite Christmas decorations dust-free and ready for display next year. The cardboard dividers can be customized to accommodate large or oversized ornaments.
13. Thinking Outside the Box with Ceiling Storage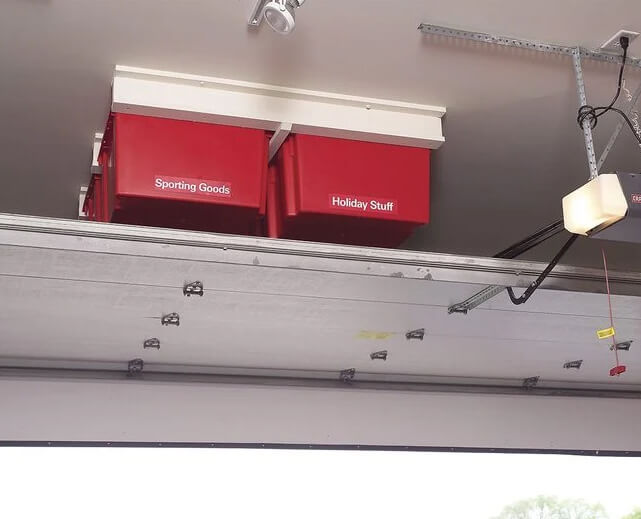 In most homes, extra storage space is premium real estate. To free up valuable square footage, try building your own ceiling storage system. With reinforced containers, you can easily store all your holiday décor where it will not be underfoot. Large labels make it easy to see which bin holds which decorations. To achieve the seamless effect seen here, paint your wooden storage system the same color as your ceiling. While this system is installed in the garage, you could easily implement this solution in any room with ceiling joists.
14. 30-Inch Wreath and Garland Storage Drum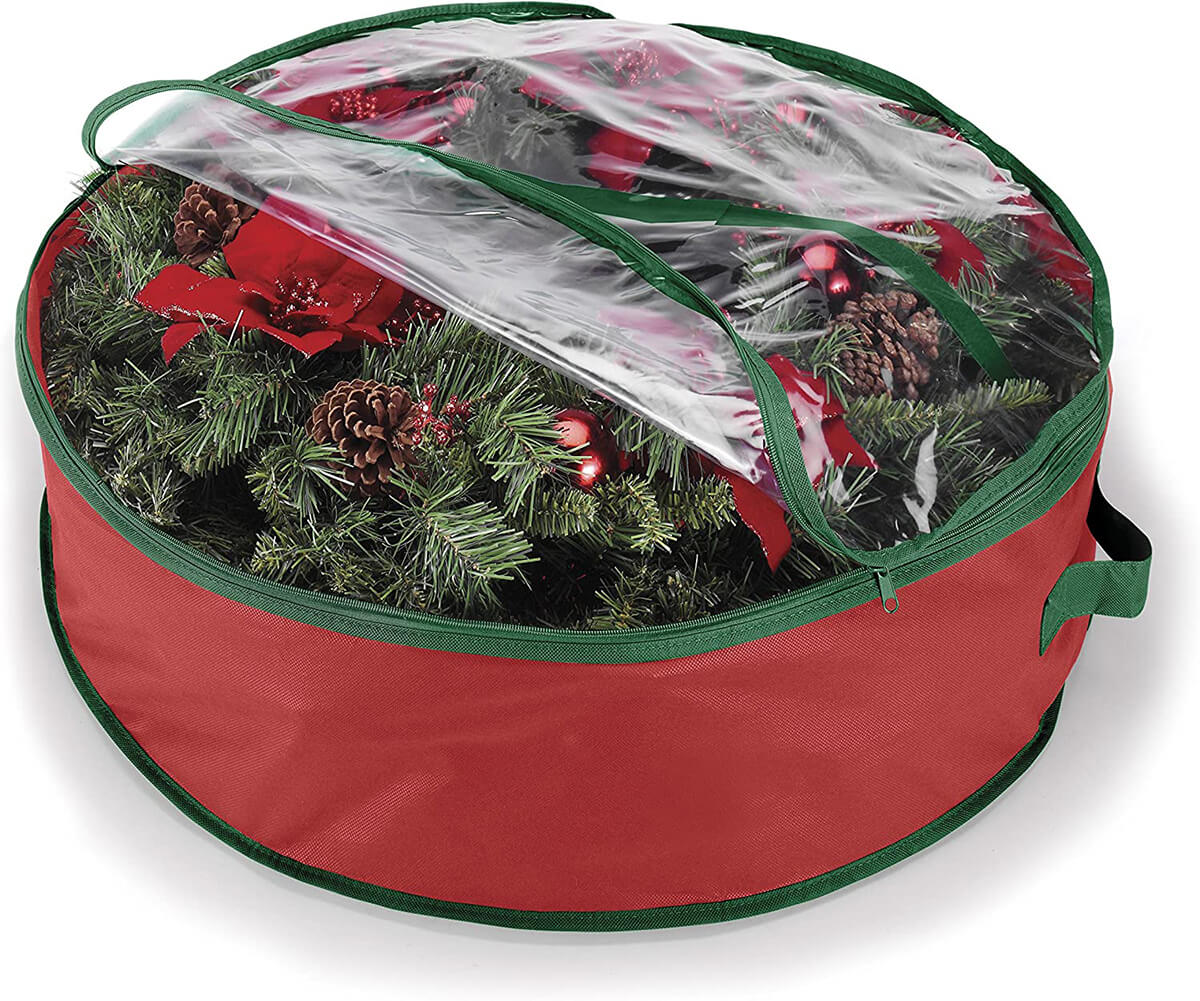 Because this wreath container is eight inches tall, it can hold even the most voluptuous wreaths. Multiple slimmer wreaths can fit in the same container. A clear plastic window makes it easy to see exactly which wreaths are in each drum, and a soft mesh construction means it can squeeze into any awkward gaps in your shelves. However, the lack of rigid walls also means that you will need to be careful as heavy objects will be able to smash your wreaths. This case works well to protect from dust and debris.
15. Handmade Christmas Ornament Storage for Miniature Trees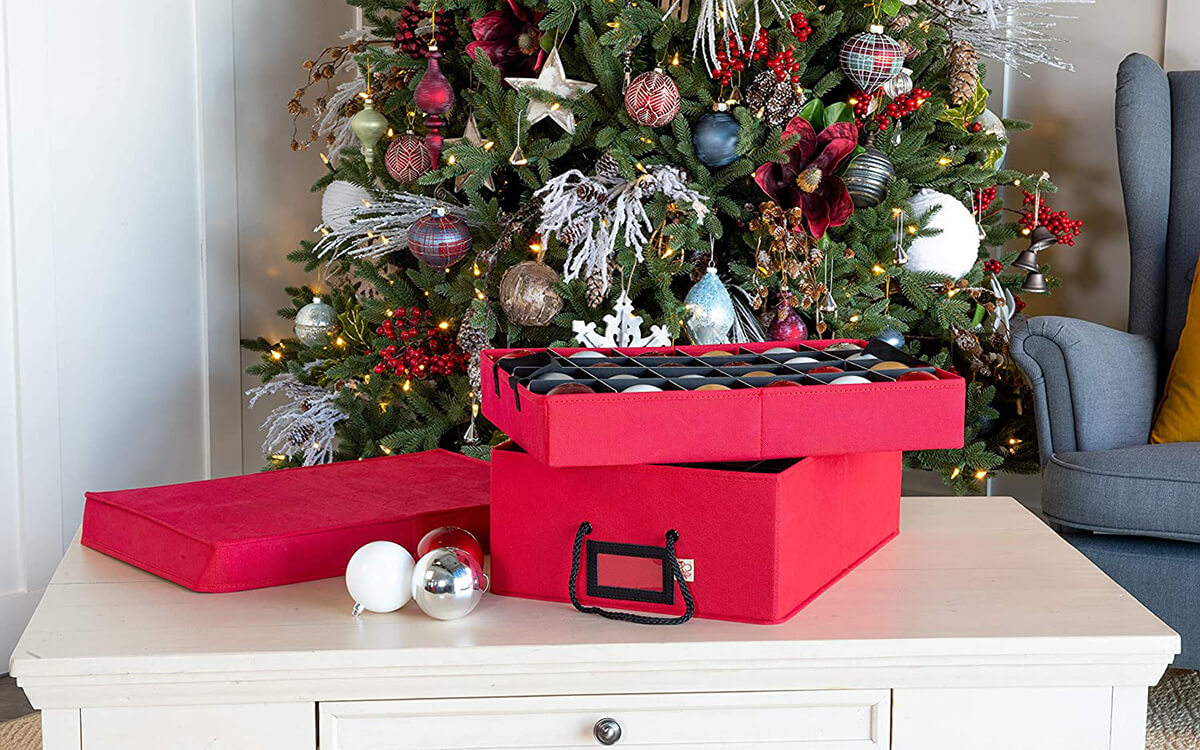 With the ability to hold 48 ornaments in two trays, this bright red ornament organizer is the ideal size for miniature and tabletop Christmas trees. Because it features rigid sides and acid-free dividers, this ornament storage tote will keep even the most exquisite creations safe until next holiday season. A clear window makes it a cinch to label while the red exterior makes it easy to spot. While each organizer might hold enough ornaments for a miniature tree, you could use multiples to store handmade ornaments for larger trees.
16. Interlocking Ornament Organizers with Lids that Snap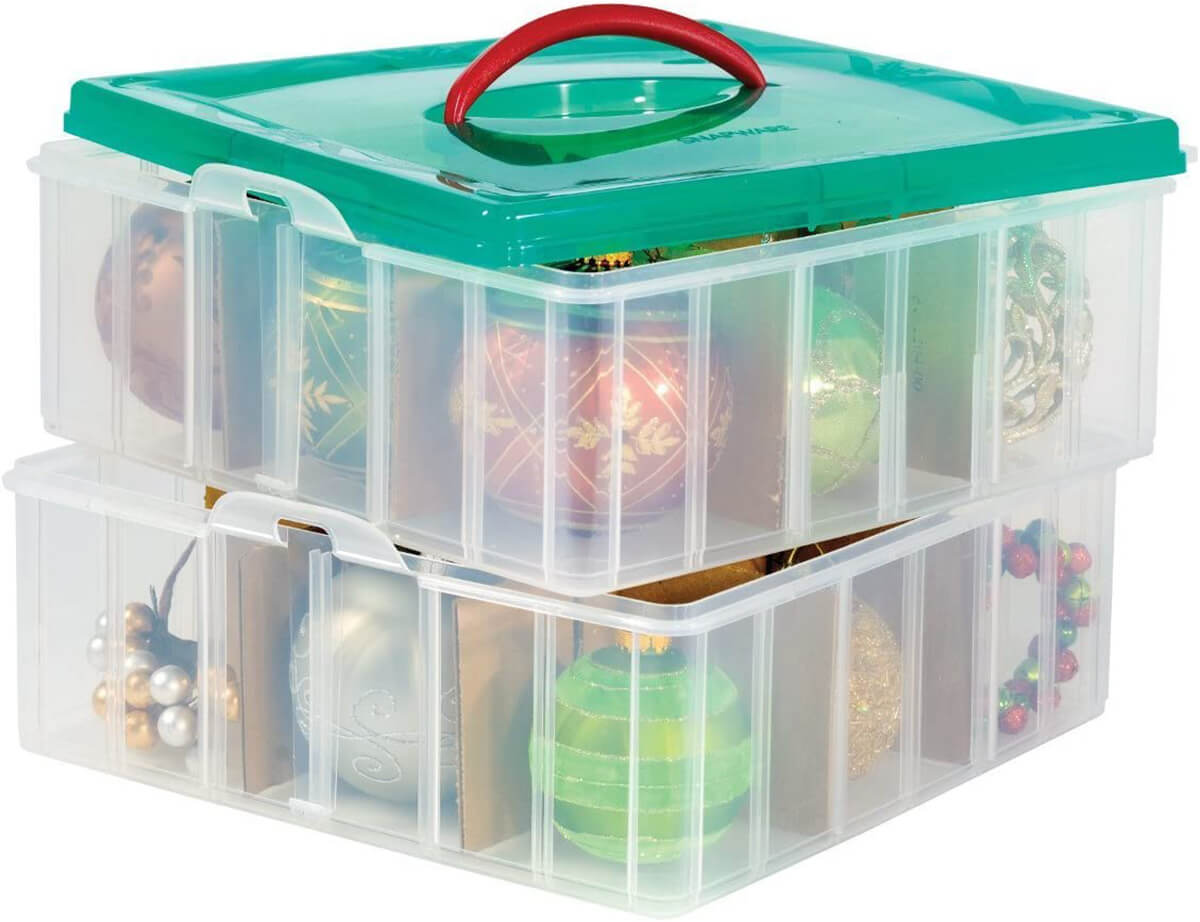 Is there anything as satisfying as hearing a snap when your ornaments are about to be successfully stored until next year? Because these units connect up, they are fantastic for ornament collections that seem to grow larger every year. Sturdy plastic sides ensure safe storage for delicate homemade Christmas ornaments. While the corrugated dividers are customizable, they do not offer much cushioning or support. Depending on your ornaments, you may want to add acid-free tissue paper or other packing materials to cushion your ornaments inside these containers.
The Top 16 DIY Christmas Ornament Storage Ideas that will Make Packing Up Christmas a Pleasure
While packing Christmas décor away until next year is never as fun as setting it up, it is possible to enjoy bringing order to the chaos. If you made any special memories crafting holiday décor this year, you might need to expand your handmade Christmas ornament storage with one of these ideas.
Every household has different needs and offers different storage environments. Whether you are most concerned about dust, dampness, breakage, or color coordination, there is a way to meet your storage needs. Do not be afraid to combine these ideas to create the ideal Christmas organization for your entire collection.
Inspiration: Implementing the best DIY Christmas ornament storage ideas might just help you achieve inner calm. From easy-to-implement tips and tricks to a complete Christmas decoration storage overhaul, there are storage ideas on this list for every household. By packing Christmas away neatly this year, you can guarantee less confusion next year. Check out this list to find out what your storage style is.