Beyond looking amazing, bringing the best DIY concrete planter ideas into your space can be satisfying. Depending on how confident you are in your concrete-crafting abilities, there are a few ways to achieve the concrete planter effect. Planter finish is another way that you can personalize your concrete projects. Finally, plant choice plays an enormous role in determining how your completed planter will blend into your space. The most straightforward way to create a concrete planter is to mold concrete. This is usually done with an outside mold vessel, an inside mold vessel, and concrete mix. The outside mold can be anything from an empty bag of dog food to a ceramic bowl. Because the inside vessel determines the shape and depth of the plant cavity, it is important to consider which plants you might use in this planter.
20 DIY Concrete Planter Ideas to Add a Unique Touch to Your Décor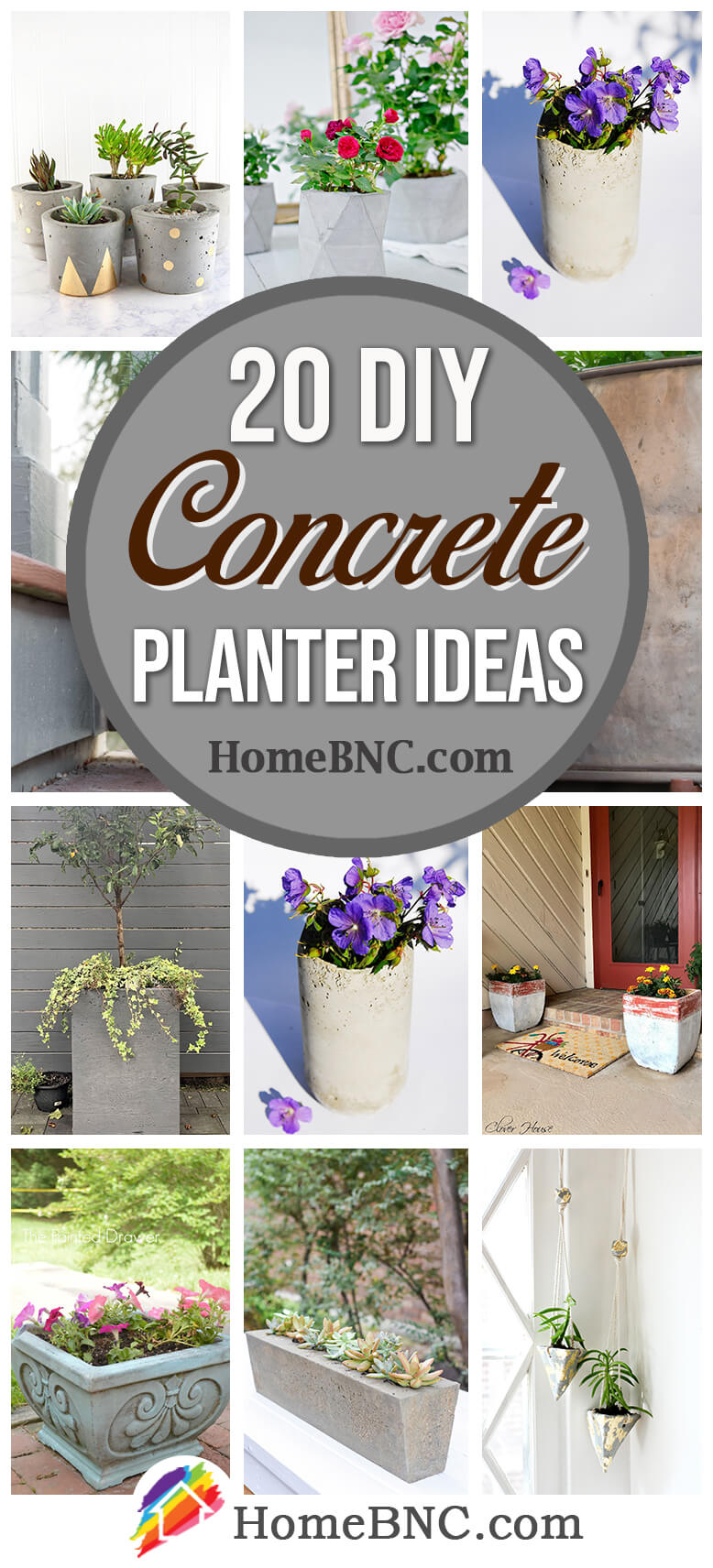 After removing concrete from a mold, it can be sharp-edged and rough. Air bubbles might also be visible. Depending on how much time you spend sanding, your concrete pot can be smooth and rounded or rugged and natural. Then, by using different kinds of paint or gold foil, you can create a feast of colors and textures on your planter.
If concrete molding does not sound like fun, there are a few ideas in the list below that illustrate creating a faux concrete finish on a non-concrete item. Alternatively, you can use different paints on materials like oven-bake clay or a terra-cotta clay pot to achieve concrete alchemy. This strategy means that you end up with a much lighter, more manageable pot as well as having more control over the subtle undertones in the gray. As you make your homemade concrete block planters, do not be afraid to mix and match techniques until you have the ultimate planter for your space.
1. Glamorous Homemade Concrete Block Planters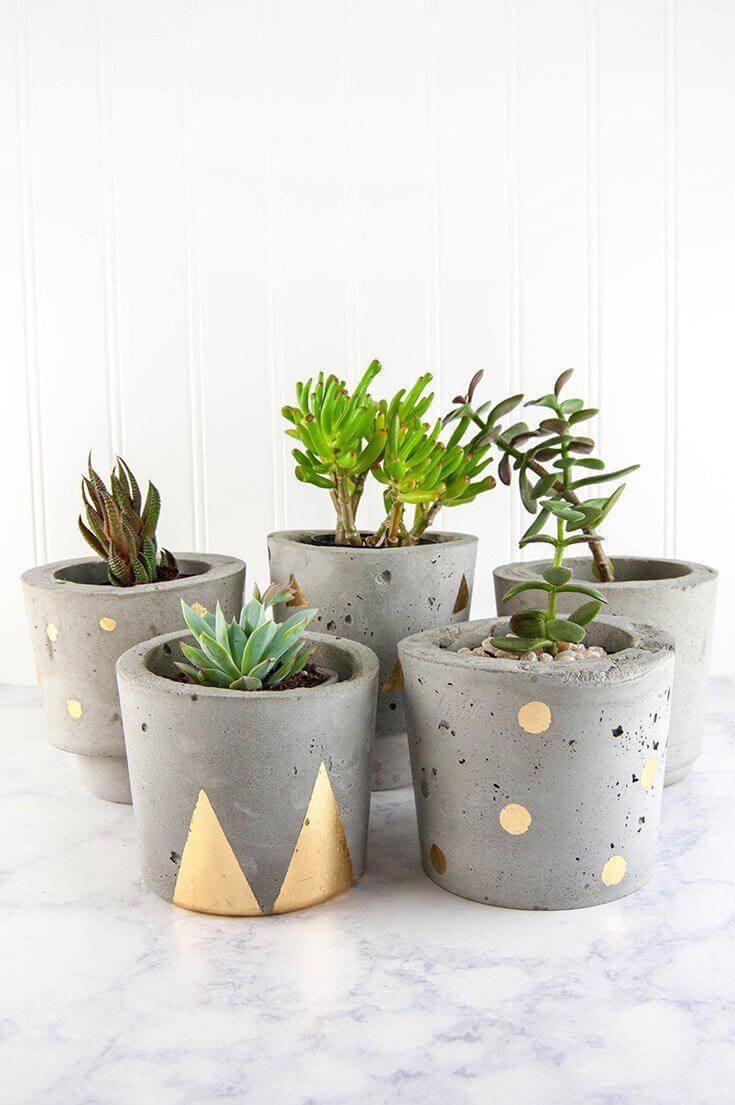 Because opulent gold and humble concrete are a surprising combination, these planters make a statement in your garden decor. While this example shows simple geometric shapes like triangles and polka dots, you can bring any pattern to life. However, due to the nature of concrete, adhesive, and gold leaf, expect some feathering on the edges. With some persistence, you can apply bold Aztec patterns or playful animal prints to your concrete planter pots. Alternatively, for an elegant French spin, you could make a fleur-de-lis. Simple rustic patterns like roosters, or barns are possible for providing farmhouse flair.
2. Molded Concrete Geometric Planter Pots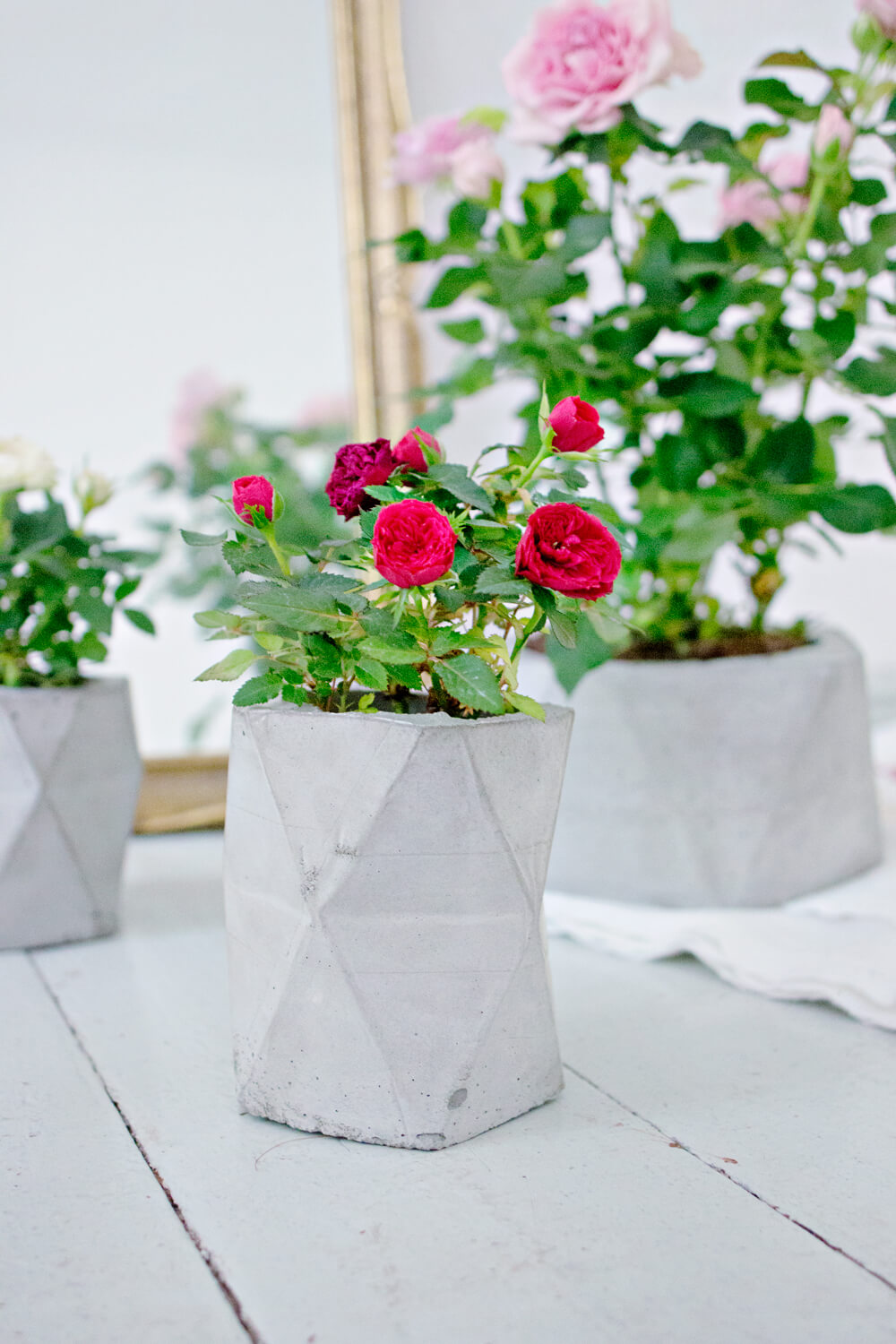 Nearly any planter shape is possible when you use this technique. Because you create a cardboard mold to pour the concrete into, you are limited only by your creativity. The pattern used in this tutorial will yield rounded triangles in an origami-like configuration. However, due to the concrete's weight, large planter pots will not feature the same crisp detail. Of course, those softened edges are part of what make these planter pots so seductive. If stacked geometric shapes like this do not fit your style, you can design your own patterns. However, it may take a little trial and error.
3. French Country Chic Concrete Planter Refresh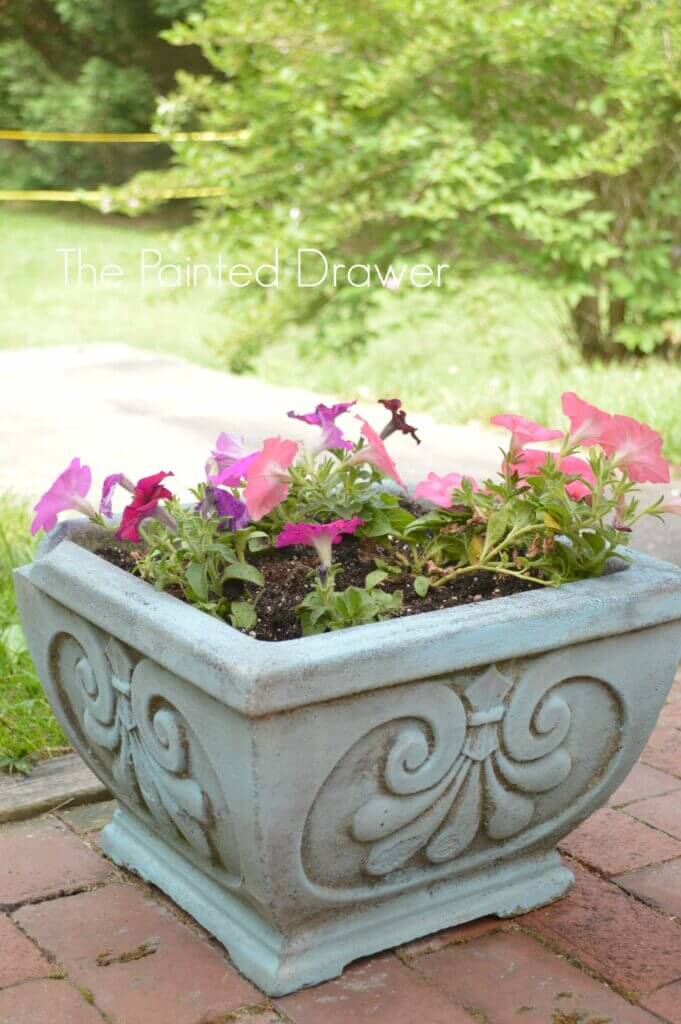 If you do not love a natural concrete finish, chalk paint can transform it into the French decor of your dreams. Simply apply the chalk paint and admire the result. Make sure to have extra paint on hand – concrete is porous and will soak it up. The planter in this tutorial only uses one paint color to show off the elegant design. Experiment with multiple paint colors to achieve more nuanced effects and emphasize different design features on your concrete planters. Cultivate some contrast by applying chalk paint to one part of the planter's design and leaving another part unfinished.
4. Easy Minimalist Concrete Vase Planter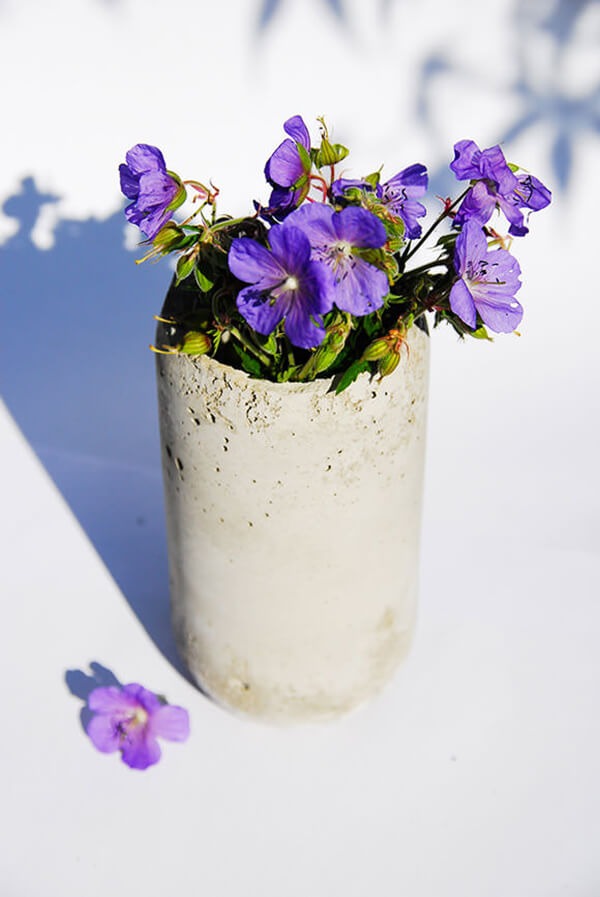 By harnessing sleek geometry and a natural finish, this planter puts the spotlight on the plant. Because this tutorial uses two empty water bottles, it is easy to recreate. Create your own vase shapes by using different bottles as the outside mold. Because this vase showcases simple lines, plant choice dramatically changes its overall appearance. One option is to emphasize the planter's geometry with a cylindrical cactus variety. Alternatively, a big, bunching, blooming plant will beautify your space with stunning contrast. If you have a passion for cut flowers, this planter can be used as a vase.
5. Concrete Finish on Oven Baked Clay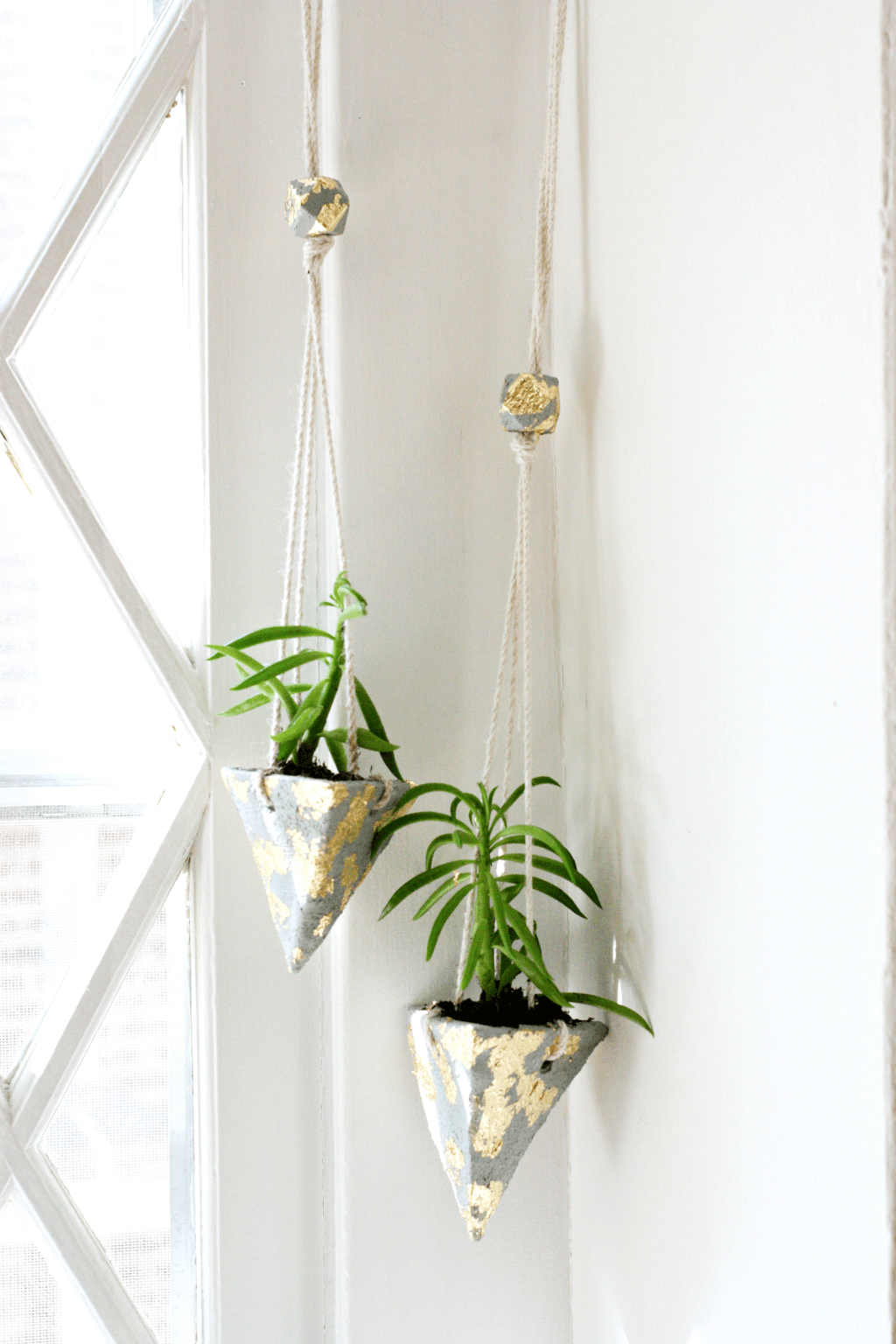 There is no getting around it – concrete planters are too heavy to be practical for many. When you give oven-baked clay a concrete finish, you can enjoy all the aesthetics of concrete without having to figure out how to move a cumbersome planter. Another bonus is that you can sculpt it without worrying about messy molds. Craft any shape that will work in your space – spheres, pyramids, cylinders, or cubes. For extra extravagance, apply shiny gold gilding as shown in this image. Leaving the gold foil off keeps the planters looking more natural and earthy.
6. How to Find Your Concrete Soul Mate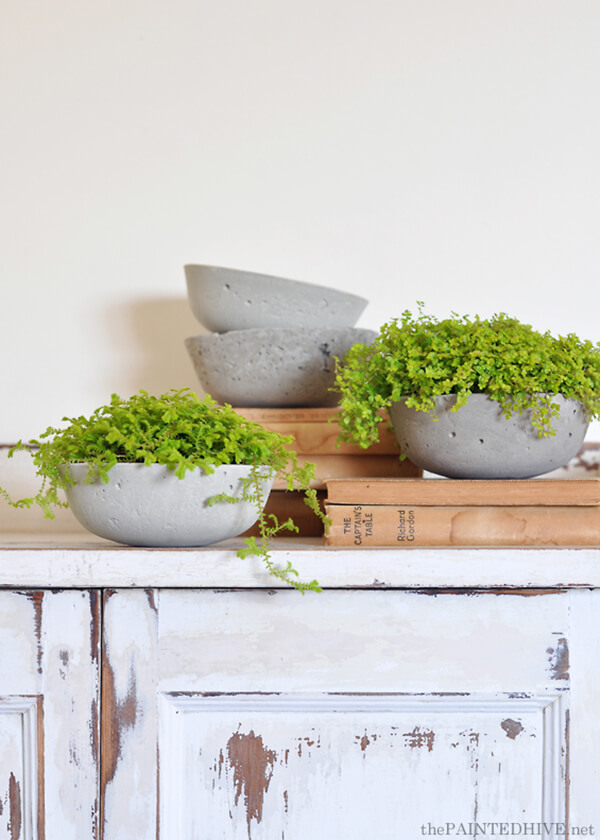 When you look at all the concrete and cement mixes on the market, it can get overwhelming. Each mix features a different color, different texture, and different personality. Which one is right for your project? The best way to figure that out is to start testing them. Then, if a concrete's undertones ever clash with your decor, you can whip up a new set of planters that will work. If you find yourself drowning in concrete planters that do not fit your space, do not worry. Like many of the best DIY concrete planter ideas, they make great gifts.
7. Molded Concrete Planter Inspired by Sugar Molds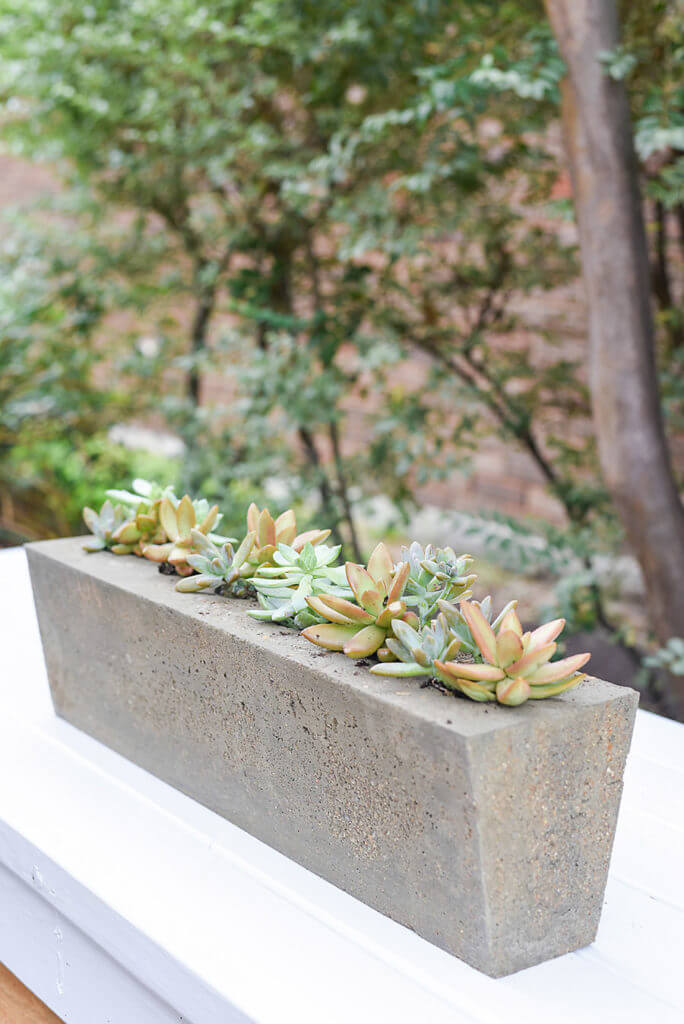 Crisp corners and tapered sides give this homemade concrete block planter a sleek silhouette. Mimicking a sugar mold, small depressions give succulents a place to live. If it would suit your botanical style better, you could modify this design to create a trench instead of circular cavities. For an enchanting effect, place some pillar candles in the depressions. However you choose to fill this concrete planter, it will add a quirky magic to your space. If natural concrete does not have the right feel for your space, use chalk paint to give it the perfect finish.
8. Cedar and Concrete Paver Planter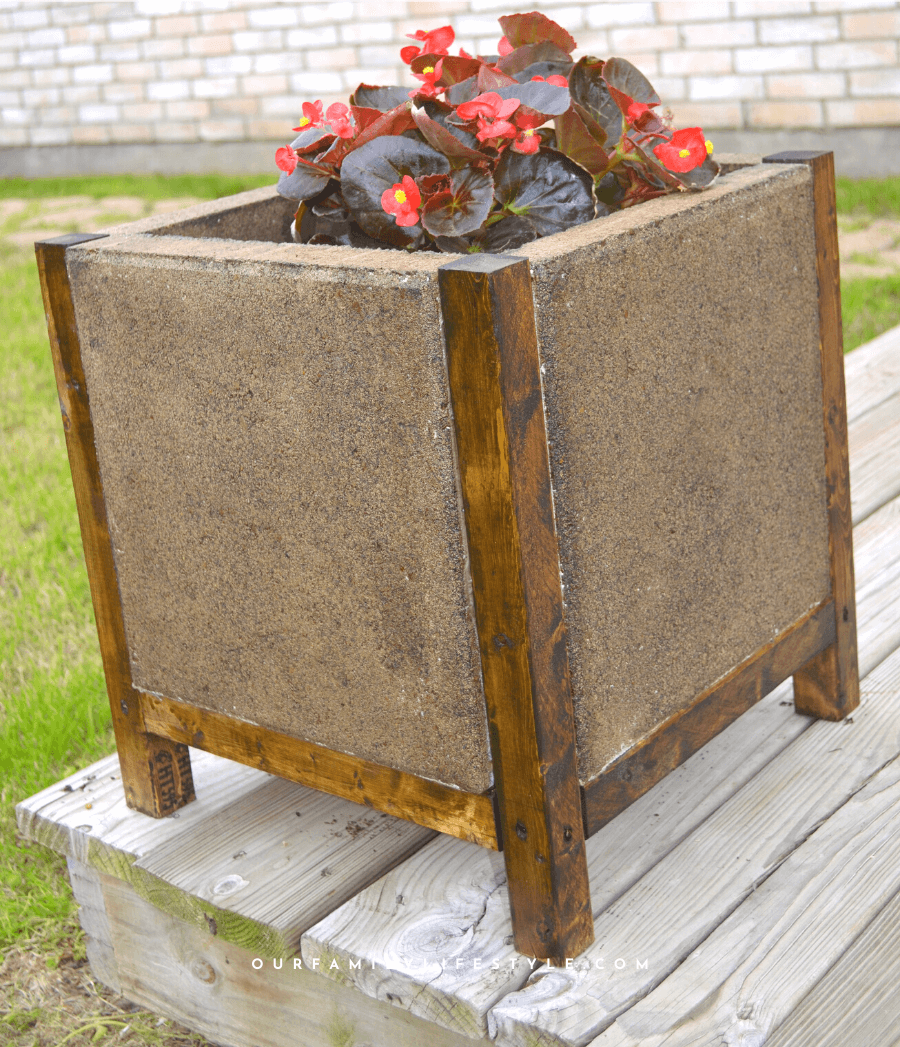 Featuring a modern silhouette, this planter uses wood and concrete pavers to achieve an intriguing visual effect. A sturdy square shape and hefty pavers mean that this planter will not need to be relocated before forceful storms. The simple perfection of stone and wood look good in nearly any outdoor space from modern to Bohemian. To achieve different effects, experiment with different stains, paints, and pavers. Instead of fussing around molding concrete, this planter is made using familiar tools like screws, drills, and adhesives. If you cannot find concrete pavers right for your garden, you can mold your own.
9. From Thrift Store Bowl to Posh Planter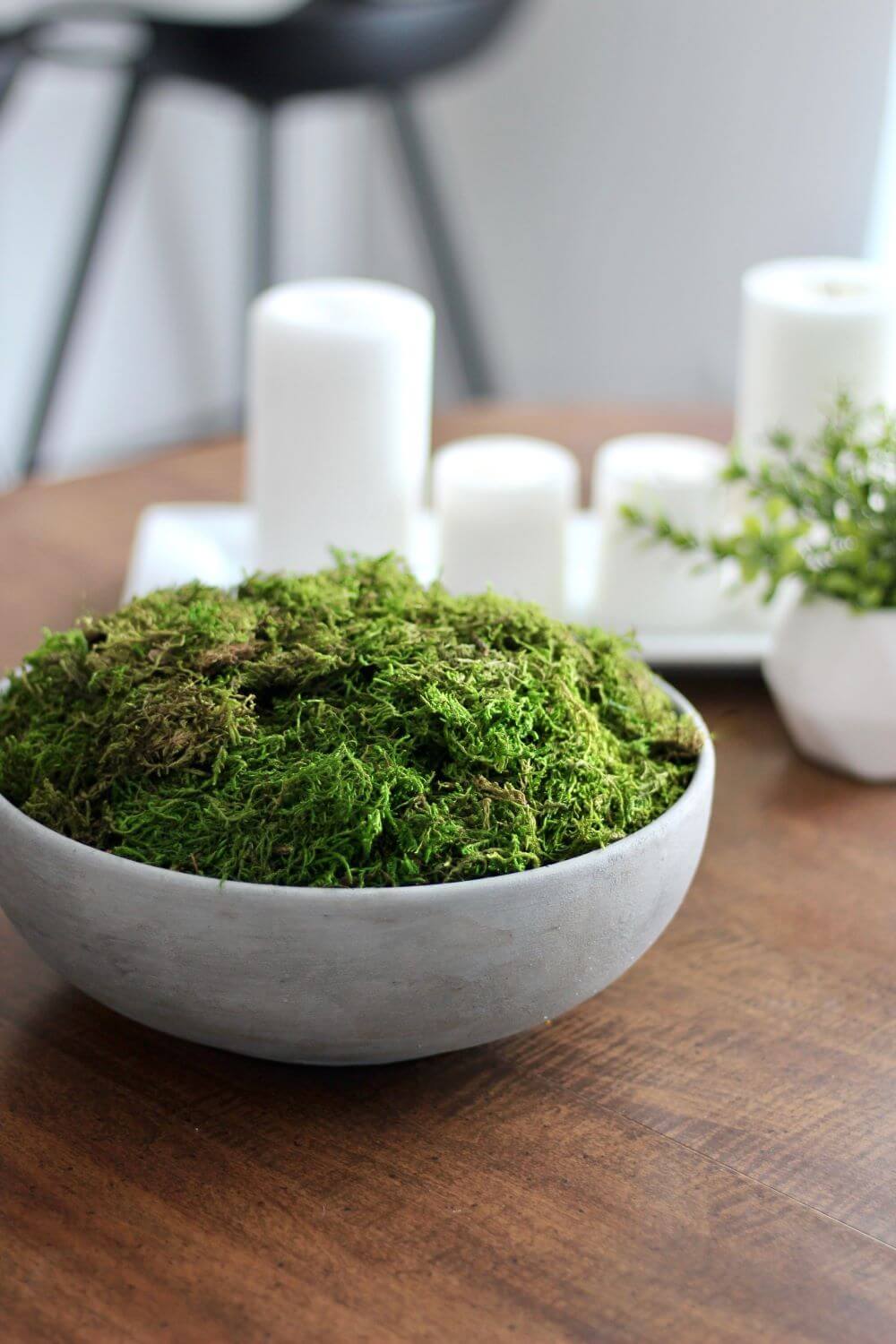 With a few layers of concrete paint, any bowl can become a faux concrete planter. The key to success is to layer varying shades of gray, white, black, and brown. Because you are mixing paints, you have control over exactly which hue your concrete bowl will be. This means that you have the ability to tailor the bowl's finish to complement your decor. After the paint is dry, have fun filling it with anything you can imagine. Switch out different shades of moss to coordinate with other seasonal decor or use it as a succulent planter – the possibilities are endless.
10. Small Stamped Geometric Concrete Container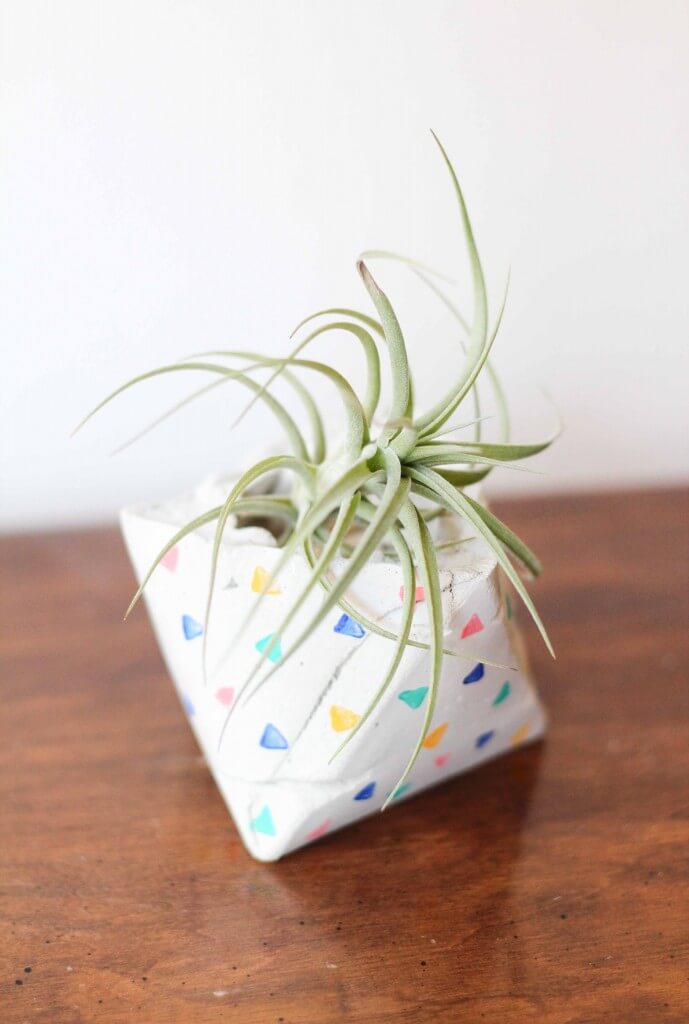 When it comes to the best DIY concrete planter ideas, it is best to stay true to your style. Depending on how you decorate this delightful geometric planter, it can fit into any space. When stamped with multicolored triangles, this planter exudes Bohemian sparkle. For a budget-friendly stamp, make your own from pencil erasers. Of course, you can use the stamps in your craft room, too. If simple Scandinavian is more your style, skip the stamps and enjoy the shape's splendor. However you decide to display this white concrete planter, it will add a refined elegance to your space.
11. Extra Large Concrete Planter for Trees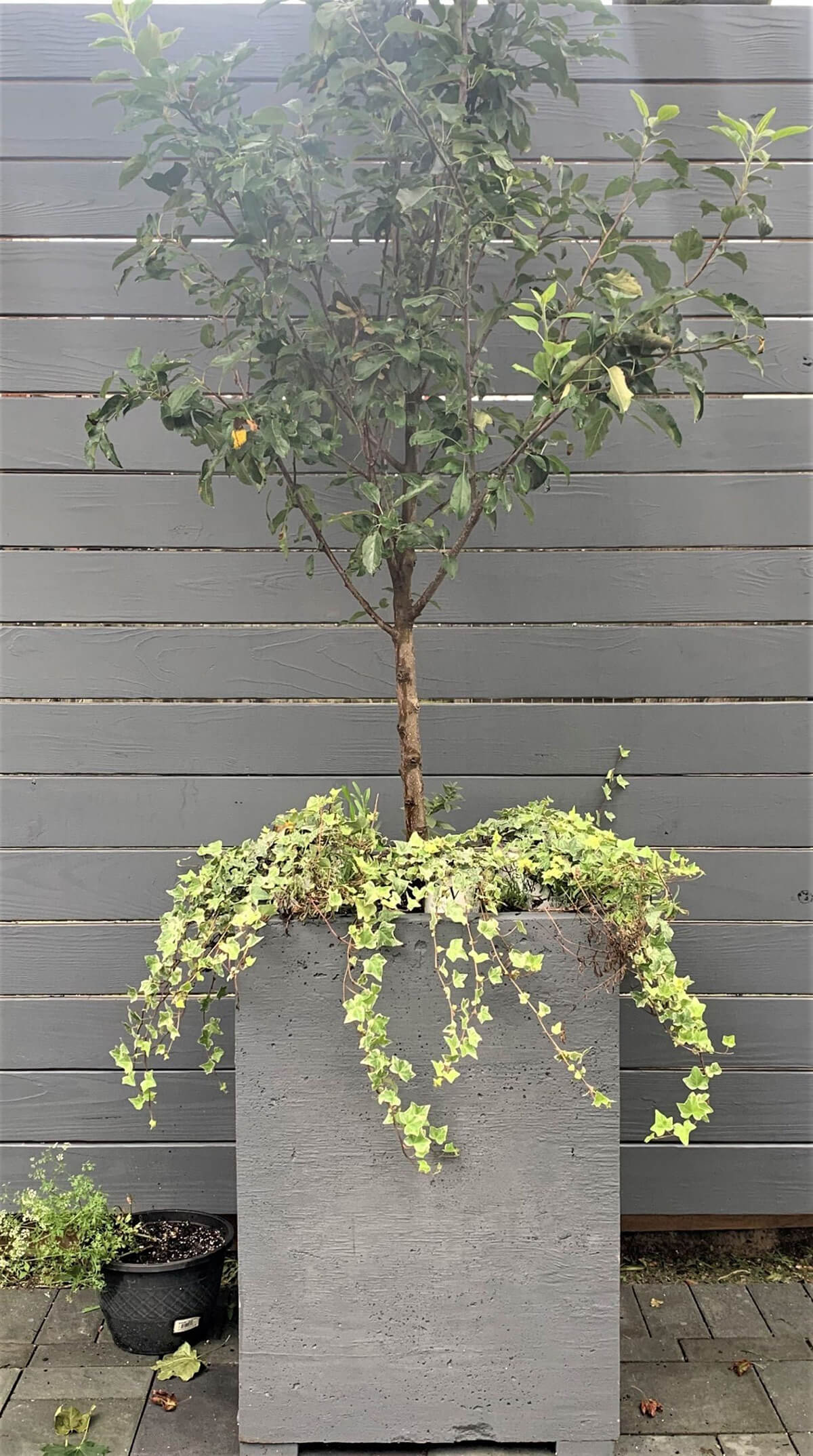 Although the sheer size of this planter may be intimidating at first, it is actually quite straightforward to create. A plywood mold forms the box shape that exudes modern energy. Because it is so heavy, build it where your plant to display it. Although this planter is extra large, it is best suited to dwarf varieties of trees. If you select a tree that produces fruits or nuts, you can enjoy delicious local produce. Of course, you are not limited to trees – you can experiment with flowers, bushes, and other plants to achieve the perfect vibe.
12. Hand-Sculpted Bust Concrete Planter Project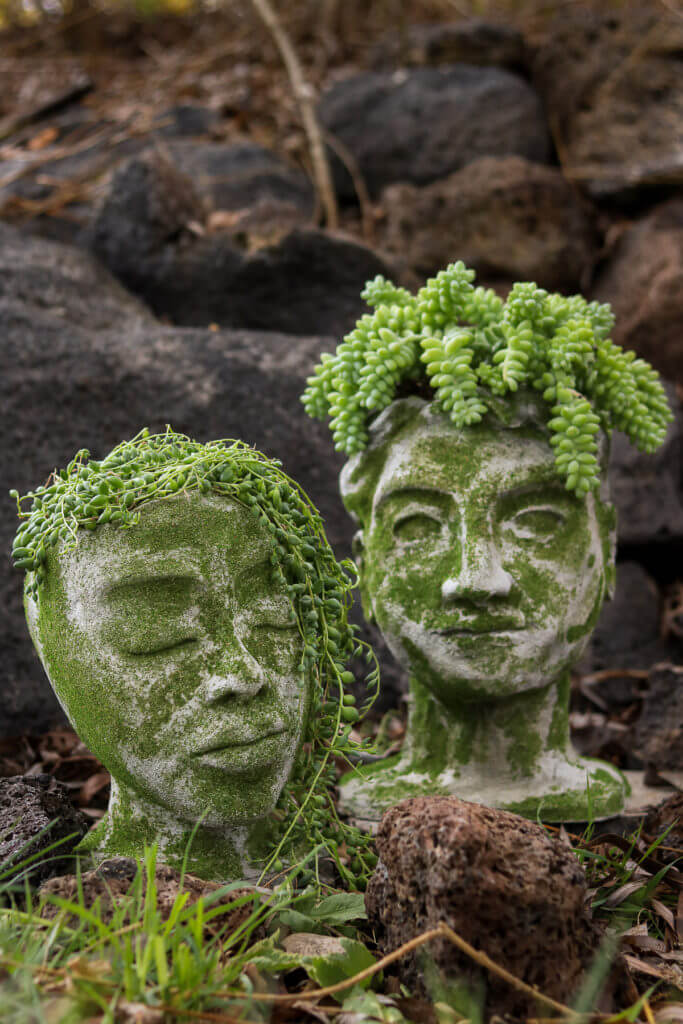 Unleash your artistic talent by using a special type of sculpting concrete. Even if you have never tried sculpting, take a chance on this project. You never know – you might discover a relaxing new hobby. While this tutorial steps you through sculpting human features, you could also use this technique to sculpt an animal planter. Whether you decide to make people or animals for your garden, hand-sculpted concrete planters give your space a sense of artistry as well as an air of mystery. Apply the moss described to give your concrete sculptures a finish and a feel of ancient artifacts.
13. Giving Your Concrete Planters a Rustic Refresh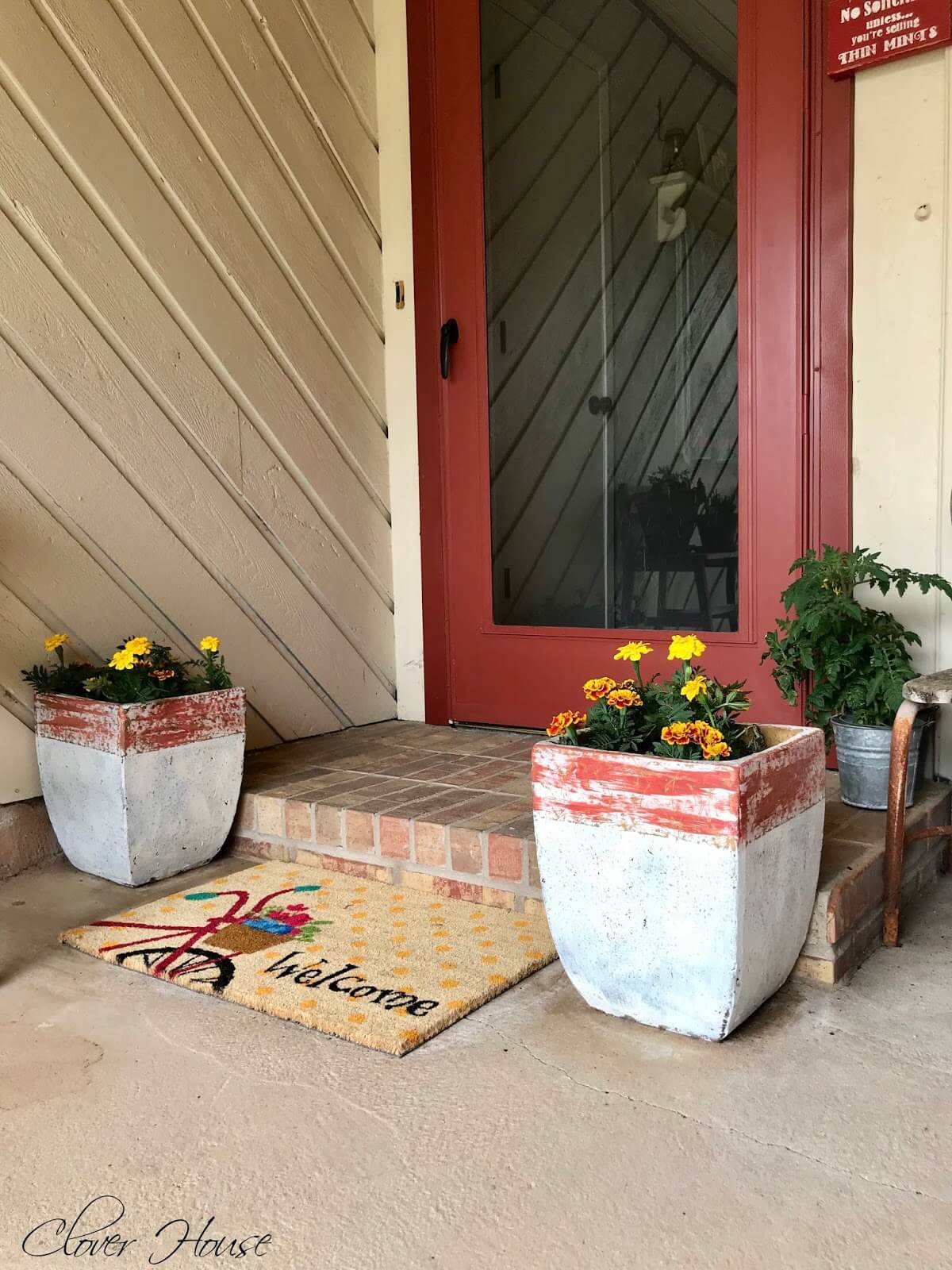 The good thing about concrete planters is that they are sturdy, durable, and last forever. Unfortunately, that does not mean their exterior decorations stay in style indefinitely. Follow this tutorial to learn how to update your concrete planters so that you can display them proudly again. Distressed white and dry-brushed red give these planters a fresh, rustic feel. By using the same paint color as the door trim, these planters now cultivate a look of seamless cohesiveness. While a bright color like red invites attention, you could choose a cool color like blue or green to soothe the spirit.
14. Bowl-Shaped Handmade Cement Pots Ideas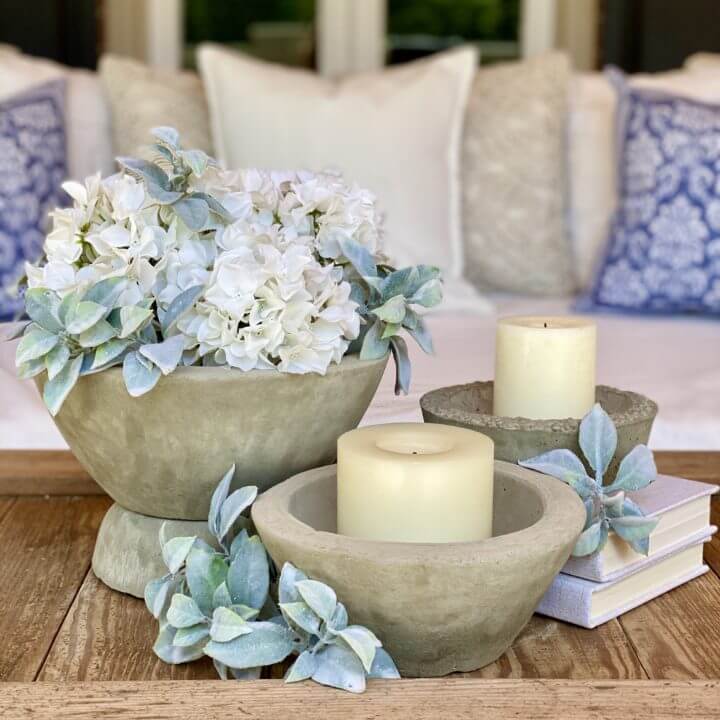 An easy way to elevate a simple concrete bowl is to create a faux pedestal as shown in this image. No, you do not need a complicated mold to make this happen. All you need is a smaller upside-down concrete bowl placed underneath a larger concrete bowl. A little height can change where the focal point is. If you love the thought of concrete planters but do not love all the responsibility living plants bring, try filling your planters with artificial foliage or, as shown here, candles. Better yet, pair your plants and pillar candles to create a picturesque scene within your decor.
15. Colorful Asymmetrical Planters Made with White Concrete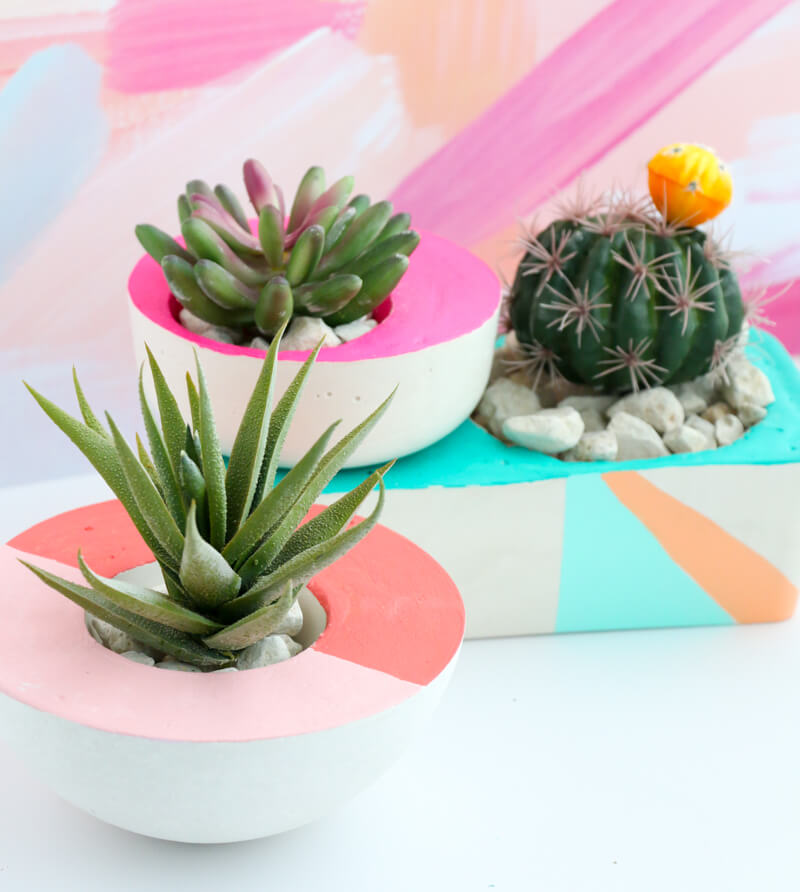 Gray concrete might yield beautifully earthy results, but white concrete opens a whole new world. Although you can use this technique with gray concrete as well, the white concrete provides a great base for paint colors. By painting only one edge and exposing the white concrete, you can create some delicious contrast. With silicone molds or metal cake pans, you can create nearly any shape with your concrete planters. Unlike most tutorials, which center the plant cavity, this method encourages a little off-center fun. Who says that beautiful things have to be perfect or symmetrical?
16. Tied Bag Handmade Cement Pots Ideas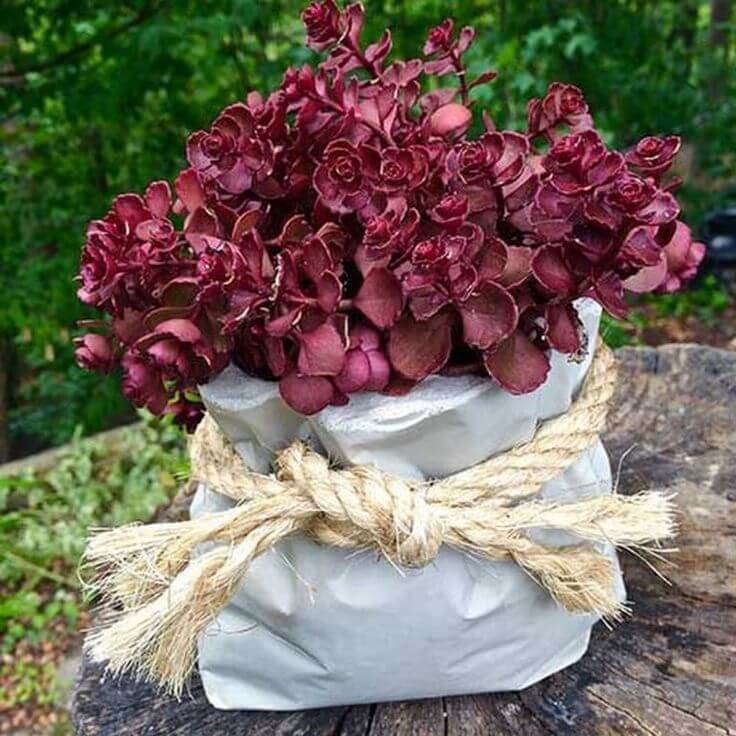 A concrete bag tied with a chunky rope is the perfect focal point to any garden with a rustic theme. If a thick rope like the one shown is too coarse for your landscape, you could tie a more delicate cord around your concrete bag planter. Perhaps a gravity-defying no-rope look is right for your planter. Because an old foil-lined bag is the mold, each concrete bag will be a unique addition to your landscape. No two will look exactly the same. If you are artistically inclined, you paint the bags to give them a little extra spark.
17. Using Concrete Molds to Make Planters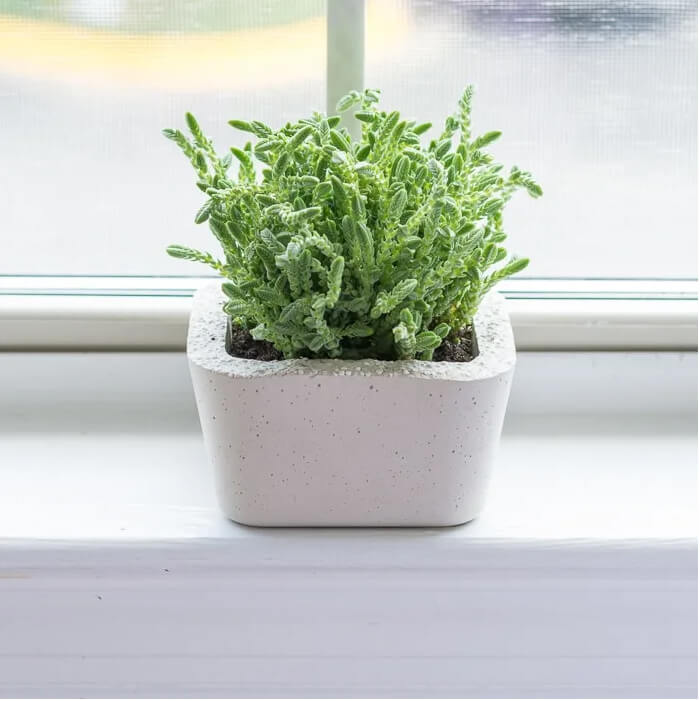 While concrete can be molded using nearly anything, choosing a mold designed for concrete takes a lot of the guesswork out of concrete crafting. Best of all, concrete molds can be used over and over to make a multitude of matching planters. This particular mold consistently produces a smooth square with rounded edges. Although it does not include a drainage hole, you can use a layer of pebbles and choose shallow-rooting plants to achieve botanical success. If you are a little intimidated at the thought of molding concrete, this is the homemade concrete block planter approach for you.
18. How to Grow Succulents in Concrete Planters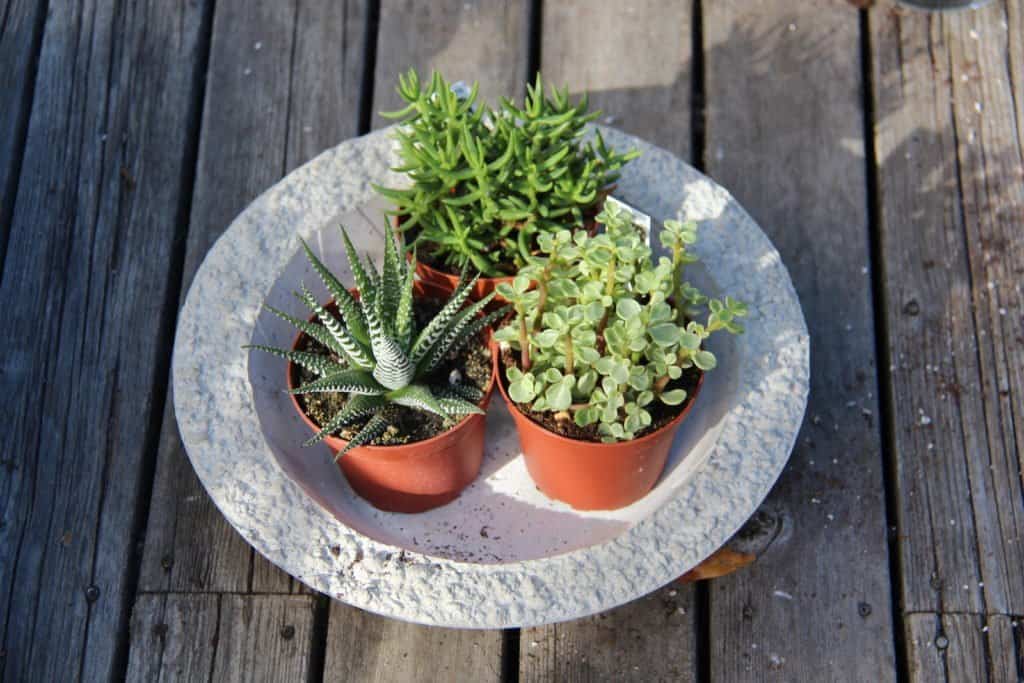 Once you have made your concrete planter, you get to decide what to plant inside! Because of their lower need for maintenance and unique appearance, succulents are one of the most popular plants to use in decor. Planting them in a concrete bowl does come with some practical considerations like drainage, placement, and design. Because concrete is porous, it can actually help those who chronically overwater succulents by absorbing some of the excess water. Like any design element, the best way to cultivate balance is to plant an odd number of succulents. For maximum effect, look for contrasting heights, shapes, and colors.
19. Miniature Concrete Planter with Rugged Edge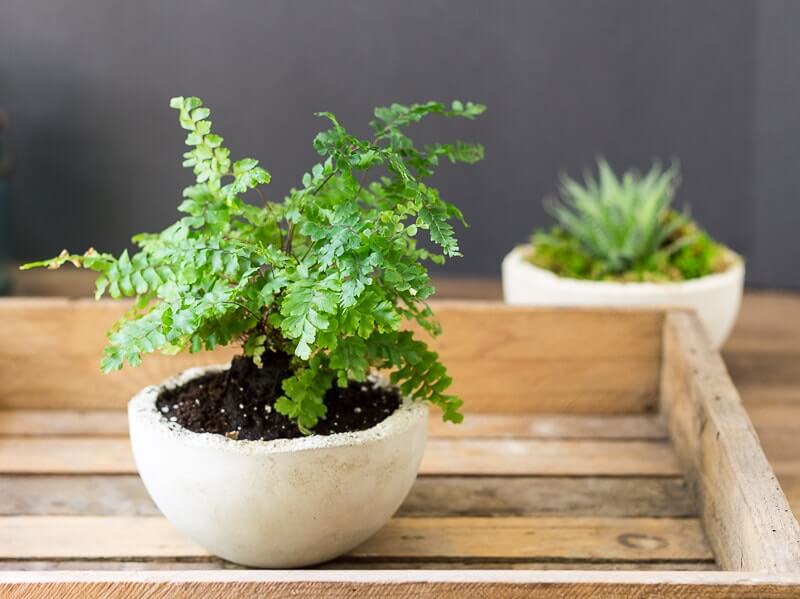 While it can be tempting to smooth all the angles down for cleanly crisp edges, including some rough textures in your decor can be quite captivating. By leaving the concrete edge natural, this planter bowl feels untamed and a little wild. Employing this strategy guarantees a unique result every time because no two concrete pours are exactly alike. If you want to emphasize that rough edge, add a coat of paint to the top edge while leaving the bowl beneath as natural concrete. Of course, if your home is full of natural textures, let the concrete's natural patina shine.
20. Faux Concrete Finish for your Favorite Pots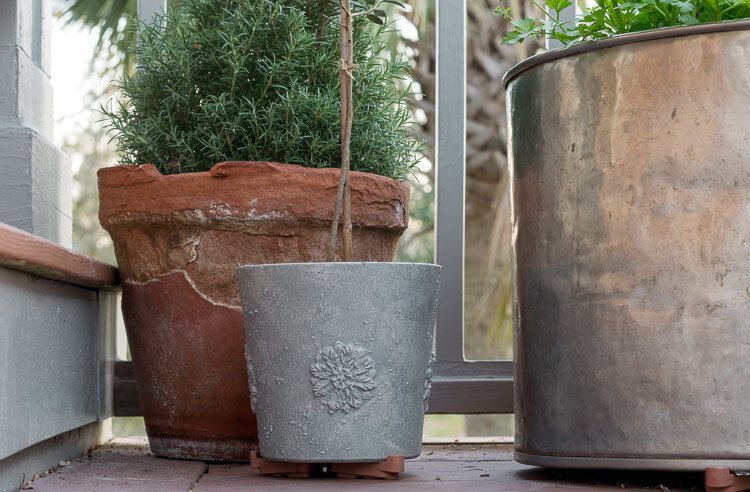 If you are hunting for the best DIY concrete planter ideas that do not involve actually working with concrete, this is the tutorial for you. With a coat of concrete paint, you can transform any plain clay planter pot into a cool concrete container. For added embellishment, use a silicone mold to create a medallion. A flower is shown on this planter, but you are limited only by what molds you can access. Imagine switching out the medallion approach with a repeating pattern. This strategy gives you an expensive molded concrete effect with very little effort and zero messy concrete.
20 Creative Ways to Use DIY Concrete Planters
Exploring these handmade cement pots ideas is the perfect balance of hands-on adventure and logistical puzzle solving. With so many techniques, methods, and strategies to choose from, you can create the ideal concrete planter for your space. Beyond the method, it is important to consider how concrete will interact with other elements of your decor.
Concrete's industrial simplicity can anchor a room in reality and give it some quirky energy. A smooth, round finish can soften a space while a rough texture and crisp lines can energize it. Air bubbles and other imperfections in the concrete give a planter texture and an exciting dimension. However, planters made exclusively from concrete can be heavy and a hassle to move around. Which plants you include in the planter can also change how it feels in your space. A spiky aloe vera plant will give off a much different vibe than a trailing vine plant.
To harness the best DIY concrete planter ideas, all you need to do is pick a base planter method, a finish, and a plant. You do not have to pick a single method, either. Experiment to find the concrete planter project that most resonates with your style and skills.