There is so much potential resting in each corner of our home, which is why these design ideas for DIY corner shelves are such incredible idea starters. Mostly underutilized and misunderstood, the corners in a home, be they in the kitchen, living room, or bedrooms, don't get the amount of attention they deserve. Yes, it can feel tricky or even impossible sometimes to find something that fits just right from a big box store, but that is why this amazing list exists. You don't need to go out and shop for the best corner shelf when you can make it on your own at home.
19 Inexpensive DIY Corner Shelves to Maximize the Space in Your Home

When you start your own shelves DIY project or any DIY furniture, you want to be sure not to be in a rush. Take your time and think through all the stylistic choices and options for placement. You can build a hanging shelf for a nursery or a sturdy dark wooden bookshelf for a study. You can take inspiration from the ideas listed here and give each of them your own spin to make the perfect shelf for your needs.
When creating a corner shelf, it is important to remember that there often is not much light in the corner of rooms. Consider this when placing and building your shelves and maybe add an overhead lighting unit or a lamp to brighten your new space.
Of course, there are also many great purchasing options out there available through Etsy that maintain that DIY furniture feel but make things a lot easier for you. Often you can collaborate with the designers to get the exact right look you are searching for, thus customizing the project without doing all the work yourself.
Take your time and be sure to double check all your measurements before getting started. Corner shelves can be tricky, but the finished product is so rewarding that it will be well worth your time and effort.
1. Sweet Hanging Swing-Style Shelves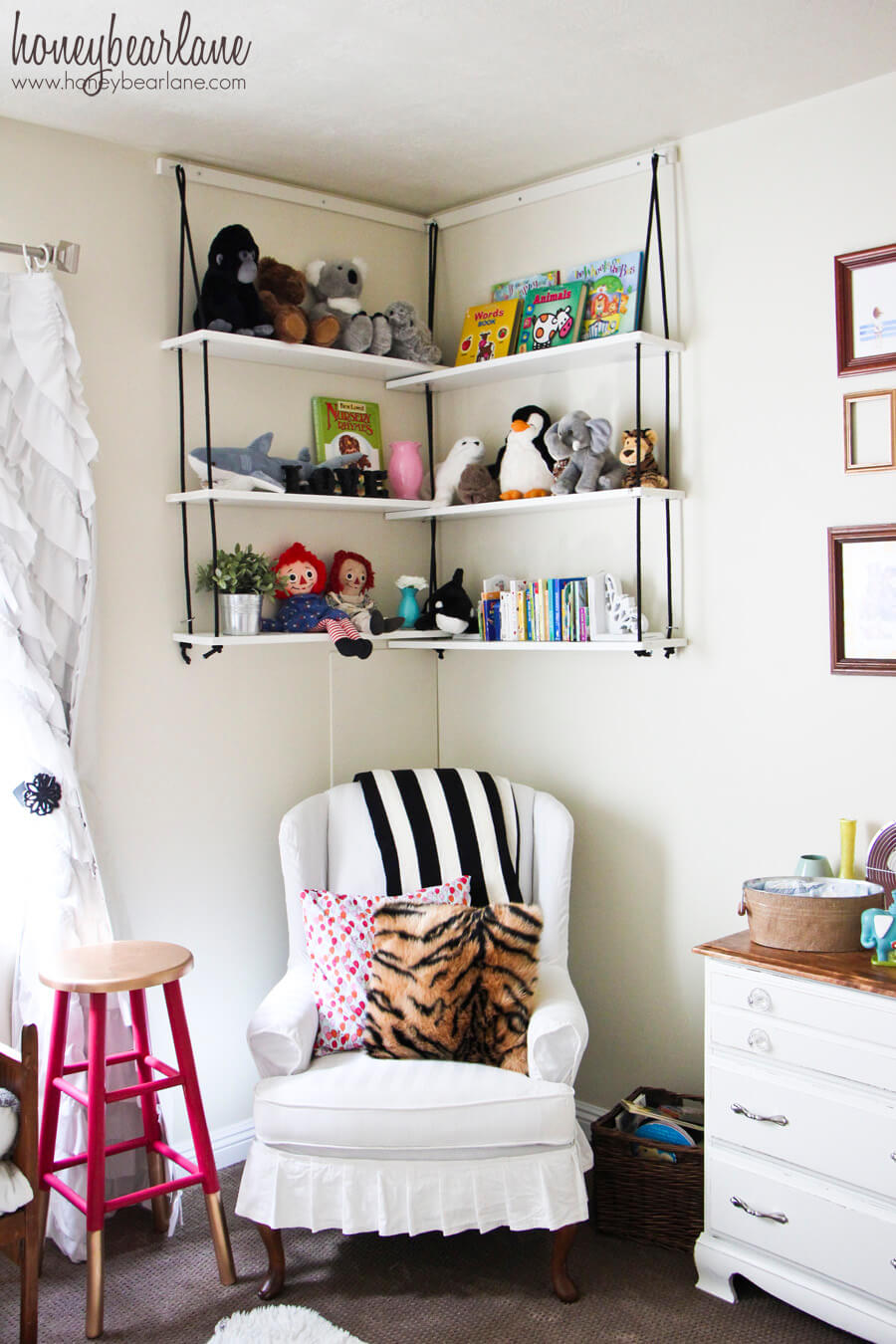 If your home has a whimsical design aesthetic or if you are creating DIY corner shelves for a nursery or child's room, this hanging shelf is just right. Slightly overlapping, the shelves on each wall meet in the middle just right. These shelves hang from a support beam, you will want to make sure that your selected rope will be strong enough to hold whatever you intend to place on these shelves. Pick a paint color that matches your room's theme and try to find rope that goes well with it, too. Enjoy the childlike innocence and whimsy of this playful design.
2. Space-Utilizing DIY Corner Shelf Design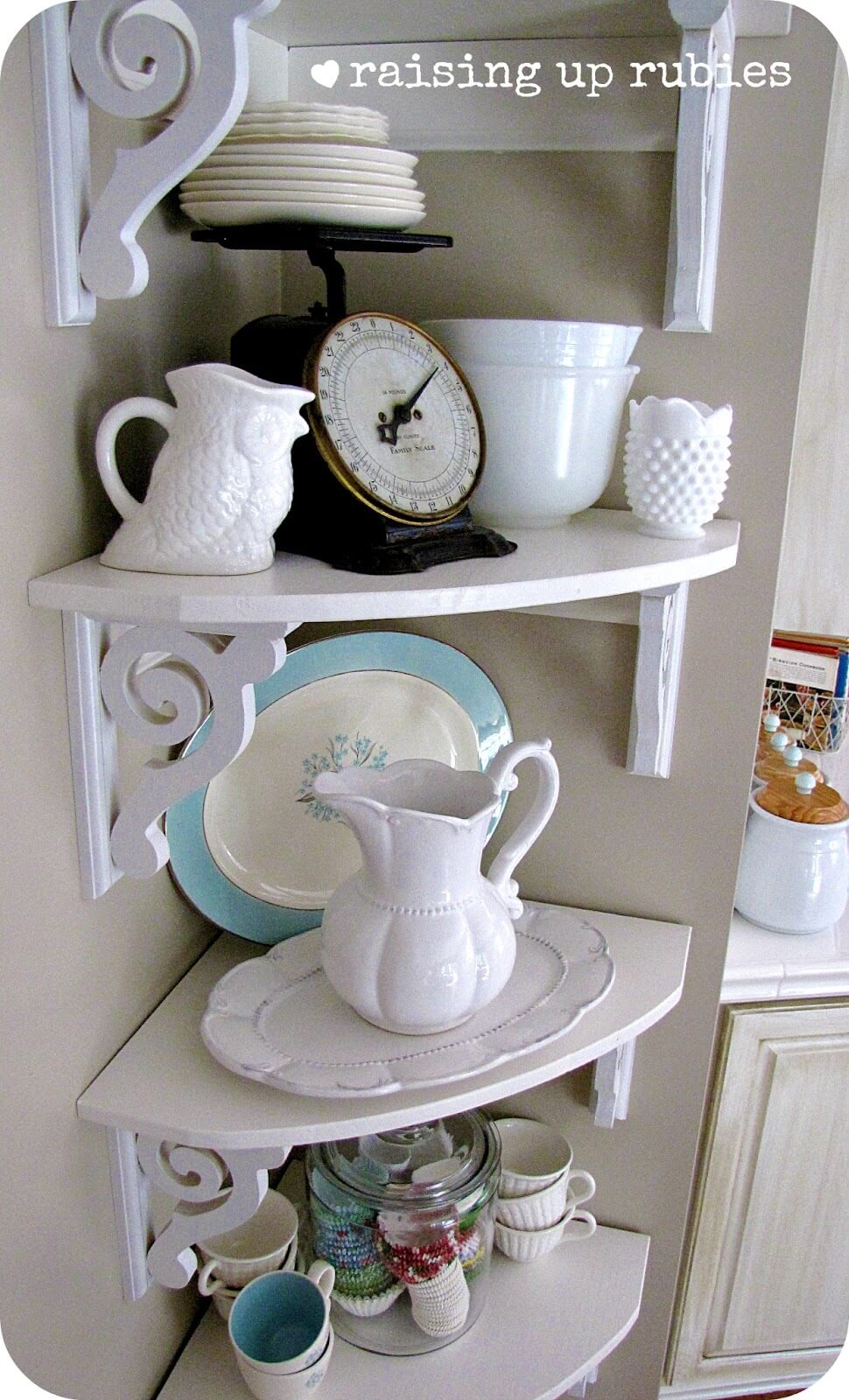 Small nooks and crannies can easily feel like wasted space in a home, particularly when you have so many beautiful items that it would be nice to set out somewhere instead of gathering dusk in a box tucked away in the attic. This DIY corner shelf idea is simple to design and create and provides you with a large amount of space for setting your favorite odds and ends without the imposition of a large hutch or other more obstructive furniture. Choose supports that match your decorative theme and have fun picking out colors.
3. Purchase or DIY Corner Wine Shelf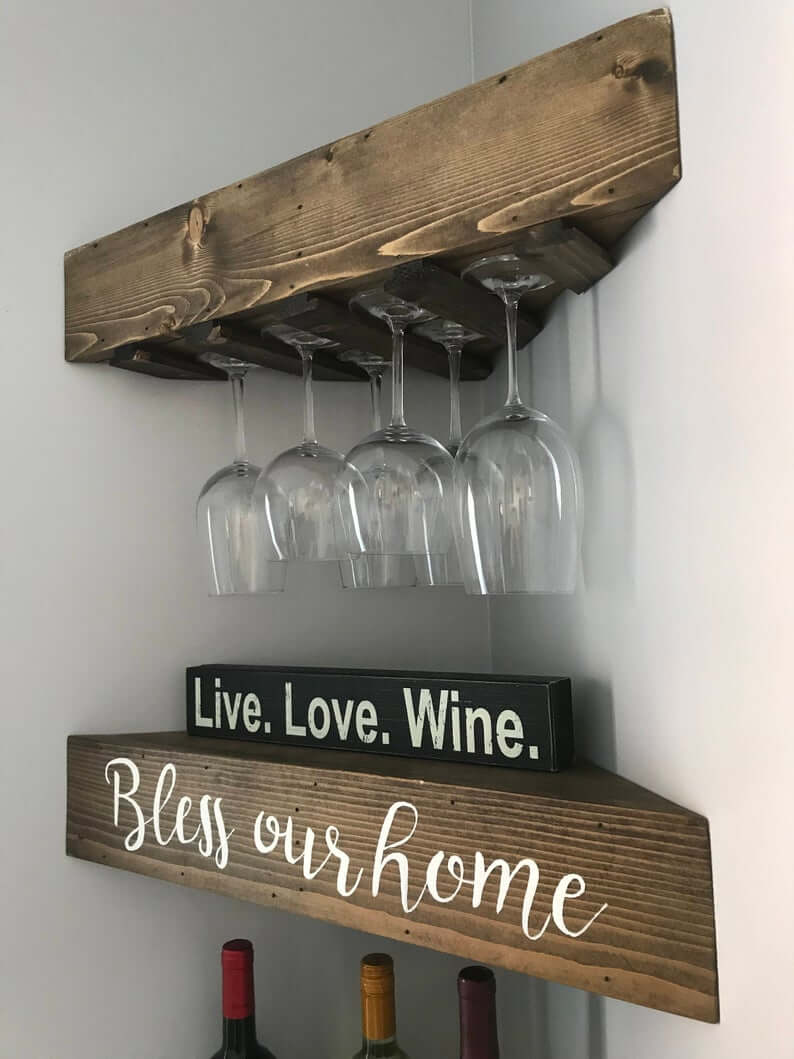 This amazing design available on Etsy uses three shelves to create a gorgeous corner wine display: one shelf for glasses, one for bottles, and one in between for a decorative accent. If your home is into wine, this shelf is a must have. It is so much safer and more practical than most designs, and you don't have to worry about the kids or the dogs breaking a glass. They are safe and secure since they are way up on the third shelf. If you decide to purchase this option, you can select from five different colors of wood, so you are sure to find the perfect match.
4. Rustic Wooden Floating Corner Shelves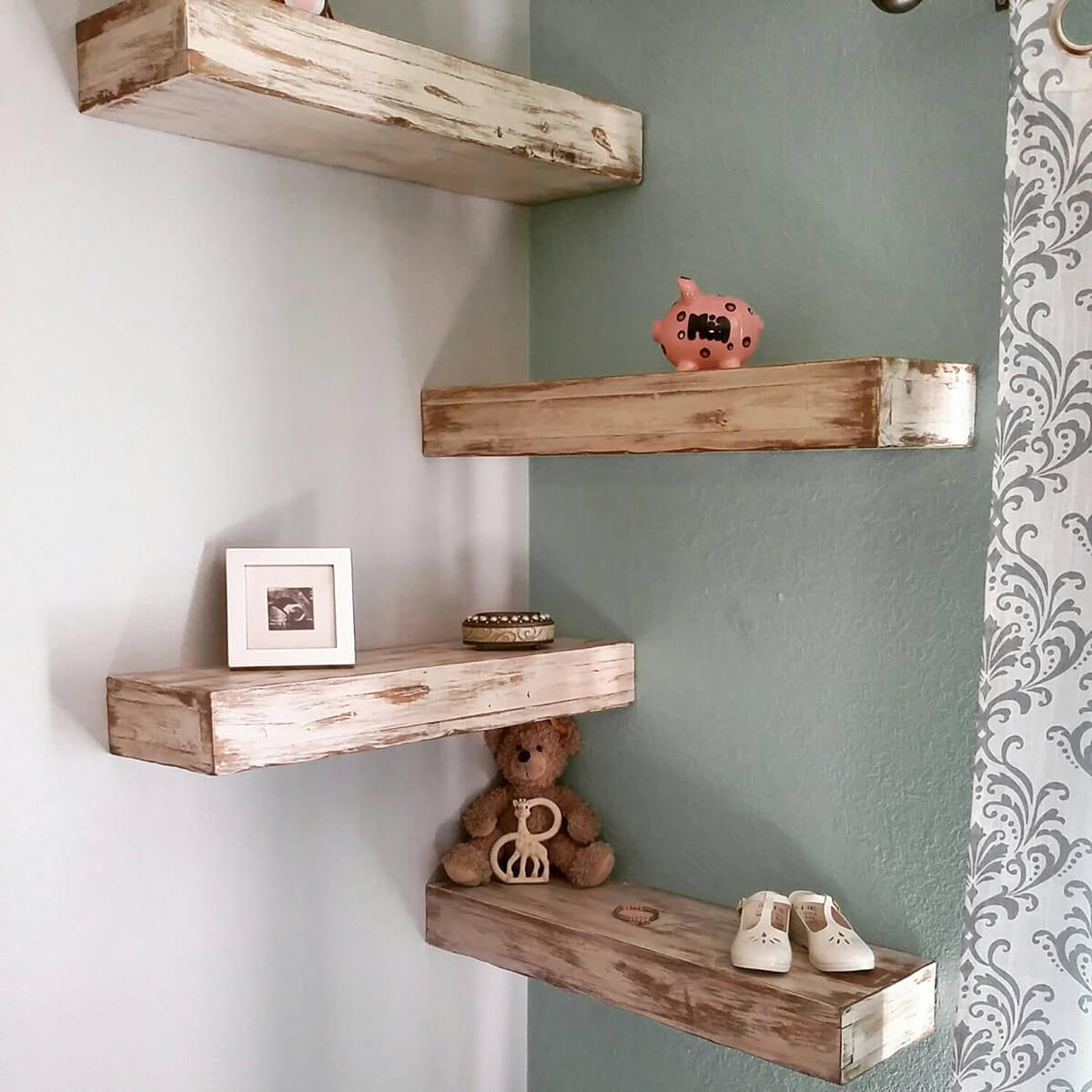 This DIY corner shelf design is full of rustic charm. Although this item is no longer available on Etsy, you can still use it as inspiration to craft your own shelves DIY style. These can be stacked however you see fit, meaning that if you have specific items you want to place on a lower or middle level, you can make sure that the next shelf up has ample room for your items. Take your time and have fun creating the rustic and weathered finish. You can add a white paint or choose a different color to go with your décor.
5. Zig-Zag Wooden DIY Corner Shelves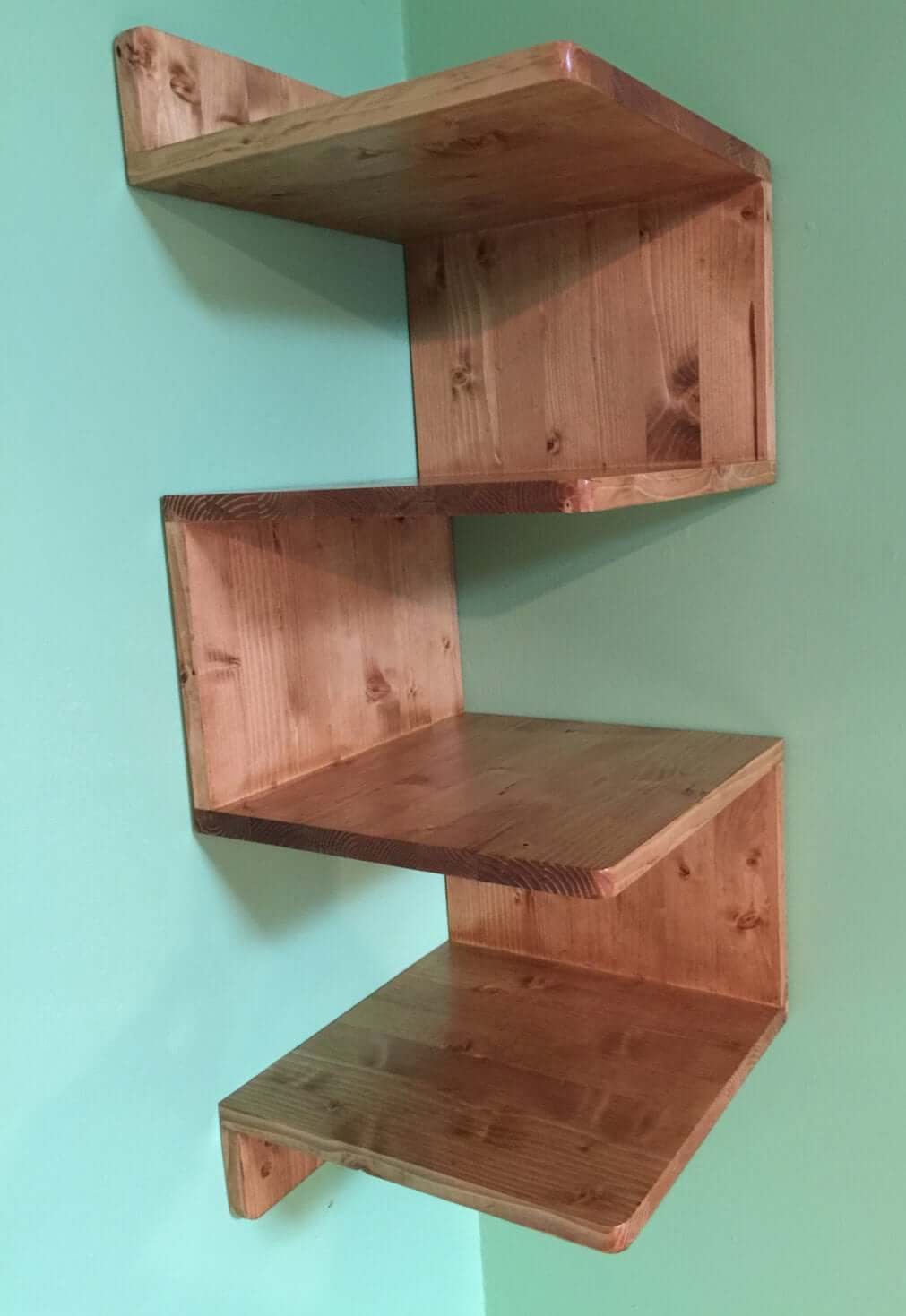 This fun corner piece resembles a maze with its fun twists and turns. Its clean design makes it an easy choice for any room of the home. It will blend in wherever it goes, be it the bathroom, bedroom, or kitchen. Handmade, this item can be customized, with options for selecting the right size, color, and stain for your home. It can also include more or fewer shelves, with the standard unit having four. All of your special items will look great displayed on this lovely and inventive corner shelving unit.
6. Super Cute Hanging Wooden Shelf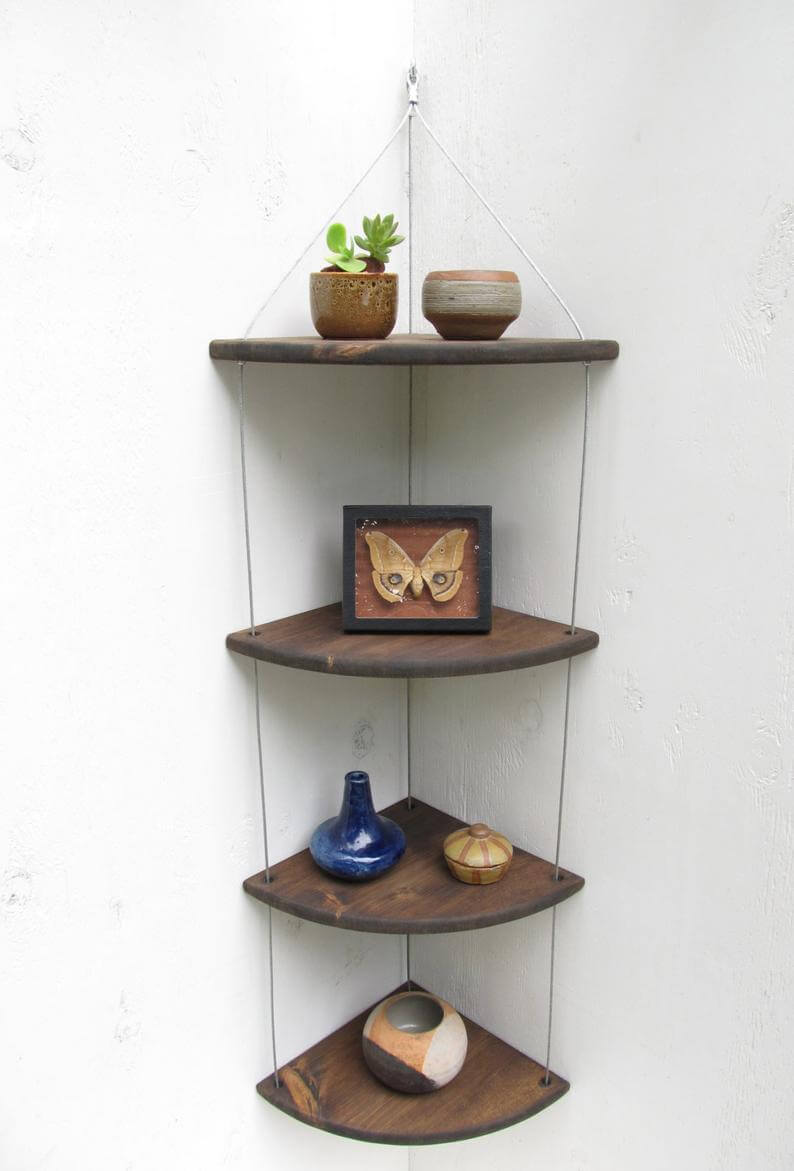 This hanging shelf has a modern look with its thin, nearly invisible industrial wiring steadily holding everything on quarter circle pieces of wood in the corner. It gives the illusion of built-in corner shelves, when really it doesn't require you drilling into your walls four times but just once to anchor the hanger. These shelves will perfectly fill in any corner gaps you may have. You can get just one or buy a few to keep the look cohesive throughout your home. The shelves are spaced just over 11 inches apart, making it easy to place whatever you like on each level.
7. Set of Three Beautiful Wooden Corner Pieces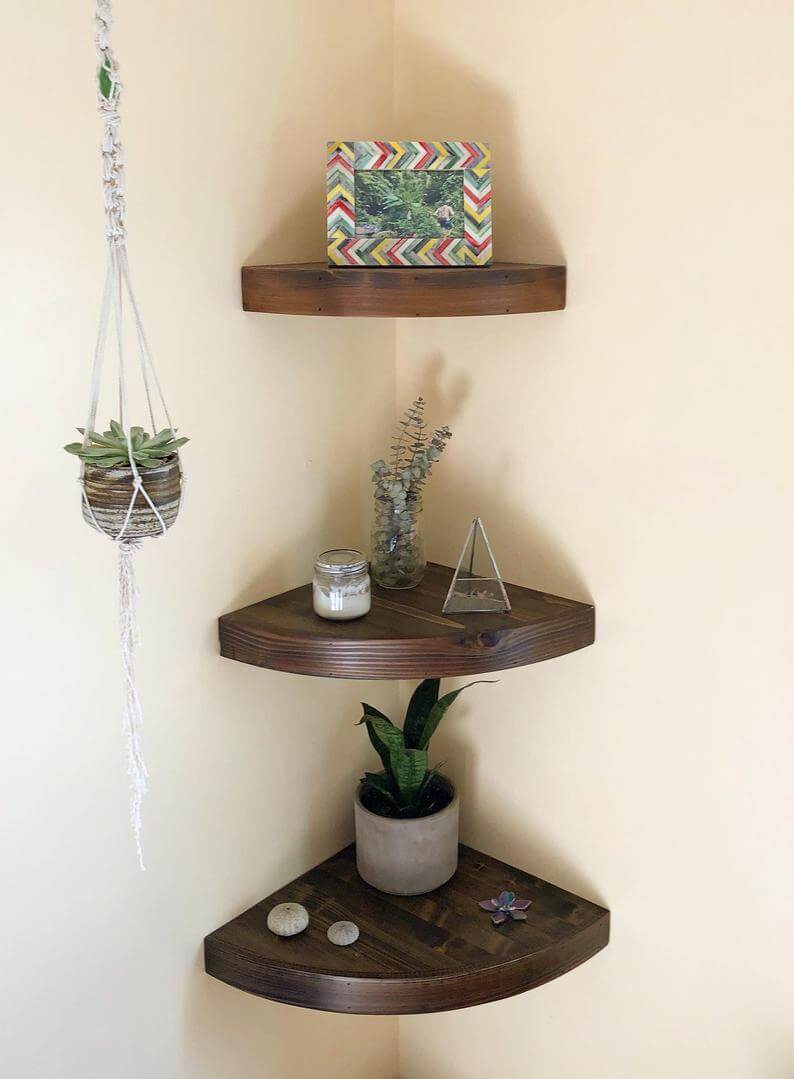 This design keeps it simple and sturdy. Made out of cedar and plywood, each shelf has beautiful curves and appears to be one smooth and complete piece without any visible signs of construction. These pieces have a high-quality finish and a polished look, giving them an air of sophistication and taste. These are perfect for a study, office, well-decorated kitchen, or living space. You can get as many of them as you like to either fill a single wall or use them throughout your home to fill up all the little nooks and crannies.
8. Cool Triangular Floating Shelves for your Home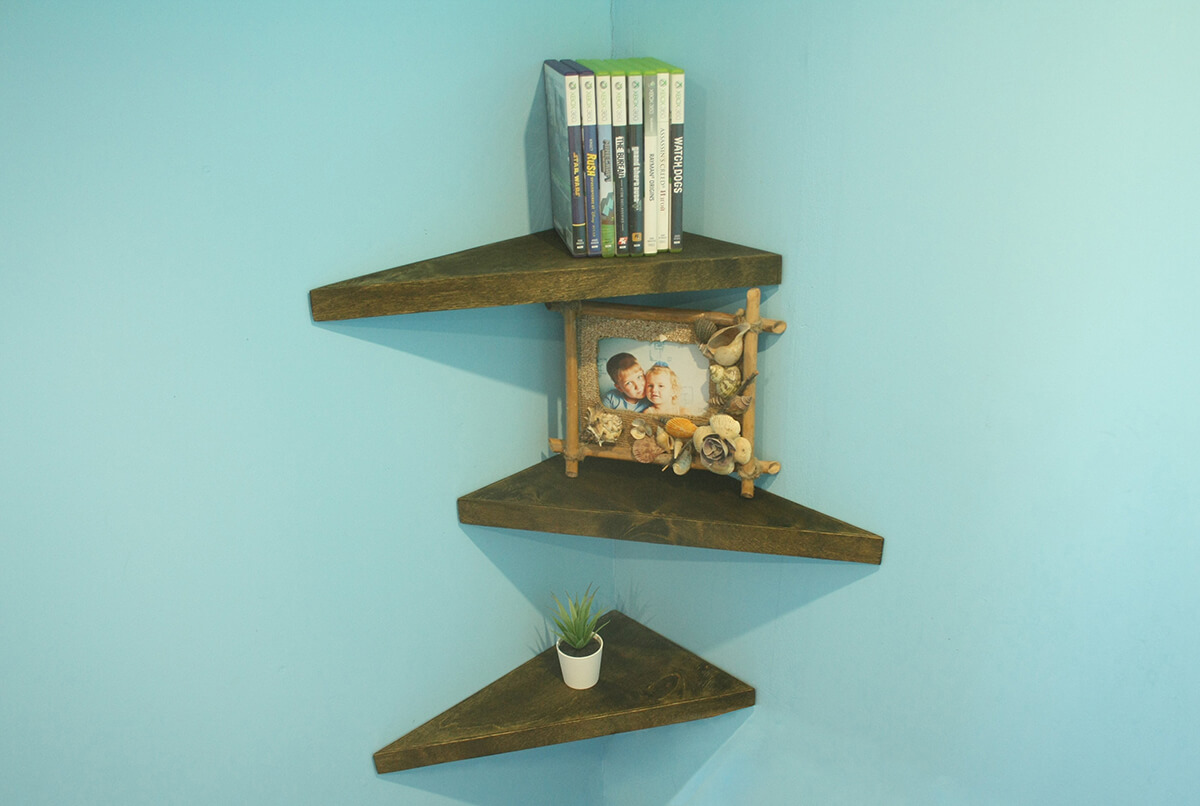 With a unique design for the right or left shelves, this look has a bit of variance between each level which sets it apart and gives it a fun and hip look. You can choose whatever color you like for this design. You can match it to your décor for a more toned down look, or you can go bold with a bright pop adding to the artistic vibe of the piece. Have fun with it. Be sure that when you install your shelves, you place them far enough apart for your favorite photos or potted plants to fit.
9. Fun and Crafty DIY Corner Shelf Idea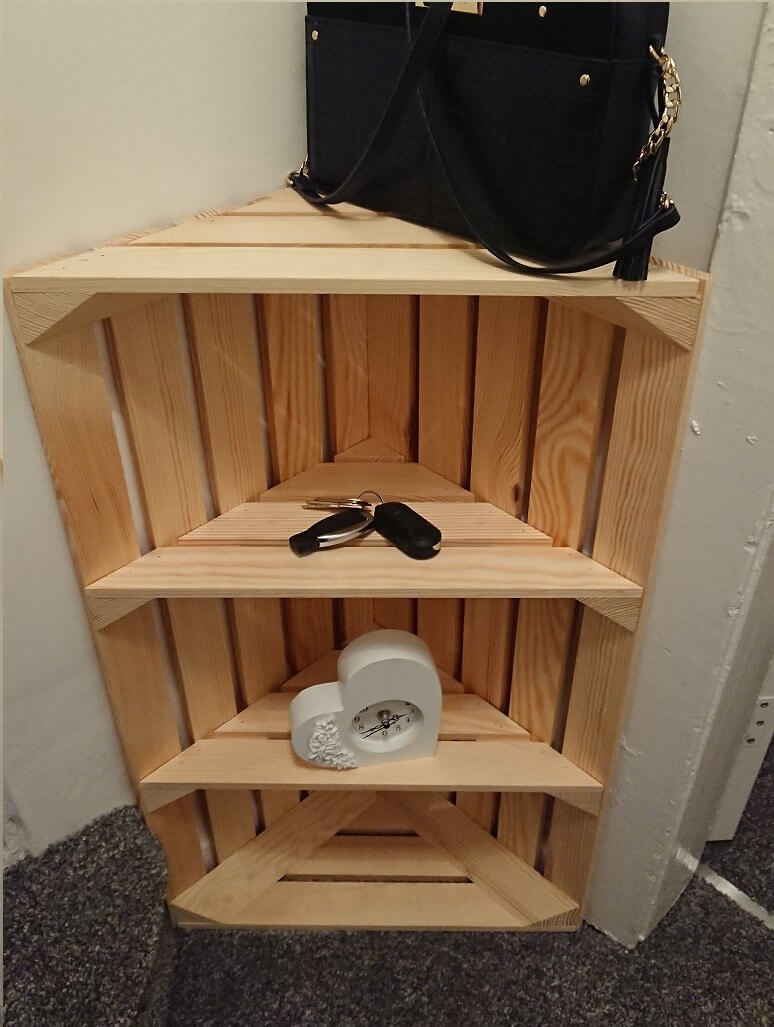 Most of the corner shelves you see are floating along the wall and require some drilling or nails to keep them in place. This clever option avoids the use of screws or nails by setting the shelf on the floor. This unique floor unit has the contemporary crate look that is currently popular in shabby chic décor. It fits snuggly in the corner and offers multiple shelves. Even better, it is easily movable if you decide you would prefer it in another room or corner. Go with this design if you want something inexpensive that you can easily change up.
10. Sweet and Unique Shelves with a Swing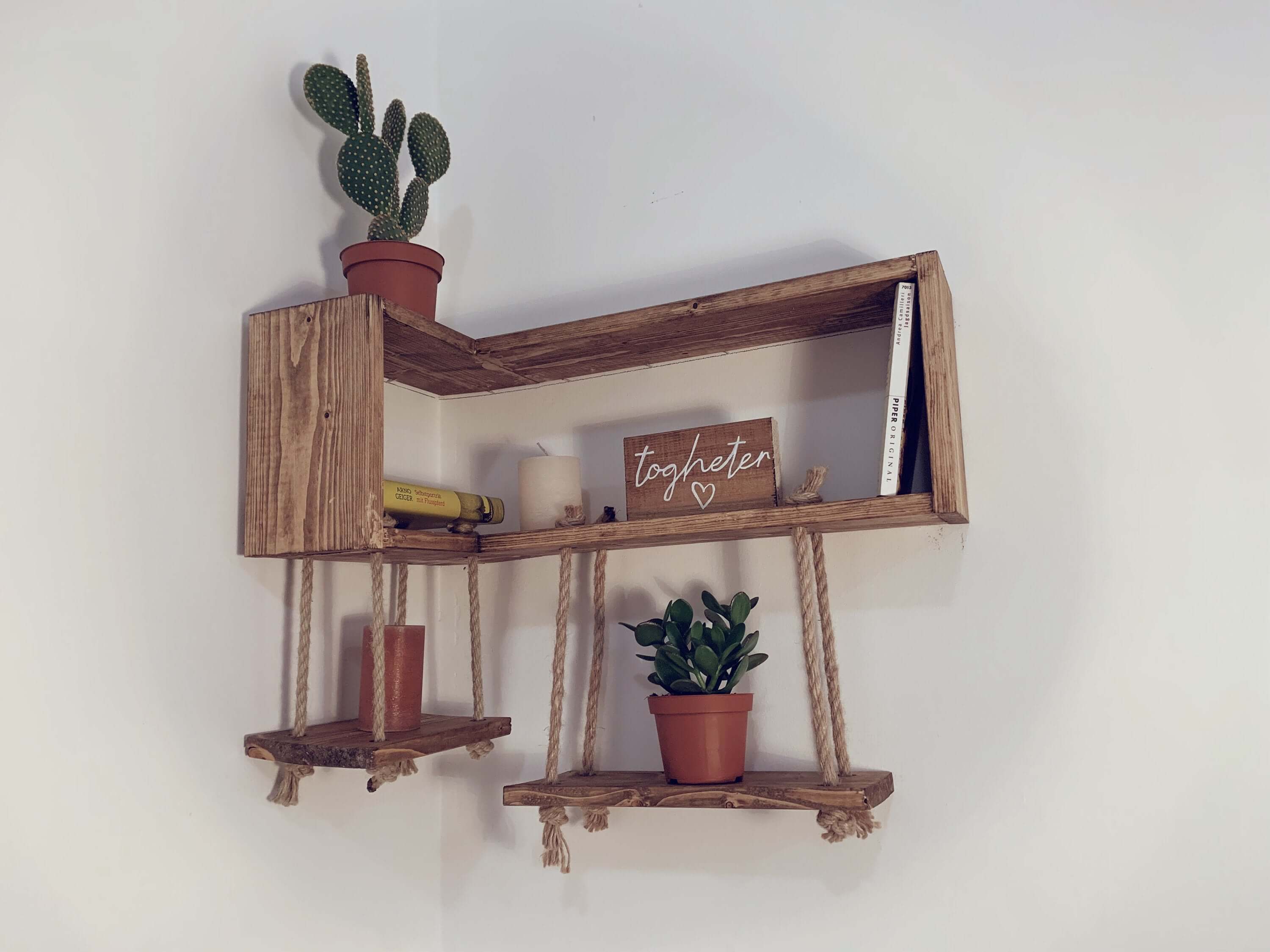 If your home has a warm and cozy feel, these sweet little shelves will add a bright kiss of fun to your corners. You can craft these yourself or purchase them on Etsy. They are made of reclaimed natural wood and – the best part – they feature two small swings for your plants or other knick-knacks. These little bonus shelves give the look a summery, warm, and welcoming vibe, letting everyone know that you don't take life too seriously. Store your favorite books or trinkets in or on top of this cool shelving unit.
11. Black Rounded Zig Zag Corner Shelf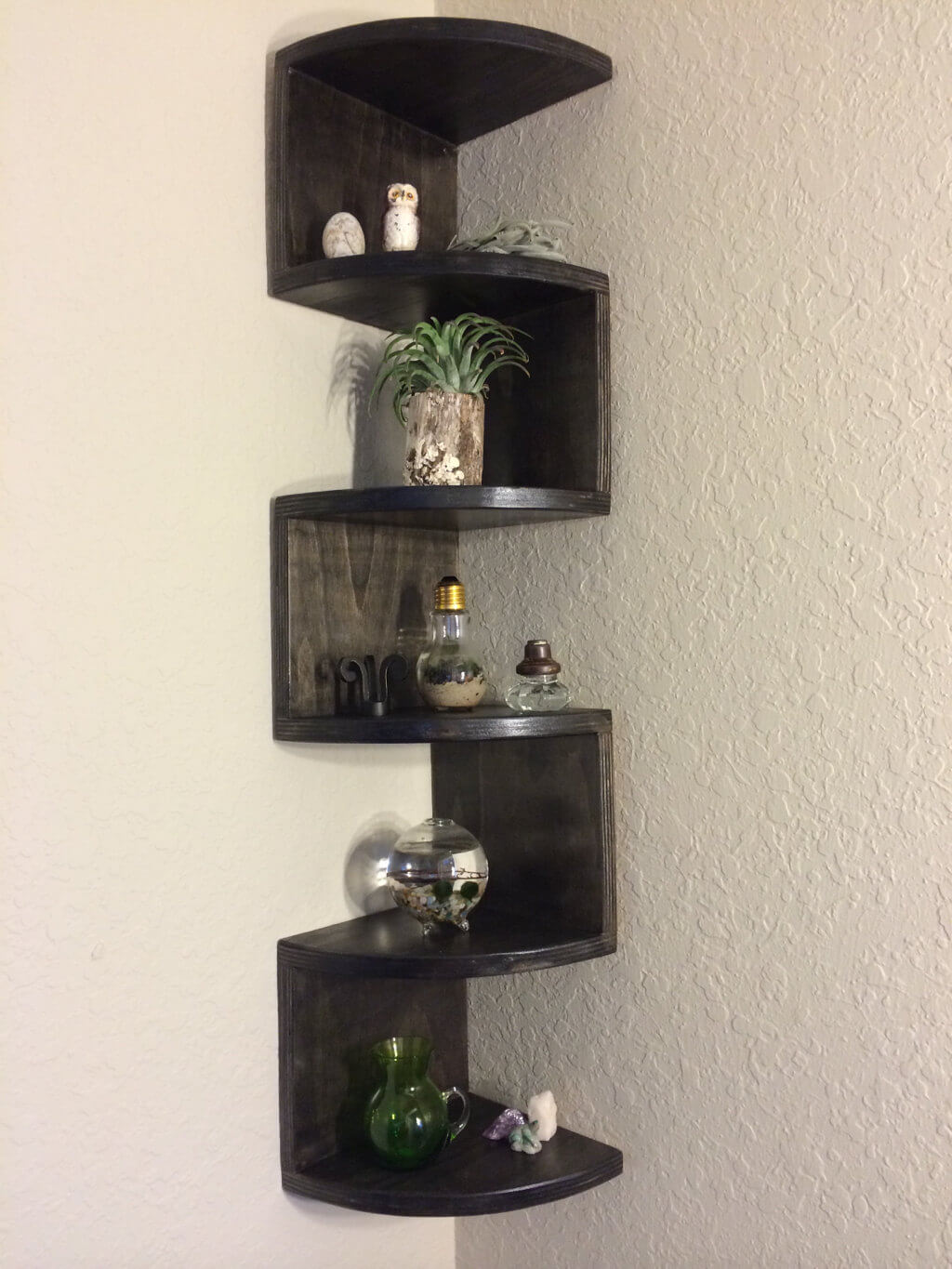 This gorgeous shelf offers multiple twists and turns to create an interesting and eye-catching look. The Etsy shop selling this item can ship it either pre-stained or plain if you have a particular color or pattern in mind that you would like to see. This shelf simply screws into your wall, and you can hang it as high or low as you want. You can include a lot of cool items or keep it simple with just a few accent pieces. The choices are all yours when you are deciding on the right DIY corner shelves for your home.
12. Corner Shelf with a Hanging Rail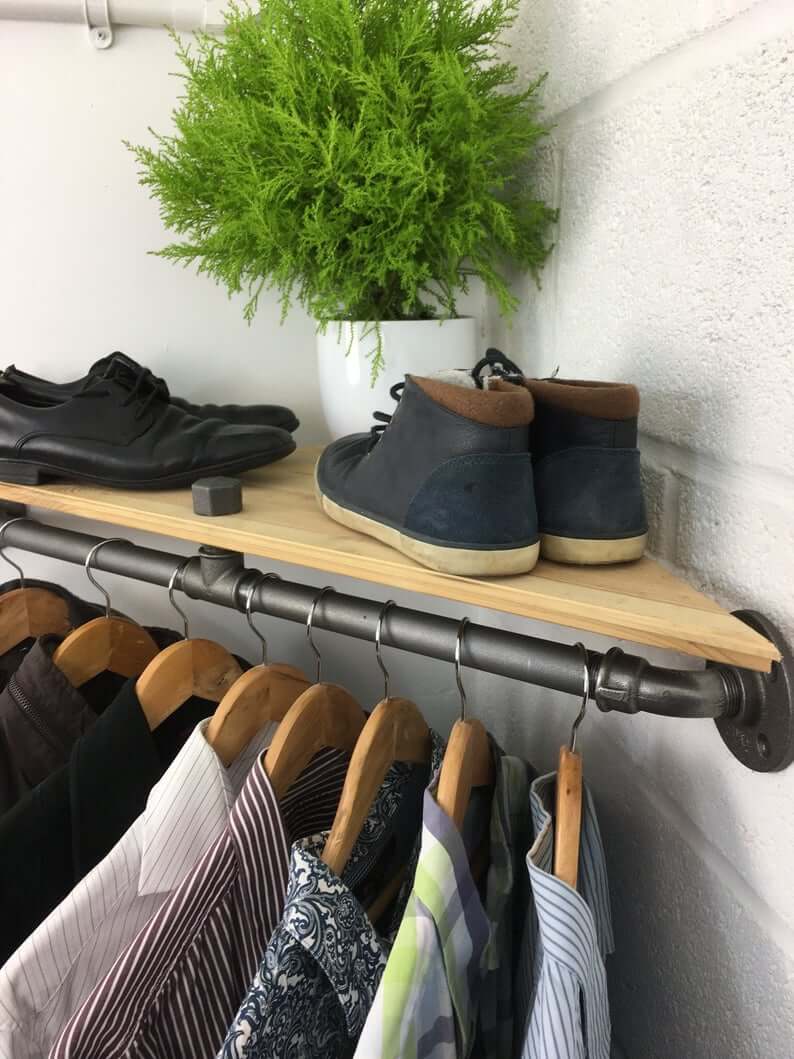 This idea not only utilizes the corner as a great spot for a shelf, but it ups the game a little bit by also incorporating a hanging rail. Made of industrial piping, this is a contemporary urban look, perfect for those apartments that just seem to not quite have enough space. When you use the corners, you are taking something that has often been ignored and bring it up to its full potential. The shelf is great for shoes, or accessories to go with the hanging clothes. Consider this for a bedroom, or better yet for a walk-in closet.
13. Clever Coat Rack DIY Corner Shelf Design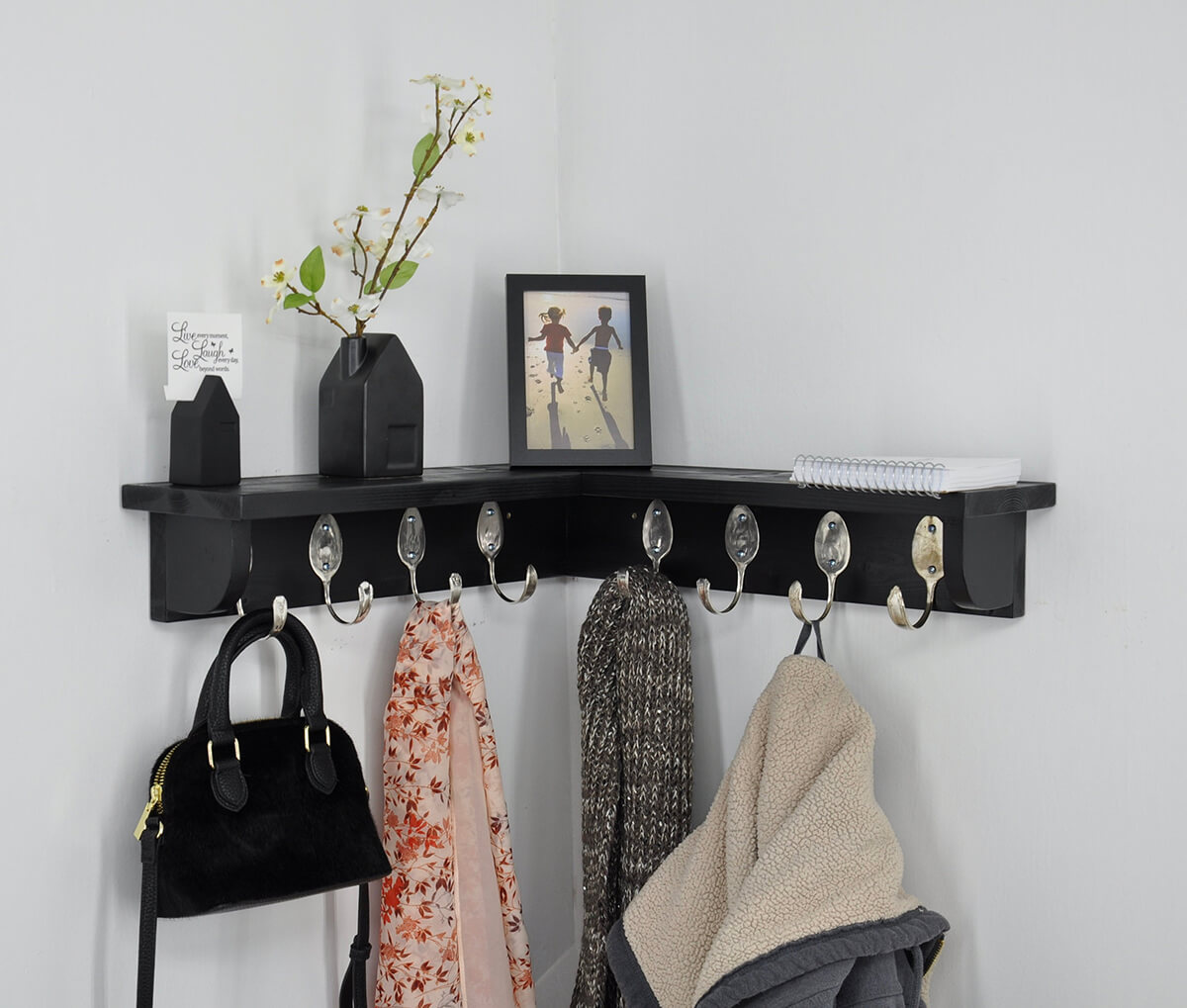 If you find yourself with a pile of coats, bags, scarves, and other clutter by the door, this shelving option is perfect for you. Great for that corner right by the front door, you can add this amazing eight-hook hanger in minutes. Typically, with eight hanging pegs you would need a long stretch of wall, but that is the beauty of the corner shelf: It fits everywhere. This option will help to organize your life and, with a fairly wide shelf on top, can even add a decorative touch to your entryway.
14. Rustic and Playful Pallet Corner Shelves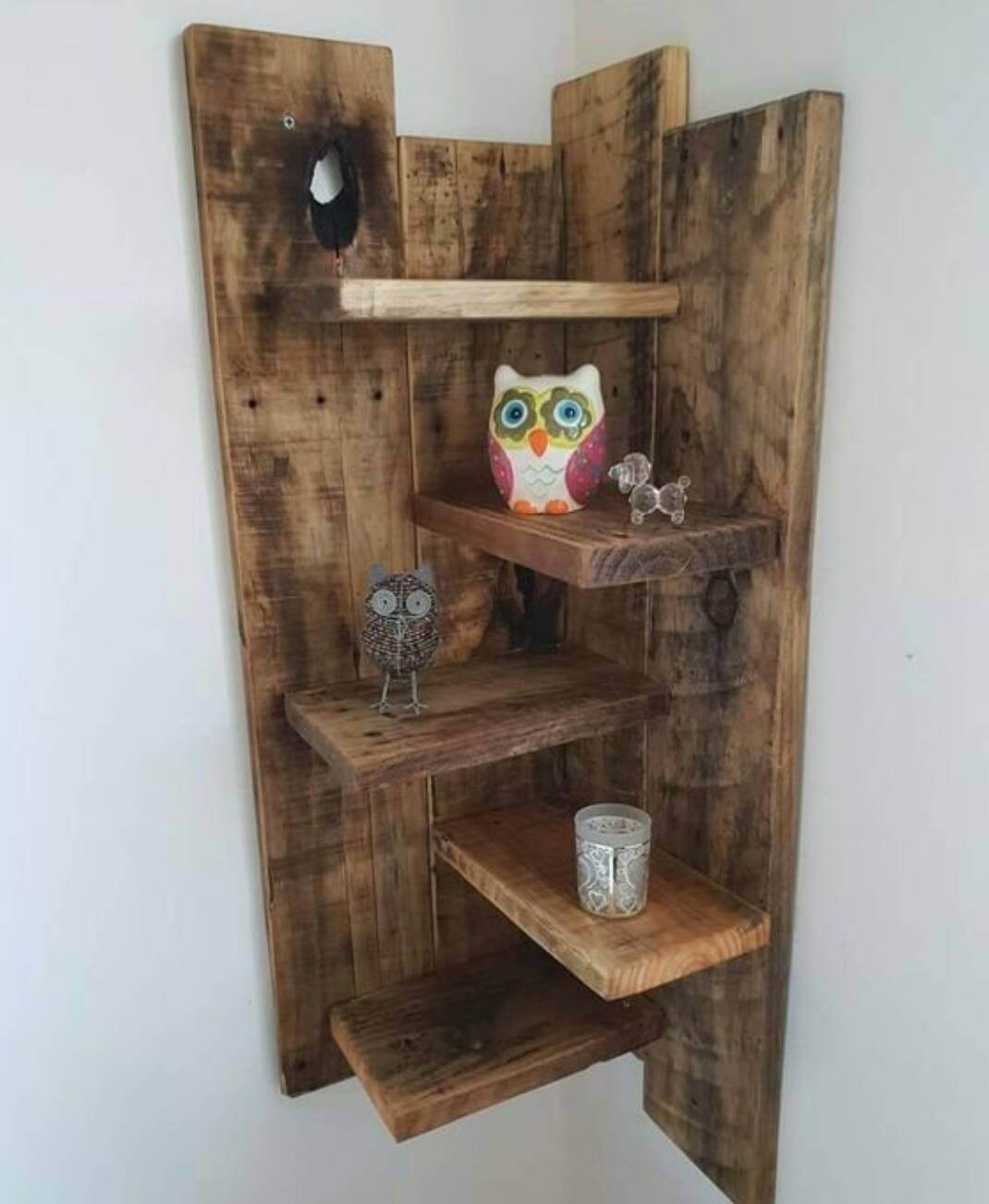 Made of pallets and reclaimed woods, this shelving option is totally on trend. It could just be the cute little owl looking out at us, but there is something whimsical and enchanted about the uneven wood and dark natural coloring. These shelves are handmade, you can decide on the perfect size or color just for you. This pretty design works well in homes that have a light and flowy decorative style without too much structure or rigidity. You can place it in the kitchen for your favorite spices, or in the living room for a plant and maybe a few fairy tales.
15. Cool X-Shaped Shelves DIY Art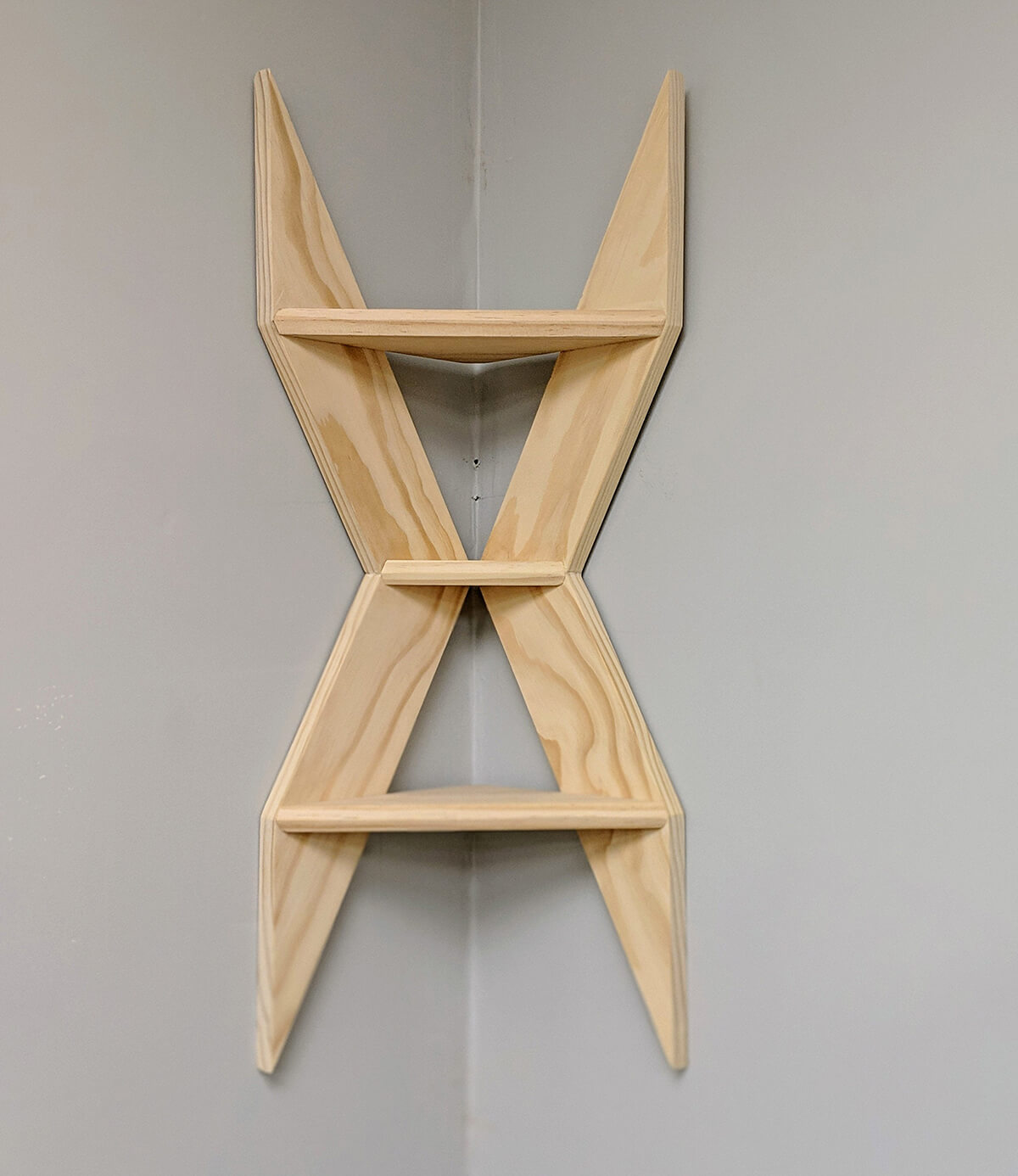 This awesome butterfly-shaped shelf is sold on Etsy and encourages you to do a different kind of DIY: Decorate It Yourself. Thanks to its very reasonable cost, you can order the completed shelf as is and it will get to you ready to be transformed. You can go natural and stick with the butterfly idea, or you can go intergalactic with a Star Wars theme. Of course, you can also just paint the shelf to match the furniture to create a more subtle, but still very interesting, piece. This is great for the home that just wants a little something extra out of their shelves.
16. Stunning Organic Yew Tree Corner Shelf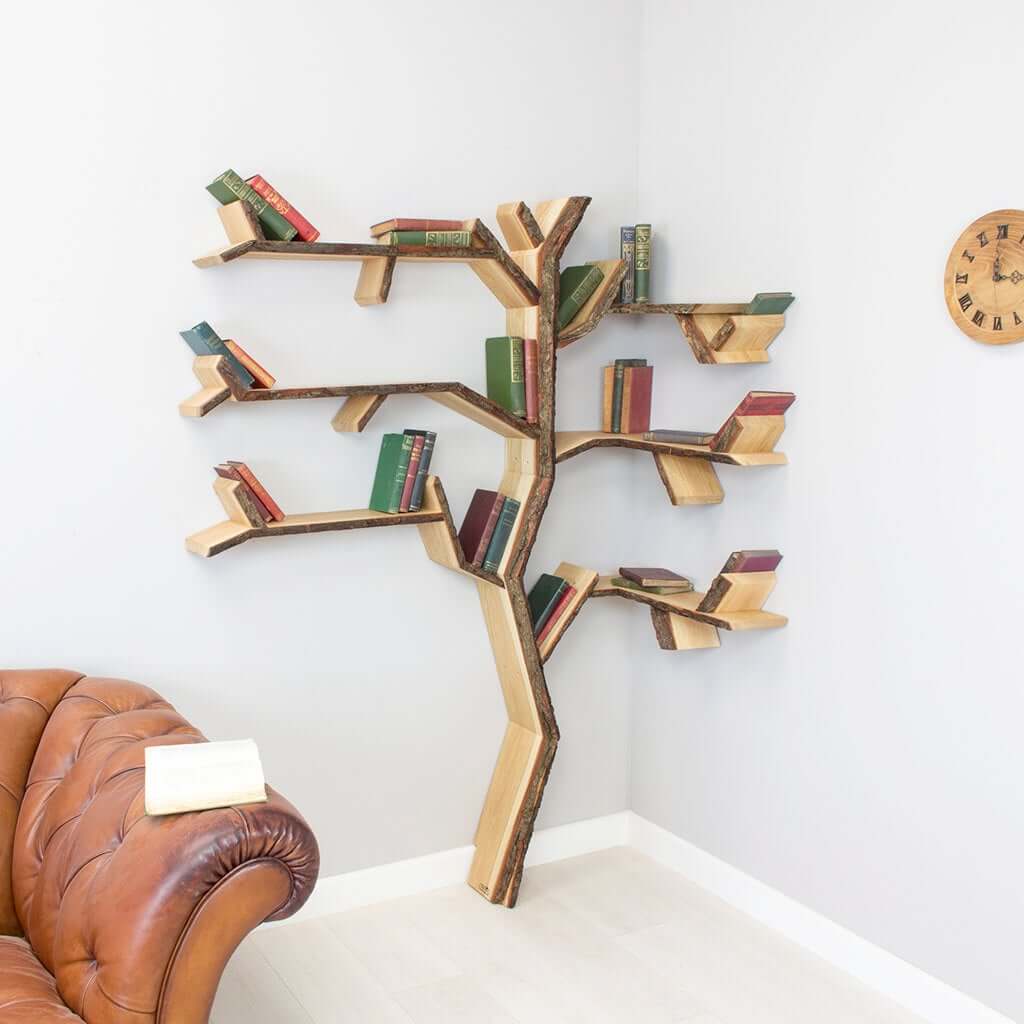 What bookworm wouldn't love this amazing DIY corner shelf idea? Featuring six unique limbs for all your favorite titles, this shelf brings books back to their roots with a tree-inspired design. This shop lets you decide on what finish you would like for your edges and even offers the pictured oiled bark edge, which makes it feel as though you really do have a book tree growing out of your floorboards. This item is perfect for the home of any bookworm and is an especially good idea for a whimsical children's room or nursery.
17. Simply Shaped DIY Furniture for Corners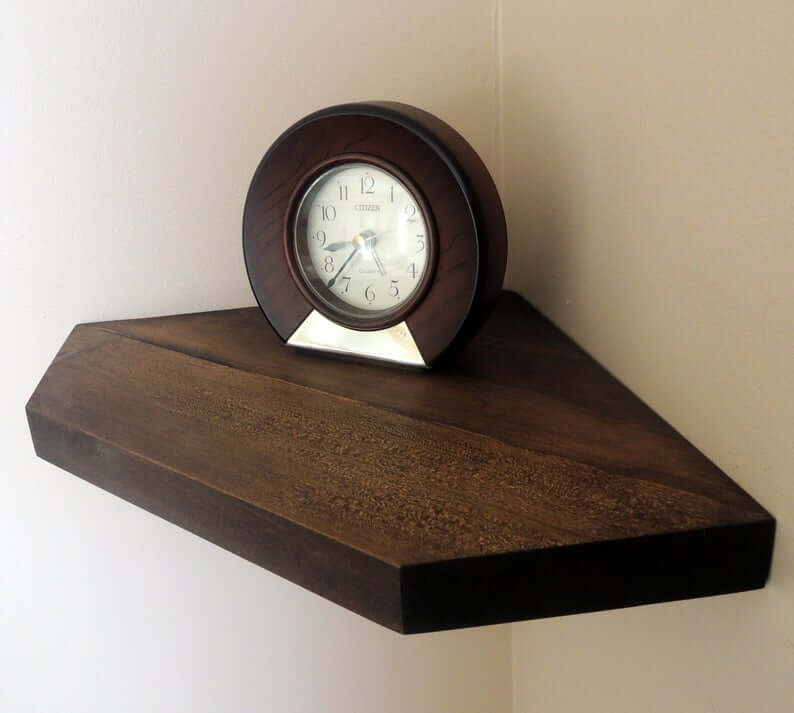 If you want something clean and simple, this pentagonal shelf is a prime choice. With very clear dimensions listed on their shop, you can easily read the measurements of their four different sizing options and see if they will work with your corner layout and plans. You will likely want more than one, so be sure to space out and measure their layout on your wall to see how far up or down you would like them to go. Usually three or four shelves is the perfect amount to create ample space for storage without overcrowding.
18. Steampunk Meets DIY Floating Corner Shelves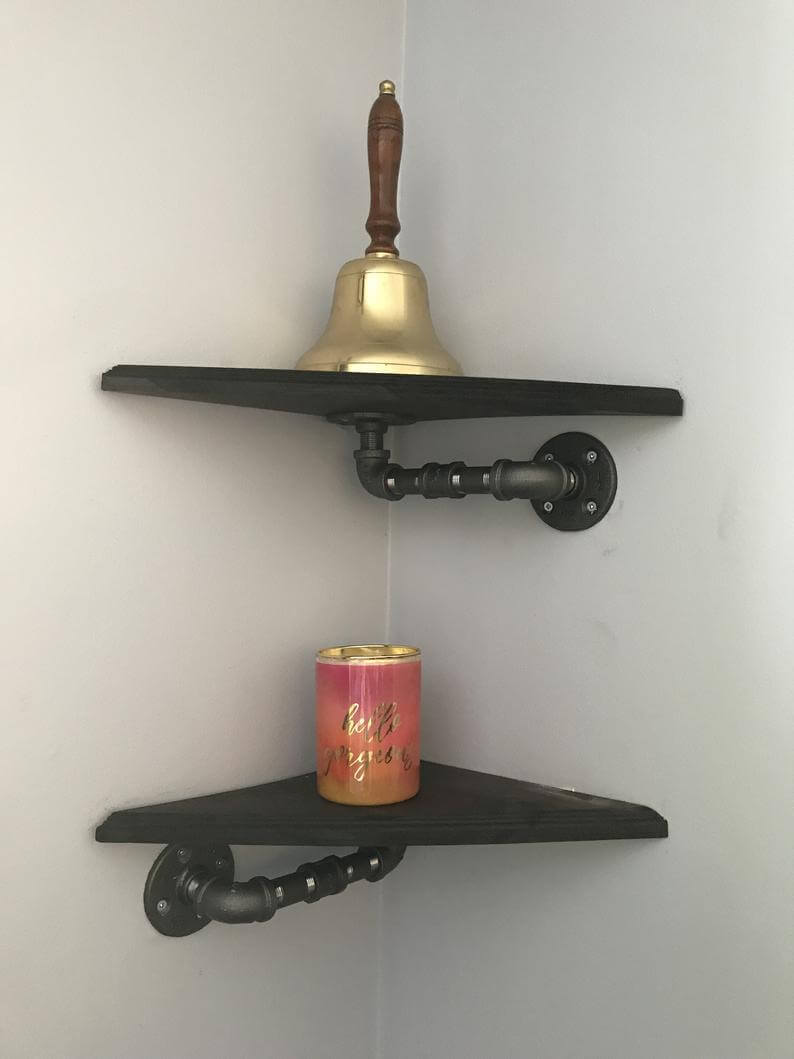 Designing a room with exposed pipes – even if they are purely decorative rather than functional – has become a trendy way to combine industrial toughness with indoor modern style. With this set of matching corner shelves, the tasteful addition of a pipe below each shelf elevates a plain wooden board to something that is visually appealing and totally on point. The pair are a mirror image of one another, with one pipe extending to the right and the other extending to the left. You can get creative with placement, too: Put two in the same corner or buy a couple sets to adorn all four corners of a room.
19. Single Floating Natural Wood Shelf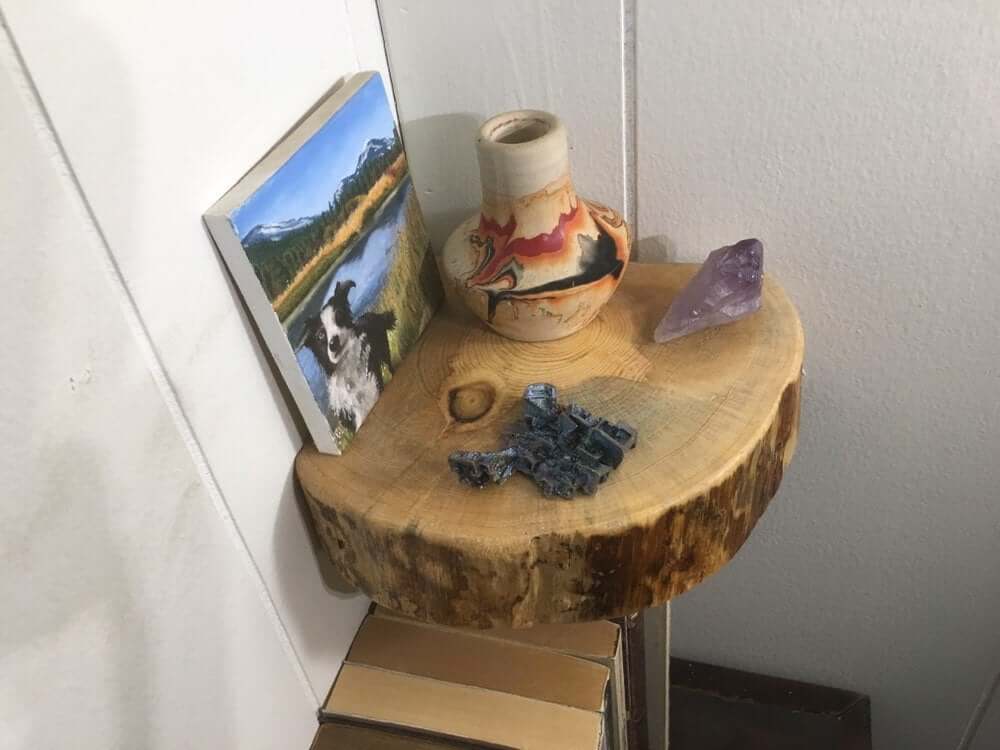 Nature-inspired DIY corner shelves are a great way to bring the outdoors into your home. This large slice of ponderosa pine is a beautiful accent to any home or cabin. It is cut and finished with recessed keyhole bracket, meaning you only need to add a few screws and you will be ready to set it up for display. Thanks to its very reasonable price, you can consider ordering a few to fill out a space, or you can keep it simple with just one. No matter how many you get, this shelf is unique, and everyone is sure to be asking where you found it.
If you've watched Dirty Dancing anytime recently, you know that nobody puts Baby in a corner. The same, however, cannot be said for most objects in your house. They really can look pretty good in a corner, assuming you have the right place to put them. And for as attractive and useful end tables can be, you don't want to clutter your home with end tables in every corner of every room.
Enter the corner shelf. With a corner shelf, you get to slightly rebrand a room without rearranging all its guts or taking up an inordinate amount of space. The options on this list give you a sense of how much variety there is in shelving, too. It is certainly not the case that all shelves are made equal, and some options will definitely fit your home's décor and aesthetic better than others.
Of course, there is no better way to match new corner shelves to your aesthetic than to make the darn things yourself. While the options on this list are for purchase (and no one will blame you if you go that route), you can also use them as inspiration for your next DIY project. Either pay for it or make it, and then all that's left is to display it!
Choose Rustic Wall Decor Ideas to Make Your Home Warm and Inviting