The best DIY craft storage cabinet ideas will help you better organize your crafting space while you also get a little artistic in the process. It's not uncommon to find our crafting space filled with everything we need and possibly don't need. This is a delicate balance as things can quickly become overwhelming to the point that we simply can't find what we're looking for. Even if your space happens to be a more "controlled chaos" situation, it never hurts to tidy things up. A great way to do that is with some storage cabinets. But who wants to settle with some bland storage inside an artistic space? Well, you don't have to if you get hands-on and see it as a DIY project.
21 DIY Craft Storage Cabinet Ideas for Stylish Organizing

With the right materials and inspiration, you can create unique storage cabinets for your crafting room. It works as functional décor too so that it better blends with everything in the room. Feel free to make this as bright as you wish. Of course, it also keeps things orderly so you can always find what you're looking for. For some tips on where to begin, check out the list below as we highlight our favorite homemade craft storage cabinets.
1. Cool Hidden Craft Cabinet Design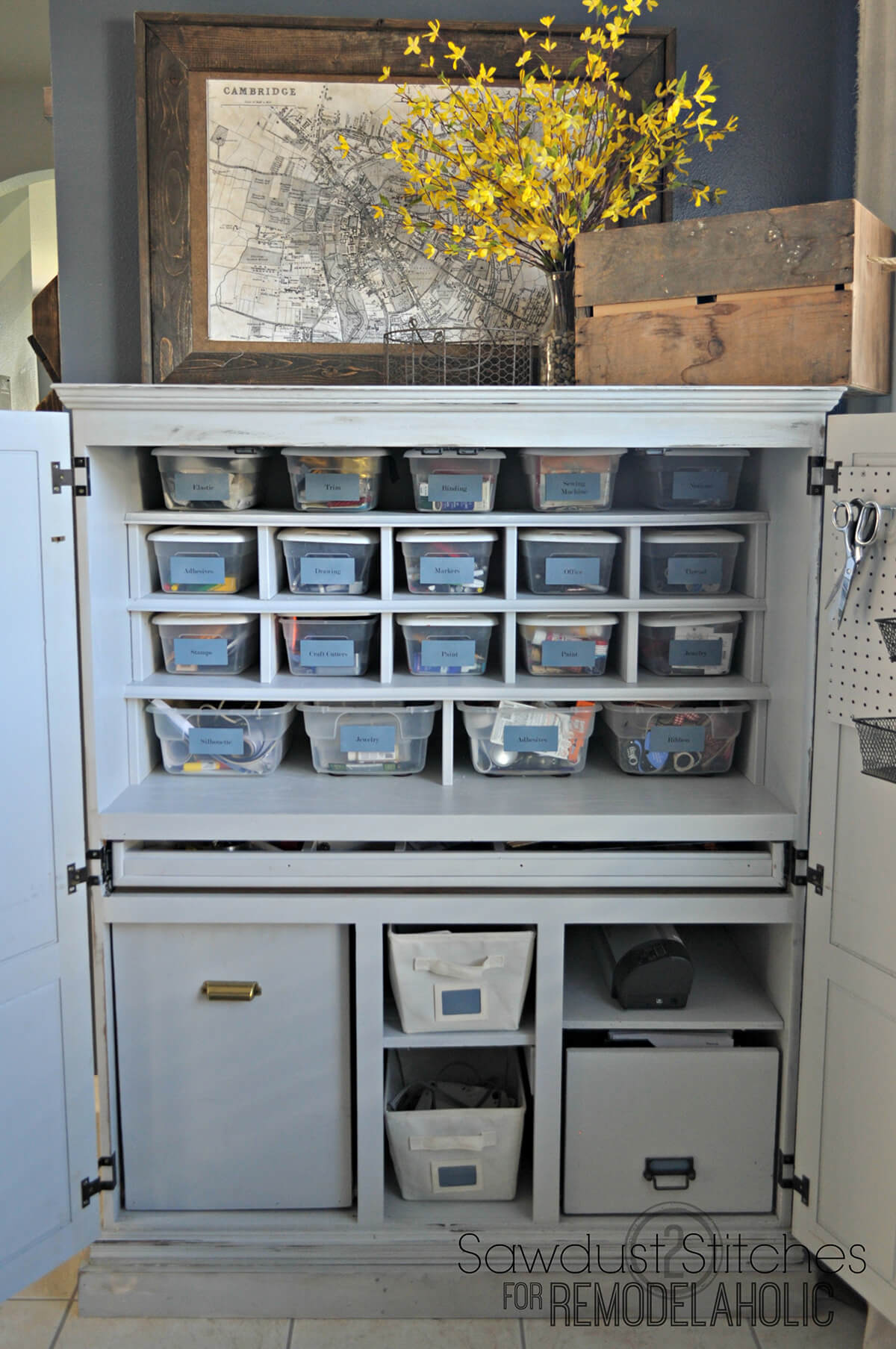 Looking to keep things tidy and out of sight when not using them? Well, this craft cabinet is a wonderful choice for you. When it's closed, it comes off as any other piece of furniture. Once you open it up, you're instantly transported into a well-organized crafting storage center. The cabinet provides you with several options on how to store your various items too.
2. Upcycled Filing Storage Cabinet Makeover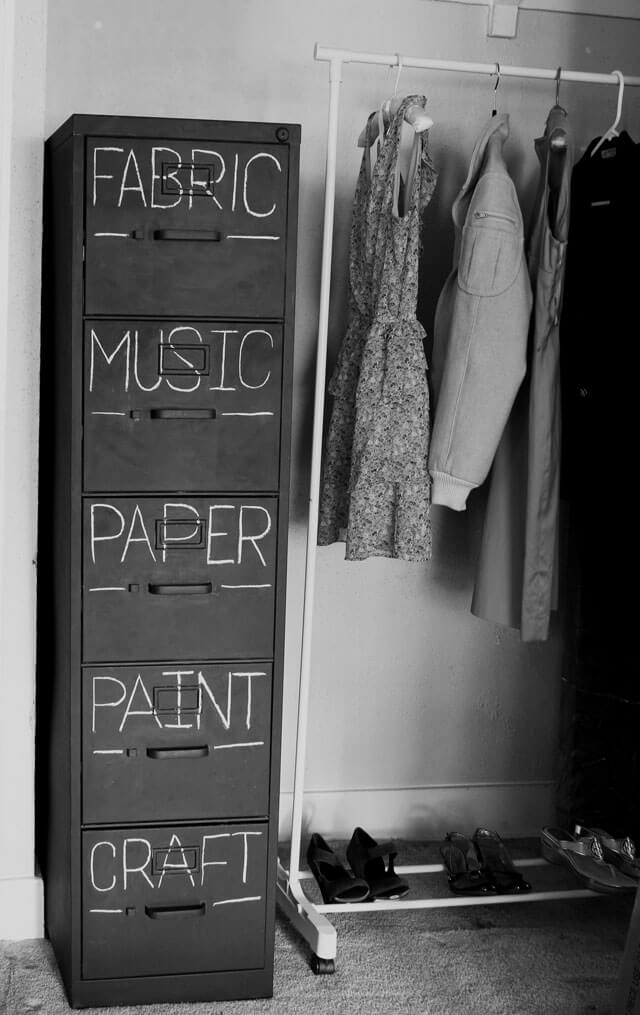 You can always find a diamond in the rough for your DIY project. In this case, this standard filing cabinet can have new life as your crafting room storage cabinet. Just give it a little paint to help it look more distinctive. Chalkboard paint is always a good way to go seeing as it allows you to write on the cabinet afterward. This can make it more fun to decorate or simply label each individual drawer so you can get to what you need fast.
3. Vibrant Craft Room Hutch Design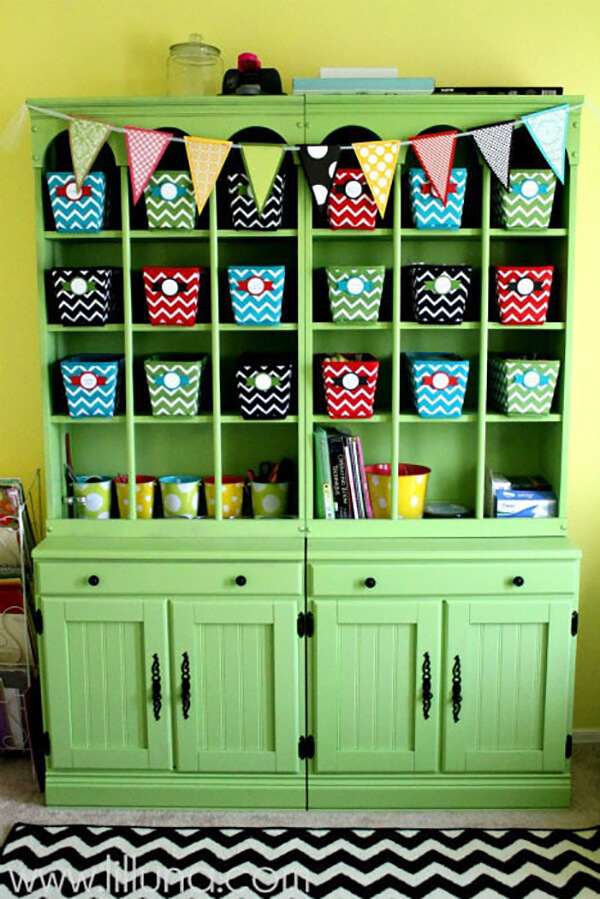 Dive fully into your creative side with this fun craft room hutch project. This is a DIY project that allows you to upcycle too. You have more than enough space to decorate the cabinet to fit your personality or the overall décor of your crafting room. Best of all, this hutch will give you several storage areas to handle a variety of crafting projects.
4. Exciting DIY Craft Cabinet Makeover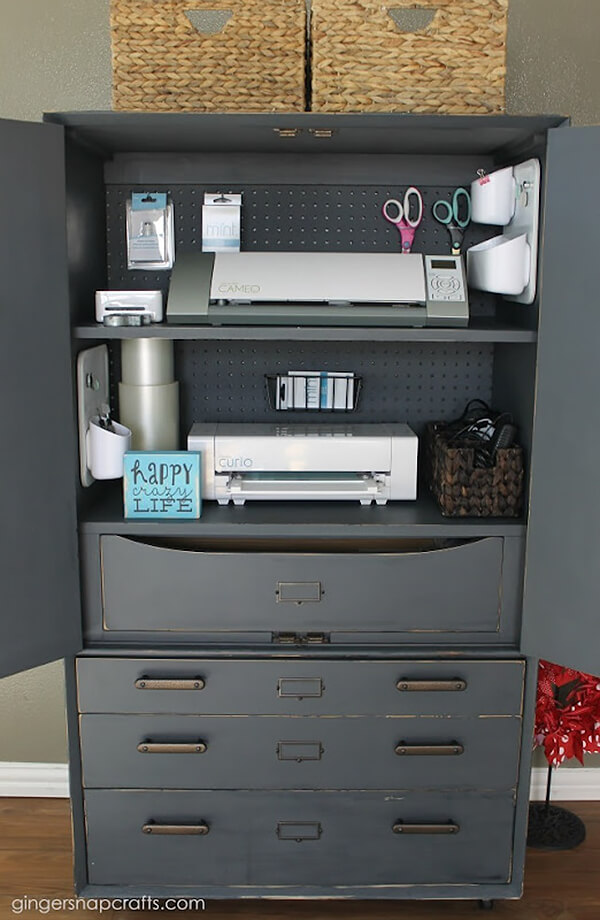 Transform an old cabinet into your beloved crafting cabinet with this cool project. An old cabinet like this one gives you the space and tools you need to better organize your crafting materials into something that is far more cohesive and aesthetically pleasing. Plus, you can always close the cabinet up when you're not using it so that it blends seamlessly in with the room's décor.
5. Fun Swing Out Wall Shelf Cabinet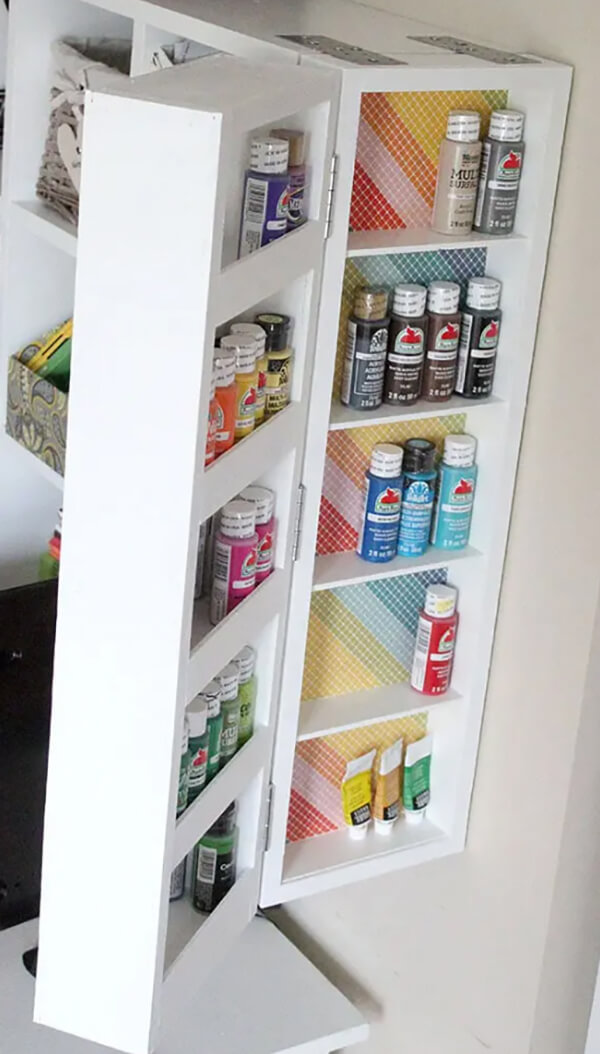 These homemade craft storage cabinets are distinct in terms of style. They are ideal when you lack the space to set up a cabinet somewhere in the room. Instead, you can use the swing out shelves to serve as storage for smaller items on any bare wall. Liven it up a little too with some splashes of color if you wish. Since you're making these by hand, you can add as many shelves as you need.
6. Cute Tiered Craft Room Organization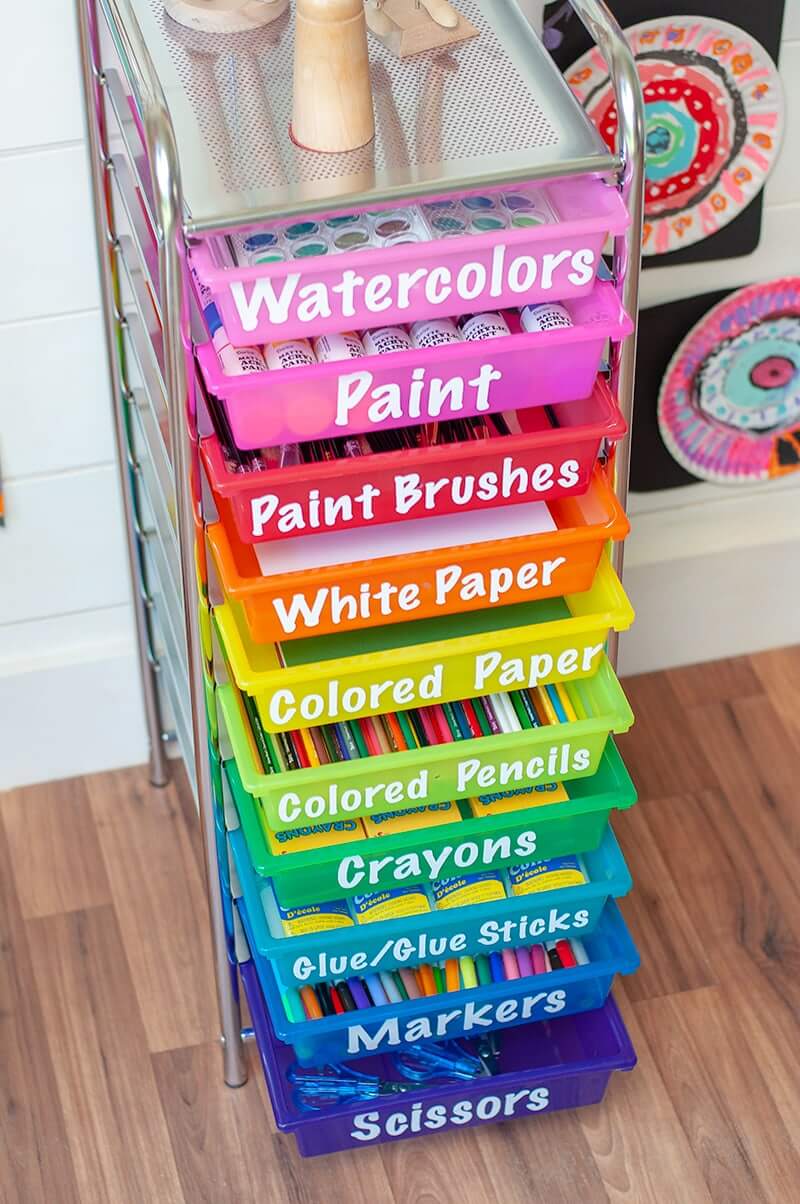 Sometimes, you need something simple to find your materials in your crafting room. This tiered drawer organization is perfect for you then. You can label things by color as well as add name labels to each drawer. This keeps things even easier for you, more so if you're in a rush to find something. Alongside that, this DIY storage is fitting for kids seeing how bright and bold the coloring is as well as the wording on each drawer.
7. Small Space Craft Room Cubby Storage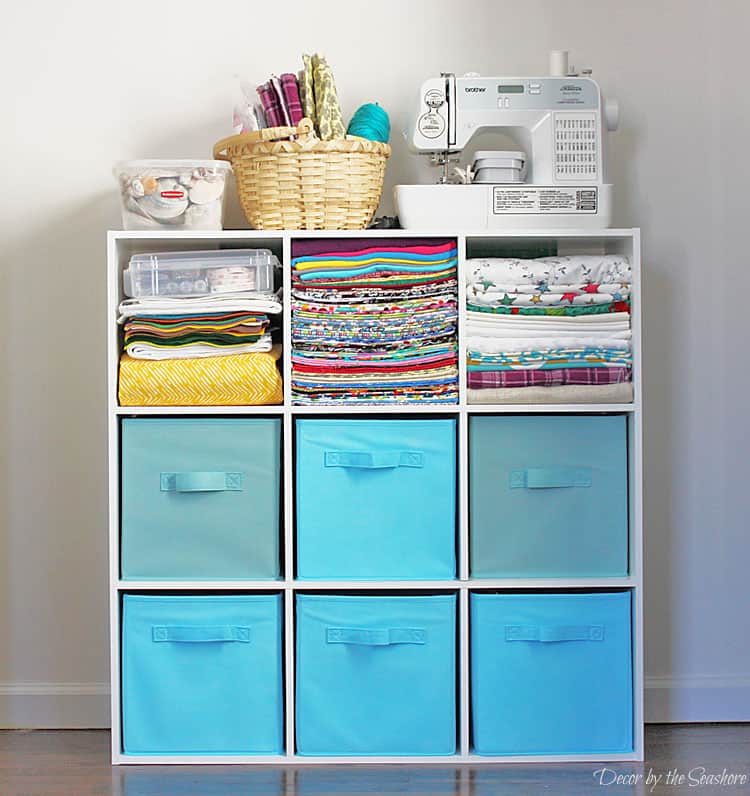 You can take advantage of a room with a small footprint with a storage cubby layout. This gives you plenty of spaces to organize and store numerous items your crafting space needs. Plus, this is a versatile option as you can mix and match when it comes to soft or hard containers. In some cases, you may not even need containers and can simply use the individual cubby.
8. Dreambox Craft Room Storage Design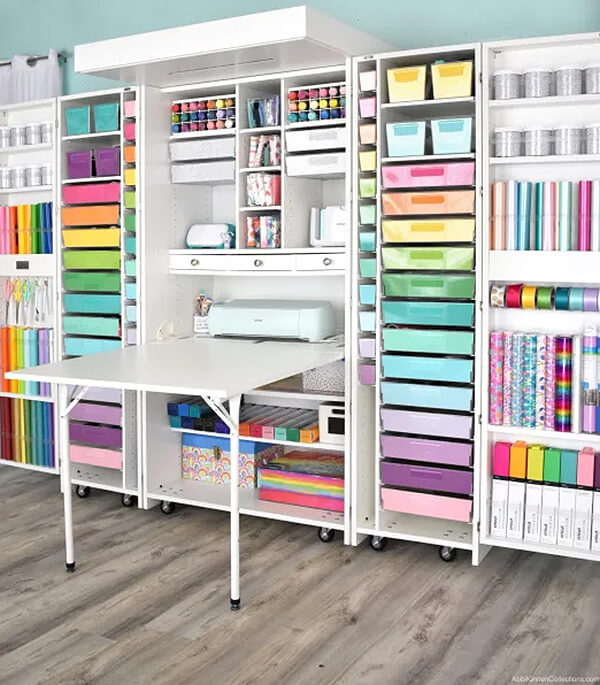 A Dreambox may be the perfect solution for those of you who feel you have too much to organize. You can set up your Dreambox as you see fit, placing shelves a certain way or removing what you don't need. A storage such as this is popular seeing how versatile it is as it can support numerous types of crafts from sewing to drawing. So, consider giving it a try so that you can instantly find everything you're looking for.
9. Charming Filing Cabinet Storage Idea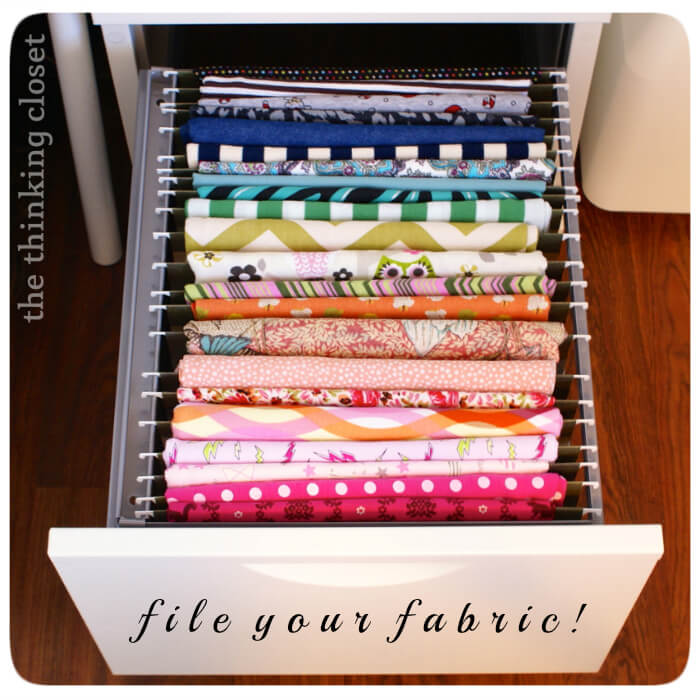 For those with a minimalistic heart, consider using a simple filing cabinet with its intended purpose. These work well when you want to store items beyond just paper. Consider tossing in your fabric sheets inside the cabinet as they fit like a glove. From here, you can discover what you need in a flash while you're working.
10. Fun Color-Coded Dreambox Drawer Layout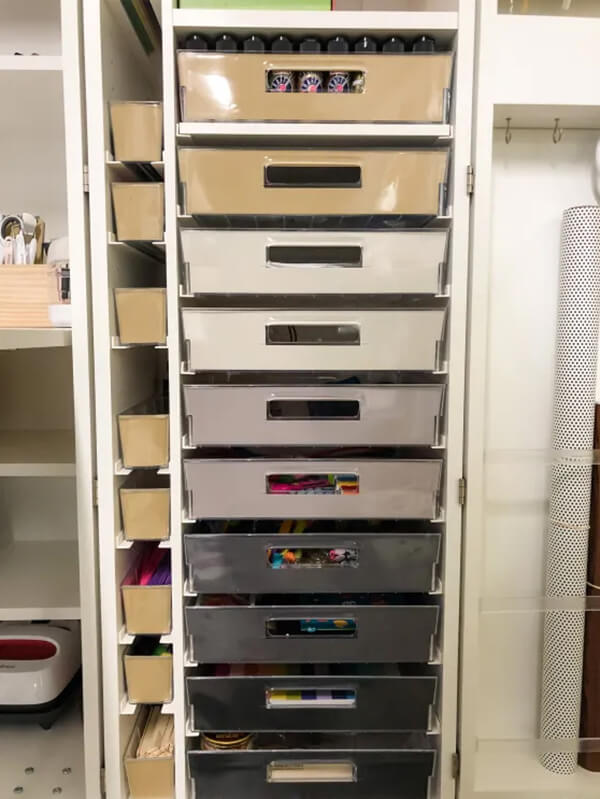 Mix things up with your Dreambox when you add even more of a personal touch with the drawers. Adding various colors to the drawers allows you to color-code your crafting storage. This is a fun way for you to better organize everything beyond just using simple name labels. Instead, you can keep things orderly while also giving your Dreambox a more stylish flair to go along with it.
11. Rustic Crate Cabinet with Sliding Drawers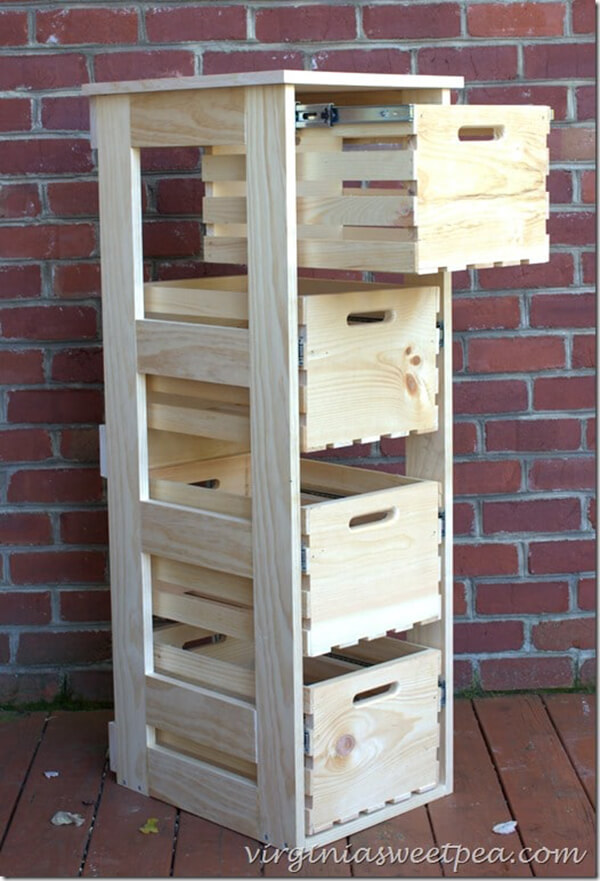 Get handy with this crate cabinet project. It has a simple look that gives it a rustic or farmhouse style, but you can always put a spin to it and add some paint. Regardless, the design itself is functional as it offers you several slide-out drawers to work with in terms of storage. The drawers have great depth too to hold numerous items.
12. DIY Craft Paint Organizer Design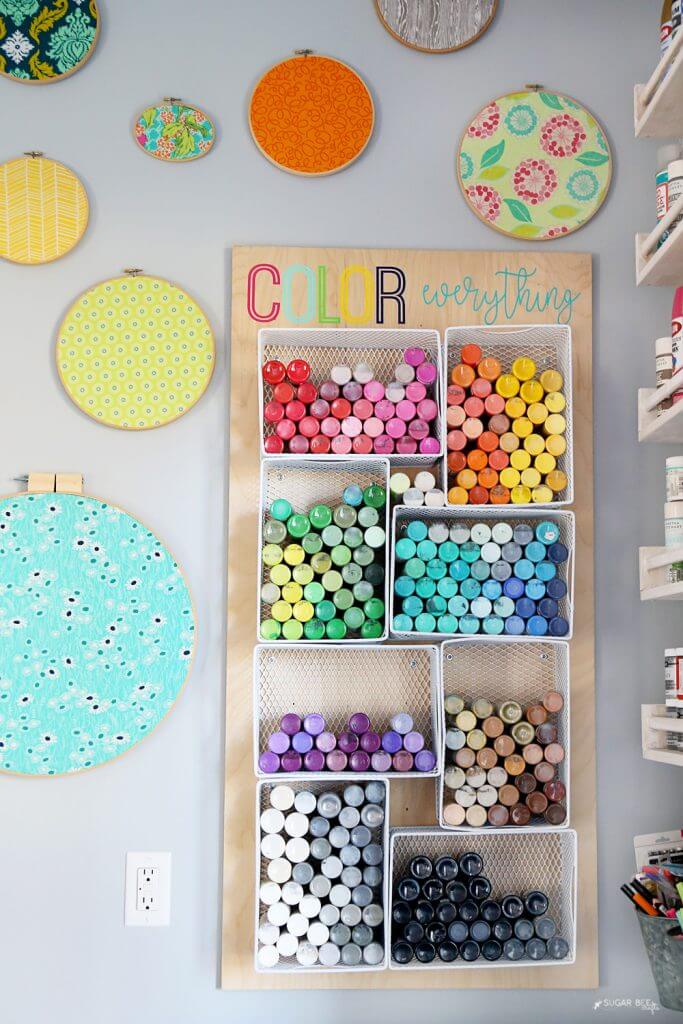 Take something simple and transform it into something amazing with this craft paint organizer design. The baskets don't seem like much, but when you set them up along the wall, they become the perfect storage solution for multitudes of paint. Feel free to set them up in various angles too. This will allow you to play around with your décor as well as your organization.
13. DIY Wall Hanging Hexagon Storage Shelves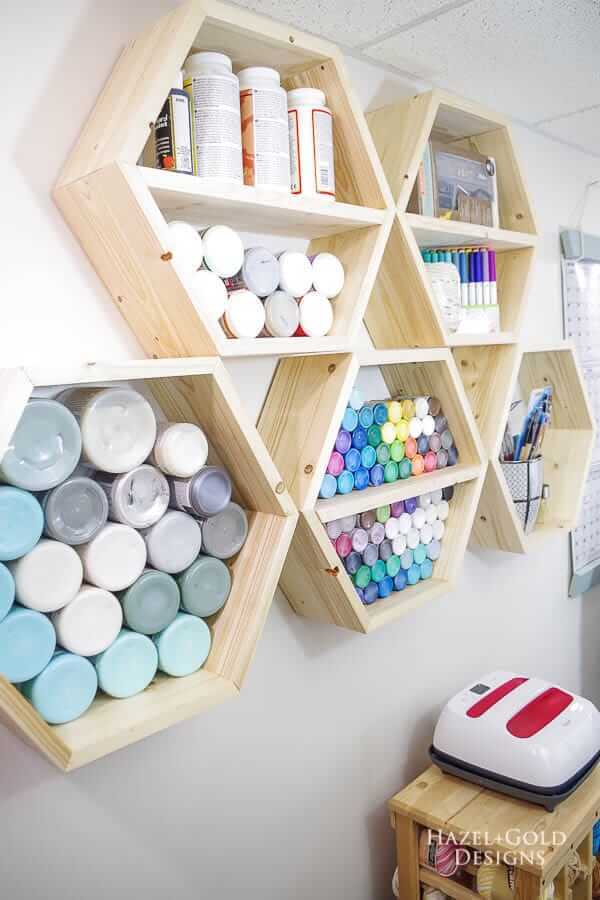 Hexagon shelves can make for good handmade craft storage cabinet ideas. They have an artistic look about them that will help you better decorate your room overall. You can set them up however you like too so that they form a distinct design for an elevated style. Also, since they are on the wall, they can help you further save on space. This is especially useful if you have a small crafting room or you just have a simple crafting nook in your home.
14. Clean Floating Wall Shelf Storage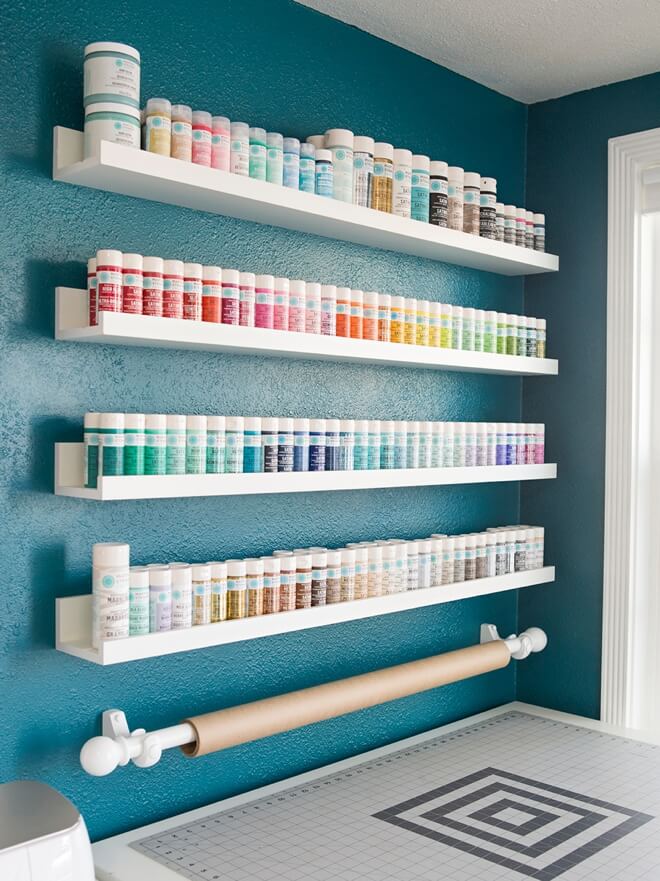 For a straightforward design, consider installing floating shelves in your crafting room for storage purposes. These shelves have a nice look about them, and they are plenty long to support numerous materials you need. You can see what you want at a glance too, making them ideal for anyone who just needs a minimalistic solution to the disorganization of their crafting room.
15. Towering DIY Craft Room Yarn Shelf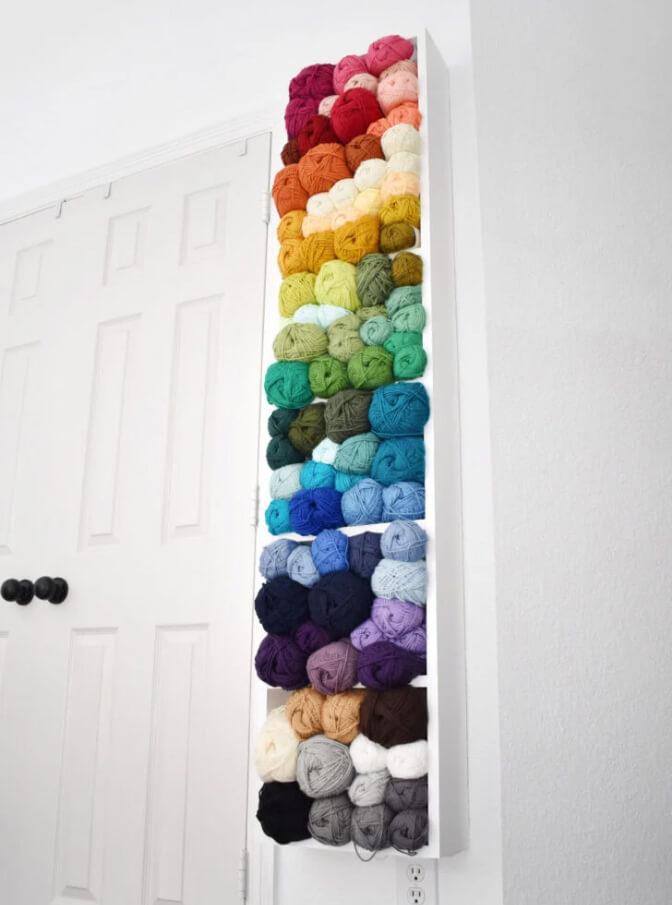 Need a place to keep all your colorful balls of yarn? Well, why not in a towering shelf? Make the shelf as tall or as small as you need. That is one of the most exciting aspects about DIY projects. You can personalize your storage as much as possible so that it best supports your needs. As a bonus, the way you show off your various yarn colors, you can create a vibrant and attractive decorative point in the room.
16. Beautiful DIY Rainbow Pegboard Storage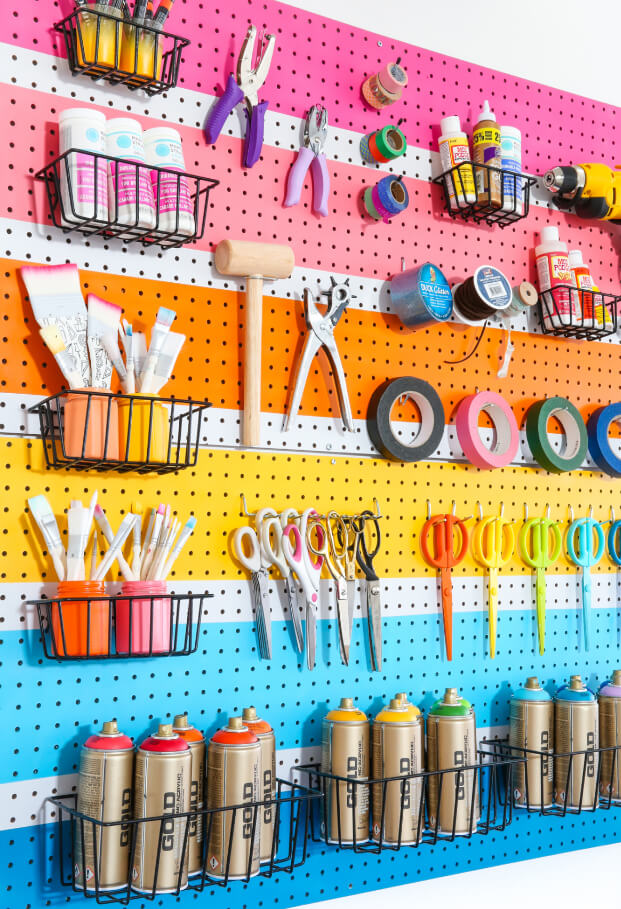 Pegboards are fun to use for your crafting storage for those of you who need everything within sight. You have ample space to set up different storage baskets along the pegboards, making all your items easy to reach too. Fancy things up a bit by giving the pegboard a rainbow paint job. It is an effortless way to add a touch of brightness to the room.
17. Repurposed Bed Spring Craft Room Storage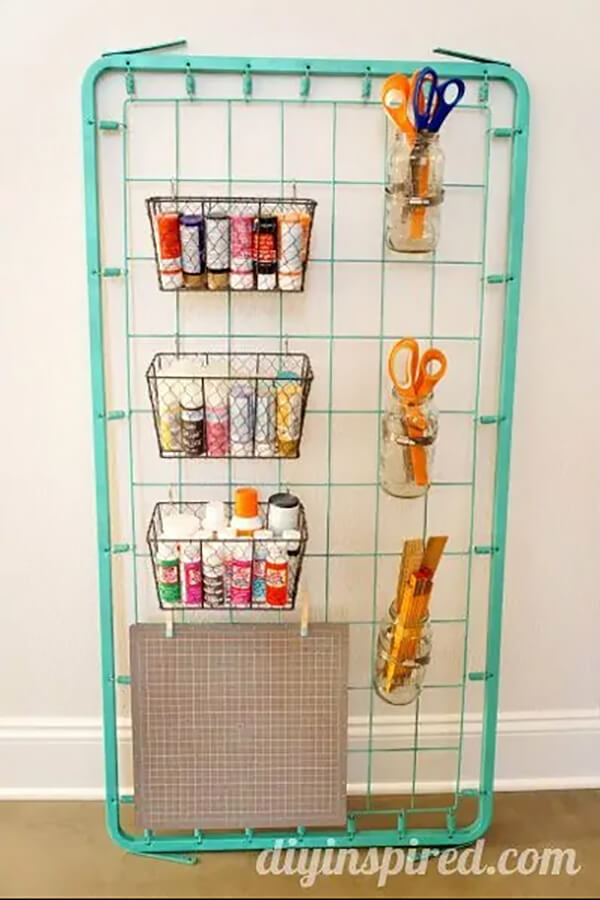 Why get rid of that old bed spring when you can give it a new job in your crafting room? It is a unique approach to storage, but you do have several options when it comes to hanging up items on it. This can support different containers too such as baskets and jars. So, when you need a distinctive way to organize your craft space, think twice before you toss out that bed spring.
18. IKEA Pegboard Hack Storage Design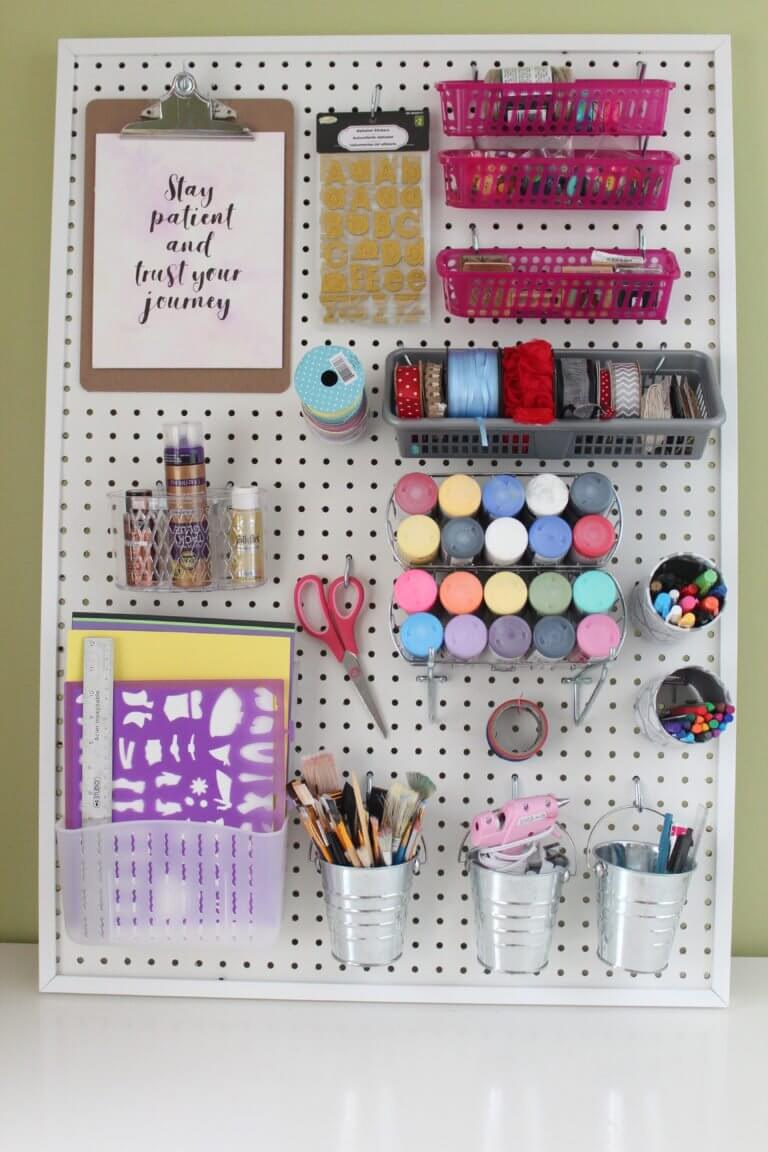 Ready to try your hand at an IKEA hack? In fact, hacks like these make for the best DIY craft storage cabinet ideas since they're easy to do. In this case, you aren't getting a traditional cabinet. Rather, you're making great use of a pegboard. Use it to hold various storage baskets of different sizes, much of which you can find at your local dollar store. This also makes the project more affordable.
19. Practical Crafting Room Storage Basket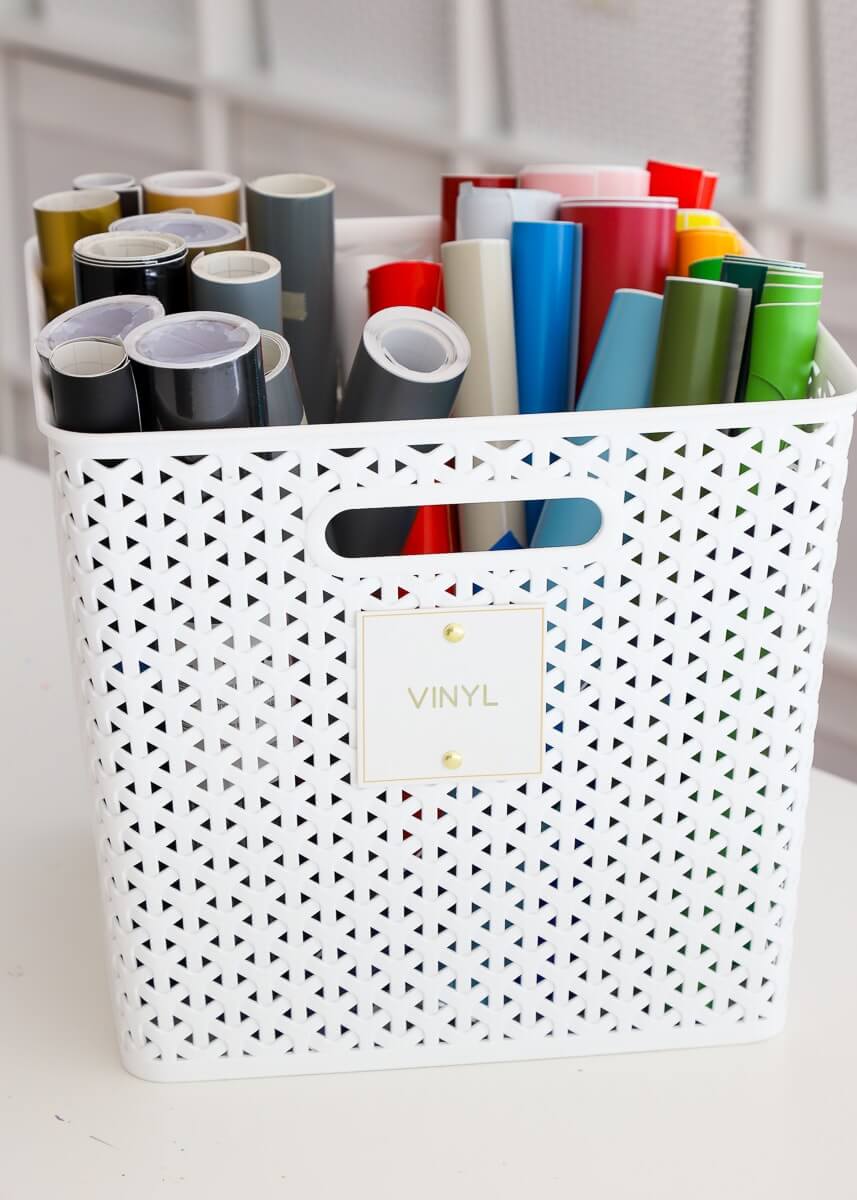 Sometimes, the most straightforward approach can help you organize any overwhelming clutter in your crafting room. With this project, you can take a basket and create just the right amount of storage you need. Consider using it for things like vinyl as it makes all those pieces easy to see and grab up on the fly.
20. Adorable DIY Twine Storage Design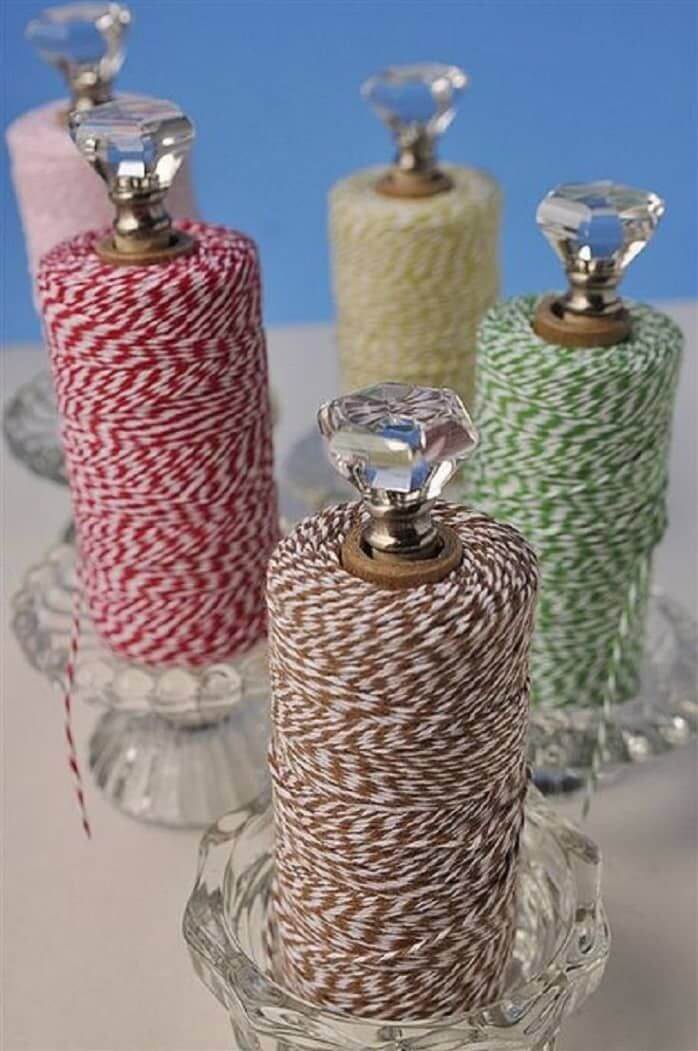 Twine is such a simple thing that can get tangled or even loss in a crafting room. So, keep it close at hand with this unique storage idea. It uses something as easy as a candle holder. With it, all your twine is in one place and not at risk of getting messed up.
21. Lazy Susan Container Storage Solution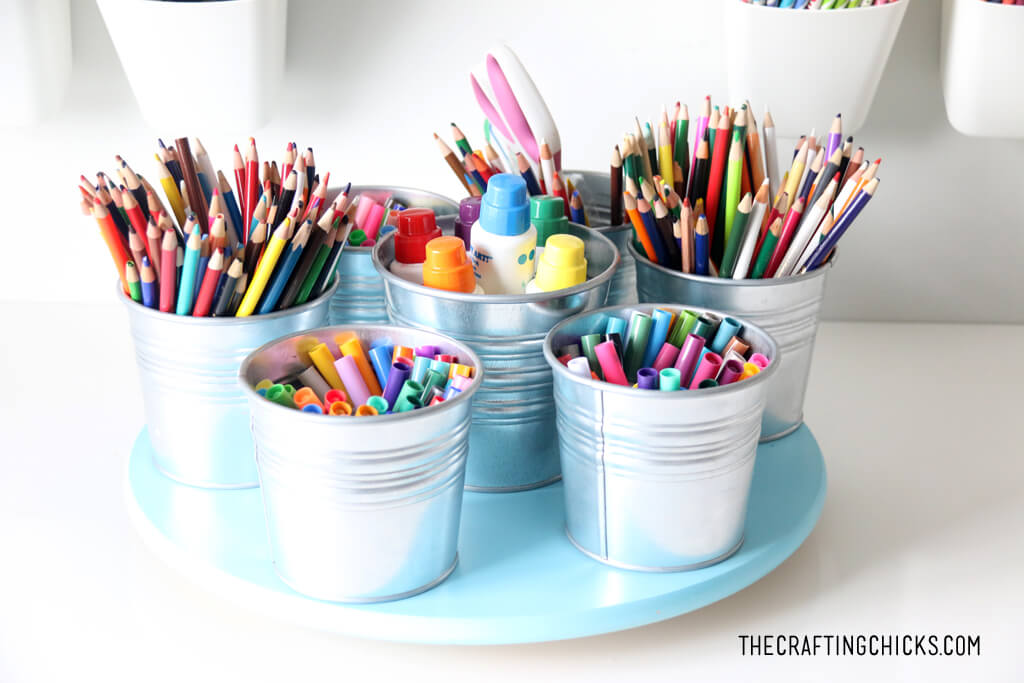 As you're considering the layout of your craft room, perhaps you need something more small-scale to hold things like pencils, pens, etc.? In this case, get your hands on a Lazy Susan and fancy it up a bit with some paint. This way, it can blend with ease in your room. Meanwhile, you can use cans for a creative solution to the smaller materials floating around the crafting space.
21 Handmade Craft Storage Cabinet Ideas that will Quickly De-clutter your Space
Nothing looks better in your crafting space than a handmade storage cabinet. Not only does this allow you to make the right amount of storage you personally need, but you can create something distinctive that is a perfect fit for an artistic space. Whether you require a number of drawers, space for your writing and drawing materials, or a single basket, the list of our favorite handmade craft storage cabinet ideas is here to help you figure things out. So, let's not waste more time and gather up our materials for some fun crafting projects.