The best DIY curtain ideas are the ones that are easy and affordable. If they can be done in a fairly short amount of time, so much the better. Fortunately, you don't have to be an expert with a sewing machine in order to make homemade curtain projects that are so attractive they could be mistaken for professional. In fact, there are many styles that don't require any sewing whatsoever, so anyone can create eye-catching window treatments that will really boost their existing home decor.
24 Pretty and Affordable DIY Curtain Decor Ideas for Any Home

You can find the most fabulous fabrics in stores that are either remnant, on sale, or available at a significant discount with coupons. But you can also use alternatives like drop cloths, sheets, and pillowcases – or some combination of them – to great effect. There are supplies like fabric glue, fusion tape, and Velcro to replace sewing skills. In fact, one of the most stunning curtain designs only needs a rod and clothesline rope!
What's really great is that you aren't even limited to just easy decoration with curtains to make your window treatments stand out. There are super simple ways to make valences and even cornice boards. With so much easy do-it-yourself curtain decor, there is no reason everyone can't have the beautiful accents that your windows can provide.
Looking at the curtain options that are available online, or at your favorite department or discount stores is a great way to get inspiration for what would best suit your own home. But there's no need to be discouraged by the prices because you should at least be able to make something at least close to your favorites styles. Here are 24 examples of what we consider the best DIY curtain ideas. Hopefully, there will be at least a few that you will be able to use to make your own home more like the spaces you dream of.
​1. Stunning Yet Simple Stenciled Drapes
​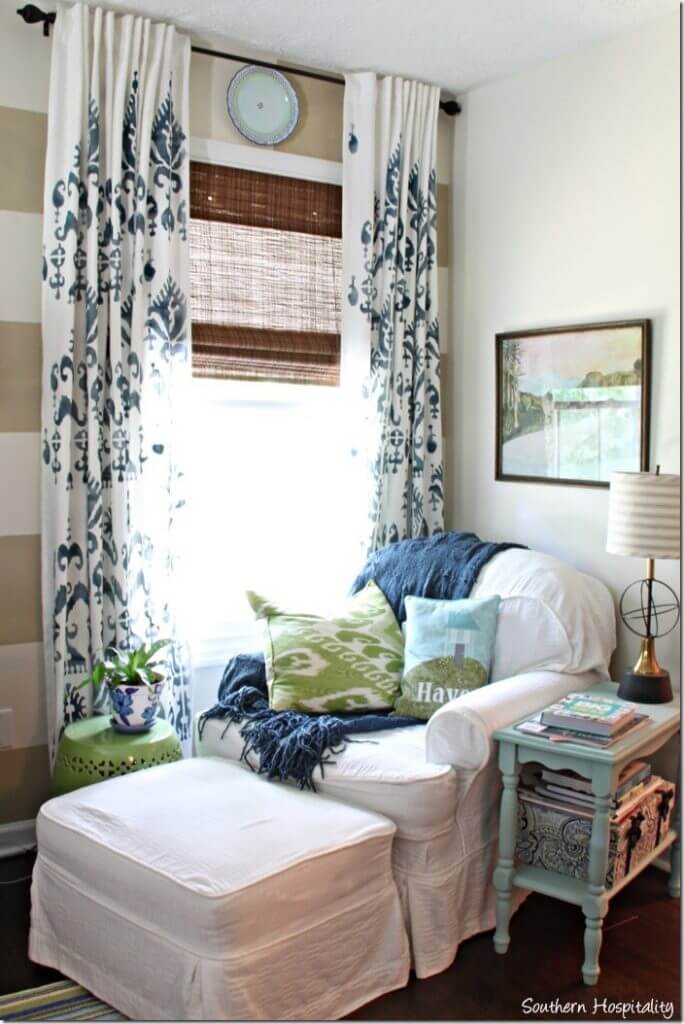 If you've been afraid to try stencils because there is so much room for error, there's no longer a need to worry. The great thing about using stencils on drapes is that they don't need to be perfect. In fact, they very likely won't be, so perfectionists beware. While errors might be a little more noticeable when using stencils in other areas of home decoration, such as on walls, the fact that curtains are usually gathered means that any mistakes will be well-hidden. This cool look makes such a dramatic impression that it is among the very best DIY curtain ideas, so it is well worth trying.
​
​2. Ikea Inspired No-Sew Curtains
​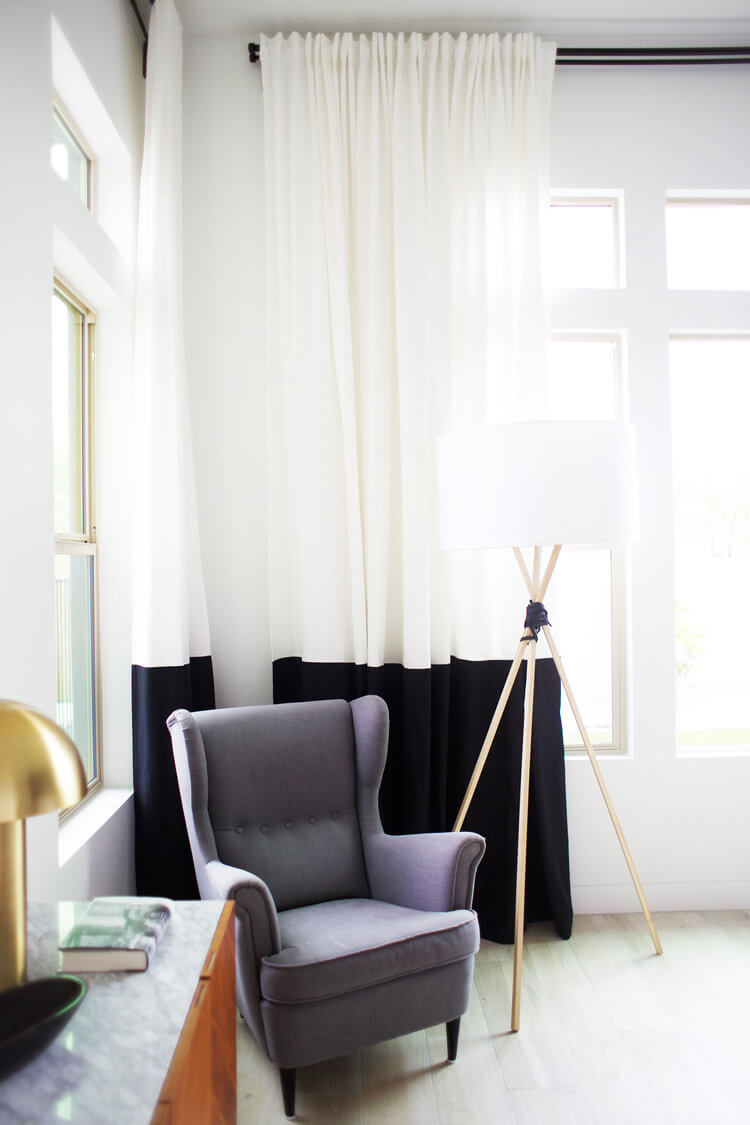 If you don't sew and have a unique enormous window in your home, then you are probably dreading looking for custom window treatments because they're usually so expensive. Well, you can stop worrying, because fusible fabric tape is your new best friend. Using Ikea color block drapes for inspiration, you can just buy enough curtains to cover the width, then attach the complimentary fabric to the length. There is probably no easier way to create a truly stunning effect in home decoration, with just a handful of supplies and a minimal amount of effort. A little measuring, a bit of cutting, get out the fusible fabric tape and you're done!
​3. 5 Seam Easy Sew Curtains
​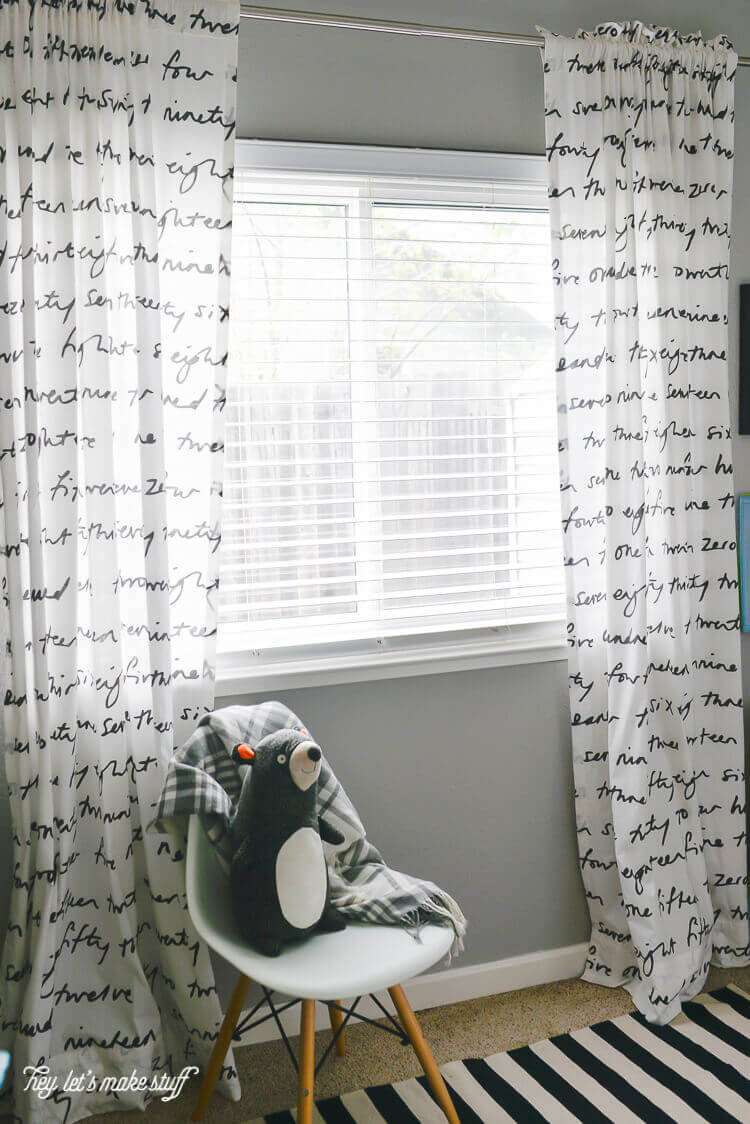 If you can sew even a fairly straight line, then you are already one step ahead in creating homemade curtain projects. Just think about it. Hems, side seams, even rod pockets are all just straight seams. Even better, you don't have to be exactly perfect, in either your measurement or your sewing. Since curtains are most often gathered, there's no way that a slightly uneven hem or ruffled top will be visible to the naked eye. Sticking with simple lines is a great way for even a complete novice to master easy do-it-yourself curtain decor. While it won't be obvious to visitors, you'll probably be happy to take credit for doing it yourself.
​​4. DIY Sliding Glass Door Curtains
​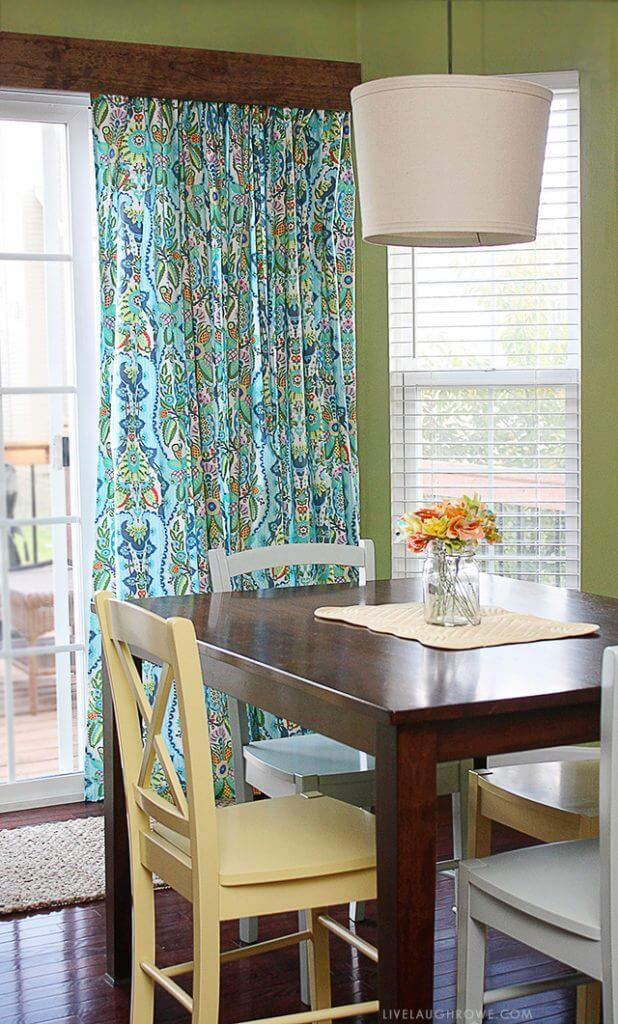 Unless you are an expert sewer, you are probably not going to want to fool with pleated drapes and curtain hooks. It's doubtful that you will even want to make little reinforced holes to pass curtain rings through. For many windows, you will be fine with simply making curtains with a pocket to slide a rod through, but that is not ideal for sliding glass door treatments. You really want to be able to easily slide those large curtains open and closed. And so you can, by simply sewing a straight seam at the top of your curtains and using rings with clips to attach them to the rod. And of course, you can use the clips on regular windows, as well.
​5. Chic DIY Back Tab Curtains
​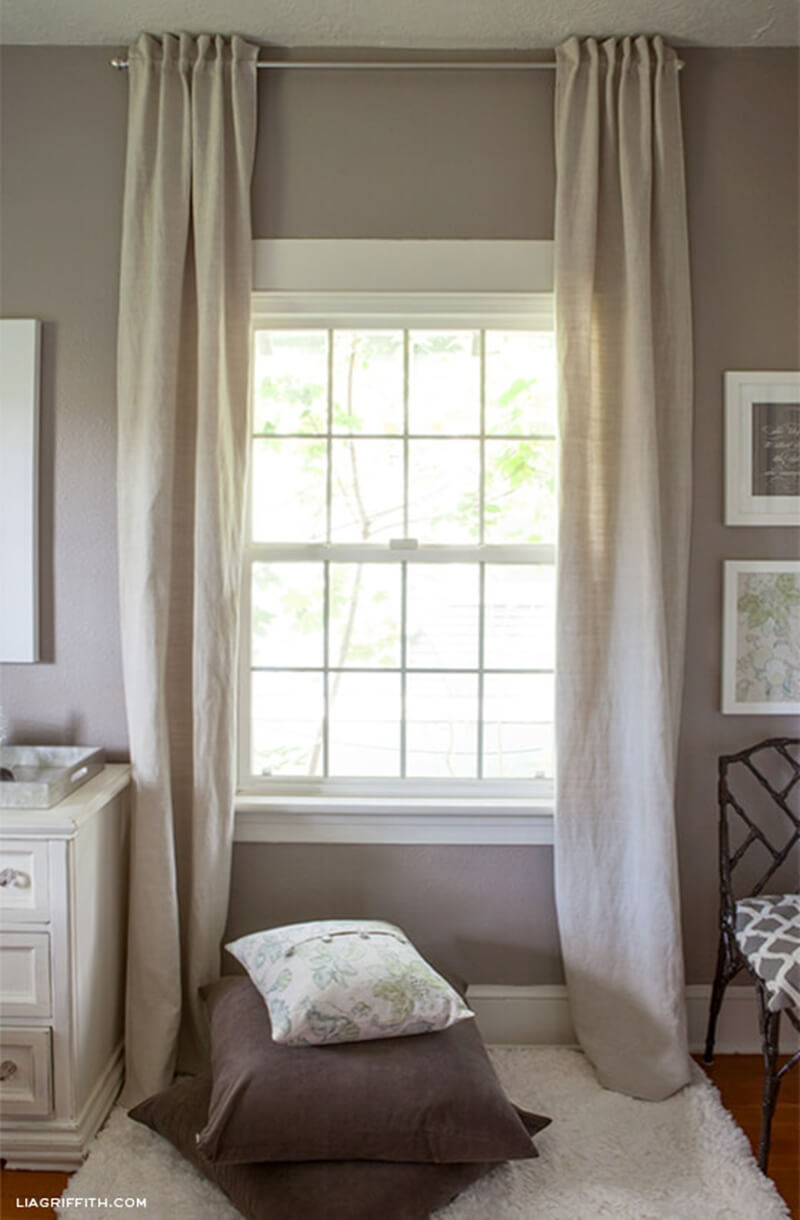 Back tabs are an invisible way to hang curtains that achieves a long, elegant uninterrupted line of fabric. They are also very easy to make because it's a very forgiving method. Since the tabs are out of sight, behind the curtain, they don't show every little error. In fact, they don't show any at all, which is a very good reason to give this a try. This is a particularly good look if you want to hang ceiling to floor drapes, which helps to make the room look and feel larger, even if the top of the window is at normal height.
​6. Contrast Fabric Beaded Droop Valence
​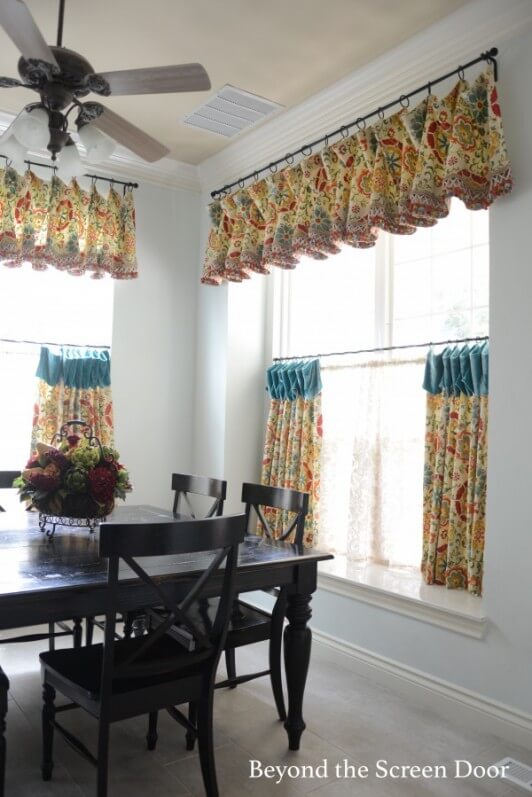 Contrasting fabrics, deep droops, and extra-large rings make this valence a very eye-catching element of home decoration. Add a little trim of hanging beads and you will have definitely leveled up your window treatment game. The best thing about this valence is that it looks far more complex than it actually is to make, you probably won't believe how easy it is to piece this valence together. Yet, it's the kind of décor element that a visitor would immediately assume was made by an expert and chosen by a professional decorator to grace your home. And after all, there's no need whatsoever to disabuse them of that notion, right?
​7. Inexpensive No-Sew Drop Cloth Curtains
​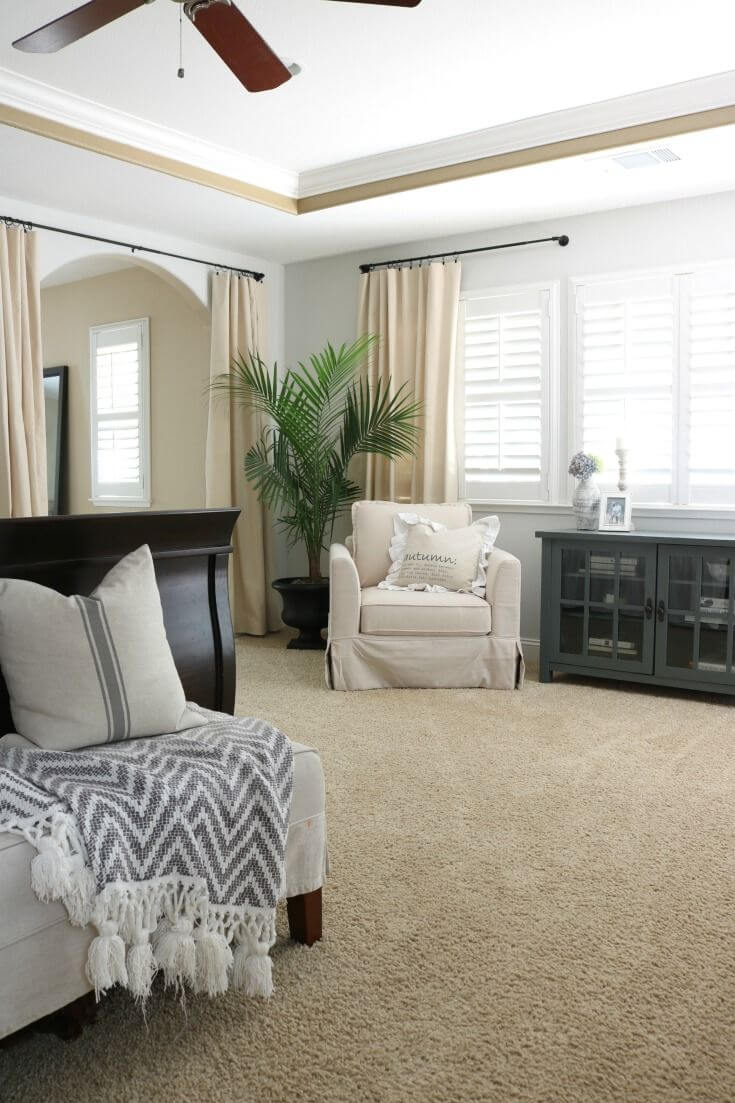 Searching for an easy, inexpensive, dramatically neutral window treatment for your home? You need to look no further than drop cloth curtains. These are No-Sew drapes, so you don't need a sewing machine or to know how to sew. You can even skip the step of using a glue gun to make the hems. You can just leave the existing hem and fold over the top, then use curtain clips to hang them. This is one of the easiest and least expensive window treatments you can make, but it can totally transform the look of a room. You'd be hard put to find a better value for your dollar.
​​8. Charming Yarn and Felt Curtain Accents
​
Hanging multi-colored balls of felt and braids of yarn from a tension rod that can be easily put up and taken down has a multitude of possibilities. You can certainly choose them to match the decor of your room. But this is also a very artistic opportunity to reflect the changing seasons or holidays. The supplies cost only a ridiculously small amount, you might actually already have much of it on hand, and it doesn't take long at all to assemble the pieces into quite a dramatic look. Rarely is it possible to achieve so much impact at so little cost in funds, time, or effort. What an awesome idea!
​9. Simply Magnificent Macrame Kitchen Curtains
​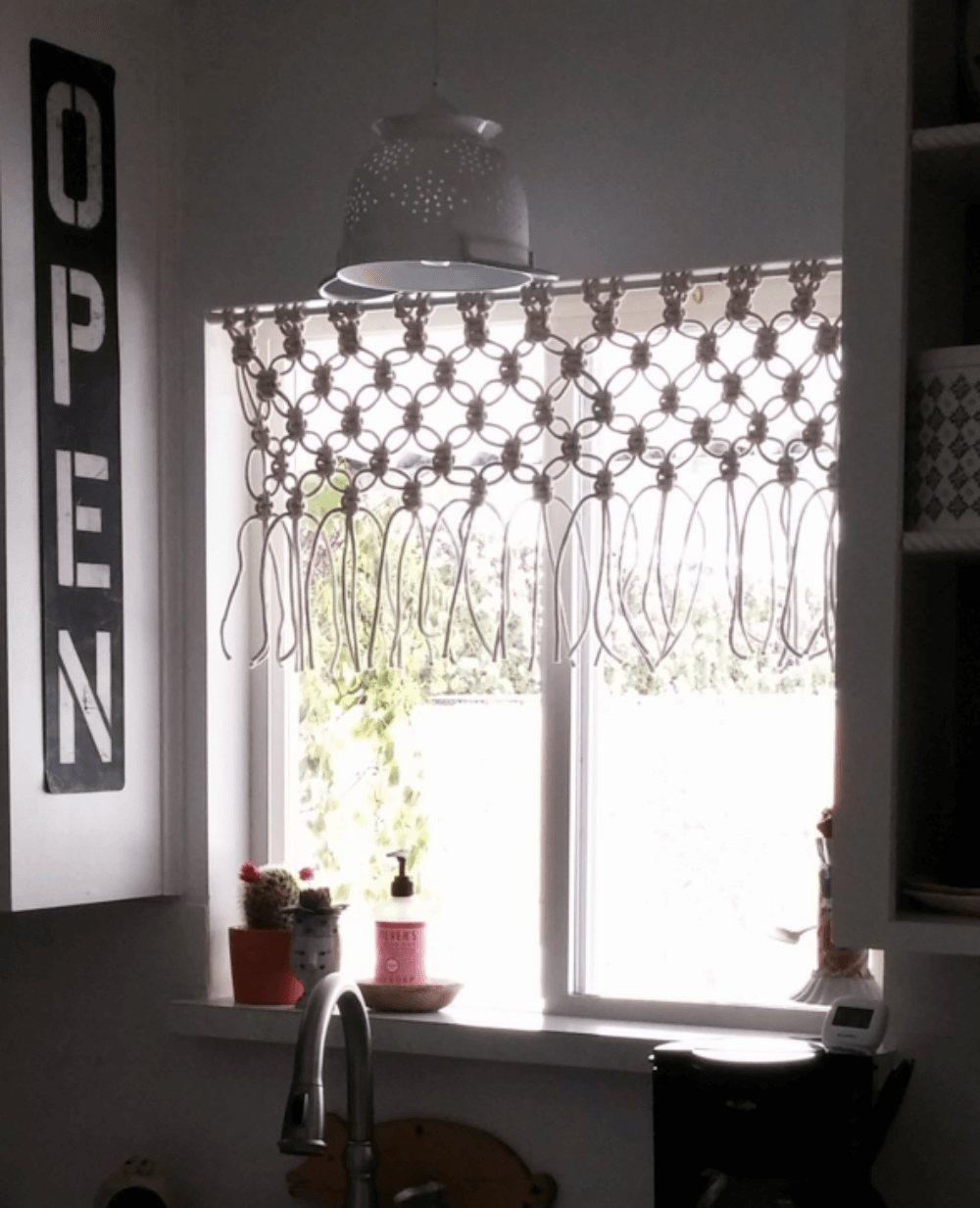 Start with cotton clothesline rope, dowel or tension rod, scissors, and measuring tape, then it's all about tying knots for an absolutely breathtaking result. Just five rows of knots, then trim the rope to the length you like. This dramatic look can certainly be used to great effect in other rooms besides the kitchen. It's a great window treatment for a window where you want something for decor purposes but doesn't want to block out the light or the view.
​10. No-Sew Curtain Panels for Large Windows
​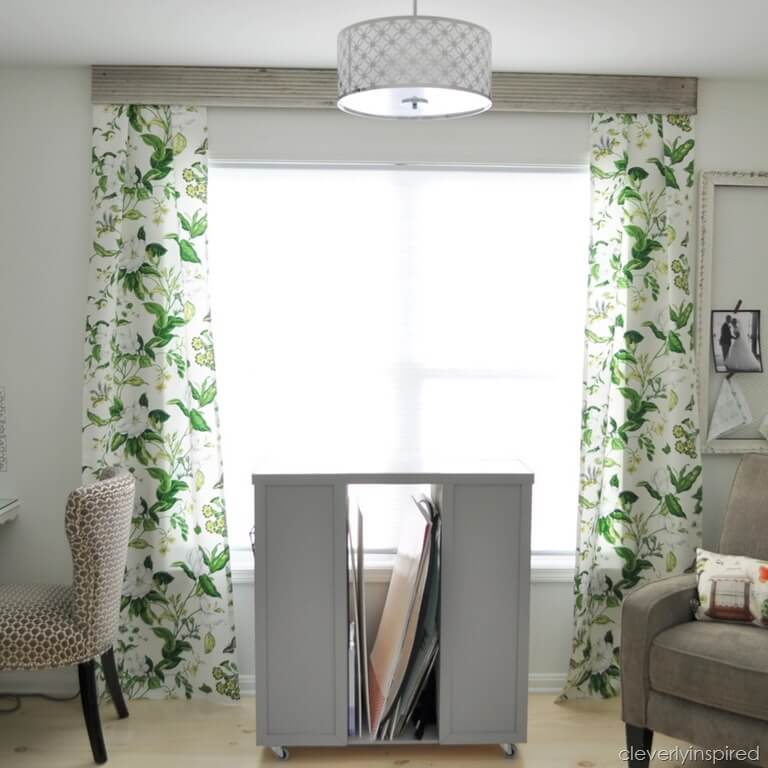 Sometimes, all you need to make a significant difference on a large window are panels at each end. So there's no reason to splurge out on covering the entire window if you don't have to. If the window faces a private yard, for instance, you just need side panels for effect. Or if you already have blinds or a shade installed, you only want to add a little style. Believe it or not, you can just cut, iron, use a tiny bit of fabric glue, pinking shears, and a staple gun to provide all the distinction you could ask for.
​
​11. Roman Blinds With Removable Rods
​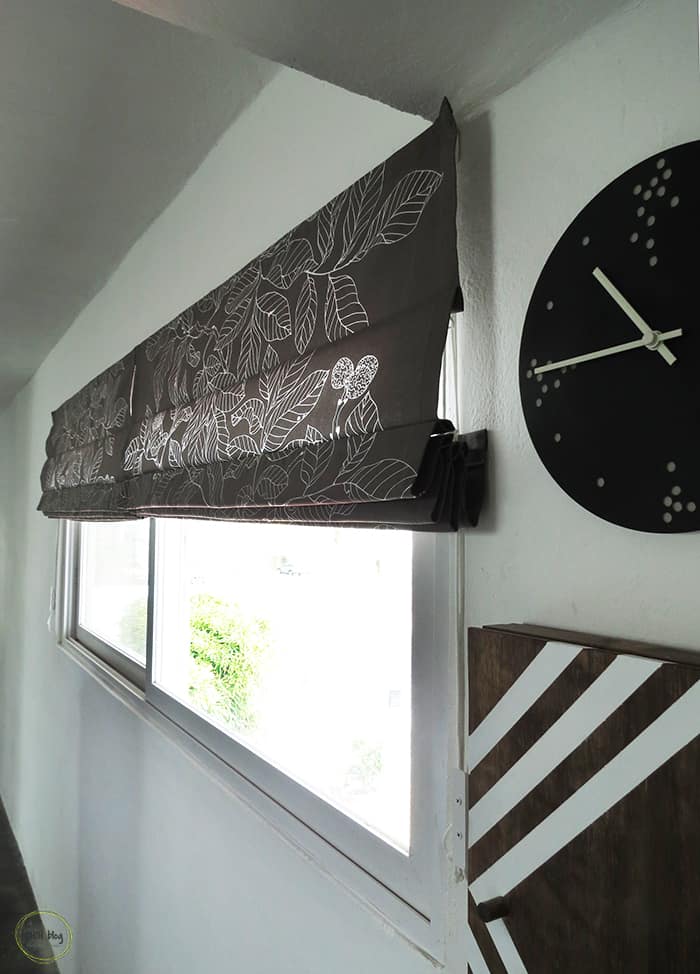 It's much easier than you might expect to make Roman blinds that you can actually raise and lower. An extra benefit is that you can use Velcro to create all of the rod pockets so that the blinds are removable. That will allow you to take them down and wash them. In fact, washing the fabric before you start is a good idea, so that you don't have to worry about the blinds shrinking after all of your careful measuring and cutting. Great leeway in dowel placement. Don't worry about the blind cord, there's no complicated mechanism, just a series of rings that are sewn out of sight so you don't have to worry about how they look.
​12. Leather Strapped Wooden Curtain Rods
​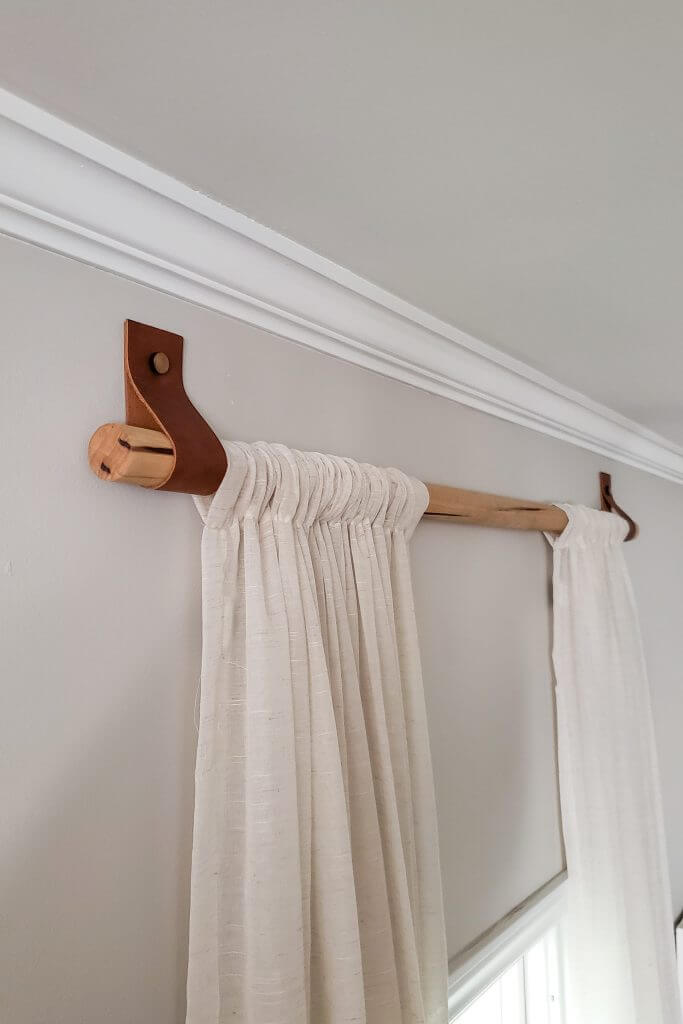 A smooth, elegant look isn't always the decor accent that you are looking for. Now you can create a dramatic effect of wood and leather for your window that looks so much more professional and expensive than you can imagine homemade curtain projects can achieve. Release your creativity with stains or paint, using metal poles for an industrial take or finials for a bit of extra flair. Even the nail heads allow you to display a bit of individuality. There's no end to the different ways you can work with this DIY to create a unique look at a very low cost.
​13. Low-Cost No-Sew Farmhouse Curtains
​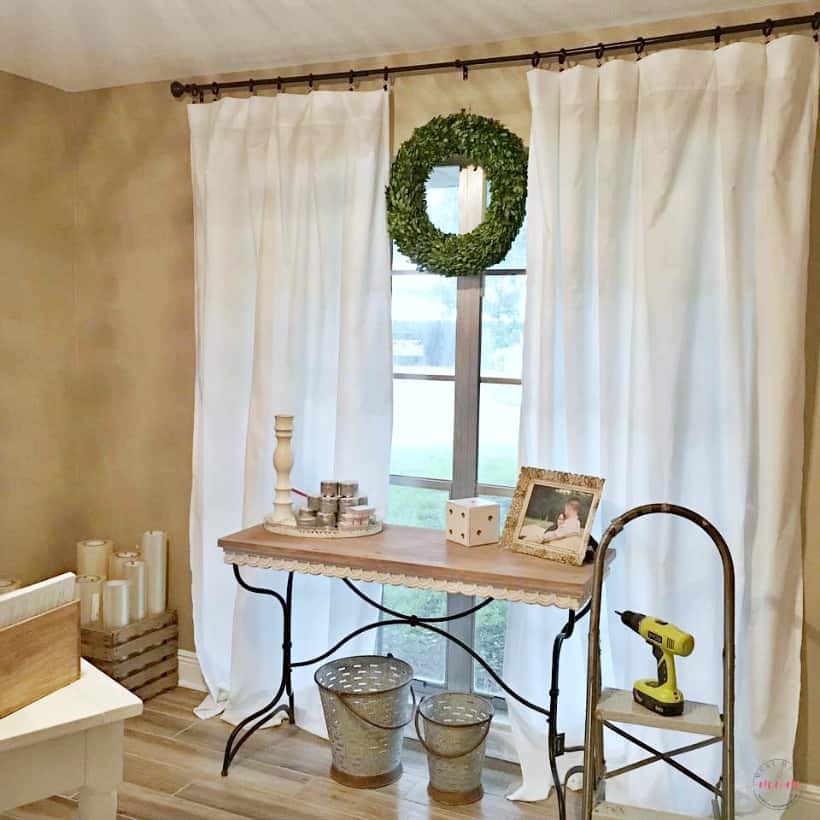 If you've been longing for farmhouse style curtains but surprised at just how pricey they can be, there's no need to despair any longer. For just a few dollars, you can use twin flat sheets, clip some curtain rings to them and hang them on rods that might already be installed. Anything you need can be ordered online, so you have a practically endless choice of looks and prices to work with. For easy do-it-yourself curtain décor, it's hard to beat Farmhouse curtains. It's hard to see how anyone would have a difficult time putting these together, and they can be made to fit any budget at all.
​14. Curtains to Hide a Bi-Fold Track
​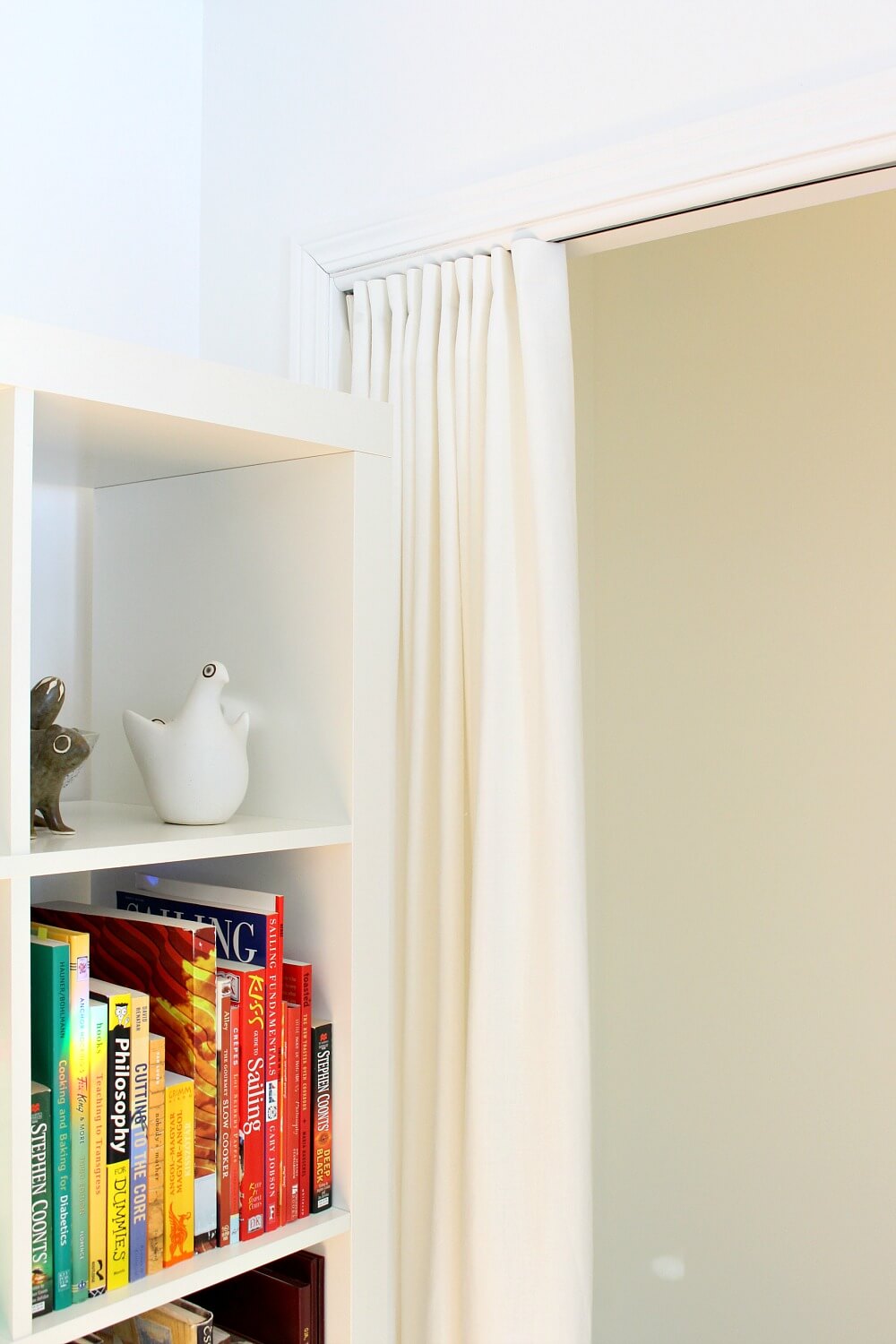 There are all kinds of reasons why you might want to remove the doors of a closet – they might be broken, or just unsightly. Or maybe you need just the little bit of extra space that removing them would give you. The only problem is that hanging curtains in doorways can often be a little hard to pull off in a way that is both practical and stylish. So one of the best DIY curtain ideas ever is to replace bifold closet doors with curtains in a way that doesn't look like a dorm room fix. That means hiding the bi-fold track, and that is both easier and less expensive than you might suppose.
​15. Easy Blackout Liners for Curtains
​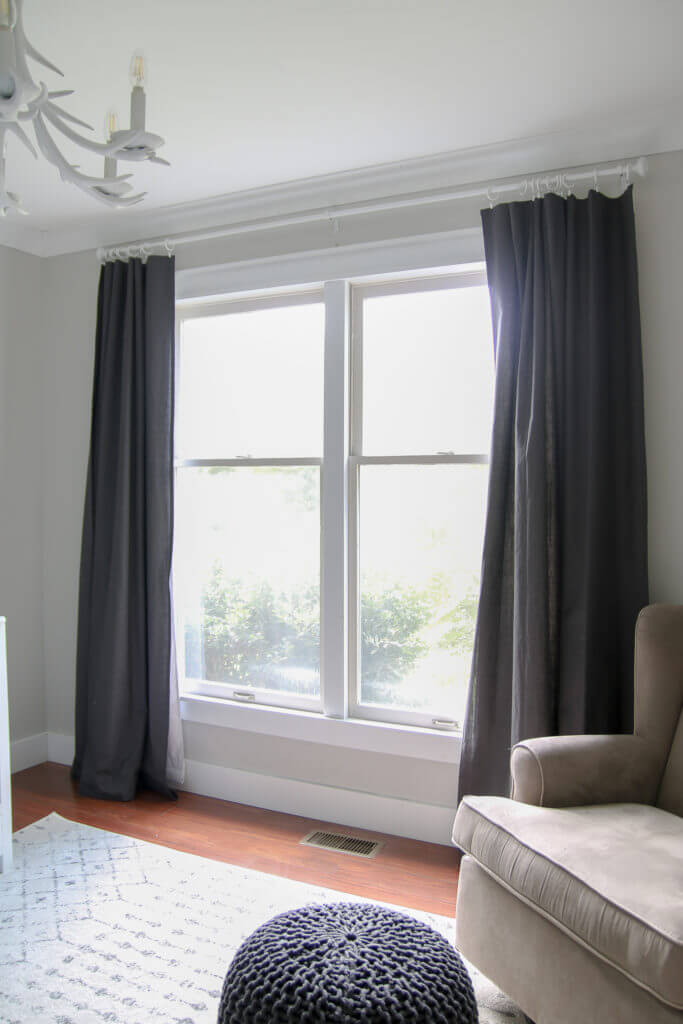 It's a common problem: you desperately need sleep, but your favorite curtains are letting in too much light. You don't want to replace them, certainly not with expensive blackout drapes, so what is the alternative? You'll love hearing the answer because it's the easiest thing in the world to add a blackout curtain liner panels to your existing curtains. You can find them at amazingly low prices, online or at discount stores, then it is ridiculously simple to attach them with fabric fuse tape. So now you can keep your beloved curtains and still be able to sleep at night.
​16. Elegantly Simple No-Sew Cafe Curtains
​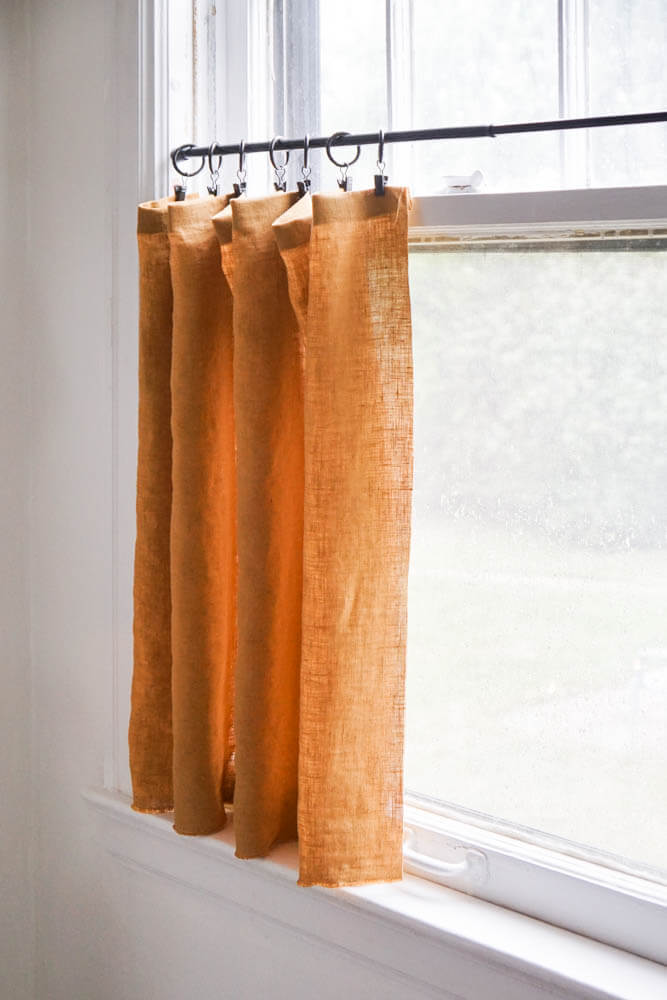 Kitchens, bathrooms, and laundry rooms are all perfect places for a lovely set of cafe curtains. If you've been drooling over some of the more luxurious examples, but don't want to deal with the sticker shock, then you can just use all of those photos for inspiration and easily create your own. There's no need to be an expert sewer, or even know how to sew at all. Because No-Sew cafe curtains don't require you to even look at a sewing machine. An iron, some hem tape, ring clips, and a tension rod will get you well on the way to creating whatever look you like best.
​17. Cool Dish Towel Cafe Curtains
​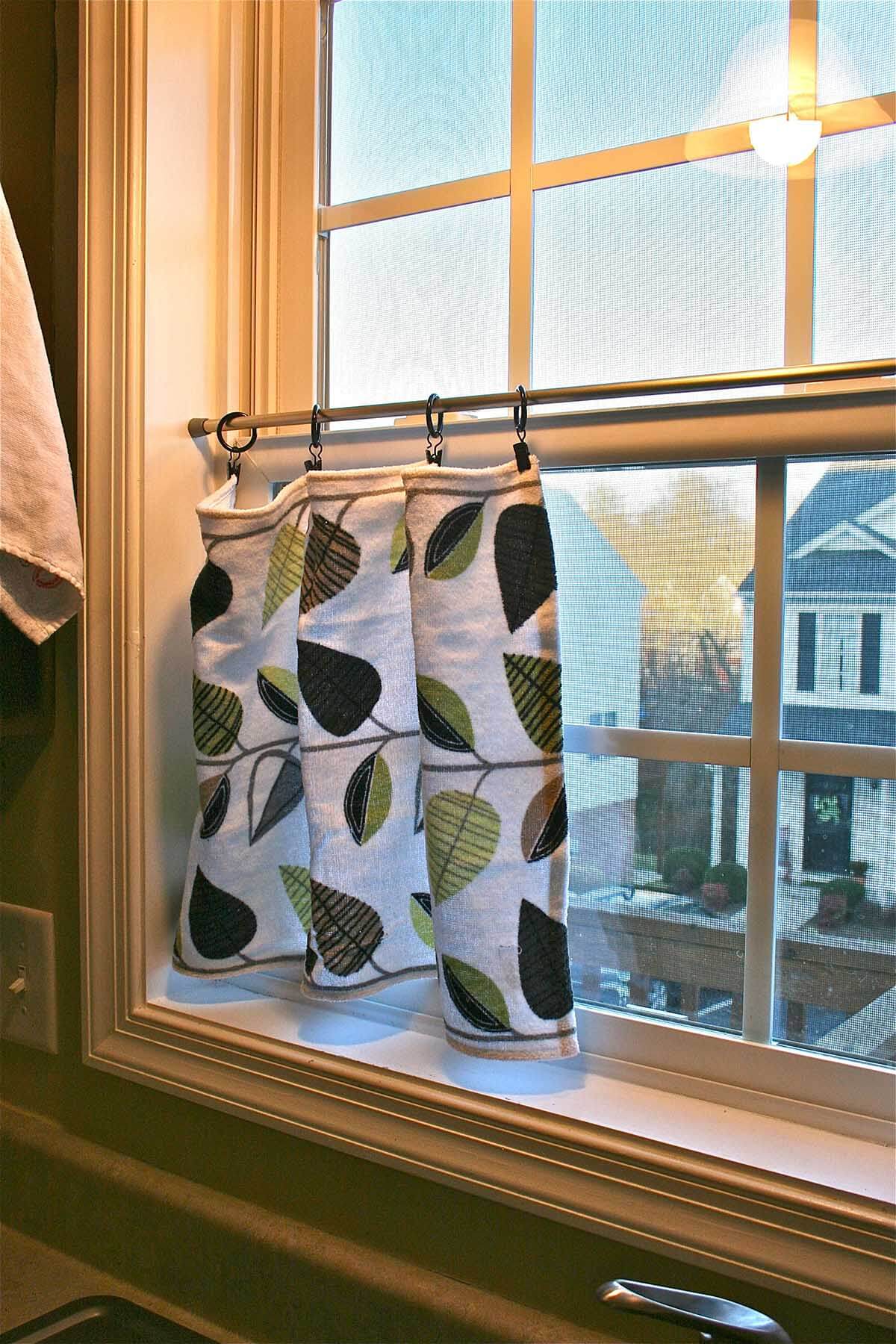 If you don't want to bother even with glue guns or fusion tape, when creating cafe curtains for your kitchen, then you need a fabric that is already the right length and hems on all sides. Since kitchen windows commonly need curtains that are about 18 inches long, and dish towels often come in 16-inch lengths, then all you have to do is clip curtain rings to them and hang them on a tension rod. How easy is that? To really stretch the budget, just find towels you like that are being sold on clearance, and you will be gasping at just how little this easy decoration with curtains will cost.
​18. Effortlessly Attractive No-Sew Privacy Curtains
​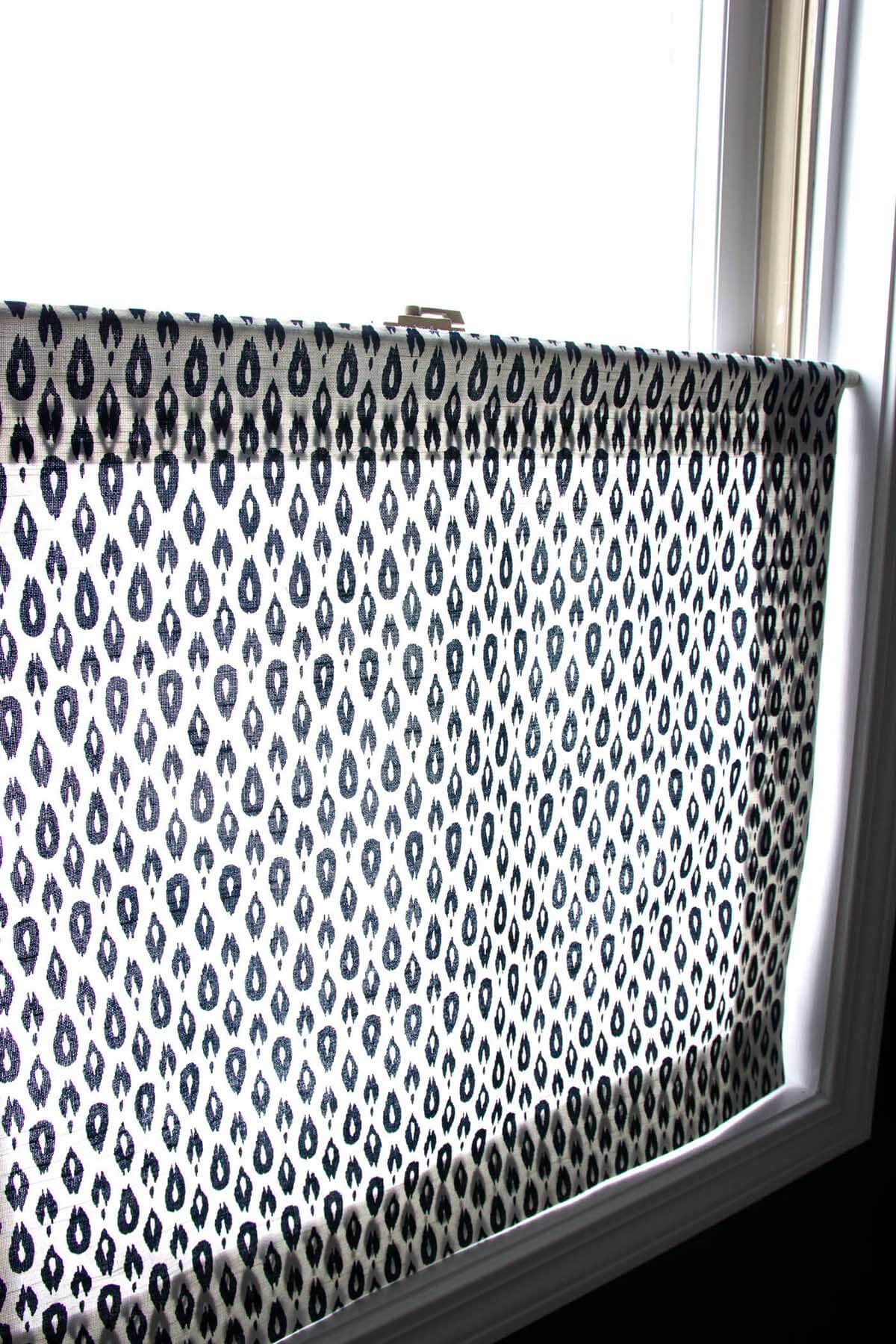 When the need for privacy arises, you sometimes need to apply a quick fix to windows in places like bathrooms. But that doesn't mean you have to nail curtains to the wall while you find the time and funds for a better solution. Nope, all you need is some attractive fabric – usually not much, either, if this is for a bathroom window – and either fabric glue or fusion tape. Because it's a quick and simple matter to fold over the unfinished sides, then the bottom and top for a hem and rod pocket. Slide that onto a tension rod, and you're good to go.
​19. Kids No-Sew Drop Cloth Curtains
​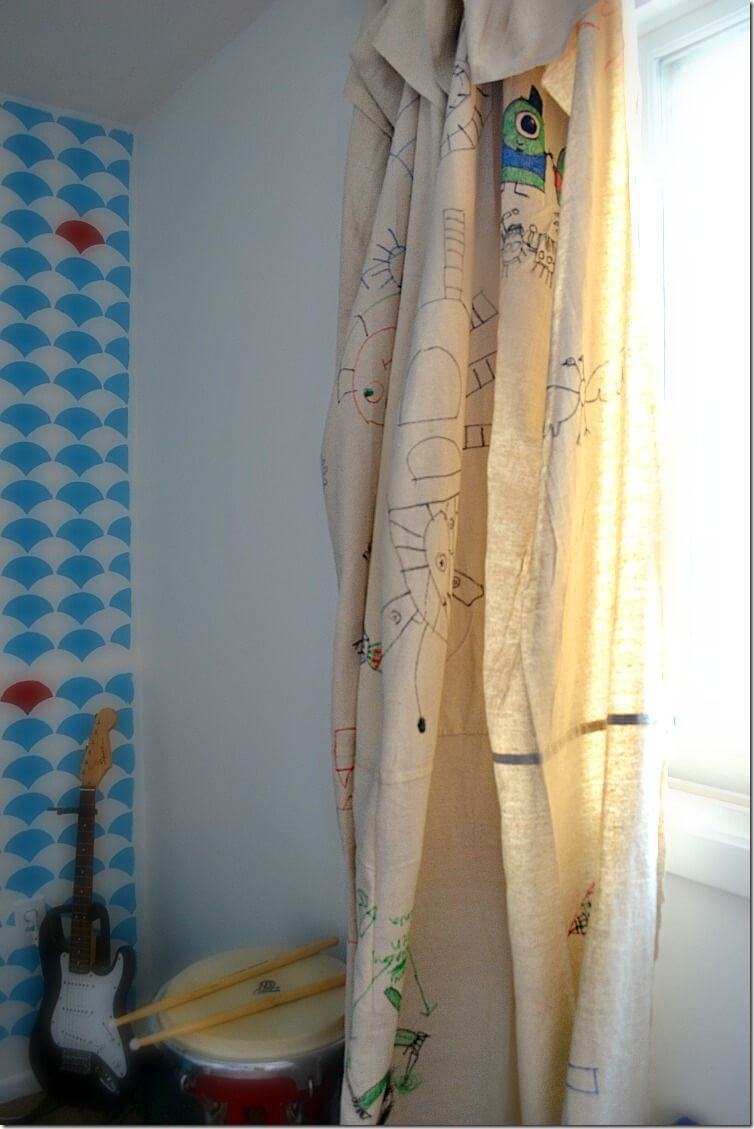 Drop cloths have to be at the top of the list of easy do-it-yourself curtain décor. First, you can find them easily at any home improvement store at the most affordable prices. But, better yet, all of the sides are already finished. That means No-Sewing is required! At least, as long as you can figure out a style that tailors the drop cloth to the size of your window – but there are so many ways of doing that, you won't have any problems finding inspiration with just a little bit of looking. But one of the best DIY curtain ideas for a kid's room is letting them doodle on the drop cloth with fabric paint sharpies before hanging.
​20. No-Sew Sheets and Drop Cloths Curtains
​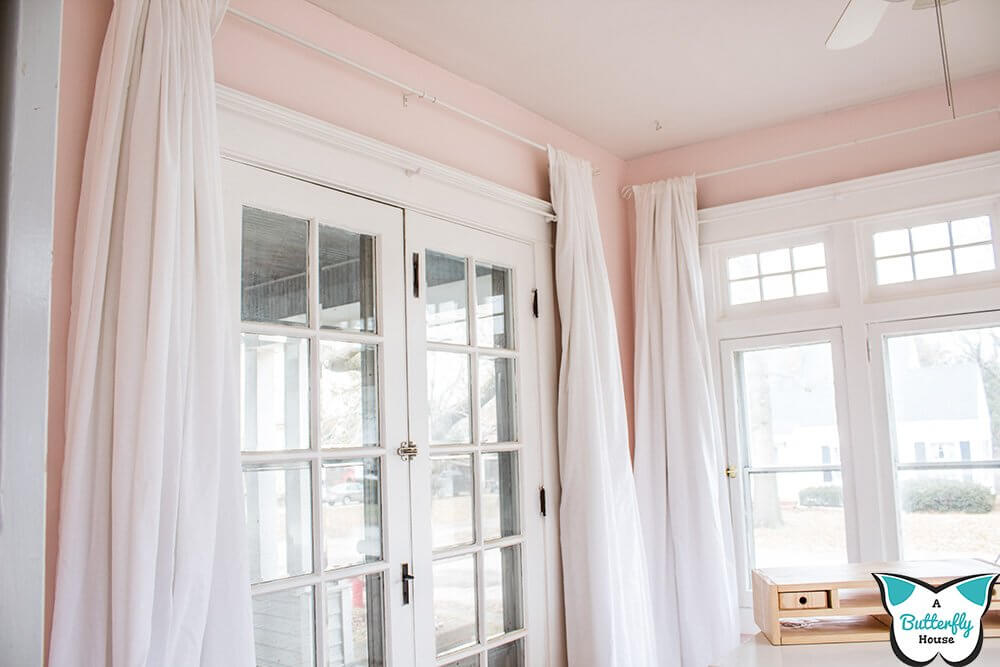 If you have a lot of really long windows that need covering, and you can't – or don't want to – get out a sewing machine, then a little ingenuity is required to cover them in a way that is both affordable and attractive. Drop cloths are a great way to add privacy to your windows since they have a thickness that isn't generally found in less expensive fabrics. However, they tend to shrink after a wash and dry, so they aren't always the best solution for larger windows. But all you need to do is attach a coordinating sheet with binder clips, and there is your problem solved!
​21. Quick and Easy Burlap Curtains
​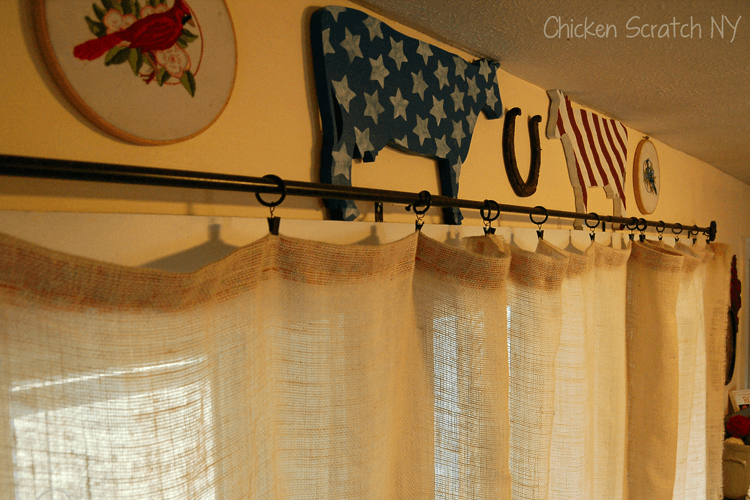 You can buy burlap panels at the fabric store with selvages on both sides. That means all you have to worry about is the hem and the top of your curtains. And, actually, you don't even have to worry about the hem if you just let the drapes pool on the floor – though keep in mind that this may not be possible with pets. It's super easy to just clip curtain rings to the top of your drapes in order to hang them on a rod, but burlap is such a loose weave that this may produce undesirable results without adding a simple extra step. Just leave enough extra fabric to fold over a ribbon and the clips will have something solid to grab onto.
​22. Eye-Catching No-Sew Cornice Boards
​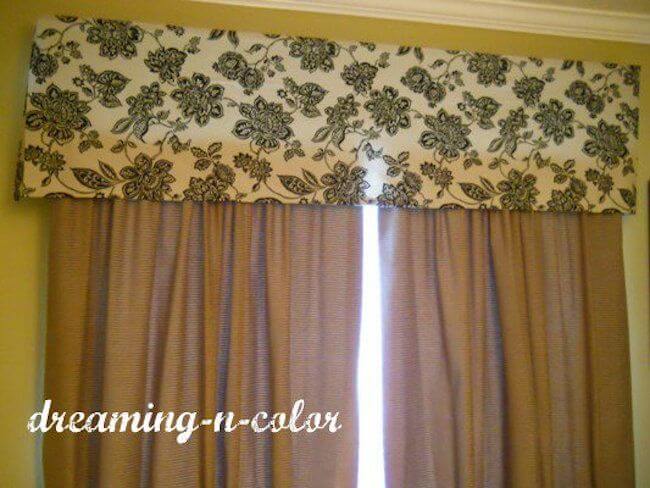 That's right. No-Sew cornices are a thing, and a very desirable thing, at that. After all, who needs a professional upholsterer when you can simply use a staple gun to attach the fabric to a board that your local home improvement store will be happy to cut to your specifications. Also, if your cornice boards aren't too big, you can splurge a little on fabric that both complements and contrasts with your drapes…or not. Because, again, since cornice boards don't require nearly as much fabric as curtains, remnants are an option, as well. And, remember, you can make more than one cornice board and just switch them out with the seasons.
​23. No-Sew Curtains With Built-In Valence
​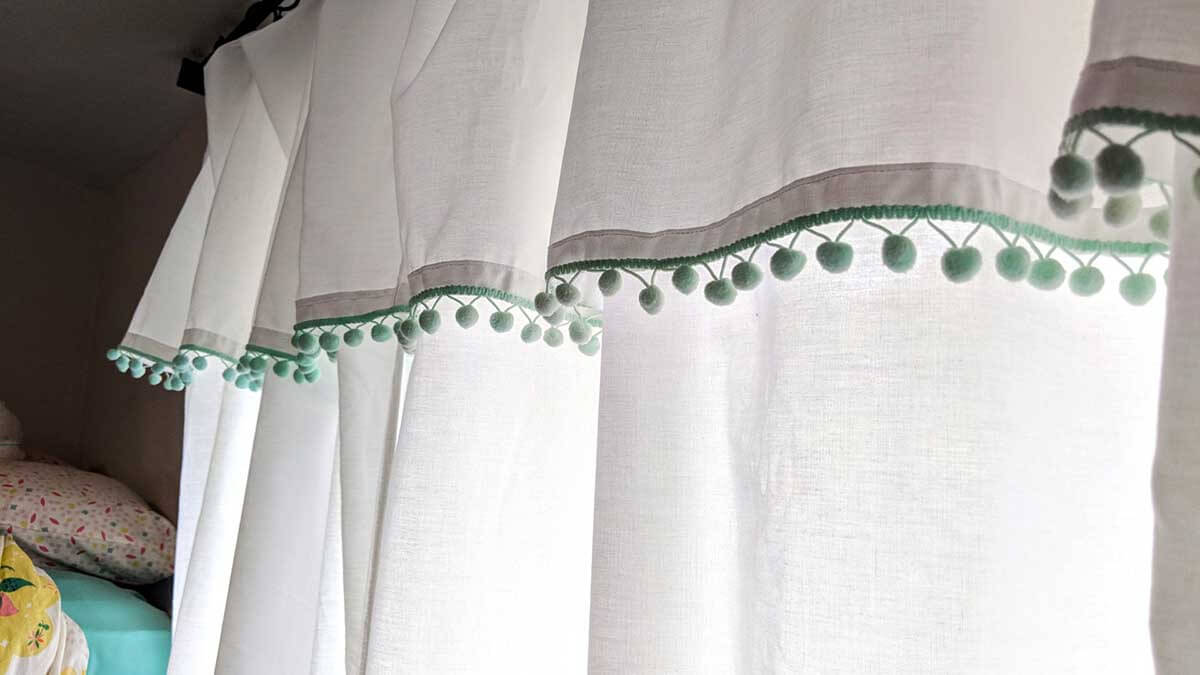 It's astonishing how much very basic looking curtains can cost from big-name stores. But it's even more astonishing at how quick and easy you can make something that looks just as good, or even better, at an outrageously low price. A couple of flat-twin sheets, several yards of fringe trim, and some fabric glue are all you need to recreate a look that costs literally hundreds of dollars. And you can do it in less than half an hour. That is an unbeatable combination of easy do-it-yourself curtain decor. A simple black and white curtain and rod pairing make for a clean boho look, but your style options are only limited by the sheets and rods available within your budget.
​24. Vintage Pillowcase as Cafe Curtain
​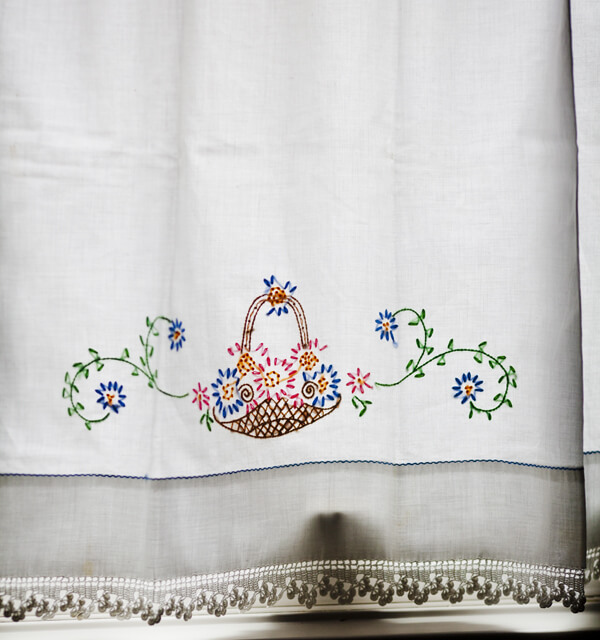 While it's true that sheets and drop cloths are an excellent way to create easy decoration with curtains, pillowcases are even easier to handle because of their small size. And that size is particularly suited to cafe curtains. Pillowcases are often less expensive to use as curtains due to the small amount of fabric involved. Many people have odd pillowcases leftover from older sheet sets, or vintage ones that have been passed down through the family. But even if you want to buy brand new ones, they will cost far less than the matching sheets would. Then all you need to do is cut them to fit, and hang on a tension rod. This is a truly awesome idea.
​​24 of the Prettiest DIY Curtain Ideas Anyone Can Make
​
​Let your imagination run wild.
Window treatments alone can transform your home into the living space of your dreams. Easy do-it-yourself curtain decor means that absolutely no skills whatsoever are required. Now that you are armed with 24 of the best DIY curtain ideas we can find, there is no reason why your homemade curtain projects can't boost the style of your windows, even on the strictest budgets. Even if you feel slightly lacking in creativity, just look around to find inspiration, then give it your best shot.