If you need a fresh workspace in your home, it's likely that you have considered making a DIY desk. The project doesn't have to be intimidating. There are many good methods of constructing a DIY desk that are simple enough for the beginner and won't break the bank when it comes to materials.
25+ Simple DIY Desk Ideas for a More Effective Workspace

Many of these desks would fit in the rustic or farmhouse home. There are several others with 1950s style modern design and others still with an industrial vibe. Some of the desks are constructed with metal plumbing pipe and others with shiny copper pipe.
Most of these desks combine practicality with a solid sense of style. Drawers are harder to make, but pull-out baskets or crates can take their place for the less experienced woodworker.
These desks use space creatively. One example shows how to convert an unused closet into a desk area. Another design tucks a desk into an alcove, utilizing wasted space. A desk is set at bar height in another room, giving a trendy but practical look.
Use our 29 inventive DIY desk ideas to transform your work space and bring a sense of updated style to your home.
1. Easy Desk with Shelves Underneath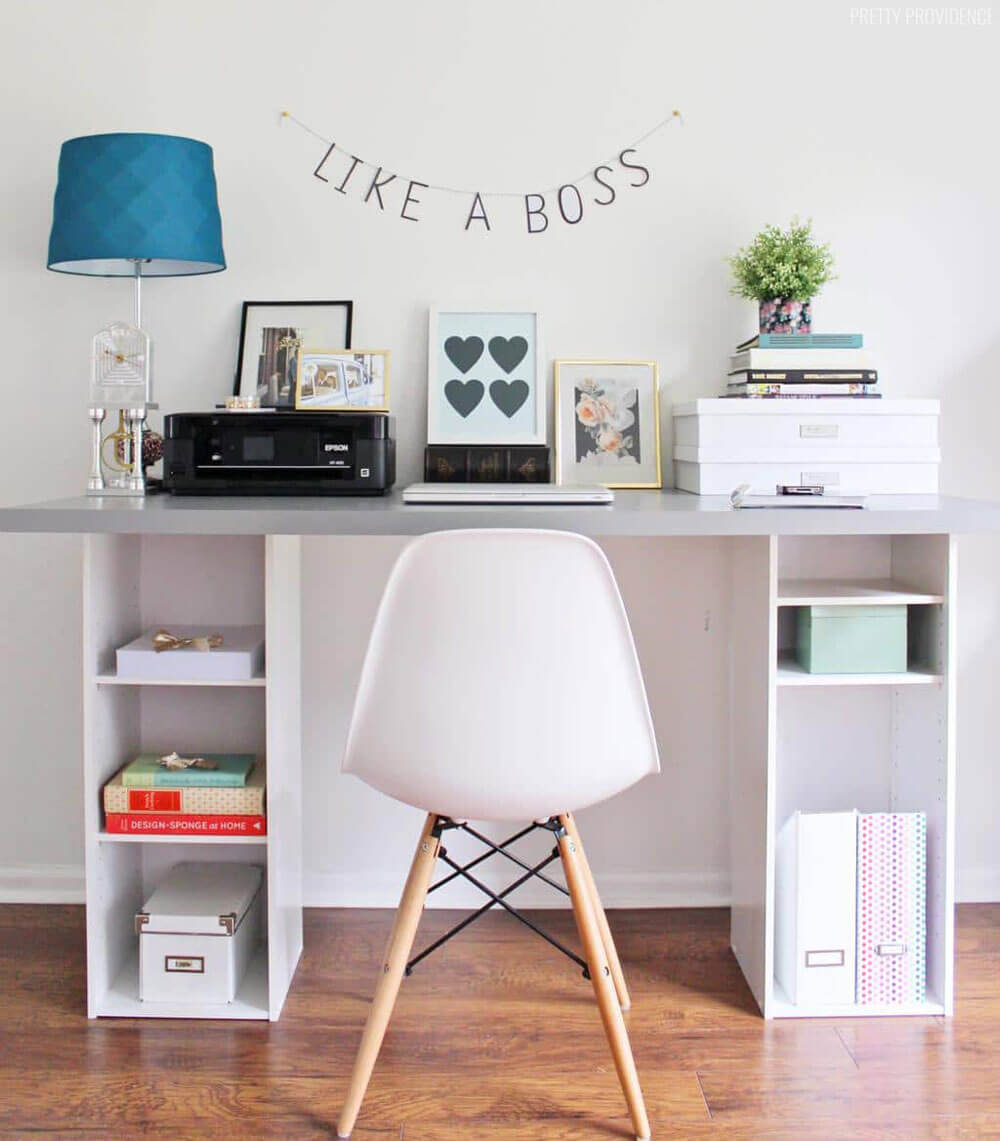 No matter what work you're doing, having everything you need within arm's reach is a bonus anyone would love. So, consider adding in some shelves to either side of your desk. Keeping them low means you still have room everywhere else to do your work while having all your items organized in their own spots.
2. Rustic L Shaped Double X Desk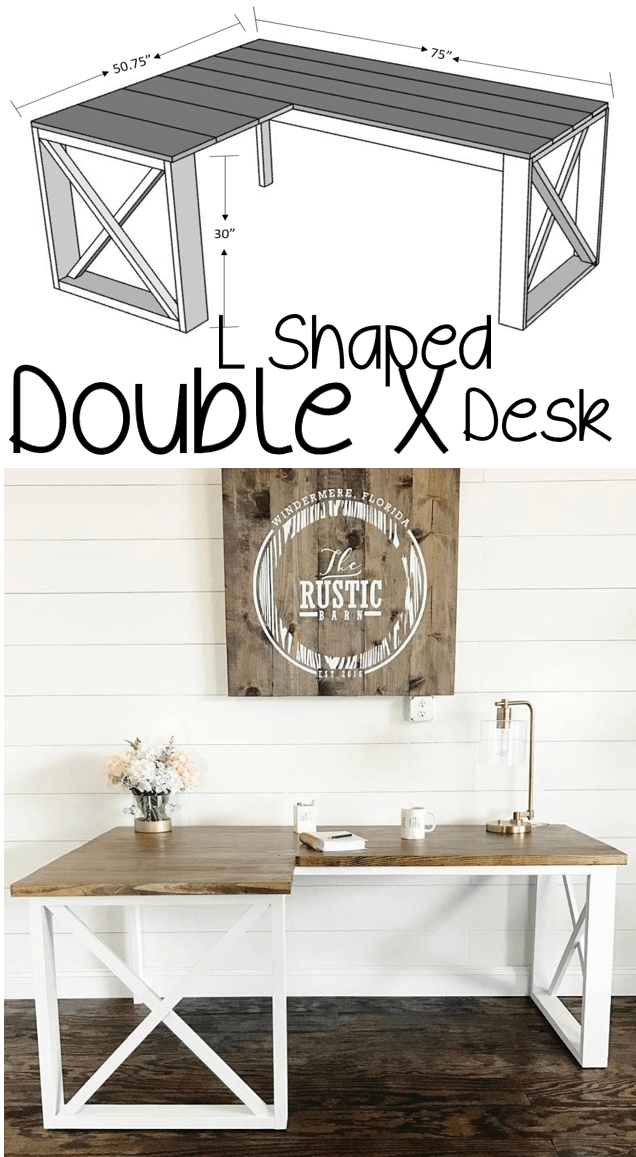 You can create a lovely l shaped desk with a wooden top that gives off an incredible rustic feel. The wood looks smooth, giving you a comfortable working space. Meanwhile, the white lower half of the desk contrasts with the darker top portion, creating this beautiful cottage-like appearance so that the desk is both functional and serves as décor in the room.
3. Make Your Own Desk with Sawhorses

You can transform other items into an awesome DIY desk, upcycling things you may have used for something else. The sawhorses work out exceptionally well here as they not only help build a rather handy desk, but they also lean into this industrial-like theme. It's perfect to allow you to create a particular sort of mood with your office décor.
4. Glossy White and Golden Desk with Simplicity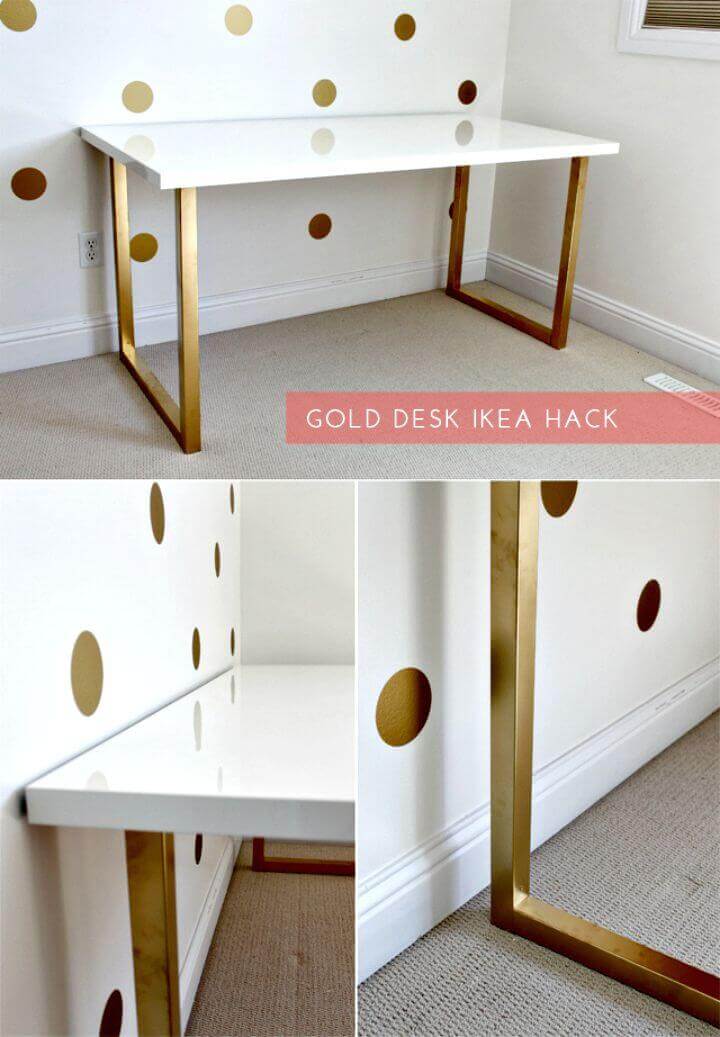 IKEA hacks are always fun to try out, and this desk is no different. It's the perfect desk for those of you who want something that is simplistic yet still has a contemporary touch to it. The golden legs effortlessly stand out in the end while the glossy surface gives the desk a hint of sophistication that makes it more appealing.
5. Simple Desk with File Cabinets and Top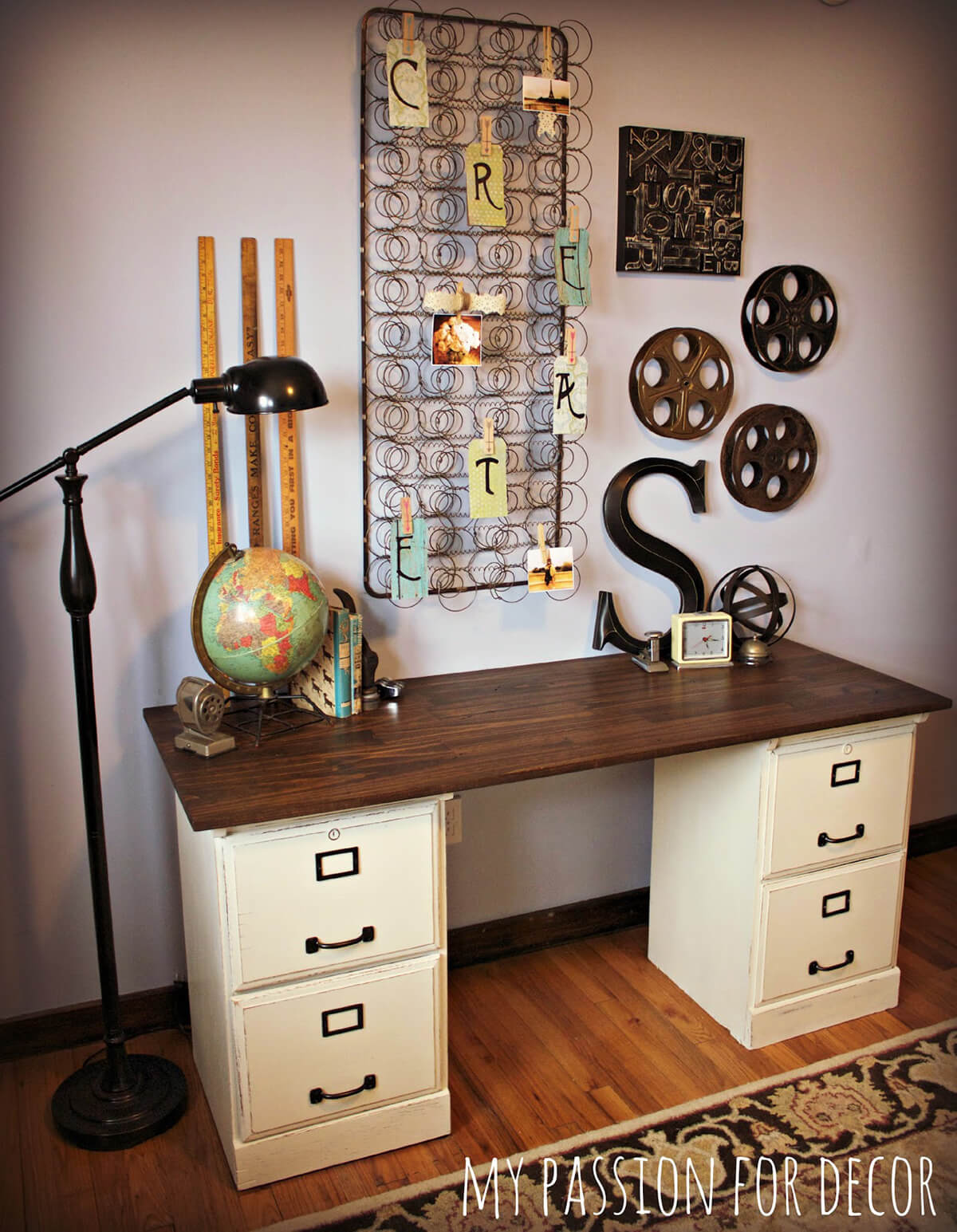 There's no need to buy a desk when you can just as easily upcycle some items around your house to create a beautiful one. This project helps you breathe new life into some file cabinets, and with a simple wooden board, you are left with a reliable desk piece to put up in your office.
6. DIY Plywood Desk with Metal Legs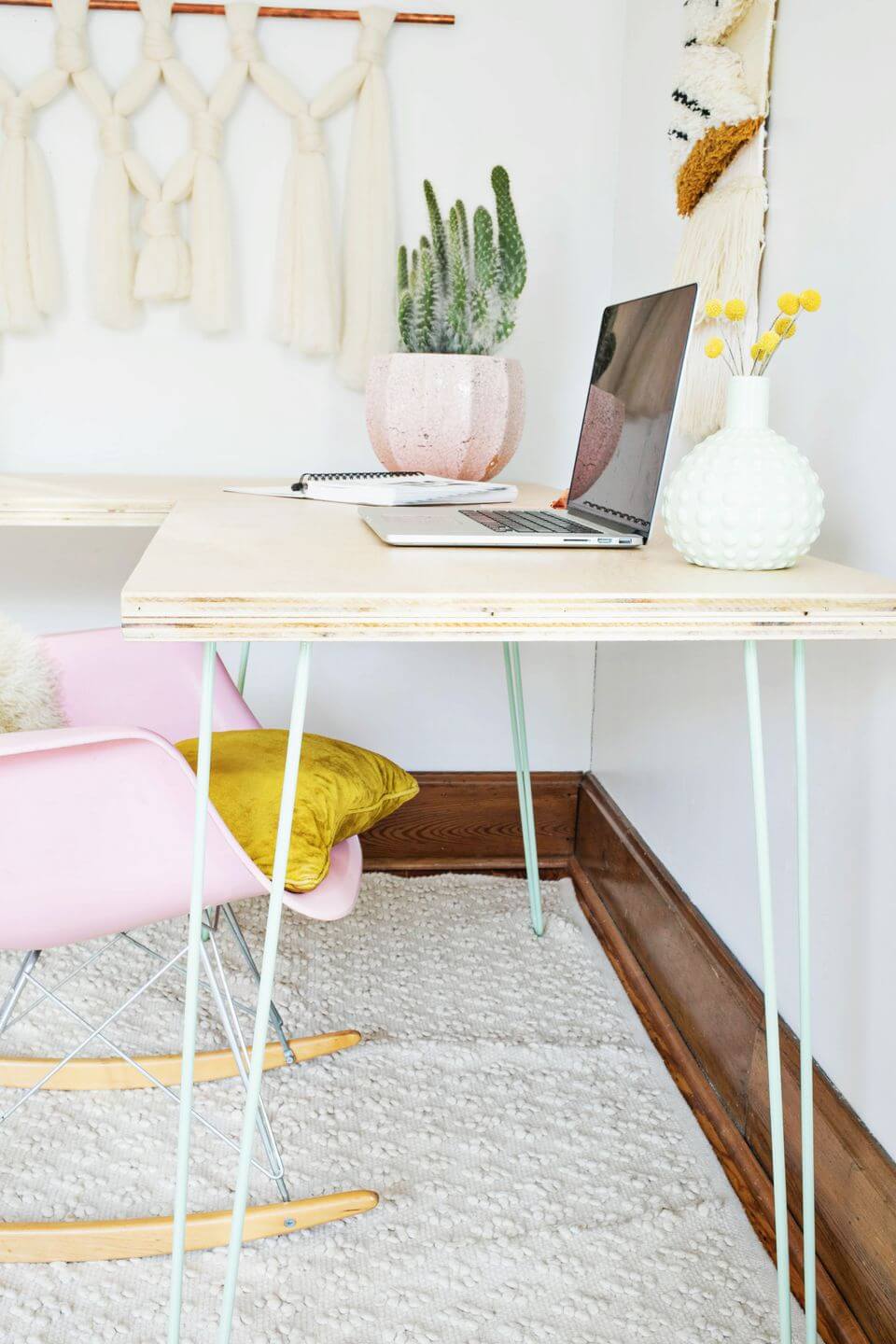 There's always some good use you can find with a simple sheet of plywood. Take this desk, for example, that has the wood in its natural state while still leaving a lasting impact. It frees you up to decorate as you see fit to add your personality to the desk. Meanwhile, the metal legs aren't just useful, but they stand out well against the lighter wooden top.
8. Potting Bench Style Desk with Distressed Wood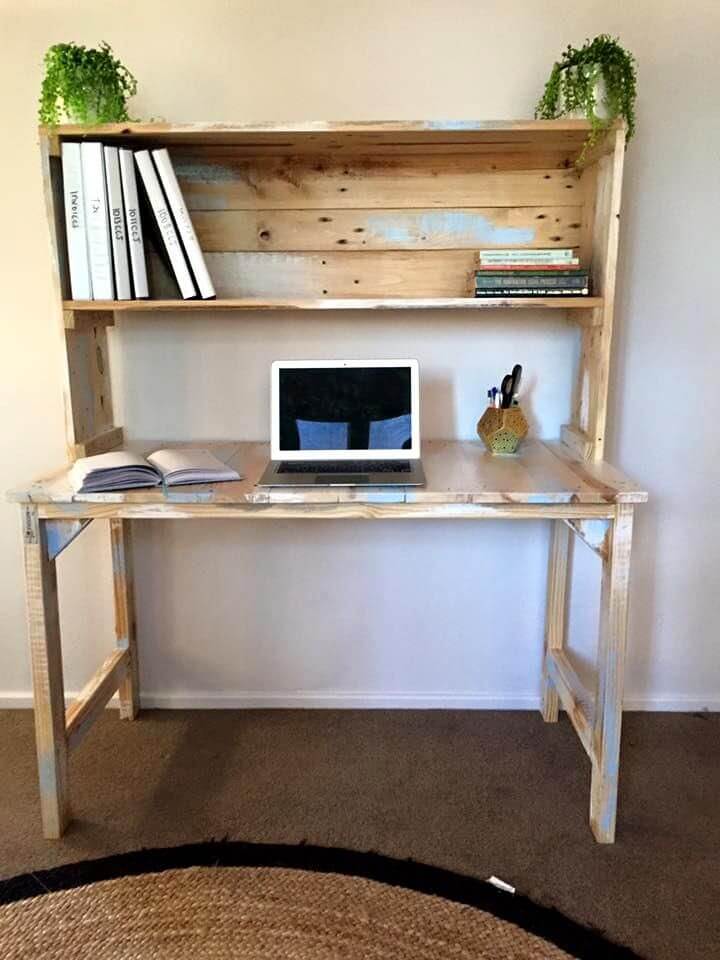 Destressed wood is such an attractive go-to when you want something rustic or vintage in the room. The bench style appearance of this is equal parts stunning and functional as you are given plenty of space for extra storage. It is a rather nice size too so you can use this as a standing desk if you wish.
9. Sawhorse Desk with Clear Glass Top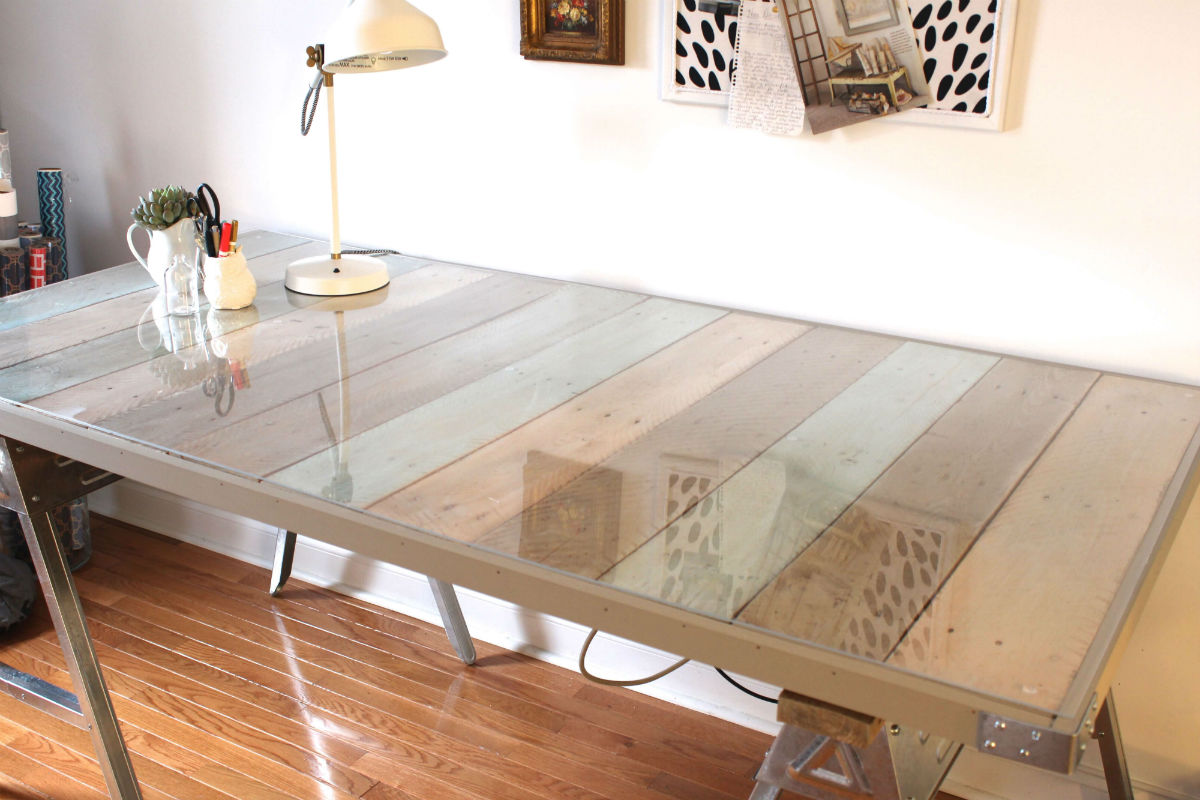 Just because you are creating a sawhorse desk, that doesn't mean you have to stick with just one type of style like vintage or industrial. Instead, you can use it to build up on a more modern theme. The pallet wood is transformed well here too thanks to the gorgeous glass top applied that gives this a glossy appearance.
10. Long Desk with Built In Basket Storage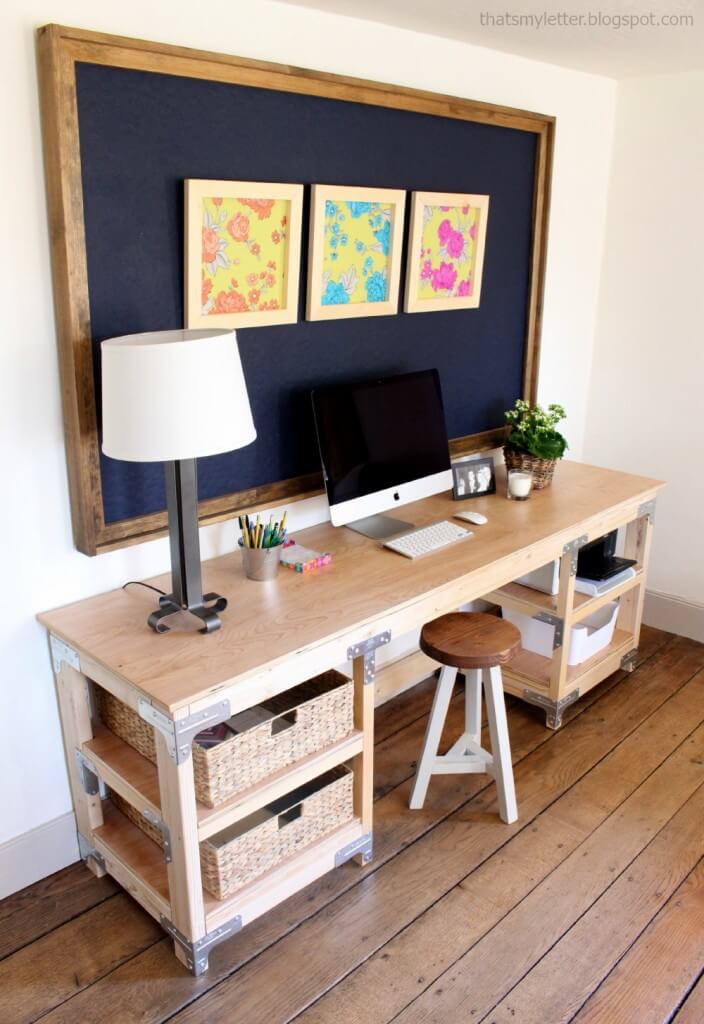 This lengthy desk design doesn't just give you ample room to work with no matter the project, but it also grants you room to have these cool storage baskets underneath. You can organize everything you need with ease and get to them just as quickly. Plus, the natural wooden look has a charming feel to it.
11. Pink Desk with Drawers and Storage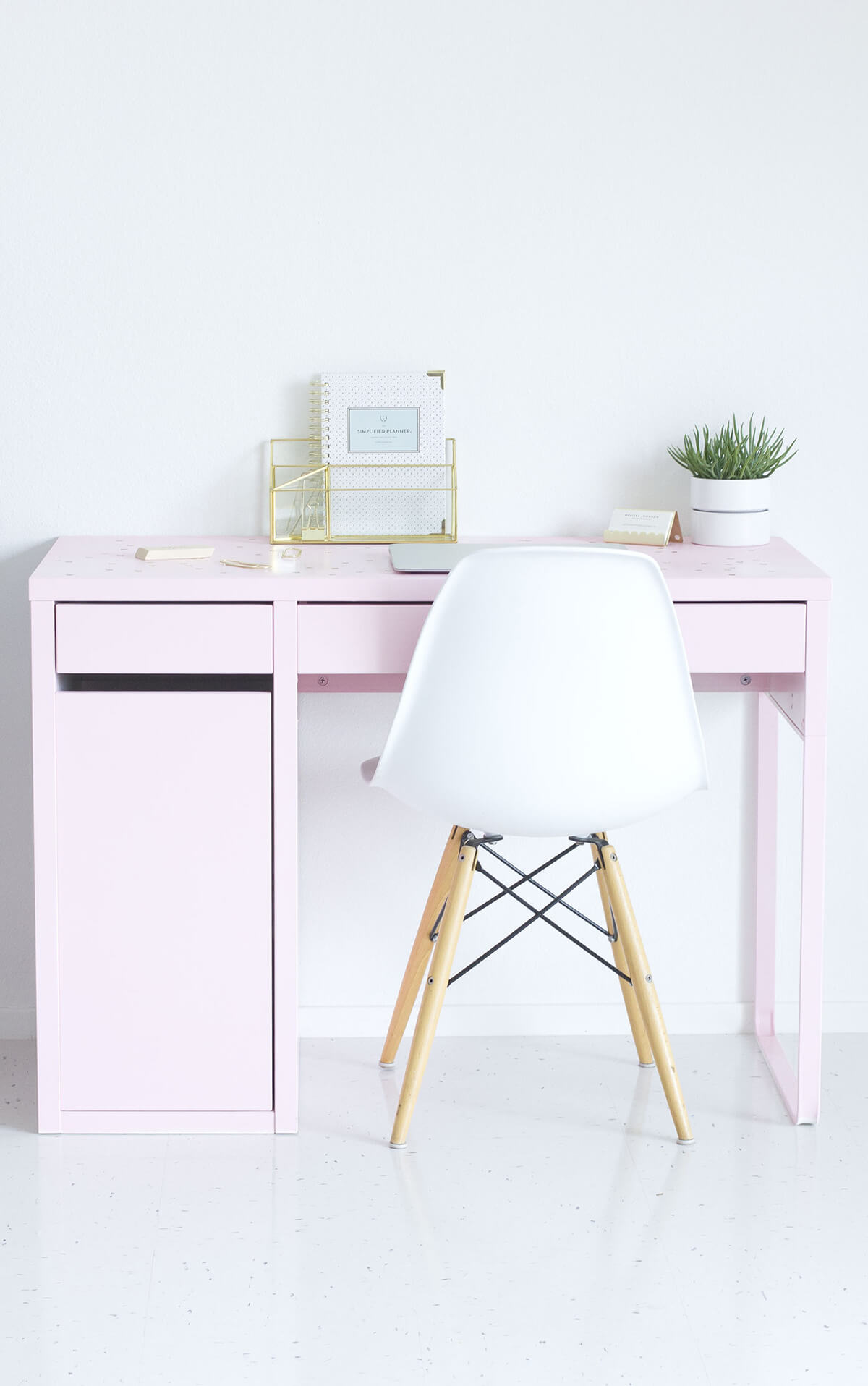 With this DIY project, you end up getting such a lovely, colorful desk with a contemporary flair. The desk sits at a comfortable height fitting for a sleek desk chair. In terms of décor, the coloring creates a gentle look about the desk, allowing this to seamlessly fit into a room with similar décor throughout.
12. DIY Desk Ideas to Transform Closets

When space is a concern, then it's time to get creative. In this case, head to the closet to create a stunning floating desk. The wood looks attractive enough, and there's a minimalistic quality to this desk that makes it instantly stand out despite the simple approach. With this layout, you create a cute little nook for all your work needs.
13. Double Layer Particle Board Desk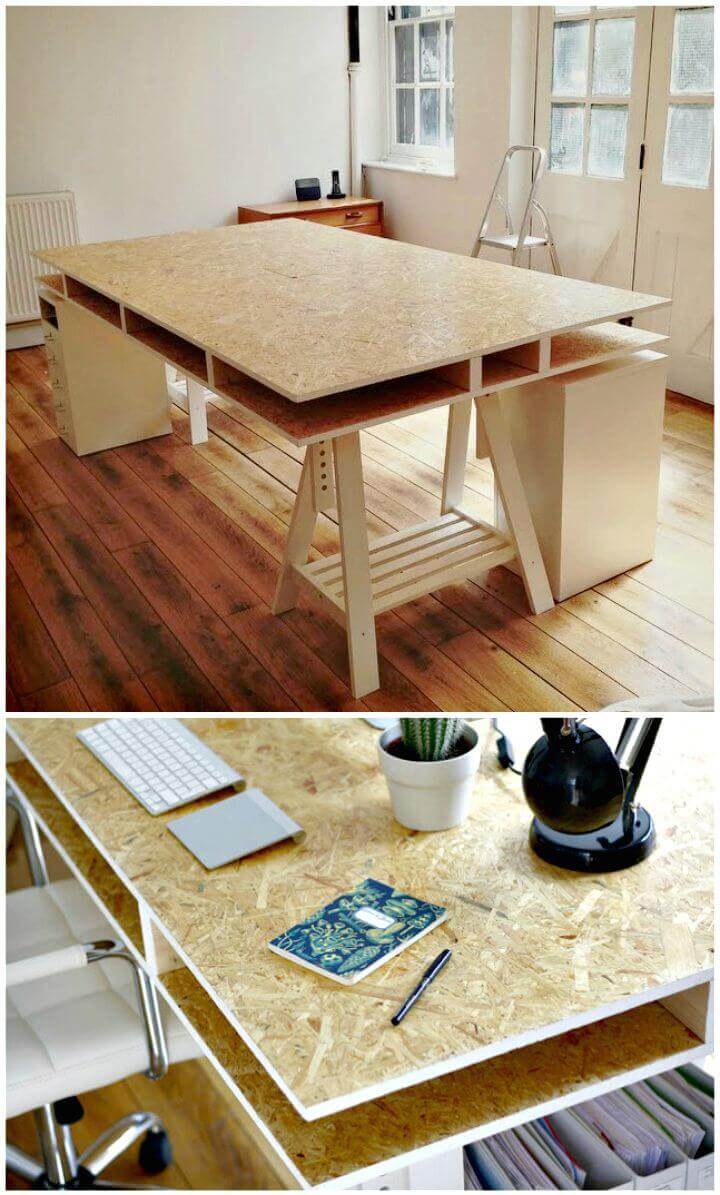 Looking to maintain that natural look with your desk? Then consider using particle wood without much treatment given to it. The look stays, and with that comes a more downhome-like style that's comfortable and relaxed. Plus, you can use the bottom portion as some extra storage space.
14. Sturdy Wood Desk in an L Shape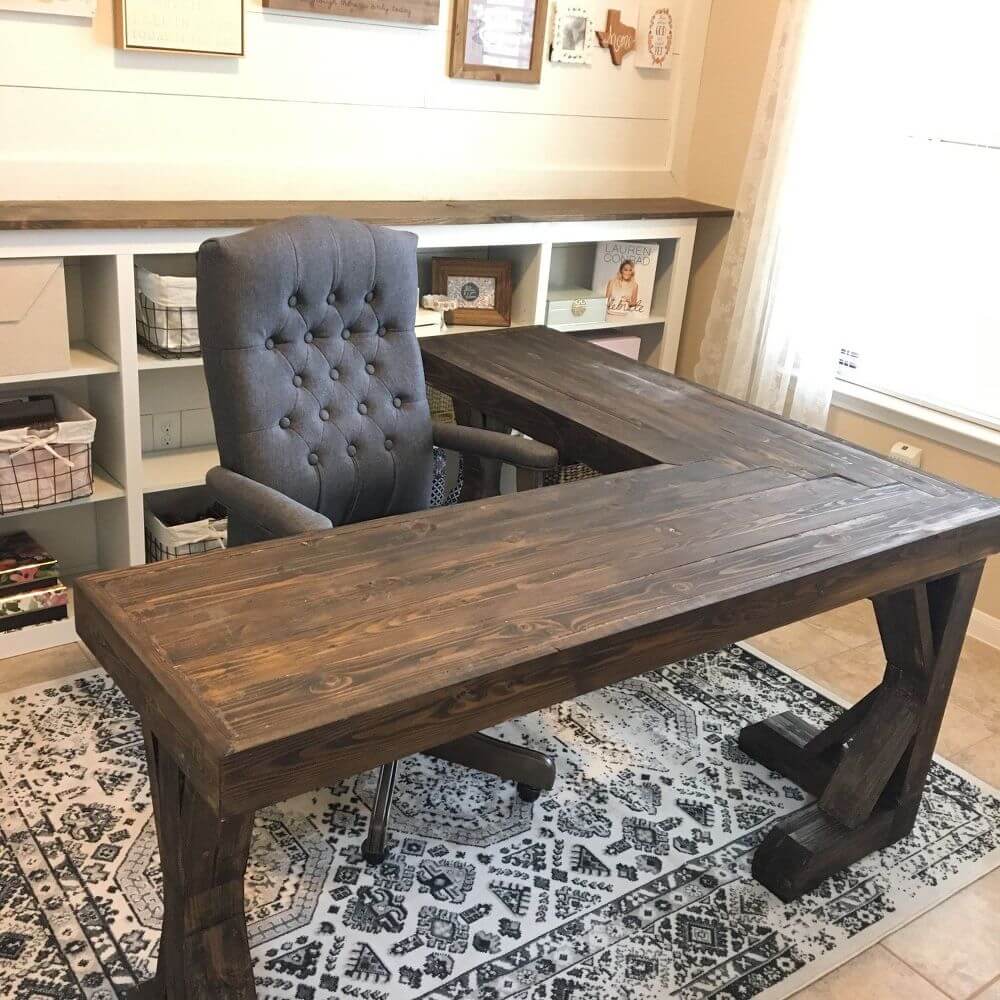 For that classic office look, using thick, darker wood is a great way to go about it. The wood has an appealing earthy look to it while still maintaining a sense of class for those that want a more stylish and modern touch. This is l shaped styled too for that extra bit of room, and it is perfectly befitting a nice, large comfy chair.
15. Understated Wooden Desk with Drawers

With the right material, you can create a simple desk perfect for a small space layout. The natural wood seems to shine in the light, giving your room a bit more brightness. It helps that the dark-toned legs contrast with the wood too. Also, you're left with some much-needed storage space thanks to the built-in drawers.
16. Rustic Slat Desk with Glass Top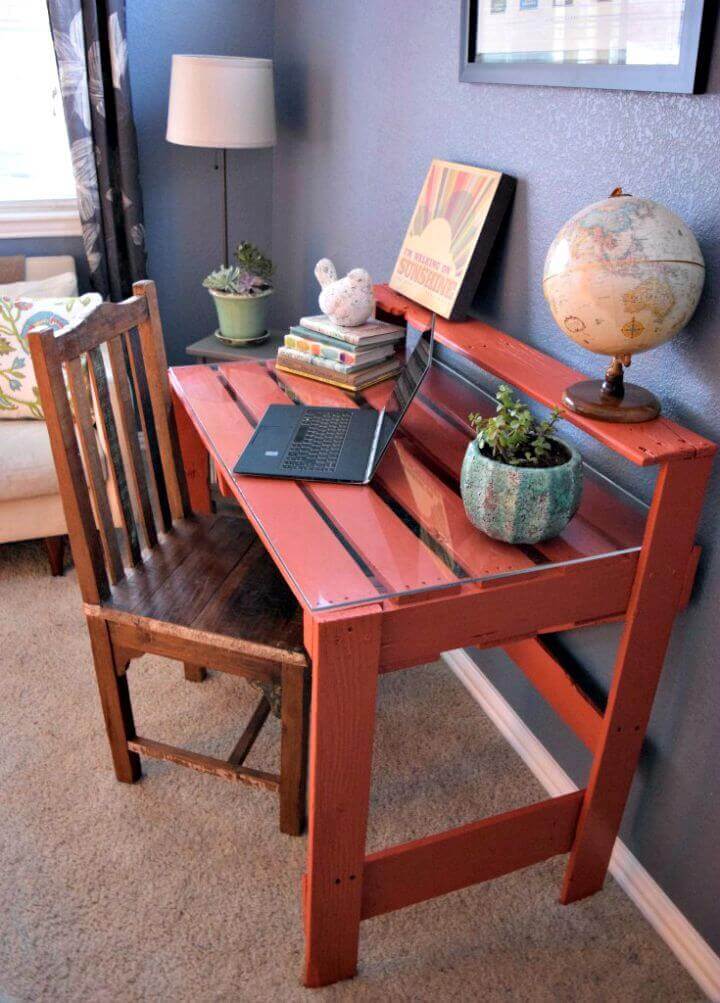 Using pallet wood is such an affordable way to approach creating your own desk. Although this material can naturally give off a rustic style, you can still transform it into a modern look by giving the desk a glass top. This makes it appear sleek, full of flair, and overall professional.
17. Industrial Style Desk with Plumbing Pipe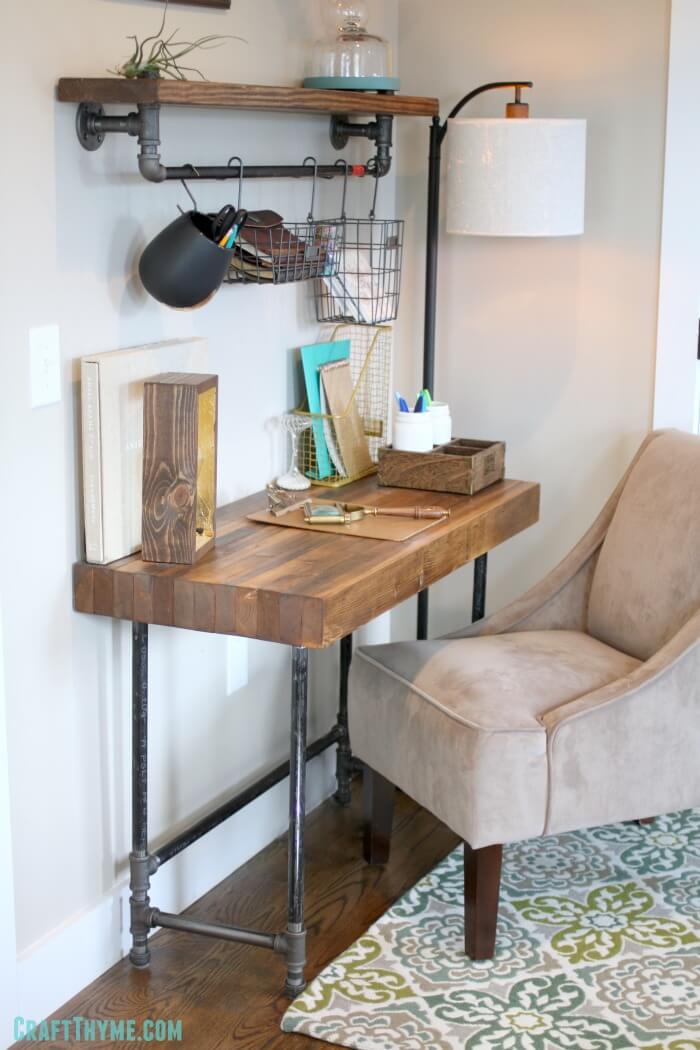 Using pipe is an awesome way to create an industrial-styled desk. The wooden top works perfectly alongside the darker pipes used to support the desk. Not only that, but you can build a floating desk with pipe support as a shelf, giving you room to store items or add some more décor to the area.
18. Copper Pipe Desk with Handy Drawer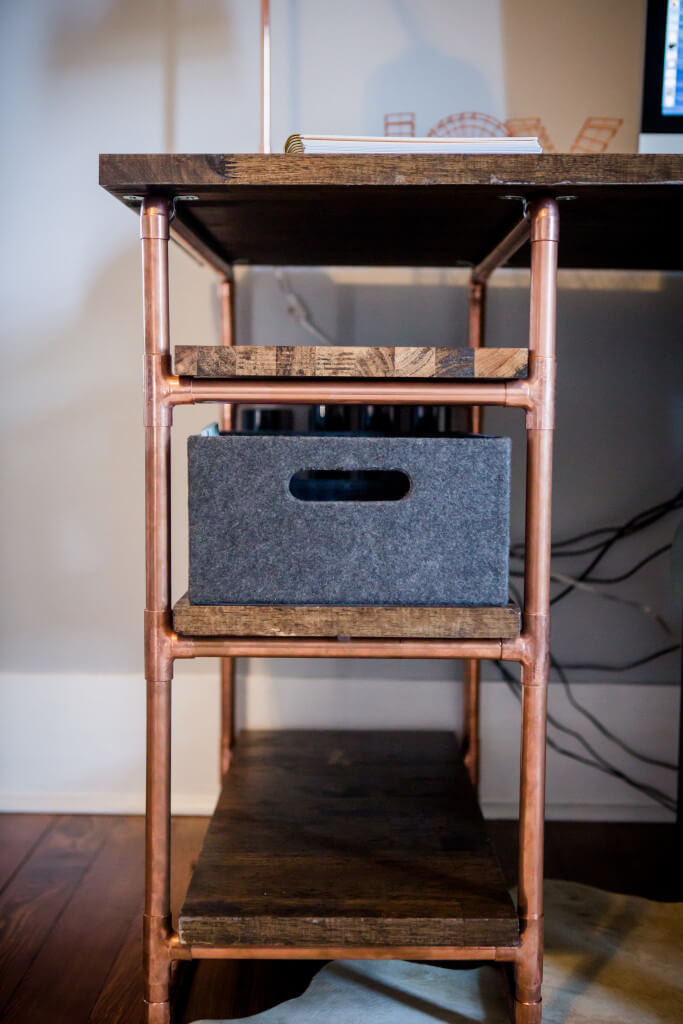 Pipes don't always have to have a dark look to give off that industrial vibe. Rather, these copper-colored pipes do all that and more, combining both the industrial look with an updated, contemporary appearance. Using the pipes to build shelves in addition to supporting the desk makes them as useful as they are nice to look at.
19. DIY Desk Ideas with X Shaped Ends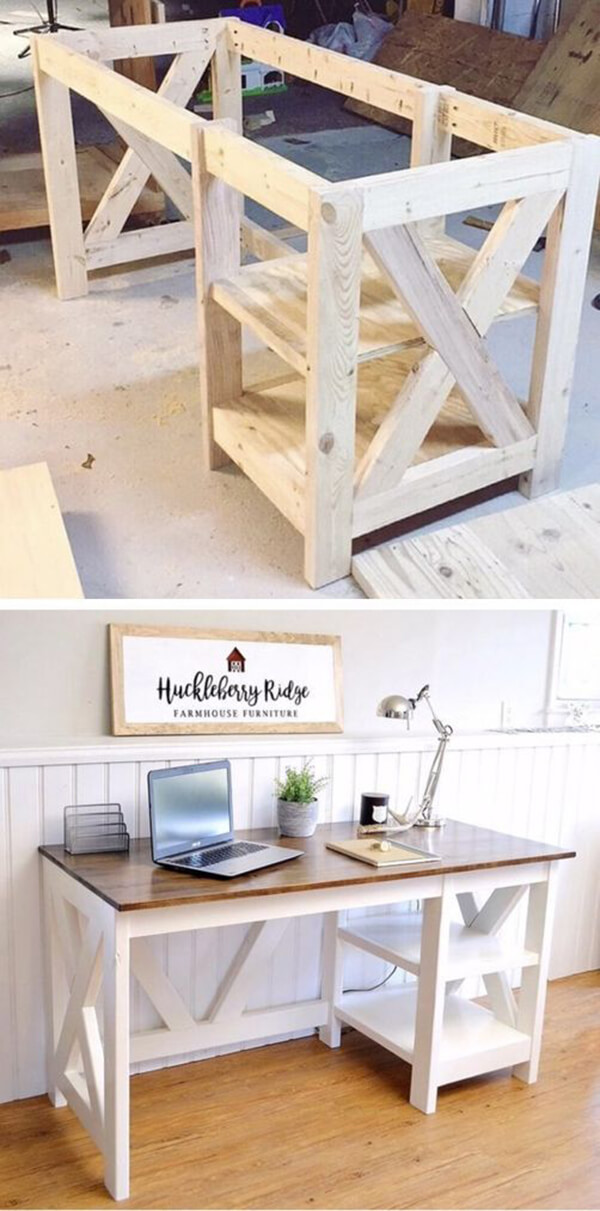 When you're finished with this desk, it won't even look as though you made it at home. Giving the wood an all-white paint job truly helps this desk to stand out immediately. It pairs well with the darker wooden top that's smooth and simple, giving you ample desk space to complete all your work at.
20. Early Modern Style Desk with White and Blue Paint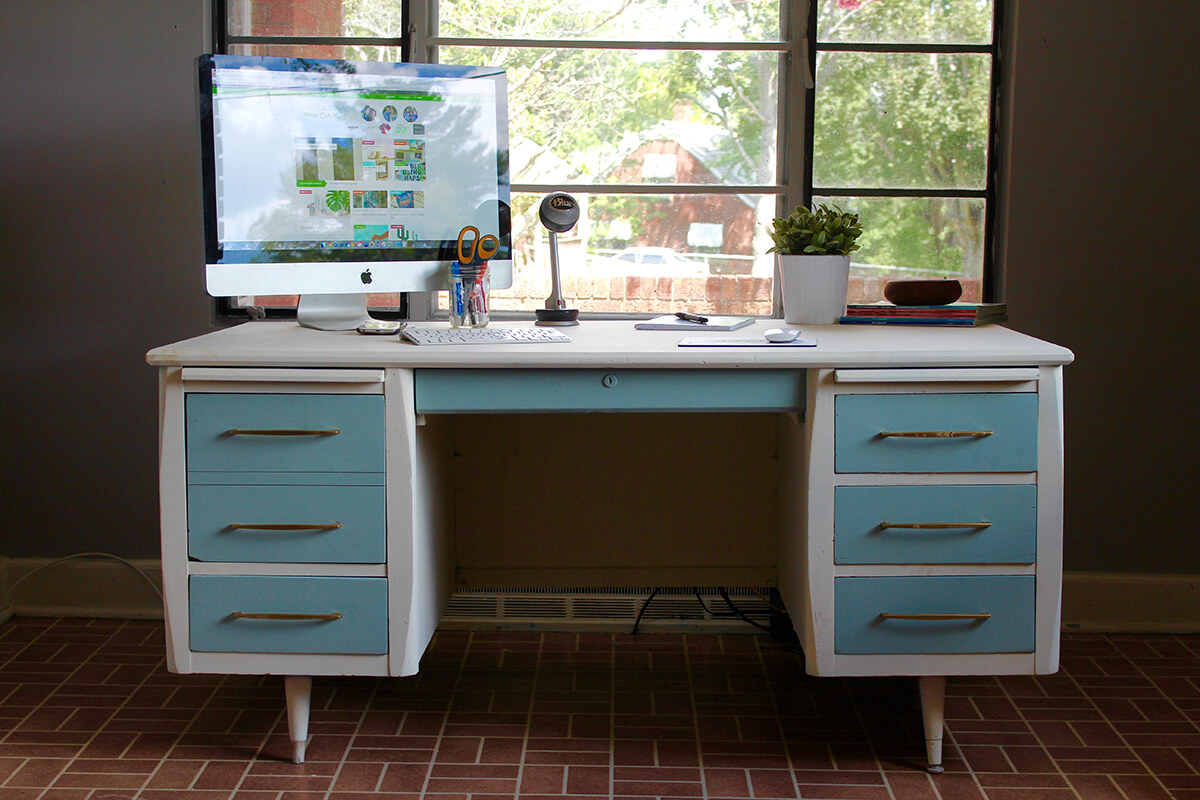 With an old desk, you can upcycle it to create something fresh and charming. This desk has a compelling brightness to it by balancing out the white and blue color theme. It's almost retro in a way while maintaining some modern qualities that allow it to stand as a unique piece of furniture in the room.
21. Bar Height Desk with Tall Stools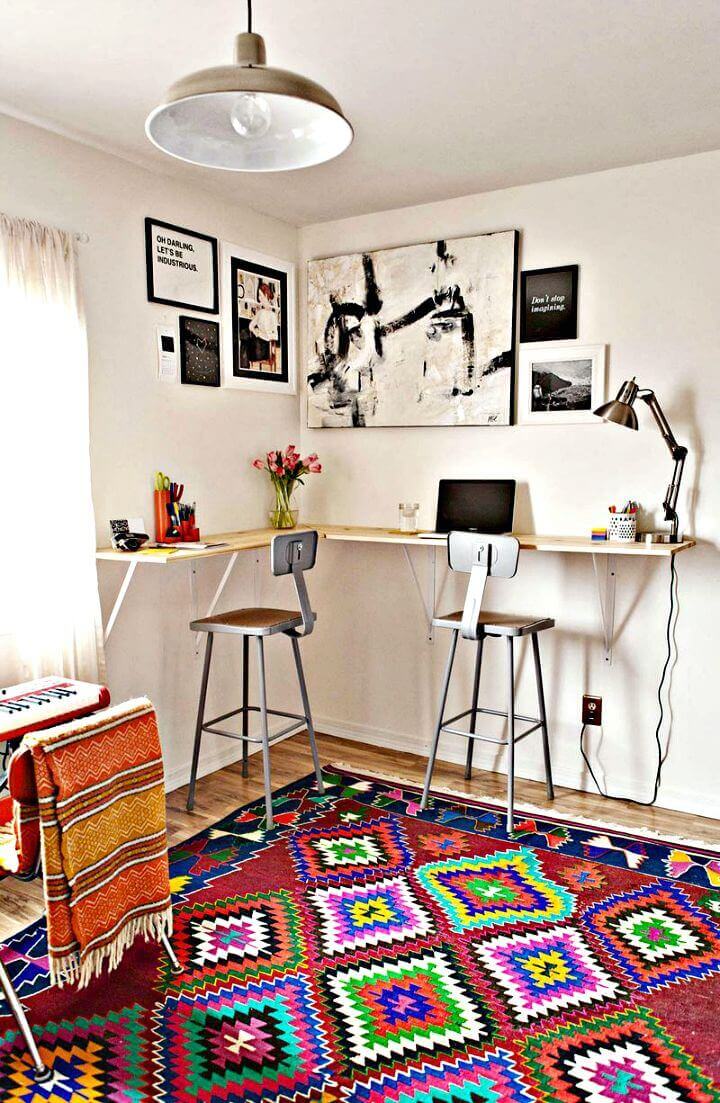 Looking to create a standing desk or a desk you can use with some high chairs? This bar height desk is a great way to go about it. The desk itself is straightforward in design, and the l shaped layout paves way for either multiple people to use the desk, or for you to have more room for your work.
22. Weathered Gray Desk Tucked in an Alcove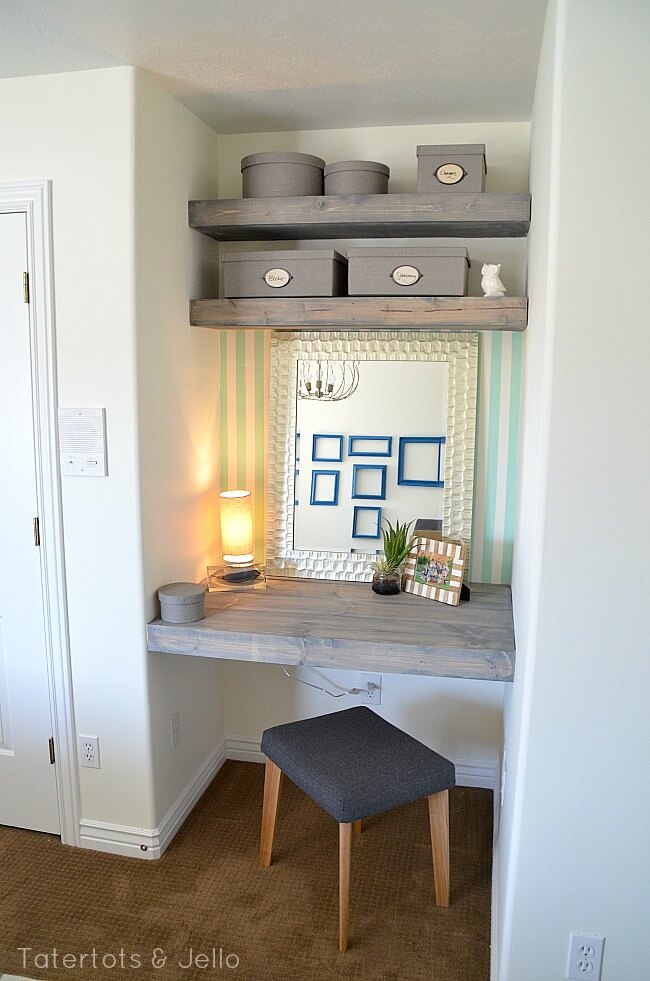 Do you need a desk for that small space living style? Well, as long as you have an alcove, you can build yourself a handy desk. The weathered gray look has such a nice style to it that it works well with shabby chic design. Plus, you can consider using the same material to build some shelves if you have the space, giving your desk area more storage.
23. Easy DIY Desk with Three Shelves Underneath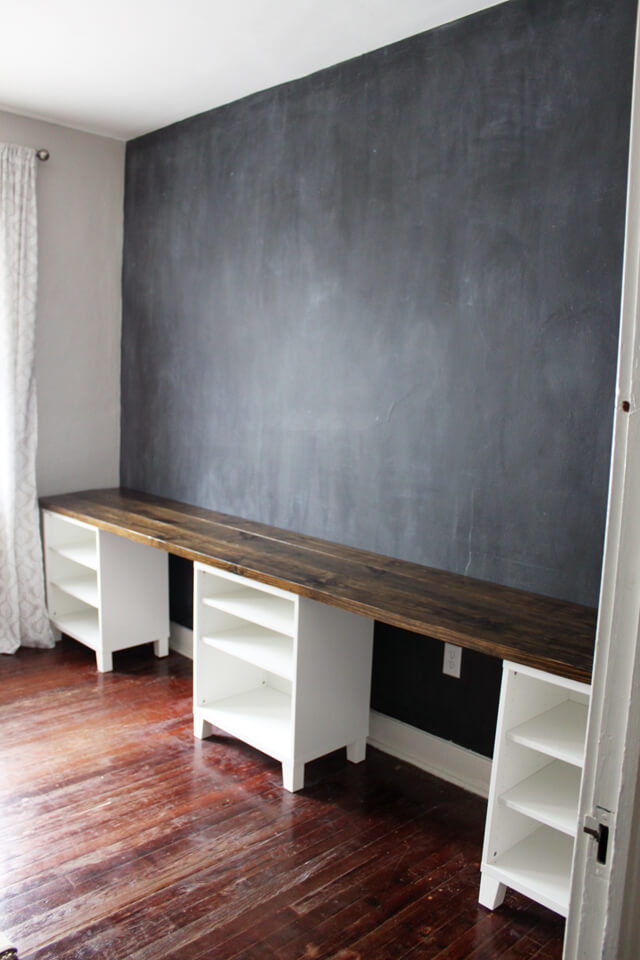 You can make the perfect desk using only a handful of materials. The wooden top effortlessly grants you more than enough room for all your working needs. Alongside that, transforming the bookcases into not only support for the desk, but to storage areas is such a wonderful way to upcycle items.
24. Simple Desk with Ample Wall Storage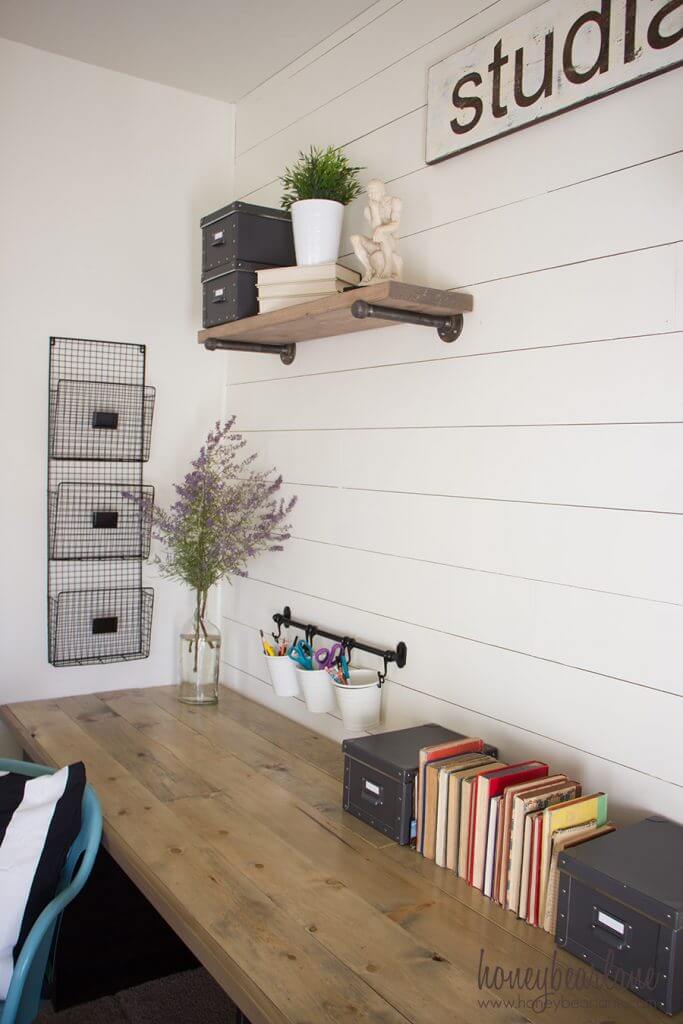 If you have the space for it, you can create a simple desk that has just enough personality in it thanks to the slight blemishes in the wood. That isn't the only eye-catching thing you do with this project. Rather, when you have it against the wall, you have plenty of room to use some more wood to create shelves for additional storage.
25. Stylish Desk with Metal Rectangles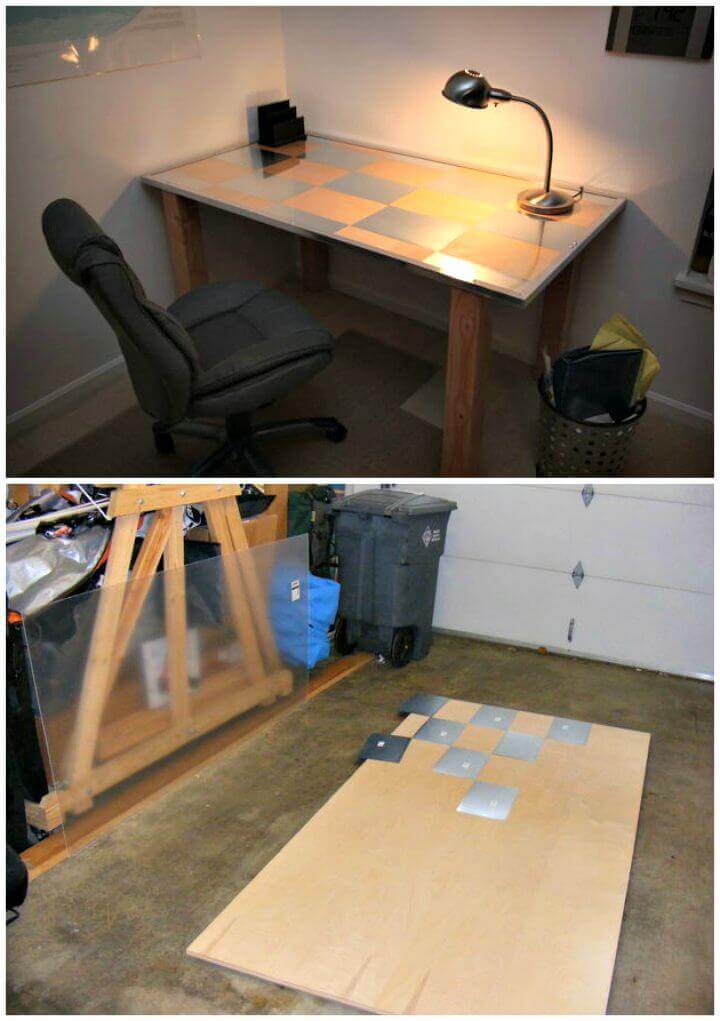 Looking for a way to give that basic wood top an updated look with more style? Then consider taking this unique approach with the metal rectangles. It is a cool way to add some pattern and texture to the wooden top, allowing you to build up something that is modern, rustic, and with a hint of vintage to go along with it.
26. Cute Desk with Storage Crates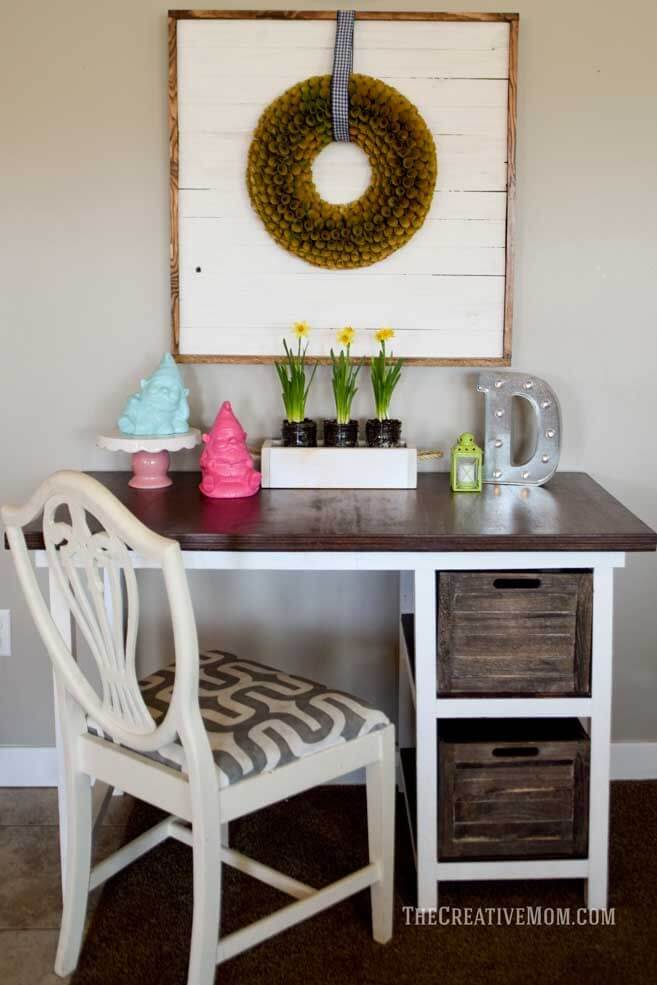 A cute little desk is all you need when you want to make the most out of the space you have. The two built-in shelves do an incredible job at giving you enough room to slide in some storage baskets. It makes for a great work desk, art desk, or space for you to handle anything else.
27. Understated White Desk with Drawers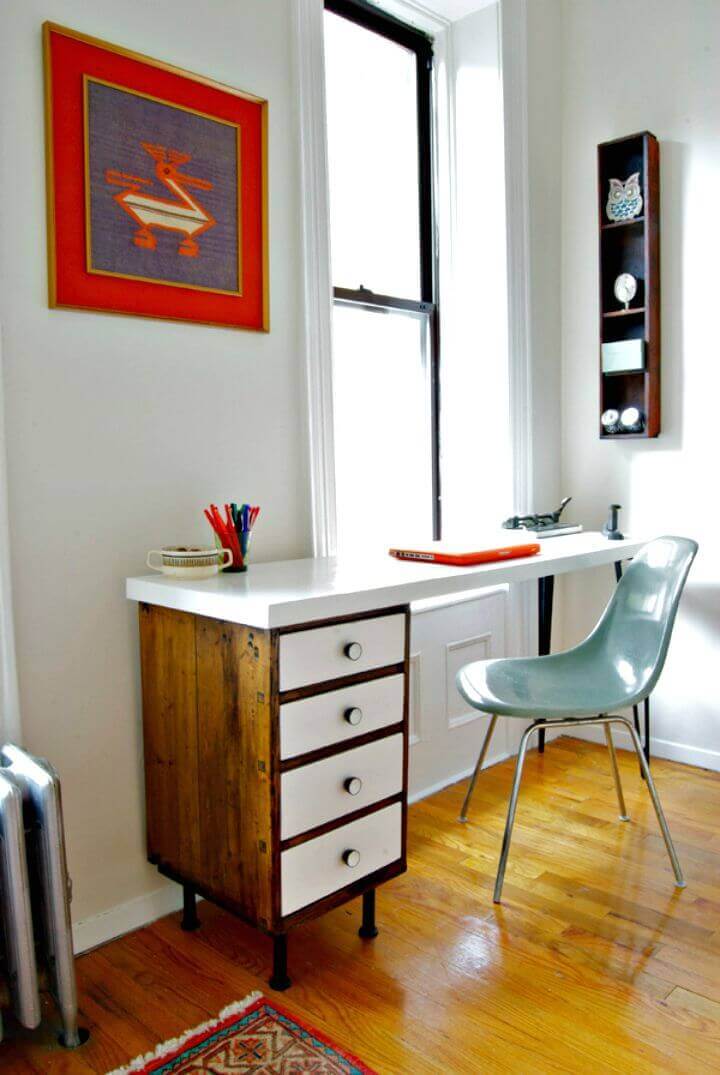 When you want something a bit more contemporary, this sleek desk is a great way to build it yourself. The white top is smooth and clean, while the wood adds some contrasting texture and color to the overall look of the desk. It pairs effortlessly with the white drawers that allows this desk to have that stylish appearance.
28. Sawhorse Style Desk in Gray and White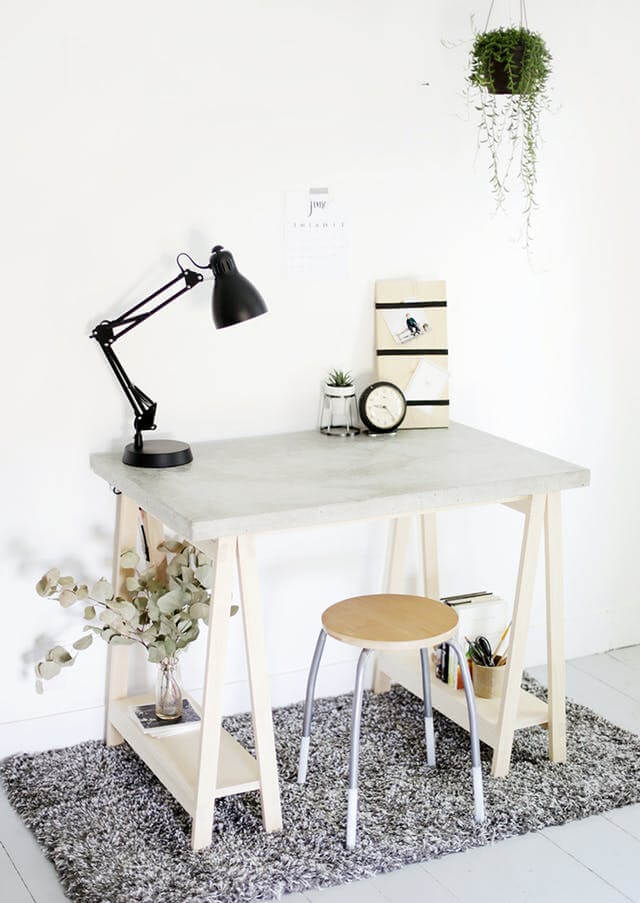 The sawhorse style is a nice way to give your desk area a rural look. However, opting for the gray and white coloring is a distinct way to provide your own modern style along with the rustic vibe. There is a minimalistic look about this too, while the color pattern offers a nice brightness to the area.
29. IKEA Style DIY Desk with Baskets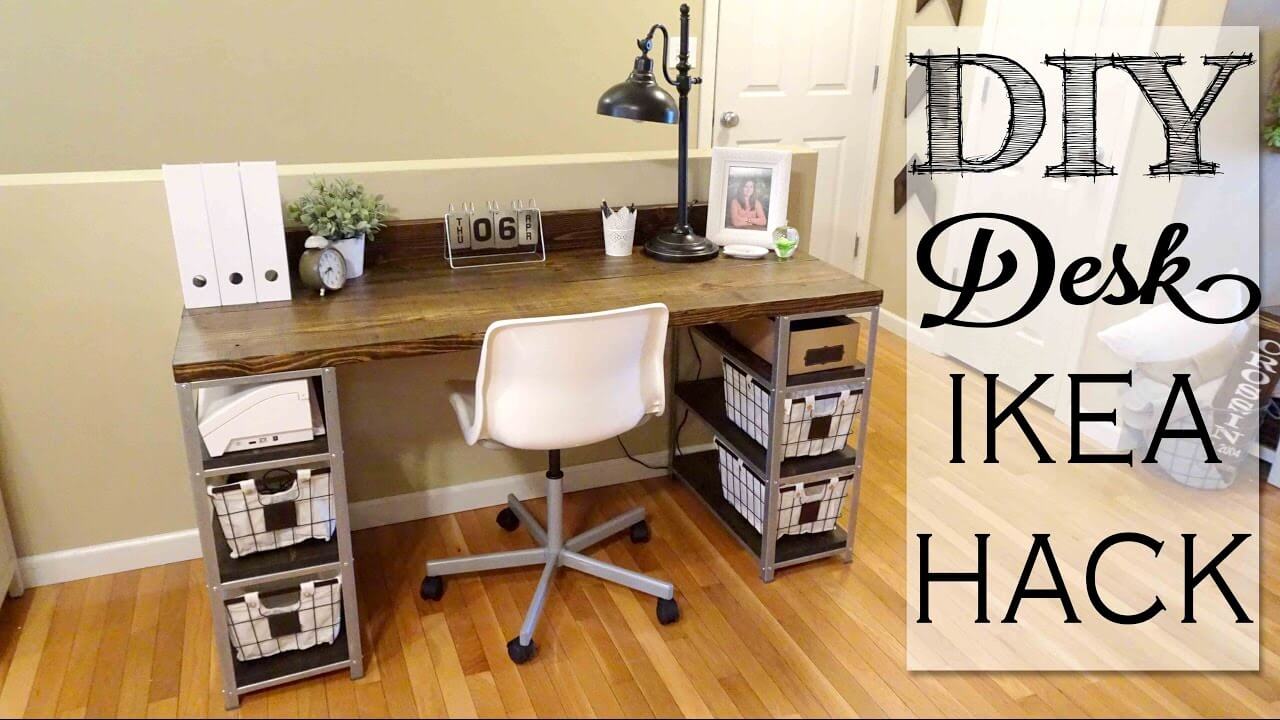 With this IKEA hack, you get a beautiful desk with a lovely wooden top design that looks chic. The storage areas contrast nicely with it while offering you up some organization space. It balances functionality with style with relative ease so that you have something you enjoy looking at as much as you enjoy working at.