When you're looking for a way to refresh your space without breaking the bank, the best DIY dollar store rustic home decor ideas are a great place to start. The dollar store is the perfect place to find decor supplies — and with a little DIY action, you can transform basic items into stylish accent pieces.
19 DIY Dollar Store Rustic Home Decor Ideas to Create a Cozy Farmhouse Space on a Budget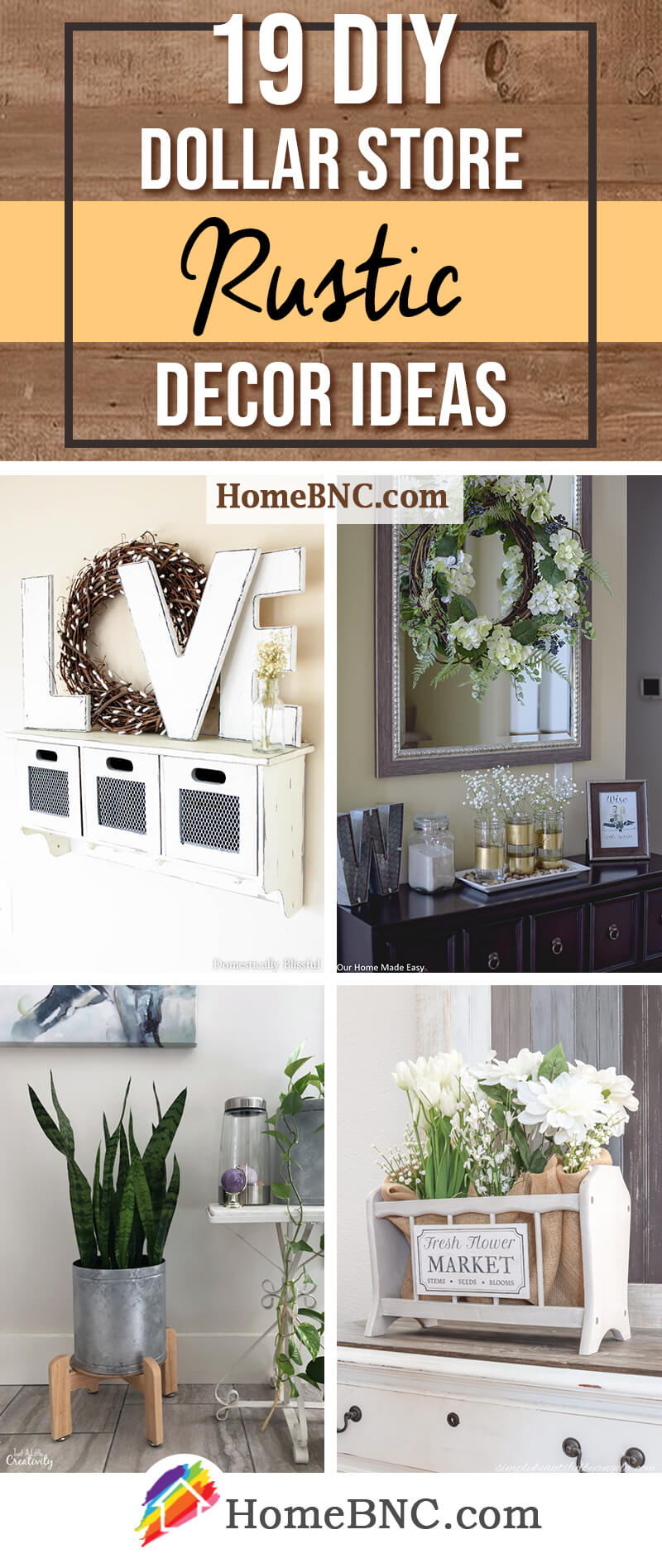 If you're going for a farmhouse or cottage-inspired look, you're in luck. This decor style makes use of simple, classic materials that are easy to find at the dollar store. As you're considering different materials for a DIY project, start with texture. Look for items that are slightly rough around the edges: burlap, twine, and unfinished wood all fit into this aesthetic. Then, consider the color. Rustic homes tend to incorporate soothing natural tones that you might find in nature. Want to add a pop of color? Consider greenery; the faux flowers and plants that you'll find at a budget-friendly store can look surprisingly chic when you dress them up.
Don't worry if you're not a DIY expert — these rustic dollar store DIY ideas don't require perfection. In fact, a piece that's slightly rough around the edges adds to the overall effect. A little hint of handmade style adds a welcoming, well-loved feeling to your space; it creates a "real life" vibe that's the hallmark of this traditional decor style.
Sure, you can buy rustic decor pieces at home stores — but by making your own, you can save a considerable amount of money. The best part? Since you're assembling the items, you have complete creative freedom. Select colors that perfectly complement your hallway, or choose jars that fit neatly into the available space on a bathroom shelf. The end result will look like an organic part of the house, and you'll find it easy to stick to a modest decorating budget.
1. Metallic Gold Painted Glass Jars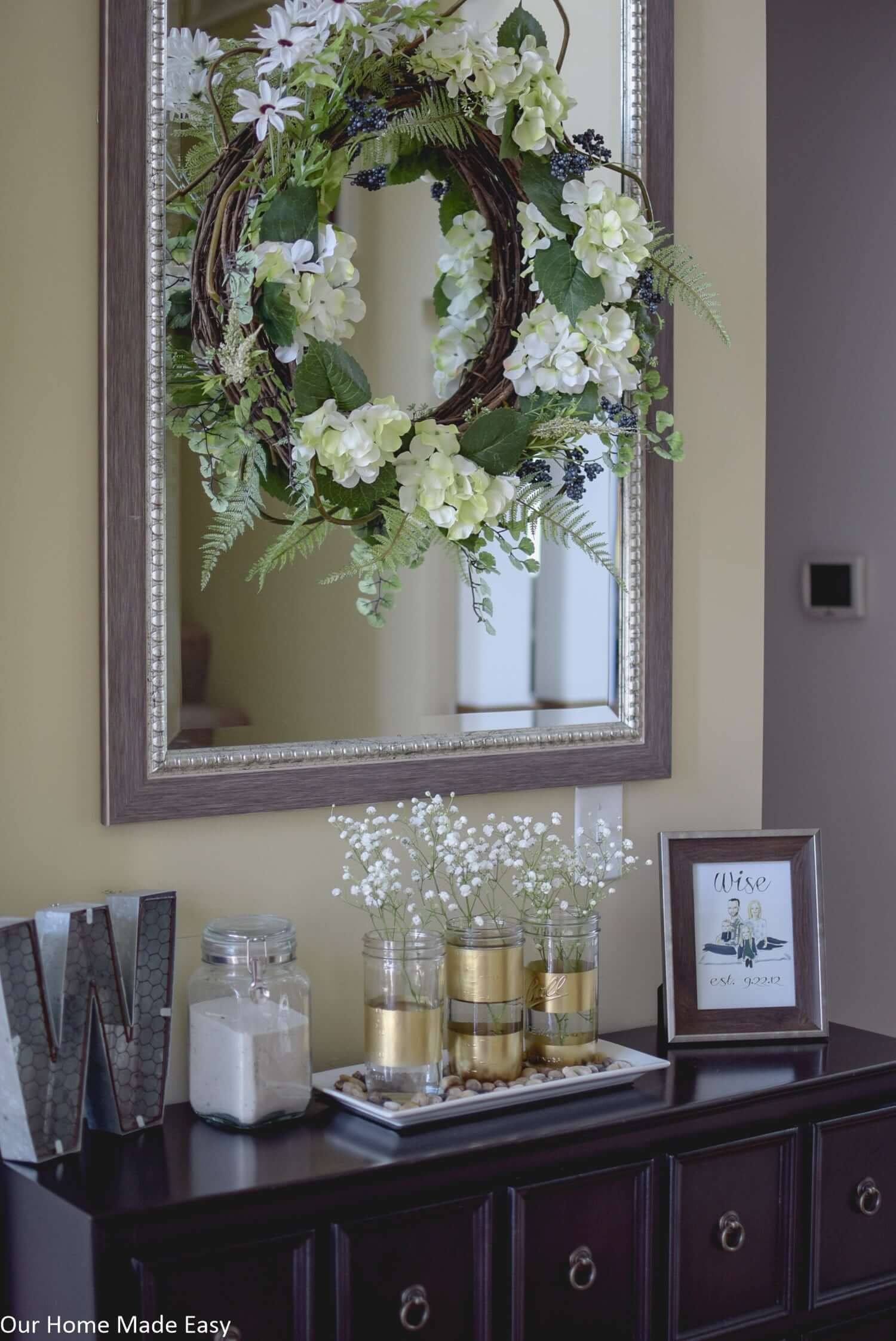 With their gleaming golden stripes, these glass jars make an adorable addition to your entryway or a side table. If you're looking for a quick and easy DIY project, this is it — the only supplies you need are clear glass jars and metallic paint. Go with gold for a subtle hint of glam, or choose silver to match a cool-toned space. To make the jars, simply wrap painter's tape around the exterior, and paint the exposed glass.
2. DIY Rustic Tin Plant Holder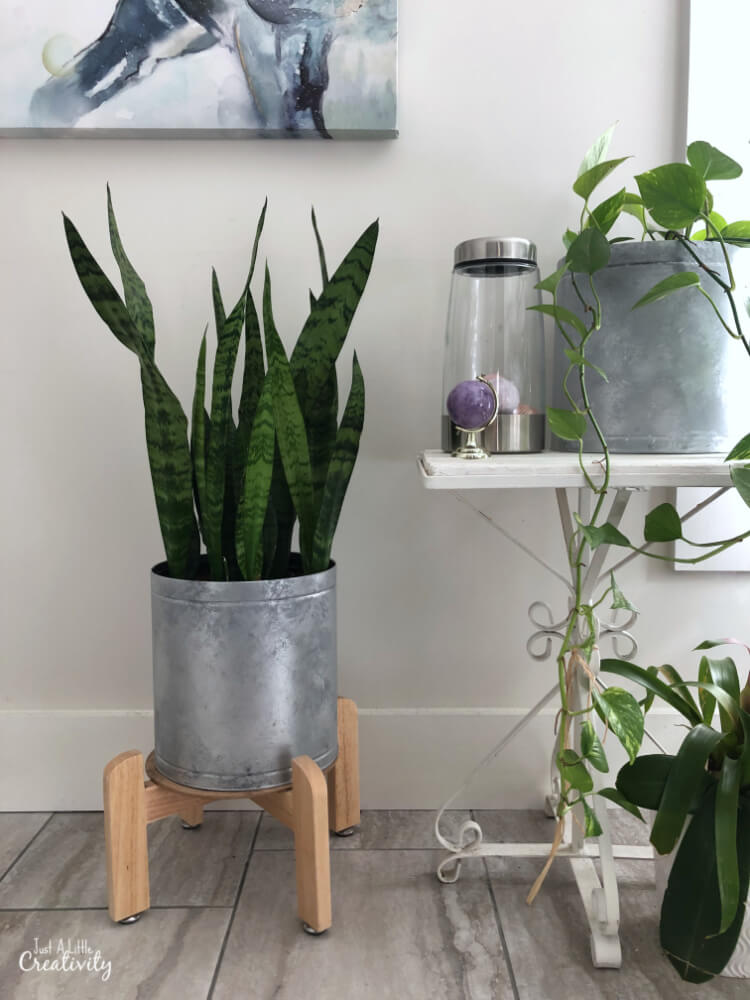 One of the best rustic decor ideas for plant lovers, these slick plant holders are a breeze to make. You can find metal holders in any dollar store in a variety of sizes. Can't find a cylinder? Look for metal pails and remove the handles to achieve a similar effect. Simply slip it over your existing plant holder for an instant upgrade. If you can only find super-shiny metal containers, break out a hammer or a piece of sandpaper and distress the surface lightly for an antique look. For extra impact, set your new plant holder on a wooden stand.
3. Cottage-Style Magazine Rack Floral Display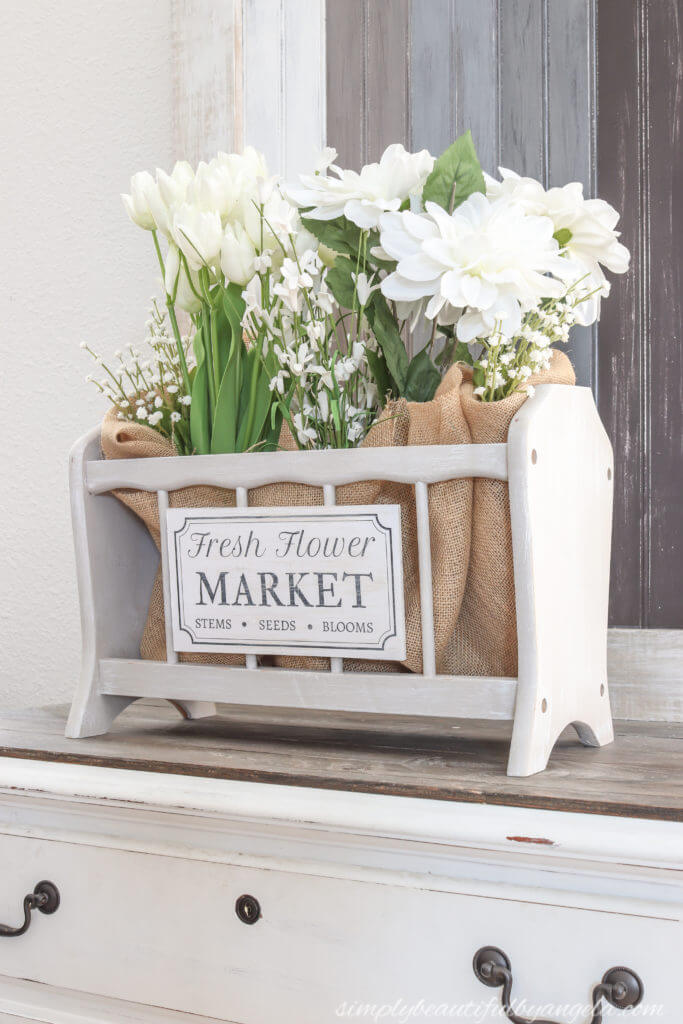 Do you have an old magazine rack taking up space in your home? With a few dollar store materials, you can transform it into a chic floral display. This decor piece uses simple materials, including faux flowers and a burlap table runner. If you can't find burlap, any textured fabric will do. Making this piece takes just a few minutes, and you can even update it throughout the year by changing out the flowers. A white base is always a great choice, but a quick coat of paint can also create a whole new look.
4. Country Farmhouse Animal Candle Holder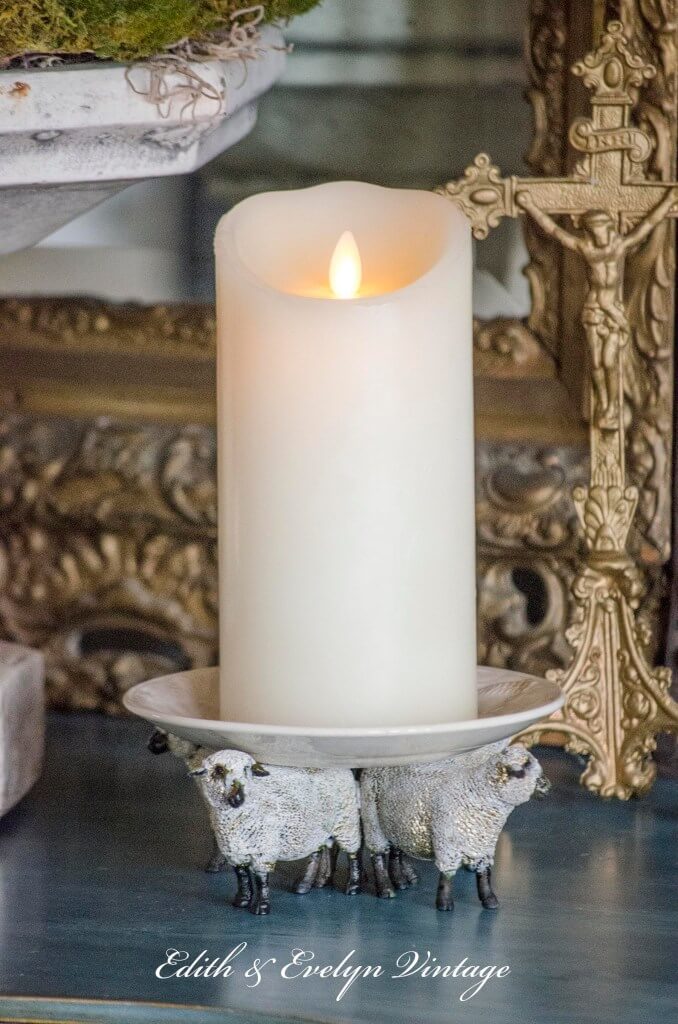 With its sweet animal base, this candle holder brings a vintage vibe into your house. This is one of those dollar store DIY ideas that looks complicated, but is actually a simple and easy project to complete. All you need from the dollar store is four small animal figurines and a candle plate. Can't find a candle plate? A small saucer or a shallow dish will do the trick; just test out different options with candles in the store. The animals are super-glued together by their bottoms, and the plate rests on top as the perfect finishing touch.
5. Baking Pan Centerpiece Home Decoration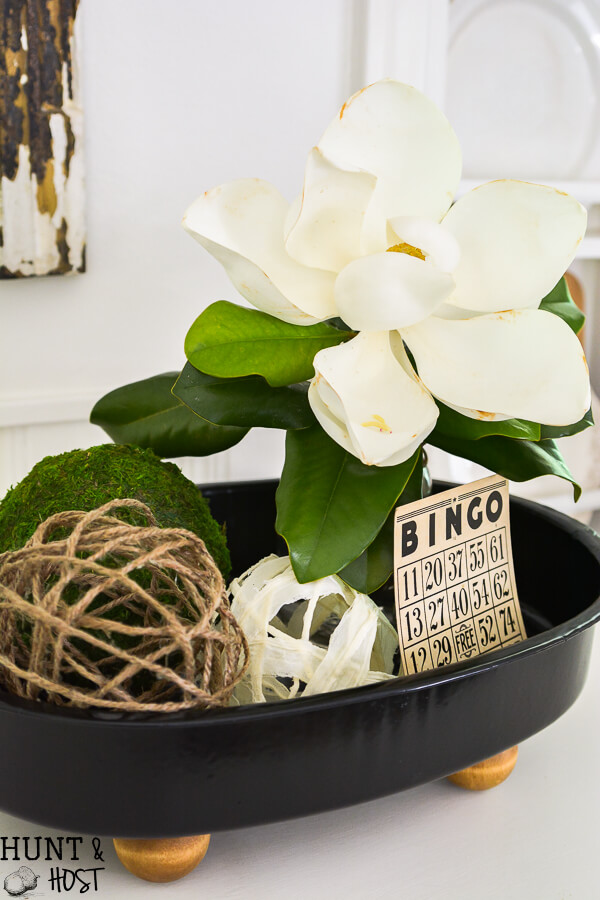 A simple baking pan becomes a beautiful centerpiece in this project, which looks lovely in your foyer or on a coffee table. To make it, you'll need to buy a small baking dish with low sides; look for one made from metal and painted a solid color for the most natural effect. The small feet can be made by slicing the top and bottom off of Christmas ornaments, wooden balls, or even hard foam spheres. While you're at it, pick up a few inexpensive items to fill the dish; this is also a great way to collect the small decor pieces that don't fit in other spots.
6. Love Sign with Rustic Wreath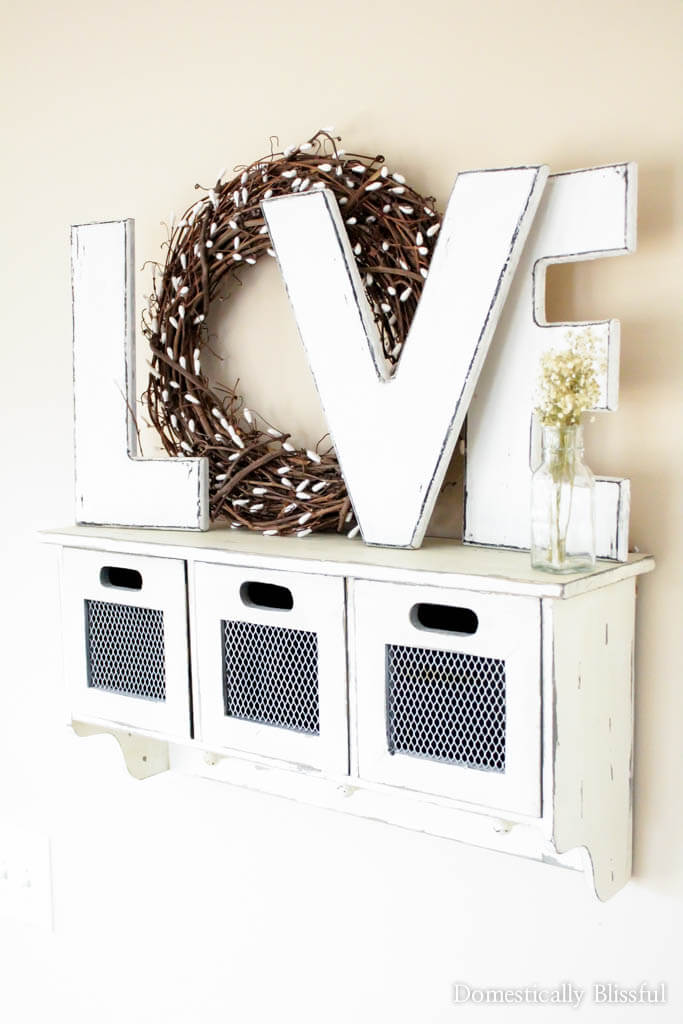 Every dollar store has wooden decor pieces that spell out the world "love". You can put a personalized spin on these signs by replacing the letter "O" with an affordable wreath. The beauty in this project is that the wreath can be any style you like — celebrate spring with a ring of flowers, or use an autumn leaf wreath in the fall. If your letters look a little too refined and polished, there's an easy solution. Grab a piece of sandpaper and run it gently along the front edges of the letters. Continue until the underlying wood color starts to show through.
7. Handmade Chalkboard Sign DIY Project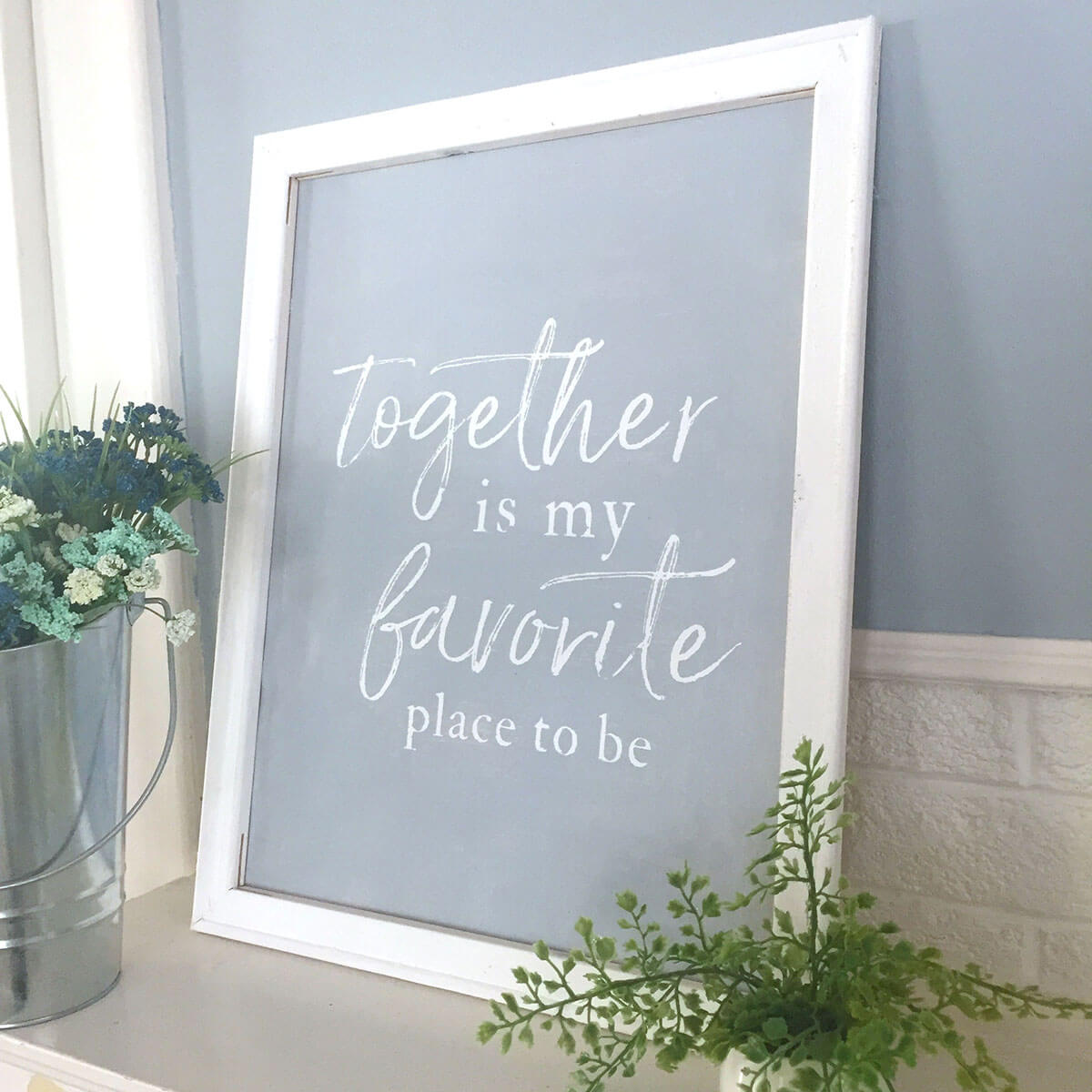 Create a place to show off your favorite quotes or to leave sweet messages for your family with a DIY chalkboard sign. Although it looks expensive, this piece is surprisingly simple — it's made with chalkboard paint and any frame you like. Don't worry if your handwriting isn't perfect; it lends a personal, loving feeling and an extra homey touch. You can even add a bit of distressing to the frame and chalkboard using a hammer and sandpaper for a more vintage look.
8. Handmade Wooden Block Dice Calendar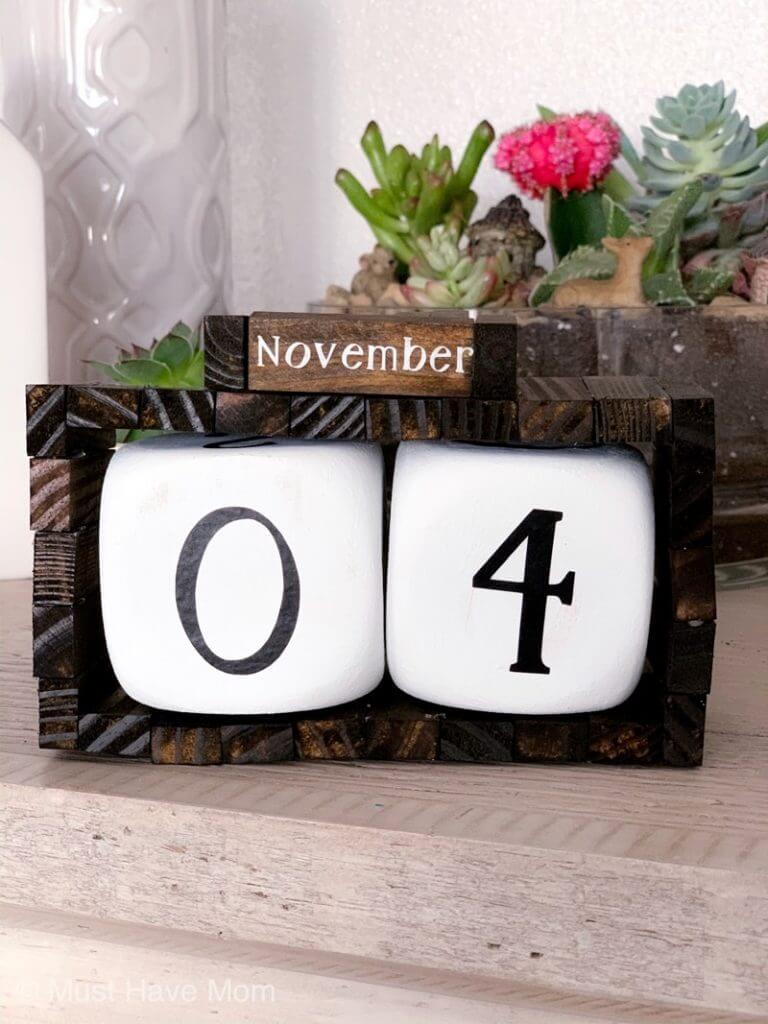 If you're feeling crafty, this dice calendar makes a fun home decoration project. The idea is simple: The top wooden block features the name of the month, and the two die spell out the current date. If you have little ones, changing the date can be a fun activity each morning — this is also an ideal way to reinforce lessons about numbers, dates, and months. The best part? All you need to make this project is a set of wooden blocks, wood stain, and two oversized dice. The finished product makes a sweet addition to any room in your house.
9. Embroidery Hoop Napkin Rings with Greenery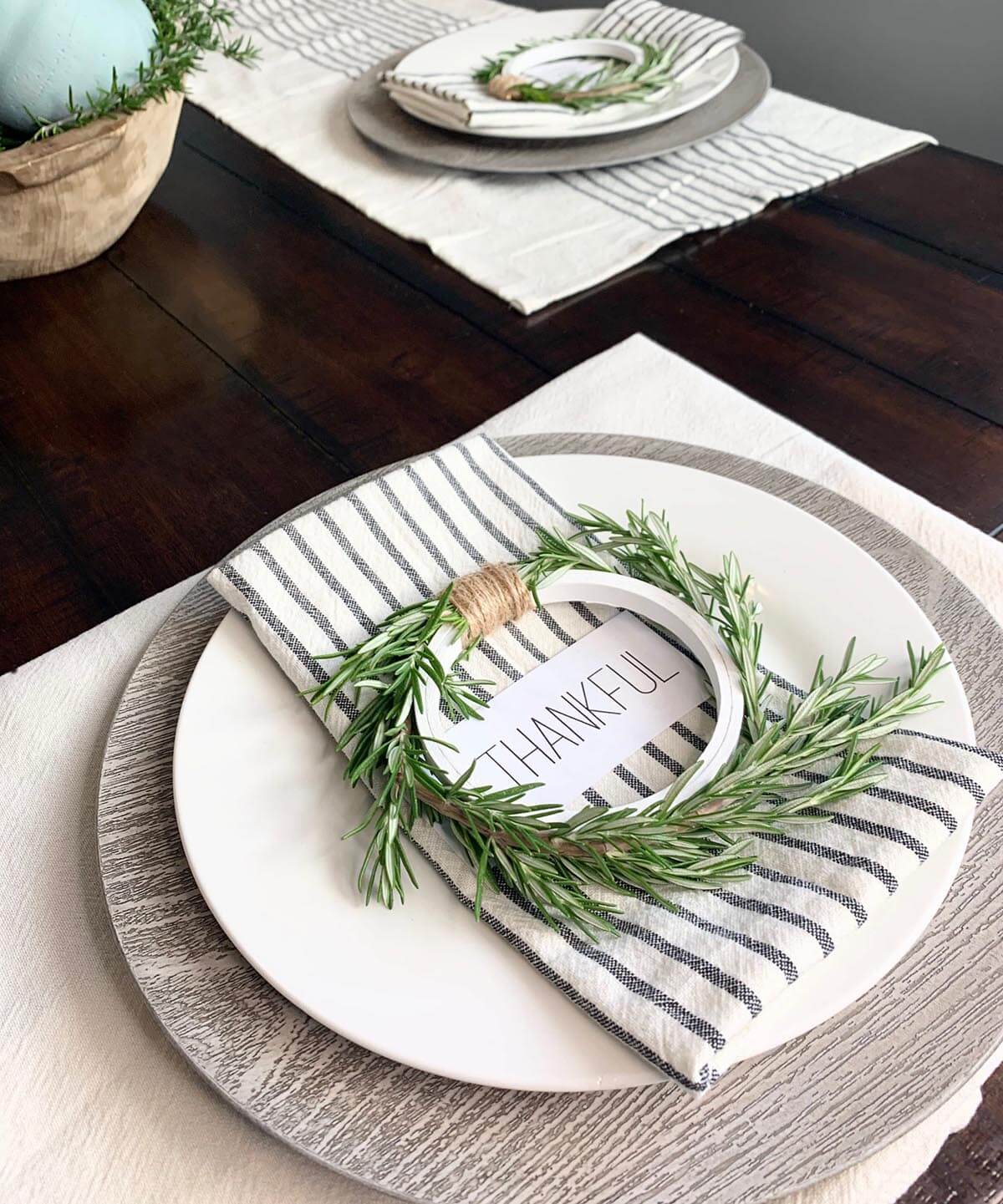 Dress up a festive place setting with these unique napkin rings — the fresh colors of the greenery instantly brighten a special meal. The best part? You can whip them together in minutes. For each ring, you'll need small embroidery hoops, twine, and greenery; choose fresh greens from outside, or buy faux branches if you want reusable decor pieces. The resulting blend of color and texture is both chic and relaxed — perfect for an upscale-rustic table. Leave them natural, or add an artistic touch with a bit of paint. You can even paint guests' names on the rings and give them away as keepsakes.
10. Vintage-Inspired Antique Placemat Arrangement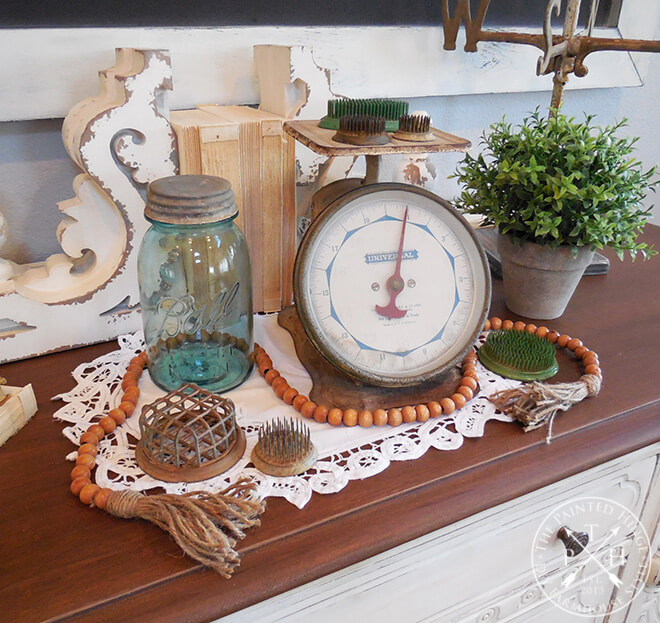 Do you have small vintage pieces that you're not quite sure how to use in your decor? This arrangement is one of the best rustic decor ideas. All you need to do is gather your small items and place them on top of an ornate placemat from the dollar store. The mat unifies your collection, making it look purposeful and elegant. We love how this homeowner uses a beaded rope to connect each of the pieces for a more cohesive design; you can do the same with a garland, necklace, or even a thick rope.
11. Unique Photo and Art Collage Frame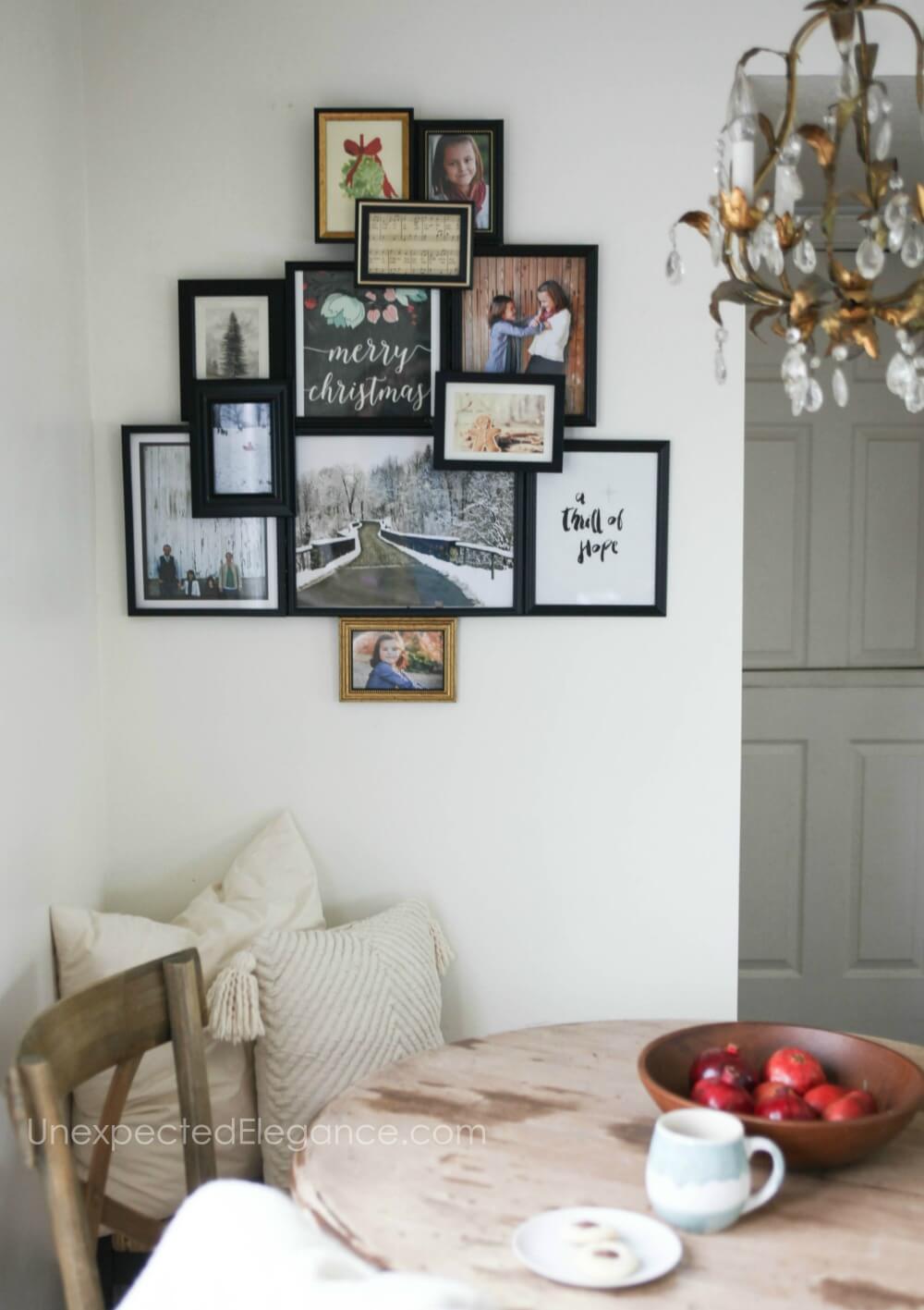 Display a collection of your favorite snapshots and small works of art with a custom collage frame. The beauty of this design is that it's one of a kind; it doesn't have the cookie-cutter look of the collage frames you can buy in the store. The materials are simple — all you need is a selection of frames from the dollar store — and the process of creating an arrangement is fun and creatively satisfying. You might even add on new frames throughout the year for a piece that evolves with your family.
12. DIY Laundry Room Sign Decor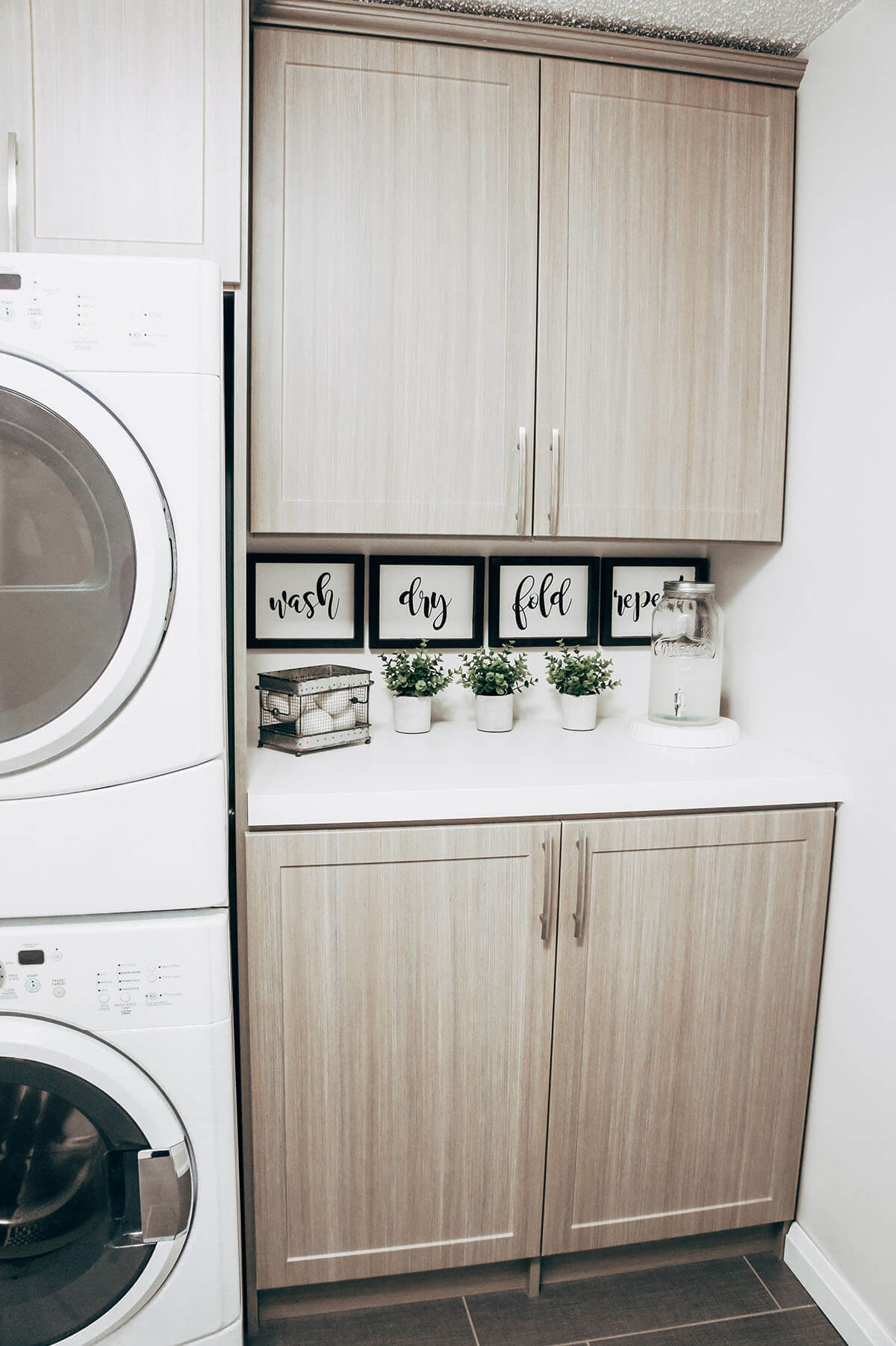 This beautiful home decoration is a lovely way to add some personality to your laundry room. You can use the words "wash, dry, fold, repeat" — or, come up with a saying that will make your family and friends style smile. Using affordable dollar-store frames and simple words that you can print out on your computer, this project brings new life to an empty wall. Script fonts create a rustic look, and you can even experiment with vellum and parchment paper to complement your farmhouse style.
13. Wire Basket Towel Holder with Twine Handle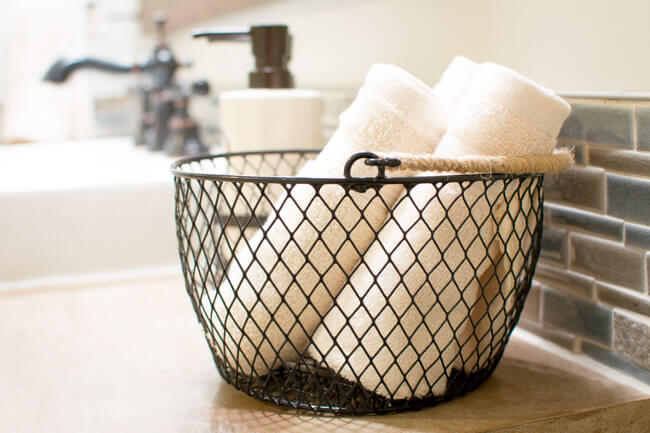 Are your washcloths and hand towels hiding away in a linen closet or under the bathroom sink? Keep them in easy reach and give your bathroom a rustic-chic look with this cool basket holder. It looks expensive; in fact, you've probably seen similar pieces in high-end home stores. Save your money — you can make your own with a wire basket from the dollar store and a roll of twine. Wrap the wine around the handle, pop in a set of rolled towels, and you're all set. The contrast between the black wire and the natural texture of the twine creates a distinct old-world charm.
14. Vintage LOVE Chalkboard and Clothespin Sign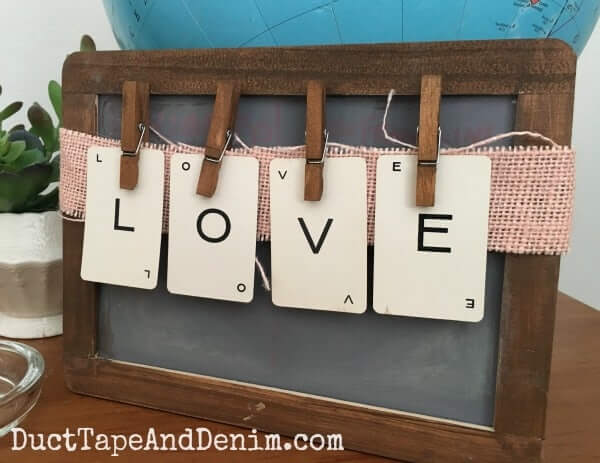 With its old-school chalkboard and gorgeous blend of textures, this chalkboard "Love" sign is one of the best rustic decor ideas for people on a budget. The most important components are things you can find at any dollar store: clothespins and a chalkboard with a natural wooden frame. From there, you have complete freedom. Stain the frame and clothespins. Choose burlap or add color with grosgrain ribbon. Can't find vintage playing cards? Make your own with cardstock and a printer. This makes a lovely accent for Valentine's Day or any time of the year.
15. Distressed Wooden Pillar Candle Holders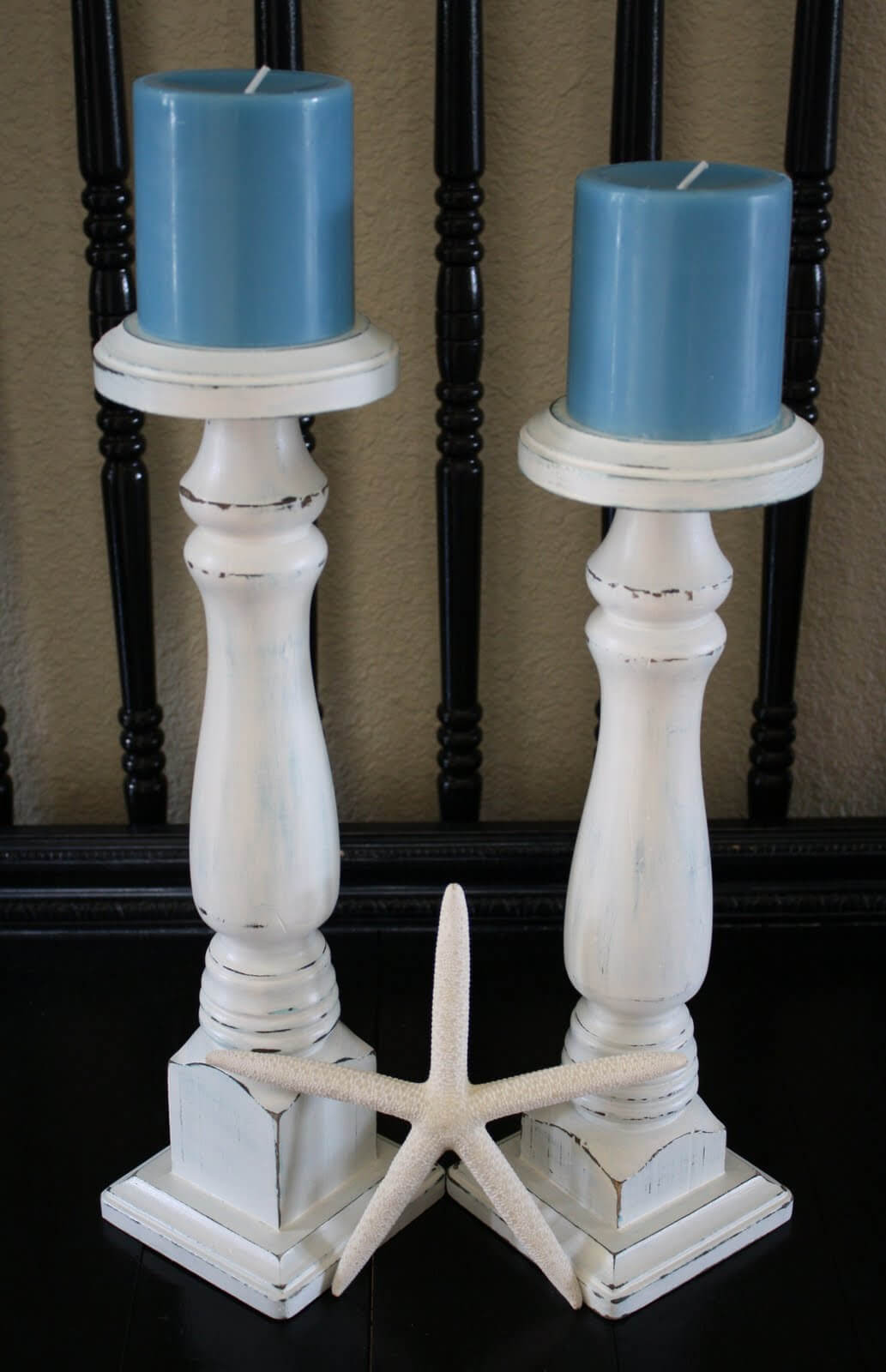 Your guests will never guess that this stunning set of pillar candle holders is handmade — it looks like an expensive vintage set. In reality, it's simply a set of inexpensive wooden holders that have been painted and distressed to look old. The trick? Use dollar-store paint to layer a lighter color over a darker color. That way, when you distress the surface with sandpaper, it creates a dramatic antique look. We love these candles placed on a dining table, a mantel, or a sideboard.
16. Rustic Recipe Holder Home Decoration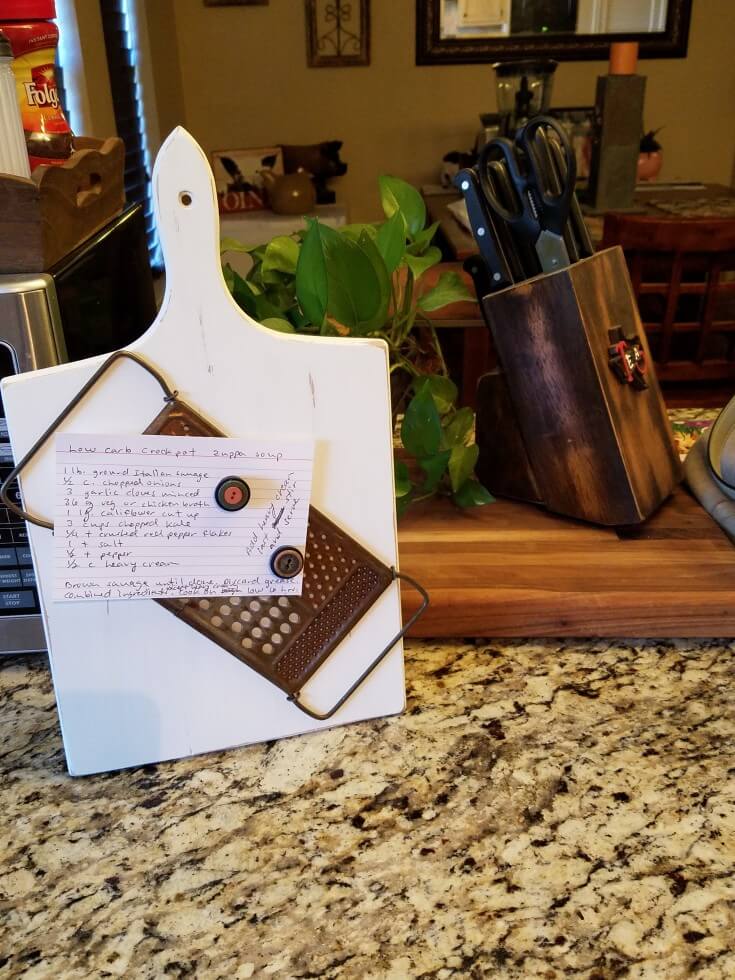 With its blend of textures and materials, this cutting board recipe holder looks right at home in a country kitchen. Made from a vintage grater and an old wooden cutting board, it's also a great way to repurpose items that might otherwise be bound for the trash. Magnets hold your recipe card off of the counter while you cook. This is an awesome idea for a functional recipe holder or a decorative piece. Hang it on a nail in the kitchen, and it doubles as a work of art between meals. Do you have an old recipe in a family member's handwriting? This is a fun way to showcase it and keep your loved one's memory alive.
17. Two-Tiered Rustic Serving Platter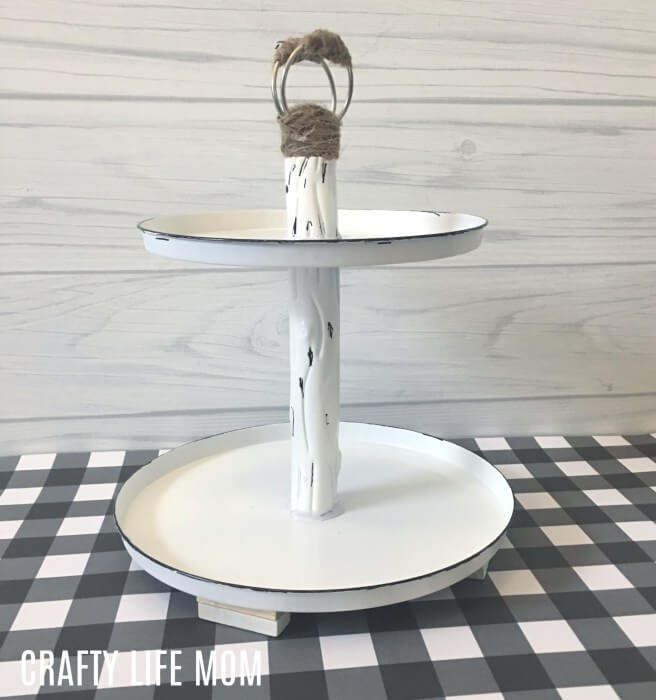 Painted a fresh shade of white and accented with natural twine, this rustic serving platter does double duty as a work of art and a functional party tray. You'll need a few tools to make it — namely, a saw that can cut through metal. The dish itself features two metal plates with a wooden branch running down the center. A coat of white paint creates a unified look, and an accent of twine and metal rings completes the old-world look. This is one of the best rustic decor ideas if you like to entertain; or, you can use it to display jewelry, tiny knick-knacks, or even small ornaments at the holidays.
18. Distressed Bowl Full of Clothespins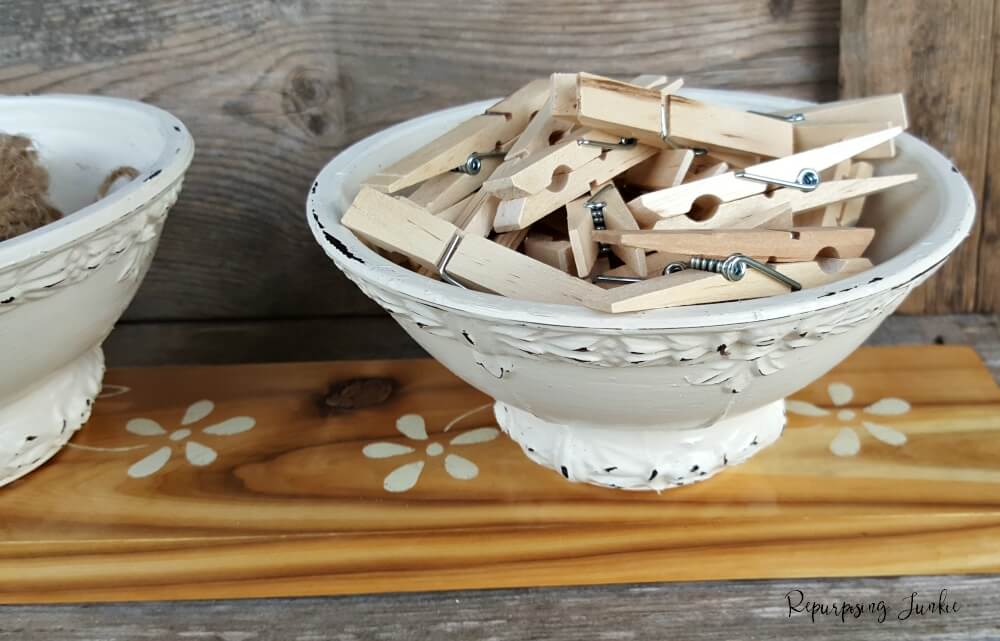 Who knew the humble clothespin could be so lovely? This display takes a simple household supply and elevates it to one of the best rustic decor ideas. The magic lies in the bowl itself, which features a raised floral design. With some of the paint scraped off, the bowl resembles an antique, and you have an awesome idea for a shelf or a fireplace mantel. Be sure to choose unfinished wooden clothespins for maximum farmhouse charm.
19. Wooden Tea Box with Floral Inset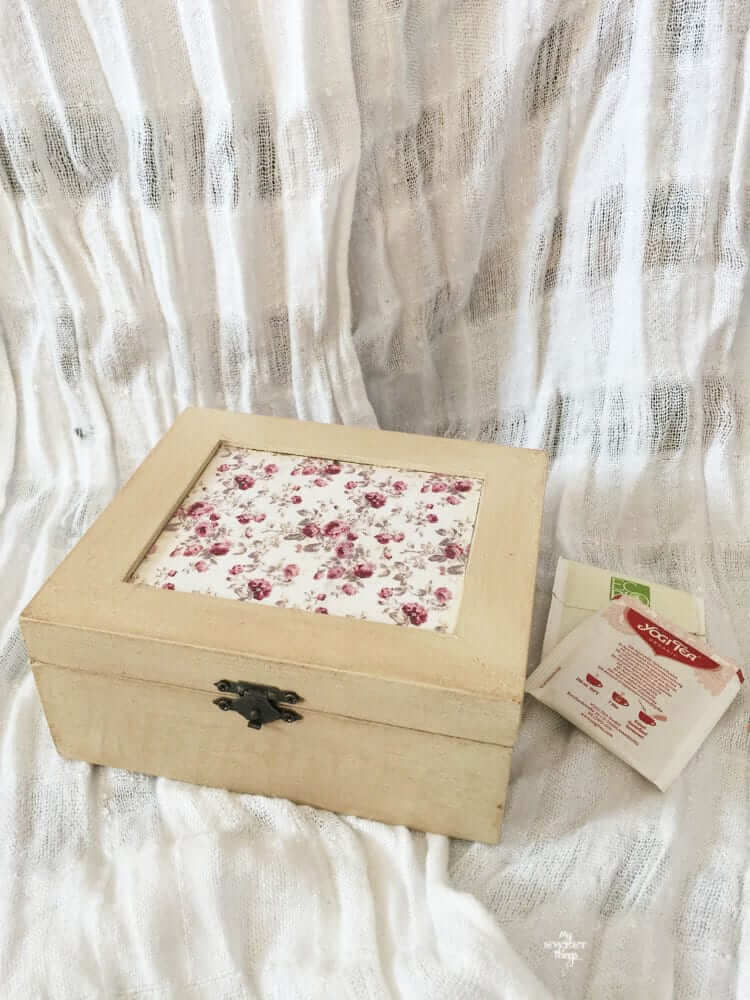 Store your favorite teas in this elegant wooden box, which uses floral fabric to create a piece that looks like it's been handed down for generations. If you're looking for cool dollar store DIY ideas that don't take much time, this is a great choice. In the craft section of the dollar store, grab a wooden photo-storage box. The trick? Finding one with a space for a photo on the lid. Then, you can cover the photo protector with floral fabric for an instant upgrade.
19 Budget-friendly DIY Dollar Store Rustic Home Decor Ideas Your Guests will Adore
As you can see, creating rustic home decor projects doesn't have to take a great deal of time or expense. When it's time to jazz up a plain space or refresh the look of a room, all you need is a bit of ingenuity. In fact, you may even have many of the supplies you need on hand already.
When you're creating a rustic home, there's no need to spend big bucks on decor pieces. In fact, you can decorate every room using inexpensive materials from the dollar store. That's the best part of this style — it gives you the freedom to create a look that's completely personalized and one-of-a-kind. If you want to avoid run-of-the-mill spaces, these simple DIY projects are the perfect place to start.
While you're considering which of the best rustic decor ideas to tackle first, consider what you have. Do you have small items that are currently sitting in a drawer? Choose a project that displays your pieces in a creative way. Are there personal family heirlooms that you're not sure how to use? Work them into a decor piece so you can give loved ones and ancestors a place of honor. At the end of the day, that's what rustic style is all about: celebrating the heritage and hard work that goes into maintaining a loving home.
Choose Rustic Wall Decor Ideas to Make Your Home Warm and Inviting