The best DIY dryer sheet storage ideas will help you organize your laundry room and leave your sheets smelling fresh for longer. Dryer sheets work wonders on your clothes from giving them a freshness boost to allowing them to feel softer. Beyond fabrics, you can use dryer sheets throughout the home from gym bags to drawers. They can even serve as a less toxic remedy for insects if you use them right. The only problem you might ever encounter is storage. If your dryer sheets are not stored correctly, they can lose their freshness quickly.
19 Budget-friendly and Stylish DIY Dryer Sheet Storage Ideas to Liven Up your Living Room

But just how do you store dryer sheets? Whether store bought or made at home, you can put your DIY skills (or simple curiosity) to good use when it comes to creating storage for your dryer sheets. You can make unique containers for them that will not only extend their life, but also contribute to the overall décor in the room. So, don't hesitate to go over our list of some great handmade dryer sheet storage ideas to find inspiration. You never know when something might compel you to elevate your laundry room and give it a fun makeover.
1. DIY Dryer Sheet Dispenser Design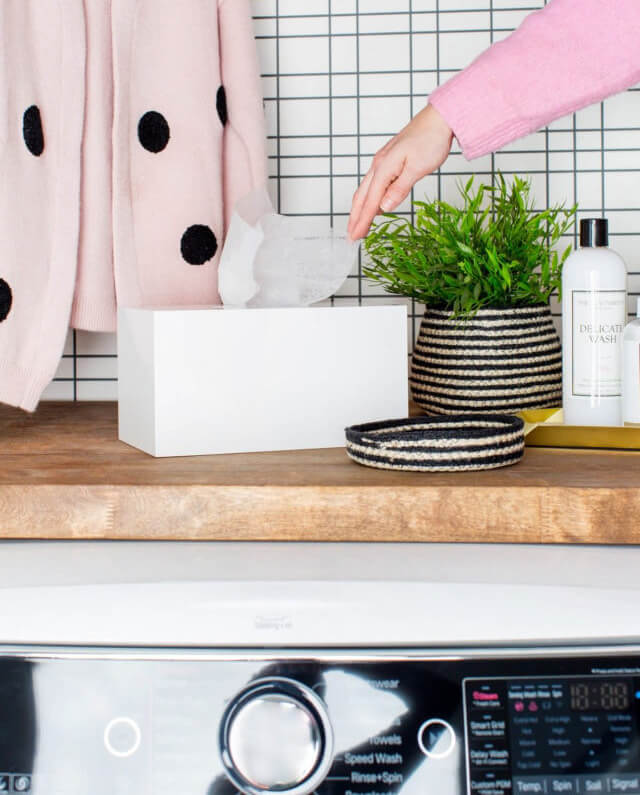 The only thing missing from your epic laundry room makeover is a chic dryer dispenser. This project allows you to create something clean and contemporary all at an affordable price. In fact, this can even be seen as an upcycling project as it utilizes an old tissue box to serve as a dispenser. Just use a tissue box cover, and you have yourself a neat storage container for all your dryer sheets. Simple, low-costing, and quick to do, this DIY project will immediately help your room look far more organized.
2. Bright Homemade Fabric Softener Sheets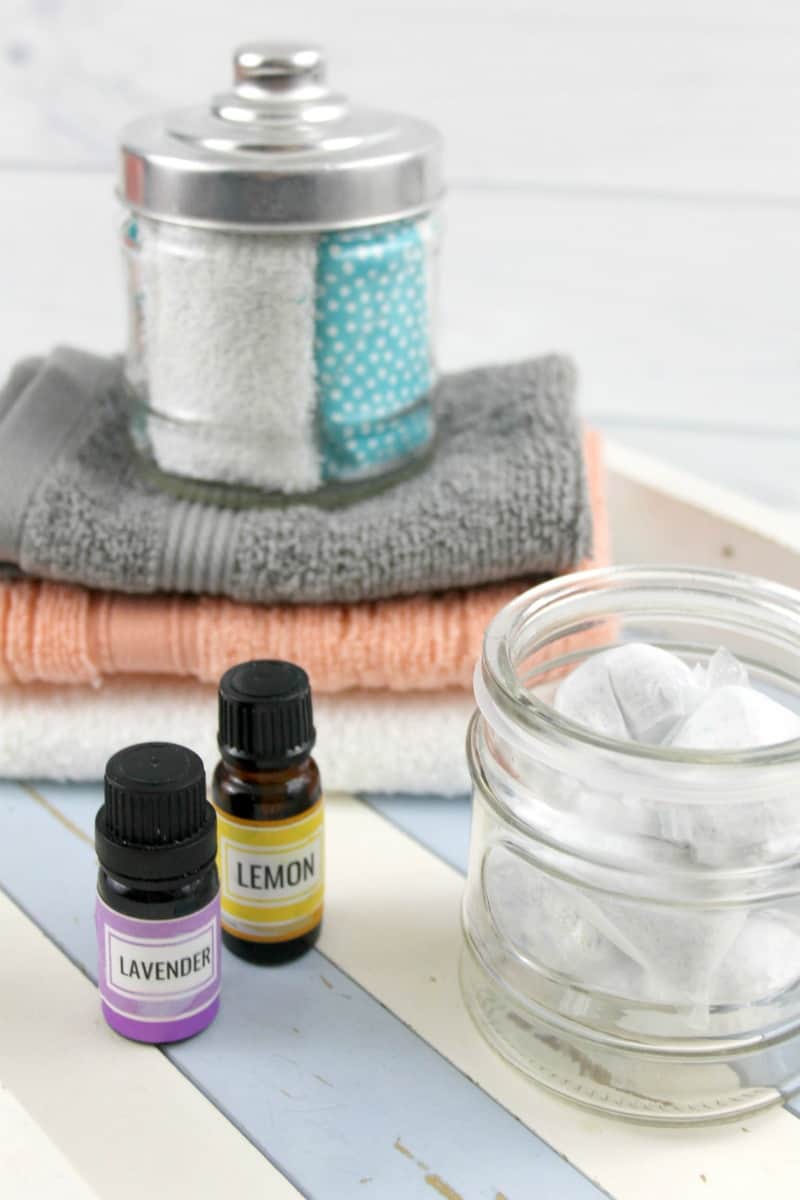 In cute little jars, you can house a handful of homemade fabric softener sheets. These sheets are great to use for anyone seeking natural fragrances for their clothes. Just use some of your favorite essential oils and some old cloths. The project is easy enough that it works out wonderfully for your first time creating DIY dryer sheets. All you need is simple lidded jars to house them too. They can be compact enough for those of you who need a space-saving option in your laundry room.
3. Handmade Dryer Sheet and Storage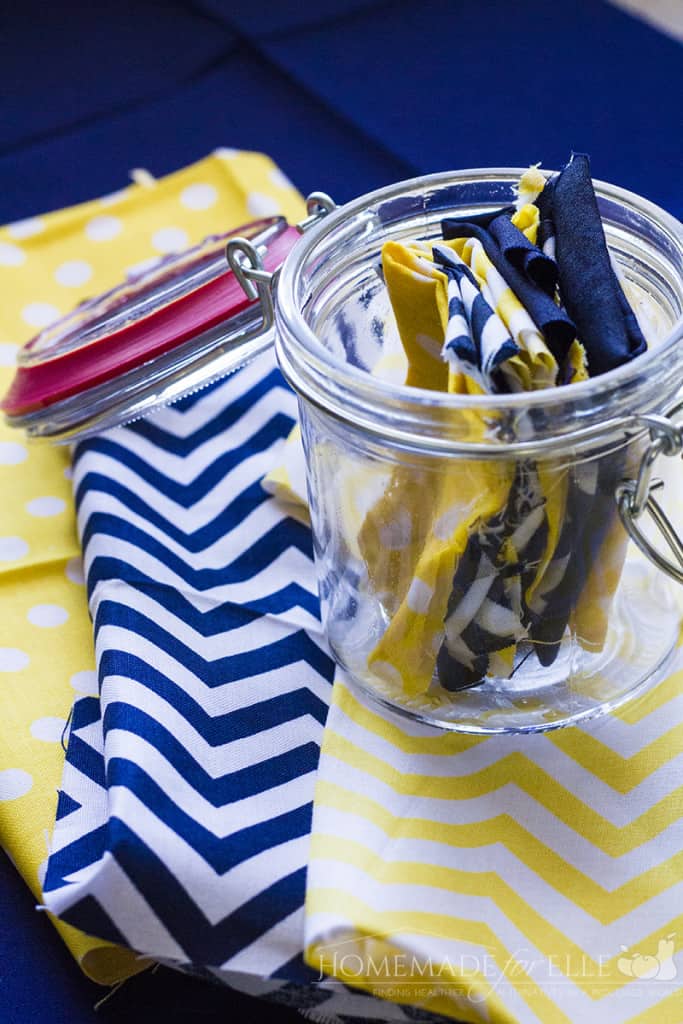 With some old fabric or towels you don't use anymore, you can create long-lasting dryer sheets. Use your favorite essential oils so that your clothes hold their appealing fragrance after every wash and beyond. If you wish, you can aim for fabric that's colorful or holds a distinctive pattern. This way, when you slip them into clear glass jars, they can add a pop of color to your laundry room. It is a lovely way for you to give the room a modern makeover while holding supplies in more reliable and lasting containers.
4. Essential Oil Homemade Dryer Sheets with Storage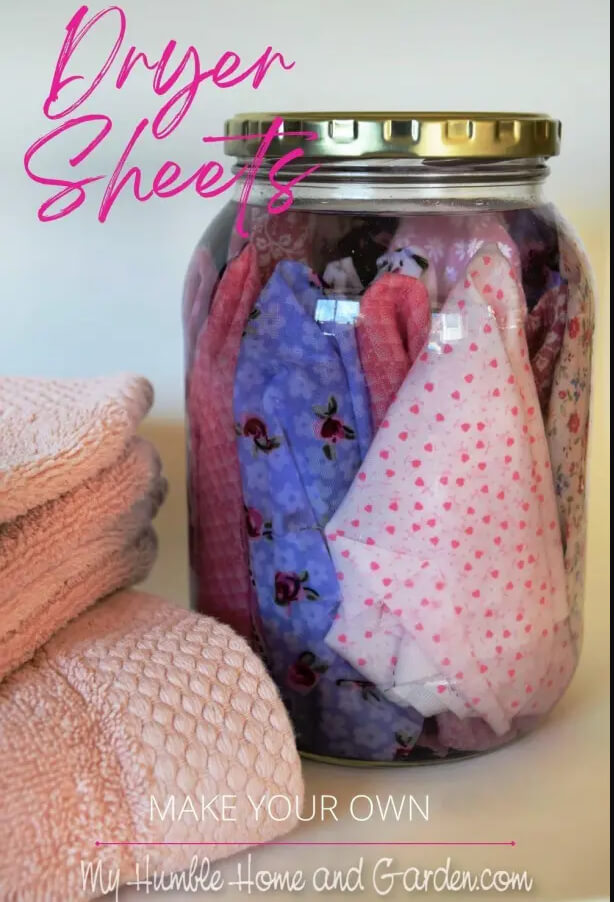 Essential oils are great when you need to make your own dryer sheets at home. Get yourself a sturdy glass jar to house your little creations and you can ensure that they remain fresh throughout several uses. The use of such a jar has a bonus of giving your laundry room a far more collected and high-end look too. Dryer sheets are not just thrown about or in some sort of simple box. Instead, the jar gives everything a touch of elegance.
5. Homemade Dryer Sheets with Farmhouse Storage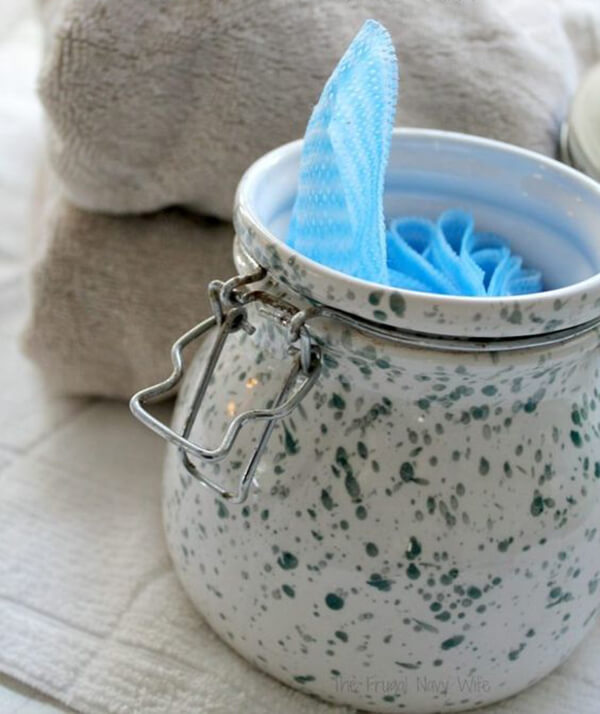 Reach simpler times with this DIY dryer sheet storage idea. Making the dryer sheets yourself, which are reusable, is a smart choice for those who wish to save more money down the road. Plus, they are eco-friendly for anyone out there who wants more natural products in their home. Once made, you can secure them in an attractive jar that has a vintage look about it. This can allow it to blend well in a farmhouse or cottage-style décor, leaving you with something both functional and stylish.
6. Wicker Basket Dryer Sheet Storage Idea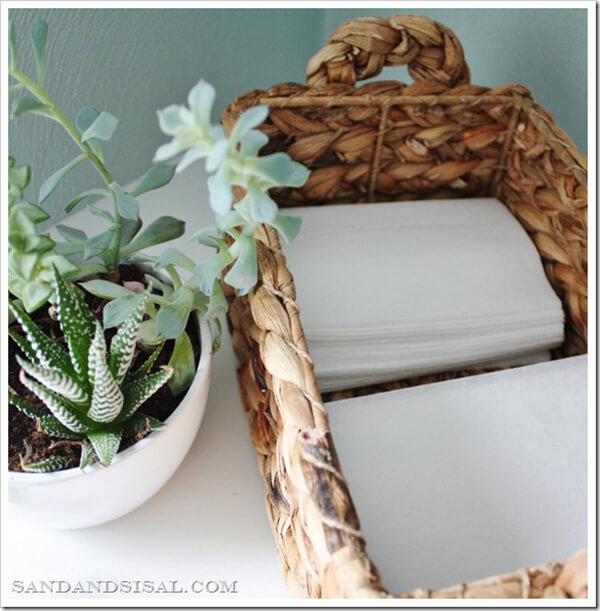 If you know you're going to use your dryer sheets often, then there is no harm in storing them out in the open rather than sealed away. In this case, you can still use an item that is easy on the eyes to decorate your laundry room with and store your necessities. A wicker basket is ideal in this case. It has a natural look to it that can blend with numerous styles from modern and contemporary, to nautical and vintage. The basket also makes it quick and easy for you to pluck up a dryer sheet whenever you need it.
7. DIY Reusable Dryer Sheet Storage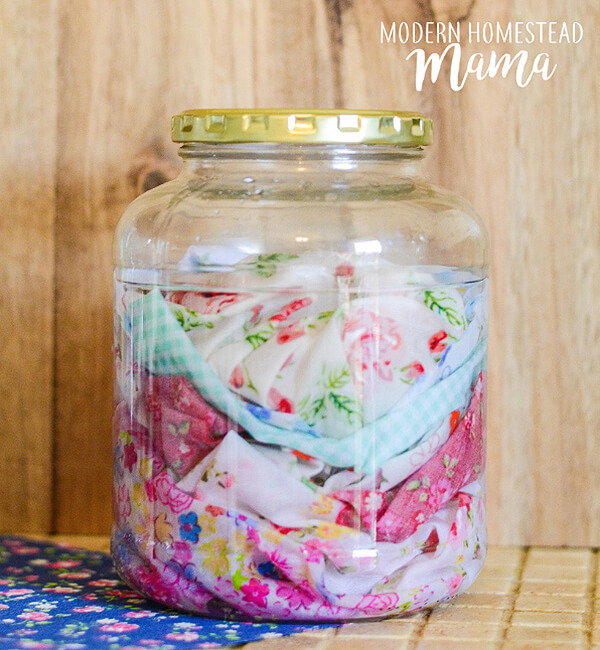 Go green-friendly with this cool reusable dryer sheet storage idea. Any sized jar will do with this project as it all depends on how many dryer sheets you wish to make. Best of all, the jar is perfect to house the oils and liquid you need for these reusable DIY dryer sheet cloths. From there, make certain you have an air-tight lid and you're good to go with your homemade dryer sheets and storage. Additionally, if you opt for a clear jar and colorful cloths, you can create a sort of style when you set this storage up in the laundry room.
8. Whimsical Mason Jar DIY Dryer Sheet Storage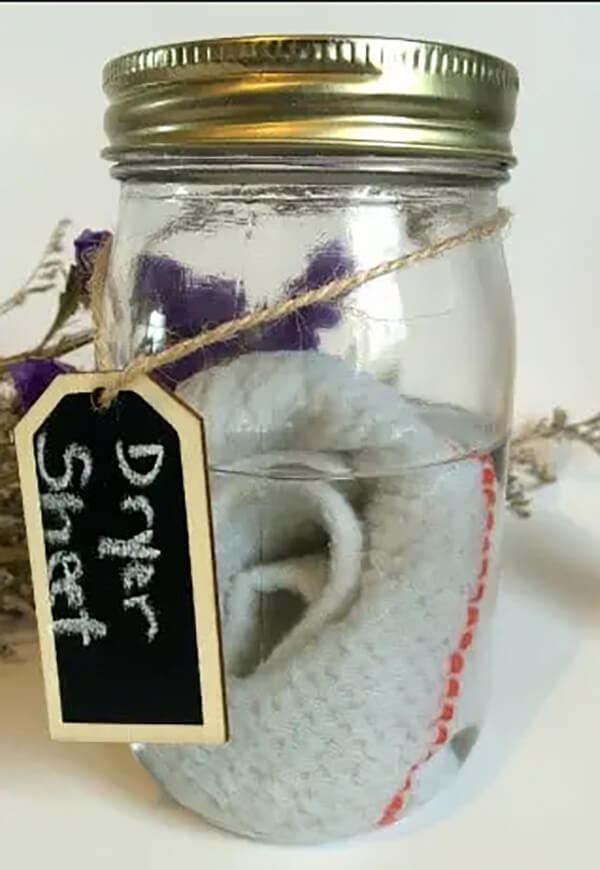 Some of the best DIY dryer sheet storage ideas can stick to an overall theme, making your storage become functional décor instead. You don't have to use many homemade dryer sheets in this one if you don't wish to. A single one is more than enough to fill a small mason jar with ease. If you want to spruce things up a bit, you can do so by using colored cloth or decorating the mason jar itself. Some twine can do wonders to the jar, giving it a cottage-style or imaginative feel that allows it to stand out.
9. Rustic DIY Dryer Sheet Jar Storage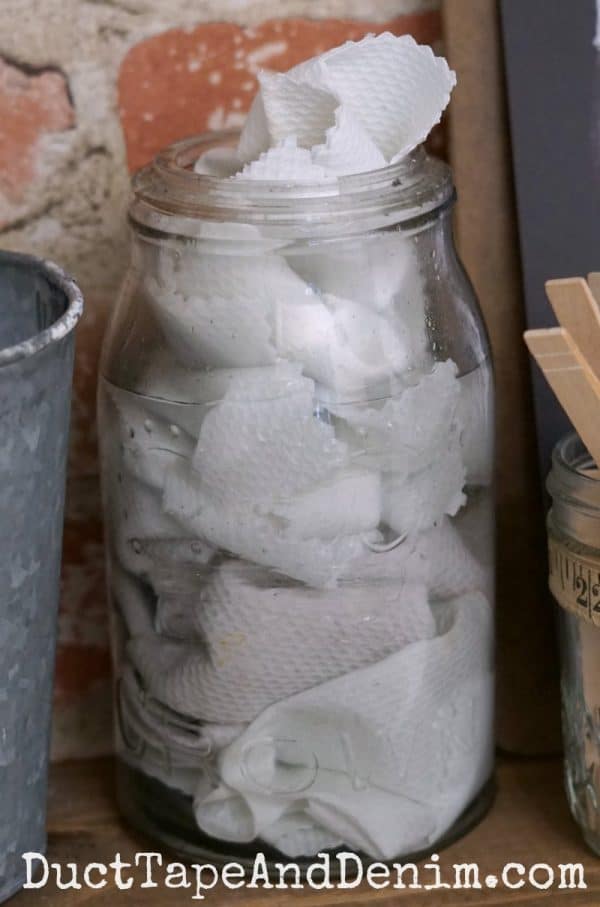 With this easy project, you can learn to create your own homemade dryer sheets. It takes simple fabric and transforms it into reliable dryer sheets. The cloth itself is budget-friendly so you can afford to go through several of them throughout numerous wash and dry cycles. So, feel free to make them in droves if you like. The project is certainly one that is helpful for those of you who do laundry often or have a full household with baskets of laundry to handle.
10. Pretty and Chic Dryer Sheet Storage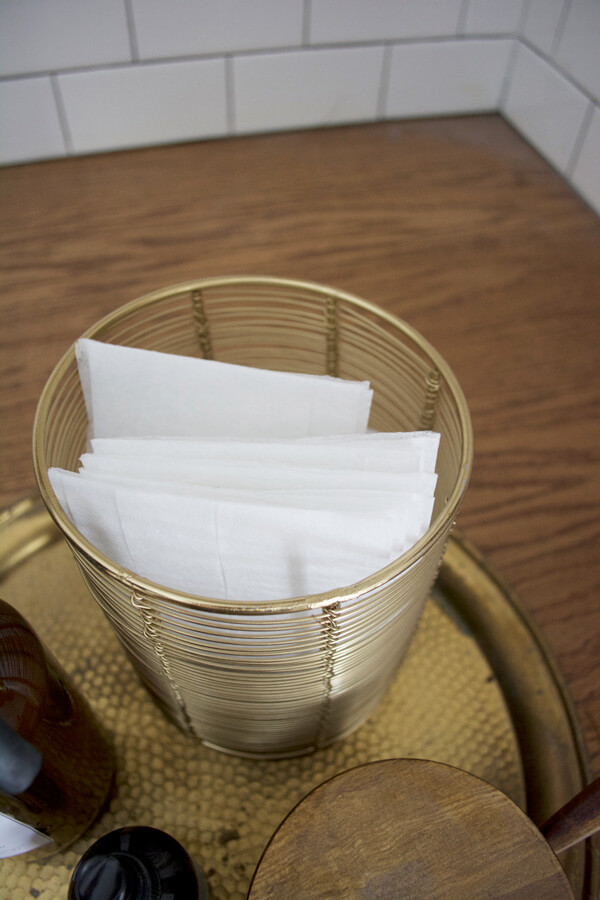 If you are aiming for a more sophisticated touch, consider using a utensil holder. You can opt for one with a stunning color like gold if you want it to truly have a chic sheen. Otherwise, you can always take a more creative touch with this DIY dryer sheet storage and paint it yourself. This way, you can have the exact color and style you aim for, allowing this storage to best suit your personality and home décor. The utensil holder works well too at making it simple to retrieve your dryer sheets without anything getting too tangled up.
11. Mason Jar DIY Dryer Sheet Storage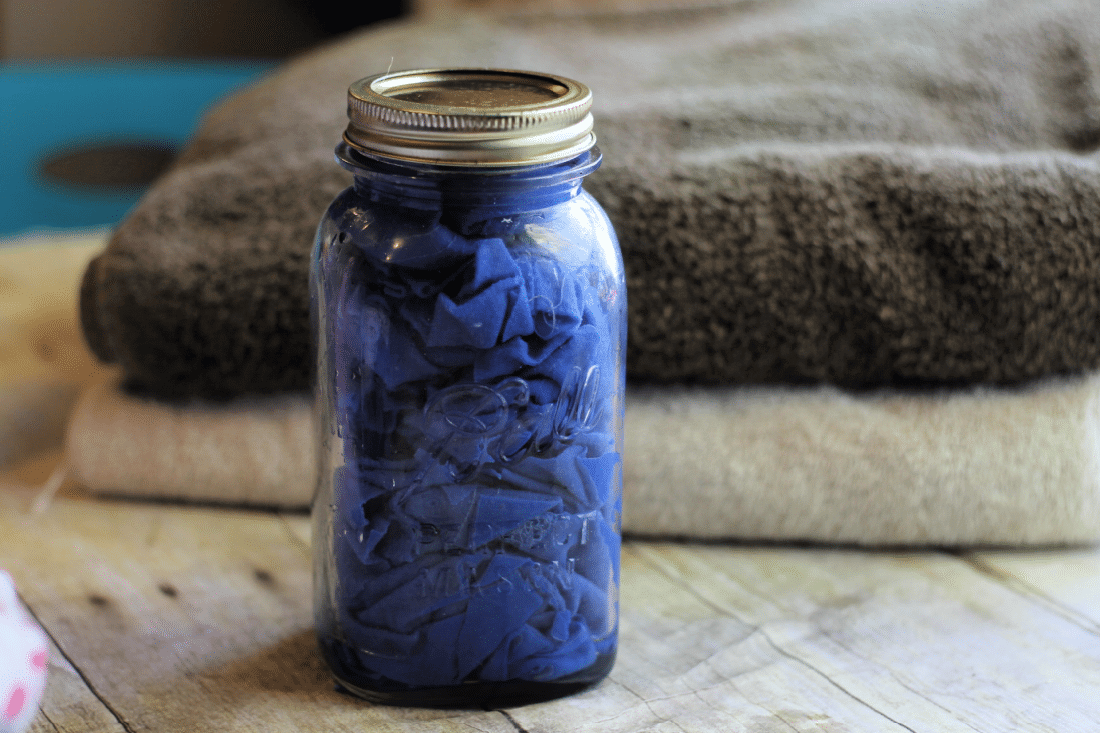 Mason jars are a great when it comes to homemade dryer sheet storage. If you opt for the standard sized ones, you can also create several of these handy storage containers to set up on a floating shelf or anywhere else in your laundry room. With the mason jar, feel free to stack your homemade dryer sheets. Even when filled to the brim, it will have a cool look about it that will capture the eye anytime someone enters the room.
12. Upcycled Tissue Box Dryer Sheet Storage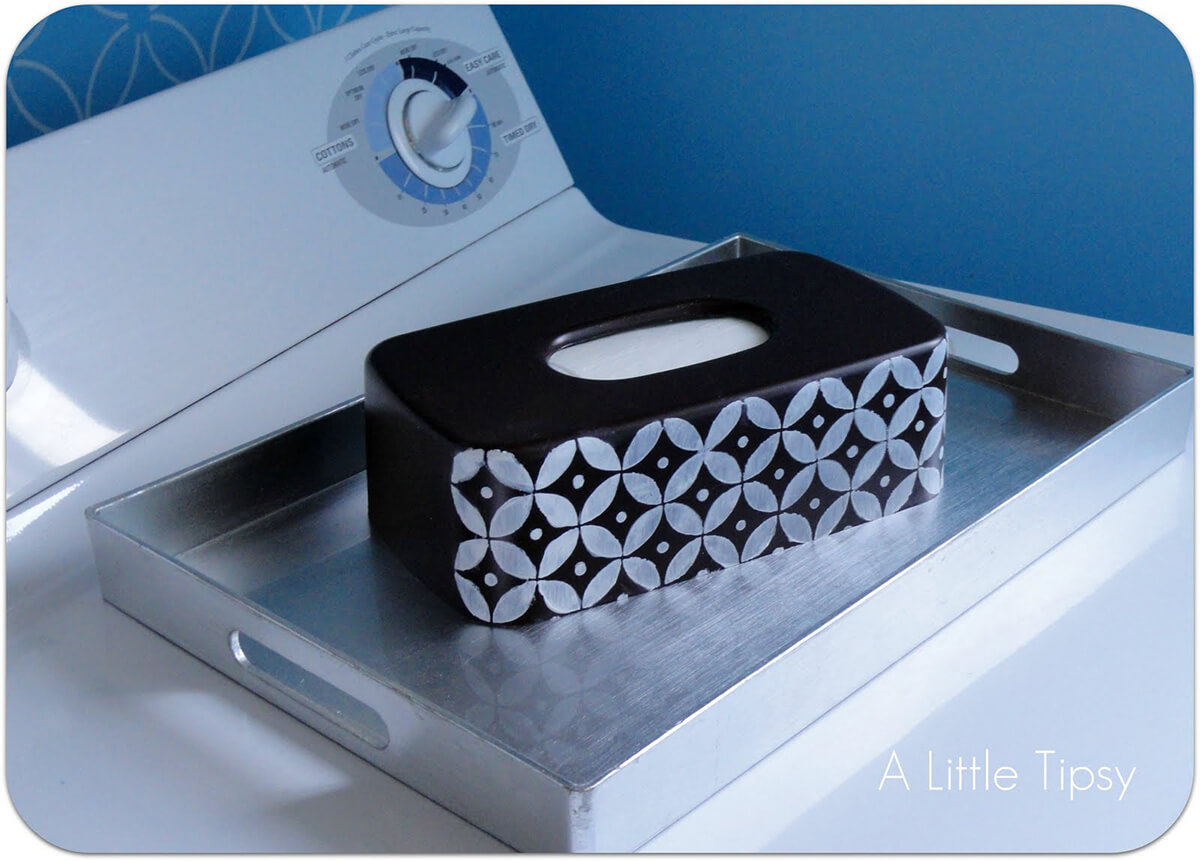 With the right materials, you can easily transform your average foam tissue box into the perfect dryer sheet storage container. The shape gives you something fun to play around with in terms of how you want to decorate your new storage. Match up with the room's décor with ease if you wish. On top of giving you something more exciting to look at, this design makes it remarkably easier to retrieve dryer sheets, getting exactly what you need and nothing more.
13. Simple Dryer Sheet Storage Bucket Design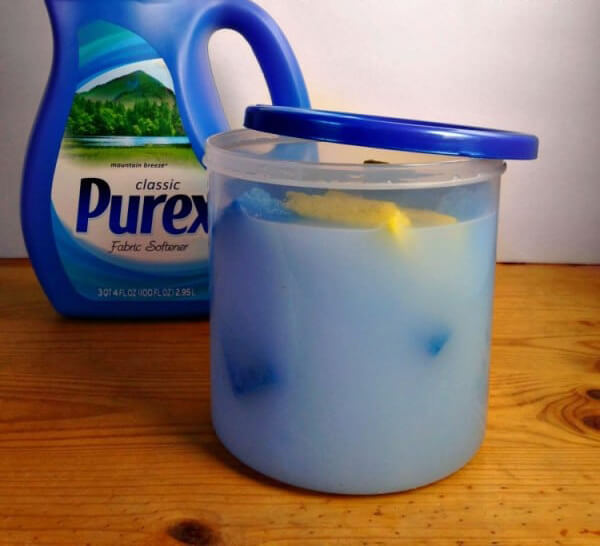 Sometimes all you need is a bucket to make your laundry room look a touch more orderly. This bucket can successfully house all your homemade dryer sheets (or sponges). The best thing about using such a storage container is that it is most ideal for those of you who want to take a more minimalistic approach. There is nothing flashy behind it as it is made simply to do its job. At the same time, it can still manage to add a nice little hint of flair to your laundry room.
14. Simple Homemade Dryer Sheets and Storage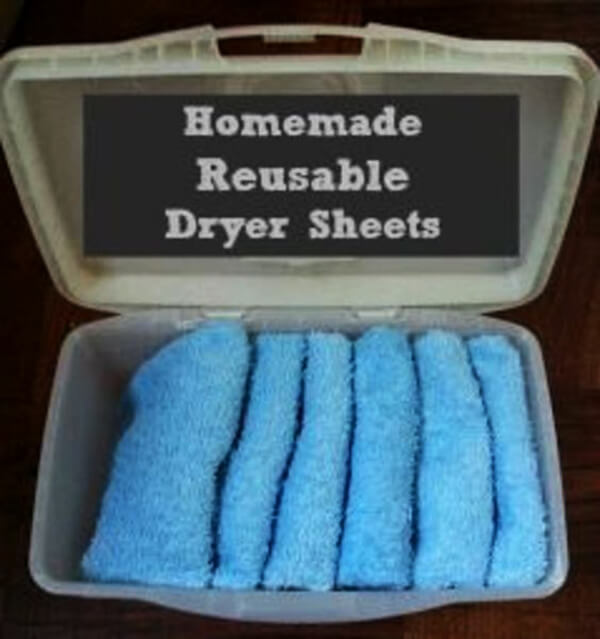 With this DIY project, you can effortlessly create reusable dryer sheets that leave clothes smelling lovely wash after wash. A single sheet is useful through numerous runs through the dryer too, allowing you to make less for more. All that is left is to store them all neatly in a single container. Since you don't have to make too many of these, any small container with a snap-closed lid will do the job well enough. This is a more straightforward and understated way of storing your dryer sheets in a minimalistic environment.
15. AuldHome Dryer Sheet Countertop Dispenser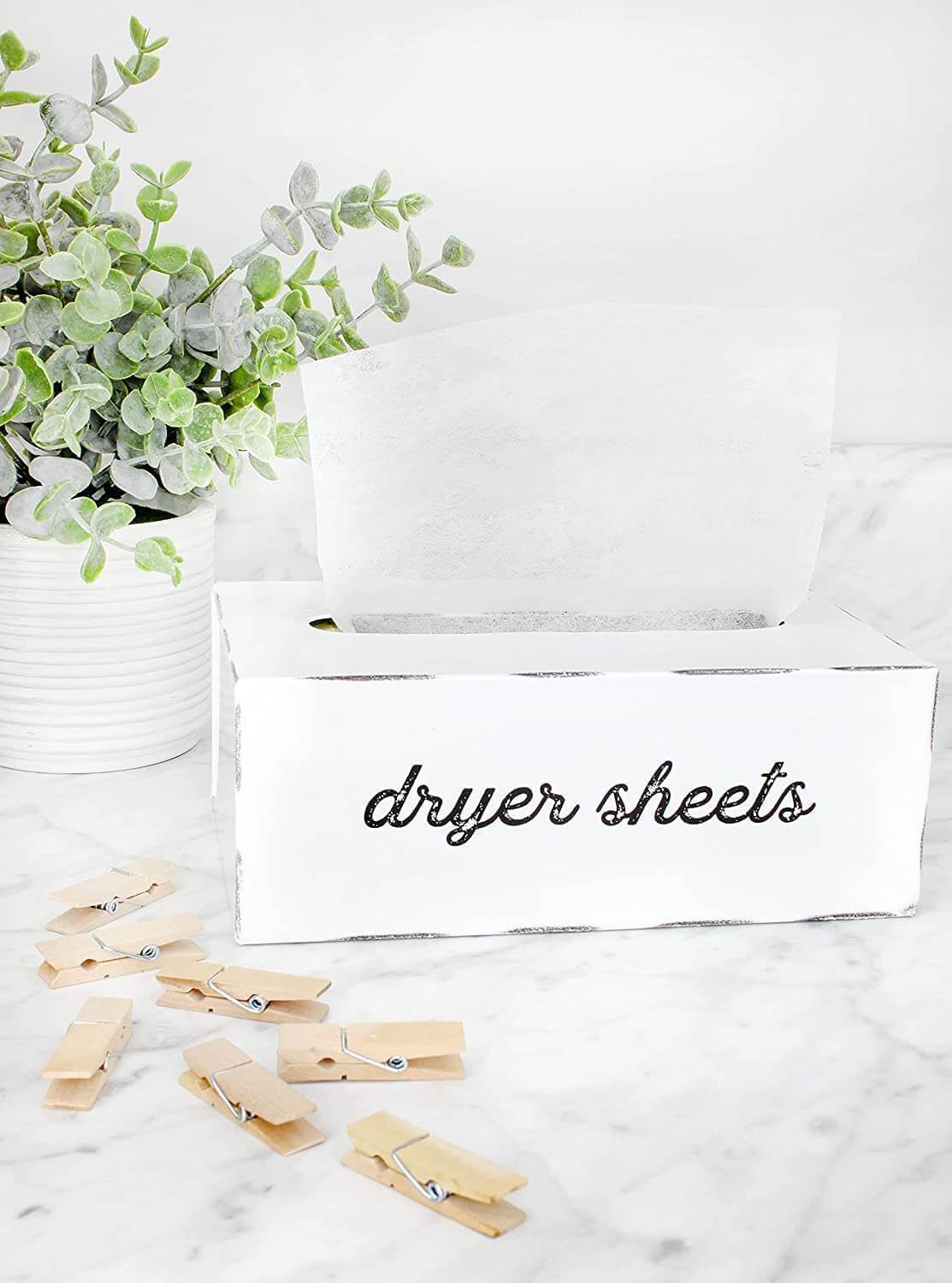 Available in white or black, this dryer sheet dispenser is beneficial to your laundry room. Whether you have a floating shelf, a counter, or simply want to rest this on top of the dryer itself, the dispenser doesn't take up too much space. At the same time, it is roomy enough to hold numerous dryer sheets inside. They dispense out much like tissue in a tissue box, making it far easier to acquire them. There are some fun distressed features throughout the steel box to give it some more flair. This even features a cool 'dryer sheets' label in similar distressed writing.
16. Large Handmade Dryer Sheet Storage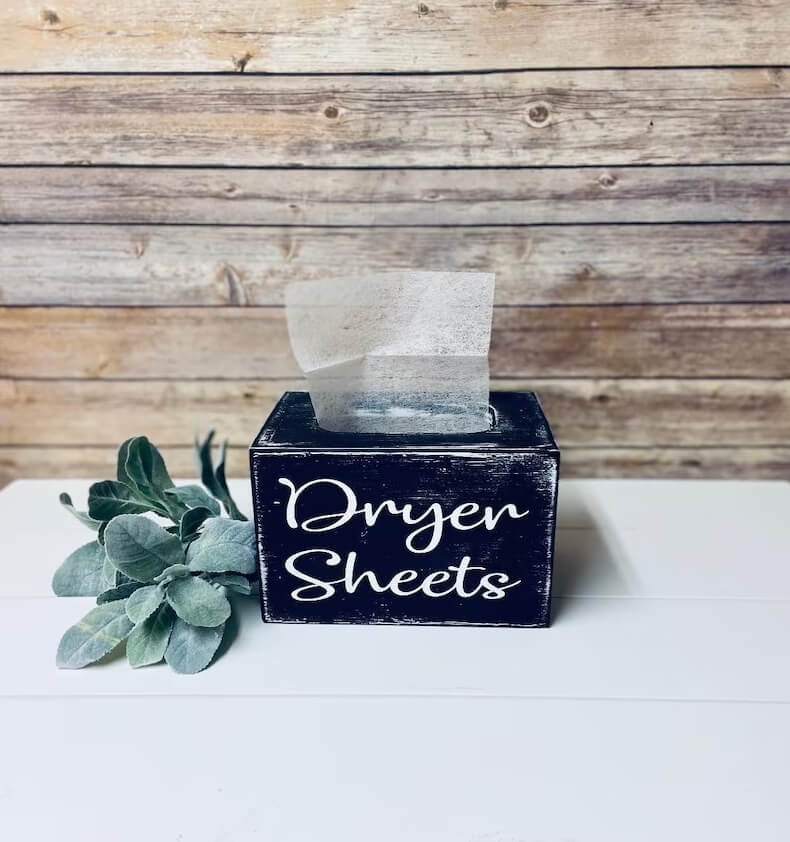 Organize your dryer sheets in an attractive, vintage-like handmade wooden box. The writing is bold and easily seen. You can select from different lettering colors as well as several box colors, leaving you room to play around when it comes to matching the box to your laundry room style. This is an ideal size too as it can hold more than 200 dryer sheets. They come out the same way as a tissue box too so you don't have to fiddle around with the sheets when retrieving them. Even though it is a helpful size, the box itself is still designed in a space-saving way.
17. Ikkle Wooden Dryer Sheet Holder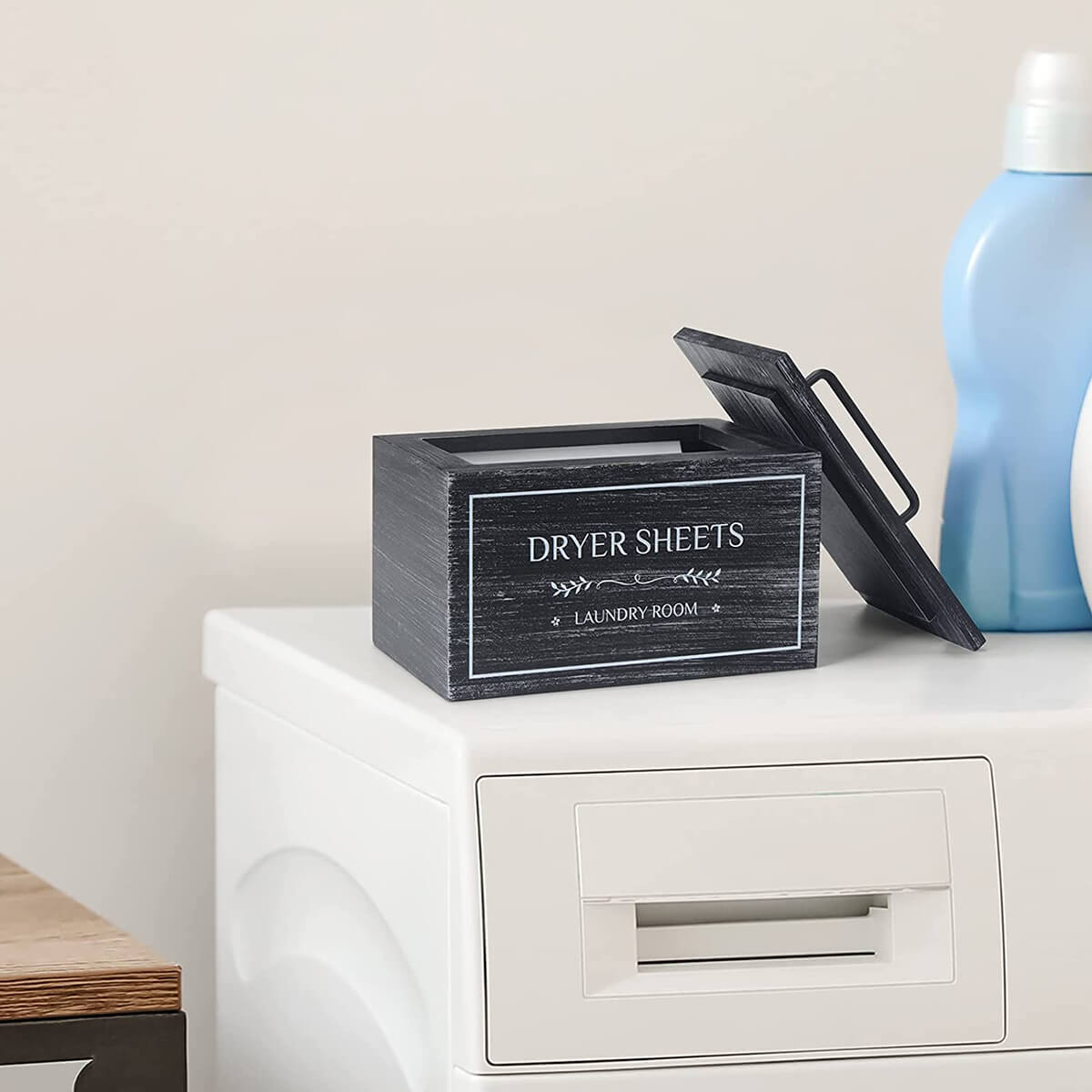 For a farmhouse style laundry room, you need matching storage solutions. So, why not turn to this stunning wooden dryer sheet holder? This box features a wide holder so that it is simple to get the dryer sheets out as well as restock them when they run low. The lid is simplistic in design, yet effective at sealing off the dryer sheets to maintain their freshness. Additionally, this already features a label on the front so that you can better organize everything in your laundry room. The weathered appearance on the wood helps add to the overall style in the room too.
18. Straightforward Dryer Sheet Storage Box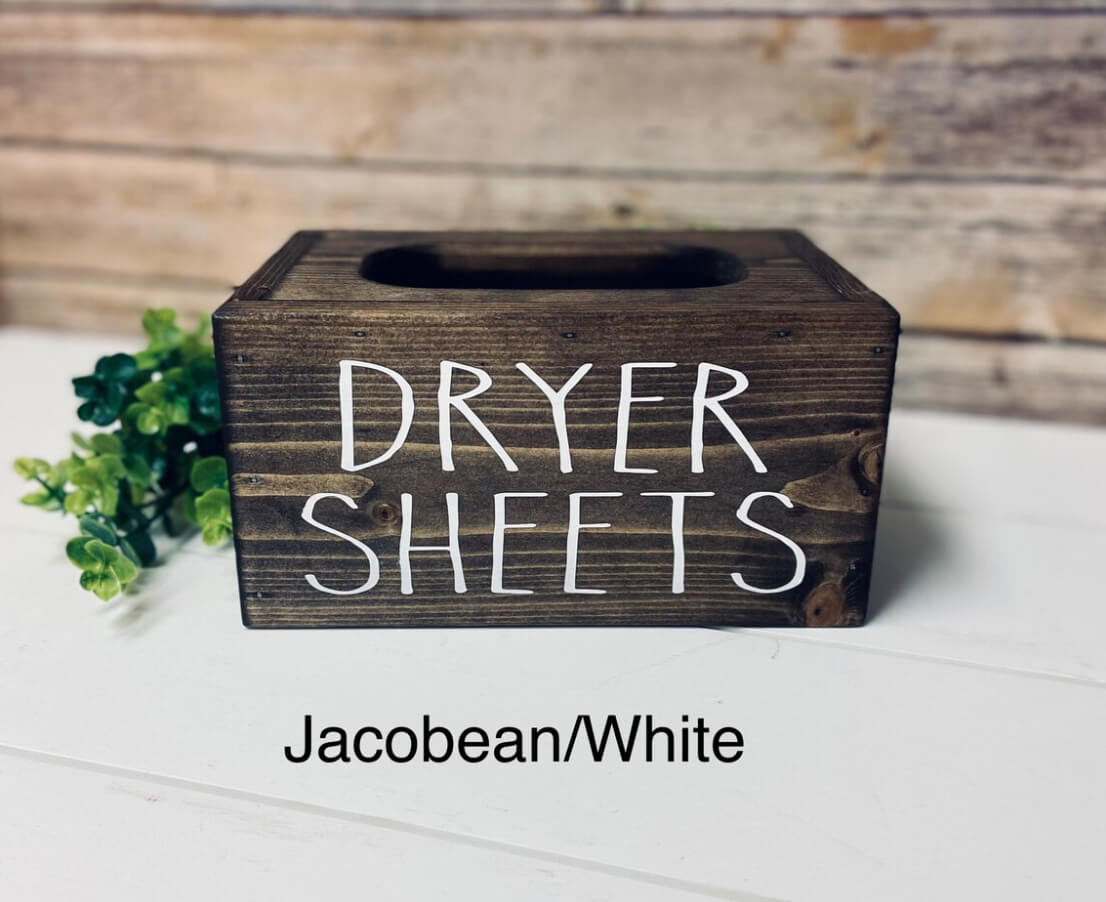 With 'dryer sheets' proudly put on full display, this box is your answer to an uncomplicated storage solution. Capable of housing more than 100 dryer sheets, this DIY dryer sheet storage box blends well in your laundry room set up. It is shaped largely like a tissue box and behaves much the same, freeing you to snatch up what you need in a second. This box is made in eight different colors along with several writing color options. You can even receive it without the writing if you wish, giving you room to perhaps make your own custom labeling to better personalize the box.
19. Clear Plastic Dryer Sheets Box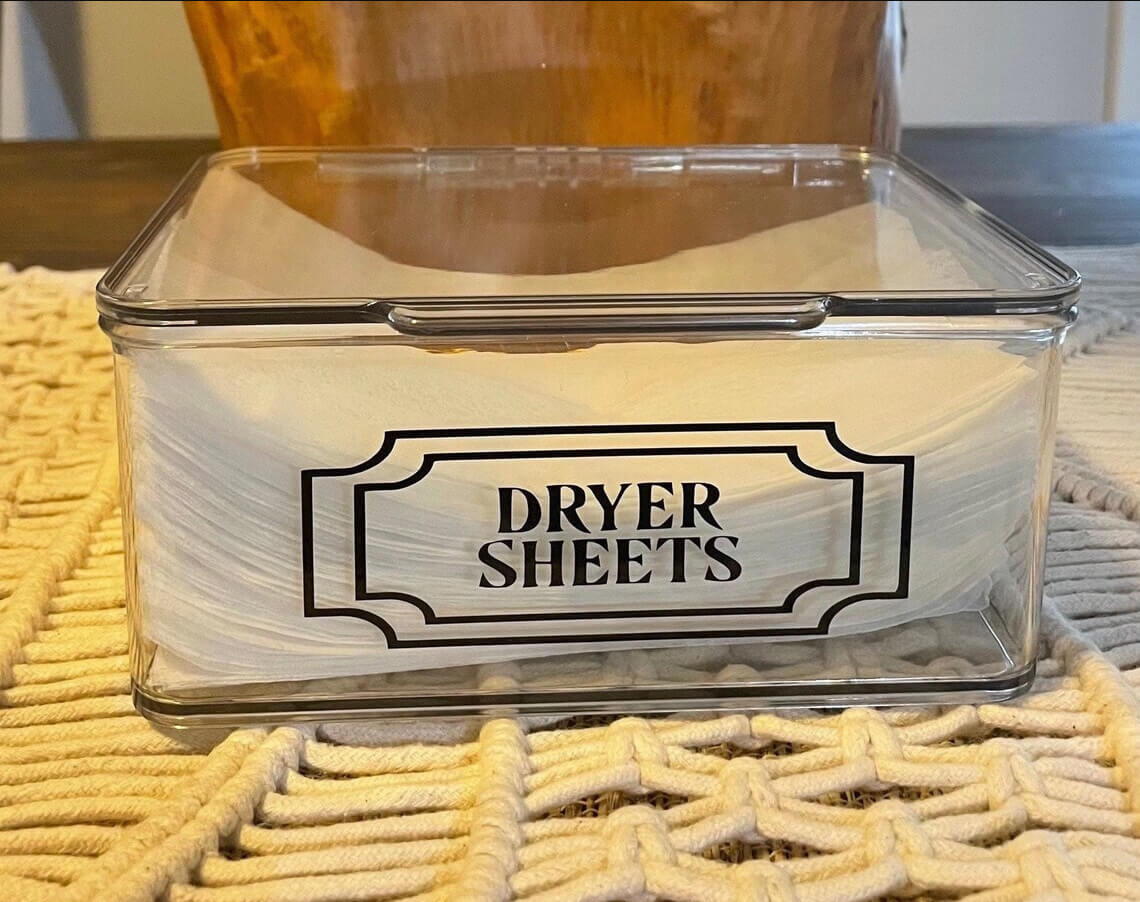 For those that want to feed a minimalistic style, this clear plastic dryer sheet box is the right choice for you. It features a hinged lid that makes it simple to get the dryer sheets in and out. This also gives the box a nice and reliable seal for the sake of freshness, allowing you to set up the dryer sheets without having to go through them quickly to maintain their high quality. The simplicity of the box follows through with the lettering. It is a wonderful choice when you are seeking a clean and straightforward look to your laundry room.
19 DIY Dryer Sheet Storage Ideas for a Laundry Room Makeover
You can never have too many dryer sheets seeing as you can use them for things beyond doing laundry. Even if you are using the sheets as intended, you don't have to feel stuck keeping them in their regular boxes. Instead, you can come up with some incredible dryer sheet storage. Not only does this allow your laundry items to have a certain style befitting your home, but this can also help in extending the freshness of the dryer sheets.
The best part about DIY projects like this is that just about anyone can do it. So, if you have the creativity, feel free to experiment with the handmade dryer sheet storage ideas on our list to adorn your laundry room with.