When it comes to DIY fall centerpiece ideas, look no further than your own backyard. Autumn tablescapes are all about showcasing the natural beauty of changing leaves and bountiful harvests. Gather up bright fall leaves, fallen acorns, and pinecones for quick and simple rustic displays. Use rough-spun fabrics, like burlap table runners, to complement the texture of natural materials or shiny fabric, like satin, to provide contrast. For understated elegance, stick with monochromatic color palettes, like shades of ivory and gold, and accent the arrangement with metallic elements and glass.
45+ Pro-Level DIY Fall Centerpieces You Can Make Yourself

Simple white candles elevate any display and add a touch atmospheric lighting. Pumpkins and gourds are a must, of course, but for long-lasting arrangements, look for foam versions of these autumn staples. Not only can these be used year after year, but they can also be painted, carved, or cut open and used as vases or containers. And speaking of vases, now's the time to break out all kinds of unconventional containers for your nature-walk finds; galvanized buckets, apothecary jars, flowerpots, and even hollowed out logs make beautiful backdrops for your arrangements. Whether you're creating dramatic dinner party tablescapes or just a simple end table display, check out this gallery of 45+ beautiful DIY fall centerpieces that are sure impress.
1. Great Grains and Wooden DIY Fall Centerpiece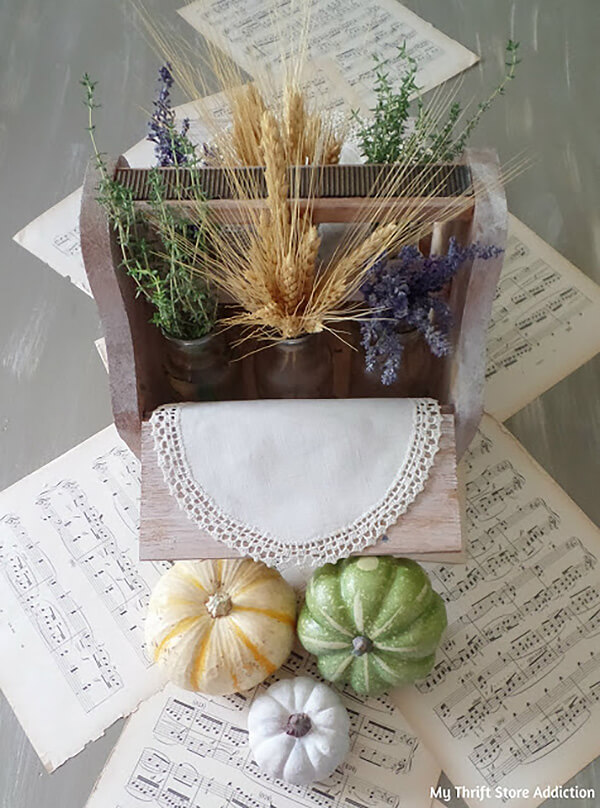 Gather some of your favorite harvest-time goodies and arrange them in a gorgeous autumn centerpiece. A former wooden tool holder doubles as a perfect gathering place for your grains and fall flowers. It's a wonderful fall decoration to add to your modern farmhouse kitchen or even on the side table on your front porch.
2. Velvet and Textured Pumpkin Patch DIY Fall Centerpiece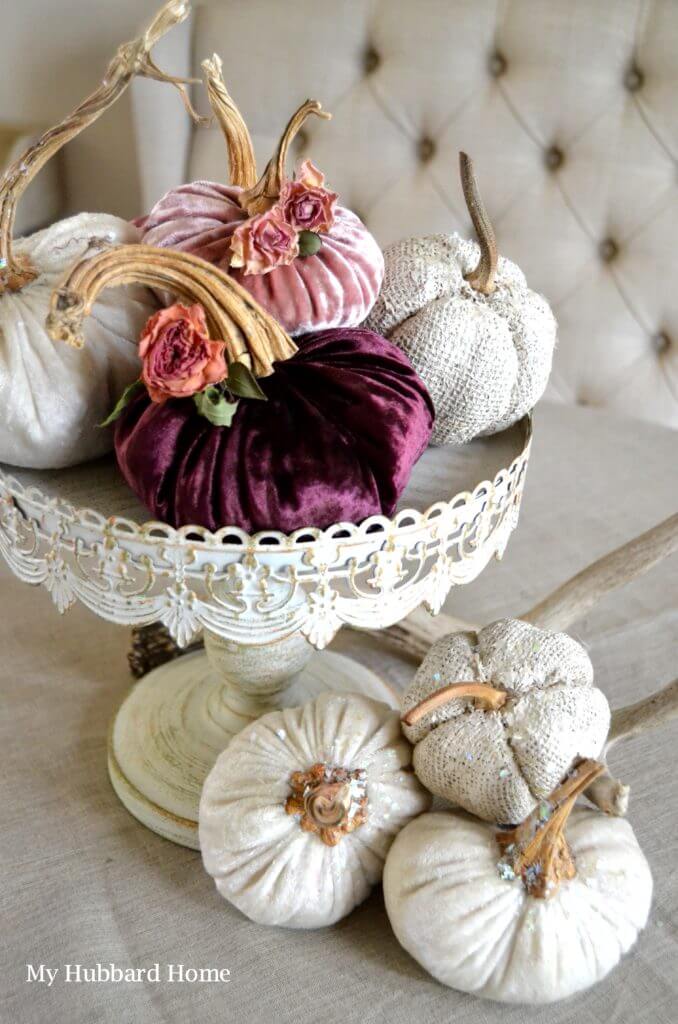 Rich and luxurious are what you'll find in this table-topping pumpkin patch. The gorgeous white and plum hues show off their shiny sheen as they fill the curves of the round and plump little pumpkins within your DIY fall centerpiece. A grouping of these is sure to make your space a little more feminine and romantic as you welcome the season of fall.
3. Neutral and Natural Harvest Coffee Table Topper DIY Fall Centerpiece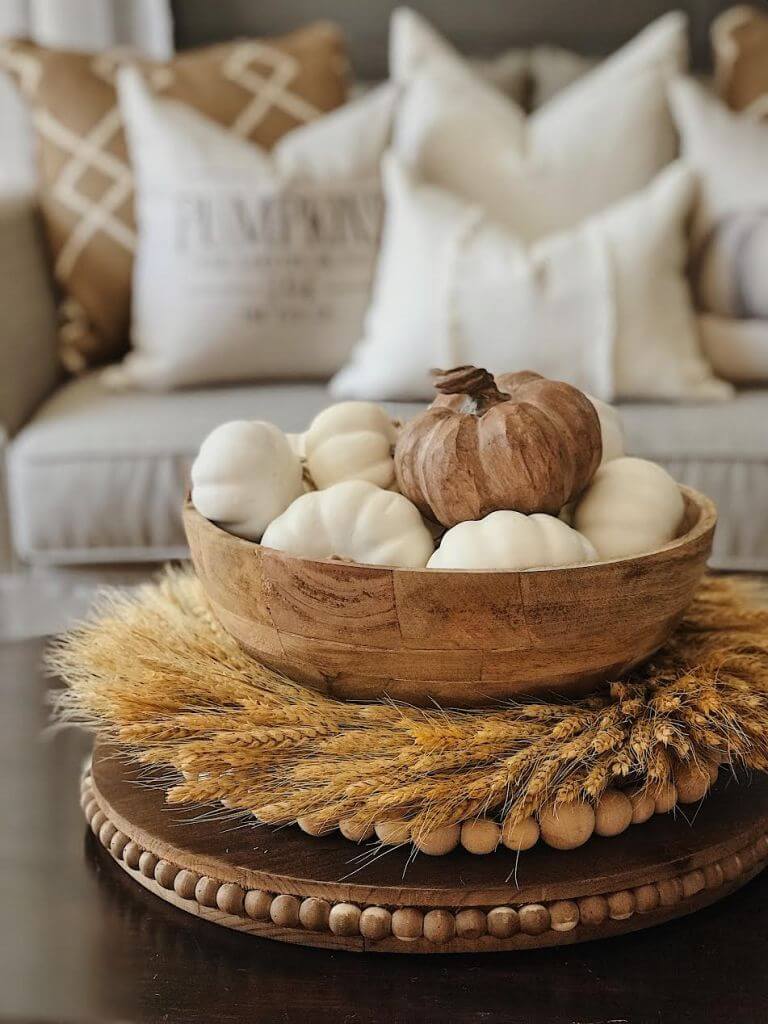 Incorporate the sights and textures of the fall season with this beautiful coffee table centerpiece. The rich and earthy browns of the wooden and grain base are the perfect foundation to keep this awesome autumn decoration the center of attention. Adding some white miniature pumpkins and one wooden one completes the look that is perfect for staging your living space for Thanksgiving dinner.
4. Modern and Contemporary DIY Pumpkin Centerpiece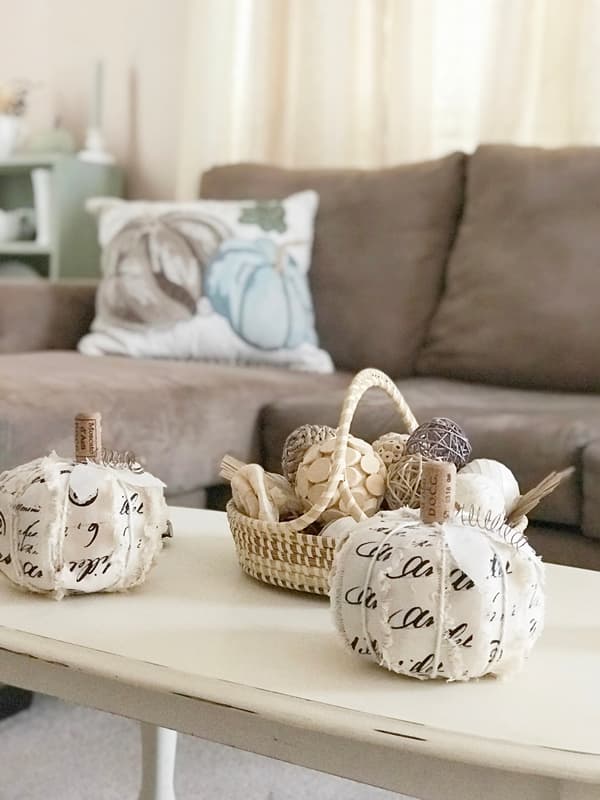 Source: The original source is not available anymore.
Create a cozy atmosphere in your home with some simple DIY fabric pumpkins in a contemporary color scheme. The cork stems add an element of whimsy too. Why not host a gal gathering at your place to craft these seasonal favorites and enjoy a glass of wine?
5. DIY Fall Centerpieces: Warm and Inviting Pumpkin Filled Decorative Tray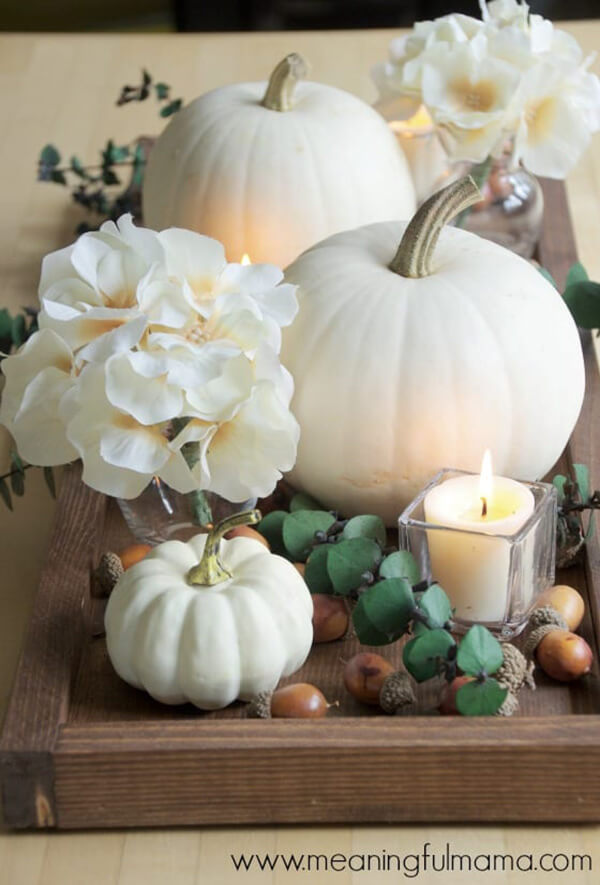 The soft glow of a flickering candle is the perfect way to enjoy a good book on a crisp fall day. Set your candles amid a pretty tray filled with eucalyptus, flowers, acorns, and pumpkins to house all the feels of fall into one place.
6. Rustic Old World Charm Home Decor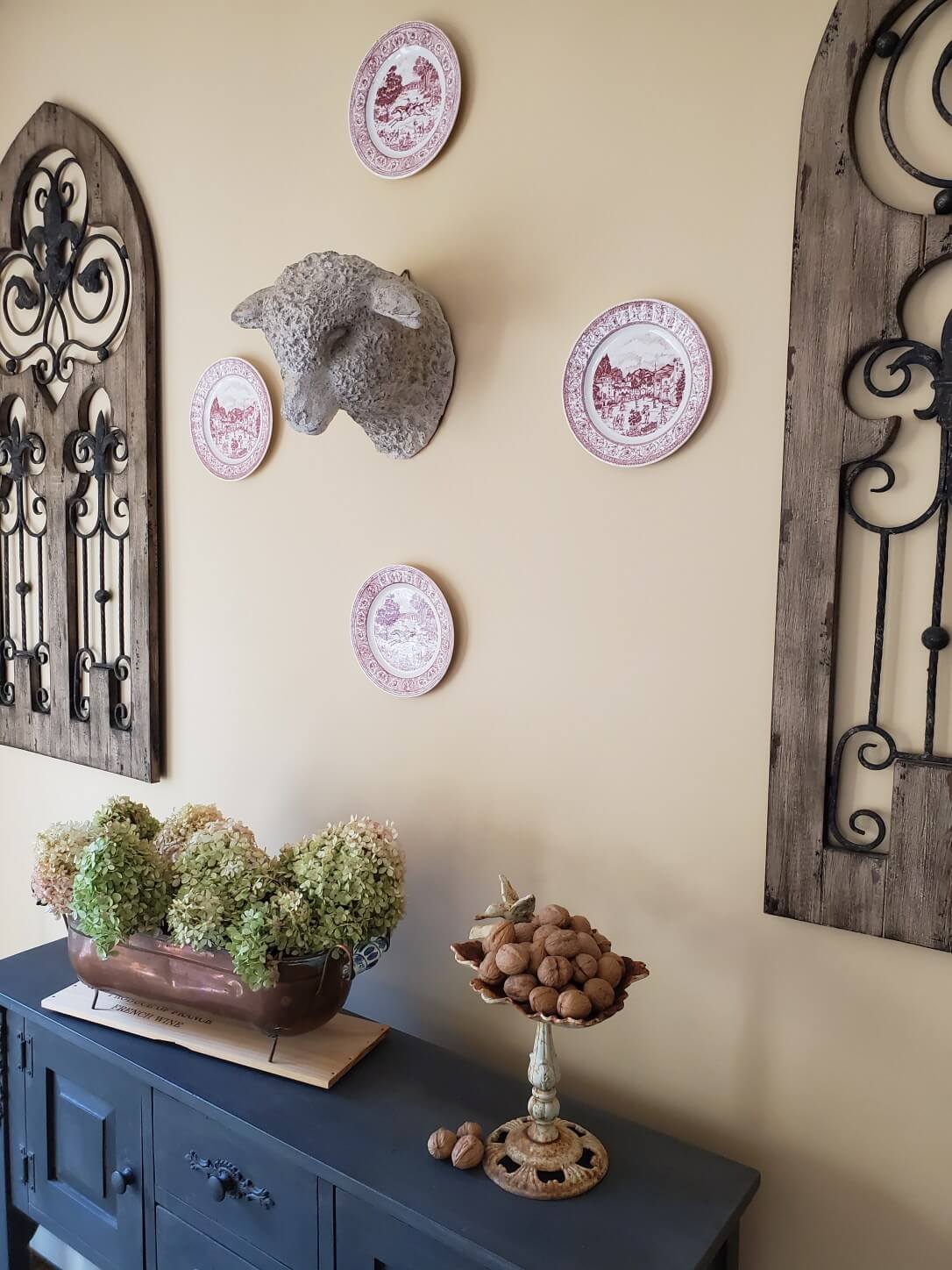 Channel in some old-world charm into your home table decor with these decorative plates, scrolled metal and wooden wall art, and nut tray. Reminiscent of European style, these pieces work together to create a universal appeal in your home. A trough of blooms brings a little natural beauty into the otherwise rough and tough masculine space.
7. Pumpkins Nestled on a Bed of Greens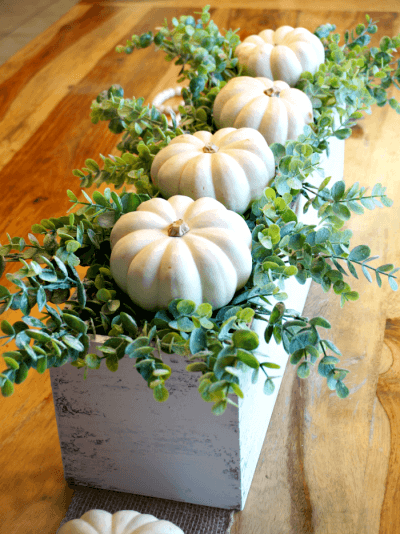 This stunning table centerpiece makes the most of the fall months as it sets the tone for your dining space. Housed in a rustic white box, this bed of greenery provides a dynamic contrast to the cute miniature pumpkins it holds. In the center of your table or on top of your mantle, this centerpiece is a true sentiment to the saying, "less is more."
8. Spectacular Urn Filled Pumpkin and Floral Bouquet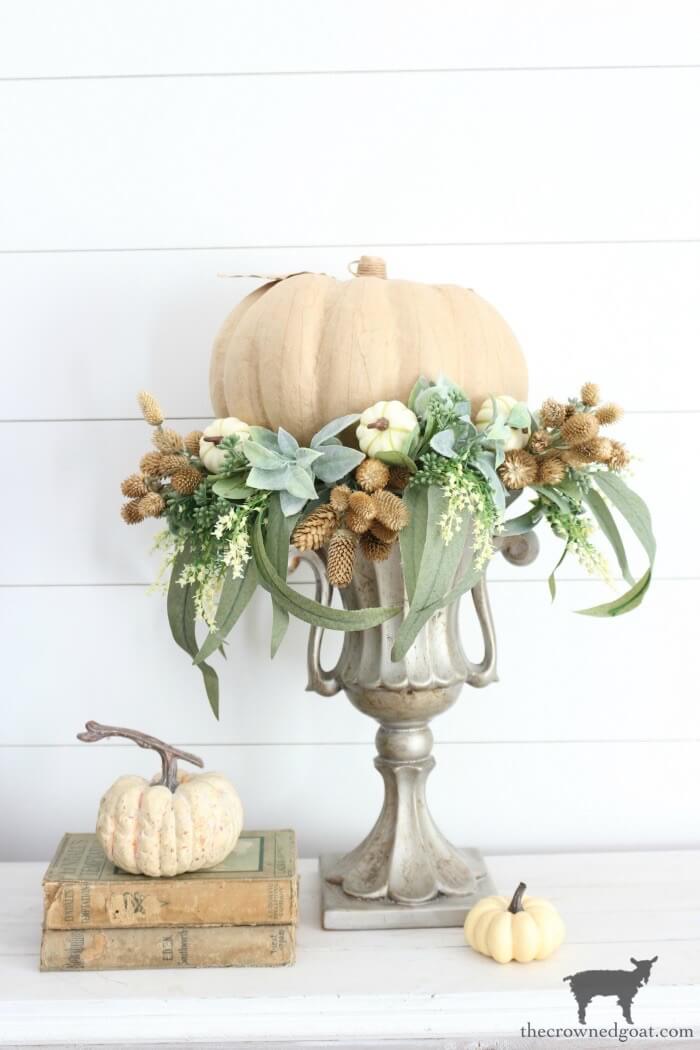 Larger than life, this distressed silver urn stands tall and is overflowing with a gorgeous fall bouquet set amid a large pumpkin. The details in the bouquet capture some of the true essence of the fall season with the pine cone details and little white pumpkins. Topped with a large, neutral brown pumpkin, the entire display is an elegant twist on an autumn staple.
9. Simple and Sweet Mason Jar Vase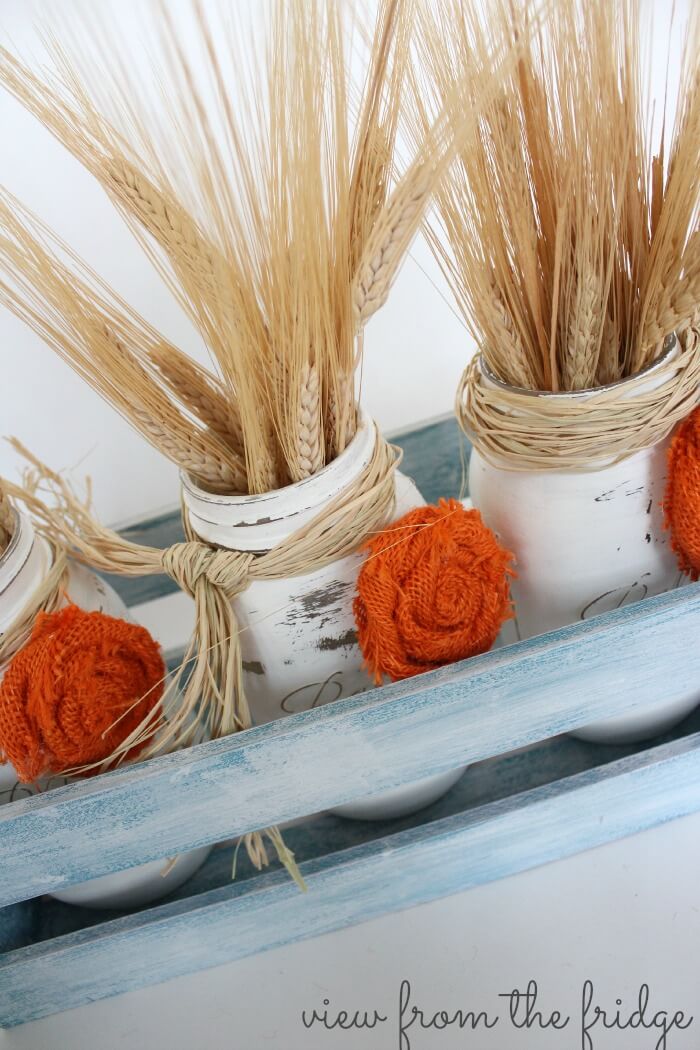 Work your magic into a spare mason jar or two as you create a perfect arrangement of vases for fall. The white paint on the inside gives it a unique and antique appearance. Adorned with a handmade, bright orange burlap posey sets off the grain bouquet quite nicely. This would be an amazing hostess gift for your fall get-together or Friendsgiving dinner.
10. Thanksgiving Natural Powerhouse Fall Centerpiece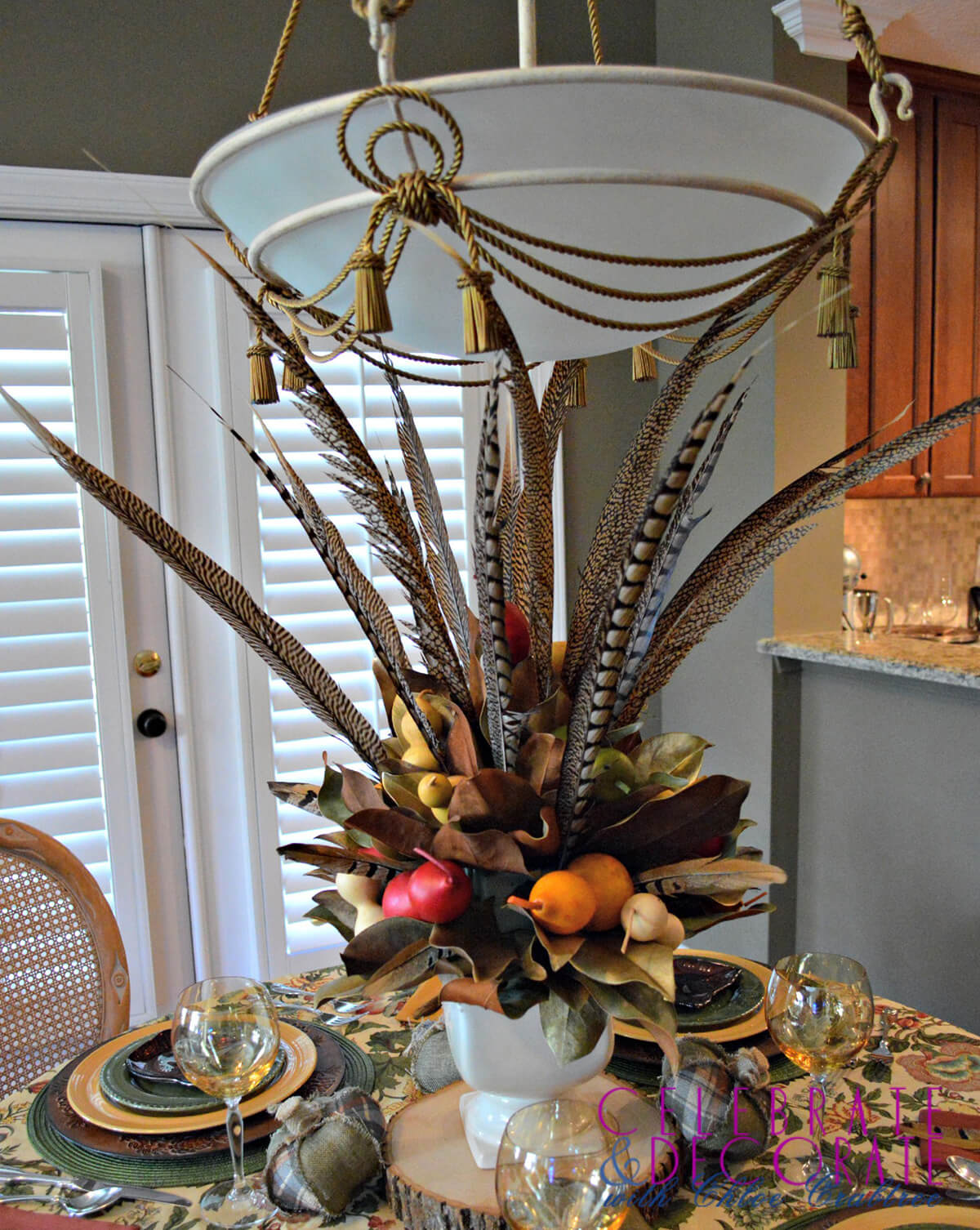 Gorgeous feathers shoot out from this dynamic bountiful display that is ready and waiting for Thanksgiving Day! The warmth from the textures and rich brown tones in this fall centerpiece brings to life vivid images of the very first turkey day celebration. With fruit and leaves, the depth in this piece would look perfect all season long perched in the middle of your dining room table. It's tall, yet has a small base so it leaves plenty of room for all of your side dishes or homework essentials on top of your table.
11. Fall Leaves and Candle Stuffed Pumpkin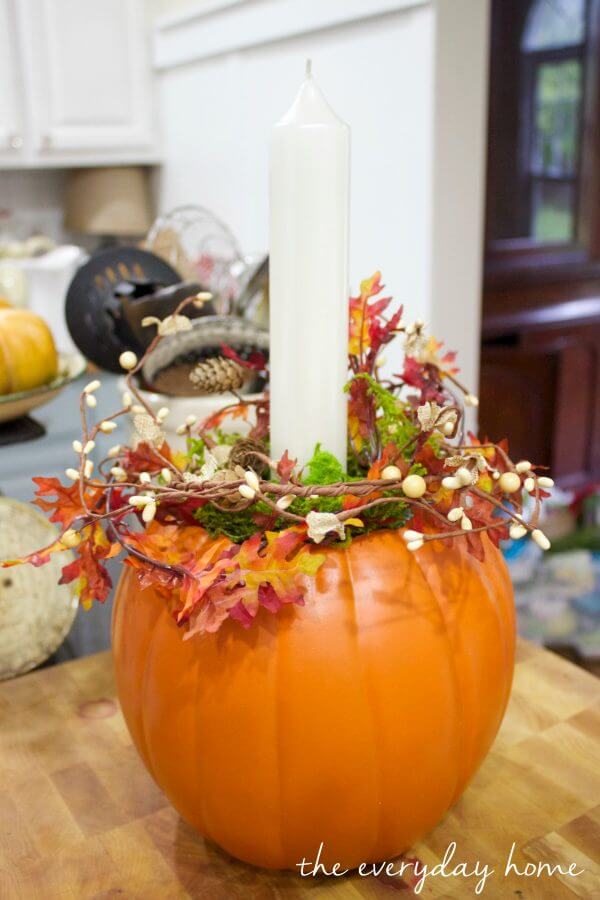 This bright orange symbol of the season makes an awesome autumn vase for your seasonal centerpiece. Filled with a classic white candle surrounded by autumn leafy goodness, this gorgeous fall decoration will be the focal point of your dining scene. All of the traditional and loved warm colors come to life and create a lovely atmosphere for your favorite fall gatherings.
12. Three-Tiered Pumpkin and Flower Display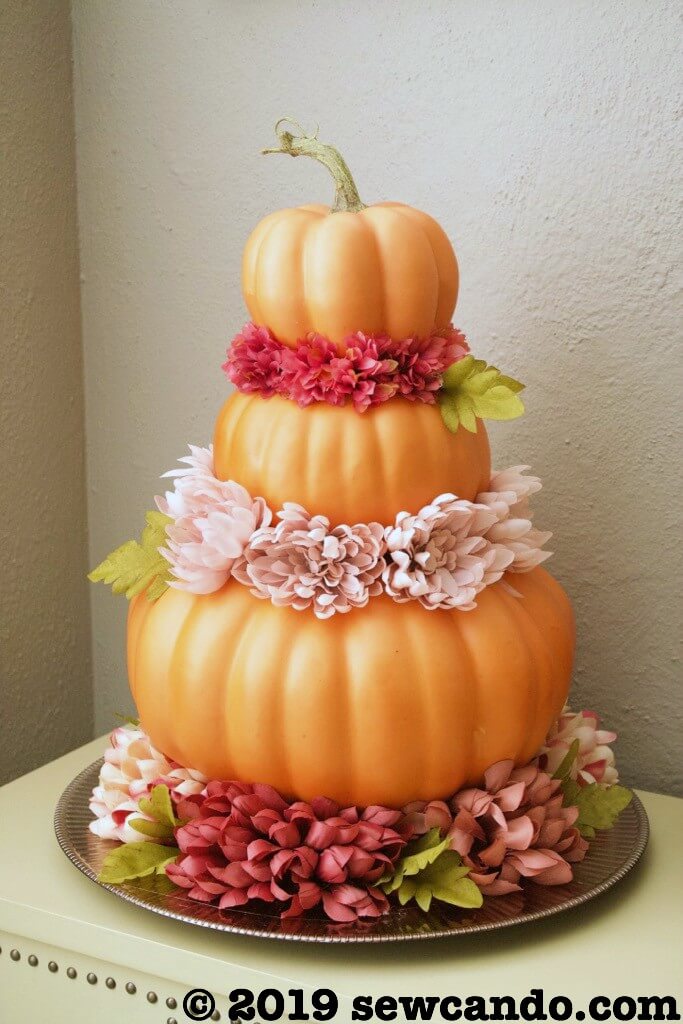 Whether you place this tiered pumpkin palooza in the middle of your kitchen island or dining room table, you'll enjoy its size and stature. It's meant to grace your friendly fall hangouts and would be a fun activity to share with a large group of family and friends on a Friday night.
13. Interesting and Unique Glass Cloche Centerpiece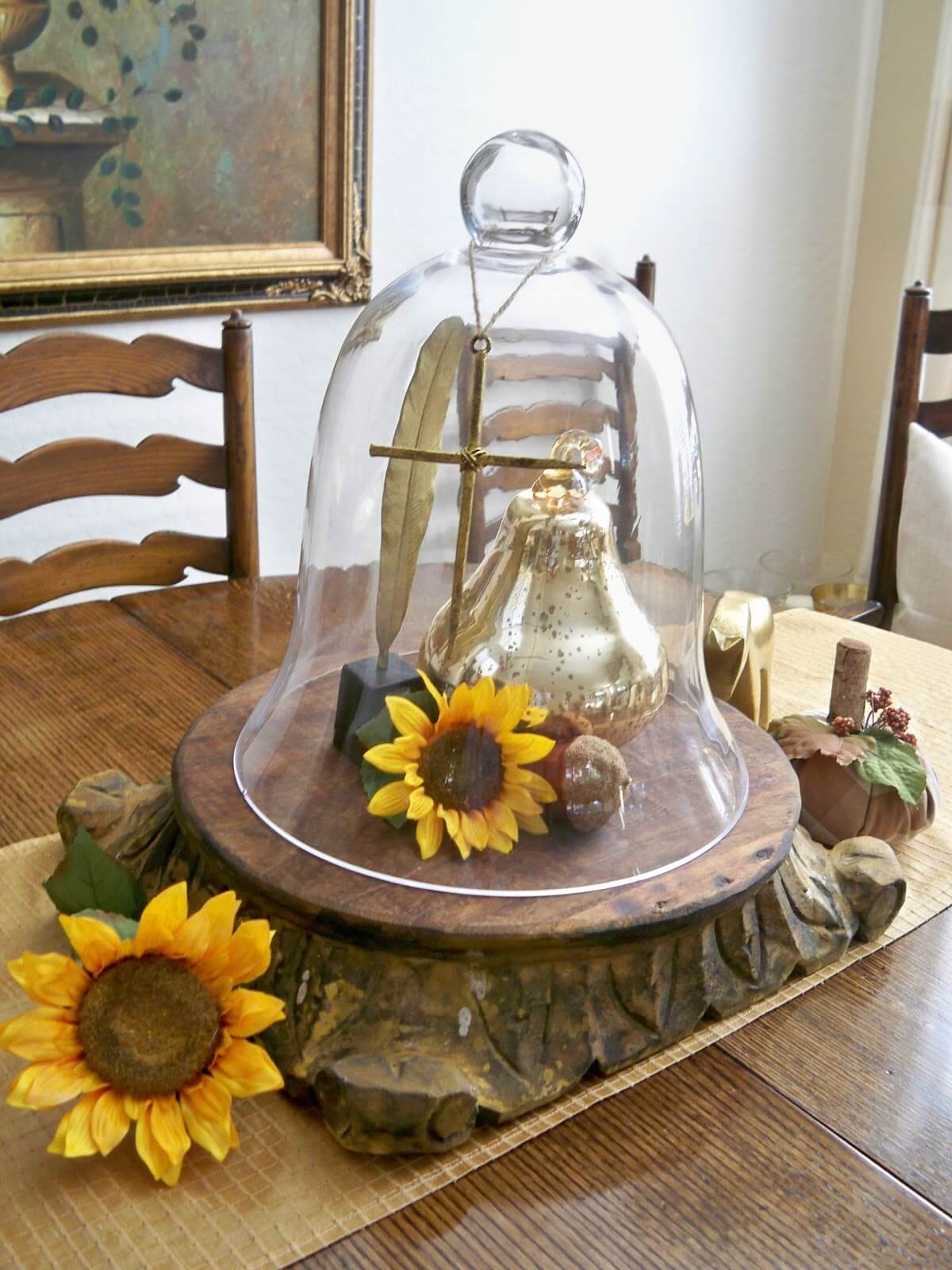 An understated and elegant design sets the stage for this unique centerpiece display. The stone-looking base effortlessly holds your treasured items as they are nestled underneath this smooth and splendid glass cloche dome. The uniqueness of this piece is sure to be an interesting conversation topic. For the DIY lover, this is a perfect project to give away as a gift for that hard-to-buy-for friend or family member.
14. Pretty Burlap Wrapped Fall Candles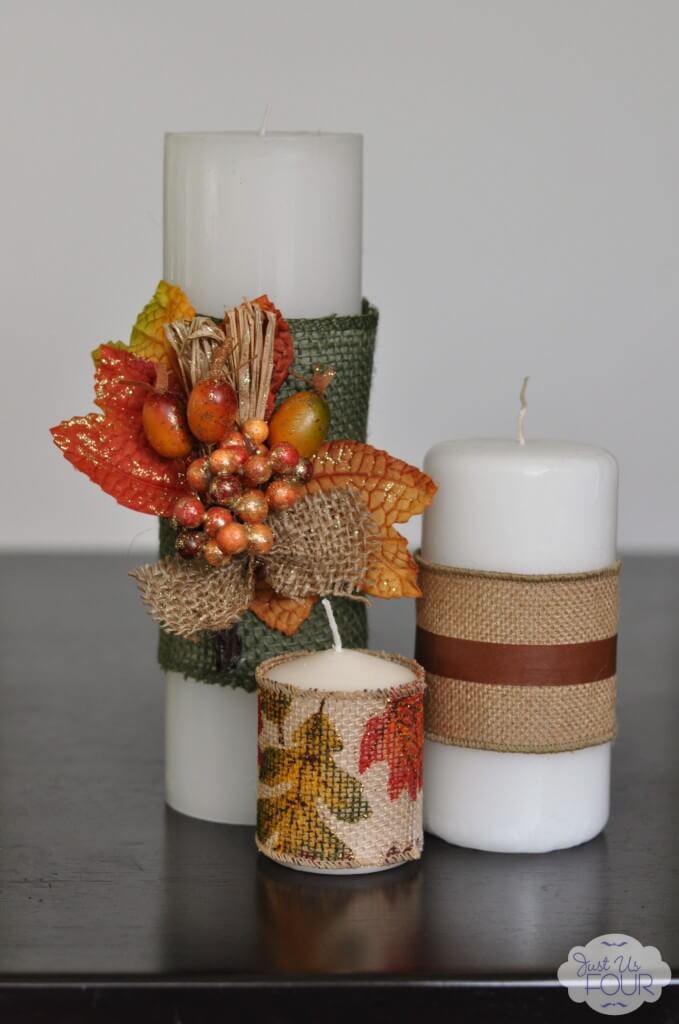 A trio of candles is always a good idea when it comes to decorating displays and this burlap wrapped trio doesn't disappoint. This group of plain, white, and different sized candles forms the perfect canvas for fall colored and printed burlap ribbons to surround in a warm hug. What a great and cheap gift idea for a friend, neighbor, or your child's teacher!
15. Whimsical and Wonderful Floral Decoupage Vase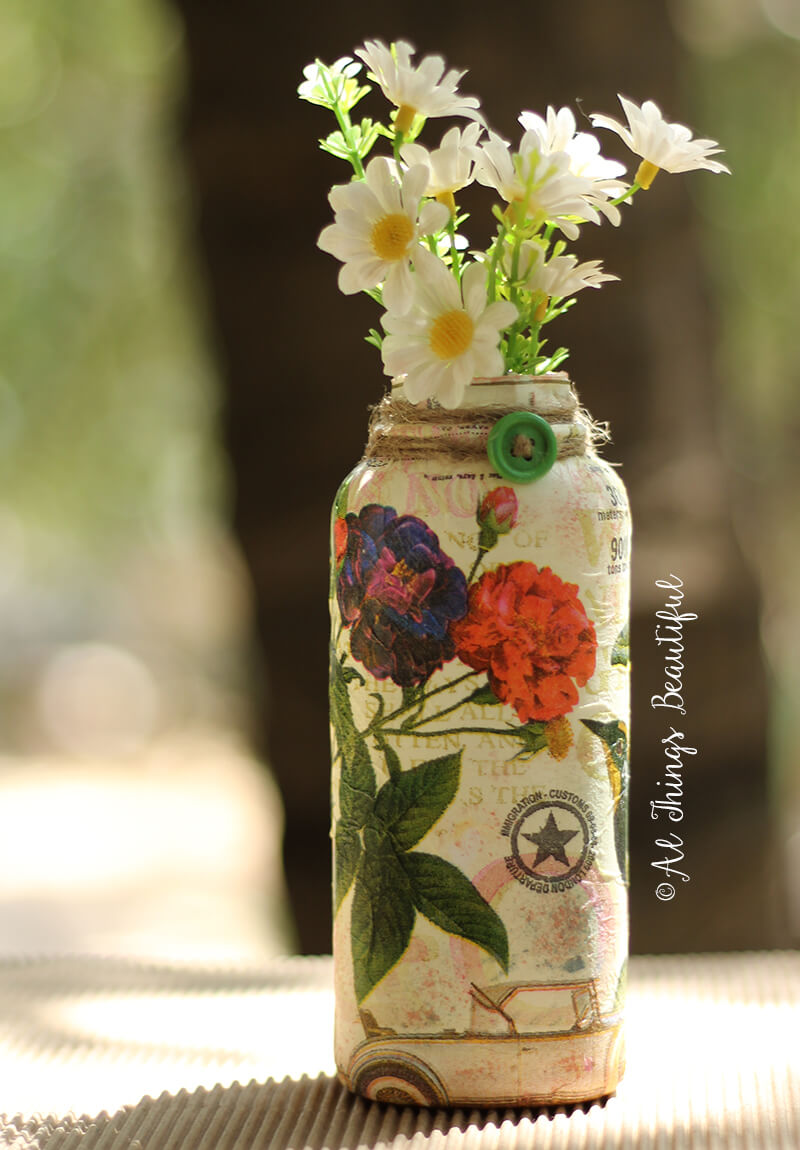 Wrap a leftover glass bottle with a beautiful floral print and decoupage yourself a new vase. A great way to make a quick back-to-school gift for your kid's teacher or a simple bouquet to surprise your hairstylist.
16. Overflowing with Pinecones, Pumpkins, and Ferns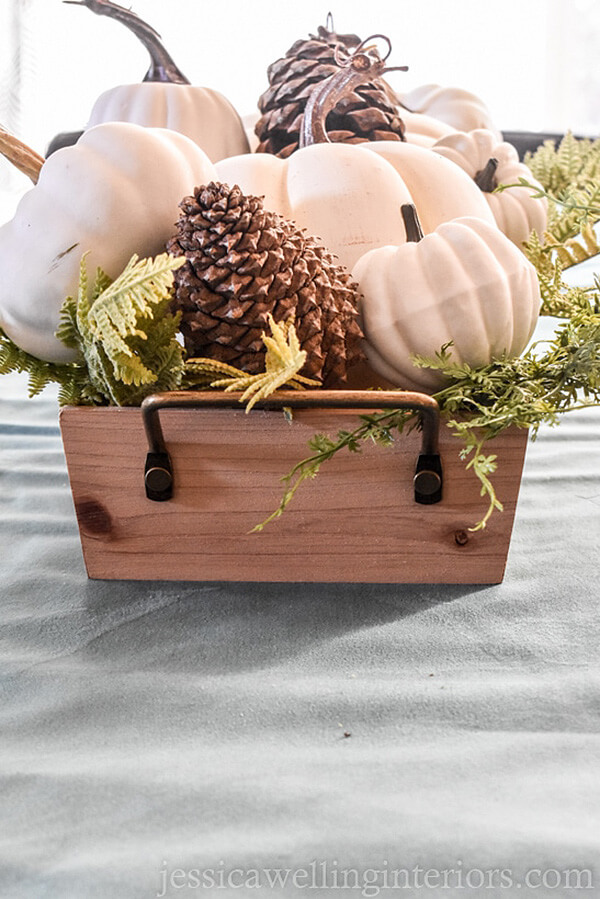 This rustic yet modern centerpiece is filled with nature's bounty. The earthy brown pinecones next to the luscious green fern fronds are great partners with the lovely little assortment of white pumpkins. Fill your wooden tray with some to spruce up any corner of your home this season.
17. Cutting Board Full of Fruit and Flowers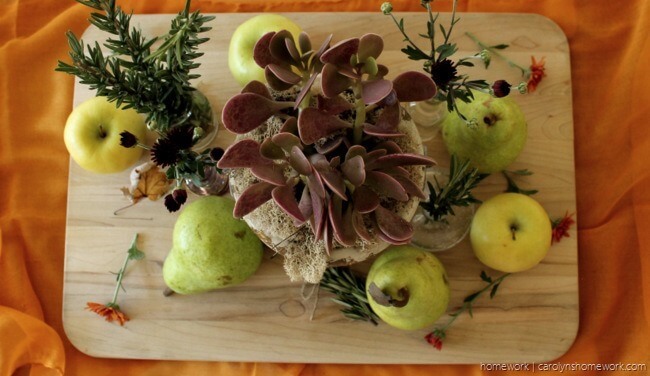 The foundation of a wooden cutting board is the perfect choice for a kitchen or dining room decoration. Adding your favorite fruits and flowers brings some of your own personality into the design. The fresh fruit surrounds a hearty succulent showcasing some of the season's harvest in a unique way. Share this tray with a friend or neighbor that you invited over for a cup of coffee.
18. Green Glitter and Ghostly Pumpkin Tray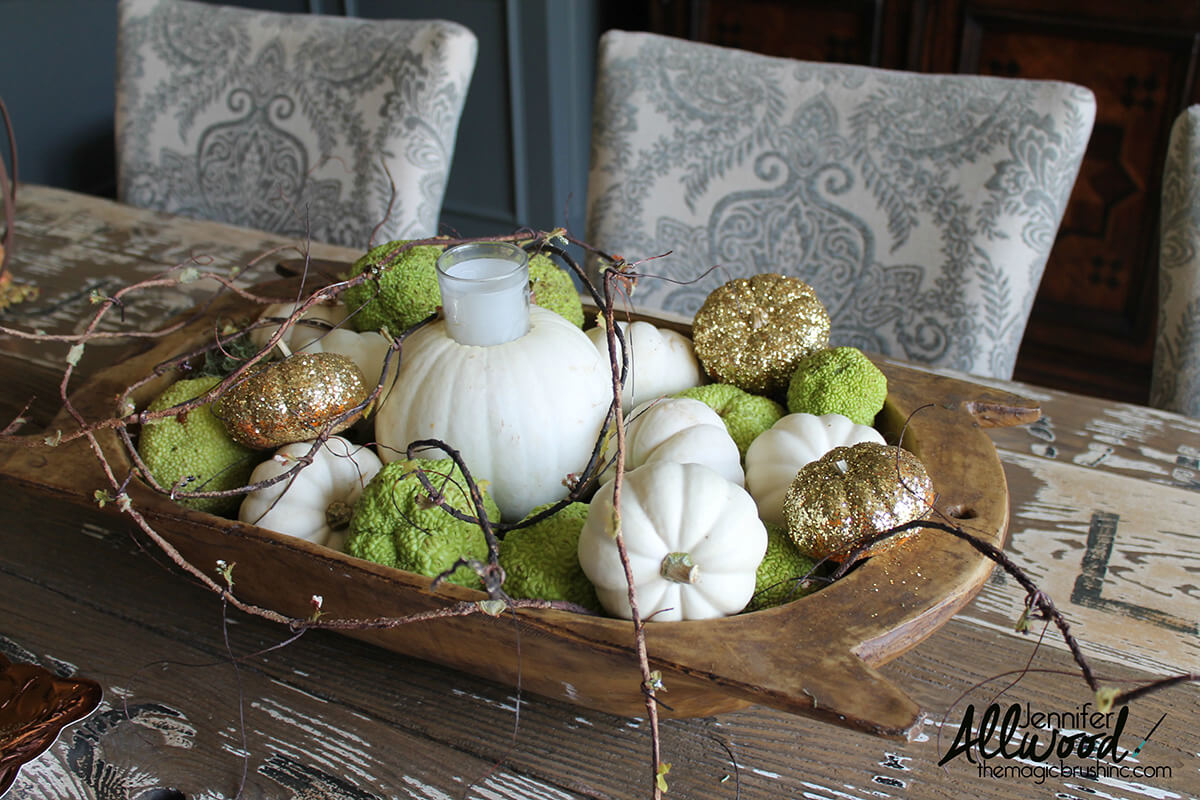 Sprinkle a little fairy dust into your fall scene with some golden glittered pumpkins. The addition of these sparkling specimens is just the extra touch your table's bounty needs to welcome the cooler temperatures of fall. This wooden tray is a great gathering place for them along with some moss-colored and grapevine accessories. Place it at the center of the table or within your entryway to spruce up your autumn atmosphere.
19. Metal Farm Trough Turned Dining Centerpiece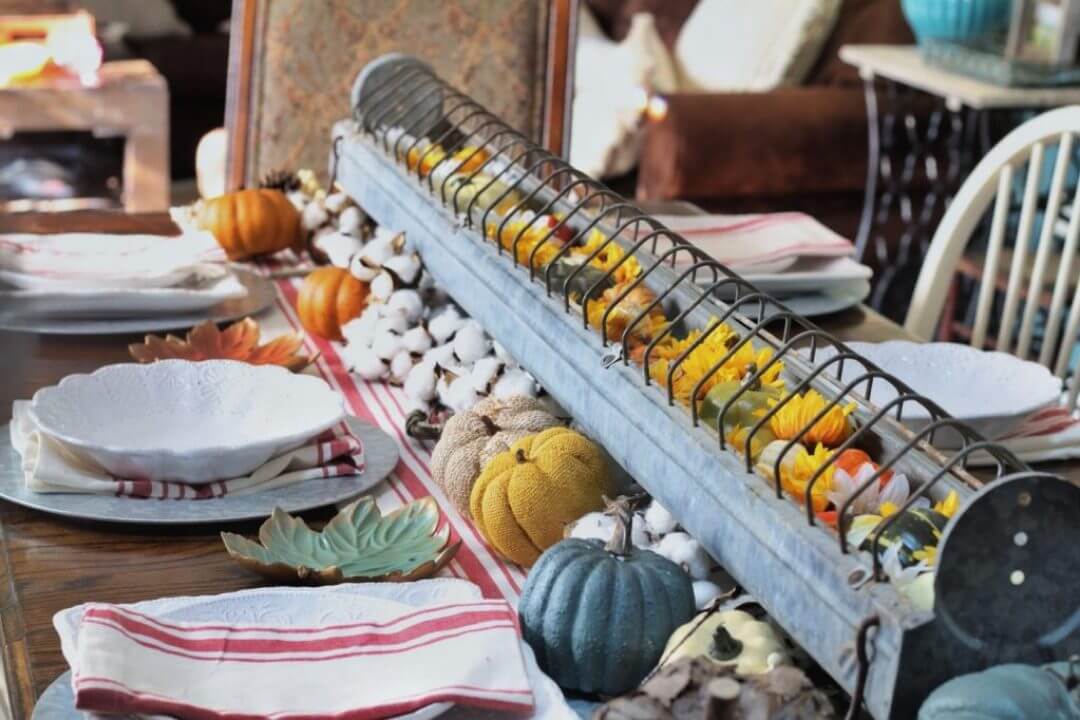 Repurpose and realize all the glory of the farm finds you can use as amazing decorations for your home this fall. From feeding troughs to table toppers, these metal pieces are a perfect haven for housing your fall flowers and mini pumpkins. Bursting with color, the long trough nearly lines the entire table to offer beauty and grace to all who are seated.
20. A Platter Full of Succulents and Moss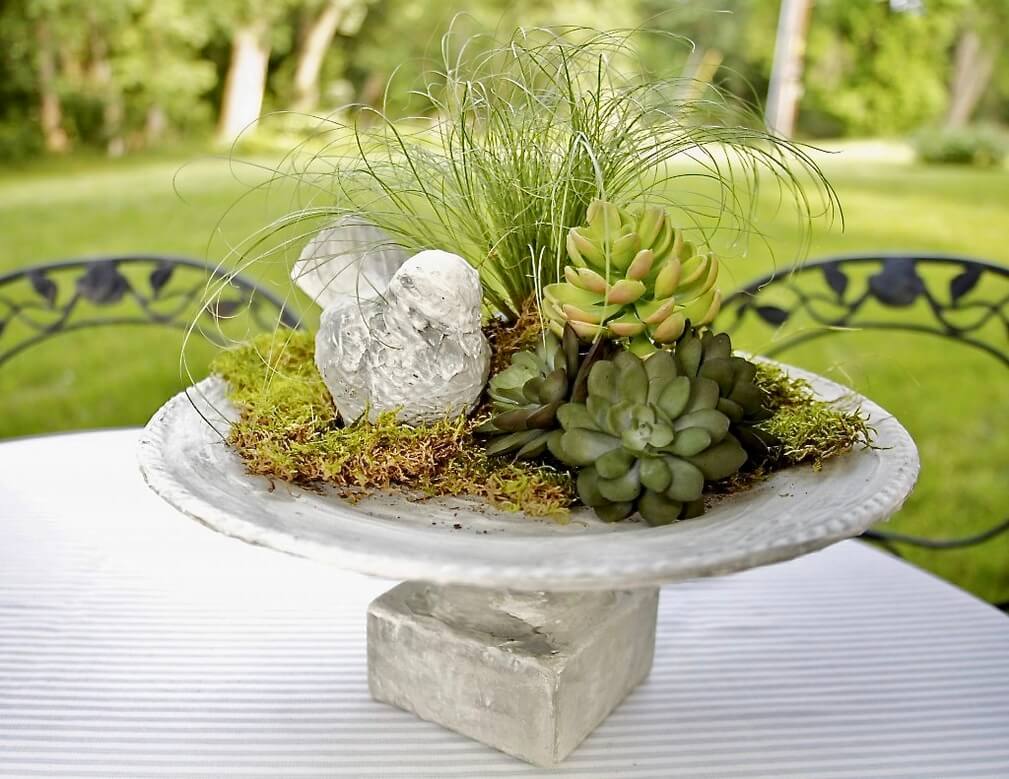 What do succulents and moss have in common? Well, besides the color green, they both work wonderfully nestled with a concrete bird and displayed as a gorgeous natural centerpiece setting. The various hues of green provide the natural feel that makes everyone feel relaxed. Organize a night to create such a masterpiece with your friends and delight in your newly crafted centerpiece.
21. Painted and Twine Ribbon Wrapped Mason Jars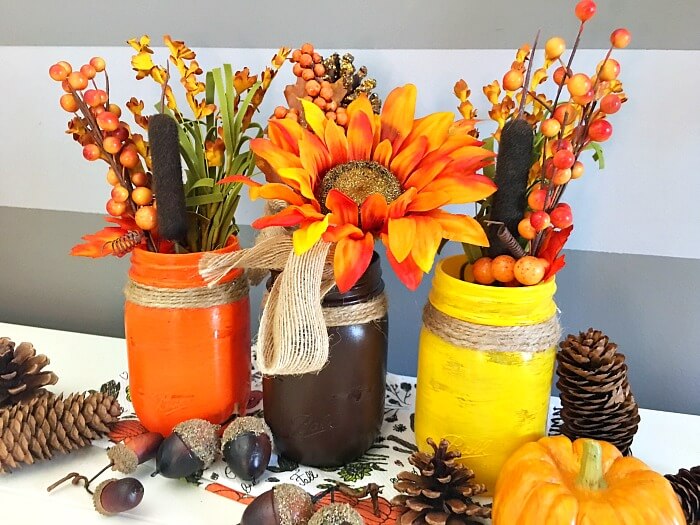 Slap some paint on these three mason jars and you'll discover a trio of vases perfect for any space in your home. Choosing three fall-inspired colors makes the goodies these jars hold really come to life. The sunflowers and twigs speak of the fall season and the overall look is finished with some twine wrapped around near the top. A great gift for your hairstylist, child's teacher, or next-door neighbor to say "thank you" without breaking the bank.
22. Fall Centerpiece Idea: Cinnamon, Sticks, and Burlap Wrapped Votive Candles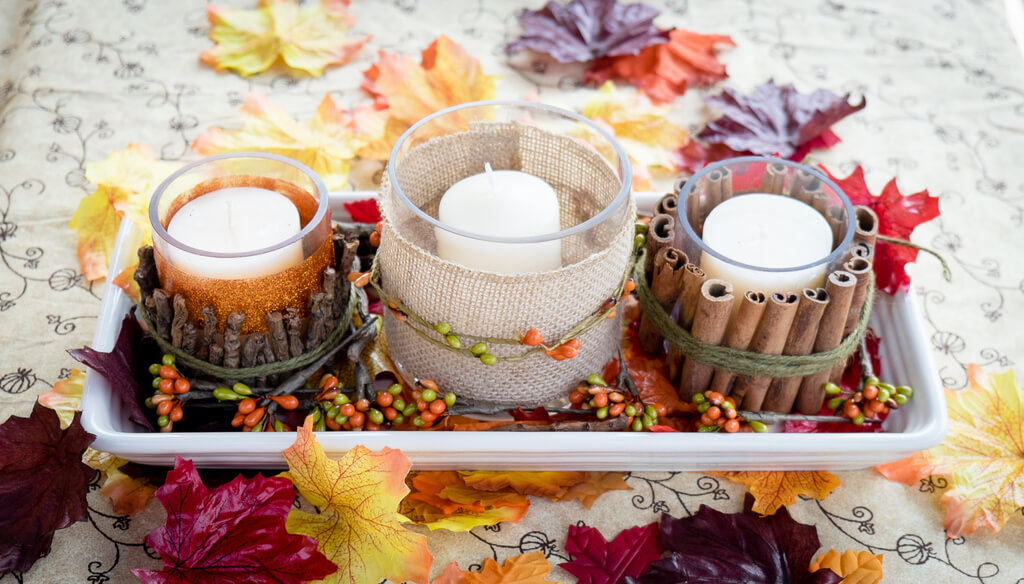 They say good things come in sets of three, so why not make the most of your three votive candles? Wrapped with a variety of burlap, small twigs, or cinnamon sticks, these interesting and easy-to-make candle designs are a great addition to the windowsill or sofa table.
23. Autumn Attitude in Pretty Pumpkin Placecard Holders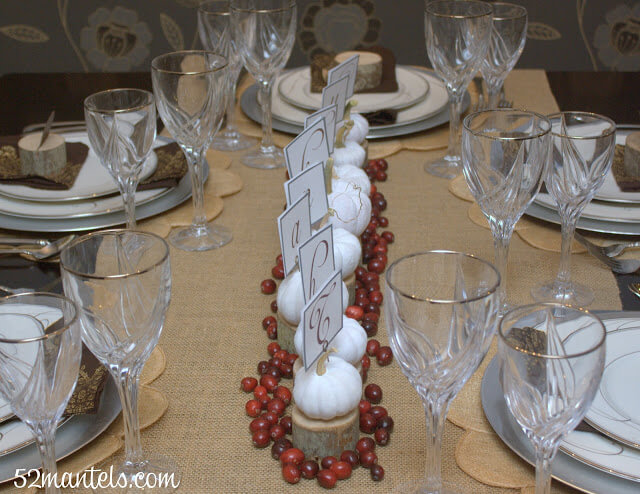 Spell out your favorite autumn greeting or label your seating chart with these pretty pumpkin place cardholders. Set upon a small wood chunk, these miniature pumpkins are the perfect seasonal item to serve as your cardholder. They offer fun and function mixed into one. Adorn them with some berries or acorns to bring even more fall fun into the picture.
24. Yellow and Orange Crocheted Leaf Table Runner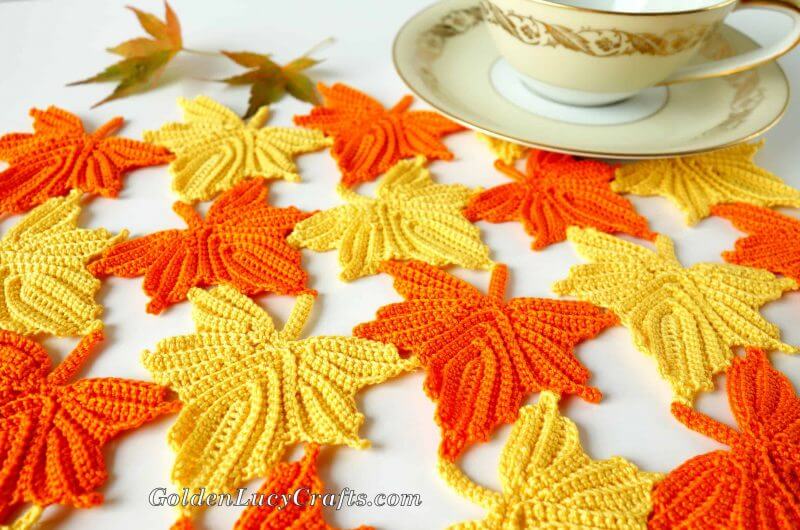 Bring back that vintage feel of grandma's crocheting with this classic leaf designed table runner. Constructed with bright orange and yellow yarn, this table runner looks great at the table or on top of the family piano. It's the perfect base for a bouquet of blooming sunflowers, Shasta daisies, or chrysanthemums.
25. A Golden Happy Thanksgiving Welcome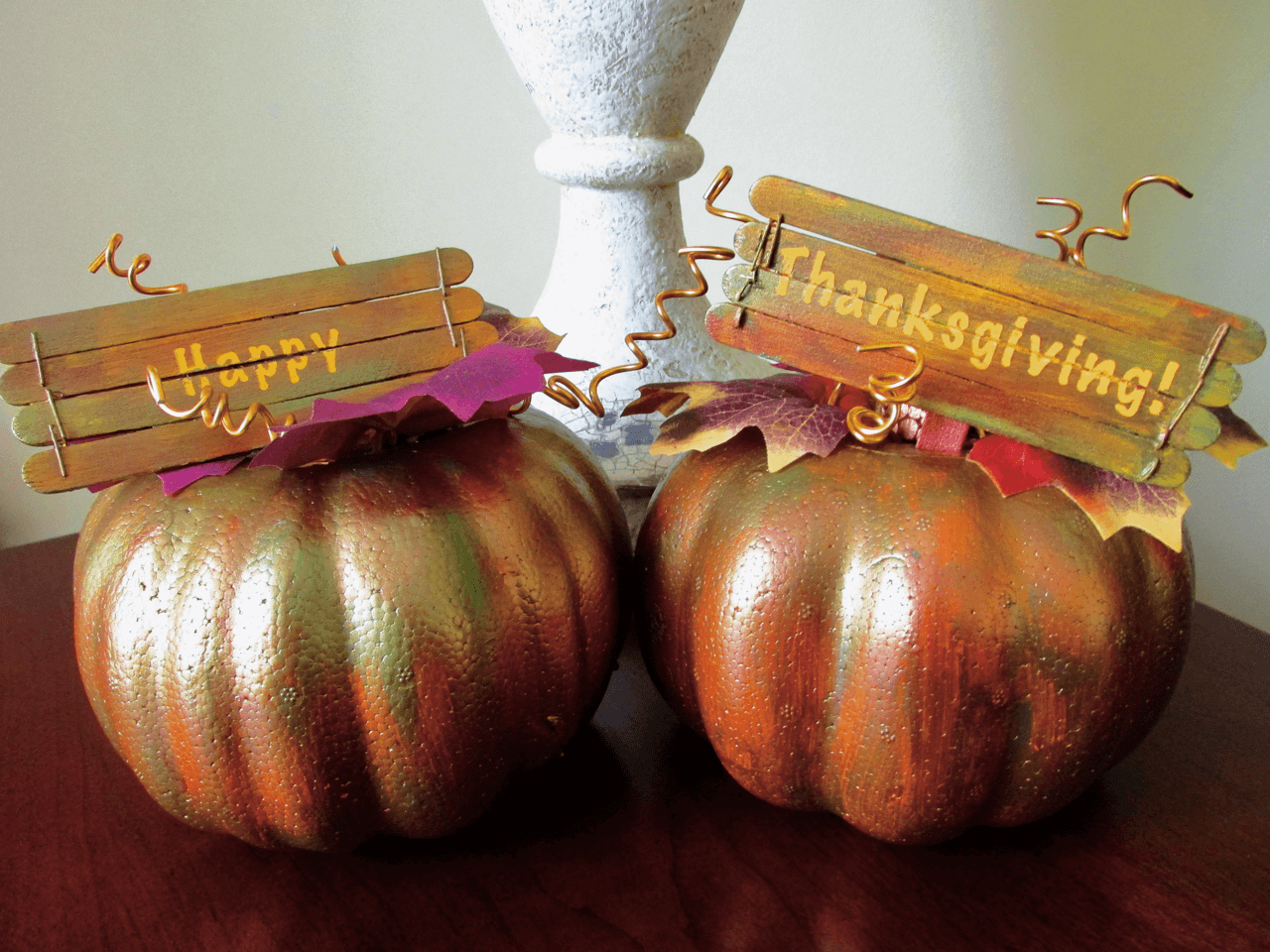 It's truly amazing what a few popsicles sticks and some paint will do for your fall decorating scene. This golden paint livens up the otherwise drab display with some sparkle and metallic magnificence. Place this pretty pair of pumpkins together in your dining room or on opposite sides of your side tables in your living room.
26. Autumn DIY Fall Centerpiece with Rustic Lanterns and Gourds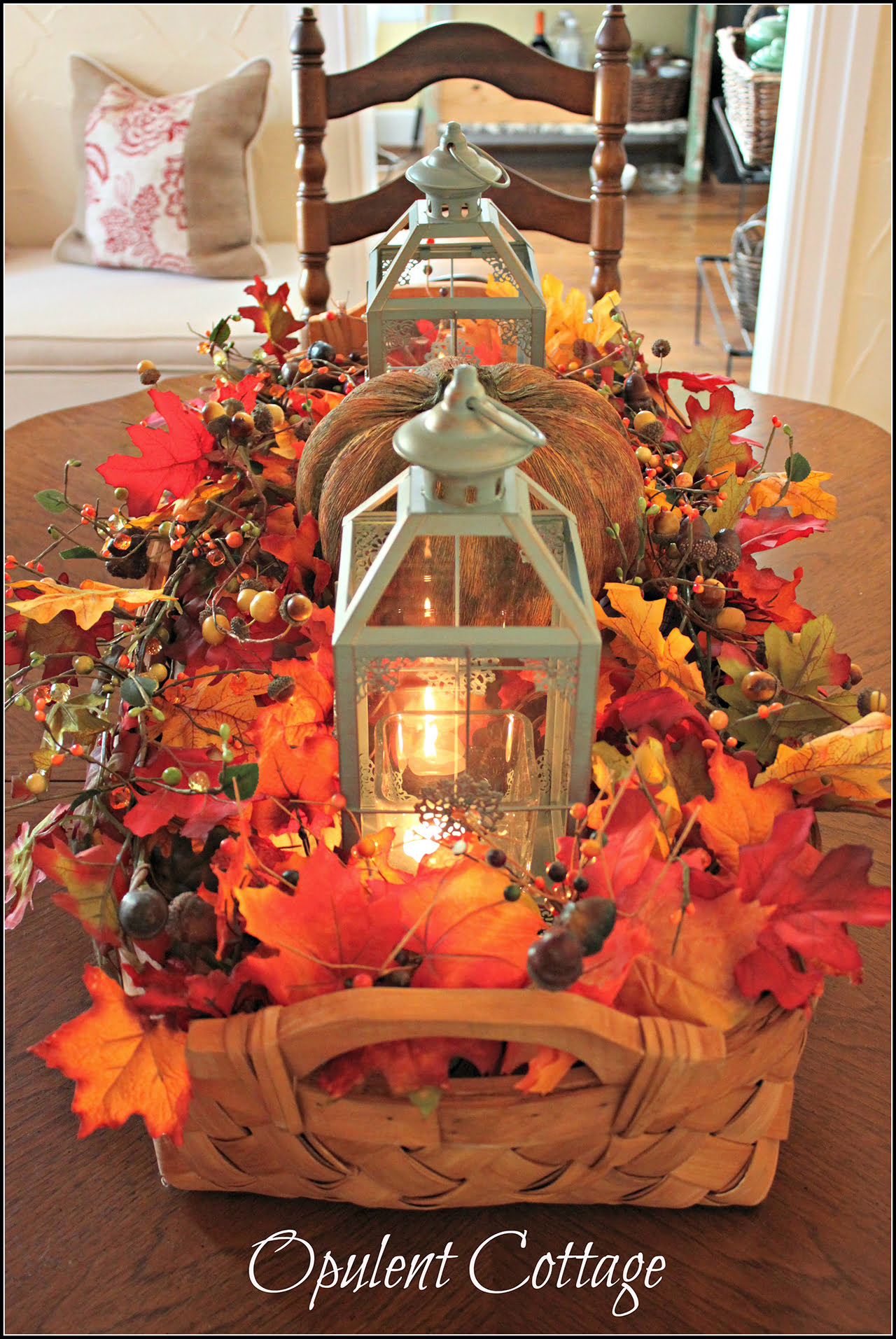 The highlight of this arrangement is a paper mache pumpkin flanked by two lanterns. Fall leaves fill in the nooks and crannies of this large woven harvest basket. The soft blue of the lanterns stands out amongst the warm hues of the leaves. This arrangement will look good on your autumn table but would work on your sideboard as well.
27. Candlelit Wooden Runner Box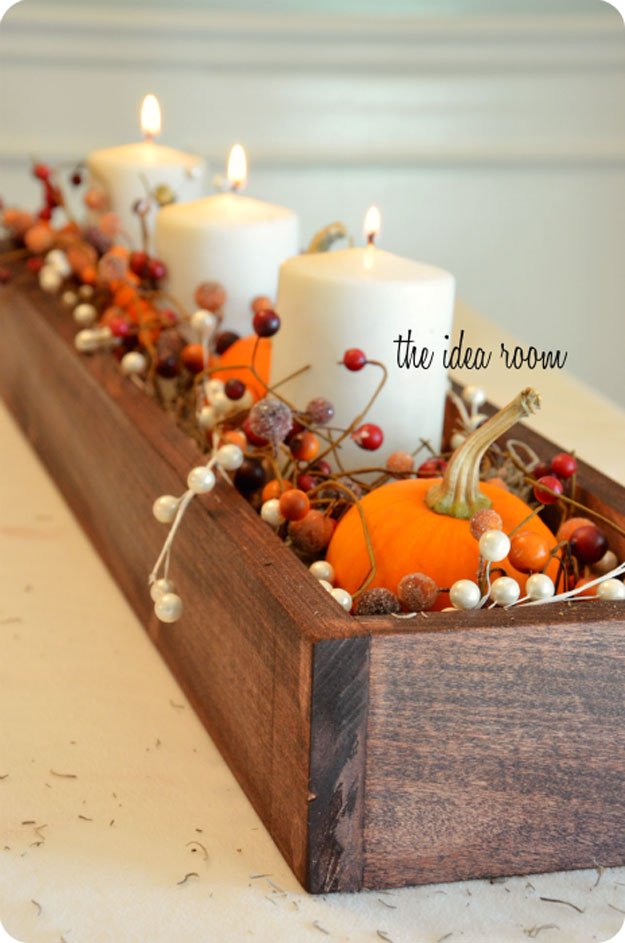 Pillar candles and berries fill this rich wooden box for a delightful centerpiece perfect for the fall. The box is long and narrow, making it a great fit for any dining table or a fireplace mantle. White candles and pumpkins nestle into a base of Spanish moss, surrounded by winding vines of white and red berries.
28. Elegant Dried Flower Arrangement in White Pumpkin Vase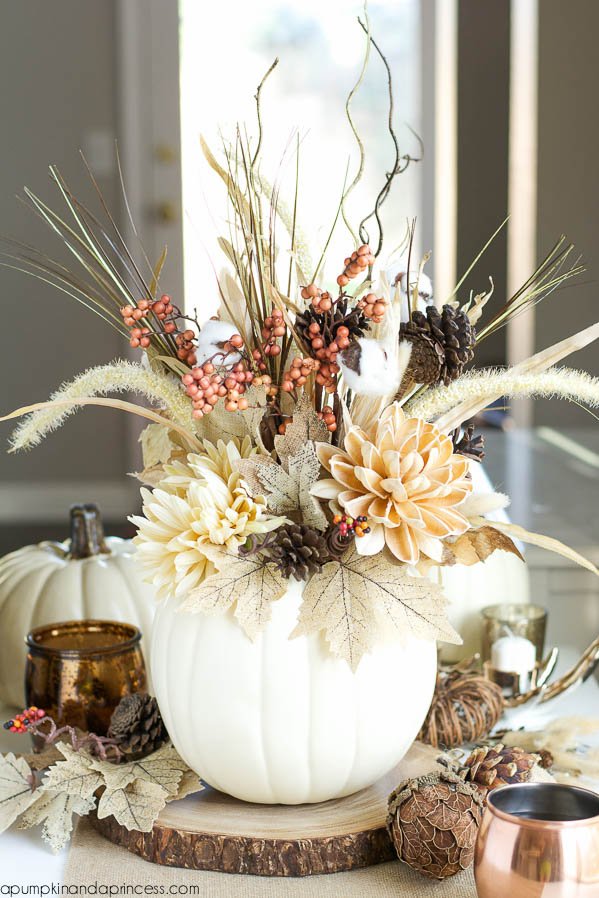 A faux white pumpkin brings a fresh feel to this centerpiece. A few tall branches bring height to the arrangement, while off-white flowers spring from pine cones, cotton stems, and orange berries. Silvery white leaves finish filling out the pumpkin, making it perfect for both autumn and winter entertainment.
29. Easy DIY Fall Centerpiece Décor and Candle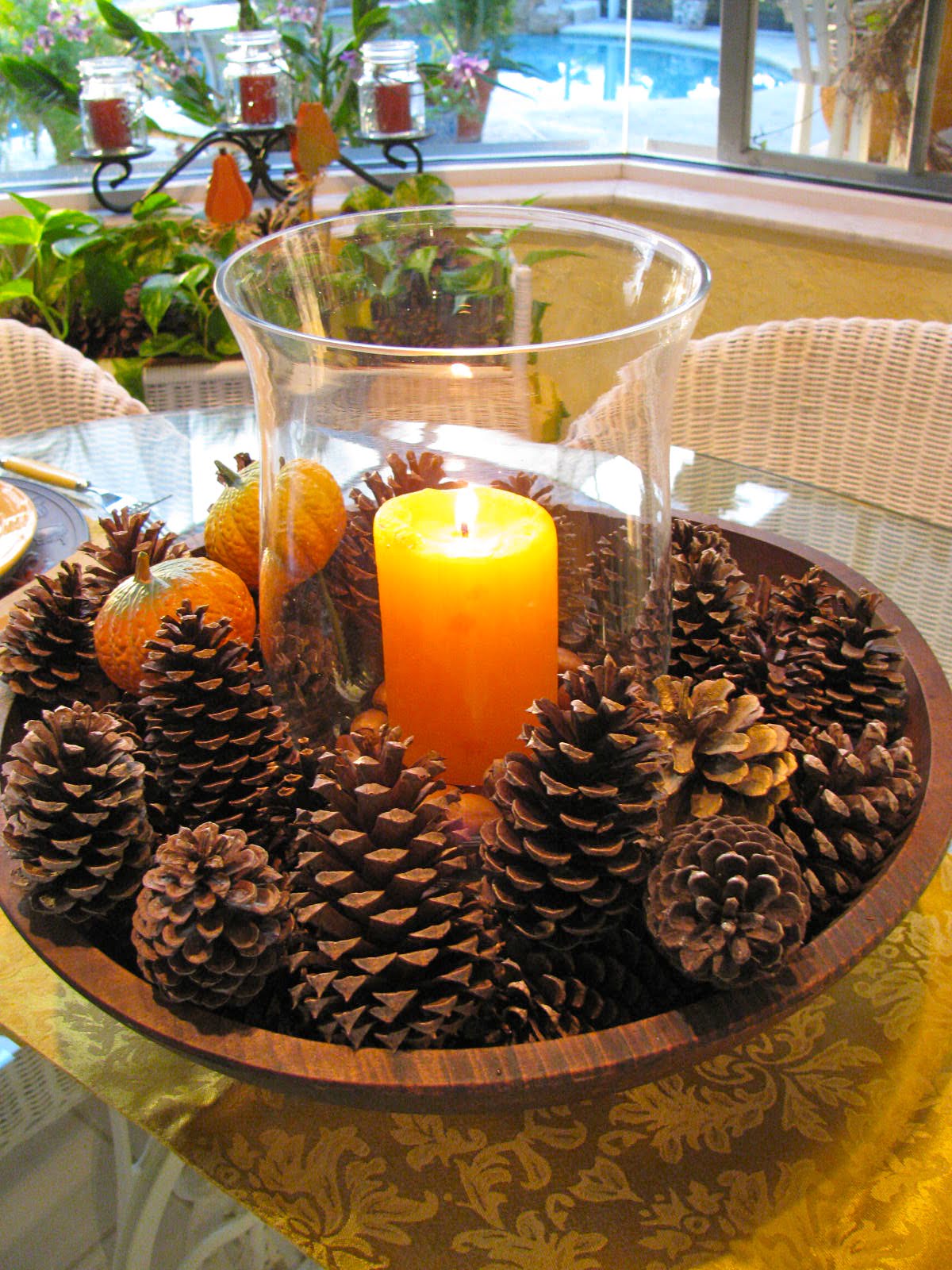 Pair a large wooden bowl and a glass hurricane to start this harvest centerpiece. The wooden bowl can be a family heirloom or something you pick up at a yard sale. A white candle fills the hurricane glass with a warm glow. A bounty of pine cones, acorns, and faux fruit fill the curve of the bowl surrounding the center light.
30. Glittering Golden Pumpkin Candle Holders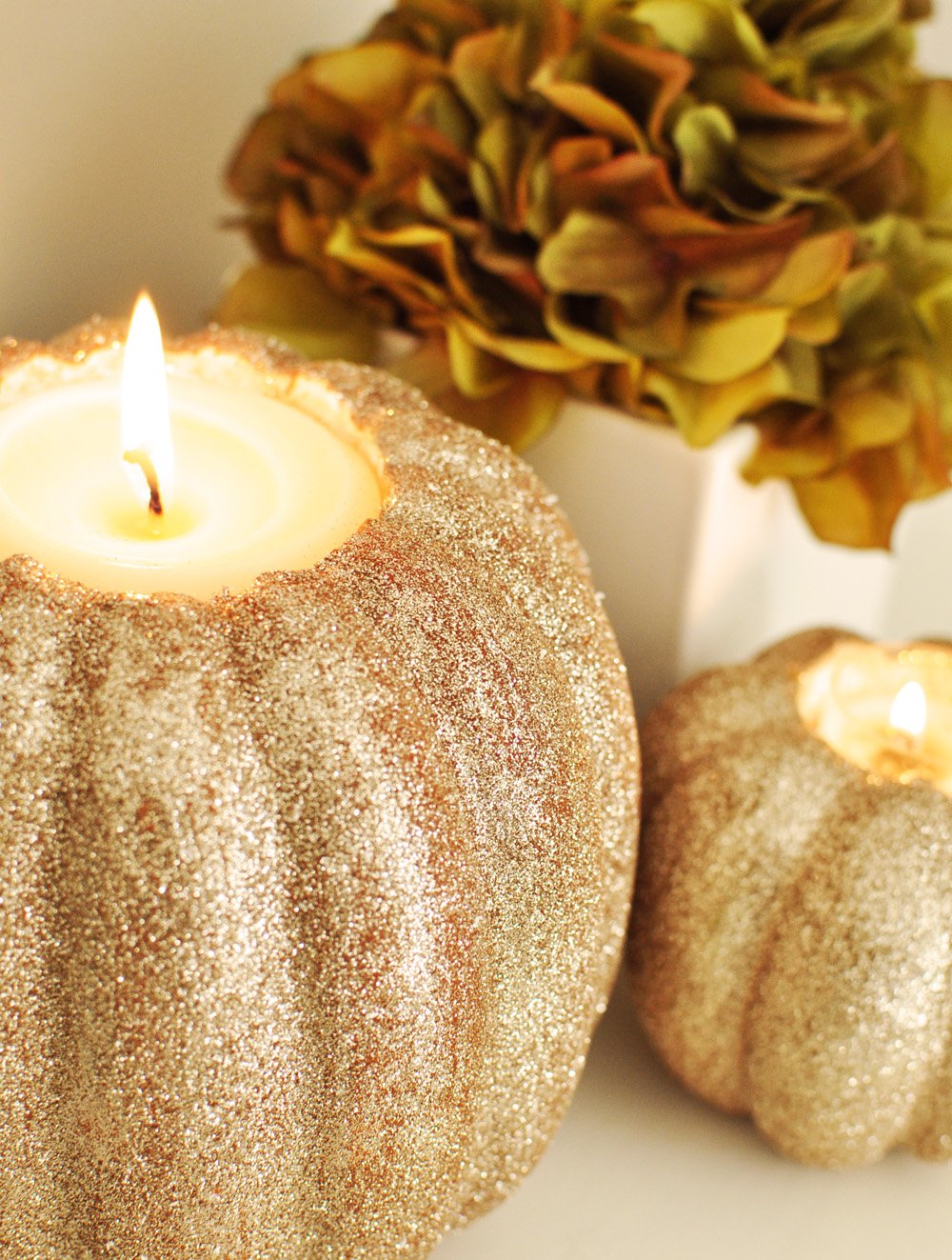 Source: The original source is not available anymore.
Styrofoam pumpkins embraced in glitter hold candles for an unexpected light display, perfect for your autumn table. A drill and a craft knife work together to create the hole for the candle. The entire piece is covered with glue then generously sprinkled with glitter. You can mix up glitter and pumpkin colors for a customized display.
31. Country Chic Apple and Boxwood Topiary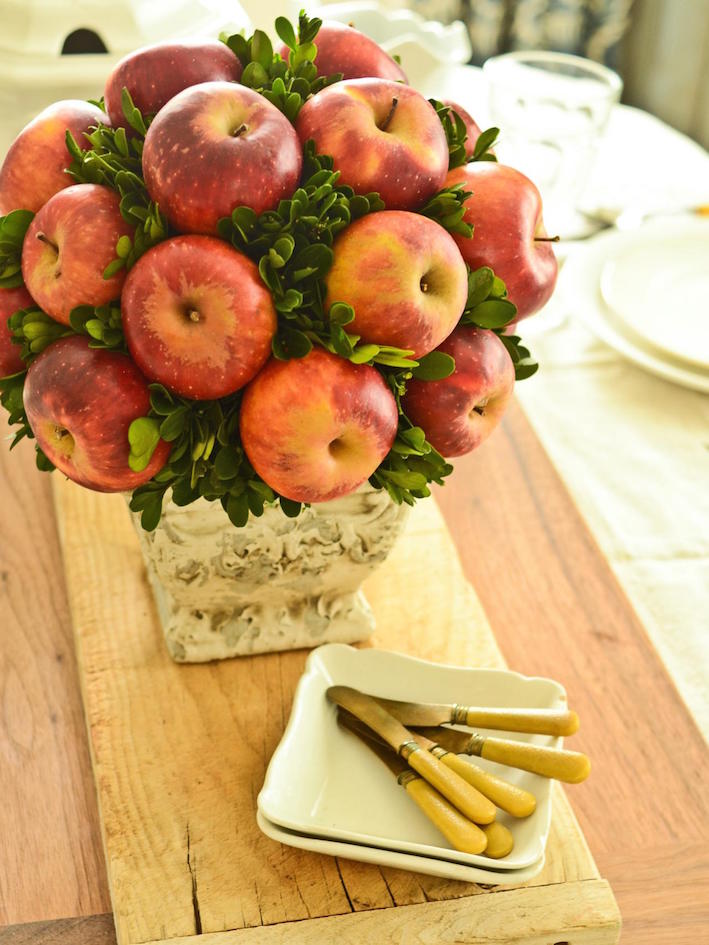 Source: The original source is not available anymore.
Red apples are one of the treats of the autumn season. An apple topiary is one way to bring this seasonal fruit into your table decor. Florist skewers secure each piece of fruit that creates the colorful display. A flower pot creates the perfect backdrop for this round luscious topiary display. For a twist, pears can be substituted for the apples.
32. Tree Limb Votive Holder with Festive Gourds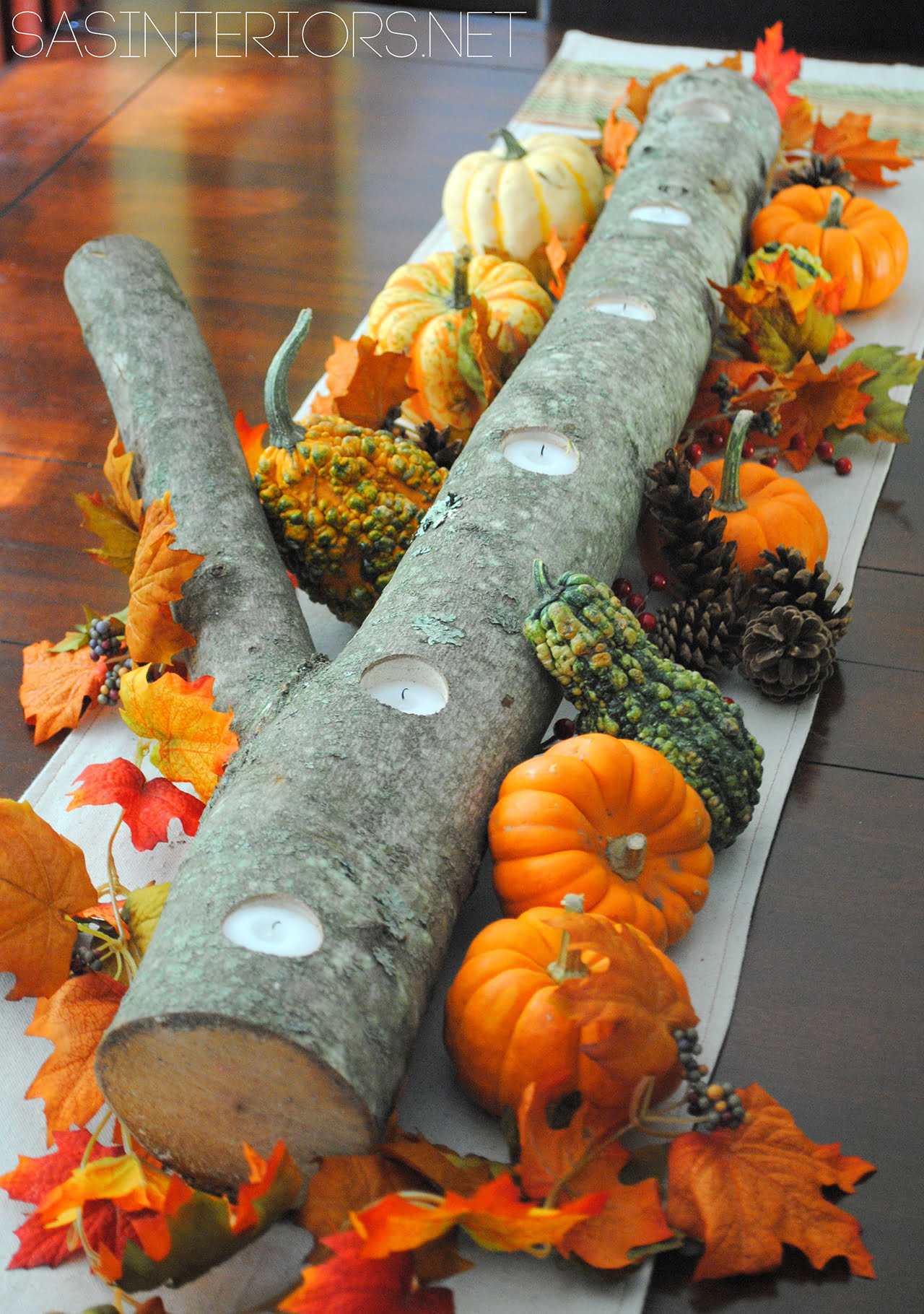 A simple tree branch displays tea lights in a natural frame perfect for the fall. This branch is four feet long with a side branch that sticks out about a foot to one side for added stability. A drill bit dug a small hole for each of the tea lights. Pumpkins, pine cones, and autumn leaves frame this natural centerpiece.
33. Monochrome Ivory Floral Arrangement in Pumpkin Vase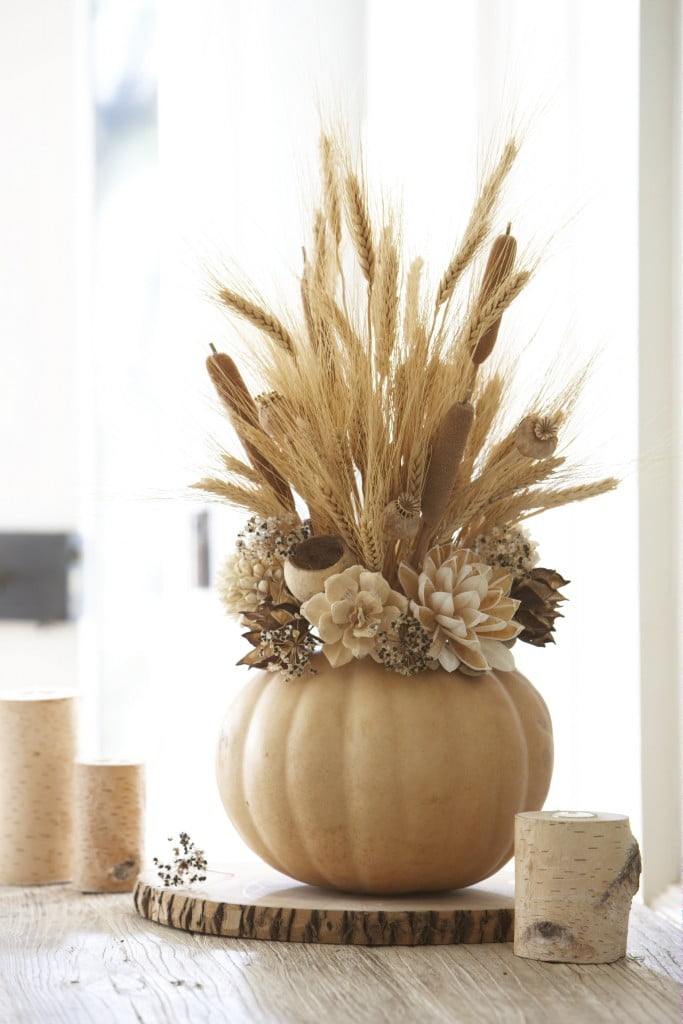 Source: The original source is not available anymore.
Dried foliage springs forth from a base of off-white flowers and a faux pumpkin. Wheat, dried cattails, and dried poppy blossoms add height to the center of the display. Silk flowers ring this center display, peaking out of the off-white pumpkin base. This round centerpiece works well on smaller dining tables or sideboards.
34. Simple Leaf and Burlap Candle Arrangement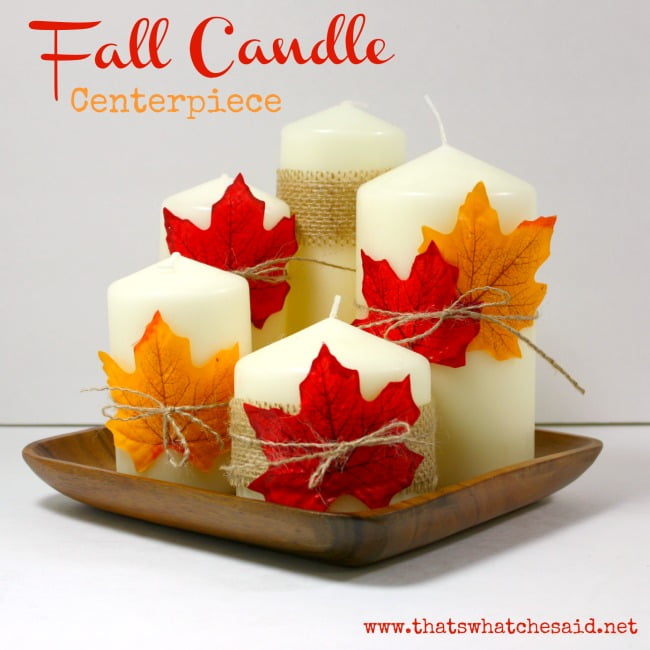 Rugged simplicity is the name of the game with this candle centerpiece. Five candles in varying heights and widths fill a wooden tray. Each candle has a band of burlap around its center. Each candle gets one or two autumn leaves added to the band, tied off with a strand of burlap string.
35. Green Vegetable Candleholders with White Mums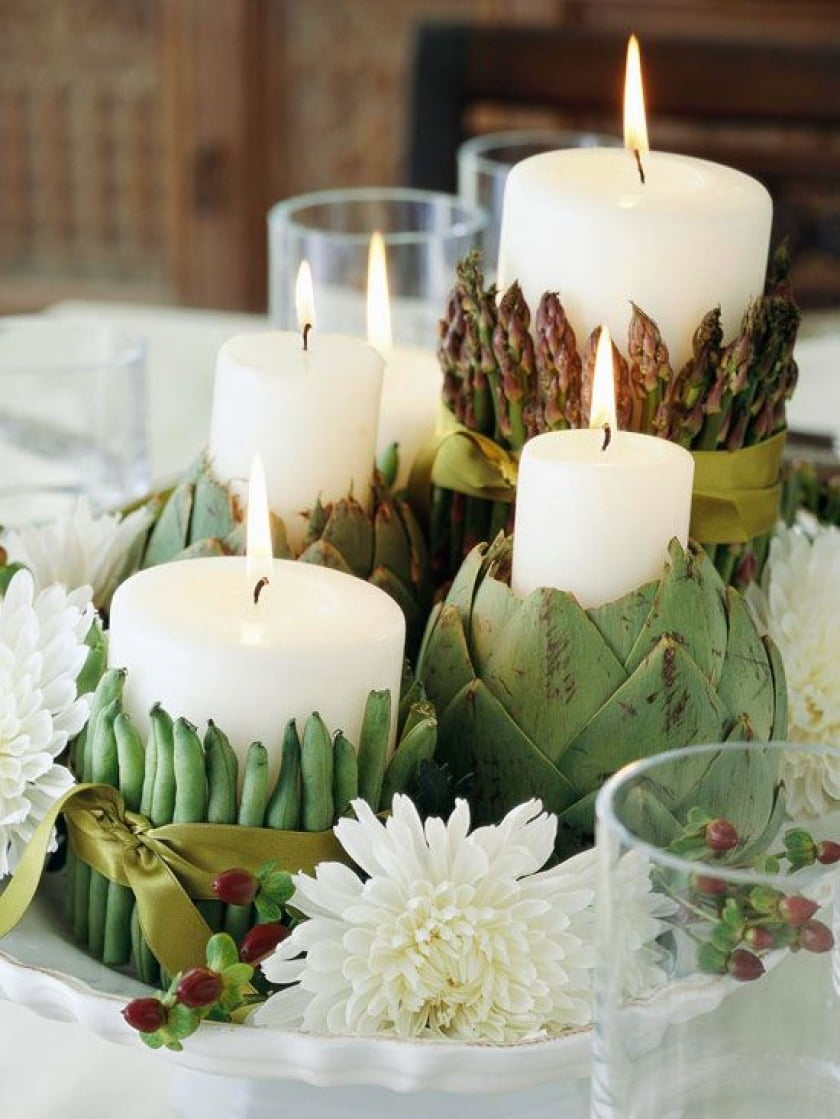 Fresh green vegetables encase simple white candles for a striking natural centerpiece. Strong rubber bands secure green beans and asparagus. A pretty ribbon hides the rubber bands with a decorative touch. Cored-out artichokes make perfect bases for smaller candles. The candles sit on a simple white base, nestled among white mums and berry springs.
36. Fall Centerpiece Idea: Mums and Roses in a Rustic Gourd Vase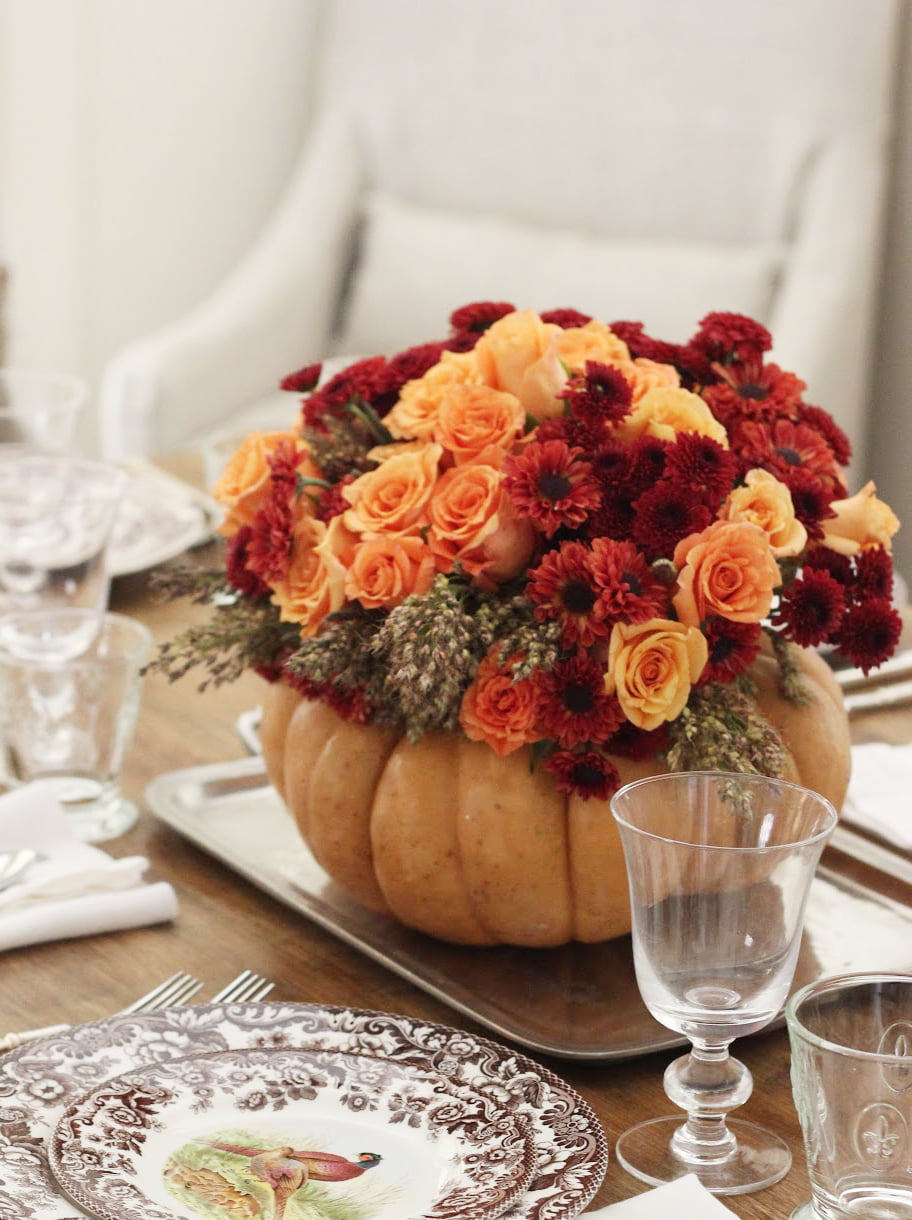 Apricot roses and deep red mums combine for a truly colorful autumnal display. A real pumpkin forms the base of this rich floral display, with a clear short vase nestled inside. The flowers flow up and away from the base, nestled into broom cob. The entire arrangement sits on a simple silver tray, letting the pumpkin and flowers stand out.
37. Fall Centerpiece Idea: Antler and White Pumpkin Tablescape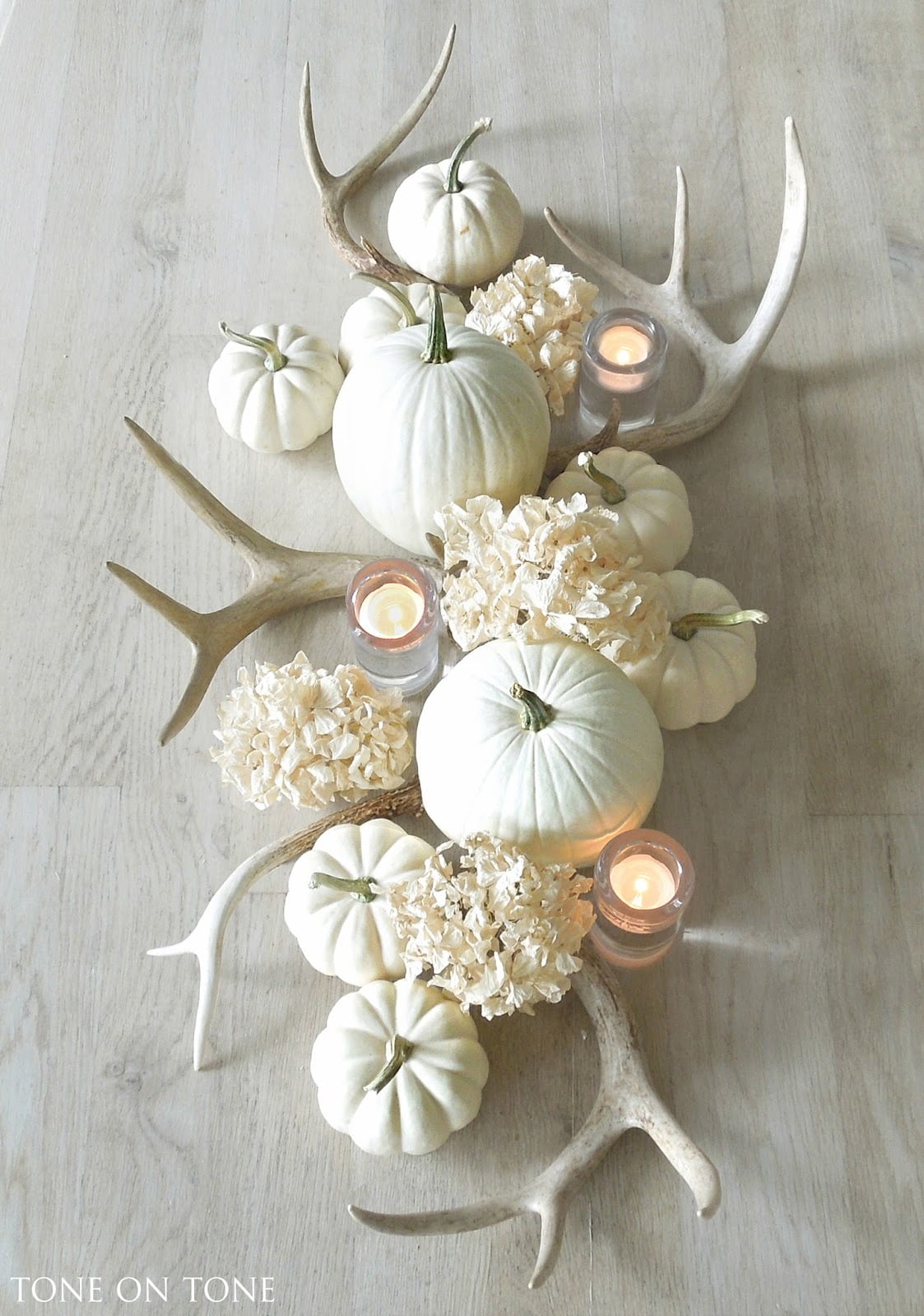 Source: The original source is not available anymore.
Driftwood white antlers set comfortably next to white pumpkins in this long centerpiece. These naturally shed antlers get their color from sitting out in the sun. Creamy white pumpkins sit amongst the antler curves, with votive candles and white hydrangeas filling in the blanks. With a bit of rearranging, this display would work well on a round or square table.
38. Fall Blooms in a Pinecone-Filled Vase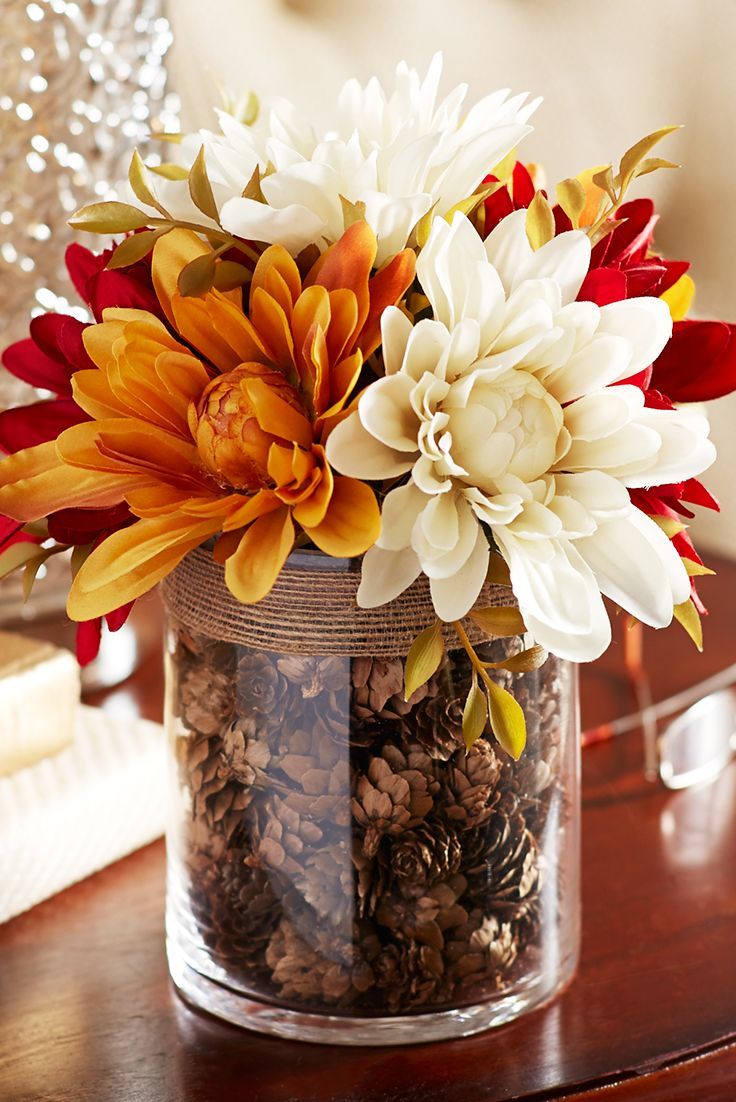 Simplicity and natural beauty mark this display of fall flowers. Large dahlia blossoms, in various shades of autumn, rest comfortably together at the top of this display. Below, a large cylindrical vase holds a multitude of pine cones where the blossom stems rest. Simple raffia twine encircles the collar of the vase for the final touch.
39. Minimalist White Pumpkin and Foliage Runner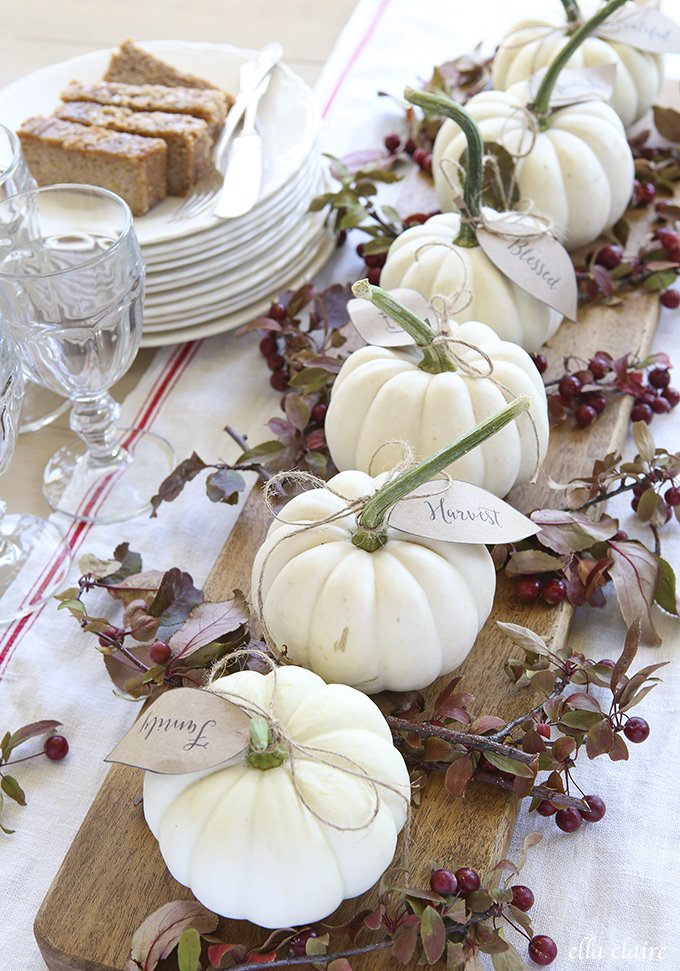 Your autumn centerpiece doesn't have to be intricate. A minimalist display can be just as striking. Simple white pumpkins sit along the top of a rough board. Tags filled with inspirational words dangle from the pumpkin stems. Simple berry and leaf-filled vines wind among the pumpkins, adding the perfect finishing touch.
40. Fall Centerpiece Idea: Galvanized Gourd Buckets with Tree Branch Votive Holder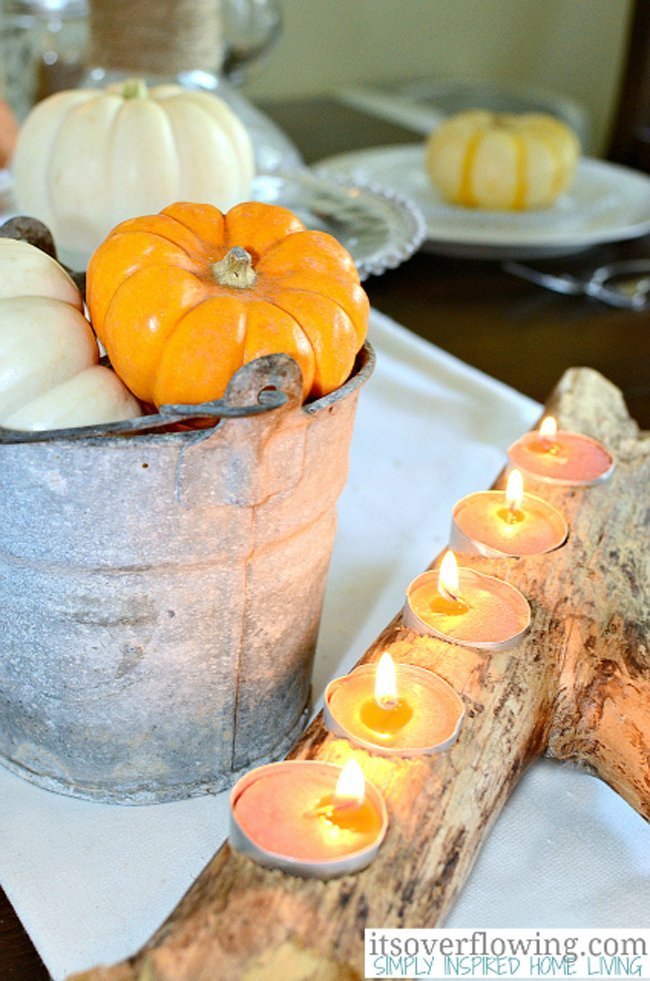 Combining two simple elements can create a unique, warm centerpiece, perfect for family gatherings throughout the autumn. A galvanized bucket filled with small pumpkins brings height to this display. Tea lights nestled into a simple wood branch brings a beautiful horizontal element that gives off a soft glow. The two elements balance each other perfectly.
41. DIY Fall Centerpieces Idea: Wheat Sheaf Centerpiece with Burlap Bow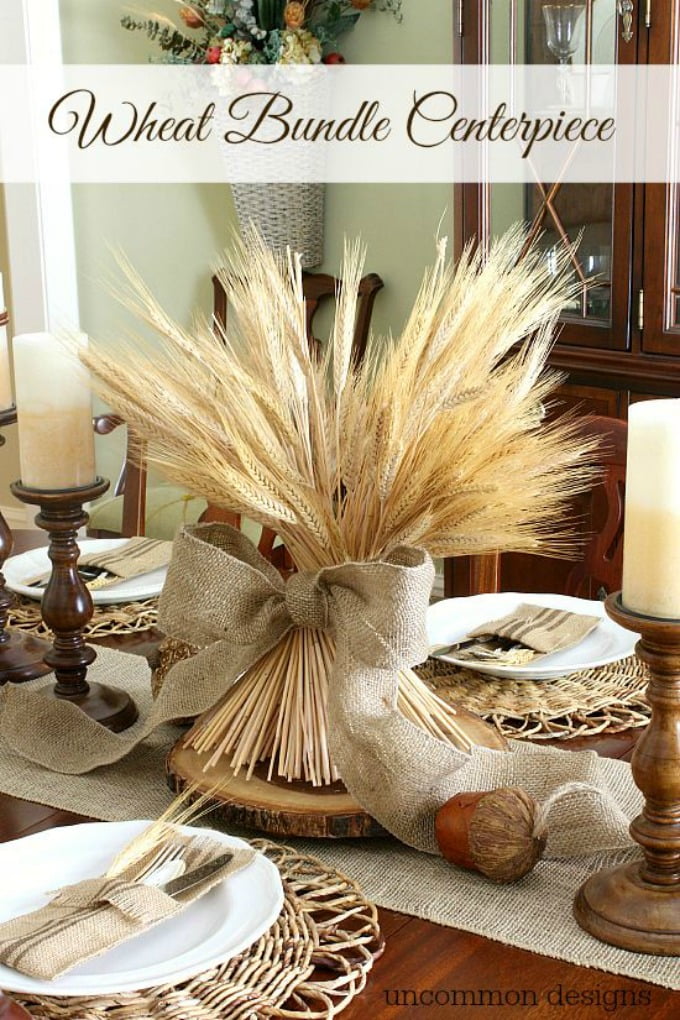 Wheat's natural beauty requires little more to be perfect for your autumn gatherings. One of the striking elements of wheat is the straight stems topped by the soft wheat grain heads. Dozens of wheat stems form a standing group, wrapped by a wired burlap ribbon for structure and beauty. A simple wooden blank creates the platform for everything else.
42. Upcycled Glass Jar Arrangement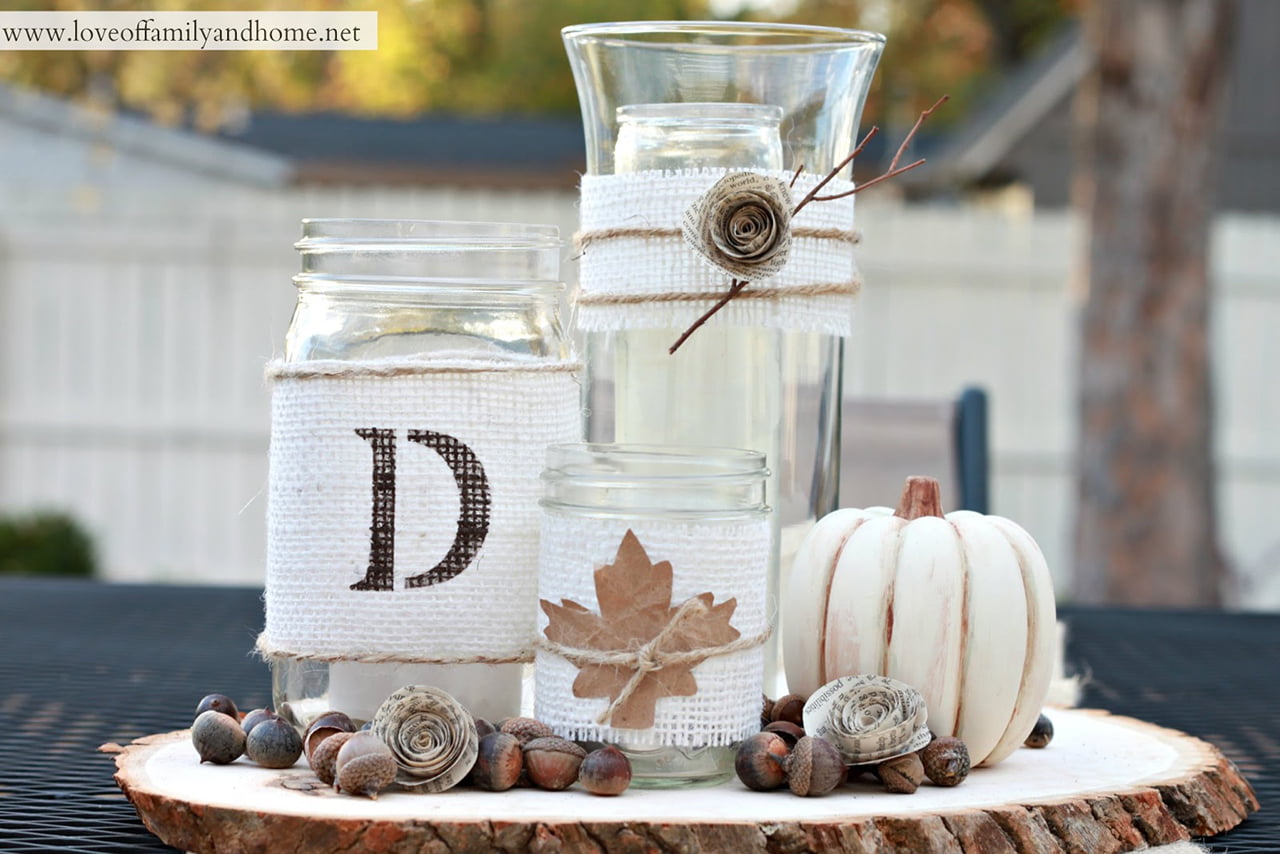 Mixed and matched vases holding simple candles create the center of this beautiful display. Jelly jars, Mason jars, and dollar store specials all get upcycled for this centerpiece. Each glass vessel gets wrapped in a burlap band secured with twine. Small dried blossoms, fall leaves or stenciled initials decorate the bands. Acorns and a simple wood plaque form the minimalist base.
43. Tree Branch Vase with Sunflower Arrangement for Dining Table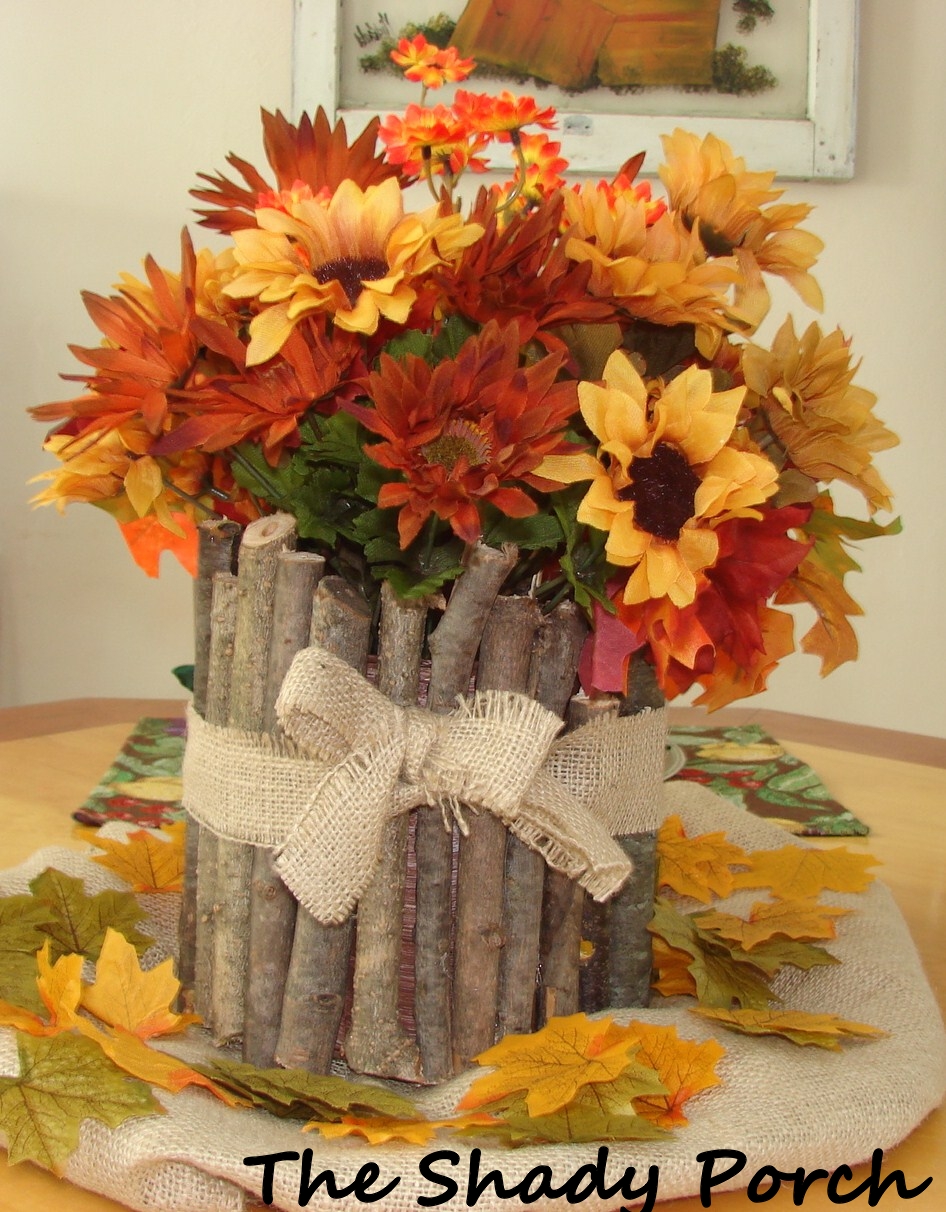 Source: theshadyporch.com
The multiple colors of sunflowers spring from a tree branch vase for a unique fall centerpiece. Small pieces of tree branches stand side-by-side around a central vessel. A simple burlap ribbon and bow encircle the branches. Sunflowers at various heights peak out of the top, bringing rich colors to your table or mantle.
44. Gold-dipped Mini Pumpkin and Votive Display for Dining Table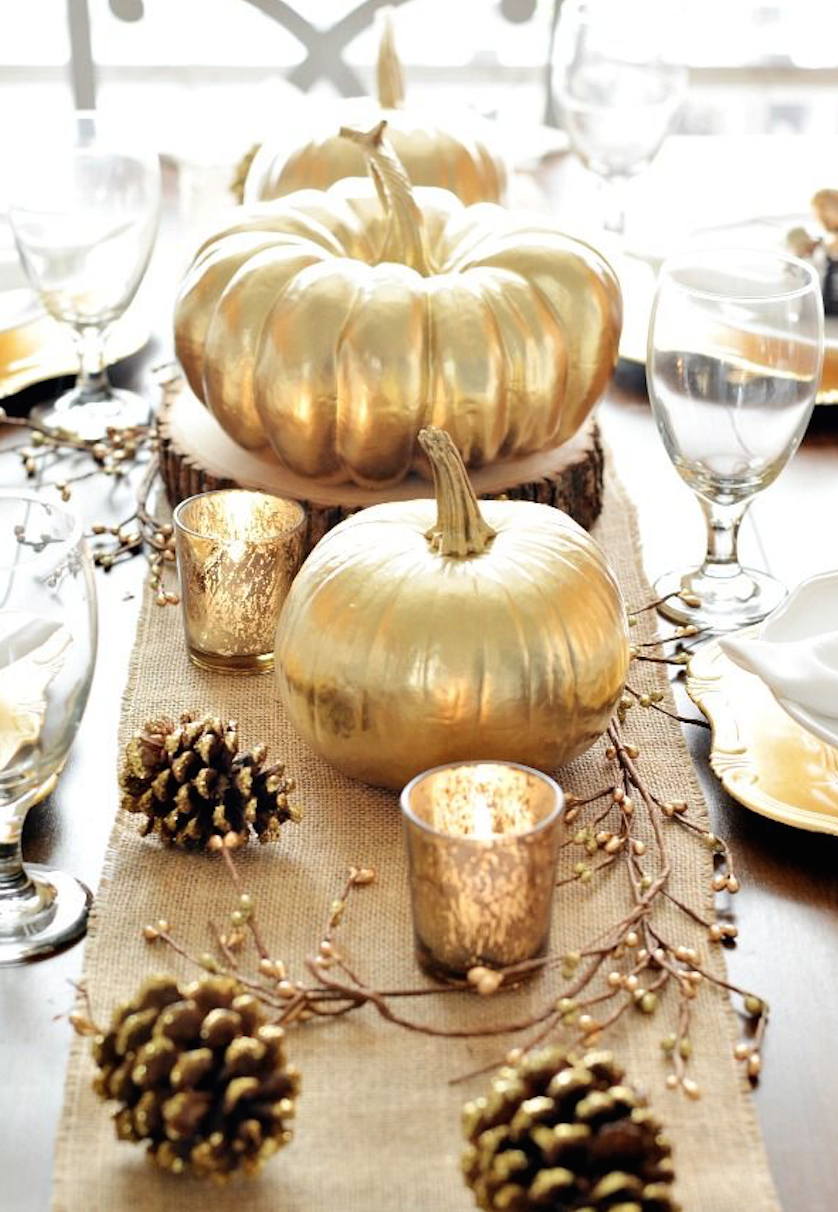 Gold paint unifies the multiple elements of this simple centerpiece. A long length of burlap runs down the center of the table. Pumpkins, votive candles, berry branches, and pine cones unite with the application of gold paint. Simple wooden plaques give height to the central pumpkin, adding another natural element to this gorgeous display.
45. Pumpkin Apothecary Jar Centerpiece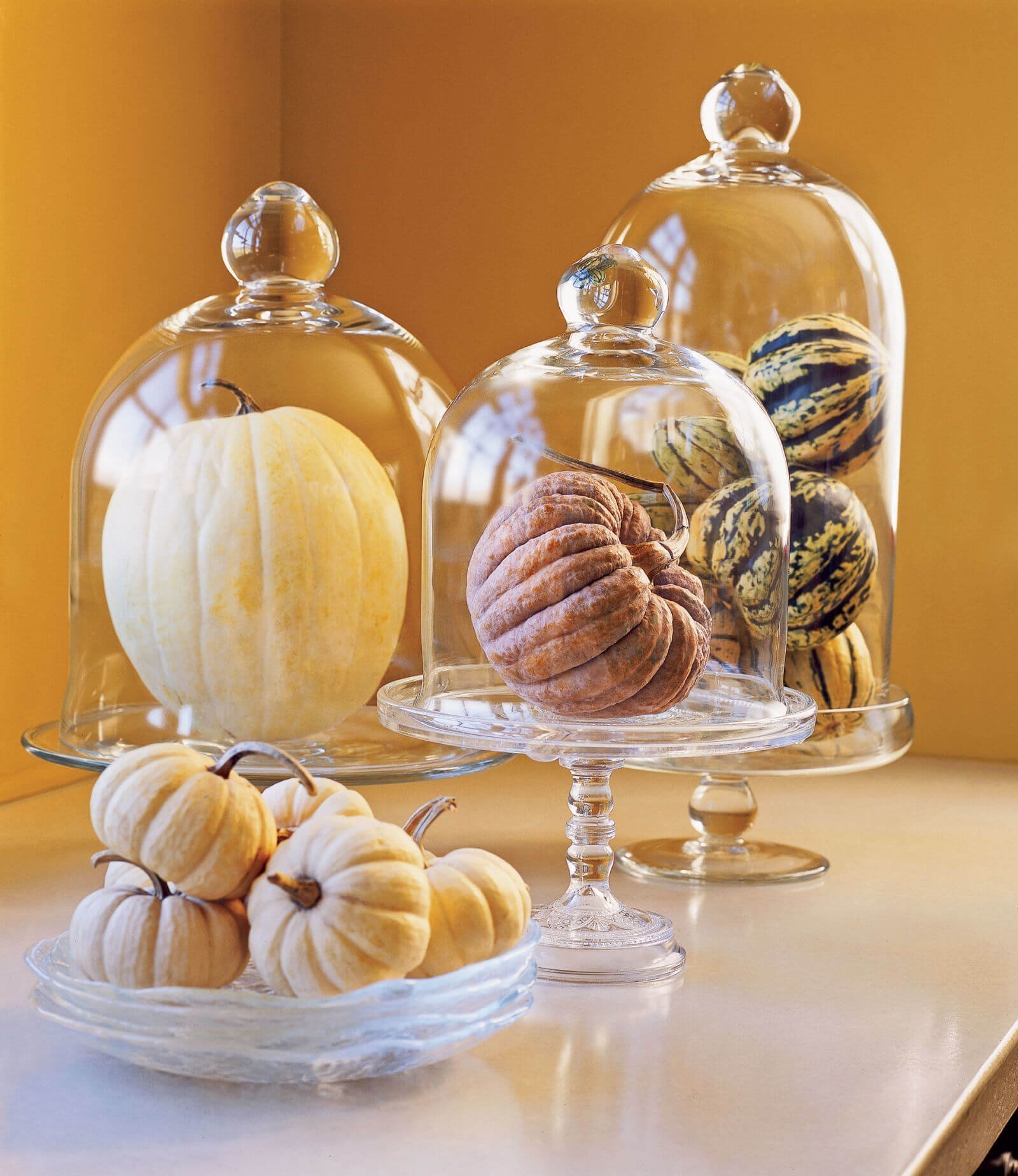 Autumn displays come in all shapes and forms, including ones that fit well into a contemporary home or even a transitional one. Simple glass apothecary jars create a simple way to display the colorful forms of smaller pumpkins. Cream, peach, yellow and black are just a few colors that can glimpse out of the clear white sides of these jars.
47. Miniature Pumpkin Planters with Succulents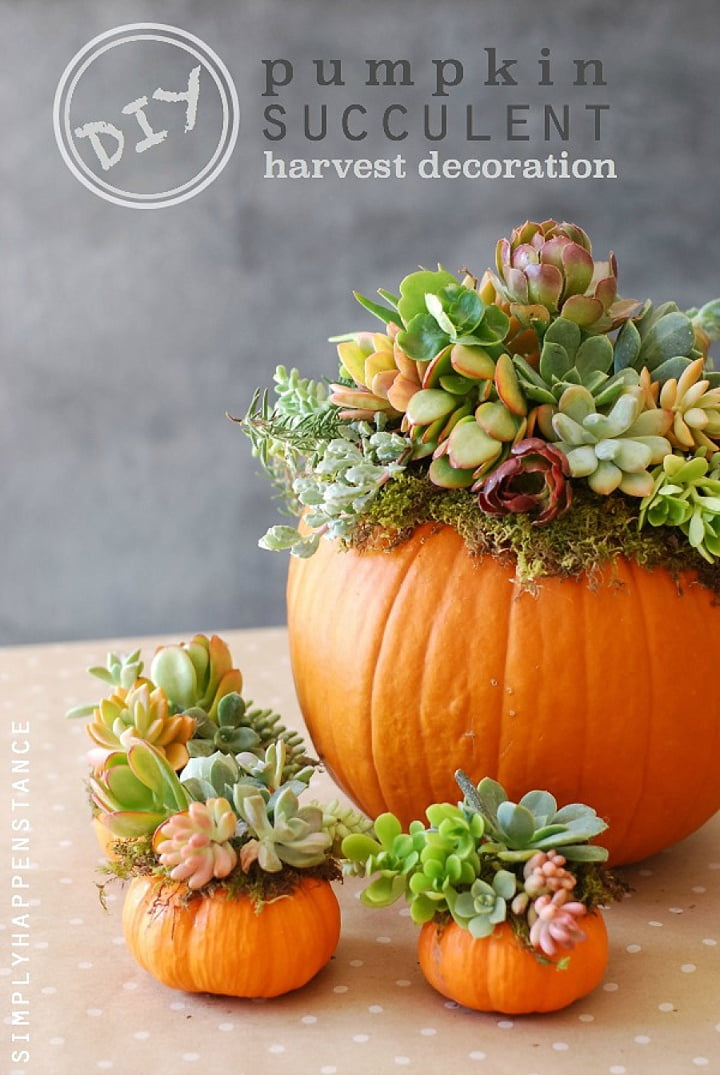 Succulents are the unexpected delight in this pumpkin centerpiece. The beauty of this display is that you can choose the size pumpkin you want to decorate. Hot glue secures moss to the top of the pumpkin. A variety of succulent cuttings sit in and amongst the moss, creating a unique display with an assortment of textures and colors.
48. Simple DIY Fall Centerpiece Decoration and Mason Jar Runner Box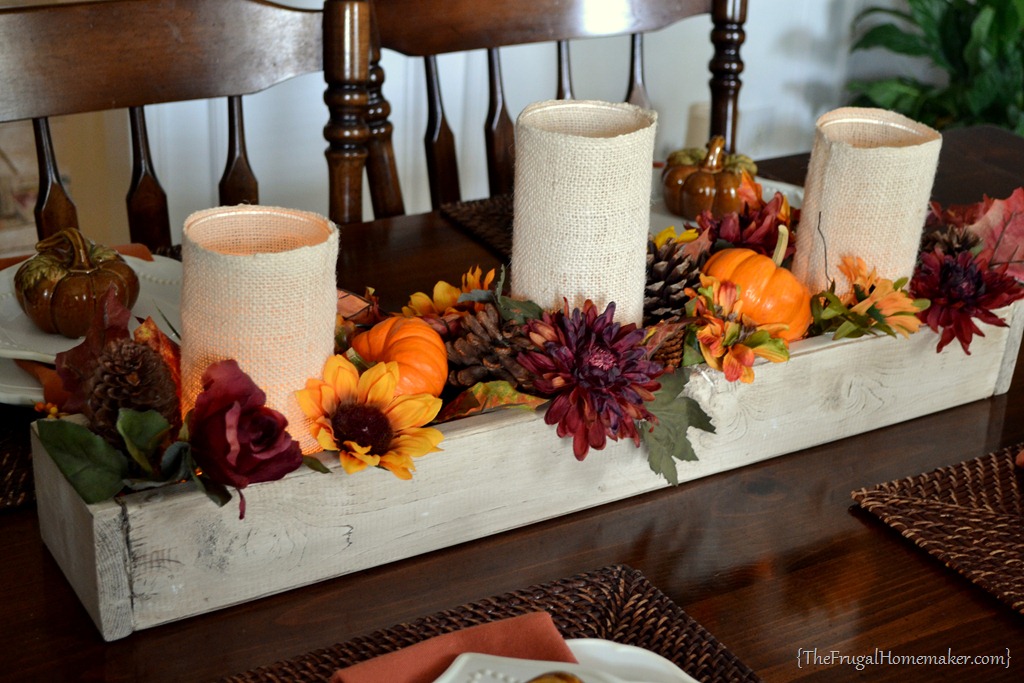 If you are looking for a long, narrow centerpiece, this simple box of candles and fall foliage is a perfect choice. A simple hand-crafted box, painted in a white highlighted with dark stain, sets the base of this display. Fill the box with a garland of fall leaves. Simple burlap enwrapped vases or white candles are the perfect finishing touches.
49. Cut Branch Vase with Rustic Fall Blooms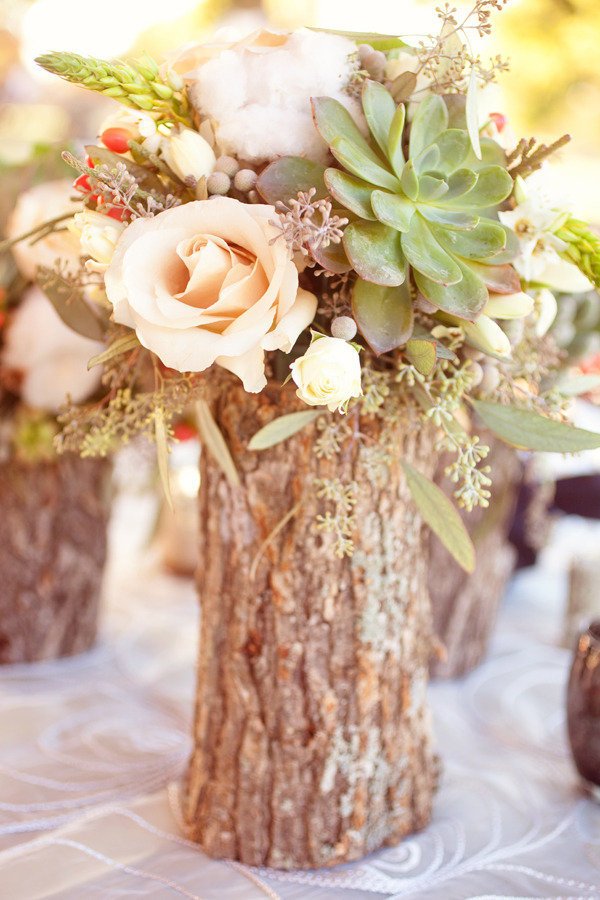 Roses and succulents are just a few of the beautiful elements cascading out of this wooden vase. A wood log with part of the center cut out creates the perfect vessel for this natural display. Apricot roses, soft green succulents, and wheat buds snuggle together into the log's center create a bouquet of color, perfect for any autumn table or display.
50. Chalk Painted Crate and Jars with Wheat Stalks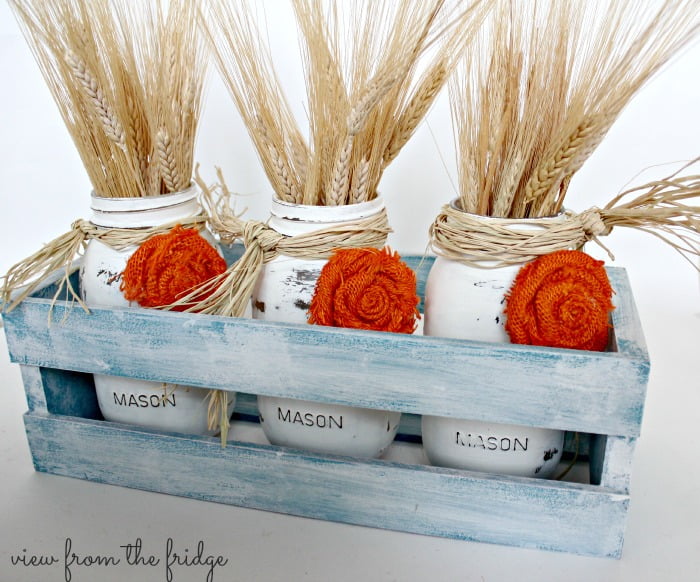 Chalk paint and Mason jars work well to highlight the natural beauty of wheat. Painting a simple rectangular wood crate is the first step in creating this masterpiece. Chalk paint gives it a faded, yet beautiful, color. White chalk paint fills the glass of the jars, with stalks of wheat sprouting about. Orange burlap roses bring a bit of color to the display.
51. Ceramic Pumpkin Display with Mismatched Candlestick Risers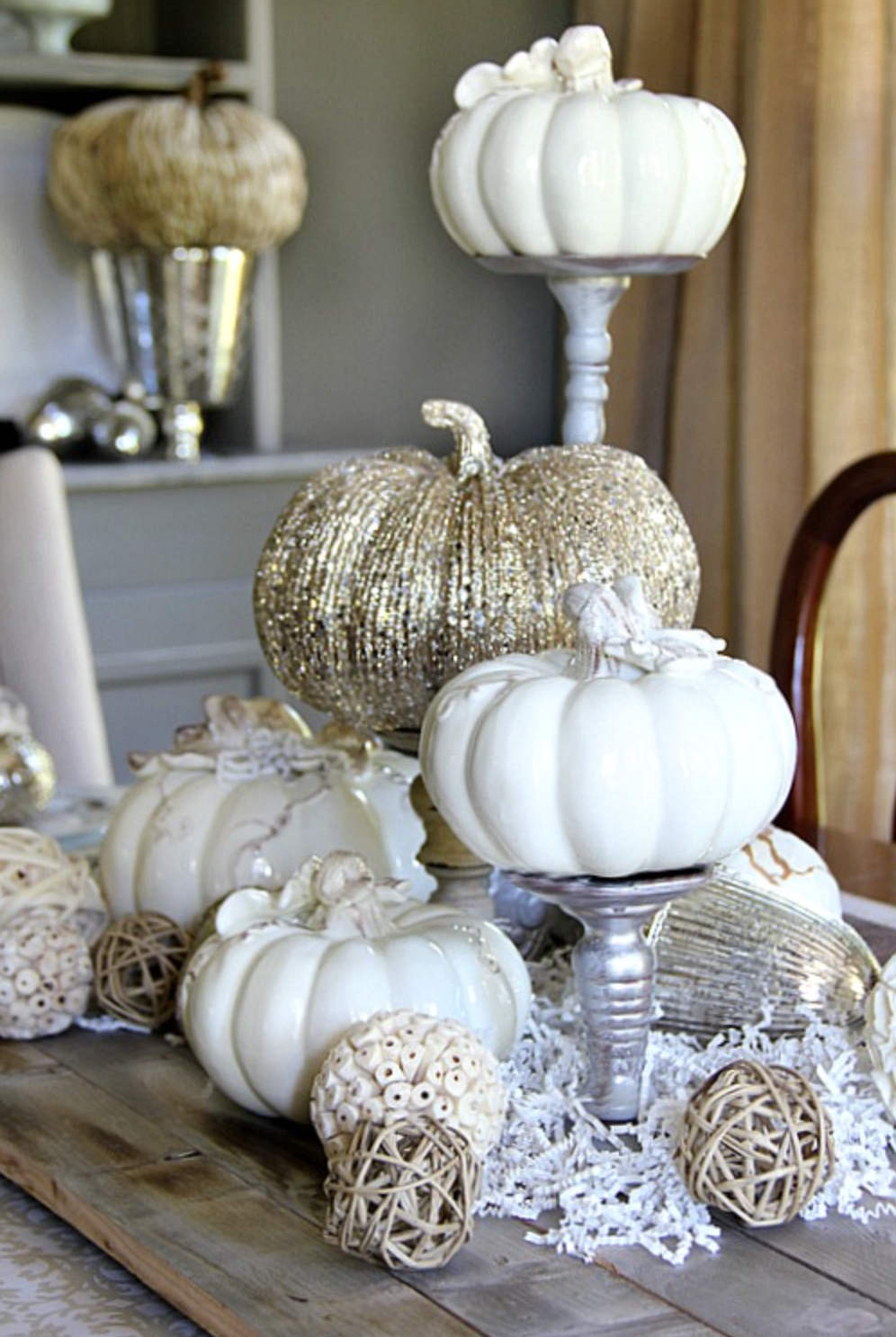 Candle risers bring height to this display of ceramic pumpkins. The candle risers can be used clear or painted a soft color. Set amongst twine balls and natural elements, this display highlights pumpkins, mainly in ceramic. This display works well with faux pumpkins, but would also look good using natural pumpkins in a variety of colors.