39. Minimalist White Pumpkin and Foliage Runner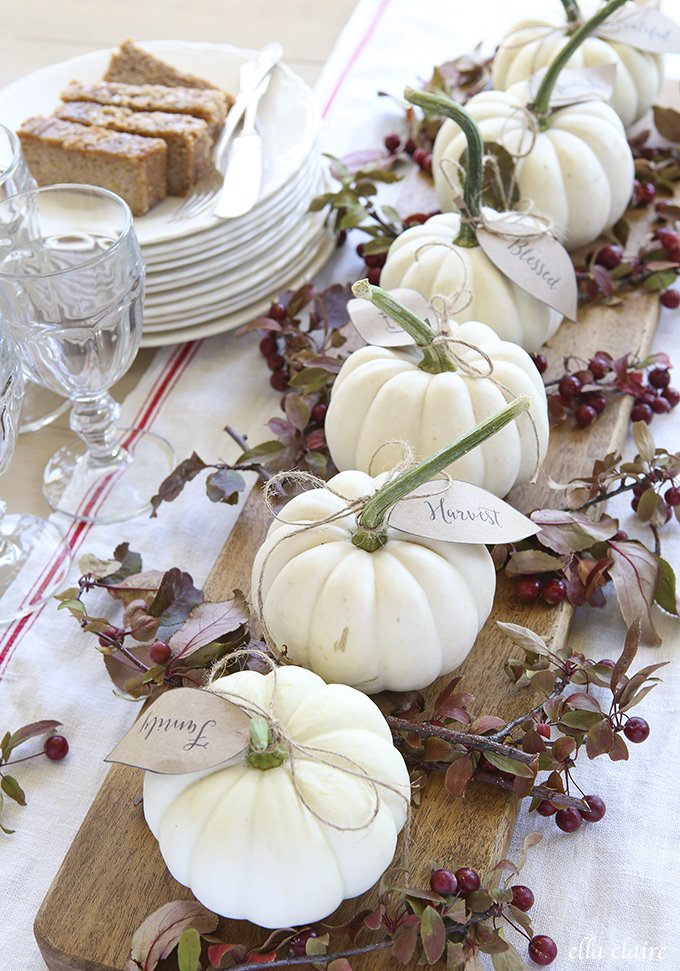 Your autumn centerpiece doesn't have to be intricate. A minimalist display can be just as striking. Simple white pumpkins sit along the top of a rough board. Tags filled with inspirational words dangle from the pumpkin stems. Simple berry and leaf-filled vines wind among the pumpkins, adding the perfect finishing touch.
40. Fall Centerpiece Idea: Galvanized Gourd Buckets with Tree Branch Votive Holder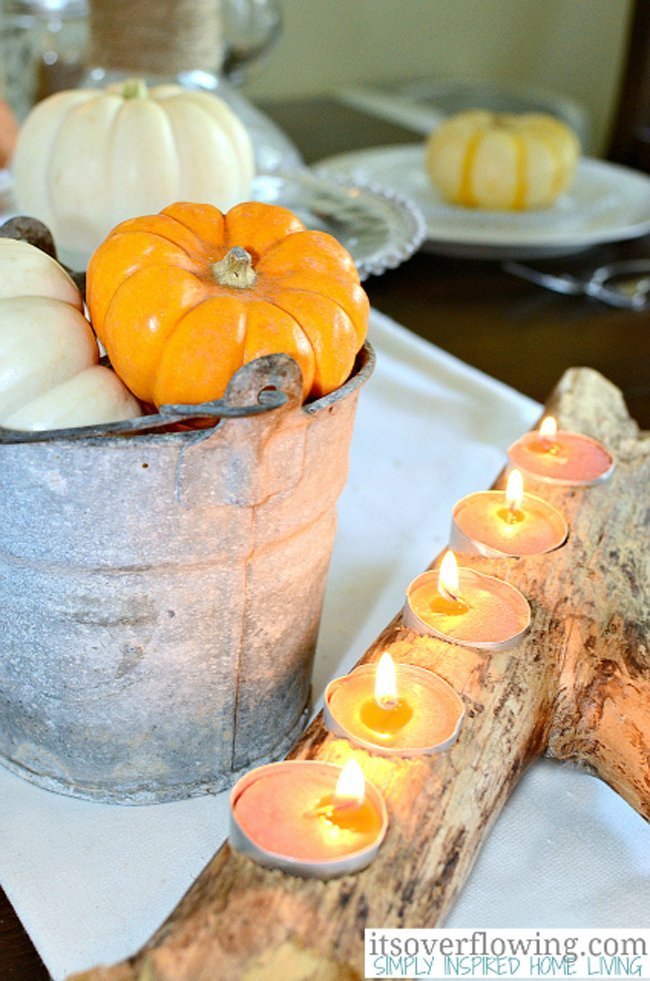 Combining two simple elements can create a unique, warm centerpiece, perfect for family gatherings throughout the autumn. A galvanized bucket filled with small pumpkins brings height to this display. Tea lights nestled into a simple wood branch brings a beautiful horizontal element that gives off a soft glow. The two elements balance each other perfectly.
41. DIY Fall Centerpieces Idea: Wheat Sheaf Centerpiece with Burlap Bow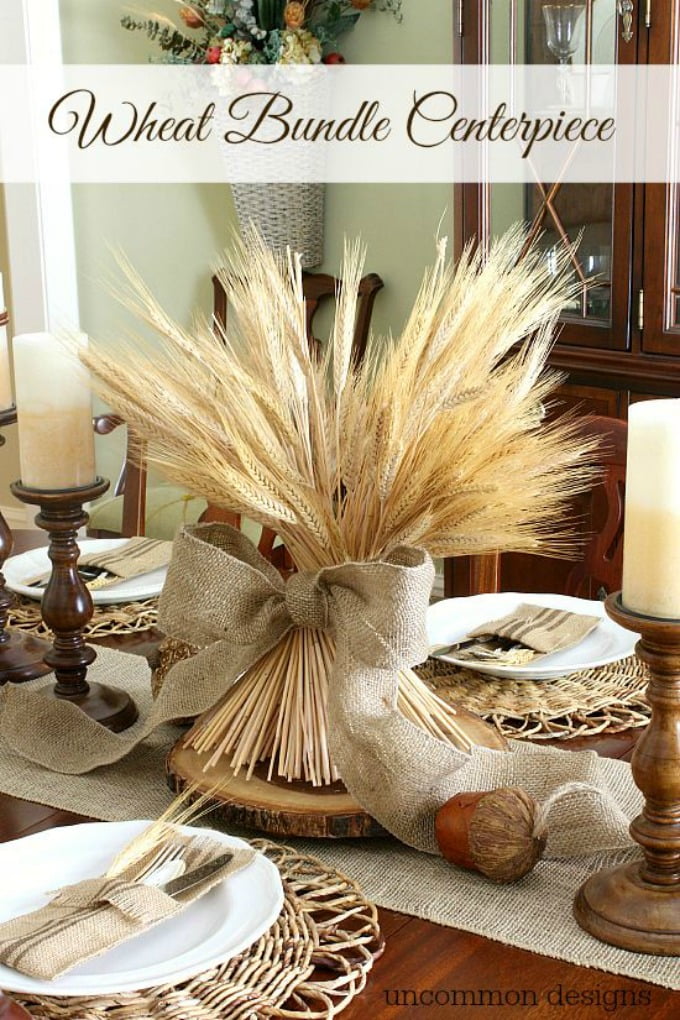 Wheat's natural beauty requires little more to be perfect for your autumn gatherings. One of the striking elements of wheat is the straight stems topped by the soft wheat grain heads. Dozens of wheat stems form a standing group, wrapped by a wired burlap ribbon for structure and beauty. A simple wooden blank creates the platform for everything else.
42. Upcycled Glass Jar Arrangement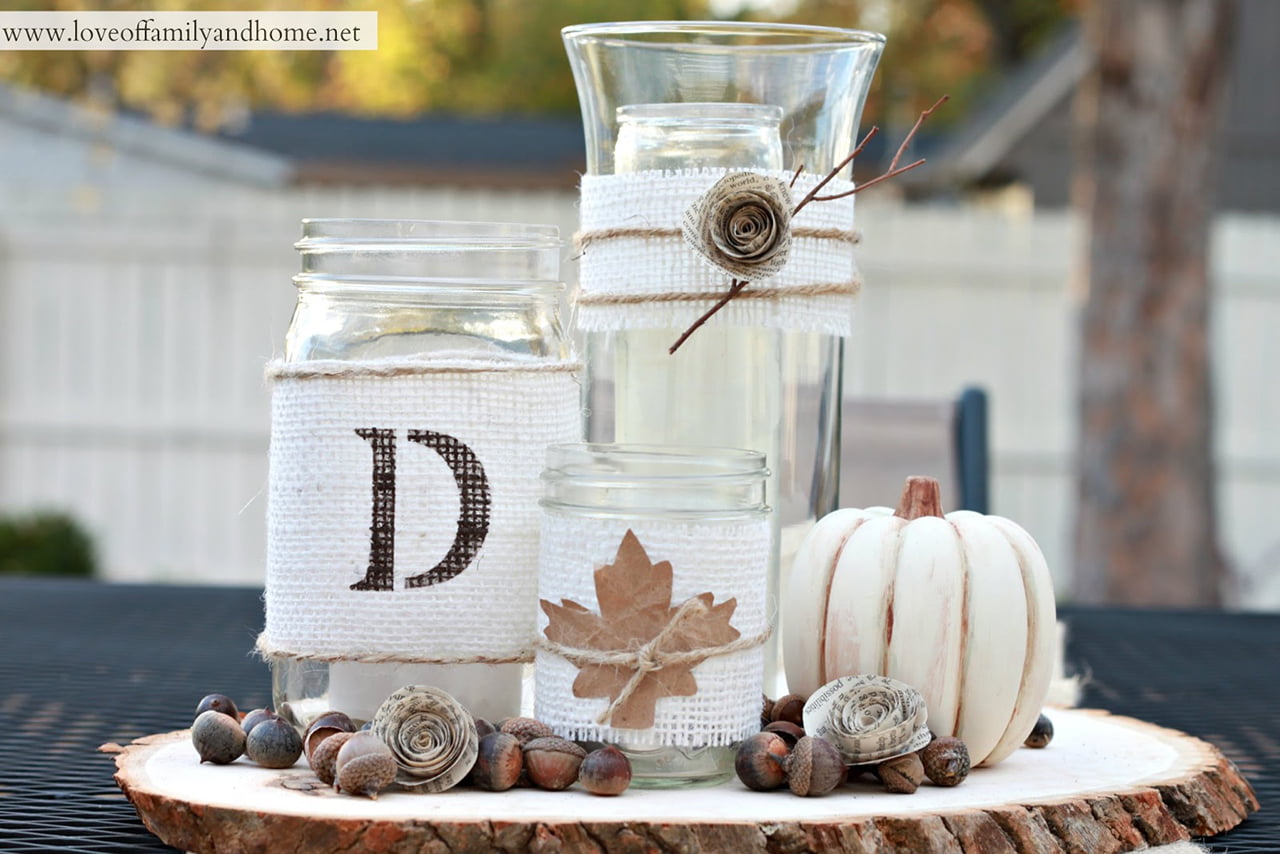 Mixed and matched vases holding simple candles create the center of this beautiful display. Jelly jars, Mason jars, and dollar store specials all get upcycled for this centerpiece. Each glass vessel gets wrapped in a burlap band secured with twine. Small dried blossoms, fall leaves or stenciled initials decorate the bands. Acorns and a simple wood plaque form the minimalist base.
43. Tree Branch Vase with Sunflower Arrangement for Dining Table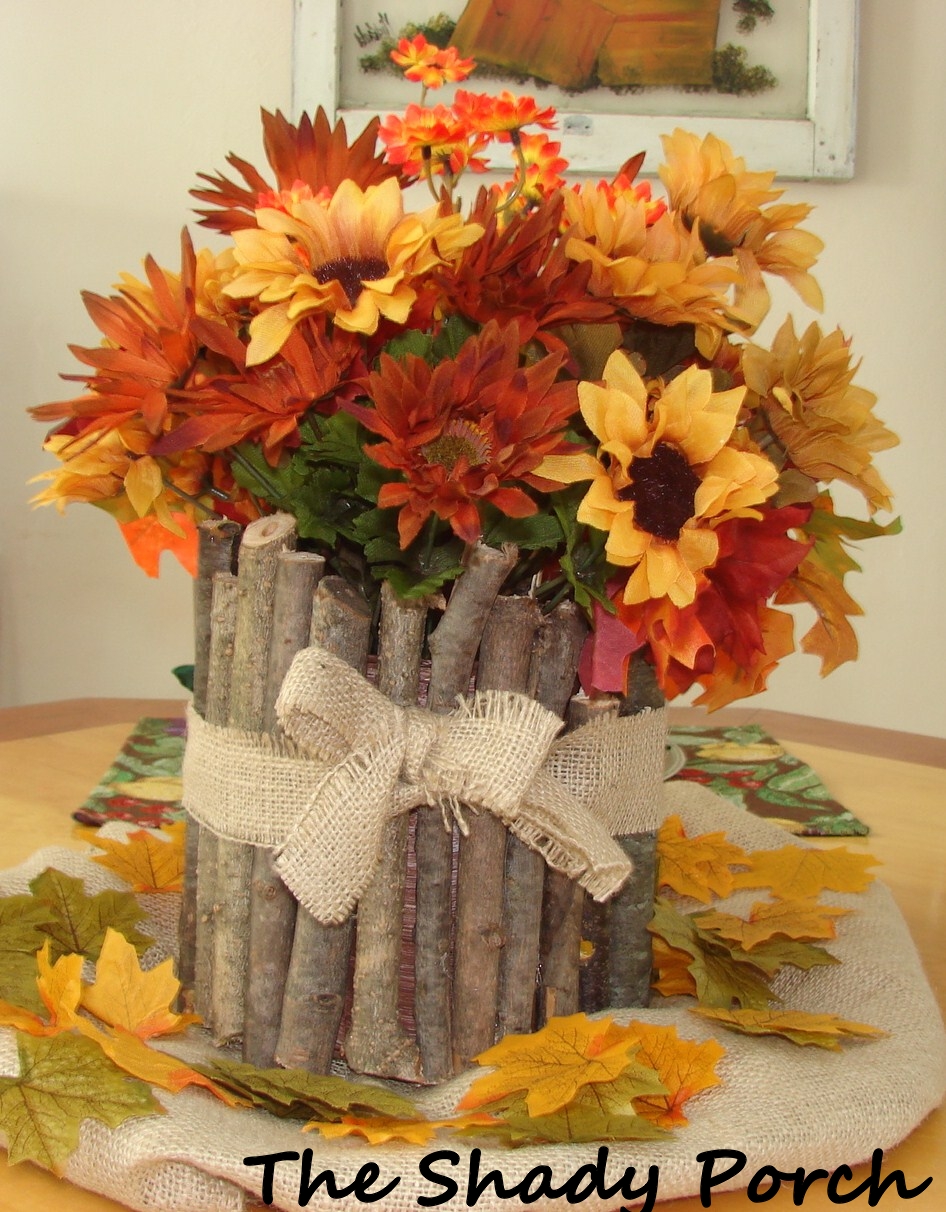 The multiple colors of sunflowers spring from a tree branch vase for a unique fall centerpiece. Small pieces of tree branches stand side-by-side around a central vessel. A simple burlap ribbon and bow encircle the branches. Sunflowers at various heights peak out of the top, bringing rich colors to your table or mantle.
44. Gold-dipped Mini Pumpkin and Votive Display for Dining Table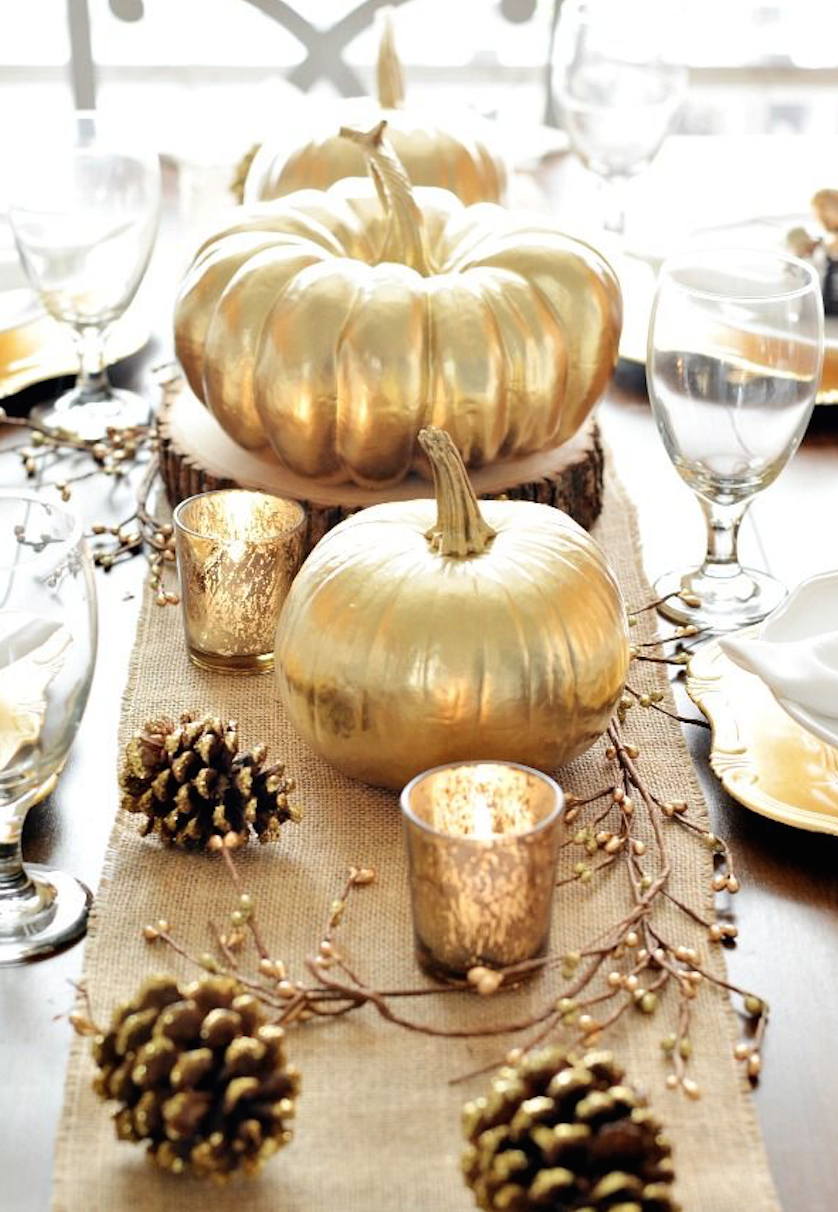 Gold paint unifies the multiple elements of this simple centerpiece. A long length of burlap runs down the center of the table. Pumpkins, votive candles, berry branches, and pine cones unite with the application of gold paint. Simple wooden plaques give height to the central pumpkin, adding another natural element to this gorgeous display.
45. Pumpkin Apothecary Jar Centerpiece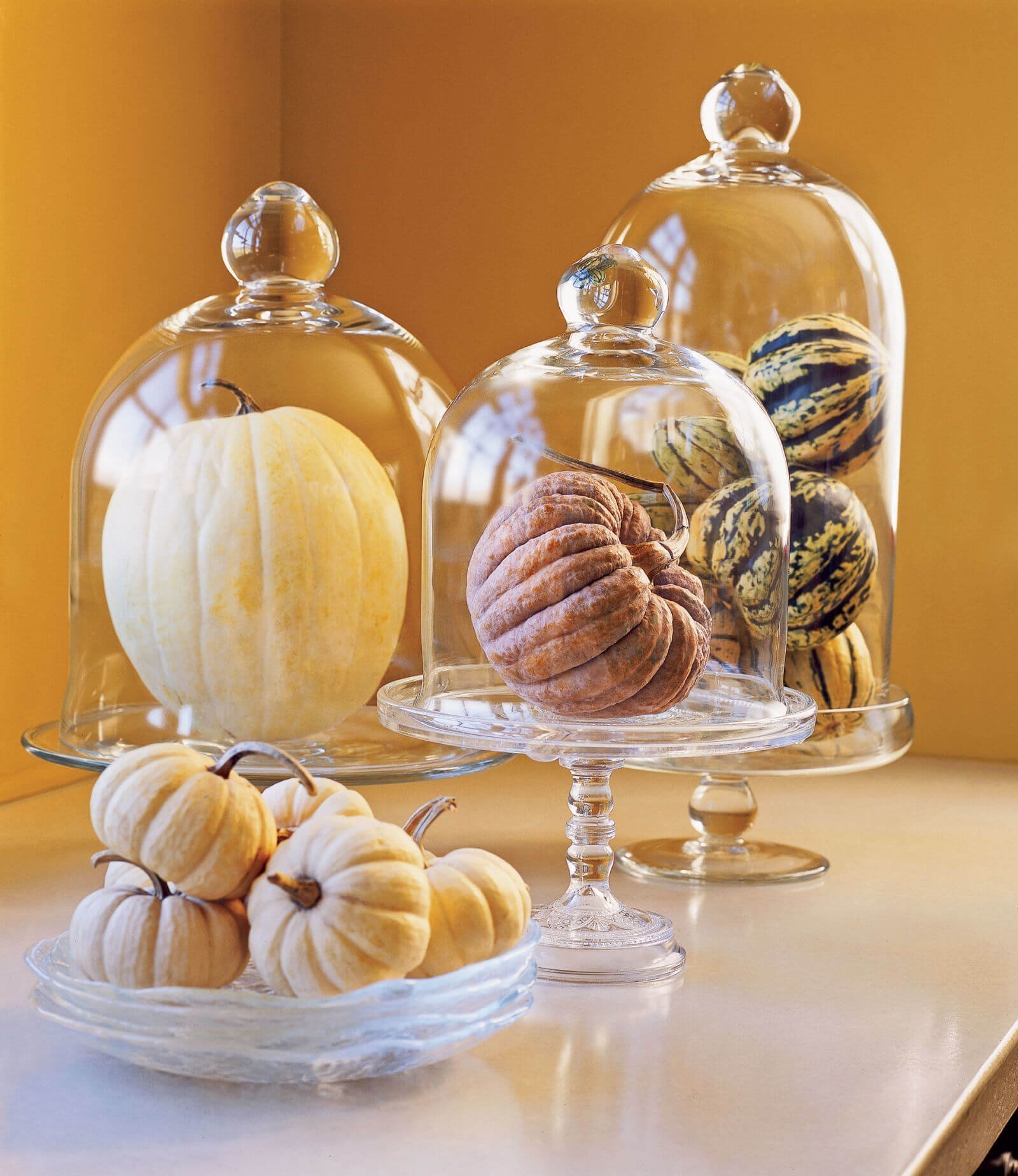 Autumn displays come in all shapes and forms, including ones that fit well into a contemporary home or even a transitional one. Simple glass apothecary jars create a simple way to display the colorful forms of smaller pumpkins. Cream, peach, yellow and black are just a few colors that can glimpse out of the clear white sides of these jars.
47. Miniature Pumpkin Planters with Succulents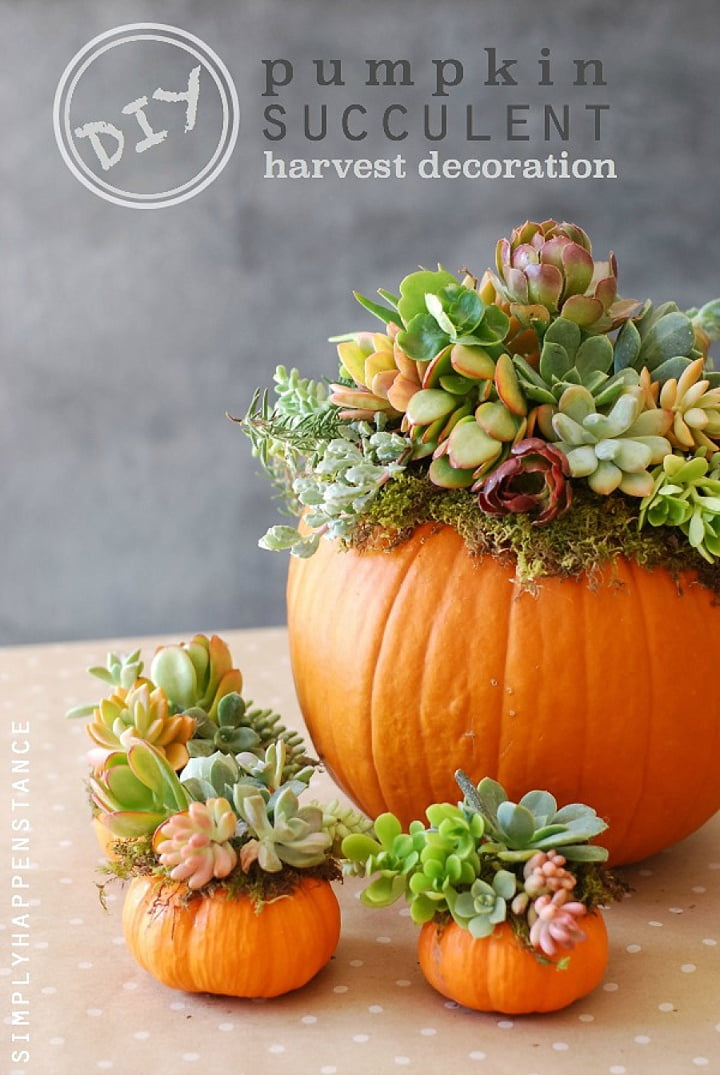 Succulents are the unexpected delight in this pumpkin centerpiece. The beauty of this display is that you can choose the size pumpkin you want to decorate. Hot glue secures moss to the top of the pumpkin. A variety of succulent cuttings sit in and amongst the moss, creating a unique display with an assortment of textures and colors.
48. Simple DIY Fall Centerpiece Decoration and Mason Jar Runner Box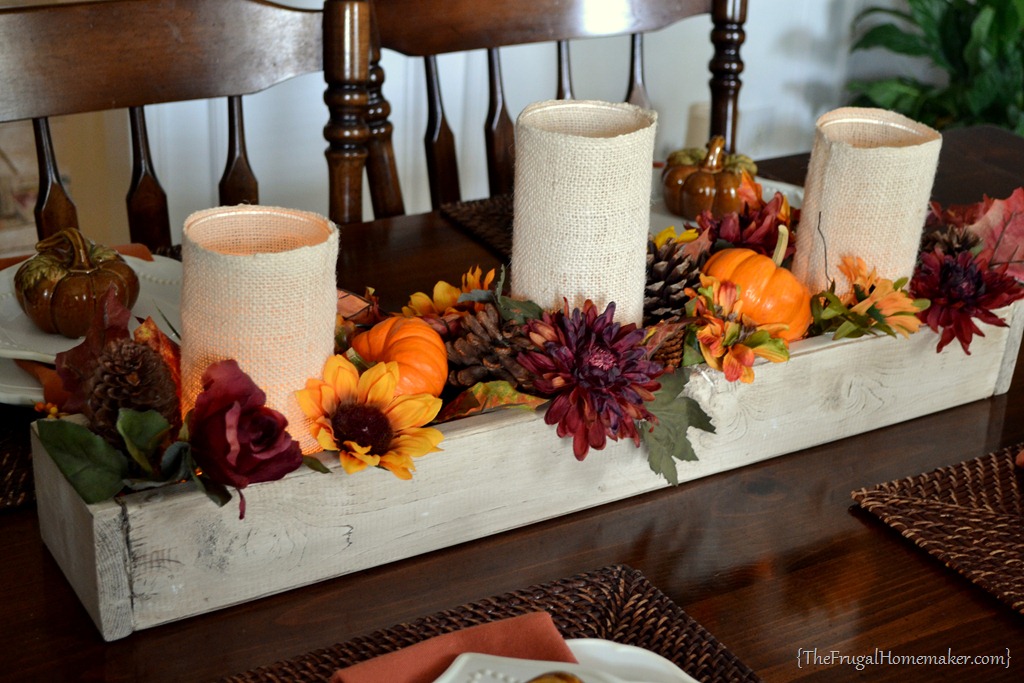 If you are looking for a long, narrow centerpiece, this simple box of candles and fall foliage is a perfect choice. A simple hand-crafted box, painted in a white highlighted with dark stain, sets the base of this display. Fill the box with a garland of fall leaves. Simple burlap enwrapped vases or white candles are the perfect finishing touches.
49. Cut Branch Vase with Rustic Fall Blooms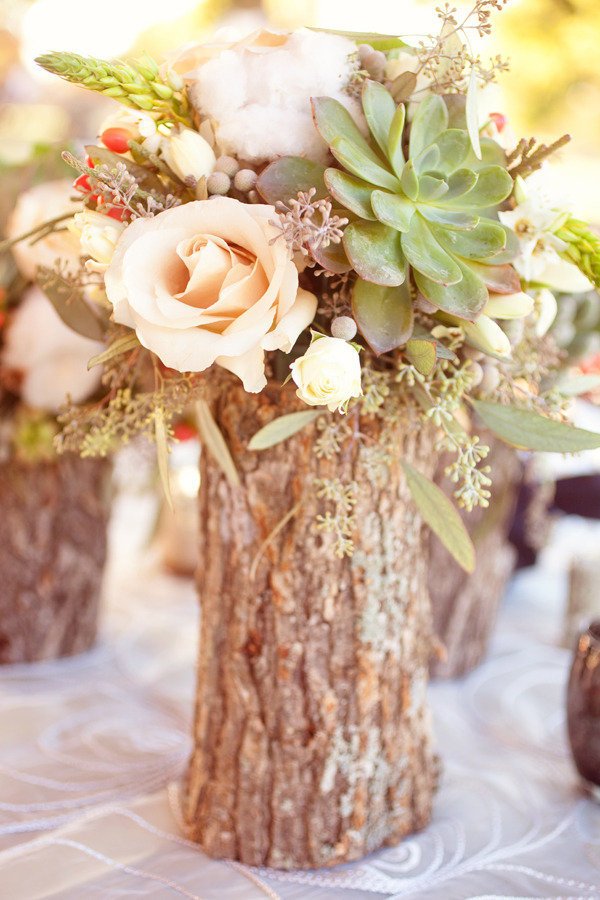 Roses and succulents are just a few of the beautiful elements cascading out of this wooden vase. A wood log with part of the center cut out creates the perfect vessel for this natural display. Apricot roses, soft green succulents, and wheat buds snuggle together into the log's center create a bouquet of color, perfect for any autumn table or display.
50. Chalk Painted Crate and Jars with Wheat Stalks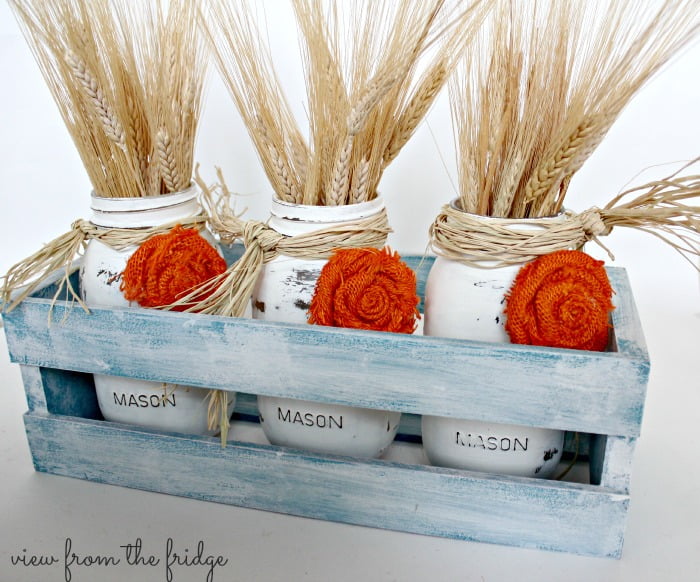 Chalk paint and Mason jars work well to highlight the natural beauty of wheat. Painting a simple rectangular wood crate is the first step in creating this masterpiece. Chalk paint gives it a faded, yet beautiful, color. White chalk paint fills the glass of the jars, with stalks of wheat sprouting about. Orange burlap roses bring a bit of color to the display.
51. Ceramic Pumpkin Display with Mismatched Candlestick Risers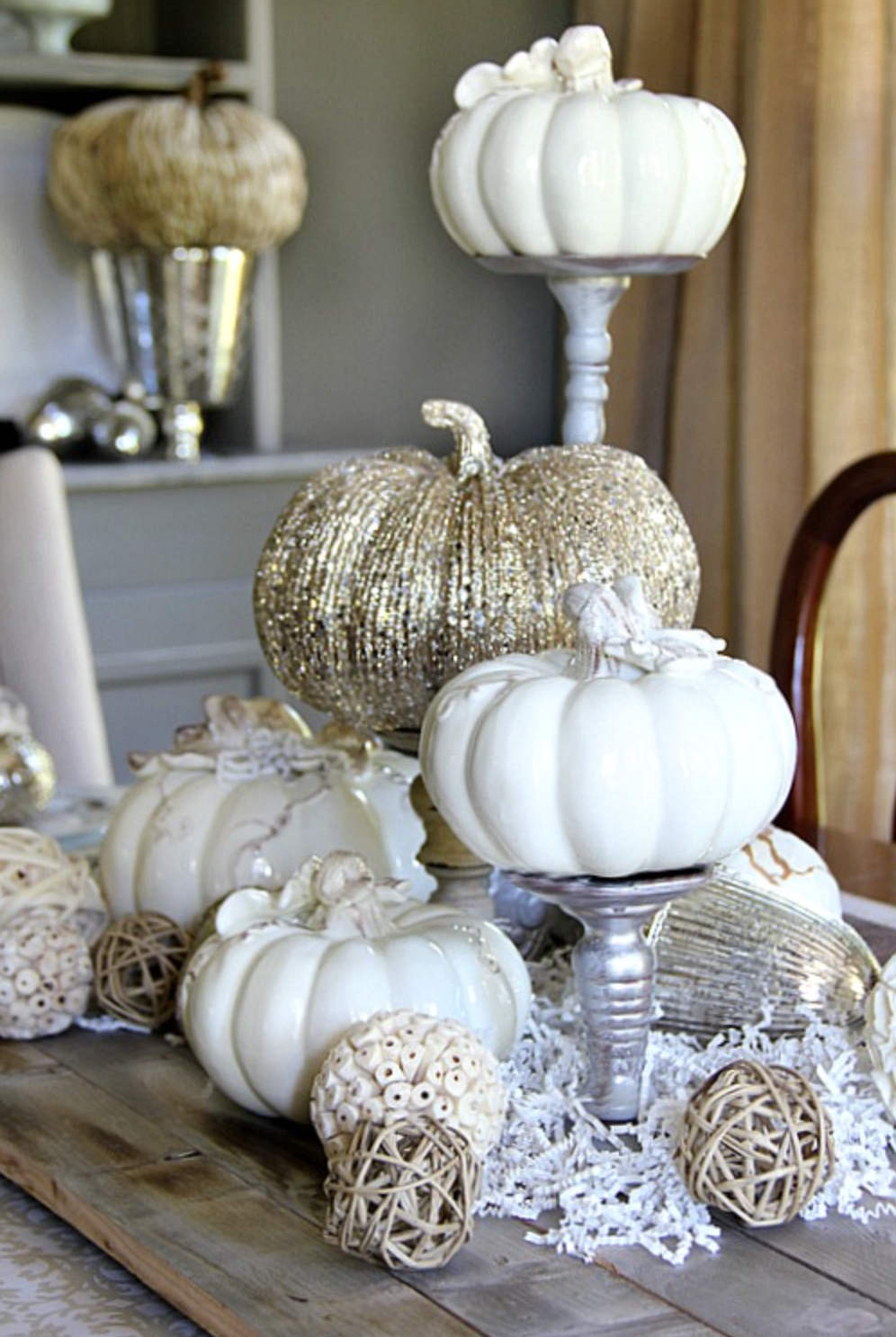 Candle risers bring height to this display of ceramic pumpkins. The candle risers can be used clear or painted a soft color. Set amongst twine balls and natural elements, this display highlights pumpkins, mainly in ceramic. This display works well with faux pumpkins, but would also look good using natural pumpkins in a variety of colors.