Autumn is here, and it's time for fun DIY fall crafts! For many people, there's no more lovely time of year than autumn. From the joy of carving Jack-o-Lanterns to the simple pleasure of raking leaves, fall is a time when life's simple pleasures resonate. When summer fades into memory, that's when the excitement of fall really begins. In honor of fall, we've got 50+ DIY fall decorations that are truly fun to create.
DIY Fall Crafts Festive

The heady first days of fall are ones of great expectation, as thoughts turn to the fun of Halloween and the comfort of Thanksgiving. DIY fall craft ideas celebrate this time of sharing good times with loved ones. The fall is such an inspiring time for getting warm and cozy, decorating just seems to come with it. In honor of this special time of year, we've got 50+ DIY craft ideas for Fall to use for your own home. Here's hoping you'll find plenty of inspiration in these delightful decorations.
1. Metallic Modern Pumpkins Made from Canning Rings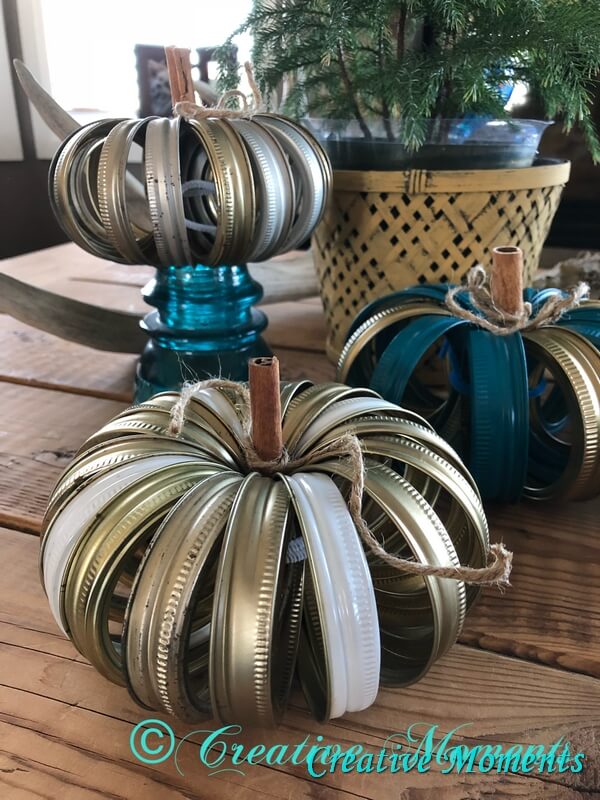 These adorable pumpkins are the perfect addition to your porch — they're made using the metal rings from canning jars, so you can leave them outside without worrying about rain or rust. Leave them unfinished, or add in a few stripes of color to bring out the tones of your front door or siding. A simple twist of twine makes the perfect rustic finishing touch.
2. DIY Elegant Pumpkin Wreath for Fall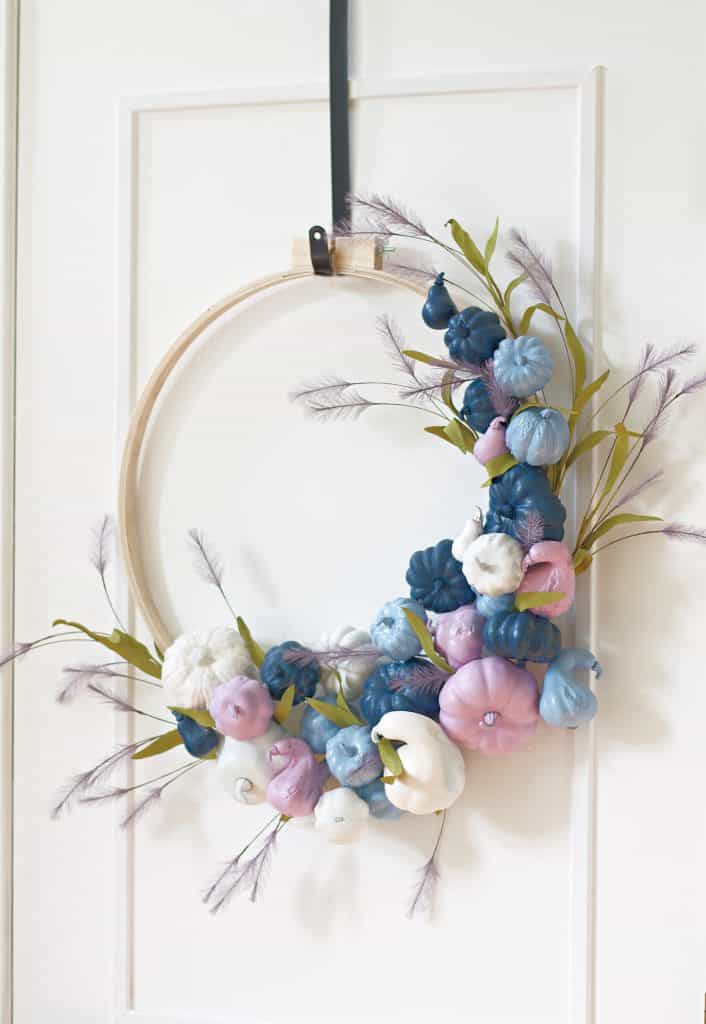 Dress up your front door with this DIY pumpkin wreath, which you can make from inexpensive items from the craft store. Add a few coats of paint to the tiny pumpkins, tuck in your favorite faux plants, and you have a custom decoration to use year after year. Underneath it all is an inexpensive wooden embroidery hoop that's lightweight yet beautiful enough to leave unfinished.
3. Easy to make Rustic Wood Harvest Sign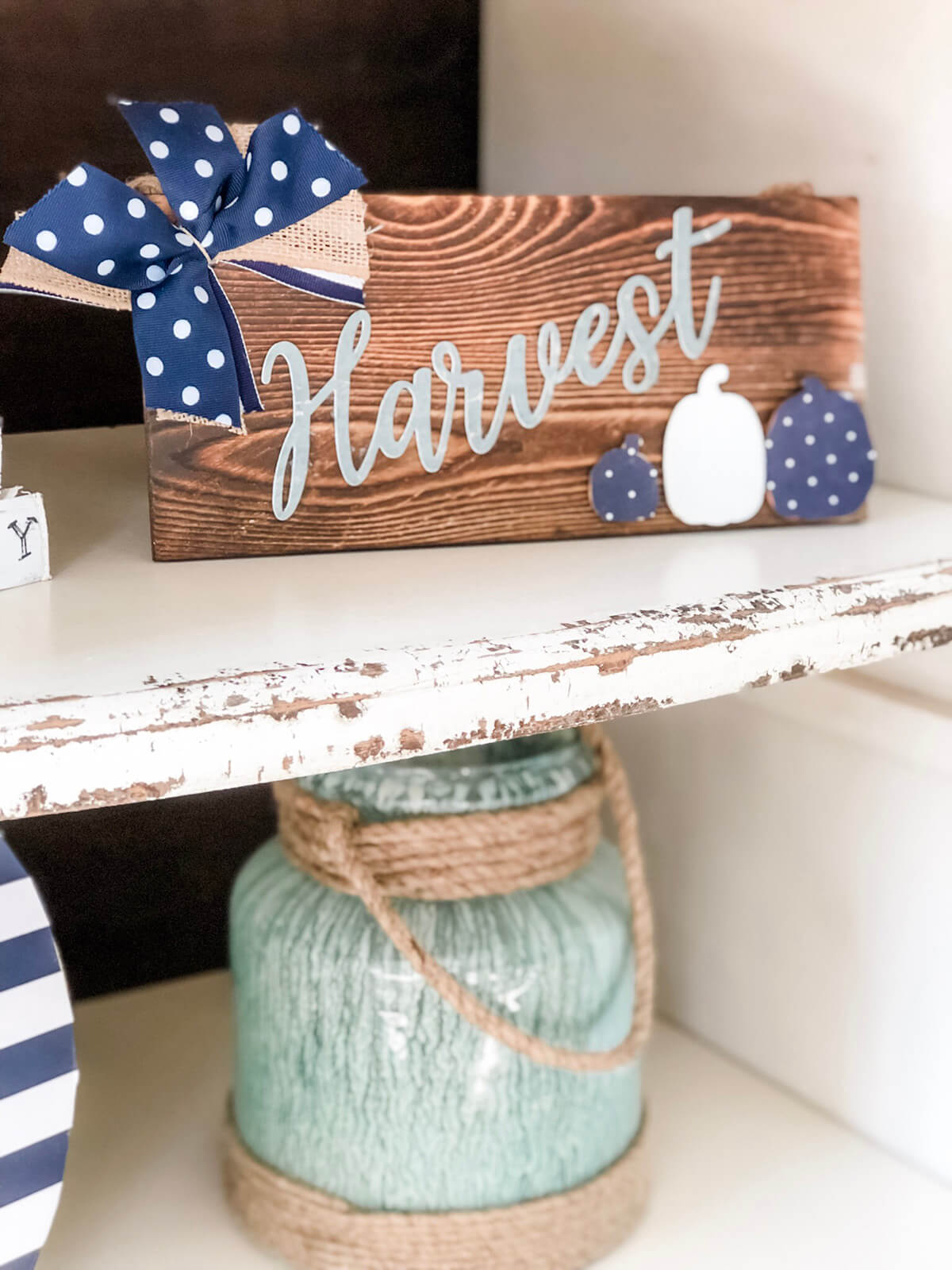 This harvest sign combines rustic decor and typographic design, creating a piece that can be used indoors or outdoors. The combination of the wood grain and the galvanized metal letters brings just the right hint of country-chic style to your fall decor. Choose ribbon and pumpkin colors to match your seasonal theme; go for a sophisticated navy, or pick a classic orange and red.
4. Wood Bead Farmhouse-Style Pumpkin Decor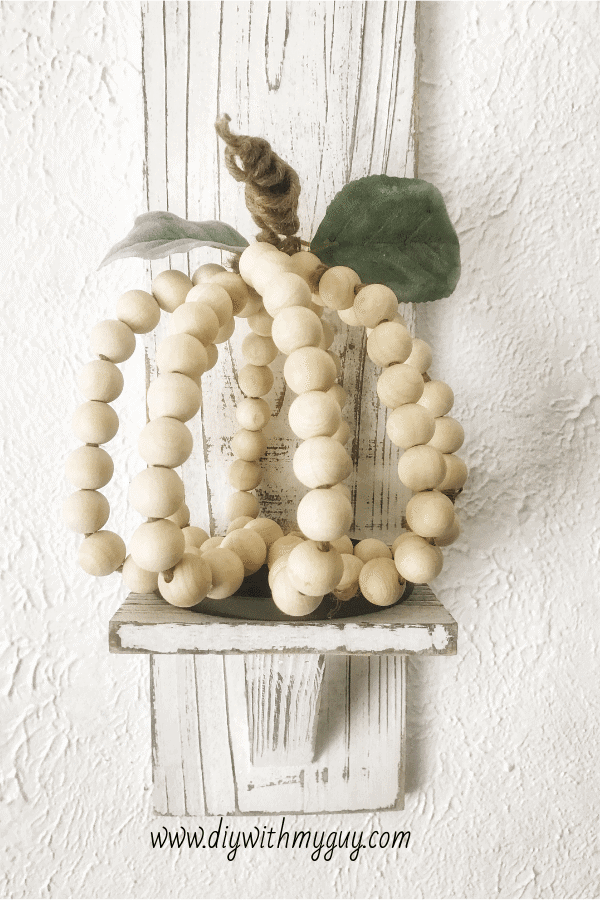 The gorgeous decor is all about texture and levels, and this pumpkin achieves both. Made from dull strands of wooden beads strung on wire, it comes together in less than 30 minutes. Left unfinished, the beads bring a Scandinavian charm to your home; they also look lovely with a coat of orange paint. Add an artificial leaf for just the right pop of color.
5. Colorful Hand-Painted Wooden Post Pumpkins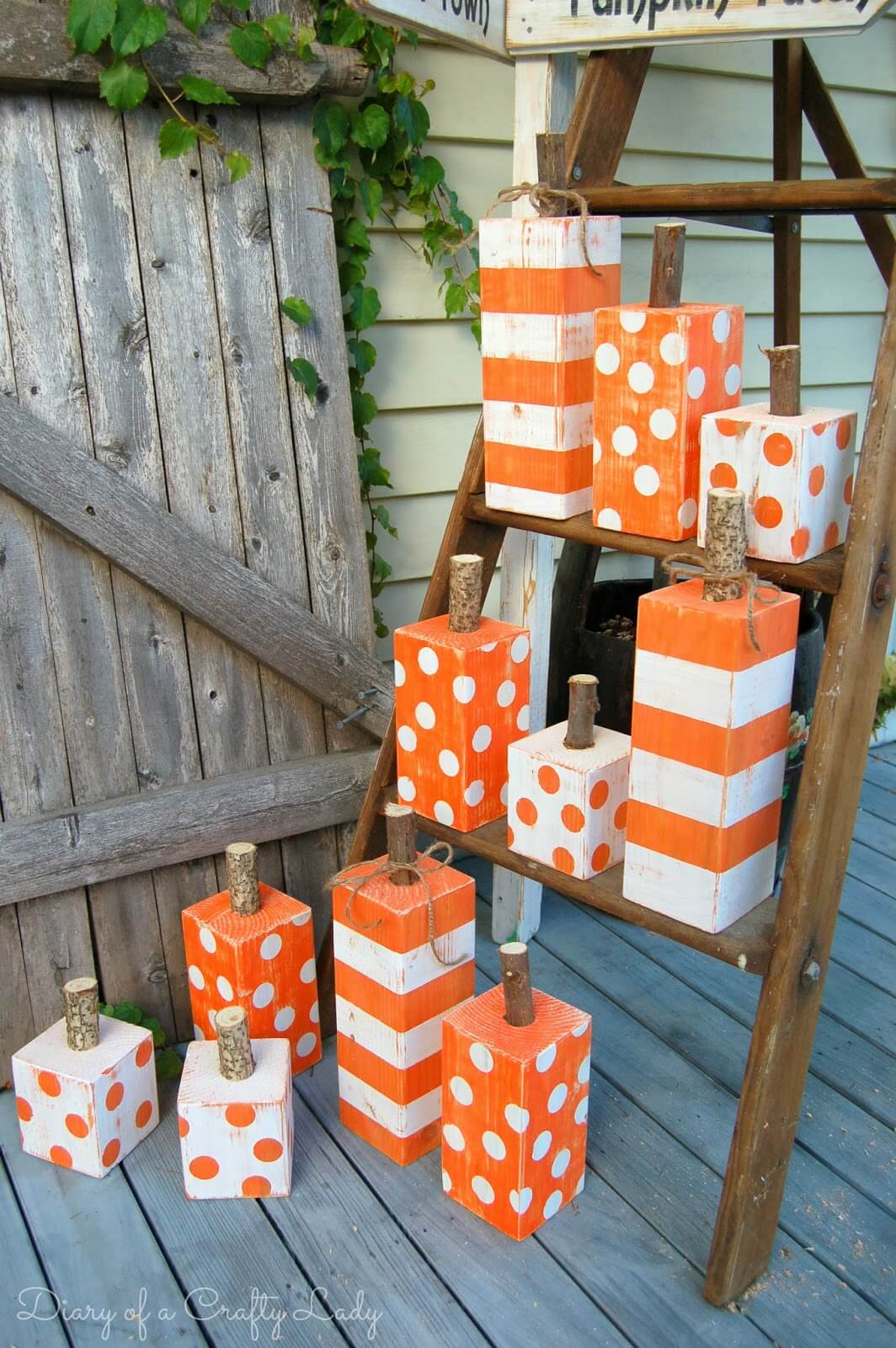 If you love pumpkins for fall, but you're after a more modern take, these wooden post pumpkins do the trick. They're made from a simple square post, so you have total freedom over the height. Break out a few containers of weather-resistant paint, and you have a fun afternoon craft project to do alone or with your little ones. A rough wooden "stem" adds an organic touch.
6. Brightly Colored Fall Felt Leaf Wreath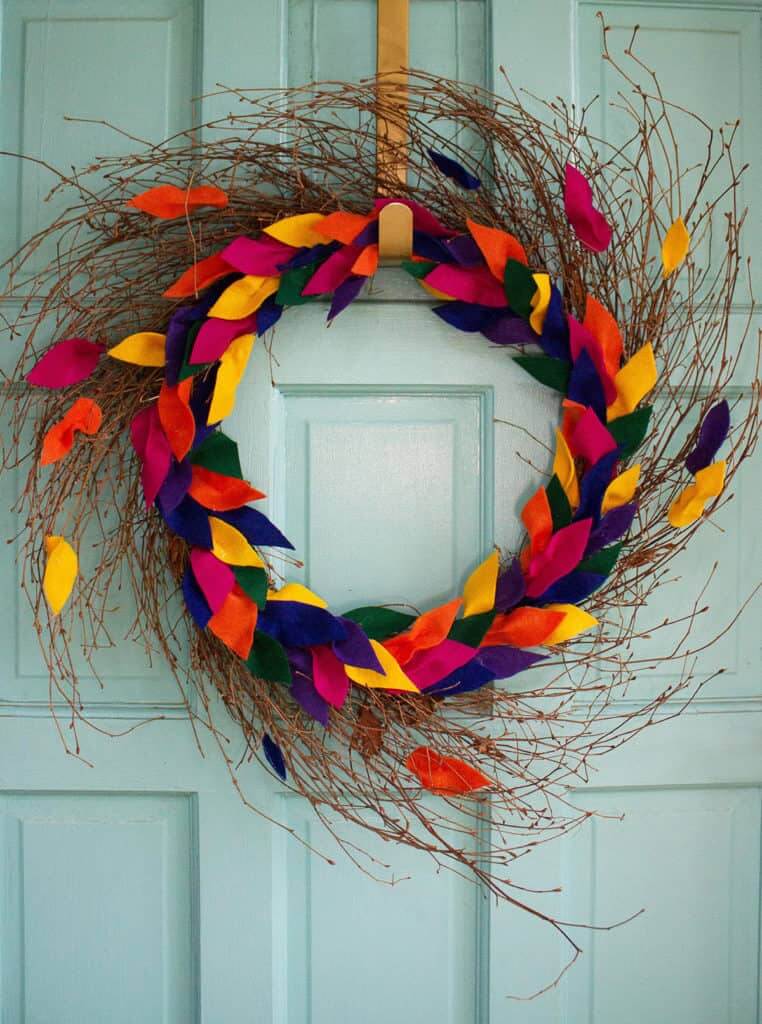 Fall is all about color — with this cheerful wreath, you can bring the shades of the changing leaves to your front door. This no-sew project involves cutting and gluing using whatever felt colors you have around the house. The textured wreath underneath adds a thrilling sense of movement, and the natural colors of the vines make the leaves pop.
7. Rustic Autumn Wood Plank Pumpkins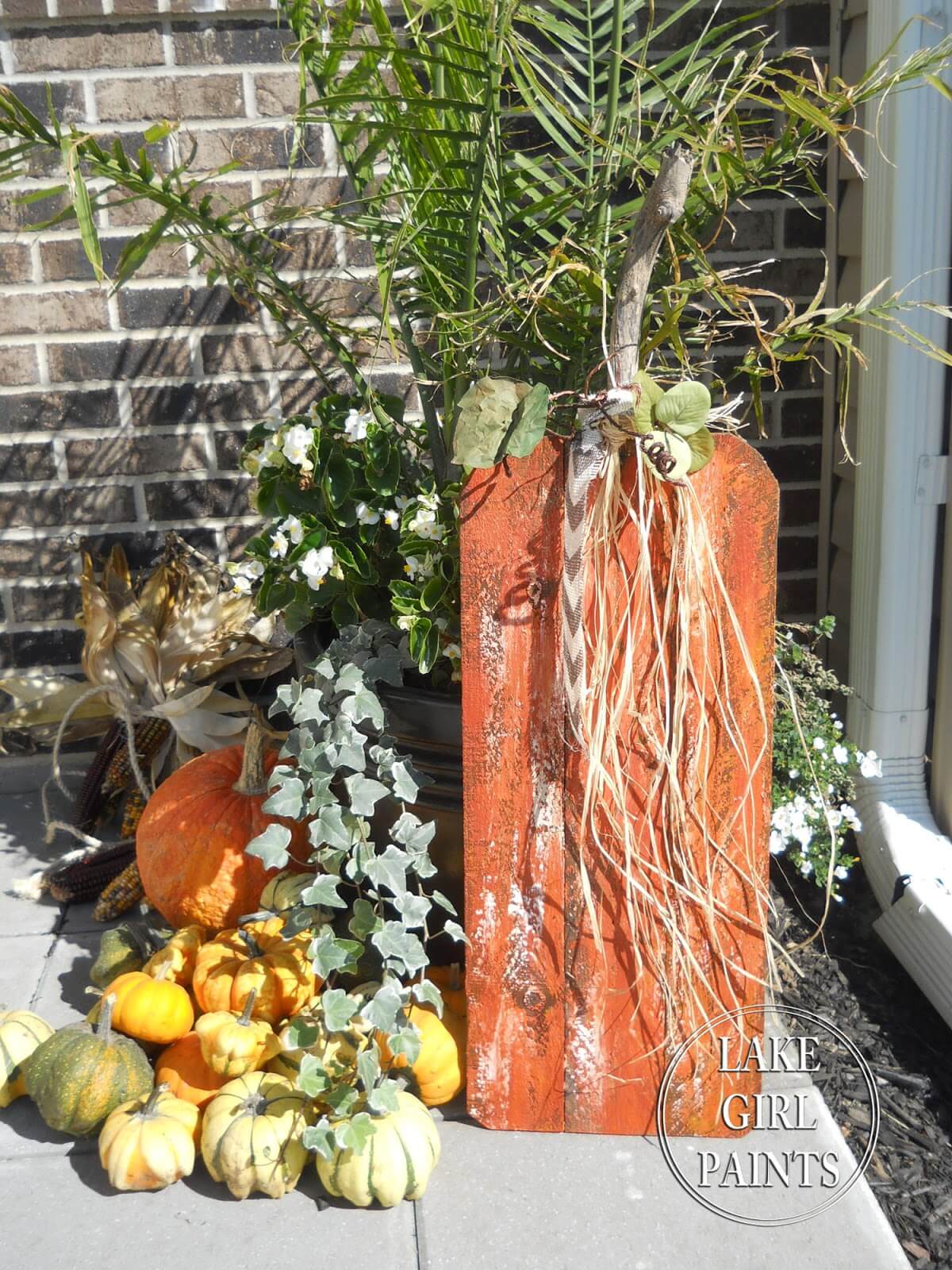 Is there anything that screams "farmhouse" like wooden planks? This sweet pumpkin project is a fantastic way to use up any leftover planks you have hidden away in the garage. You'll need a jigsaw to complete the project, but the result is durable enough to last for years. Create the distressed finish yourself, or set the pumpkin outside for natural weathering.
8. Bandana Wreath for Casual Fall Charm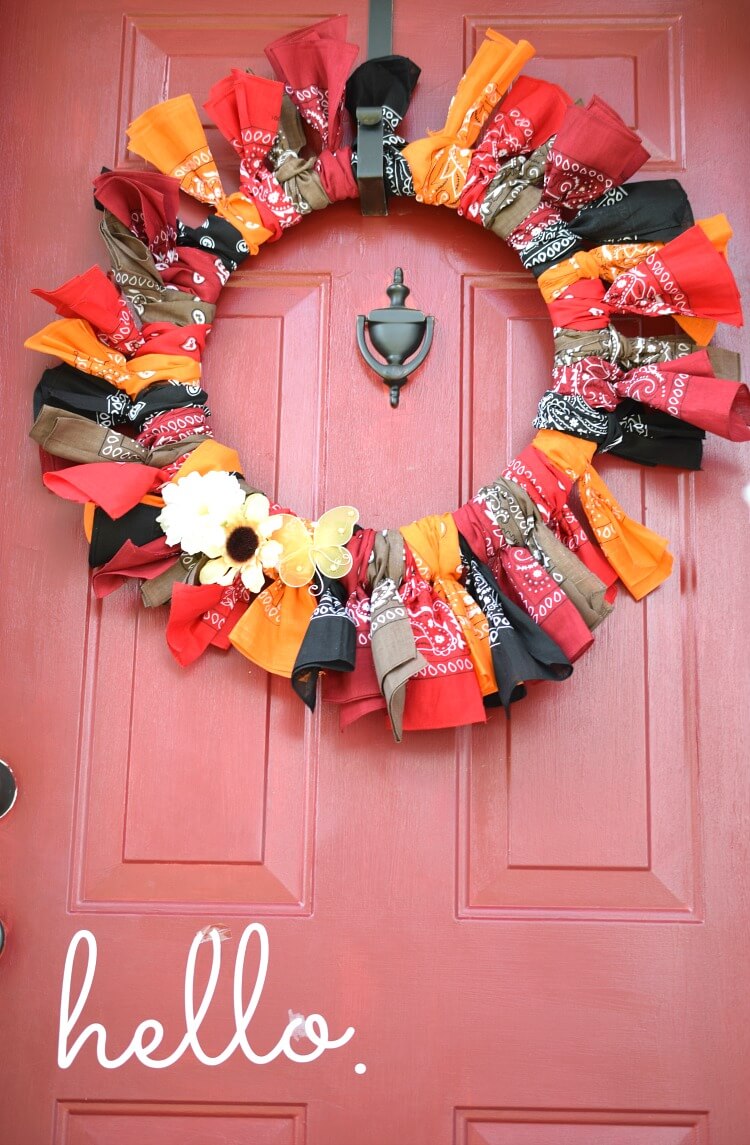 When it comes to fast, simple projects, this bandana wreath is hard to beat. The classic paisley print is an unexpected addition to your casual country theme. The best part? The color options are endless so that you can customize this beauty completely. For additional fall flair, break out your hot glue gun and attach some faux flowers or leaves.
9. Real Garland Made from Dried Leaves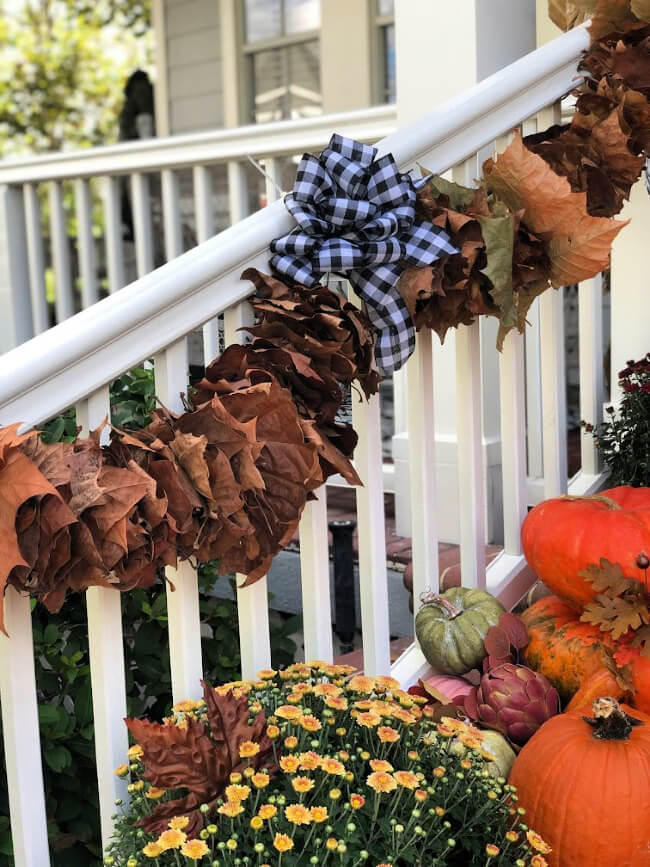 Jazz up your porch without spending a cent with this impossibly cute leaf garland. If you have some yarn and a yard full of fallen leaves, you're all set — just string the leaves and use them to accent a railing on your front steps. These garlands are also a fun way to replace your summer hanging plants. Top them off with a ribbon bow for a polished look.
10. Kid-Friendly DIY Yarn Pumpkin Craft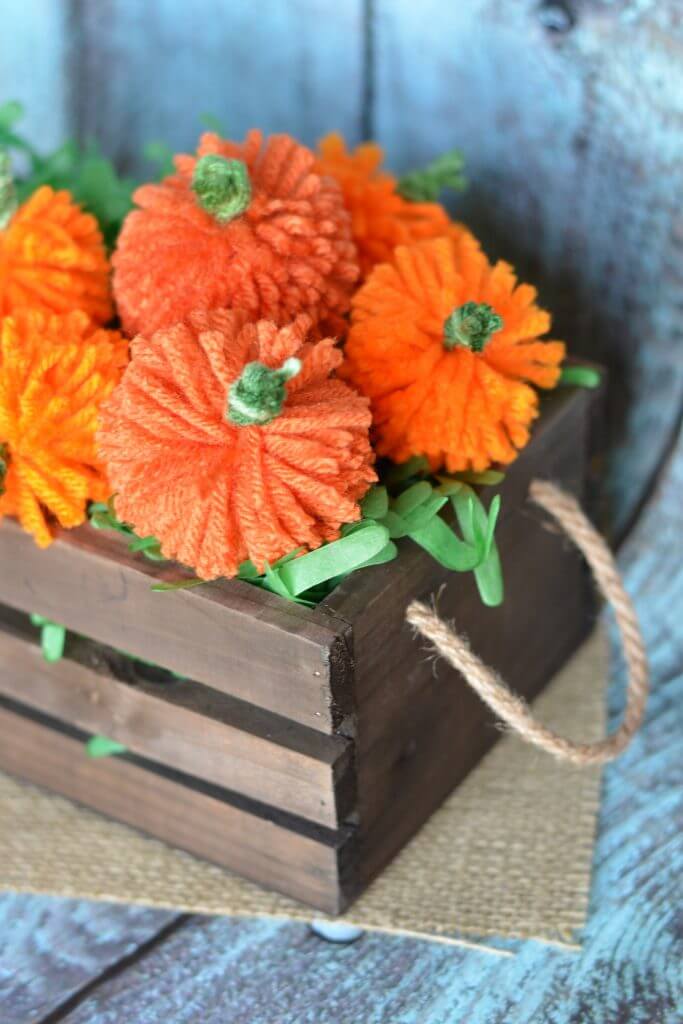 Get your little ones into the fall spirit with these DIY yarn pumpkins. As long as your kids can tie knots, they can participate. After you've made a collection of sweet mini pumpkins, tuck them into a planter for a festive porch decoration, or string them on a piece of fishing line to create a colorful and inviting garland.
11. Leaf Stencil Mason Jar Candle Holders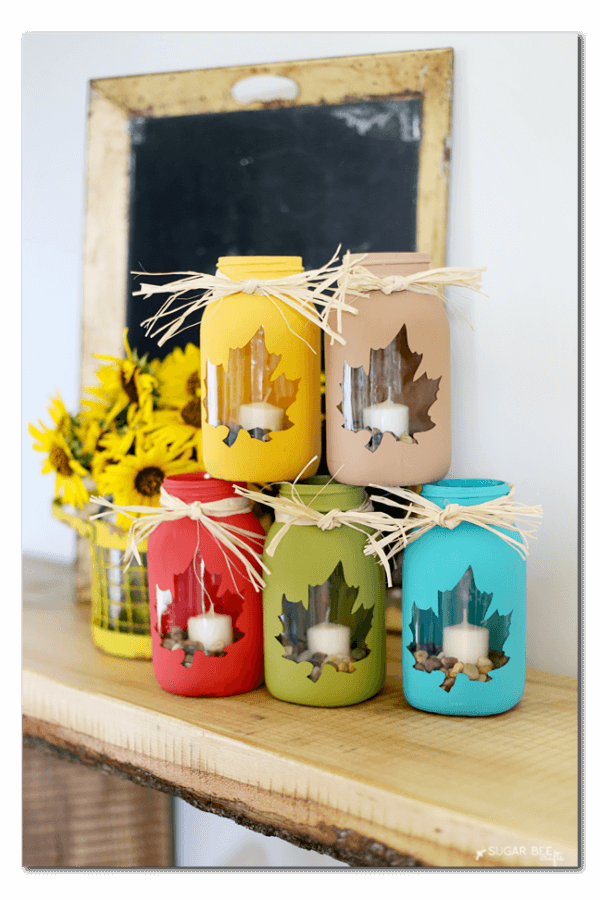 If you love the glow of a candle inside a pumpkin, you'll adore these Mason jar holders. They use a creative reverse-stencil method to create a leaf-shaped window to showcase the flickering flame. Milk paint brings a sweet softness to the craft, but you can use any paint that catches your eye. Don't want to use a candle? Fill these jars with pebbles or candies for extra texture and color.
12. Handmade Candy Corn Button Art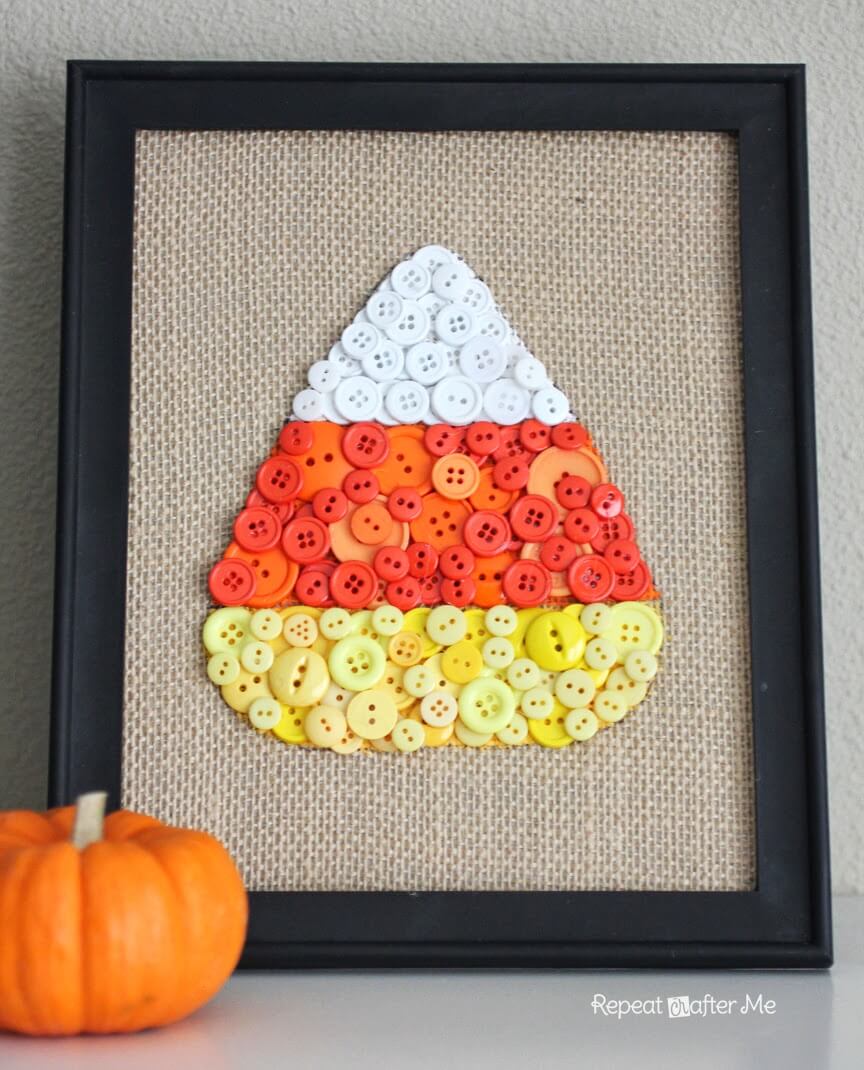 This irresistible work of art is a great way to use up leftover buttons that are cluttering up your sewing kit. The burlap back brings a classic sense of fall, and the candy corn shape is perfect for Halloween. The best part? You can glue the buttons on, so there's no need to sew.
13. Painted Mason Jar Fall Decorations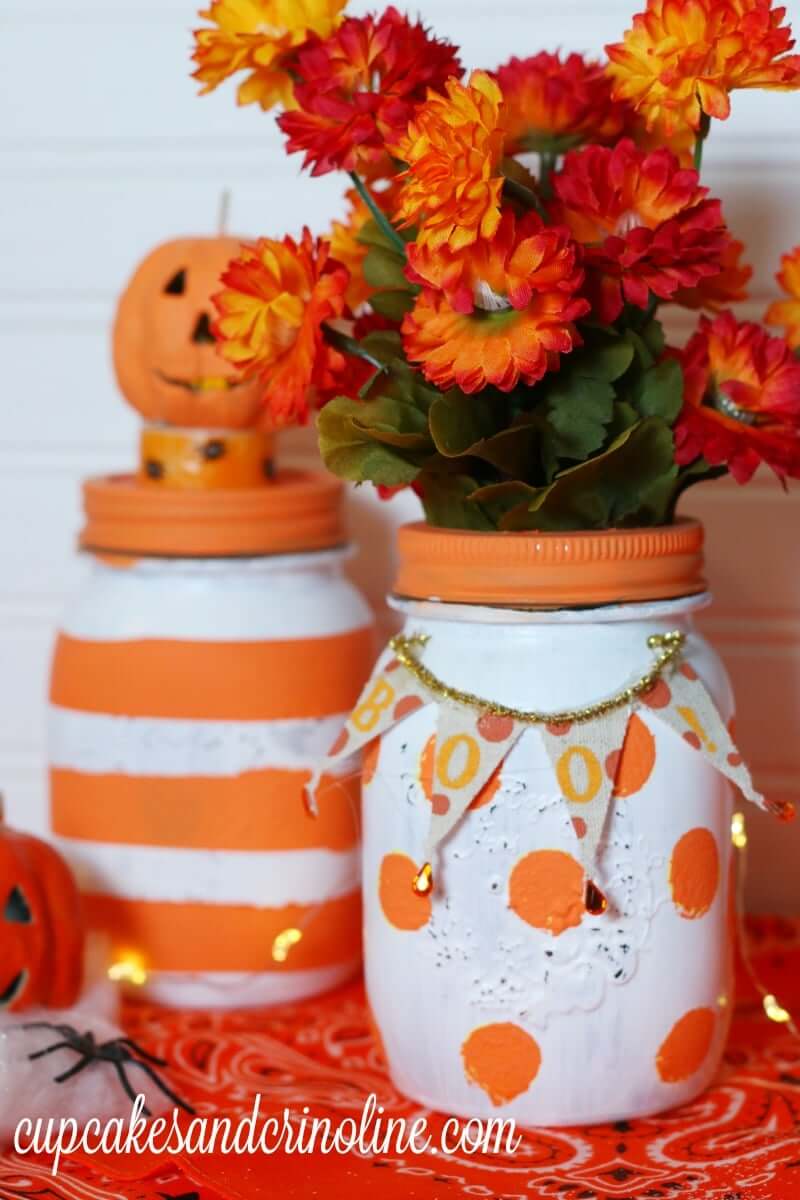 These colorful Mason jars are another fun craft to do with kids — think of them as the autumn version of Easter eggs. Grab a few jars and some paint, and let your creativity take the wheel. Stripes and polka dots make the perfect combination, but it's also fun to experiment with color blocking, letters, and festive fall icons such as pumpkins or leaves.
14. Pumpkin Basket Filled with Flowers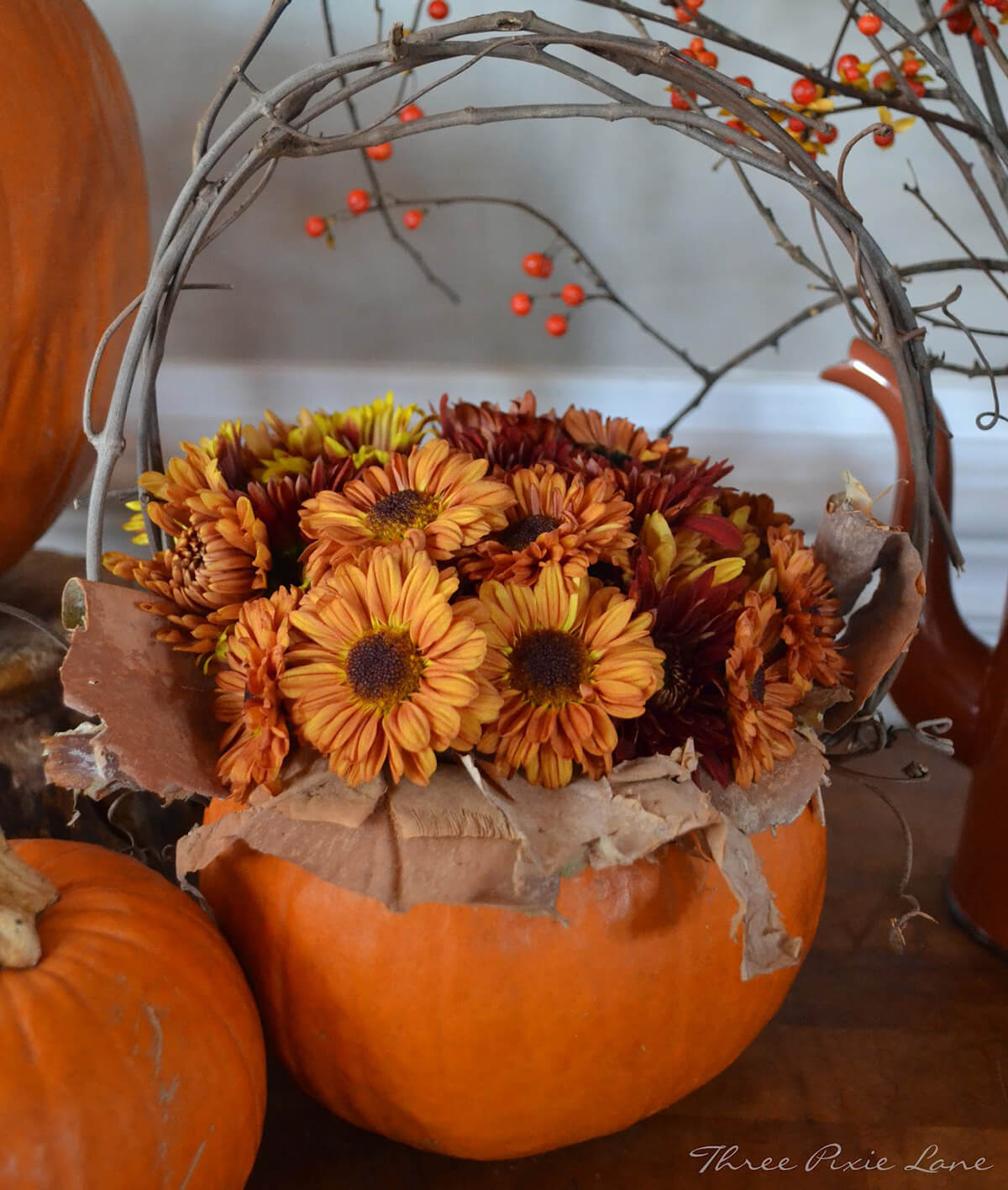 Put a fun, unexpected twist on the class porch pumpkin by transforming it into a basket. This version uses twisted vines as a handle; the natural color and organic shape are beautiful next to the orange of the pumpkin. Fill your hollowed-out basket with artificial flowers or dried leaves, or line it with plastic and pour in candy to hand out to trick-or-treaters.
15. Wood Plank Pumpkin Wall Hanging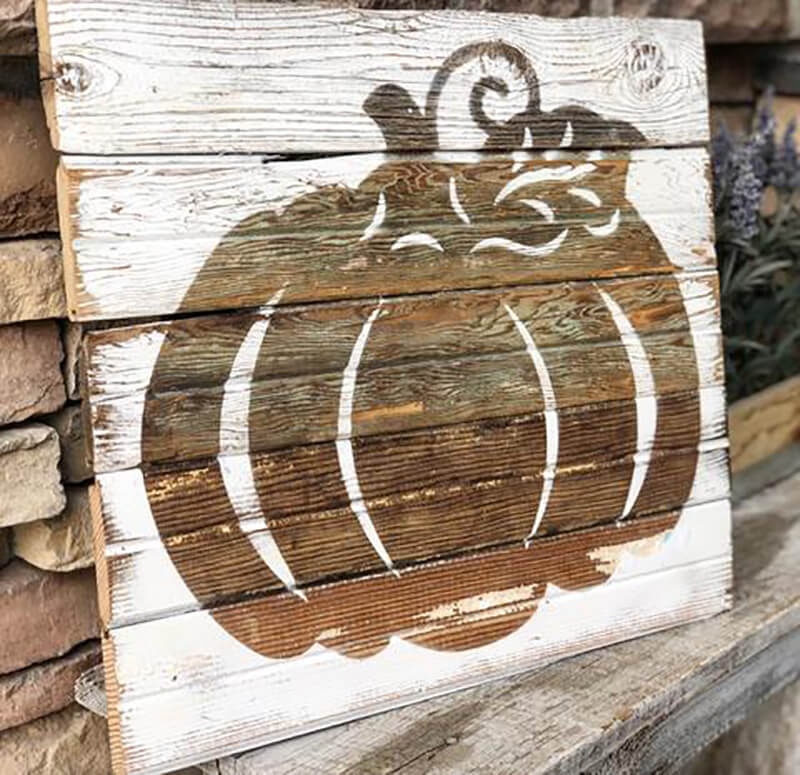 You don't need complicated tools to make this beautiful wall hanging (created by Jami Ray Vintage) for fall — just grab a few pre-cut boards or use the scraps you have on hand. The whitewash-style paint really brings out the stunning wood grain, and the stenciled pumpkin is easy to make even if you don't have artistic skills. Your friends won't believe you made the sign yourself!
16. Pumpkin Jars with DIY Clay Pumpkin Toppers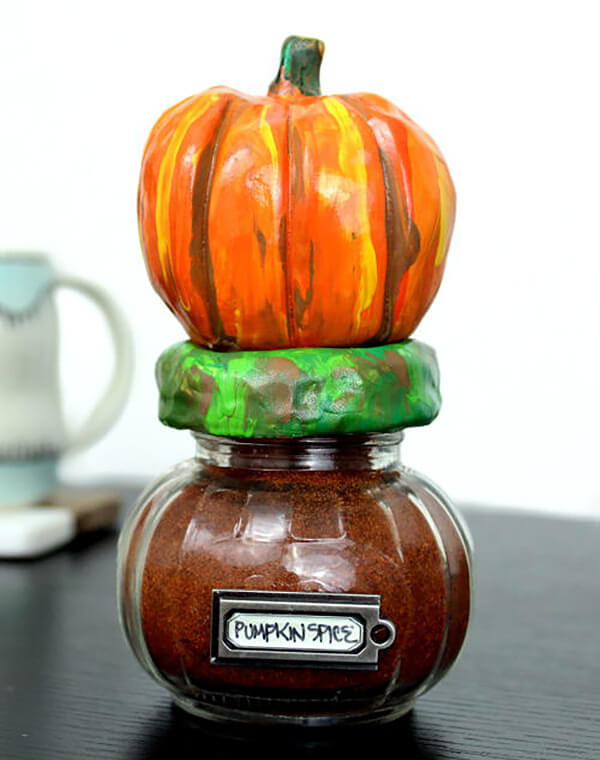 Let your inner sculptor out to play with this pumpkin jar project, which uses a clever foil and clay construction method to create stunning, one-of-a-kind pieces. Make a few jars to use as a group on a dining table or your front porch, or create tiny models to give away as fall party favors. Don't worry about creating a perfect piece; half of the beauty is in the imperfections.
17. Plaster of Paris Fall Shapes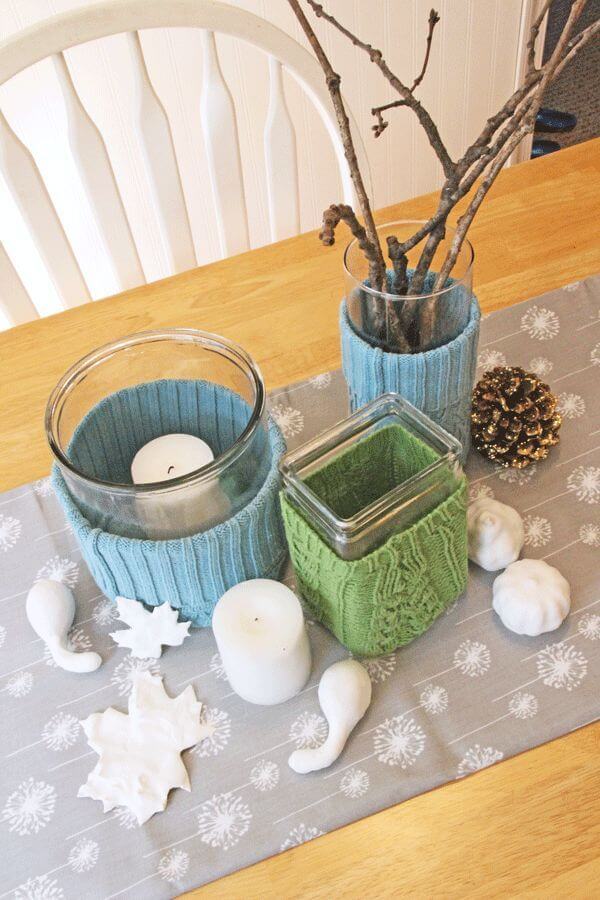 Do you have old fall decorations lying around? Repurpose them into a chic, contemporary collection with plaster of Paris. Use artificial leaves and gourds, or pick up the real thing at the grocery store. The process is fast, easy, and fun to do with kids. If you leave the final product in its unfinished white state, these fall shapes are surprisingly sophisticated.
18. Decorative Wooden Gather and Feast Sign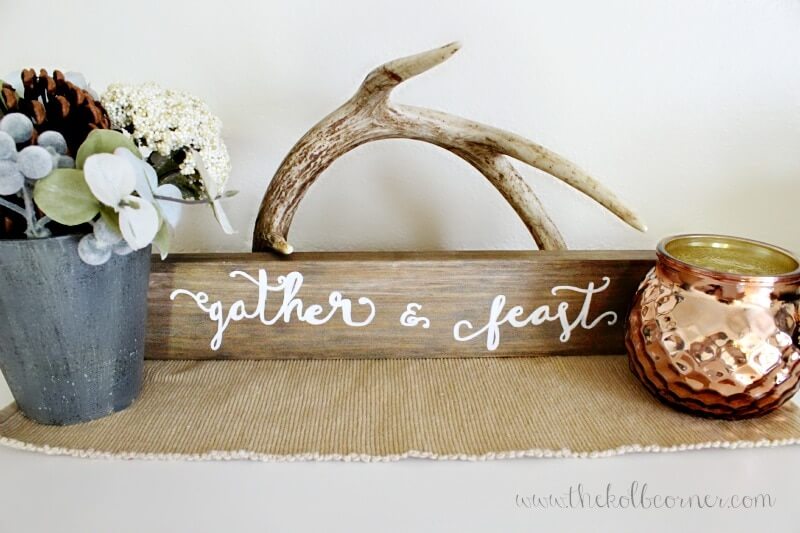 The combination of calligraphy and wood never gets old, as proven by this rustic sign. Make it with any wood scrap — you could even use driftwood or a large branch if you want a truly organic shape. "Gather and Feast" is the perfect saying for your dining room, but any combination of inspiring fall-related words does the trick.
19. Easy Wooden Bowl Fall Table Centerpiece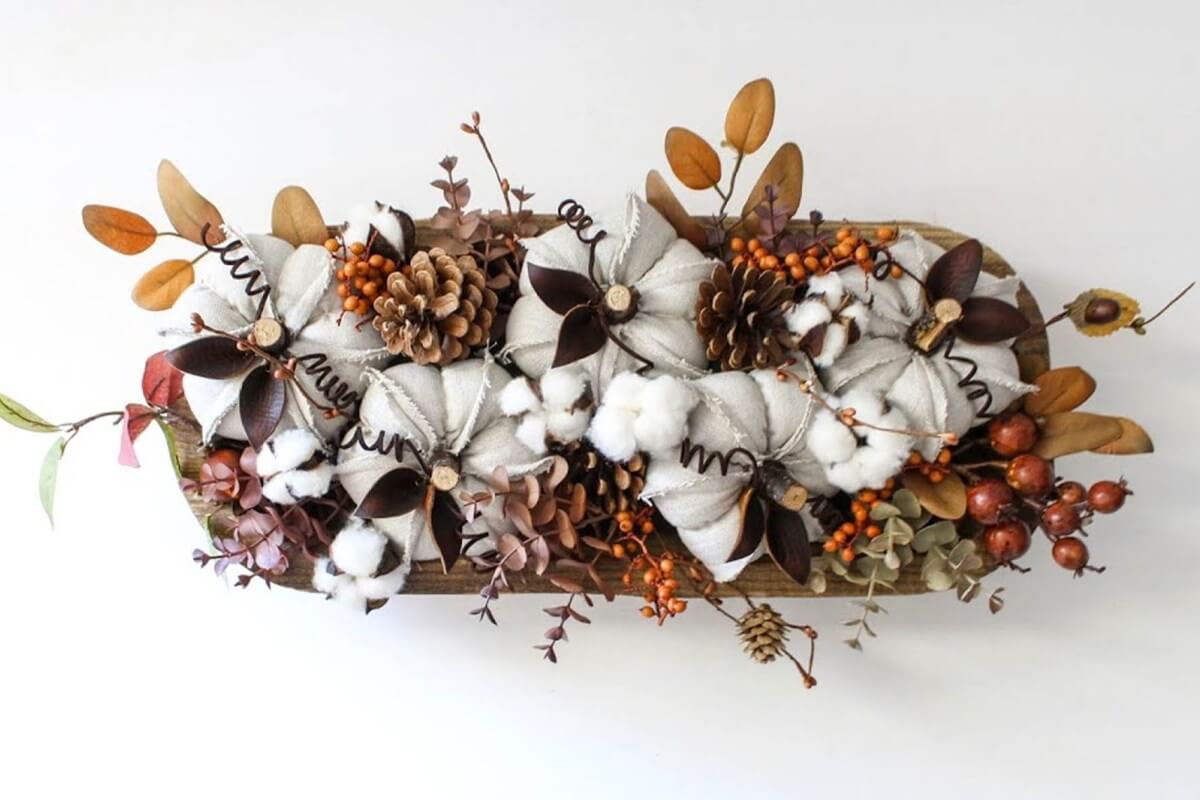 If you're scrambling to find a centerpiece for your fall table, this is a showstopper. It looks complicated and expensive, but it's deceptively simple and affordable. A wooden dough bowl serves as the base for a collection of adorable pumpkins and artificial leaves. Everything is anchored in place by floral foam, making it a sturdy option for a big family dinner.
20. Hand-Painted DIY Wooden Cutout Pumpkins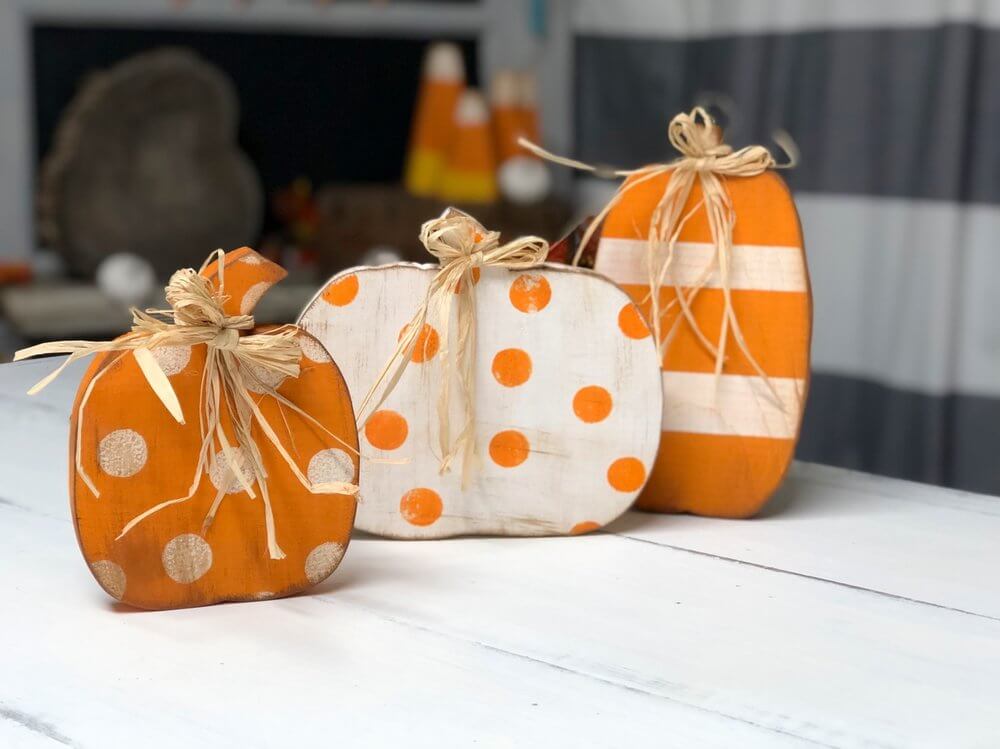 Chances are, you've seen cutout wooden pumpkins hanging out on the shelves at craft stores. This project takes those simple pieces to the next level with a few simple supplies. Classic paint colors and modern patterns ensure that these cute fruits last through many fall seasons. The real secret is the twine bow, which brings an artisan twist that elevates and unites your pumpkin grouping.
21. Coffee Mug with Colorful Stenciled Leaves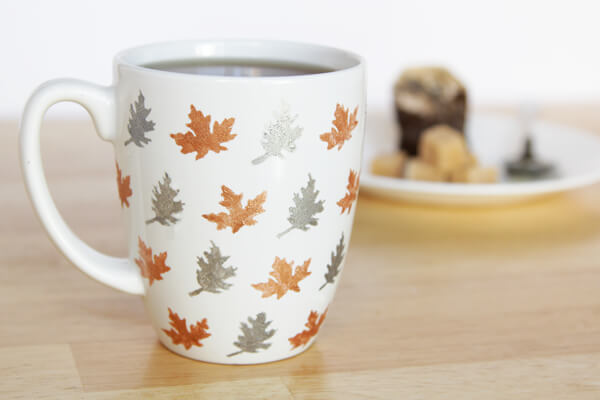 Is there anything more comforting than a hot mug of coffee or tea? Make your morning beverage even more festive with this leaf-print mug. The metallic paint looks elegant and high-end, but you can make the entire thing for a couple of dollars. Make one for yourself, or go all-in with a full collection to serve coffee to your autumn visitors.
22. Wallpaper and Jute Twine Acorn Decor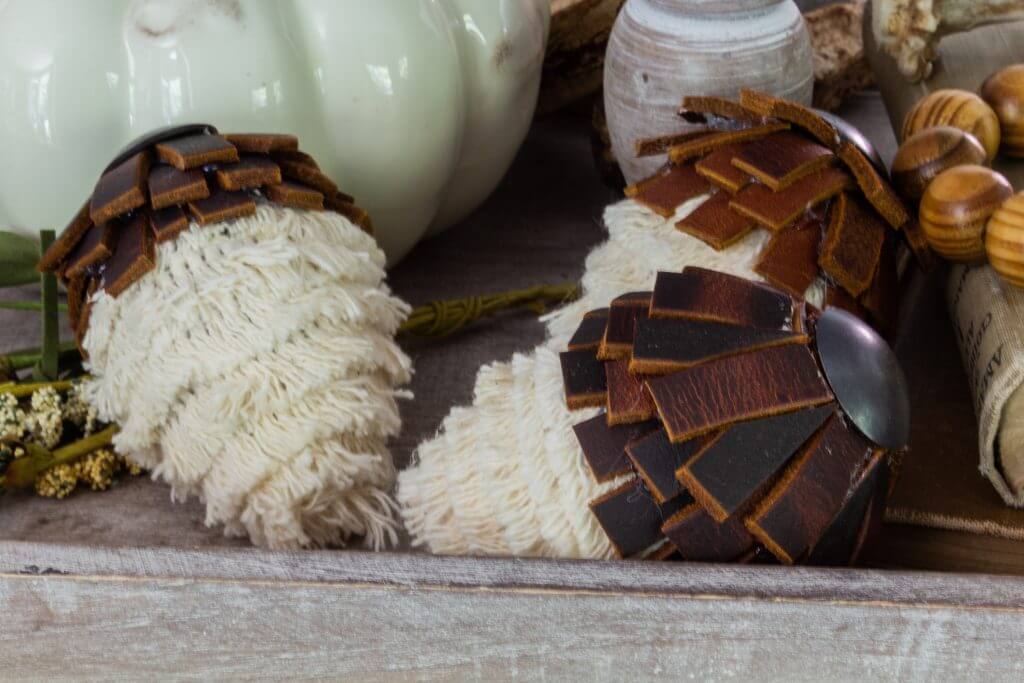 The humble acorn is often underused in fall decor. This project showcases the unique shape, all using completely unexpected materials. For these acorns, the texture is everything — from the fringed sides to the leather-strip tops, each surface is brimming with beautiful patterns. It's also a fantastic way to use up a few of those plastic Easter eggs you probably have tucked away in a drawer!
23. Fall Celery Stencil Flower Pillows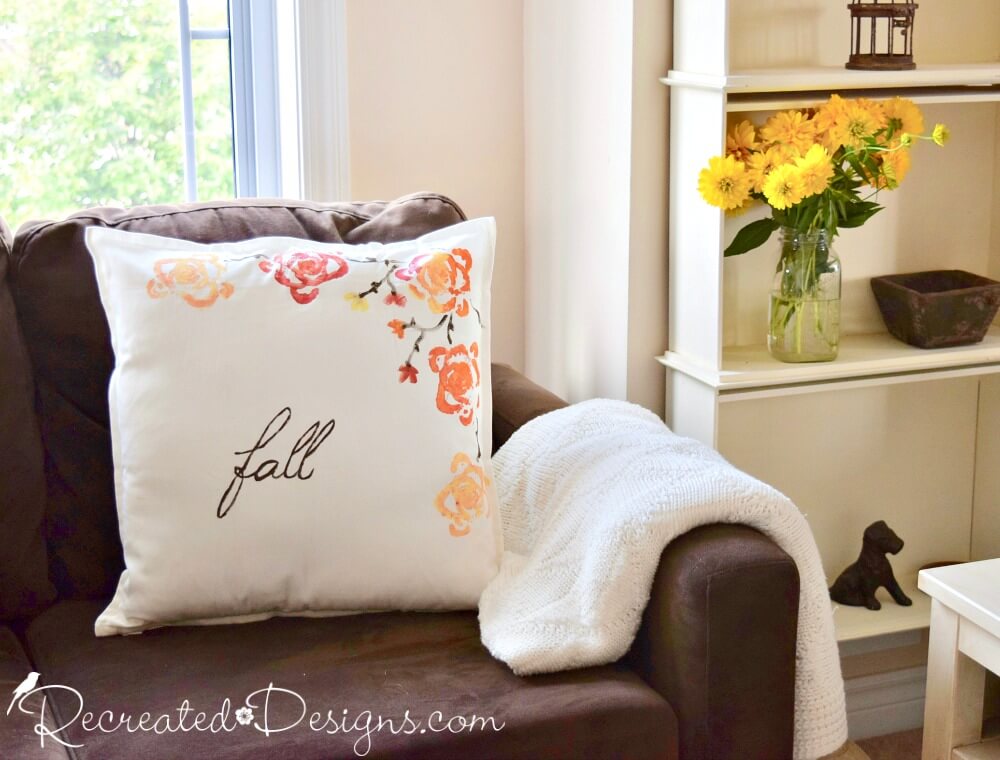 Take a look at these inviting pillows, and you'd never guess that they were painted with celery. Using this innovative technique, it's a breeze to create your own pattern and stitch up a pillow. If you don't have a sewing machine, experiment with your autumnal print on plain dish towels or even an apron. Warm colors bring a hint of the outdoors into your home.
24. Decorate Your Porch with Fall Basket Pumpkins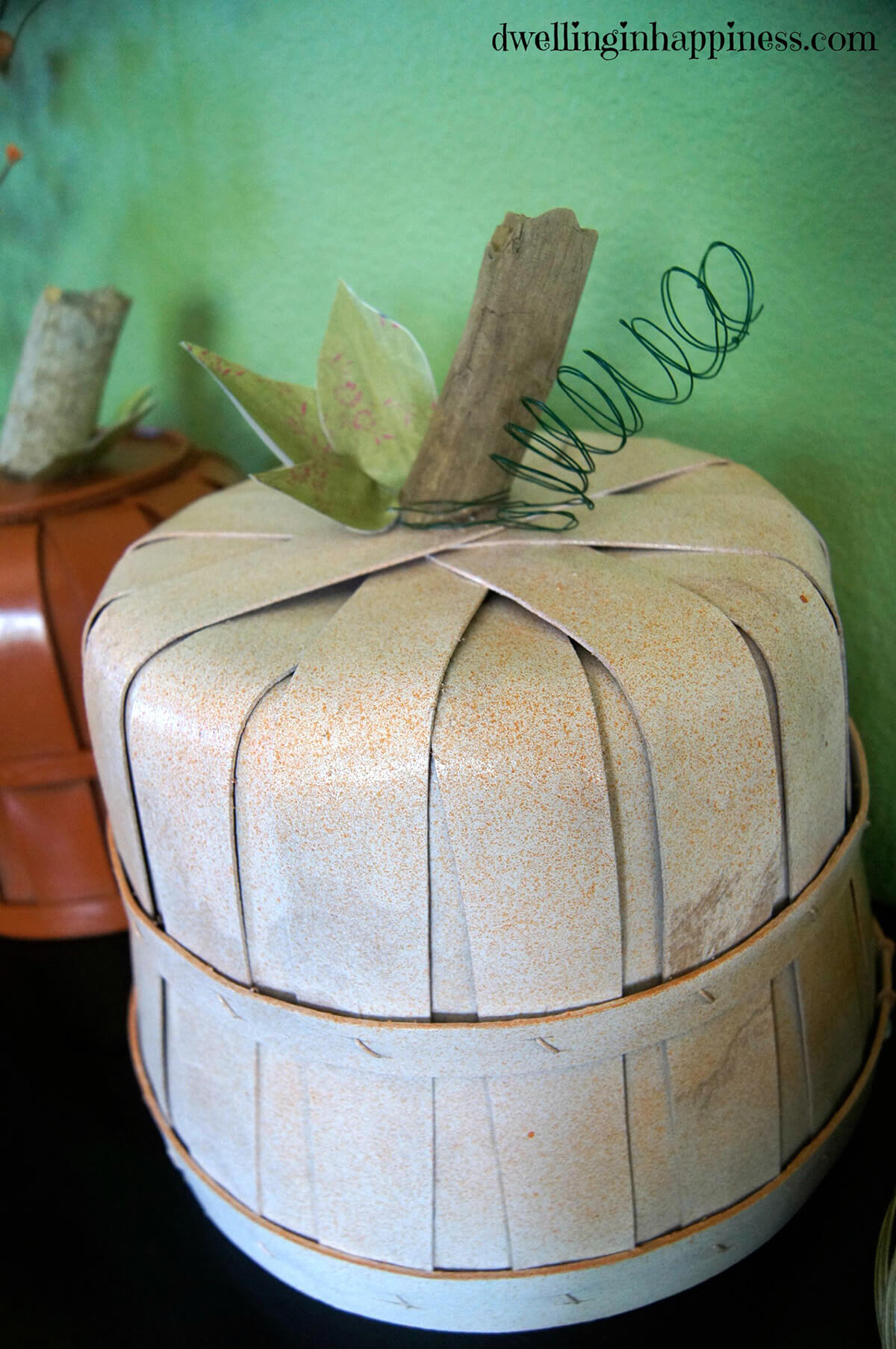 For a creative take on classic fall decor, make a few of these endearing basket pumpkins. Any basket will do — an apple bushel basket brings a country flair, while a woven basket adds texture. For maximum drama, pair several different types of baskets together. The wooden stem and wire-spring vines tie each piece together.
25. A Friendly Pumpkin Tree Stump Sign Says "Welcome"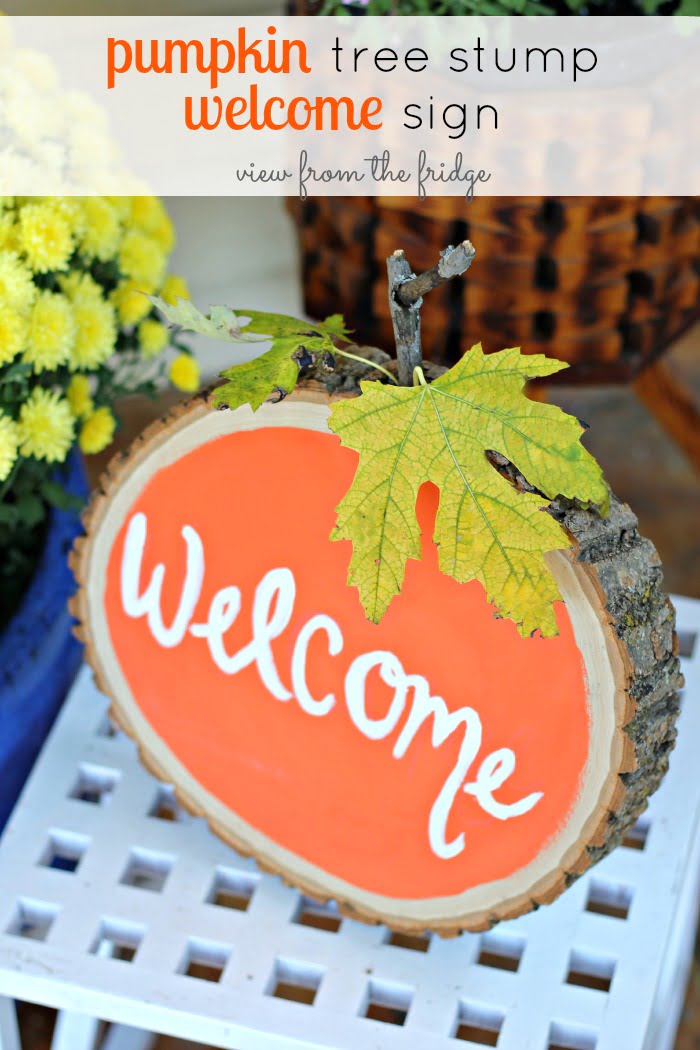 This adorable pumpkin sign is made on a slice of a tree stump. Painting this sign is as simple as putting an orange oval on the tree stump slice and adding a hand-painted message. This sign would be charming on the patio, on the wall, or hanging over the Halloween jack-o-lanterns.
26. Autumn Leave Bowls Make for Amazing Candy Dishes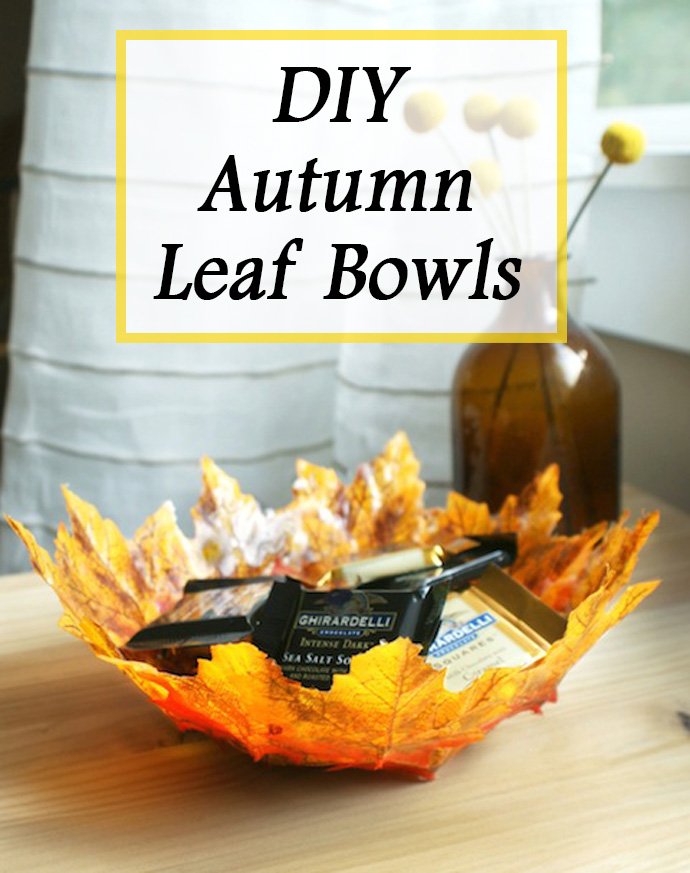 Make your own DIY autumn leaf bowls with these simple directions. Use silk leaves from the craft store. Blow up a balloon to the size you want to make your bowl. Paint mod podge onto your balloon and stick the leaves on. When the mod podge is dry, pop the balloon and remove it.
27. Rustic Fall Wreaths are Cozy yet Elegant

Use a foam base to make this rustic fall wreath. Wrap it with wide burlap ribbon. Then add yarn garland to the wreath. Make a beige burlap and artificial flower arrangement and place it on the wreath in place of a bow. Put some sticks in the floral arrangement for a natural touch.
28. Stenciled Pumpkin Cut-outs Create Magical Effects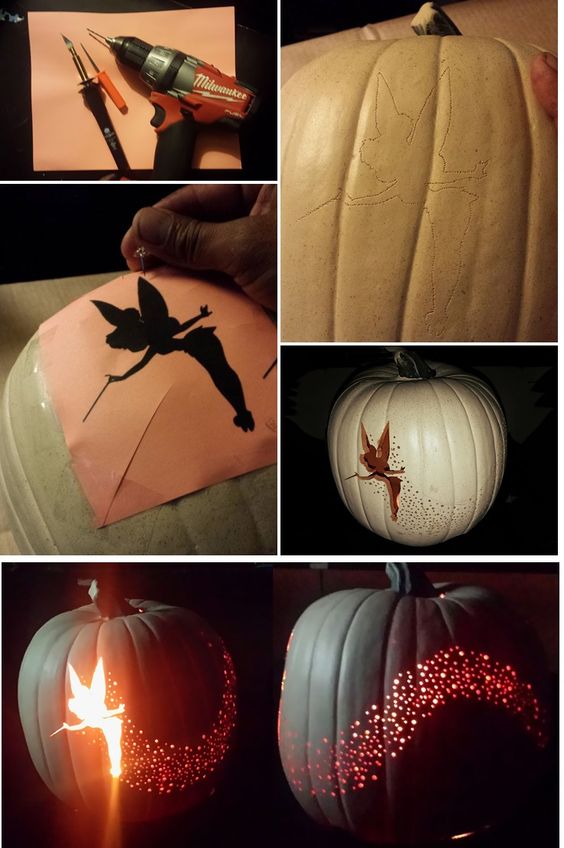 When a simple hand-carved pumpkin just isn't enough, you can make a more intricate design like Tinkerbell using a stencil and a hot knife. For the fairy dust, use a cordless drill to cut tiny holes. Paint the pumpkin white before decorating. You can also do this on an artificial pumpkin to make a design you can keep for another year.
29. A Fall Initial Wreath is Pure Gold for the Front Door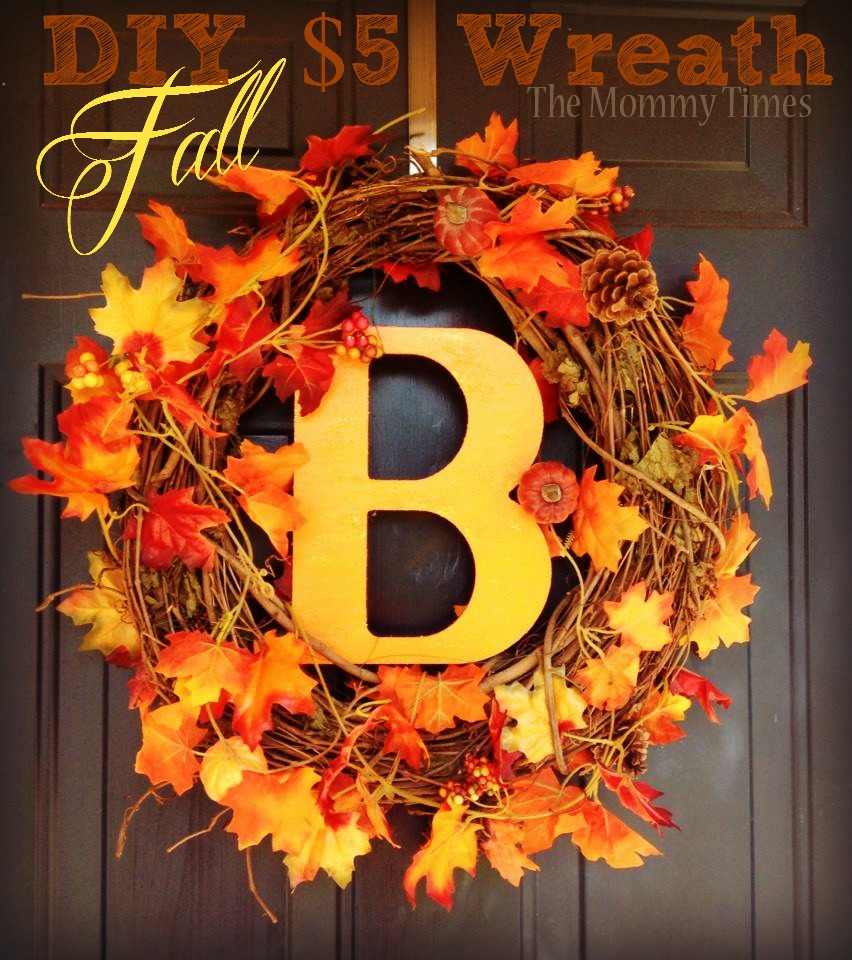 This wreath is inexpensive and quick to put together. All you need are a grapevine wreath base, a bright and cheerful autumn leaf garland, and an oversized wooden letter for the center. Paint your letter gold for a shining touch that reflects the amazing colors of autumn.
31. A Rustic Wood Sign Communicates Volumes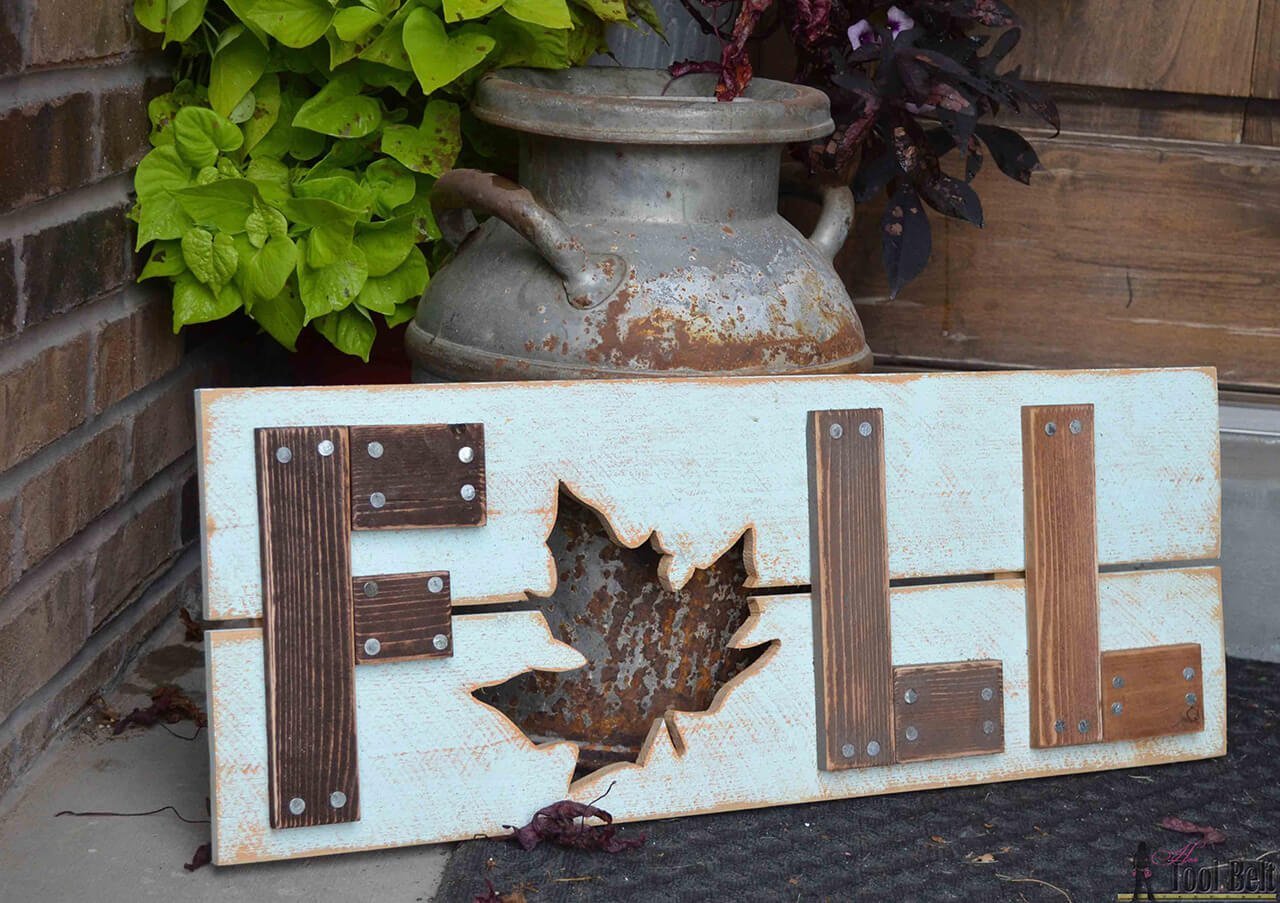 A cutout wooden sign showcases your woodworking ability. With a little skill with a jigsaw or a scroll saw, you can cut out the maple leaf on this sign. Stain the letters in different colors for a rustic look. You can use reclaimed wood, or paint your wood to make it look weathered.
32. Charming Wood "Pumpkins" are No Muss, No Fuss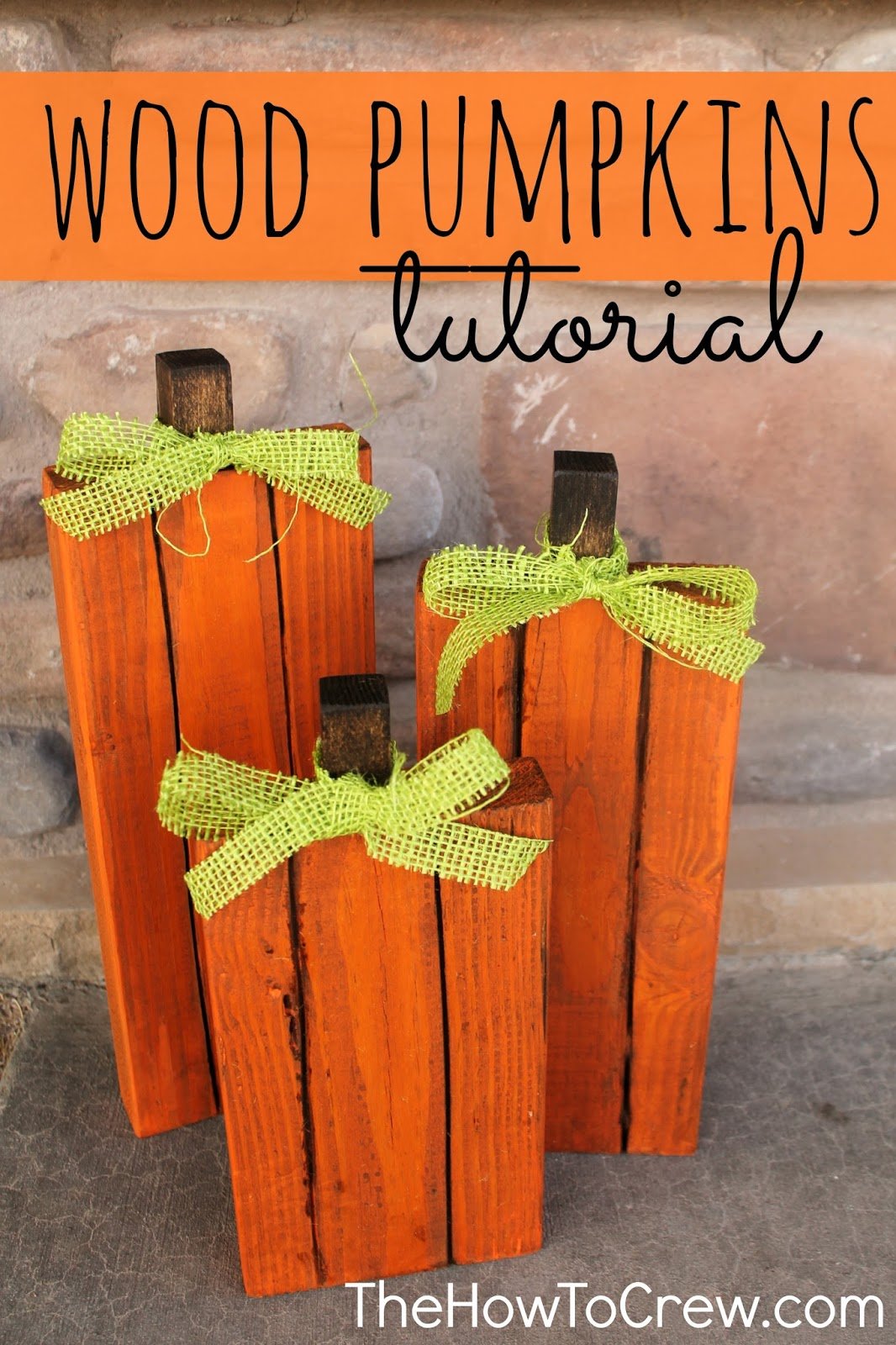 Make these cute pumpkins with wooden boards and ribbon bows. These pumpkins are so easy to make, even woodworkers with beginner-level skills will be able to put them together quickly. After you assemble the pumpkins, give them a cheerful coat of orange paint and a fun green burlap bow.
33. Glowing Leaf Jars Add A Magical Effect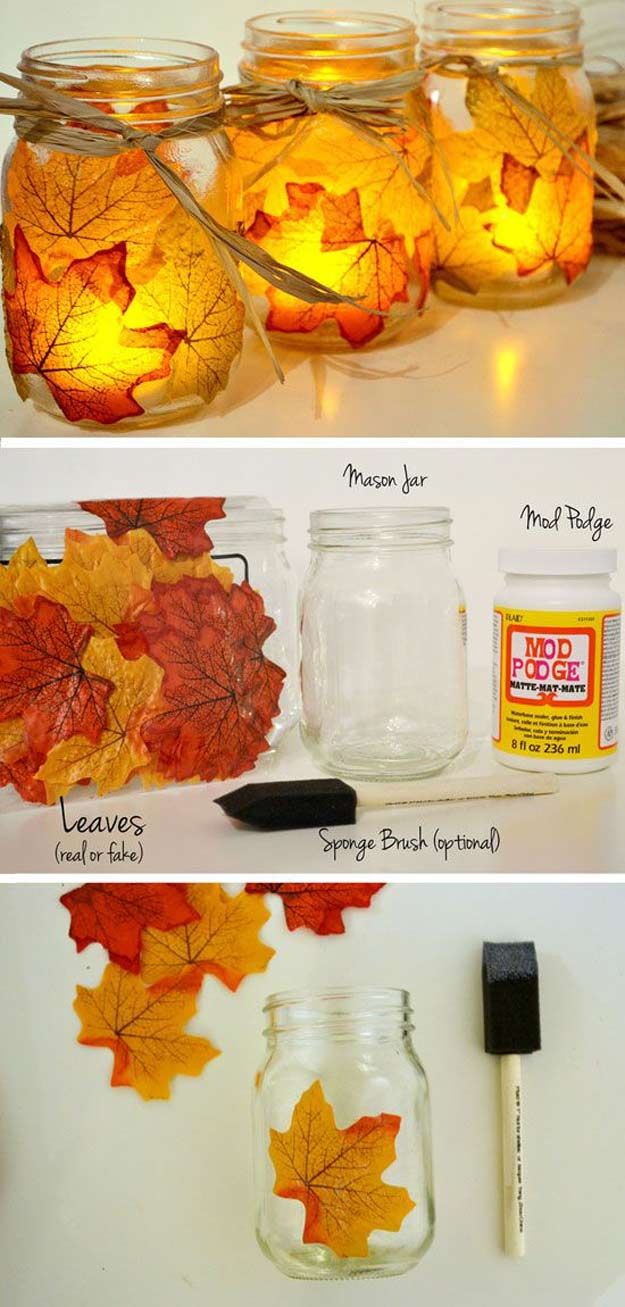 These maple leaf lanterns are made with silk leaves or real leaves and Mason jars. Silk leaves will last longer. Using mod podge, glue the leaves inside the jar in a single layer. Overlap them a little bit for a natural appearance. Add a raffia bow. You can use battery operated tea lights inside the jars to provide a warm glow.
34. Fabric "Pumpkins" Have A Quaint Allure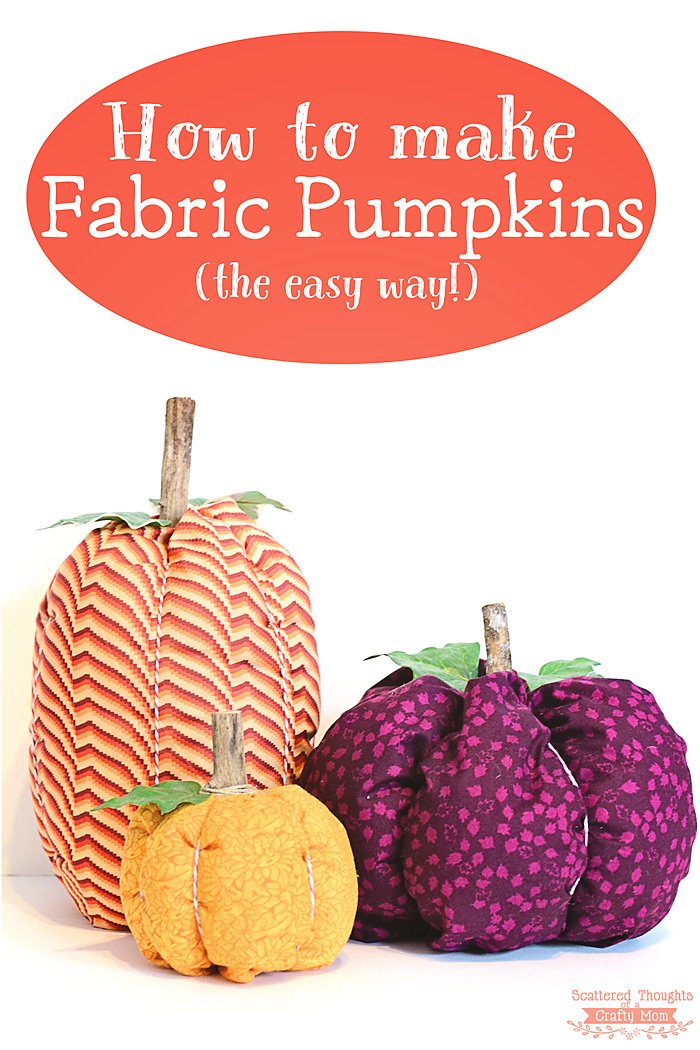 Make cute fabric pumpkins for your holiday table. This is a very easy sewing project that can be accomplished by hand or with a machine. Whichever method you choose, the project comes together quickly. You can make a variety of sizes and colors in different fabrics for a fun, relaxed look. These would make excellent gifts.
35. Fabric Fall Jars Have Rustic Appeal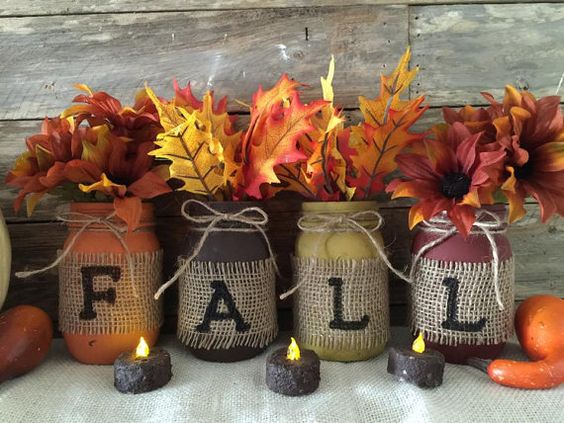 This easy project is made with painted Mason jars and burlap ribbon. Paint the jars with chalk paint for a matte appearance. Add lettering to wide burlap ribbon. Tie a twine bow on the neck of the Mason jars. Add fall leaves and greenery to the jars.
36. A DIY Scarecrow is Cute as Can be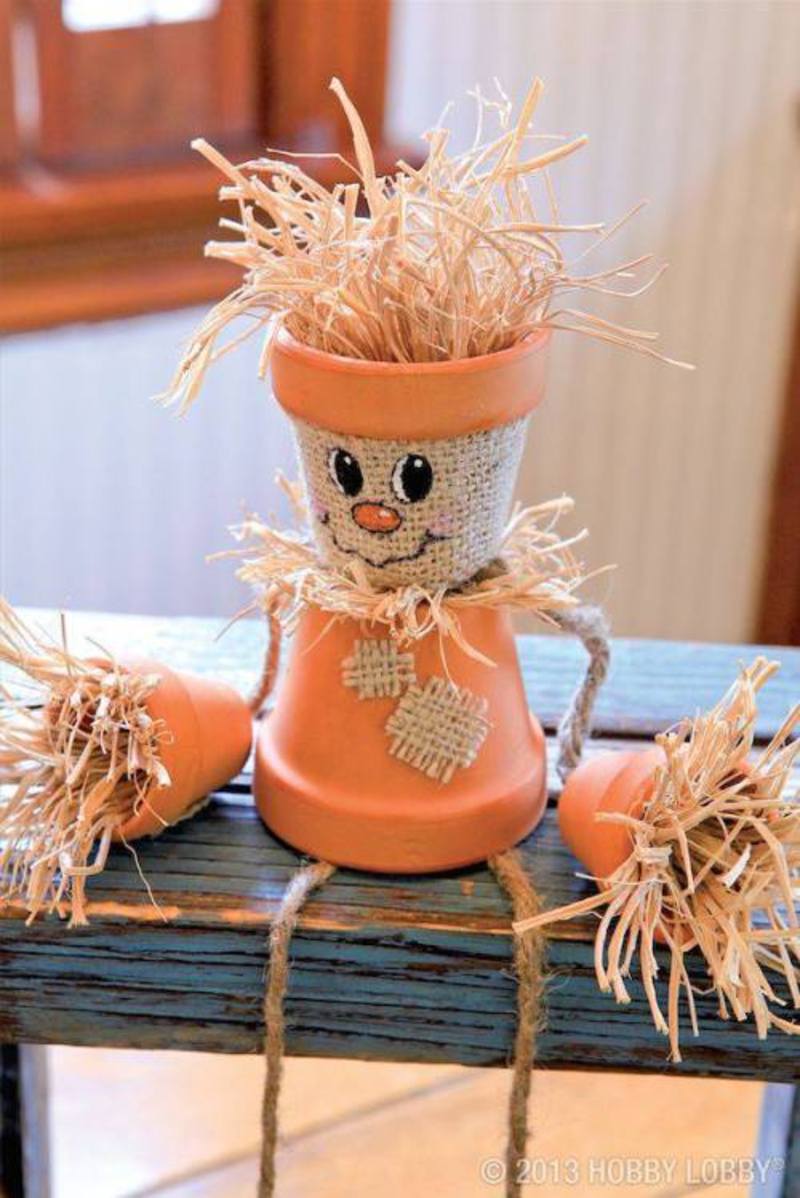 Make this funny little scarecrow craft with small terracotta pots. You don't even have to paint the pots, just leave them terracotta orange. Add details with burlap, grass, and rope. These would look cute sitting on the windowsill or on the mantel. This would also be a great project to do with kids.
37. Re-purposed Corks Make for a Delightful Pumpkin Piece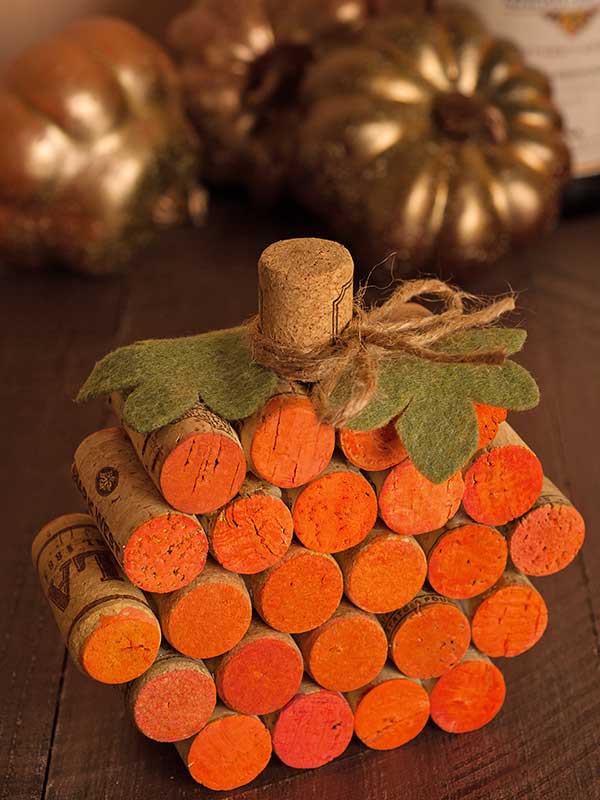 Upcycling wine corks into this charming pumpkin is easy. Just glue the corks together in a pumpkin shape using a hot glue gun. Add a stem to the top. Paint the ends of the corks orange. Add a few felt leaves and a twine bow. This is a great way to repurpose something that would ordinarily go in the trash.
38. A DIY Fall Decoration with Hay Bales, Pumpkins and a Welcoming Wood Sign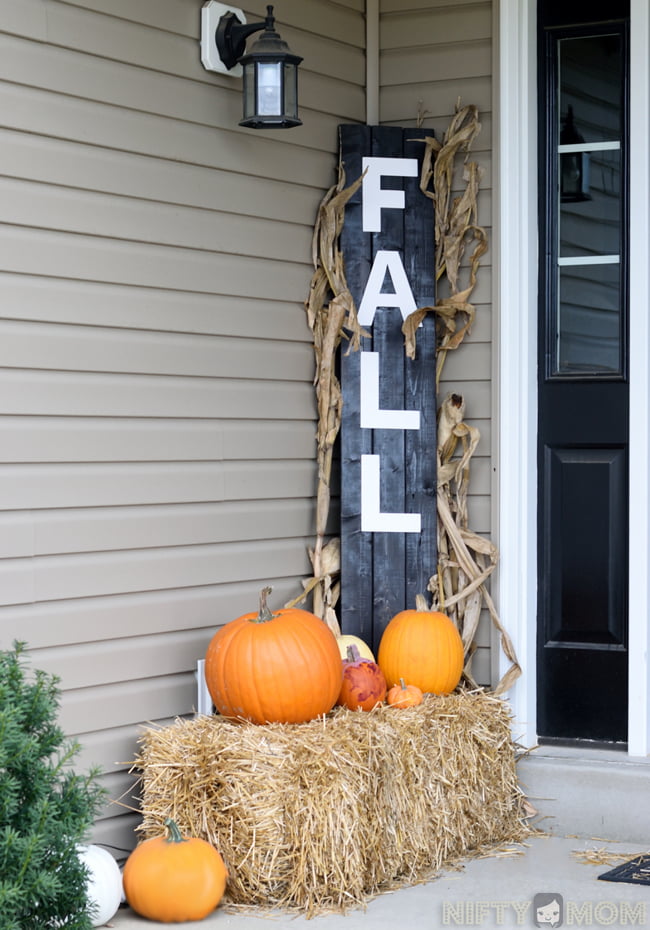 A charming porch display reminds visitors of the county fair. First find your planks and make them into a sign. This is an easy project for any woodworker. Use a dark stain on the sign. When it's dry, add wood letters to spell "Fall." Complete your display with a hay bale and some pumpkins.
39. Cinnamon Stick Candles Make an Irresistible Table Piece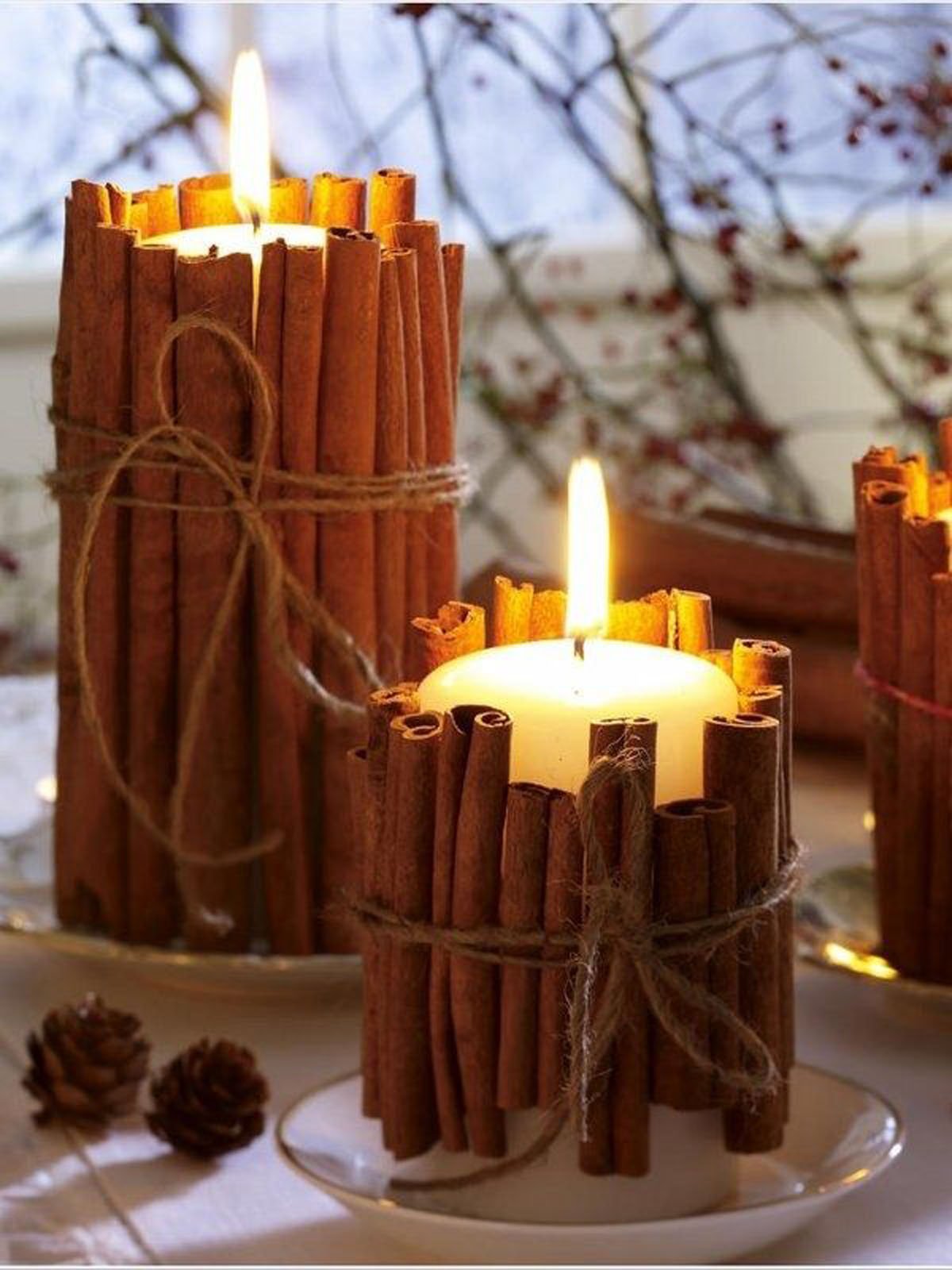 These cinnamon stick candles look beautiful and smell divine. All you need to do is to tie cinnamon sticks of varying heights onto your candles using twine. Be careful with these and don't let them burn unattended. You'll love the way they fill your home with the sweet scent of cinnamon.
More DIY Fall craft ideas on the next page…