39. From Ladder to Nightstand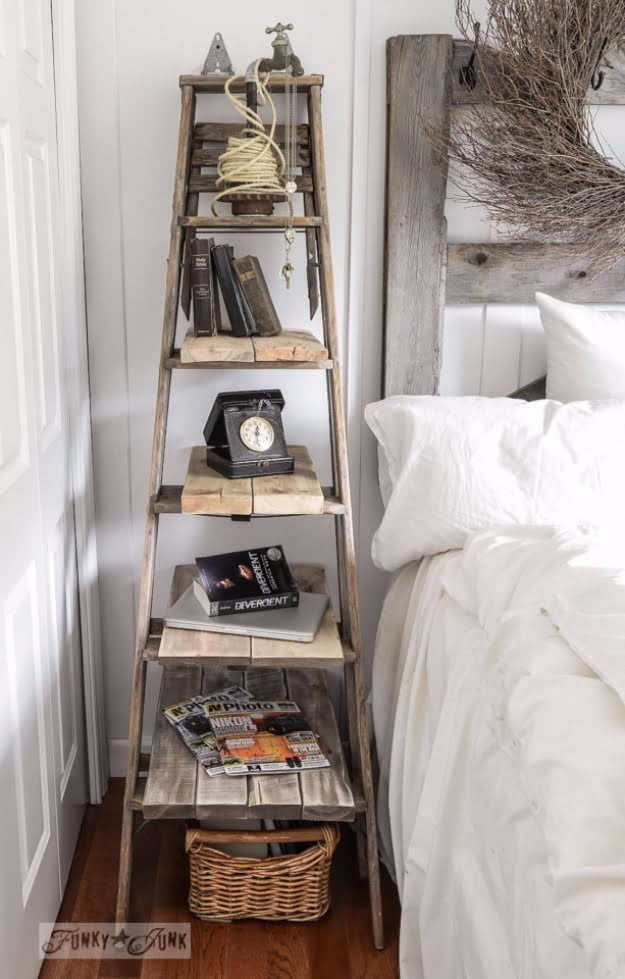 If you have an old wooden ladder in your shed, don't throw it away. Instead, take a cue from this farmhouse idea and turn it into an incredibly rustic and creative nightstand. If your ladder has been sitting in storage, give it a good cleaning and sand it down to remove any old stain or debris. Then, paint it with the color of your choice. Strategically lean it or pose it next to your bed. You can decorate it with books, plants or small decor items. It's not only stunning, but serves as a completely functional nightstand with plenty of space.
40. A DIY Mirror Inspired by Nature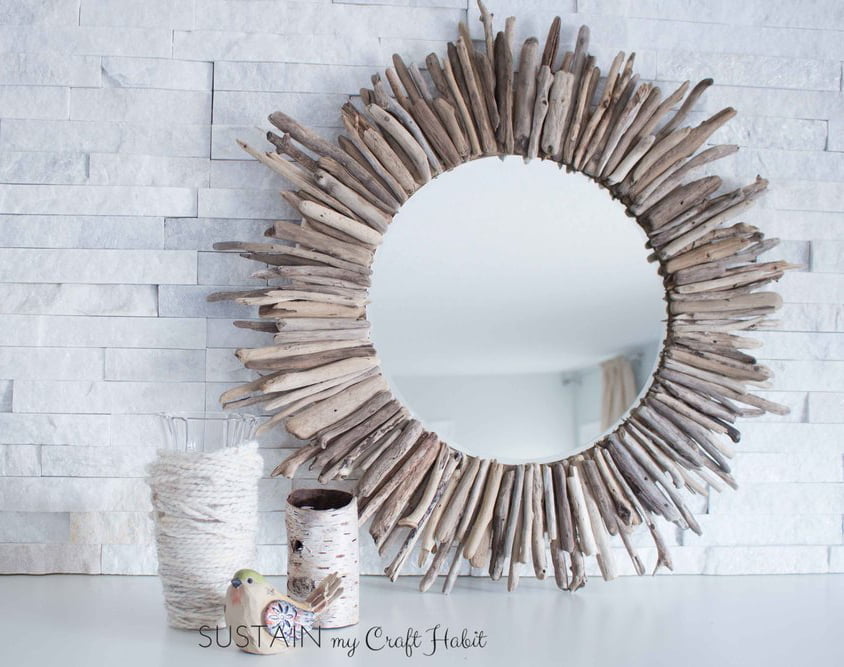 One of the cornerstones of any DIY farmhouse decoration is incorporating elements of nature into your projects. This DIY decoration begins with a simple circular mirror, which can be purchased inexpensively at any craft store. Then, gather a basket of twigs and small branches from outside. Break them and arrange them around the mirror until you find a design you like. Then, simply use a hot glue gun to secure the twigs into place. You can spray paint the twigs beforehand for a more refined look or keep them as they are for a more earthy appearance.
41. Fake Your Way to a Stunning Shadowbox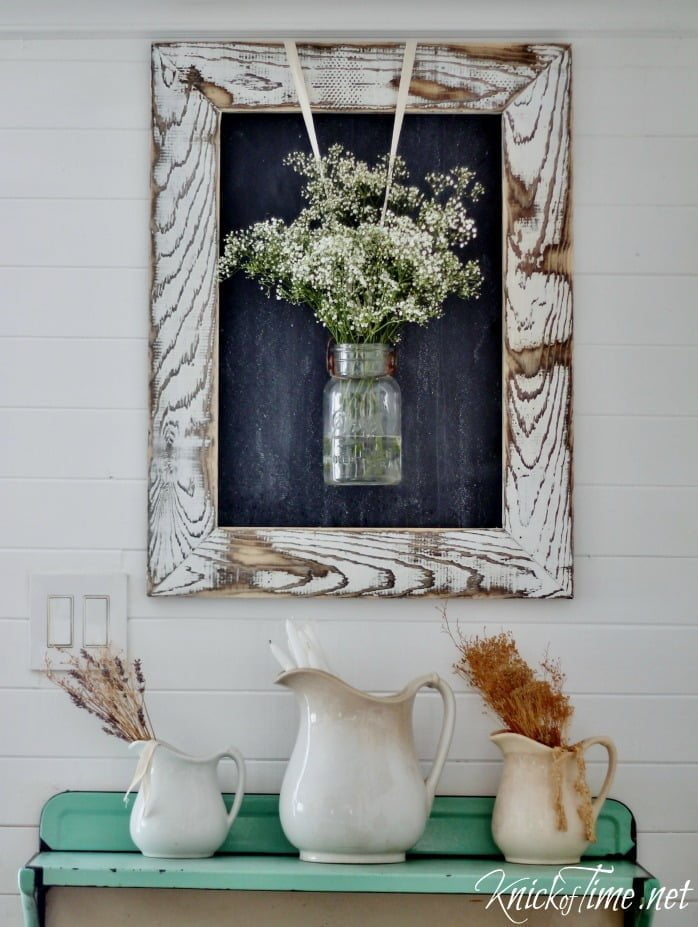 Shadowboxes can be difficult to assemble. Instead, create the illusion of one. Using an old frame, spray paint the actual frame the color of your choice. Paint the glass with either chalkboard or regular black paint. Then, take a mason jar and fill it with faux flowers from the craft store. Using a hot glue gun, adhere hooks to each side of the mouth of the jar. Then, use a thick ribbon of your choosing to hang the jar in the center of the frame. It looks like a shadowbox, but is actually just a clever DIY farmhouse decoration that's surprisingly simple.
42. A Piece of Found Wood Becomes Chic Decor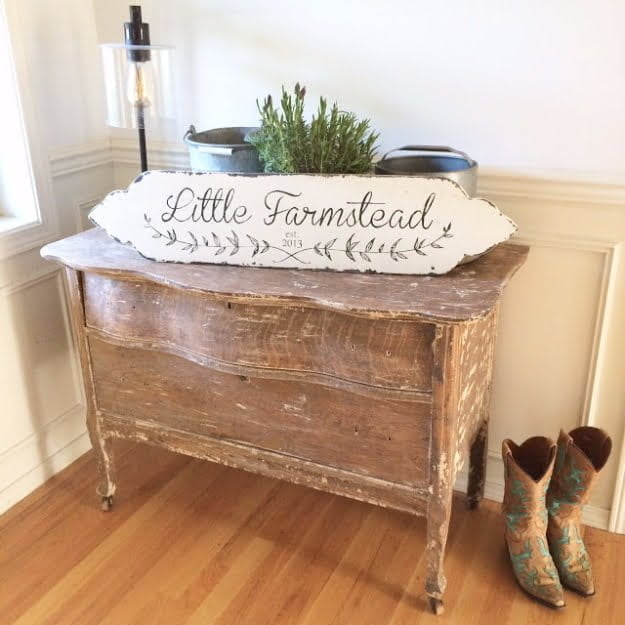 If you find a piece of wood with a flat side, you're halfway there to a gorgeous DIY decoration. This farmhouse idea involves painting a piece of found wood a solid color and then stenciling a design or saying of your choice. Like so many of the DIY ideas on our list, it looks like an expensive decor item, but is actually totally simple and inexpensive to create. It's yet another DIY farmhouse decoration that just requires a little time, patience and creativity.
43. A Curtain Rod Becomes a Functional Kitchen Accent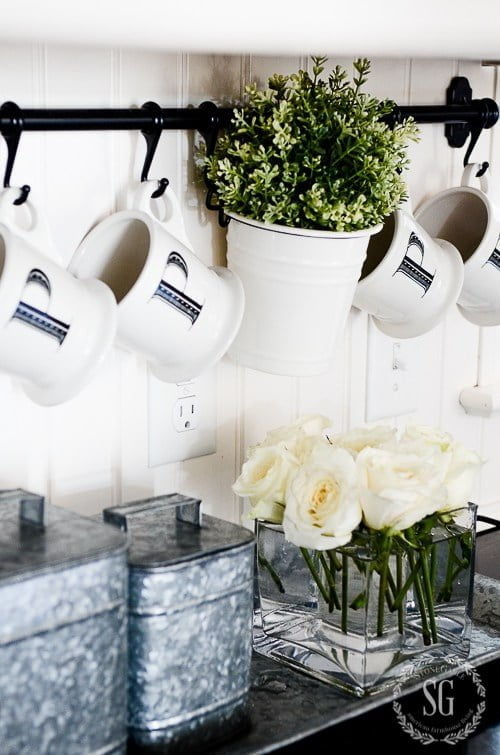 Here comes another decoration idea that is as functional as it is lovely to look at. These homeowners adhered a curtain rod onto a wall in their kitchen. Then, they hung hooks that matched the color and finish of the rod. The finished product is an easy way to store your coffee mugs. If you collect adorable mugs and teacups, it's ideal to find a way to display them prominently in your kitchen instead of letting them hide in your cabinets. This is another DIY project that is completely simple but looks elegant and sophisticated.
44. A Ladder in the Bathroom? Why Not!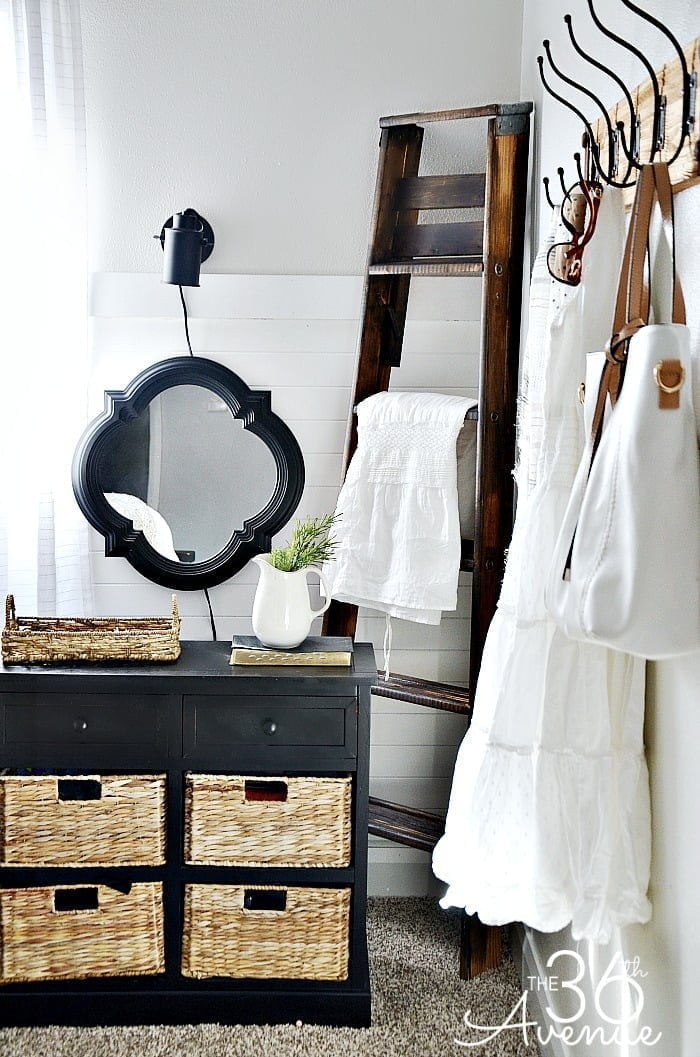 This decoration idea might be shocking to some. However, we think it's a perfect farmhouse idea. These homeowners took an old ladder and cleaned it up with a glossy stain. Then, they leaned it against the wall in their bathroom. It serves as not only a functioning towel rack, but an accent piece that adds a rustic touch to their otherwise modern bathroom. This is a bold idea, but it's perfect for homeowners who like to think outside the box while decorating with farmhouse inspiration in mind.
45. A Simple and Sweet DIY Decor Item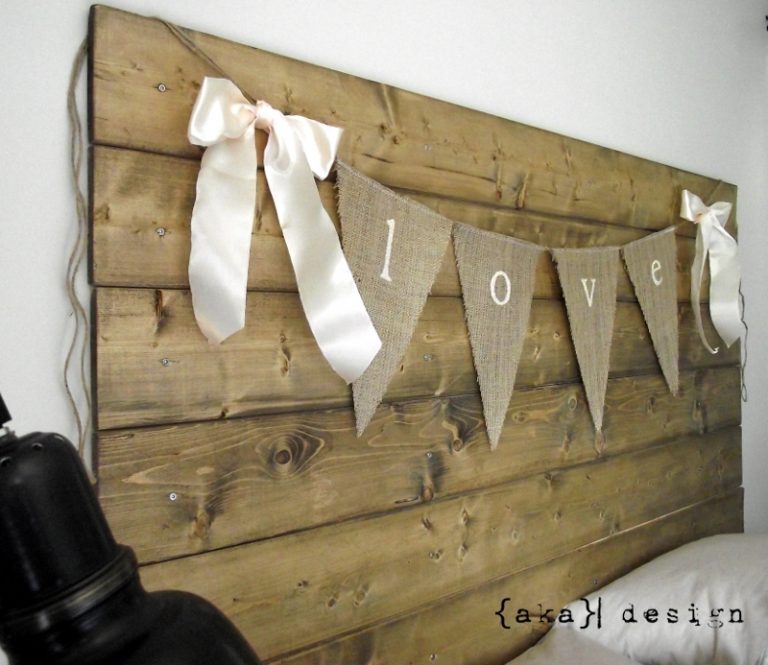 Not every DIY farmhouse decoration has to involve sanding wood or painting furniture. This simple little banner might not be a complicated DIY project, but the result is absolutely sweet and perfectly classic. Simply cut burlap fabric into triangles and write your desired letters on each triangle with white fabric paint. Then, use a hot glue gun to attach the triangles to a string of twine. You can also tie two large ribbons into bows and glue them on the outer edges as these clever homeowners chose to do.
46. A Simple Chalkboard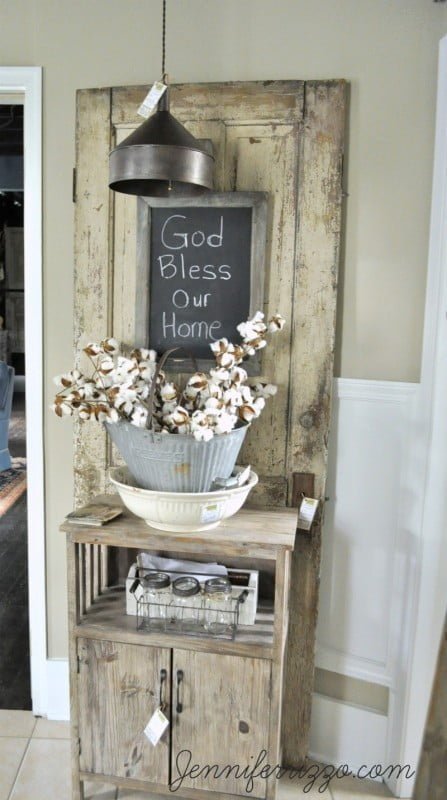 We've already seen examples on this list where homeowners turned old frames into chalkboards. We truly believe it to be a decoration idea that is integral for any farmhouse inspired decor. These homeowners used a rustic and worn frame and appear to have left the actual frame untouched. However, they applied chalkboard paint to the glass. The finished product is a chalkboard where they can write memos and sweet messages. We love this simple and yet inspired idea.
47. Another Inspiring Idea Using Reclaimed Wood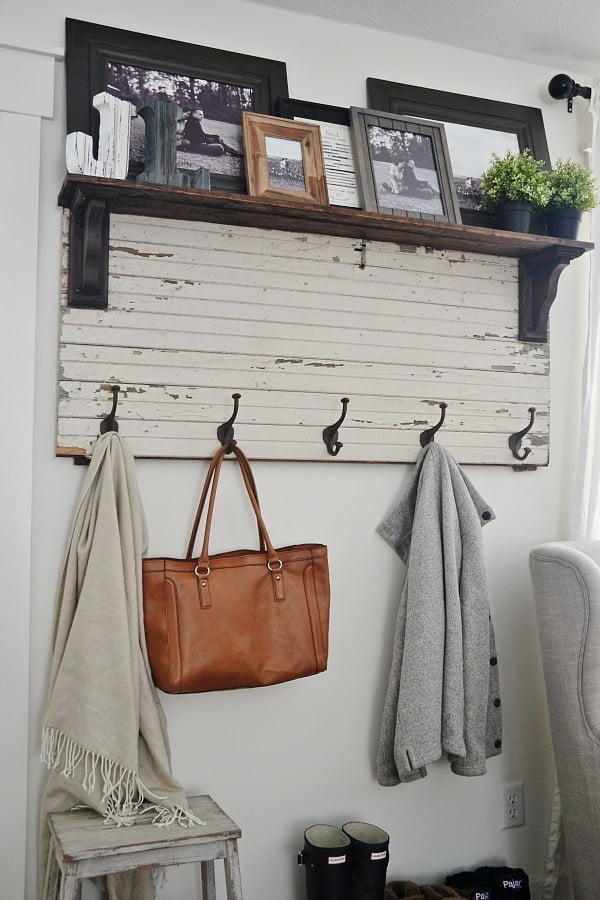 These homeowners could have easily just attached the shelf and the hooks directly to the wall. However, they wanted to give this wall a more rustic feel. So yet again, we see another example of a piece of reclaimed wood being repainted and incorporated into a rustic decor scheme. Much like the chalkboard frames, we see a lot of reclaimed wood on this list because it truly is a cornerstone in farmhouse decorating. By incorporating this wood, these homeowners instantly gave this room a more rustic and classic atmosphere.
48. Create a Humorous Industrial Sign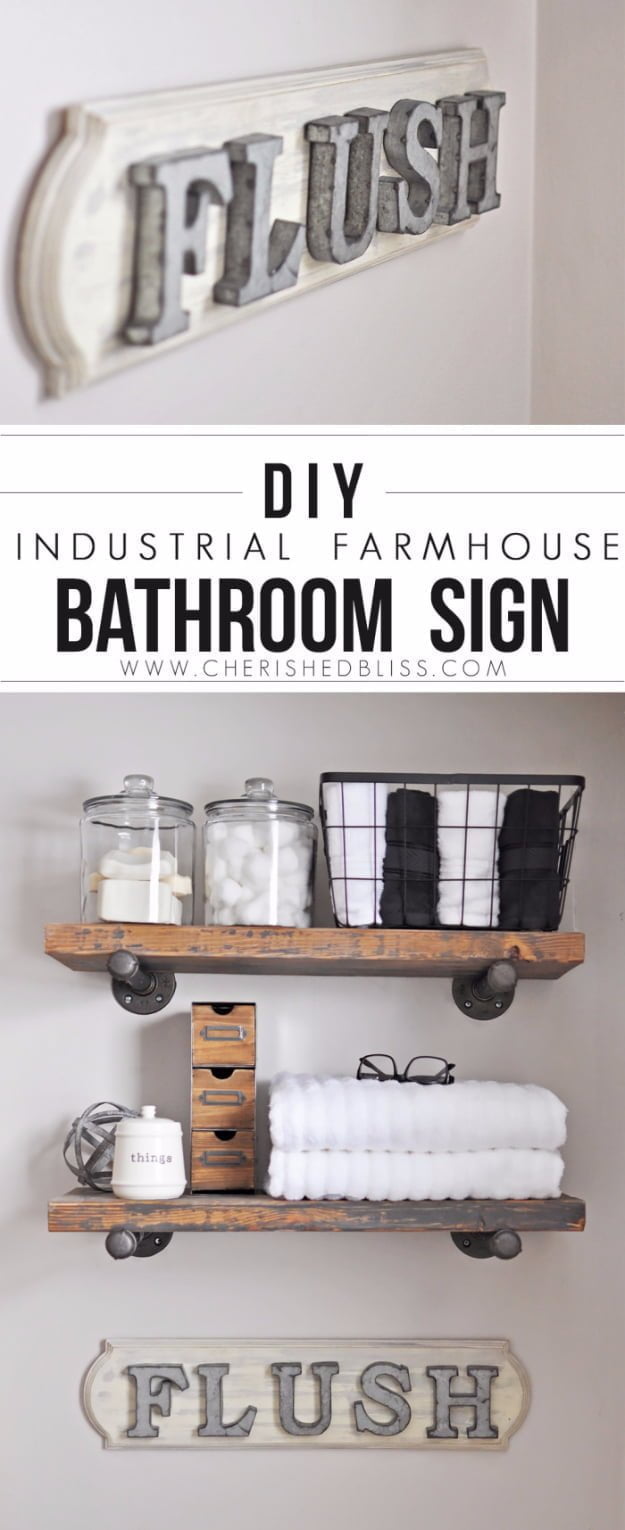 This is another example of a decoration idea that looks much more expensive than it actually is. These homeowners simply spray painted a piece of wood. Then, they purchased some small wooden letters from the craft store and painted them the color of their choosing. The final step was simply hot gluing the letters to the wood. We adore the "flush" message to be posted above a toilet. However, we would love to see this DIY idea used for other messages, such as "dream" above a bed. This is a DIY idea that offers limitless possibilities.
49. The Most Farmhouse Decor Idea We've Seen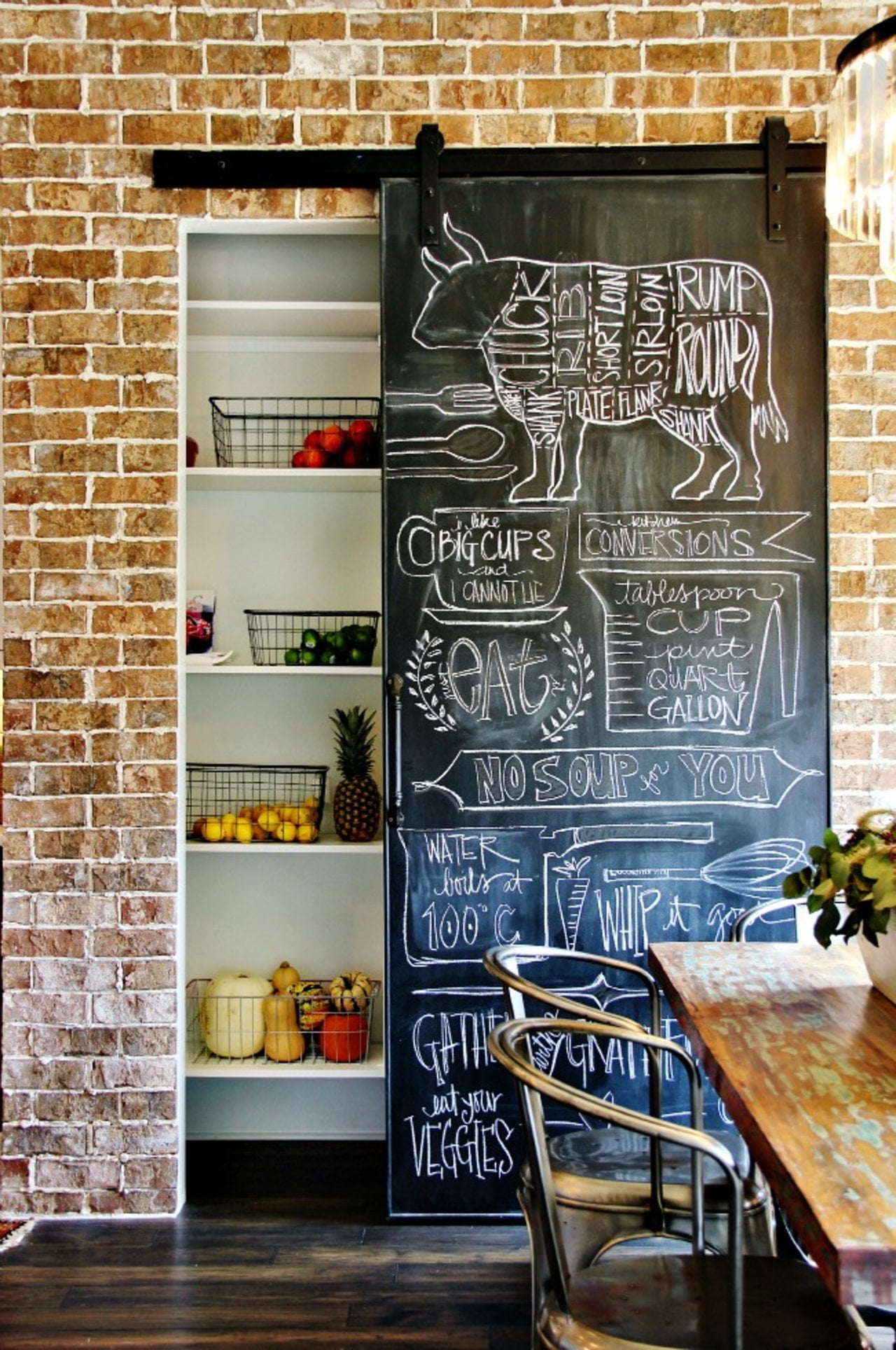 We've seen a lot of chalkboard paint used on different projects on this list. We've also seen barn doors used to really create a farmhouse feel. Hence, the chalkboard barn door might be the ultimate in farmhouse decor style. These homeowners simply used chalkboard paint on a door and then used a kit from a home improvement store to install it as a barn door. We're utterly in love with the rustic and yet somewhat kitschy feel of this barn door. It would be absolutely wonderful in a kitchen or as the entrance to a den.
50. Picnic Tables in Dining Rooms? Absolutely!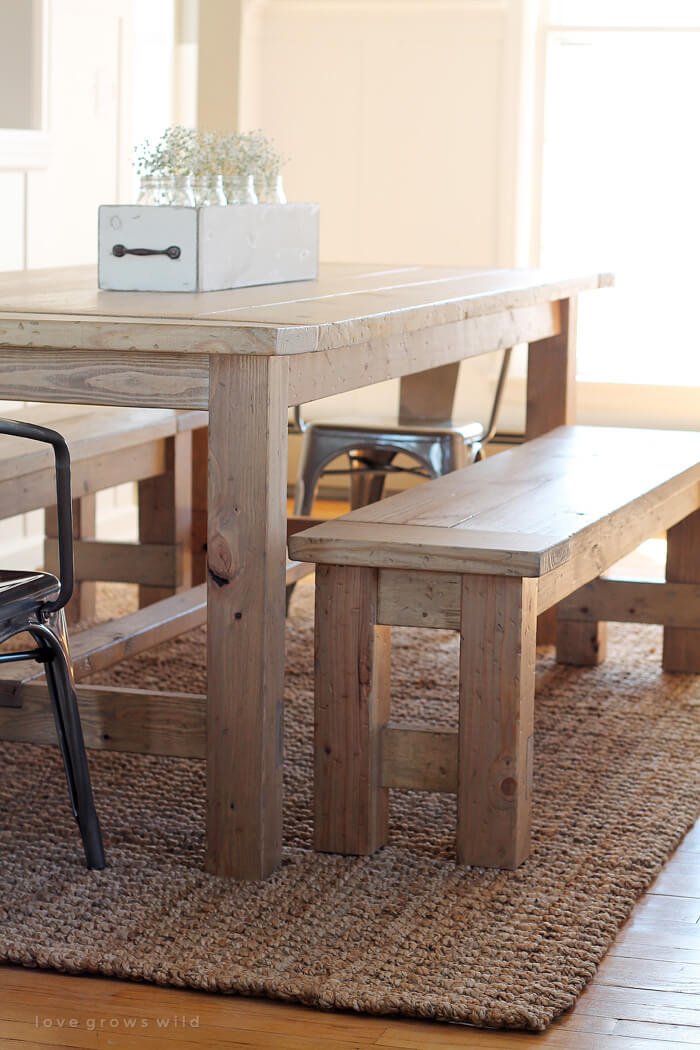 When we think of picnic tables, we typically think of outdoor and patio furniture. However, if you want a rustic farmhouse look in your kitchen or dining room, consider moving a picnic table indoors. To take an old picnic table and make it more appropriate for the indoors, give it a good washing down and sanding. Then, stain it and use a protective finish to preserve its shine and integrity. This is a great way to give a farmhouse feel to any dining area and is a great way to breathe new life into an old piece of outdoor furniture.
51. Replace Kitchen Drawers with Wooden Crates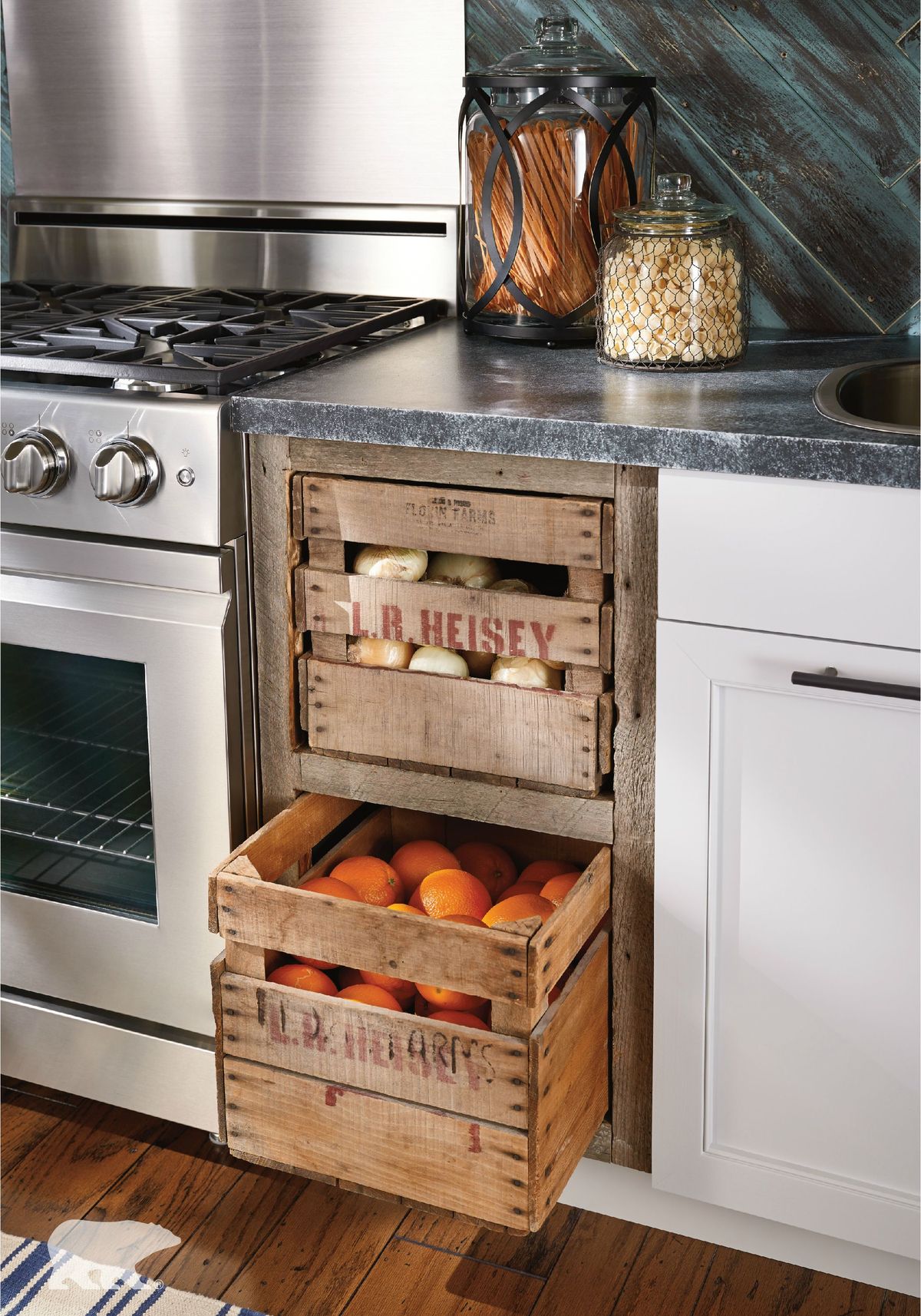 If you want to give a farmhouse look to your kitchen drawers, then remove the drawers and replace them with wooden crates. You can either skip the tracks all together or install new ones to allow the crates to slide in and out of the cabinets easily. This is a bold decoration idea, but it's truly a brilliant way to give new life to your kitchen cabinets.
52. Give a New Spin to an Old Chandelier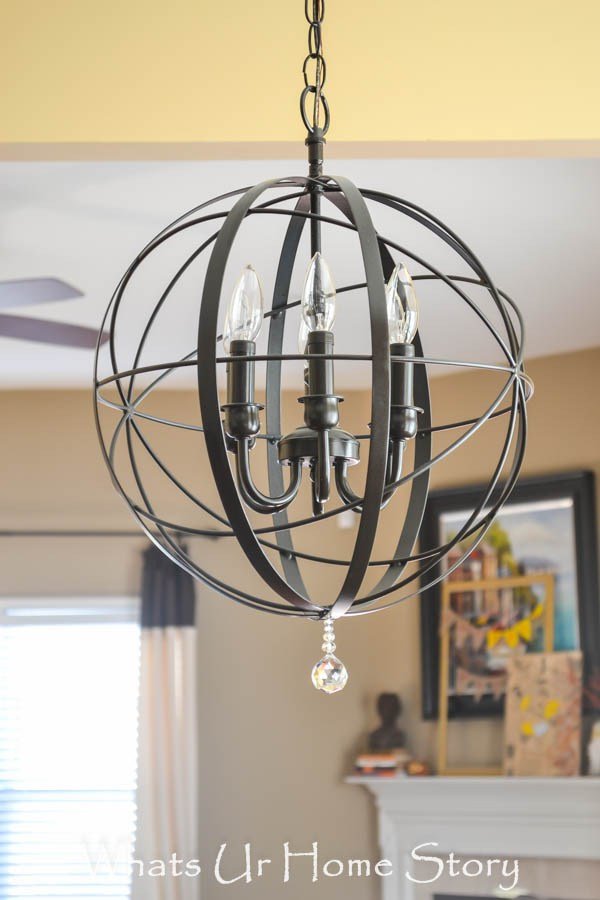 By shaping wire and metal into an orb, you can create a unique and farmhouse inspired covering for your chandelier. Not only is this unique chandelier covering pretty to look at when the light is off, but it creates truly unique light patterns on the walls when the chandelier is on. This is one of those DIY projects that is quaint, allows you to repurpose old materials and gives your house a rustic yet unique feel. You can create a similar look with twine by using starch to render the twine pliable.
Turn Your Home into a Farmhouse with these Easy DIY Projects
As you can see, you don't need to sell your house and move to the countryside to enjoy the beauty of a country farmhouse. Instead, you can try any of these fantastic DIY projects. One of the amazing things about the farmhouse style is that these individual decor items don't just work in a house with an overall rustic theme, but can also fit in effortlessly in a wide array of decor styles. Some of these projects are simple while others are a bit more complex. However, all of them are gorgeous and will add a lovely, classic flair to your home.