What do you do with that blank wall that stares you down and begs you to decorate it? Perhaps you have plenty of things to hang up whether they be photographs, framed certificates, or your kiddo's art creations, but want to display these keepsakes a little differently. Shelves are great, but sometimes they can appear bulky and maybe even a little dated in design. Before you throw out the whole idea of shelving though, consider some DIY floating shelf ideas!
45+ Bold DIY Floating Shelf Ideas To Save Space

Floating shelves get the job done, look more modern, and take up minimal space. All you need to get started with this diy project is a free wall, some diy floating shelf ideas, and the minimal tools required. Floating shelves can be as simple as a piece of beautifully stained wood that hangs on your wall and appears to 'float.' These shelves are free of brackets and other supports that are visible which creates a clean and clutter free appearance.
Not only are these diy floating shelf ideas pretty in appearance, but they are functional in displaying or storing your artwork, books, pictures, and more. One type of floating shelf does not fit all; you can create the shelf that suits your design outlook whether it be modern, rustic, or purely functional!
Decorating the home is an endless hobby that some may feel more like a chore. To make it less of a hassle, consider incorporating practical and useful pieces to make decorating a little more fun. Start with the concept of a floating shelf.
These modern shelves provide the same storage/display space as their traditional predecessors, yet they are a much-needed upgrade in the style department. Crafted in many shapes, sizes, thicknesses, and colors, there is certainly a floating shelf that is chomping at the bit to be added to your home.
Hanging alone or in a grouping of three, these shelves serve two purposes. First, they provide a functional space to store items from linens and books to nail polish and plants. Secondly, they add a fresh look to your home. And you can infuse your home's style and your own personality with the plethora of materials and finishes available. One of the most interesting and popular choices included in the live edge slab shelf that allows the natural beauty of the wood to be the star of the show.
You can't go wrong by choosing to add a floating shelf to your family's home. From reimagined linen closets or built-in bookshelves to decorative plant hangouts, you'll find one that's just right for you in this listing of 26 fabulous finds.
1. Warm Brown Platform Wooden Floating Shelf System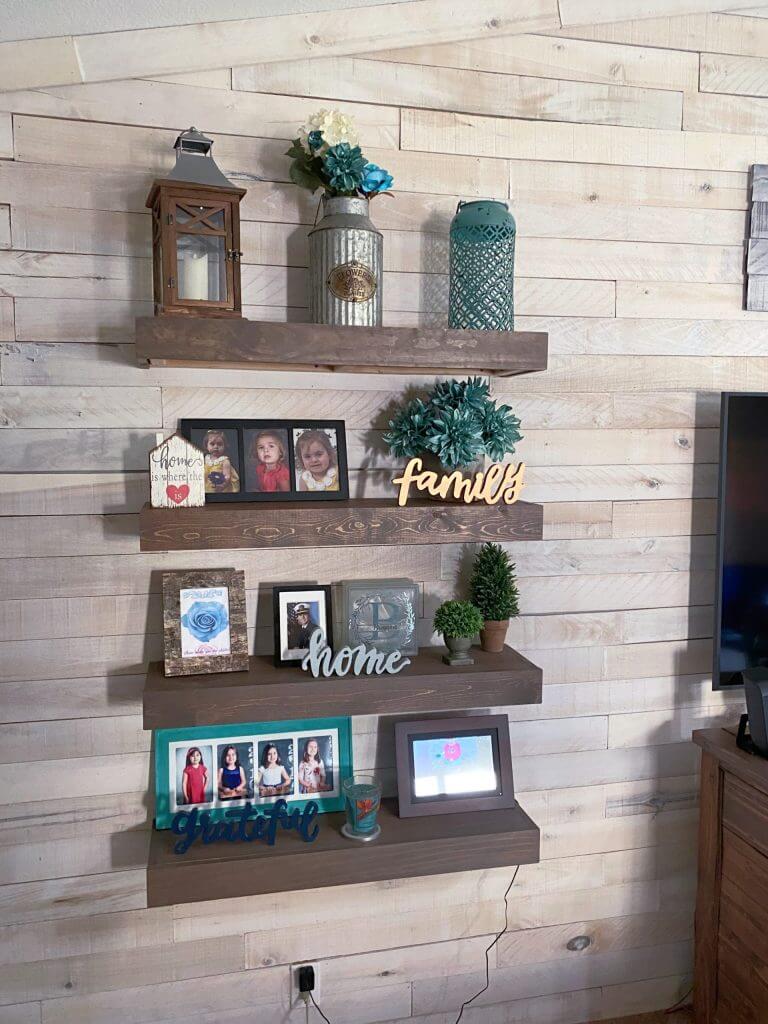 Combine the loved design of a floating shelf with the practicality of a larger platform shelf and you'll blend them perfectly into this platform wooden floating shelf system that features a rich warm brown stain. Using a platform space, you'll get more storage per shelf while taking up minimal wall space. This display features four platform floaters to show off family photos and prized decorations. Together these shelves become a dominant decoration that takes precedence over smaller and less usable home decorations. Choosing a rich warm brown stain adds a dramatic design element to help warm up the atmosphere of your home.
2. Natural Unfinished Wood Floating Shelves Trio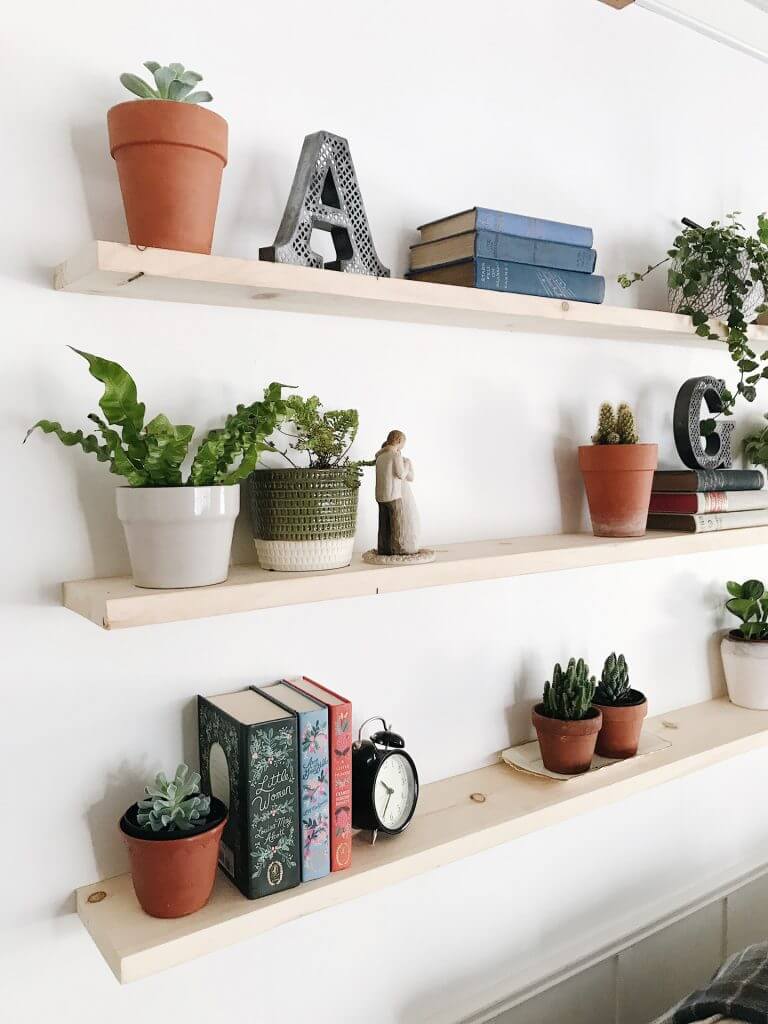 Floating shelves not only give you extra room for showing off your favorite trinkets and plants, but they also add style to your interior design. Hang this trio of unfinished wooden floaters on the wall behind your couch to give a focal point to this central wall space. In a kid's room, these natural wooden floating shelves are the ideal place to display trophies and treasured items collected from travels. With such a simple design, these natural wooden shelves blend into almost any style of decor. You can even put them to work in your kitchen as a perfect spice rack alternative or simply a new accessory for your coffee station to hold your favorite mugs.
3. Gorgeous Grains Thick Wooden Floating Shelves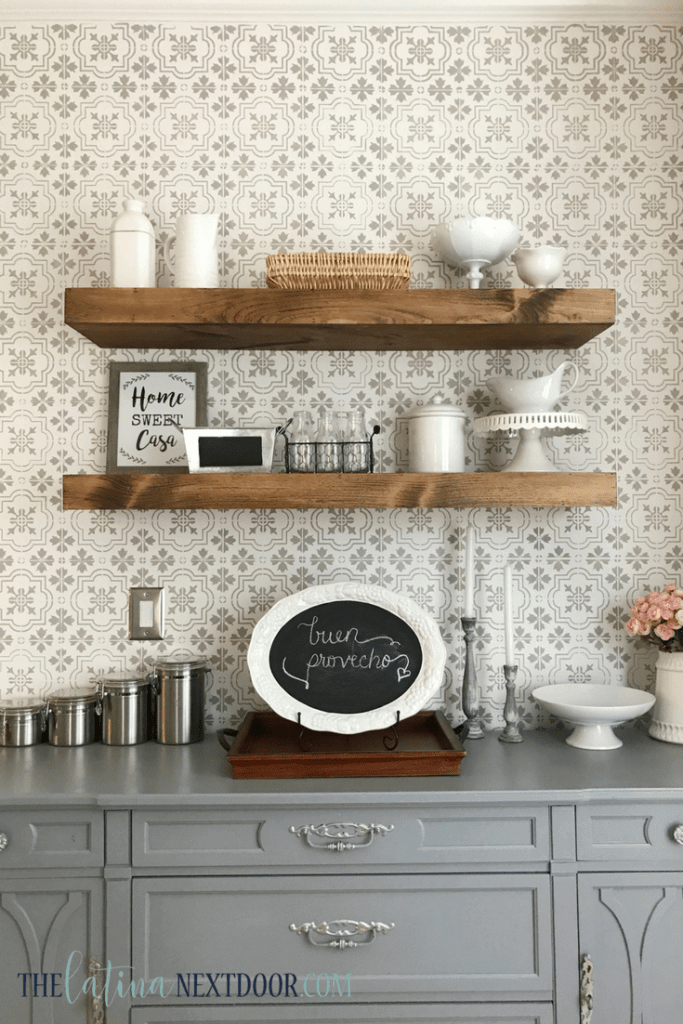 Capitalize on the gorgeous grains in this wooden floating shelf system by featuring them on the main wall space in your home. The durability of this sturdy slab of wood makes for a shelf that's perfect for holding almost anything you desire. Place some delicate white pottery on these shelves for a beautiful contrast from the rugged and real wood look and feel. Further, complete this look by grounding the design with hardwood floors in the room to provide the perfect complement to the look. For the kitchen, these thick wooden shelves are a wonderful alternative to cabinetry where many upgraded spaces are featuring such an open storage concept.
4. Under the Window Kitchen Shelves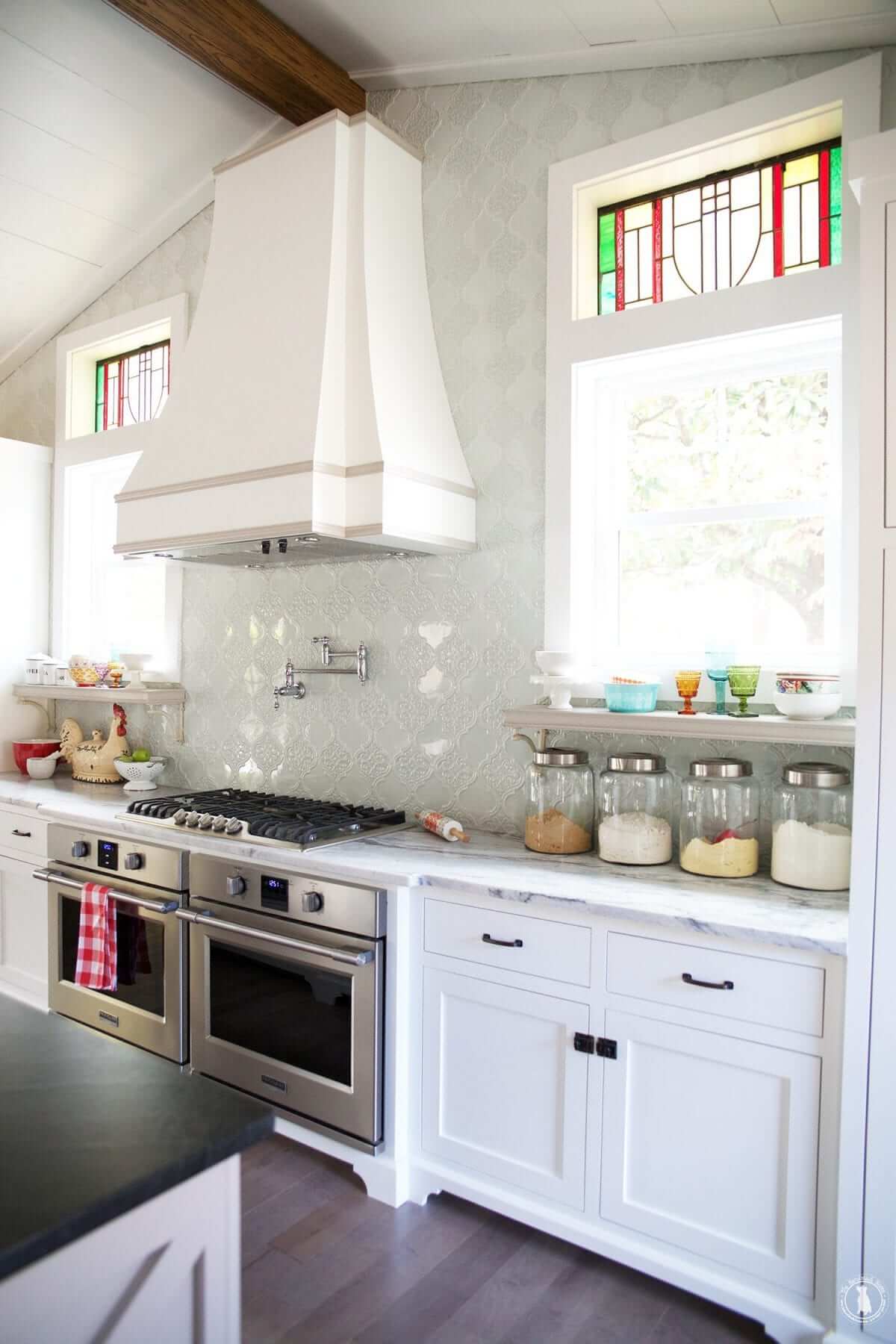 If you're short on wall space in the kitchen, consider adding an under window floating shelves set. You'll increase your storage capacity while taking up minimal wall space. By placing a shelf directly below the windowsill, you'll utilize an additional ledge of storage while maintaining your countertop area for canisters and meal prep. These nearly appear to be an extension of your windowsill and are perfect for an indoor herb garden. They make a fun way to display dainty dishes and special occasion cake holders. Add these to your kitchen to enhance your shelf space while keeping the natural light flowing into your home.
5. Simple and Traditional Wood Floating Kitchen Shelves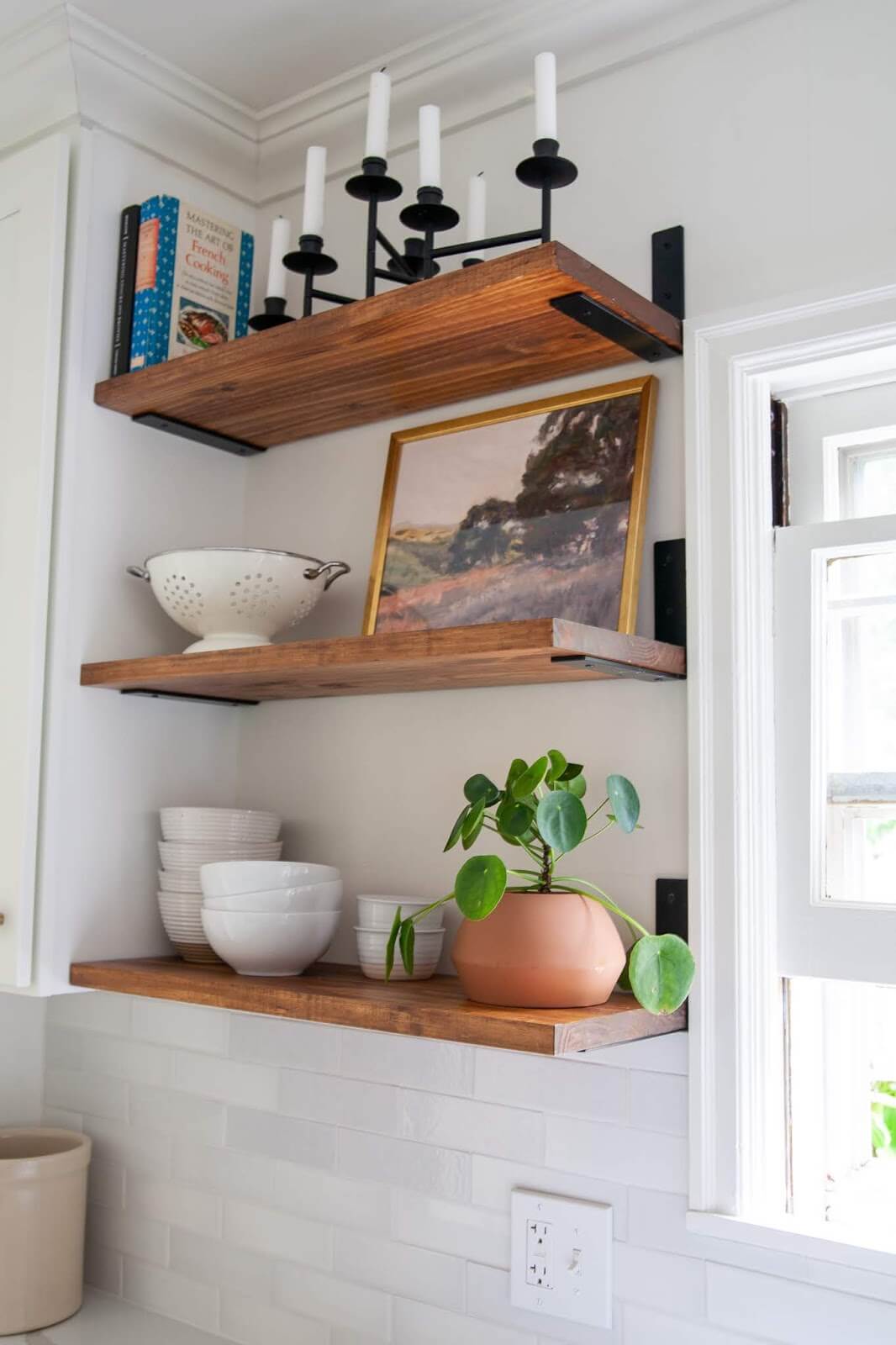 Stay on-trend and in the know by incorporating some floating kitchen shelves into your next home renovation. Replacing a standard wooden cabinet over the counter, these wooden floating shelves offer equal storage potential while adding a new element of style. Secured with wide black metal fasteners, these shelves are sturdy and exude a modern look and feel. With a trio, you'll be able to arrange your everyday dishes of plates, bowls, and cups in an easy-to-grab fashion that looks neat and tidy as an extension of your kitchen decor. Click on the link for an in depth tutorial!
6. Long and Lean Home Office Floating Shelves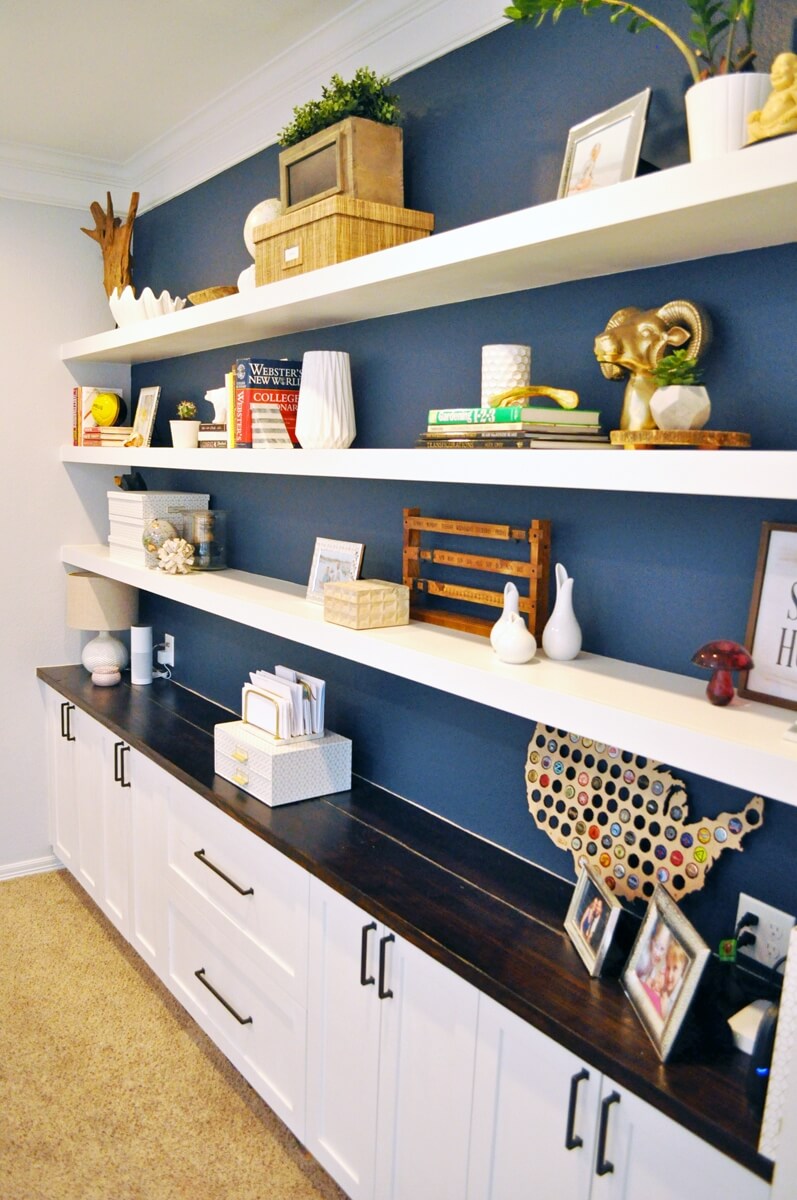 Forget the outdated pine cabinets and built-in shelves of times past and live in the moment with a modern home office design. You'll enjoy the same immense area for storage solutions to make the most of your work from home; however, you'll relish the professionally designed look of your modern workspace. These long and lean shelves run the entire length of a wall making them a focal point that allows your office to feel like it's still a branch of your everyday living quarters. Weave some personal items and plants throughout to further enhance the atmosphere of your office space.
7. Solid White Wooden Floating Shelf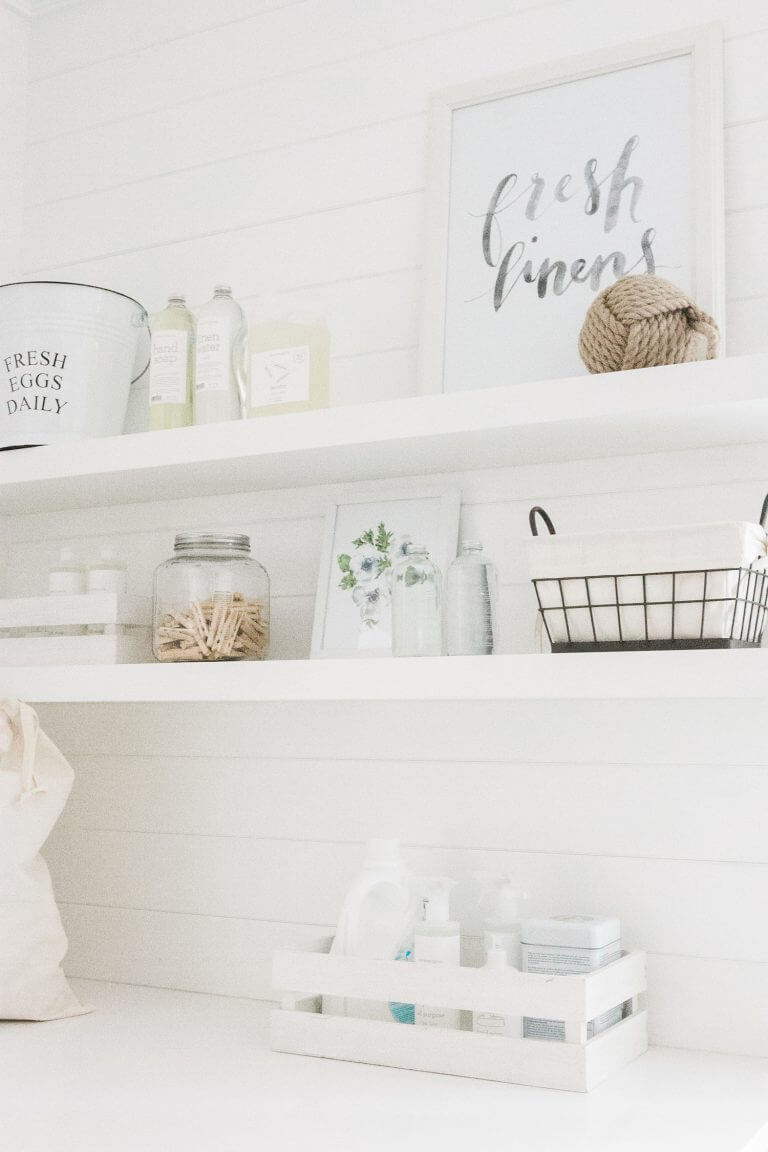 Who says your laundry room or mudroom shouldn't possess the same look and feel of your home? Continue your style throughout your entire house by implementing some useful and cute additions to these much-needed everyday spaces. Over your washer and dryer, this large white floating shelf gives you all the room you need to easily access your detergent, softener, bleach, and stain remover. Making this space more appealing will make the chore a little less tedious. You might just make laundry look like so much fun that other members of the family will be inspired to jump in and help. At least a girl can dream.
8. Stained Wooden Block Floating Shelves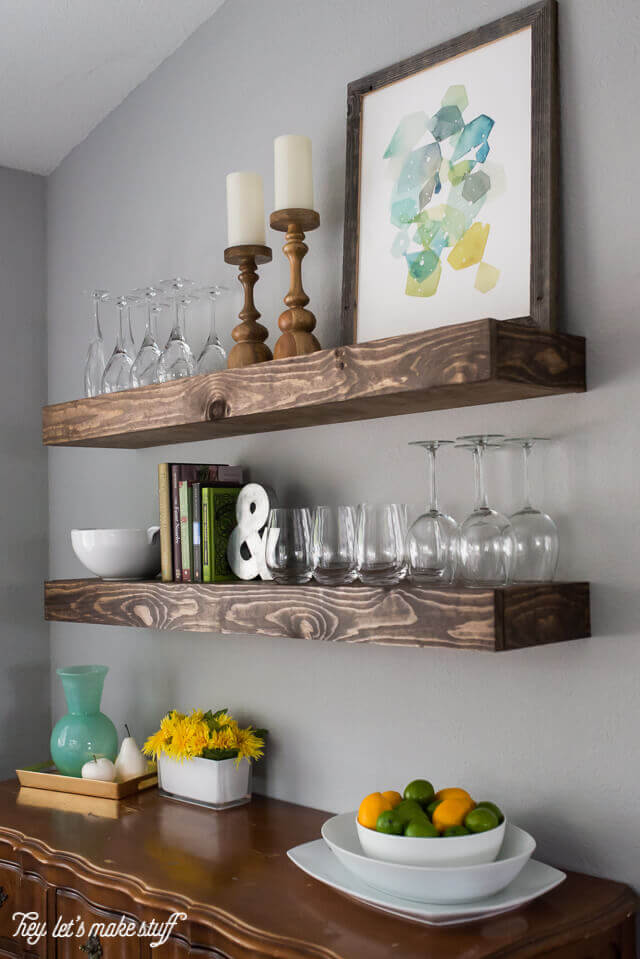 Create a beverage station in your home that seamlessly blends right into your existing decor. This has never been easier than with the ever-popular floating shelves available today. Not only do these shelves provide plenty of space for your cocktail glasses, but you'll also be elated with the modern and natural beauty of the material. The finished product offers a sturdy platform for all of your bartending essentials while the pretty lines and knots in the wood add character and charm to your entertaining endeavors.
9. Crisp and Clean White Corner Floating Shelves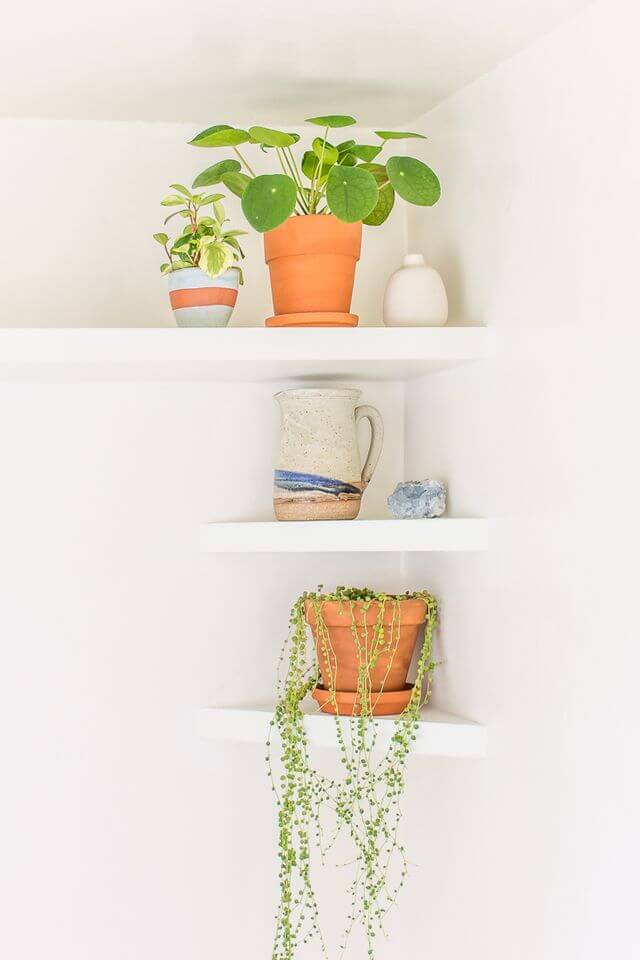 Make the most of your space by utilizing every square inch with these clever corner floating shelves. Their compact design coupled with their crisp clean look makes them an amazing choice for your home. While they take up such little space they provide extra room for some of your favorite vining houseplants without taking up residence on the counter or windowsill. Since they are positioned near the top of the wall, they make the perfect plant perch as well, since pets and young children won't be tempted by them at eye level.
10. Sleek Brown Wooden Floating Shelves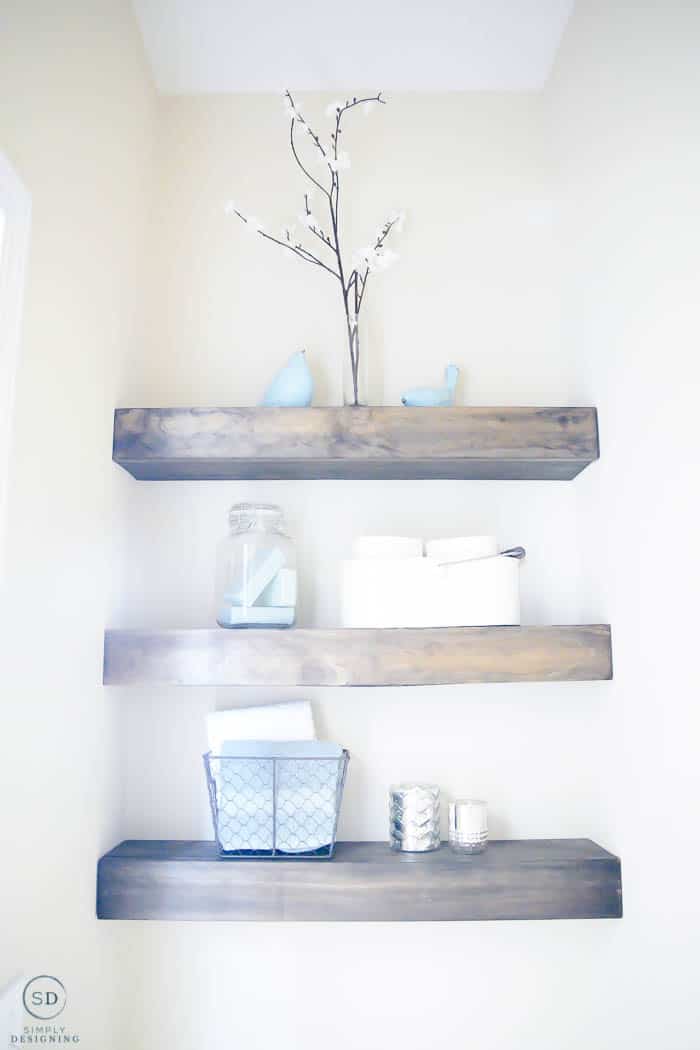 Add some style and storage at the same time with this trio of floating shelves. This three-piece set makes a great addition to a bathroom for extra linen storage or decorative pieces. Placing them in a bedroom offers any female all of the necessary fragrance shelving as well as a perfect perch for displaying accessories from jewelry to sunglasses. Even the kitchen would welcome this terrific trio as they rejuvenate the space by replacing standard cabinetry with some stylish organizational goodness. Make setting the table an easy feat with no doors to stand in your way.
11. Squared and Straight Rugged Wood Floating Shelves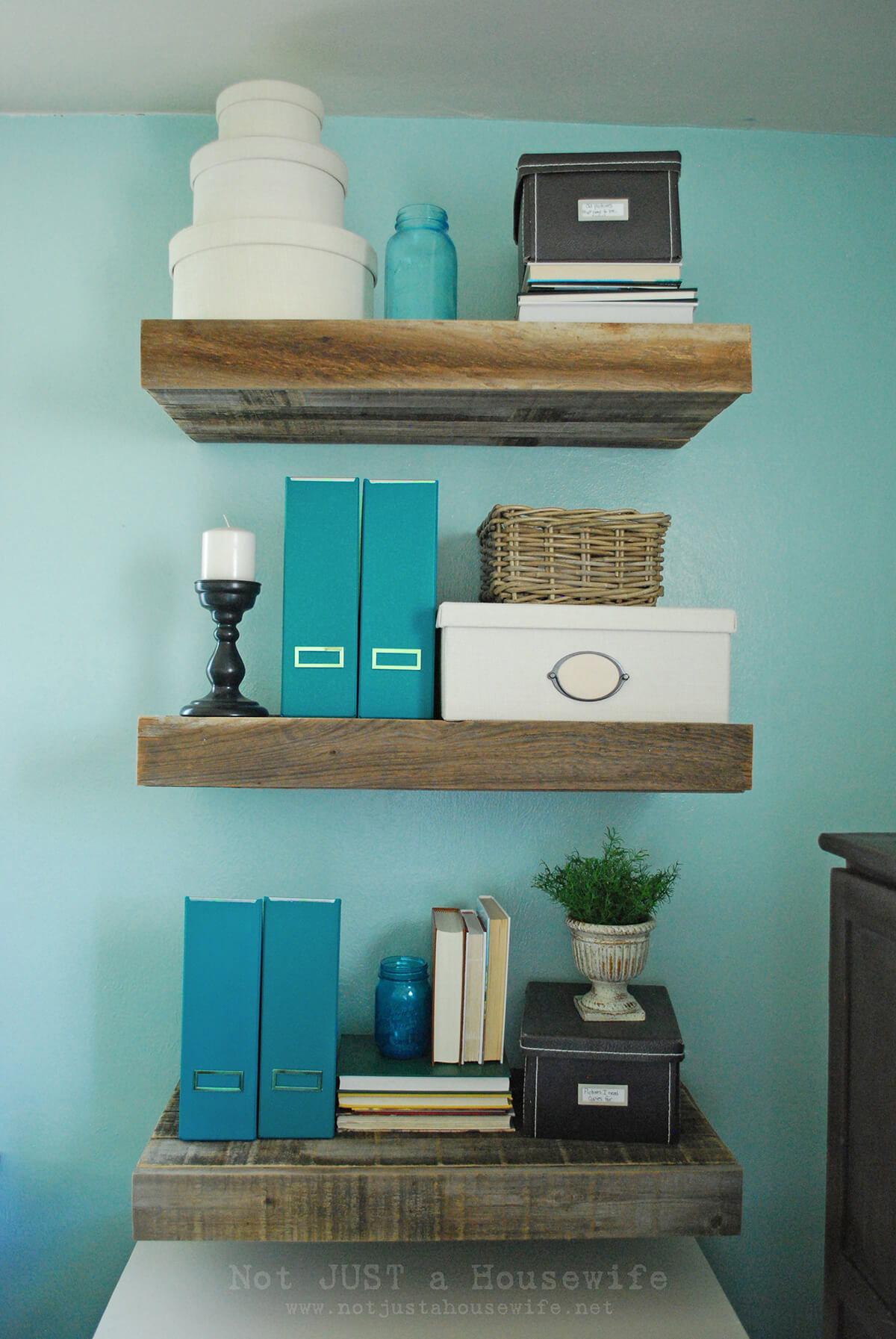 Spending so much time working from home might have you contemplating a home office makeover. Why not get the ball rolling on this project by incorporating this trio of rugged wood floating shelves. Your homework space will love the extra space for filing and organizing your work while your inner interior designer will love the pop of style. Nestle some succulents or favorite house plants throughout your file holders and use some decorative boxes for even more storage and organizational goodness. Your end result will be a home office you'll enjoy working in while appreciating the stylish nod from your storage system solution.
12. Rustic Floating Shelf with Leather Studded Accent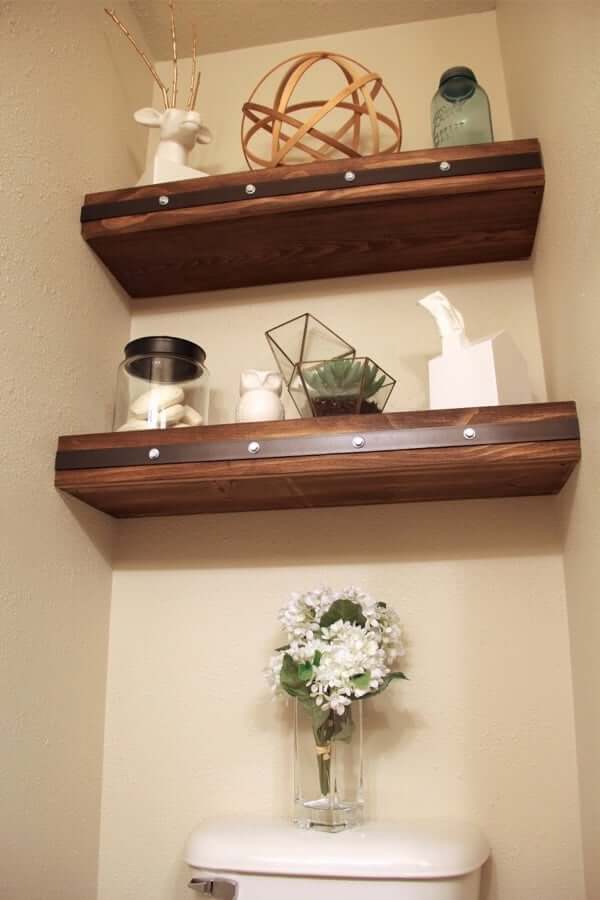 Feast your eyes upon this embellished wooden floating shelf. It provides the perfect combination of rustic and modern to make your space feel like home. The thick and sturdy wooden floating shelves feature gorgeous grains that seemingly come alive with a fresh coat of stain. Along the edge, a strap of rich brown leather becomes the ideal accent piece secured by silver screws for a decorative touch. This look blends into a western-inspired decor or within the walls of a modern farmhouse design. Place two above your toilet to offer plenty of extra storage for toilet paper and linens that are within an arm's reach.
13. Natural Wooden Floating Shelf Linen Closet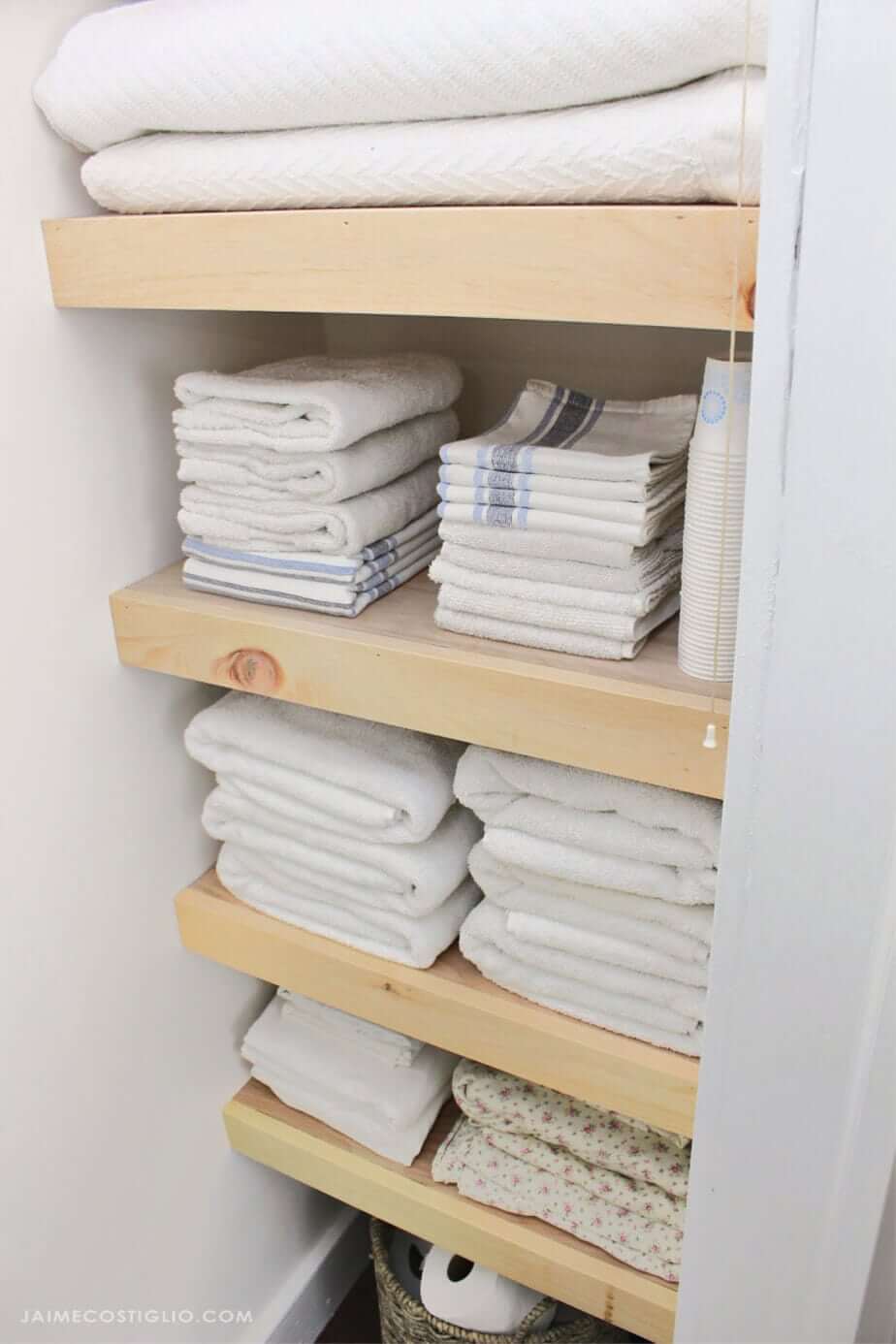 Give your linen closet an update with a modern look by inserting these natural wooden floating shelves and removing any doors. You'll like the easy accessibility to grabbing a towel and washcloth for your shower and you'll love the stylish and sleek look from this easy update. No need to paint or stain the shelves as their natural blonde beauty offers a beautiful look for your interior design. All of your towels, sheets, and spare rolls of toilet paper never looked better than they do house within this efficient and effortlessly gorgeous storage system that makes the perfect update to your family's central linen closet space.
14. Contemporary Live Edge Slab Floating Shelf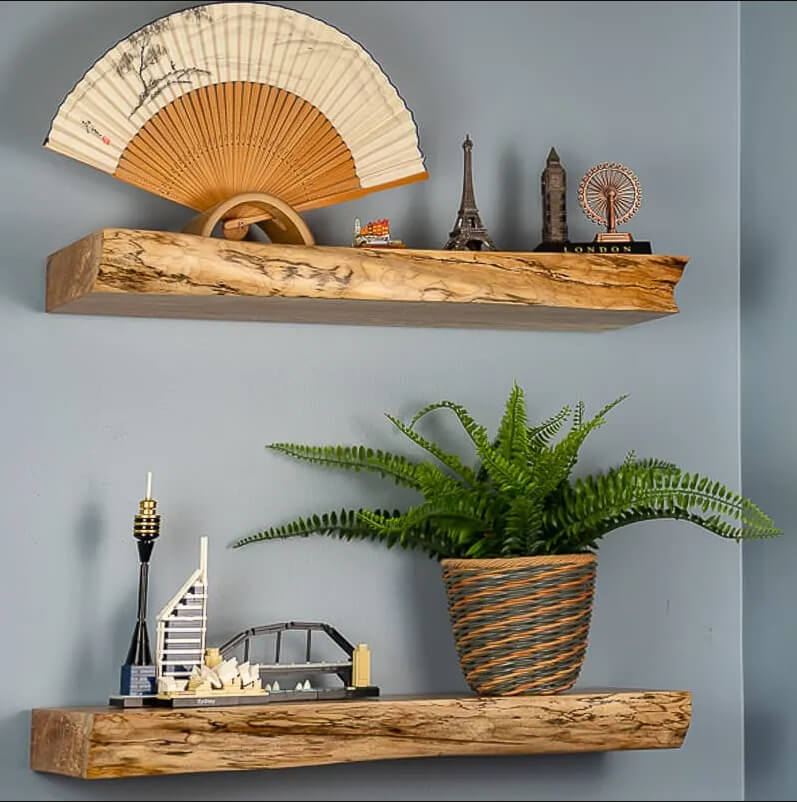 The natural beauty exuded from this pair of live edge slabs brings another dimension of style into the floating shelf world. An overall contemporary look and feel come to life as these natural wooden slabs have been shellacked to preserve their pristine appearance. The golden beige tones set off with the dark lines add so much style to an industrial loft or modern home. Any room in the home would welcome this pair of floating shelves. In the kitchen, they are a fabulous hangout for crisp white dishes. Other rooms of the home would fill them up by placing plants, pictures, and prized possessions on them so everyone can sneak a peek into the home owner's personality.
15. Coastal Theme Farmhouse Floating Shelves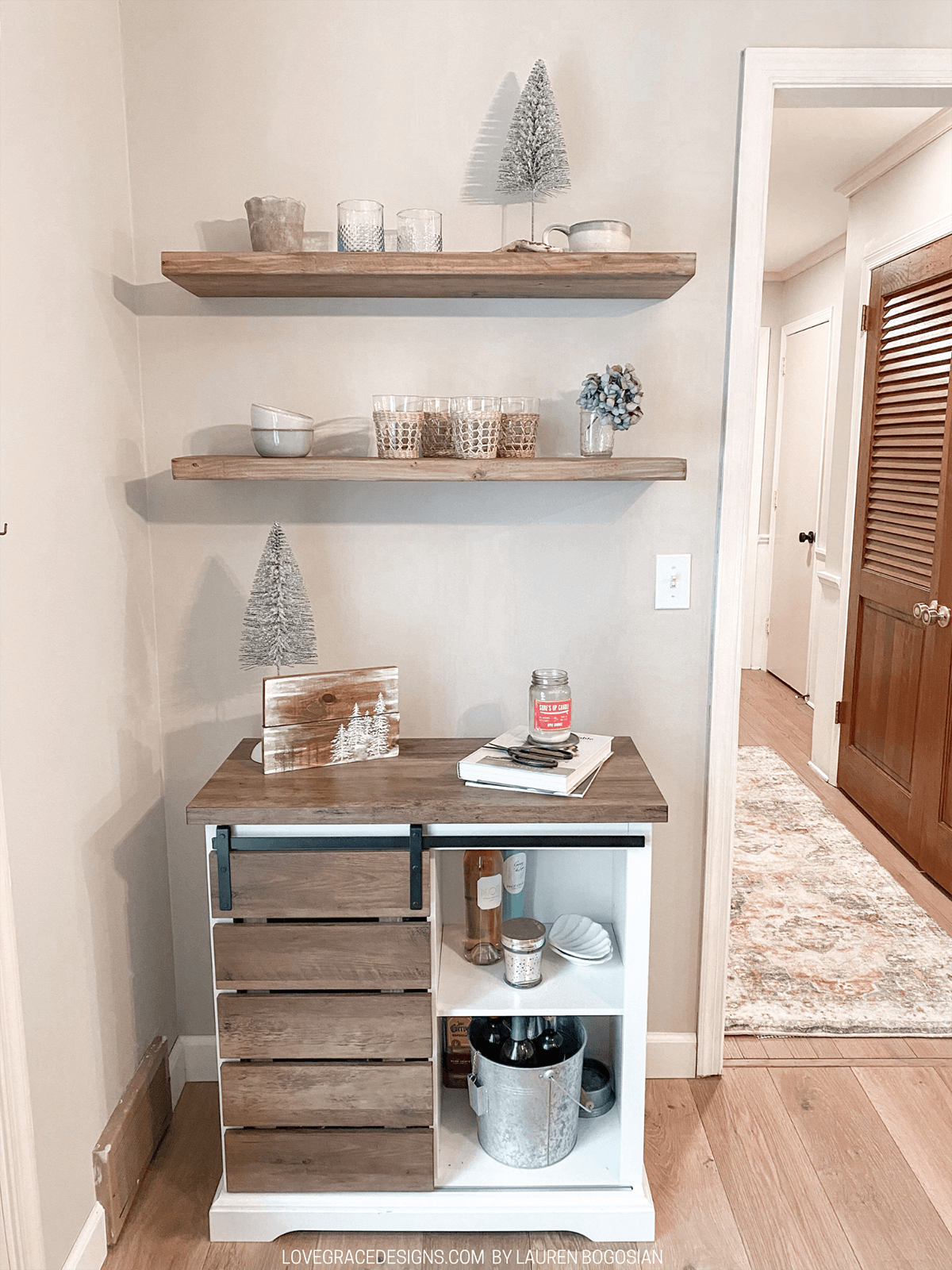 If you have some empty wall space in desperate need of filling, try your hand out with these floating shelves. They won't look out of place in a farmhouse kitchen. At the same time, they also work well if used in a coastal setting depending on what decorations you place on it. The wood has a nice slightly rustic charm to it.
16. Thick DIY Floating Kitchen Shelves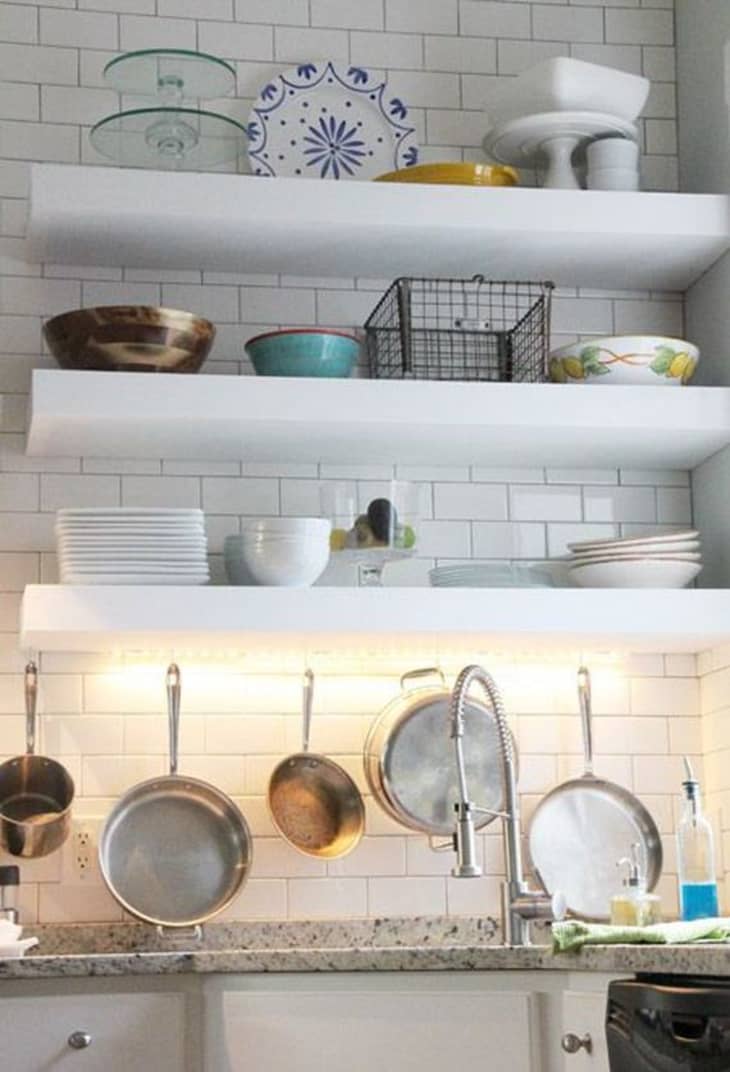 Floating shelves are already useful in storing numerous decorative or functional items, but this project takes things a step further thanks to the "chunky" size of the shelves. They are thick enough to stand out as soon as you enter the kitchen, but all that isn't just for style. Rather, it gives you more room to organize your kitchen, creating a better, less cluttered atmosphere all around.
17. Unique Vintage Floating Crate Shelves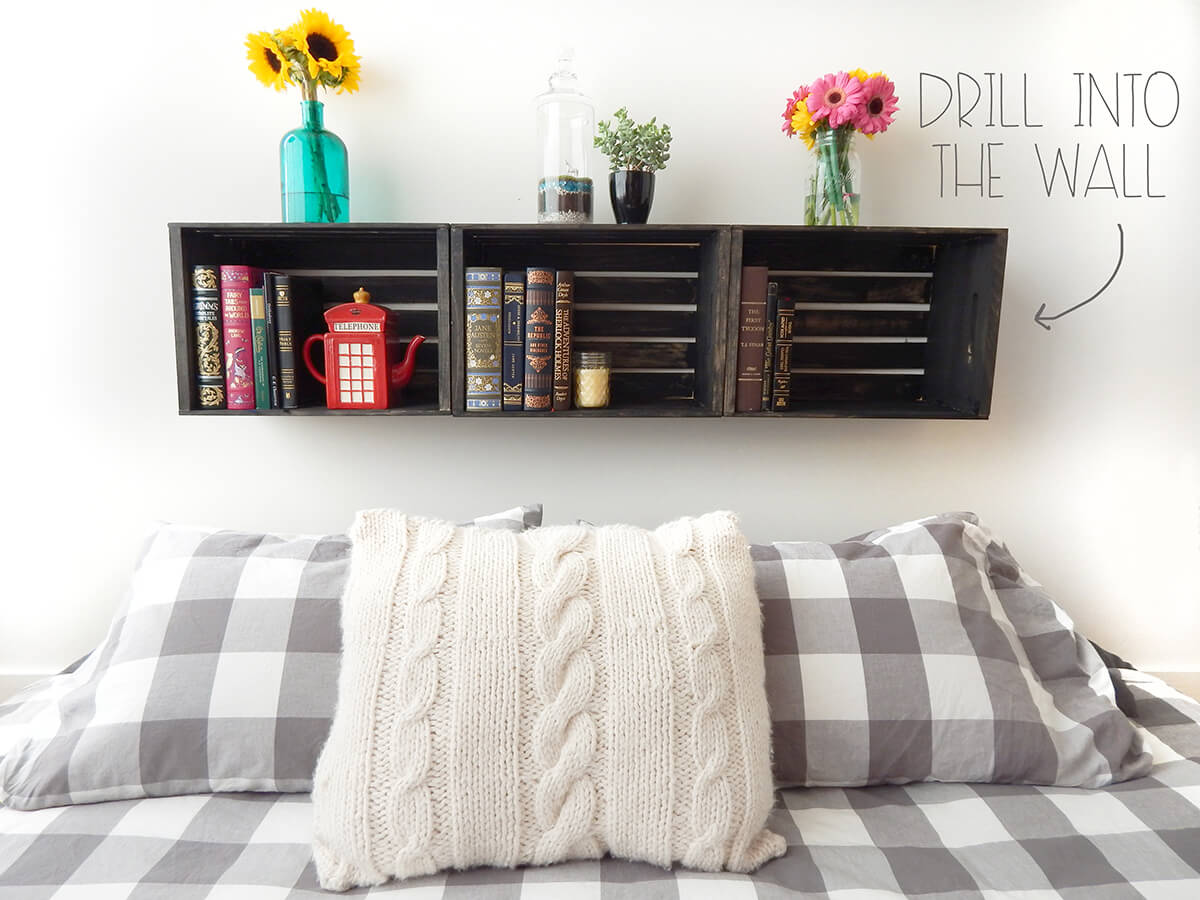 A minimalistic approach to decorating while also providing room for some smaller items is with this crate shelf project. This takes a more unique approach to create floating shelves since you aren't just using a basic straight piece of wood. Rather, you're improving on standard crates by staining them and putting them together so that it seems like they were a singular piece all along. The staining gives the crates a nice rustic feel too.
18. Adorable Nursery Room Wall Shelves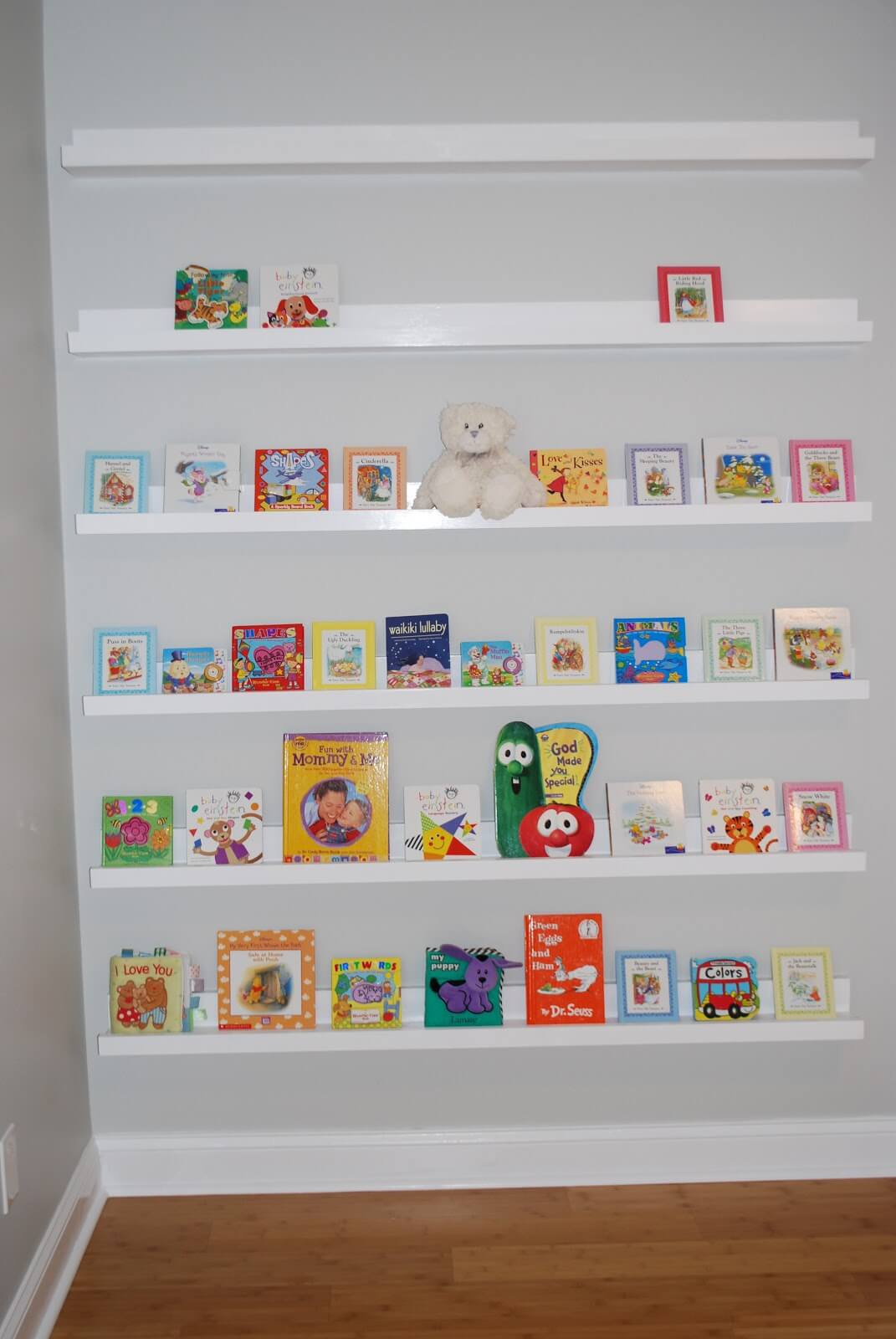 If you're designing a nursery or a child's bedroom, space can quickly become an issue. So, floating shelves are helpful when it comes to giving room for items without taking up needed space on the floor as a standard bookshelf would. With this DIY design, a book is always within reach, there's room for other décor, and the nursery as a whole simply looks more unique.
19. Natural Wood Floating Picture Ledge Shelf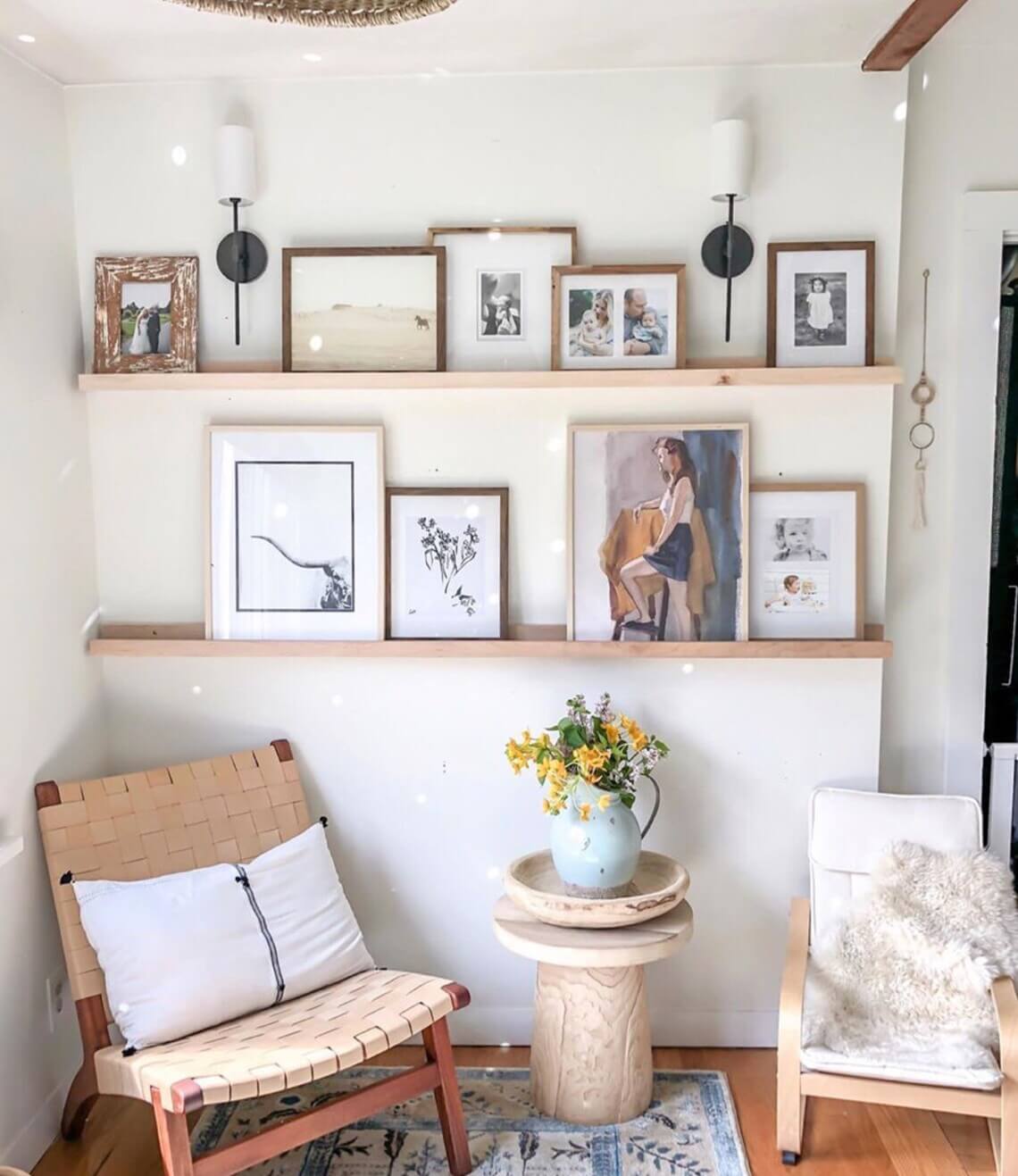 Stop searching for the studs in the wall to hang each picture and mount this amazing floating picture ledge. You'll enjoy the convenience it offers for adding and changing your photos and you'll love the look it provides. It's a fun and functional way to display all of your pretty pictures onto a single wall space without making an excessive amount of nail holes in your drywall. Show off your wedding pictures, vacation snapshots, or even sketches for everyone to enjoy. They say a picture is worth a thousand words and this becomes a picture bookcase for showcasing your most cherished pictures in one place.
20. Live Edge Natural Wood Slab Floating Shelf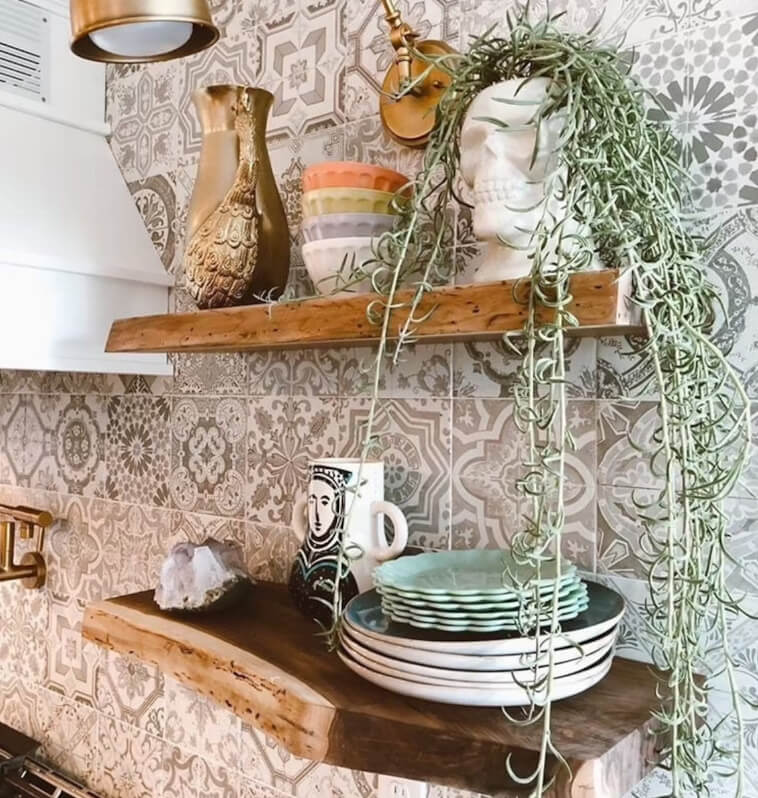 Give your kitchen the love it deserves by updating its storage space. Instead of hiding your favorite dishes behind a bland wooden cabinet, make them a focal point as they rest on this beautiful piece of live edge slab that makes the perfect kitchen shelf. As the light filters through this room, you'll crave a string of pearls to accompany your white pottery to add even more charm to the center of your home. The look and feel of this raw and natural wood slab blend into a modern farmhouse design as well as most modern contemporary looks.
21. Blonde and Beige Natural Slab Floating Shelf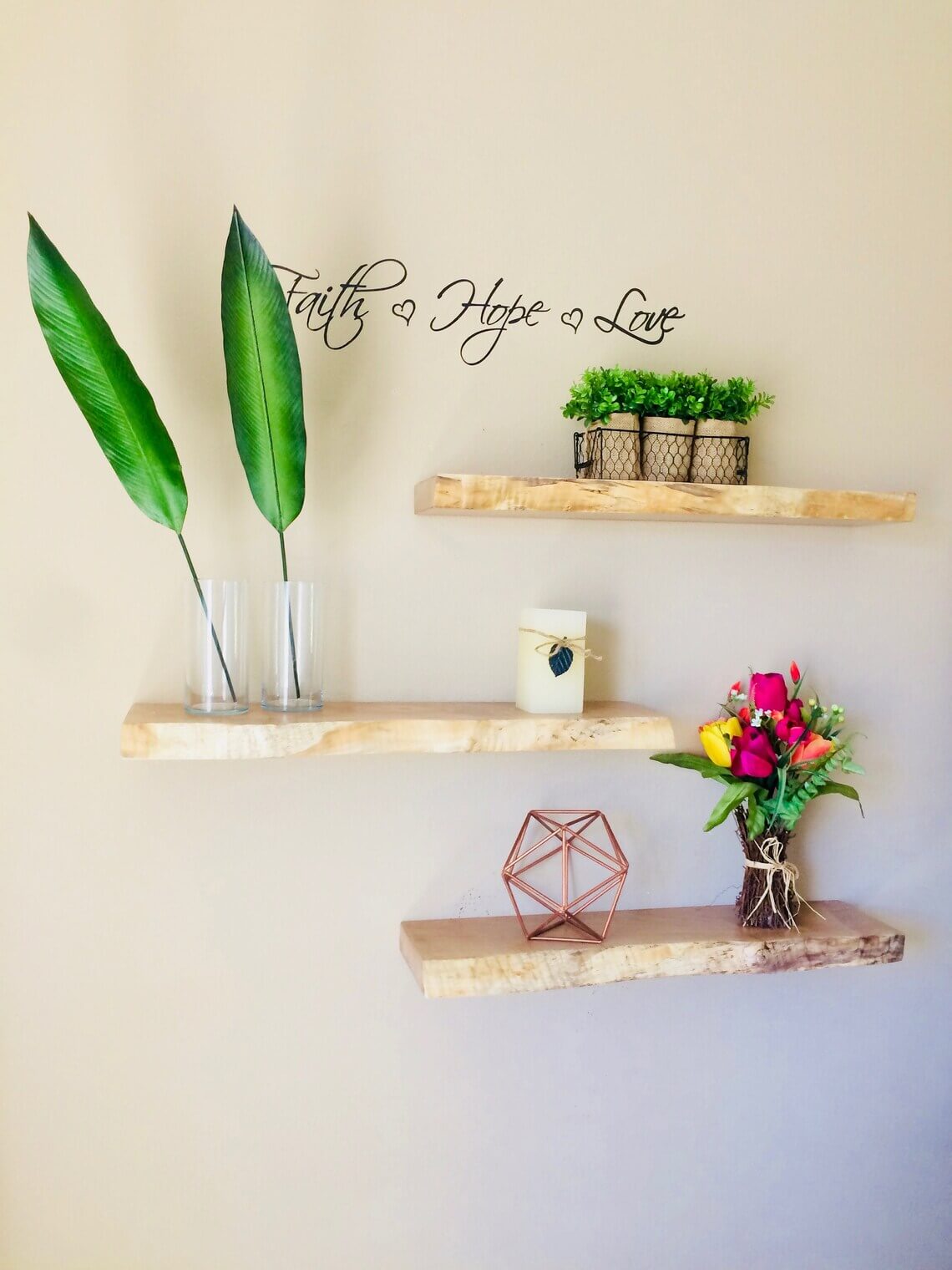 Hone in on the natural beauty of light-toned wood with this set of natural slab floating shelves. The breathtaking blonde and beige hues come to life as a focal point on your wall display. Sturdy enough to handle whatever you choose to perch upon them, these natural slabs are the ideal combination of rugged sophistication. The gorgeous texture nearly resembles a marble slab to give the overall look even more of a beauty factor. Enjoy this trio of floating shelves wherever you need to add a decorative touch to your home.
22. 3D Floating Wooden Box Shelf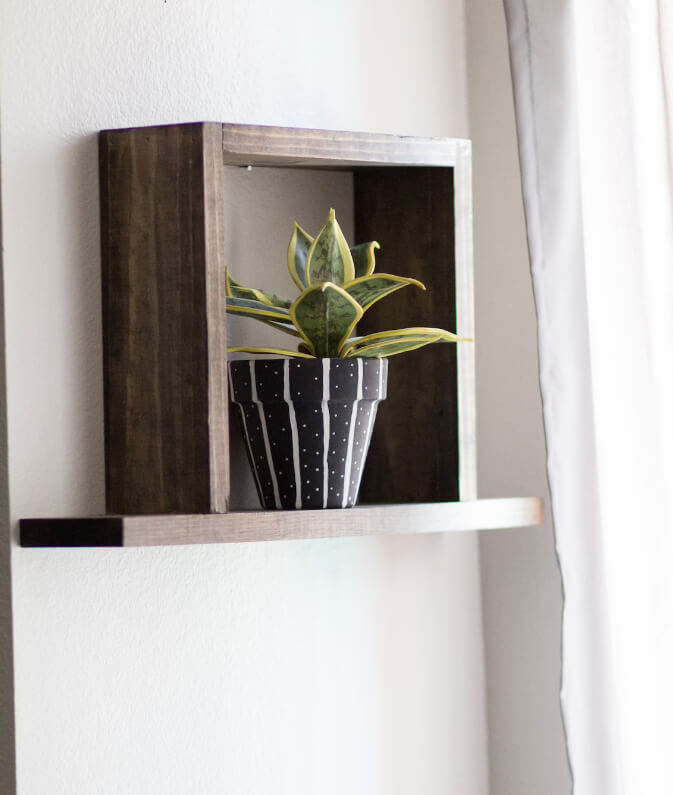 You'll love this unique wooden floating shelf that brings more than just a ledge for perching your miniature plants into your home. Closely resembling a top hat in its outlined form, this gorgeous wooden box shelf jumps out from the wall giving it a three-dimensional effect. You'll discover a nice interior within the box to show off your favorite treasure as well as space on top and besides for displaying a little more. A coat of your favorite stain will make this wooden masterpiece pop in any room of your home.
23. Corner Stained Wooden Floating Shelf System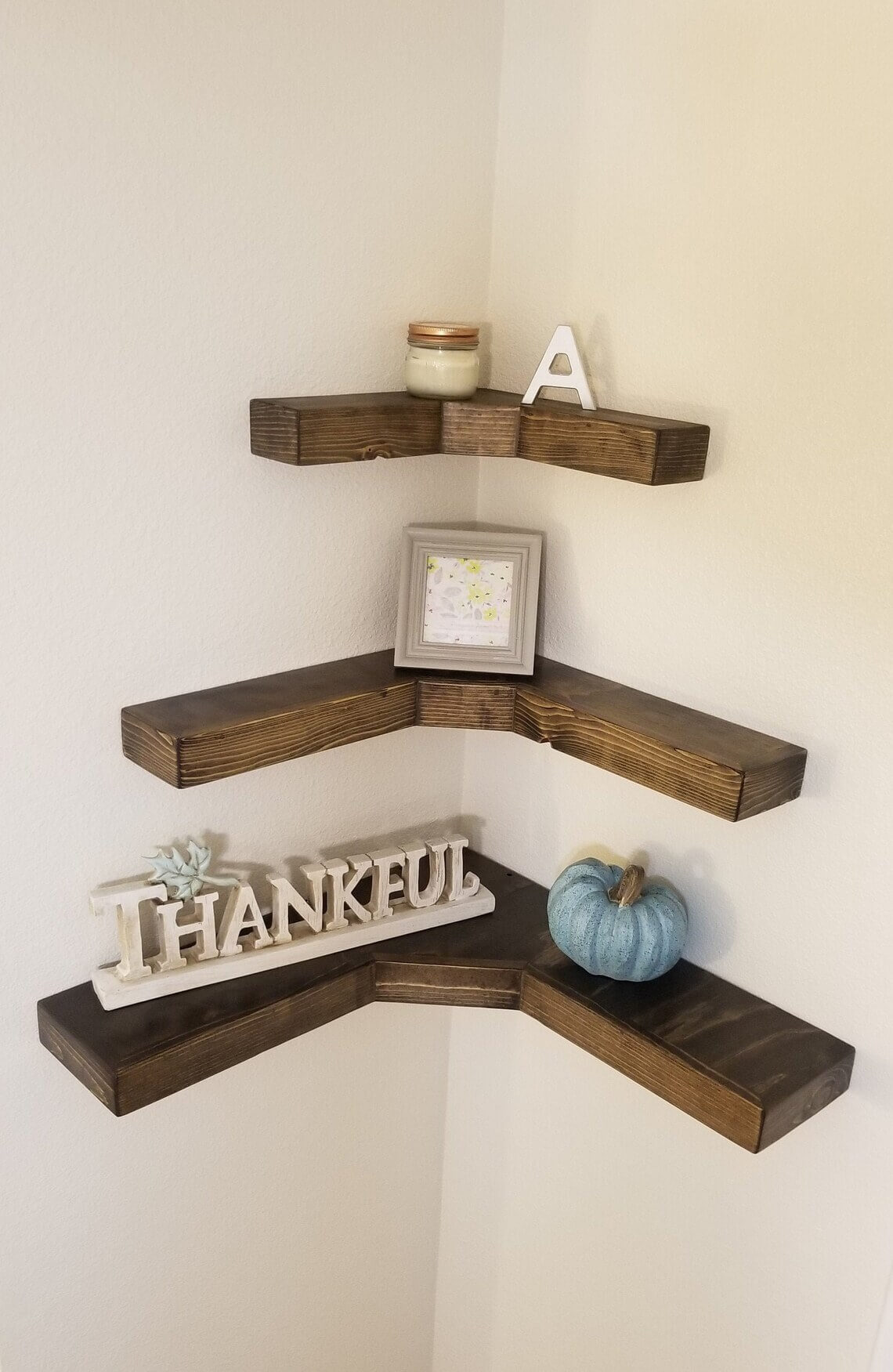 Make use of the wasted corner space in your home with this clever and crafty corner floating shelf system. Featuring three shelves in stair step lengths, you'll enjoy adorning them with your favorite treasures to add more beauty into the drab and overlooked corner of your living room. From candles to pictures, these corner shelves are great for housing your little home decorations collected over the years. Change it up each season to add a festive nook into your home. Place a set in your bathroom for easy access to nail polish or make-up to make your glam routine a bit more efficient.
24. Industrial Black Metal and Wooden Floating Ledge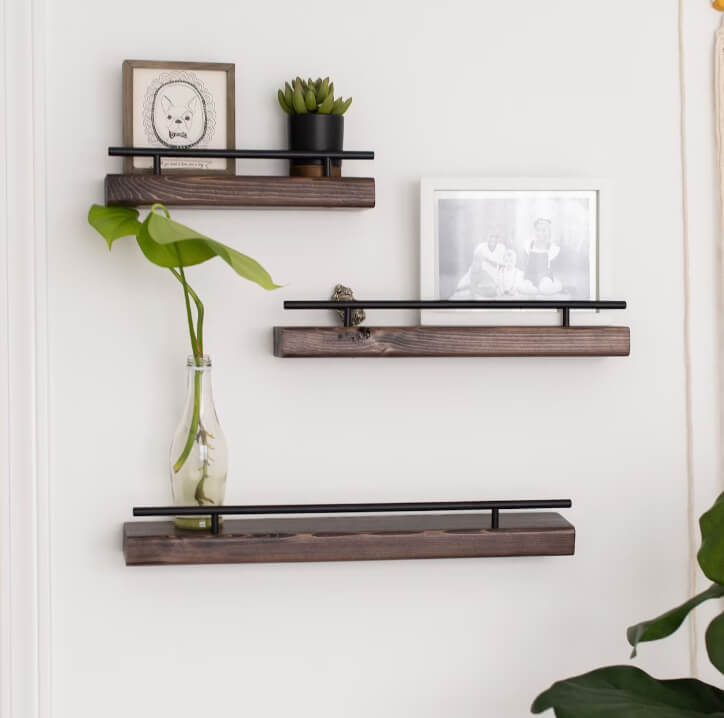 Just by including a clean-lined black metal rod, this wooden floating ledge becomes a focal point of home decor on your wall. The mixture of metal and wood adds an industrial and modern vibe to the interior space of your home. You'll be able to display pictures and plants until your heart's content with all of the ledge space offered from this set of floating shelves. Add them to a gallery wall or feature the three of them all together on one wall space. They work well in the main living space or within any bedroom of your home. Line up beauty products for a perfect bathroom storage solution, or place one underneath your kitchen cabinets for a new spice rack.
25. Squared and Simple Natural Wood Floating Box
Here's a spin on the floating shelf trend. Simply squared, this natural wooden creation comes to life providing two shelving units into one decorative piece. Set your favorite trinkets on the top, inside, or both to make the perfect home decoration. You can't go wrong by adding a plant or two, especially one that has cascading tendrils to spill out from the center of the natural wooden box. The look of the untouched blonde wood is a magical partner for any small plant you choose to feature with this floating box decoration.
26. Clean White Modern Built-In Floating Shelves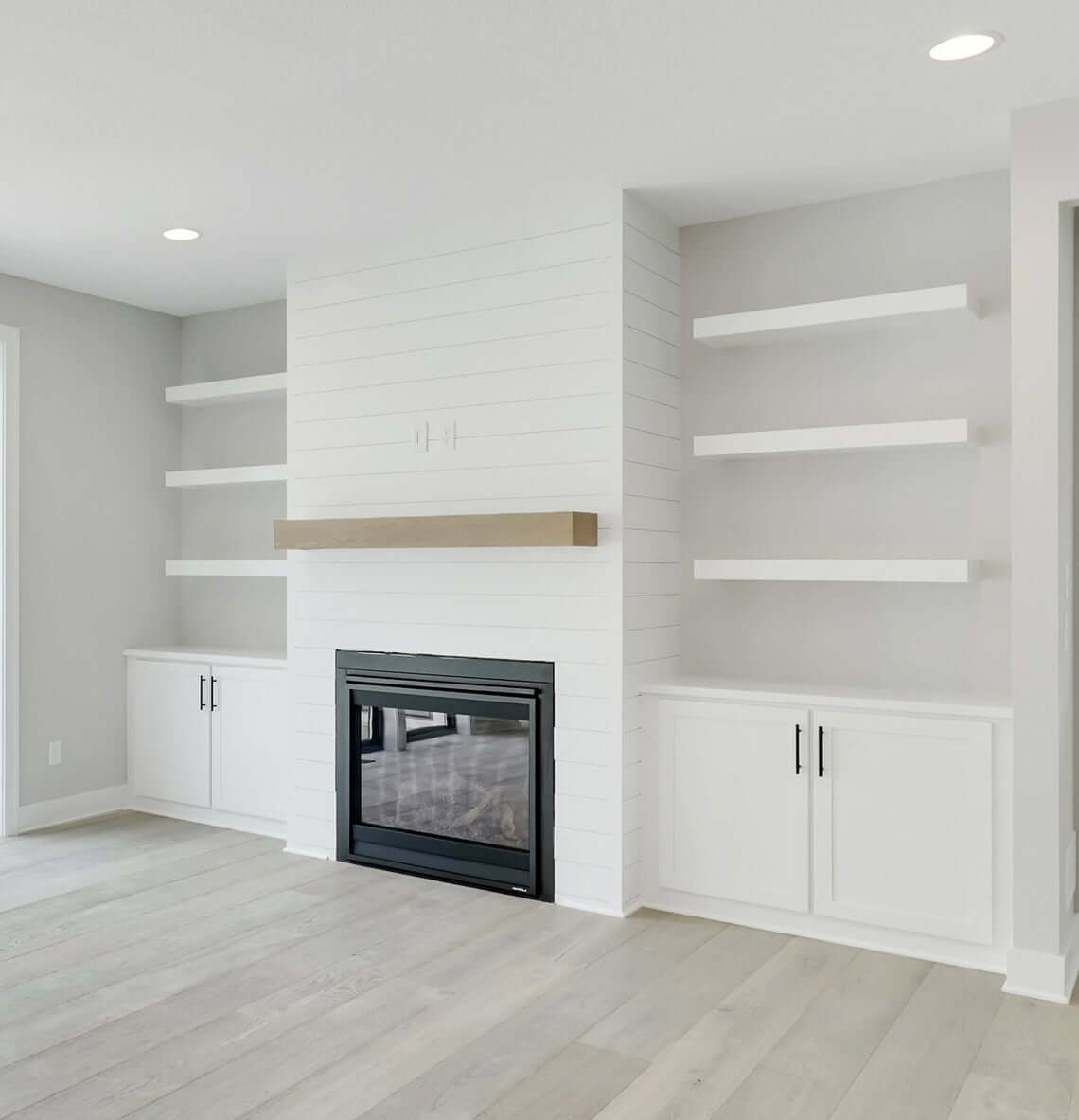 Re-think and re-visit the popular built-ins of yesteryear with these fabulous crisp and clean white modern floating shelves. They certainly fulfill the same purpose, but do so in a much more modern look and feel. You'll love the clean lines and immense storage bestowed by this current entertainment wall. Not only will you have plenty of room for your favorite media, but you'll utilize the extra space to house your favorite houseplants, pictures, and seasonal decor. You may even choose to designate one side as a homework station where these floating beauties organize all of your school supplies quite nicely.
27. Geometrical Wooden Floating Hexagon Shelf System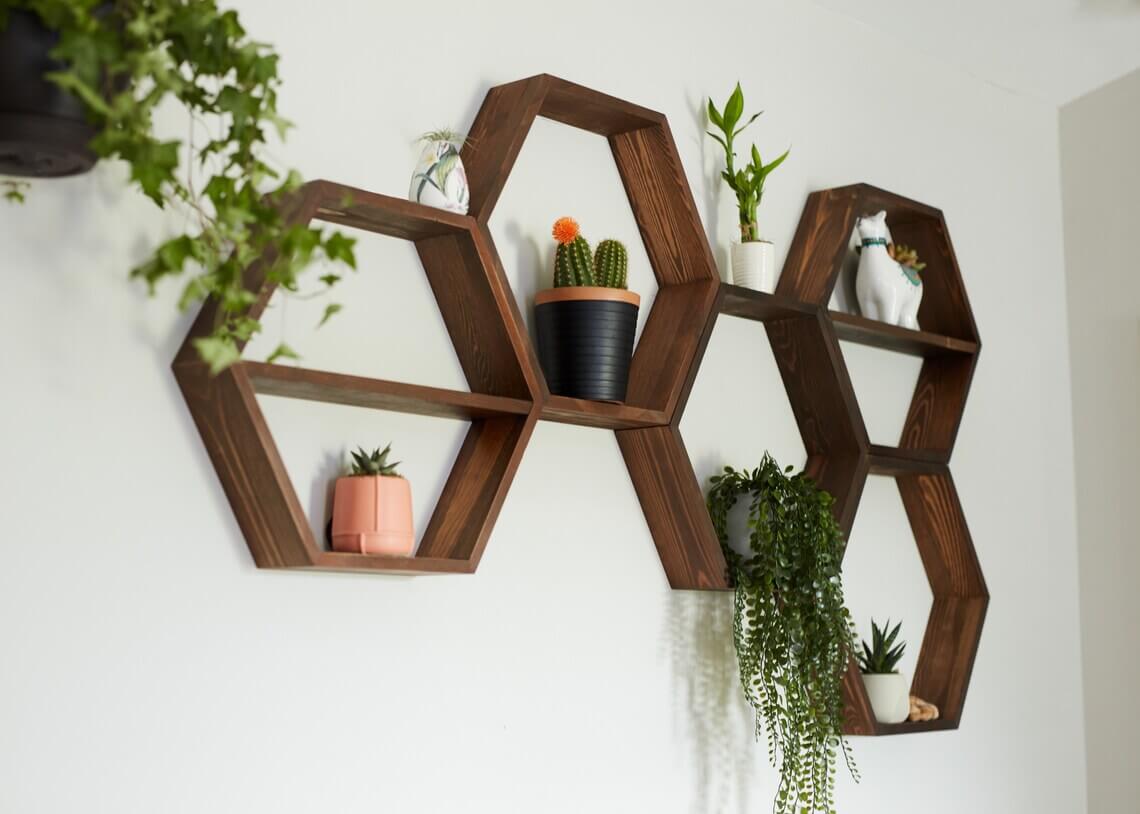 Style and storage unite as one superpower in this amazing geometrical wooden floating shelf system. With an abundance of nooks and crannies to fill, you'll delight in setting your tiny succulents for everyone to admire. Add this to a teen bedroom for a fresh look or hang it on the staircase wall to add much-needed style to this often overlooked and unused wall space. As each hexagon pops from the wall, they connect to form an interesting modern design that's perfect for your contemporary space.
28. Small Square Distressed White Wooden Floating Shelves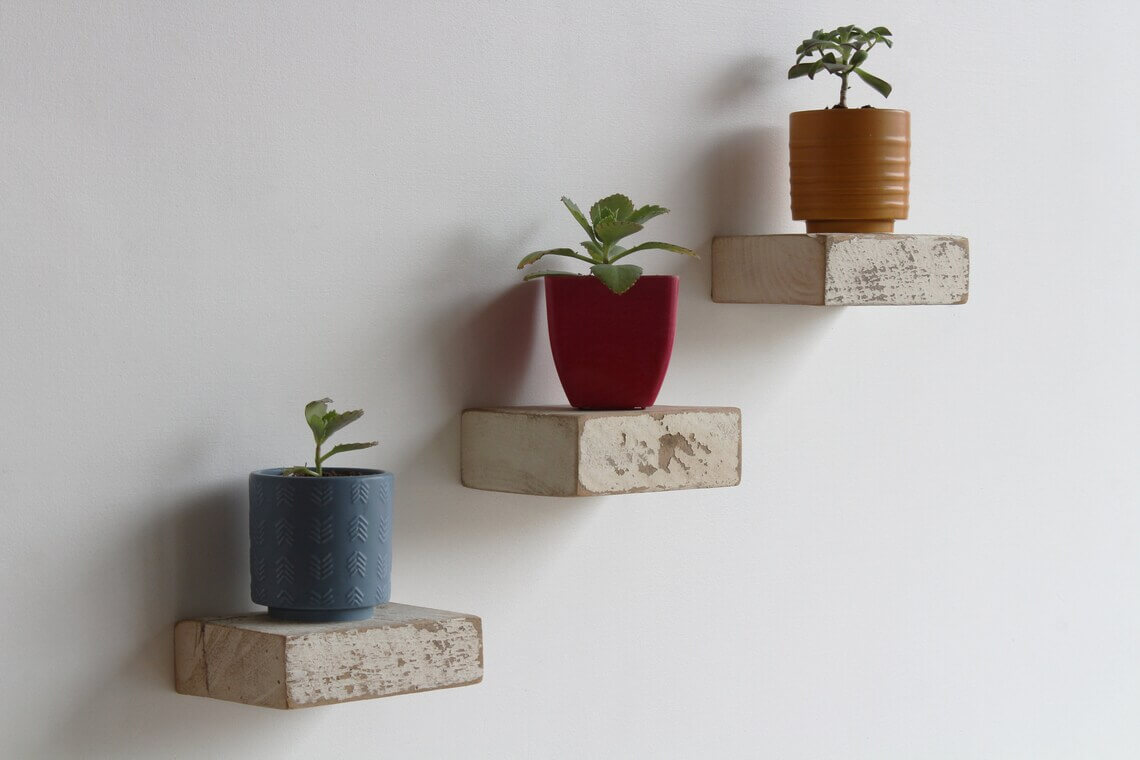 Imagine your own miniature staircase of plants rising up a blank wall in your home. Turn it into a reality by adding these small wooden squares to your decor. Each square features a beautiful shabby chic white distressed finish that's a fabulous compliment to most any style of today's decor. Line them up or spread them throughout the rooms of your home to fill it with character and charm. Arrange a group of them in the home office to hold your pens, paperclips, and rubber bands to keep more of your desk space freed up for work.
29. Plain and Simple Single Wooden Floating Shelf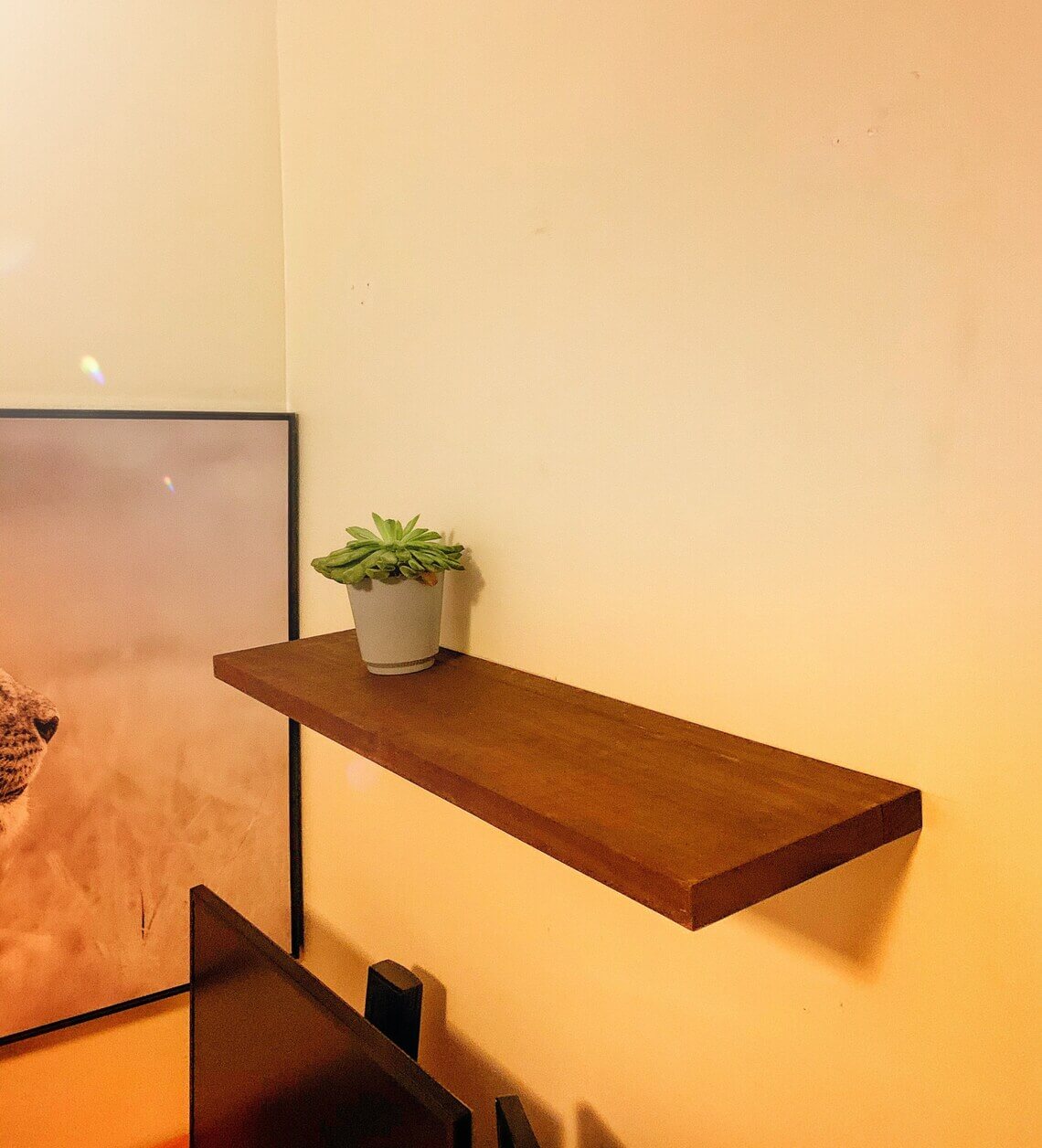 They say less is more and this solitary floating shelf proves that to be true. Crafted in squared edges and straight lines, this single piece of wood makes a perfect and simple shelf for your home. Use your choice of wood stain to incorporate it into any room of your home. Hang this in your foyer or mudroom for a welcoming display on the wall and a ledge to hold your keys. The simplicity of this design makes it work in every room of your home and its plain nature lets the other decorative powerhouses you've collected remain the main attractions.
30. Simple and Elegant Long Floating Shelves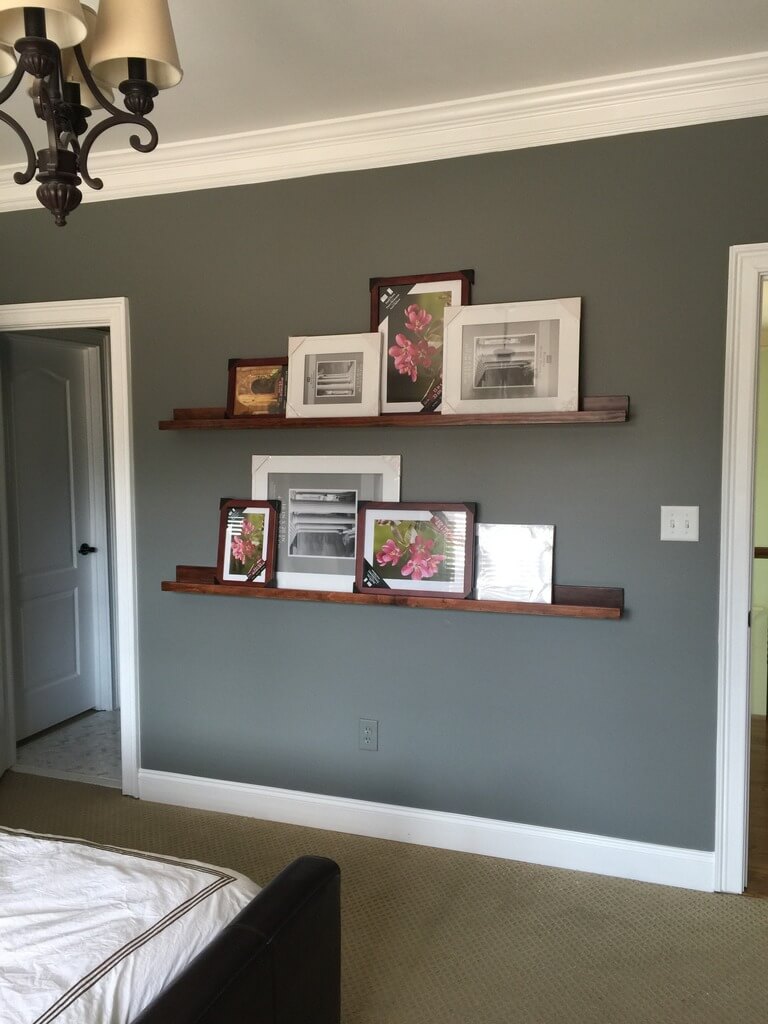 31. Space Saving Practical and Pretty Corner Shelves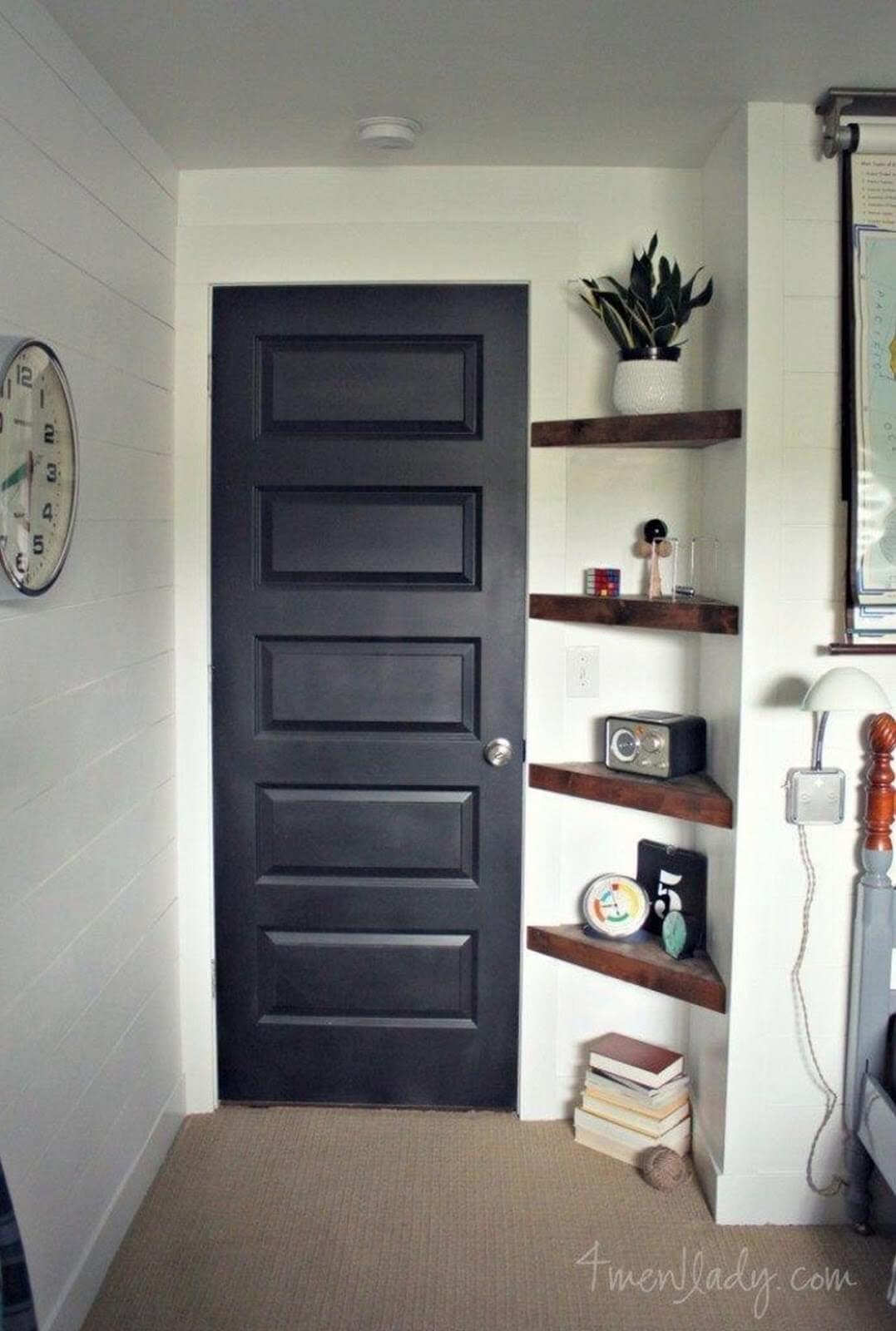 32. Simplistic Clean and White Art Gallery Style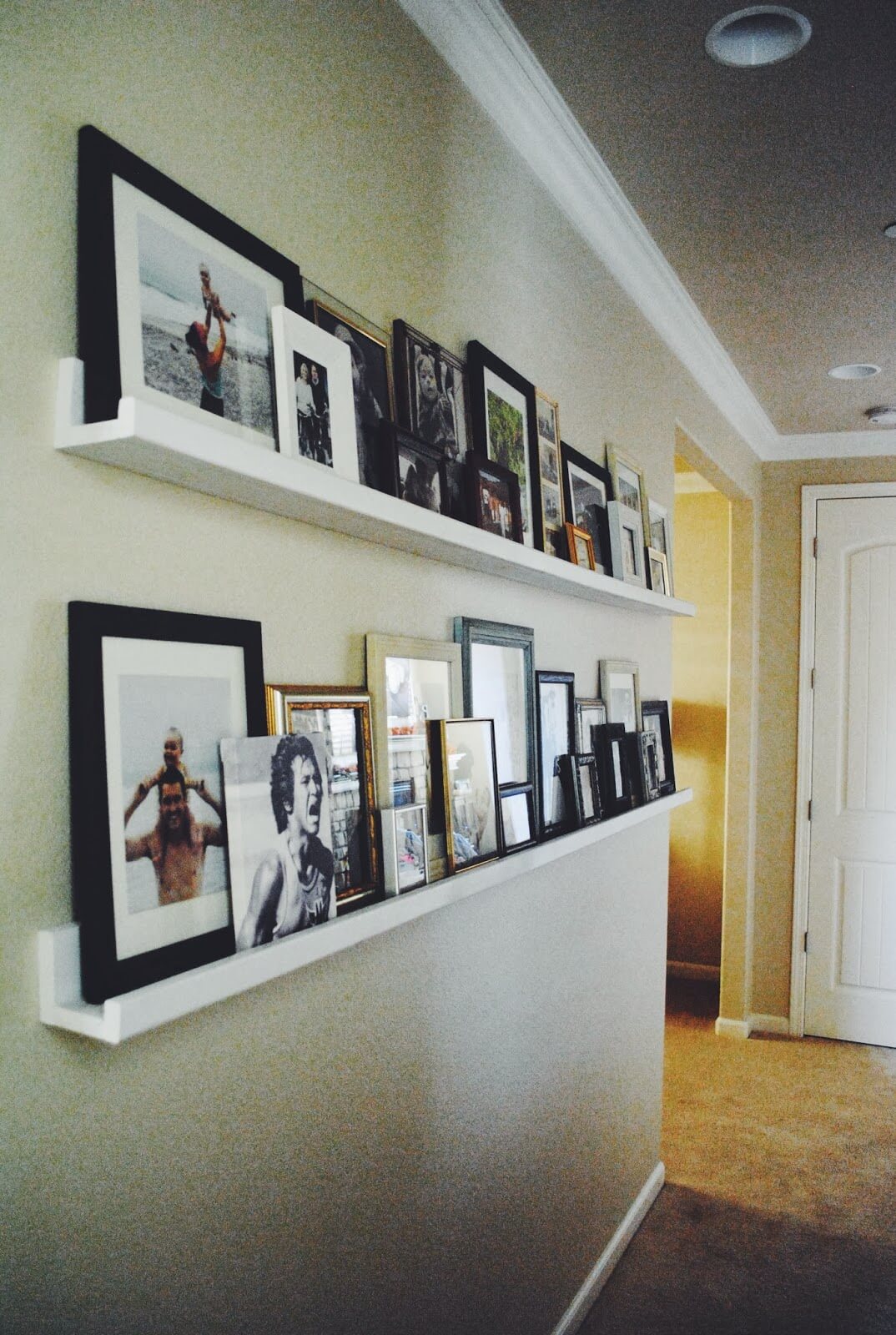 33. Cozy Country Crates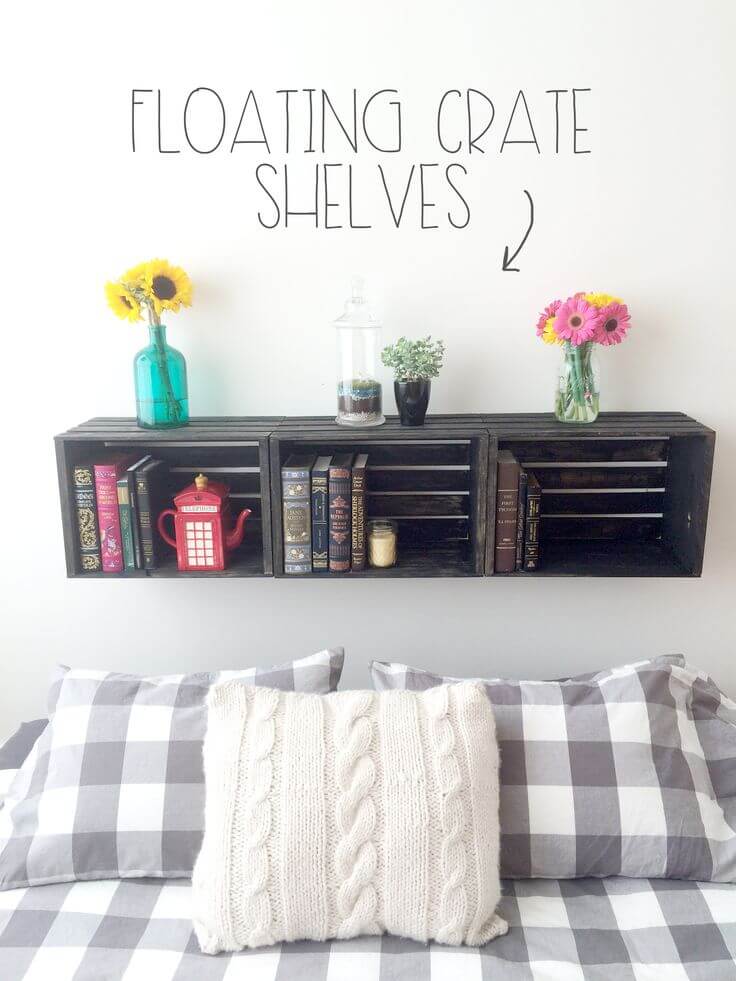 34. Elegant Farm Style Kitchen Heavy Duty Floating Shelves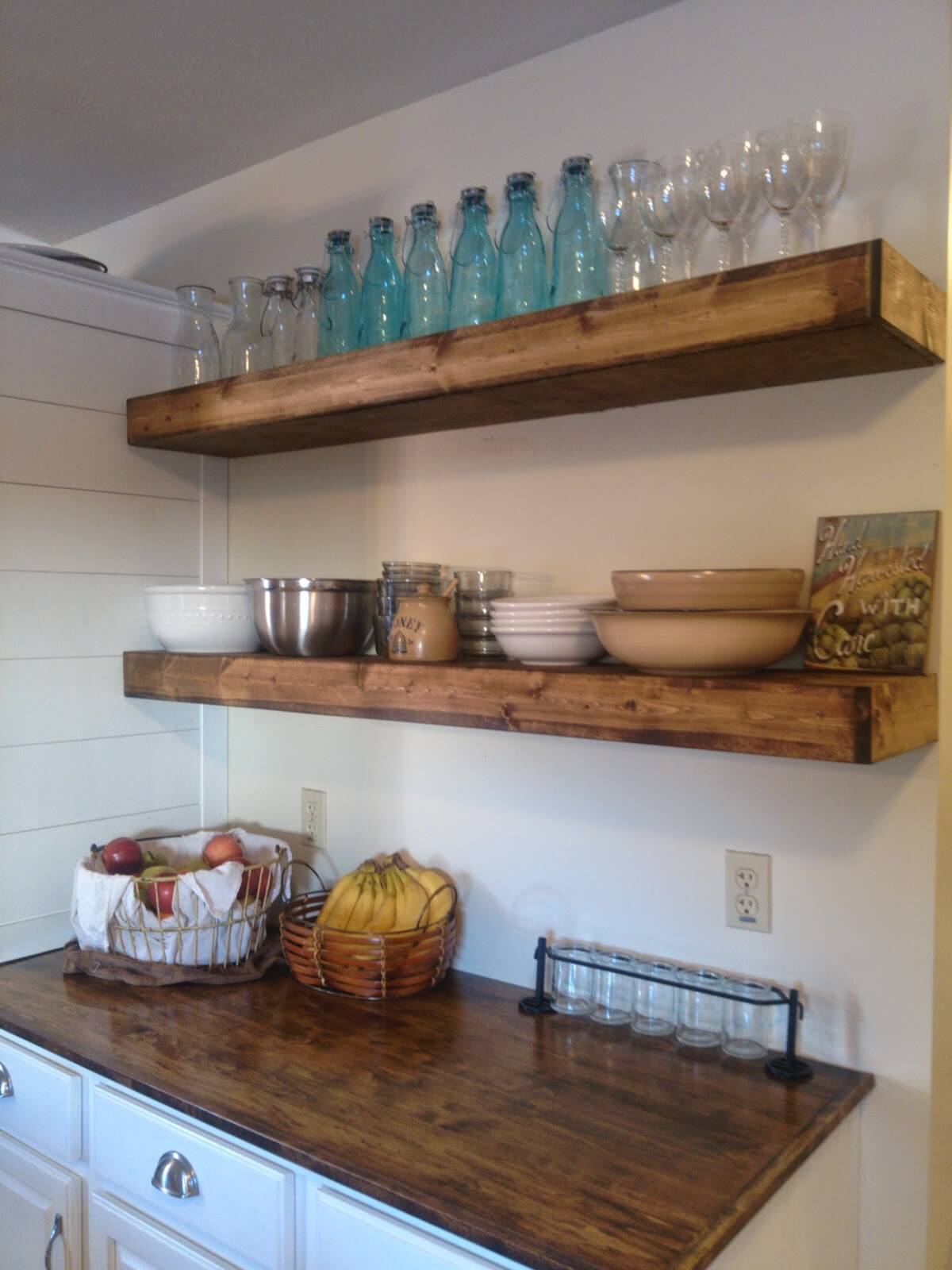 35. Artistic Hexagons for your Living Area

36. Pretty Wood Panel with Cantilevered Shelves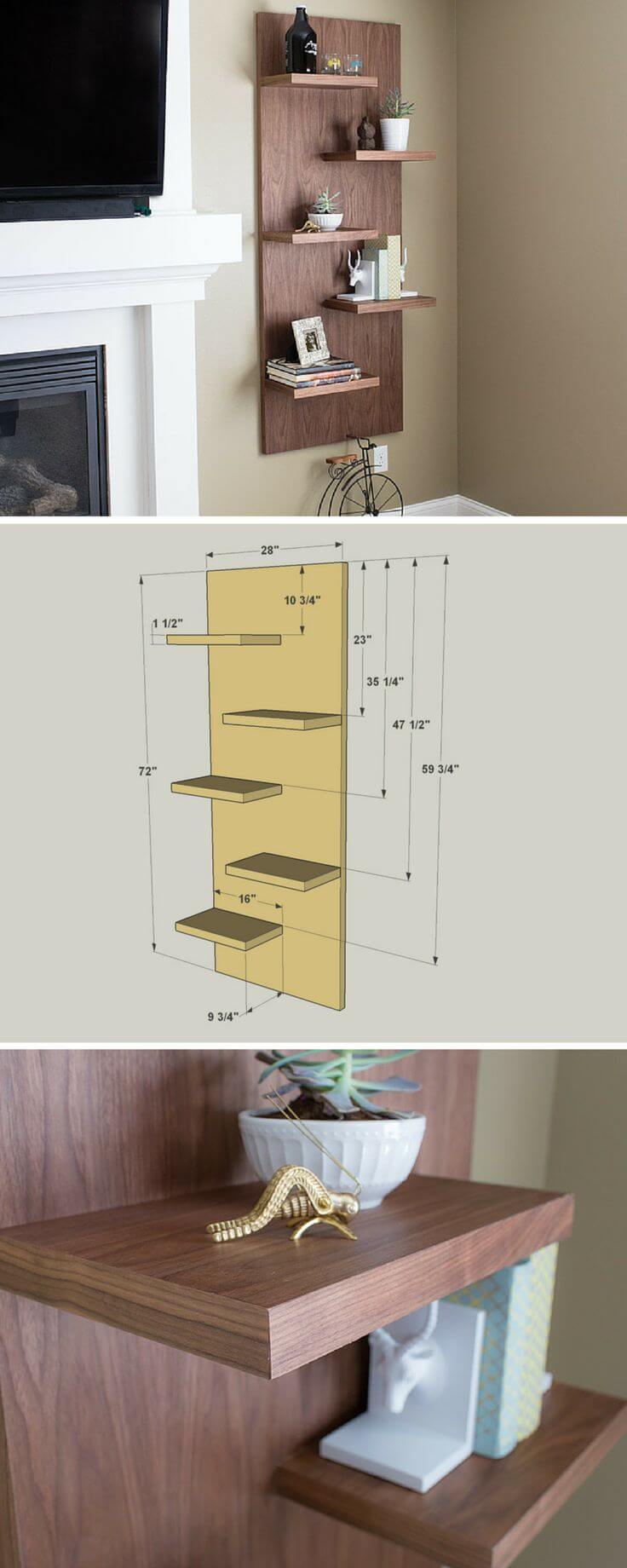 37. Creative Clouds for the Kids Room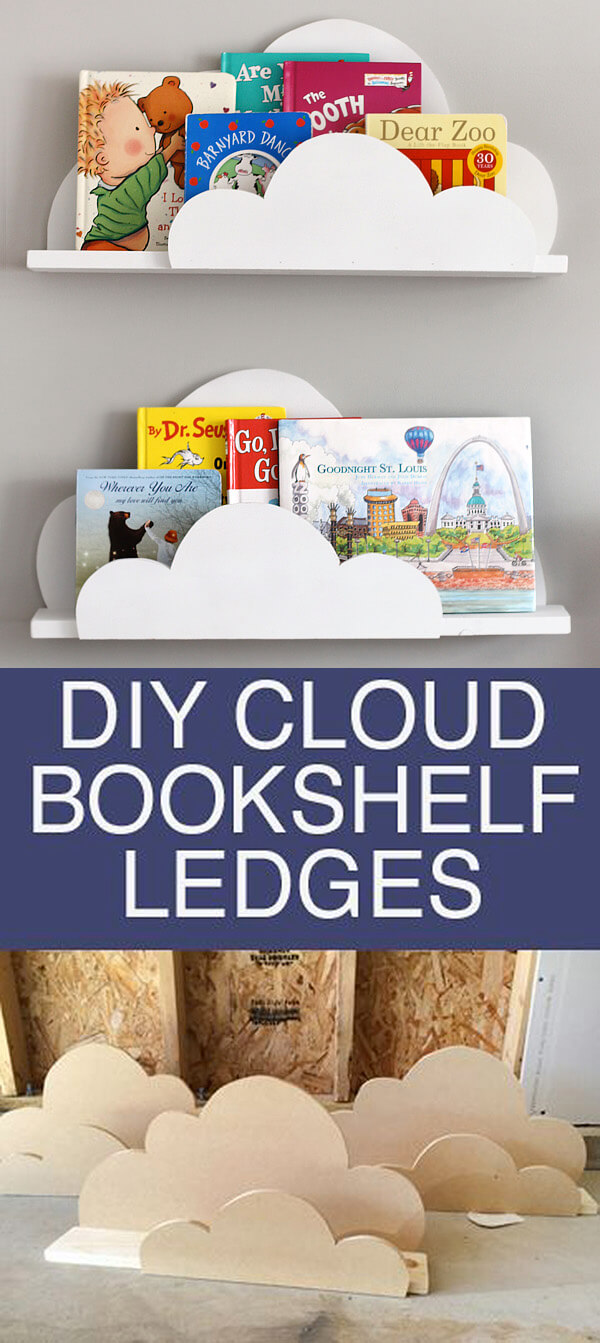 38. Hide the Remote! Secret Storage Shelves

39. Fun and Simple Slide-In Shelving

40. Country Studded and Beautifully Stained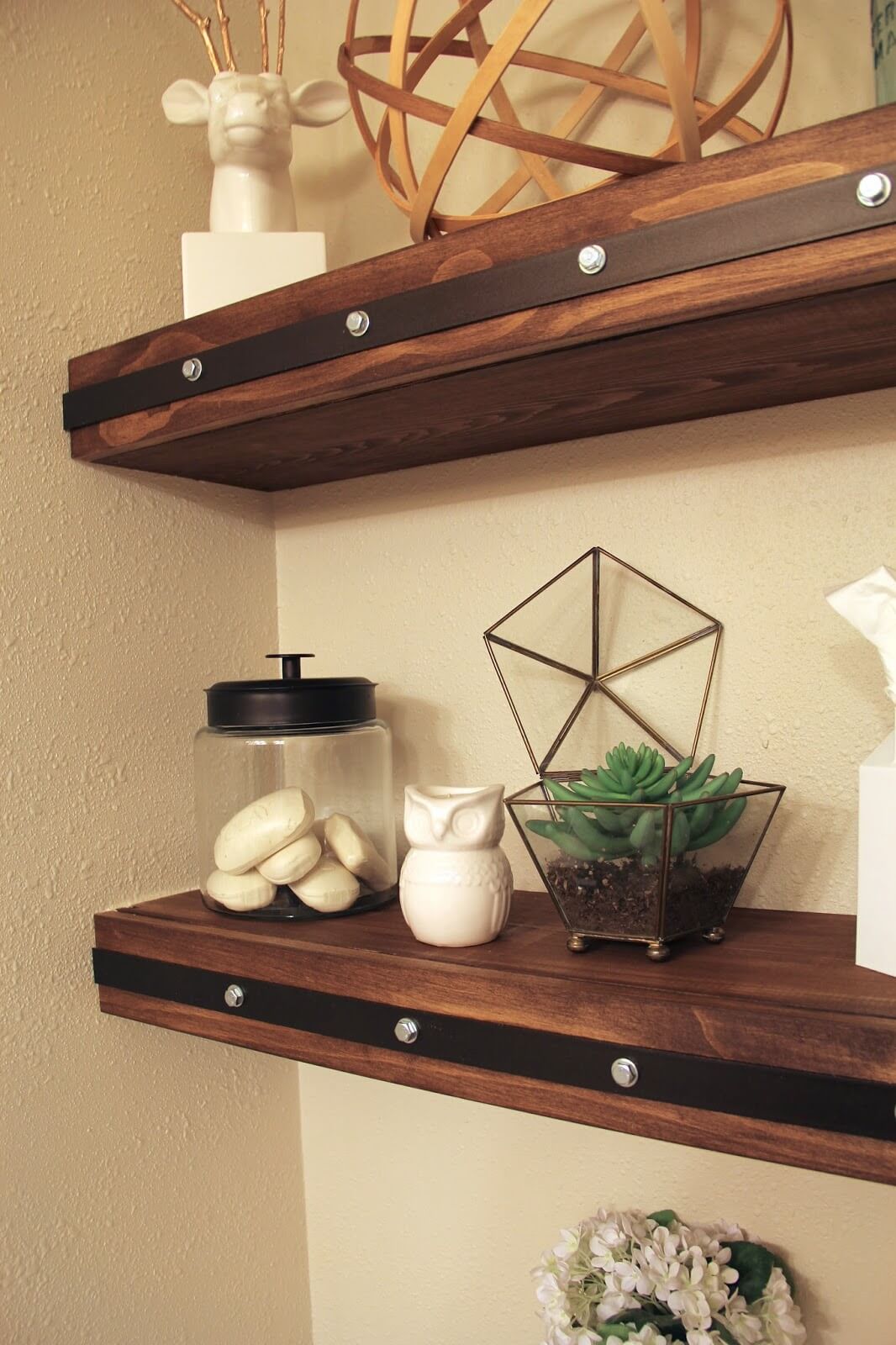 41. Entire Wall Stacked Shelving for your Dining Area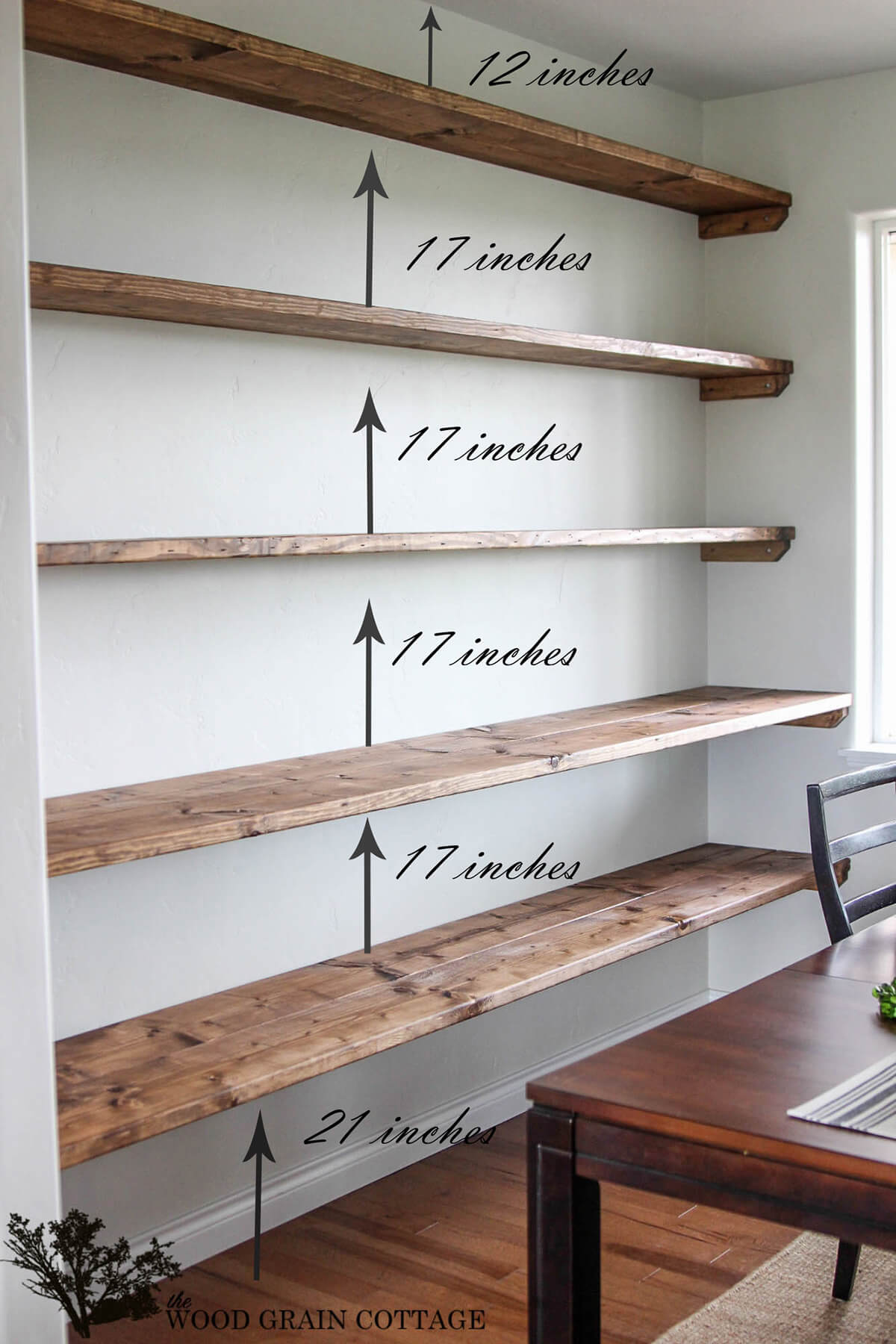 42. Floating Planters on a Birch Base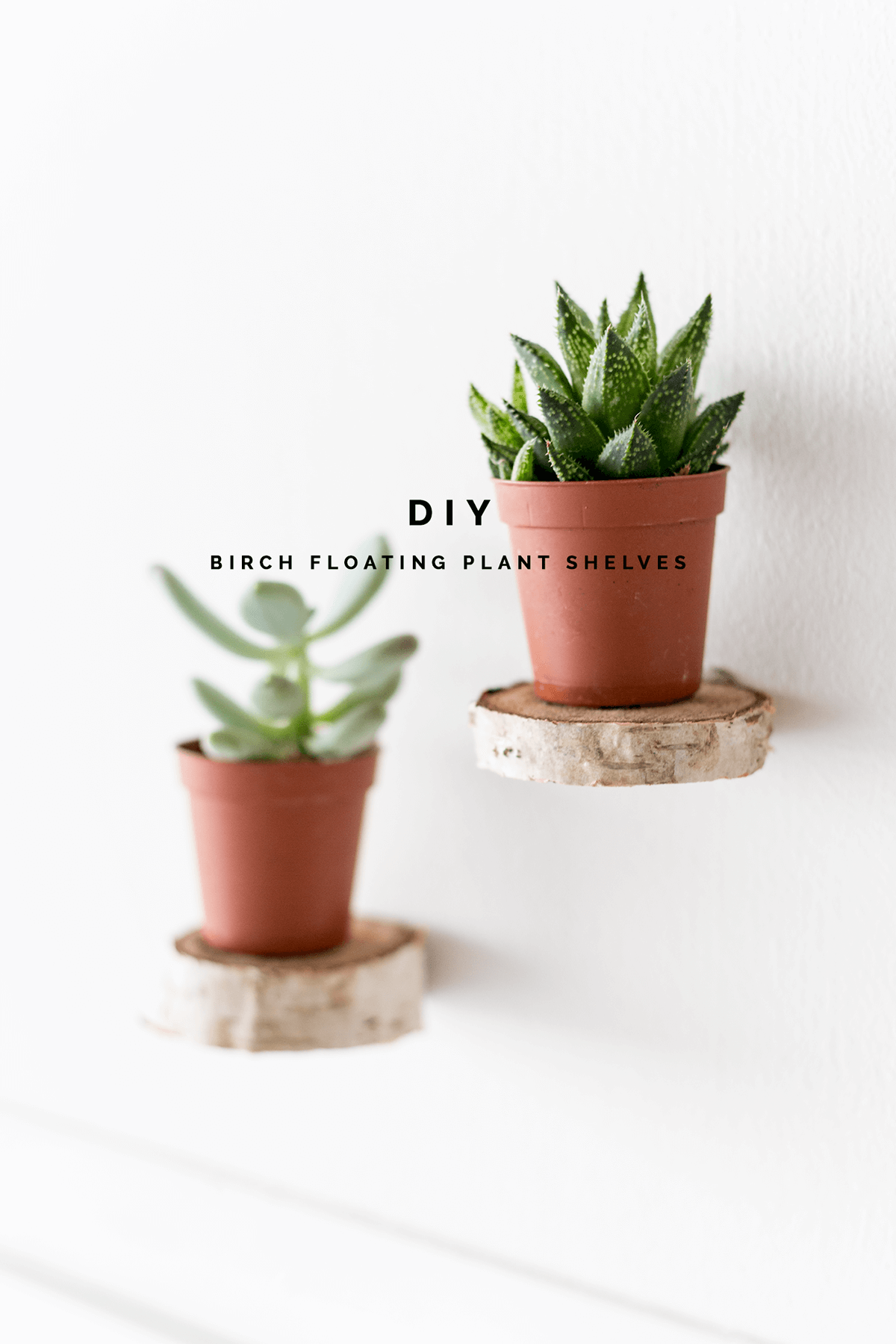 43. Heavy Duty Culinary Storage for the Kitchen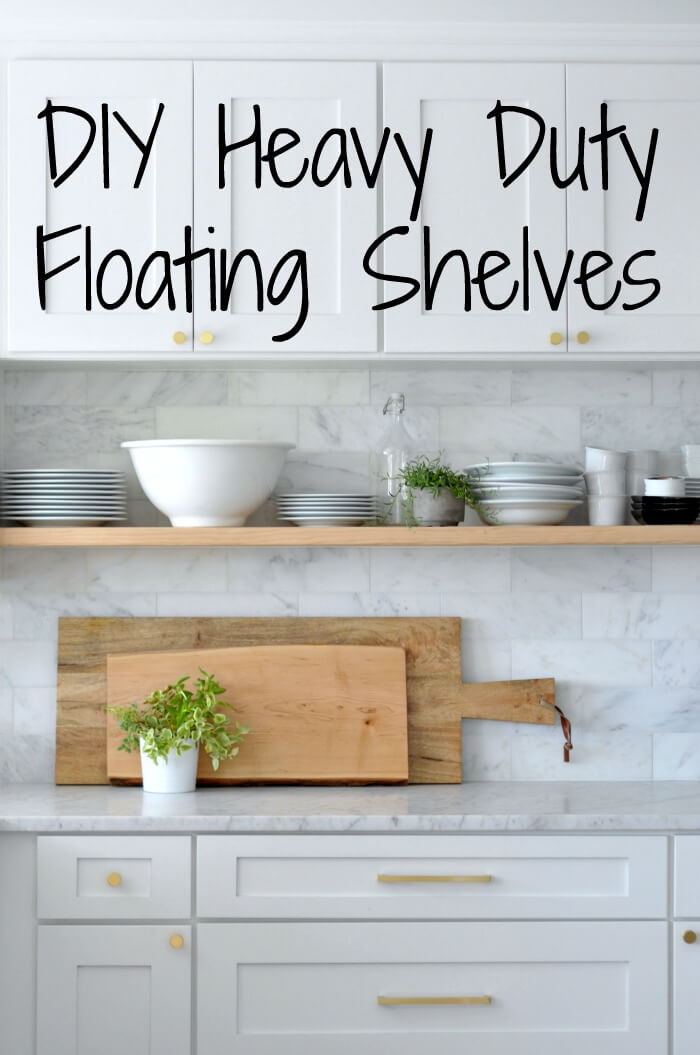 43. Corner Nook L-Shaped Art Display Space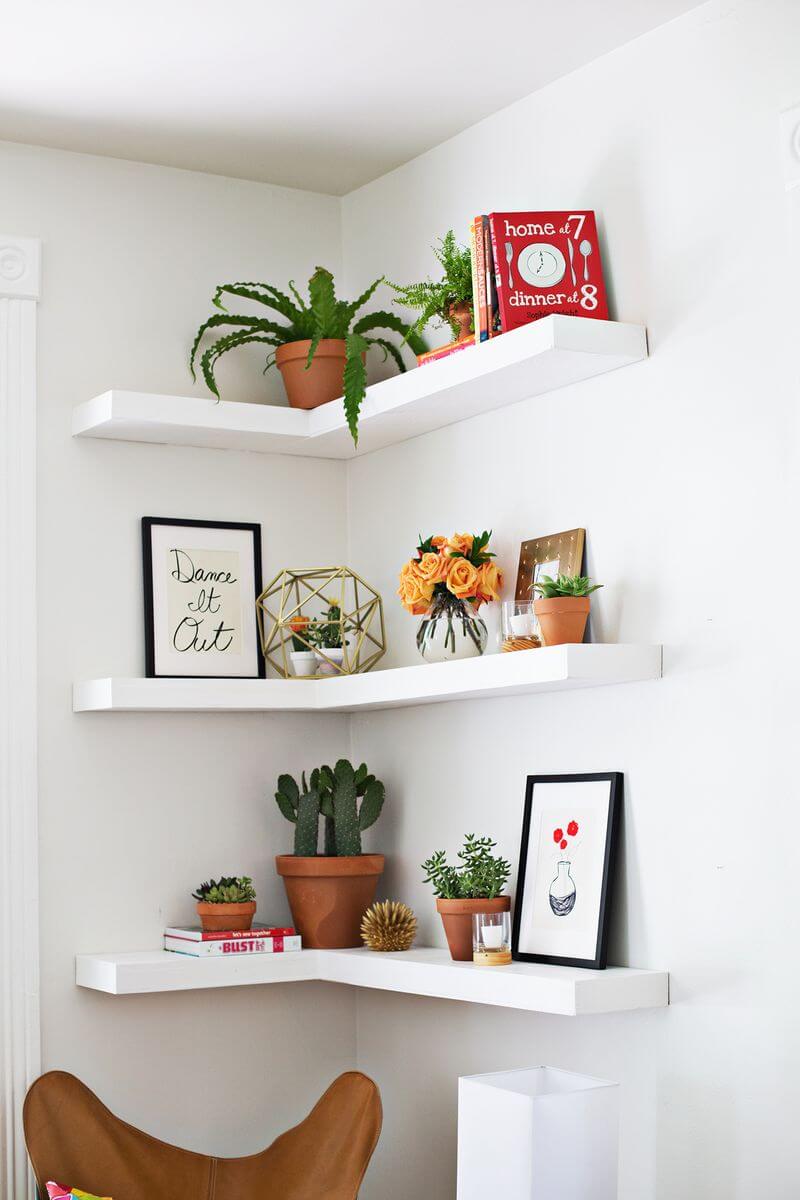 44. Make a Rustic Style Mantel

45. Cheat a Little DIY Shelves with Ikea Brackets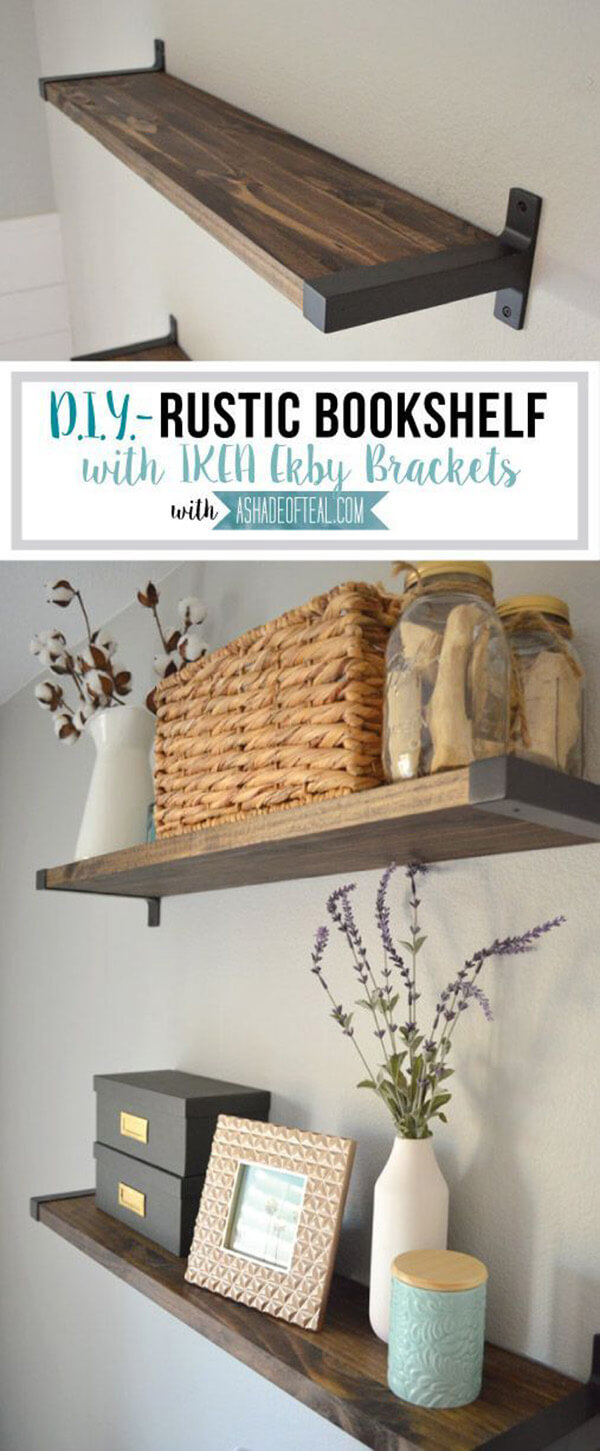 46. Elongated Shadow Box-Style Storage Idea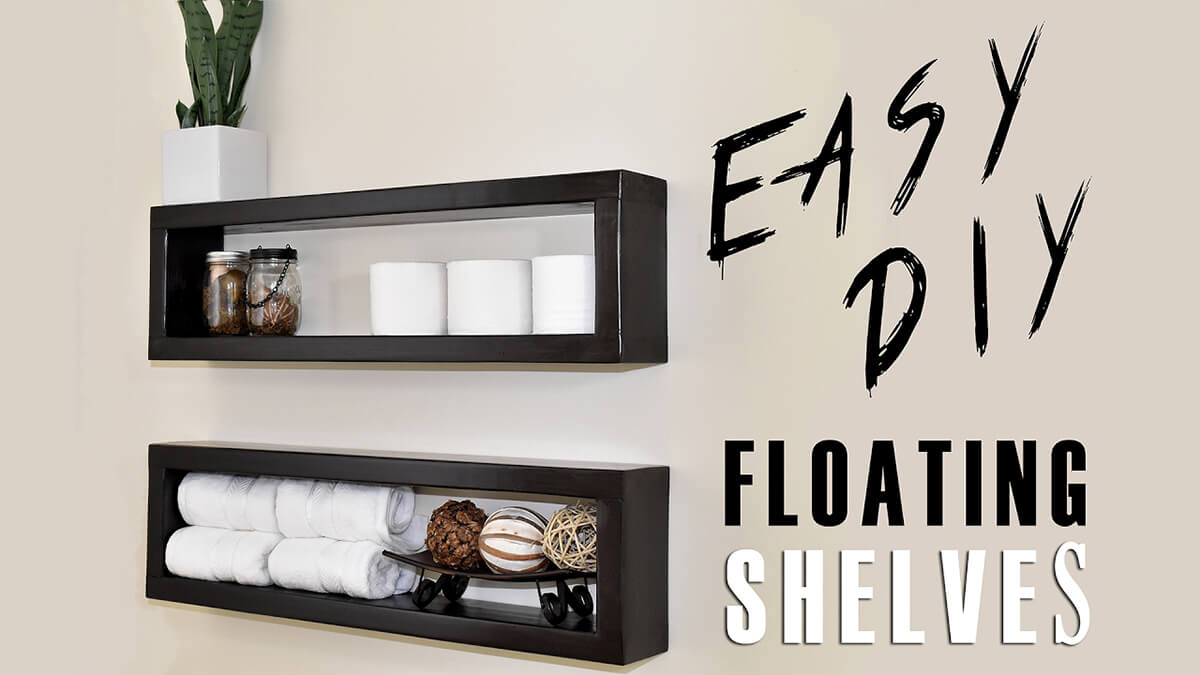 47. Comfy Breakfast Nook Display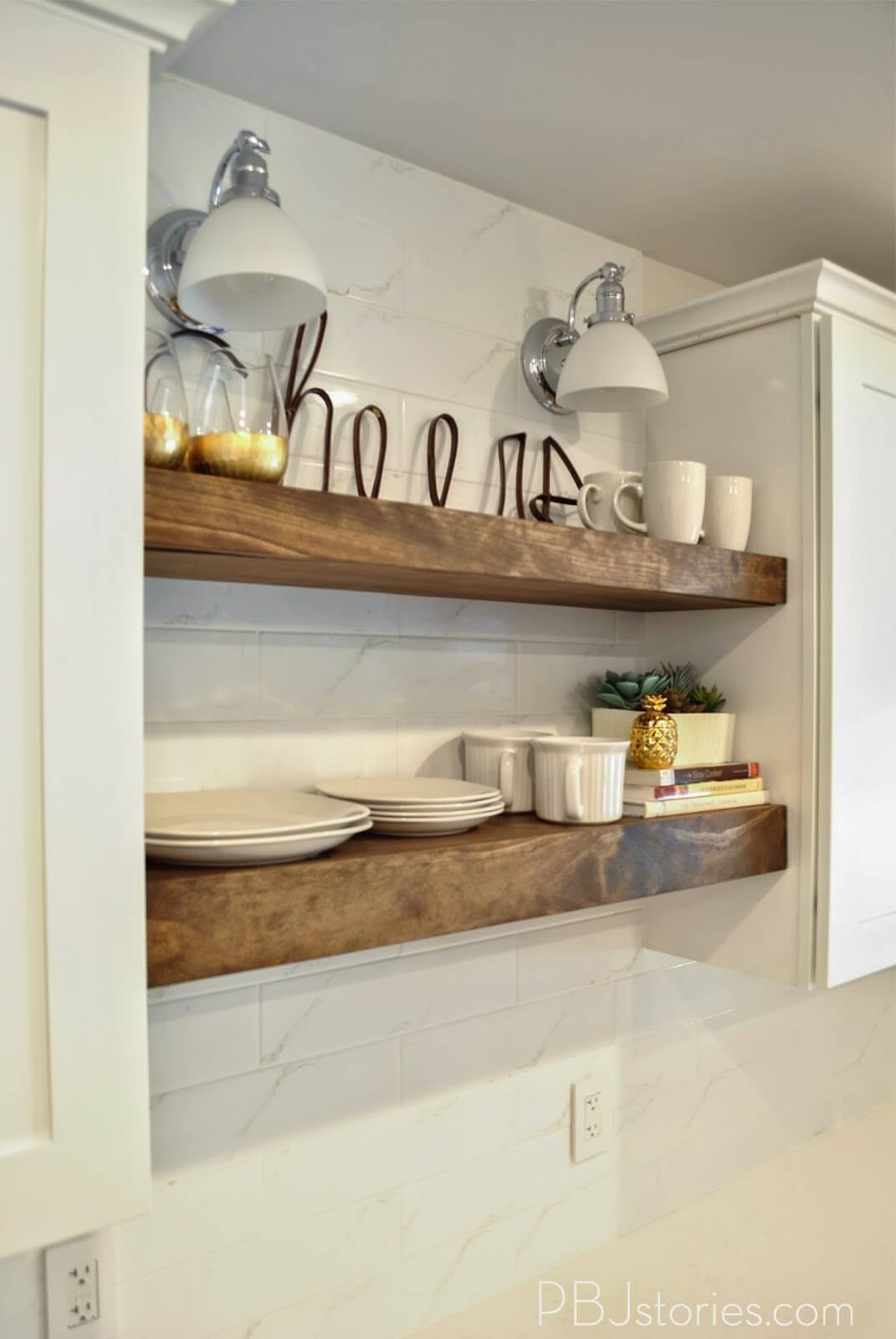 48. Big and Bold Shelf Idea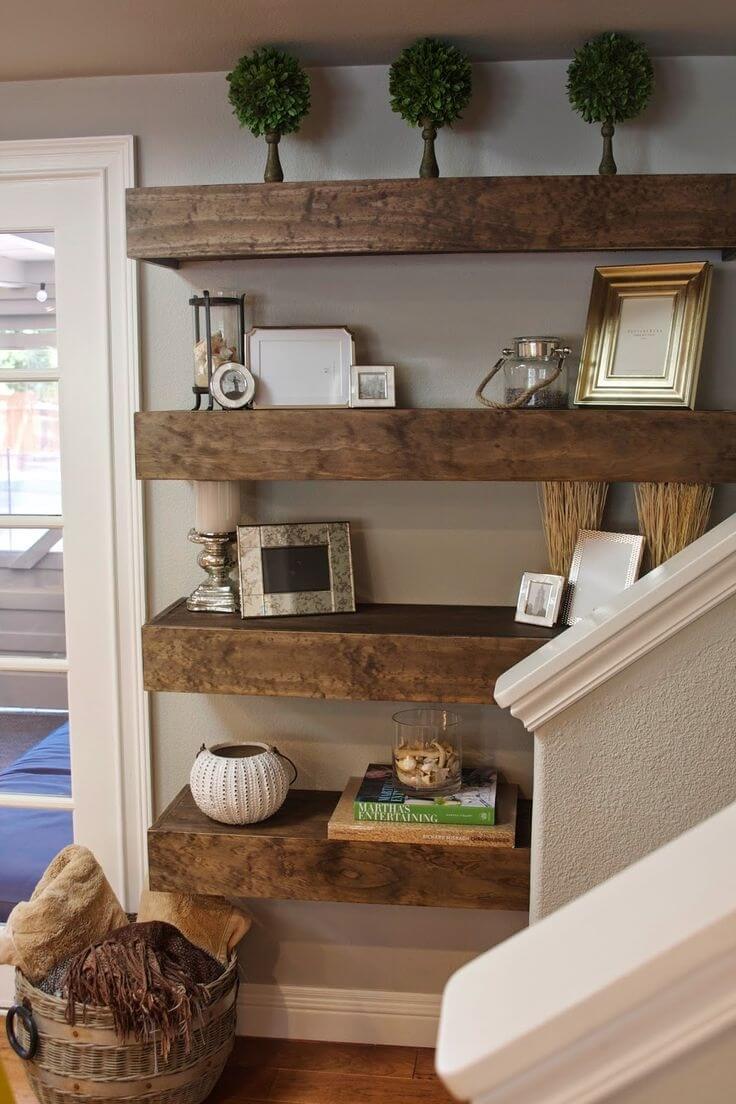 47. Cute and Creative Entryway Display and Storage Solution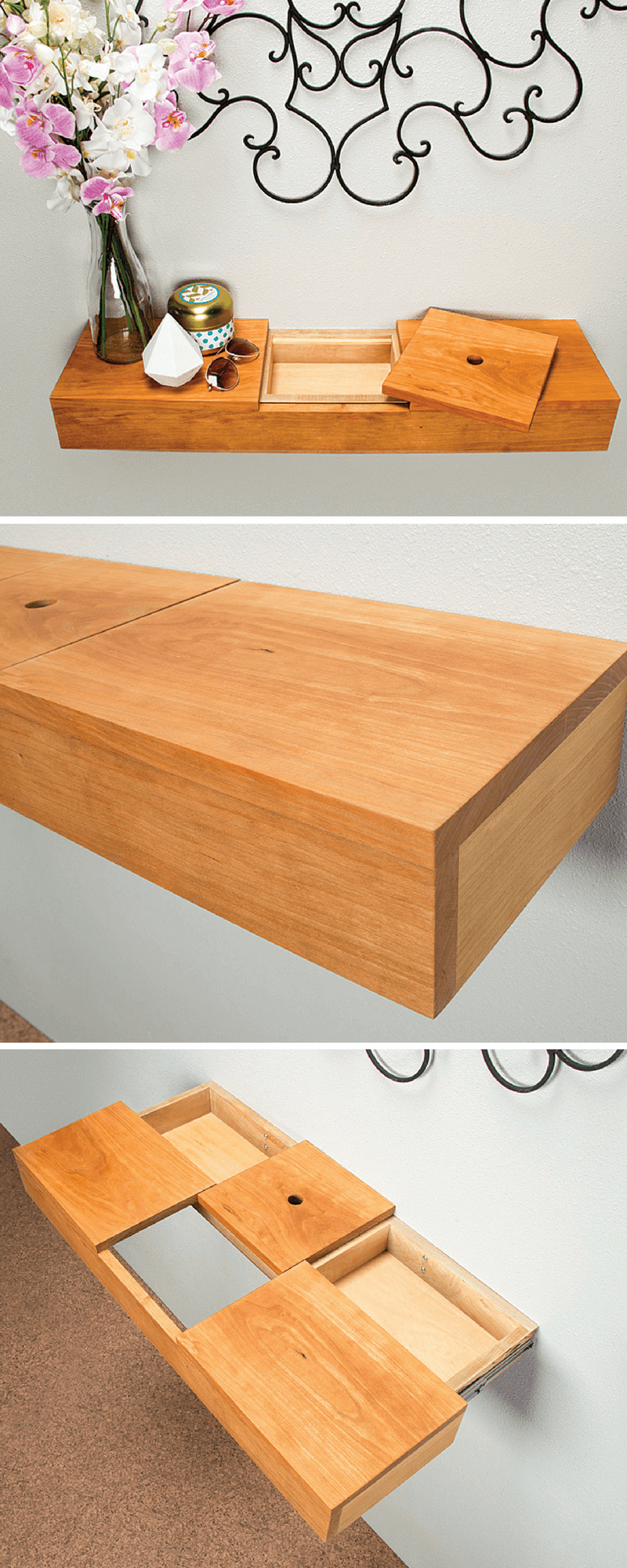 48. Crystal Clear Sunny Place for your Plants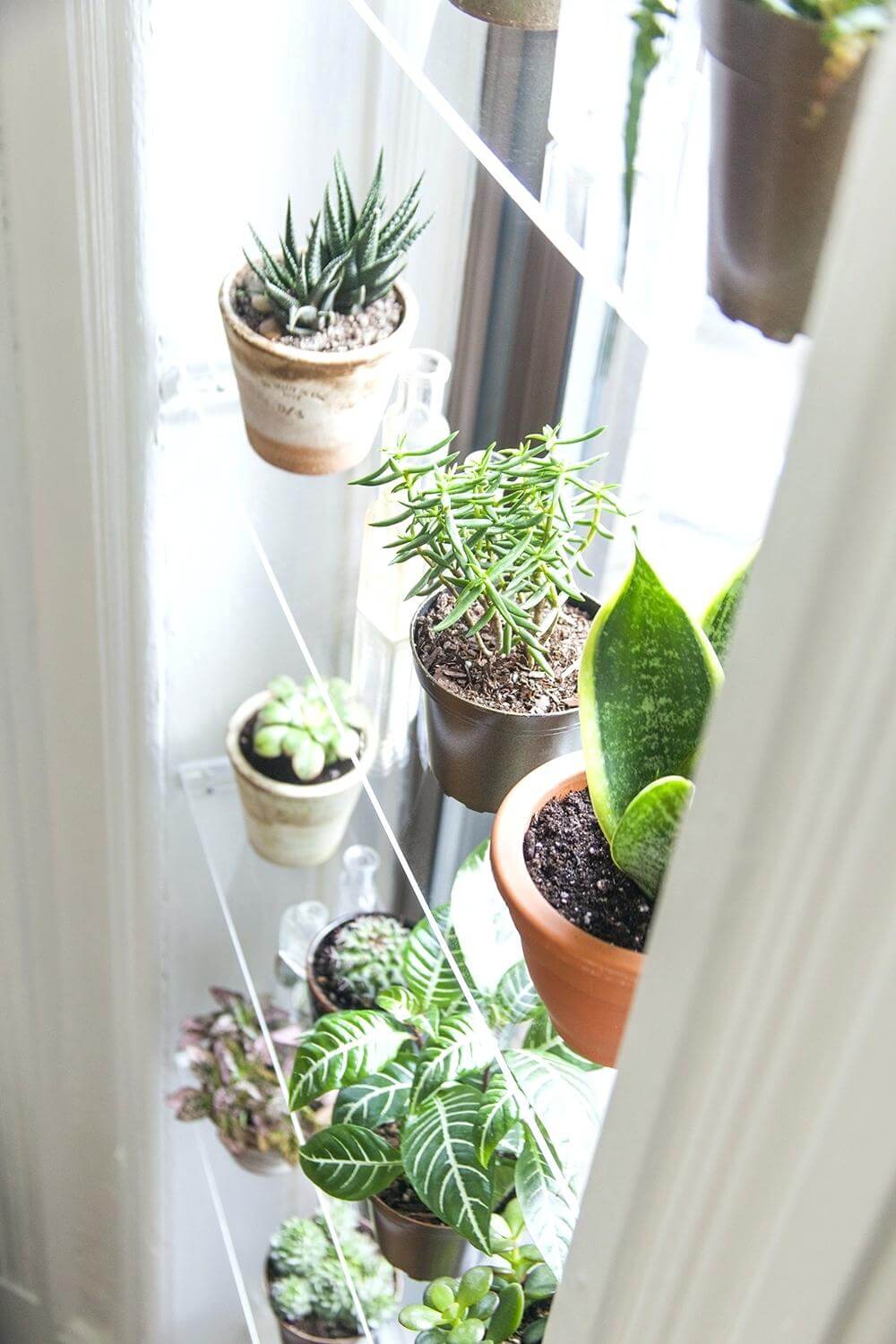 49. Two-Toned and Clean Cut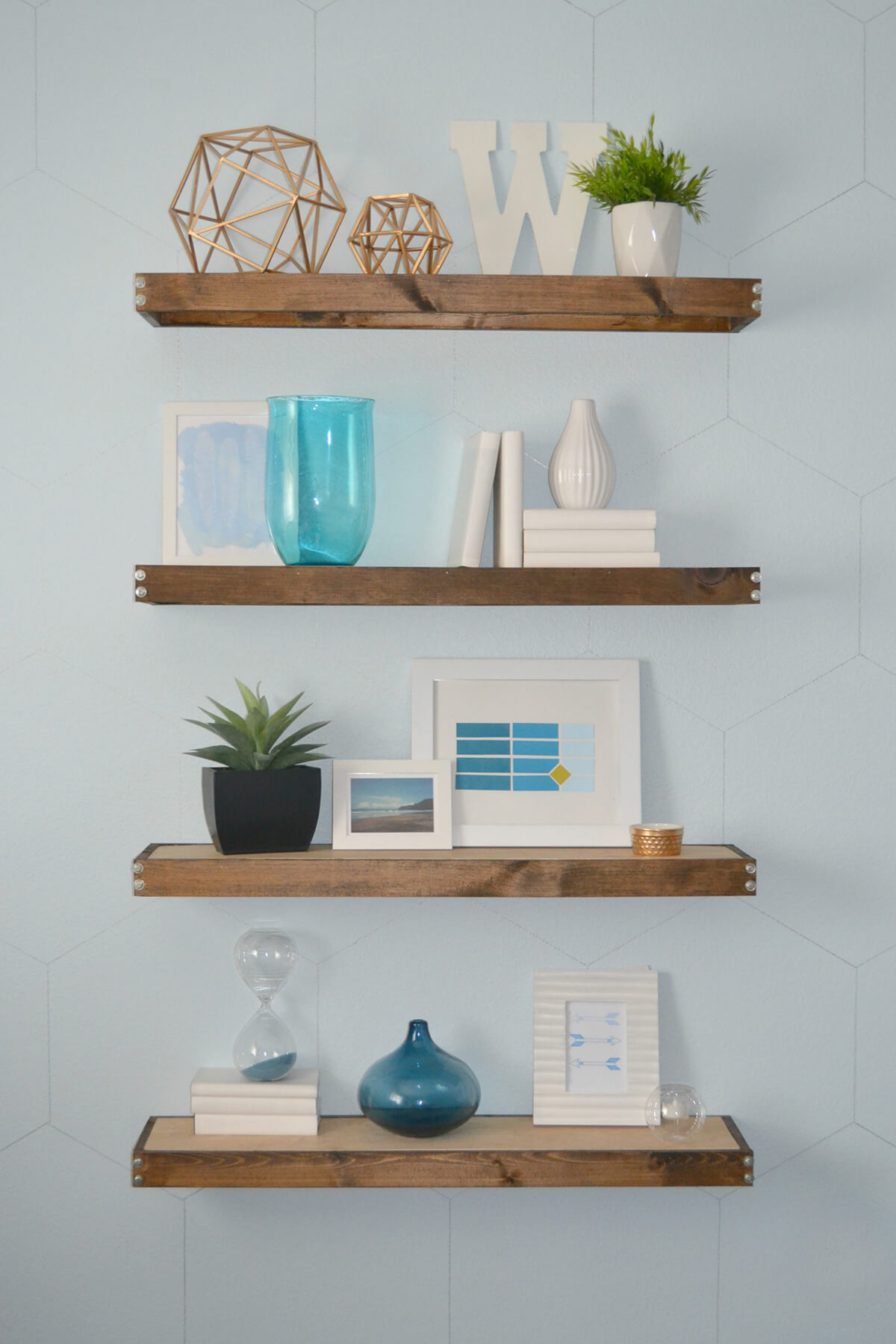 50. Fun Clustered Squares of all Sizes

51. Weathered Wood with Slide Out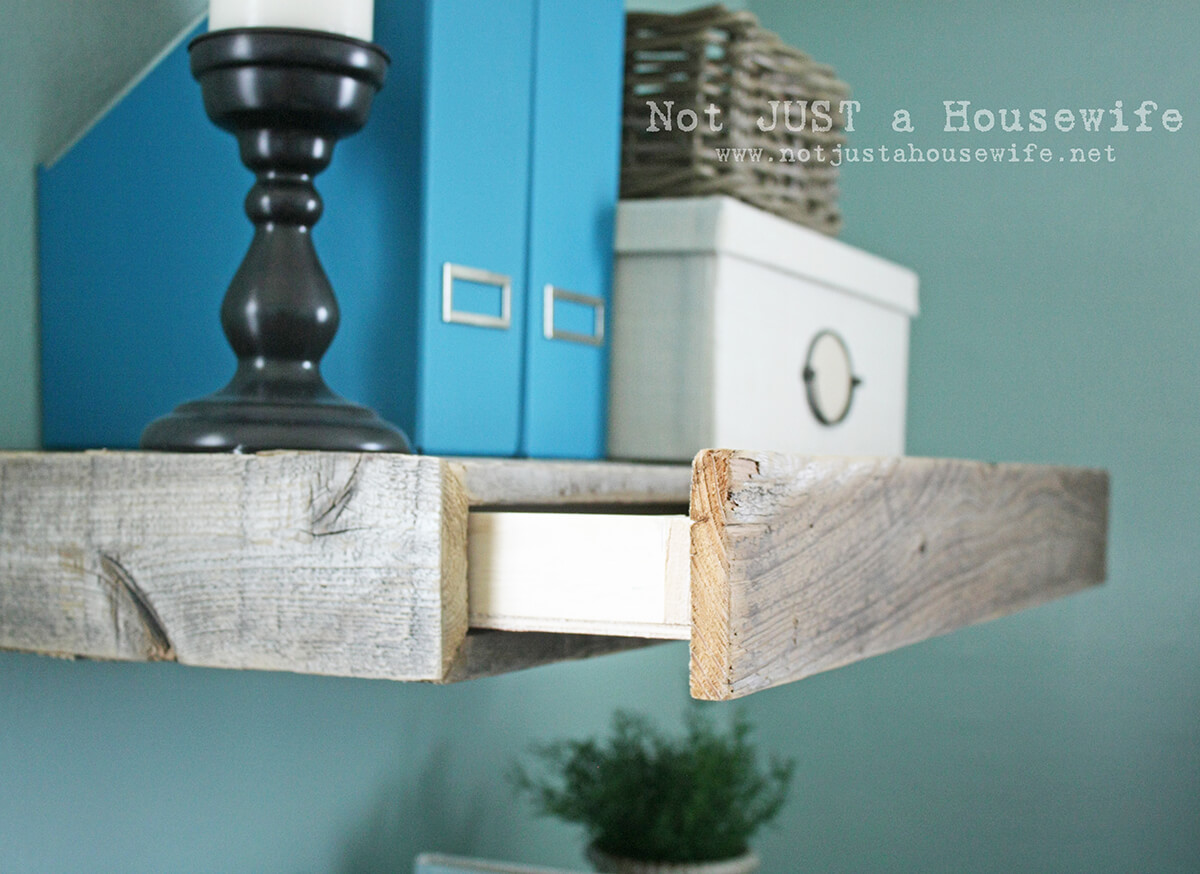 52. Light Wight White Floating Shelves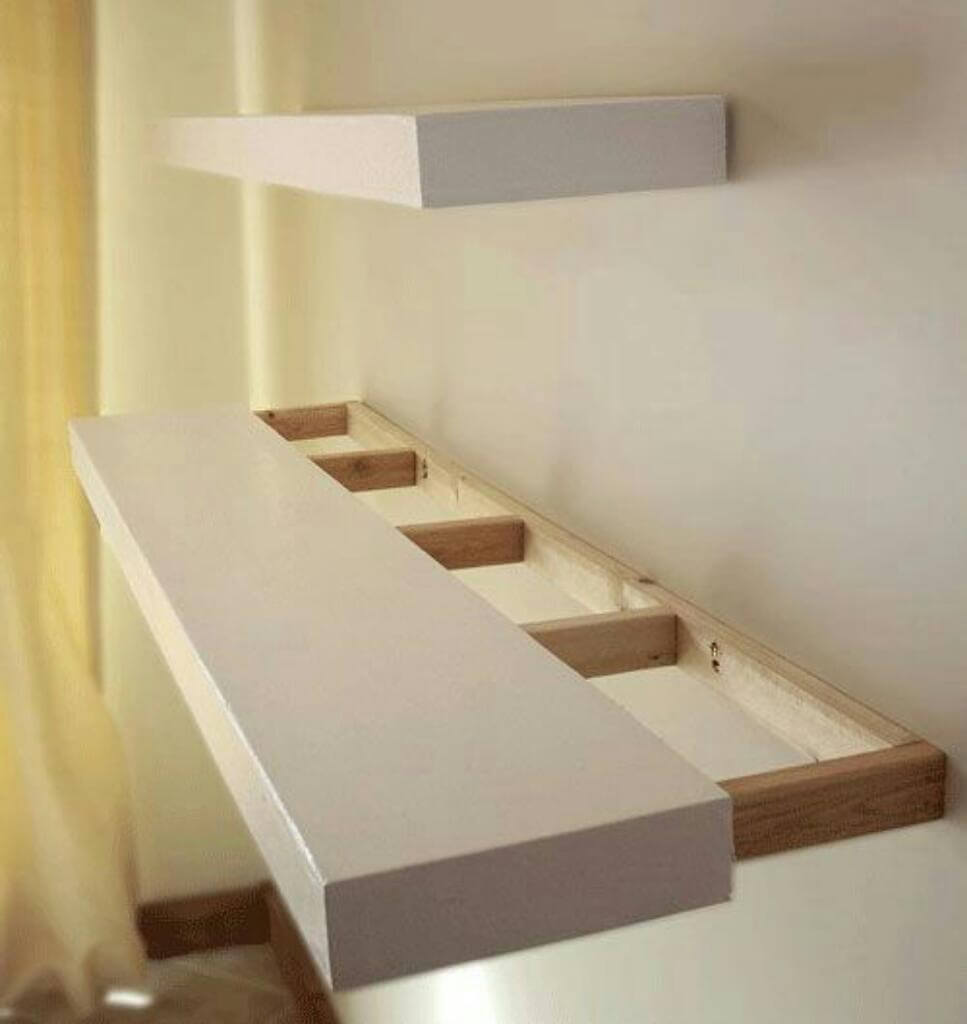 53. Straight From the Woods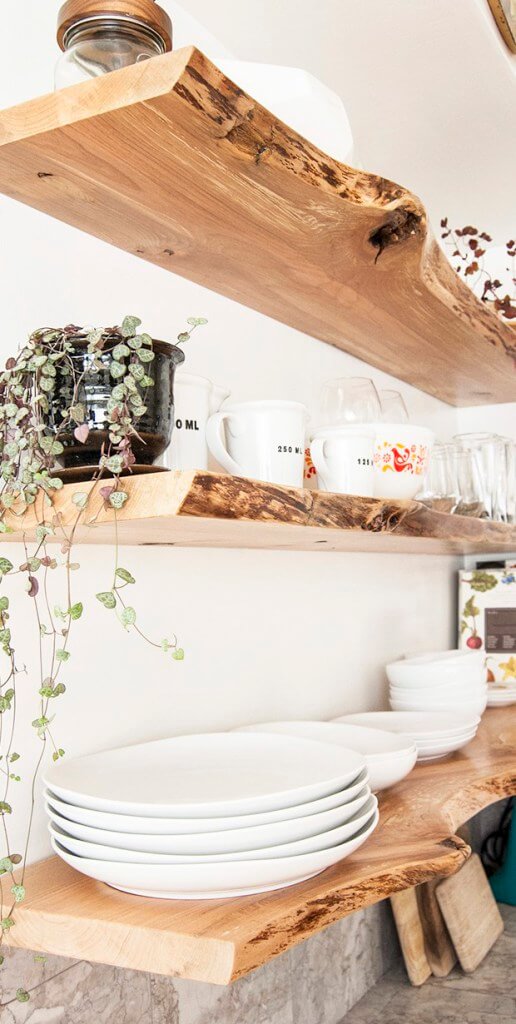 54. Kiddies Korner Library Storage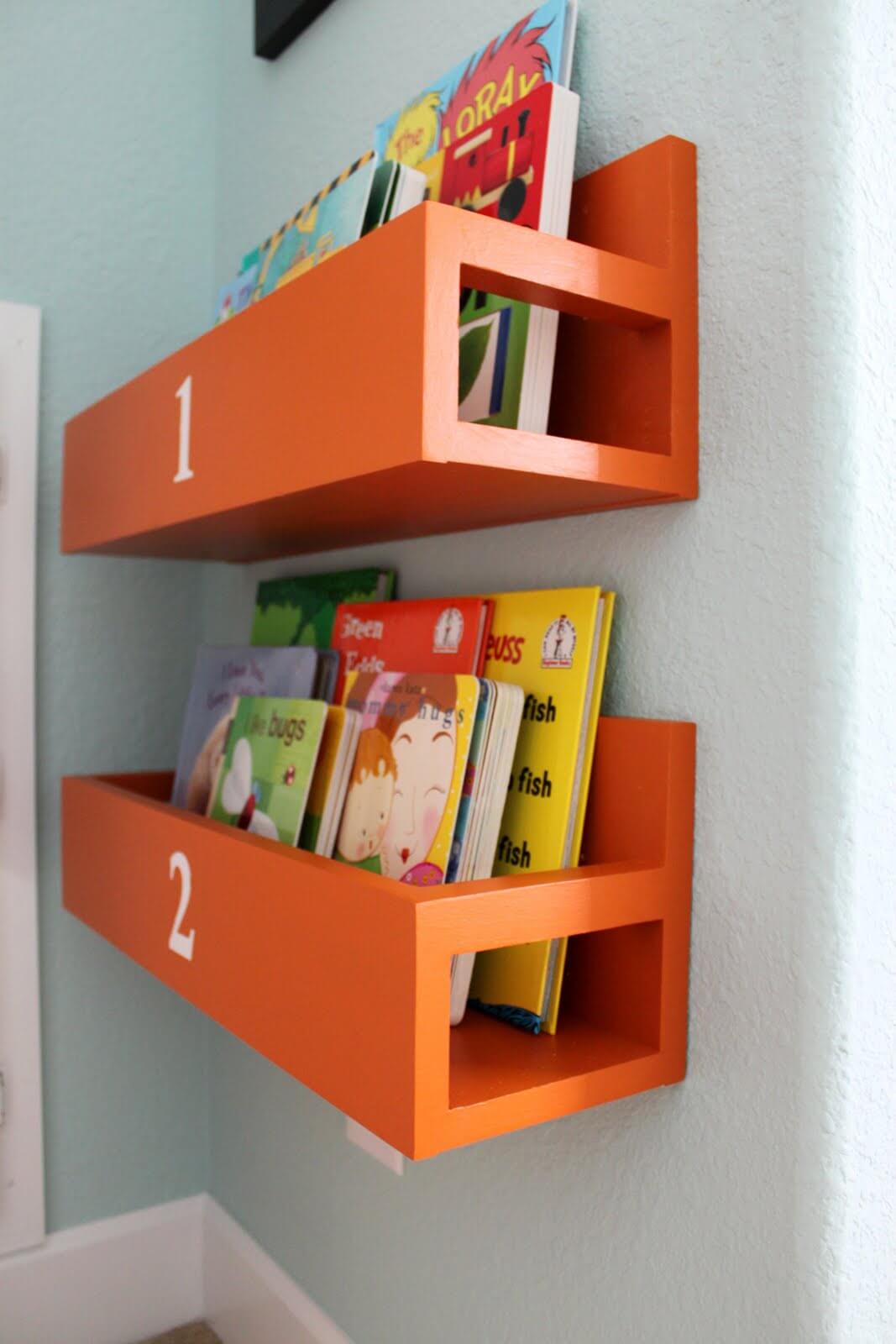 55. DIY Clever Key Holder Shelf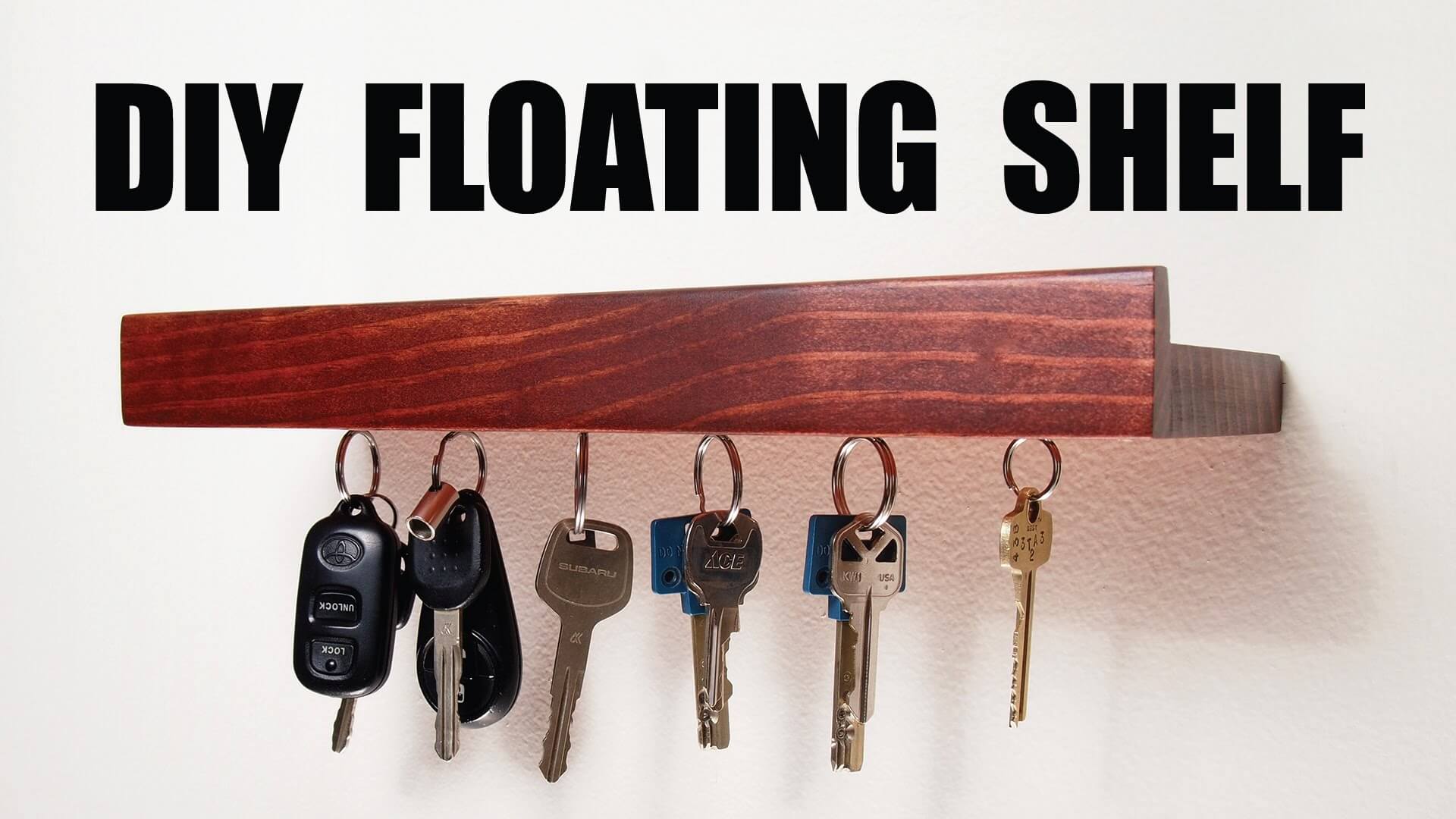 56. Bright and White Wall Storage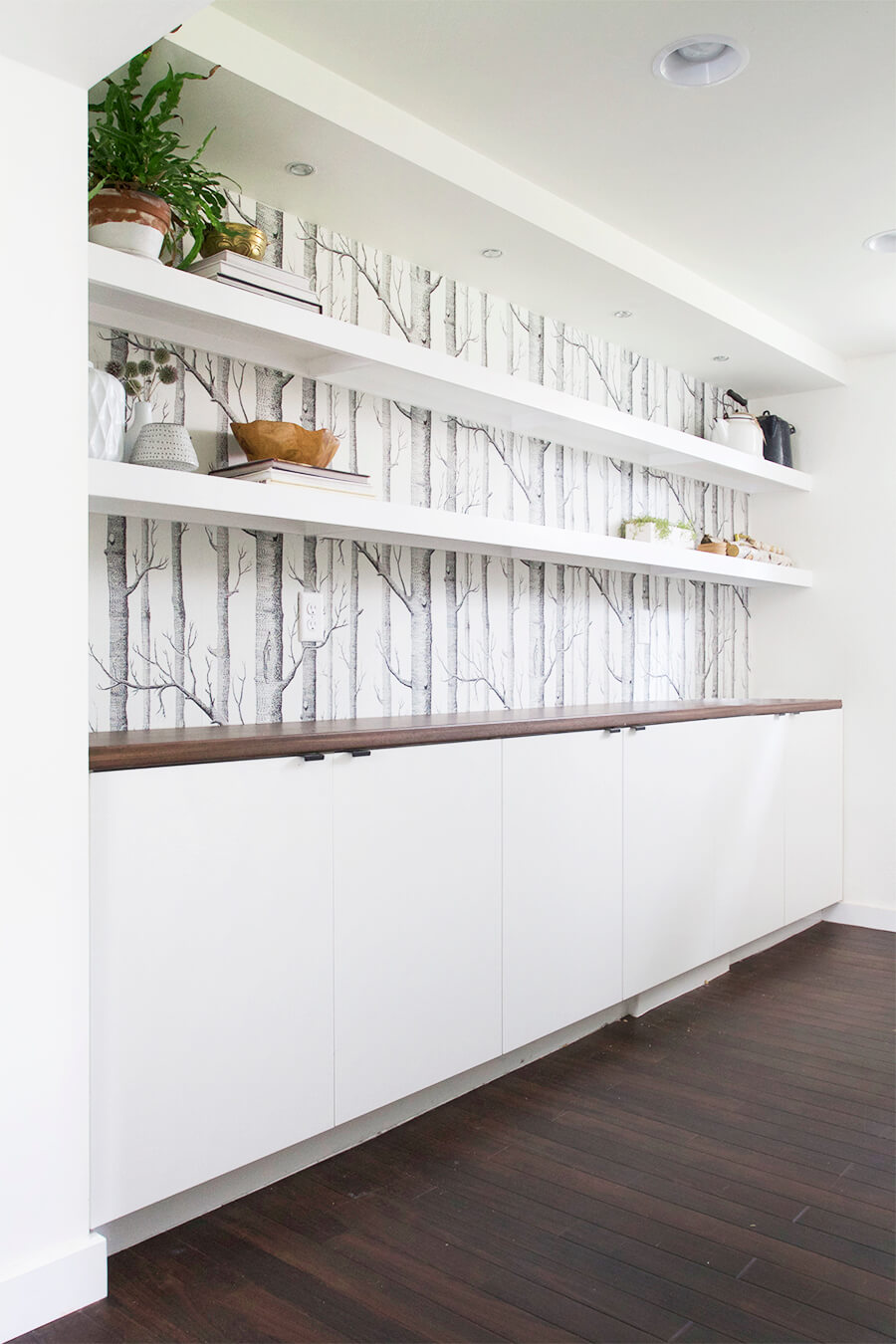 57. Easy and Compact Nightstand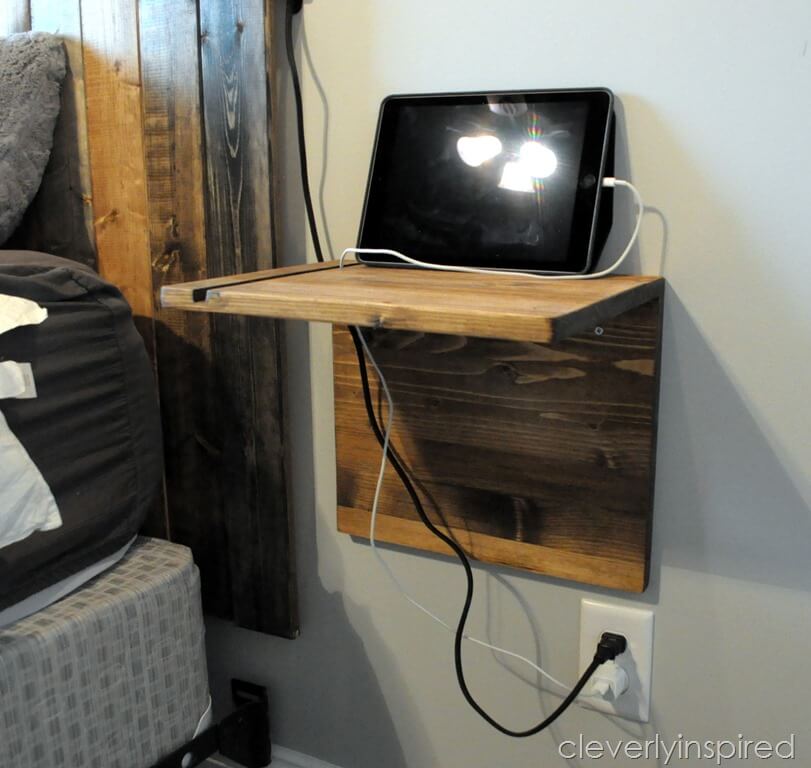 As you can see, the bathroom would be a great home for a new floating shelf linen closet to organize your linens and toiletries in a fashionable manner. Or a nice ledge with a metal bar offers a great way to corral all of your make-up and nail needs, but that's not the only room to benefit from these amazing modern shelves.
Removing a standard kitchen cabinet and replacing it with a live edge slab shelf will transform the room in no time! Your plates and bowls will love the fresh air they encounter on their new perch. Or if you can't bear the thought of letting go of your cabinets, consider adding a shelf underneath to arrange some spices or small decorative pieces.
Finally, your family room would look amazing with floating shelves in lieu of outdated built-in cabinets surrounding your entertainment center. You'll keep the storage space while increasing your wow factor in terms of interior design.
And don't forget the home office. With so many people working from home nowadays, adding a long and lean floating shelf into the space packs a lot of potential for organizing files and keeping all of your must-have supplies within view and reach. At the end of the day, finding a home decoration that doubles as a storage solution is a win-win for everyone!

Our Favorite Farmhouse Wall Storage Items to buy on Amazon