When items in your garage become too much to handle, it pays to have the best DIY garage shelves so you can come up with a plan to better organize the area. For many of us, our garage is not just a place for vehicles. It becomes its own storage room of sorts, housing many items from tools to things that might not actually have a reason for being in a garage. Alongside that, the garage can serve as another room in the home. Perhaps you use it for exercise too? Or maybe it is set up to support your hobbies like woodworking or anything else that needs a lot of tools. So, it stands to reason that some type of shelving system will help you set things up nicer. Plus, this comes in handy when you need to find something quick.
20 Budget-friendly and Stylish Garage Shelving Ideas to Tidy up Your Space

But just what type of shelving system do you need? The answer to this doesn't just depend on what you're storing, but it is also based on the garage itself. For instance, if floor space is an issue in your garage, then perhaps you need something that is rooted to the wall instead? Floating shelves work out great in this case. They can make the garage appear far larger than it is and still give you some extra floor room to work with if you need it. On the other hand, you can always install a standard shelf that is merely pushed up against the wall but still rooted on the ground. If you are thinking about remodeling your garage but aren't completely sold on where to begin, feel free to browse our list of homemade garage shelve ideas to help come to a decision. We have everything from total DIY projects to handmade shelving options created by others that you may love.
1. DIY Garage Open Shelving Design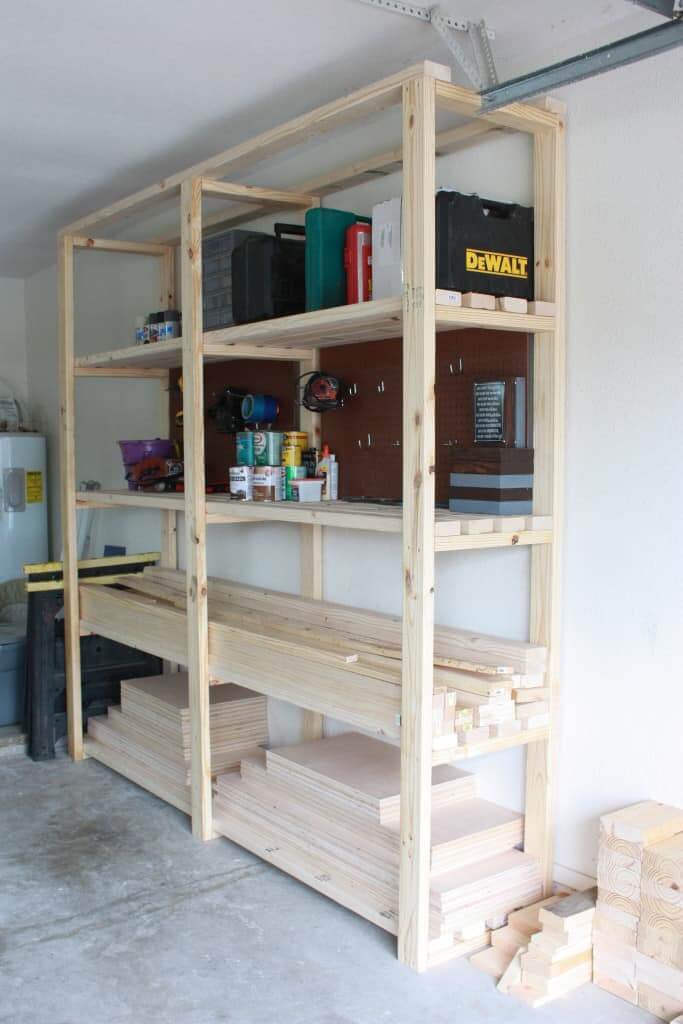 If you need a place to store all of your tools, especially your DIY ones, this open shelving layout is perfect. It has more than enough room to support numerous items. Perhaps you need a place to store all of your working materials like pieces of wood? When you have a shelf layout like this, everything is within sight at all times. This way, you can quickly grab up what you need and get to work. When you build shelves like this, you can create your own mini workshop area that is well-organized right inside your own garage.
2. DIY Garage Mudroom Locker Storage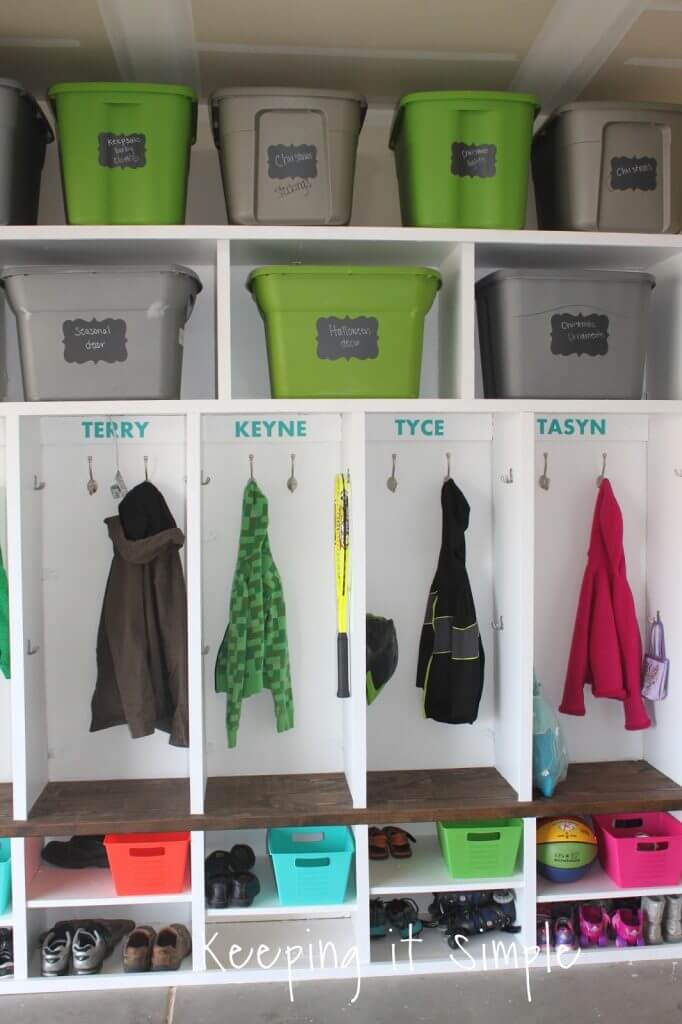 Are you dealing with a full house? Or maybe you just have a lot of stuff. Either way, these mudroom locker storage designs are fitting to handle all that stuff. There are multiple compartments available much like what you might find inside an elementary school classroom. The design works out extremely well too as you can work with both large and small compartments. This gives you versatility in what you can set up. Hang up something light such as coats, or slip oversized storage containers on top for more important items. Plus, it has a clean look about it that makes certain your space will remain clutter-free.
3. Lengthy Wooden Garage Storage Shelves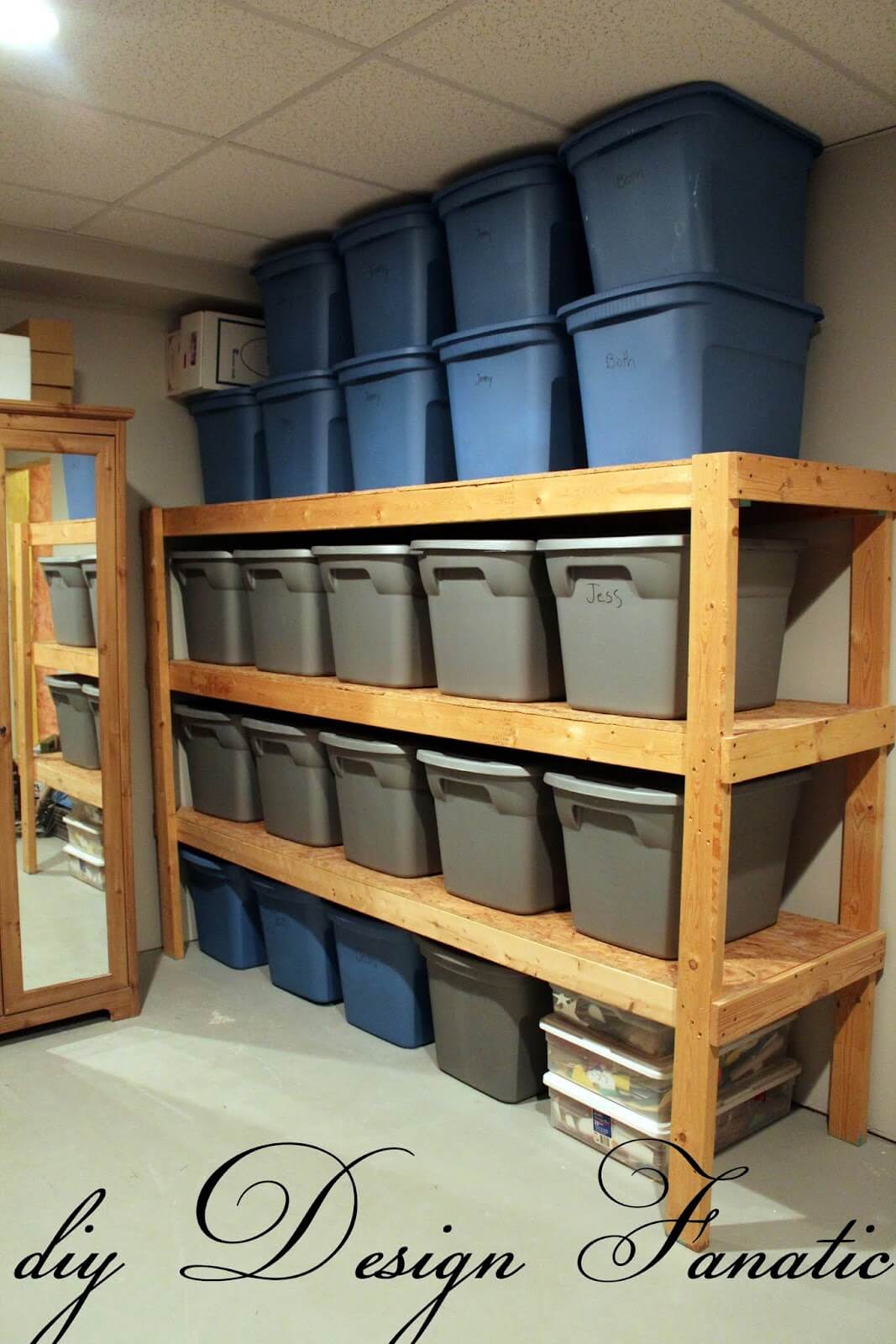 Need some extended shelving in your garage? Well, these wooden shelves are more than helpful. It is only a 3-shelf design, but it offers you ample room thanks to how long the shelving system is. The shelves themselves have a good width too so that you can stash much larger containers on them. Alongside that, there is ample room between the bottom shelf and the floor so that you can slide things underneath. This can only add to your available storage overall. Despite its size, it can fit well into a little nook off to the corner inside of your garage.
4. Stud Garage Shelving DIY Design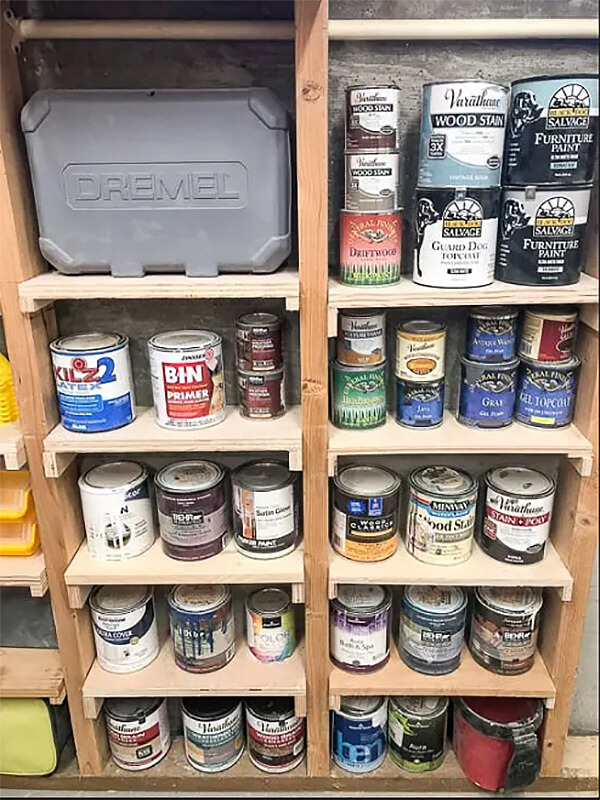 An unfinished garage is an ideal choice when it comes to creating homemade storage. The area between the studs are the perfect place to set up your DIY shelves. And depending on the size of your garage, you may very well have plenty of space to work with. This is a more streamlined way of setting up floating shelves, ensuring that your entire garage remains free from any type of clutter. Also, using the area between the studs for shelving is simply a cool way to set up storage in the garage. It gives off a more rustic and farmhouse-like style.
5. Cool Sliding Storage Garage Shelves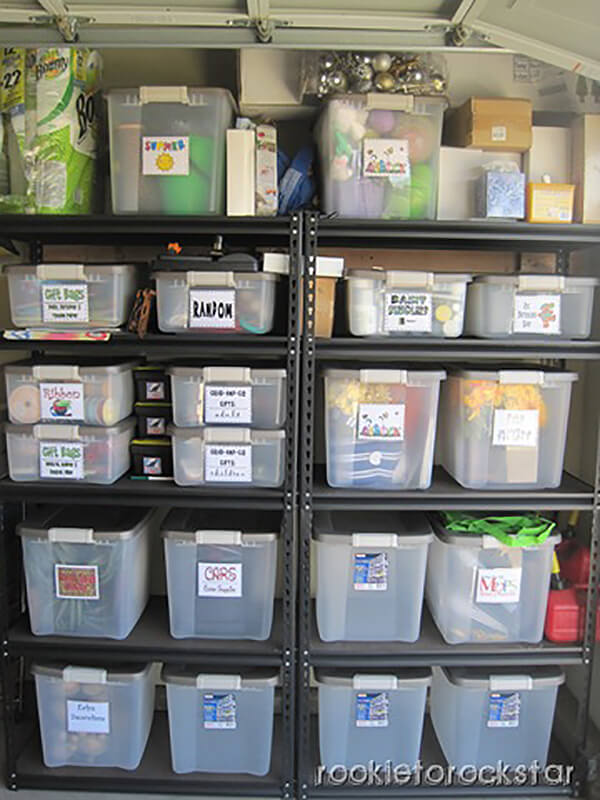 When you work in your garage, you need to find all your tools fast if you want productive and efficient work. Not only will shelves help you stay organized, but adding an extra touch to them can make finding what you're looking for go by that much faster. In this case, you will design sliding shelves. Sliding the shelves in and out ensure that you can set up even more items on each section without worry. You can always reach anything you want. As far as looks alone go, the shelving unit has a nice aesthetic to it so that it works as décor too beyond just being storage.
6. Affordable and Simple DIY Shelves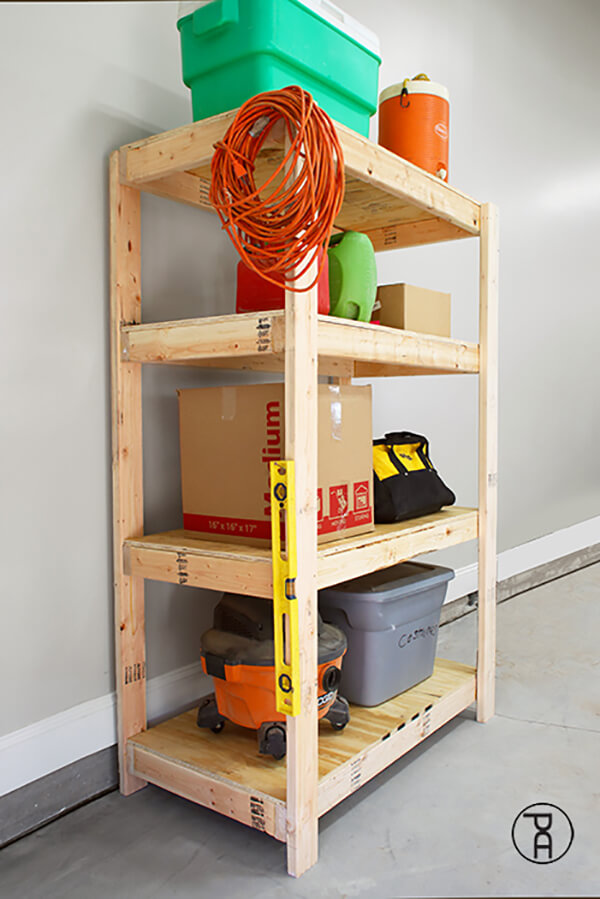 Plain wooden shelves are always a nice route to turn down when you need something that is simple, budget-friendly, and relatively quick to set up. That is, of course, if you already have some DIY skills. If you don't, this is still a project that is easy to learn. The shelves are designed in a way that makes them roomy to support a multitude of items. So, you can use your shelving system for just about anything in your garage. Stash some gardening tools on it, use them to support important boxes, or perhaps to store items like seasonal clothing.
7. Homemade Wooden DIY Garage Shelving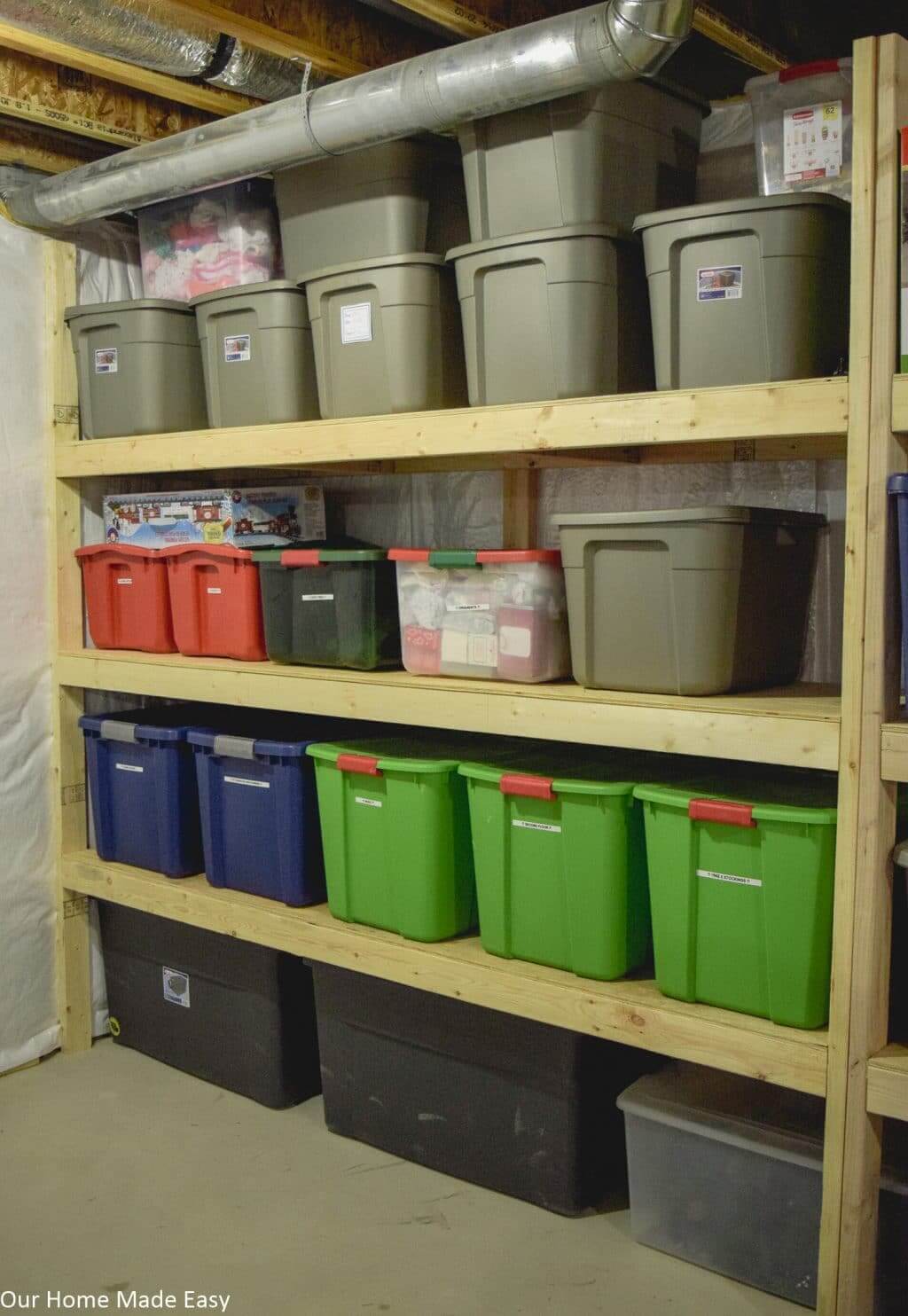 With the right materials, you can build affordable and reliable wooden shelving for all your garage needs. This shelving project is large in scale, so it is reasonable to assume that you have enough space in your garage for such a shelf. However, thanks to its more spacious size, it can support numerous items. This makes a DIY shelving system like this perfect for those of you who have plenty to organize in your garage. Additionally, the size works out well too if you have to store bigger items inside the likes of bins. The wood is solid enough to support such items as well.
8. Handmade Wooden Garage Storage Shelf Design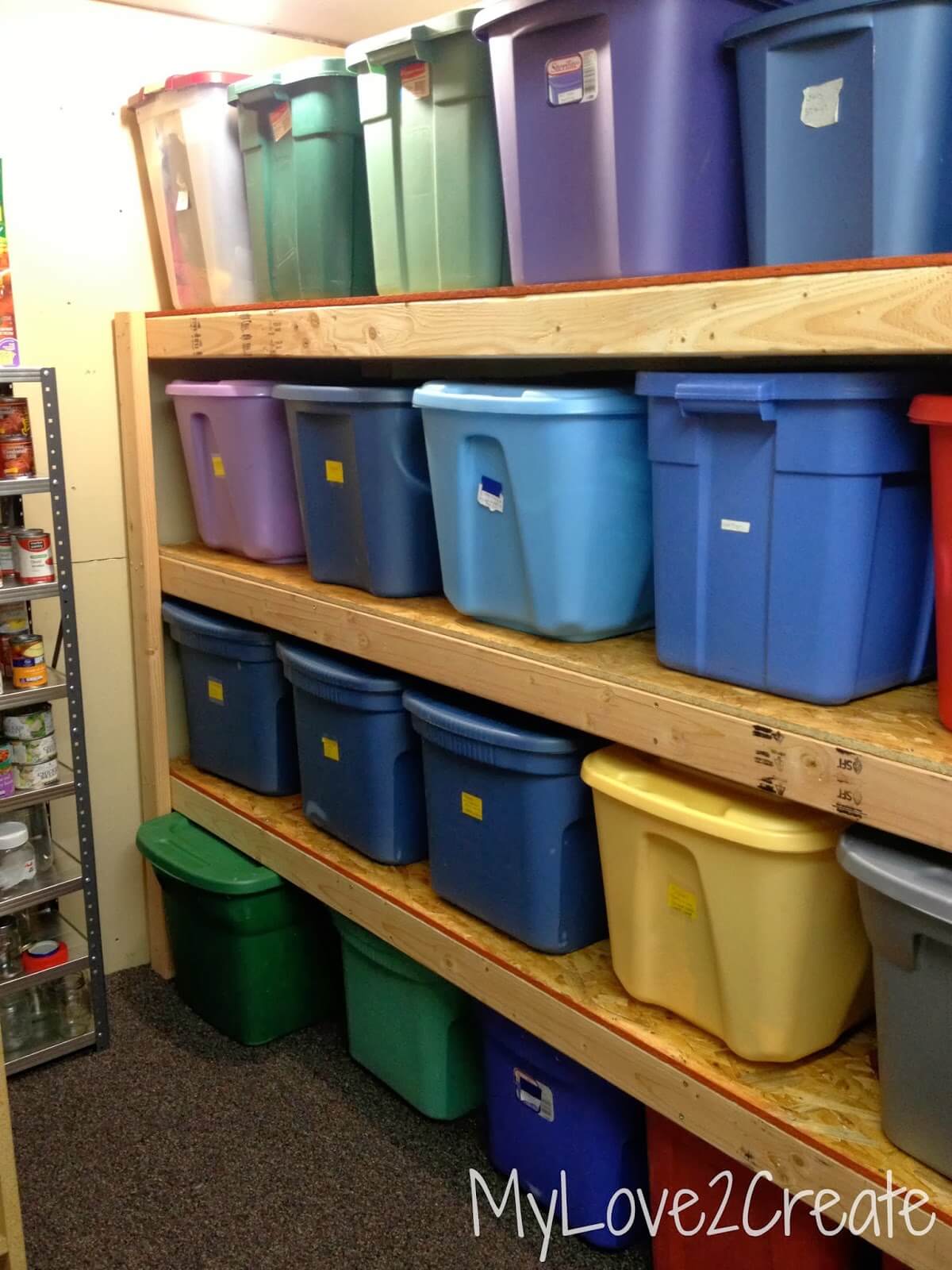 Straight wood with no fuss is a great way to get storage shelves in your garage. With these, there is not much outward décor going on. The wood used is plain, but it does the job of holding up your storage well. There is a thickness to the material so you can know that the shelving unit can take care of heavier, larger items. More than enough space is left from the top of the shelves to the ceiling too, which gives you that extra storage room. The same is said for the bottom. There is a gap from the bottom to the floor, so if you want, you can slide in more storage.
9. Handmade Corner Style Garage Storage Shelves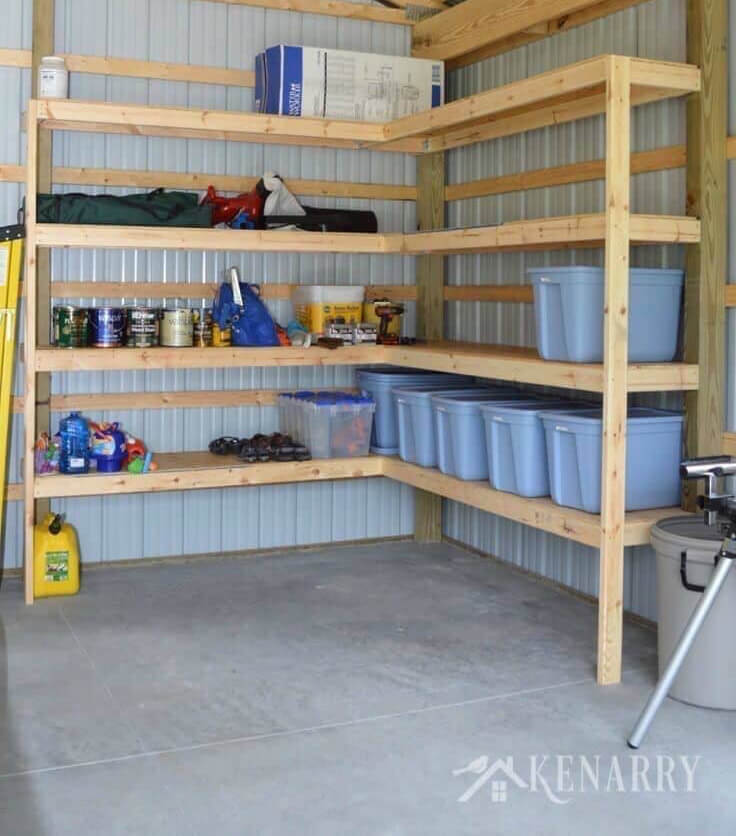 If you have a corner in your garage that is desperate to be filled, consider adding in this handmade storage shelving unit. The unit overall resembles much other simple wooden shelves. However, this is designed in a corner style much like an l-shaped desk. It is such a straightforward way to organize all of your items, tools, and anything else you can't seem to find a place for inside the home. This is a design that might also allow your work to go by smoother if you have a workshop in your garage. You can go from item to item with relative ease.
10. Upcycled Pegboard Bookshelf Garage Shelving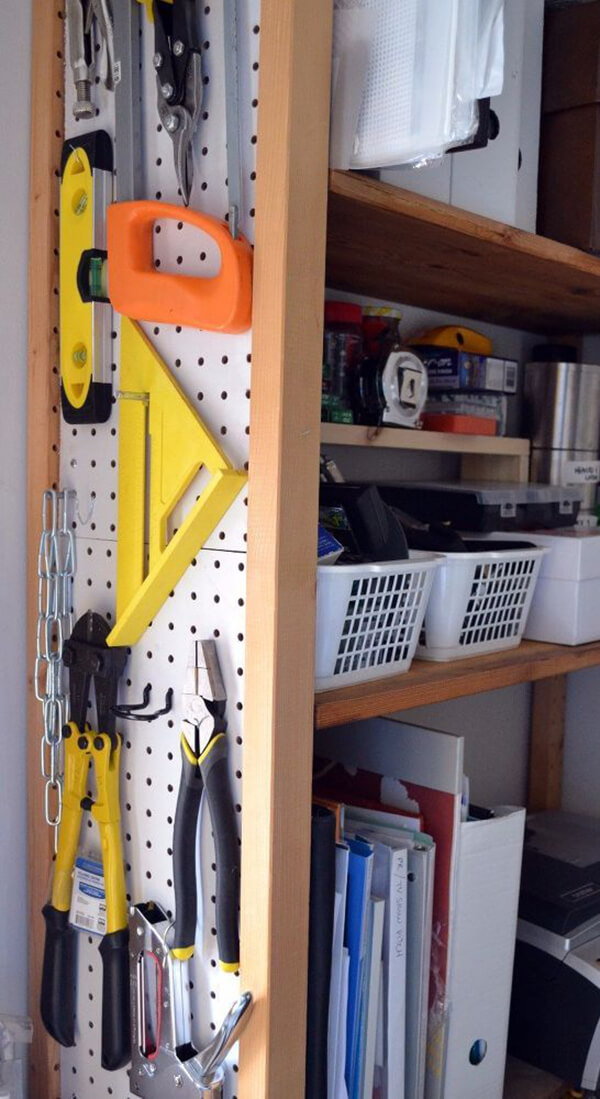 Some handmade garage shelving designs work out as upcycle projects. In this case, you can transform a common bookshelf into your workshop area for your garage. The bookshelf already has all the shelving you need for your items so there is not much you need to upgrade from there. However, you can add an extra factor to your garage shelves with the pegboard. This is an ideal way for you to make your storage area multifaceted. You can store larger items on the bookshelf, and meanwhile, use the pegboard for other tools.
11. Unique DIY Recycling Storage Tower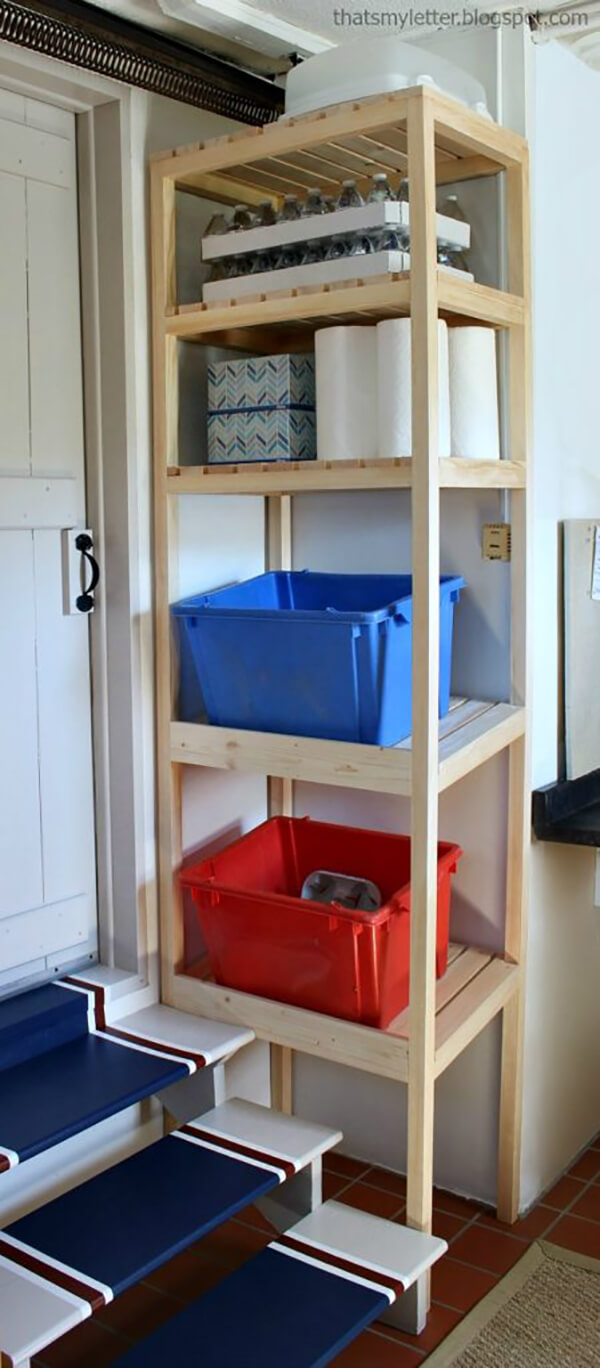 Do you regularly do recycling in your home? If so, it never hurts to have a separate place just for recycling, and the garage is a good room to go to. It is out of the way without being out of sight so that you might forget it. The shelving separates the recycling bins well. Also, thanks to the open design, it is easy to reach in and put items inside of these bins. This further makes them simple to remove when the time comes so that you can grab them and go. It doesn't take up much room either, so this can work well for compact spaces.
12. Massive DIY Garage Shelving System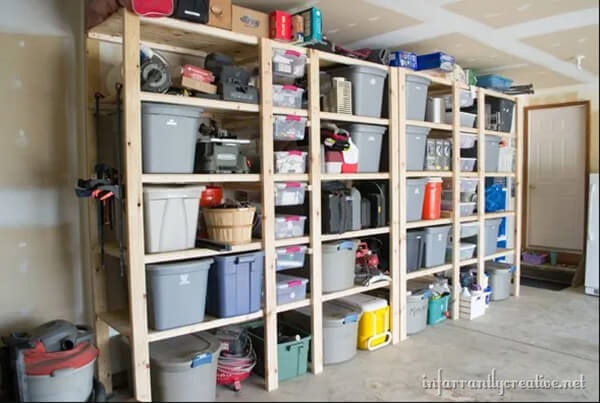 For those who have the space for it, you can construct an incredible shelving system against a single wall in your garage. You can store countless items, easily clearing out anything you have that's been overwhelming your space. The design of this shelving system is versatile too. There are large compartments to support your bins. With that comes the smaller compartments for more compact storage containers. There is room left on the top as well as under the shelving system for extra items that won't otherwise fit on the shelves. It's a massive solution for bigger organizing problems.
13. DIY Industrial Iron Pipe Wall Mount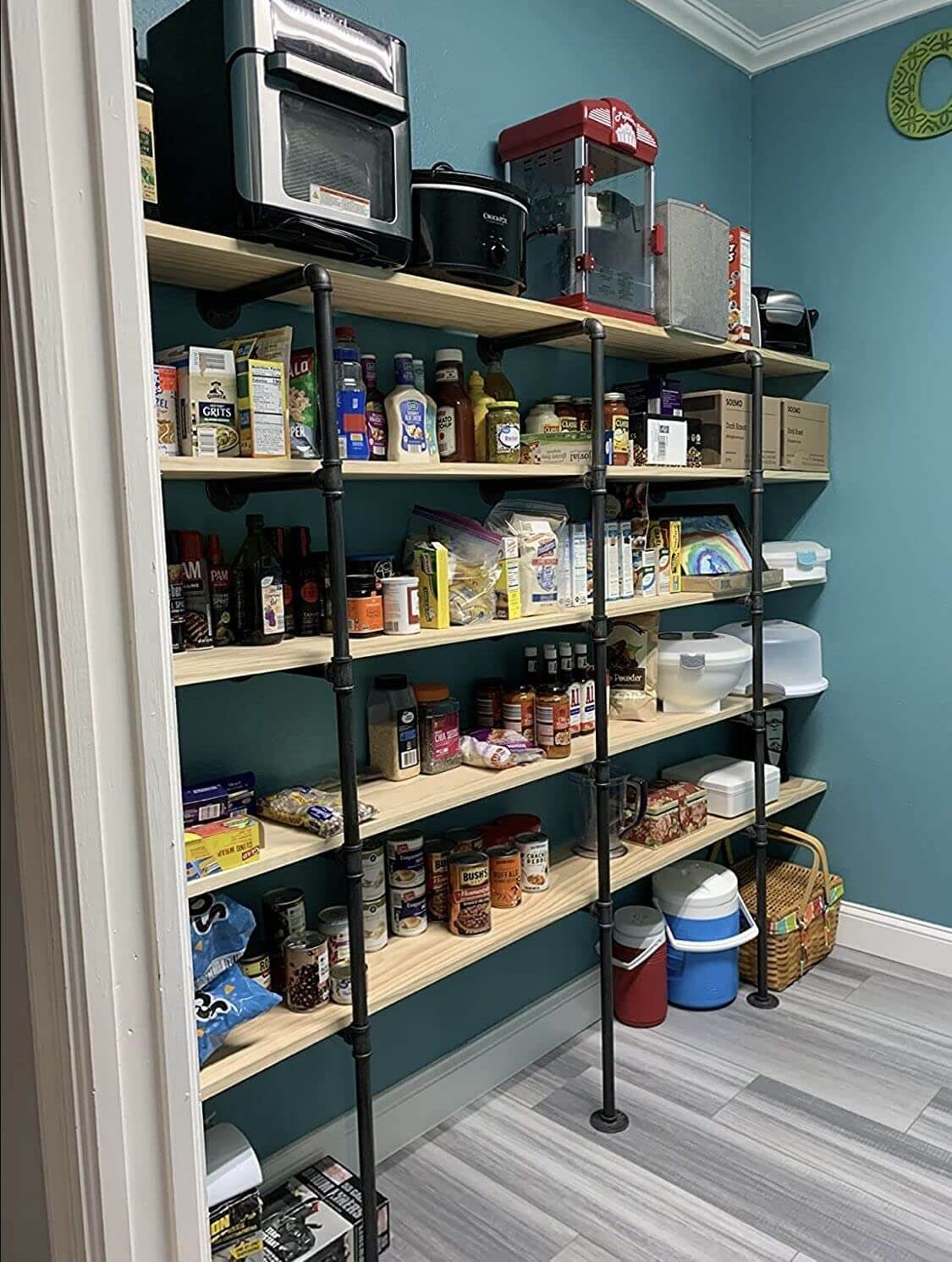 Ready to add some flair to your garage storage? Well you can with this incredible industrial iron pipe wall mount. It is aesthetically pleasing to look at, giving your garage far more style to better match up with the rest of your home. The planks do not come with this, just the iron pipes. So, it is a fun DIY shelving project for your garage renovation. Everything should be standard to set up though as you can use the wood you feel will best support your needs.
14. SNTD Foldable Metal Storage Shelves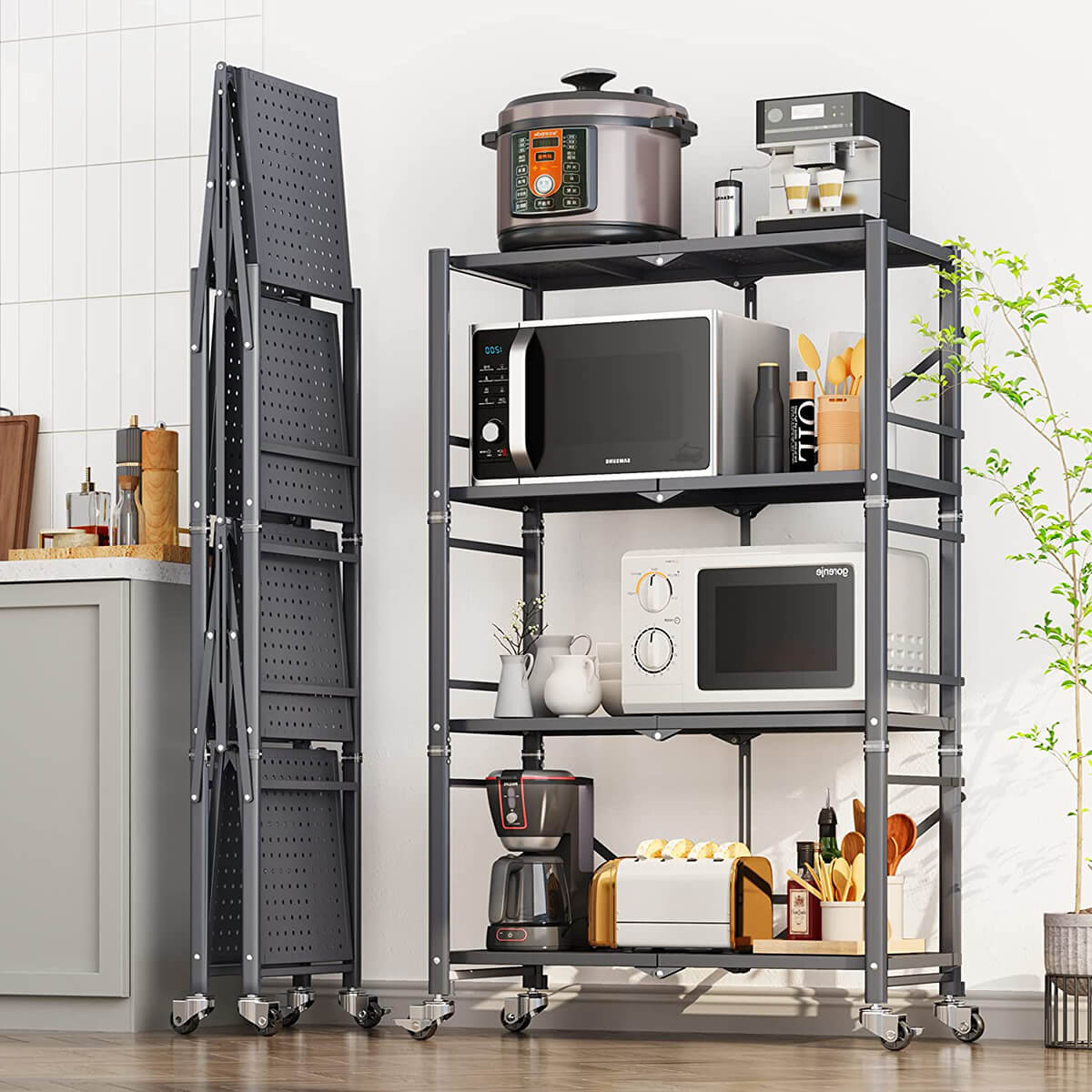 Do you need storage that you can actually put up when you don't need to use it? Well, this foldable storage unit is the go-to choice for him. Also, the collapsible design makes it easy to set up and put down as needed. The shelve is a 4-tier style so that you can support multiple items, and there is ample room to hold everything. The panels are durable too what with them being made out of metal, handling heavier items well enough so you can stash tools and other weighty items. For greater usability, the unit features 360-degree swivel wheels. This way, you can move it around whenever you need to reorganize your garage.
15. FLEXIMOUNTS 2-Pack Garage Wall Shelf Unit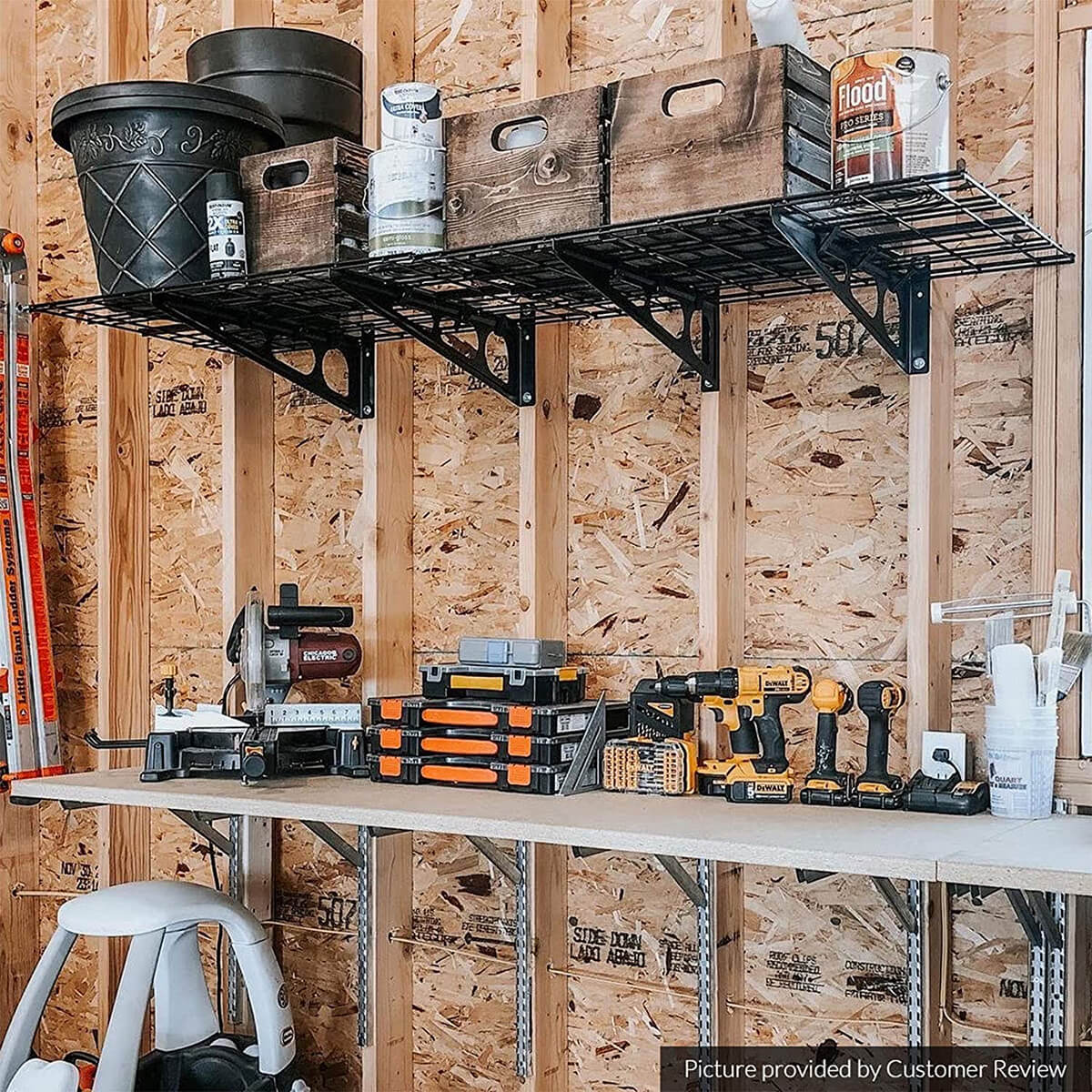 For those who only wish to mount things, you can benefit from this shelving unit. It features a buckle and Velcro design so that the brackets won't cave in. This way, you can rest easy knowing that your items are safe as they won't collapse the unit. The steel construction allows it to better support a variety of items too. With this being wall-mounted, you no longer have to worry if you lack a large garage yet desperately require some storage space. This is the best solution to handle your needs. Also, it installs fast, but remember that it cannot be set up on metal walls, just your standard concrete and wood studs.
16. Sanhang 2-Pack Garage Storage Rack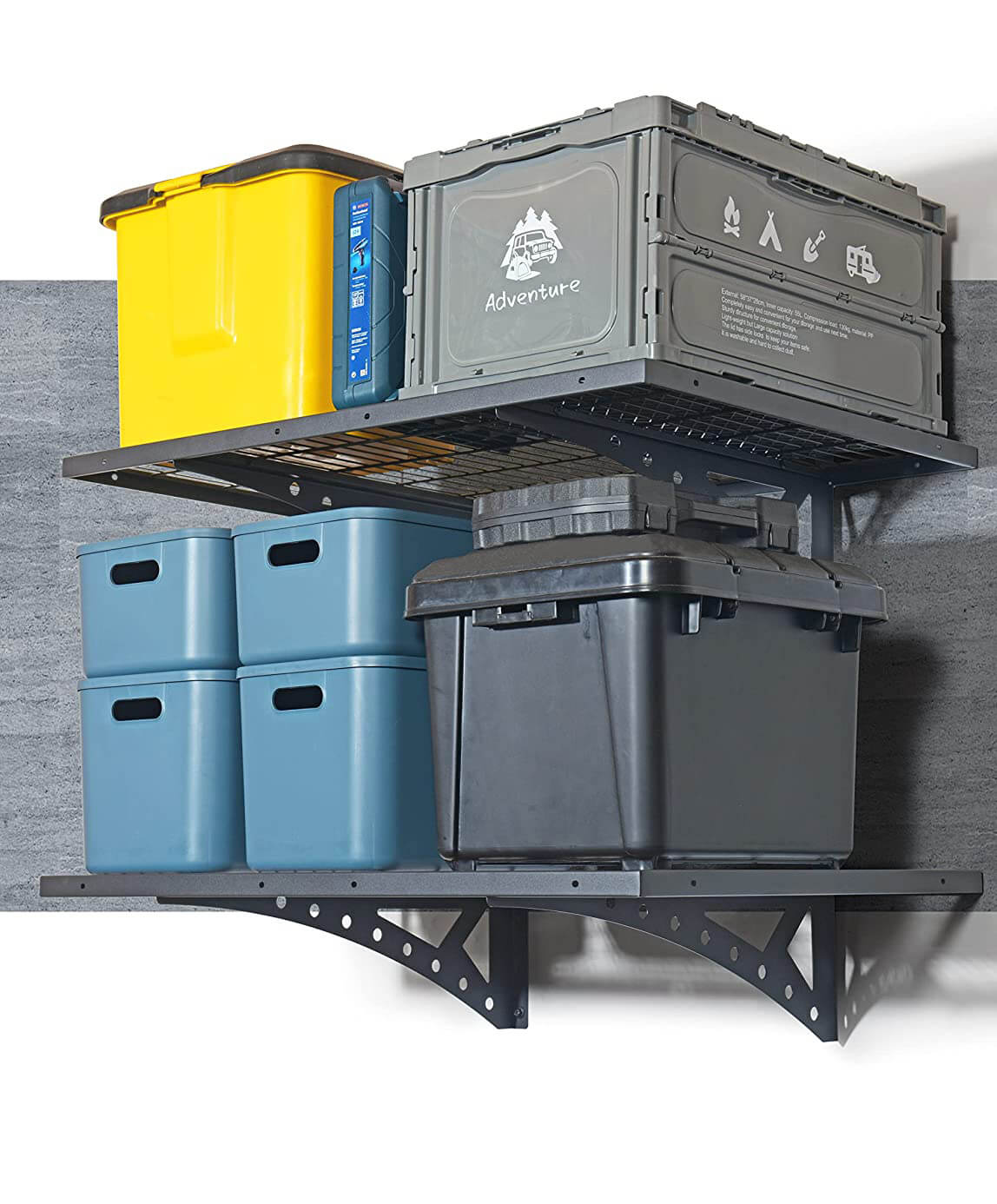 Ready to keep some of those in-the-way items up on the wall? Well, the Garage Storage Rack from Sanhang is a great choice. Available in black or white, the unit comes in a 2-pack so that you are able to stash plenty of things. With its reliable steel construction, the unit is capable of supporting items that weigh up to 440lbs. Such wide weight range gives you far more options when it comes to organizing your garage. Plus, with it being wall-mounted, you can reach whatever it is that you need on the fly without sifting around through items on the floor.
17. Easy DIY Garage Shelves Plans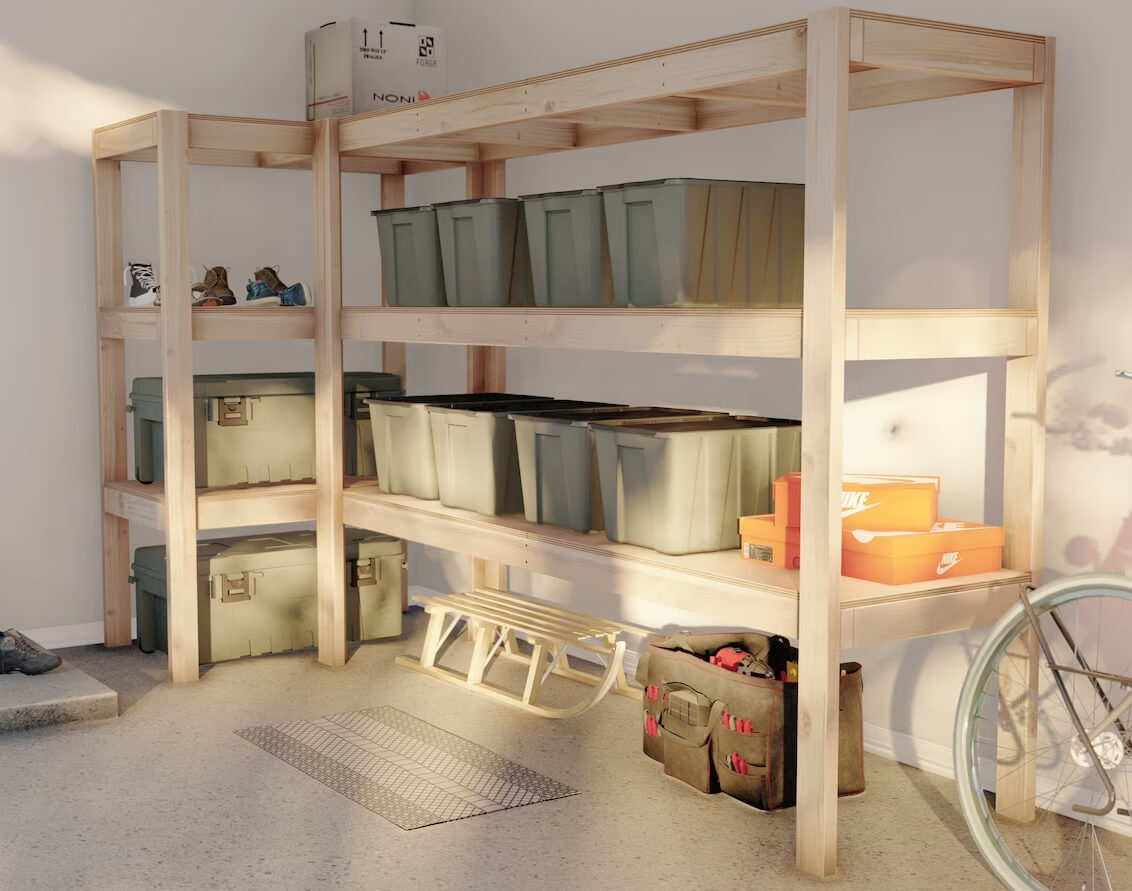 When you want to create handmade garage shelves yet lack ideas, consider downloading designs such as this one. It will leave you with a massive storage set up in your garage. As such, perhaps it is most ideal for those of you who already have plenty of room to work with. Plus, this is the perfect option if you just have far too many items overwhelming your home and cluttering your garage. The unit is spacious and sturdy, and can easily fit into a corner thanks to its design.
18. Cordless Tool Holder Garage Shelf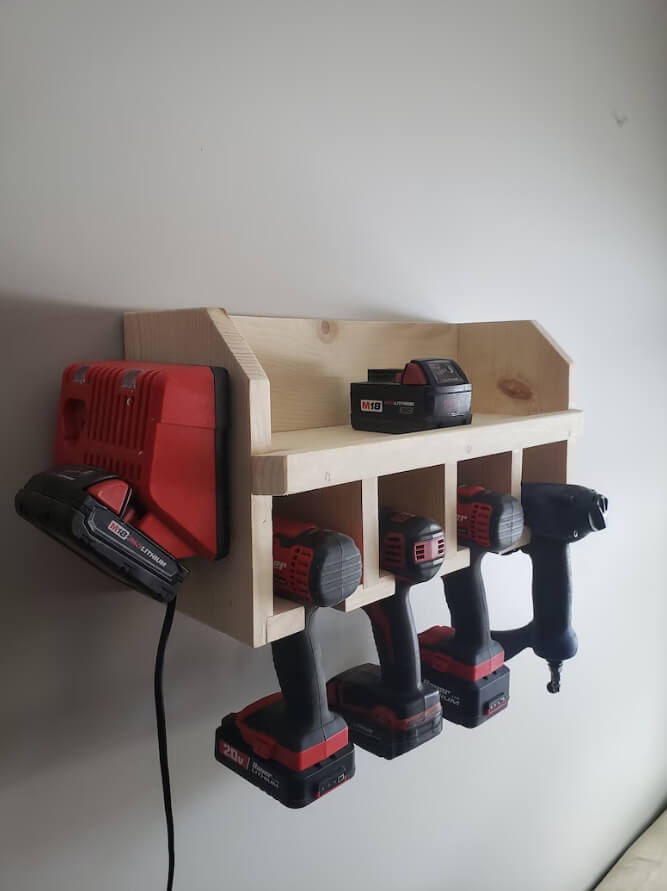 For those who have too many tools and not enough space, you need a shelf just for you. This is that shelf. It is basic, yet it is all you need to line up those loose tools into something that is far tidier and better to look at. There is not room for the cords to go, so this does work out best for cordless tools. However, you can always use corded ones too if you have the means of making the cords look nice and not tangled up.
19. 2×4 Canning Jar Cabinet Plans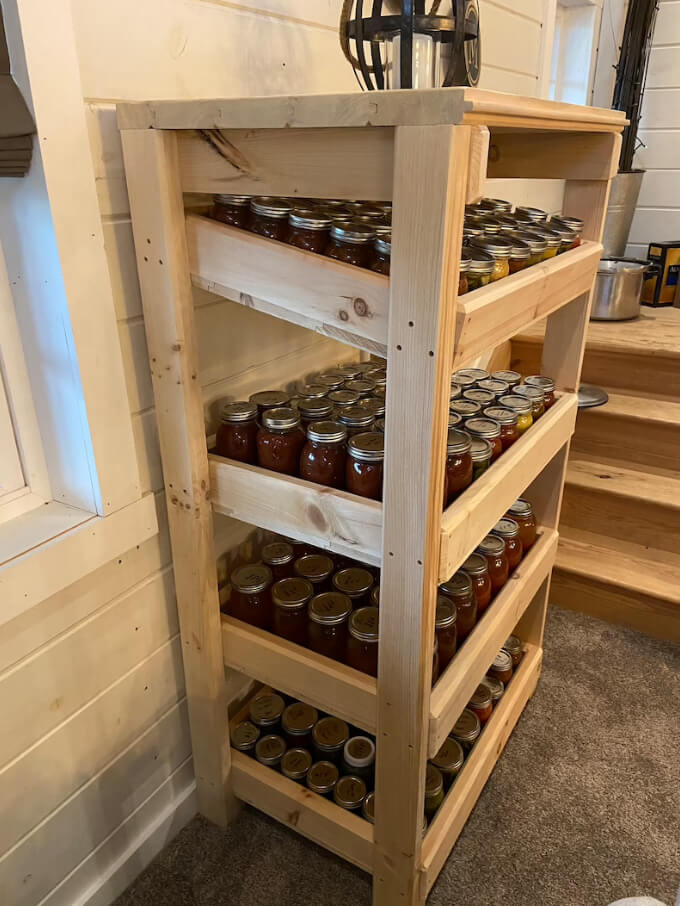 If you have the materials, you can download this awesome step-by-step guidelines to constructing your own cabinet. Although it is used for canning jars, you can, of course, use it for any other items that fit inside it. It is a wonderful solution to cleaning up your garage and putting your own stamp on your storage since you build it yourself. The construction is simple enough too so that beginners can manage even if you lack any DIY experience.
20. RhinoMini Universal Garage Storage Kit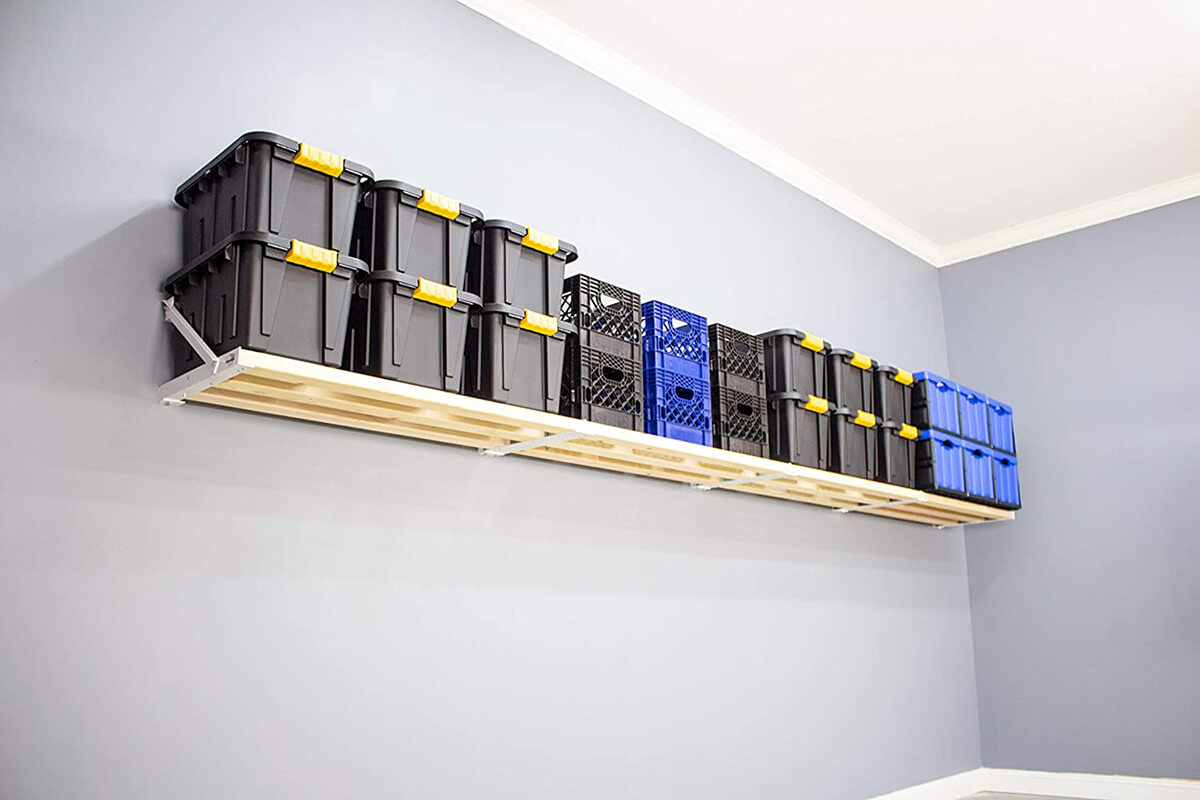 When you need dependable shelving, the RhinoMini Universal Storage Kit can handle the job. Designed to hold over 600lbs, and it features a universal wall-mount design so that anyone can set this up inside of any garage. This gives the item far more versatility. Set up is also simple enough as it is designed to be installed by a singular person. It also comes with the fasteners and assemblies so you don't have to purchase extra hardware. Hanging from the wall, the unit has incredible depth to support different sized containers.
20 DIY Garage Shelf Ideas that will Get Your Garage in Order
An unorganized garage is a cluttered garage, and clutter can make anyone feel overwhelmed. That's why it's important to find a place for everything whether it's tools or general storage that doesn't belong inside the house anymore. In this case, handmade garage shelving is a wonderful way to combat disorder and embrace organization instead. There are numerous ways that you can approach this process too from making the shelves yourself or purchasing handmade shelves from others. Either way, the shelving leaves behind something that is more unique and befitting for personalized functional décor.
There's versatility in how the shelving can look as well. With the best homemade garage shelve ideas, you can have something that completely fits with your specific needs, nothing more and nothing less. This is a worthwhile endeavor when you want something that acts as storage but blends in with your garage so that it is not dreadful to look at. Instead, it only serves to elevate the garage as you tidy things up. So, if you are ready, then it's time to organize your garage into something more manageable. Feel free to use our list of the best DIY garage shelves for inspiration for your project.