The best DIY garage storage ideas will transform a messy space into somewhere you will love spending time. Because every household has different needs, each garage offers unique storage challenges. From a ton of totes to enough carpentry equipment for a professional woodshop, garages tend to contain the miscellaneous mélange that just does not seem to fit anywhere else. When a garage space is not organized, it can be difficult to find what you have. This leads to acquiring duplicates, which take up even more space.
20 Exciting Ways to Implement the Best DIY Garage Storage Ideas

Before jumping into an organization project, think about what you would like your garage to be. Do you want a tranquil haven where you can work on projects? Perhaps you just want to clear enough space to park your vehicle. Maybe you would like to be able to easily access your seasonal décor. Fortunately, there are plenty of handmade garage storage ideas that will bring these ideas to life without busting the budget. After dreaming about the space you would like, take a good look at what you already keep in your garage. Is there a way to reconcile these two visions? A few popular strategies include incorporating shelving, installing hanging systems, and finding ways to use every inch of the storage potential in a garage. Whether you are looking for a completely new storage system or a few quick tips to revitalize your garage, there are projects in the list below to suit your needs.
While having a well-organized space is aesthetically pleasing in itself, there is no reason to sacrifice your decorating standards in your garage. As you will see in the list below, there are plenty of ways to infuse your style within your garage. From every color in the rainbow to a breezy modern vibe, there are ways to make your garage as beautiful as any room in your home.
1. Installing Pegboard for Handy Tool Storage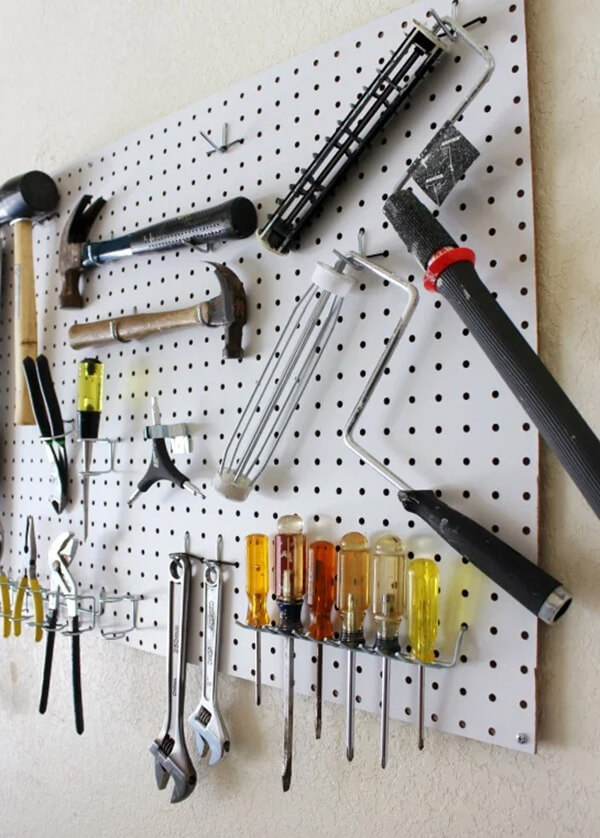 One of the fastest ways to free up space in your garage is to mount tools onto a pegboard. Because pegboard allows for custom tool configurations, you can mount all the tools you frequently use. Before hanging the pegboard on the wall, it is usually easier to figure out how you would like to display your tools on the ground. Similar to a giant puzzle, figuring out where you want to hang your tools is a balancing act between saving space and practicality. It is best to hang the tools you use most often lower down. Tools that are used less frequently should be hung higher up.
2. Exploring French Cleat Shelving Systems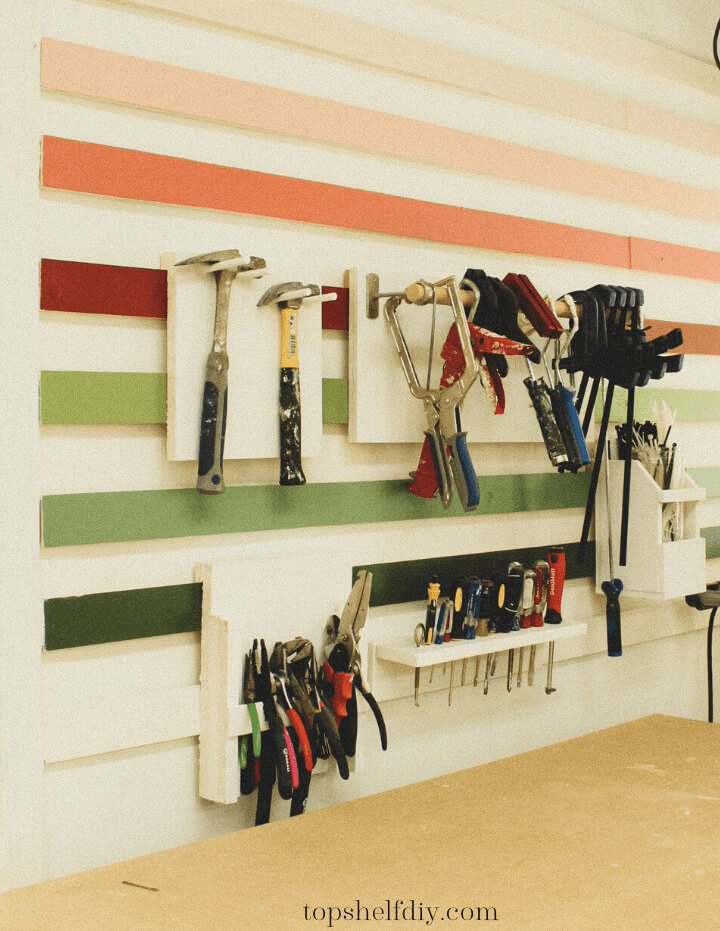 With a French cleat wall, you can embrace the minimalist approach to tool storage. Each French cleat appears as a bold horizontal stripe of color and serves as decoration as well as shelving. To maximize the drama, choose high-contrast colors for your French cleats. Give your space a soothing ambiance by choosing cool colors like blues, greens, or silvers. As shown in this image, why not try multiple colors? If you do not love the look the first time, try different colors. Although you will need to make a custom French cleat holder for each tool set, the final result is well worth the effort.
3. Wall-Sized Bulletin Board Made from Carpet Padding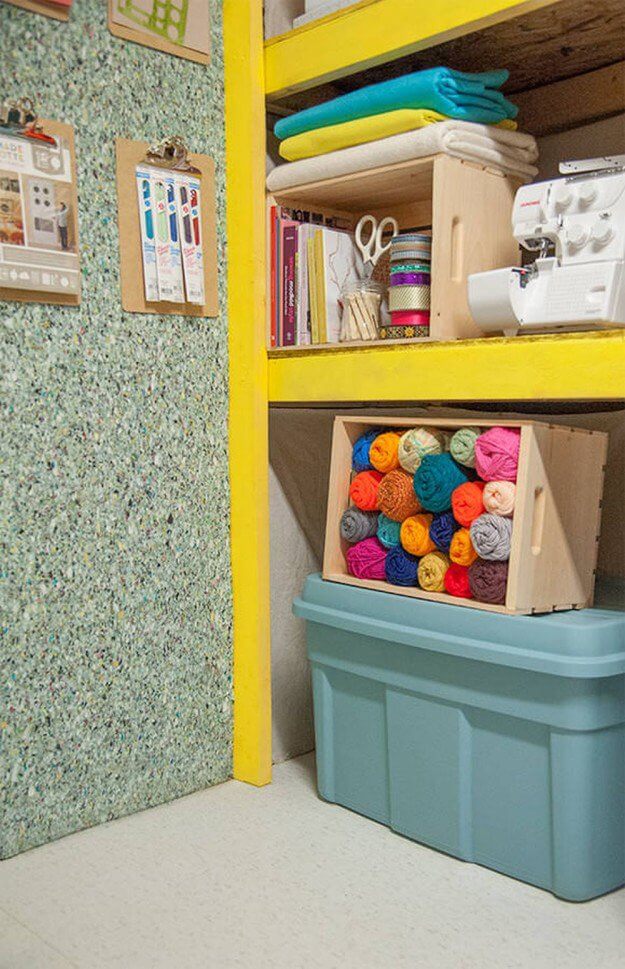 Surprisingly, carpet padding is a great way to give your garage a vibrant makeover. Green swirls and flecks of black and white provide an interesting contrast of color. Because the carpet padding shown in this image is made from recycled shoe rubber, you can treat it just like a bulletin board. By pinning small items like clipboards into the wall, you can free up some shelving space. Carpet padding can also provide thermal insulation which makes it a good idea if you store temperature-sensitive items like paint in your garage. Best of all, you can install it with a staple gun.
4. Kid-Friendly Homemade Garage Storage Buckets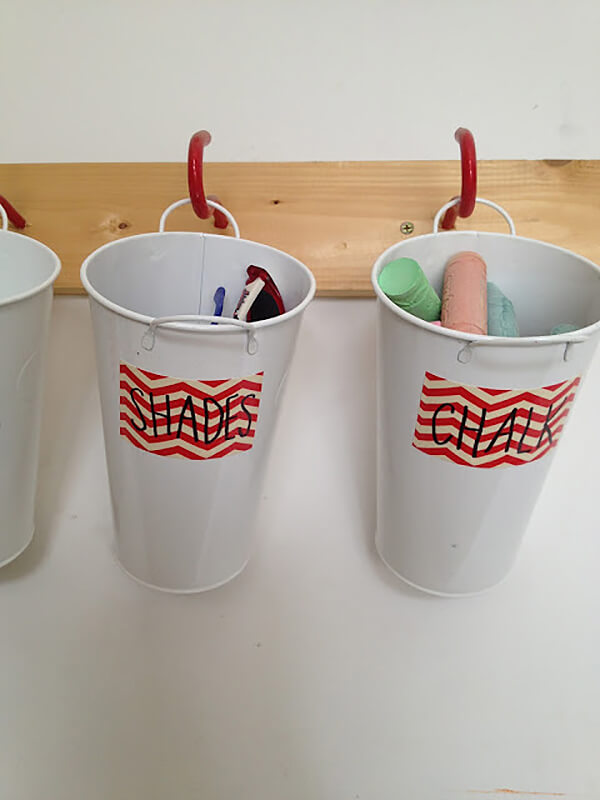 If you share your garage with children, it can be a challenge to keep everything organized. This idea groups miscellaneous items in a way that kids can still access. All you need are buckets, baskets, or bags to hang on this horizontal rack. Keep height in mind as you mount the rack. You might want it low enough for a child to reach, but not so low that a toddler has unrestricted access to the chalk. While the labels on this image are energizing and coordinate with the hooks, you could use any labeling system that is legible and fits your space.
5. Decluttering Via Overhead Bin Storage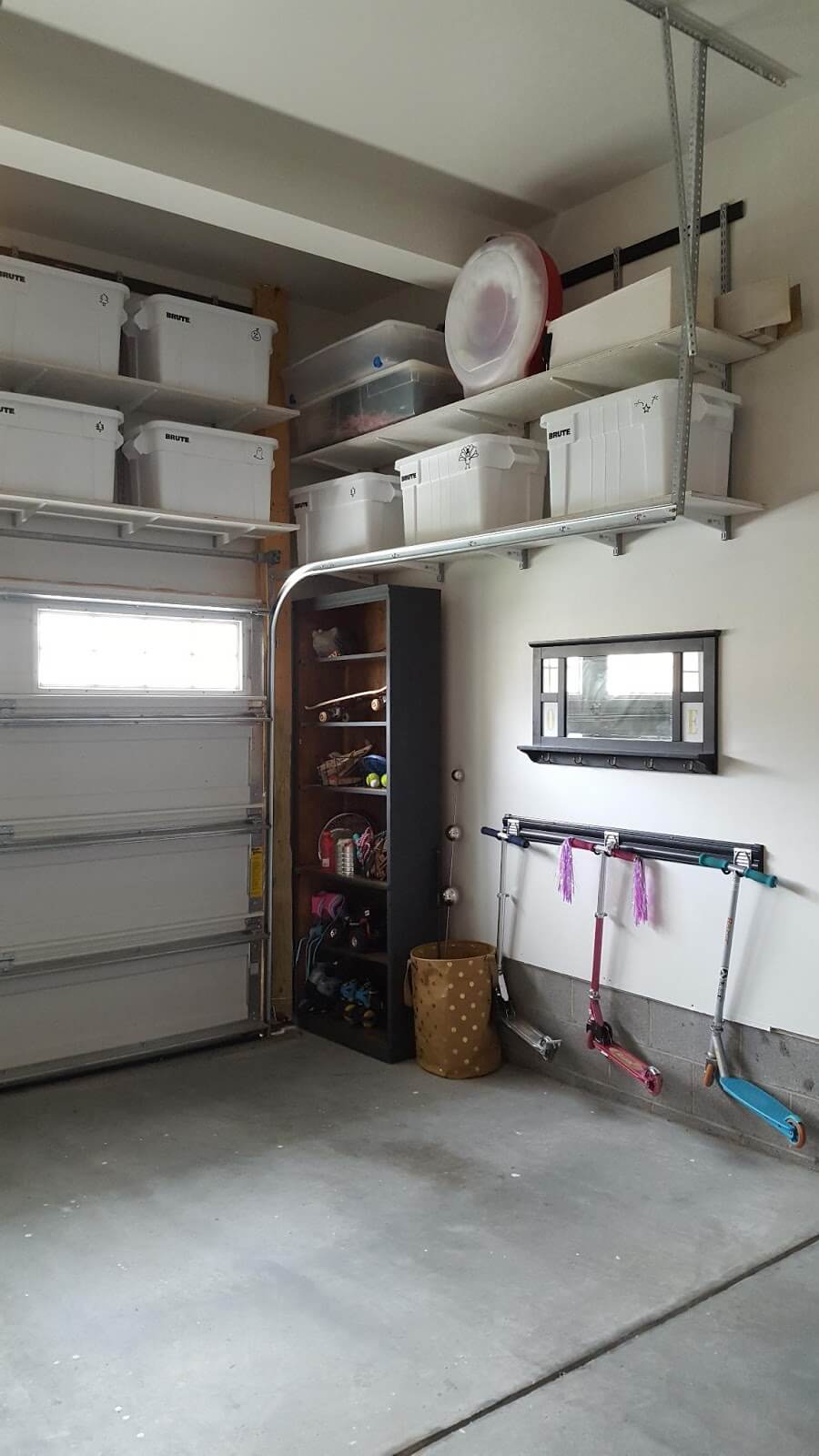 To keep as much garage space clear as possible, tiers of shelves keep these white 20-gallon containers off the ground. Each bin features an image-based label to show what is inside. By selecting white shelving and bins, the garage seems larger and the shelving fades into the background. You could also color code bins by holiday or by room. For maximum visibility, opt for clear plastic containers. Although using non-white bin colors will change the overall effect while the decorations are in storage, it may make getting them out and putting them away much easier. Whichever colors you decide on, this strategy makes the most of your garage space!
6. Rail and Hook Systems for Versatile Storage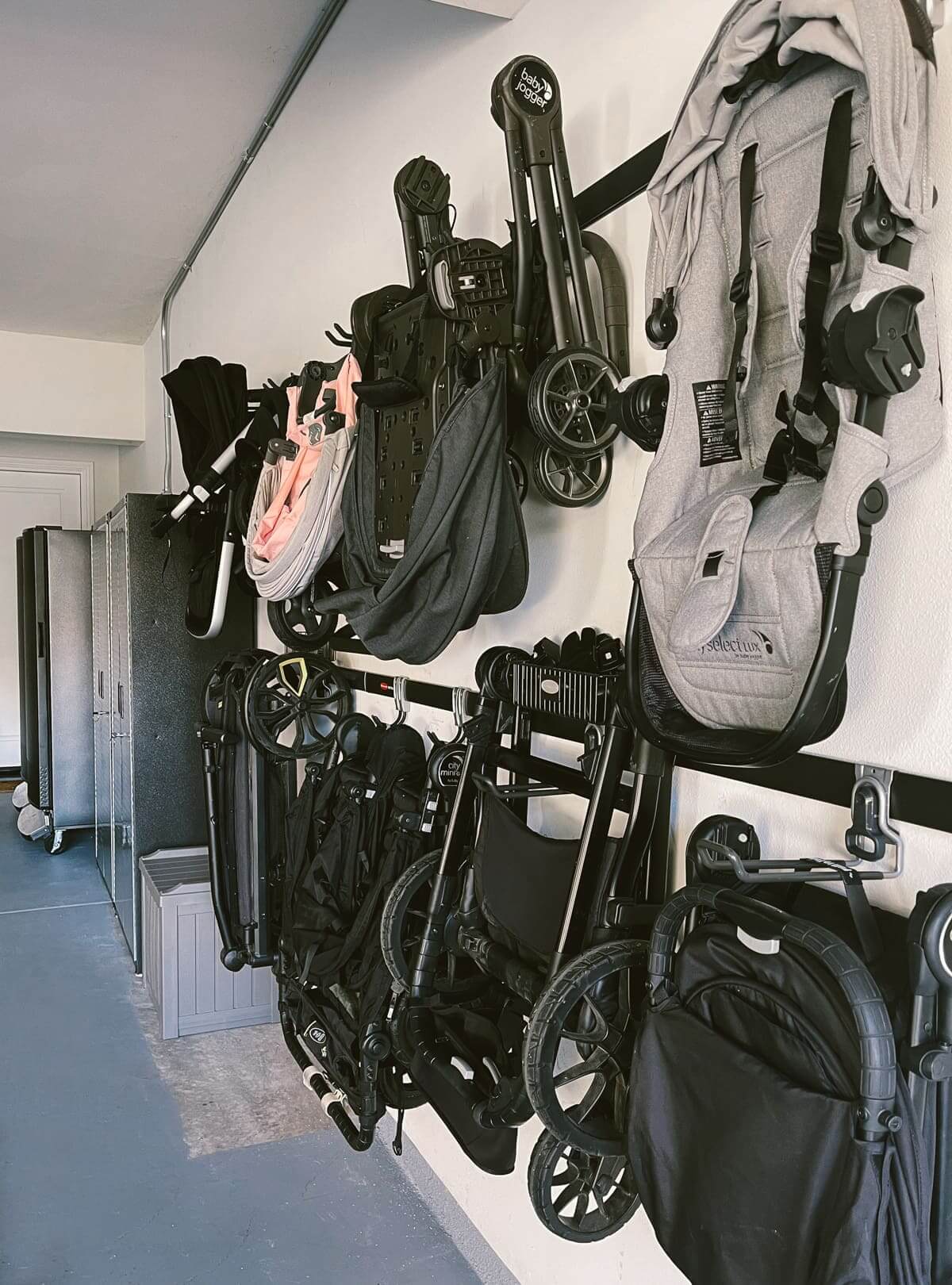 The best DIY garage storage ideas for your space might mean finding new ways to organize bulky items. In this image, those bulky items are strollers, but rail and hook systems can be used beyond the world of baby gear. If you can hang your collection of cumbersome possessions on a hook, a rail and hook system might be the perfect storage solution. While you would think that the black rails against a white wall would cause drama, the negative space between strollers steals the show in this particular design decision. Depending on what you plan on storing, the rail and hook system might have a different visual appeal.
7. Constructing a Workbench with Rolling Tool Storage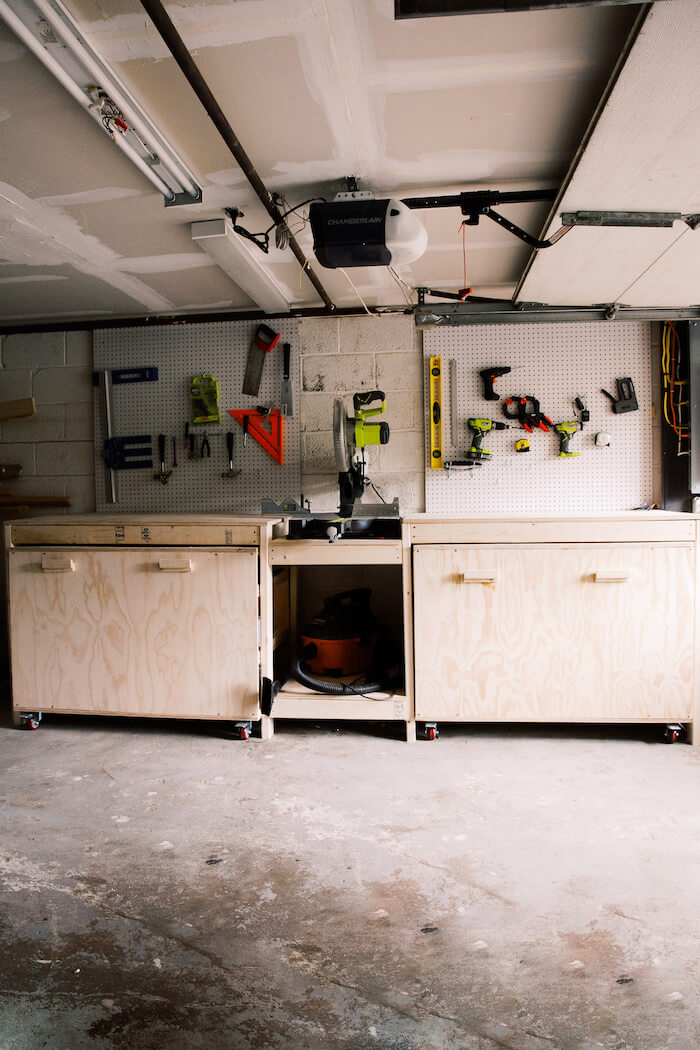 By using every bit of available space from floor to ceiling, this project is a study of efficiency. The workbench itself is stationary and even includes a large storage cubby. The rolling cabinets include storage space for larger equipment as well as smaller shelves for all the other miscellaneous materials that do not fit anywhere else. Above the workbench, the pegboard securely holds smaller tools ready for easy use. Although not everyone needs a comprehensive carpentry workstation, this design does offer versatility. Changing up this setup for non-carpentry pastimes might take a little creativity, but is definitely a doable way to get your garage organized.
8. Modular Shelving for a Modern Approach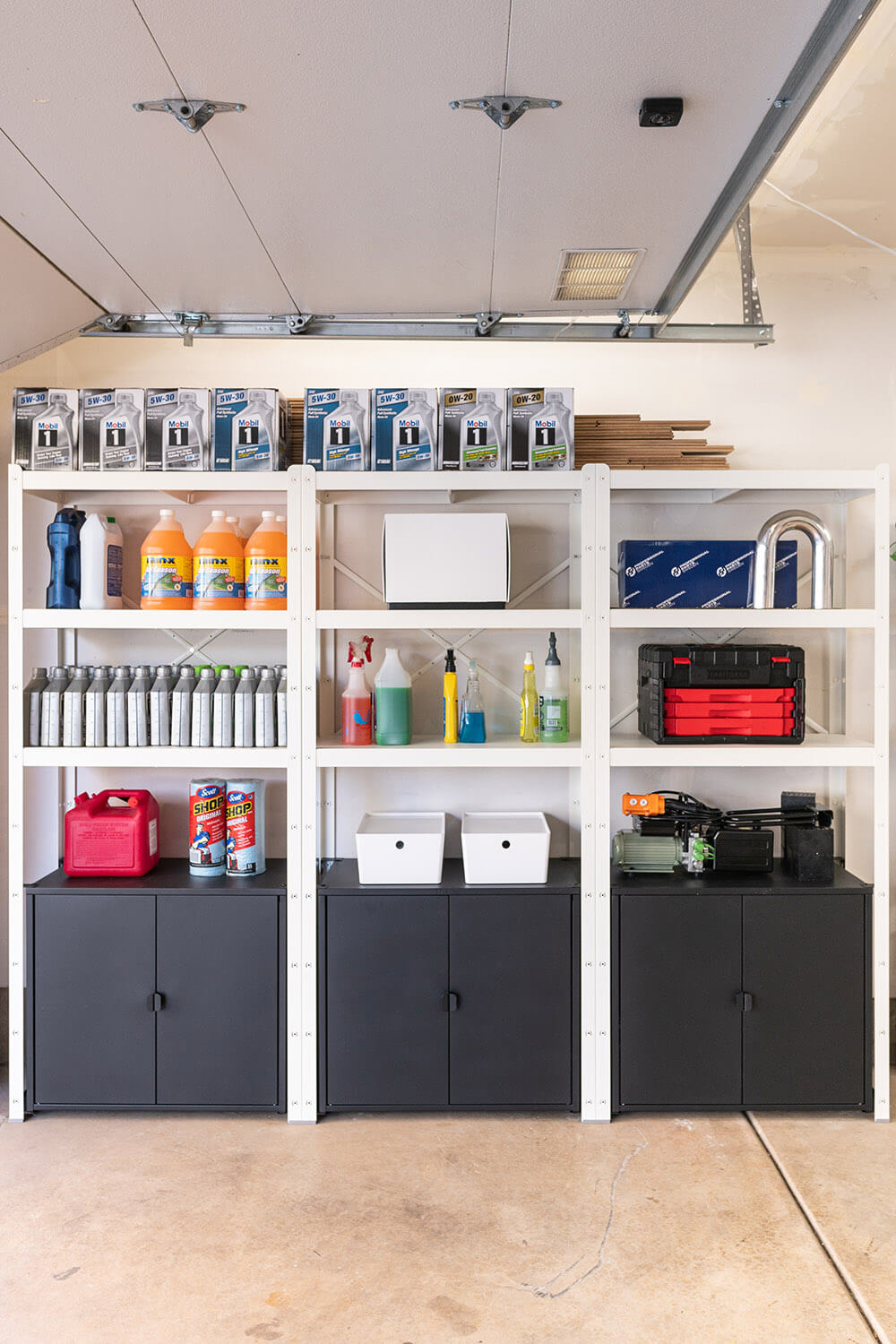 One of the best aspects of organizing via modular shelves is how scalable this approach is. Whether you have enough garage space for an entire wall of these shelves or can only fit a single shelving unit, this strategy will look fantastic. Because these shelves feature a white frame, the space feels larger and lighter. Made from powder-coated galvanized steel, these shelves offer industrial sturdiness while still being aesthetically pleasing. The black cabinets create contrast and help the shelving units feel anchored. In addition, the cabinets are perfect for storing items that might not be visually stimulating enough to display on the open shelves.
9. Built-In Lockers for Easy Outerwear Storage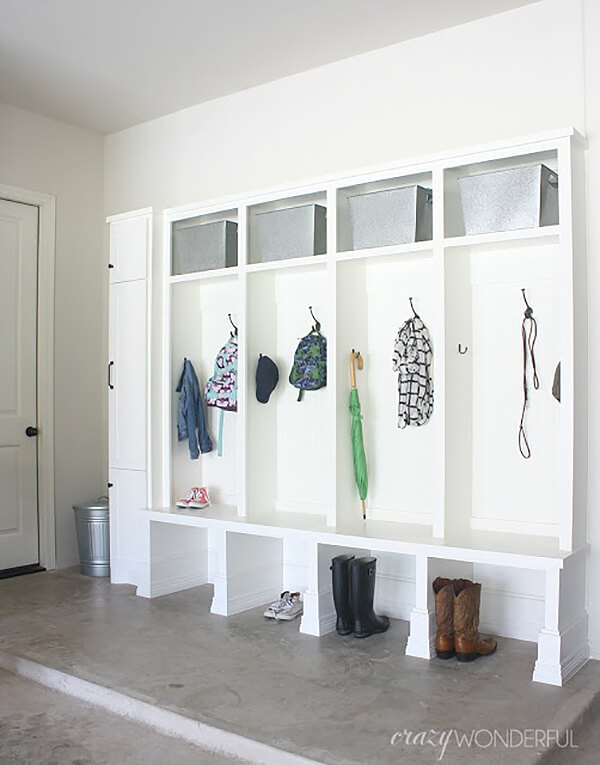 Giving your family's outerwear a home is one of the best DIY garage storage ideas that you can implement. Everyone in your household will enjoy having a dedicated space for their outdoor accessories. This configuration includes a floor-level cubby for shoes, an open-faced locker laden with hooks, and a galvanized steel bin up top for items that see infrequent use. As a final touch, a cabinet at one end provides additional storage. All the white keeps the space looking large and open. If you do not have this many people living at your home, you can dedicate a locker to a pet's needs or even miscellaneous outdoor items.
10. Building Mudroom Cubbies with Bonus Storage Space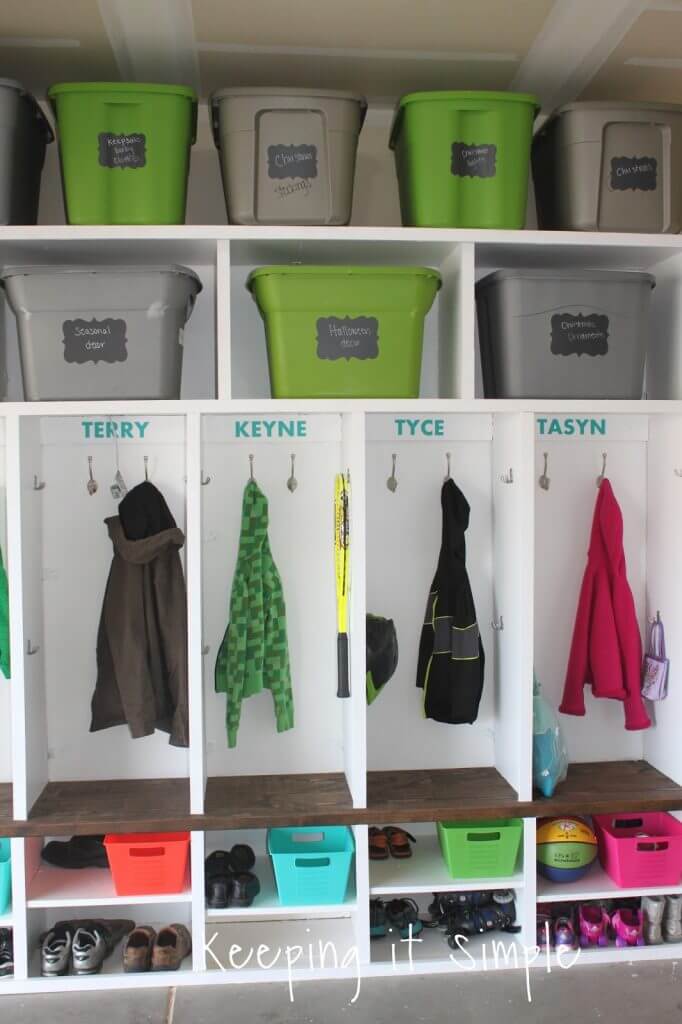 Considering your household's unique needs is one of the most important parts of designing effective garage storage. Constructing outerwear cubbies is an easy way to cut clutter in your living space, but these lockers do take up precious space in the garage. Because this design includes overhead storage for totes, it makes the most of the space. Because it can be a hassle to get into bins stored that high, this space is best reserved for seasonal decorations or other items that are only used a few times per year. Applying a legible name label inside each cubby helps instill ownership and gives each person their own space.
11. Organizing with Wooden Storage Shelves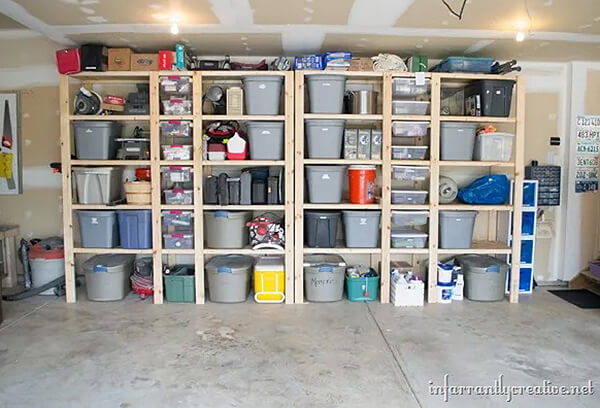 Designing your handmade garage storage ideas around the totes you already own is a great way to get rid of clutter. Floor-to-ceiling shelving keeps your possessions vertical instead of sprawled across the floor. Instead of featuring shelves with equal lengths all the way across, this shelf is purpose-built to handle various sizes of plastic containers. Bins and items too large to fit on the shelf go on the floor under the first shelf. Meanwhile, smaller bins have their own shelving compartment, and some, with the help of cleats, slide off the shelf. When your shelf is built, finish it with your favorite stain or paint.
12. Budget-Friendly Baskets to Upgrade Your Garage Storage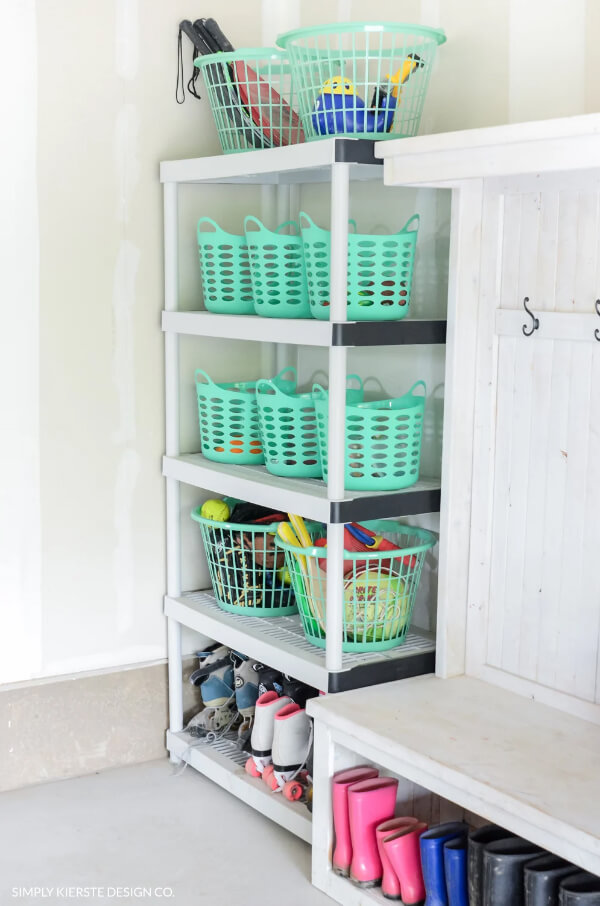 Visiting the dollar store might not sound like an effective way to get your garage organized, but it is the secret behind this shelf's success. Two different basket sizes make it easy to sort all your frequently-used outdoor items into tidy order. The vibrant seafoam color stands out and might even serve as a reminder to put outdoor toys away when the children in your household are finished with them. Although it can be tempting to use identical baskets for all your organizational needs, choosing coordinating baskets gives you a little more flexibility while embracing visual harmonization. All these baskets need is a labeling system.
13. Using Hooks with a French Cleat System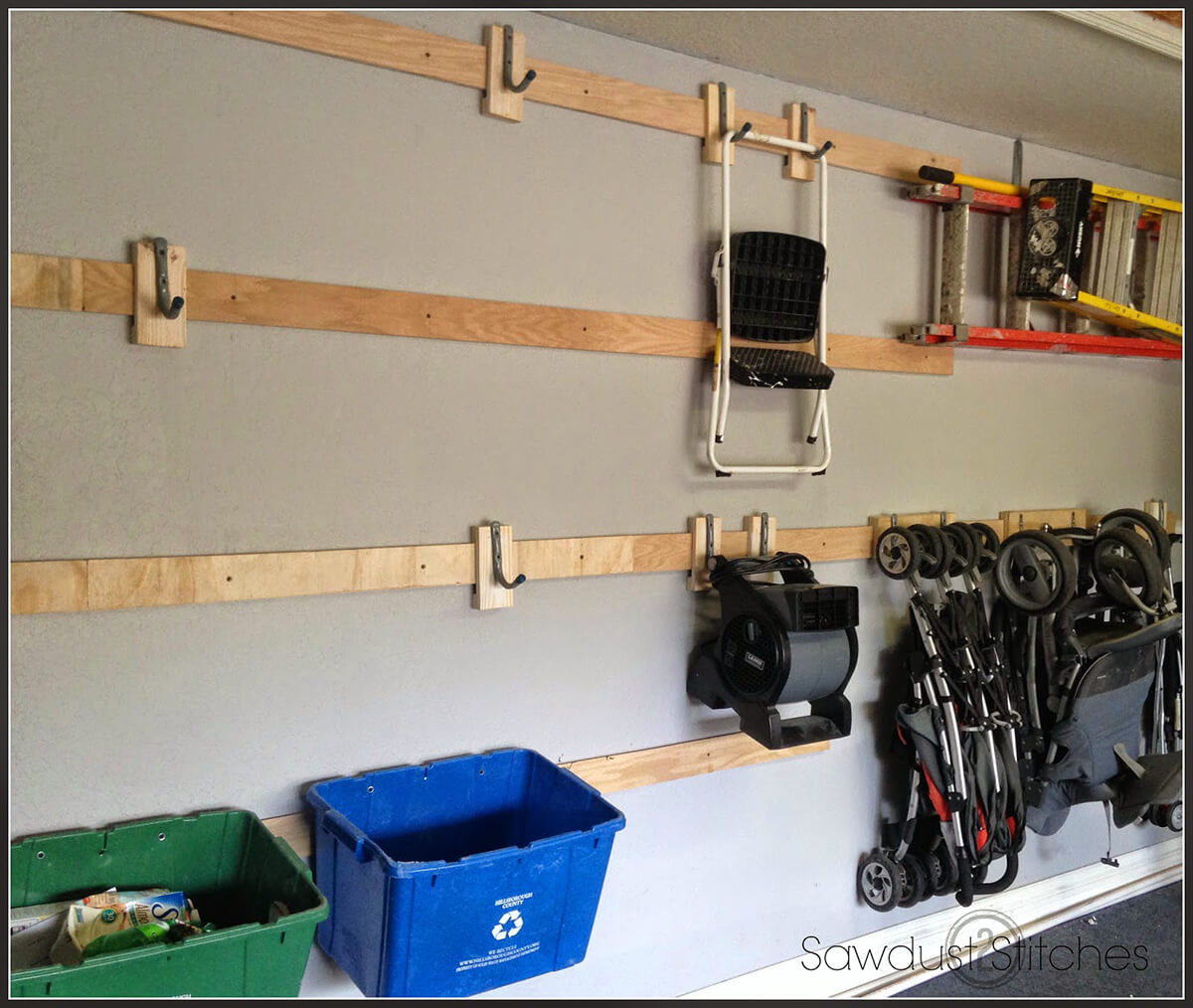 French cleats are a fantastic homemade garage storage solution to keep oddly-shaped items out of the way. This system makes it possible to store anything you can hang on a hook. In this image, you can see an assortment of items including a step stool, stroller collection, and recycling bins all suspended from the wall. If you are not sure yet what you will store, you can always make several extra hook boards. Unfinished wood keeps this project simple and imbues your garage with a touch of nature. However, if you would prefer your French cleat system to coordinate with the baseboard, use your favorite stain or paint.
14. Storing Bicycles from the Garage Ceiling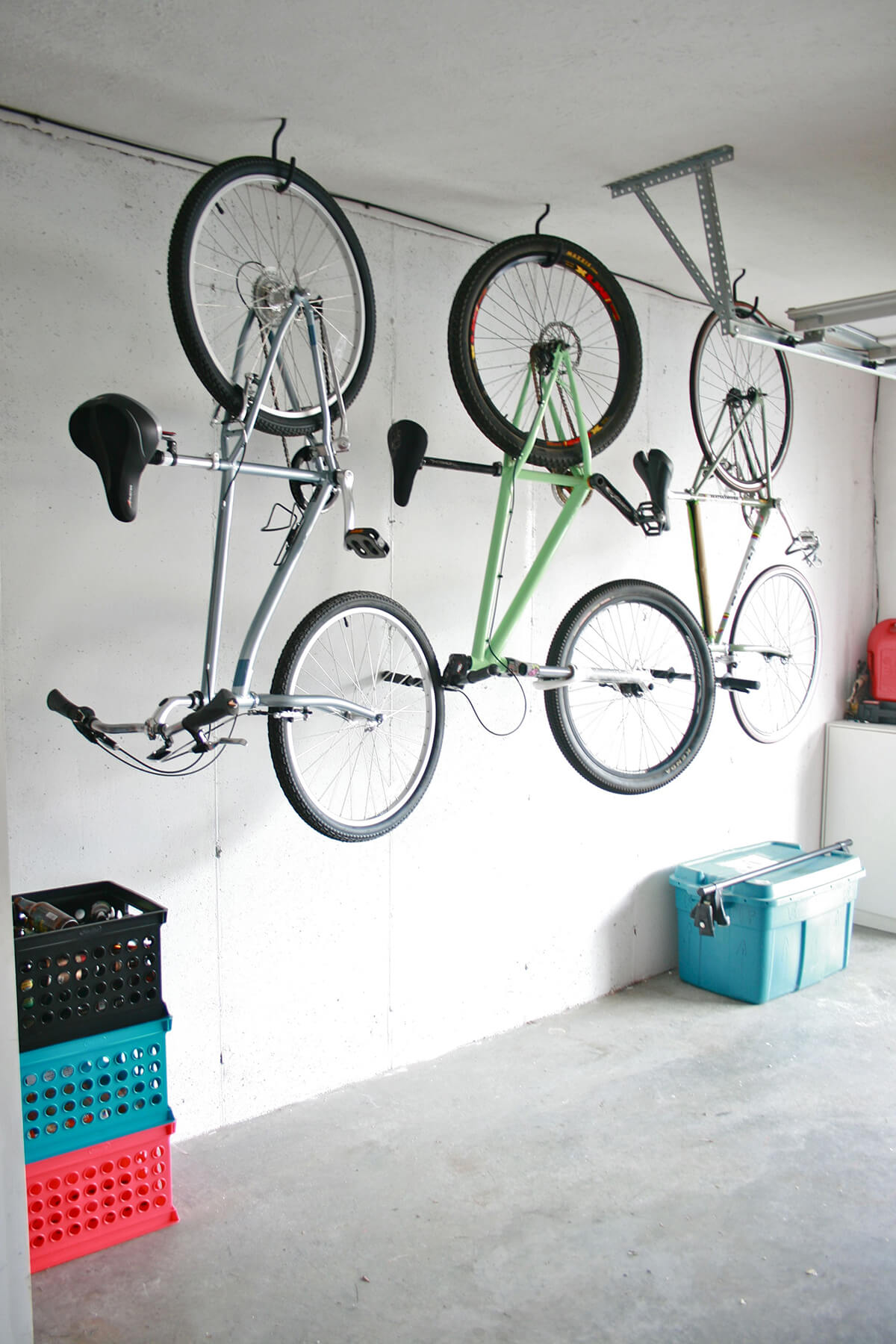 When left to their own devices, bicycles add a significant amount of chaos to your garage. This is especially true if they are not ridden every day. If you are tired of fighting the bicycles in your life to access other items in your garage, it may be time to install hooks like the ones shown in this image. This is a surprisingly simple solution that can clear away a huge percentage of your garage's clutter. If you would prefer more head clearance, hang each bicycle from two hooks instead of the one shown here. Of course, the single-hook hanging configuration takes up less ceiling space.
15. Staying Stylish with Creative Clamp Storage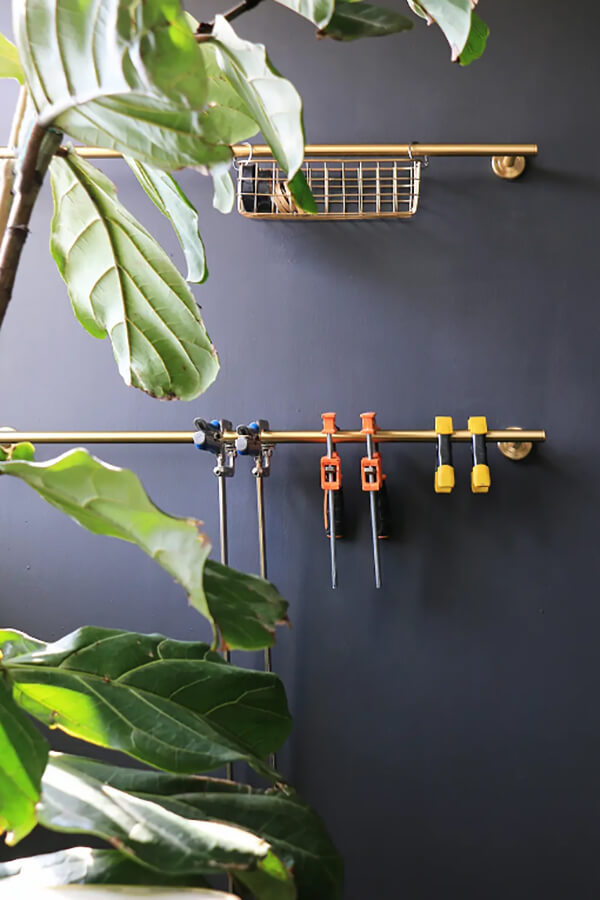 Just because a garage is a chiefly utilitarian space does not mean that it must look like the personification of practicality. Draw inspiration from this image to give your garage a unique makeover. While black paint might seem like a counterintuitive choice for making your space feel larger, it is perfect for imparting moodily cozy vibes. Give your garage workshop the gift of gold hardware, and you will be able to bask in luxury every time you work on a project. In this image, clamps clip right onto the rails without disrupting the space. You can store other small items in rail-mounted baskets like the one shown here.
16. Extra Deep Storage with Sliding Shelves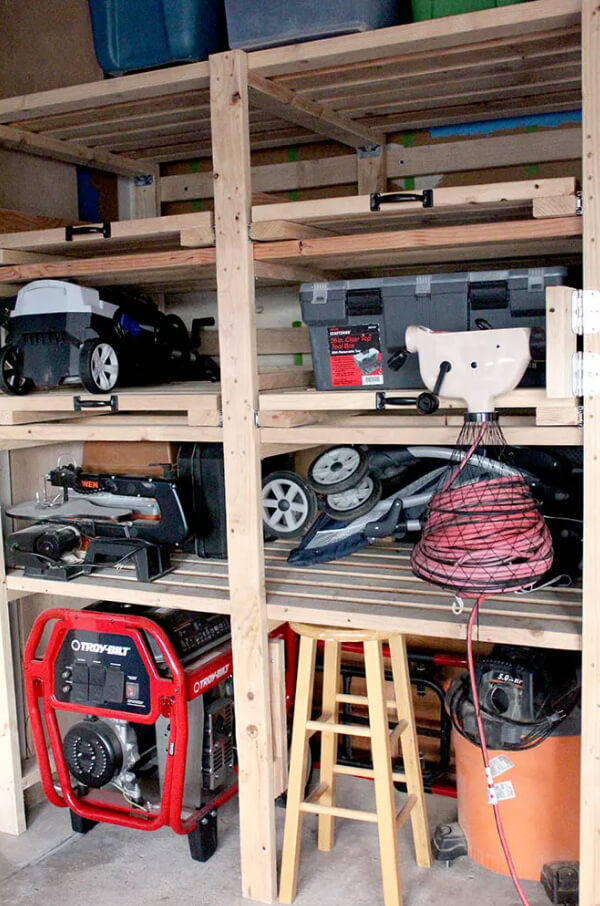 At 36 inches deep, this shelf offers an enormous amount of storage potential. However, with shelves that deep, it can be difficult to reach items at the back. This challenge is mitigated by building four of the shelves shown here to slide out like drawers. However, some items are large enough that they fit well on the static shelves. Even the floor level offers functionality because it allows appliances like the vacuum to roll out without having to lift off a shelf. Black gate handles on the sliding drawers and the unfinished wood offer a refreshing look, but you can stain or paint this shelf to match your aesthetic.
17. Make Organization Easy with a Pegboard Wall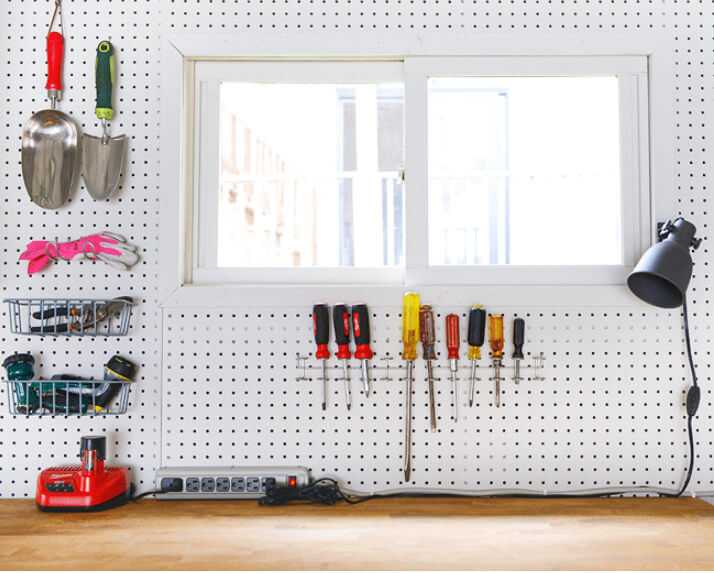 As well as looking spectacular, using white pegboard to create a focal wall is also practical. The small, evenly-spaced holes offer a soothing symmetry perfect for calming a troubled soul. To emphasize this effect, paint your pegboard a shade of cool blue or comforting green. Beyond aesthetics, pegboard offers the flexibility of changing up your tool storage as your collection changes. This potential means that it can comfortably accommodate the few tools shown in this picture or the plethora accumulated over a lifetime. For items that do not lend themselves to storage on a pegboard, it might be a good idea to invest in baskets.
18. Designing an Elegant Garage Storage Space
Make your garage one of your favorite places to spend time by filling it with beauty. In this image, silver pegboard, gray cabinetry, and turquoise tiles come together to cultivate a space where you would actually want to work on projects. The best DIY garage storage ideas combine function and form, and this image is the perfect example. Small bins along the bottom of the glamorous pegboard are filled with small, frequently used items like nails. Cabinets painted a posh dark gray hide clutter while providing a sleek silhouette. Because it is finished in contact paper, the countertop can be quickly switched up to fit a different mood.
19. Using Pegboard as a Shelving Backdrop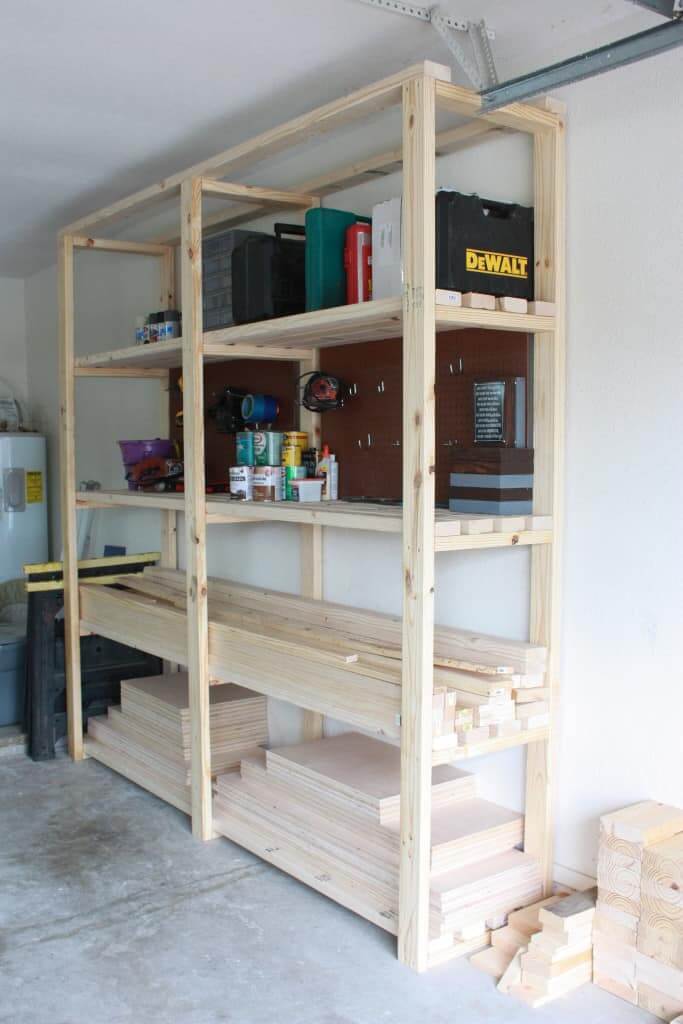 Backing your handmade garage shelving with a pegboard is one of the easiest ways to squeeze a little more storage into your space. While this is effective only if you store low-profile items on pegboard-backed shelves, it gives you an incredible amount of flexibility. Use it to store tools, cords, or anything that will fit on a hook. The best place to install the pegboard shelf is at your eye level. Beyond the pegboard, the remaining shelves offer storage for anything you need for your projects. This shelf is about eight feet long, but you could easily modify yours to better fit your space.
20. Maximizing Space with an Over-the-door Organizer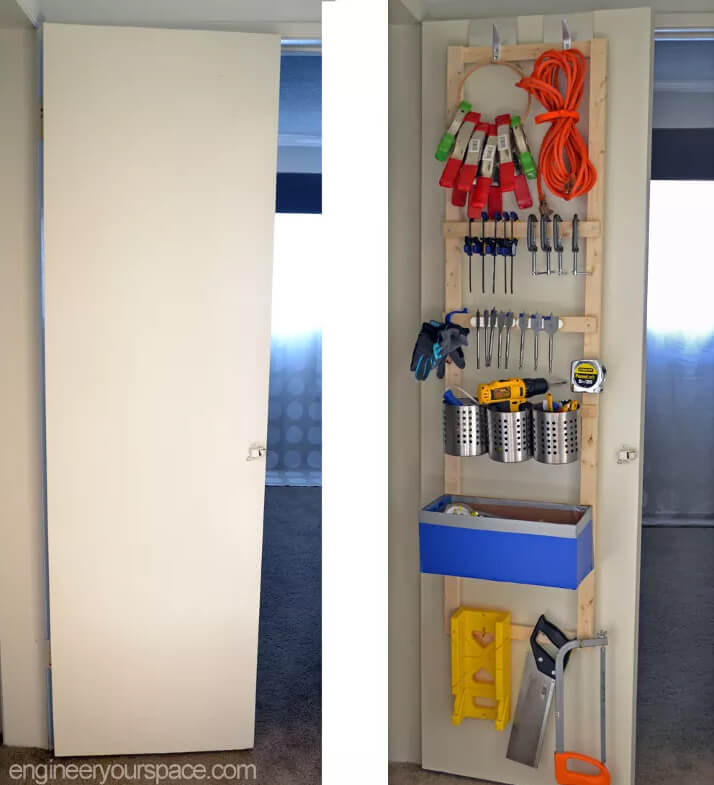 Yes, even doors can be used to squeeze in a little more storage. While there are commercial door hooks available, this tutorial shows you how to make custom hooks from aluminum flashing. Once your hooks are ready, you can mount a wooden frame ready to hold whatever you need to store. This example shows a variety of approaches including magnetic strips, metal baskets, a box, and even hooks for an extension cord. To make your over-the-door organizer work for you, take inventory of what you would like to have easily accessible. Then, brainstorm the best ways to organize them on your wooden door holder.
20 of the Best DIY Garage Storage Ideas
From pegboards to built-in lockers, there are so many ways to incorporate homemade garage storage solutions into your life. To set yourself up for success, it is usually best to consider which items you use the most as you decide which storage ideas to implement. Generally, it is best to organize your possessions such that frequently-used items are easier to access. If you only pull a tool or tote out a few times a year, it can go higher up or further back. However, if you find yourself reaching for it more often, find a way to make it as easy to access as possible.
Although tidy garage chic is a nice look, you should not be afraid to personalize your garage's ambiance. Yes, practicality is important, but so is designing a space that feels pleasant. A few good places to start include paint and hardware that resonates with your style. Even if you are renting and unable to make permanent changes, sprucing up your garage with totes, baskets, or pegboard are great ways to make your garage your space. The cosmetic upgrades might take a little extra time and money to implement, but the beautiful space you create is more than worth it.