63. Murder On The Runway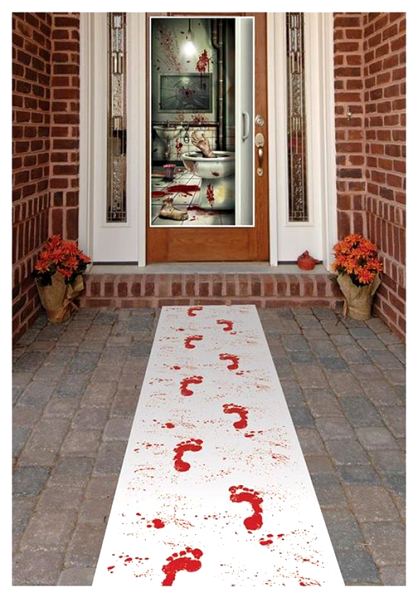 To create a truly horrifying entryway, add this to your holiday decorations list. Guests coming to your door will think twice about entering the scene of the crime thanks to this disturbing floor runner that you created. Using a long length of old sheet or purchased floor runner and some red paint, you can create this murderous display of bloody feet entering your home. Additional drops of paint will lend to the illusion of a murderous scene inside the front door. Trick-or-treaters beware when entering the bloody scene of your diy outdoor decorations.
64. Spooky Spirit Halloween Jugs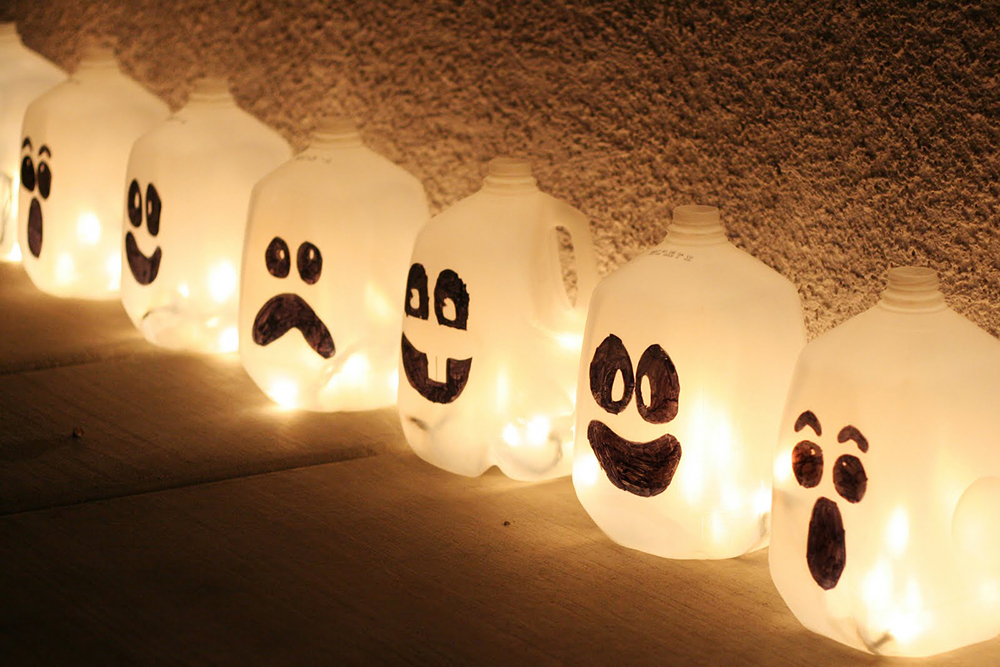 Got milk? Save the empty jugs to create these outside Halloween decorations. This kid friendly project involves the use of empty jugs, a magic marker, a knife or scissors, and a string of white Christmas lights. Have the kids put faces on the cartons and color them in while you cut a small hole into the back of each one. Insert a length of lights from the string into the holes and you have created a fun lighted walkway or border. Kids will be elated to see their creations in lights.
65. Halloween in White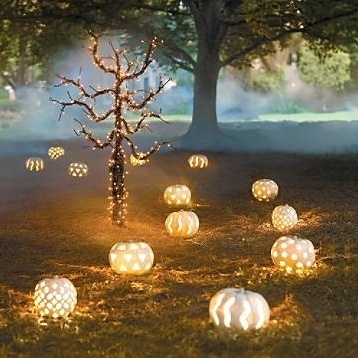 If you enjoy monochromatic scenes, this DIY Halloween project is for you. With an assortment of light colored or white painted pumpkins and some pattern imagination, you can create this classy outdoor path lighting using carved pumpkins. Create a pattern on each of the painted pumpkins and carve away the unwanted parts. Spray paint the pumpkin shell white and insert white LED lighting to create this fantasy type atmosphere. These pumpkins will give any driveway, walkway, or stairway a polished and dreamlike aura. The bright lighting of the LEDs will deliver a tremendous amount of ambient lighting to your Halloween yard decorations.
66. Fine Pumpkin Dining Décor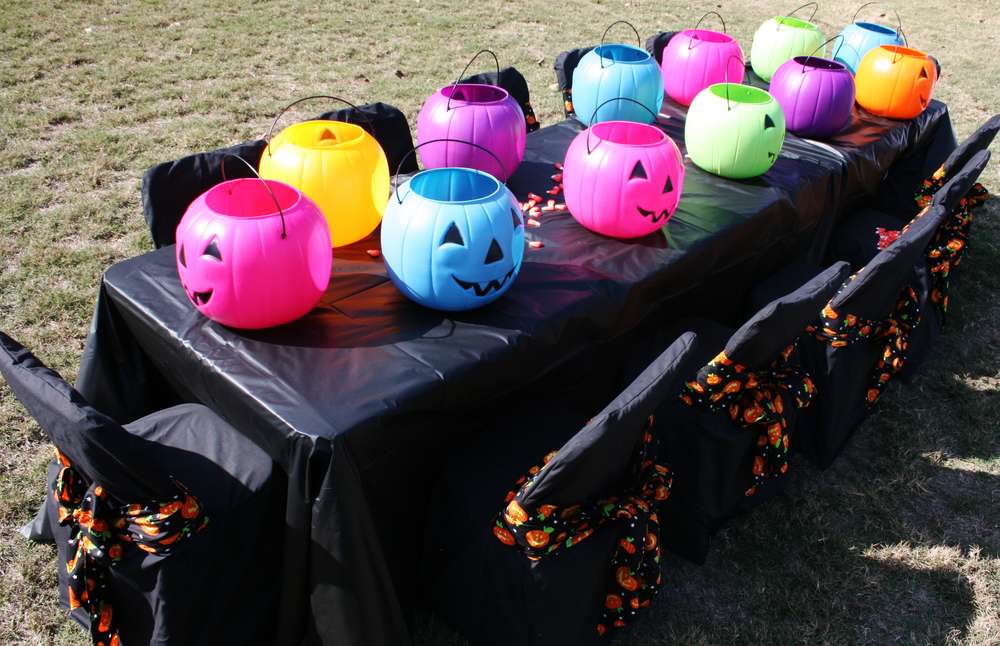 A Halloween dinner party is not complete without a fabulously ghoulish and original table setting. Use these colorful buckets as part of your creative decorating ideas. Fill the buckets with easy to eat and non-perishable foods and treats to serve to your guests for their monstrous meal. Add a black plastic table cover to catch any spills and create a clean surface. Finish the table off by scattering it with some candy corn and assorted goodies. Chair covers and lengths of Halloween themed fabric tied around the backs will complete the look of your spookily spectacular table setting.
67. Fairy Tree Hideaway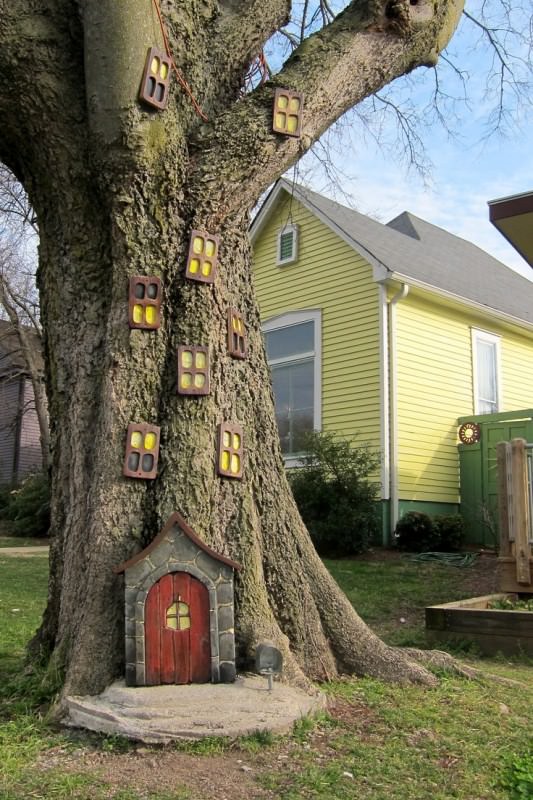 The weather is turning cold so why not invite the fairies to move into a tree in your yard? Create this realistic looking fairy apartment complex from the selection of fairy tree products and accessories available for sale online and at craft and home improvement stores. Ambitious and artistic DIY creators can create their own unique versions of this whimsical and magical decoration for your trees in your yard. This project has the potential to grow year after year as you add to your fairy tree and the land surrounding your fairies homes. This Halloween décor is perfect for those who like to expand their decorations year after year.
68. Pretty Pumpkin Path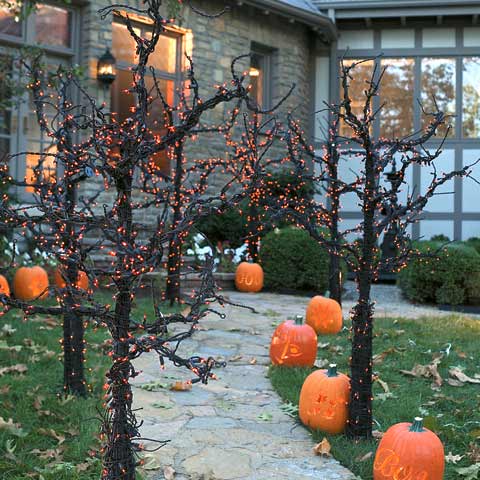 This classy pumpkin path is easy to create with some orange Halloween lights and some lengths of tree branches. Decorate each "tree" with the led lights, making sure to reach all of the branches and around the bases of the trees. When the sun goes down, these lighted mini trees will give your outdoor decorations an ambient glow. This DIY project is inexpensive and the row of orange lit trees gives your outdoor landscape some color and added visual interest. Light a long pathway or create a spooky forest with these halloween ideas that are easy to create and inexpensive decorations.
69. Glowing Ghost Decoration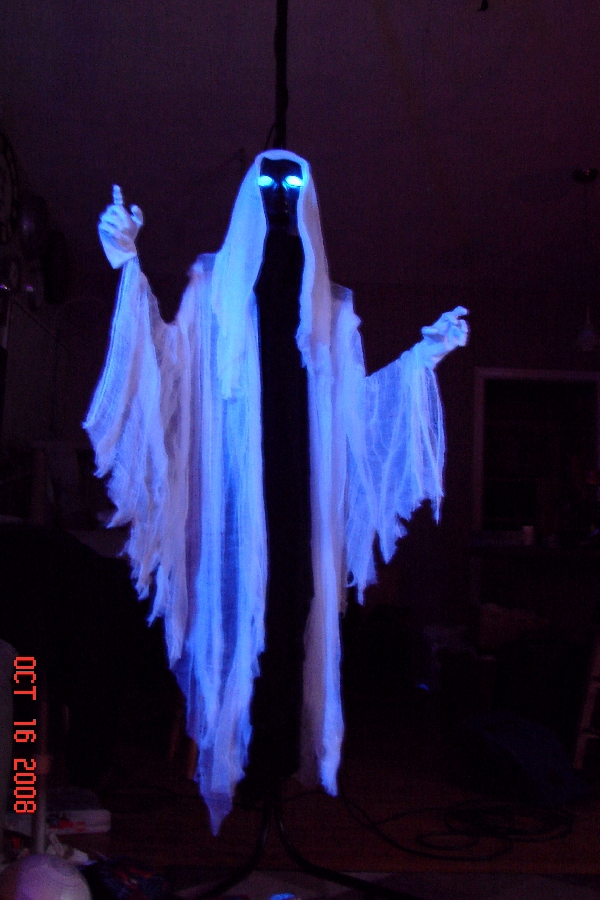 Add this sinister looking ghoul to your outdoor decorating ideas. This image will give a fright to all who enter your DIY outdoor halloween ideas. You can create one of these gruesome ghouls with some black material for the body, a foam head, led lights for eyes, and cheesecloth draped over the body. The form is created from old wire coat hangers and formed to your desired position. Add your personalized touch to your ghost by creating more than one of these figures and pose them in different and interesting ways on your property.
70. Eerie Cemetery Entrance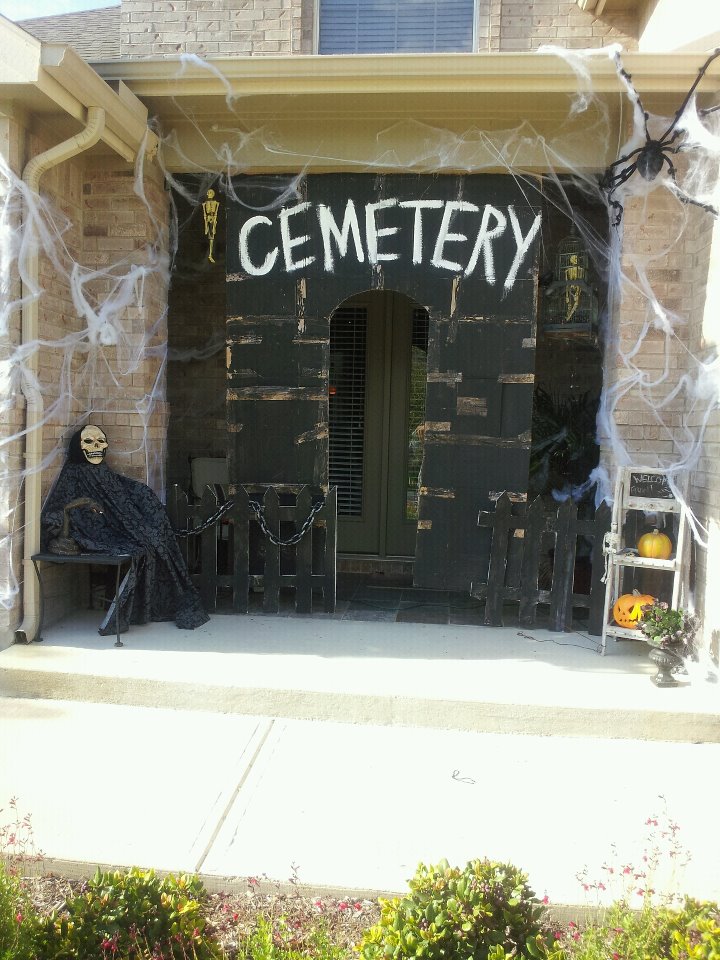 Transform your entryway to your home into a creepy cemetery entrance with this easy DIY crafty decorating idea. This fabulously freakish holiday decoration can be made for nearly no money at all. Contact your local retailer for some old cardboard boxes to use for constructing the "walls" of your diy cemetery entrance. Paint the exterior with black paint, leaving a few "bricks" showing for depth, and cut an opening in the front for your guests to enter your home. Finish off the project by painting the word "cemetery" over the opening and invite your guests inside.
71. Comical Cemetery Plots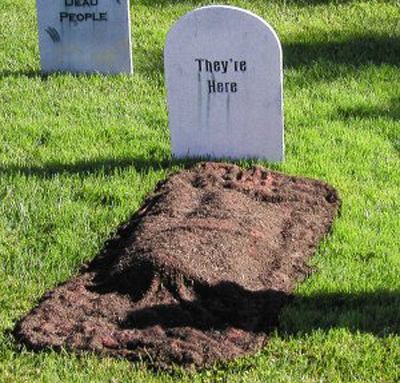 Add some fun to your Halloween decor with these comical grave sites. Using an old beach towel, some fabric dye, chicken wire or newspapers, fake skeleton limbs, and add some mulch or soil to top off this creative addition to your spooky landscape. Create original sayings for the tombstones or adorn the stones with fake personas and some hilariously famous last words. However you decide to arrange your cemetery, your Halloween visitors will be amused at your halloween decorating. Add some ground lighting to illuminate the area after the sun has gone down when the zombies come out.
72. Eerie Arachnids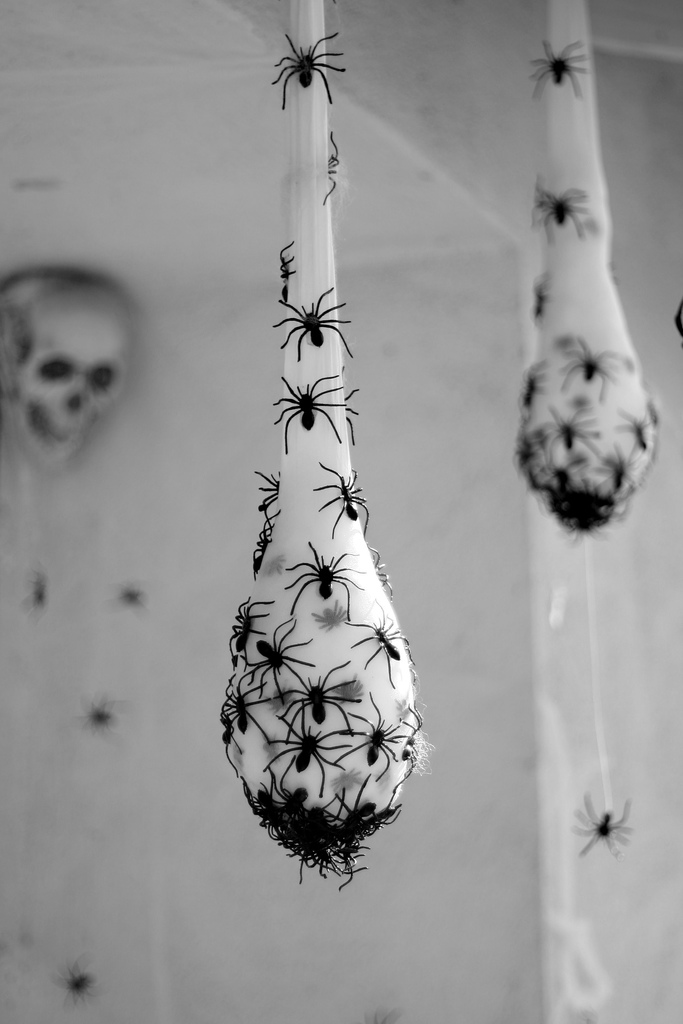 Make all of your visitors itch when they have to walk through your maze of spider sacks. This decorating idea is easy to create with the use of some plastic spiders, some white tight legs, and some stuffing. The addition of the tiny spiders on the inside of the sack and the grouping of spiders at the bottom of the sack lends to the unsettling thought of this massive spider infestation actually being alive. Hang from trees, fences, porches, or windows to create an unforgettably creepy image in your visitors memory of your awesome festive decorations.
73. Phantom Ghost Posts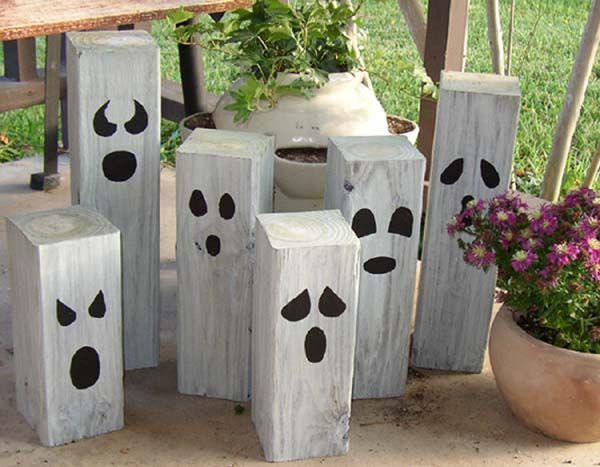 Make a bold statement with this ghoulish decorating project. A simple assortment of wooden blocks of different sizes can be painted or whitewashed to create a "block-headed" ghost body. A little black paint to create your own unique creepy facial expressions and you are ready for displaying your new Halloween decoration. Line them up to form a ghoulish border in landscaping or arrange them in groups around a patio or fire pit. These cool holiday decorations can even double as small resting places for guests drinks when they are invited to your Halloween party.
74. Going Batty Halloween Decoration
Give your trees some scary decorations with these menacing looking hanging bats. Perfect when hung from a tree, a group of these easy to make diy scary decorations will have your visitors ducking for cover. Arrange in a group, or hang them randomly throughout your landscape for an overall spooky feel. Arrange some of these diy decorations in the windows of your home to add to your halloween house decorations. When hung in the windows, these easy to create diy bat silhouettes will appear to be infesting your home with their eerie shadows. You can make the bats yourself or purchase the completed ones here.
More DIY Halloween outdoor décor ideas on the next page…