75. We All Fall Down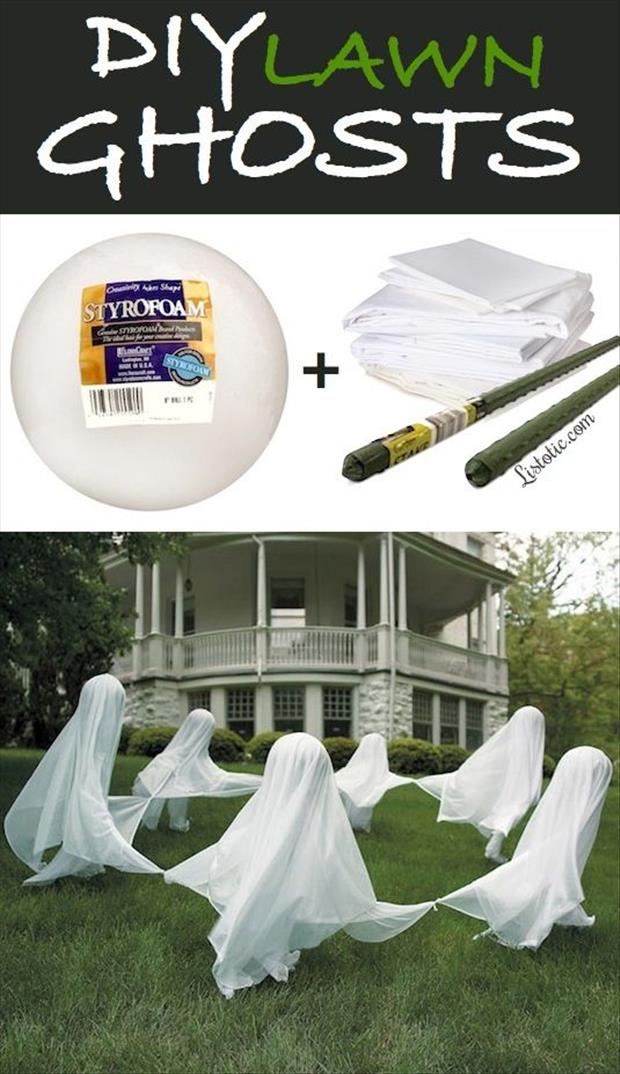 Many people believe that the classic children's game "Ring Around the Rosie" has a dark interpretation. They believe that the final part of the song – where "we all fall down" – refers to dying. People will think of that song if you set up this easy-to-make display in your front yard. With just a few inexpensive materials, you can create this ghostly scene. If you don't want your white bed sheets to get dirty from being outside, consider purchasing a length of gauzy fabric from a craft store. This is sure to be much less expensive than using sheets, especially if you use a coupon. After all, you'll already be at the store to buy the Styrofoam balls for the heads.
76. Witches Live Here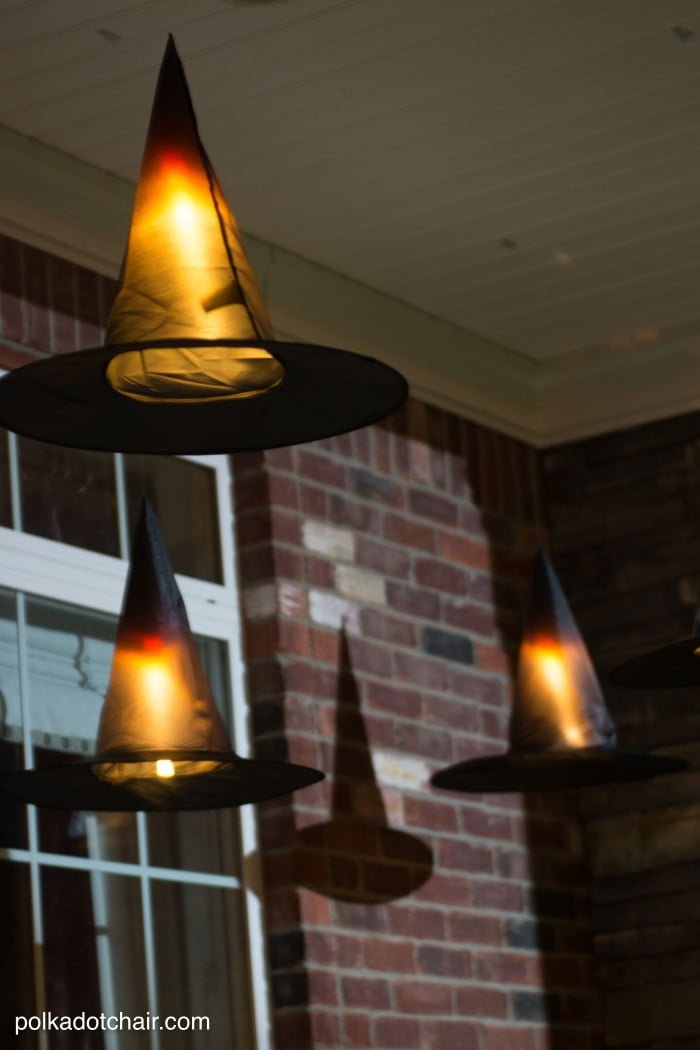 If you're looking for an inexpensive but dramatic Halloween decoration idea, look no further than this one. You can often pick up witch's hats cheaply at the dollar store or at a thrift store. Simply put a battery-powered light inside and hang them up, and you have an instant spooky look. After all, witches don't really need a place to hang their hats, do they?
77. Menacing Ghost Mob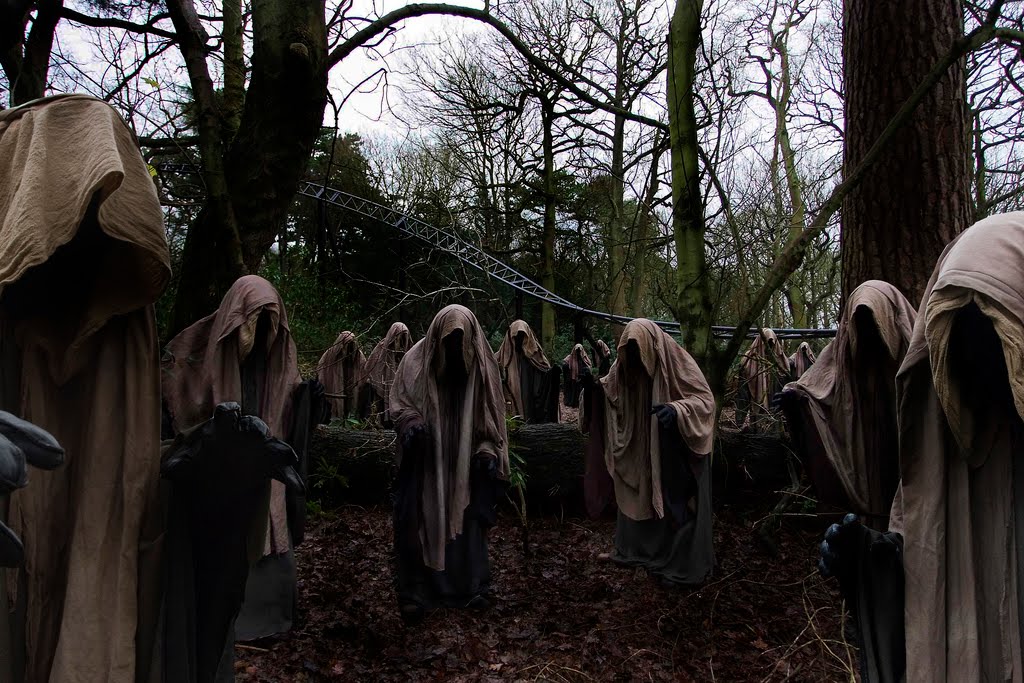 If having one ghostly figure in your Halloween decorations is just not enough for you, create a whole mob of them to scare the pants off of any person daring to cross their path. These were originally costumes, but those can be used for an outdoor décor too. Create these larger-than-life creepy ghouls and arrange them in a wooded area or throughout your landscaping to create the illusion of ghoulish figures emerging from the darkness to take over. Creating these handmade holiday decorations may take a little more time to construct, so put your DIY Halloween ideas into action early to get the jump on the other neighbors decorations.
78. Harry's Hallway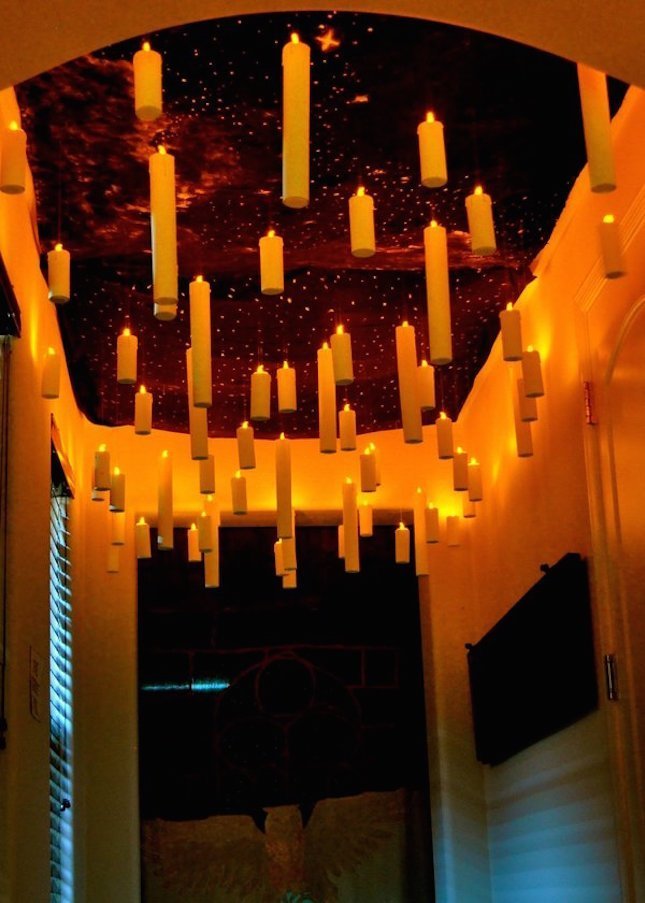 What Harry Potter fan hasn't dreamed of walking through a great hall with floating candles? Your home may be no match for Hogwarts on a normal day, but it can shine throughout the Halloween season and maybe even beyond. When you see how easy it is to create this look with some of the things you probably have in your home already, you'll wonder why you never thought of it before. If you're not keen on having something this elaborate in the main part of your home, consider using the idea to decorate the kids' rooms.
79. Chilling Crow Silhouettes Decoration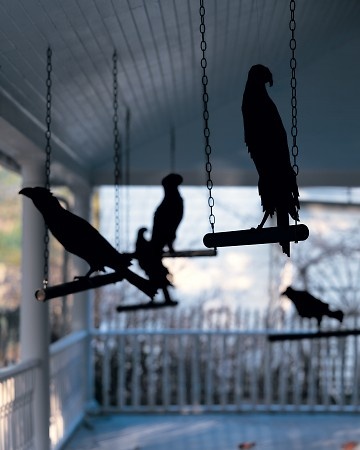 The crow is an excellent addition to your Halloween decoration ideas. Thanks to the scary role that this bird has played in many spooky movies, the image of the crow instantly makes your outdoor Halloween decorations that much more chilling. Create this murder of eerie crows perched on wooden dowels and suspend them from a porch ceiling to create a creepy and unsettling feeling to the area. You can do it yourself or normally purchase the realistic looking crows that you use for this creepy Halloween craft from some retailers, hobby shops, and from online stores for under $20.
80. For the Love of Hollywood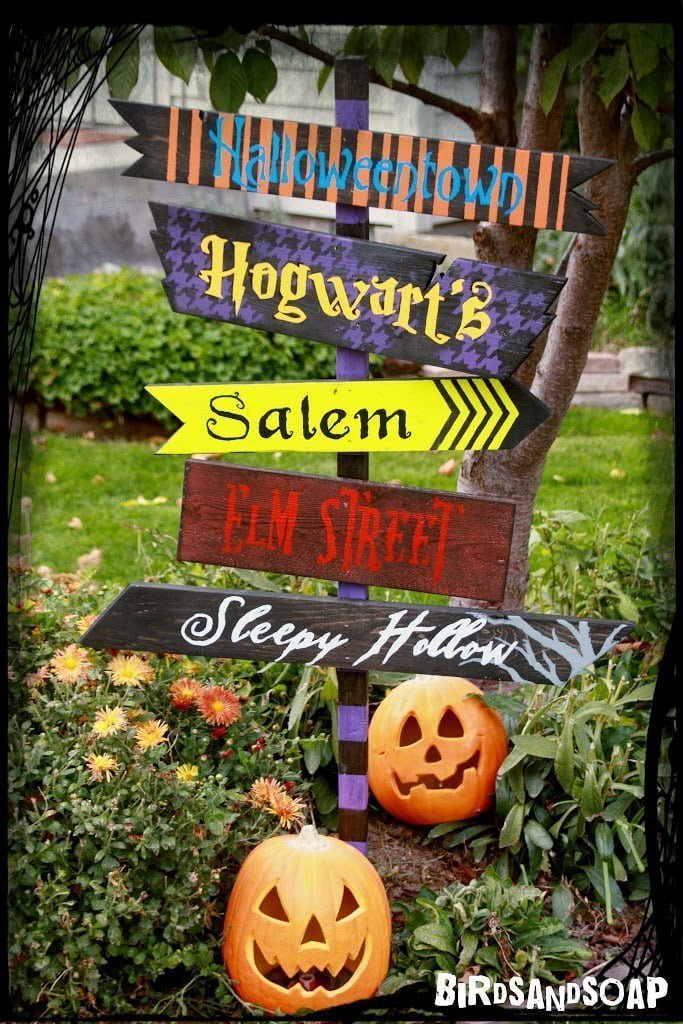 This cute sign post points the way to all of your favorite spooky and magical destinations. From Hogwarts to Elm Street, your neighbors will love the way the styles match the styles from the movies. You don't have to use these specific locations, though. If this isn't your cup of tea, consider making your own locations, directing people to the hanging gallows, the cemetery, or the psych hospital, perhaps.
81. Spooky Wreath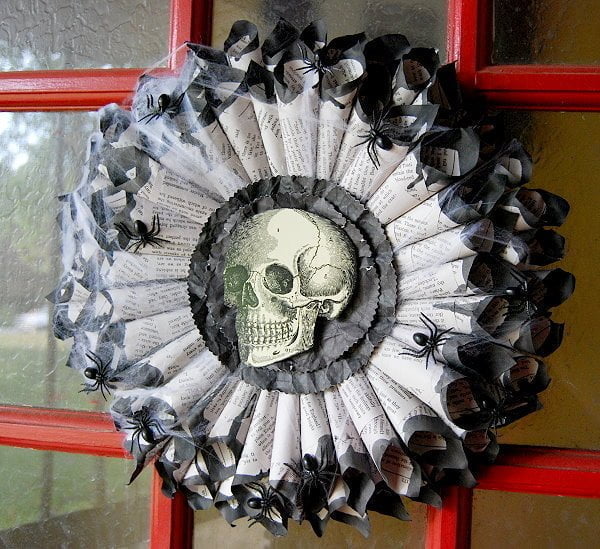 Get creative with this simple idea for a Halloween-themed wreath. Your kids could even help roll up the pages and drape it with fake spiders and webs. Of course, you don't have to stick with the dark and scary look you see here. Instead, you might take the same idea but use a brighter orange color with a pumpkin in the center. It's the unique idea with the paper that helps this wreath make a statement.
82. Eyes Are Everywhere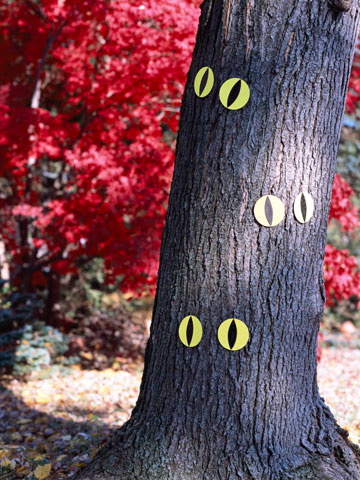 Have you ever had the unnerving and uneasy feeling that you are being watched? Visitors and passer-bys will certainly get that feeling of being watched when you make these eerie eyeballs from glow-in-the-dark foam or construction paper and a marker. Create these eerie oversized eyes and place them throughout your yard and landscaping design. Add these diy halloween crafts to trees, shrubs, or even the side of your home for added creepiness to your outdoor holiday decorations. These eyeballs are perfect for creating a creepy atmosphere especially when they are displayed on trees that line a long driveway or walking path.
83. Wicked Warning Luminaries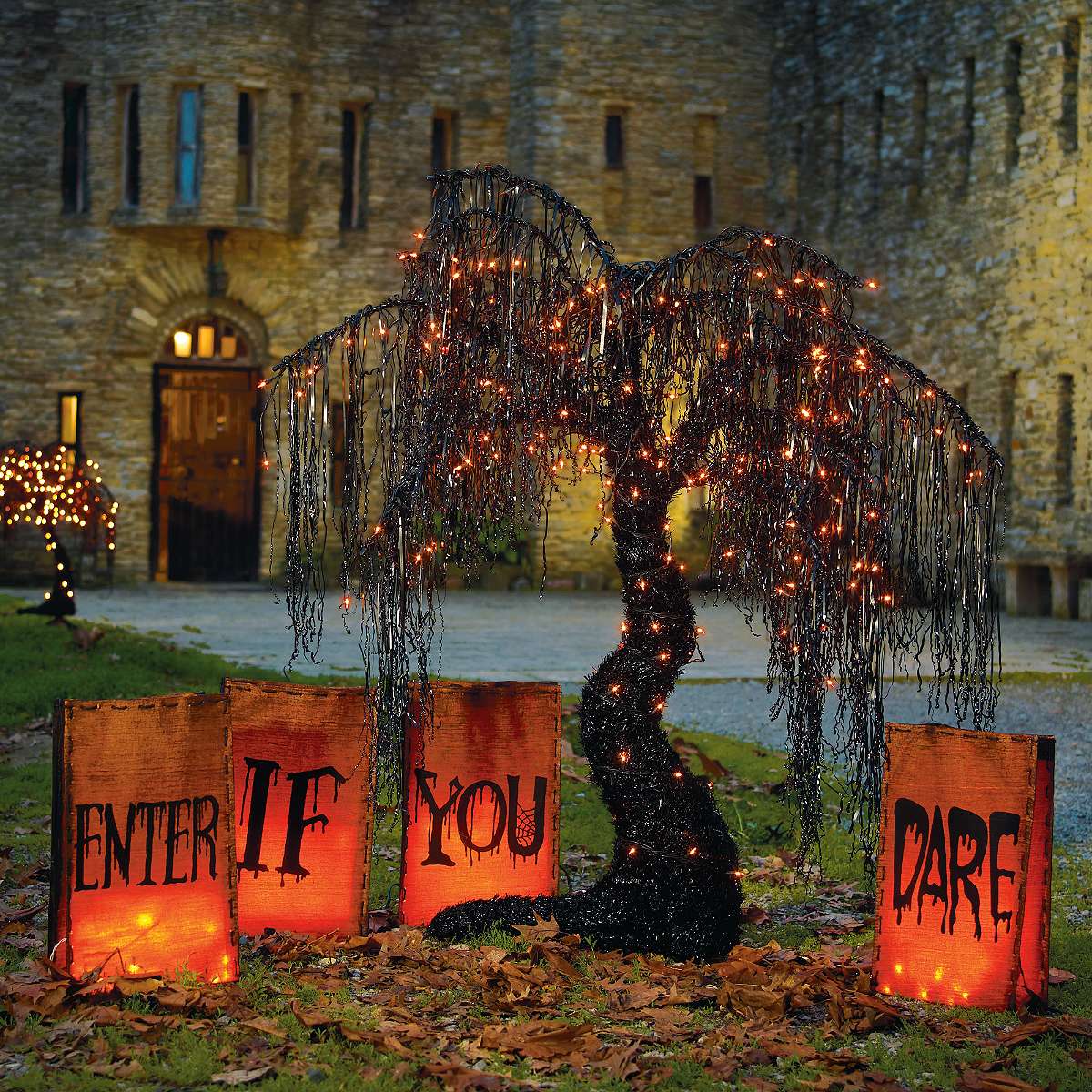 Beware, take care, and enter if you dare. That is the message you will send the trick-or-treaters at your house when you purchase these lighted warning luminaries. Constructed of vinyl with a weather resistant covering, these oversized bags are electrically powered by lighting cords that can be joined end to end for simple installment anywhere in your outdoor Halloween decorating plans. Place these spooky signs at the entry of your drive or to warn visitors of their impending doom when they enter your world of frightening and ghoulish decorations.
84. Cutesy Critters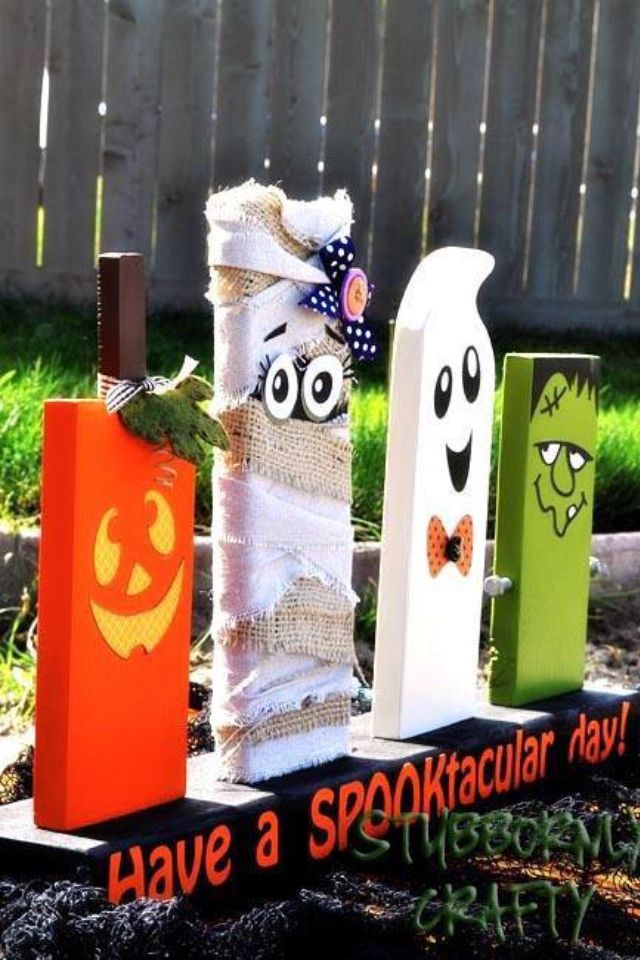 Every year, some people complain about the scary decorations scattered throughout the neighborhood frightening the children. It's a valid concern. If you still want to do something without focusing on the more scary aspects of the holiday, look at this cute little design. With a pumpkin, Frankenstein, mummy, and ghost, it has all of the traditional Halloween characters, but their adorable smiling faces takes some of the fright away. This is the perfect look for a family who has small children who wants to get into the spirit of things.
85. Give Me a Hand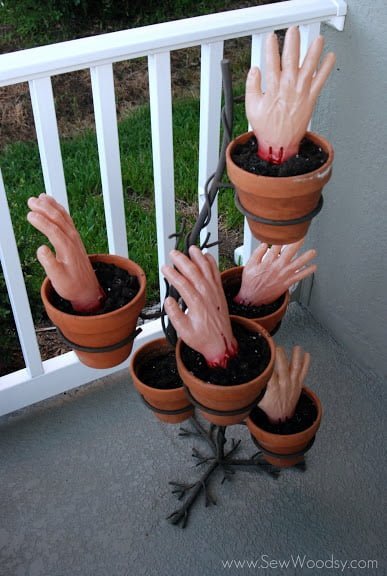 Now that your annual flowers have died, you can still make use of your pots and planters by putting some body parts into the pots. This unique holder gives some height to the pots, but you can take this idea and use it in a variety of the planters you might have put away for storage. For instance, you could have feet growing out of your window box planters and fingers coming out the holes of a strawberry planter. Pick up these body parts cheaply at a dollar store or Halloween-themed store.
86. Halloween Hodgepodge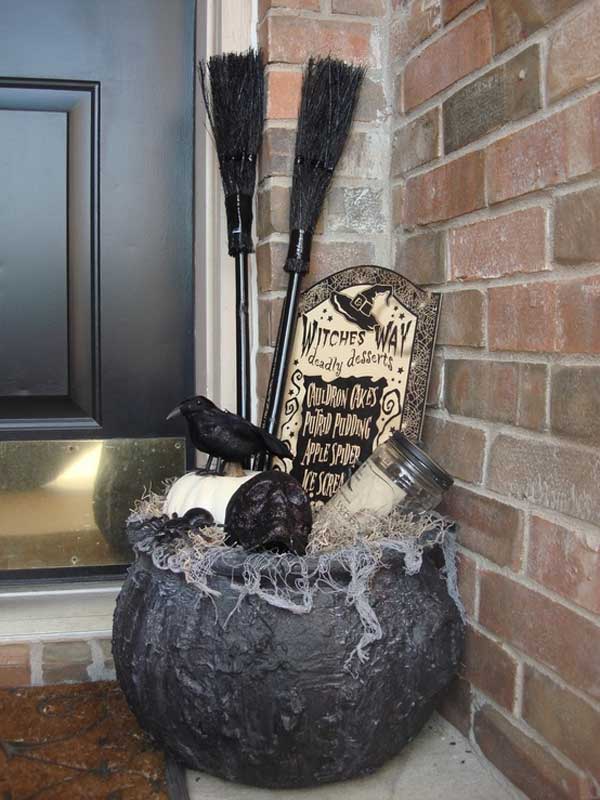 This simple design has just about everything you expect to find around Halloween time – a list of witch's recipes, a pumpkin, a crow, broomsticks, a skull, and a large black spider – all packed nicely into a single cauldron. It's relatively easy to make and it doesn't take up much space, so it's perfect for those who don't have a large porch. If you're just starting to get into the spirit of Halloween and don't really want to go all-out, this is a nice first step.
Murder The High Cost Of Decorations When You Create Your Own
Decorating your home and yard for the Halloween season can be a costly endeavor. When it comes to creating spooky and eerie elements for your landscape and home, it is not necessary to spend a king's ransom on new decorations. Creating your own festive decorations is not only cost effective, but it is family friendly and leaves you with a sense of pride and accomplishment when the sun goes down and the ghosts in your yard come out to play. When you create your original Halloween projects, you have the freedom to add your personal taste and individual decorating style to your festive decorating ideas. Get the kids involved in helping you create the best diy outdoor halloween decorations on the block and monster up your landscape.