DIY headboards have gained mass appeal over the past few years. After several decades with a reliance on mass produced, expensive furniture, people have a great desire to reconnect to the tangible–to create something with their own hands, express themselves creatively and re-create a sense of self-sufficiency. Now with the advent of social media, it's easier than ever before to show off our creations and to help and inspire others to create personal DIY projects of their own. Besides, doing it your own not only offers a sense accomplishment, it really helps on saving too.
Feeling Creative? Try Any One of These Amazing 35+ Unique Headboard Ideas

The general kind of tools you need are simple and will already have lying around in your garage or closet: things like a hammer, screwdriver, and a wrench. Others you may not have might be a saw. An initial setup for these tools if you don't have them may cost as much as a mid-range headboard. But the cost you'll save over time will more than make up for it in the long-run. You'll be a DIY master. And the cost of tools you'll need to create and recreate your headboards or other projects will almost always be under $100, especially if you repurpose old furniture.
Don't be intimidated by any of the labor. Much of these creations are so much easier to create than they look, so don't let any reservations stop you from creating the room of your dreams! It is always worth it. You'll be so much prouder and much more in tune with yourself when you're done. All of us are creative, so use this as an opportunity to practice and express your natural creative spark.
Check out some of the best headboard ideas below. Any of these headboards will add such a flavor to your bedroom, that your guests will wonder why they never thought of that!
1. Rustic And Modern Headboard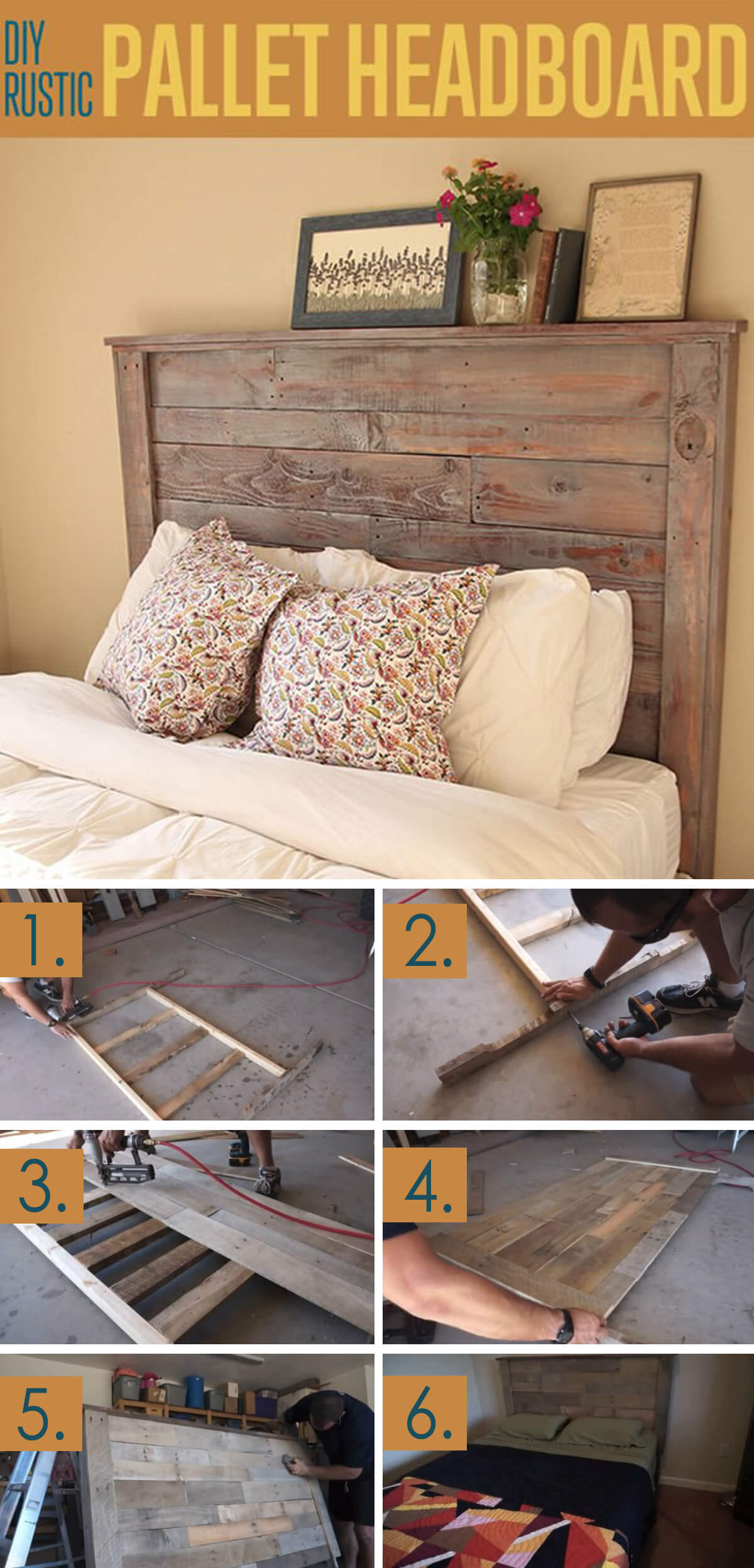 DIY Project Details: diyprojects.com
A headboard and frame in this style is considered high-end and would cost anywhere from $1,000 to $4,000. But you can make this your own for as little as $400. A headboard like this is absolutely easy to make, as the cuts of each board are straight and repetitive. It just takes a little labor. The secret is in the paint! Find a nice ashy or dark nutty color. The stain will catch the grain on the board and re-create a tree-like appearance. It brings out the subtle, natural art-look of the wood which will really enhance the entire frame. The headboard is so eye-catching, that all you need to add is a little decor above the bed to really seal in this bedroom's look.
2. Beautifully Simple Tufted Headboard

DIY Project Details: kindleyourcreativity.blogspot.com
Simple, elegant tufted headboards are great for beginners, especially mounted ones such as these. You get to avoid the extra menial work of securing it to the bedframe by simply mounting it on the wall. All it takes is some simple pieces of wood and some decorative fabric of your choosing. The headboard will draw the eyes right to it, and give your bare wall a splash of interesting color, as well as making the room appear bigger. To enhance the headboard's magic, add in some pillows with a matching color palette that come with their own design.
3. Pink is Queen DIY Headboard

DIY Project Details: theraggedwren.blogspot.com
These colors are supremely young, fun and chic. Perfect for the teenager in your life, or the secret teen in all of us! Another "budget friendly" headboard idea–this one is totally upholstered. If you're tired of the traditional square or rectangular shape that comes naturally with headboards, try an inventive shape like this! Simply hand draw a design around the border or the corner of your wood, and notch it off. Beaded tacks are a smart move; they keep the fabric in place while adding a decorative lining. The spring-colored matching arrangement of pillows go wonderfully with the pink shade here. This set works alone for even a spring or summer bedroom look.
4. Of Mustards and Barn Doors

DIY Project Details: lilluna.com
There's a reason the barn door aesthetic is always trending; it's beautiful, easily repurposed, and goes well with any bedroom's color palette–even with mustard yellow! In fact, this one pairs real well together, as both nutty and yellow colors work well with natural tones. Headboard lights are trending too. They're functional and decorative, and take up less space. Be sure to accent the sides of the barn door headboard with some decorations such as this one; it prevents it from looking like a barn entrance and more like wall art.
5. Mounted Rustic Headboard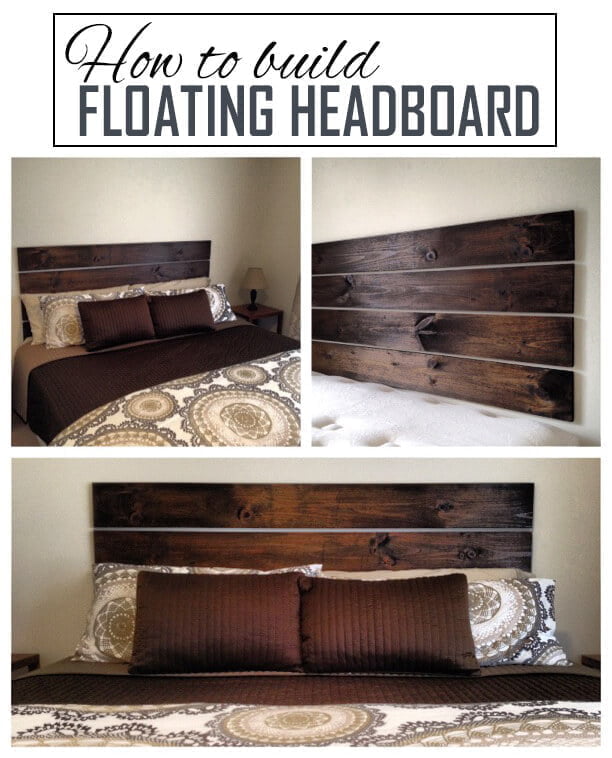 DIY Project Details: brianhazzard.com
You don't always need ruffles or upholstery if it's not your style, and a headboard doesn't have to be your bedroom's focal point. The elegance here is in the design: four evenly spaced polished and stained cedar planks dazzle this bedroom and accent the bed's decor well. You can space out the boards as much as you like, or keep them in nice and tight like this one.
6. Vintage Neutral Tones
DIY Project Details: hometalk.com
This is a beautiful rustic country-style headboard that also has a shelf-like quality to it. Your headboard can be a great place to put books, decorations, lights or pictures. Older doors like these bring an exquisite country aesthetic to a room basking in nude tones. If you're interested in using a door, most doors should fit both a queen and king size bed. To add a little more decoration to the headboard, place the door so that the door handle hole is at the top instead of at the bottom where it'll be hidden by the bed.
7. Patchwork Heaven Headboard

DIY Project Details: takingtimetocreate.blogspot.com
You don't always have to go with wood! To match a quilt's design, try a quilting approach to creating your headboard; aim for put-together and beautiful, but not perfect. All you need is a suitable color palette for your cloth, and lots of fabric to go underneath. You can go random, or you can give your patchwork headboard order; it's up to you. Create your headboard with as many or as little pieces as you like. And don't be afraid to ignore uniformity! Each row can have its own number of pieces, so you can create the shape you want. Patchwork patterns are naturally cheery, so try some light, bold or soft colors.
8. A Beach's Favorite Fence Headboard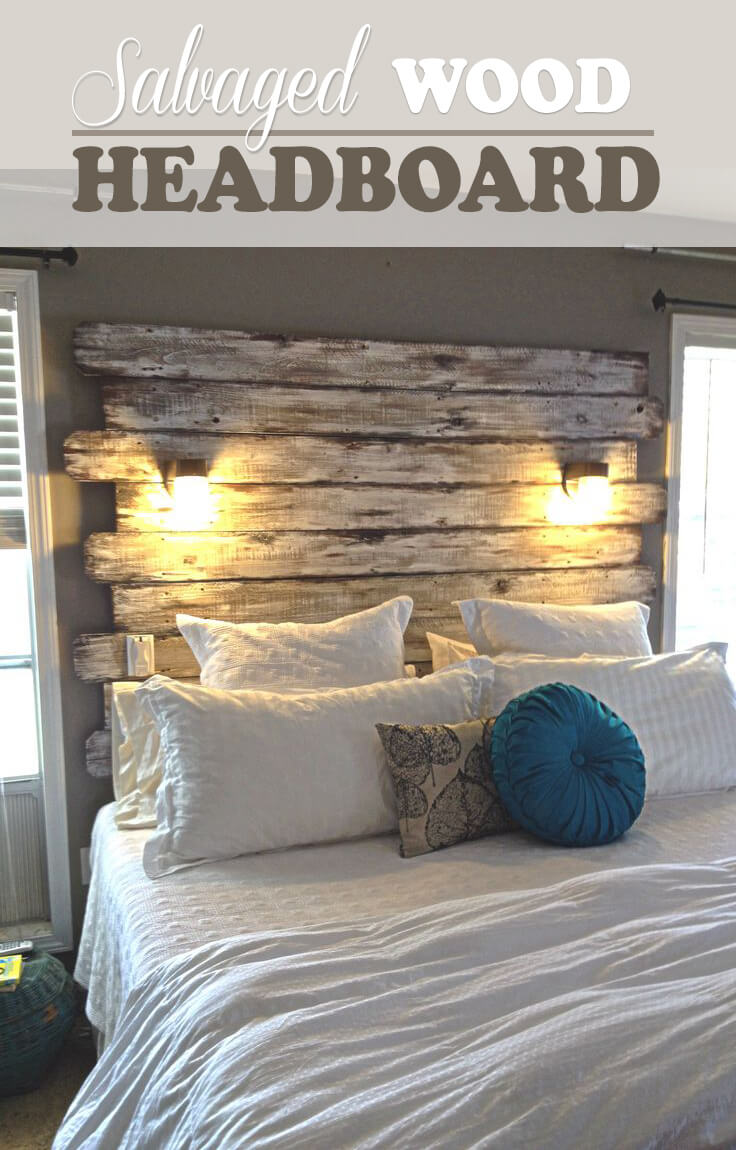 DIY Project Details: homedit.com
Thankfully some creative genius saw the beauty and potential of pallets. For years, pallet timber was never regarded as little more than anything that transferred items from one location to another. Lucky for us DIYers, pallets are easy to find, completely inexpensive, and make great headboards! The trick is always in the paint with pallets. This one was stained and colored so that it resembles a rustic, beach-like fence. No one would normally guess it's just a pallet! Mounted lights here was a snappy idea. They cast a beautiful luminescent glow onto the wood, adding another sporadic dash of color.
9. Shelfing Smart with Pallets

DIY Project Details: pallets.newnist.com
Another creatively smart way to use of pallets. Instead of the beach, we go for fun functionality. Each empty space of the pallet equates to shelf space. An ingenious method to storing your frequently used bedroom gear–books, notepads, eyeglasses, remotes, etc. The space saving potential for this kind of headboard can't be beat. And all the little decorations add up to lots of pizazz and color, creating a fun focal point for any room with this headboard. Depending on the size of your headboard, you could sit in bed, turn around and grab a book right off the shelf, like it's your own personal library.
10. A "Scentual" Floral Lattice Headboard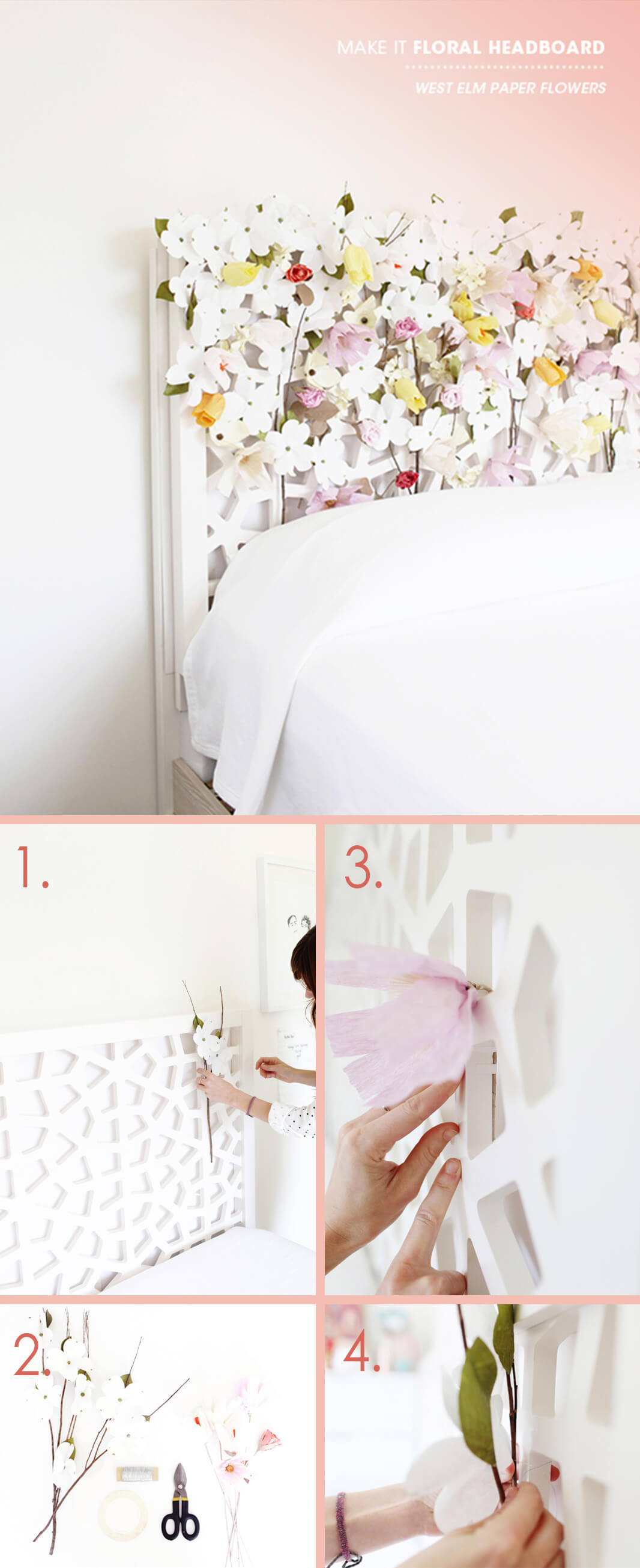 DIY Project Details: designlovefest.com
Bring a garden inside and to life with this headboard. It's an amazing match for any nature loving, garden enthusiast, or flower lover. This floral headboard is made out of lovely paper flowers. The headboard has a moroccan inspired cutting. It's lace-esque design is clean while still being attention grabbing, and truly mimics flowers growing up a lattice. Each paper flower is hung decoratively into each hole and over top. You can wrap the flowers in any way you like. You can also use thin metal wire to keep them in place. Makes it great for removing or redecorating the headboard.
11. Picturesque Meets Comfort

DIY Project Details: robin-happyathome.blogspot.com
Using recycled pieces of furniture makes it so easy to have your own headboard. Black frames pair so well with the rustic paint of this repurposed headboard. Tufting the empty space is brilliant here. It fills in an otherwise would be bland gap with design and comfort. The color palette is soft and striking and pairs well with the off-white wall color.
12. Pallet Headboards Always Soar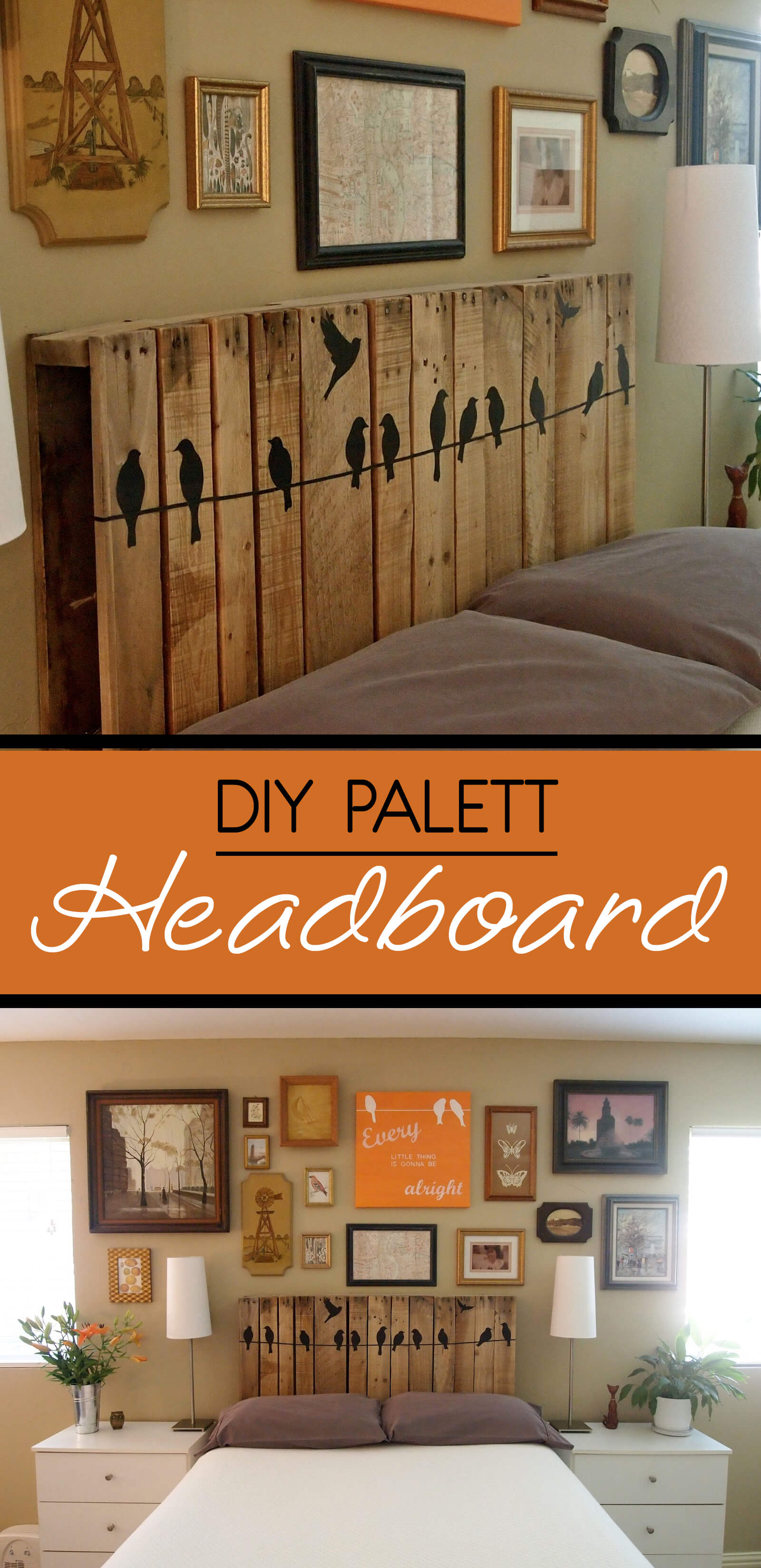 DIY Project Details: catheywithane.com
Pallets make the most easiest and budget friendly bedframes and headboards! There is no science to pallet, pick a good one and go to town. A good color stain does the trick. Pick one that suits your bedroom look, and paint and decorate to your heart's content! If you're not sure of your artistic skills, stencils can help you add the perfect artistic touch to your own diy pallet headboard. Or just use wall stickers! Beautifully frame your pallet headboard with lots of decorations to help the eyes focus on this part of the room.
13. One Window Away

DIY Project Details: samanthaelizabethblog.com
Almost any old piece of furniture can be reborn into the perfect headboard–even window shutters! Some might say that shutters would be more well suited for a country or vintage aesthetic, but window shutters can really be matched with any decor. It's simply a matter of design and paint. Rethink tossing your old shutters! Feel free to mix and match any shutter and paint them to suit your desired preference. Simple decorations like picture letters enhance the natural grace of a shutter headboard.
14. It's Tough to Go Wrong with Tufted

DIY Project Details: classyclutter.net
There's never any need to play it safe with tufted. Most folks will go for a perfect boxed or rectangular shape, but any shape will do. A shape like this is a mixture of Portman and Belgrave design. Pick one that suits you. Try a headboard that matches your wall art and blends seamlessly with it, otherwise it might be a bit too much creation, resulting in art noise. Its simple design aids in creating a focal point for any decor wall you have.
15. Diamond Tufts Are Forever

DIY Project Details: homemadebycarmona.com
Tufted headboards are clean yet classic designs, depending on the color, style of the headboard, and tuft you want. They're a great go-to piece for beginner DIYers. Best of all, they're one of the easiest and most affordable kind of diy headboards to create. All you generally need is some board, fabric, and buttons. A tuft headboard like this can be done in a day! You can even reuse your old headboard, by placing plywood on top and adding your fabric, such as the case with this one.
16. Wall Decor Meets Headboard

A headboard is most often the centerpiece of any bedroom. Its choice in color and decor sets the room's form. Combine that with an accent wall, and your room is brought to life. So why not combine the two of your favorite things with your favorite pastime? Pair your decorated wall with a simple upholstered headboard, but this would look just as chic without it. The colors chosen in this tile walled suits a beach look, but choose a color palette that suits you and your room. Snazz it up with a simple picture and a lower, more dark and striking headboard to create depth and dimension.
17. Tiled for Style Headboard Idea

DIY Project Details: sweetcsdesigns.com
DIY inspires the most creative ideas. This one is particularly genius, because it's simply faux ceiling tiles hanging on the wall! One quick glance at this headboard has you thinking you are indeed looking at a ceiling. Another smashing idea is that this headboard is mounted. Anyone who's always on the move, renting, or lives in a dorm can plop this amazing headboard off the wall and go. You can also try using a large plaster board and placing the faux ceiling tiles on top of that. A headboard idea like this takes only minutes and little money. It's fun, tasteful, and naturally fancy.
More DIY headboard ideas on the next page…