18. Beautiful Meets Provincial

DIY Project Details: akadesign.ca
Sometimes reclaimed wood can't be found when you really desire the look. You can recreate the reclaimed wood look with some stain and a little paint, just like this one. Try spotting your planks with minwax stain to give it an older but finished look. That's all there is to creating the headboard, and it should only cost you around $50. A high-end headboard like this could range anywhere from ten times as much in a store. Mix and add embellishments to your choosing, it'll keep your headboard from looking too tame. Your favorite mantra or hanging pictures would work well.
19. A Heavenly Star-Studded Headboard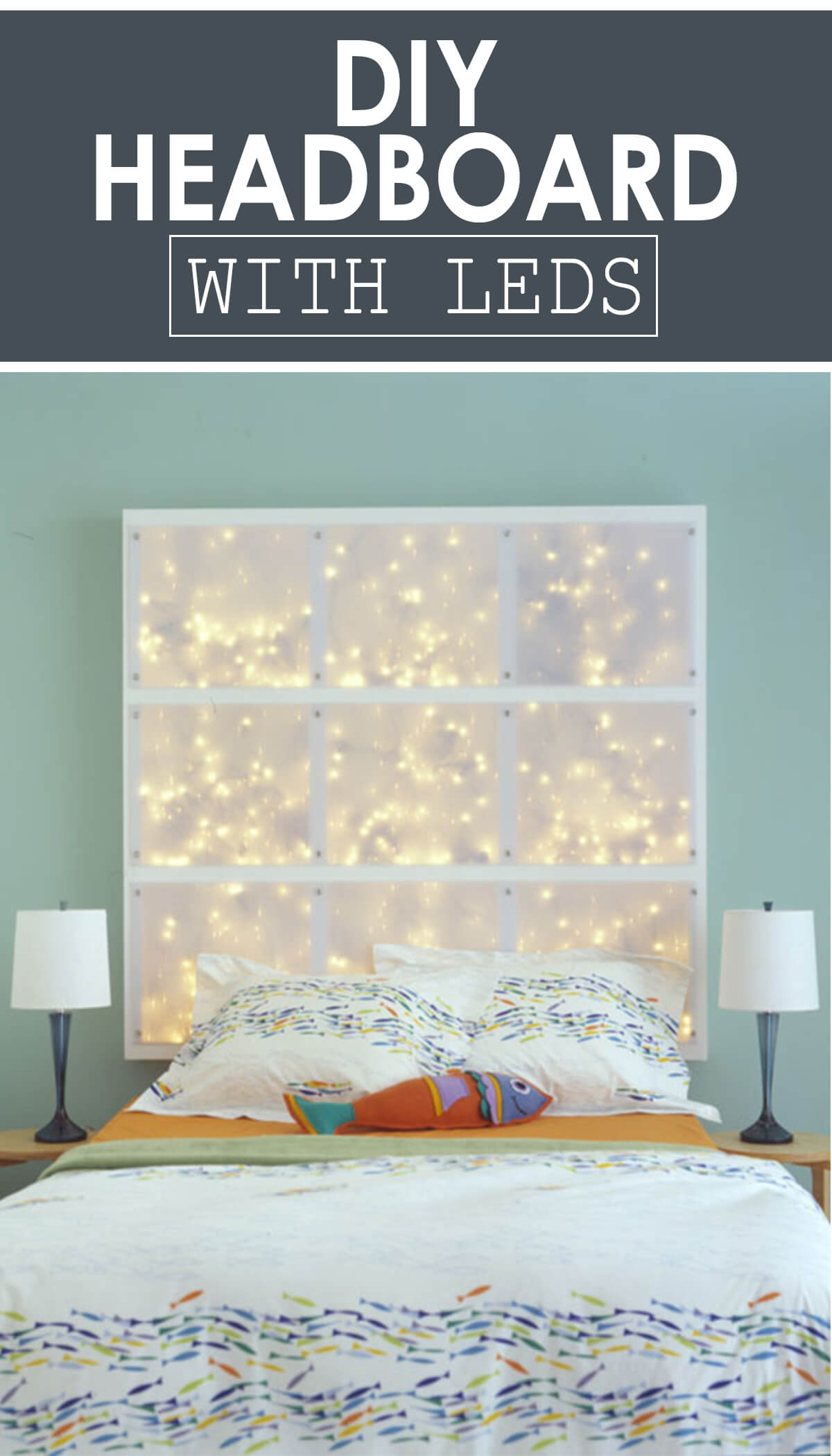 DIY Project Details: shelterness.com
Setting the mood with soft lighting helps create a romantic atmosphere in any room. What better way to catch that feel than with a headboard? This headboard is a great way to light up a room with luminescence without another lamp taking up more space. It's almost a must for any bedtime reader. Make your lighted headboard as big or small as you want. A perfect length would be at least as wide as your bed. Use translucent panels to cover the frames, and you'll be romantically vacationing in your own bedroom.
20. I-Can't-Tell-It's-Painted DIY Headboard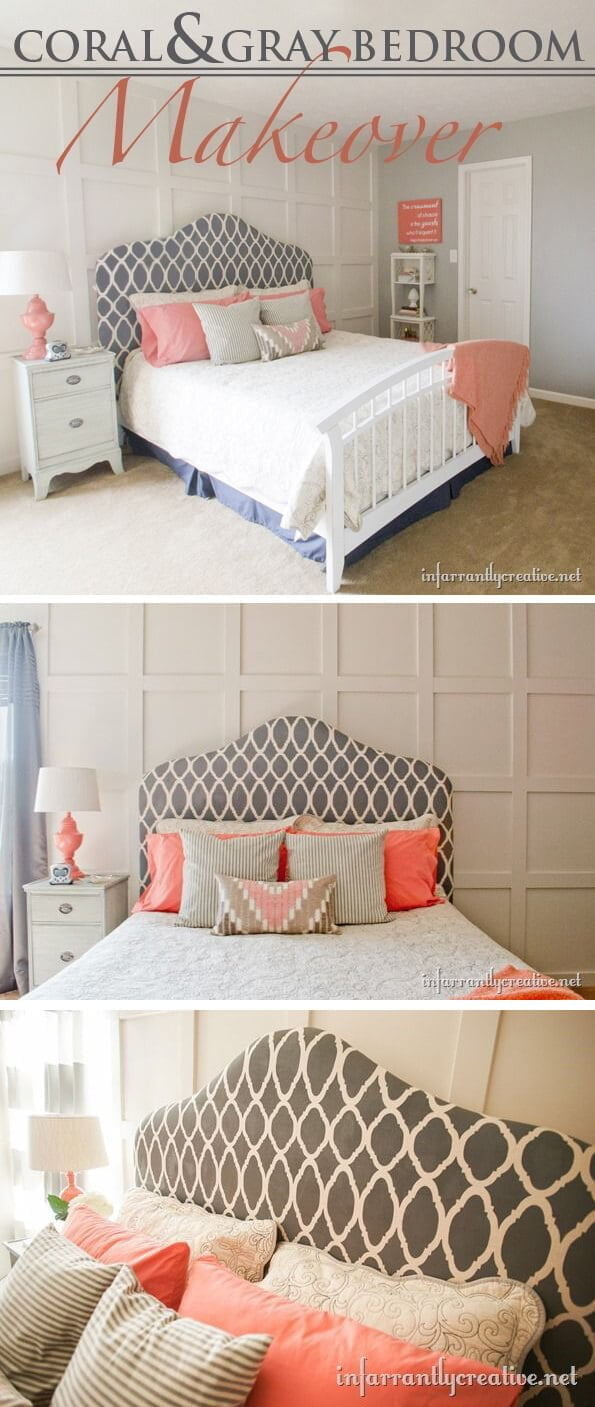 DIY Project Details: infarrantlycreative.net
Sometimes finding the perfect fabric can be near impossible or too expensive. Get a little more creative with your headboard by creating your own fabric design by using a little paint! It's easy and inexpensive, and will take the monotony of always shopping for the perfect, personal design. Use stencils to create the look you desire, and grab some acrylic paint to color your fabric. Cream colors really accent the wall molding and the rest of the decor. Paint and stencils can make an excellent headboard masterpiece.
21. Masculine and Feminine Converge With Wood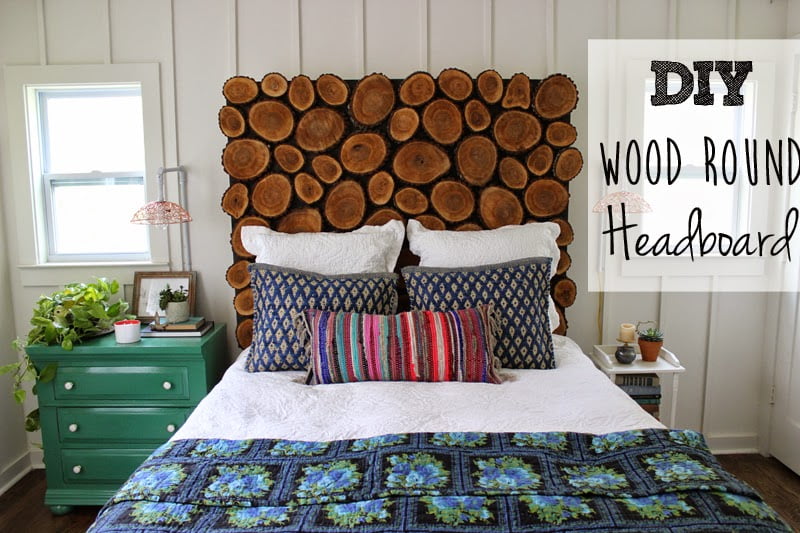 DIY Project Details: thewhitebuffalostylingco.com
This woodround headboard was inspired by combining both masculine and feminine appeal to a room, which can be a little difficult for couples. The aesthetic of this wood is almost a trick. At first glance it looks like a pile of wood sitting on top of each other. Upon closer inspection it's anything but! Best of all, it's not nearly as hard to create as it looks. All one needs is simply plywood, some wood rounds, some stain, and a little time. Add poly to give it a finished look.
22. Pretty in Pink And Panels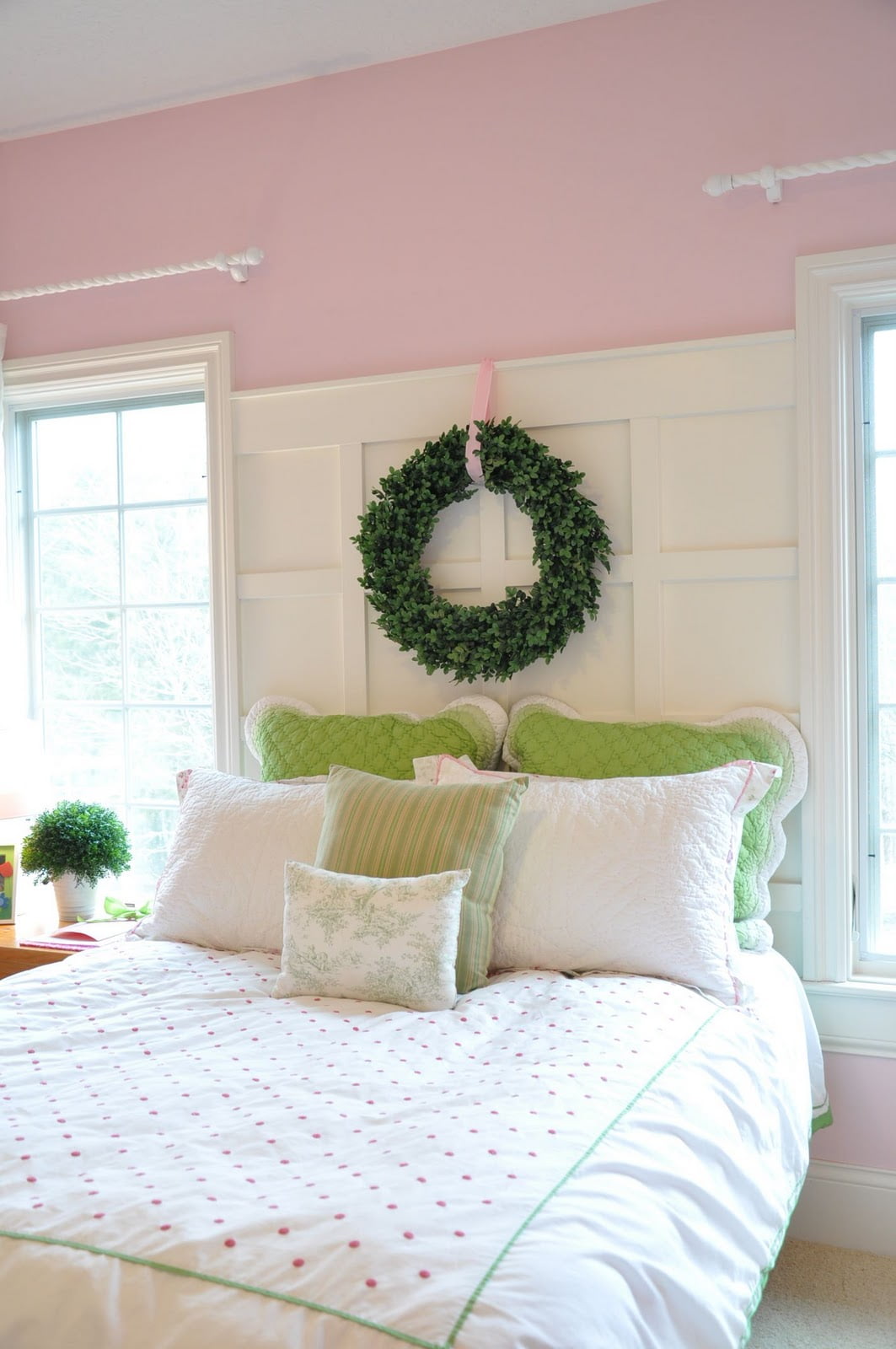 DIY Project Details: evolutionofstyleblog.blogspot.com
Sometimes it can be smidge difficult to fill in the empty space between windows. Depending on the layout of the bedroom, we're often left with no choice but to stick the bed right smack in between. Then again, this gives us the opportunity to really spruce up our headboard and make that empty space now the lovely focal point. A delightful wreath draws the attention downward, accenting the light, white and pink colors with something a little darker, and harmonizes the colors into a unique and lovely color palette. If you're looking to fill the space between windows, try this kind of headboard–it's more a decorative wall, as the wood was simply nailed to the wall, then painted and spackled.
23. Stylish and Modern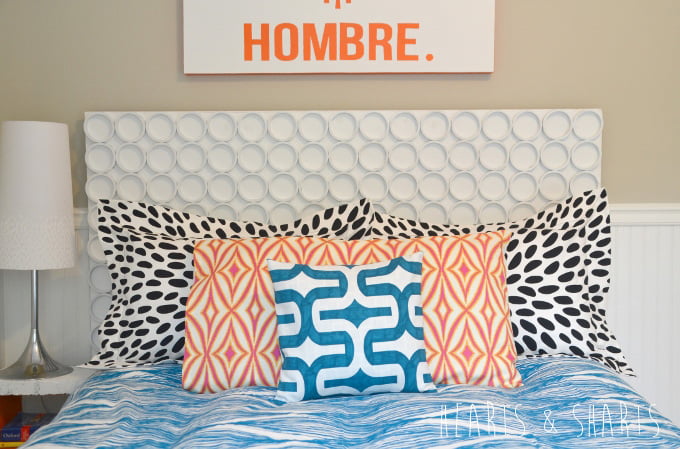 DIY Project Details: heartsandsharts.com
This headboard was created by slicing pvc pipes in ¾" strips, and placing them on a painted plaster that were then sprayed with a gloss. It's a modern, industrialist look that's sure to please any boy or man wanting to add some dazzle without the cuteness to their bedroom. The lighting in the bedroom casts a dynamic filtering effect on each sliced pipe, which adds a little more something-something to the headboard decor. Add pillows that have a repetitious design to increase the look and feel of this headboard.
24. A Headboard to Light up the Night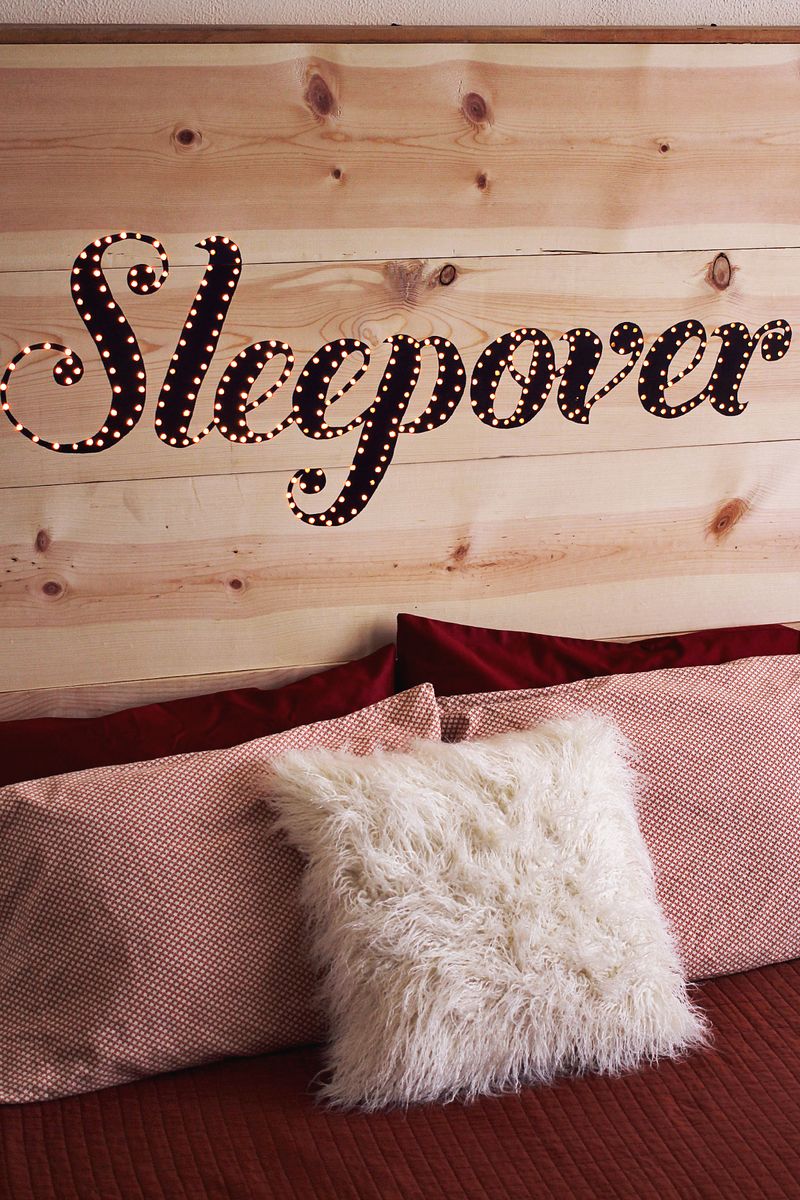 DIY Project Details: abeautifulmess.com
So many interesting things can be done with lighted headboards. They can be cozy, romantic, inspirational, or function as a soft source of light. A word or phrase with personal meaning to you, lined with Christmas lights makes a great comfortable bedroom headboard. It's not just for adults. For any little ones, try a child-friendly silhouette and line it with lights. It's unique, playful and inviting. You can use a projector to project whatever image or word you like, and simply stencil, paint, and prep the board for Christmas lights.
25. Sweet Dreams Are Made From Headboards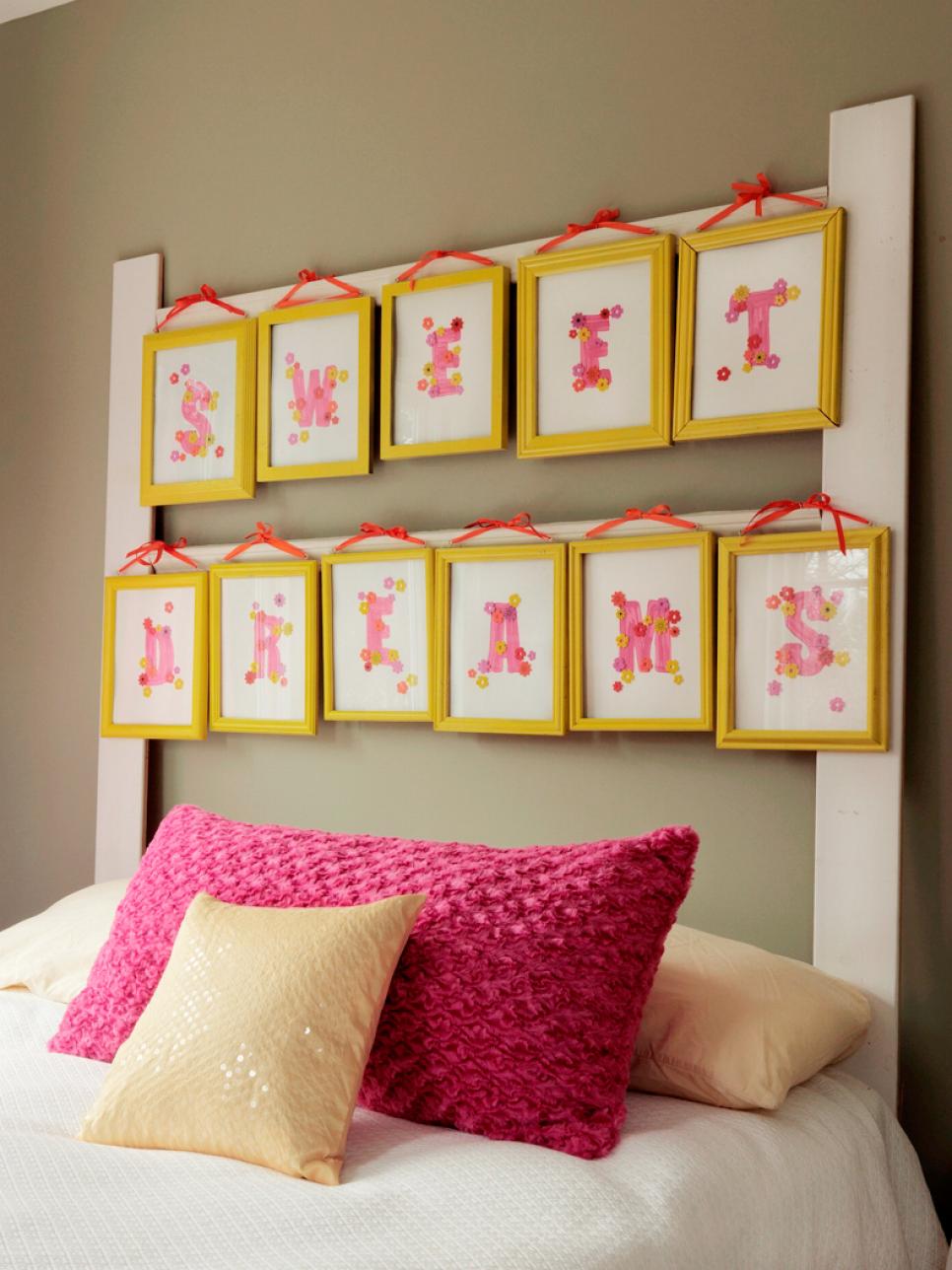 DIY Project Details: diynetwork.com
Repurpose your old furniture, repurpose your old picture frames. Salvaged wood and expiring picture frames can help personalize any girl's bedroom. Have your child choose the words they want, whether it be a personal, inspiring message or simply their name. Chic, sweet and simple make this also affordable headboard idea perfect for your younger loved ones. Choose a font that fits their personality, and embellish each picture with their favorite thing.
26. From Crib to Headboard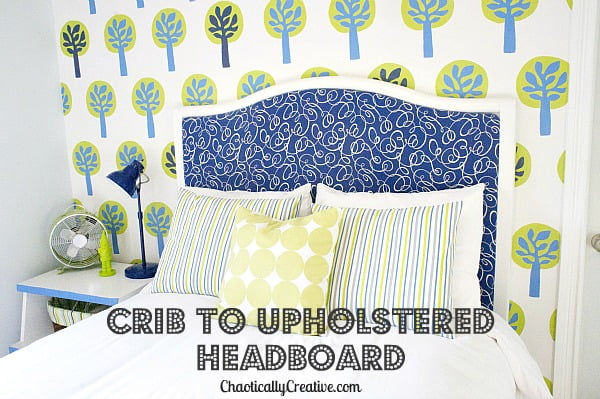 DIY Project Details: heartsandsharts.com
Another perfect example of why diy headboards are so much better than buying one stock…the price! A perfect headboard for children transitioning from crib to bed. This stylish blue and boyish headboard is easy to make. Simply take your crib, paint it anew, and add kid friendly upholstery. Now you have something comfortable and stylish. To keep the headboard leveled and not too low, try a heavy duty mirror/picture hanger to place the headboard on the wall for perfect height.
27. Soft and Velvety Headboard Idea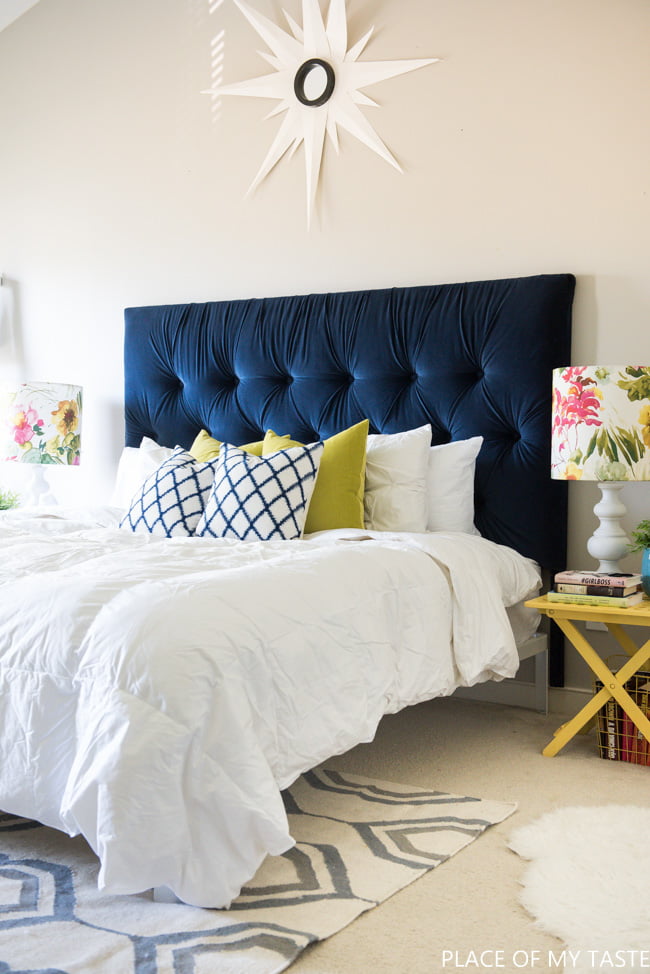 DIY Project Details: placeofmytaste.com
Sometimes there's simply nothing more alluring than a velvety, soft shade of indigo. And what better place to put that color in your bedroom? A tufted headboard absolutely accentuates the color. For something so romantic, it fits easily with more pastel, spring colors. It even fits beautifully with white, and makes a brilliant eye-pleasing contrast between the headboard and the rest of the room. Recreate the diamond tufted look by pinching the fabric wherever the buttons will be placed. Imitate a designer looking tufted headboard the DIY way.
28. Door Mat Turned Beautiful Headboard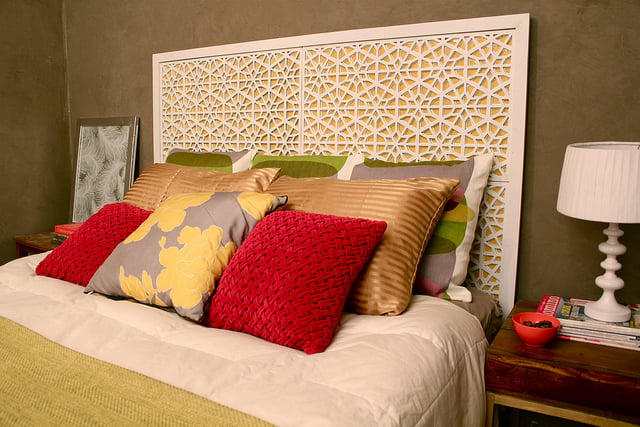 DIY Project Details: karapaslaydesigns.com
A brilliant and simple idea, who would have thought a simple doormat could be turned into something so inspiring. Moroccan inspired door mats are more economical than pre-made headboards. Pick your favored styled mat, and paint it whatever color suits you and your bedroom. You'll most likely need 4-6 mats, depending on the width and height of your bed. Compare this to a similarly styled pre-made headboard, and you can see the hundreds saved.
29. The Intricate Headboards We Weave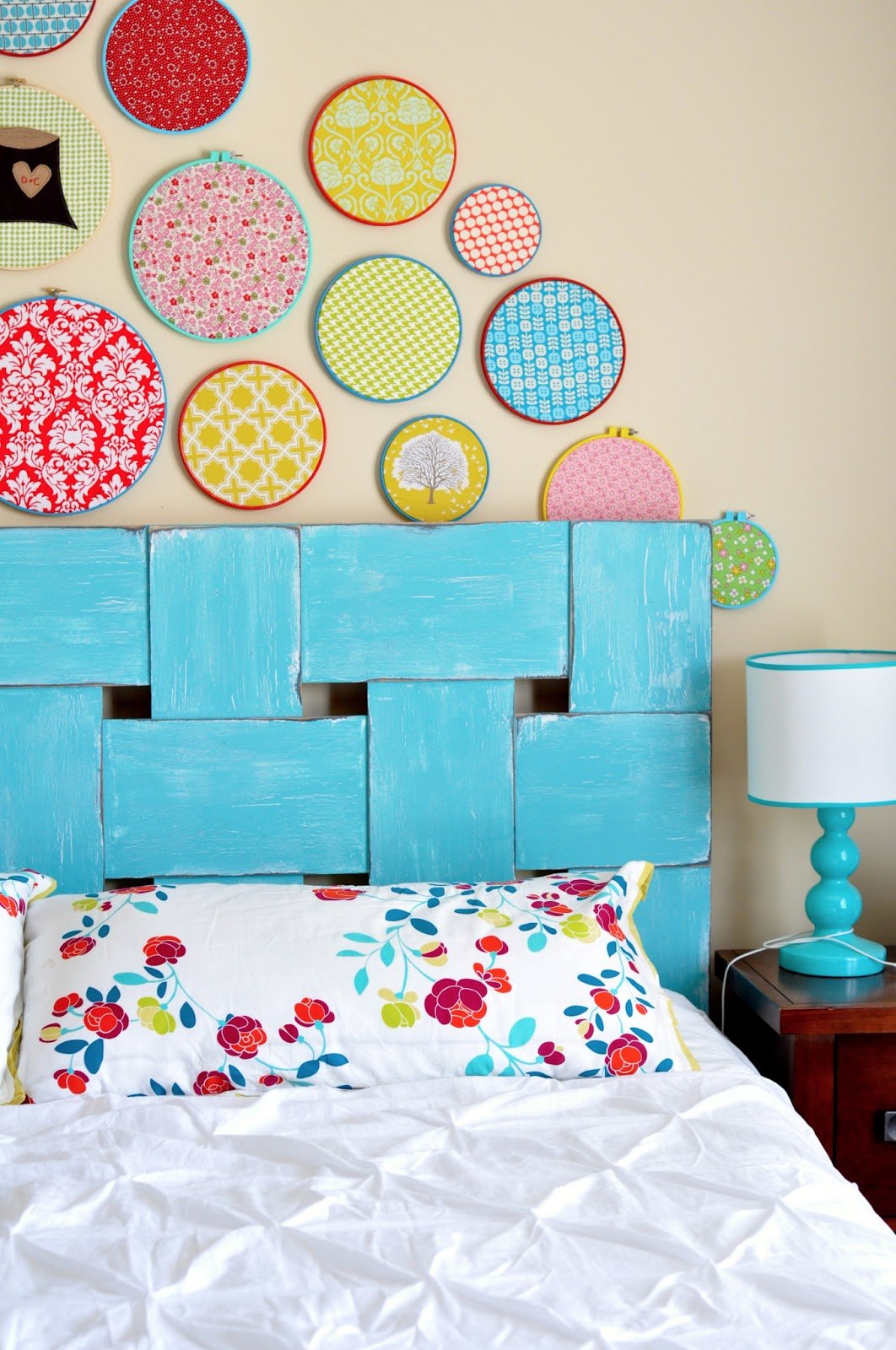 DIY Project Details: littlebitfunky.com
Distressed look really makes this look like a wide woven picket fence. Thin, long plywood pieces were woven together, and painted a blue. The headboard is accented with country-style 19th century fabric pieces that hang above the headboard. It fits a country style house, or any teen's bedroom. It's sheepishly simple and stylish, and beautifully woven. No immense woodworking skills required! Choose the paint job to fit your mood. You can go for a pastel, friendly look or sleek brown for a more modern twist.
30. A Charming Barn Door Headboard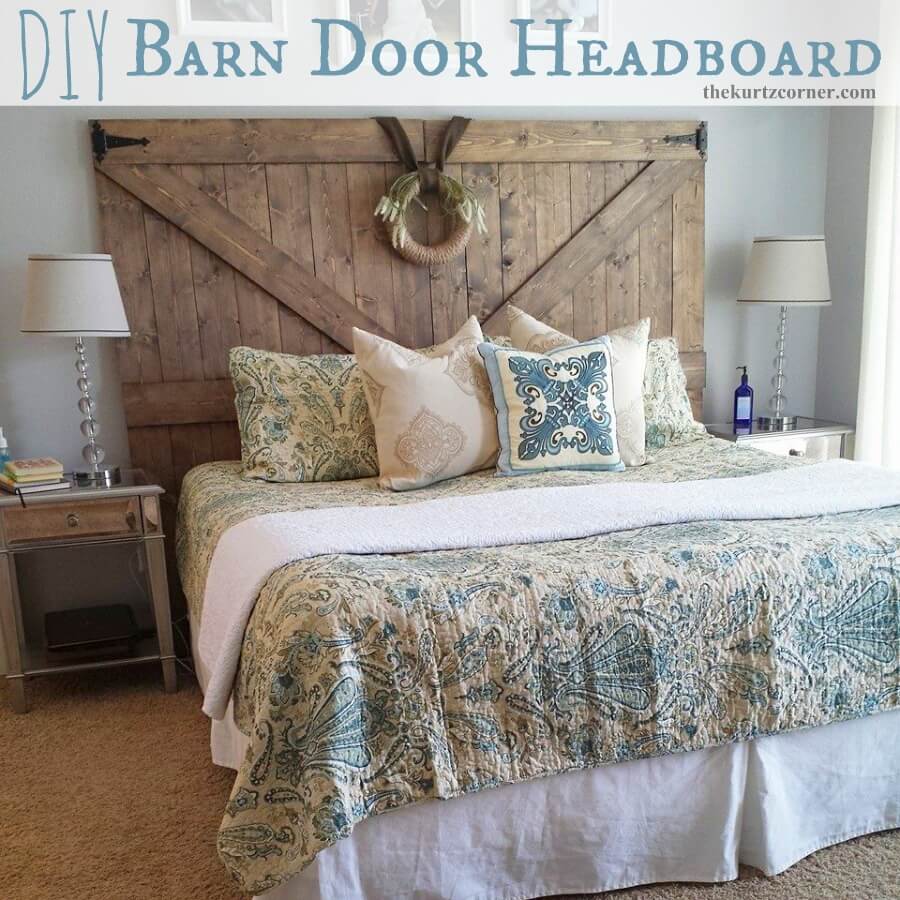 DIY Project Details: thekurtzcorner.com
Further proof that barn doors make excellent headboards. They're simply a golden marriage of decor and functionality. Love the outdoors? Well why not bring it in? Rustic barn doors always go surprisingly well with anything, even decor that's engrossed in primary colors. If you want to stay traditional with colors, a dark nutty colored stain will be warm and inviting. Barn door headboards are favorite trend because they go great with any color, any age and any season. They're also incredibly easy to make, and even cheaper if you find one.
31. The Blinds That Tie Us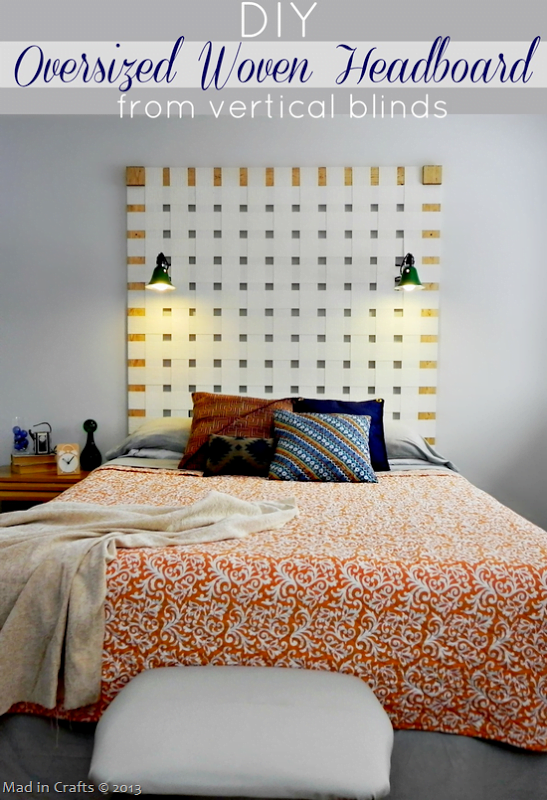 DIY Project Details: madincrafts.com
You can repurpose anything into the perfect headboard, perhaps even the kitchen sink. And old vertical blinds are no exception! Normally, home enthusiasts shy away from the archaic style of long blinds. But woven together so intricately, they make a unique and pretty headboard design. Normally, woven headboards such as this one can range to about $1,000. Once you repurpose yours or anyone's old blinds, and you save literally hundreds. Smart on the wallet, and smart on recycling. And two headlights add utilitarian to the headboard, not to mention add a splash of color to this very white headboard.
32. Say No to Sew Headboard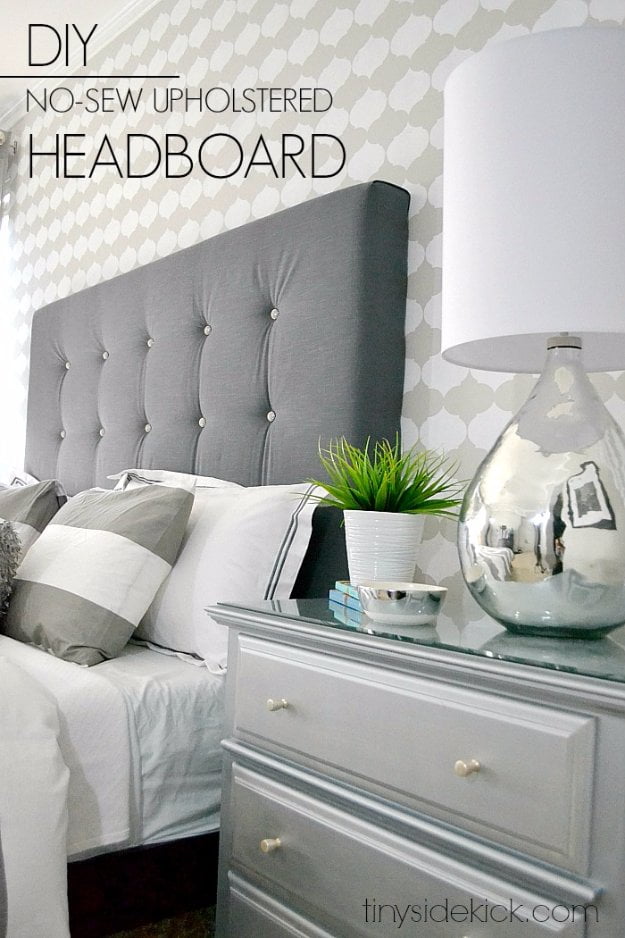 DIY Project Details: heytherehome.com
For a lot of DIYers, taking inspiration from high end stores and magazines inspires enough of a challenge to recreate their favorite look–for a quarter of the cost. Tufted is always in, it's versatile, chic and quite lovely, blending well with most bedrooms. But you can always create your own tufted headboard. This perfect finish gives the impression that it's much harder to create than it seems, but don't be fooled. The color of this tufted headboard is a pleasing mix to the wall decor, and balances out the bedroom's palette.
More DIY headboard ideas on the next page…