Nothing is more unappealing than a dull, outdated kitchen with old cabinetry and hardware. Luckily, updating kitchen cabinets is a relatively easy fix that can truly transform your entire room into a charming gathering place for the whole family to enjoy. Now, you don't have to go all out and break the bank with upgrades and fancy add-ons. The possibilities and options are endless for updating your kitchen to fit your needs and design style.
20 Beautiful DIY Kitchen Cabinet Ideas You Can Make Yourself

First, you'll want to determine your budget. Figure out what changes you are wanting to make and determine which approach is right for your kitchen upgrade. Refinishing, painting or staining your cabinets can be an easy and inexpensive way to make an existing layout look new and refreshing. Replacing your kitchen cabinets completely is the most straightforward option, but also the most expensive.
Updating your kitchen is a worthy investment no matter how big or small your budget is. It's a great way to create an exciting new look that will also increase the value of your home at the same time. Updating the kitchen cabinets sets the tone for your entire home and will become a favorite gathering area for the entire family.
1. Upgrade Existing Cabinets for a Fresh, New Look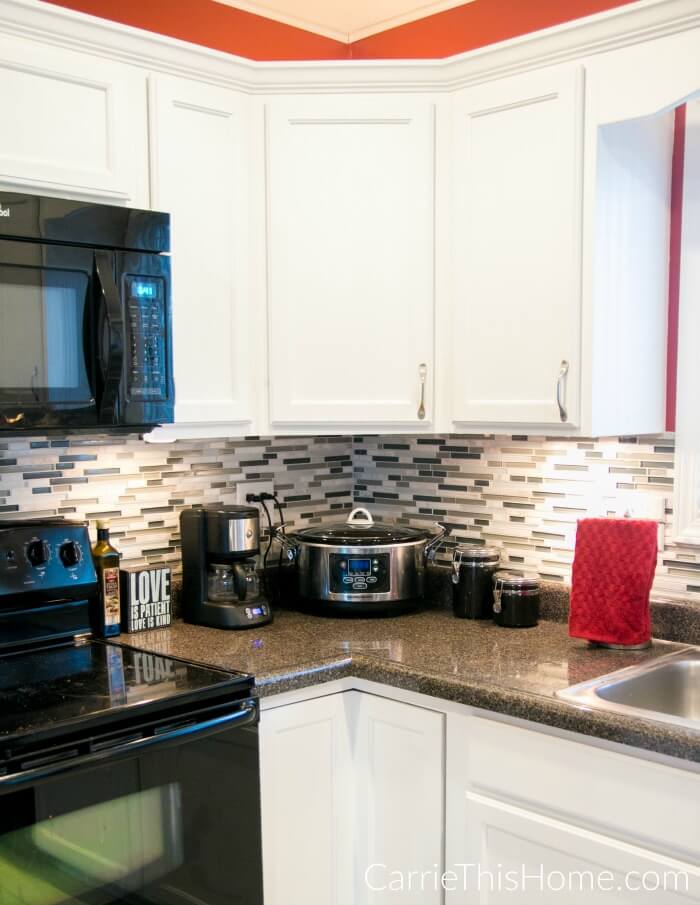 Are your existing cabinets in good shape? Why not add a fresh coat of paint instead of replacing them entirely. These once dark oak cabinets look completely transformed with white paint and added crown moulding. Updating the hardware is an easy way to finish off this kitchen upgrade while also creating a more modern look.
2. Add a Hint of Warmth with Shades of Gray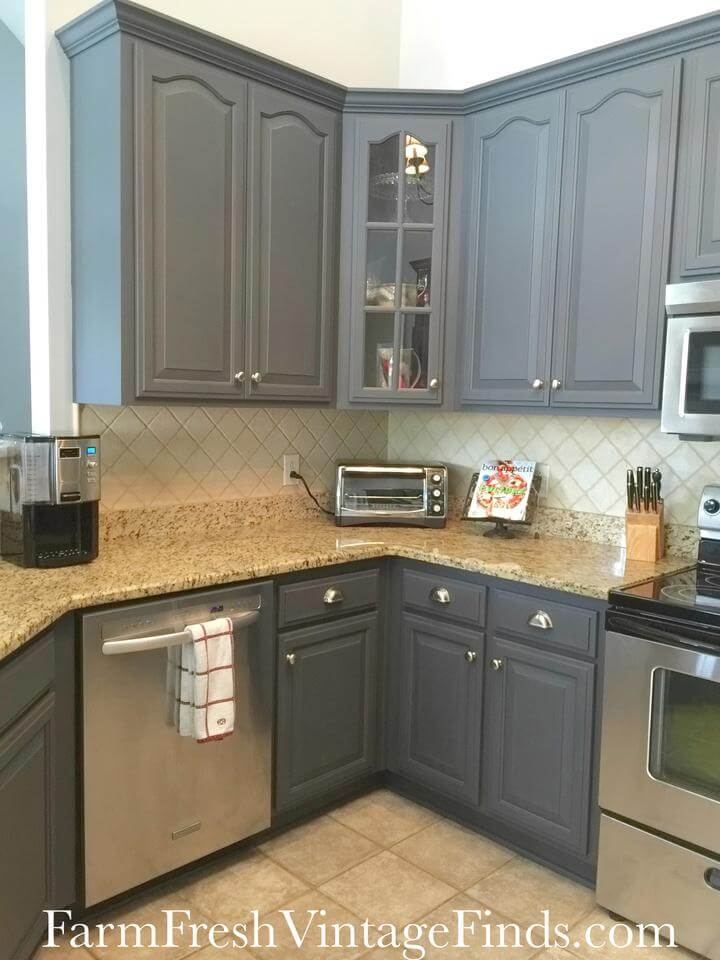 There are numerous shades of gray that will compliment your kitchen cabinet upgrade, while maintaining a neutral space. This resurgence of gray in home décor is not only on trend but also a very stylish and unique color approach. Painting your kitchen cabinets gray adds a hint of warmth while also adding a bit of contrast against a lighter counter top and flooring.
3. Build Your Own Shaker Cabinet Doors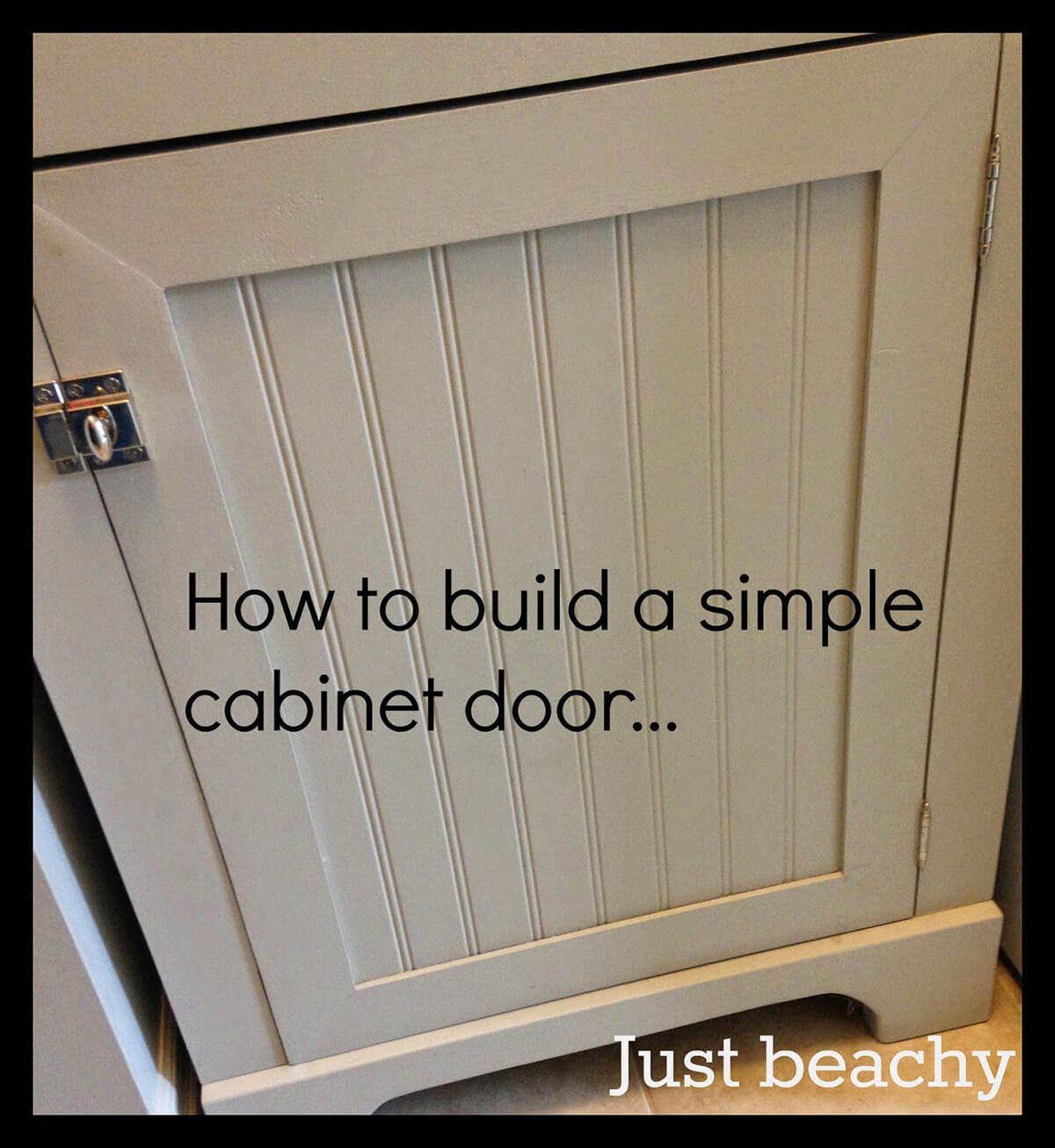 Shaker cabinet doors are such a versatile design style that's unique and stylish. You can often purchase these ready-made or build them yourself with just a few tools. The natural characteristic of the wood itself provides a timeless design touch that you can paint or stain virtually any color you'd like.
4. Inexpensive Cabinet Updates with New Hardware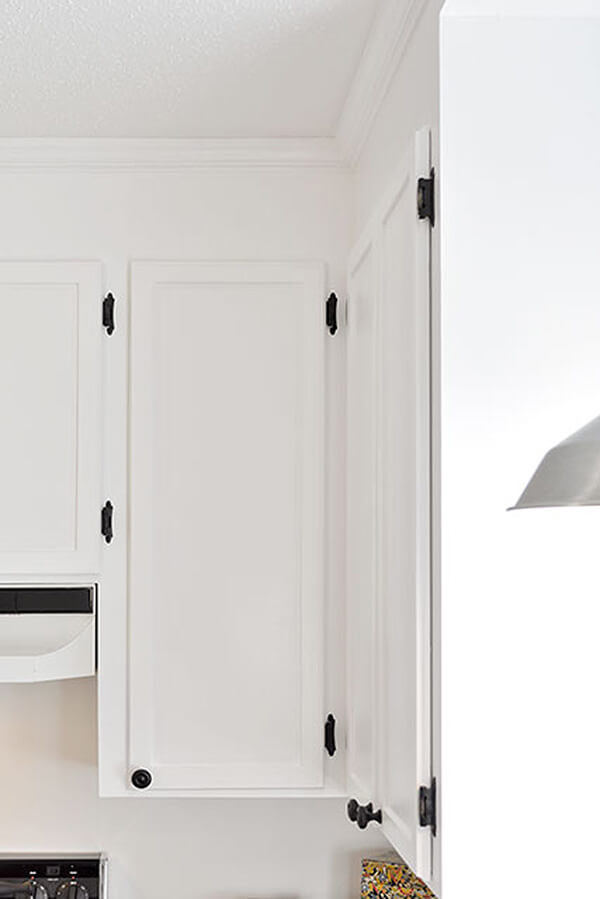 Adding hardware to your kitchen cabinets can really take your home to the next level when it comes to interior design and style. New hardware gives your kitchen that finished touch that you can easily do yourself on any budget. There are thousands of hardware pieces to choose from, so the most difficult task of them all is narrowing down your choices.
5. Take Your Cabinets from Drab to Fab with Trim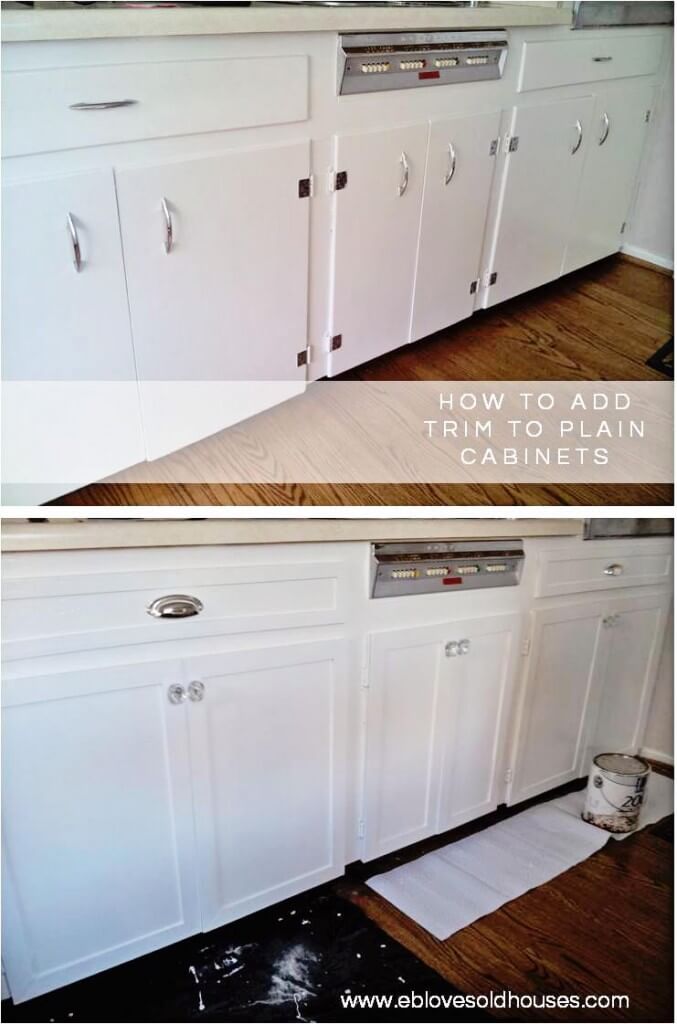 There's a rather simple way to update your existing cabinets without replacing them completely. If your current cabinets are bare and lacking dimension, add some trim and fresh paint to take them from drab to fab. This is a rather simple DIY that can transform your kitchen literally in a weekend.
6. Save Space with a DIY Plate Rack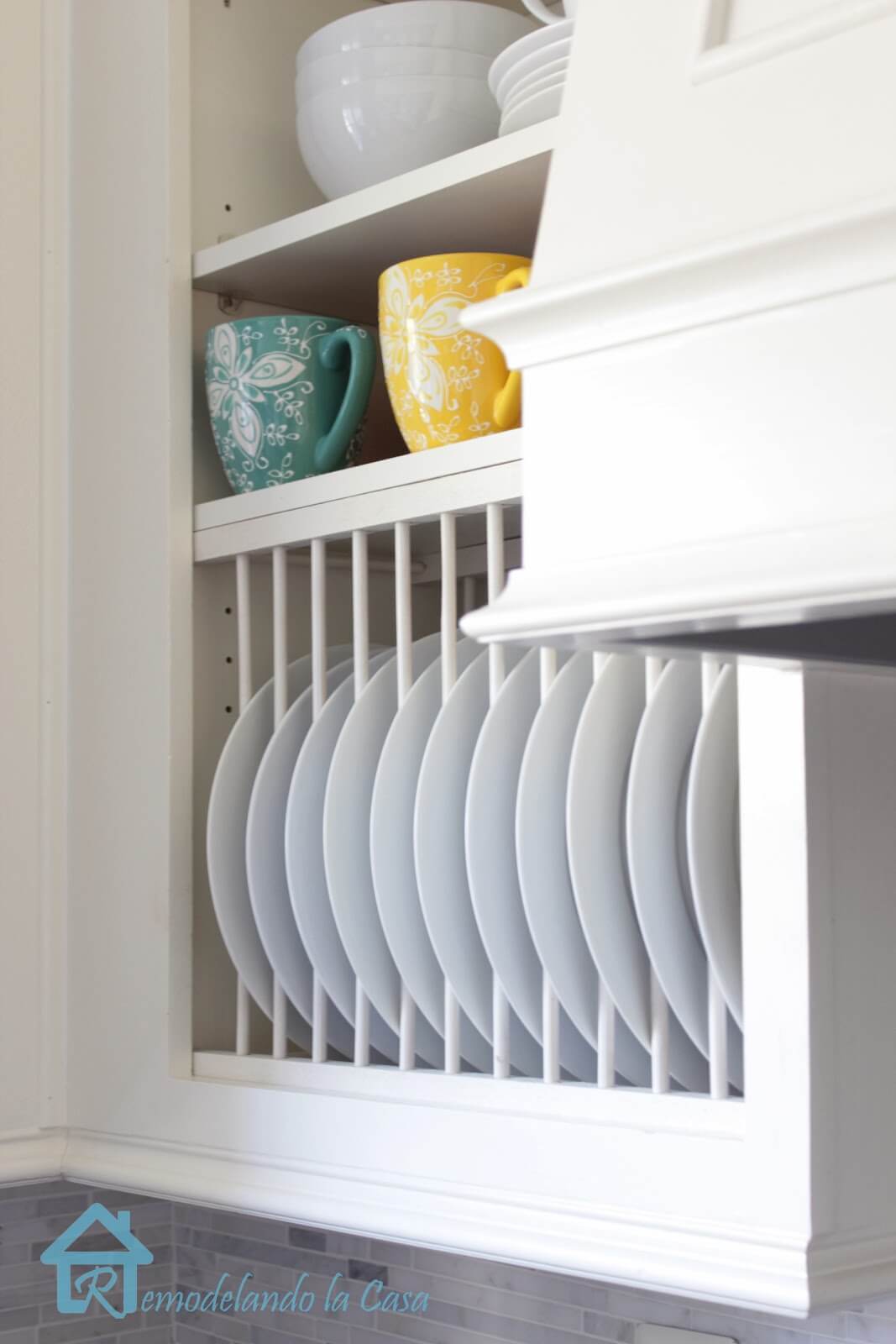 Storage and organization in the kitchen are always a concern for most homeowners. Instead of spending hundreds on separate furniture pieces for organization in the kitchen, why not build your own storage into your existing cabinets. Plate racks are a great alternative to suit your needs and create a visual display that's both appealing and saves space at the same time.
7. A Fresh Coat of Paint to Update Existing Cabinetry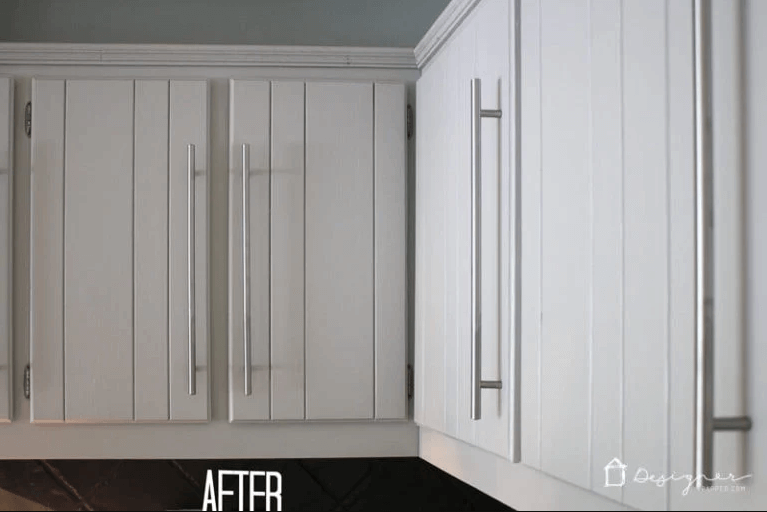 Did you know that you can paint your existing cabinets without priming or sanding? The thought of refinishing your existing cabinetry can seem like a daunting task, but with the right paint, you can easily eliminate some of those extra steps and still have a gorgeous, professional finish to your kitchen upgrade.
8. A Little Paint and Tile Goes a Long Ways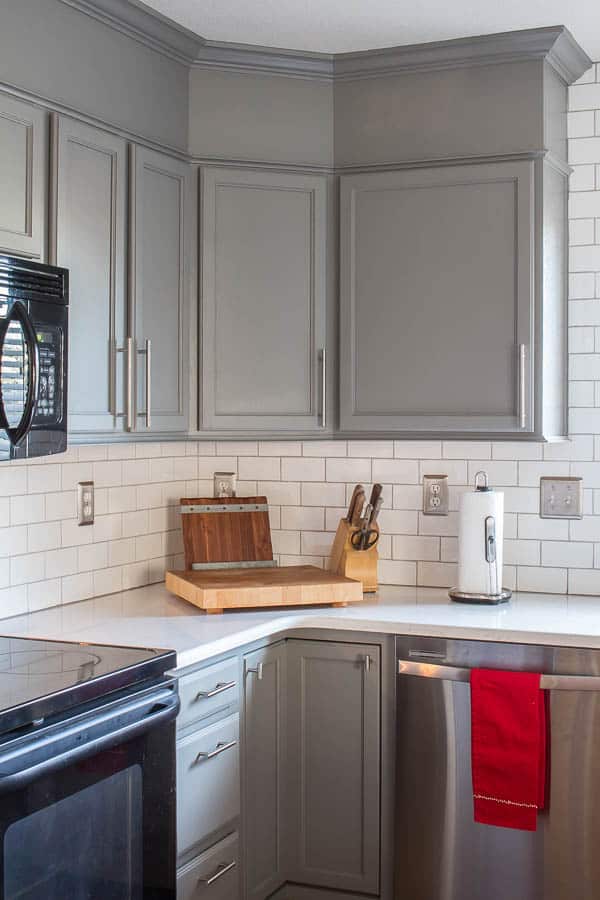 What a transformation! What was once a dull, dark kitchen literally became an ultimate dream kitchen. By keeping the original cabinets with the same layout, they transformed their kitchen by adding a fresh coat of gray paint, new hardware and subway tiles. It's amazing how a few simple touches can truly go a long way with a few updates.
9. A Kitchen Cabinet Facelift with Chicken Wire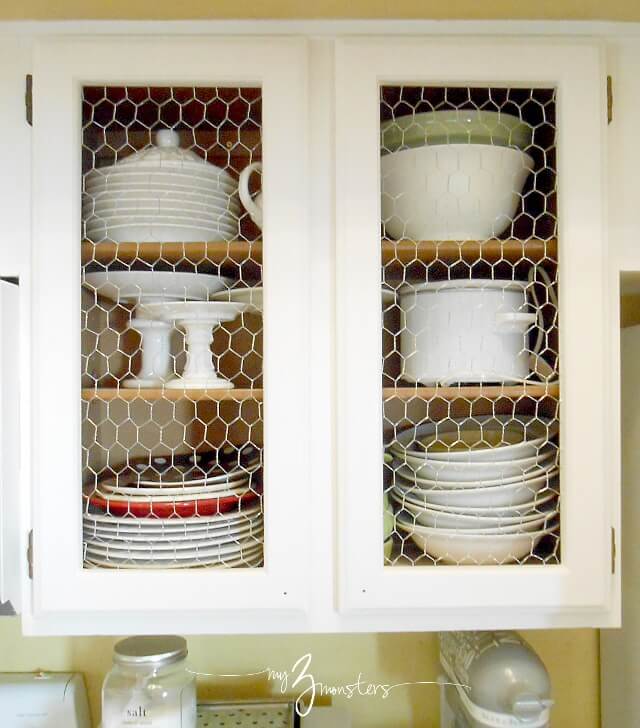 More and more people are loving the exposed cabinetry look. If you aren't satisfied with your existing cabinets and replacing them isn't in the budget, consider removing them completely and adding chicken wire for a quick and easy facelift. This update gives off that charming, country design style that will have everyone talking.
10. Creating a Functional Kitchen Space with Hidden Storage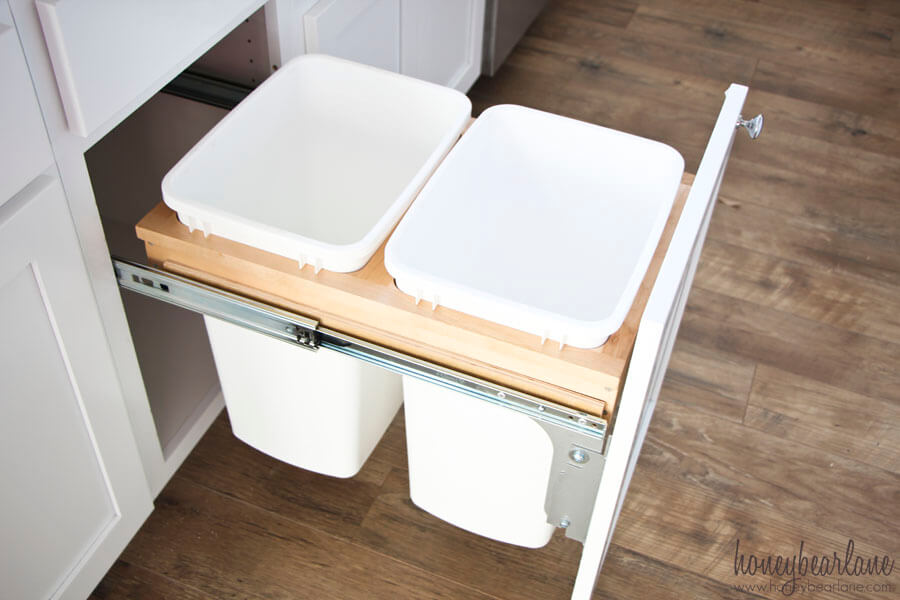 Let's face it, garbage cans can be an eyesore not to mention stinky. There are several places to set your garbage can, but why not hide it in your kitchen cabinetry with a functional built-in pull out. If you can afford to lose a little storage space in your cabinets, this is a wonderful idea to hide your trash can in a useful, yet secretly hidden location.
11. Paint Your Kitchen Cabinets Without the Hassle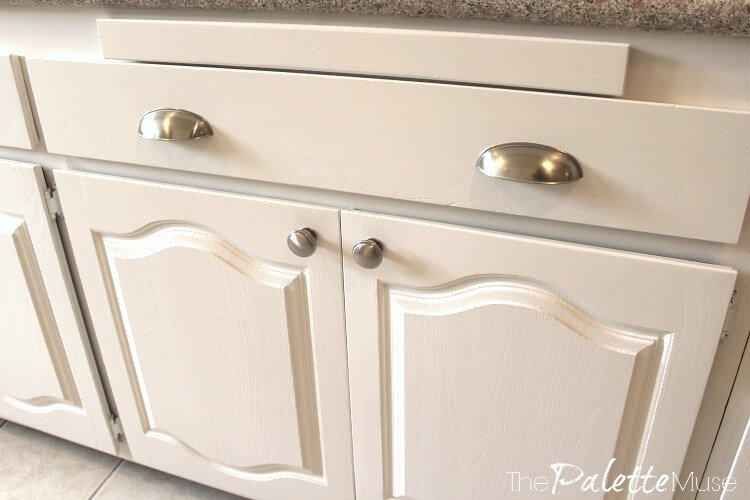 When you think about painting your kitchen cabinets, you probably think about having to remove your cabinets completely before starting to paint. Well, it turns out you actually don't have to with this simple technique until the very end. Add some beautiful hardware and you have yourself a brand-new kitchen!
12. Add Contrast with Darker Cabinets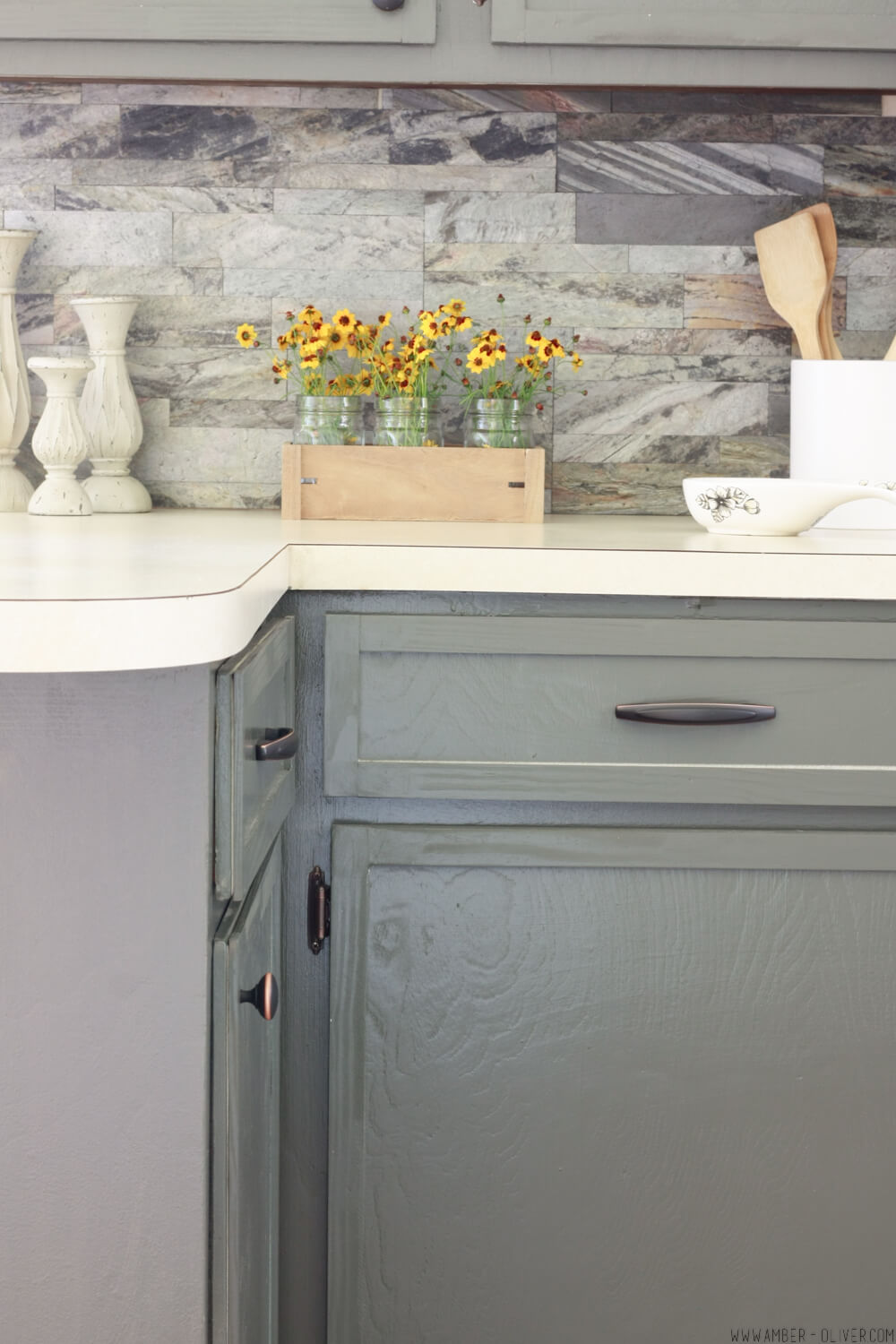 If you're looking for something a little more unique, inviting and personal, this kitchen update is quit the transformation for you. Gray has become such a popular color choice in the kitchen because it provides a sense of warmth and relaxation which is truly the best of both worlds. The darker cabinets with the lighter appliances and flooring is the perfect contrast. Let's not forget about this amazing wooden backsplash that's actually a peel-and-stick application!
13. Roll-Out Organization for Increased Storage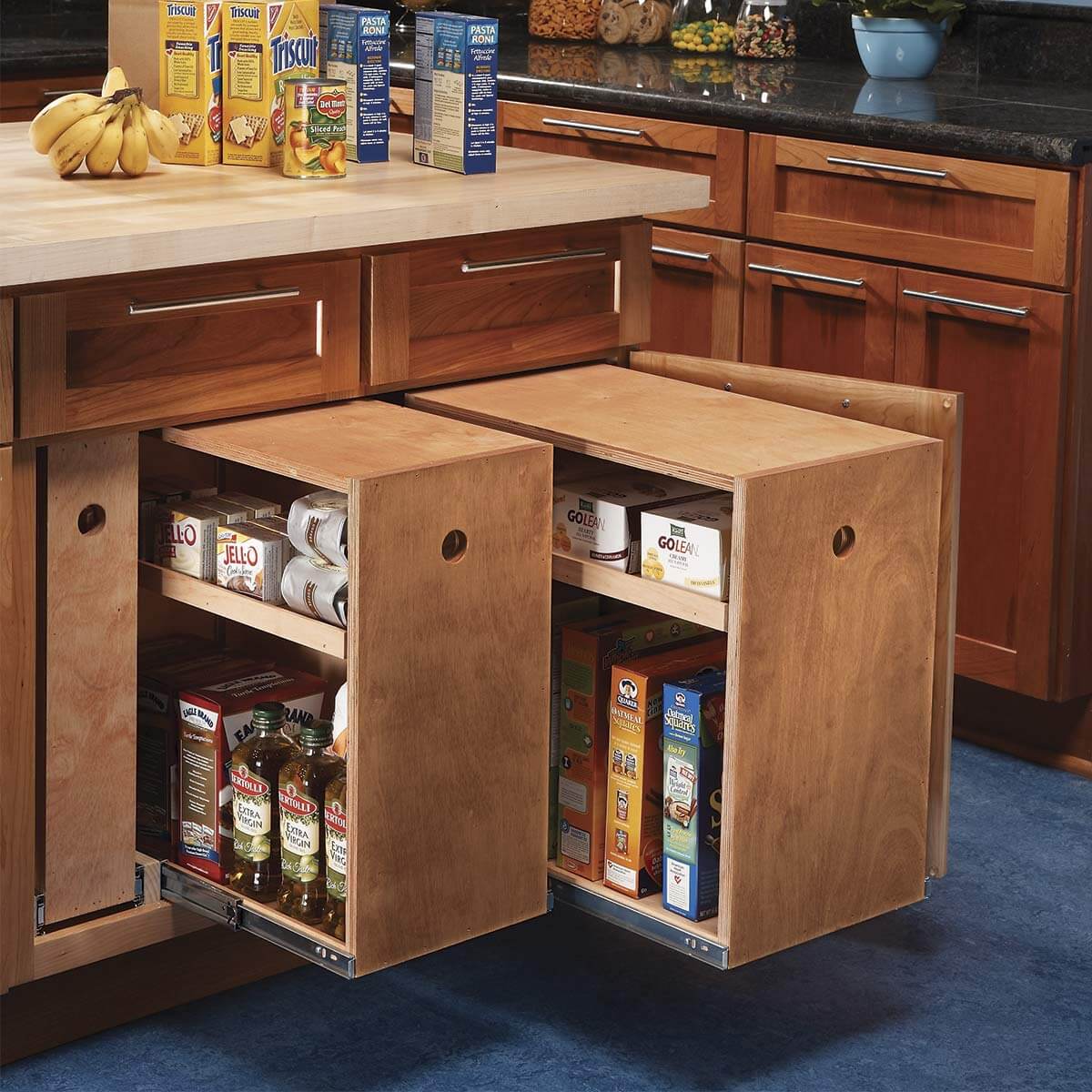 If you don't have one of those gorgeous walk-in pantries, consider building roll-out storage for organizing all of your cans, boxes and jars right into your existing cabinets. These simple plywood boxes with added shelving are easy to build and will make storing your food more visible and much easier to access.
14. A Kitchen Cabinet Makeover on a Budget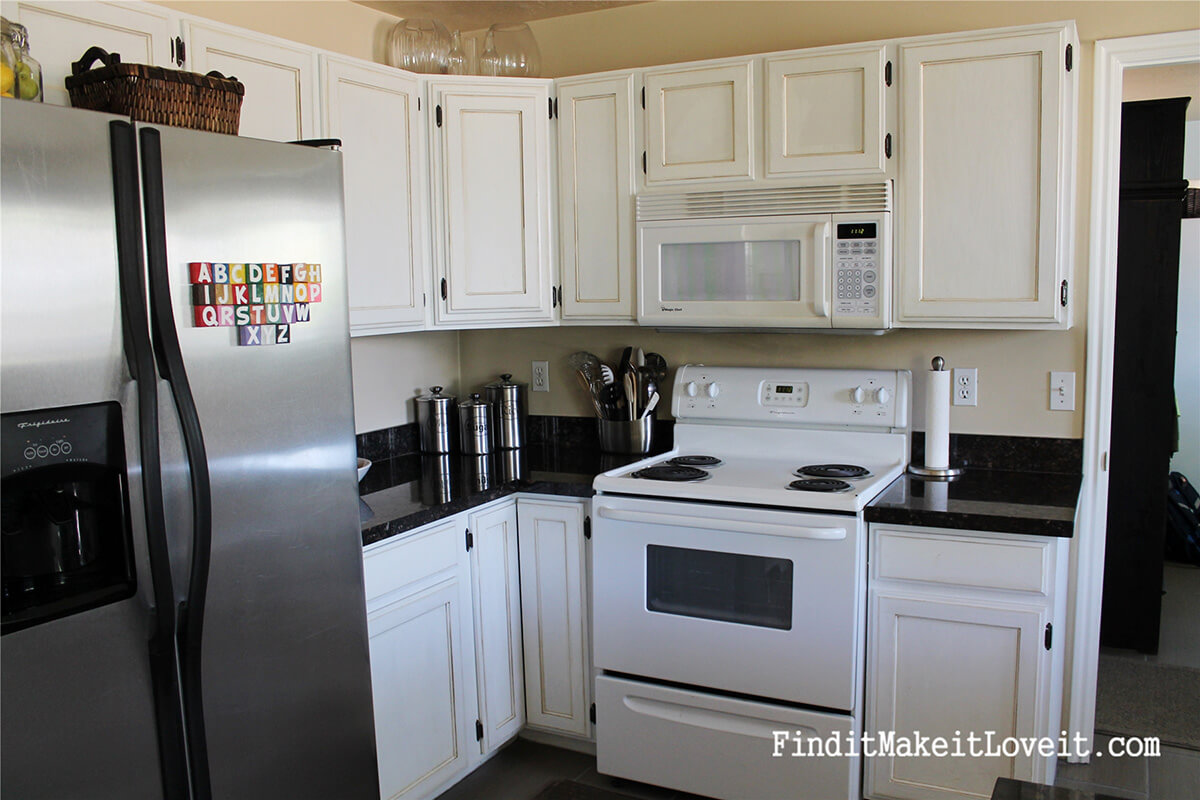 Did you know that you can get a whole kit for updating your cabinetry for under $100? The kit comes complete with everything you need to update your kitchen cabinets yourself along with a how-to DVD. Although painting your kitchen cabinets can be a lengthy task, it's totally worth it when you're all finished, not to mention the money you save in the long-run.
15. Farmhouse Accent to Add Character to Your Kitchen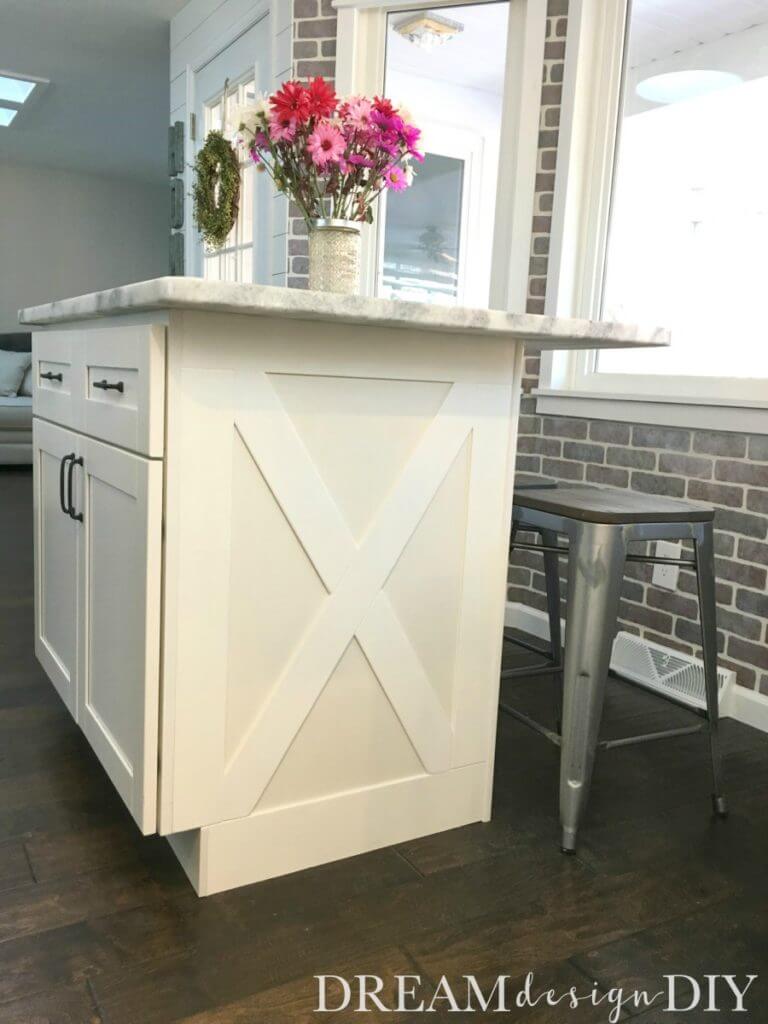 If your existing cabinets already look great, but you want a little rustic, farmhouse style you can add a little trim to quickly transform the design of your kitchen. If you have a bare side of your cabinets exposed, consider a barn door-like trim to add a little farmhouse character. This update was only $15 and really enhances this space tremendously!
16. Painted Cabinets and New Hardware Upgrade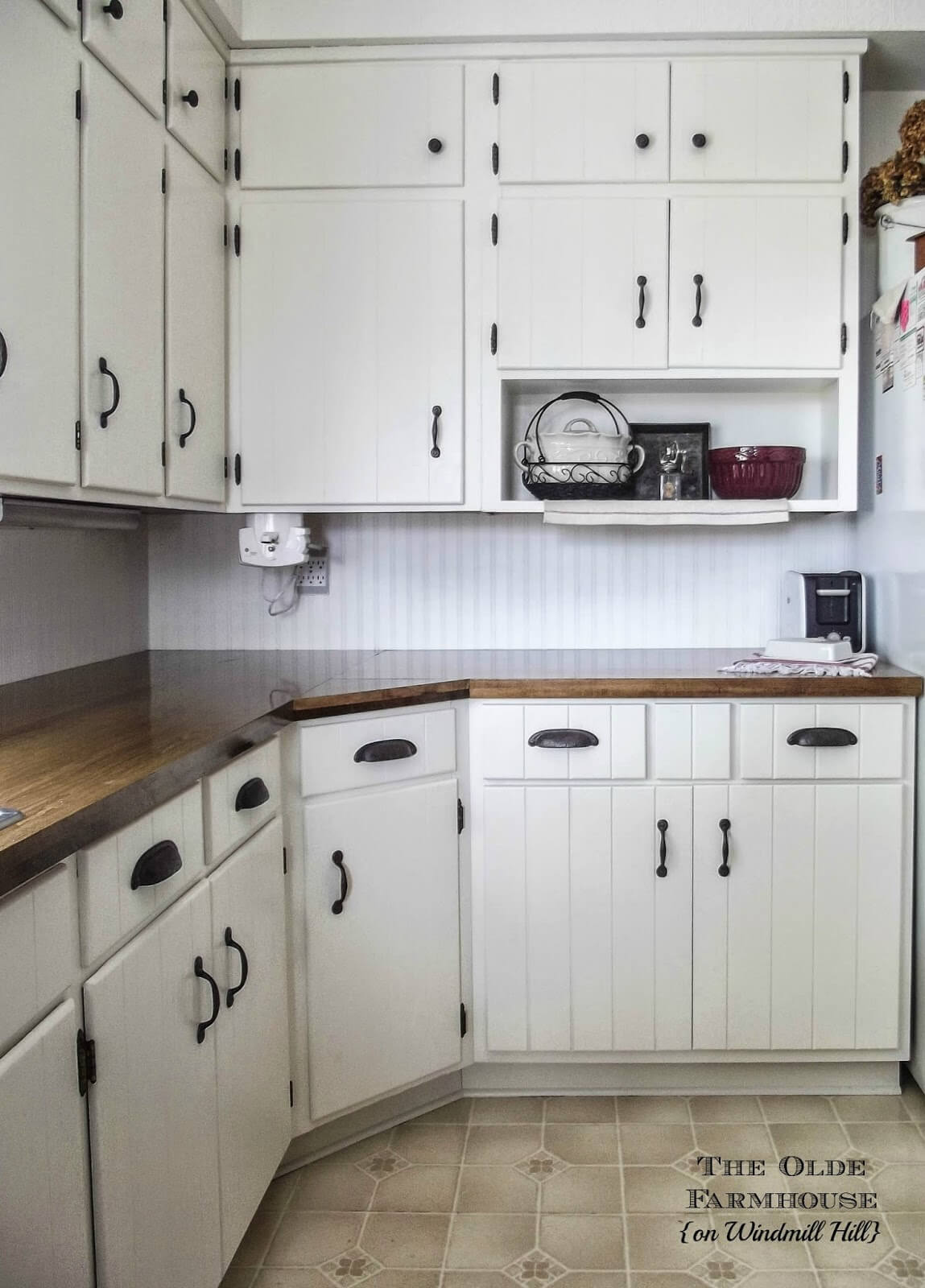 Most people are tired of the dull, orange oak wooden cabinets and tend to go for a fresh white color choice when updating their cabinets. This is such a quick and easy fix that can save so much money, while still updating your kitchen completely. The contrast of the white cabinets with the dark hardware gives off that rustic charm and is great for all décor styles.
17. Re-purposing an Updated Cabinet Door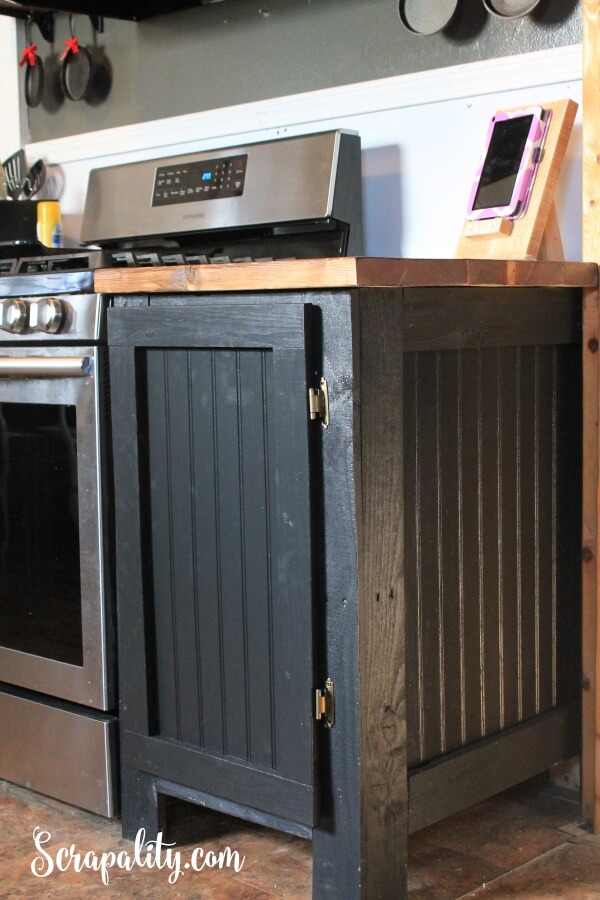 It's incredible what a little refinishing or re-purposing can do with items you already have on hand. This cabinet door is rather easy to build and provides a custom design that is uniquely your own. The dark colors mixed with the lighter butcher block counter top is simply stunning.
18. Enhance Your Kitchen with Glass Cabinet Doors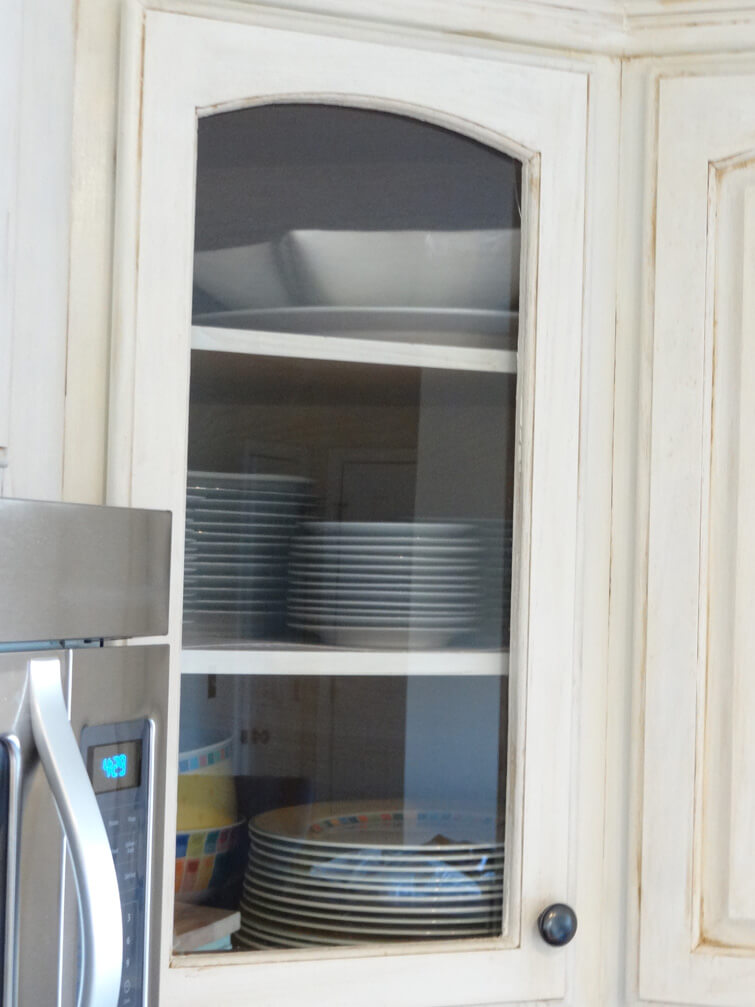 Cabinets play an important role in your kitchen's functionality and appearance. If you aren't a fan of the current open-shelving trend, no worries. These glass cabinet doors can still give off that exposed feel, all while still fully contained. Using your existing cabinets, figure out which doors you'd like to replace with glass and then just go for it!
19. Kitchen Cabinet Makeover with Chalk Paint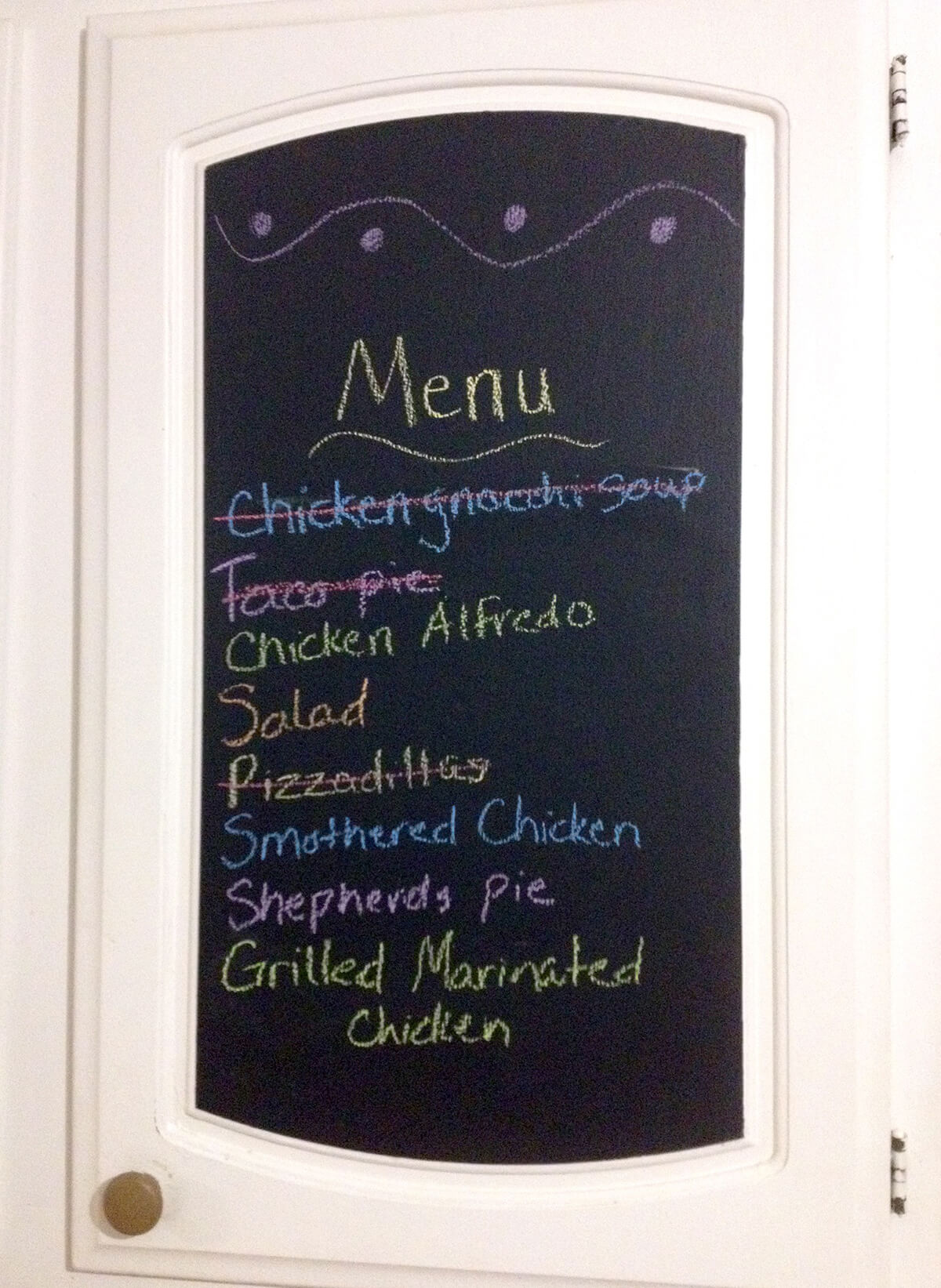 As you've already seen, you can easily transform your kitchen with a simple paint job. Instead of updating all of your cabinets, why not update just a few with chalkboard paint. You can quite literally add chalkboard paint to nearly anything, so why not apply it to your cabinets? It's a fun and youthful way to add a menu, a quote for the day or daily tasks that need completed for the day.
20. A Quick and Easy Update with Dollar Store Supplies
If you currently have exposed cabinets, you can quickly and easily give them a fresh update with supplies from the dollar store. Add a fun pop of color with colored paper for the back wall paneling and give it a little accent with contrasting washi tape on the front of the shelving.