Often, houseplants tend to be somewhat erratic; luckily, you don't have to worry about this problem with plant-inspired décor pieces such as these best DIY leaf art ideas. In addition, they may be used to embellish almost any surface, from the wall to the tables and everything in between!
23 Best DIY Leaf Art Ideas You Must Try This Season

To get started, you can think of hanging them on the wall as some opulent artwork. Your main sitting area inside wall space might need an attractive focal point, and multiple giant leaves would be perfect. Even a glass replica, when hung from a window and allowing the warm sunlight to pass through it, may provide a sense of mystique to the space. Palm branches may be changed into lovely table runners, and the smaller pieces can be used as festive confetti when deployed as part of the decoration for a tabletop. Both are fantastic alternatives for party décor that will help you commemorate a considerable event most appropriately.
The completed items are sophisticated, but you don't need to be Erica Domesek to pull them off. The following do-it-yourself craft leaves concepts are simple enough for novice crafters to do. Additionally, they're complex enough that even expert artisan may appreciate their beauty. And since the resultant decorations are so lovely, your guests will likely inquire about where you acquired them. Also, giving a gift that touches the receiver emotionally is always a kind gesture. And any of these best DIY leaf art décor ideas would be an excellent addition to the assortment of housewares owned by a person with a deep-seated affection for plants. Check out the many alternatives available in design and functionality when incorporating one or more plant-friendly elements into your next gift-giving occasion or modest interior redesign.
1. Make a Stunning Fall Candle Holder with Real Leaves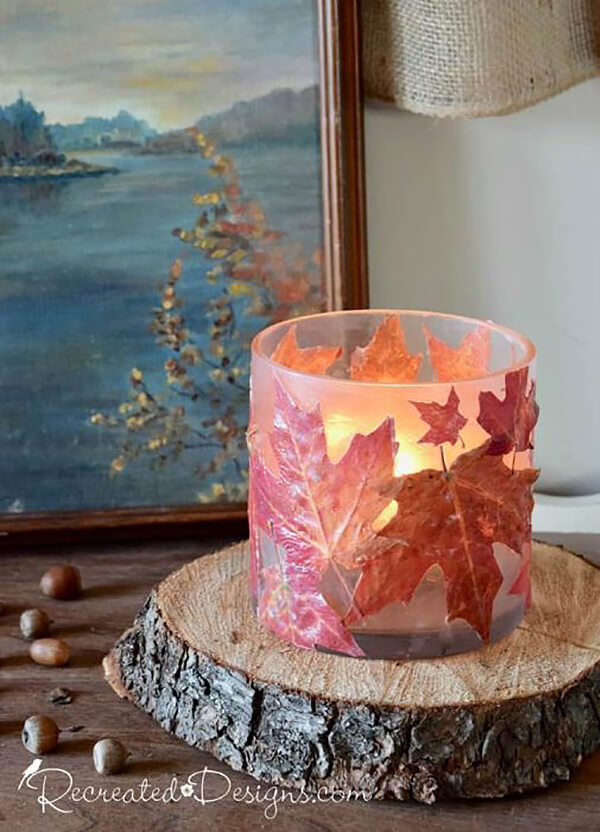 Fall leaves are an excellent method of gracing your home with a little outdoors, and a Mod Podge and several leaves are all required to create an outstanding best DIY leaf art candle holder. Also, you can deploy this concept for an ornamental glass vessel, vase, or any other glass ampule. We support the concept of adorning multiple diverse-shaped glass containers and then deploying them as mantel or tabletop centerpiece displays. However, if the idea of utilizing a Mod Podge doesn't impress you, you can use hemp twine to shawl leaves around the outer surface of a holder. Although it's a simple process, it has the power to convert a mundane container into something extraordinary.
2. Colorful Paper Leaf Garland for the Fall Season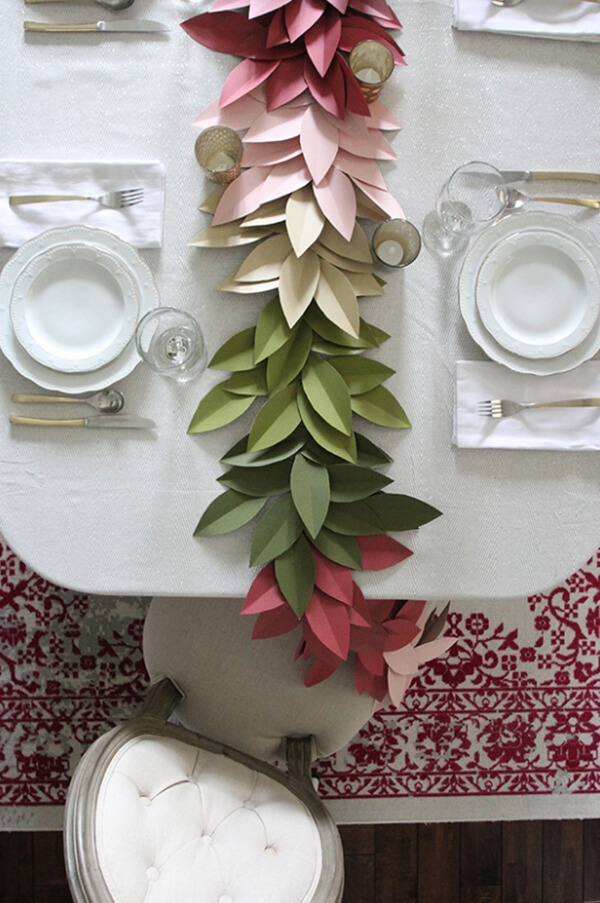 This leaf garland is a beautiful way to add a dash of color to any space. Decorate the walls with it for the ideal celebration. The vibrant green is a great way to start your celebration off right. Use it as a background for visitors to get some cool pictures. It may also be used as a centerpiece for a dinner table or even as a table runner. Create an eye-catching tablescape by pairing these gorgeous leaves with coordinating cup handles and dinnerware. Consider placing palm trees around the area to complete your leaf-themed party decoration.
3. Wreaths Made from Nature Walk Findings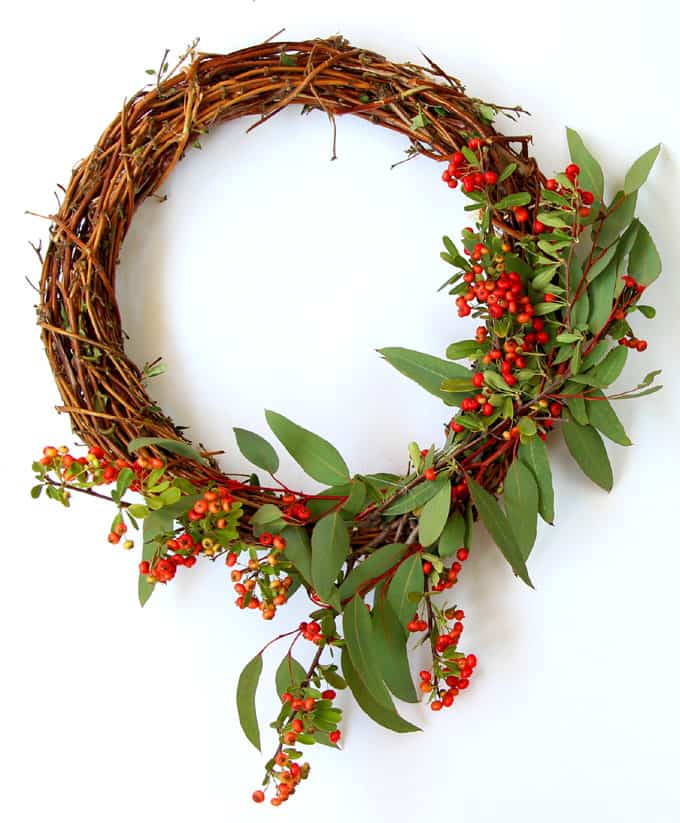 After going on a treasure hunt, tallying, classifying, and creating patterns with whatever you collect, you may use the items to make lovely decorations for your house. In addition, now is the ideal moment to adorn a wreath with the stunning and vibrant leaves you have discovered on your stroll. This versatile décor is suitable for almost every room in the house. Because of its adaptability, it can also take on an appearance that is uniquely yours. You may hang the wreath anywhere in your home, including the kitchen, living room, entryway, or mantel. Said, the choices are almost limitless, and the wreath is an excellent way to inject some color into the environment you already have.
4. DIY Leaf Stamped Pillow Cover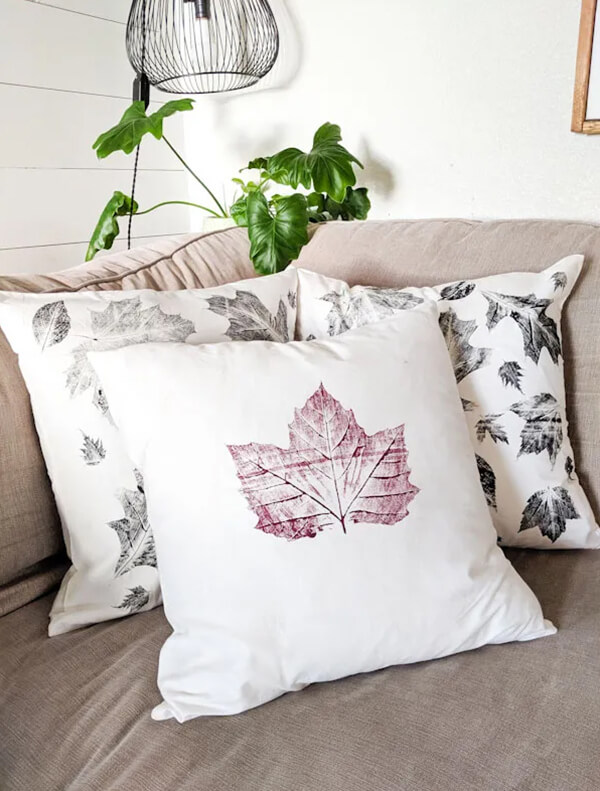 This gorgeous pair of leaf-stamped pillow covers will simplify your next picture shoot with the newborn. Because they're the ideal combination of beauty and coziness, your infant will enjoy lounging on them to display their lovely grin. Additionally, these pillows may be used as backdrop décor. Additionally, the tiny leaves are ideal for grasping. When you're not taking photographs, these leaf-stamped pillow covers may be used as decorative additions to the house. Keep them on a chair for reading or on the bed. They're within grasp and may be tossed on the ground for your infant's enjoyment!
5. DIY Pressed Botanical Art Project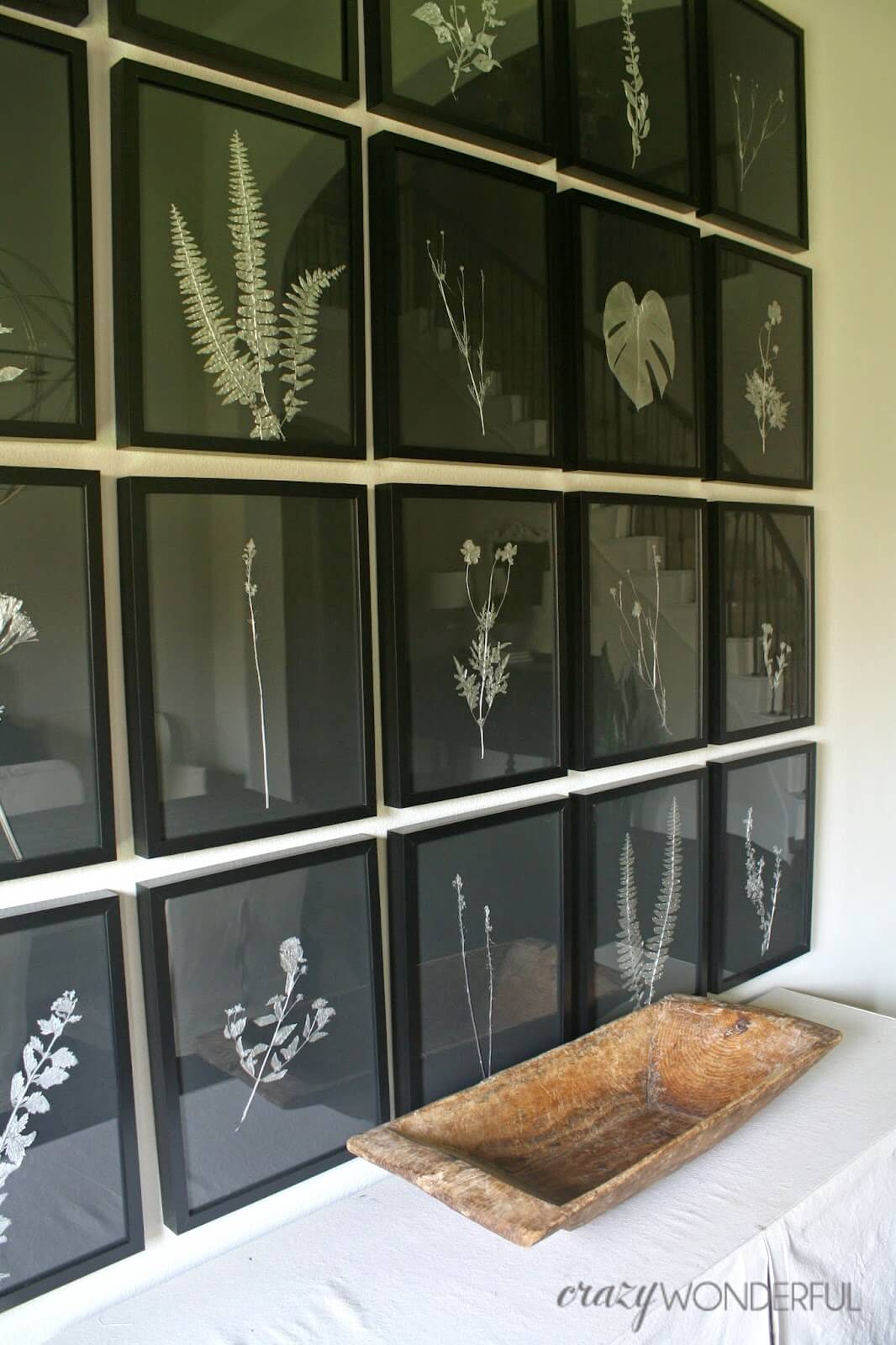 This lovely piece of art may be created even if you have no experience with gardening. You can add a touch of nature to any room using dried and framed plant cuttings. This venture is for you if you cannot maintain any live plant beyond several months. Embracing this DIY framed botanical art, decorate a wall with plants that need little attention. These frames retain the loveliness of dried yard trimmings for an extended period to come. You may also use a part of a bridal bouquet as a frame for sentimental or sentimental flowers.
6. Creating a Falling Leaves Chandelier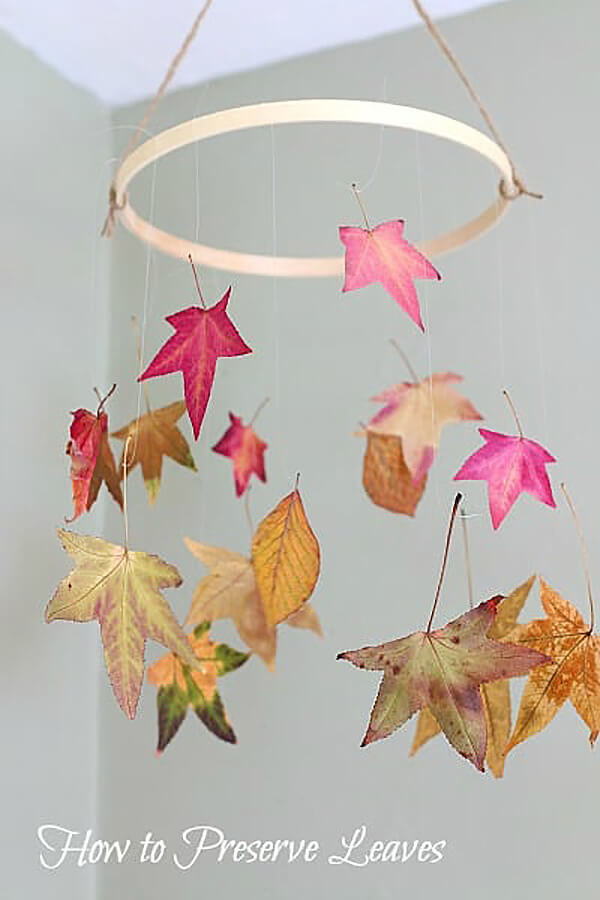 Gather leaves of different sizes and dry them to make a Falling Leaves chandelier. If you want the leaves to remain lovely the whole season, you'll need to dry them for about two weeks. On the other hand, I doubt you have the patience to wait that long. Drying the leaves for a few days will cause them to curl, though not as much as if they had not been dried beforehand. Hang leaves from strings. Please give it some weight by stringing a bead or two across the bottom of the bag. Add curled twigs from a willow trimming, nestling them around the light, before adding the leaves. A beautiful falling leaves chandelier will be the result before you know it.
7. DIY Sprayed Gold Leaves Project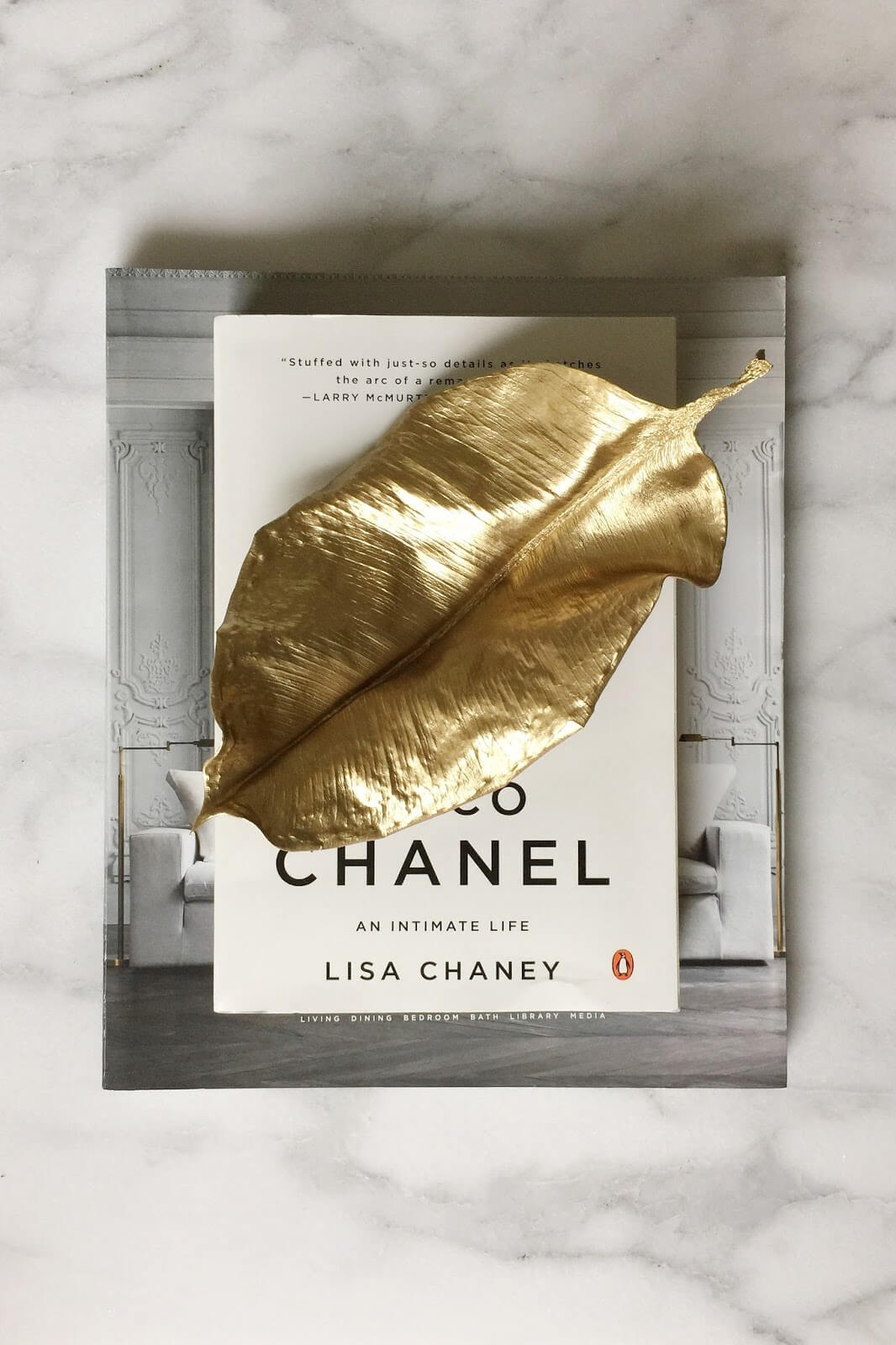 Start your party right with these lovely leaves. All the leaves finished in their lavish and gleaming gold work their charm when they're scattered across the tables during your next party. Include this distinct DIY sprayed gold leaves in your decorations by meticulously planning every aspect of your event. Place some on the gift tables and use the rest to enhance the table centerpieces for all the guests. And there's no better way to bring on board some glamor to your revelry décor than with leaves, and DIY sprayed gold leaves provide an interesting visual twist.
8. Sun Prints Made from Readily Available Objects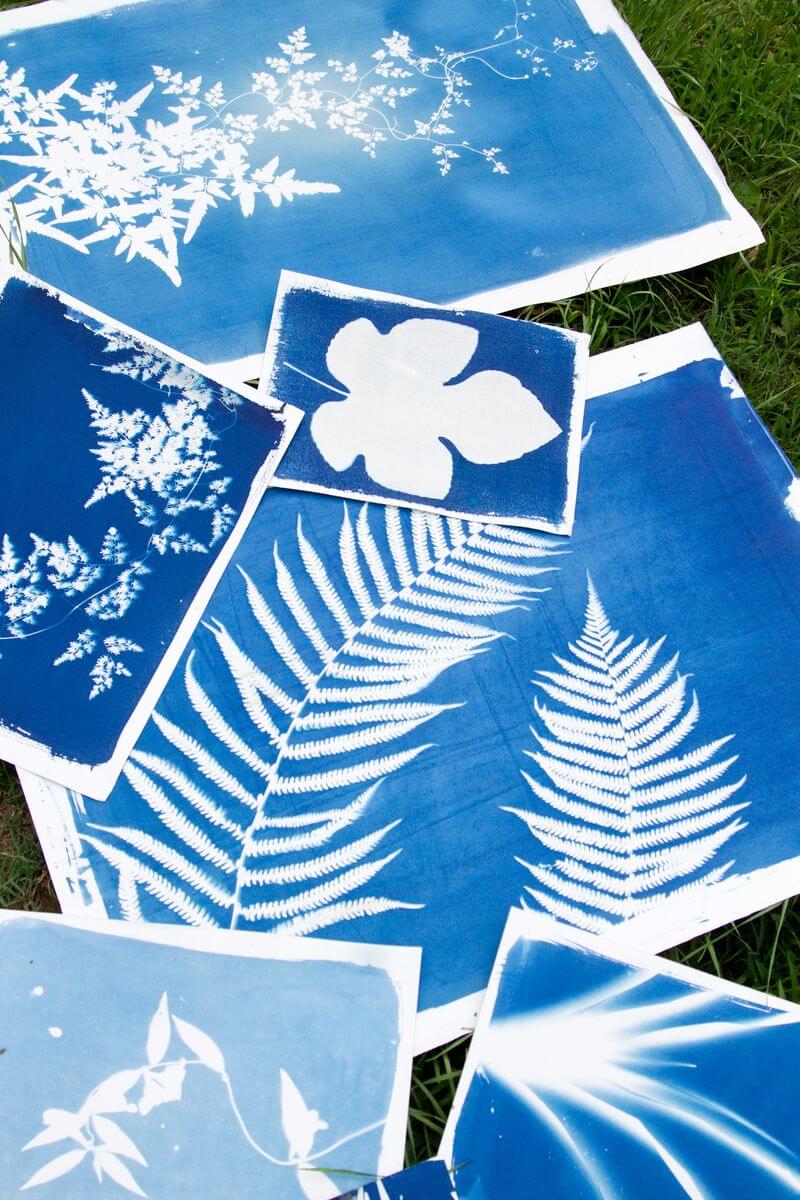 Suppose you're searching for a leaf DIY art idea that doubles up as a science experiment, a nature exploration, and a beautiful piece of décor all wrapped up in one! It would help if you considered creating Sun prints using available materials. You can use nature print papers to come up with some beautiful works in less than 15 minutes! Decorate your home with everything you choose, including starfish and flowers. Afterward, you can hang them on the wall or use them as photo frames for your tabletop.
9. Creating Fantastic Watercolor Leaf Print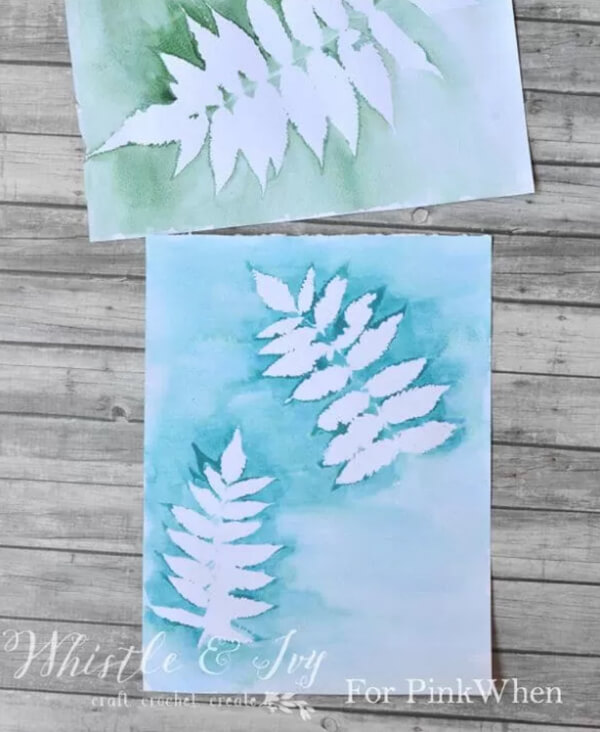 It's quite thrilling when you get to learn how to do this exquisite and simple watercolor print! Since you've been eager to try out simple watercolor painting, go ahead and deploy some stunning leaves from the shrubs surrounding your home or within your yard to create a print. Your space will look like it's in the middle of a distant art room when you this watercolor print, which you peel off and paste on the wall. This print is mounted on a creamy backdrop to highlight the beauty of the fronds that are within it. The watercolor leaf print contains a variety of tones. Due to the fact that it gives the space a different appearance, it is an excellent option for the dining area, the restroom, and the foyer.
10. Pressed Fall Leaves: Window Art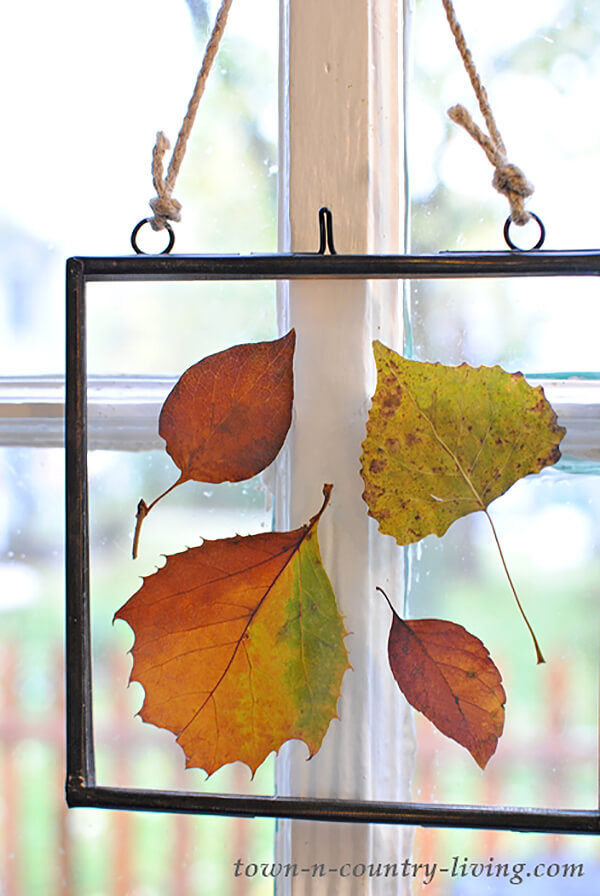 When you were a child, did you ever gather beautiful leaves to bring home in the hopes that they would remain attractive and fresh? But they would dry out if you didn't take the right action. However, you can spare your kids that pain by teaching them how to create pressed fall leaves hung on the main window. It takes several minutes to put together press-made autumn leaves to create a stunning wall or window decor. A unique hanging exhibit that resembles a wind chime may be made when they are put in the right way. Furthermore, this would instantly add a wow factor to your house when placed in a conspicuous window!
11. Air Dried Clay Leaves DIY Project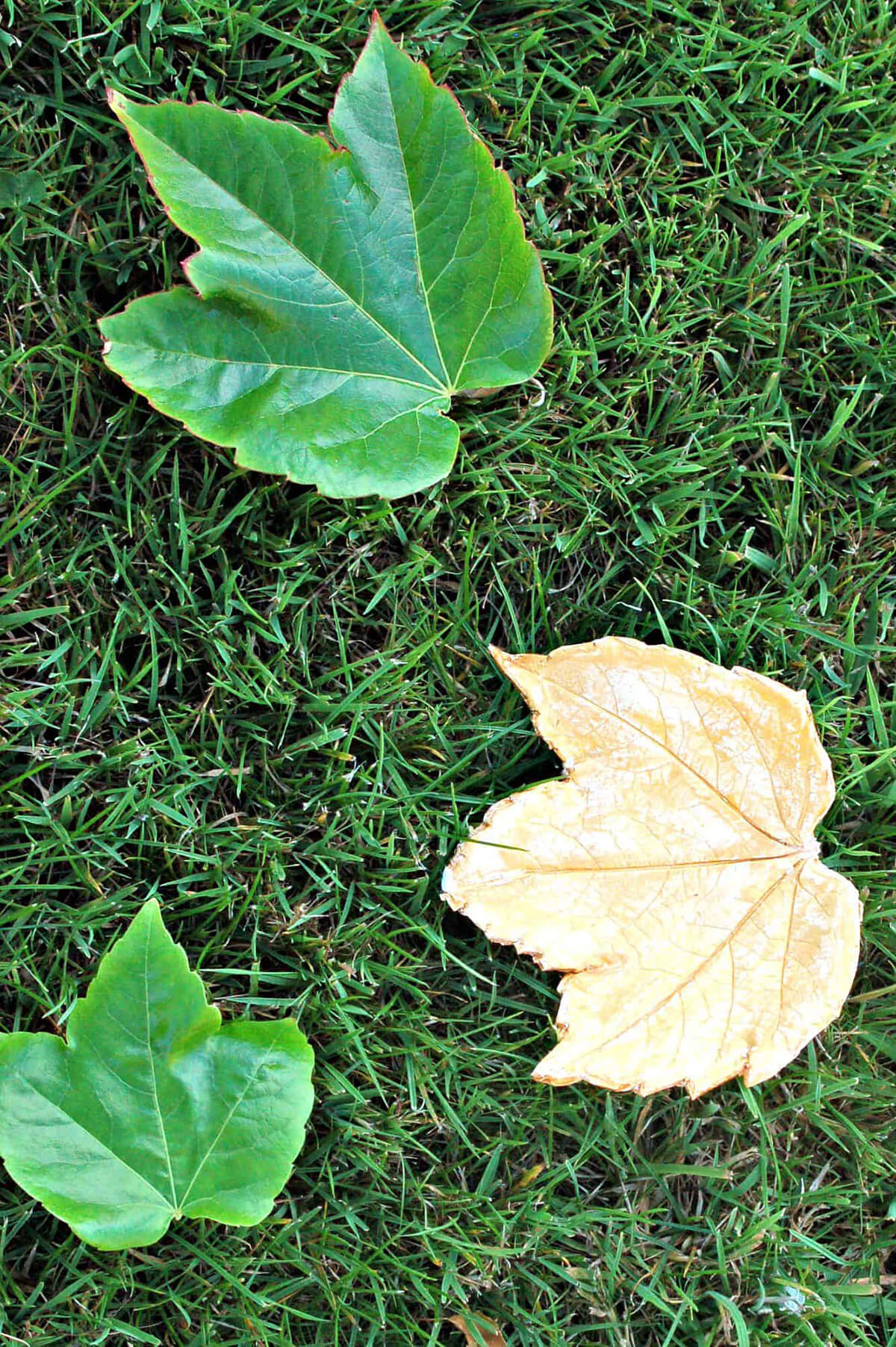 Many people promise to do some home decoration during the fall season. But unfortunately, they end up failing to achieve this goal. However, you can make this year different by embracing this air-drying clay craze, which is trending. As a matter of fact, mid-century contemporary décor has undergone a significant resurgence of fame within the last few years. These air-dried clay leaves are enthused by Bitossi studio chick of the fifties. These handmade leaf craft ideas would make unique homemade leaf projects for moms across the globe because they're simple enough to carry out with their kids!
12. How to Make Gorgeous Leaf Resin Magnets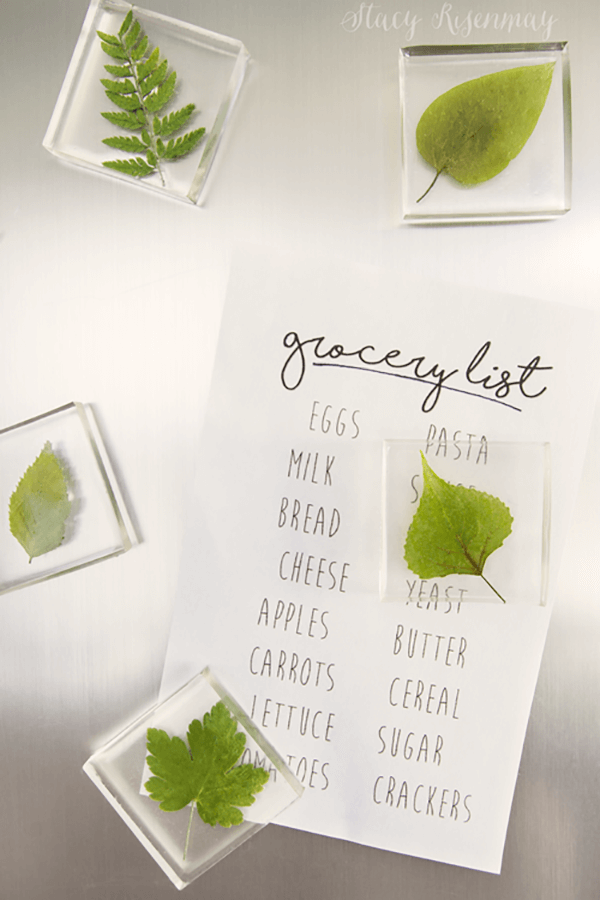 Kids collect things. And many of the items they gather come from outsides, such as stones, insects, and twigs. There are instances when they'll collect some leaves, which they'll assume are cool. Hence, they'll become sad when they curl and dry up. And that's why we recommend you soak them into resin and transform them into a thing of beauty. Also, use glue to attach magnets to the resin leaves, which will let you stick them to your fridge as ornaments. Simply, that's how a person creates leaf resin magnets. With the weather growing colder and the days getting shorter, embarking on these indoor homemade leaf projects will brighten your days.
13. Easy DIY Maple Seed Dragonflies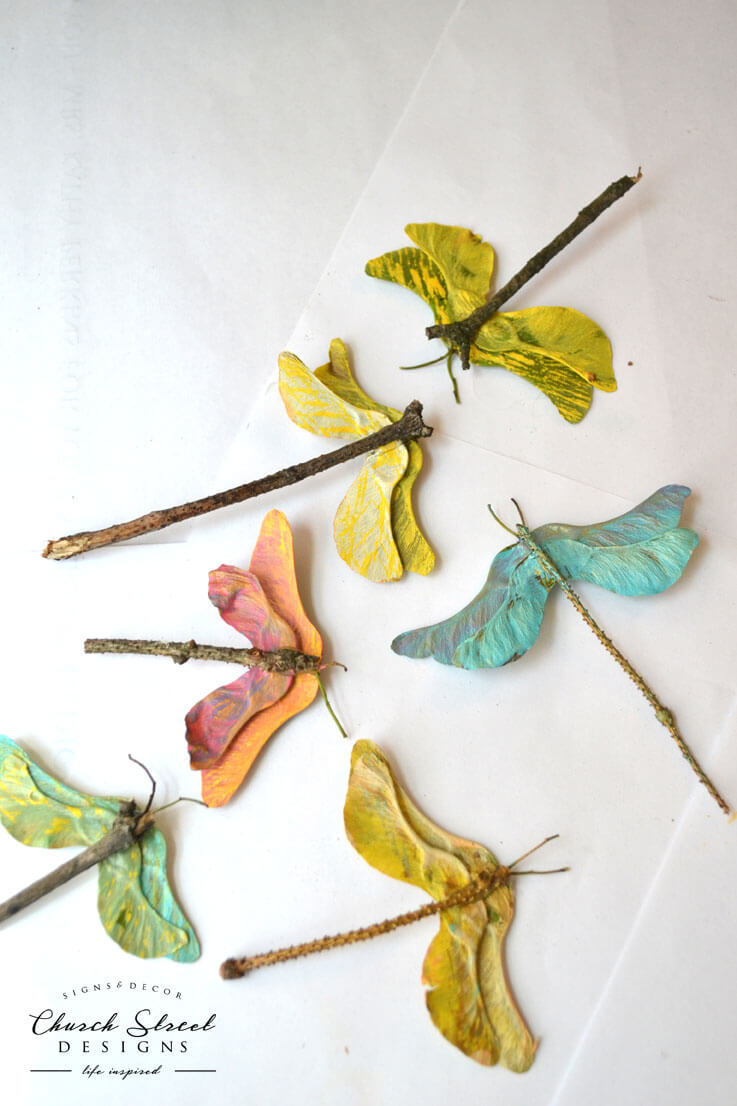 Are you searching for some unique crafts you can deploy in decorating your space? Well, you can try this straightforward but stunning craft – the maple seed dragonflies. You'll definitely love this DIY project since it's laced with a lot of possibilities. All you need are maple seeds, sticks, several paint colors, a glue gun, and paint brushes. Once you've gathered all the necessary items, lay out the maple seeds on paper, and start painting them. Kindly note that there's no right or wrong color. For a sophisticated and comprehensive appearance, layer the colors. Once a side dries up, you can flip it and color the other side. Once all the pieces are dry, select 2 maple seeds, which you can pair. Next, place a dot of glue on the back of the bigger seed. Lastly, cut the thin sticks and stick them to the top side of the seeds.
14. Nature Suncatcher Craft DIY Project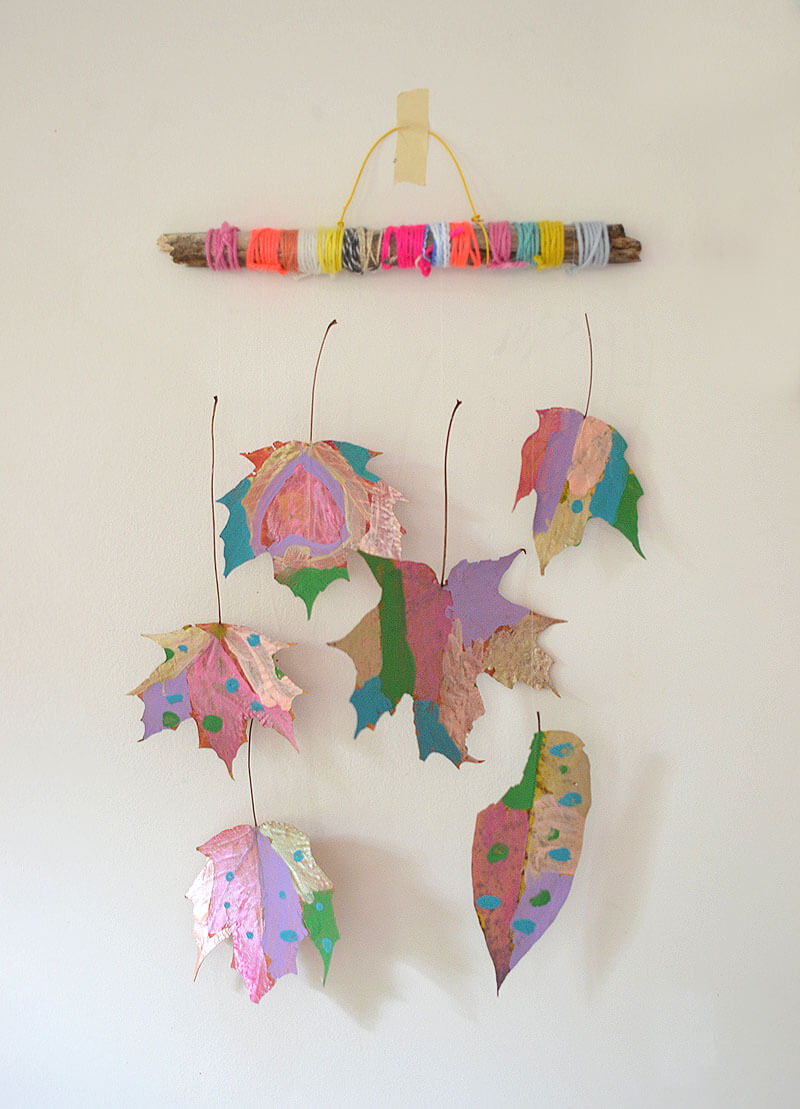 When the sun shines on your house, you will be able to gaze in awe at the exquisiteness of this magnificent maple leaf, which is brought to life by the vibrant stained glass colors. Pick up the color scheme that speaks to you the most, from various hues of green to a more autumnal aesthetic loaded with multiple shades of scarlet, purple, and orange. An assortment of these leaves hung in various configurations may be arranged together to make a fantastic hanging display that resembles a wind chime. You can do this by using a variety of settings for the leaves. This would turn into an immediate show-stopper in your house if it were displayed in a window that was in a prominent location.
15. Easy DIY Clay Leaf Bowls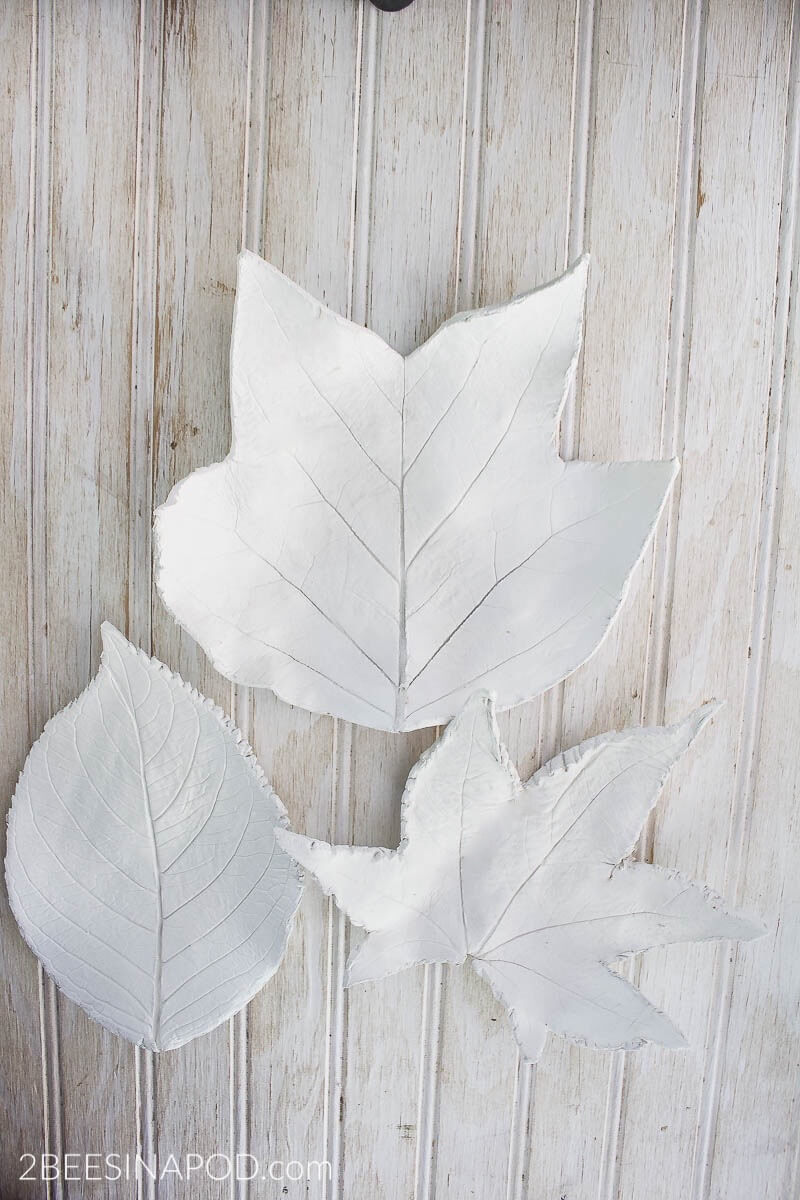 Clay leaf bowls are some of the amazing items you can gift a person. Plus, it is such a great activity to embark with your kids or by yourself since it's super easy. And clay leaf bowls allowed to air dry may be used to collect and store natural relics. Select a leaf that appeals to you in terms of its contours and feel, and press it into a sheet of air-dried clay that has been rolled out very thinly. Make a bowl out of the mud by cutting a rim around the leaf, then shaping it into a cylinder. As a component of its feel, your bowl will feature all the intricate veins seen in the leaf. These beautiful bowls would make excellent additions to any house as unique items of home décor.
16. DIY Painting Leaves to Decorate your Home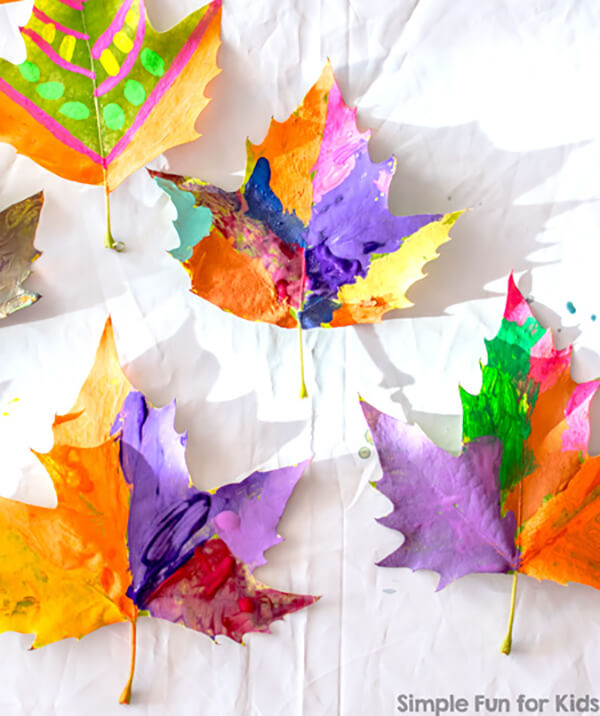 With this tropical garland, you can have a fun luau! It's a celebration that everyone will be talking about, thanks to your beautiful and distinctive palm leaf décor. Before you even open it, the garland is already strung with a bright pink ribbon to offer even more glitz and glamor. If you want to add some jungle chaos to your event, hang it from the ceiling or place it on the table to make a unique tablescape. Visitors will be mesmerized by the bright shades of green that range from light to dark as they help to bring this idyllic luau to life!
17. Stunning Leaf Lanterns to Light up Homes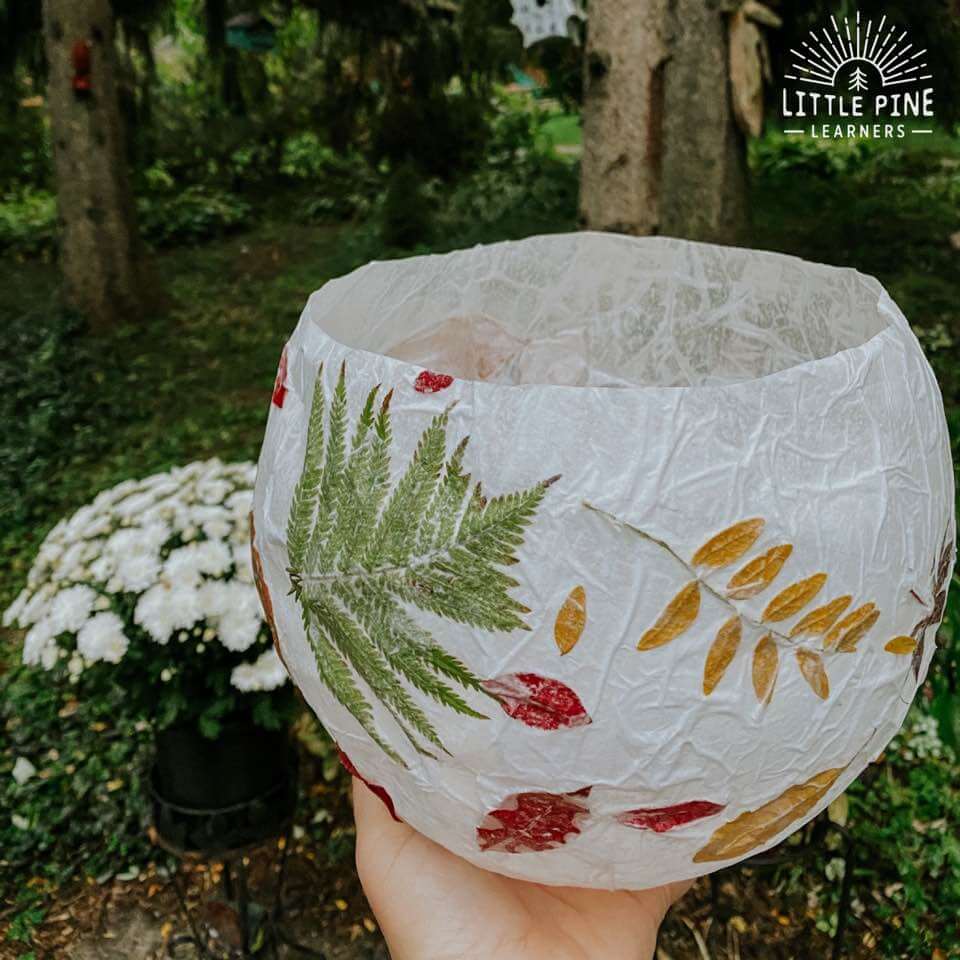 Halloween, Thanksgiving, football, and getting together with friends are all associated with the fall season. In addition, now is the perfect opportunity to demonstrate your expertise in the best DIY leaf art of decorating. Because of this, we strongly recommend you look at this simple do-it-yourself project that you can accomplish around the home. During the darker days of autumn, these beautiful leaf lanterns will usher light into your house and brighten things up. On a crisp autumn day, this is the perfect activity for you to attempt with your kids, and they will have a blast doing it too!
18. Easy to Make Autumn Leaf Wreath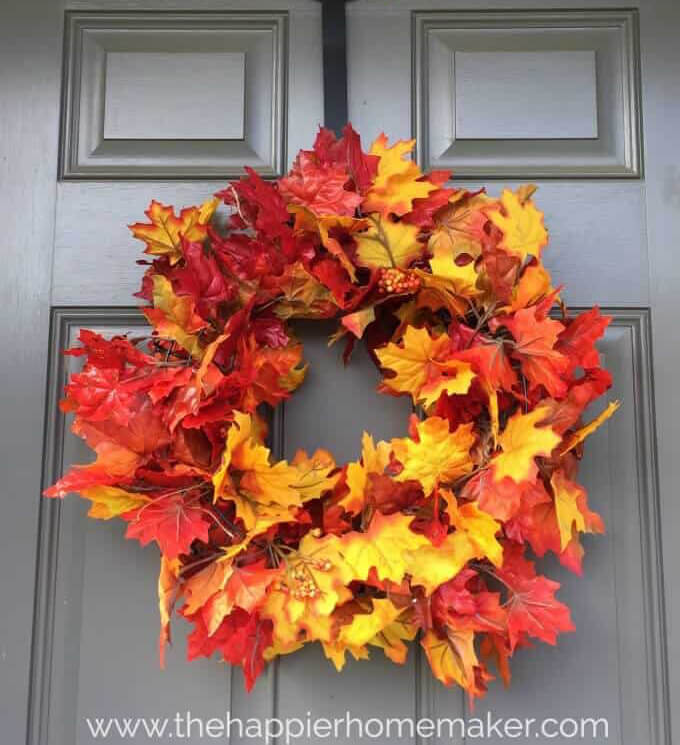 If so, I've got some suggestions for you. Welcome the changing of the season with this easy-to-make fall leaf wreath. No matter where you decide to put it, this fast and simple project is a blast to do! A fall leaf wreath makes use of the vibrant colors and patterns seen in fallen leaves, but you don't have to worry if you can't find any. Wreaths decorated with fake autumn foliage are another option.
19. DIY Resin Fall Leaf Coasters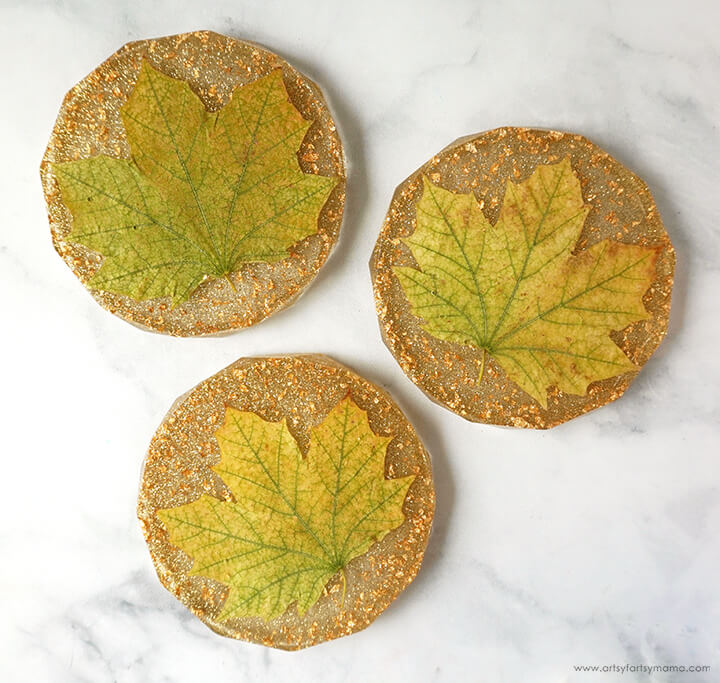 The greatest thing regarding fall is changing leaves. Most households have a culture of visiting the mountains to view all the lovely colors and stopping for a picnic. However, do you know there's a way for you to preserve that fall season feel? So, if the leaves are beginning to change, grab a few and encapsulate them in resin as coasters. And you'll love the results! Incorporating resin into a coffee table piece is a unique approach to preserving a moment from the autumn season.
20. Easy to Make DIY Fall Leaf Bowl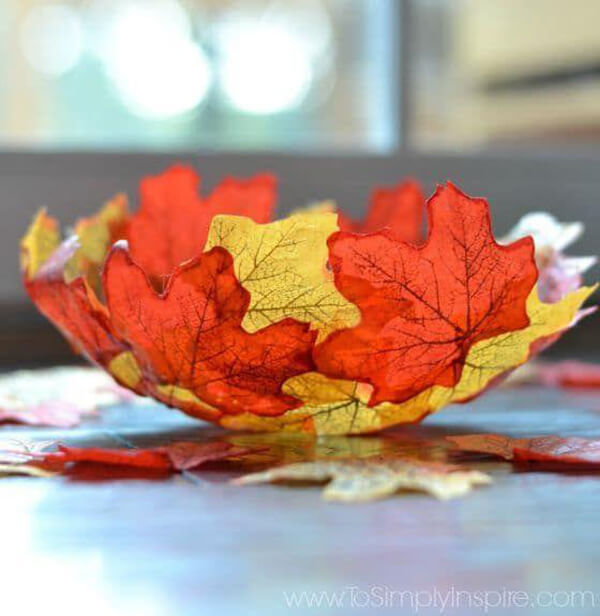 Among the most delicate things regarding autumn are the leaves' brilliant hues. This fall leaf bowl is a simple way to incorporate those beautiful colors into your house. And it would look spectacular if you like the changing of the seasons. After completing the bowl, all that is left to do is let it dry. It's a cool way to add a little holiday cheer to the house. It is a little fragile, but it is perfect for holding some smorgasbord.
21. Stunning Silk Eco Printing for Home Décor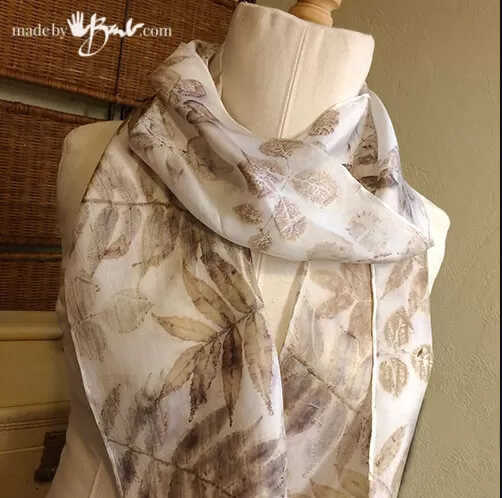 Each leaf has a tale of a past time and place encoded within it. And by employing traditional natural dyeing methods, humans can remove and preserve the accounts. The different parts of the plants are kept within the crease of fabric and blended with ocean water to obtain hues and motifs. And not only does the method result in striking prints, but it also has a negligible effect on the surrounding natural world. Put on a bit of the earth, and know that you are helping sustain the handmade leaf craft ideas industry while doing something kind for mother earth.
22. Making a Clay DIY Leaf Plate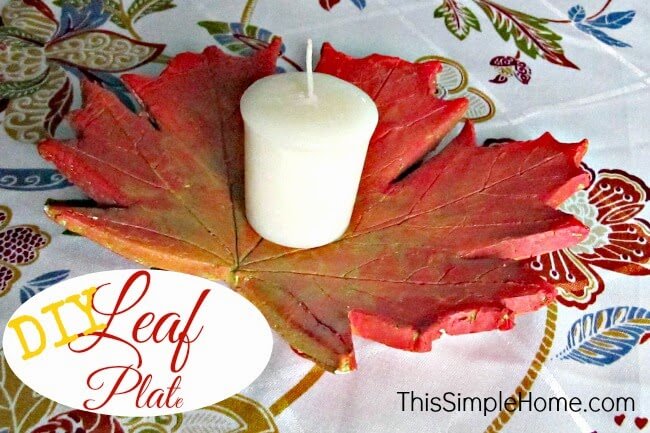 At your next party, these best DIY leaf art plates should be deployed anywhere your heart wishes! These plates may be utilized in various ways, from strewn over the tables to a delightful addition to the tropical décor within your home. If you want your event to have a jungle vibe, embrace green as the primary hue of the decorations. However, add some gorgeous pink flowers if you wish a more tropical feel and appearance. Using a range of green colors and sizes in your design lends an air of sophistication to the overall effect, making it seem that you have put more effort into it.
23. Easy to Make DIY Leaf Lanterns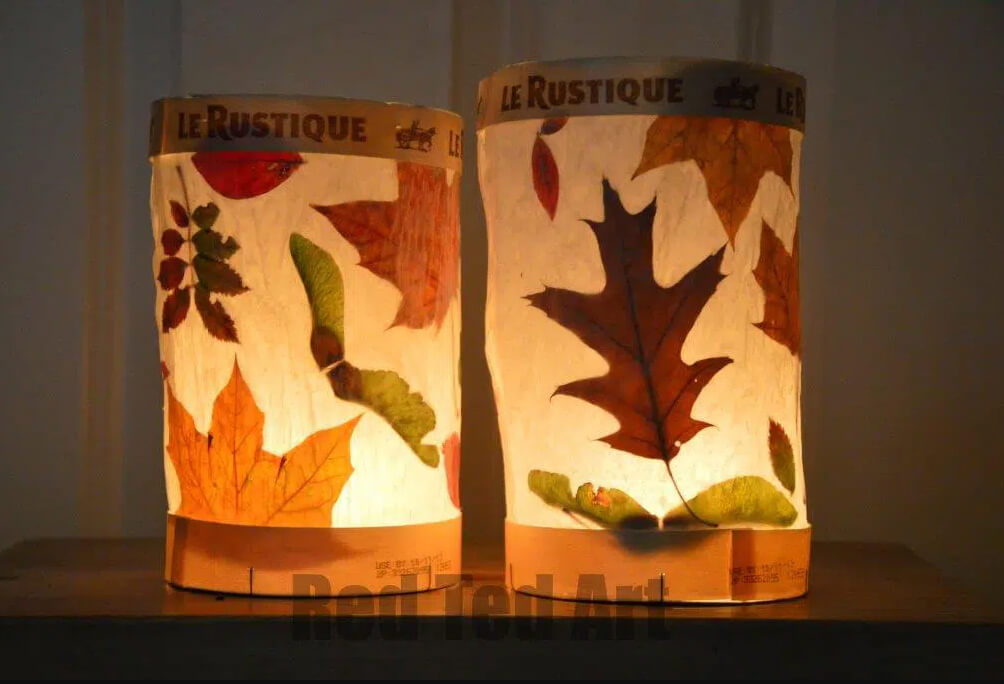 There is a lot of fun to be had in crafting these leaf lanterns. It's a bit dirty, but a lot of fun to make one. You might expect a few gasps and gasps from your guests when they see it. You can't help but fall in love with it during the day and fall in love with it at night, thanks to the flashing of the light. Because of this, it's a great activity to do with your kids on a rainy day! As a bonus, it'd be a fun activity during the autumn equinox. They're beautiful homemade leaf projects for autumn decoration that kids will enjoy crafting and adore going on a leaf search!
23 Ways You Can Get Creative with Leaves
It's easier than ever to incorporate plants into your space without having a green thumb! It's impossible to go wrong with any selection you make when it comes to decorating your room with plant leaves, whether you use them for walls or tabletops. You can also use these leaf decorations as gift ideas themselves if you are giving them as gifts. Your gift bags will look great with air-baked clay leaves. Or maybe you enjoy the look of gold sprayed leaves, which can serve as decorations after they pinpoint the gift's recipient.
Suncatchers are a must-have design for anyone who loves plants. As the sun's warm glow filters into your home, the gorgeous shades of green will be a sight to behold! It's also possible to create an eye-catching focal point in your home by decorating an entire wall with imitation plants. And this is the most unique approach to constructing a statement wall while depriving it of any attention. Or, if you'd like something more monochromatic, consider clay leaf patterns with a nonglossy black finish and alternating thick and thin leaves. Any of these handmade leaf craft ideas will work well, regardless of your preferences, for these are the 23 beautiful ideas for incorporating more greenery into your house and your gift-giving efforts.