The best DIY makeup organizer ideas go beyond decluttering and make it possible to see everything in your collection. After all, if you do not see it, how likely are you to use it before it expires? Keeping your cosmetic collection well organized might also prevent purchasing unneeded duplicates. Beyond the practical, makeup organizer DIY ideas can help your collection look absolutely inspiring. Your ideal makeup storage depends on what kinds of makeup you use most frequently and how much available space you have.
21 DIY Makeup Organizer Ideas to Keep Your Cosmetics Looking as Good as You Do

Lipstick, eye shadow, and makeup brushes each bring unique storage challenges. Take inventory of your current daily routine and consider the cosmetic products you have but do not use frequently. To save time, it is a good idea to prioritize easy access for your everyday essentials. Products you use less often should still be easy to find even if they are not on your countertop. How much tabletop and drawer space you have available will determine which handmade makeup organizers are right for you. Keep in mind that tabletop organizers will not offer as much privacy as drawer organizers. As you scroll through the ideas below, imagine ways to integrate these storage solutions into your current routine.
1. Multiple Drawers Dedicated to Lip Care Products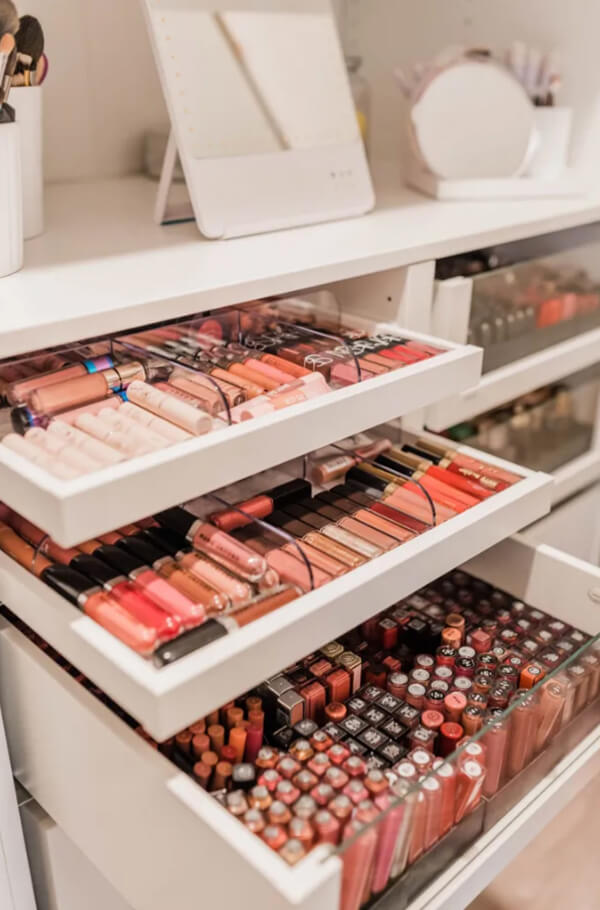 Having a robust collection of lip products is nothing to be ashamed of, and this multiple-drawer strategy ensures that you will always have plenty of options. To transform your storage system into an attractive display, try implementing the glass-fronted drawer approach shown here. As well as keeping different products separated, narrow mirrored dividers in the smaller drawers magnify the light to pleasing effect.
2. Save Space with a Rolling Cart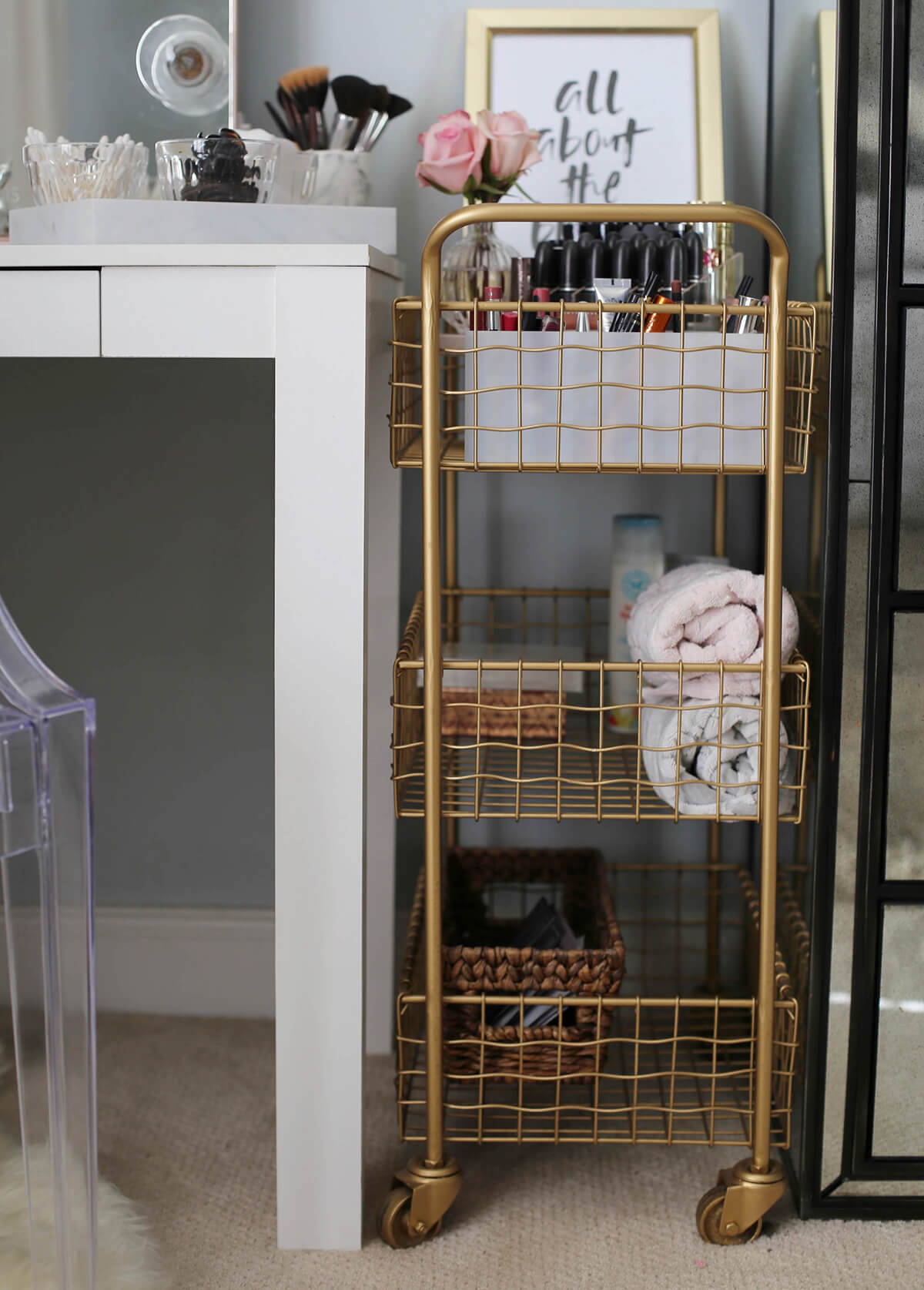 Because of its generous storage potential, a rolling cart might be the makeup station addition you did not know you needed. This cart showcases a glamorous metallic sheen, but a sleek black or minimalist white would look just as appealing. Because of the wide wire weave, additional baskets are needed to store small items. However, this offers the opportunity to play around with texture.
3. Adding Labels to a Makeup Organizer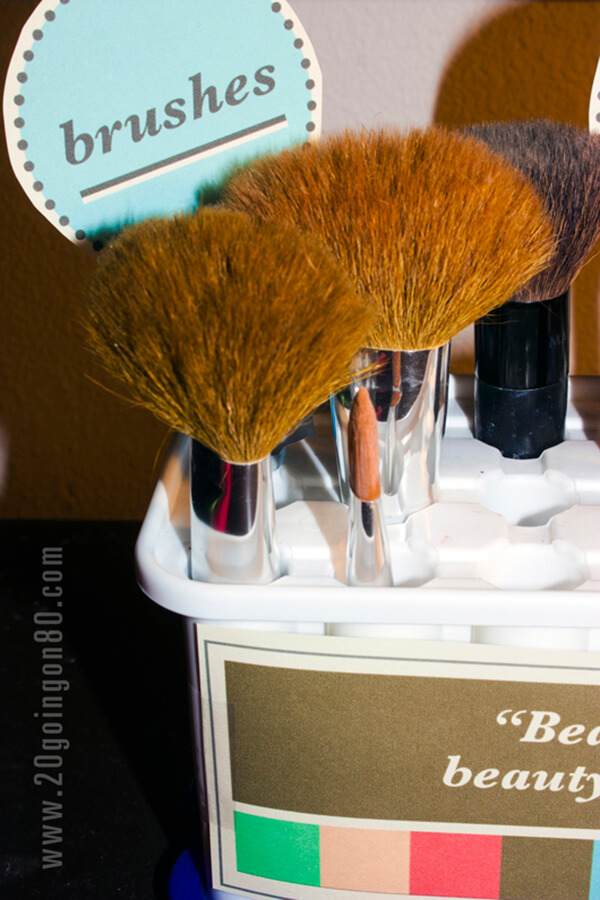 One of the fastest ways to transform chaos into tidiness is to invite labels into your organizational strategy. Printable labels allow you to effortlessly personalize your makeup station. To achieve the floating effect shown in this image, print your label, tape it to a pencil, and place it behind your brushes. Embellish your labels with anything that makes your spirit sing.
4. Upcycled Tin Can Homemade Makeup Organizer Ideas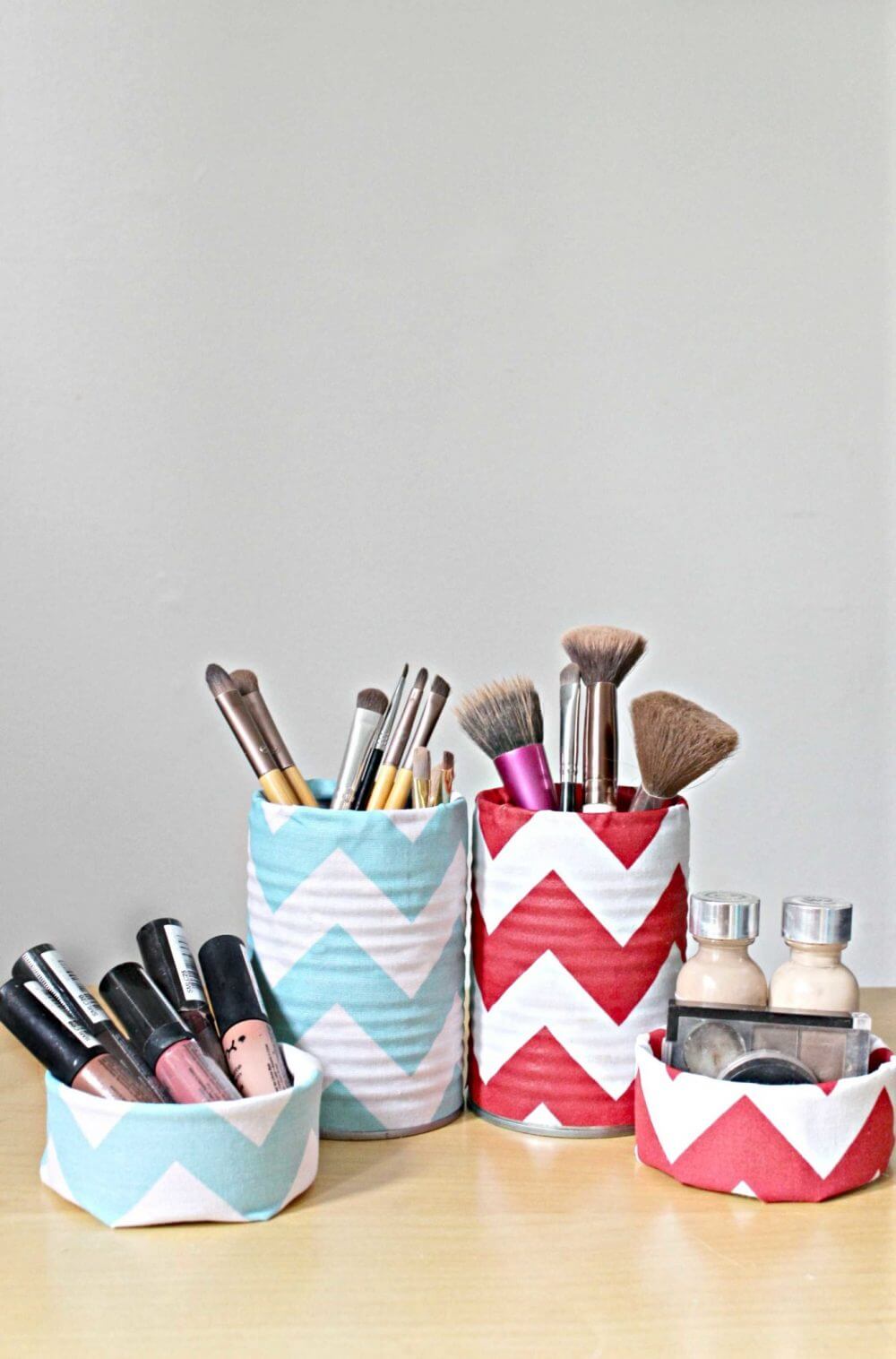 There is nothing quite as satisfying as saving a tin can from the landfill. With this tutorial, you will learn how to transform an empty can into a personalized makeup organizer system. This technique uses colorful fabric swatches, but you could also use scrapbook paper, felt, or even try recycling denim jeans. From pom-poms to pearls, you can embellish them to fit your style.
5. Tidying Up Your Dedicated Makeup Drawer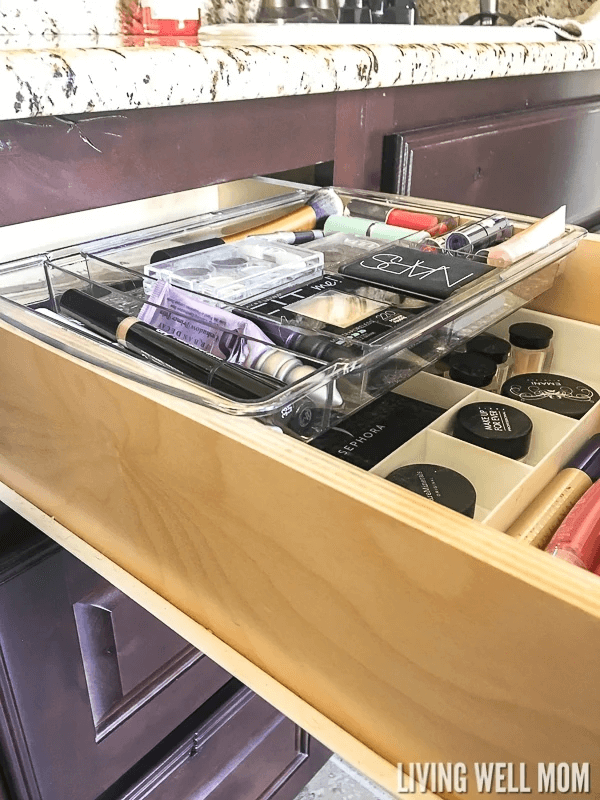 If you are tired of your makeup being loose in your makeup drawer, it might be time to install a few dividers. On bottom, a white organizer keeps similar items together. This organizer is great for larger makeup. To maximize space, a hanging container is the perfect place for small, frequently-used makeup accouterments. As a bonus, these containers are easy to remove and clean.
6. Rejuvenating Your Makeup Brush Collection with Glitter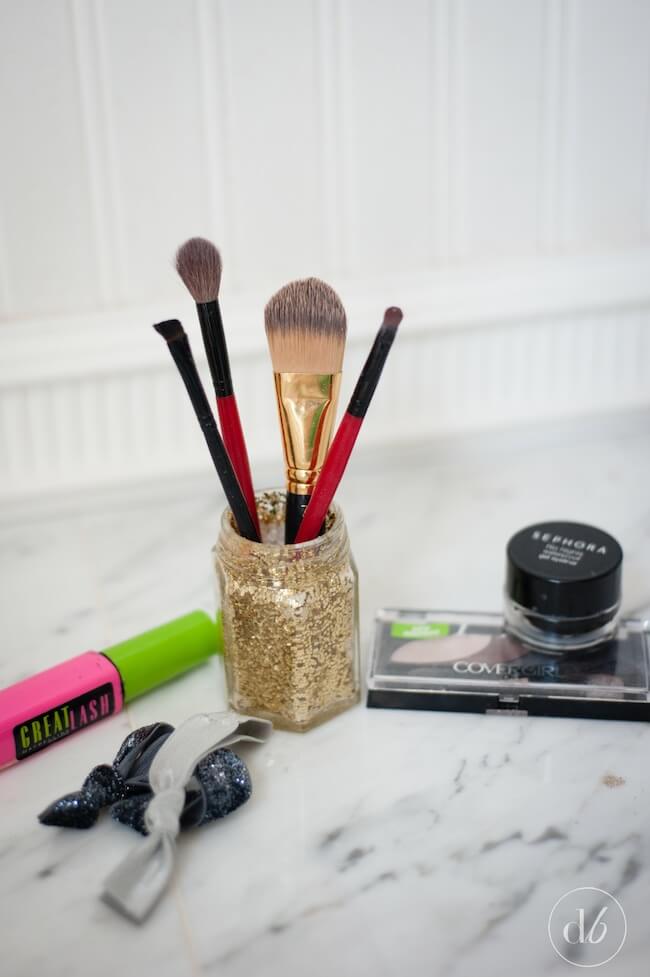 Golden glitter is a great way to introduce a little glamor into your morning makeup routine. Functionally, giving your makeup brushes a dedicated home will keep them in good condition. Cosmetically, glitter is the perfect way to give yourself good vibes. Because the glitter is adhered only to the inside of the container, you do not have to worry about it flaking away over time.
7. Organizing Your Makeup with Ice Cube Trays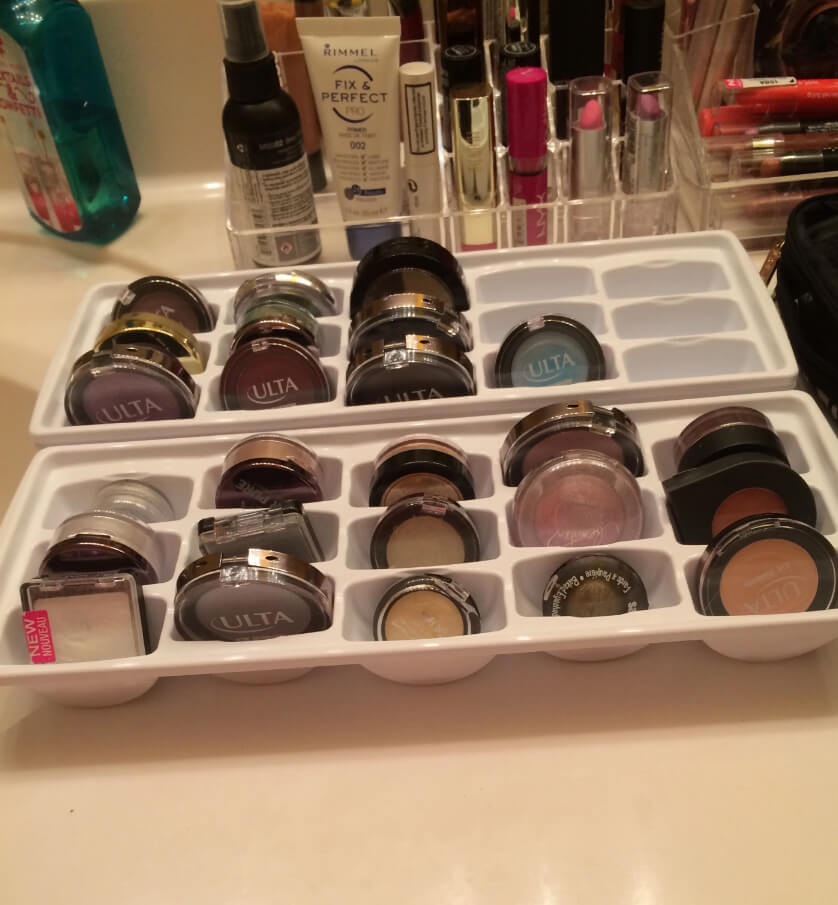 Imagine a world where you can find the perfect shade of eye shadow because your entire collection is easily visible and immaculately organized. Ice cube trays are a budget-friendly way to make that vision a reality. Because this technique is scalable, it works whether you have individual ice cube trays for each color family or a single tray for all your eye shadows.
8. Modern Makeup Brush Holders from Recycled Materials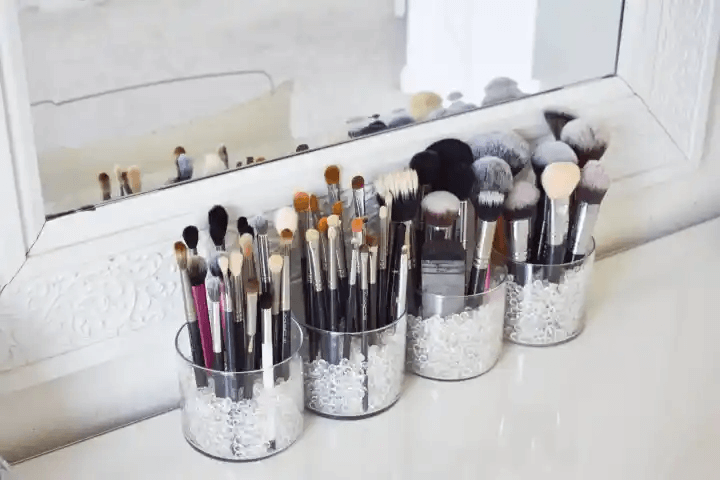 Glass vases and translucent stones are some of the best DIY makeup organizer ideas for a modern space. Surprisingly, these vases are actually candle containers with all the wax removed. Circular white stones are a chic way to keep the brushes upright, but you can use any color of small stones. For a more eclectic feel, mix and match different vase styles and stone colors.
9. Clear Acrylic Multilevel Makeup Storage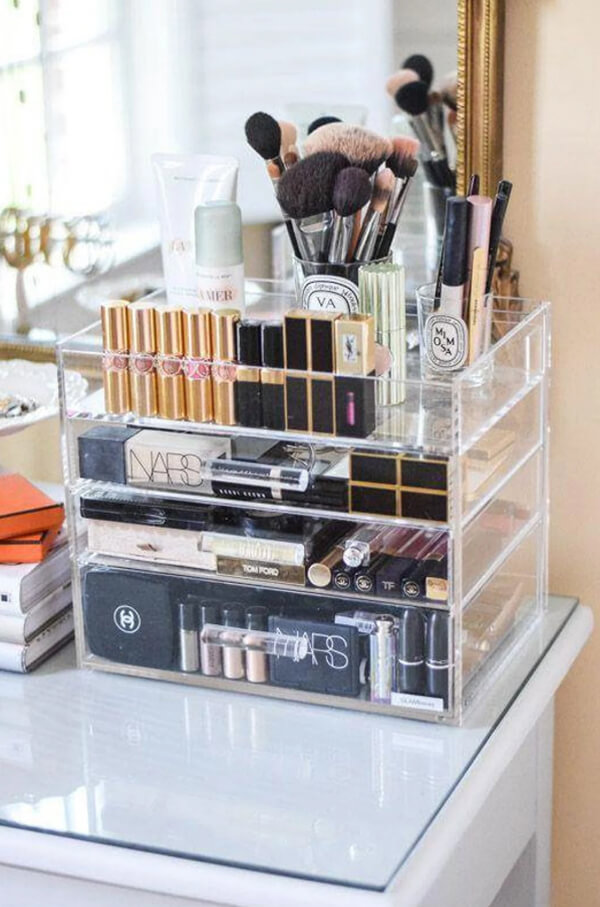 A transparent organizer offers extra encouragement to keep your makeup tidy. Similar to the calming effects of symmetry, seeing everything neatly lined up seems to soothe the soul. To best fit your makeup collection, this organizer is available in eight unique configurations. Choose the best setup for your routine, organize your cosmetics, and relax in the knowledge your makeup will look as beautiful as you do.
10. Saving Space with Wall-Mounted Handmade Makeup Organizers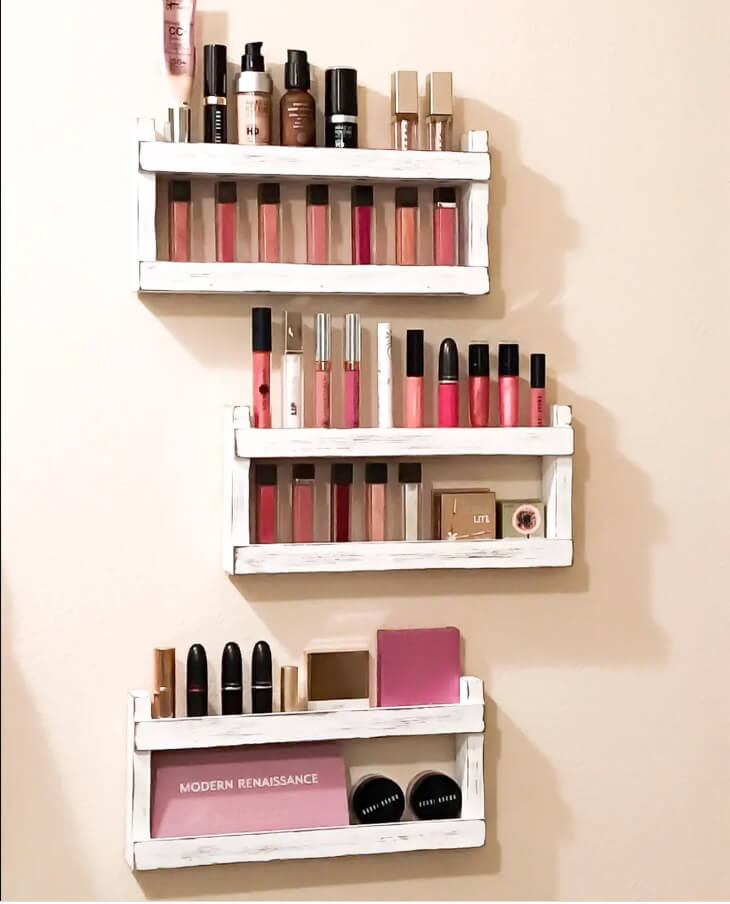 When tabletop storage options are not compatible with your home, moving your cosmetic collection to the wall is an appealing way to keep it organized and accessible. Each of these shelves is handmade and there are 10 finish options which include alternatives like warm-hued mahogany and cool turquoise. To make this into a full-service makeup station, all you need to do is install a wall-mounted mirror.
11. Spinning Tower for Maximum Makeup Storage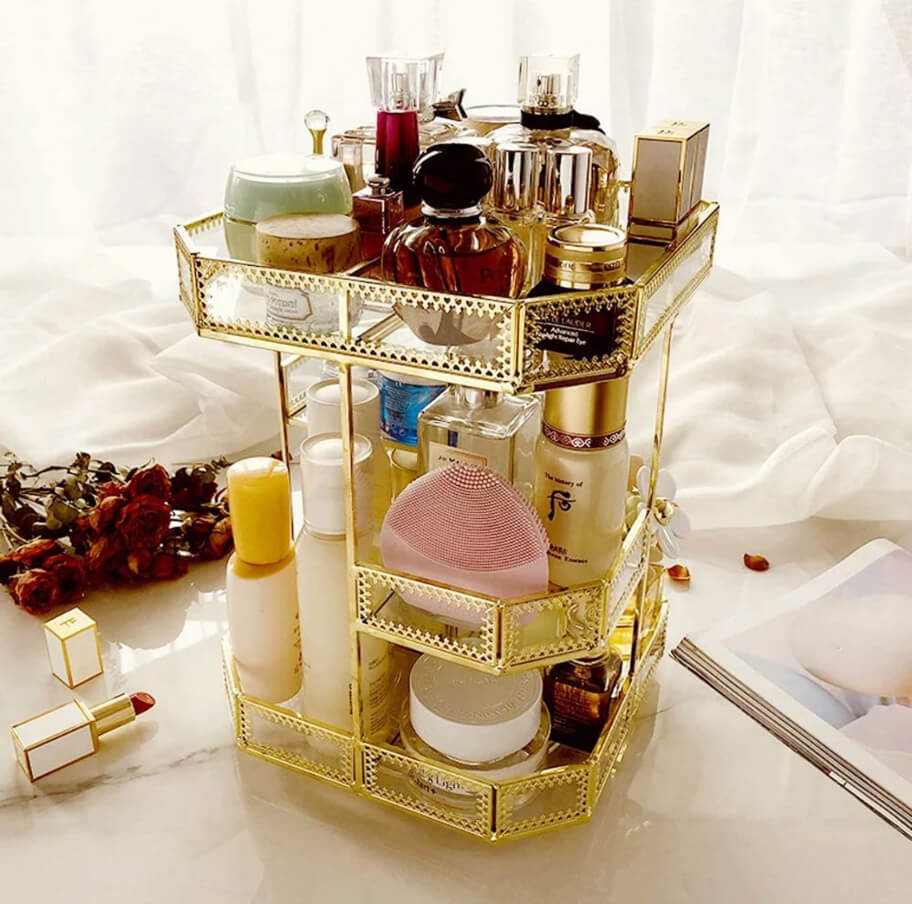 One of the most attractive ways to fit more into a small footprint is to go vertical. Because this carousel offers a small footprint along with gorgeous filigreed gold, it provides a luxurious way to display all your cosmetic products. Of course, if you would prefer a little more privacy, you can store a few lidded baskets or other appealing containers on its spacious shelves.
12. Spinning Two-Tiered Makeup Organizer for Easy Access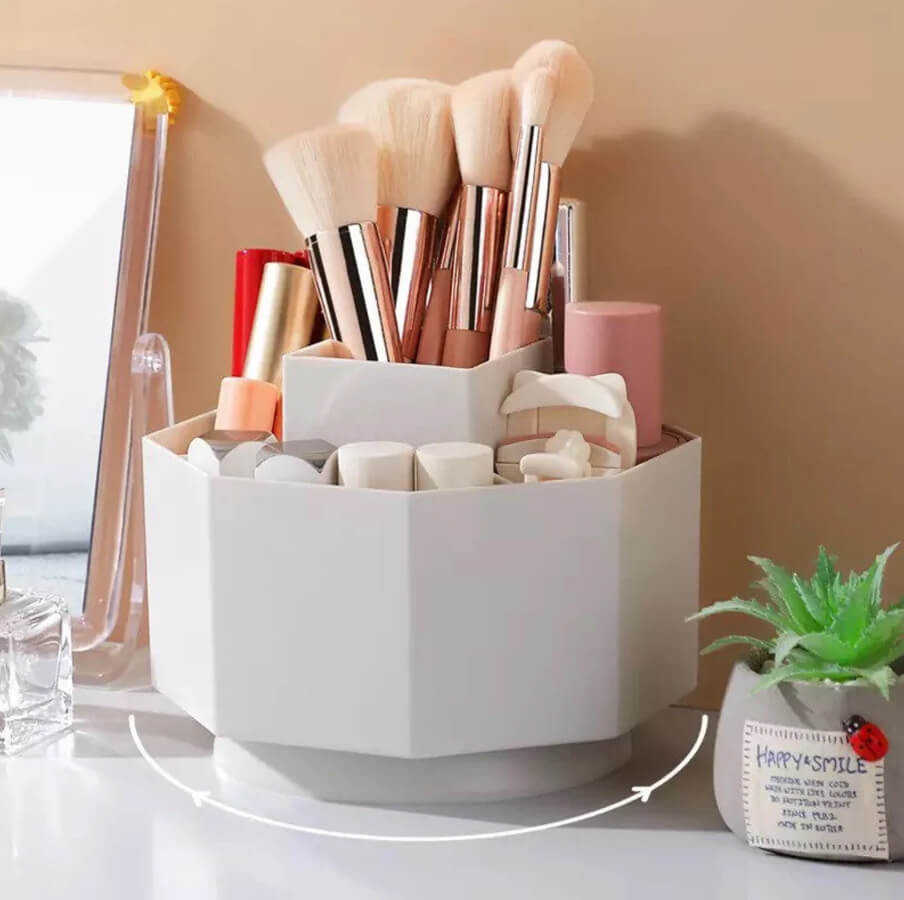 To fit your decorating needs, this makeup organizer is available in the gray-white shown here, a cool shade of green, and a vibrant orange hue. If this organizer is not large enough for your makeup collection, try using it to hold only the items you use every day. Then, you can implement other homemade makeup organizer ideas for all the beauty products you use less regularly.
13. Makeup Organizer Fit for a Fairytale Princess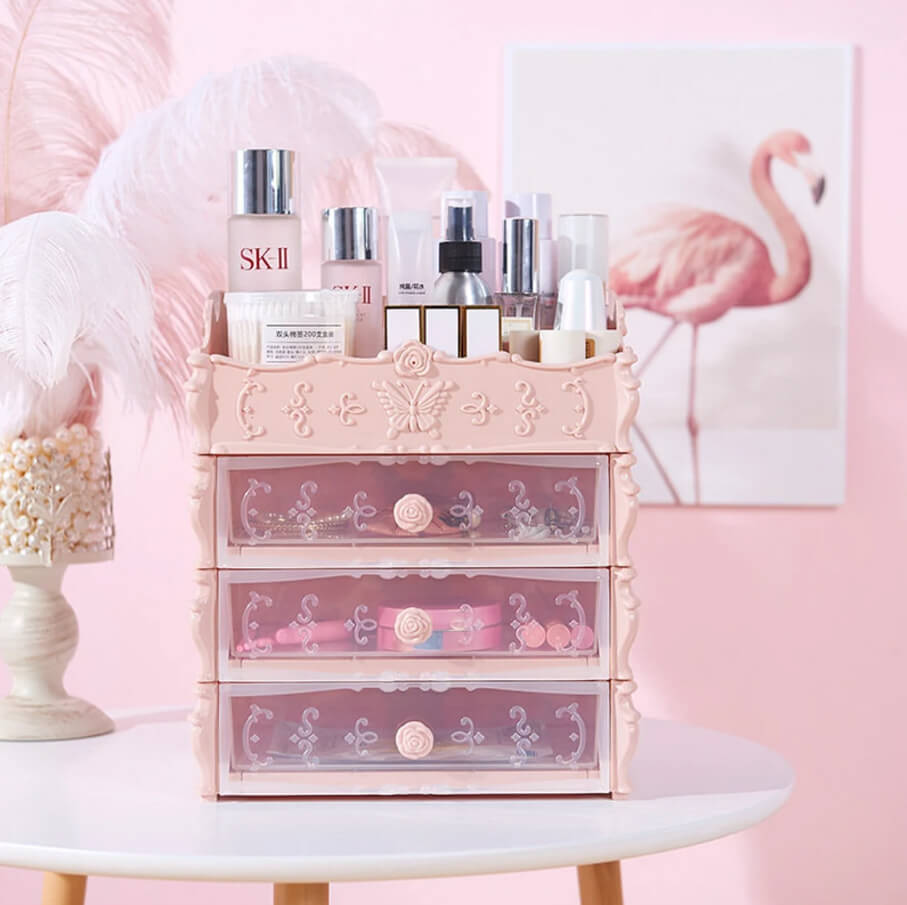 Embellished with roses, butterflies, and elegant swirls, this ornate makeup organizer is the perfect reminder that you deserve to be treated like royalty. If the pale pink shown here is too much for you, there is also a white option. You also get to choose whether you would prefer the transparent drawers shown here or a higher degree of privacy achieved via opaque drawers.
14. Drawer Organization with Clear Dividers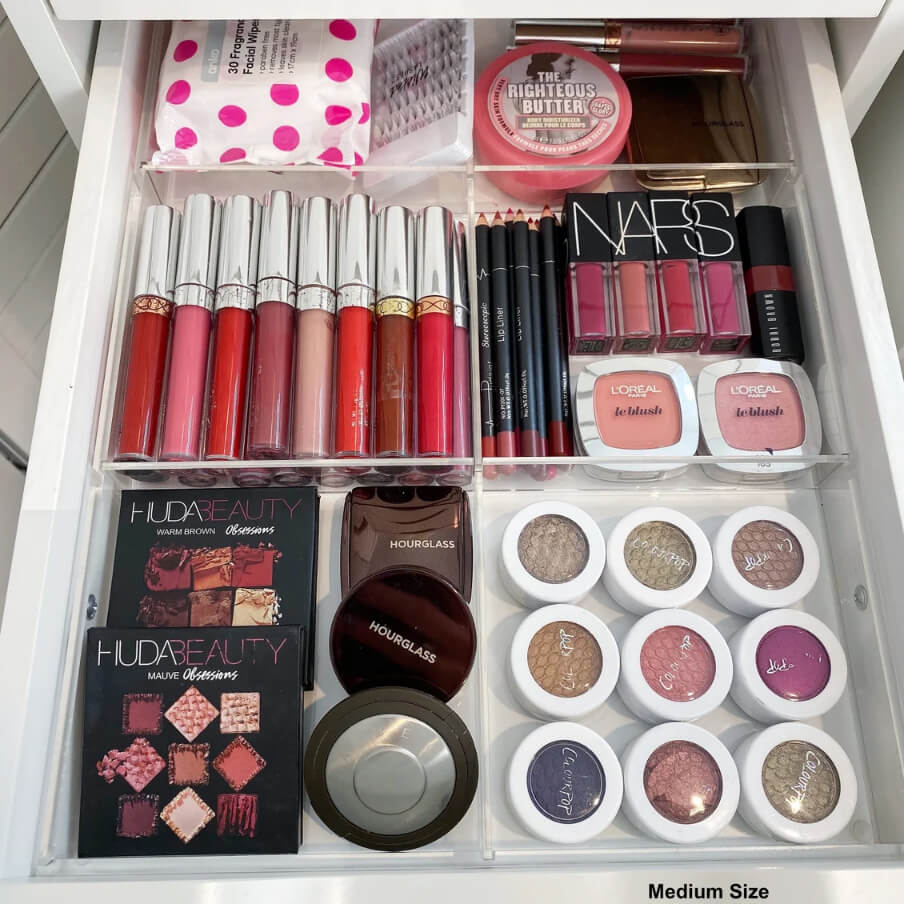 Instead of featuring specialized storage, these drawer organizers offer six equally-sized cubbies ideal for makeup collections with non-standard items. With this setup, you do not need to worry whether the dimensions of a new product are too large to fit in your organizer. It is also the perfect solution for oddly-sized makeup products. All you need to do is sort your collection into six categories.
15. Subdividing a Drawer for Easy Palette Access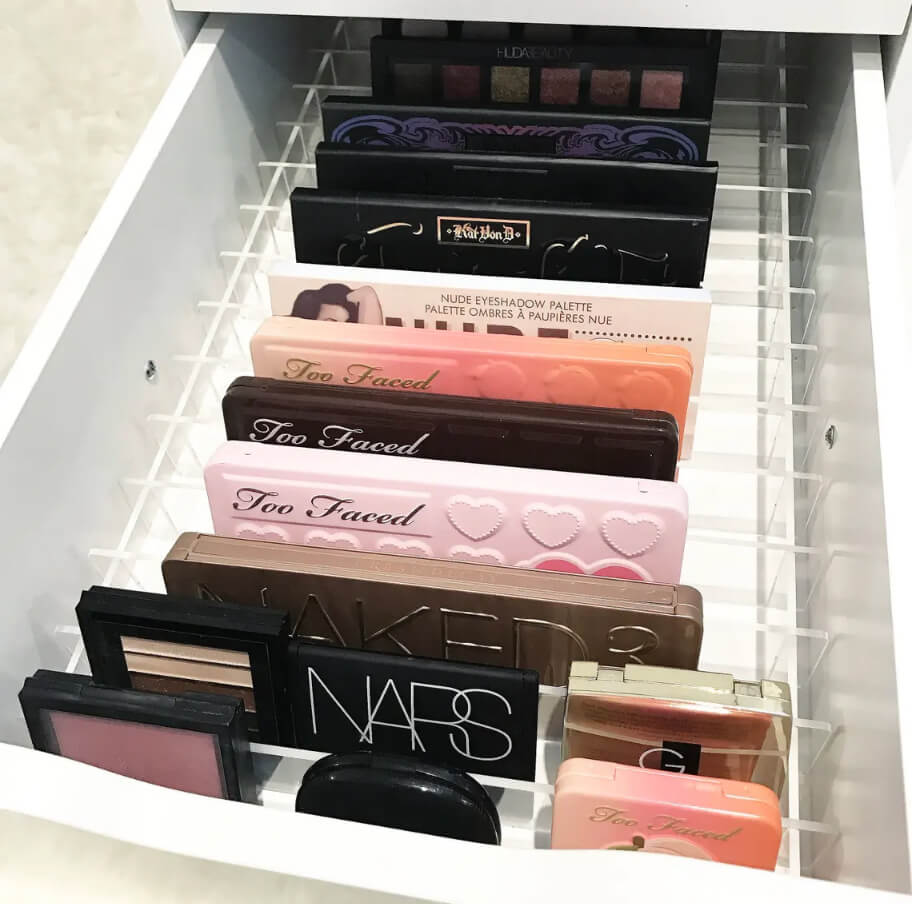 Effective cosmetic storage goes beyond fitting the maximum amount of makeup in the smallest amount of space. You need to be able to see what you have. The dividers shown here display palettes to their fullest advantage. With this strategy, you will never forget what you have, but you do not need to devote any precious tabletop space to items you might not need every day.
16. Rotating Organizer for Tube-Style Makeup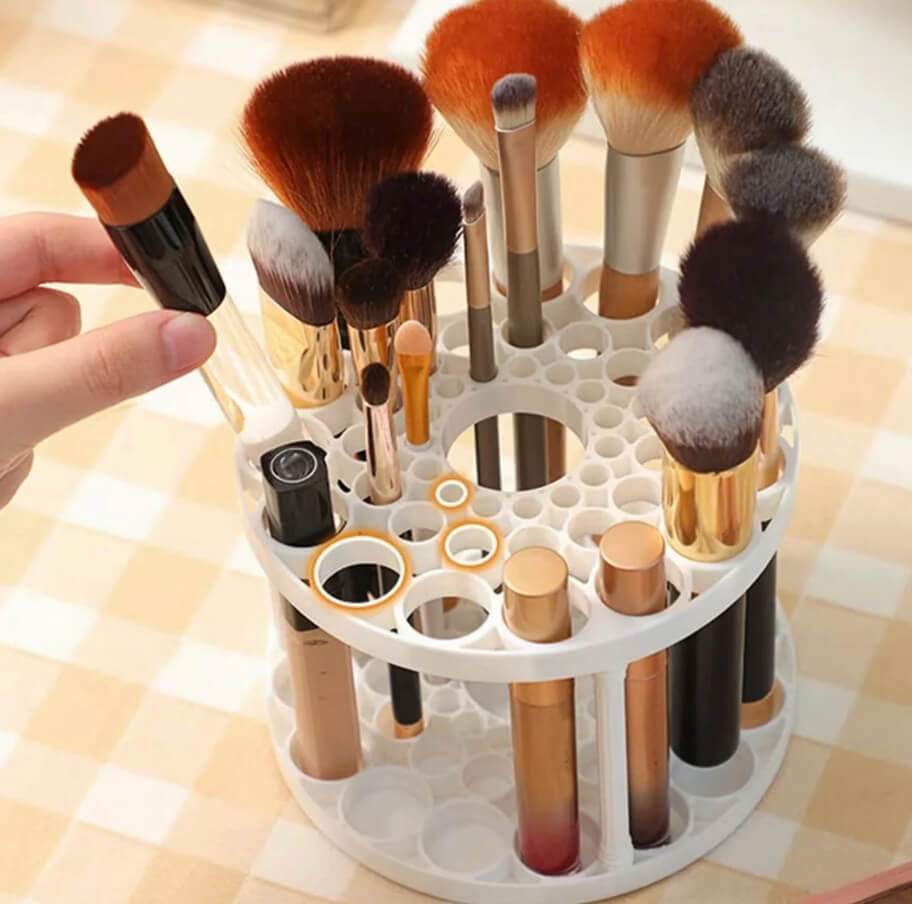 Because of this organizer's versatile design, you can use it to keep tube-style makeup within easy reach. Three different hole diameters ensure a home for most of your makeup necessities like mascara, concealer, eyeliner, and brushes. Shallow indentations at the bottom mean that this organizer is also easy to clean. The spinning feature will imbue any makeup routine with an element of fun.
17. Embracing a Glamorous Makeup Setup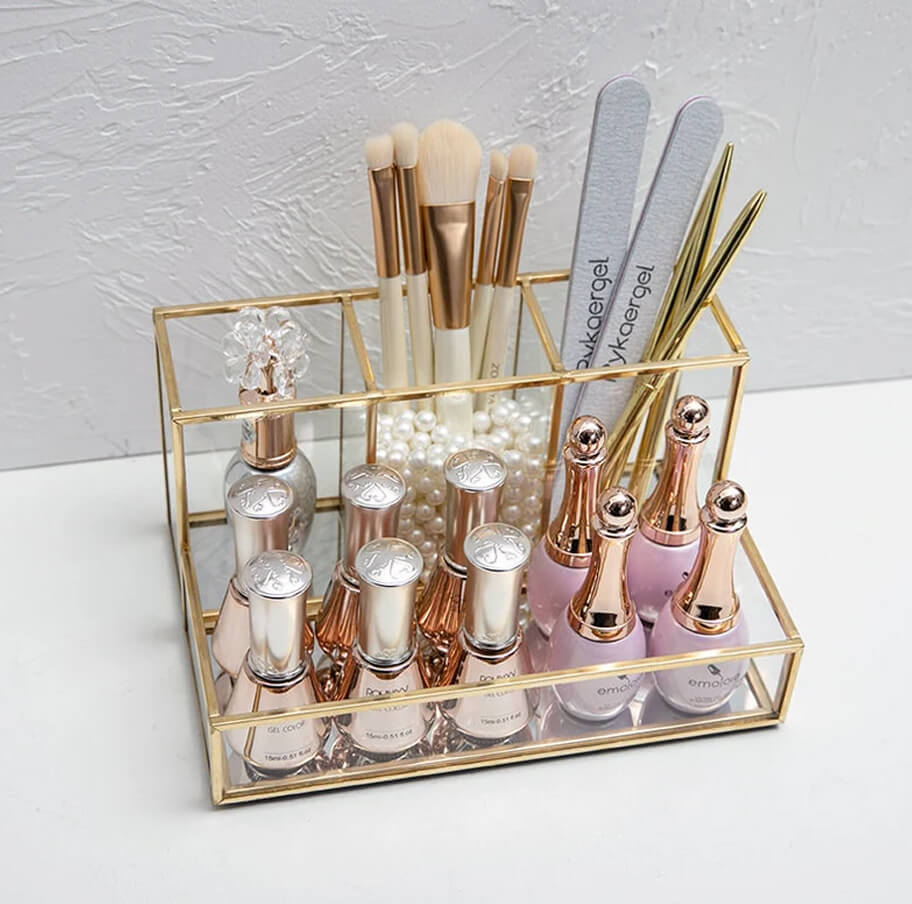 Gold and glass work together to cultivate an ambiance so elegant it feels regal. While exuding a charismatic magnetism, the mirrored base reflects light for photograph-worthy results. To emphasize the sense of luxury, follow this image's example and use pearls to help keep your makeup brushes in place. Because there are four compartments in two sizes, this caddy has the flexibility to fit your routine.
18. Unique Lipstick Holder that Will Start Conversations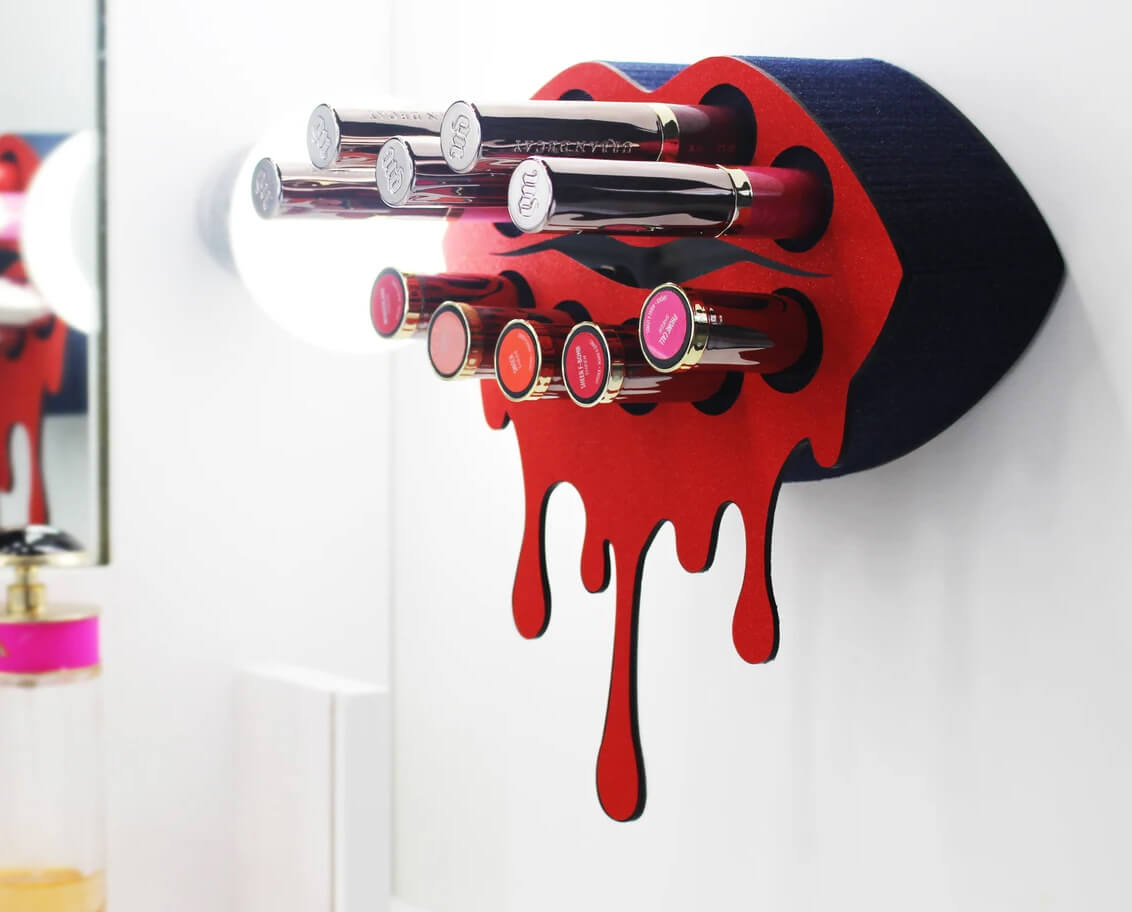 Perfect for anyone who loves a splash of bold décor, this graphic lipstick holder is a great way to get your makeup collection organized. The dripping lips are available in ten shimmering colors including the fiery red shown here, dramatic black, and intense purple. Because these organizers are handmade, you can request custom hole sizes to fit your makeup collection should the standard size not fit.
19. Organizing Your Makeup by Function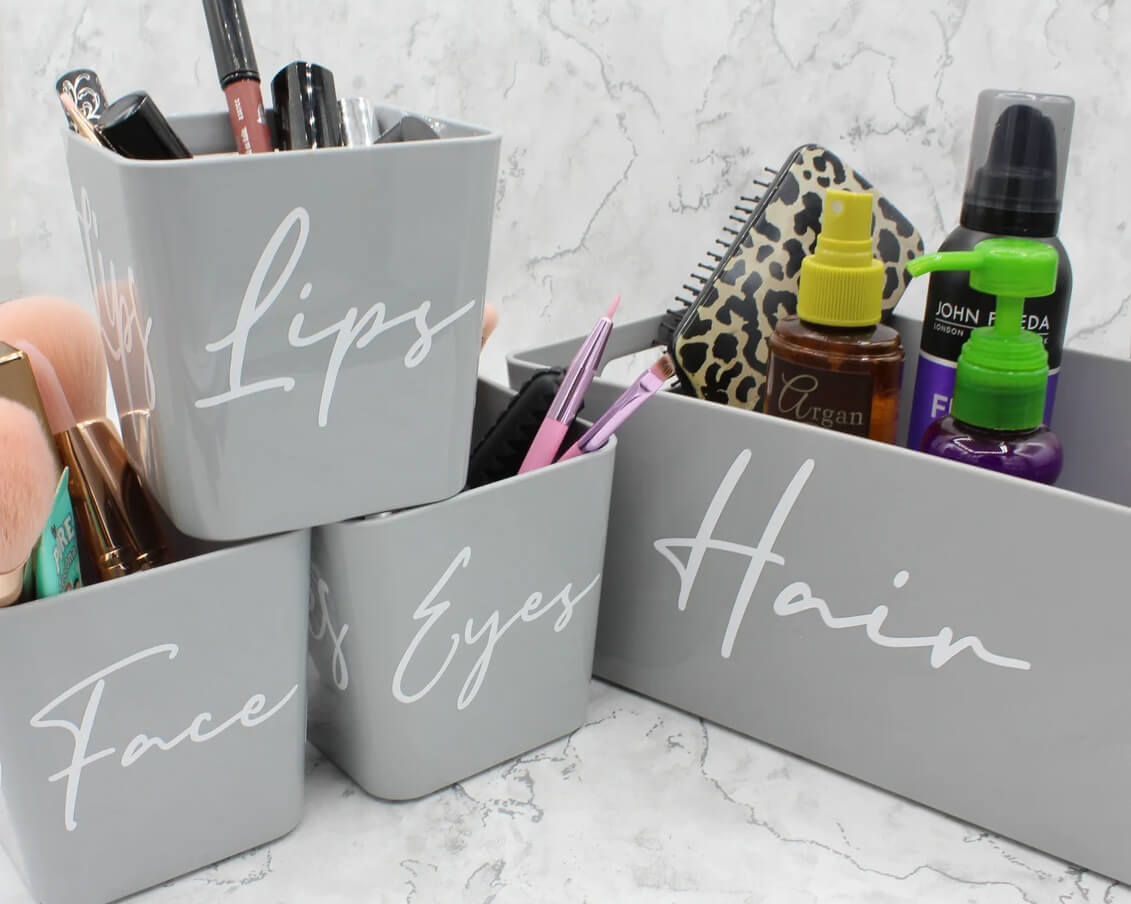 The best DIY makeup organizer ideas are those that work best with your routine. If you do not have time to line your makeup in tidy rows as you finish, this container strategy might work out better. Each container includes flowing cursive text on all sides to add a touch of elegance to your makeup space. When ordering, you can select the labels for your organizers.
20. Handmade Makeup Organizers for Lip Products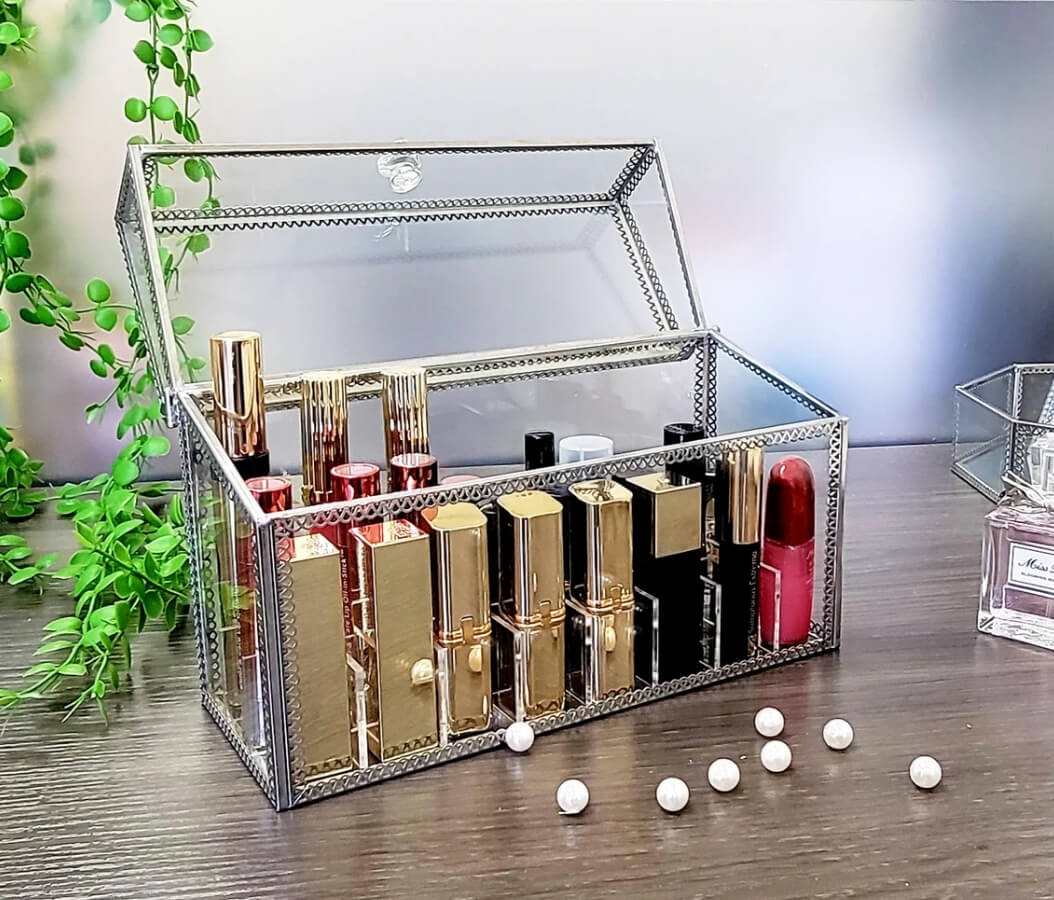 Clear glass and glimmering metal come together in this organizer to both protect and display your lip makeup collection. Depending on their dimensions, this case could also be used to store other types of makeup like concealers or mascaras. To make this case even more special, you can add any name or word with a 12-character maximum to the organizer's top.
21. Compact Bamboo 4-Compartment Makeup Organizer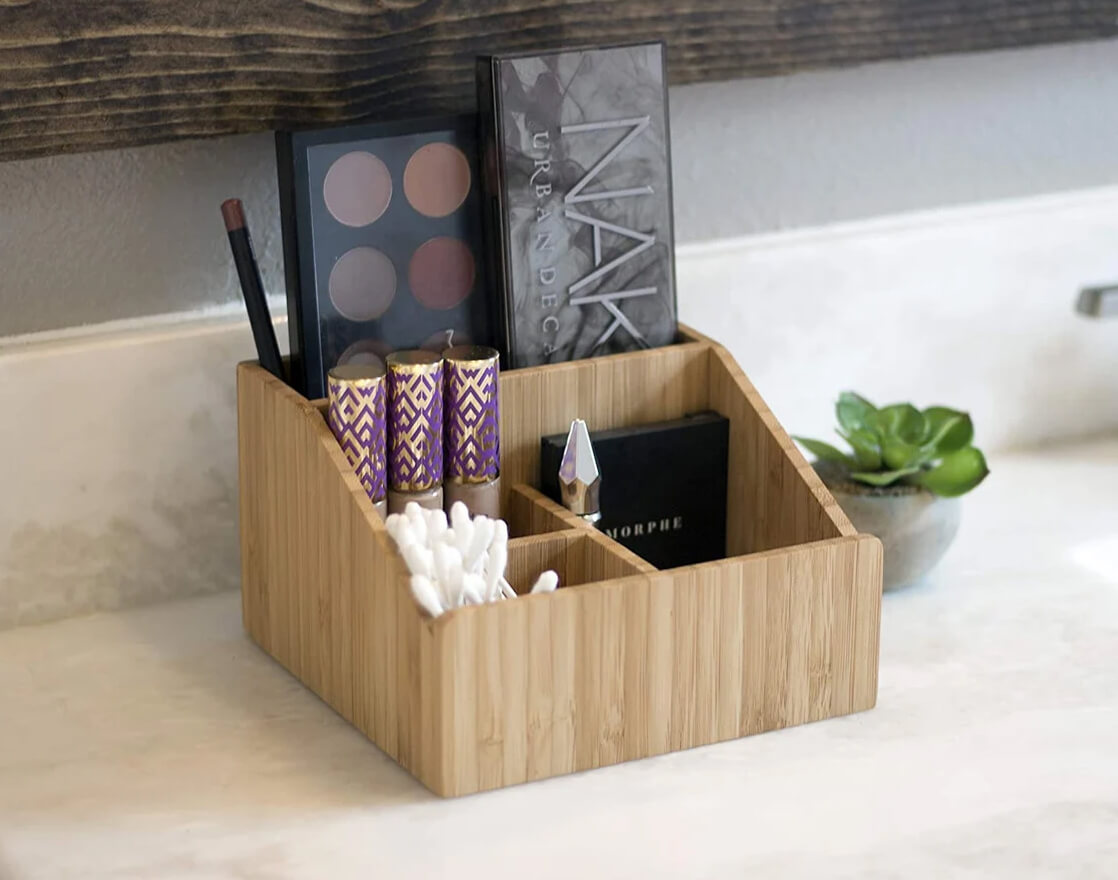 Smooth bamboo will add a soothing connection to nature that resonates with any aesthetic. Large enough for either a minimalist makeup collection or a tabletop display of your everyday essentials, this caddy can fill a need in nearly any makeup collection. To enjoy well-organized bliss, all you need to do is remember to arrange taller makeup items in the back and smaller ones in the front.
21 DIY Makeup Organizer Ideas to Help You Fully Enjoy the Makeup in Your Collection
Handmade makeup organizers might not be able to save the world, but they can make your makeup collection a much happier place to spend time. Whether you prefer to have your routine on display in a flashy countertop makeup caddy or kept within the privacy of a drawer, there is no reason to live with a messy makeup collection. As you have seen from the ideas above, there are plenty of ways to personalize a makeup organizer so that it resonates with your style. Depending on what your style is, that might mean adding elegant labels or a layer of glitter.