The mason jar is a classic feature of farmhouse décor. It is so versatile, any flower lover can find beautiful ways to use it in flower arrangements. These arrangements take the simple mason jar and elevate it to new heights.
40+ Quick DIY Mason Jar Flower Arrangements that are Stylish and Inexpensive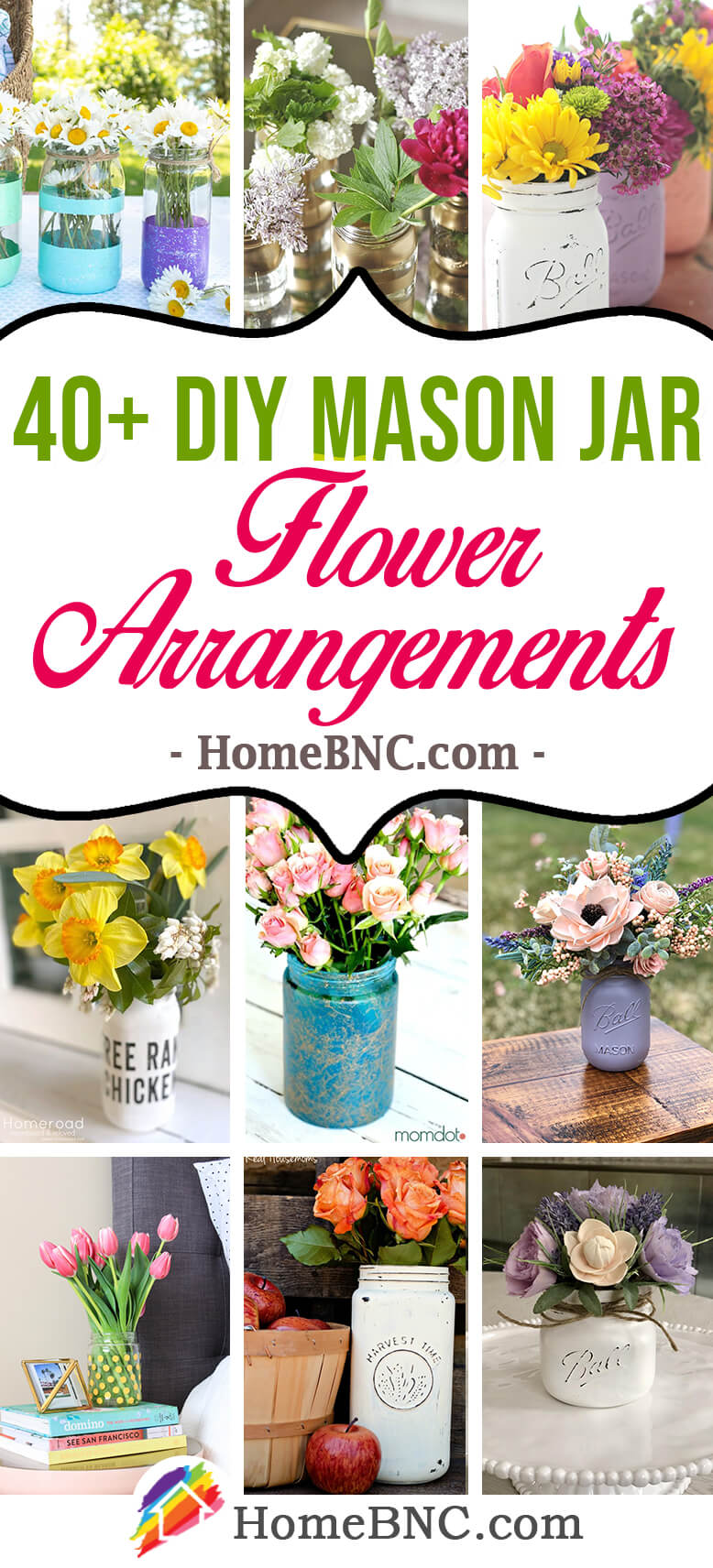 Many of these jars are painted, whether it's with acrylics or spray paint. Acrylics give a charming matte look while spray paint can give a beautiful shine. Painting Mason jars helps them stand out from arrangements in plain glass.
Some of these ideas present Mason jars that have been painted in trendy ombré color arrangements. Others have bright, glossy gold paint with glitter accents. Spray painted jars are more durable than acrylics, so be careful when filling and using them. If your jar has acrylic paint inside, be sure you don't put water in it.
Sometimes making a standout flower arrangement is as easy as tying on a pretty bow. Burlap and wired ribbon bows are featured in these photos. For a unique and charming look, try a wide burlap wrap with a buttoned bow.
Some of these jars are used to create wall décor. Simply add a metal ring to any board and set the jar inside. You can hang your fresh flower arrangement anywhere, but they are especially pretty on the front door as a welcome sign.
1. Dynamic Diamond Design Mason Jar Mini Vase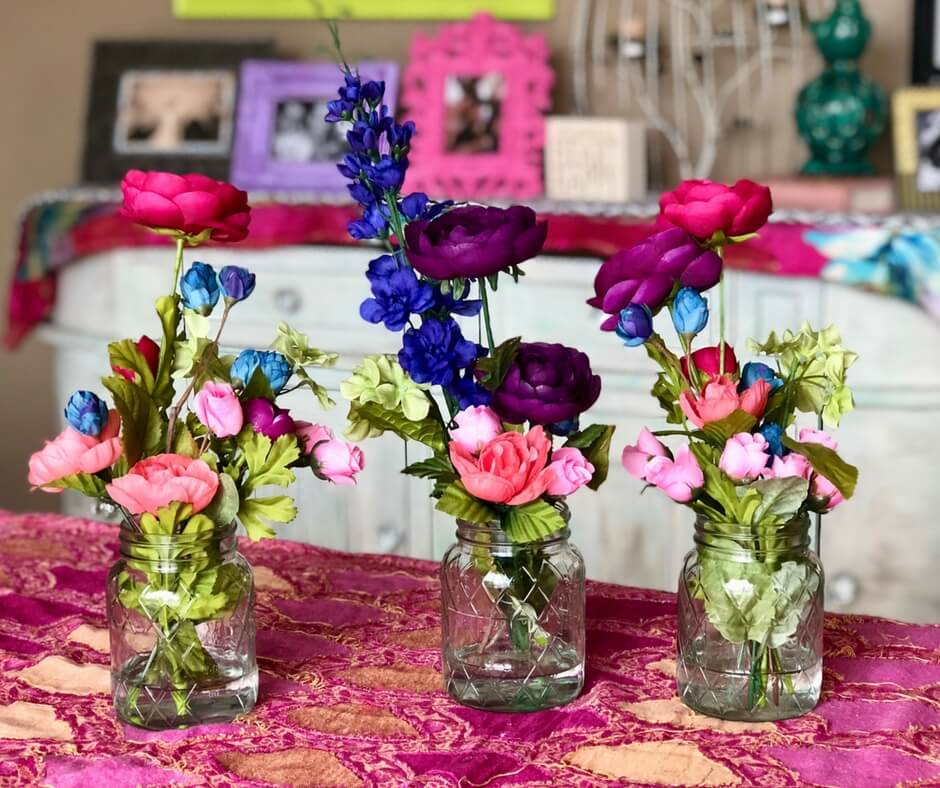 Here's a slight twist on the traditional mason jar. These miniature vases showoff a diamond design to incorporate some 360-degree style as they hold your favorite flower bouquet. Change them out each season or use them as your go-to centerpiece display when hosting a party. Since they are clear glass, you can customize the flower colors for each event with ease. They work alone or in a trio to meet your needs.
2. Free Range Farmhouse Painted Mason Jar Vase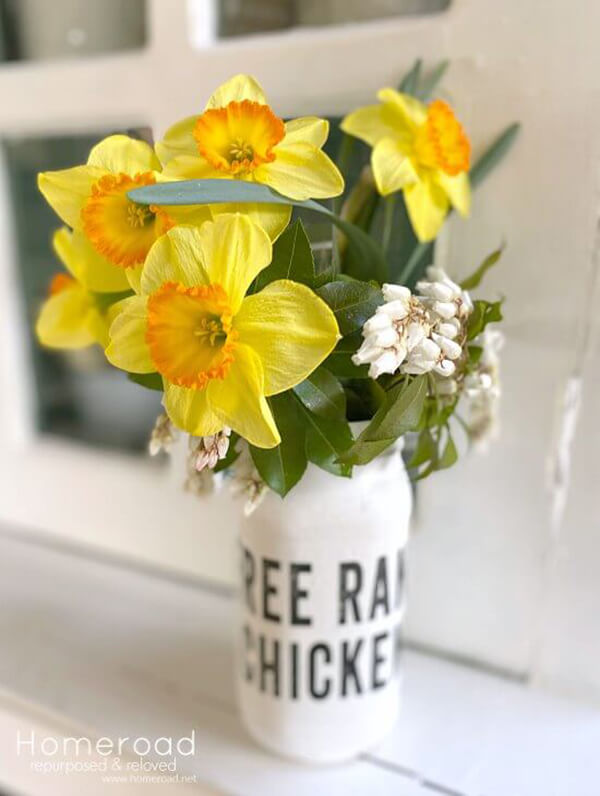 Painted in classic black and white with easy-to-read lettering, this free-range chicken embellished mason jar adds a nice touch to your farmhouse kitchen. It looks like anything but a flower vase, yet it looks right at home holding your long-stemmed friends. Let your spring daffodils take center stage on your kitchen island as you display them in this one-of-a-kind repurposed mason jar vase.
3. Cool and Creative Hand Painted Jar Vases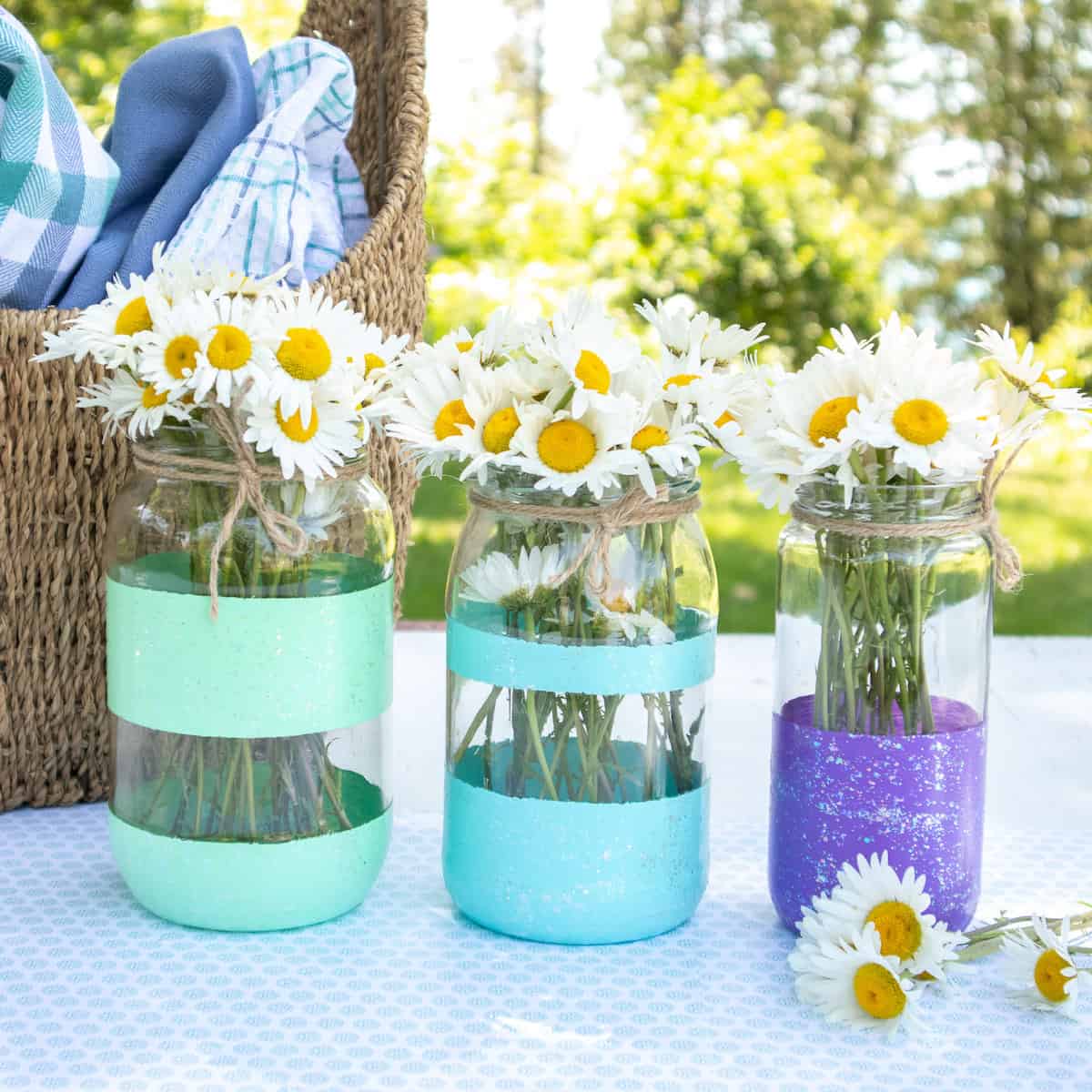 Just some paint and tape and you're ready to create this super simple DIY mason jar vase. Choose a few of your favorite cool colors to welcome the warmer months and you'll have a set that's perfect for your next picnic on the patio. Thin and thick rings work well together and enable you to create a custom look for your mason jar vases. You'll be a daisy if you do choose this simple DIY project to complete.
4. Elegant Upgrade Gold Accented Mason Jars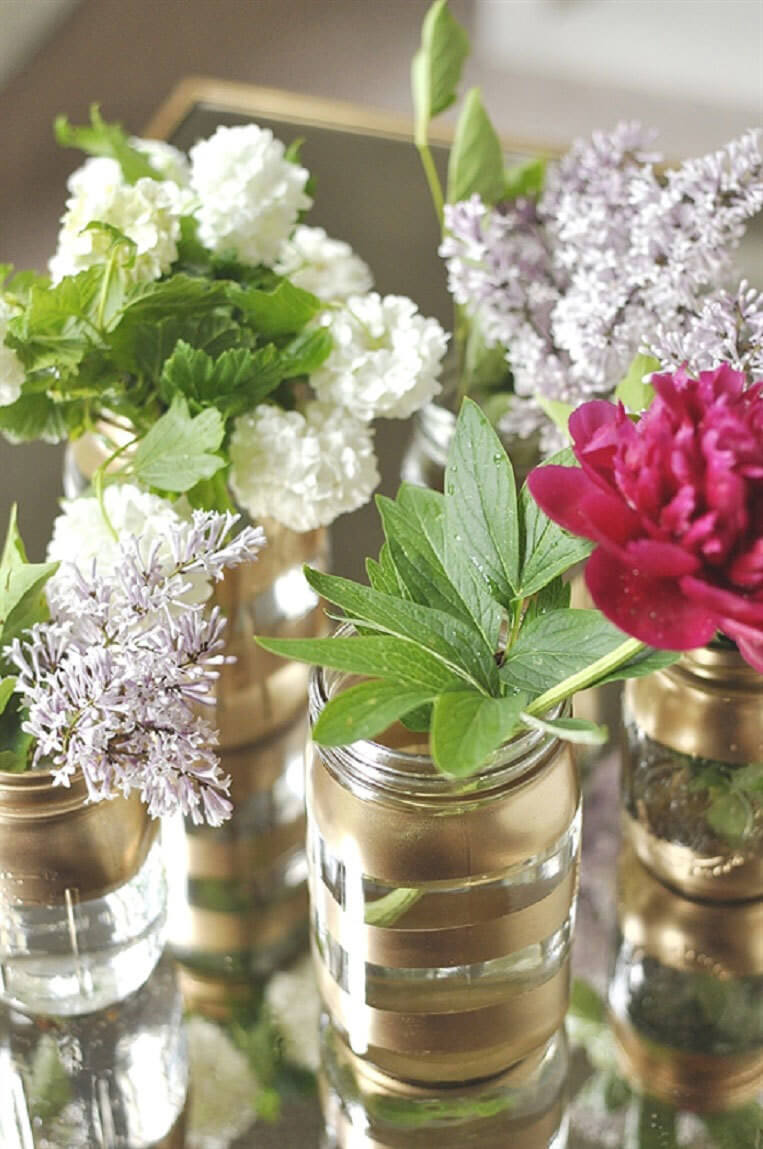 A perfect blend of everyday and elegant is mixed together in this darling mason jar flower arrangement. Choose lines that are wide or thin to customize the look as you brush on a metallic statement. Sometimes less is more and these small vases make the case as they are ideal for displaying a quaint arrangement or single flower as a polished and pretty centerpiece setting.
5. Super Simplicity Country Mason Jar Flower Vase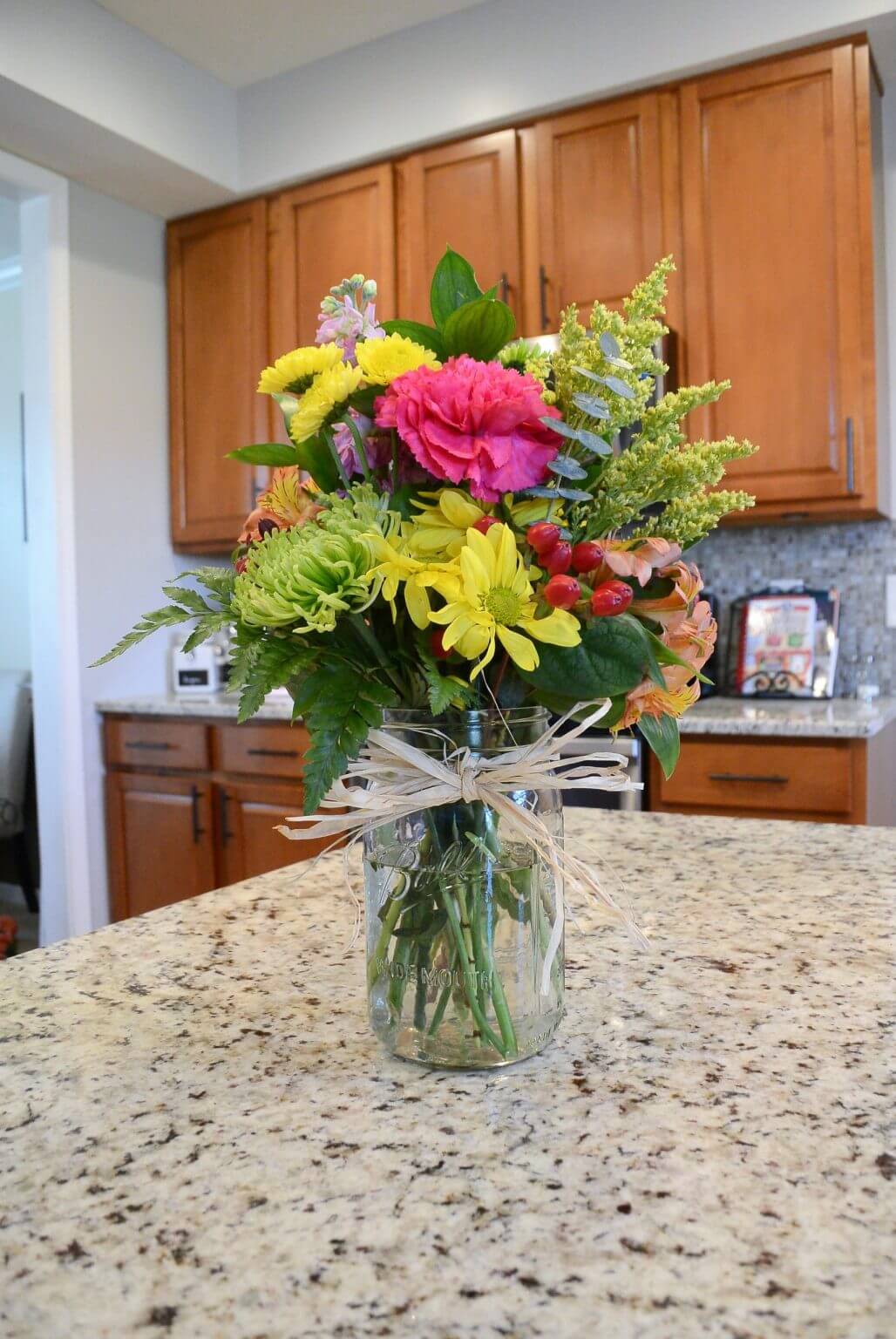 When you have a bouquet as beautiful as this, all you need is a glass jar to show it off! Your vibrant arrangement will get the attention it deserves as it rests in this plain and simple mason jar vase that's finished off with a slender raffia bow. You will really impress your neighbors and friends with this dynamic presentation of your backyard bounty.
6. Spray Painted Gold Mason Jar Vases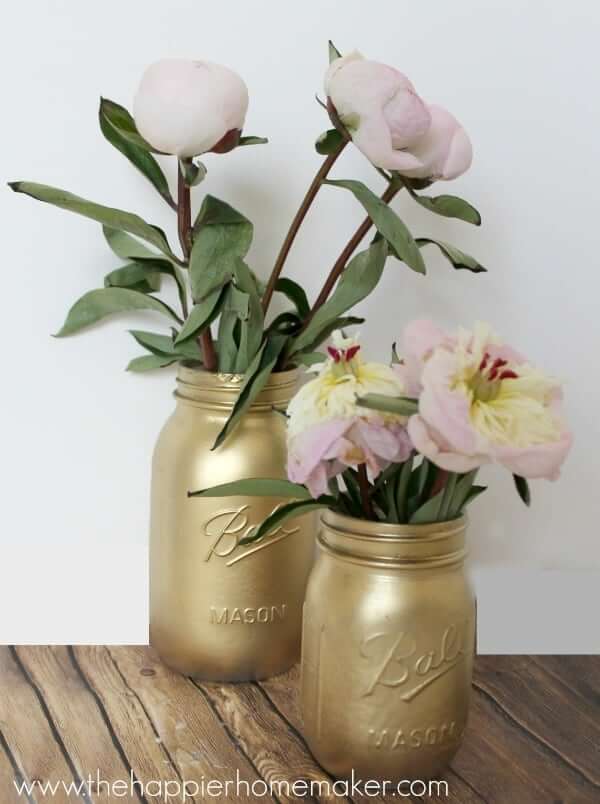 Your spring peonies never looked so fabulous as they are nestled inside these spray-painted gold mason jar vases. The metallic color provides the perfect contrast to the delicate plush pink petals of the flower. Such an arrangement would be nicely featured in an office space or at home in a modern farmhouse design.
7. Nautical Blue and White Striped Mason Jar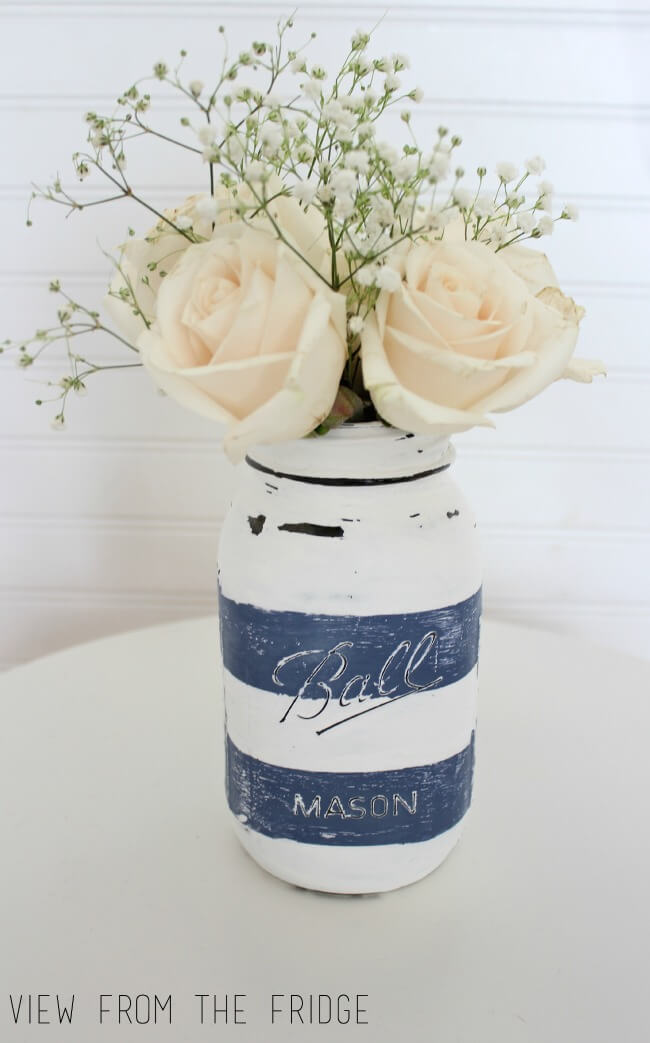 Give your country mason jar a new look with this blue and white striped design. It has a look and feel of a coastal cottage with its nautical vibes. Featuring it at a beach wedding for the tablescape or placing it in the center of your dining table at your lake house will show off its unique patina.
8. Shabby Chic Distressed Painted Mason Jars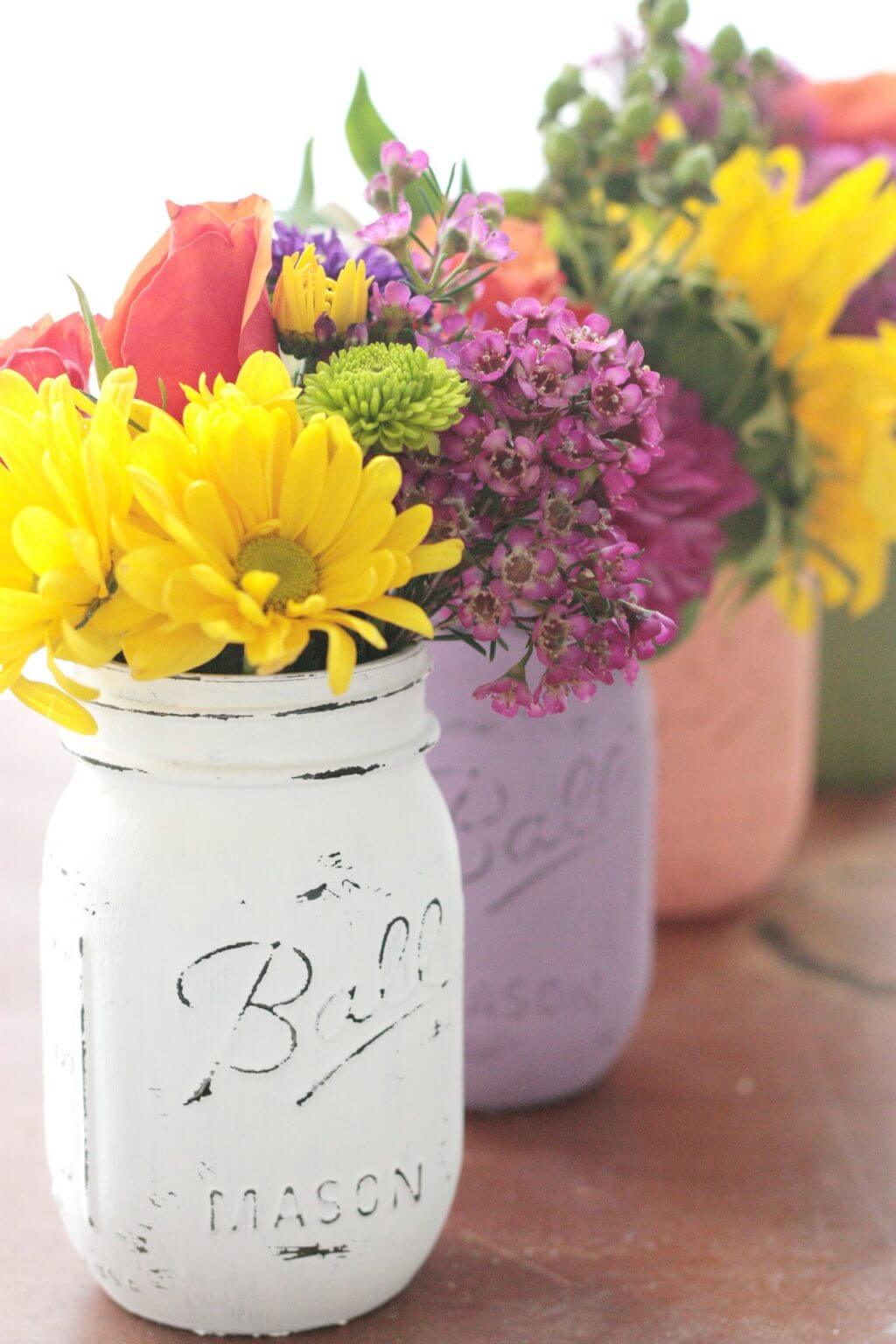 Bring a bold pop of color into your design space with these painted mason jars. Showing off their distressed patina, these shabby chic pieces will add some extra character and charm to your home. Choose neutral and classic white or go wild with pretty pink and purple berry-toned hues. A variety of these jars would look beautiful being held by the bridesmaids as they walk down the aisle.
9. Great Gift Idea Painted Mason Jar Vase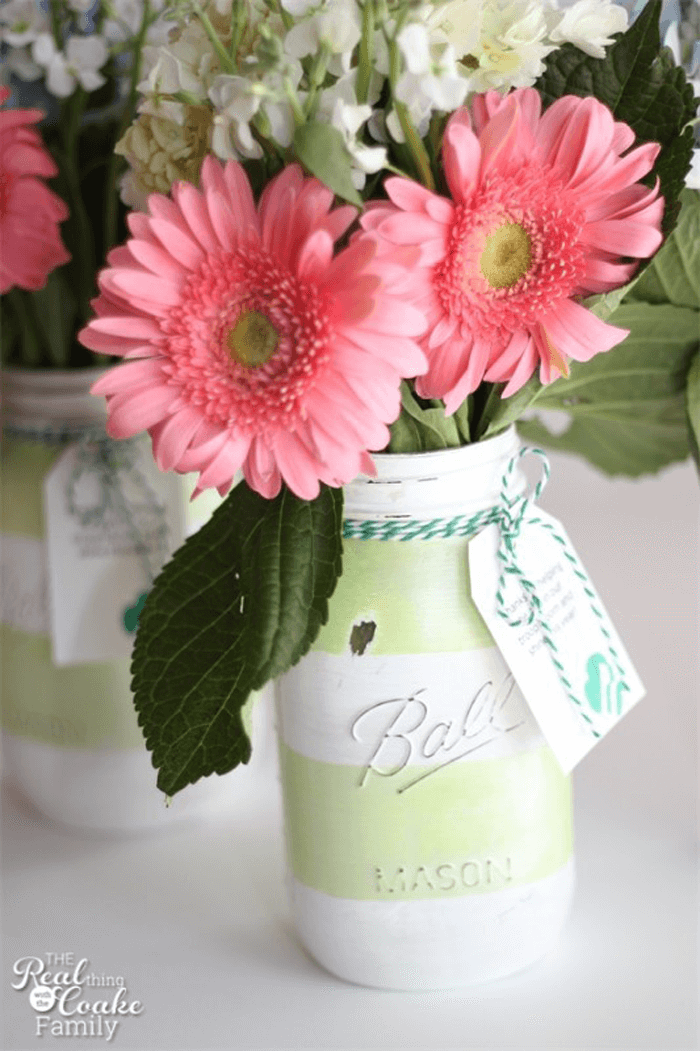 Give thanks and show appreciation for those who give so much of themselves with these gorgeous DIY mason jar vases. Depending upon the recipient, you can customize the colors you choose for the stripes. Your son's teacher would love one in school colors or choose green and white for your daughter's troop leader. Fill them up with some colorful gerbera daisies and you've got a great way to say thanks!
10. Metallic Jewel Tone Striped Jar Vases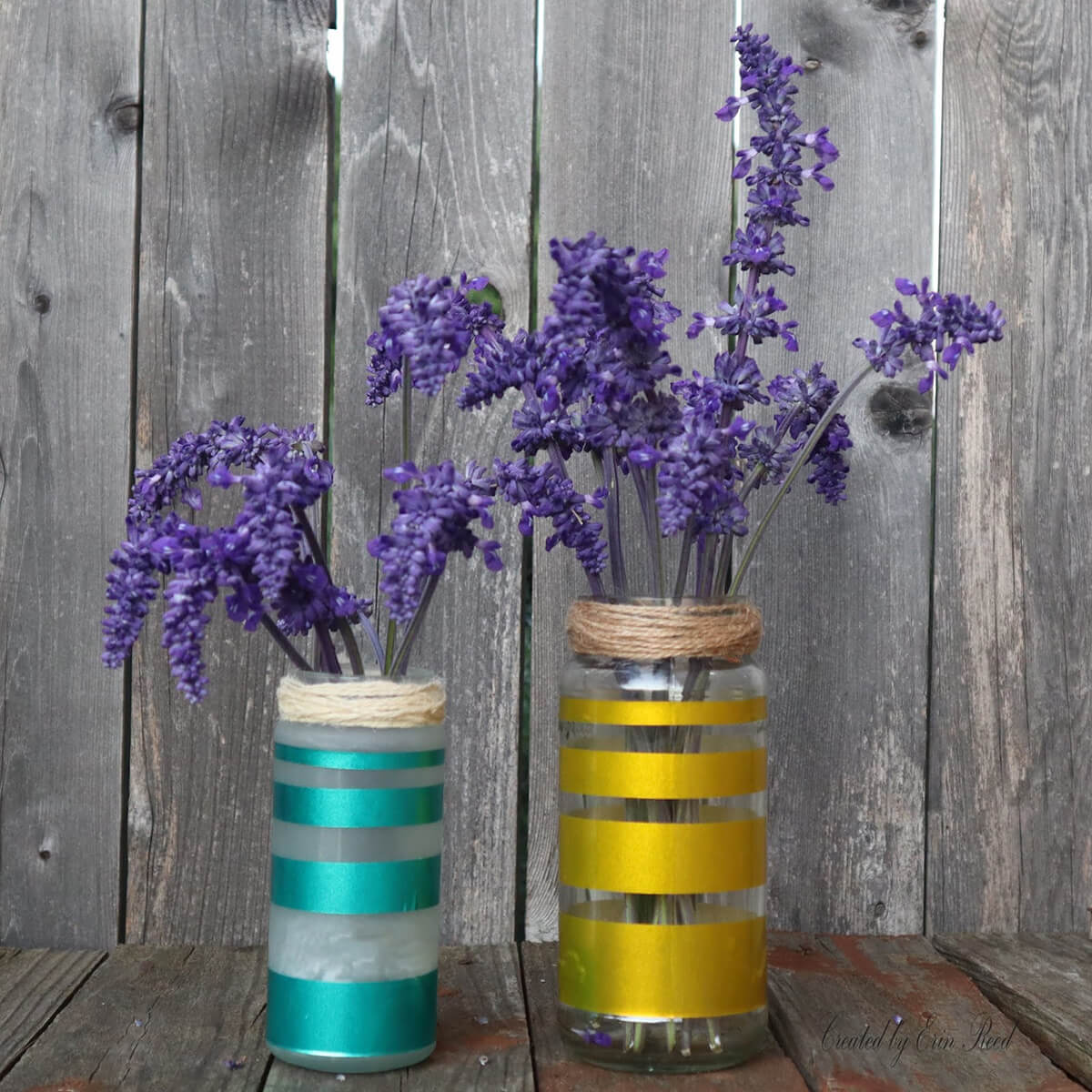 Add a retro look to your space with these DIY paint striped glass jar vases. The richness of the jewel tones really looks amazing in their metallic sheen. At the top, rustic burlap wraps around to form a border creating a nice contrast to the smooth body of the vase. Throw a few rocks in the bottom to keep them from tipping over and you'll enjoy their beauty on your porch all season long.
11. Raised Design Painted Mason Jar Vases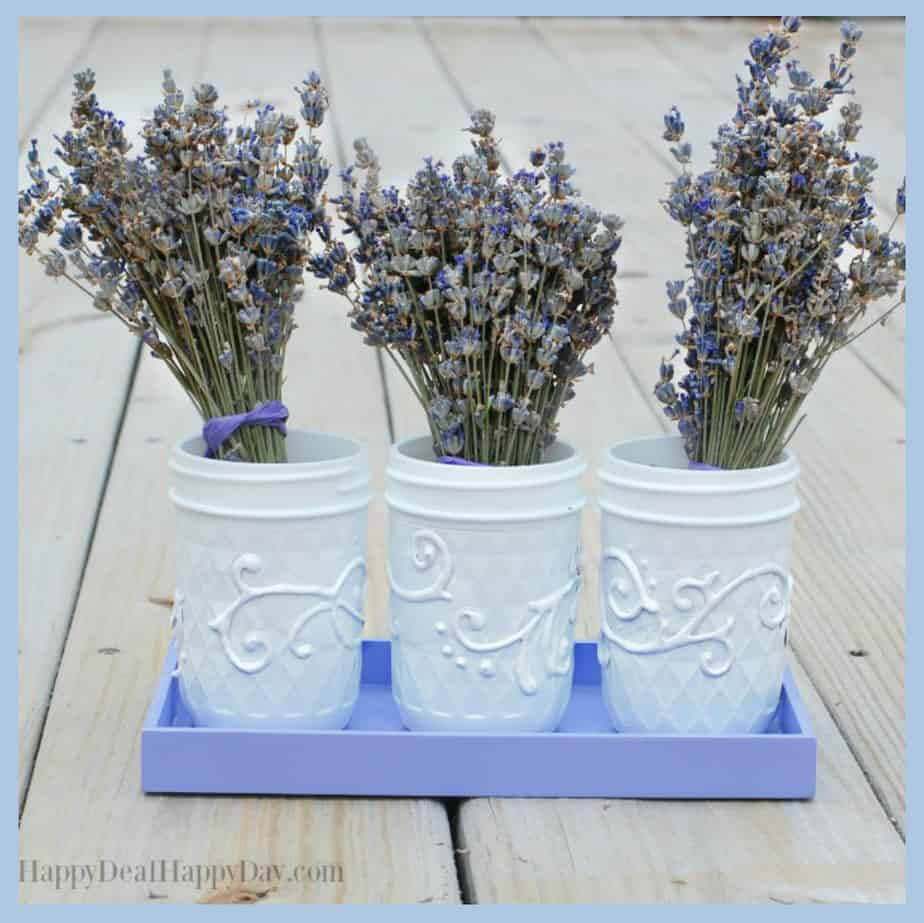 Create an interesting 3-D effect on your mason jar vases with some stickers and puffy paint. With a little patience, you'll be glad you took the time and made the lovely scrolls come to life as they wind around your glass jar. The end result is a unique creation that can be grouped together or used separately to achieve the look you want.
12. Mesmerizing Marbled Mason Jar Flower Vase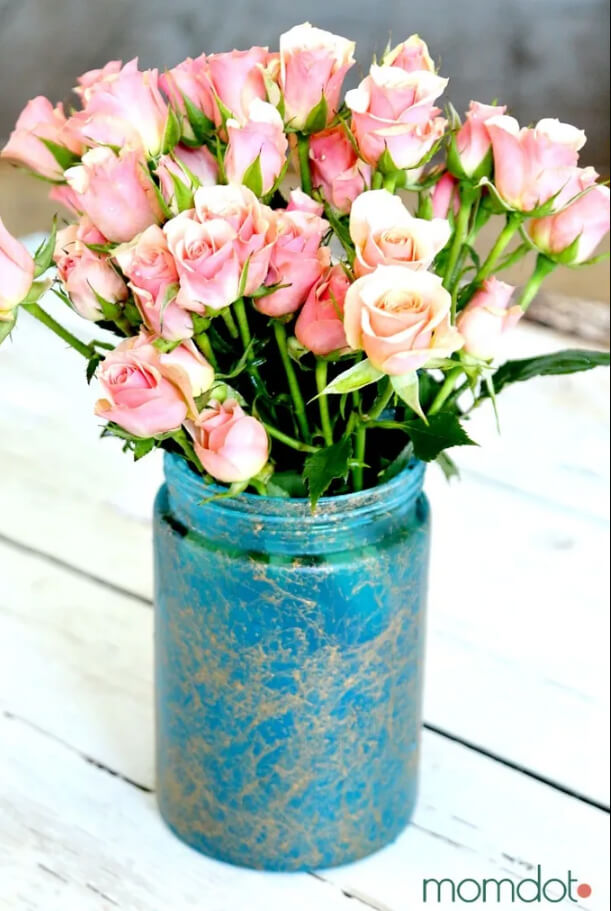 With all of the attention focused on mason jar vases, break the mold with this marbled creation! Each version will be a unique work of art as no two will come out alike. Let the creativity flow as you make these miniature masterpieces with your kids and friends. They make spectacular flower vases, but also would be extraordinary pencil holders for organizing your kid's desk space.
13. Posh Polka Dot DIY Flower Vase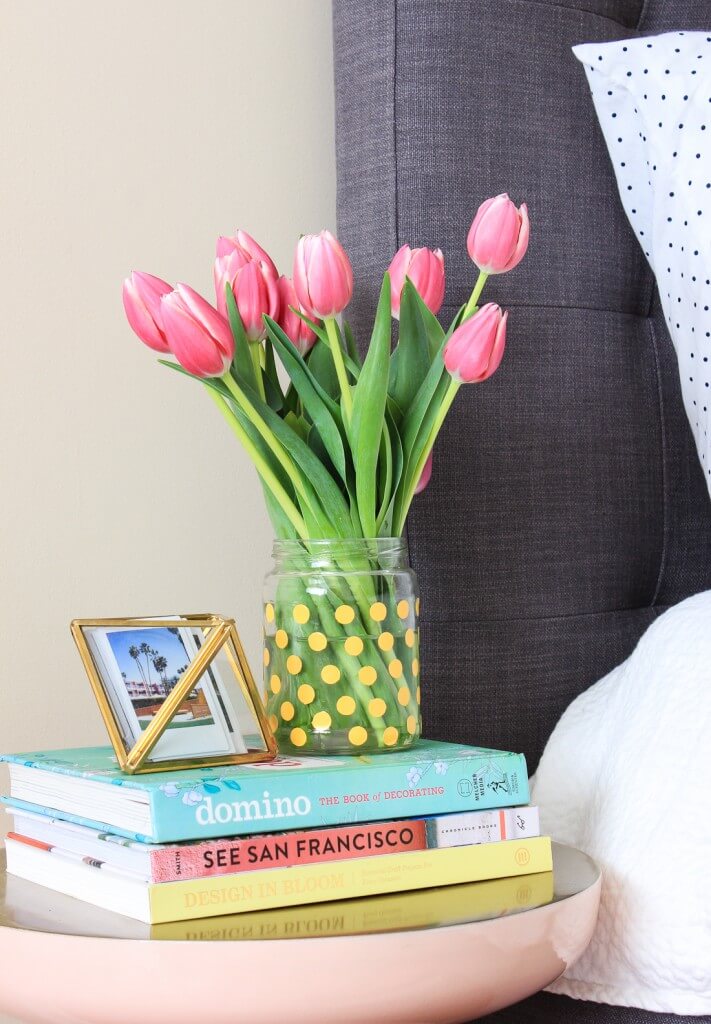 These pink tulips are a signal of spring and what better way to show them off than in this crafty polka dot flower vase! Painted in warm yellow, these posh polka dots are a timeless look that will be a welcomed addition to your bedside retreat. This arrangement feels right at home positioned on top of your trio of books for a charming, yet lived-in look.
14. Tall Harvest Time Painted Mason Jar Vase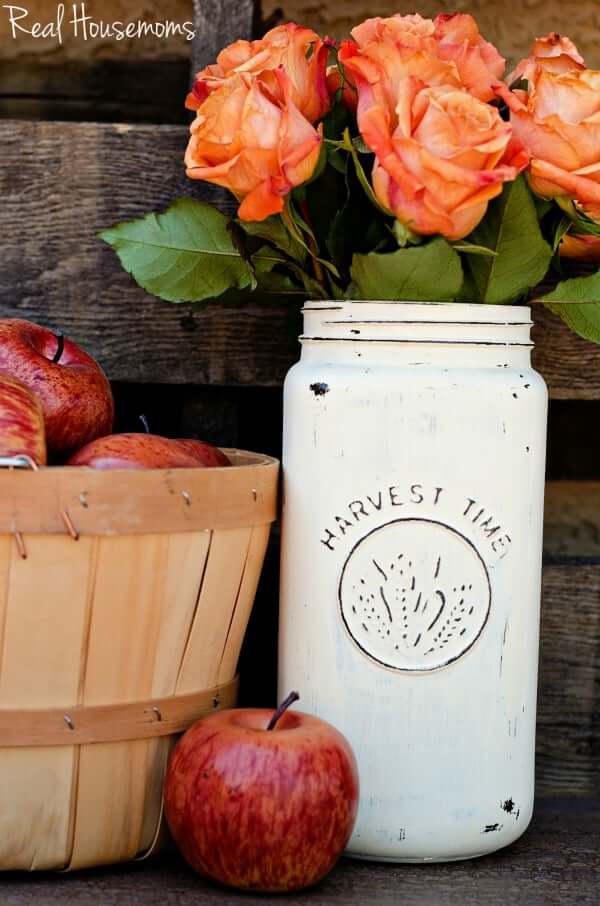 Incorporate some height into your interior design with this tall painted mason jar vase. The raised "Harvest Time" decoration, in addition to the roughed-up finish, adds a lot of charm to this shabby chic country piece. Your favorite long-stemmed roses will be the perfect fit for this painted mason jar vase.
15. Gold and Glamorous with Sparkles Mason Jars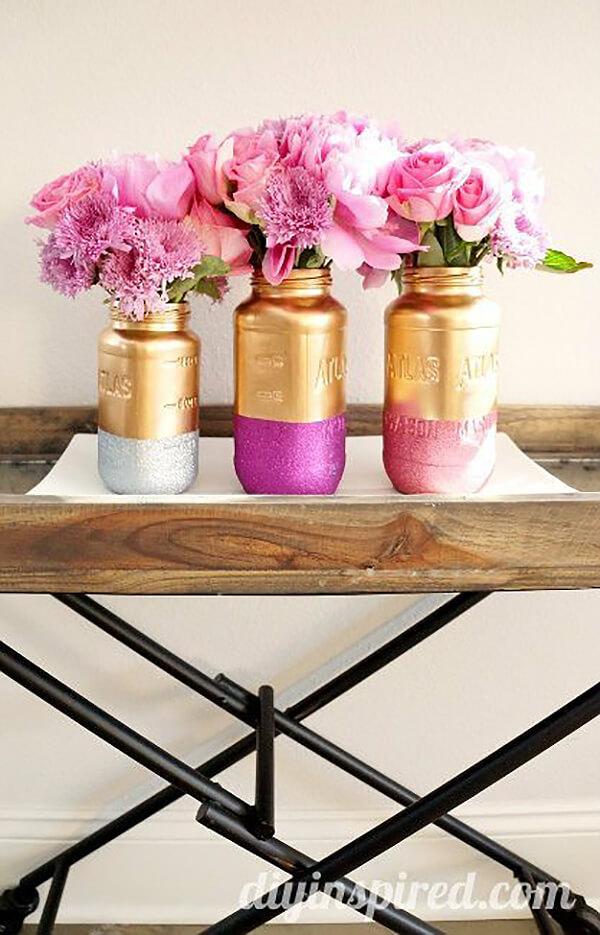 These gold and glamorous painted mason jars definitely bring the wow factor! They are packed with all the pizazz you'll need to brighten up your party scene or liven up your interior design. With sparkly glitter bases in pretty purple, pink, or silver, they look amazing with their contrasted smooth and metallic golden counterpart. Arrange these for some bursts of color at a summer wedding or when celebrating the birthday of a special friend.
16. No Frills Simple Mason Jar Vase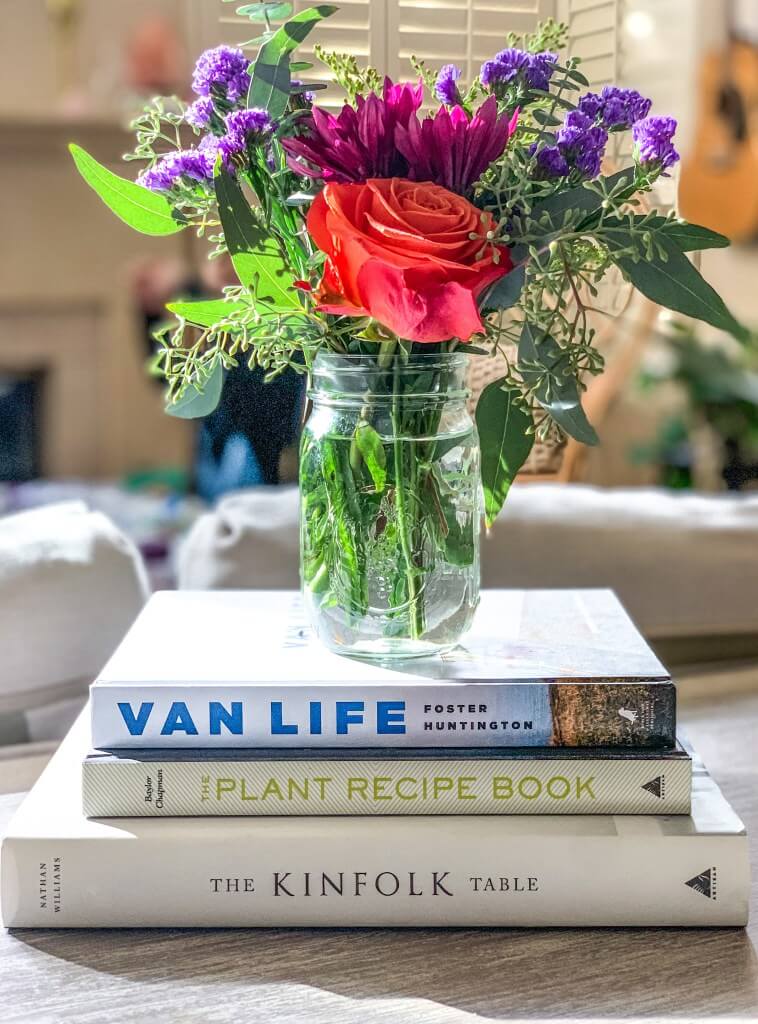 They say less is more and that's certainly true with this plain mason jar flower vase. All you need is a gorgeous bouquet and some water to create this amazing centerpiece concept. Add instant beauty to any room with this simply under-stated plain mason jar flower vase. It's a versatile piece that can be used over and over in a variety of ways.
17. Burlap and Lace Sunflower Mason Jar Vase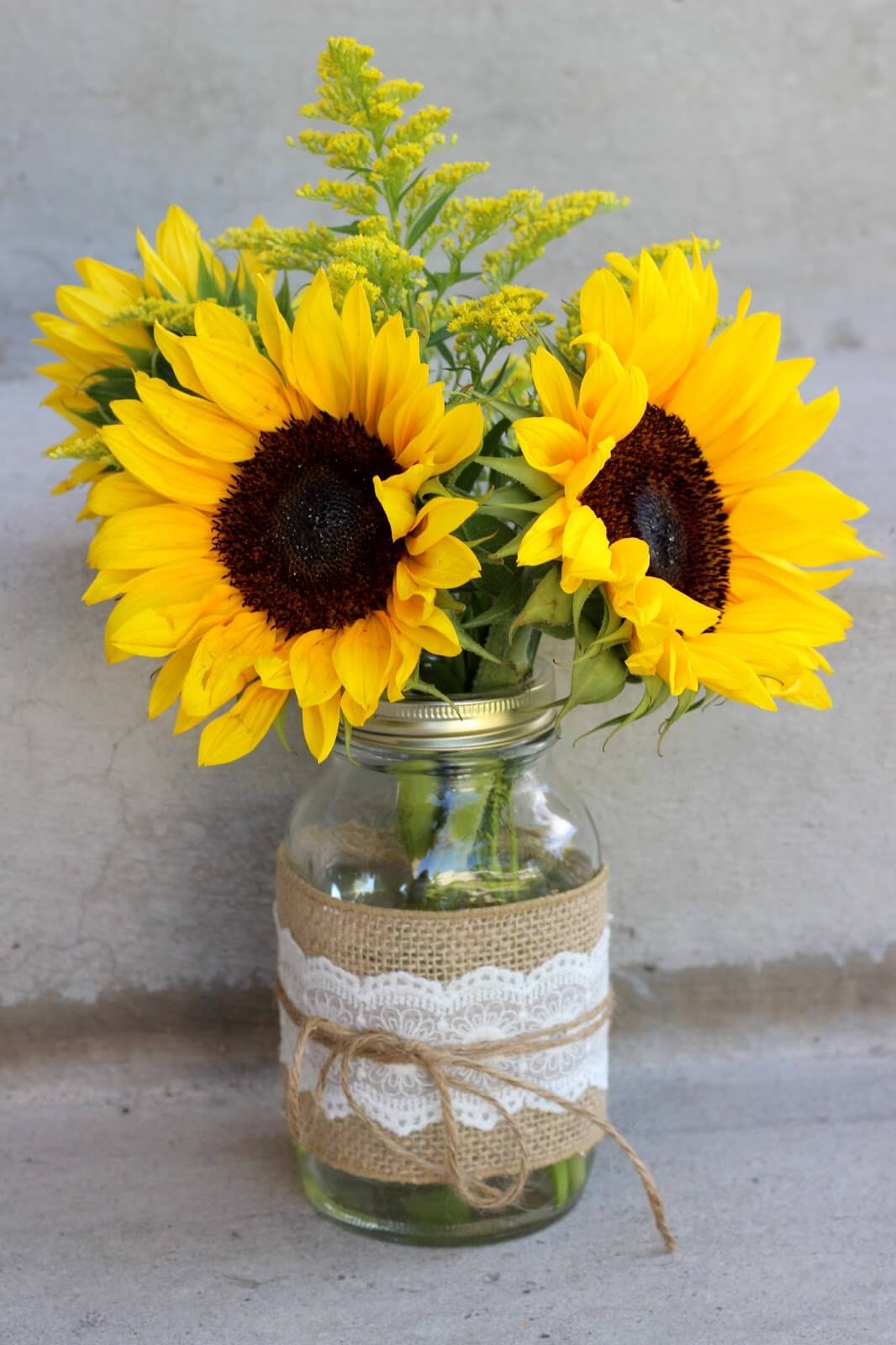 Your stunning home-grown sunflowers are sure to steal the show in this charming and cute country burlap and lace mason jar vase. With just a small touch of delicacy, the embellishments add just enough to jazz up this vase without taking any attention away from the bright and vibrant sunflowers. Place this on your kitchen island to enjoy its beauty!
18. Cute as a Button Mason Jar Vase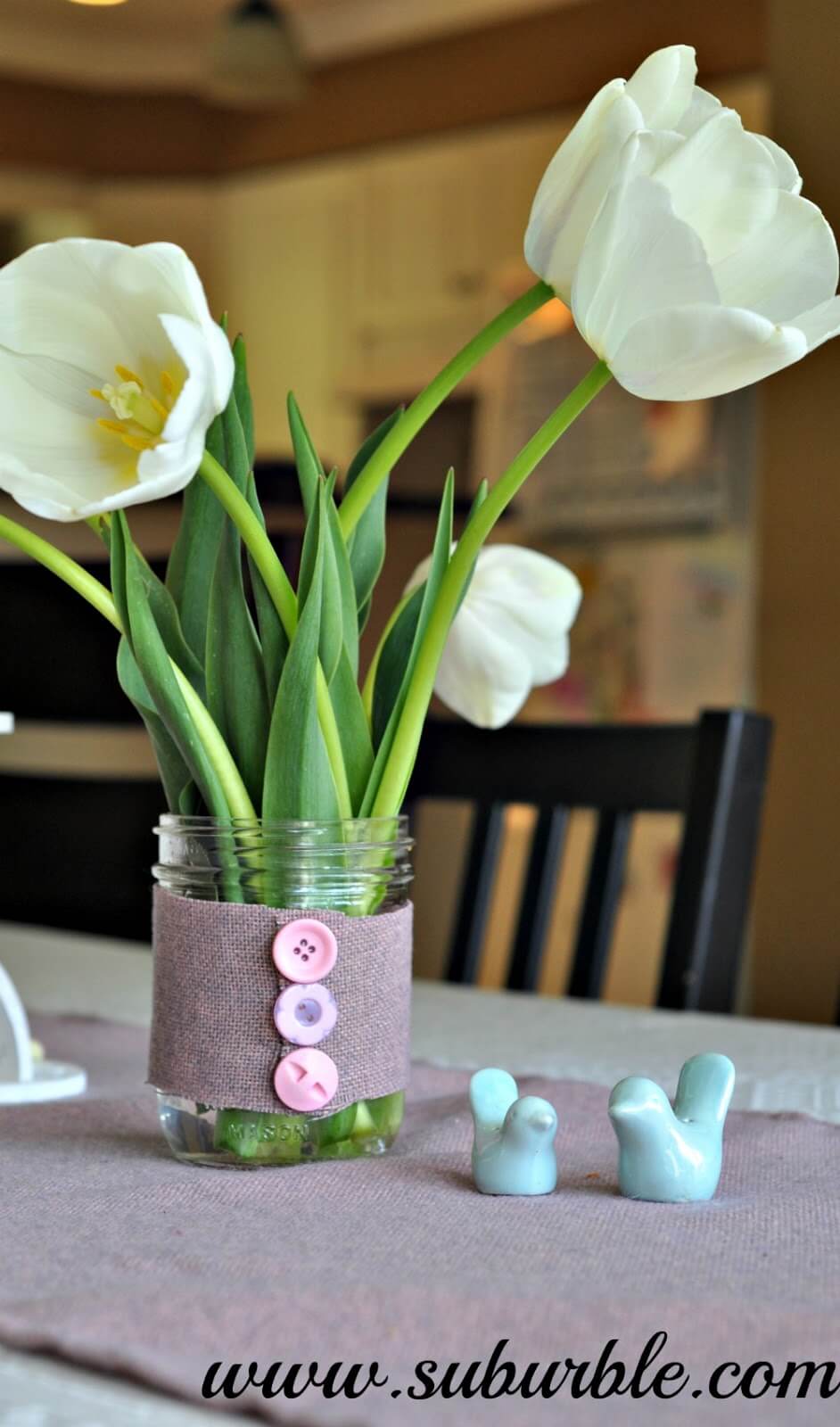 Just look at the cuteness oozing from this little mason jar vase! Wrapped snugly in a piece of colored fabric full of texture, the trio of buttons that secure it adds so much character and charm. Several of these would work as adorable centerpieces for hosting your next baby or bridal shower and birthday celebration. They double as favors for guests too.
19. Gold Covered Metal Can Flower Vase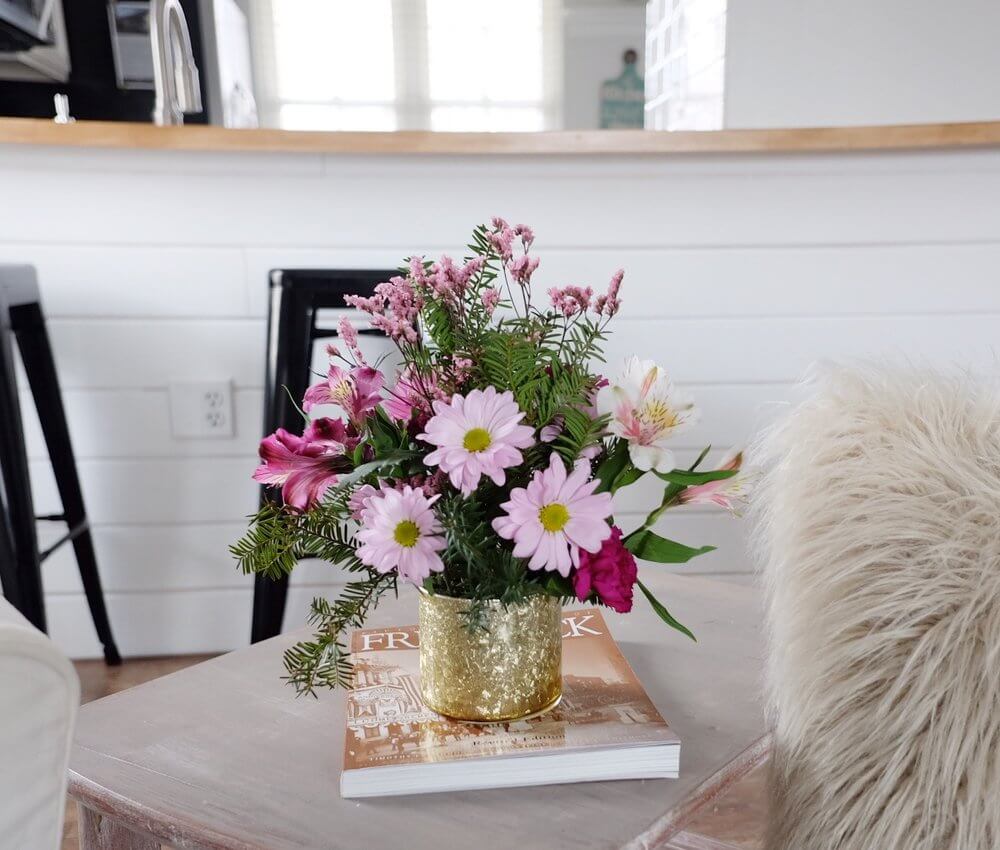 Wrap a metal can that's headed to the recycling bin in a lively gold design to make it sparkle as a newly created flower vase. Its short and stout stature allows it to show off a beautiful flower arrangement without interfering with your conversation space in the living room. Prop it up on top of a few books to further add some character to this coffee table centerpiece.
20. Chicken Wire and Ribbon Farmhouse Vase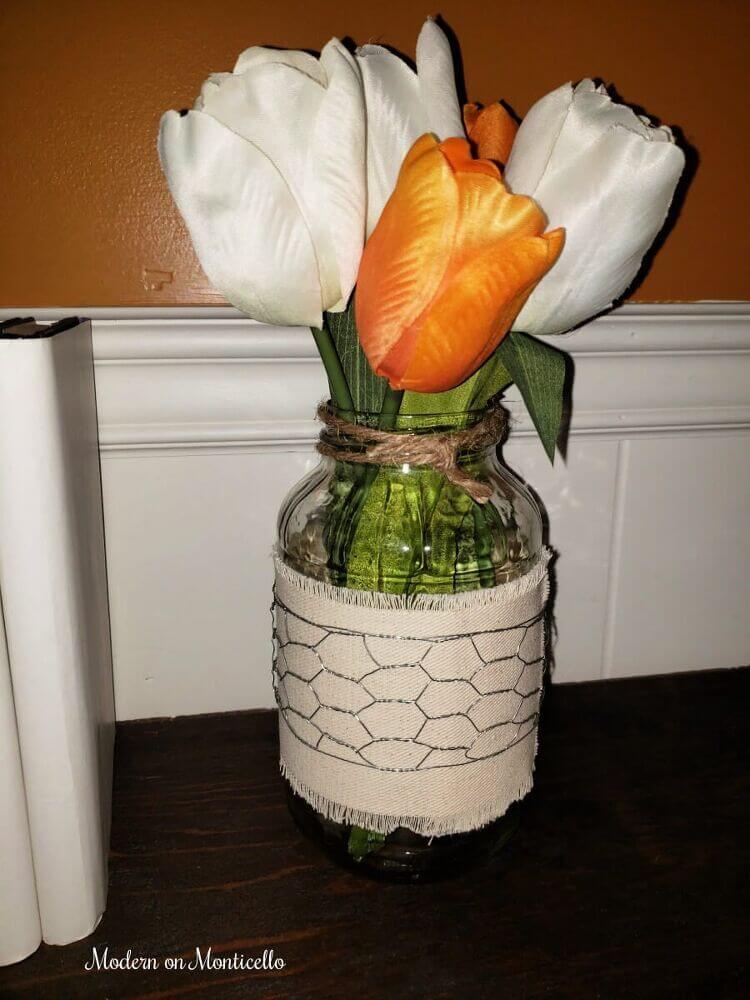 Create a unique flower vase to decorate your farmhouse by using some leftover farm supplies. A small piece of chicken wire is utilized in a nonconventional way as a decorative element over this ribbon-wrapped mason jar vase. Including a satin set of tulips, you'll never need to water or tend to these flowers and they will continue to look stunning all season long.
21. Creamy and Elegant Small Mason Jar Centerpiece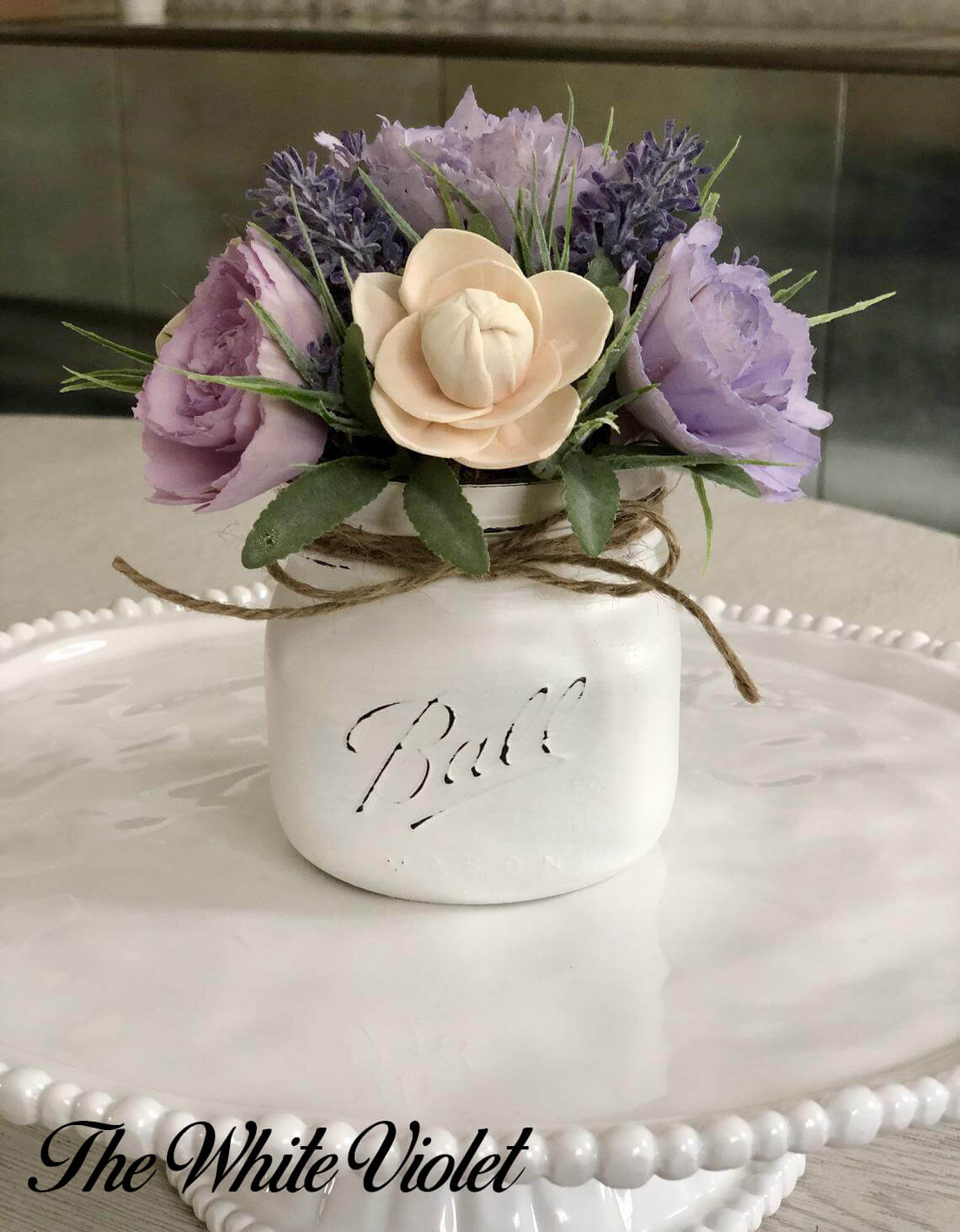 Here's a top choice for decorating this summer's big wedding! The small height along with the wider girth gives this mason jar a little more character than the traditional style. Short and stout, this glass jar is painted a creamy neutral to allow your flowers to take center stage. Complete the look at every table with a small ribbon of twine secured in a bow at the top. Source: The White Violet
22. Miniature Mason Jar Painted Flower Vase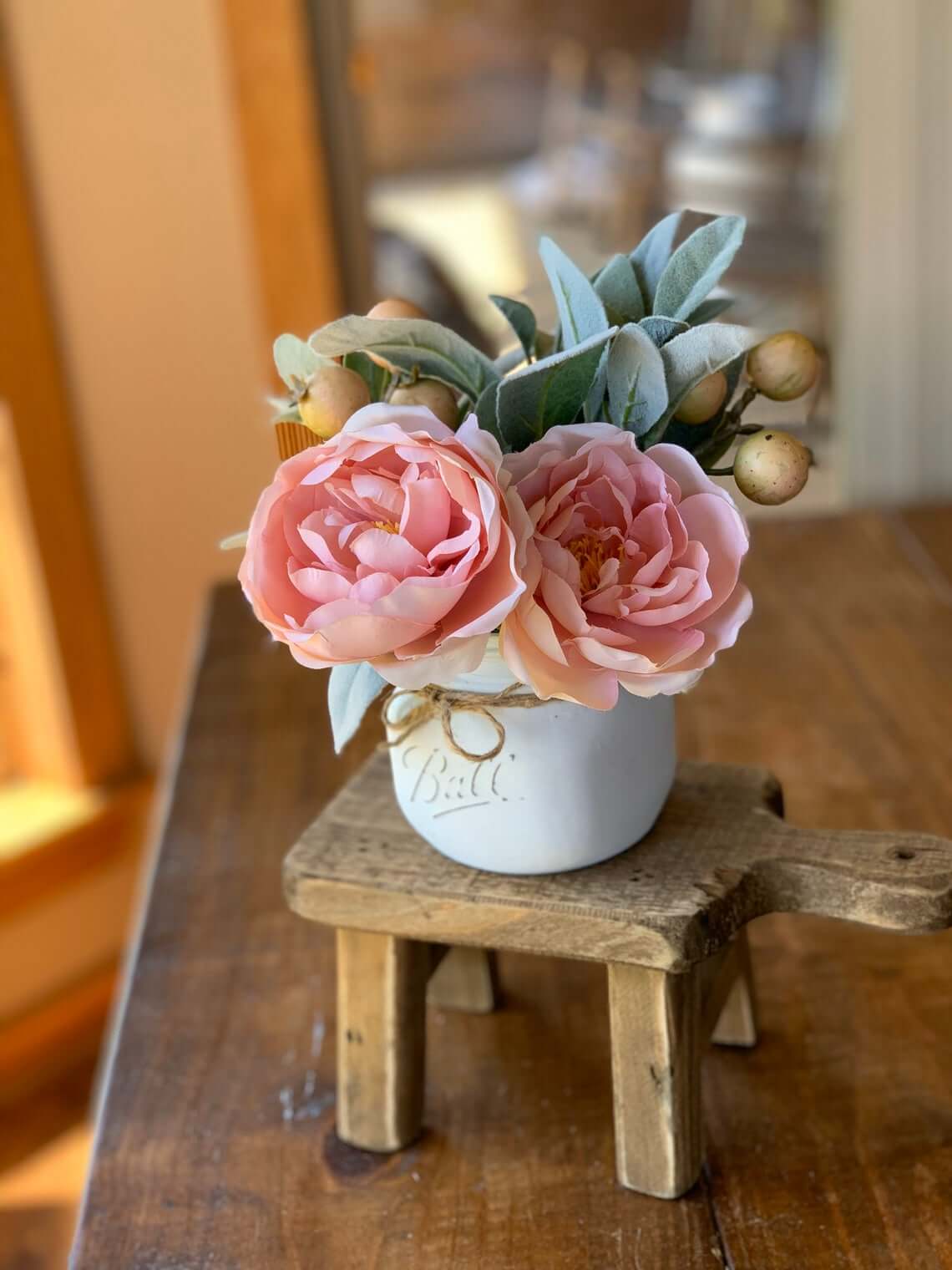 Cute and charming collide in this miniature version of the traditional mason jar. Painted white, it provides a perfect place to arrange your small flower bouquet that makes a fabulous accent decoration in any room of your home. Position it on the bedside table or along with your kitchen windowsill for a nice and inviting touch to the room.
23. Purple Gray Painted Mason Jar Vase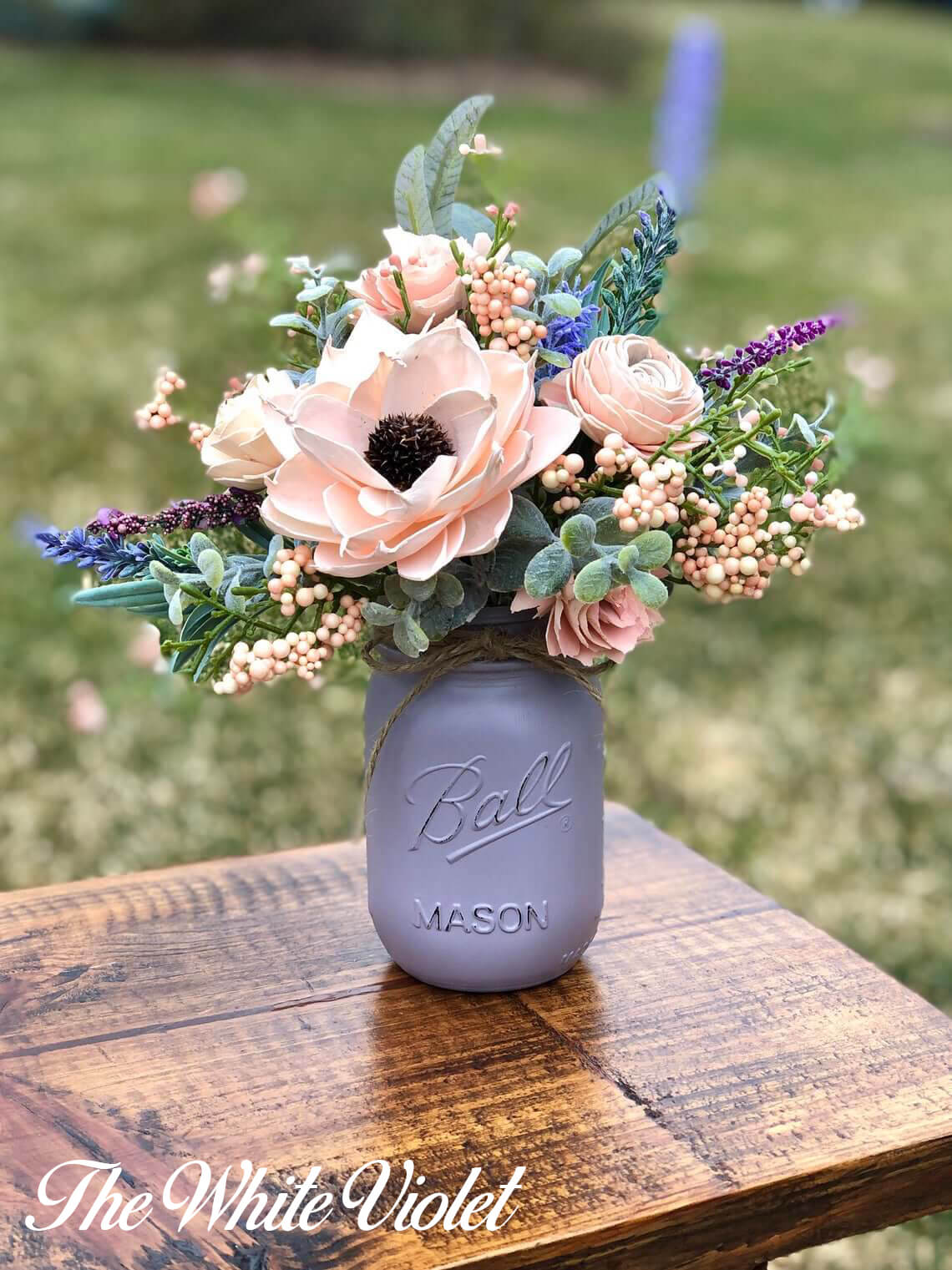 This cool and contemporary creation comes to life in a shade of purple that is nearly a member of the gray family. As an almost neutral hue, this vase firmly grounds your featured bouquet that's full of lush and lively peachy petals. One way to use this DIY mason jar vase is when sending flowers for a funeral. It's a welcomed breath of fresh air that's a bit off the beaten path and sure to be enjoyed by loved ones. Source: The White Violet
24. Rustic Country Burlap and Bows Jar Vase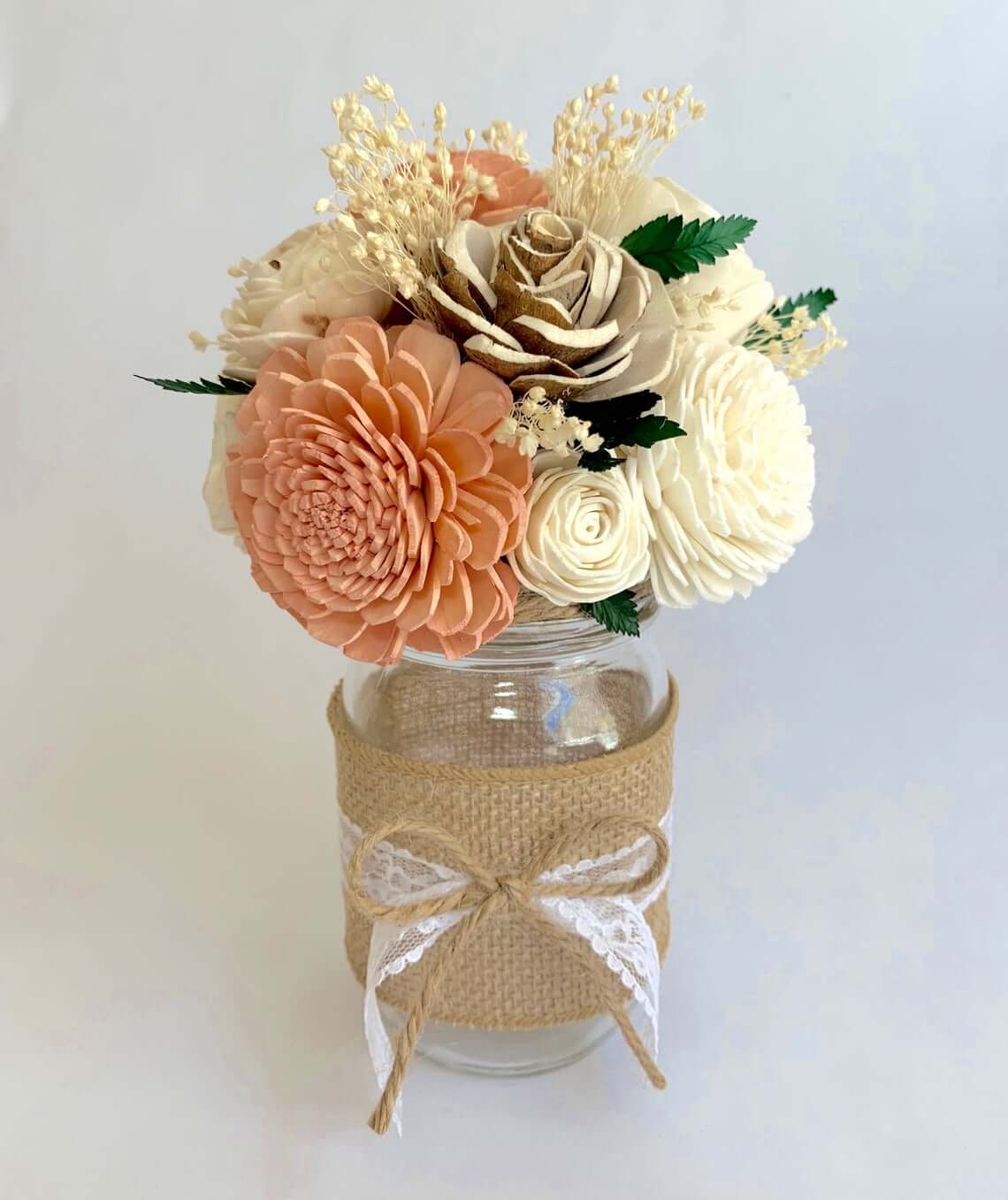 When you have a one-of-a-kind flower bouquet created from wood, be sure to keep your vase simple. These warm and unique wooden flowers create an amazing bouquet that fits perfectly in a plain mason jar vase that's been slightly embellished with a ring of burlap and tied with a small bow. Welcome your new neighbors into the neighborhood or use it as a housewarming gift for a long-time friend.
25. Endless Summer Bouquet in Painted Jar Vase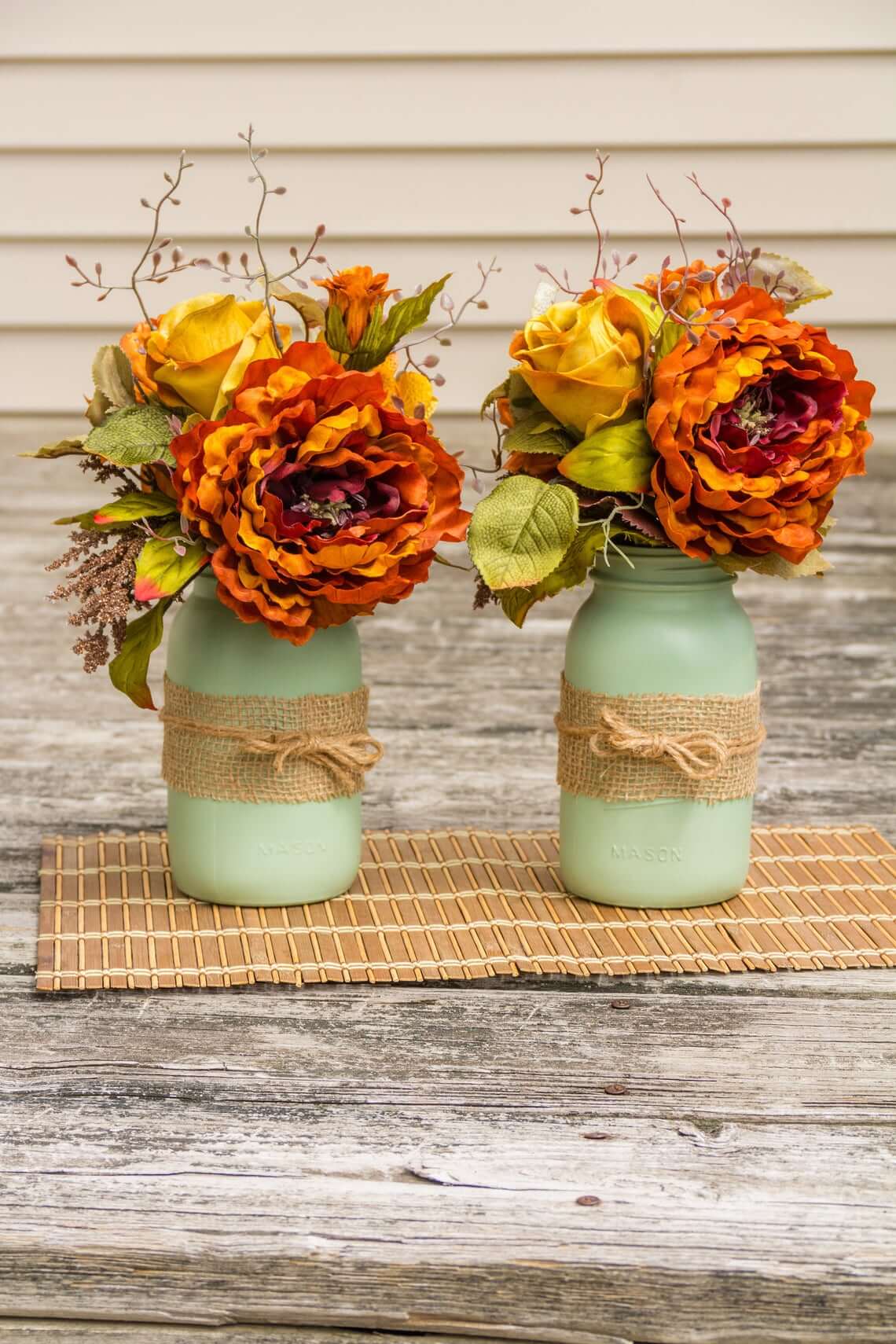 Painted in a soft, country green, these mason jar vases are a staple in farmhouse design. Filled with a gorgeous arrangement of rich reds and outstanding orange hues, this floral centerpiece gives an updated look to traditional country creations. Wrapped in a piece of burlap and tied with a bow, these make wonderful back-to-school gifts for teachers as well as ideal centerpieces for weddings and showers.
26. Easy Lavender Flower Painting Idea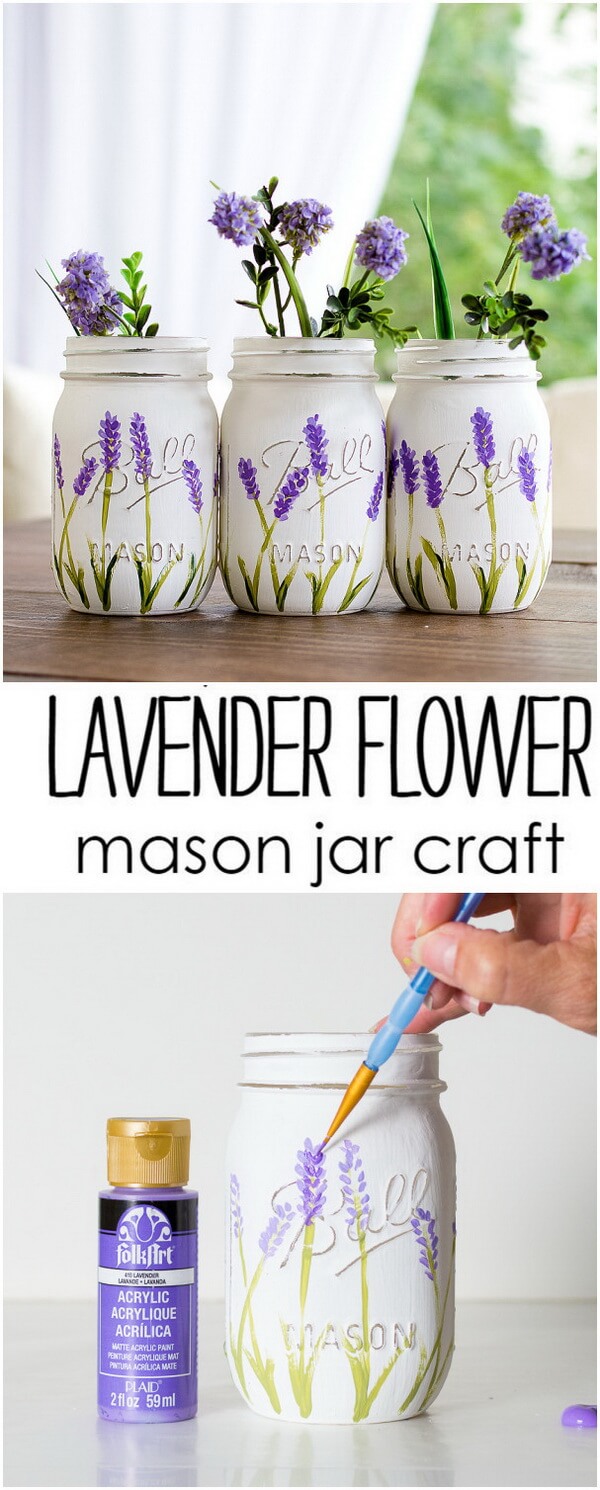 27. Fill Mason Jars with Glitter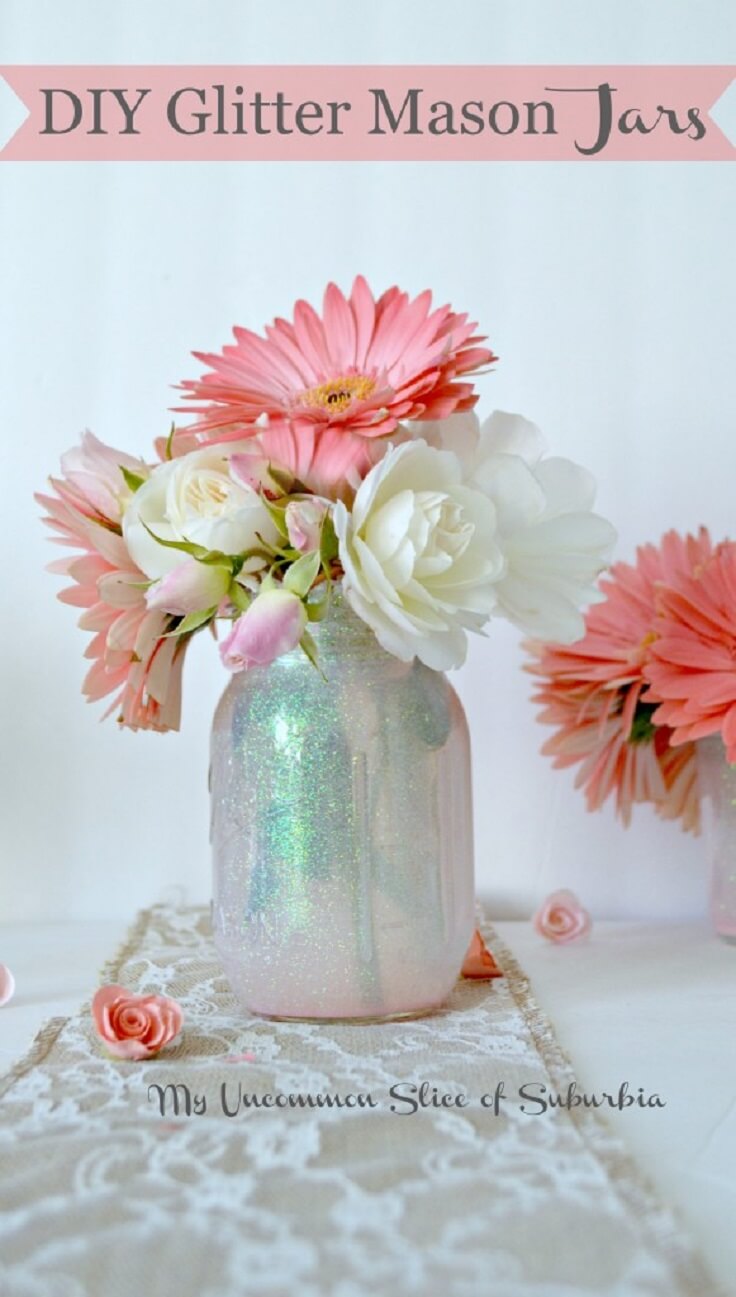 28. White Paint Inside and Chalkboard Labels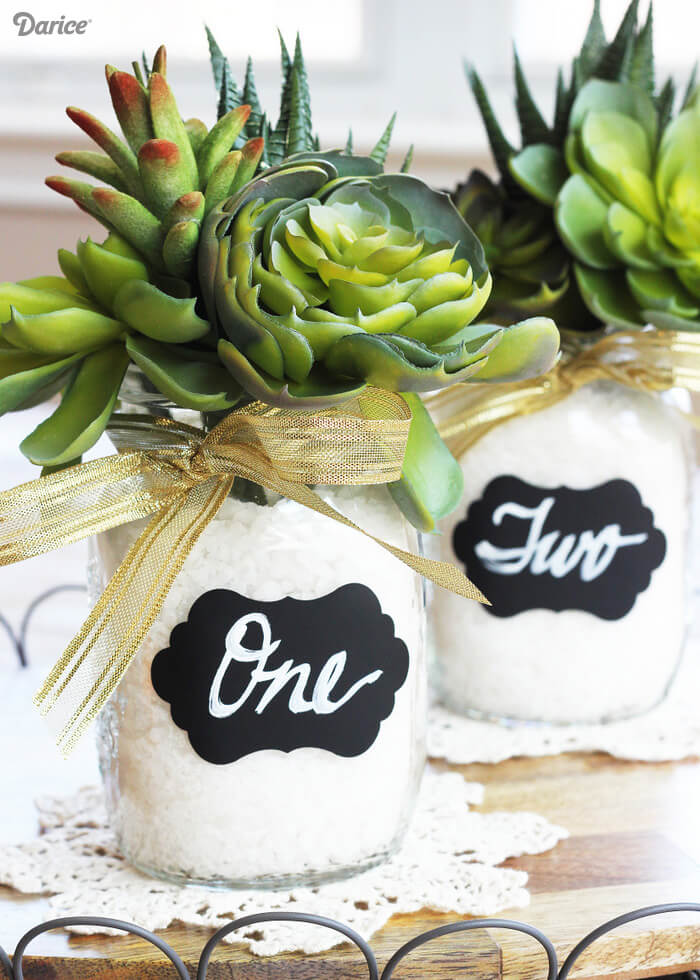 29. Wide Lace and Ribbon Bands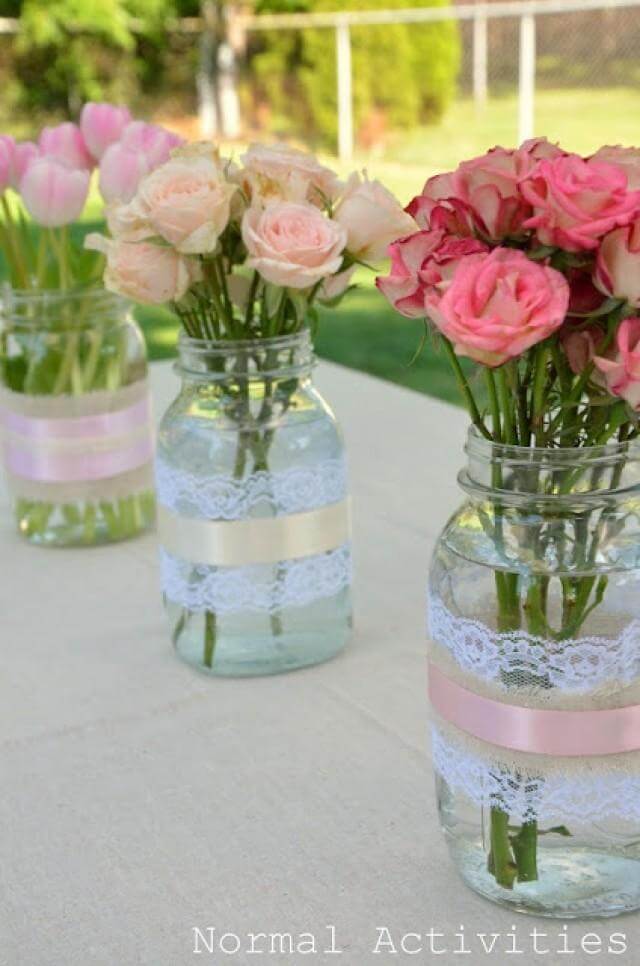 30. DIY Ombre Jars with Acrylic Paint

31. Farmhouse Style DIY Mason Jar Flower Arrangement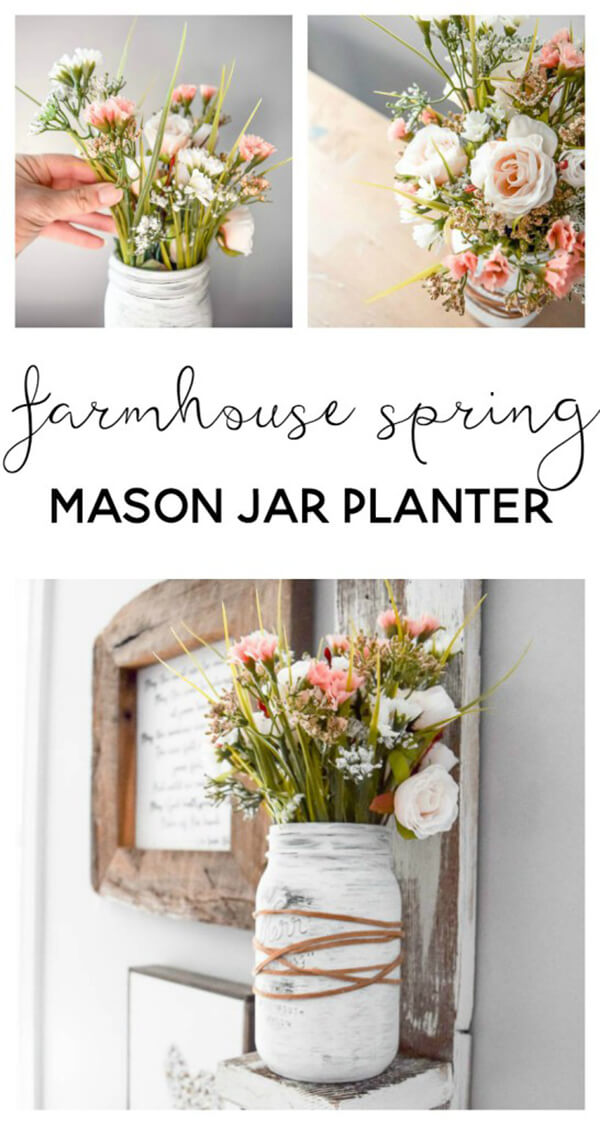 32. Whimsical Leprechaun and Burlap Vase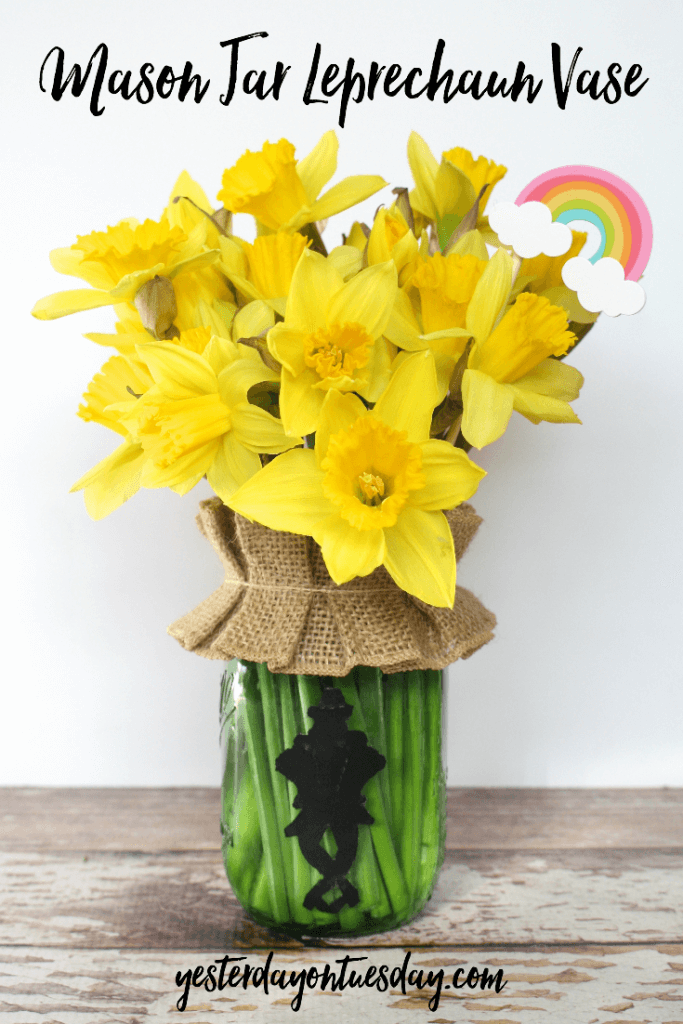 33. Pretty Flower Filled Mason Jars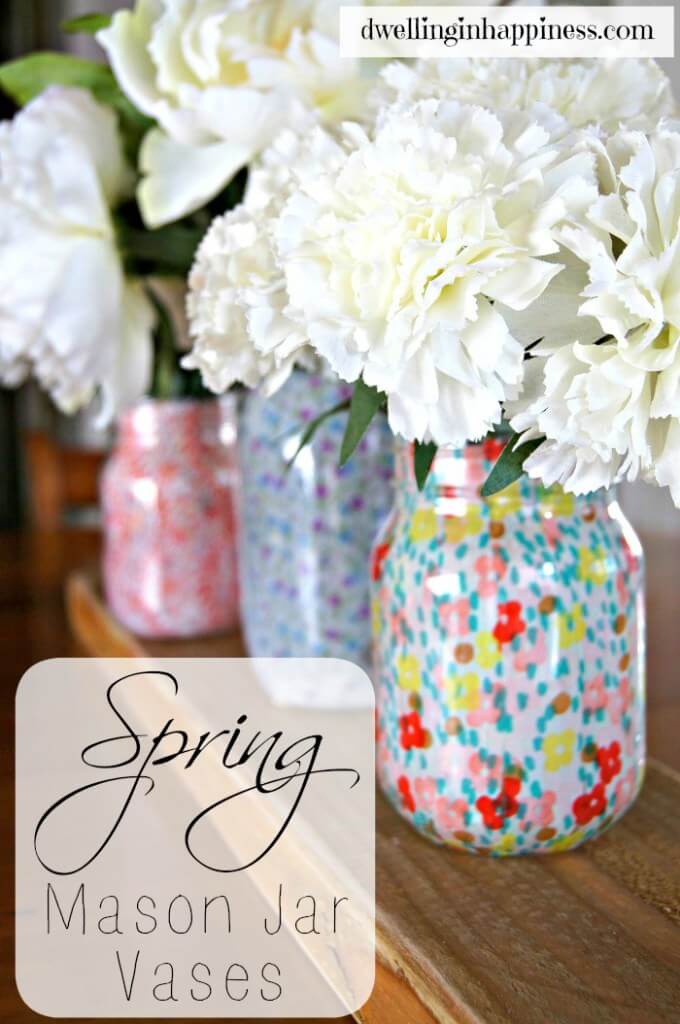 34. Painted White Mason Jars with Burlap

35. Mason Jars Speckled Like Robin's Eggs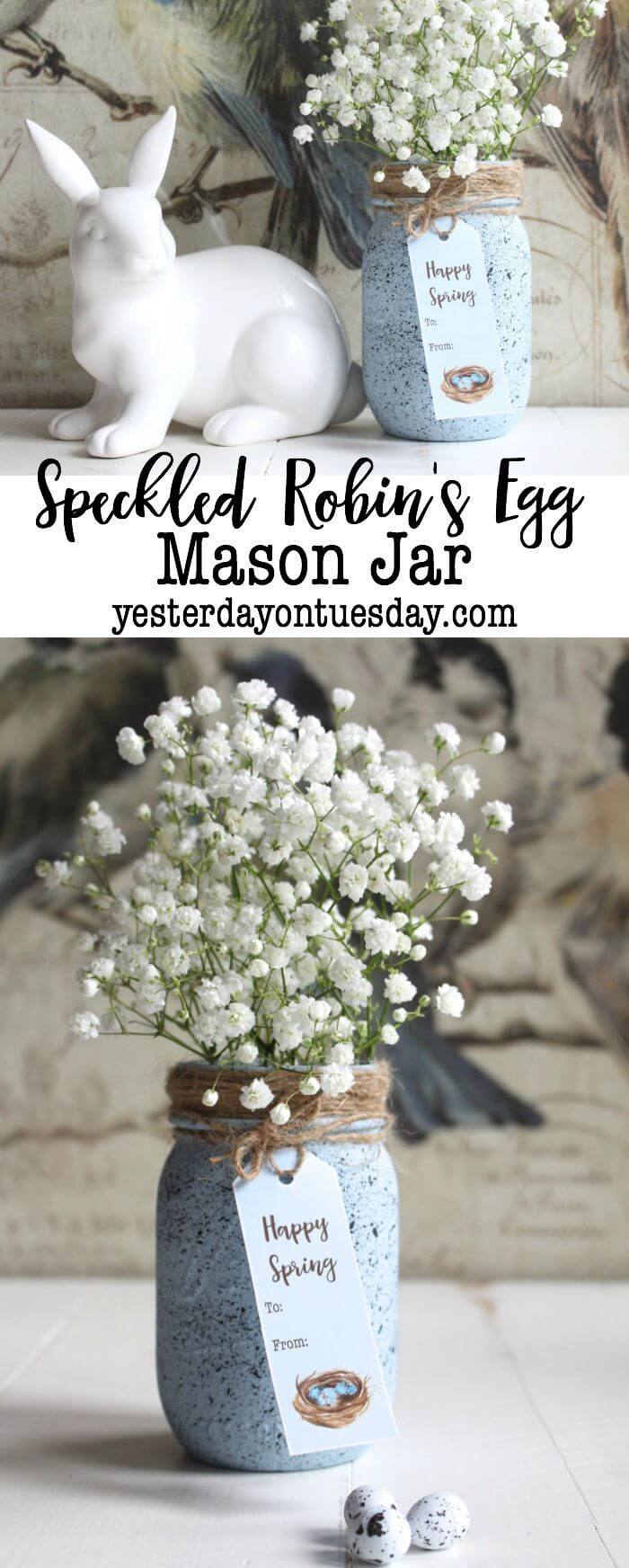 36. DIY Mason Jar Flower Arrangement with Seaglass Paint

37. Lovely Mason Jars with Rustic Burlap Accents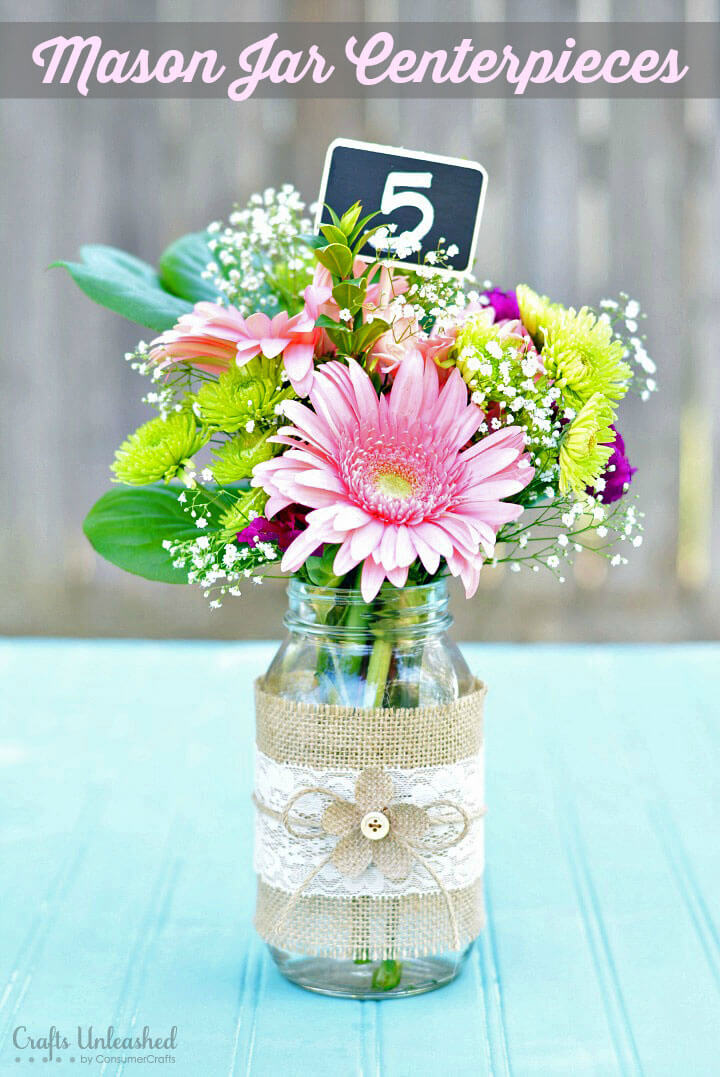 38. DIY Mason Jar Flower Arrangement in Pastels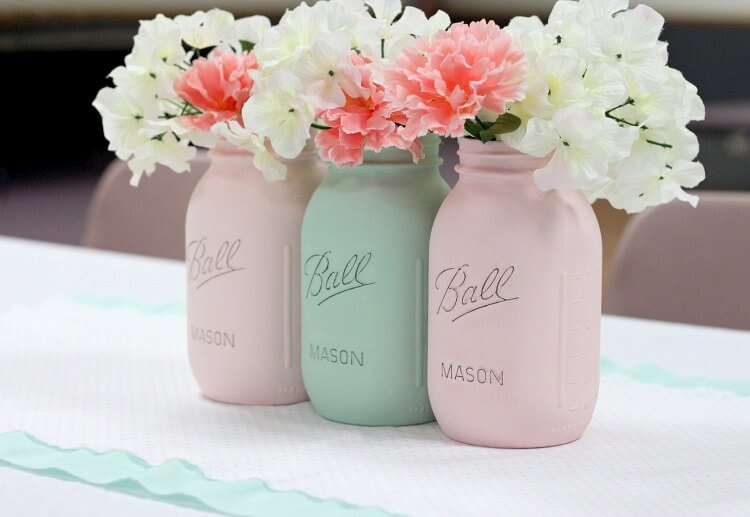 39. Plant Herbs in Mason Jars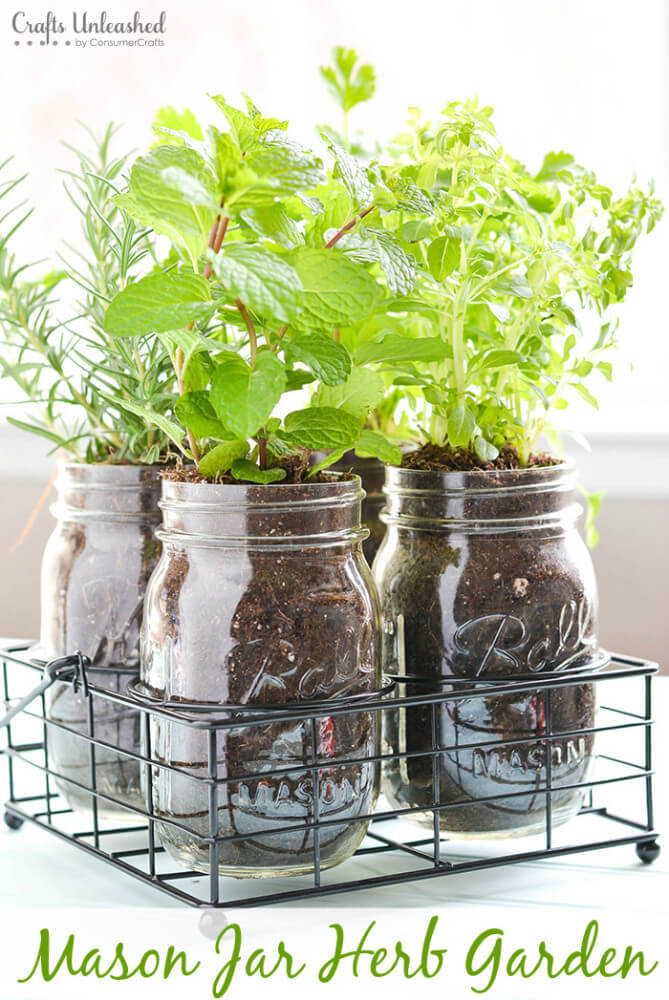 40. Golden Mason Jars with Glitter Bases

41. Simple Mason Jar Wall Vases

42. Mason Jars with Pretty Ribbon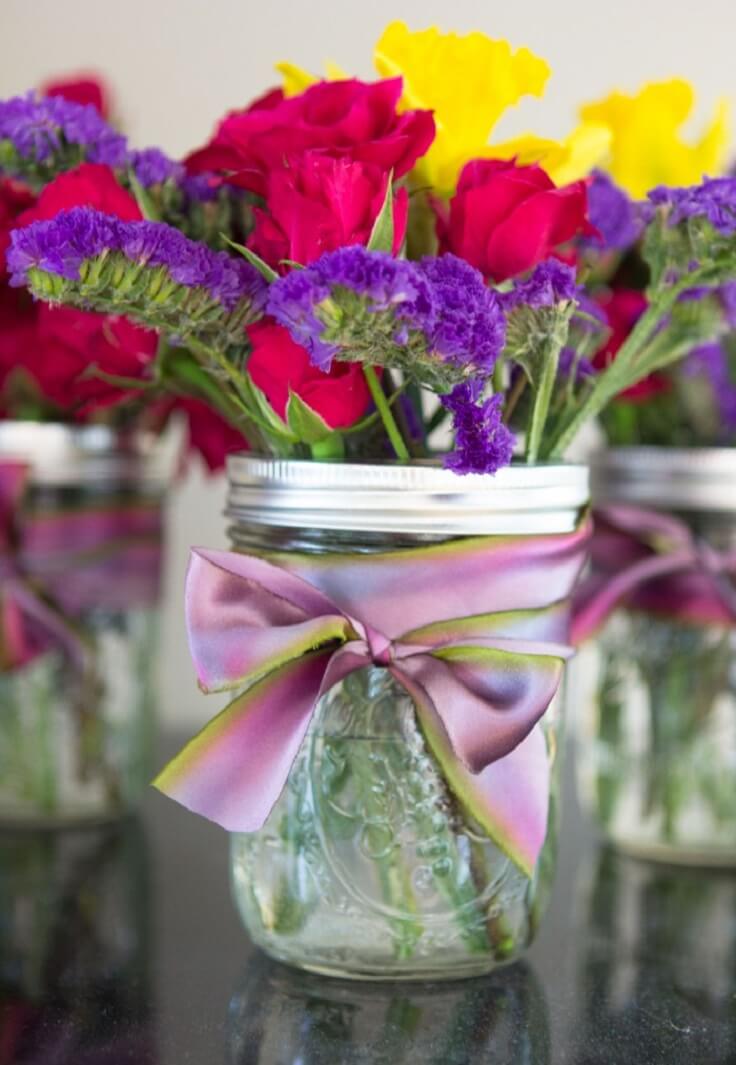 43. Pastel Mason Jars in a Wooden Tray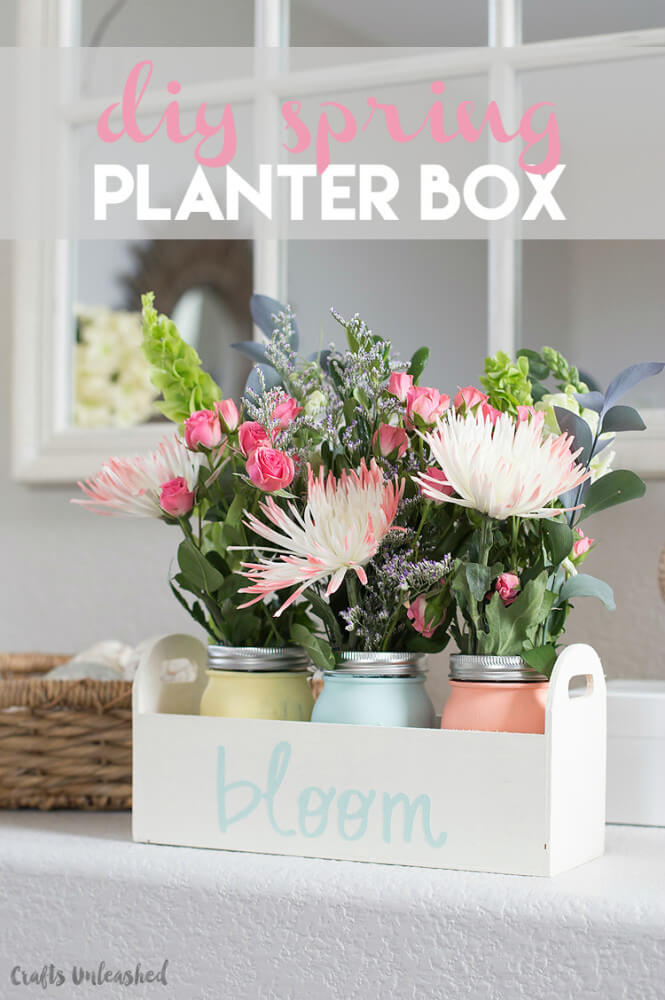 44. Green Mason Jars with Flower Frogs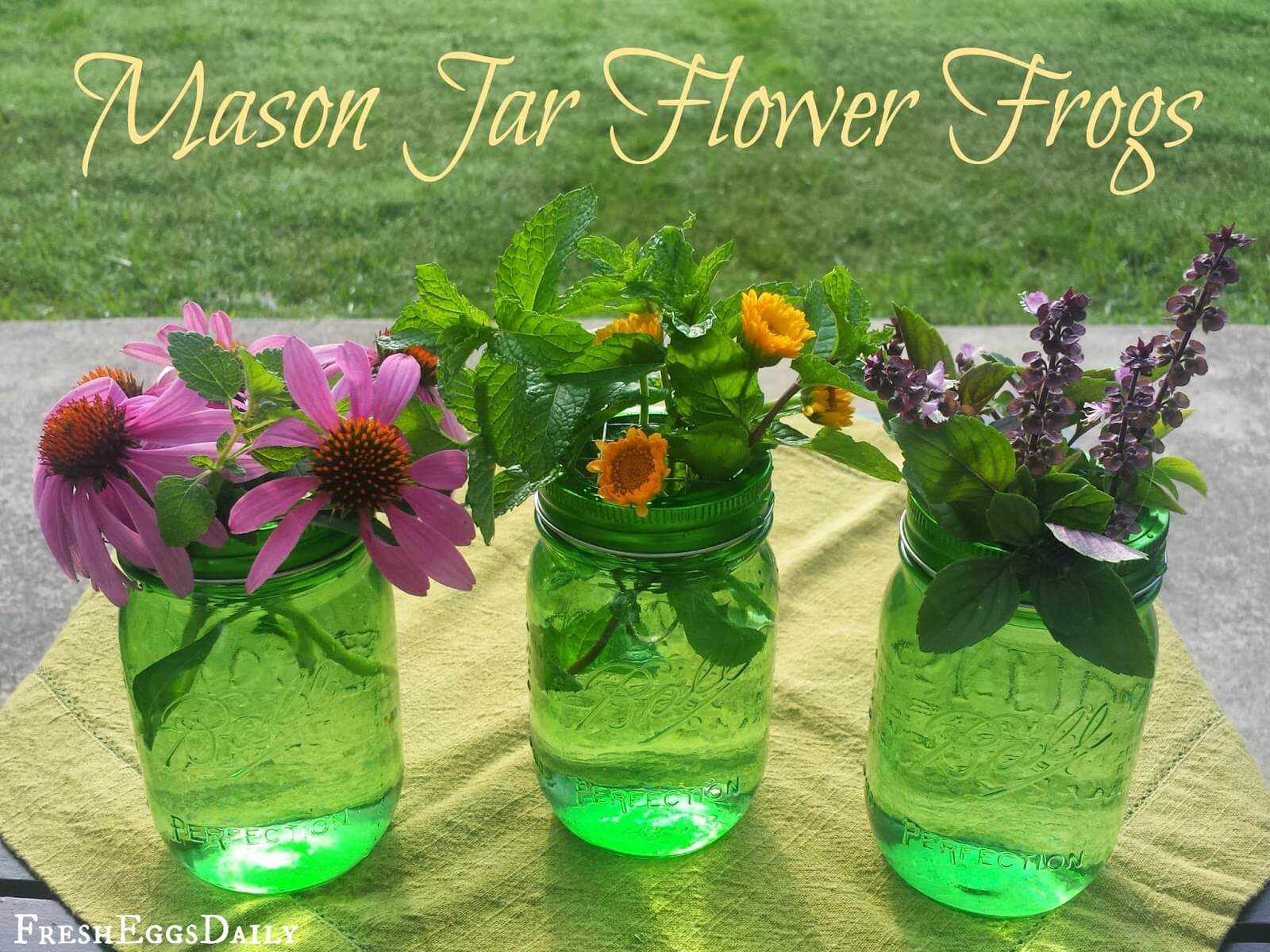 45. White Mason Jar Hung on a Board

46. Basic Mason Jar with Burlap Bow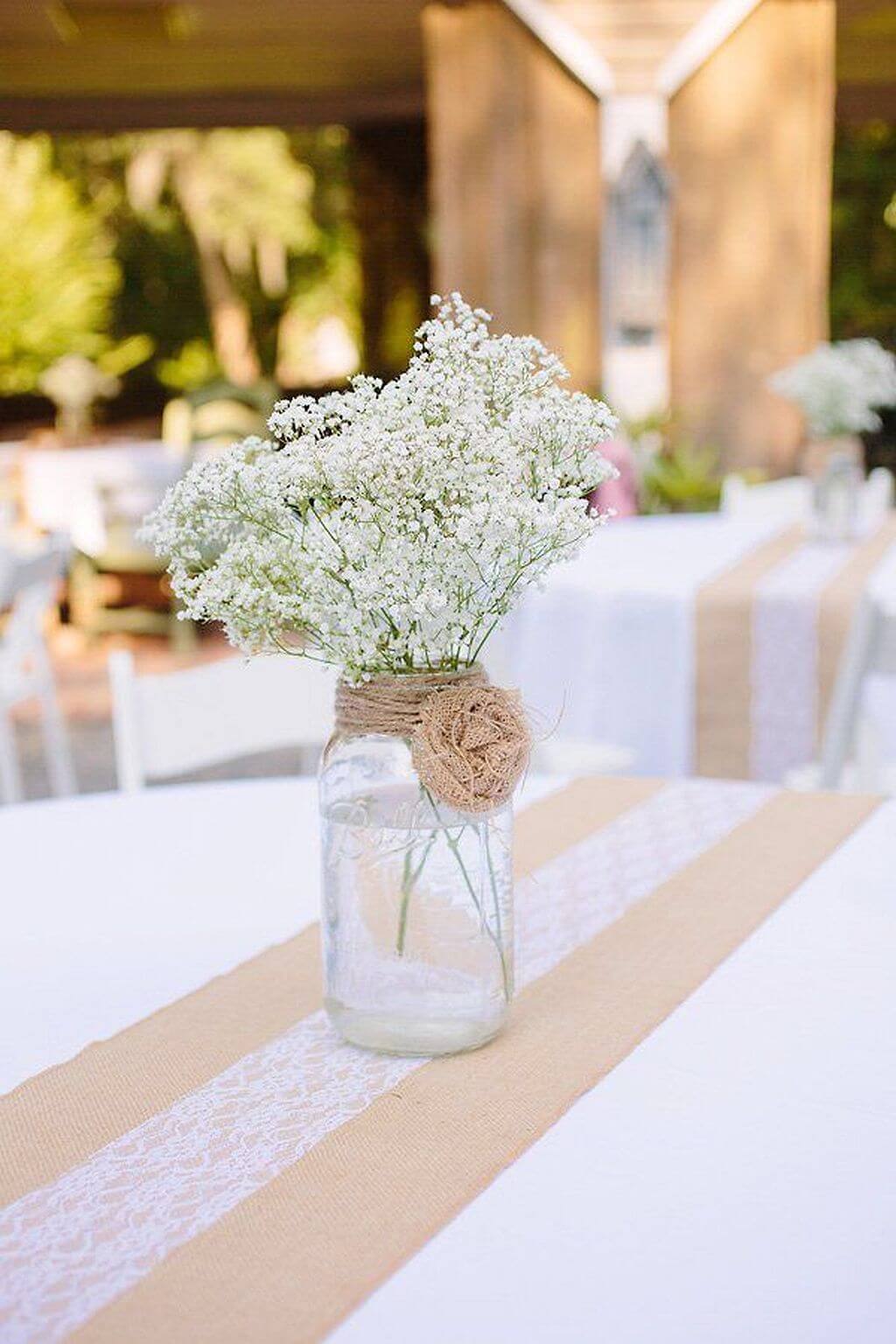 47. Spray Paint Mason Jars Gold

48. Tie Charming Burlap Bows on Mason Jars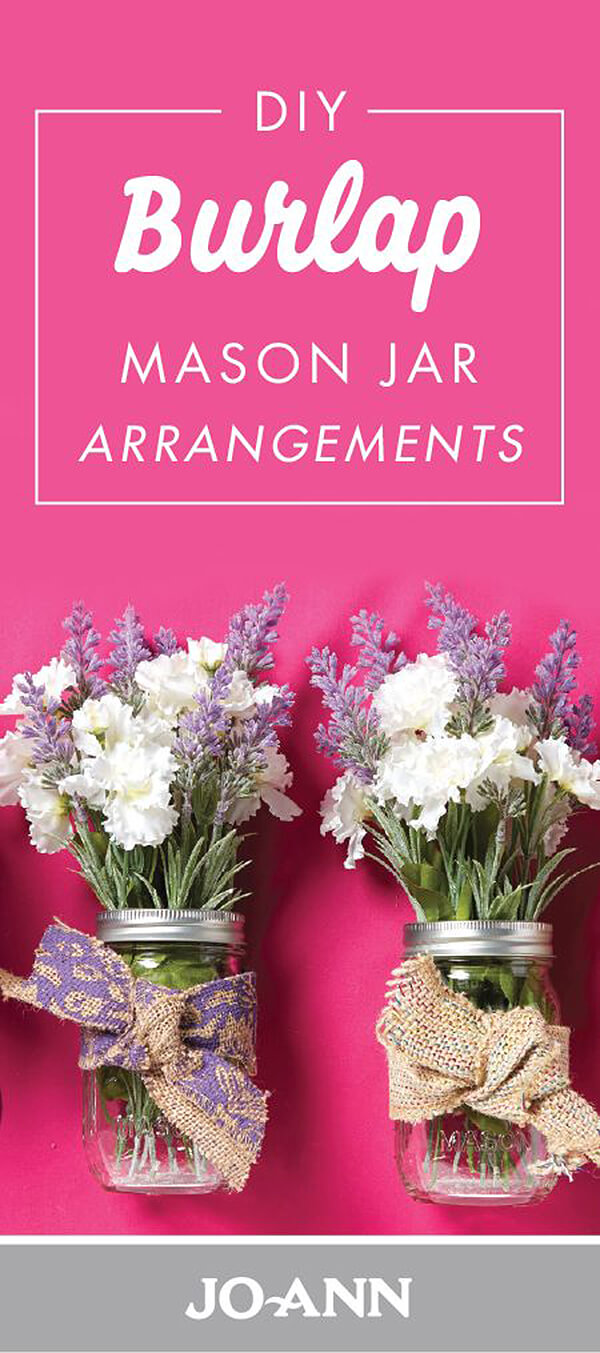 49. DIY Mason Jar Flower Arrangement with Blooming Roses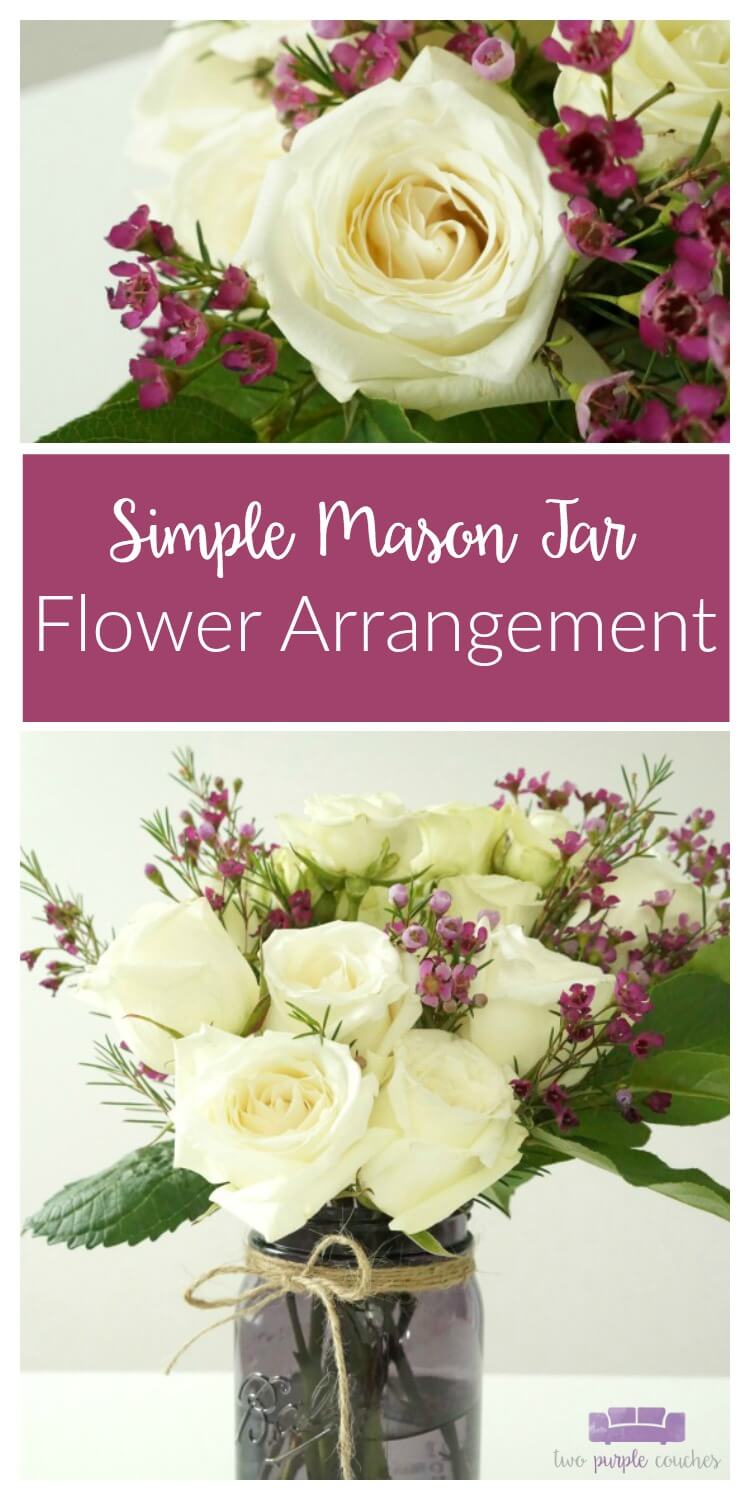 50. Mason Jar Arrangement with Raffia Bow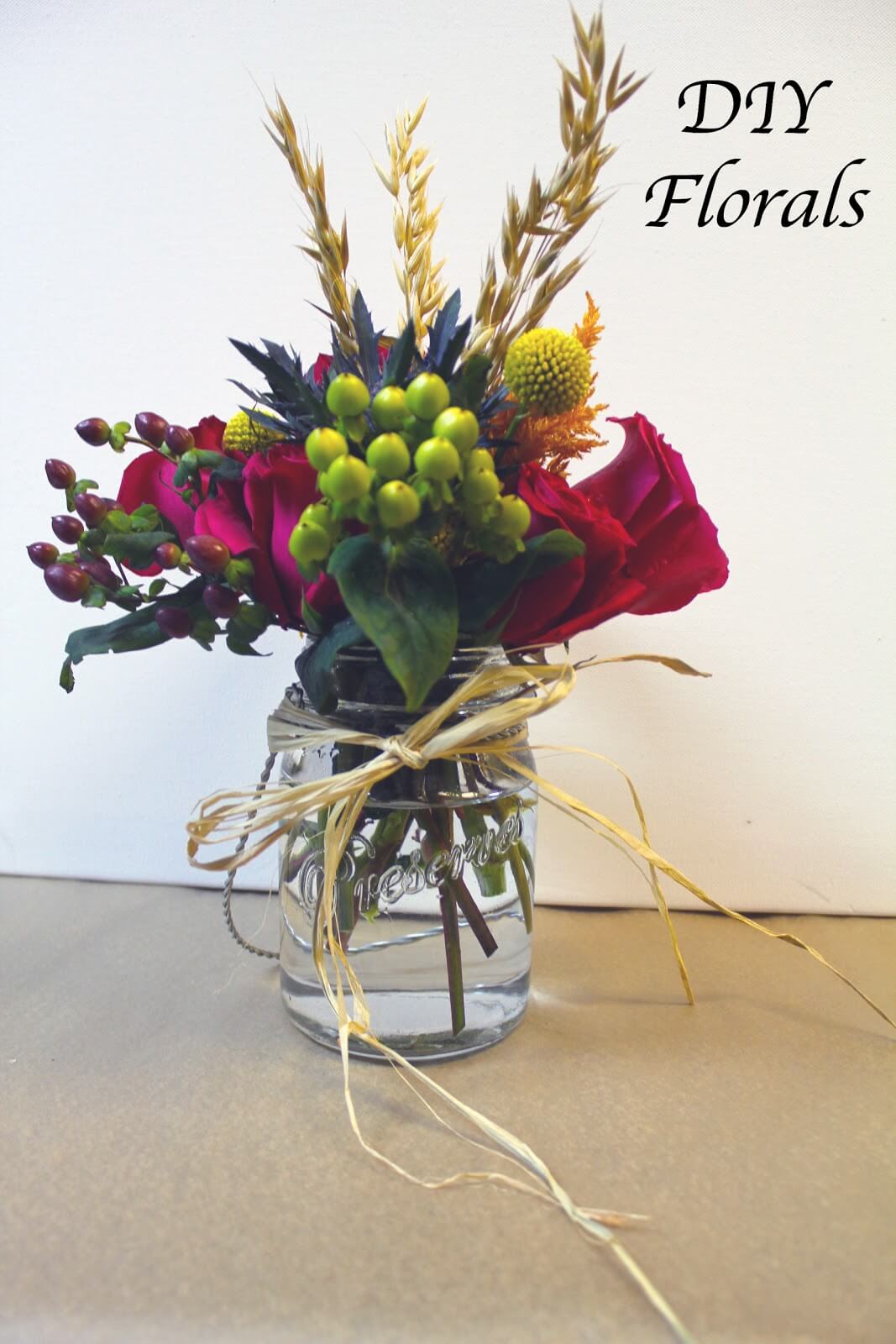 51. Match Your Flowers with Custom Candles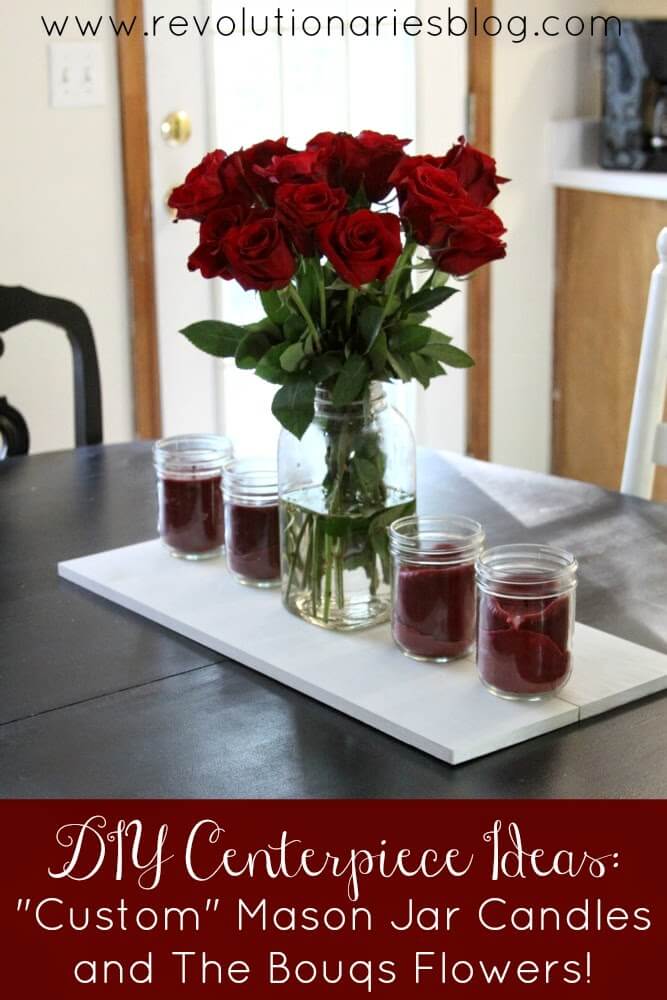 52. Lovely Ombre Mason Jar with Hydrangeas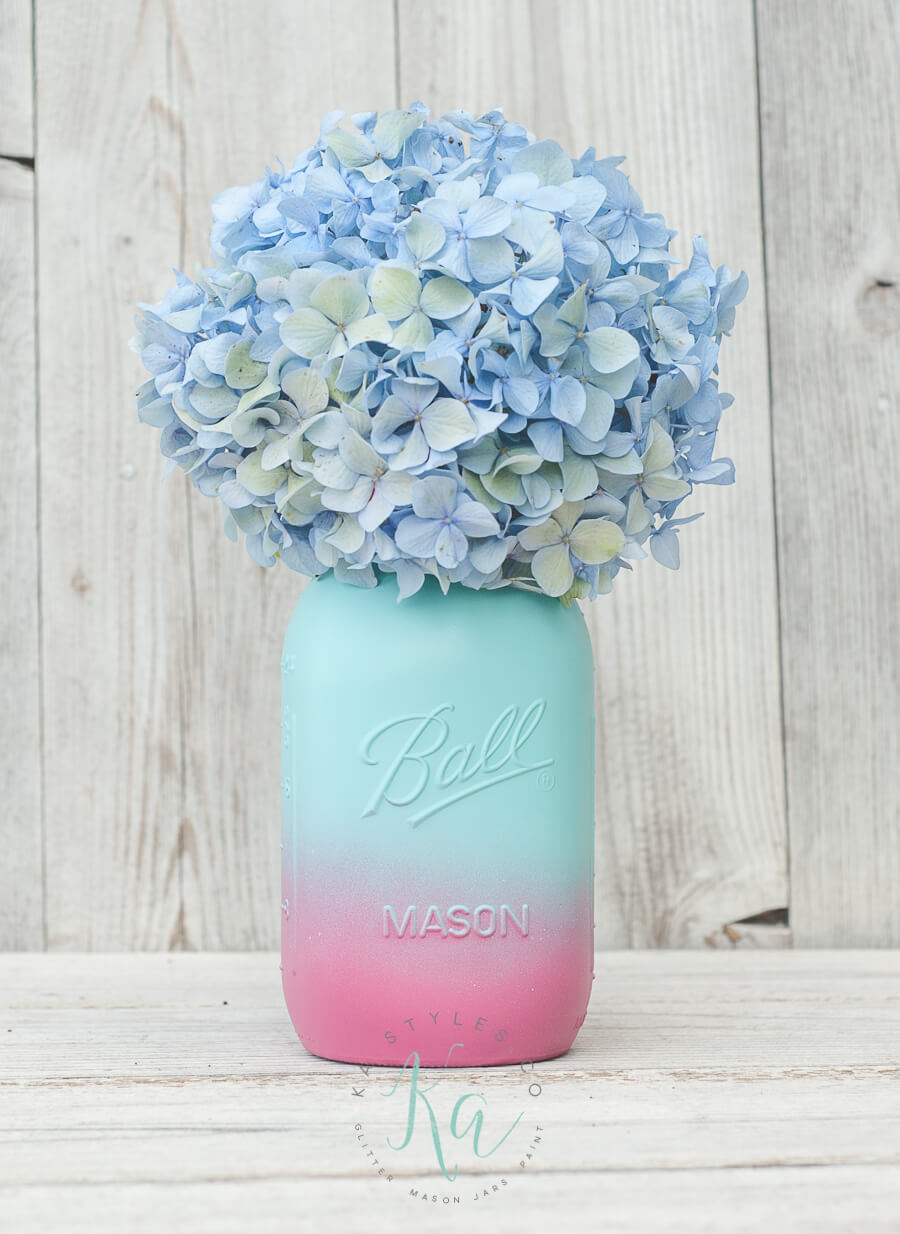 53. Mason Jar Flowers on a Welcome Sign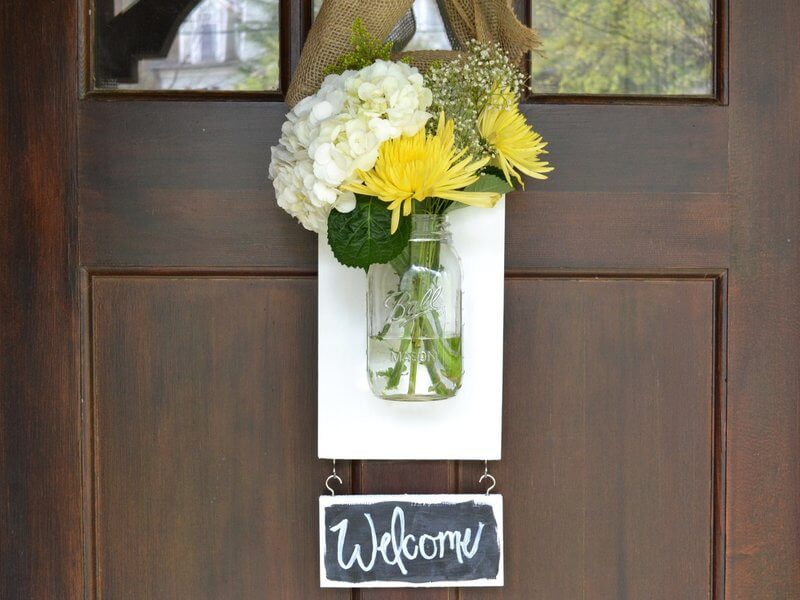 Our Favorite Outdoor Decor Pots and Planters to buy on Amazon