33. Cottage By The Sea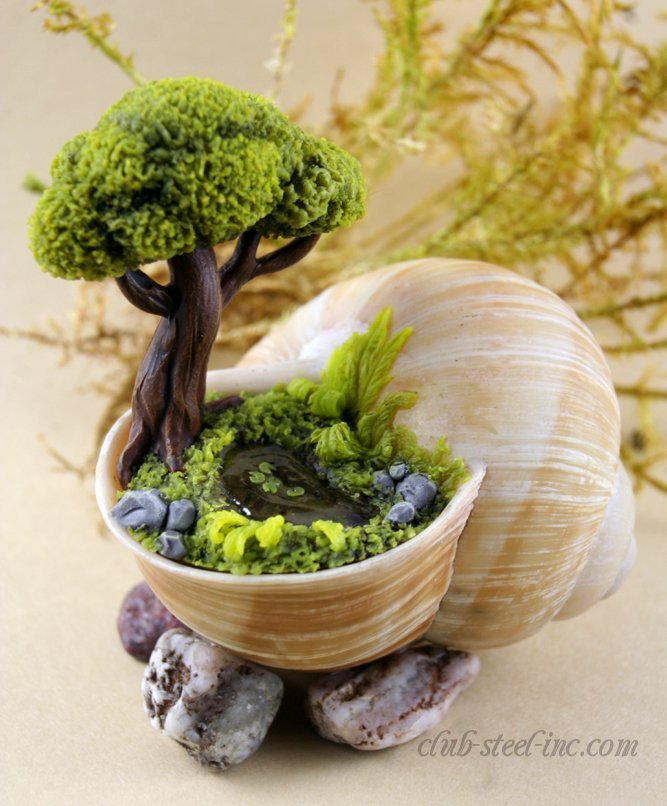 This tiny garden design is the perfect mini-garden to place in a summer cottage by the sea. It's striking, imaginative, simple and delicately beautiful. With a touch of Asian Bonzai technique, this is one design that will turn heads and attract those fairies who travel the Seven Seas. All you really need is any medium or large size sea shell, a miniature Bonsai tree, hand-painted resin grass, a few small rocks and rocks large enough to support the whole miniature garden design.
34. A Pearly Delight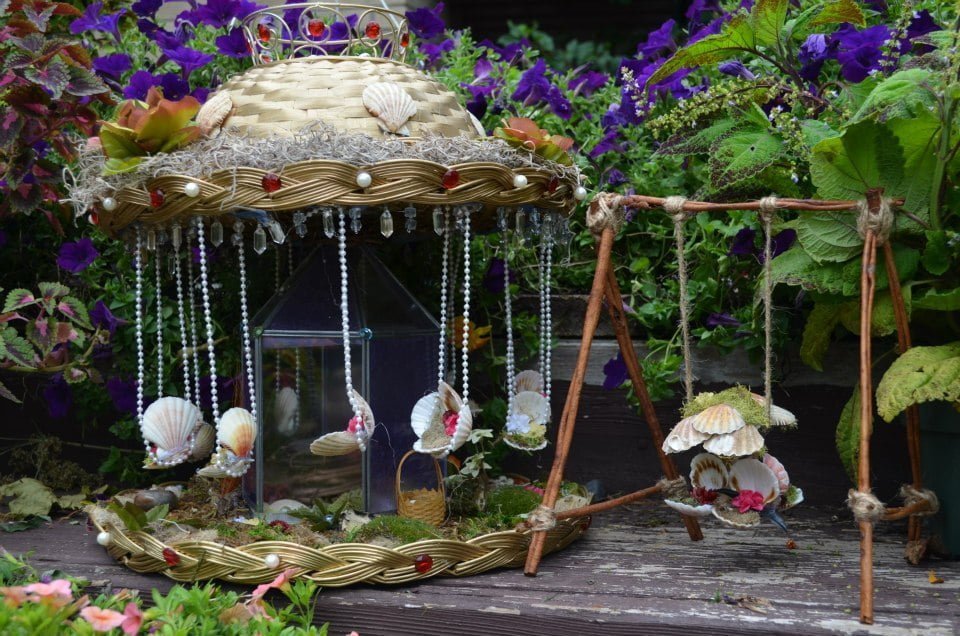 If there's one thing fairy spirits adore is a pearl-laden merry-go-round. If the seats are made of sea shells, all the better. This tiny garden design is the ideal touch for almost any spot it's placed. Either indoor by itself or outdoors on a rustic table spread, this exquisite display is unique, charming and lends itself well as a piece of home decor. Two woven basket tops fashioned together as the top and bottom of the merry-go-round are supported by a cylinder cardboard box in between. Pearl-driven, this fairy garden design with its sea shell seats will appeal to any fairy looking for a day of fun.
35. A Minimalist Tree House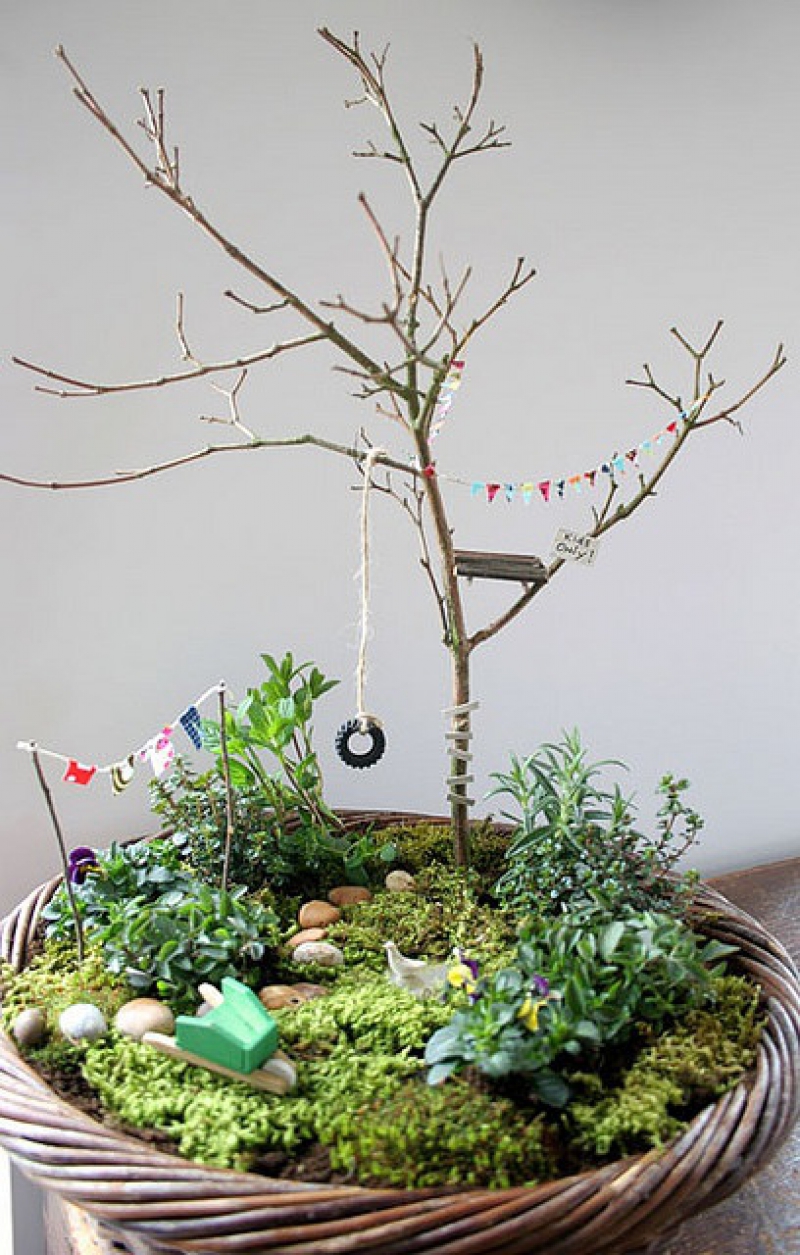 Minimalist is the word to use for this tree house that any child or fairy would love to explore. A bare branch left over from winter, a swinging miniature rubber tire to hang from the tree top and a little wheel barrel finish the touch to this little kid's delight. A few artificial or natural pieces of greenery add to the realism of what could easily be found in any backyard. If you run out of tiny things to add, a weekend trek to local garage sales may help. As always, any size container will do for this miniature garden.
36. Orchids At Noon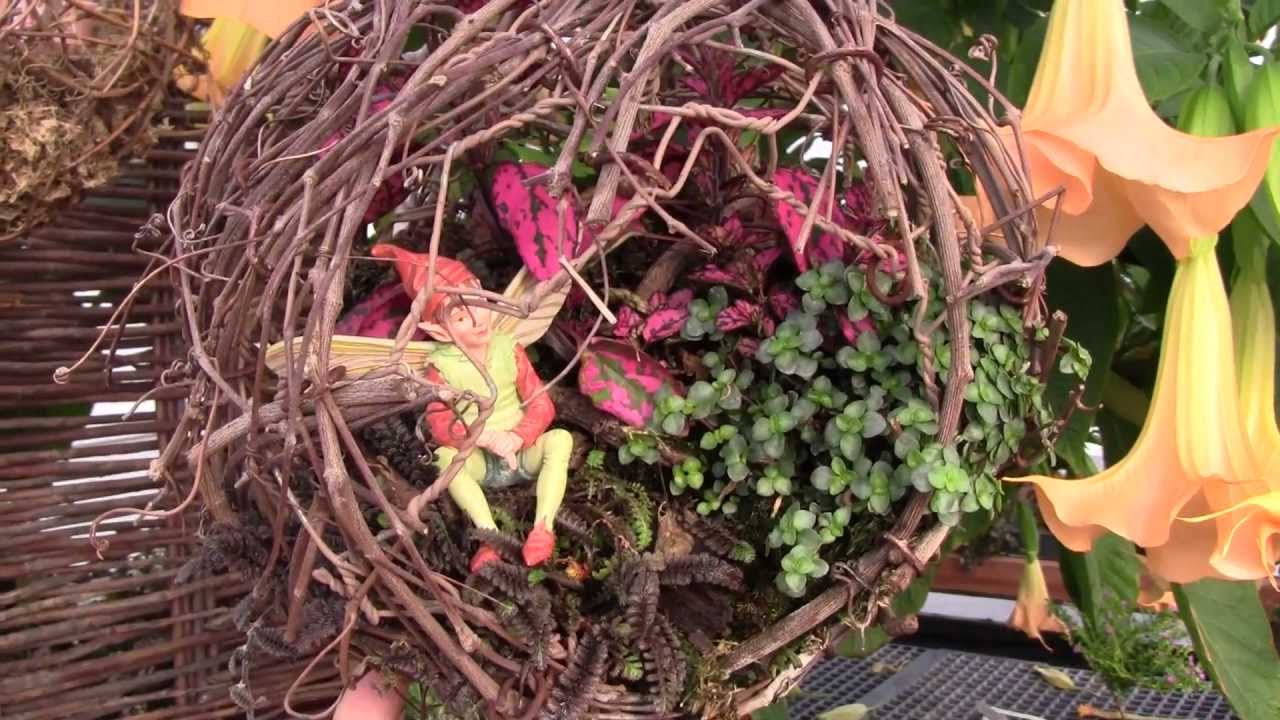 Here's one creative design that'll especially appeal to young ladies and fairies alike. Giving the ambiance of polished, discriminating taste, this display lends itself well in an area where making a good impression is needed such as a master bedroom, a master bathroom or a buffet table spread. Elegance is the tone conveyed here. Made by using a basic twiggy orb and several plant cuttings, this beautiful mini-garden design is a favorite hangout for little spirit beings observing all things.
37. Only Believe!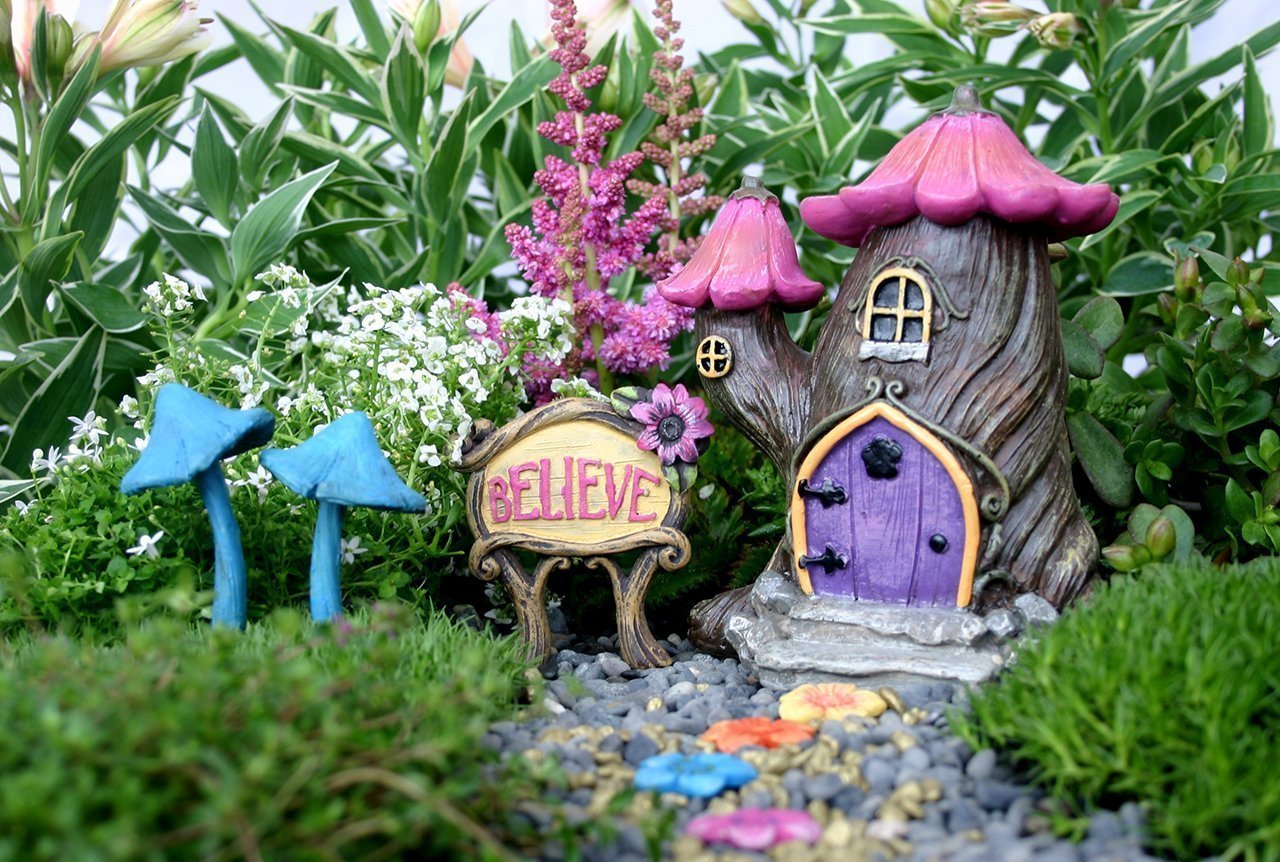 Completely charming, this mushroom-focused fairy garden design just calls out to those passing by. Complete with tiny windows that only a fairy could look through, the fairy door and irresistible cottage house-top make this a truly magical experience–if you'll only believe. Eclectic styles and colors add to the magic as does the pebble pathway with multi-colored flowery stepping-stones. Surround your little garden with your preferred plant cuttings, and you've set the stage for a whimsical experience.
38. "I Was Waiting For You!"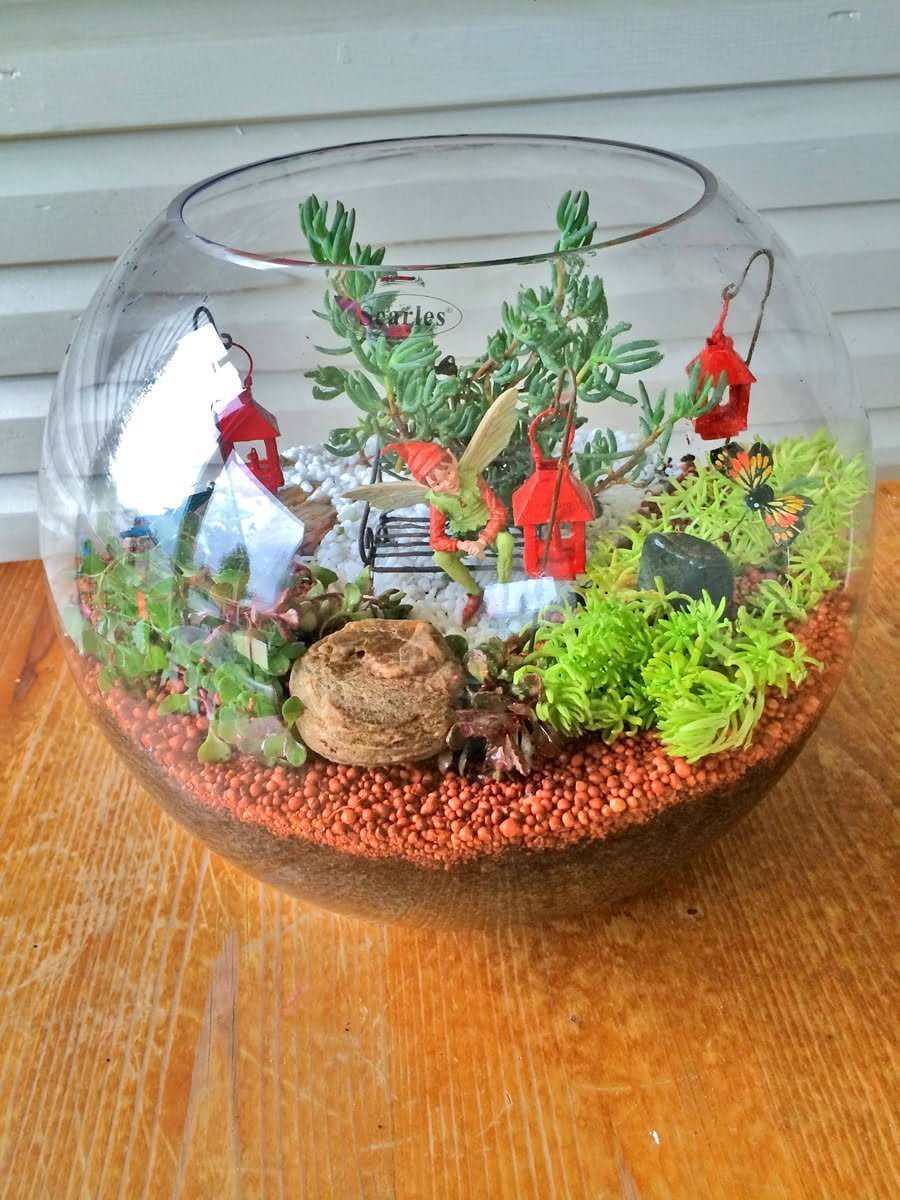 Terrariums are never really out of fashion as you can appreciate with this glass or plastic encased terrarium bowl. Using a two-tier, diverse color pebble foundation, you can now securely position on top multiple plastic cuttings, or real ones instead, to surround the area occupied by your fairy friends. Make your tiny garden more even more delightful by using small hanging lamps with their accompanying lamp stands.
39. A Barrel of Summer Fun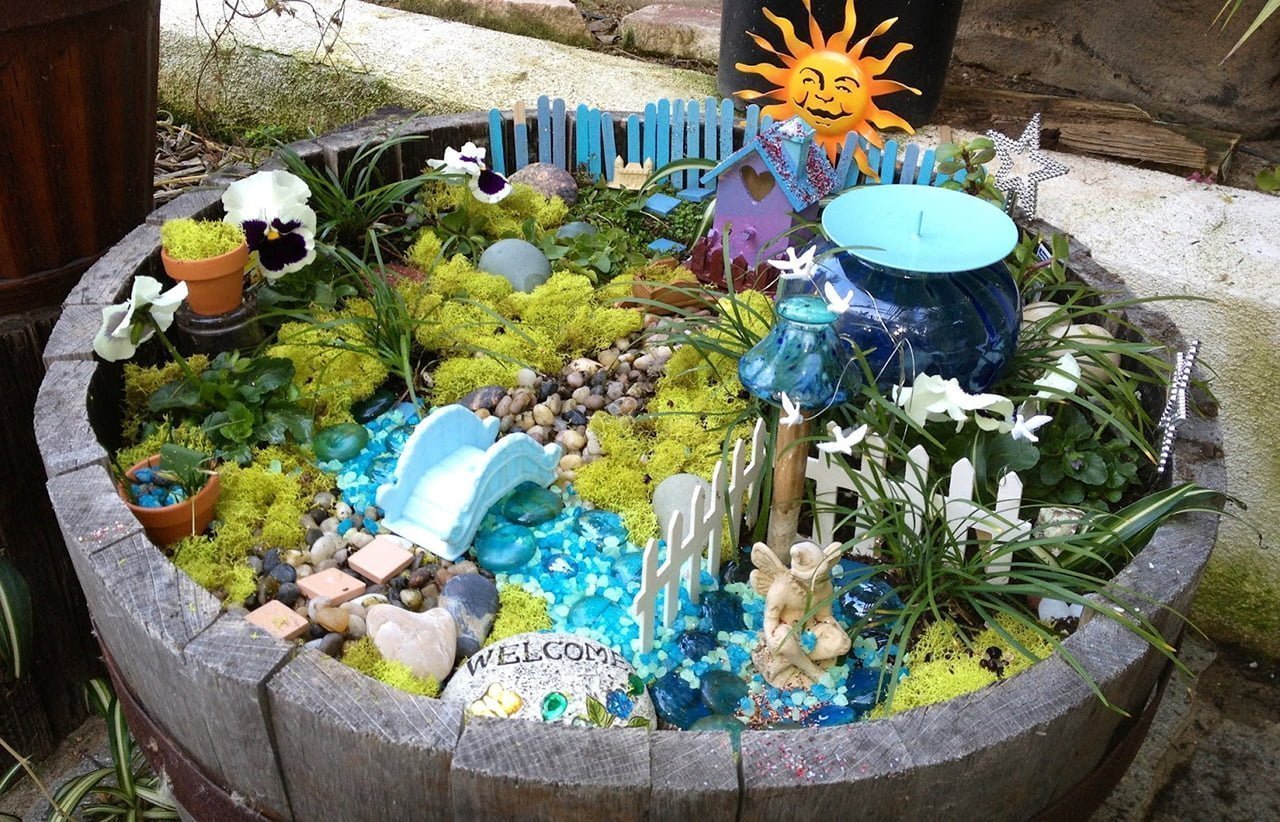 Typically, kids can't wait for summer to let out, and the same thing goes for little spirit beings. Summer is when all the summer starts and nowhere is this better seen than in this beautiful design. With a happy, sun-shiny face popping up in the background, you'll jump over the hand-painted picket fences and over the small bridge as you head for your favorite fishing spot. Flying white doves and a little fairy imp sits waiting to see what you do the rest of the afternoon. Miniature blue kettles and a long, winding pebble road promise to make this a summer for you, your kids and your fun-filled fairies to long remember.
40. A Gorgeous Gourd Garden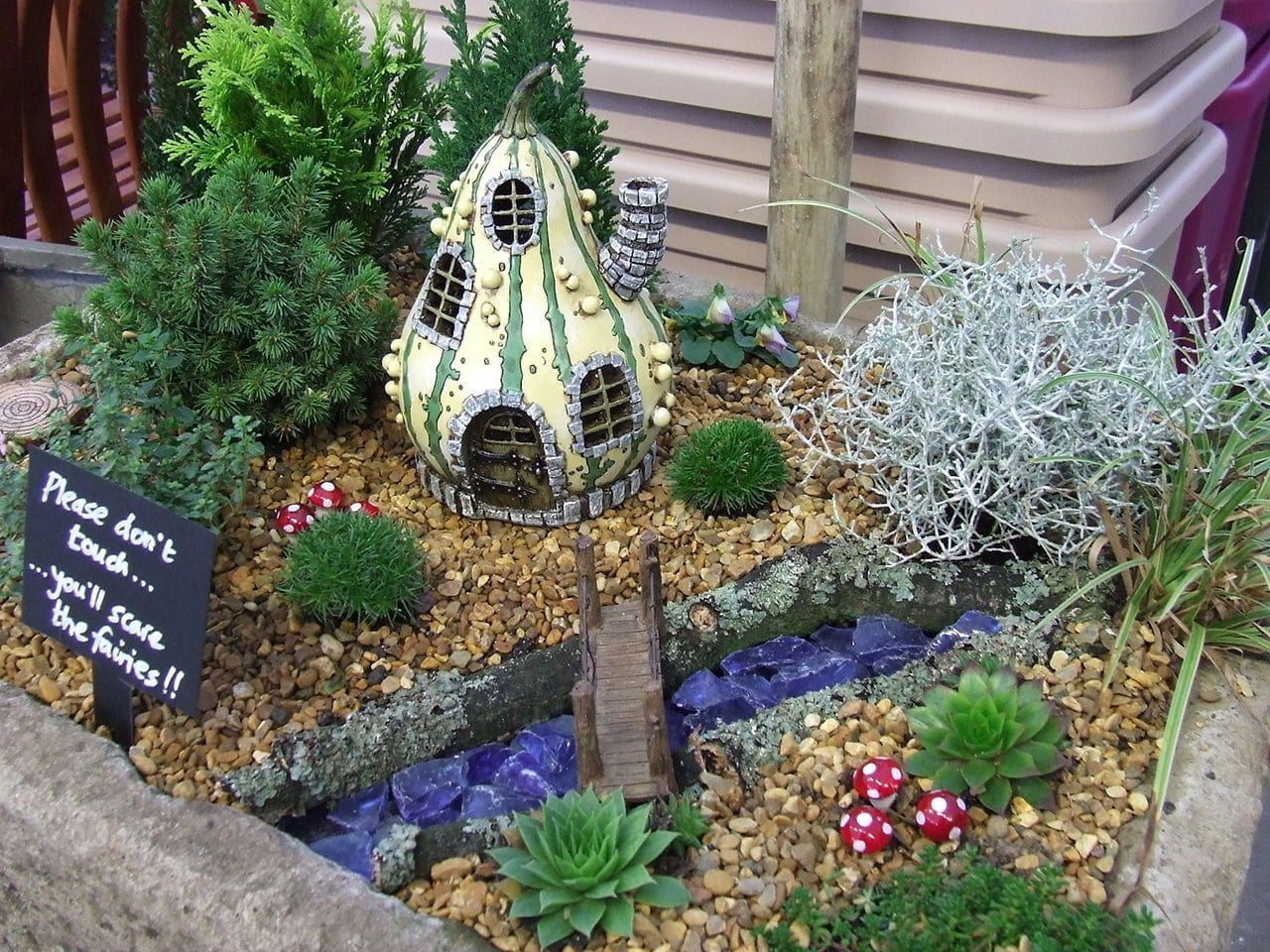 Using a hand-painted pumpkin gourd as a focal point along with your fairy cottage, you can give this charming piece life with few other needed accessories. Basically using pebbles for your walkway and a beautiful blue stream on its side, your cottage sits in its container waiting for its spirit being visitors. Add to the scene small bushes or plant cuttings, and your gorgeous gourd garden design is ready to put in almost any outdoor setting. While you're at it, don't forget to put some small, colorful mushrooms or flowers in your presentation.
41. A Fairy Wonderland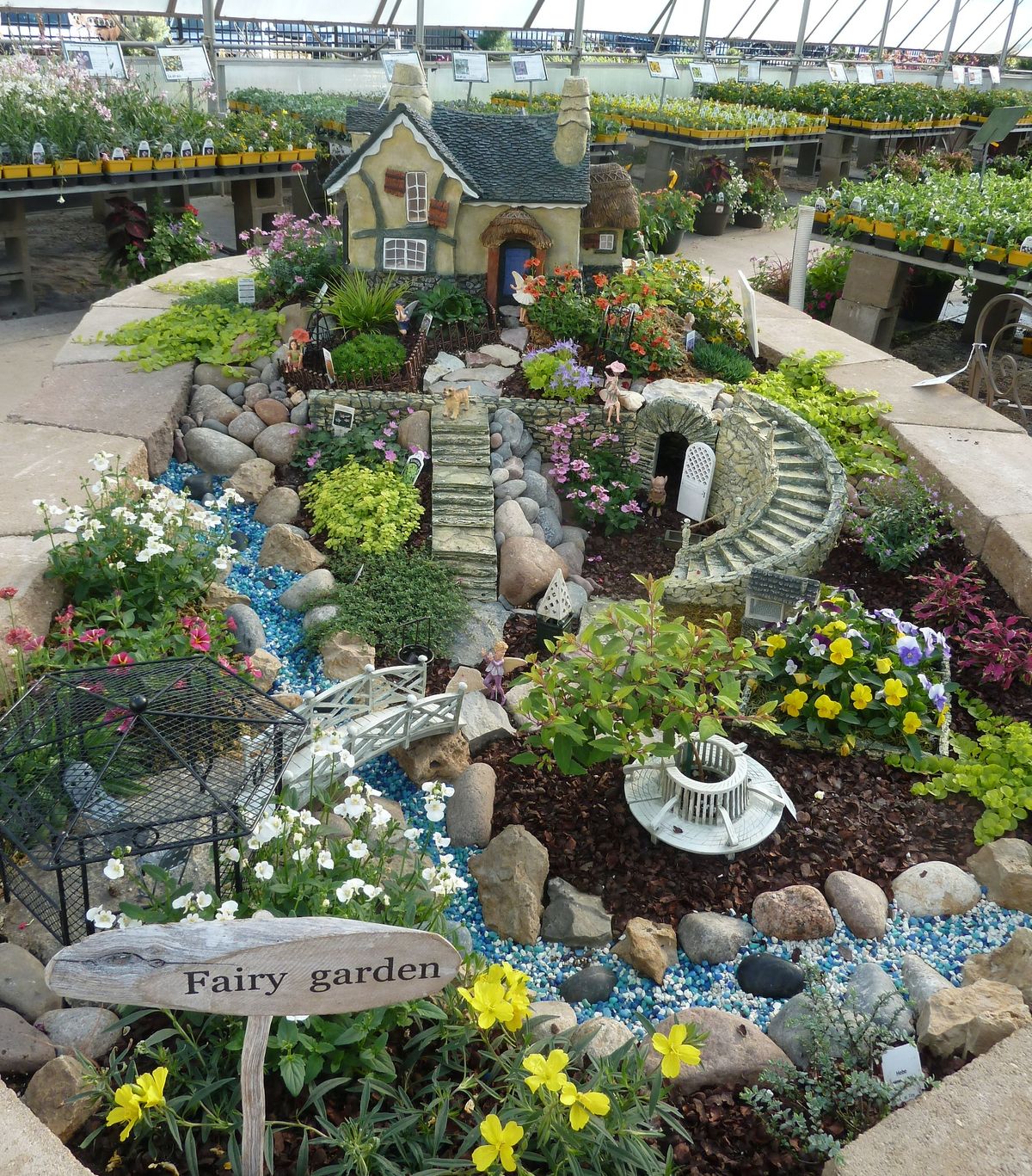 Fairy garden ideas galore will pop up in your mind with this enchanting display. Better suited for areas that can give you additional space, a backyard setting is best for this charmer. This landscape will take up three separate sections beginning with the front view entrance, a middle section and the rear. An adorable canal runs through the piece from front to rear, and a little bridge helps make it all the easier for spirit beings visiting the property. If you further decorate with tiny and larger size miniature pieces, such as a gazebo, arbor or trellis, your fairies will stay longer than expected.
More mini-fairy garden décor ideas on the next page…