Fire up the coffee maker and bring out the hot chocolate – we've got the best DIY mug ideas and decorations for a fabulous do-it-yourself project. This is a fun project to take on whether you're new to crafting or just want an easy idea you can do in a couple of hours. Making custom mugs is also a great project to do with kids.
24 Adorably Stylish DIY Mug Ideas that Anyone Can Do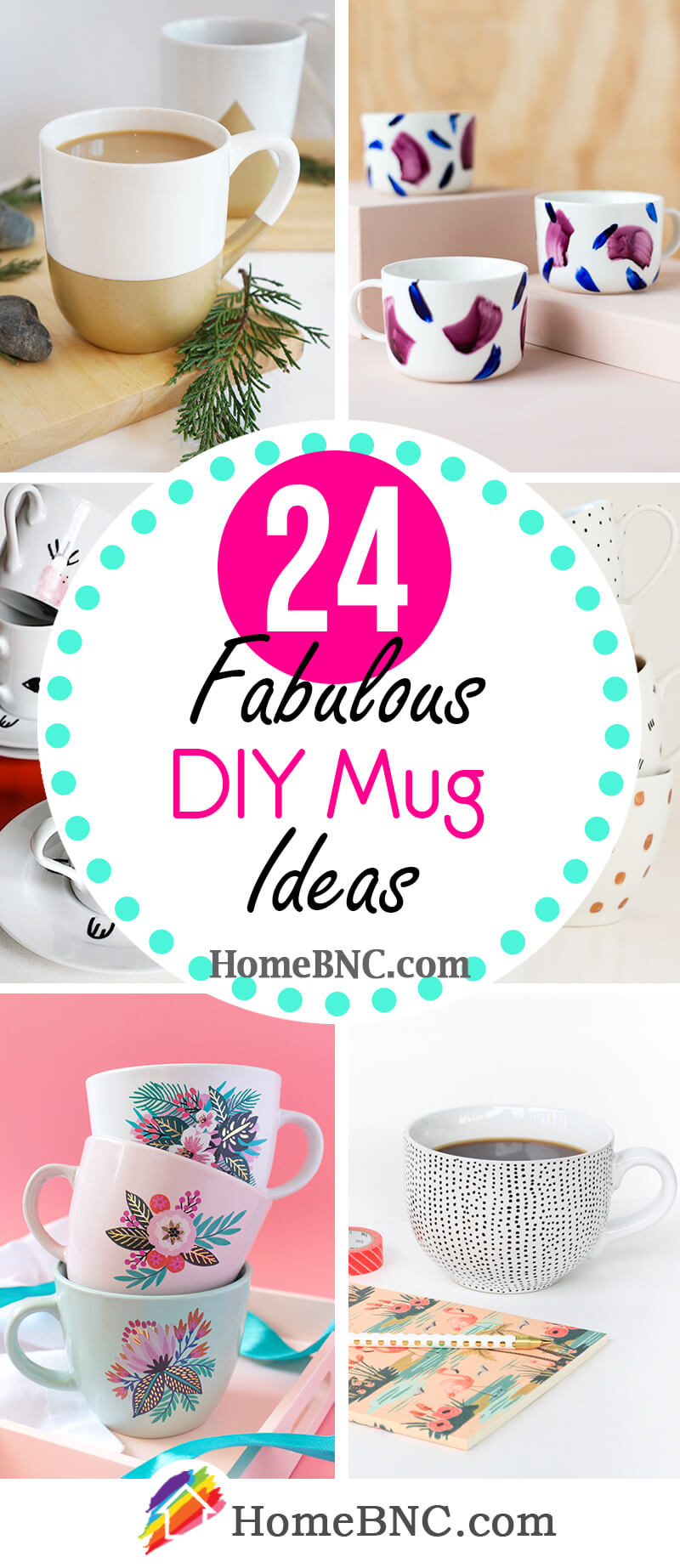 Creating a customized mug at home is so easy to do. All you need is a plain mug (white is great, but choose any color you like), paint pens, markers and/or paint and a brush. With a crafting game plan and a little bit of time, you'll have your very own custom mug design before you know it!
You can use your cute mugs to sip warm beverages, of course, but you they can also double as home decoration. You can use your mug as a planter for a small potted plant, to display on a curated kitchen shelf, to hold pens and pencils at your desk…the possibilities are endless!
We love mugs because they're cute and durable. Whether you're making your DIY mug for yourself or a friend – or, better yet, with a friend – you're sure to find a style you connect with in this gallery of awesome ideas.
Whichever design you choose, be sure to let it fully dry once you've completed your artwork. Customized mugs should not be used in the dishwasher (or the microwave in some cases). Hand wash your mug to make it last and look great for years to come. If you're gifting your DIY mug, then we suggest including a handwritten note with care and washing recommendations.
Now, let's get crafty!
1. Imperfect Black and White Polka Dots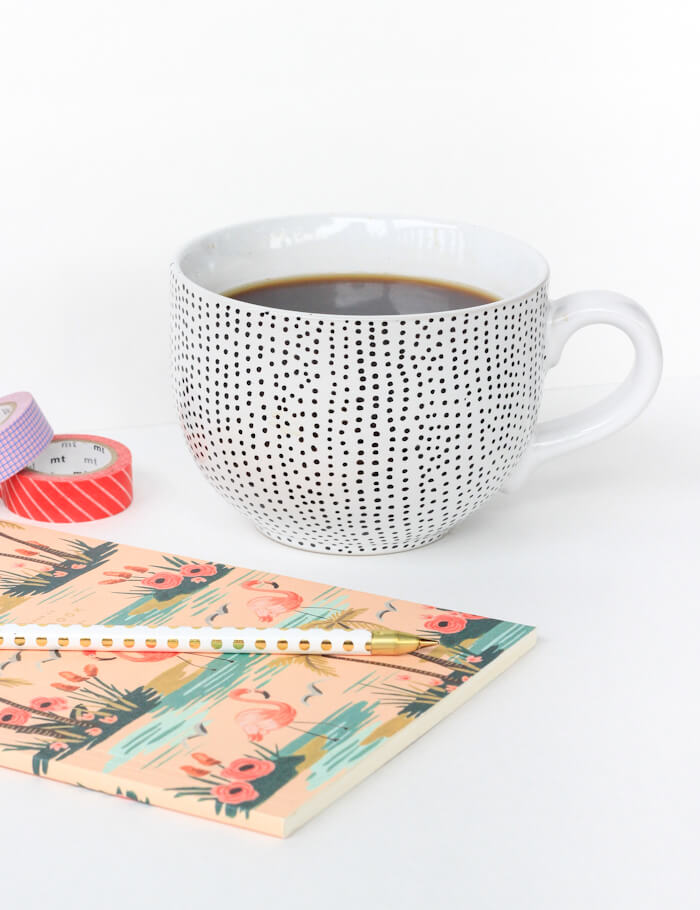 This is a true beginner's project that you cannot really mess up. If you're worried about a crafting blunder, then start here. You can make the small dots even by using a marker or paint pen. Just pressing the tip lightly will create a little dot. You don't have to worry about making the lines perfectly straight – it's the loose arrangement that gives this design its character! Take a step back every couple of lines to make sure that you're spacing them about evenly.
2. Unique Colorful Monogrammed Mug Idea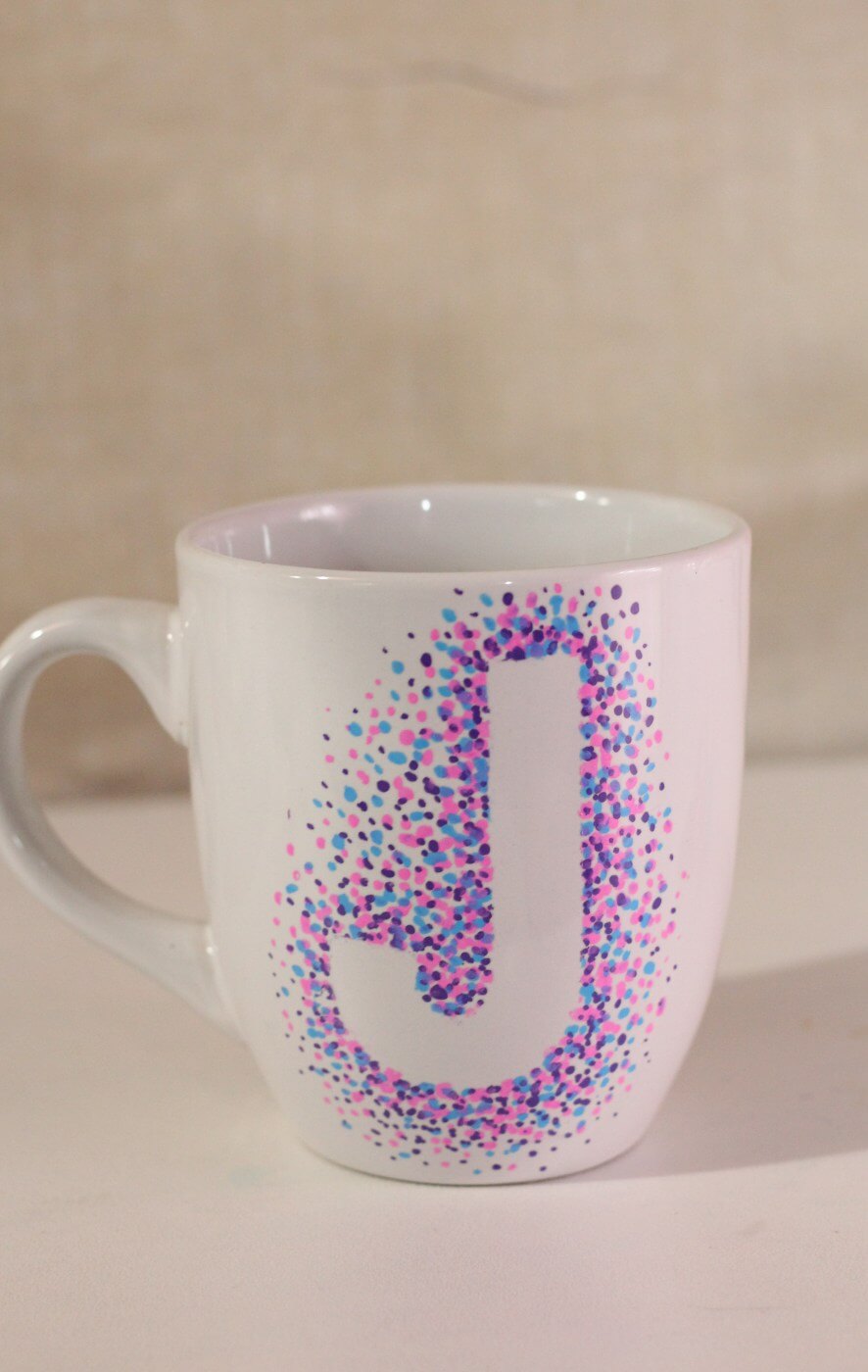 This mug relies on an painting style called pointillism to create a monogram design of a single bold letter. Here's a helpful hint: lightly pencil the edges of the letter onto your mug to start. That way you won't accidentally distort the shape of the letter as you make your dots. The dots should be closest together right at the edges of the letter, then get further apart. That creates the sunburst effect you see. Believe it or not, this design only has 4 colors in it! It just goes to show you that you don't need a huge palette to get a great finished look.
3. You're Golden – Customized Name Mug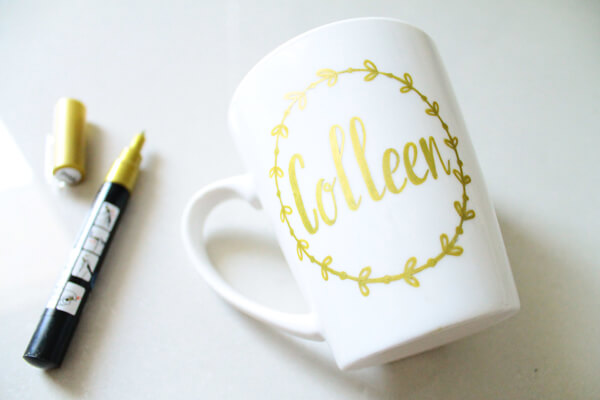 White and gold (or any metallic, for that matter) make a winning combination. We love the sweet simplicity of this design. The wreath around the name looks complicated, but if you look a little closer you'll see that its simply a circle with dots and two-sided loops (like a figure 8) evenly along its edges. You've totally got that! As for the name on the inside, you can write it in your own handwriting or do your best cursive typography. Don't be afraid to outline in pencil before you commit to paint.
4. Bright and Cheery Free Hand Kids Designs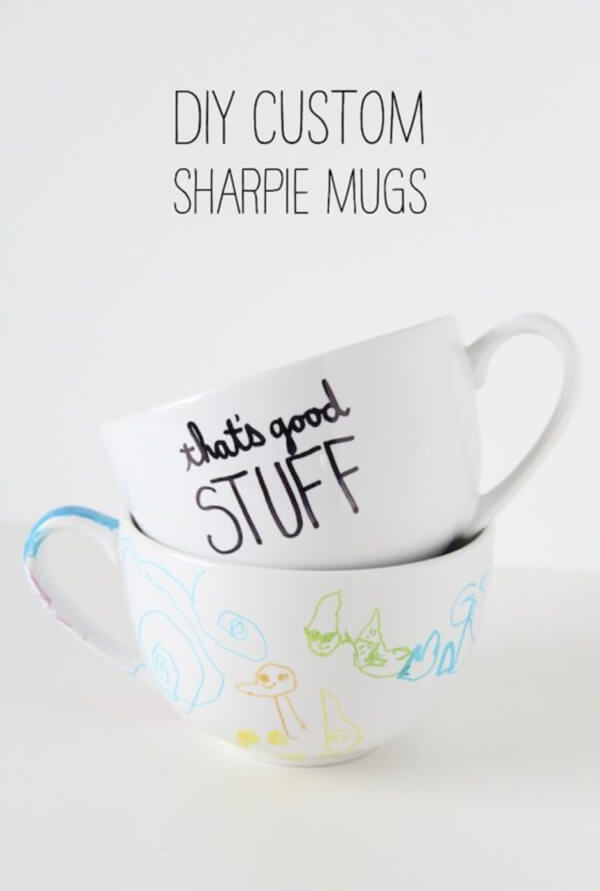 Kids love to color and scribble on stuff they're not supposed to, so why not give them a marker and permission to draw away? A mug with a drawing by your kids is a lovely way to display their artwork. They'll feel good every time they see you drink from it. They will also love drawing all over it. You could even turn it into a little gallery. Have them paint 5 or 6 mugs and hang them on mug hooks like home decor. It's a stylish way to display functional art and get your kids in on the fun.
5. Cute and Easy Chevron Pattern Mug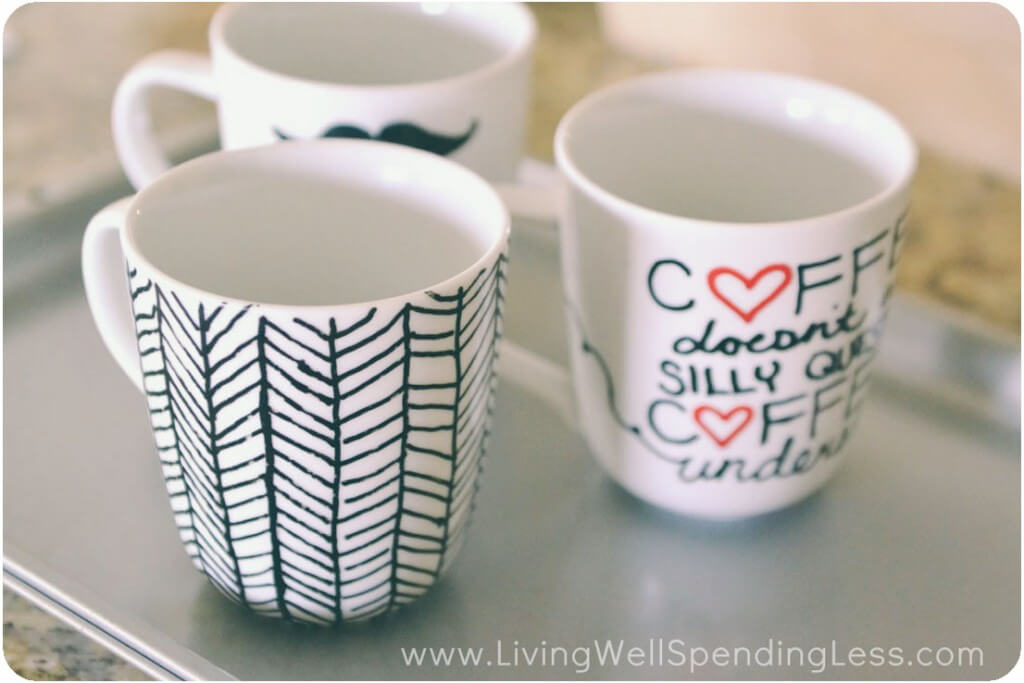 This is SO much easier than it seems. Can you draw a line? Great! Then you can make this mug. The slight unevenness of the lines gives it a human touch. Sometimes chevron patterns can look a but staid, but this is modern and fresh. This mug looks as though it could easily have come from a home decor boutique. We won't tell anyone you made it for less than 5 bucks worth of materials from the dollar store!
6. Mug Sprinkled with Golden Dots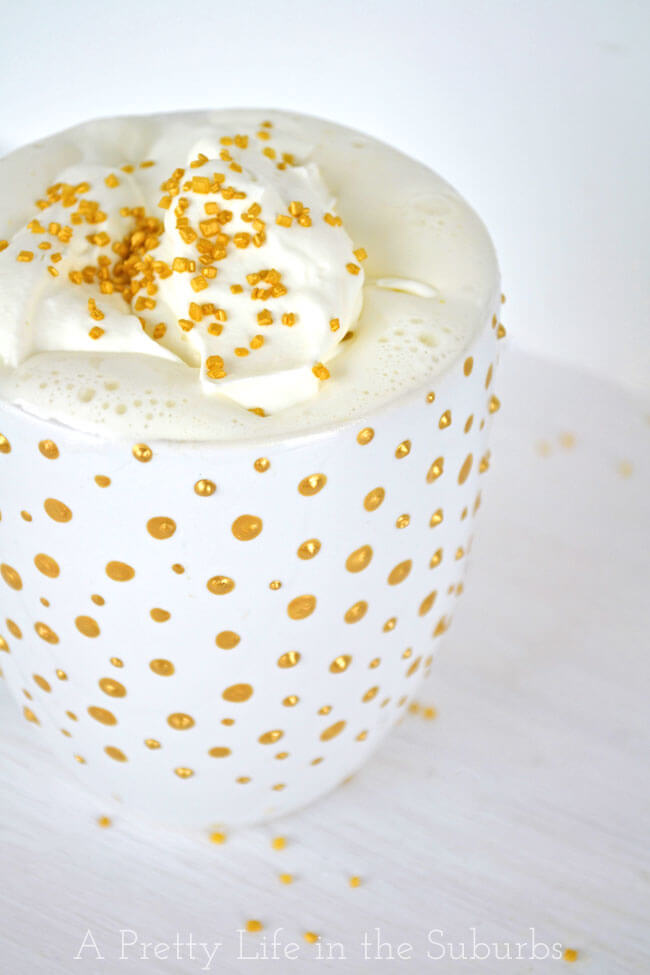 Who doesn't love a little festive pick-me-up? This mug practically sings, "good morning – welcome to your day!" A little metallic paint and a steady hand is all you need to make this perfect vessel all yours. Just try to space the dots of paint evenly from the rim of the mug down to about an inch or two from the base. You can get fancy with dots of varying sizes, but evenly spaced, evenly sized dots will also do the trick.
7. Stylish and Artsy Gold Painted Glass Mug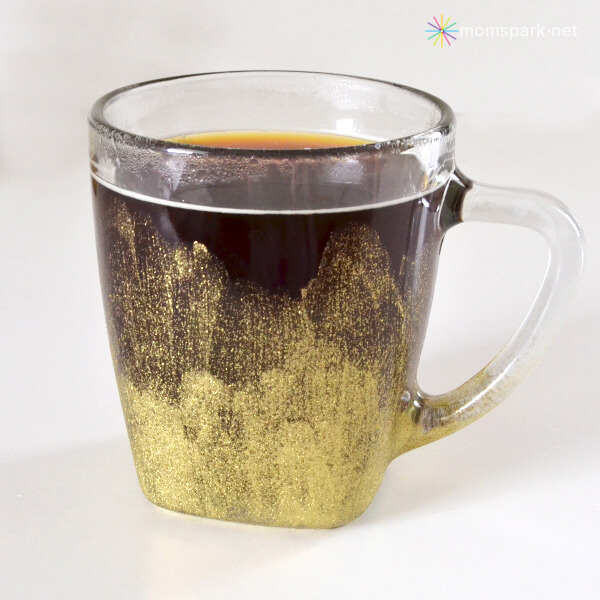 Now we're getting classy and sassy! Just a few swooshes of metallic gold paint on a clear glass mug and you're out the door with this beauty. This is one of those mug designs that's perfect for displaying in an open cabinet or floating shelf because its so darn nice to look at. It's also meant to look a bit uneven, so you don't have to be precise with the paint. Just approach it like nail polish. Do the first layer over about two thirds of the mug from the base, then repeat the second layer up about one third from the base to get more coverage.
8. Precious Animoji Tea Cup and Saucer Design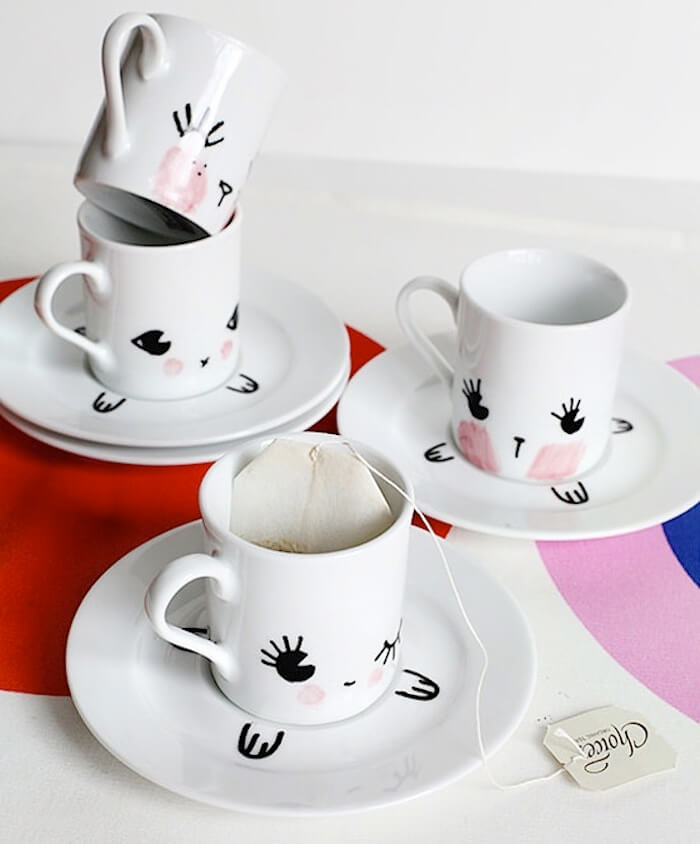 OMG these are so cute! Even though these involve more drawing than some of the other designs here, it's still totally do-able for any skill level. Just take your time and follow the basic shapes. We love the way the design on the mugs line up with the saucers. This is such a fun, affordable idea for creating a unique collection of dishes for entertaining. Your guests will be delighted as you sip your afternoon tea or after-dinner coffee.
9. Simple, Sentimental "I Love You" Mug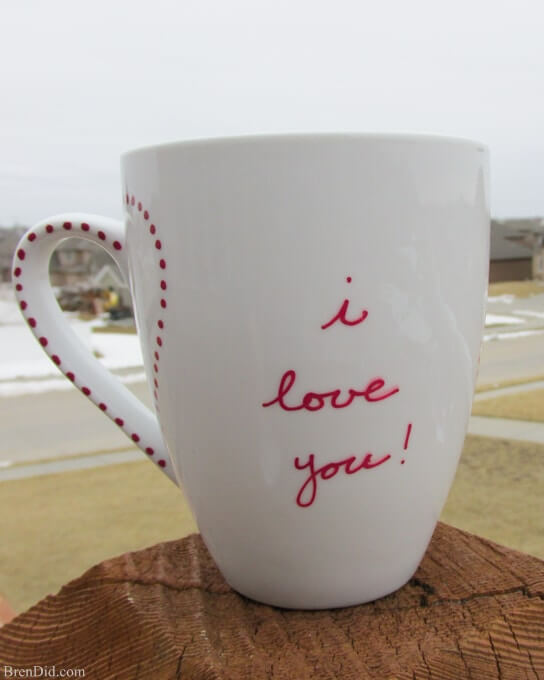 Want to get a unique gift for Valentine's Day, an anniversary, or just because? This is a winning choice. We love DIY mug ideas that incorporate the design and shape of the mug itself – as this one does to make the heart. The curved handle perfectly creates half of a heart. All you have to do is dot along its edge and mirror the same design on the mug to make a heart shape. Then write "I love you" in your own unique handwriting. Your loved one will cherish this one-of-a-kind personal gift.
10. Stylish and Modern Patterned Mugs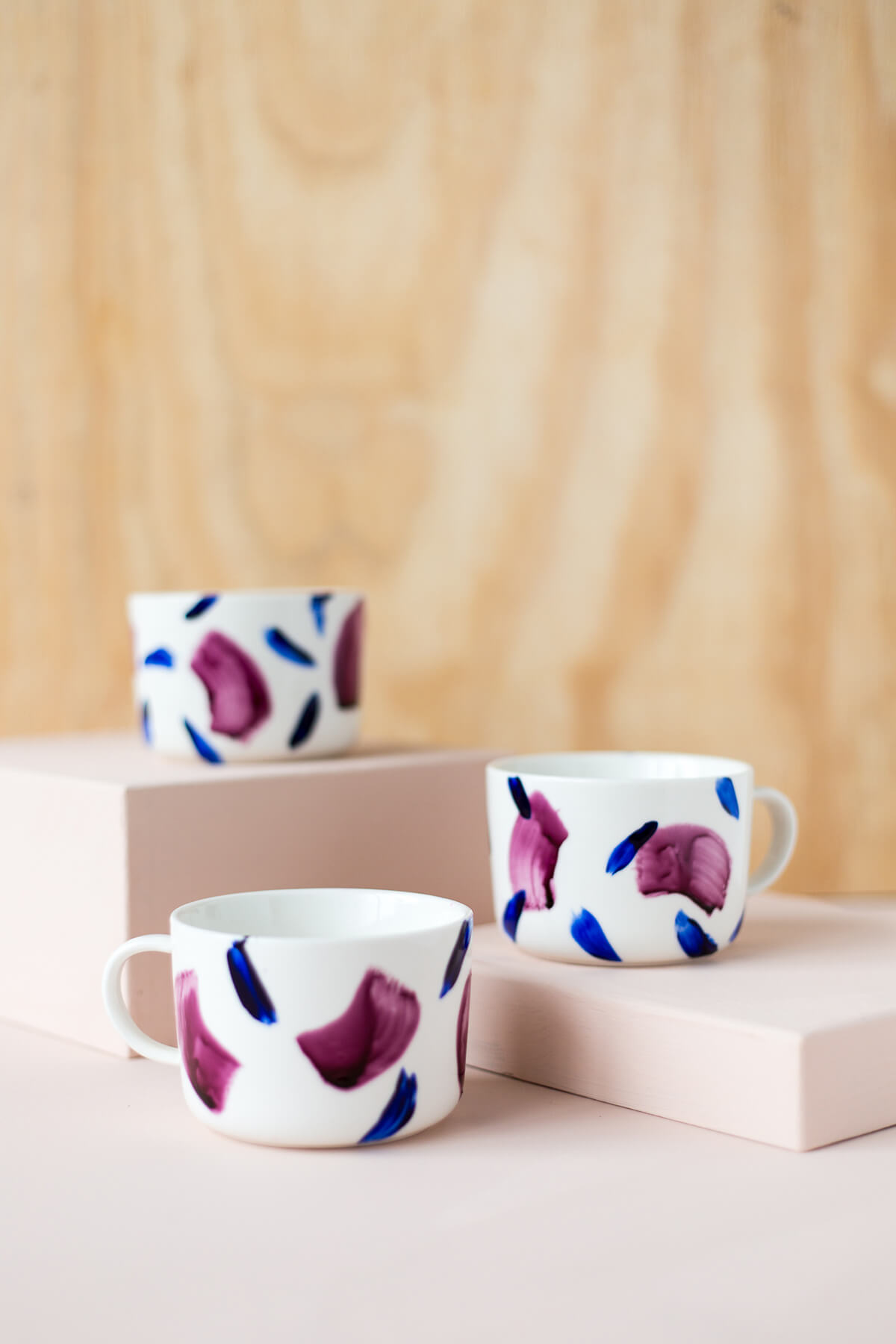 Take one look at these mugs and tell us they don't look like they came from the store. We dare you! All that stands between you and this awesome idea for cool mugs is a few brush strokes. You'll need actual paint and brushes to achieve this design. It may take a little trial and error to get the density of the paint and the exact layout as you like it. Consider practicing on paper first to get the hang of it. The choice of mug is also key to pulling this off. These mugs are a bit stout and have finer handles than the common mug shapes. You may have to do a little hunting to find the perfect mugs to be your canvas for this work of art.
11. Sweet Mug Design for New Grandpas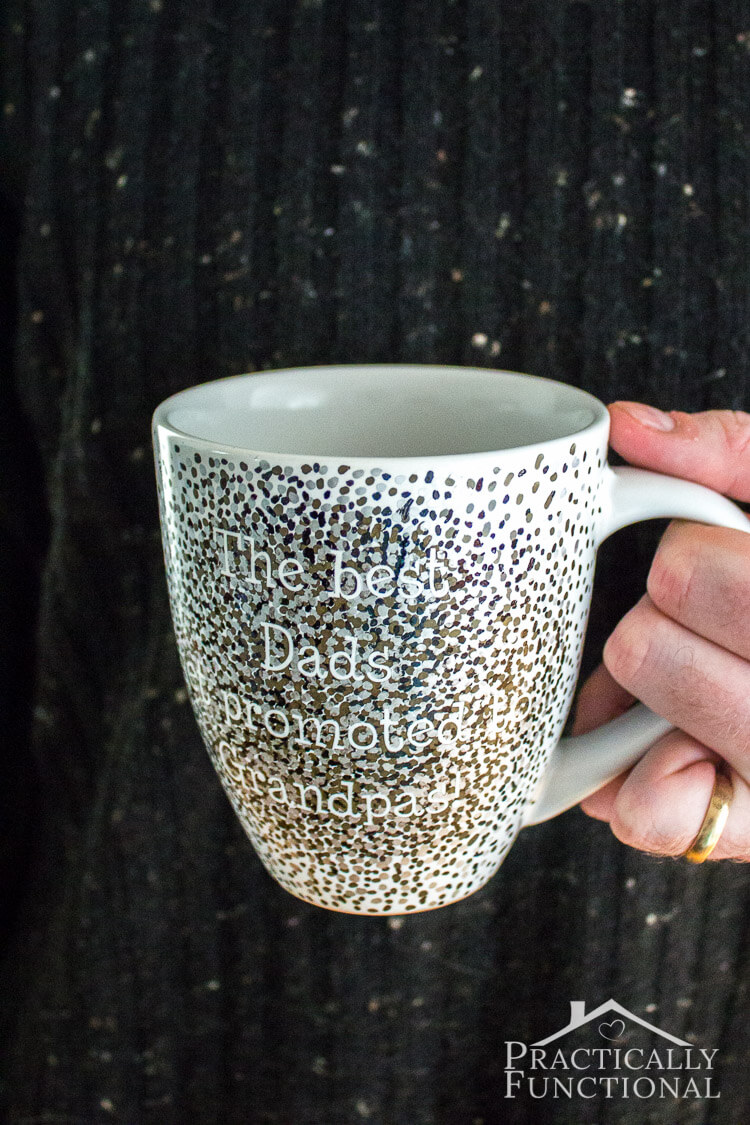 This is an awesome idea to commemorate a landmark in your family's life. It let's your dad know how much you love and care about him as your family grows. The secret to this design is that, unlike the monogrammed mug above, the text here is written on top of the pointillism instead of being outlined. Brilliant, isn't it? Start by creating a mosaic of dots that just about cover the mug. You want to choose colors that are a little on the darker, bolder side so that you can see the white text written over it. Once you've created a perfect backdrop of dots, go back in with a white fine tip marker or paint pen and write the message on top. This is a gift any new grandpa is sure to love.
12. Snowman Line Drawing Winter Mug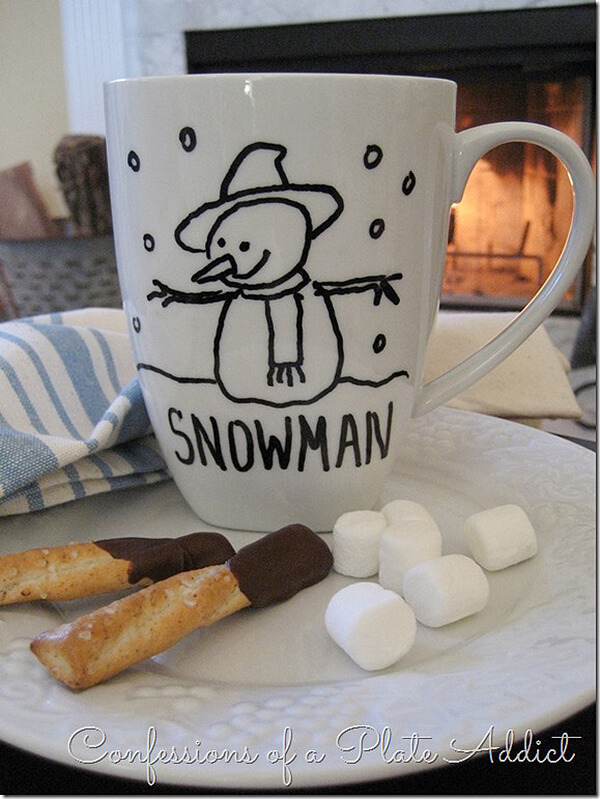 We just adore this DIY mug decor idea. During the holidays and winter months you can bring this mug out on display. The simple line drawing has a cute, homey look that's perfect for snuggling up with a cup of cocoa by the fire. You can create this entire design with a black marker or paint pen. If you're artistically inclined, then feel free to freehand this design and make it your own. If you're not, then simply follow the basic shape and outline of what you see. As you draw, don't think of it as art. Think of it as tracing lines. It will take some of the pressure off and before you know it you'll have a fantastic winter mug!
13. Super Stylish Red Dipped Mug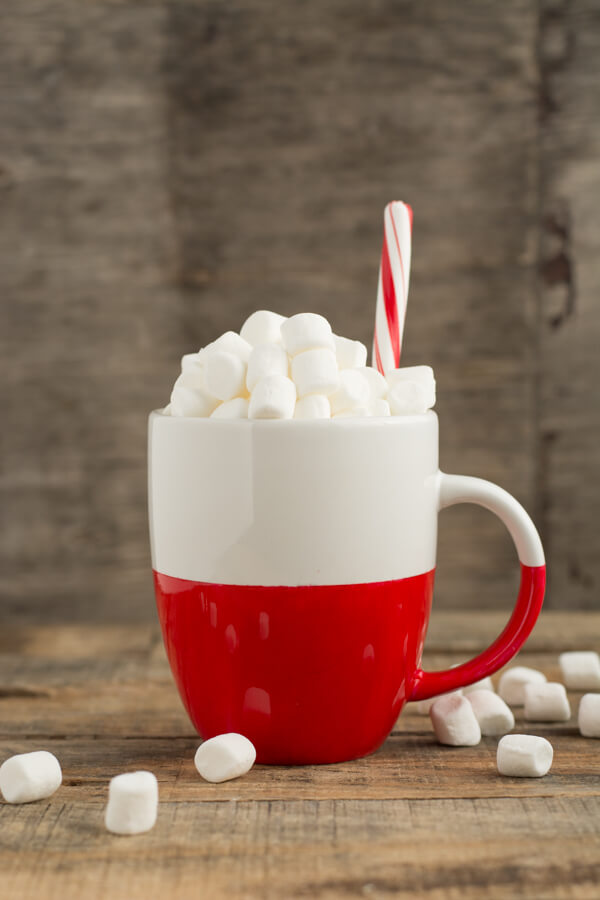 Oh, this is so chic. Again, you don't have to pay upwards of $15 for a pretty mug that makes your home look more stylish. All you need is a vision and the right materials. This design makes a bold statement, but it could not be easier to pull off. All you need is red paint and a brush. If you're concerned about getting an even line, you could also use painters tape to mark off the horizontal boundary before you start painting. The red color is perfect for winter time, but you can do this with any bright color you love. Heck, you could even do a set of 3 or 4 different colors that go along with your home decoration theme.
14. Patterned Set of Four Custom Mugs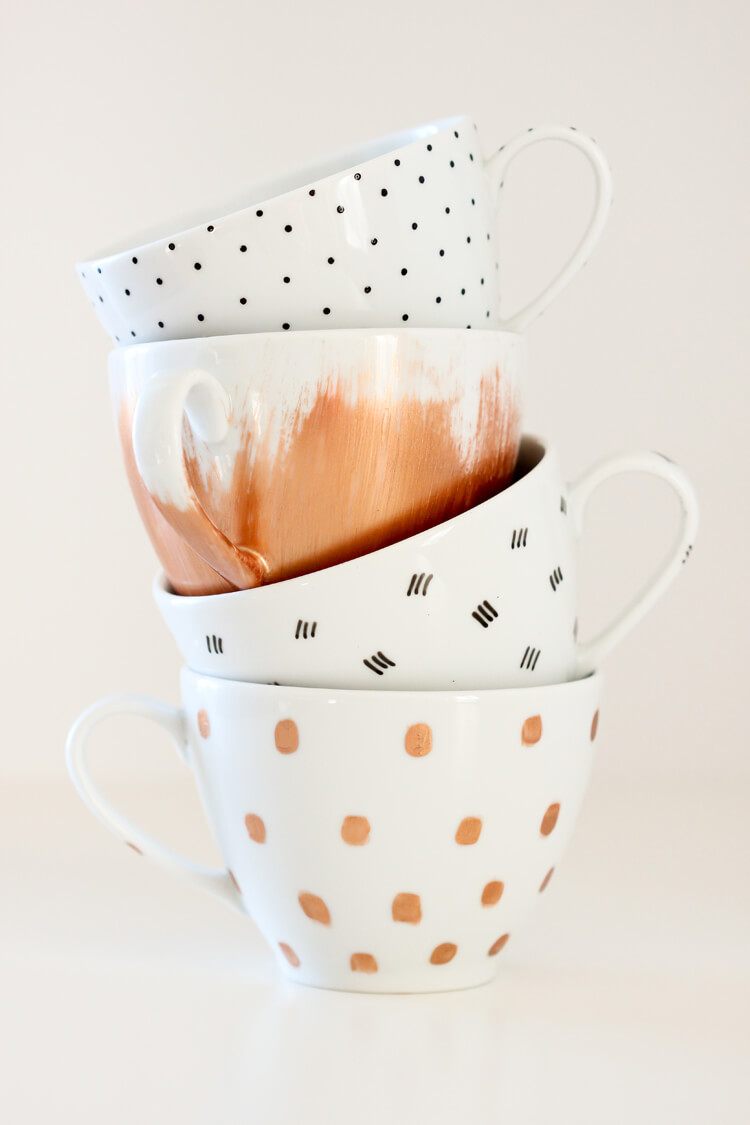 Just like with fashion, when you commit to a particular range of complimentary colors, then you can start to mix patterns and still match. Just look at this utterly stylish gaggle of four mugs. By sticking to simple designs in a palette of rose gold and black, the patterns are all varied but they still go together. The most complicated of these are is the three dash pattern. Want to know a secret? The dashes are just leaning one way in the even rows and one way in the odd rows. They're spaced just like polka dots would be, but instead of a dot you're putting three short lines. For the top row lean the lines to the right like ///. For the second row, lean them to the left like \\\. Continue alternating directions as you go down the mug.
15. Fine Hand-Drawn Chevron Pattern on Square Mug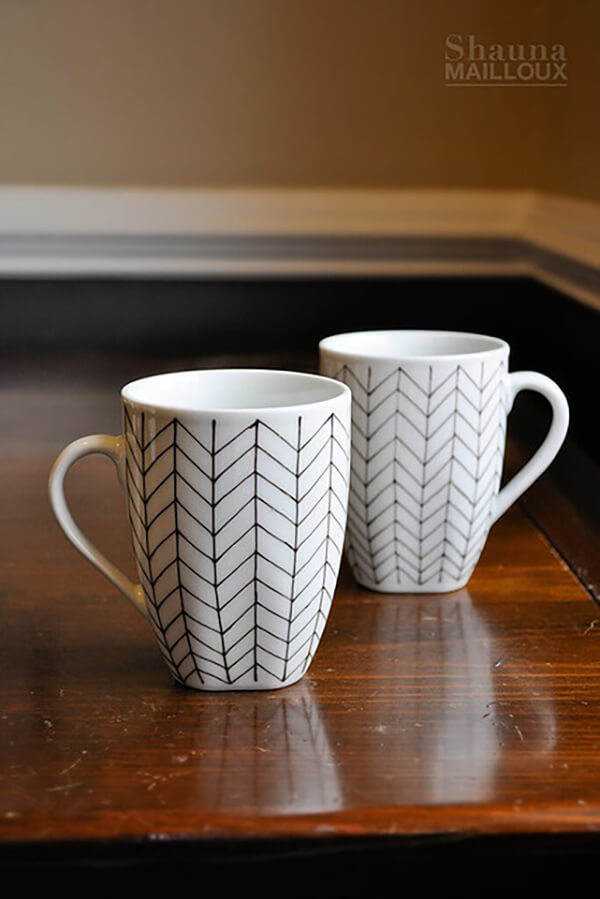 Isn't this a delightful change of pace? Who says mugs have to be round? Square mugs add an interesting visual element and work great with a geometric pattern like chevron. This design is done with more precision than some of its more painterly counterparts. You'll want to use a fine tipped paint pen or marker. You can also benefit from using something like a ruler to guide you in drawing straight edges, but don't worry if the lines aren't exactly even. A little bit of imperfection is what gives these DIY mug ideas their character!
16. Beautiful Botanical DIY Mug Decor Idea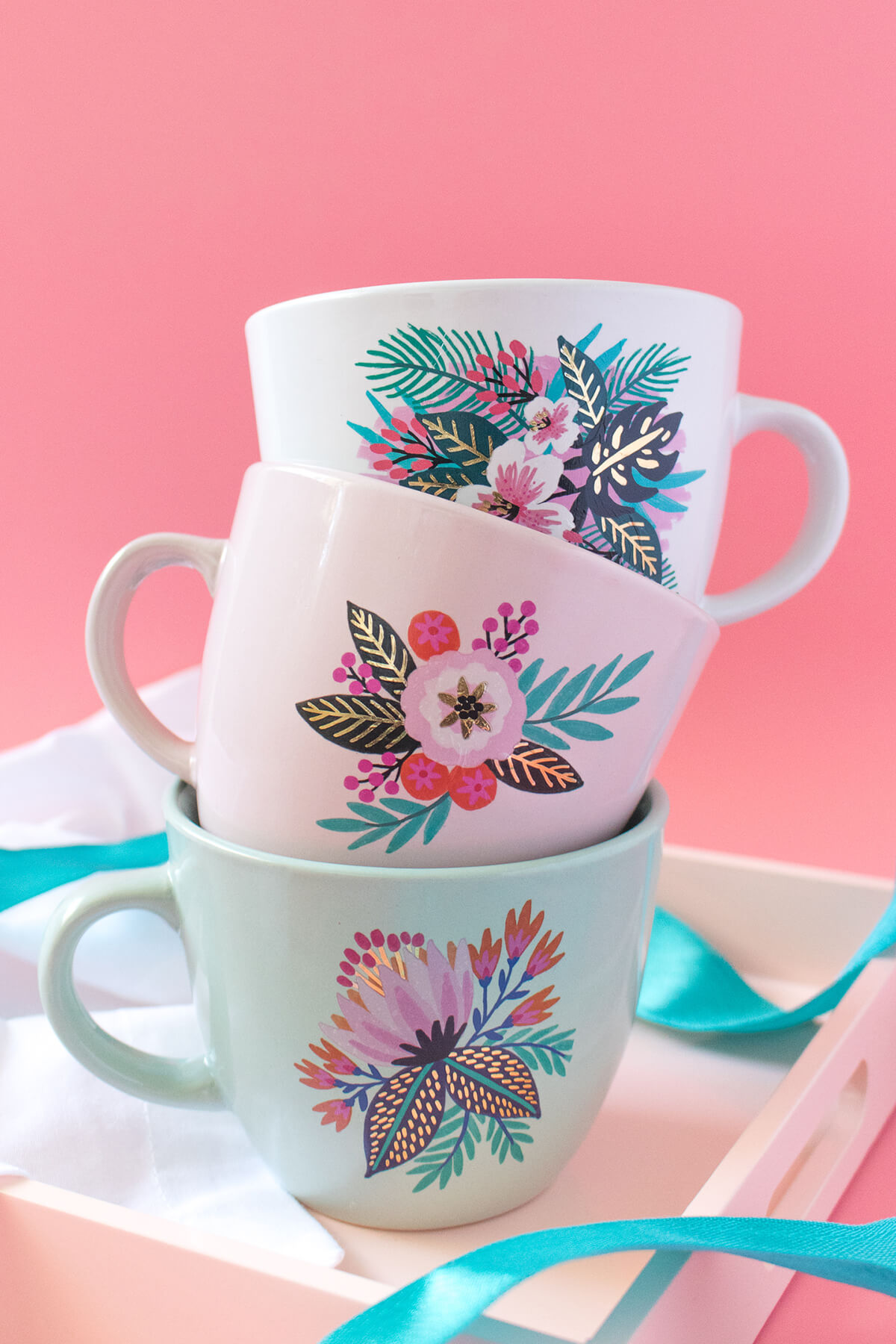 This idea is for the more artistically experienced (or courageous). The bold flower designs are truly beautiful to look at. This would make such a cool display on a rustic wooden shelf. This would also be a fabulous way to have a mini-getaway from the comfort of your desk. Pour yourself a cup of passion fruit tea and gaze at the colorful blossoms to be transported to a warm, tropical getaway any time you need it. These floral designs are equal parts stylish and cheery – perfect for any home or office in need of a pick-me-up.
17. Absolutely Gorgeous DIY Marbled Mug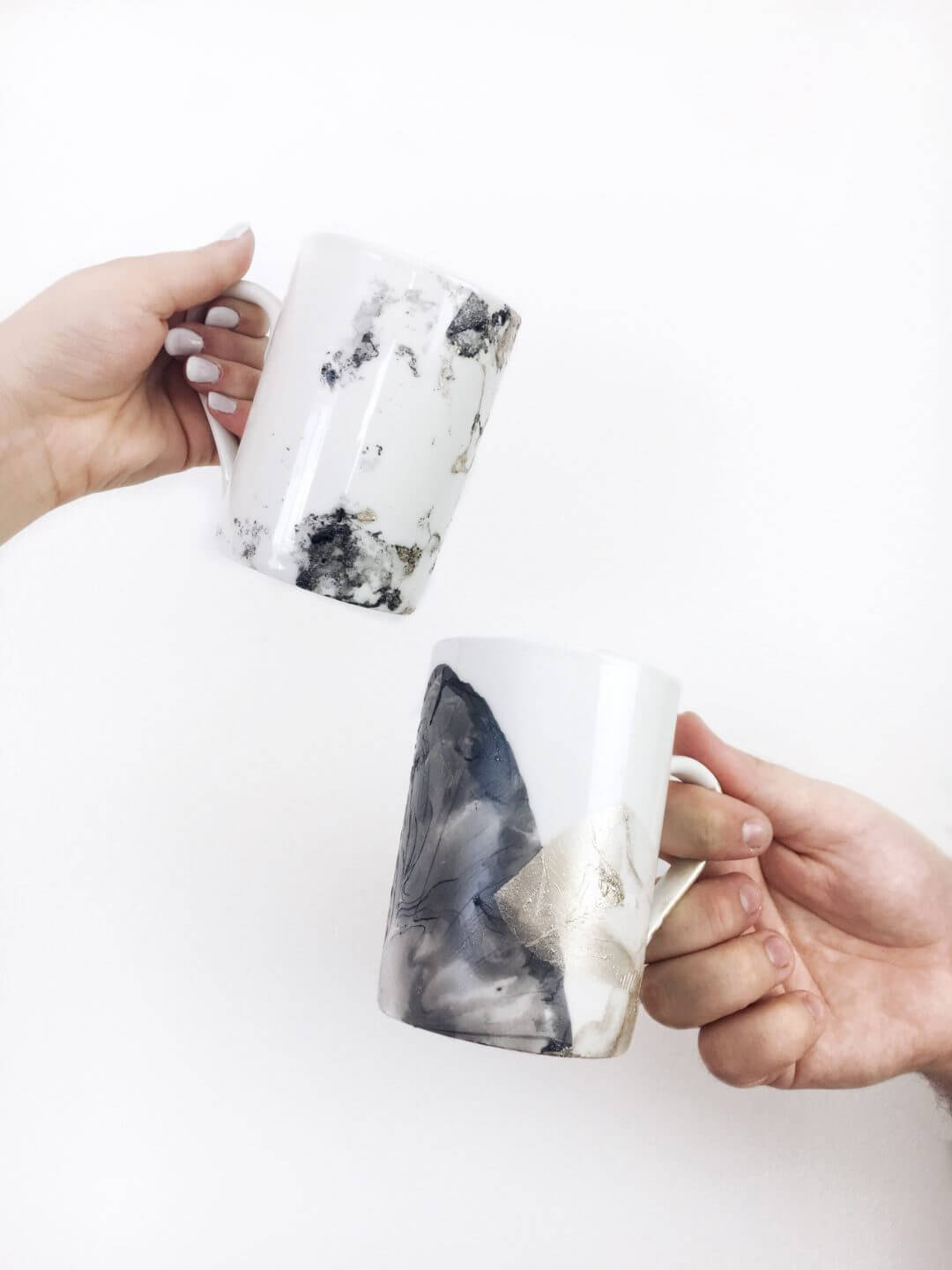 You will not believe how simple it is to make these. You don't even need a paint brush. The marbled design is ultra-modern and not going anywhere in terms of home decoration. If your home has a contemporary feel and you love lush minimalism, then these are the mugs for you! They're so gorgeous that they shouldn't be confined behind a cabinet door. Put them on full display in an open faced cabinet, shelf, or on a hanging hook. It's like a tiny work of art that you can drink from!
18. Custom Mugs with Starry Mountain Scene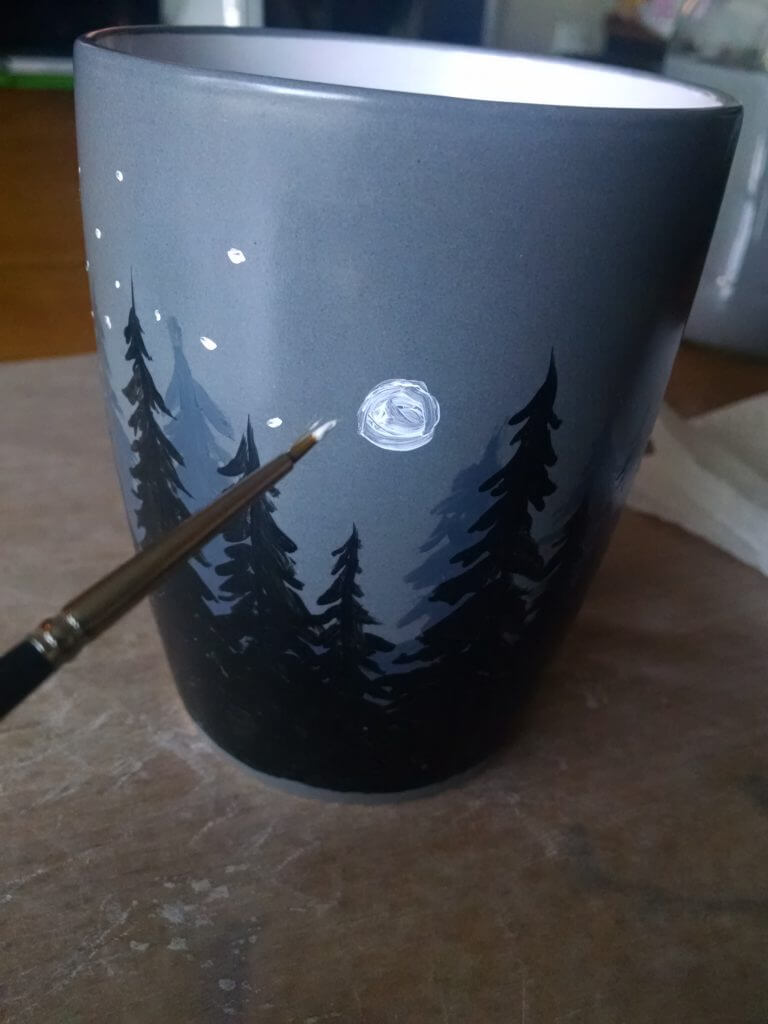 We've said it before and we'll say it again – this is much easier to do than it looks. We promise that you can do this DIY mug decor idea even if you're not so artsy. The great thing is that the process of thinking up a design is already done for you. All you have to do is follow the instruction manual! For this particular project, you'll want to start with a gray mug. You actually only need two shades of paint – white and black – for this. You can simply mix some of the white and black together to create that third gray color you see. Guess how you paint a pine tree? Draw one vertical line and do little dashes down either side of it. You've totally got this!
19. Fabulous Teal and Gold DIY Mug Design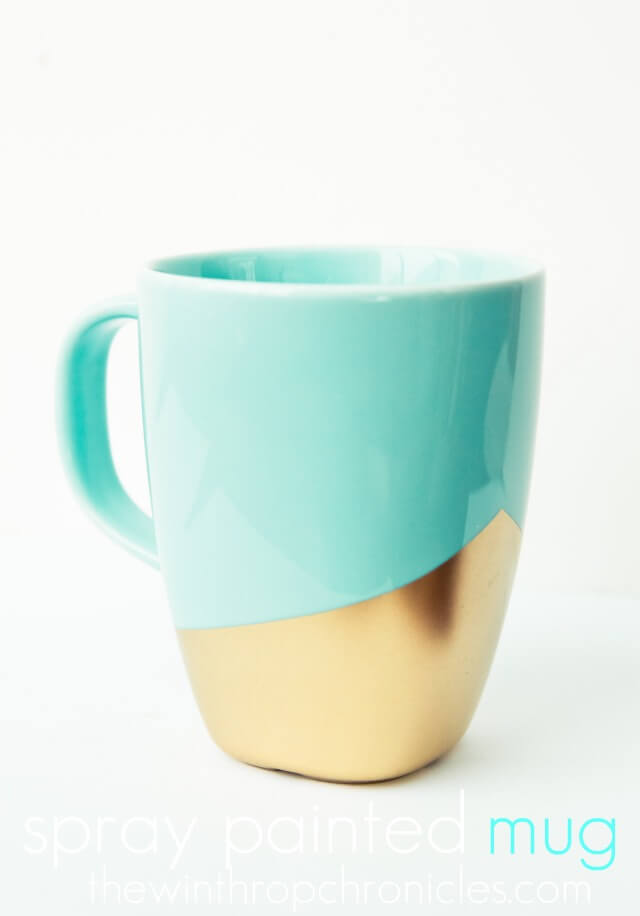 We love all of these DIY mug ideas, but the ones that are the easiest to do and have the greatest visual impact have got to be our favorites! Just look at this beauty. All you have to do is paint gold on a teal mug. That's it! The result is absolutely stunning and so on-trend. Use painting tape to get that crisp line to a point. When you remove the tape you can go back in to touch up any areas that may not be precise. You can literally do this project in 30 minutes. This would make a gorgeous gift, especially if you popped in some wrapped gift wrapped goodies into the cup. On second thought, its so pretty you may not be able to give it away.
20. Frozen Metallic Snowflake Mug Idea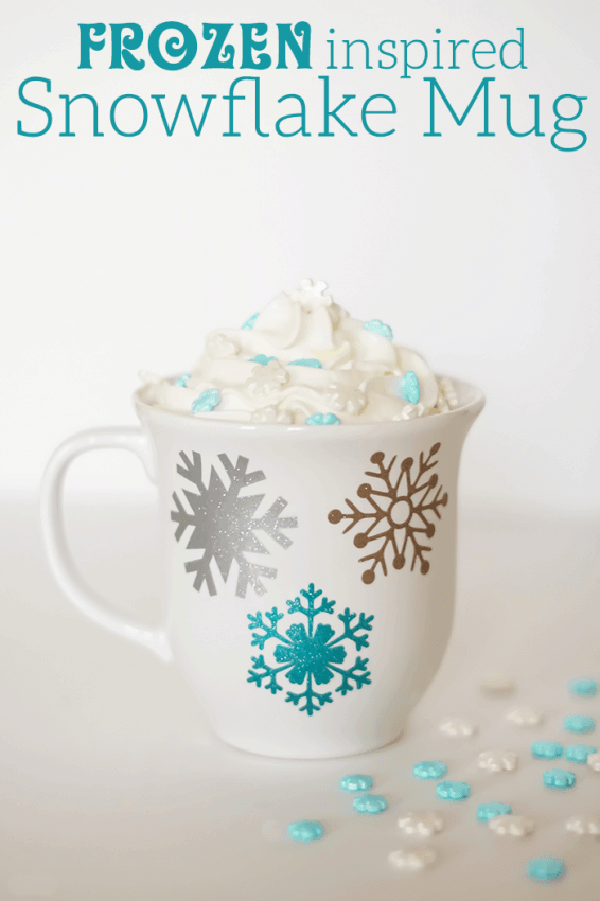 Grab your stencils and let's get to it! This fun winter design uses metallic paint that glitters and shines just like fresh snow. We love the combination of turquoise, silver and gold. It's nice and festive for the winter months and the turquoise adds a pop of color that will last beyond the holiday season. Stencils are your best friend when it comes to pulling off a design like this. Just take your time and you'll have a mug worth singing a Disney song about before you know it!
21. Do-It-Yourself Colorful Marbled Mugs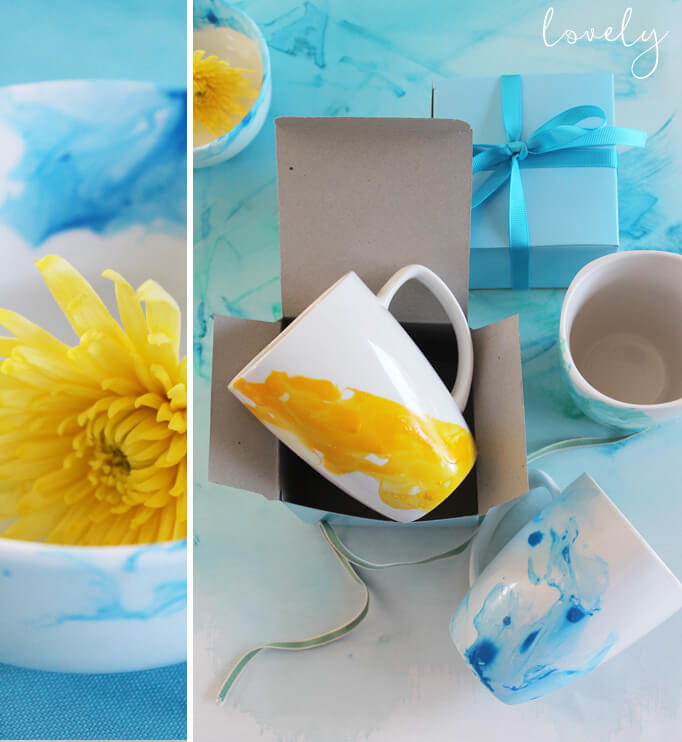 Thought the marbled look was all about neutrals? Think again! A marbled design in a bright, bold color like this canary yellow or Tiffany blue gives you the style of marble with the zest of your favorite hue. DIY mug ideas like this look amazing in a set of 4. You can do two of each color or four complementary colors. Either way, we're pretty sure that you'll totally swoon over how amazing these look (and how easy they are to make).
22. Gold Dipped and Gold Tipped DIY Mug Ideas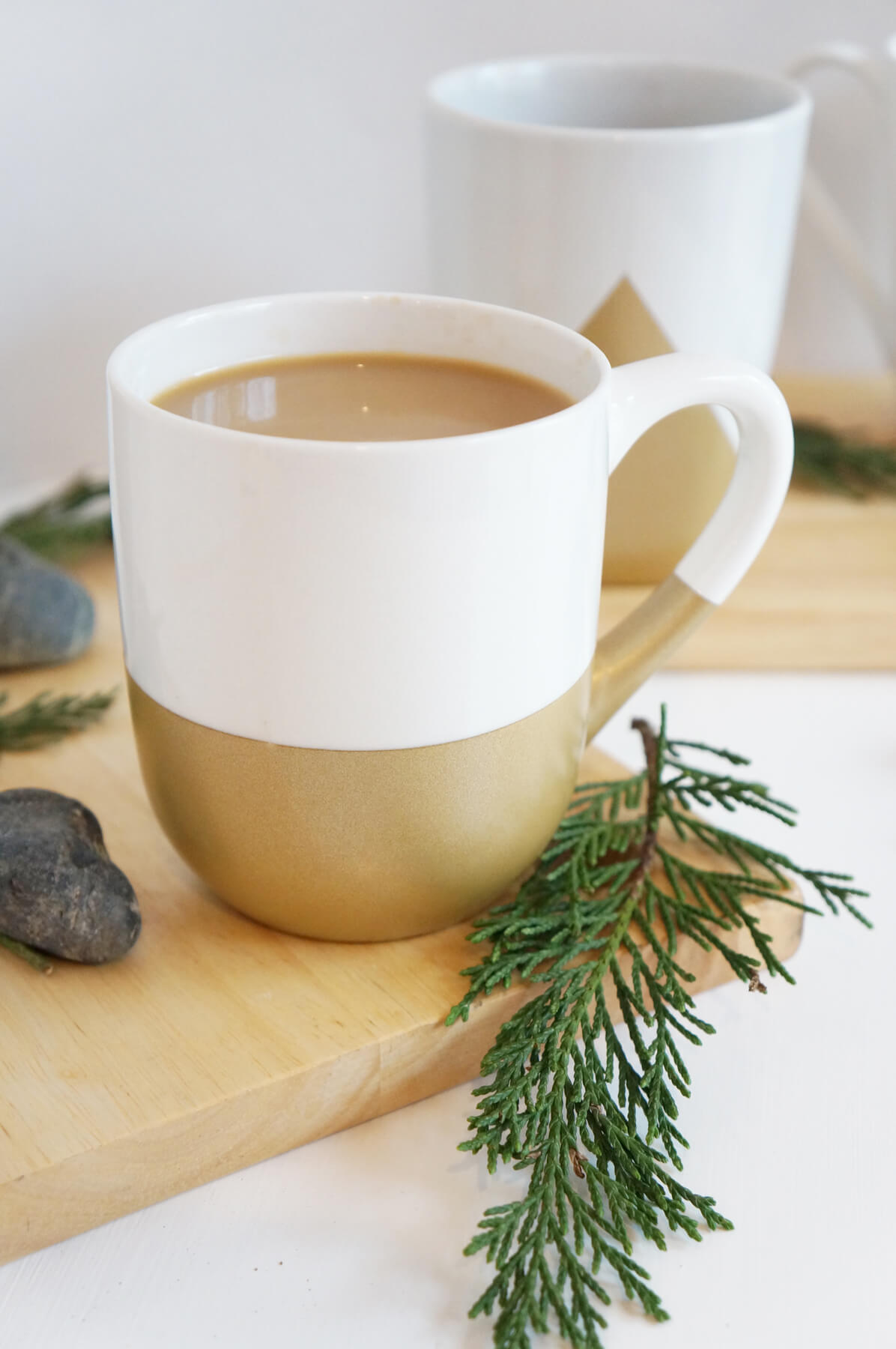 We love the notion of having a set of mugs that go together but aren't too matchy-matchy. This is a perfect example. One of the mugs is painted with a "gold dip" look – a simple horizontal boundary between the white ceramic top and the painted gold bottom that goes around the mug and handle. The second mug is painted with a gold tip. Instead of the horizontal design the gold is angled and comes to a tip on the side opposite the handle. The result is stylish, timeless, and equal parts beverage container and home decoration.
23. Couple's Harry Potter Mug Idea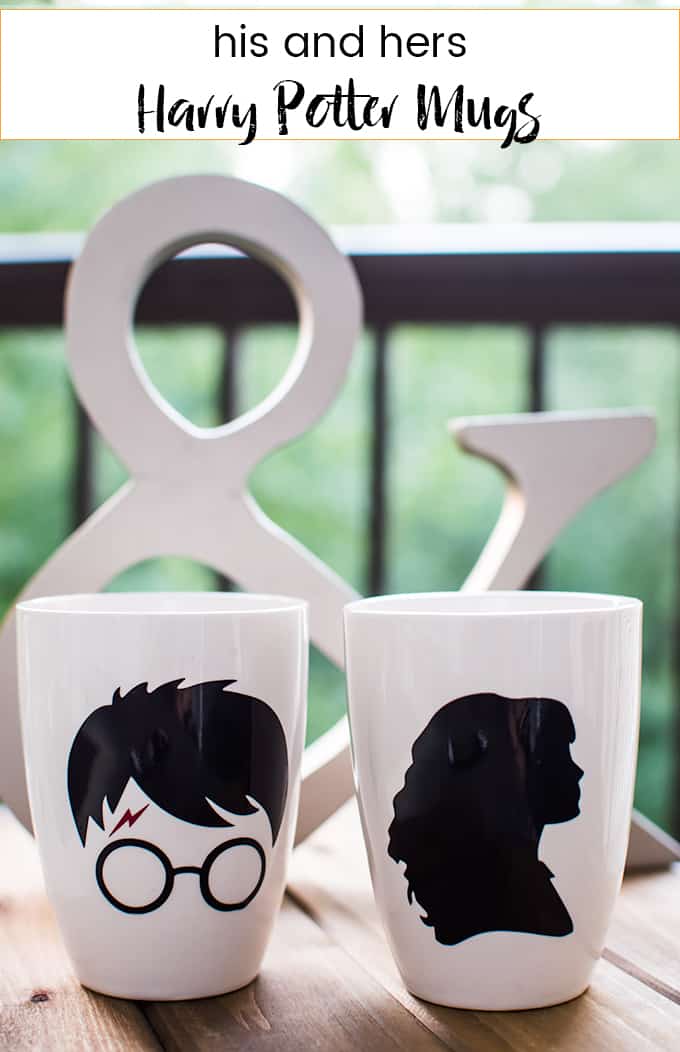 So, these are about the cutest things we've ever seen. For all you Harry Potter fans out there, this is a fantastic take on the "his and hers" style. "His" mug has a silhouette of Harry Potter's hair and iconic glasses. "Her" mug has a cameo of the brave and industrious Hermione Granger. Any fans of the series – from muggles to wizards – would instantly fall under a love spell for these mugs.
24. Precious Pointillism DIY Heart Mugs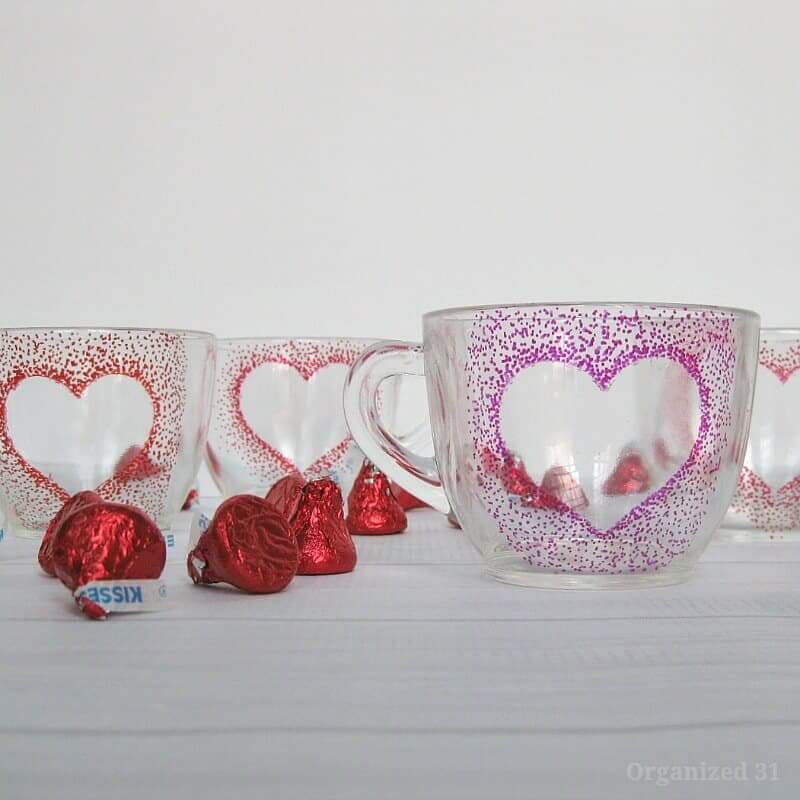 These are just begging to be given as a Valentine's Day gift. We love the idea of using a clear glass mug as the base for this. Once you're finished with drawing your heart, you can fill them with colorful candies which will add even more visual appeal to the whole design. You can use a heart stencil to provide the outline if needed. Just tape it onto the mug and hold it down as you do your initial border of the shape. From there let the dots get spaced further apart as you get away from the border of the heart. A thoughtful, hand-crafted gift like this is sure to make anyone's Valentine's Day special.
24 Ways to Get Creative with DIY Mug Decorations
Wow, with so many amazing DIY mug ideas how can you choose just one? Fortunately, you don't have to. You can create your own mugs at a fraction of the price that similar designs might cost at a trendy home goods store. Plus, because you made it yourself you'll love it that much more!
These also make wonderful gifts for friends, colleagues and loved ones. Just about everyone uses mugs, so it's a safe bet in terms of choosing a gift. By doing the design yourself you'll make it special and personalized.
The best part about these DIY mug ideas is that anyone can do them. You don't need to be great at drawing or even particularly creative. The creative folks have come up with these amazing designs and ideas. All you need to do is grab a mug and some paint and give it a go!