The best DIY office storage ideas can help you organize your space and save you money while doing so. It seems far too easy for clutter to build up, while it can feel impossible to establish some clarity in the room. Well, that is where storage options come into play. They are a great way for you to have everything in its own place, making it easier to gather up what you need at any time. Even better is that there are many ways you can create your own storage options without buying the overpriced ones at the store.
Get Your Office in Order with these Creative DIY Storage Ideas

Many of these creative ideas include hacks of furniture you might already have or can easily get. Some are as simple as sliding in a few shelves. Or perhaps you want to take plain storage you already have like a file cabinet and give it a fancier more unique appearance? No matter your needs or desires, there's a DIY storage option that suits you. So, when you're ready to improve your office space, take a look at our choices for the best homemade office storage ideas.
1. Artistic Mountain Theme Desk Organizer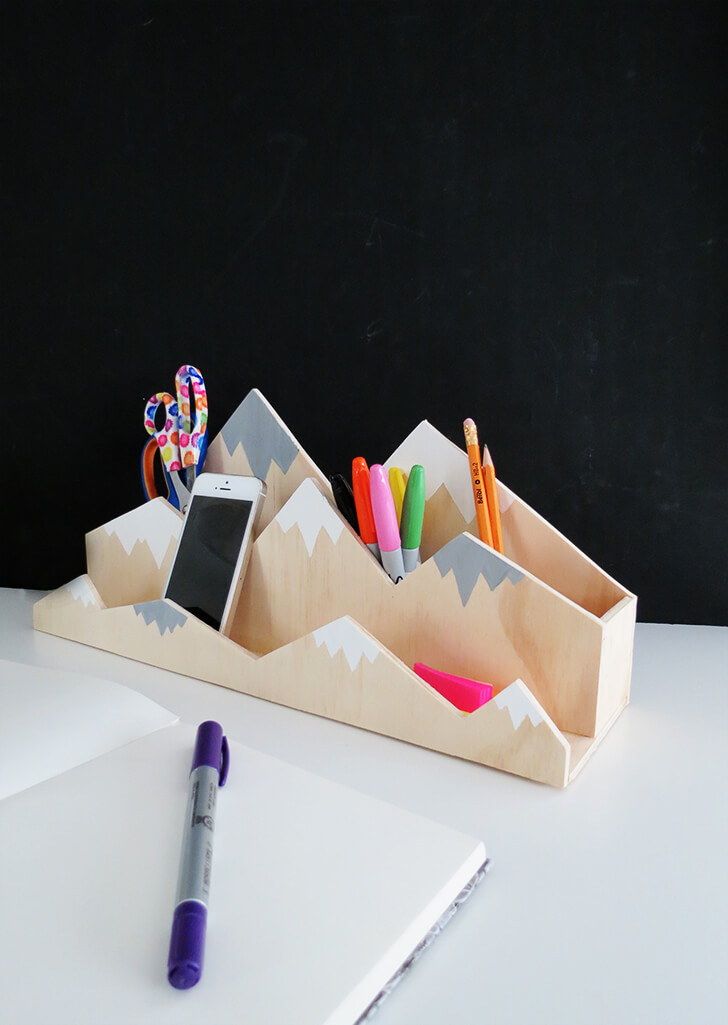 Why have regular storage when you can have storage that looks like a mountain? With some plywood and time, you can build your fun desk mountain. Not only does it look cool, but it is ideal when it comes to storing items like markers and pencils, scissors, and even hold your phone so that it's close by when you need it. The mountain look just gives it a nice decorative touch.
2. Cool Small Drawer Basket Organizers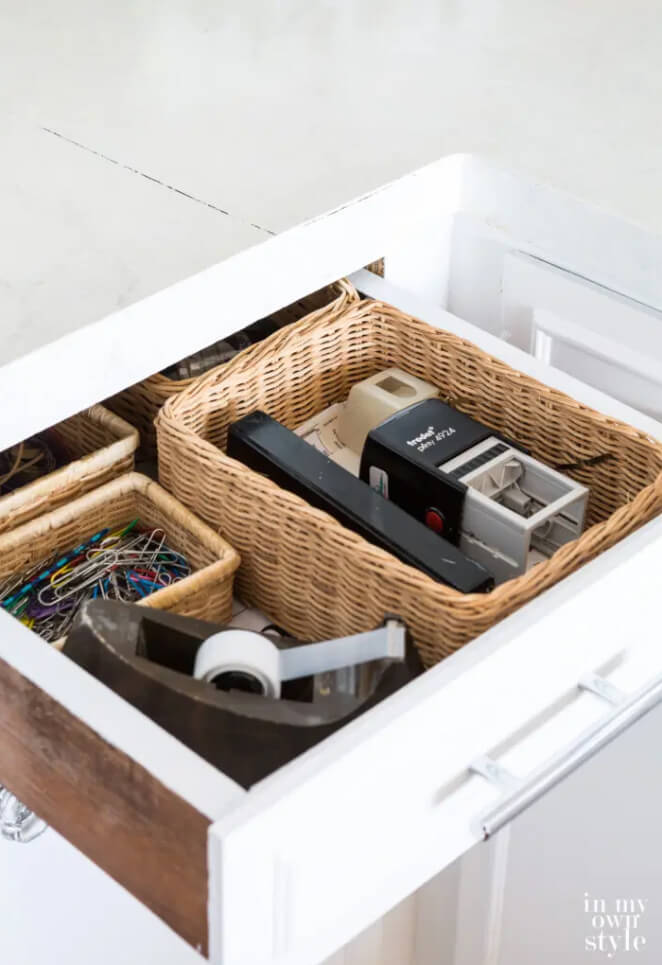 Organizing your office can often be as easy as setting up some small baskets inside the drawers in the room. This office storage DIY project is less fuss than others if you need something quick and efficient. Consider getting baskets in various shapes like rectangles and squares. This way, you can make the storage appear distinct and creative while everything fits in its place.
3. Chic Burlap Covered Pencil Holder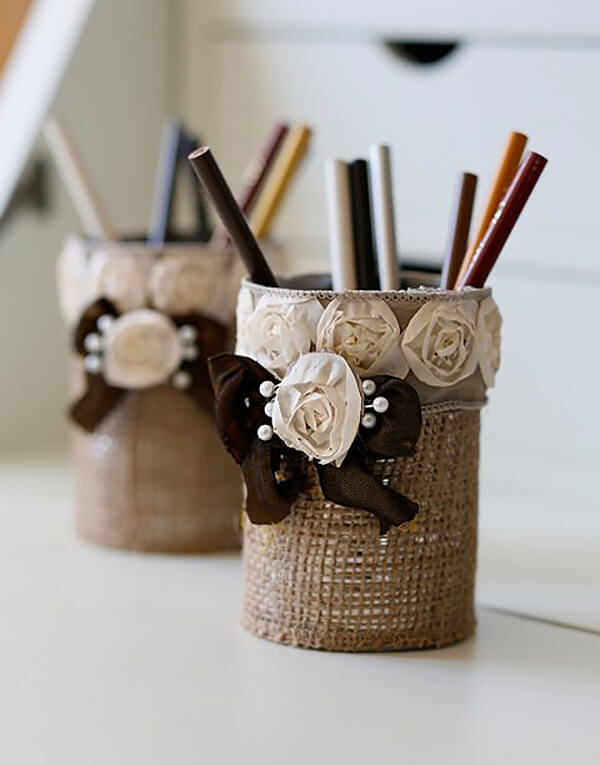 Have one too many pens and pencils lying around your desk? Or maybe you just can't seem to find a pencil when you need it the most? Well, the easy solution here is to create your own pencil holder. Take an old can and safely add layers of burlap to it. You can even fancy it up with some extra decorative items like a ribbon.
4. Bright DIY Nesting Desk Organizer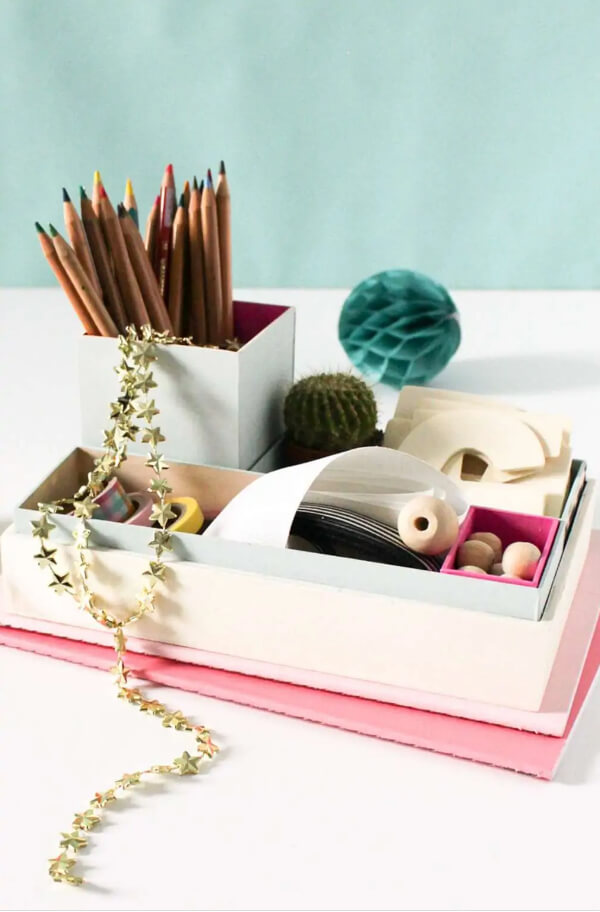 Bring some vibrancy to your office storage when you create this cute nesting desk organizer. This is a pleasing way to de-clutter a desk and give the space a bit more brightness. As a DIY project, it is not too invasive so beginners can do it as well as veterans. Feel free to make it colorful too. This way, it works as simple décor beyond just being storage.
5. Stylish and Organized File Box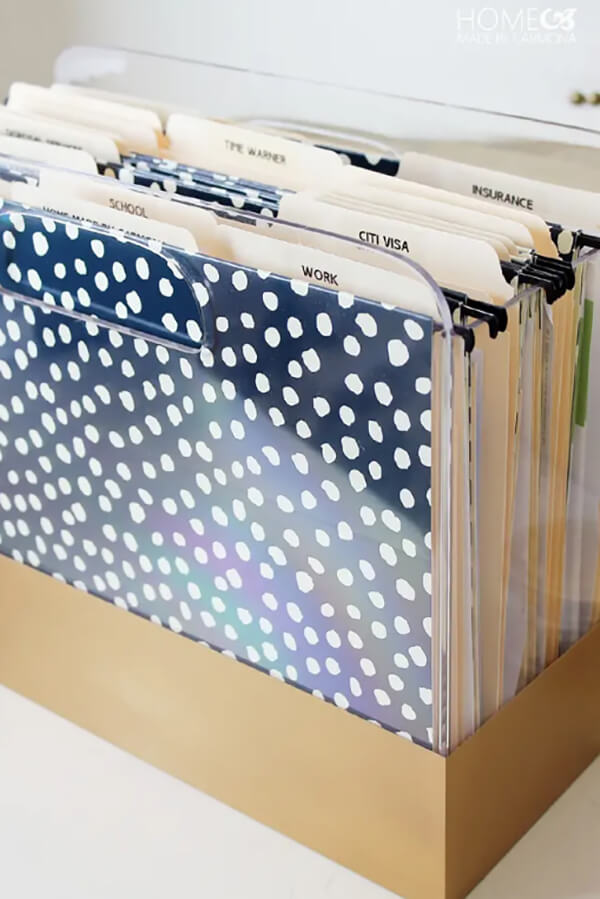 Creating homemade office storage doesn't always have to be on a larger scale. Rather, you can take a minimalistic approach and just use a file box or several for your storage needs. Put a creative spin on the file box too like paint. This way, you can add a personal flair to the look of your organizing, creating an artistic appearance you'll adore every time you step into the office.
6. Storage Cubby Home Office Organizer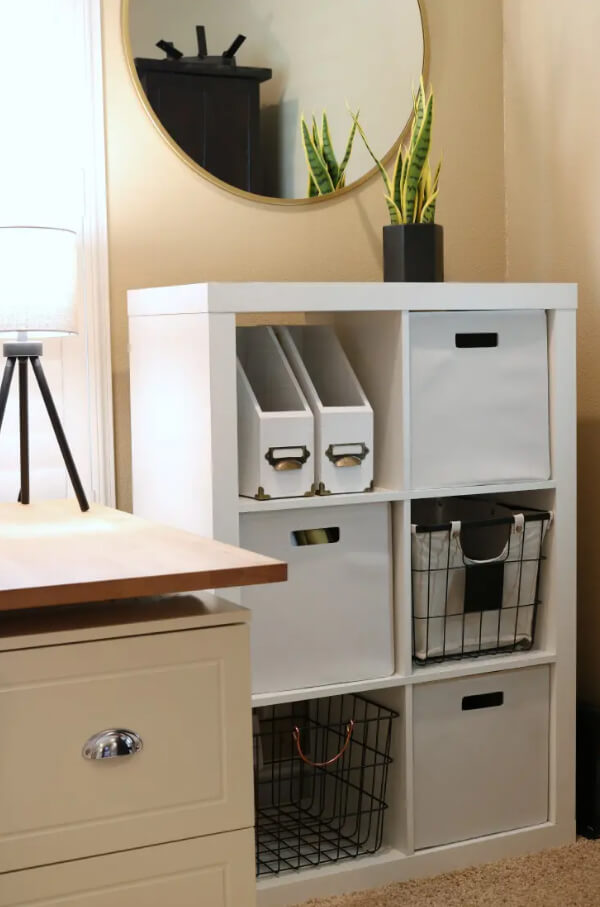 A storage cube cubby is always a nice choice when it comes to organizing. There is more than enough room for you to add whatever you need to the cubes. Slide in some boxes to hold multiple items. Or you can even use some charming baskets. Mix and match the storage items inside the cube as well so that you can add a personal decorative look to your storage.
7. Fun Lazy Susan Storage Design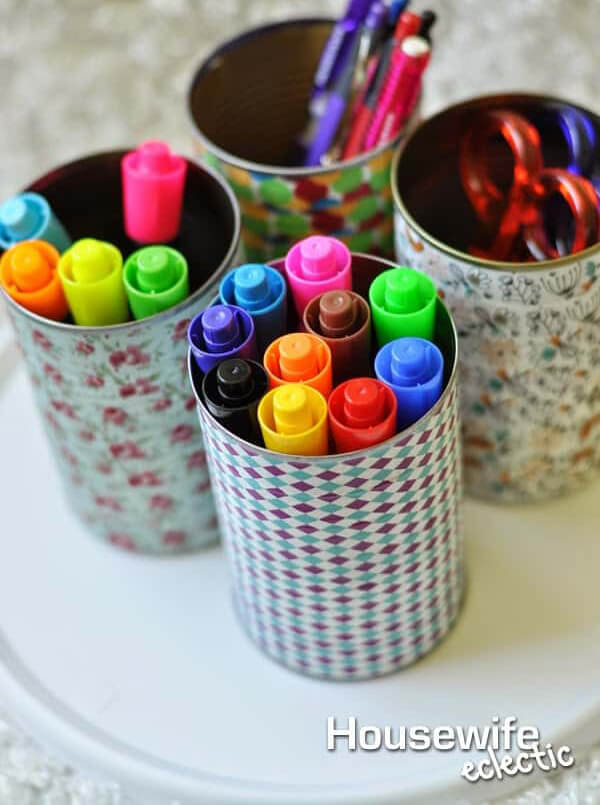 A Lazy Susan is always a nice choice when you need to store multiple items. This is also a wonderful upcycle project. Take some old cans that aren't sharp and use them to hold markers, pencils, pens, etc. Thanks to the Lazy Susan, you can easily rotate it to get what you need without trouble. Plus, this doesn't take up much space, so it fits well on a desk out of the way.
8. Exciting DIY IKEA Moppe Hack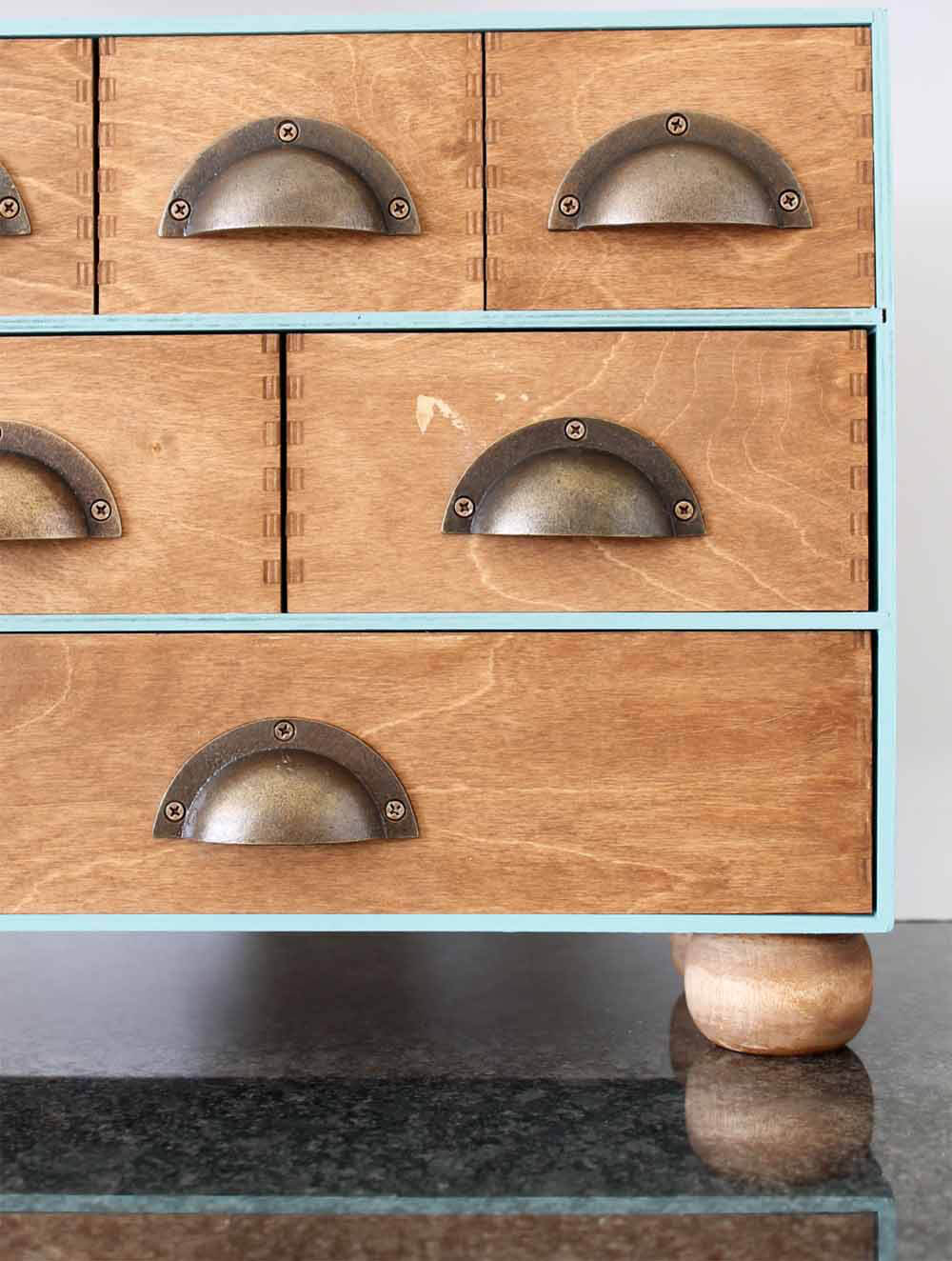 Hacking IKEA furniture is a sure way to show off your creativity while building up some incredible and useful storage space in your office. This particular hack has a nice look to it that you may want to admire it more than actually use it. When you do use it, there are several drawers that you can take advantage of. This frees you to stash all the little items that may have taken up space yet still have their use.
9. Charming File Storage Cabinet Makeover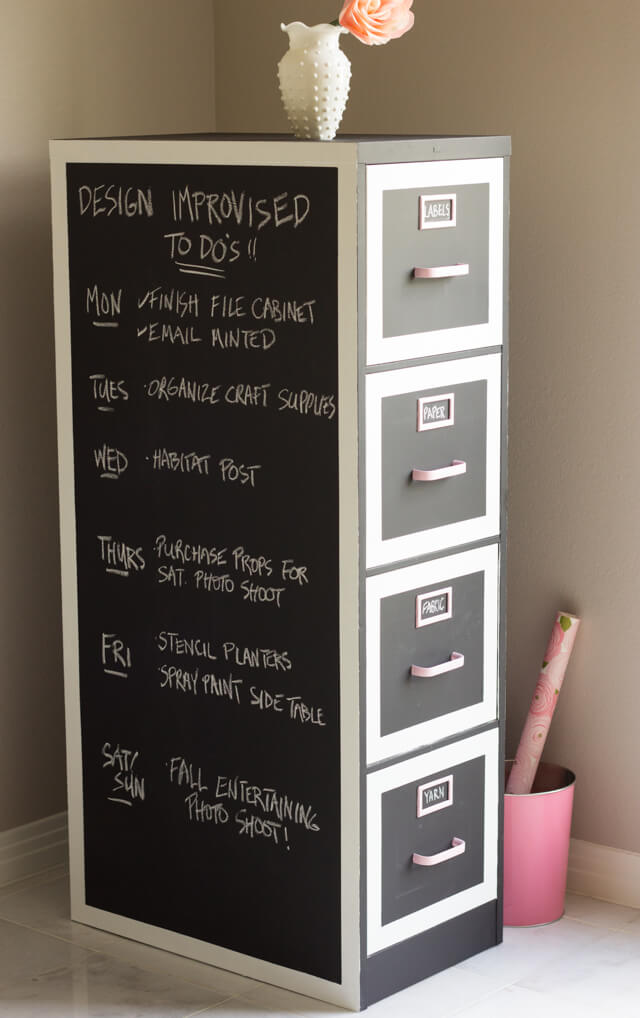 You can take an old cabinet and breathe new life into it with some new hardware and a fresh coat of paint. The hardware can match your personality or the overall décor in the room. From there, you can use chalk paint for the cabinet. The use of such type of paint allows you to write on the cabinet as you see fit. This is a nice way to further organize things in your life like appointments or other notes.
10. Upcycle Mail Sorter Storage Solution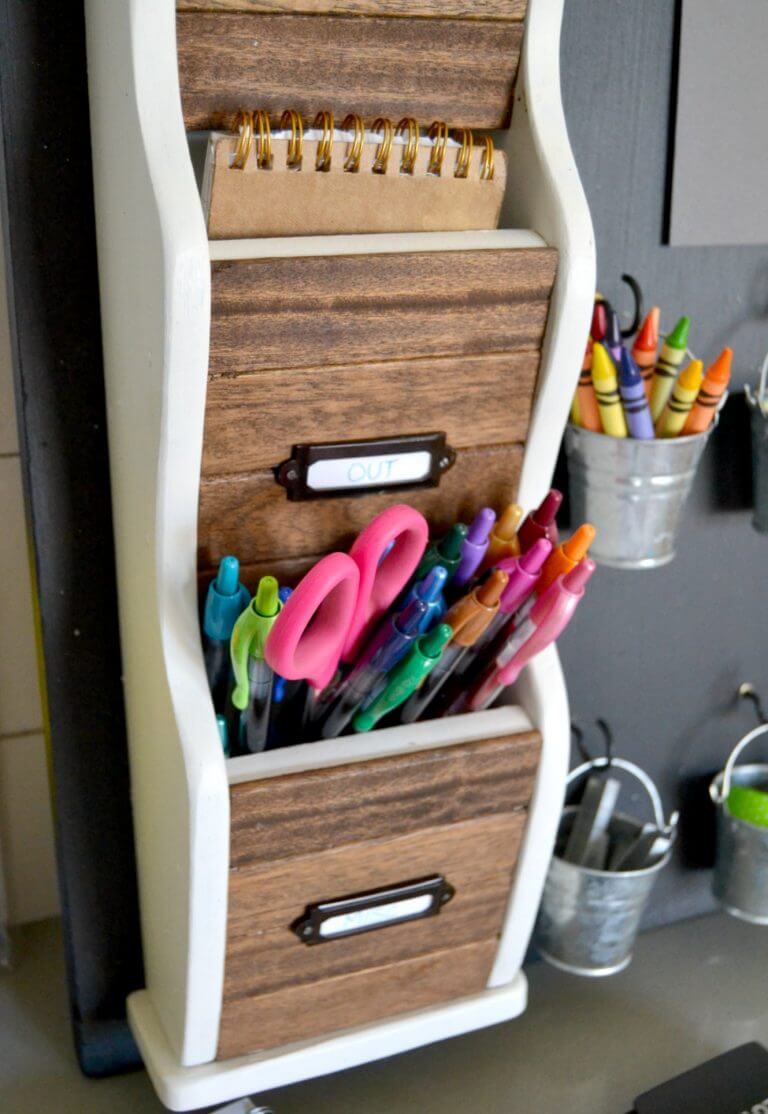 If you find yourself an old-fashioned mail sorter, you can enhance it to work as office storage instead. This a rewarding DIY project that will leave you with storage that has a more modern and clean appearance. It is a space-saving design too thanks to its slim look. This way, you can set it up in various areas of your office without it taking room away from anything else.
11. Charming DIY Woven Storage Basket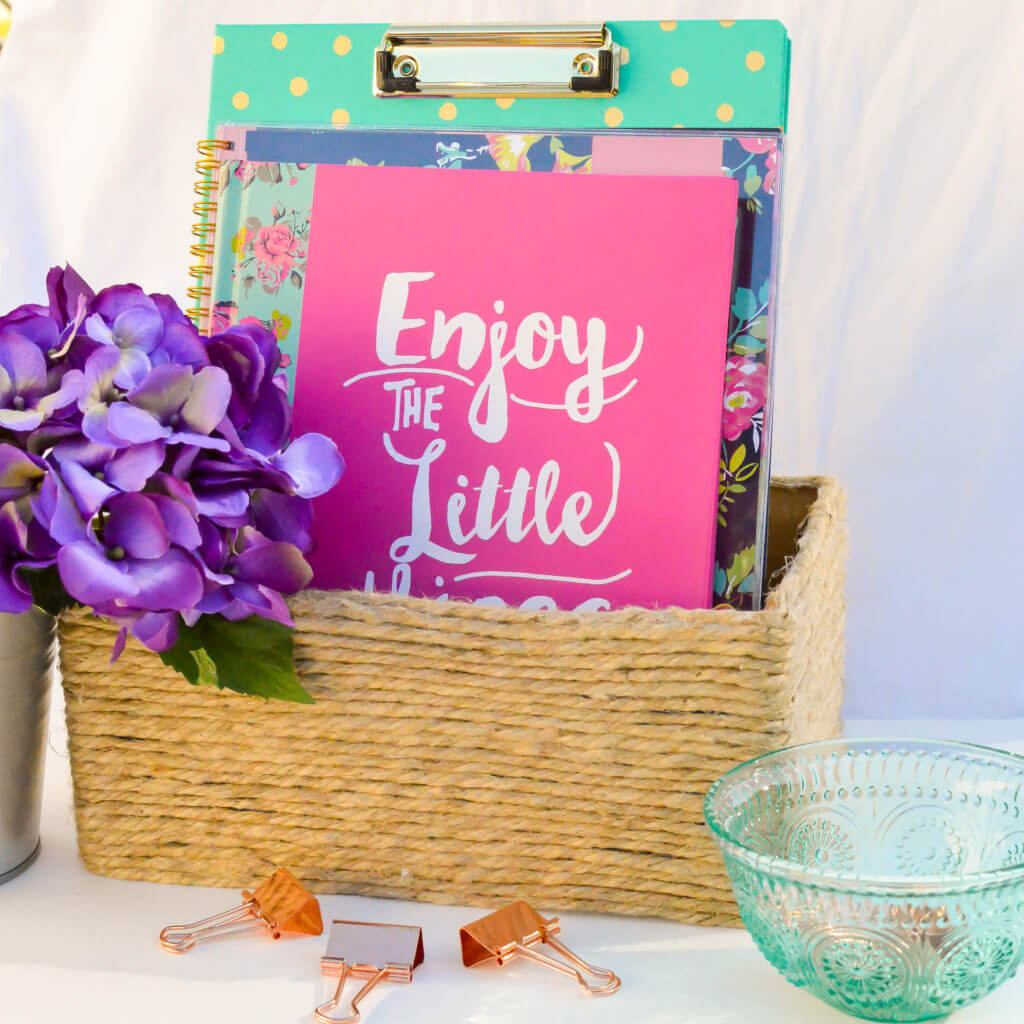 Eager to find the best DIY office storage ideas that are also upcycling projects? Well, this handmade woven basket is the perfect choice for you. It takes a typical box you don't need and enhances it into a stylish storage basket. This is also a nice project for those in need of something minimalistic and space-saving. The jute alone gives the basket a lovely rustic appearance for style.
12. DIY Color Blocked Organizing Trays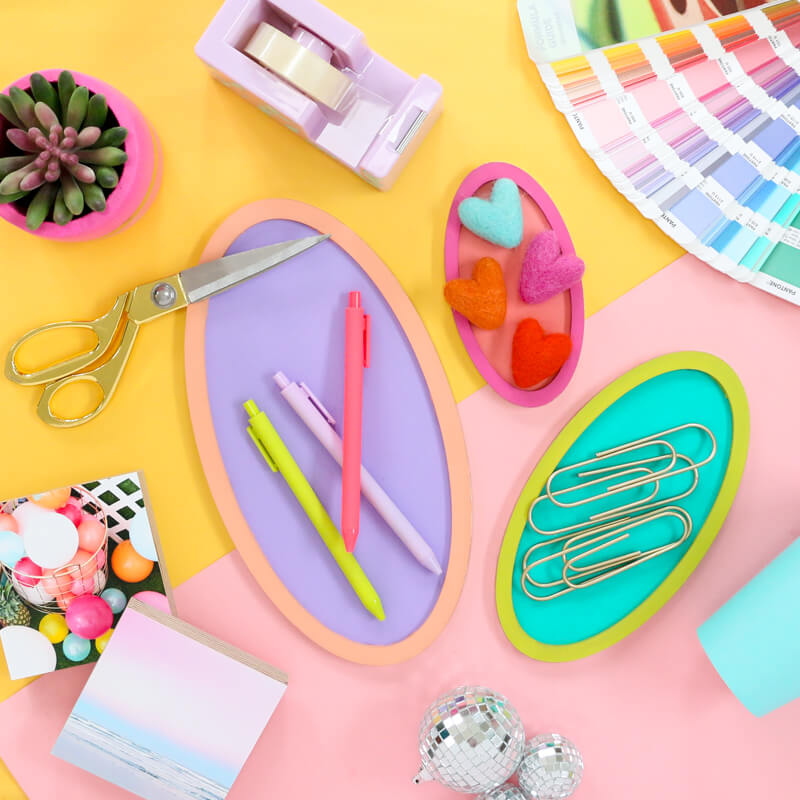 When you have the space for it, you can opt for more unique storage solutions for your office. These organizing trays are cute and charming. With them being various sizes, you can hold an assortment of items on them. This is a nice project to work on for a crafting office. It keeps all your necessary items like scissors in an easy-to-reach area.
13. DIY Desk Storage Monitor Riser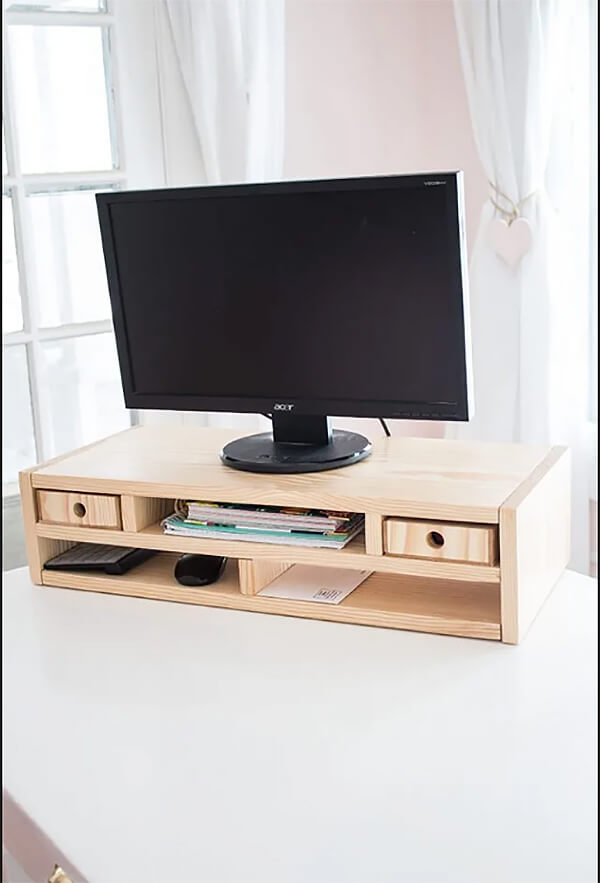 Looking to organize your office space when you don't have a lot of room to work with? Well, some of the best DIY office storage ideas are ones that make a small area look larger. In this case, for those with a computer monitor, you can use that as a starting point for your storage. Not only will your monitor be at a comfortable height, but you also have everything within reach on your desk.
14. Beautiful Personalized DreamBox Storage Solution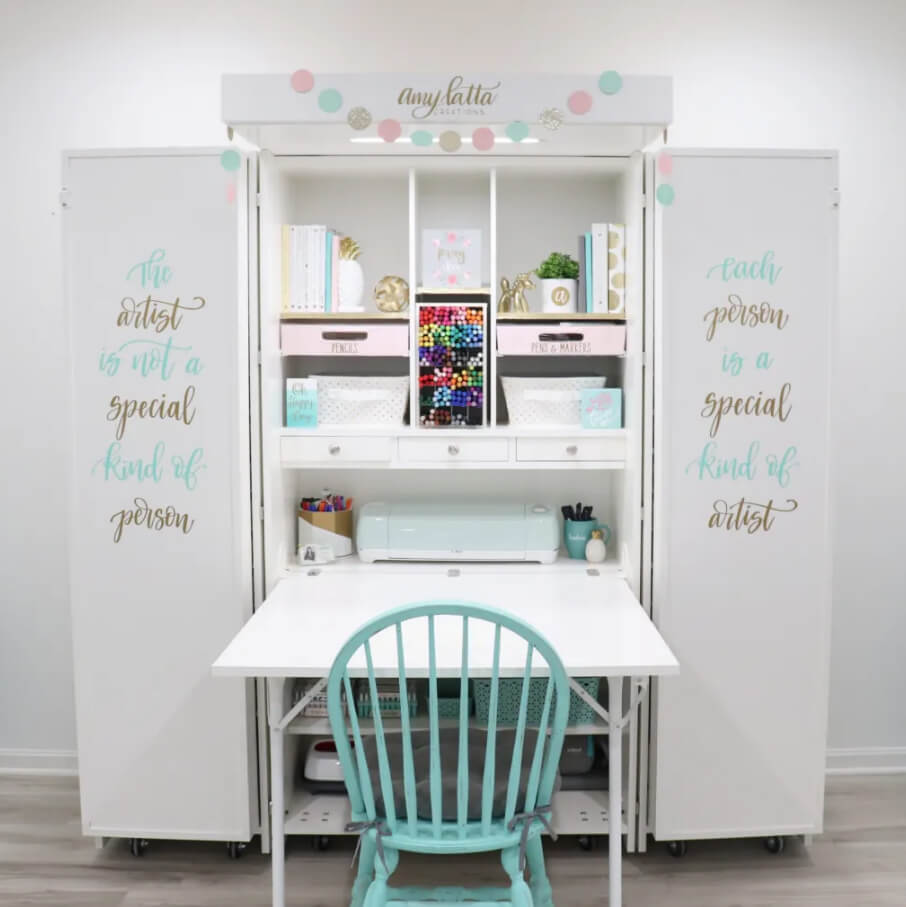 For handmade office storage ideas more massive in scale, consider acquiring yourself a DreamBox. It is the perfect solution to have everything nearby in your office without it coming across as cluttered. A DreamBox is such a beautiful piece of furniture that frees you to set up storage any way you'd like. This is a great way to personalize your office space while allowing the storage to easily blend into the room's décor.
15. Adjustable DIY Office Storage Desk Shelf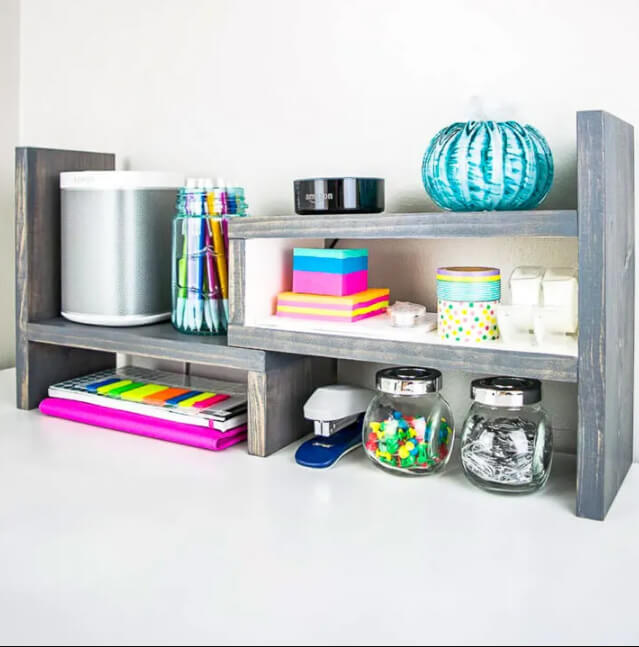 Are you ready to customize your office storage? Consider this adjustable desk shelf. You can configure it how you need it to be based on what your storing. If you have a lot of supplies, you can allow this shelf to look wider and more open. For fewer items, consider narrowing it down so that it is more compact and space-saving.
16. Retro Wooden Painted Desk Organizer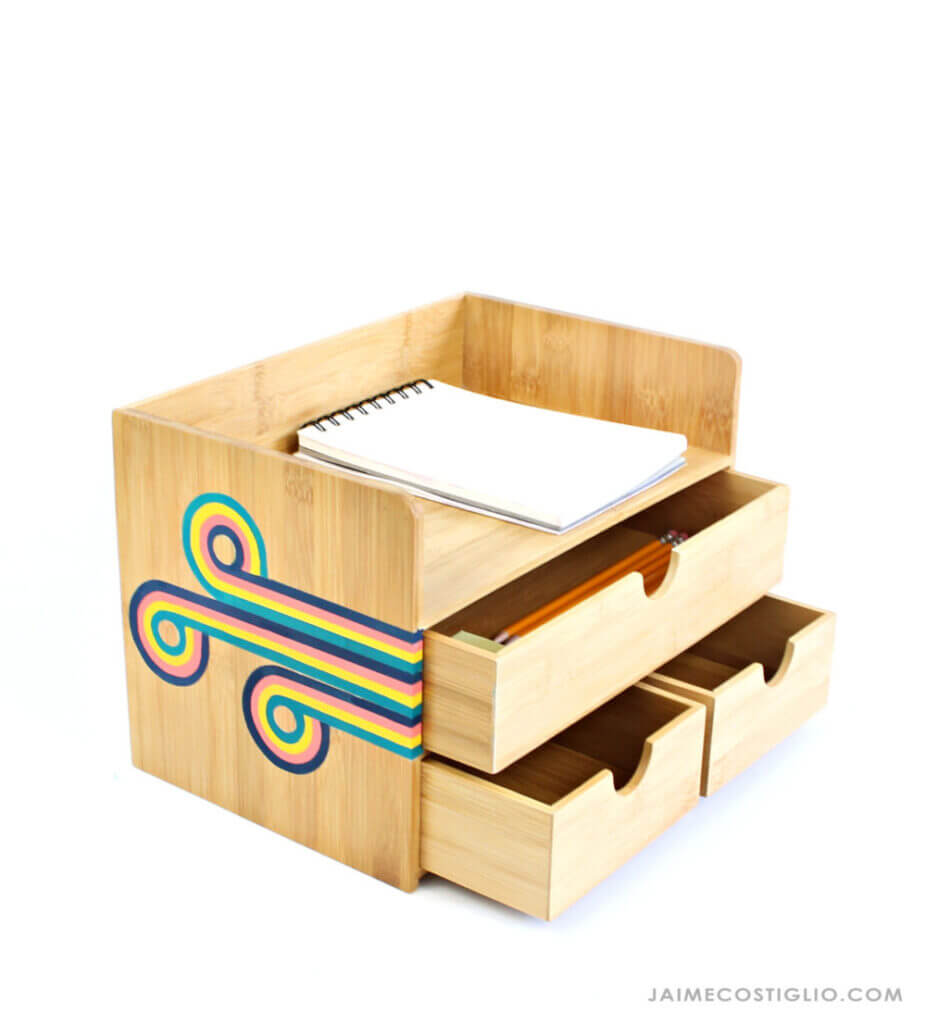 When you need homemade office storage, a wooden organizer is a way to go. The wooden material is ideal for decorating purposes. You can use it as a strong base to paint from. Create an exciting retro design to bring some color into the room or to blend in with the style you already have. Or go the alternate route for a darker, more contemporary approach. Either way, you can personalize your storage solution with ease.
17. Stylish Personalized DIY Office Storage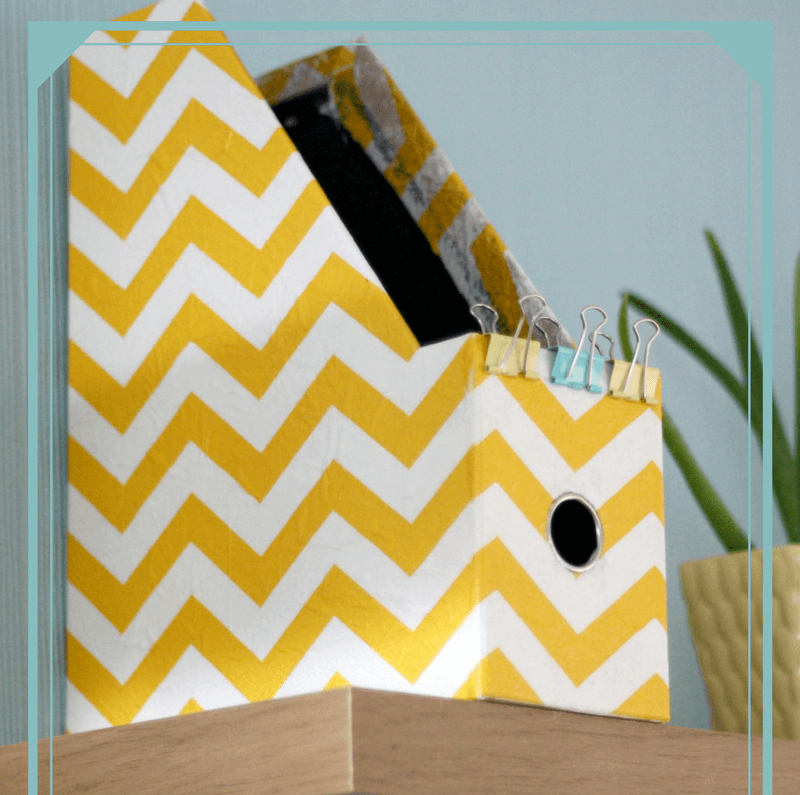 Sometimes, when you get various office storage supplies, they don't all look the same. So, when you want a more uniform approach, consider getting crafty with your storage. Some colorful paper and Mod Podge go a long way toward creating storage that looks pleasing while being functional. The only limitation here is your imagination. So, feel free to decorate the outside of your container as much as possible to make office life a little bit more pleasant.
18. Handmade DIY Art Cart Design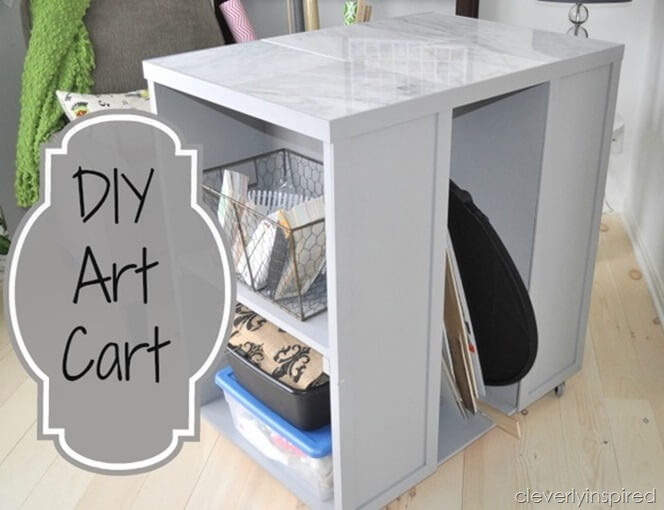 Need to have all your crafting tools in one space? This art cart is an ideal solution. The cart doesn't take up much room, but you have all the nooks you need to keep all of your tools organized. There is also enough room for both larger and smaller items thanks to the distinct design of the cart.
19. Dollar Store DIY Storage Bins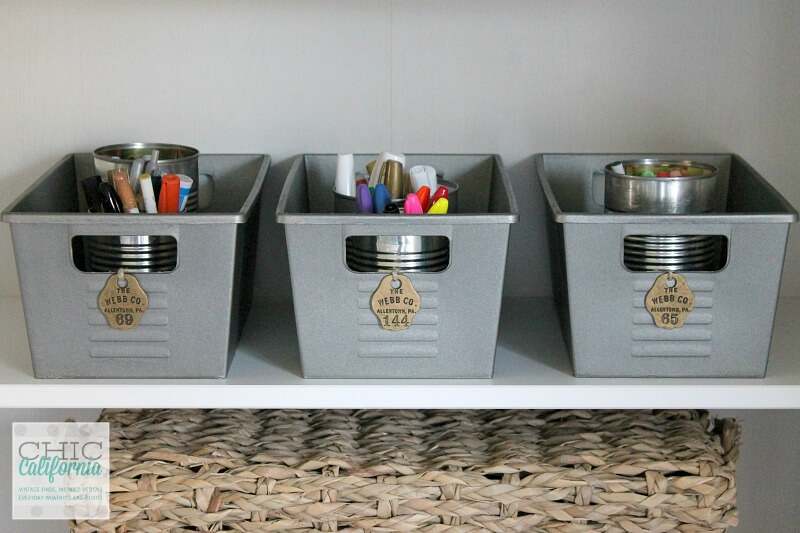 Why spend much when you can create incredible storage solutions on a budget? With the right type of paint, you can transform some average-looking plastic containers into units that look high-end. The metallic-like cover is ideal when you want a vintage look. Consider adding on extra items like tags to further show off this functional décor. Best of all, with their affordability, you can make as many of these as you need.
20. DIY Color Block Painted Storage Idea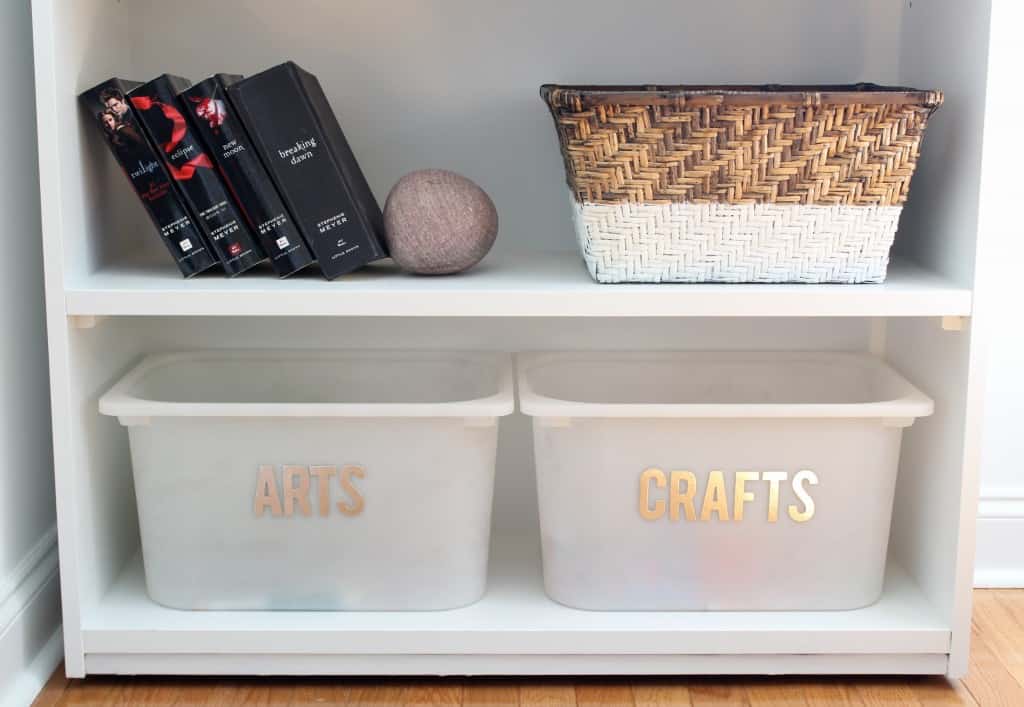 A simple solution to any clutter in your office is these charming baskets. They are deep enough to hold a multitude of items or even larger items you may need in your office. Feel free to add a nice paint job to the baskets so that they don't just look one-note. Instead, the paint can allow them to blend with your home's décor or even just be an excuse for you to brighten up the office.
21. Cool IKEA Storage File Hack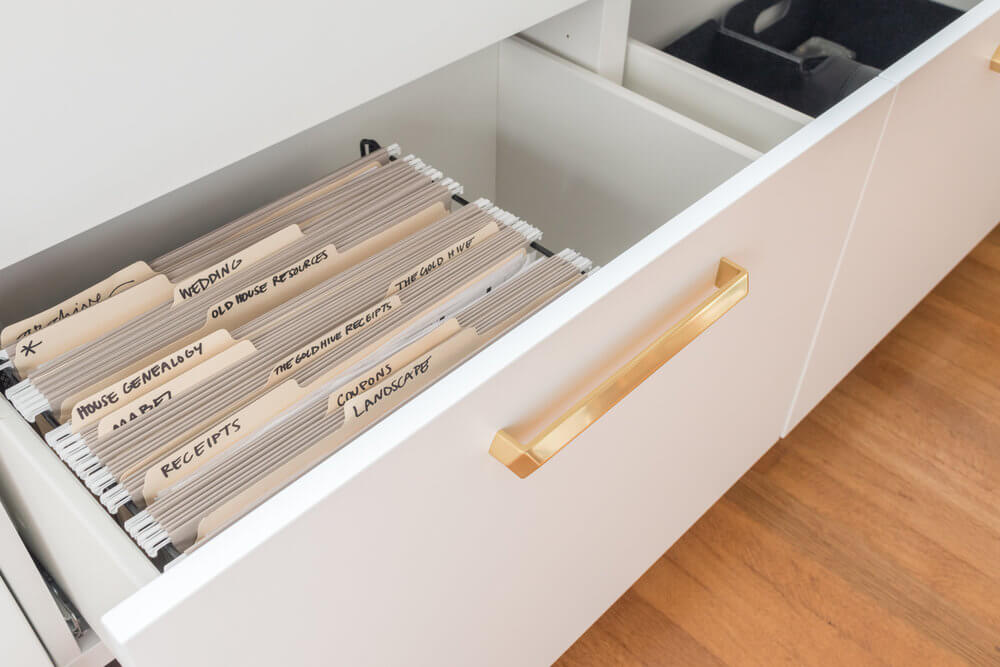 Furniture from IKEA is always a fun source of inspiration for anyone with a keen interest in DIY projects. They are especially easy to hack, which is why you can use a standard dresser or drawer set up for storage. You can install your own hardware for handles, and with the addition of things like storage containers or hanging file units inside, you'll have enough room for all of your supplies.
22. Computer Desk Storage IKEA Hack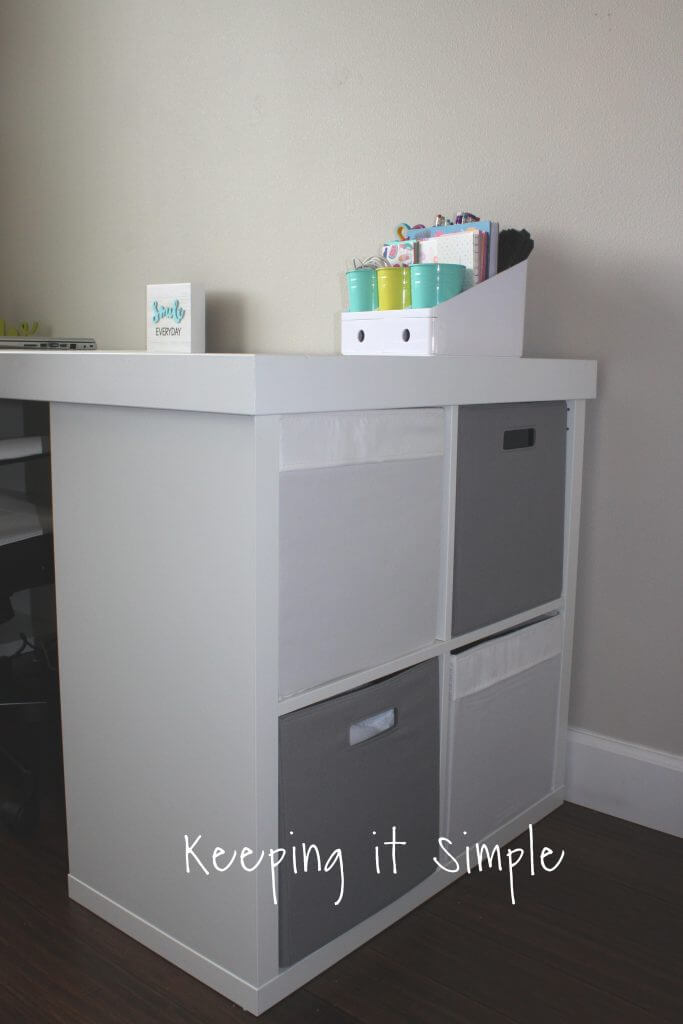 For those of you who enjoy playing around with IKEA furniture, consider this simple computer desk hack. You can make great use of two cube organizers alongside a sheet of wood as wide and long as you want it to be for your computer desk. From there, you still have the space in the cube organizers for soft storage containers. This way, you can create useful storage while also building a unique desk for your office use.
23. Efficient Rolling Storage Office Caddy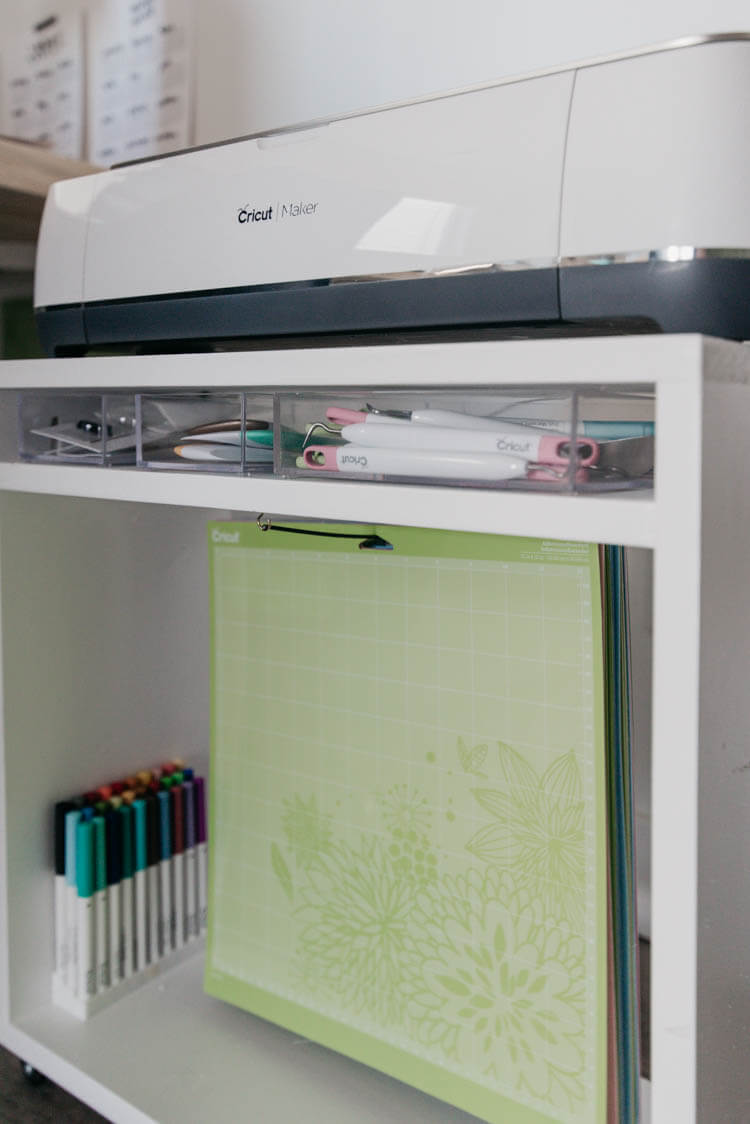 With some wood, tools, and caster wheels, you can create a handy storage caddy for your office. There is enough room to hold larger items on top. Meanwhile, you have additional space at the bottom to add in some extra containers or simply to hold smaller items you need for the office. This is a perfect storage solution in your crafting room too considering that the unit rolls around.
24. Sweet Stitched Pencil Storage Holder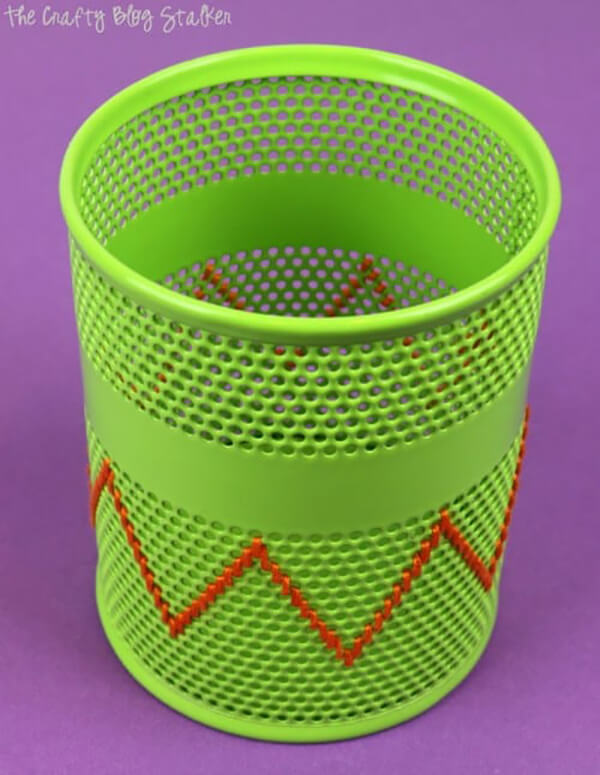 Why settle for a regular plain pencil holder when you can create something more compelling and unique? This is a nice low-budget DIY storage project that allows you to come away with something artistic. Additionally, this lets you take your stitching skills to new levels as you stitch through the holes in the pencil holder, creating a distinct design that fits your personality and the theme in your room.
24 DIY Office Storage Ideas for Affordable Organization
Offices small and large can often find themselves in need of organizing. Some storage options can break the bank though. In this case, you can always turn a more creative eye to managing your space by creating storage options at home. Office storage DIY is a fun and worthwhile creative adventure to take. Not only can you better personalize the area, but you can do so in a way that is cost-effective.
Sometimes it's difficult to find out where to start though. When this happens, you can always refer to our list of the best handmade office storage ideas to get inspiration.