With the best DIY outdoor gate ideas, you will make an eye-catching first impression on anyone who comes to your home. There are many ways to express your style all-around your home, but one of the simplest ways concerns your fence. A fence may not be the first thing that comes to mind when thinking about décor, but beyond the style of the fence itself, the right gate leaves a lasting impact. It's a doorway in more ways than one. This gate is an immediate indication of your style, so it will set the entire tone of your yard or garden, leaving visitors curious about what's to come if they venture further beyond the gate.
12 Incredible DIY Outdoor Gate Ideas to Add Some Style to your Yard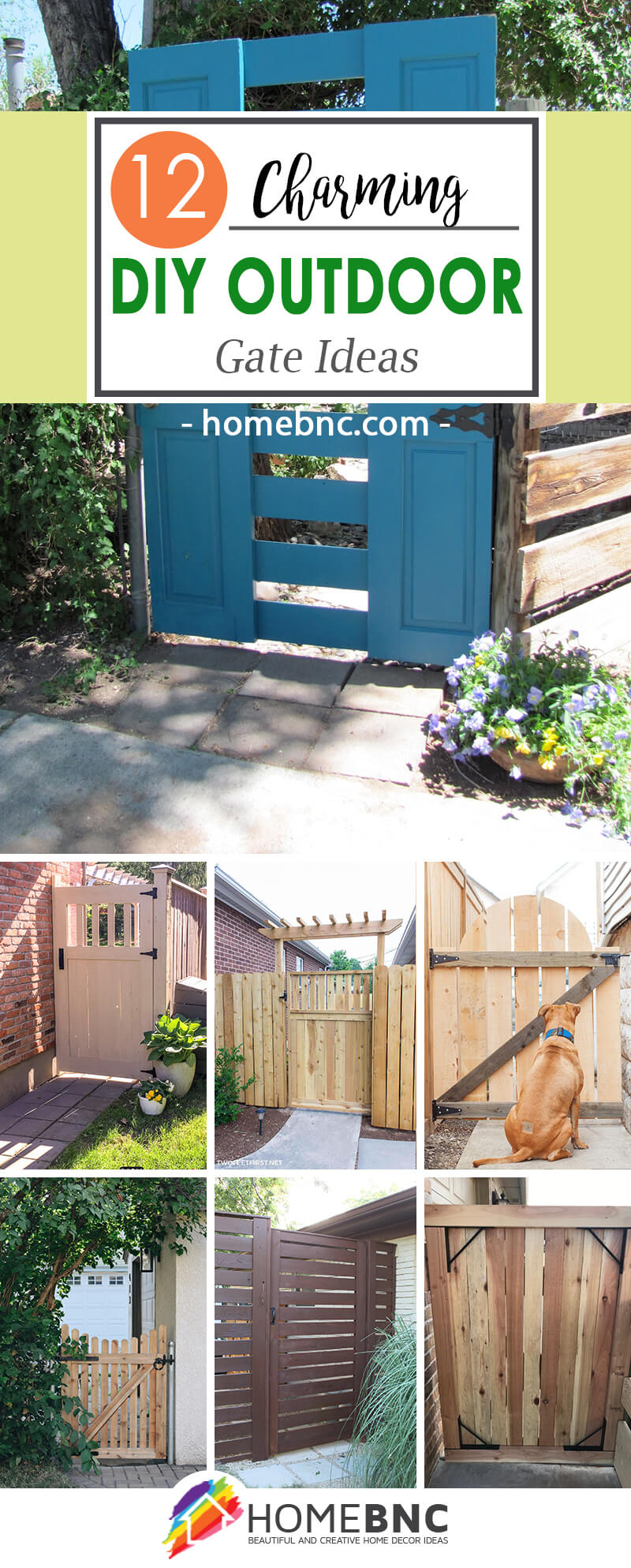 From there, all you need to decide is just how you want your gate to look. It is simple to match with the fence that you have. However, you can also take things a step further and personalize the gate a bit more instead. Since this is a DIY project, you have far more freedom to go all out with your gate, personalizing it as much as possible.
Do you need something a bit more unique? Then you can design a gate with an interesting pattern that leaves things a bit more visible so people can see more of what's on the other side. Or perhaps you want to balance between traditional and distinctive? The gate can have a solid layout on the bottom with more of an opening near the top like a window, merely hinting on what's on the other side. Alternatively, you can keep things completely mysterious, designing a gate that is solid from the top down so that it entices people to open it and see the beautiful garden that awaits them.
If you're unsure about what route you want to take, then the list of our favorite handmade outdoor gate ideas should give you some direction.
1. Old Fashioned DIY Garden Gate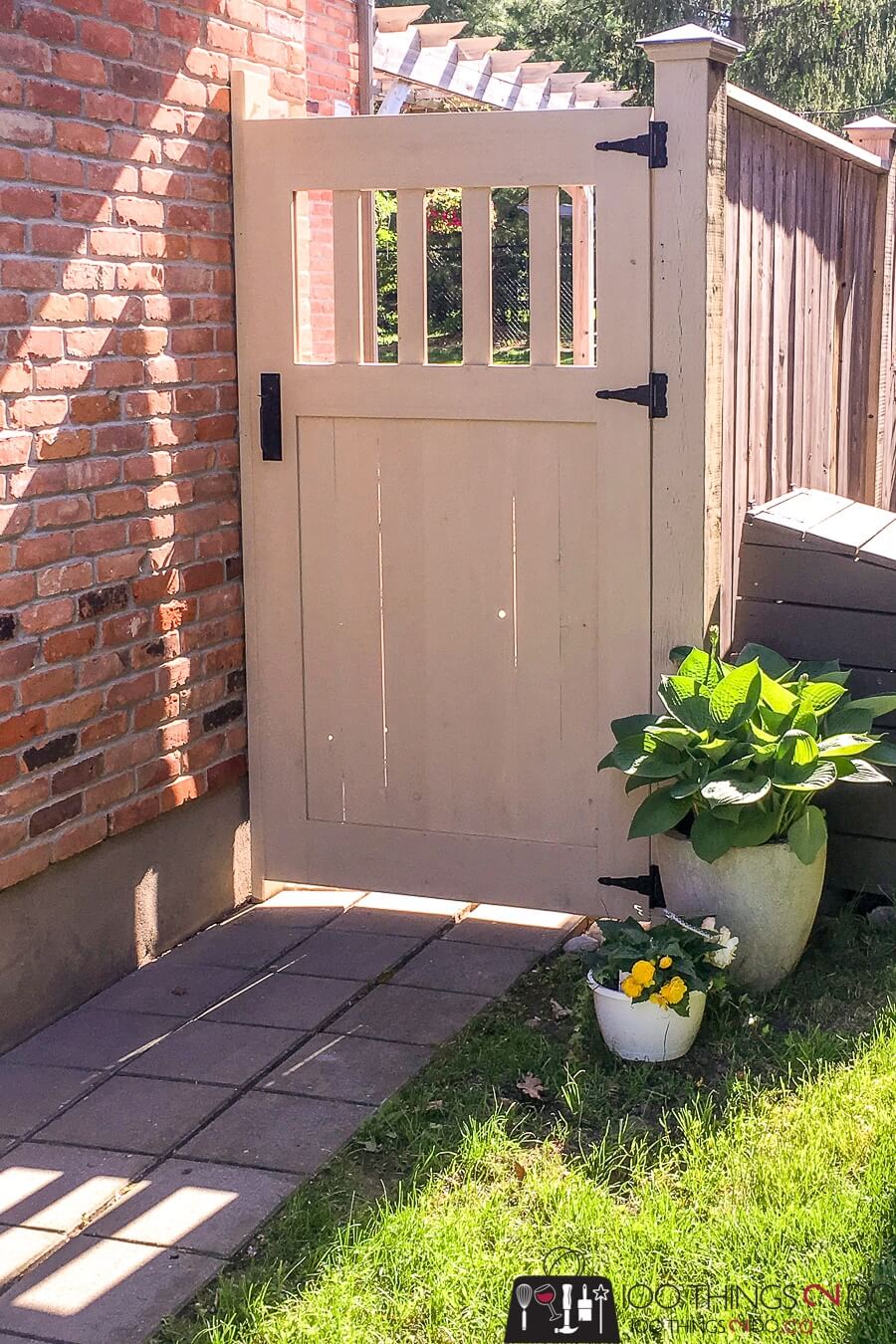 Are you looking for a simple, yet stunning, garden gate to spruce up your yard? This DIY gate is absolutely perfect. It has a bit of an old-fashioned appearance that allows it to fit well with a vintage-styled garden and home. There is a nice little window of sorts near the top that you can peek through too. This is great as it offers just enough of a hint of what's to come before anyone actually opens the gate and comes through. Because of this, the gate further works as a decorative piece as well as being something functional.
2. Gorgeous and Colorful Garden Gate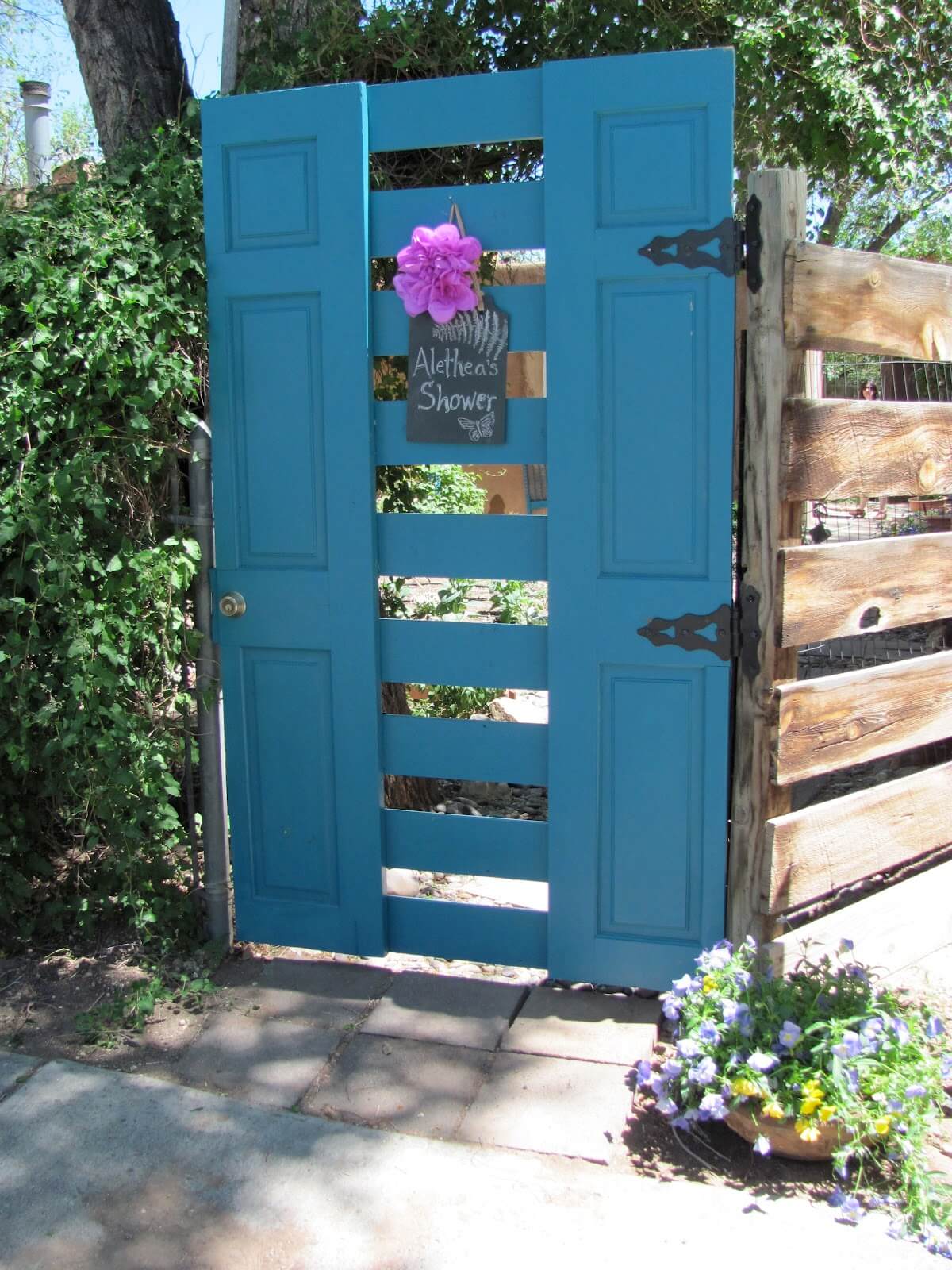 There's no better way to decorate your garden than with something that is vibrant and colorful. This one is among the best DIY outdoor gate ideas that really show off your personality and your creativity. You can color this any way you'd like that best suits your style and any theme you're aiming for. Also, it looks just like a door rather than a simple gate. There is a nice separation in the center that keeps it from being too solid and one-note. Everything is rounded out thanks to the lovely flower in the center that helps prevent this from being one color and, instead, gives it some contrast.
3. Stunning Rustic Cedar Post Arbor Gate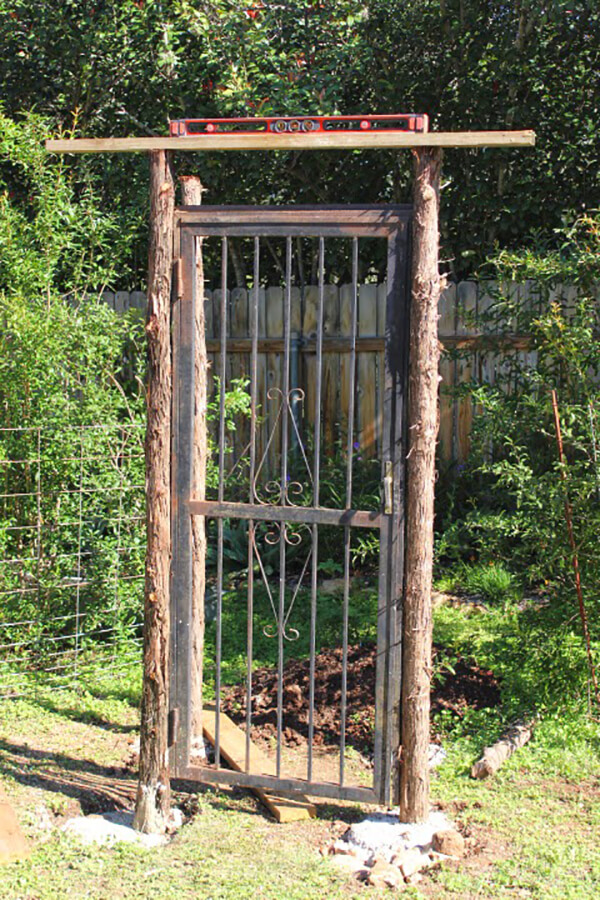 Opting for a rustic approach is the perfect way to represent your garden, and this cedar post arbor gate does that wonderfully. This has such an appealing quality that blends vintage with outdoorsy effortlessly. The iron gate is absolutely eye-catching as it has a gorgeous design in its own right. Meanwhile, the wood doesn't just act as support but contributes to the overall aesthetic. There is even an incredible arch above the gate that further emphasizes the wood in a creative and effective way. It is a wonderful way to show off not just your style, but the garden that rests behind it as well.
4. Z-Shaped Support Yard Gate Design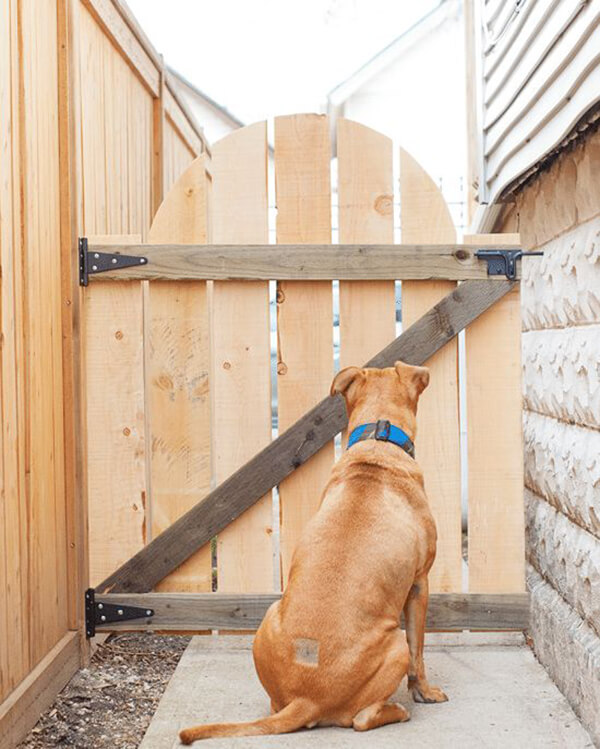 If you need a gate to protect the side of your yard, this DIY design is a great one for you to try out. It is both straightforward and distinctive so that it has a nice flair of style without you having to go overboard. There is a lovely arch to the gate so that it doesn't have a static look. Instead, it flows with a nice sense of movement. However, the one thing that keeps this even more appealing is the z-shaped support on the gate. With it being a darker tone, it instantly stands out against the rest of the wood of the gate. So, you are able to have a bit of color without it being too loud.
5. Rustic DIY Wooden Yard Fence and Gate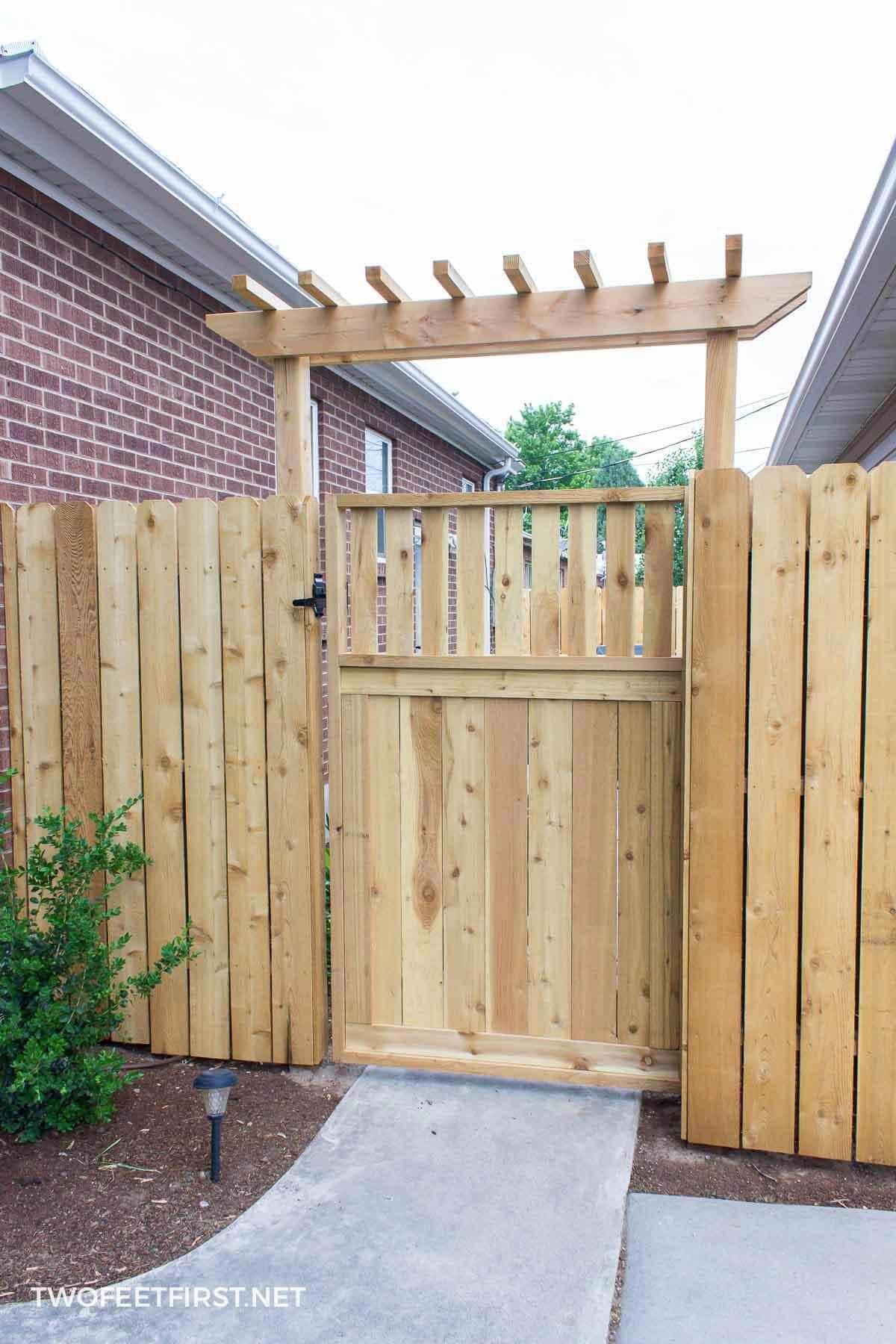 Even if all you have is a small entryway, you can build an aesthetically pleasing fence and gate combo that will catch anyone's attention. And you can do it all while keeping with a more natural wood appearance rather than anything painted or finished. Going for a natural appearance is a cool choice in this case because the wood's coloring is vibrant and bold enough to leave a lasting impression. Furthermore, the gate has a particular design that sets it apart from the rest of the fence. There's a hint of visibility, but it's the upper arch design that really steals the show.
6. Charming Cedar Wood Garden Gate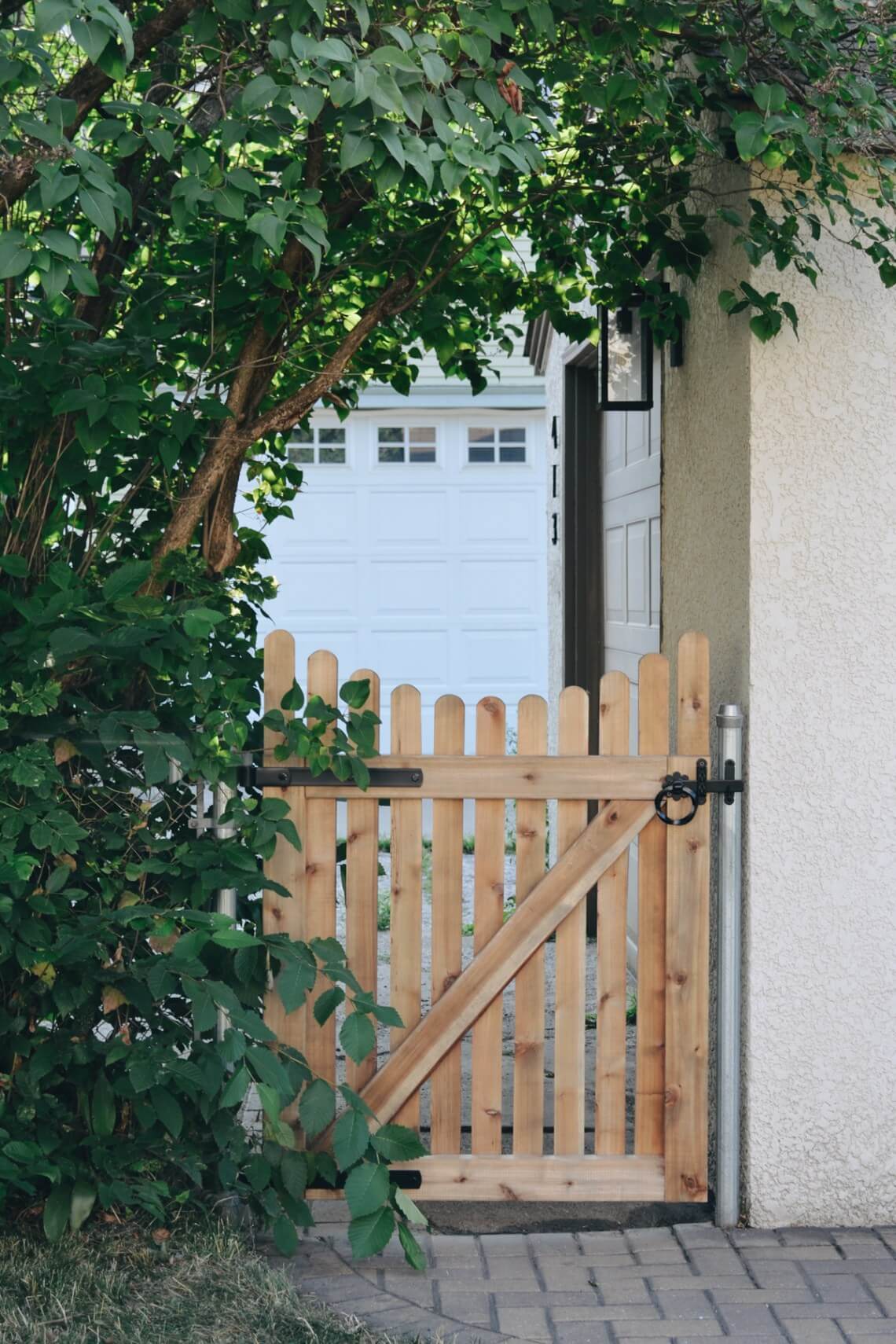 There is something that is just so lovely and charming about a simple, natural wooden gate that makes them so easy to turn to when building one for a garden. The natural appearance keeps things closer to nature, so to speak. So, there isn't much you have to do with the wood as it completely speaks for itself and in such a perfect way. There is even the fun little dip in the top of the gate that gives this some movement so it isn't just a straight line.
7. Incredible Stained Tall Garden Gate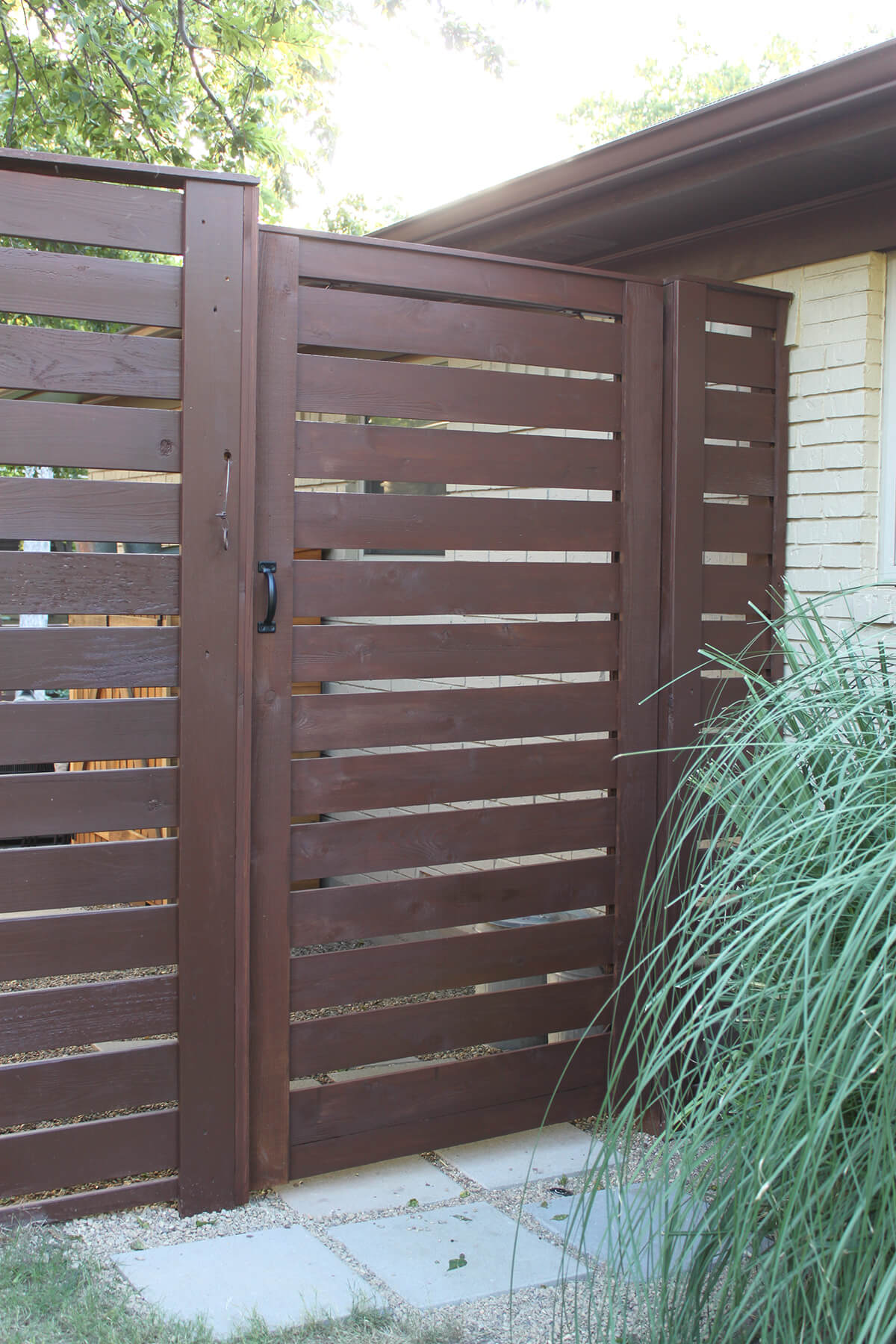 Are you interested in just enticing visitors to your garden rather than giving them the entire show? Well, then perhaps this here is among the best DIY outdoor gate ideas for you that don't completely reveal what is on the other side. There is a hint of it through the wood pieces, but that's where it stops. The fence is made tall, leaving anyone curious about what exactly is waiting on the other side. Also, the use of dark wood does well at adding to that mysterious aesthetic.
8. Bold DIY Cedar Wood Gate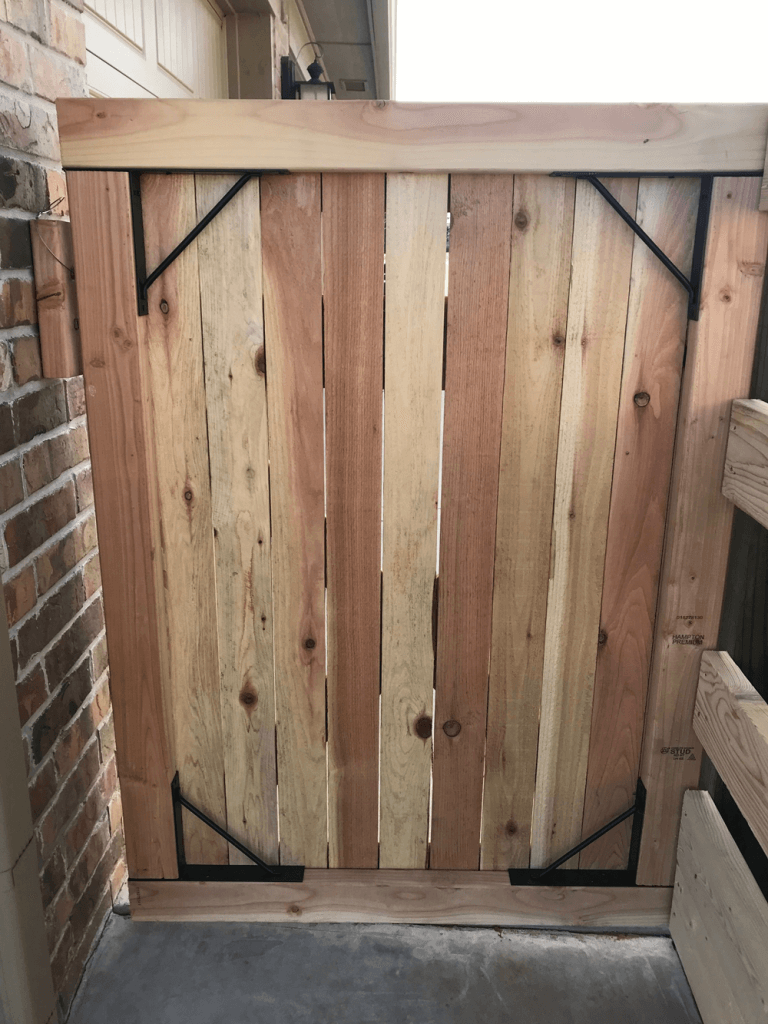 Cedar is a popular and reliable material to create the gate you've always wanted. With this DIY project, you can make one that doesn't leave anything revealed. Instead, everything is left to the imagination as to what is behind the gate. Rather than rely on that, the gate does have some pretty fun designs such as the giant "x" in the front as well as the small bar that goes across on top. These little nuances are what helps sells this gate as modern with a hint of your personal style.
9. Attractive and Bold White Gate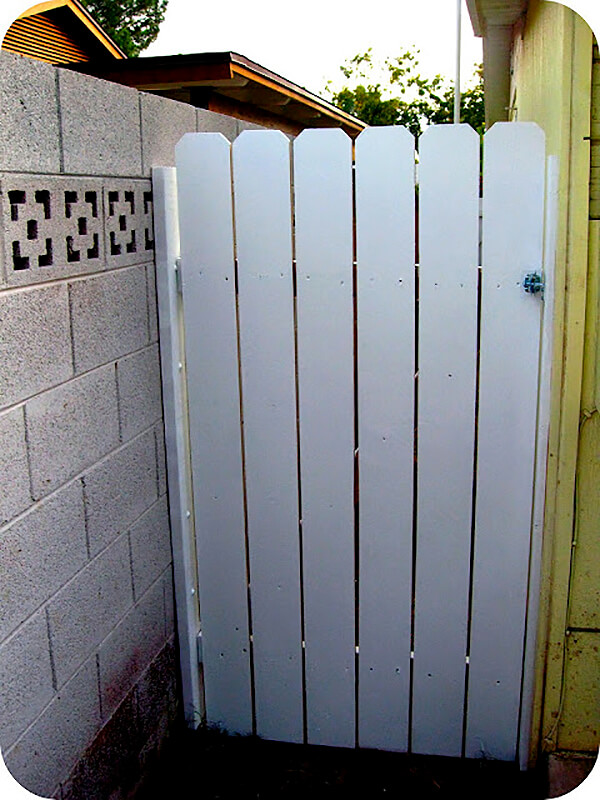 Ever dream of having a white picket fence? Well, this gate design can help you make those dreams into a reality. It is a DIY project that is beautifully simplistic when it comes to how it looks. The fence design is standard, and it is only given a white paint job. However, everything just simply seems to work so well that it is worth stopping and admiring. It is a rather tall gate too, so it can work out great if you already have a fence that is similar in size and in style. On the notion of style, the gate has a nice contemporary feel about it.
10. Cool and Creative Wooden Deck Gate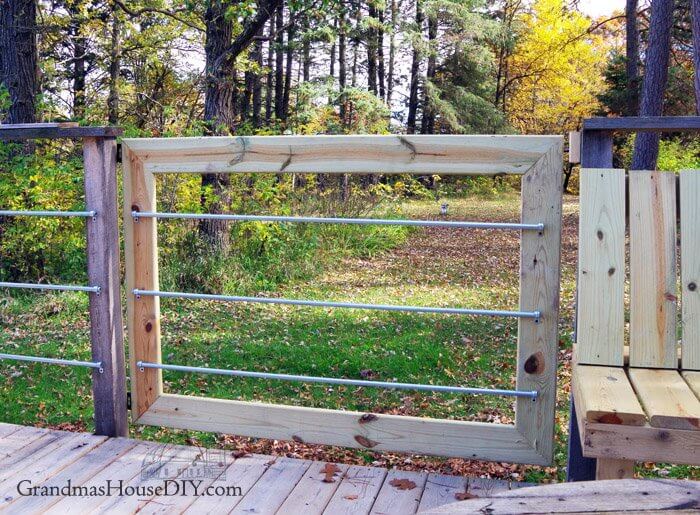 Who said that a deck only had to be for your yard or your garden? There are some other areas outside your home that can benefit from a gate such as your deck. In this case, it is best to have something that is smaller in terms of height as it won't look too out of sorts compared to the rest of the deck. What you are left with is a stunning wooden gate that appears as though it had been a part of your deck the entire time. You can even implement a design on the gate so that it better blends in with the fence on the deck, allowing everything to flow better.
11. Artistic and Stylish Deck Gate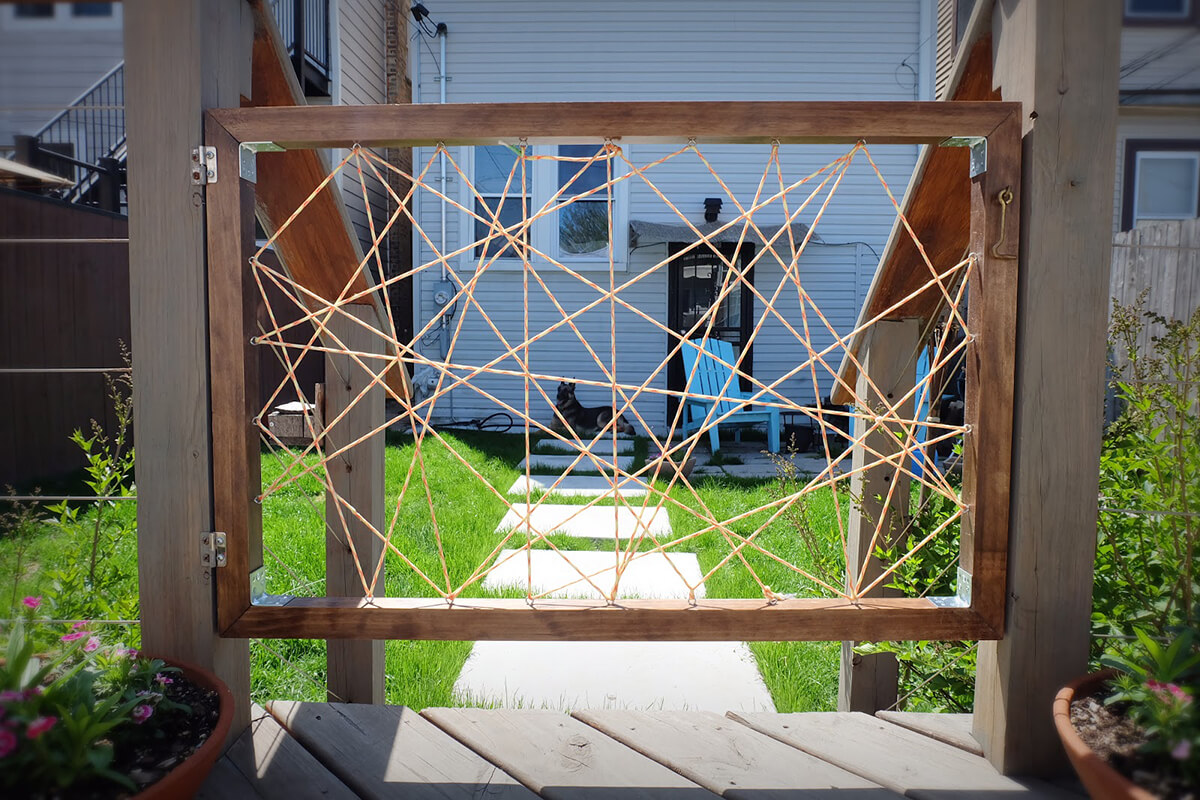 A wonderful way to take a homemade gate to another level is to add a bit of an artistic touch to the design. You can do this by focusing on the front of the gate. For instance, the overall design of this piece is straightforward enough that there is nothing that completely stands out with the layout. However, it is the amazing string design on the "face" of the gate that gives this design life. You can set up your strings to go in any direction, playing around with different routes to make something artistic, creative, and even geometric if you'd like. This certainly puts a modern spin on everything.
12. Cool Hidden Wooden Gate Design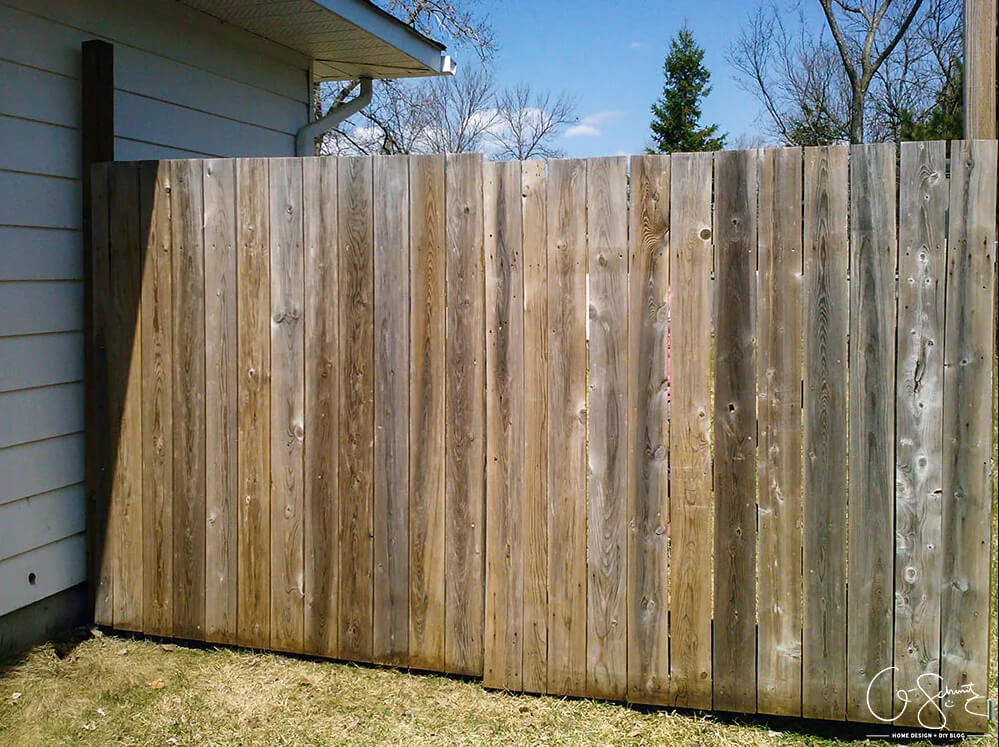 Sometimes the thing that leaves the most impression is the thing that you don't see at first. Case in point: this hidden wooden gate. The dark tones work well as they have a bit of contrast, so they are not totally single note in terms of looks. However, they work so well that it can be tough to actually pinpoint where the gate begins if you are looking at it on the other side. This is a fun way to add a hidden or secretive gate to your yard, especially the side of your home if you are in the mood for something that has a bit more creativity.
Beautiful Homemade Gate Ideas for Your Next Creative DIY Project
Your home deserves a beautiful entrance, and it can get that with the right homemade gate. Whether this gate leads right to your home or to your garden, it's a vital piece of decorative furniture. There are several ways you can design it too so that it suits the style of your home. You can opt for something that is more open so that it's clear how your yard or garden looks like at a glance. However, it can look just as good to keep things more private instead and have your gate just speak for itself.
In the end, you have enough options at your disposal that there are handmade outdoor gate ideas for any style. If you ever find yourself at a loss, then you can always consider our list of our favorite DIY ideas. Any of these will easily transform your yard and create a unique and welcoming entrance that will compel anyone to enter.