DIY outdoor lighting ideas don't have to be restricted to fairy lights. There are many creative and lovely ways to accent your backyard or garden with the use of lights. Many of these lighting ideas start with unusual materials, like the chandelier made from a hula hoop. Recycled materials also take center stage, with Mason jars and wine bottles stepping into the spotlight.
35+ Fun DIY Outdoor Lighting Ideas to Light Up Your Exterior on a Budget

Using an interesting container for existing lights, whether they are solar or electric, brings your backyard an extra dose of style. Lights can be added to glass bricks to make illuminated paving stones. Glass lanterns can be filled with fairy lights or solar lights.
One cute idea that everyone will love is making a tiny fire pit or fire bowl. One method calls for using liquid alcohol fuel, and another calls for simply making a small fire in the proper container and surrounding it with stones. These mini fire pits are fun and quirky accents to the fashionable backyard.
Use our 35+ DIY outdoor lighting ideas and accent your exterior space with softly glowing lights. These lights will illuminate outdoor celebrations or highlight parts of your garden.
1. Outdoor Lighting Rattan Globe Pendant Light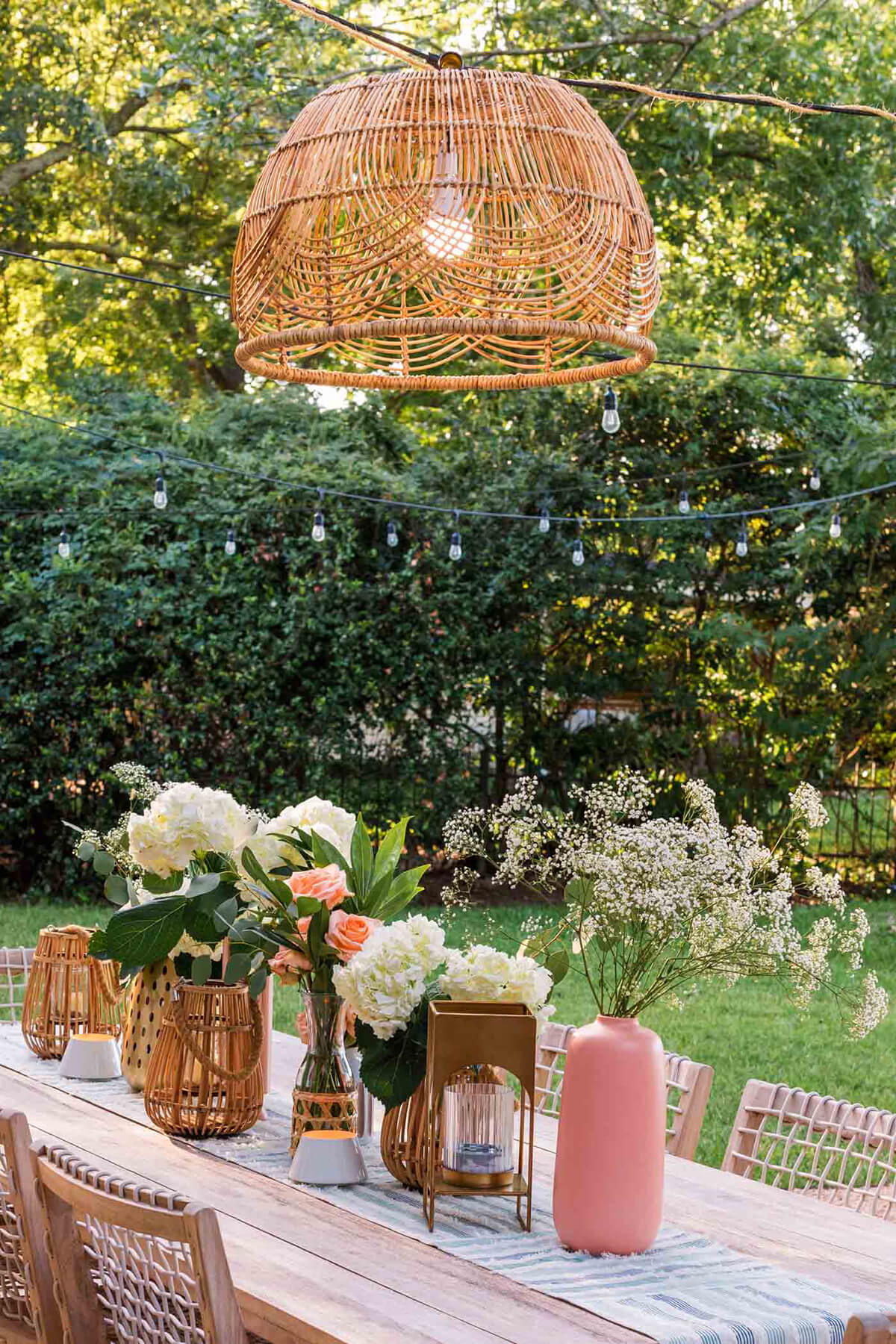 Dress up an outdoor bulb to light up your nighttime scene with this stylish rattan pendant light globe. Hanging above your dining table, guests will be able to enjoy the buffet or bar keeping the night young. The look can be complemented with rattan lanterns on the table to give your party scene a polished outdoor design.
2. Basket Trio Outdoor Pendant Lighting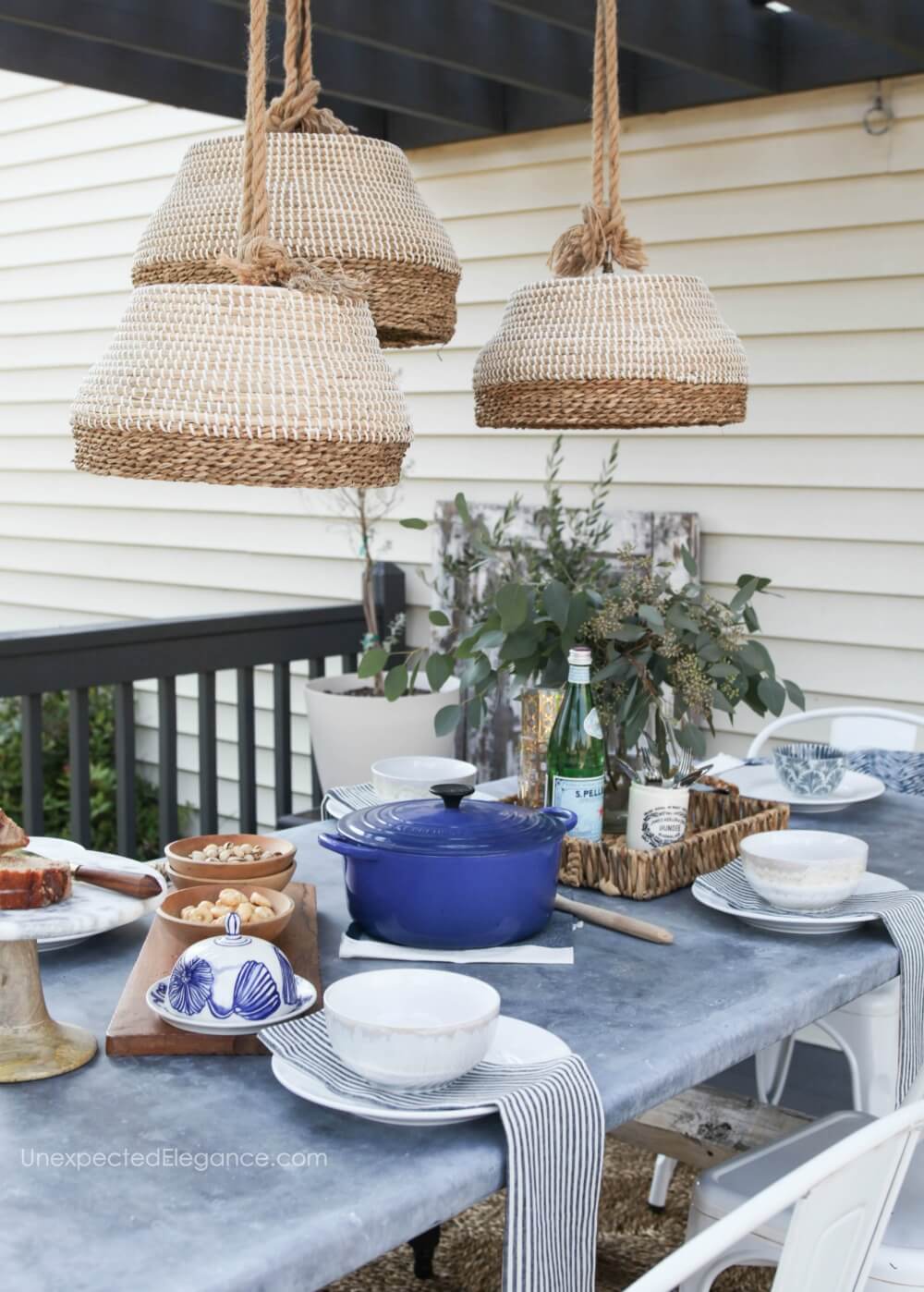 Rethink a popular decorating go-to with this repurposed basket lighting display. Upside down, these baskets are transformed into interesting and visually appetizing lighting for your outdoor dining space. The thick twisted rope that holds them overhead further adds to their intrigue and design. Using baskets on your table to display a centerpiece continues this woven wonderland for your entertaining pleasure.
3. Solar Light House Number Curb Side Decoration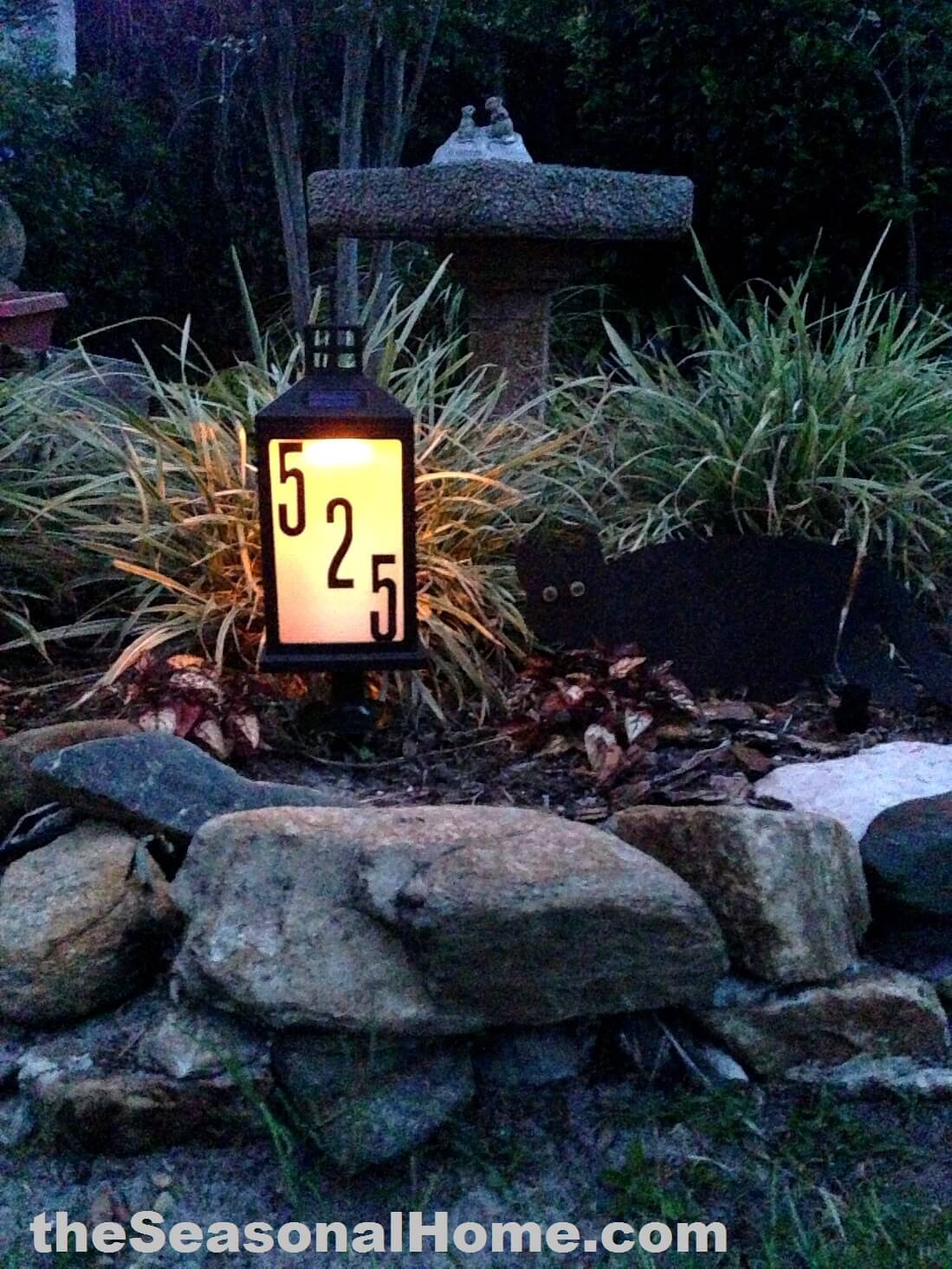 Don't let the pizza delivery guy miss your house when you have a late-night craving for a pepperoni pie! Your address will be visible to see even after dark with this decorative black lantern solar light. The soft amber glow of the light easily provides the necessary number serving as your landmark for deliveries and friendly visits.
4. DIY Citronella Patio Bucket Candles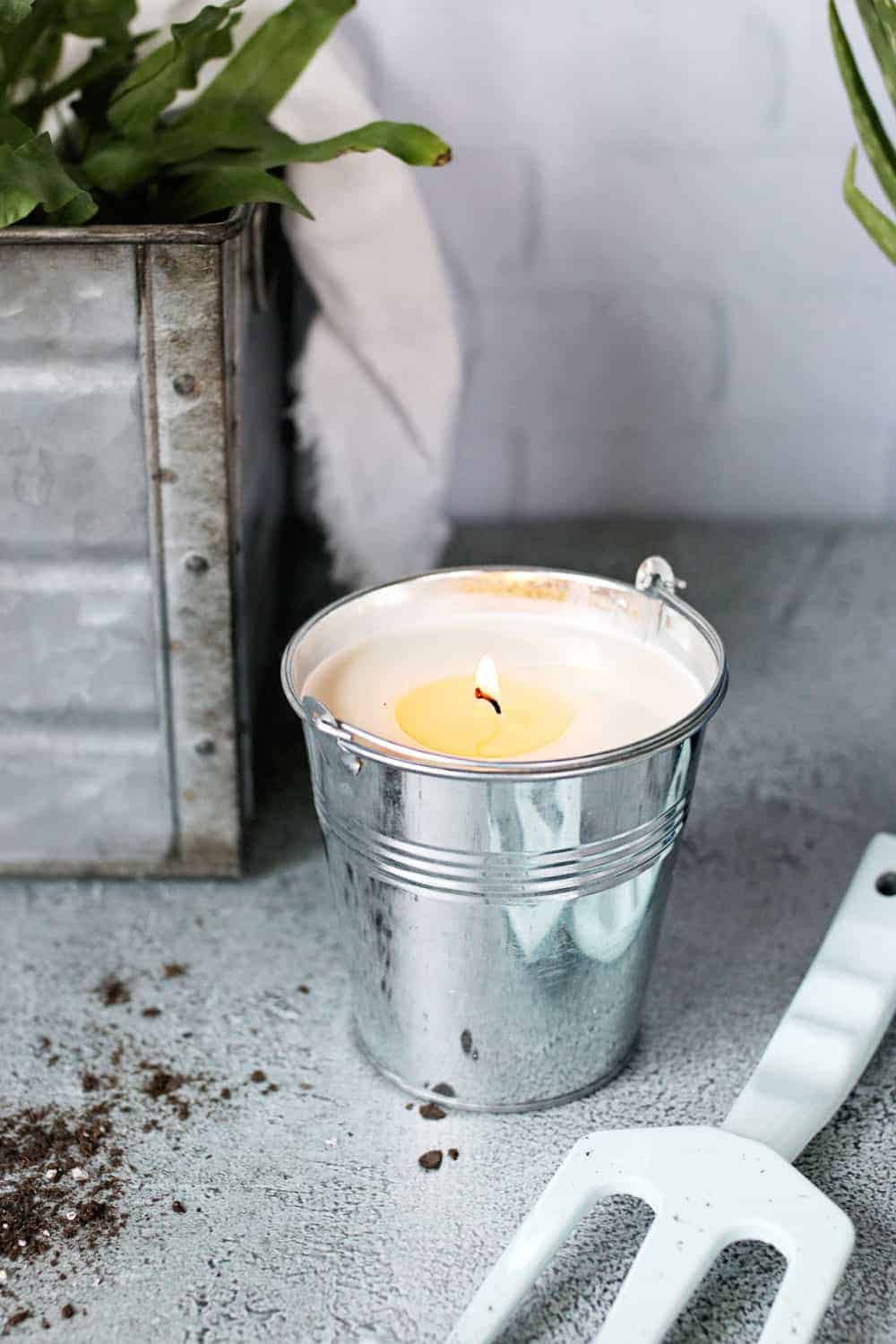 It's hard to enjoy the wonders of your backyard when you're fighting bug bites. Don't sweat these pests by creating some bug-repelling essential patio candles. A small tin can makes the perfect hub for filling up a bug-beating candle machine. Place one on your table, line your path, and make sure every conversation area includes one to keep your party buzzing in a good way.
5. Rustic Mason Jar Creative Candle Display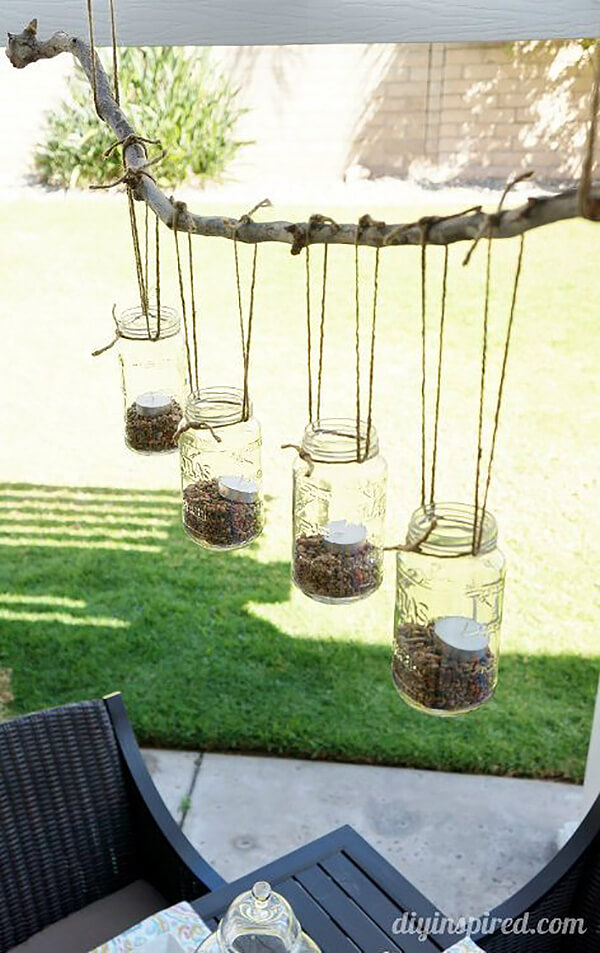 Using a thick stick and some ready-to-go mason jars, you can create this simple DIY lighting display for your backyard in under thirty minutes. When you're ready to enjoy the serenity of your back porch or pergola, you can ignite these tea lights to set the mood. Each mason jar candle vase is suspended from the sturdy branch adding style and depth to your outdoor design. Place this in a corner to create a charming and welcoming conversation or reading nook to enjoy.
6. Black Ring Round Backyard Solar Light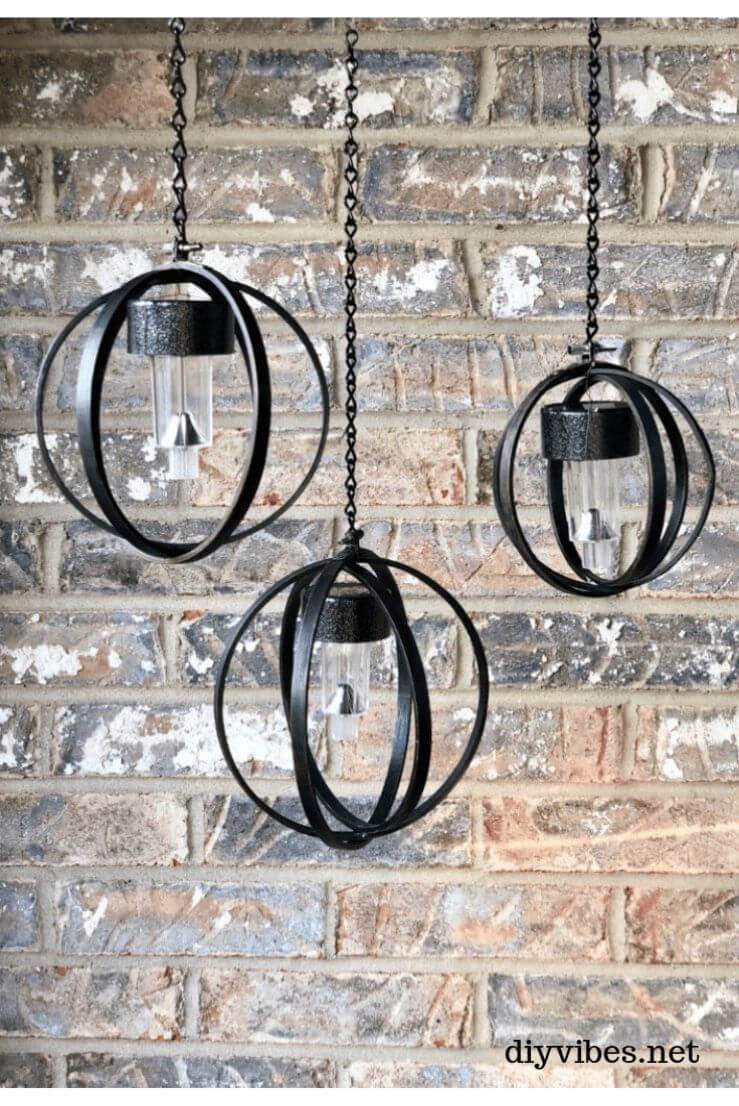 A visit to the dollar store might give you all the tools you need to create this beautiful black ring solar light for your backyard. Two embroidery hoops are painted black and work together to form a lovely sphere that's just right for holding your solar light. Display these as a set or spread them throughout your backyard oasis to add style during the day and an inviting atmosphere at night.
7. Nautical Wooden Trio Solar Light Yard Decoration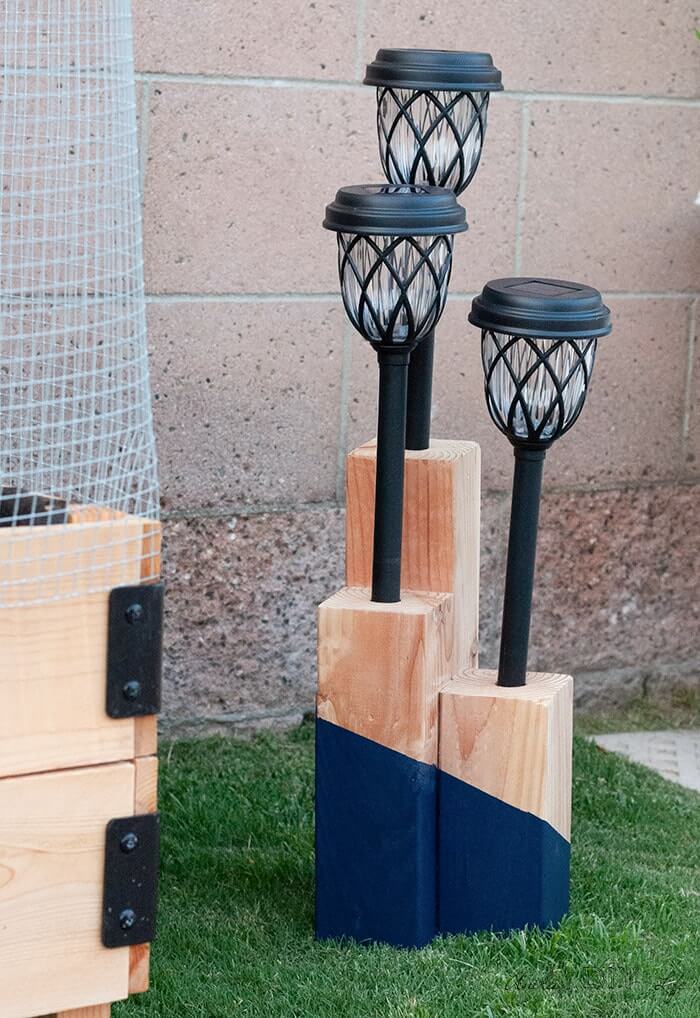 Good things happen in threes so find a good spot for showing off this trio of decorative yard solar lights. Positioned within three wooden square posts, the varying heights add depth and dimension to your outdoor design. A painted angle offers a slight nautical nod which works well with most any summertime decorating theme. Set this in a corner where you'll need extra light after dark.
8. Vintage Metal Chandelier Bird Feeder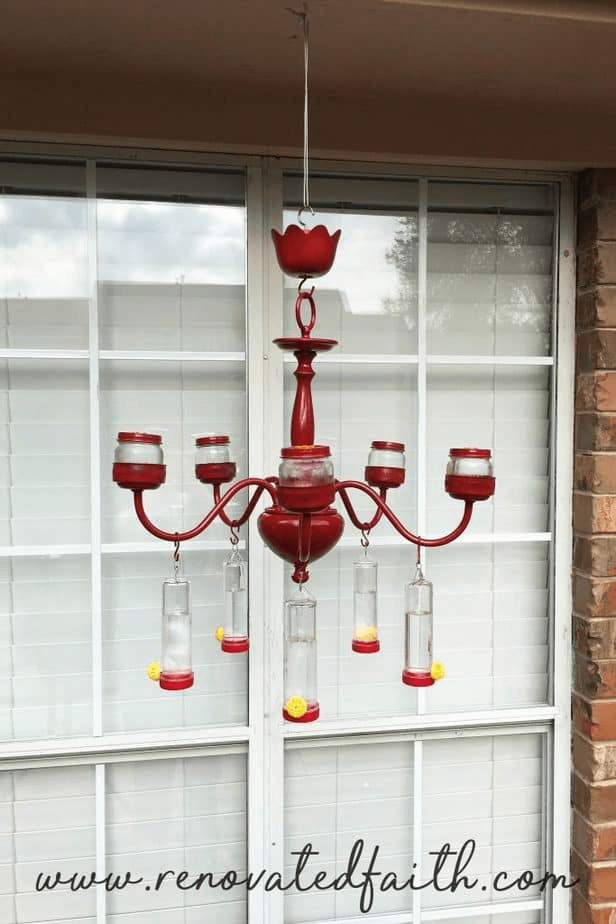 Hummingbirds will acquire frequent flyer miles to your backyard when you add this darling bird feeder to your posh space. A red-painted metal chandelier transforms into a large center for several hummingbirds to feast upon. Five feeders are more than enough to keep these tiny and speedy feathered friends coming back all summer long.
9. Metal Cage Industrial Tiki Torch Backyard Light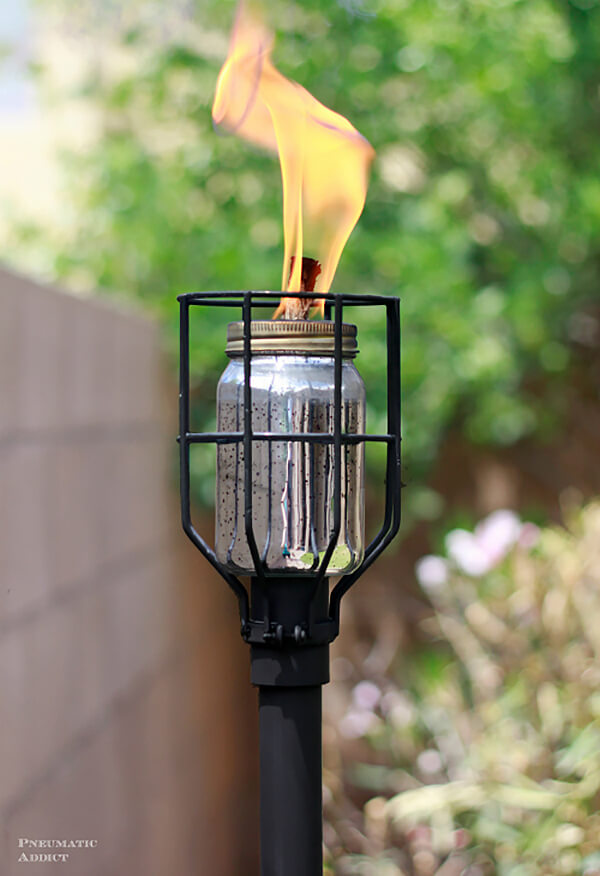 Keep pesky bugs at bay and add a soft, warm glow to your backyard with this stylish industrial tiki torch creation. Forget the tropical bamboo traditional designs and give your modern industrial designer's mind the look you love. Adding an element of metal in this bulb cage incorporates an additional textural element continuing the contemporary look and feel of your modern backyard.
10. Old West Saloon Hoop Chandelier Outdoor Light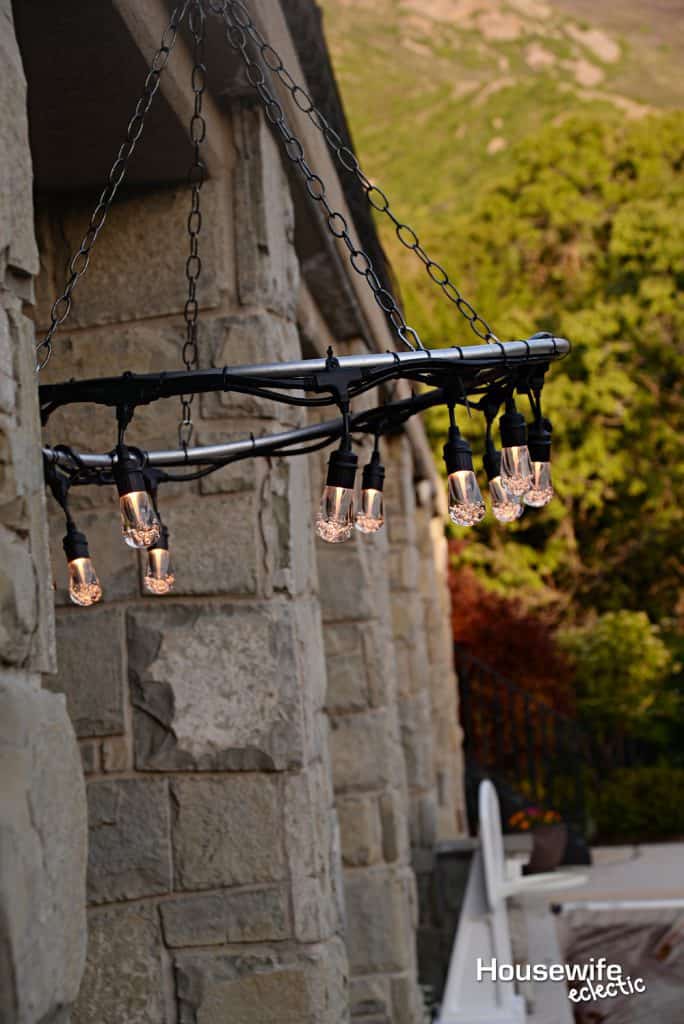 Here's a sturdy solution for some stylish lighting in your favorite outdoor hang-out. A painted metal hoop securely holds a string of Edison bulbs for added charm. Hanging overhead, the old west nod might give a saloon easiness to your guests. Entertain your family and friends in the comfort of your backyard even after dark with this amazing hoop chandelier that makes a beautiful outdoor light.
11. Mason Jar Solar Light Lantern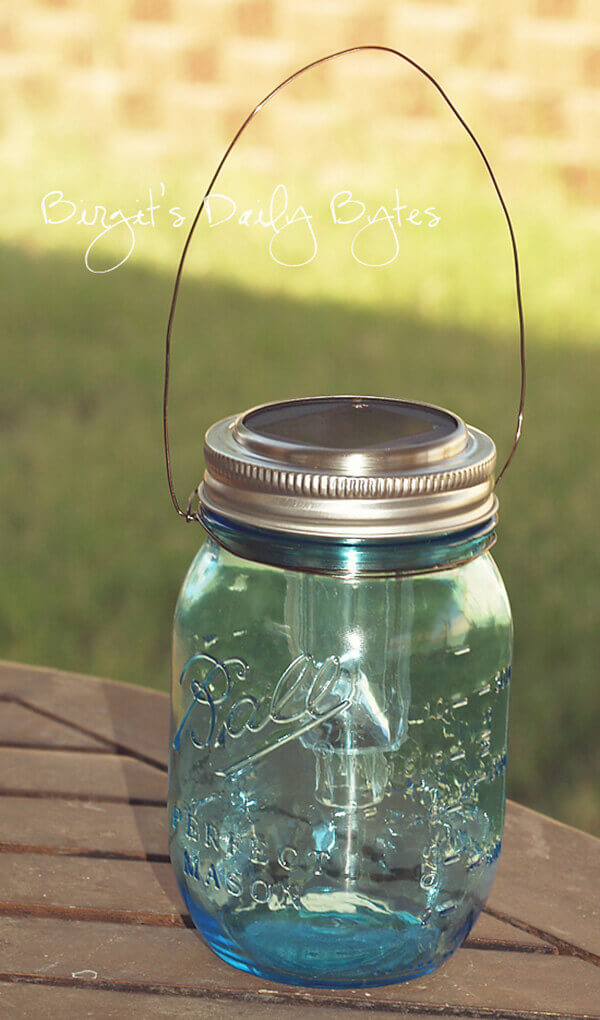 Grab ahold of the mason jar craft craze by adding this charming solar light creation to your favorite outdoor area of your home. With an attached wire, you'll be able to hang this lantern to give extra overhead lighting to your backyard get-together. Create an entire collection and hang them from tree branches to form a fairytale wonderland in your own private retreat.
12. Glass Bowl Chandelier Patio or Pergola Light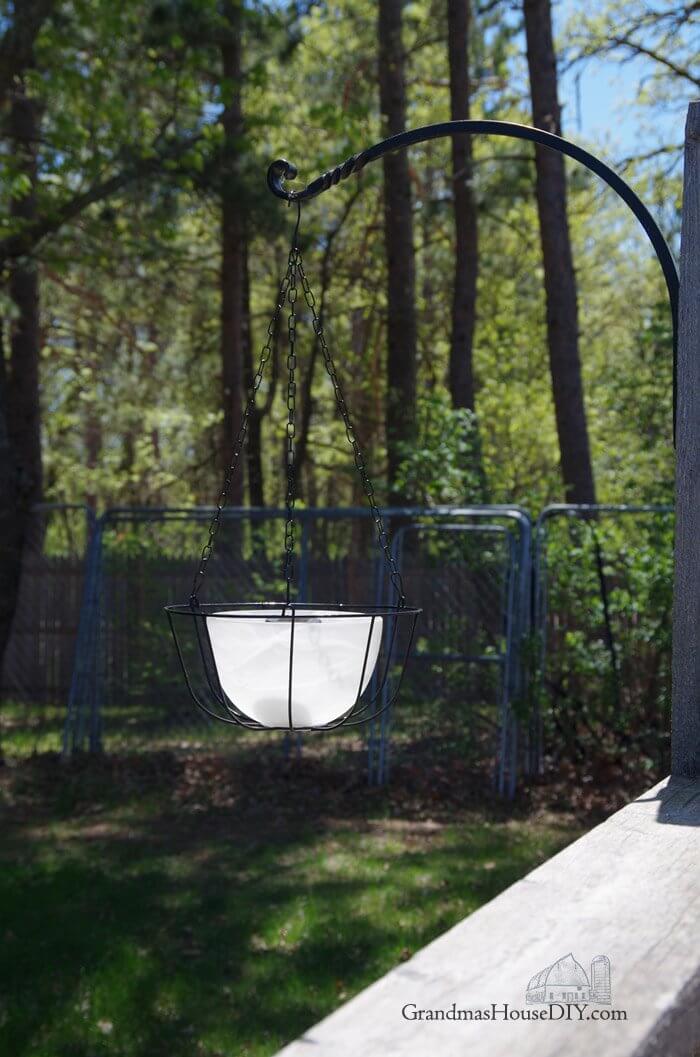 Channel the source of energy for our world into the lighting fixture in your backyard with this amazing solar-powered glass bowl chandelier. The look of the glass globe gives your outdoor dining center an elegant ambiance as the frosted globe softly lights up after dark. Line a few of these around your back porch or pergola to make use of your entire backyard space for friendly gatherings after the sun goes down.
13. Tin Star Outdoor Pendant Light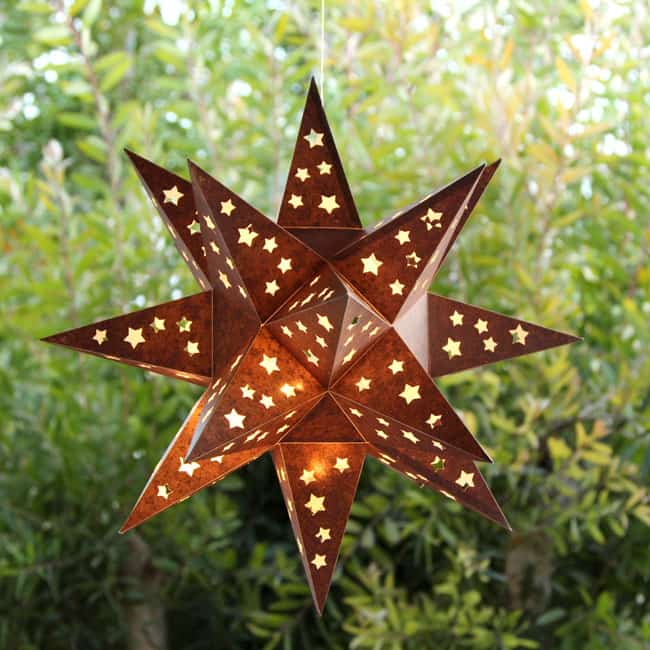 Enjoy the beauty of a star-lit sky even on a cloudy night with this gorgeous tin star pendant light. The small star cut-outs in the tin allow tiny flecks of light to spill out and illuminate the dark sky in your backyard. Create a whole collection of these to suspend from the trees in your backyard to create a larger-than-life fairy garden-inspired landscape. Take a well-deserved respite on Friday night and enjoy your favorite drink under your own star-lit paradise.
14. Solar Powered Twinkle Light Large Jar Decoration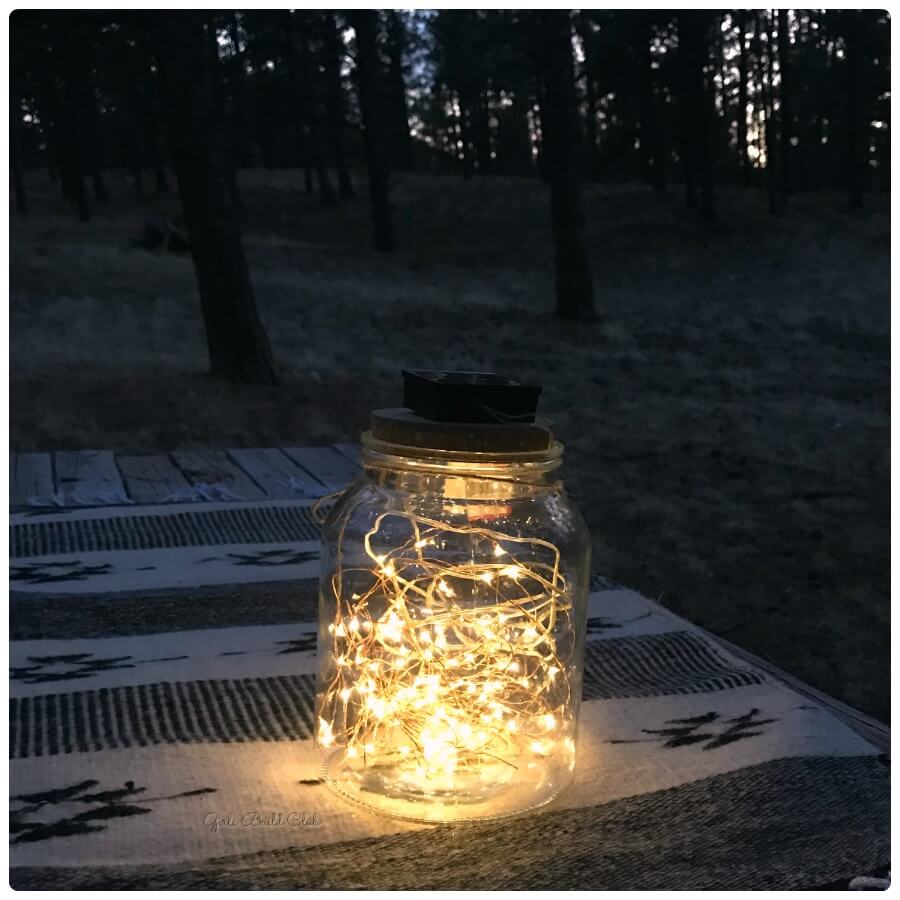 A plain glass jar can be transformed into a focal point in your backyard retreat when you add a strand or two of solar-powered twinkle lights. It makes a great option for displaying as a centerpiece on your picnic table or placing on a side table where you could use a little more light. Keep the night young and alive with several to add a comforting glow to your friendly conversations after dark.
15. Reimagined Painted Metal Candelabra Solar Light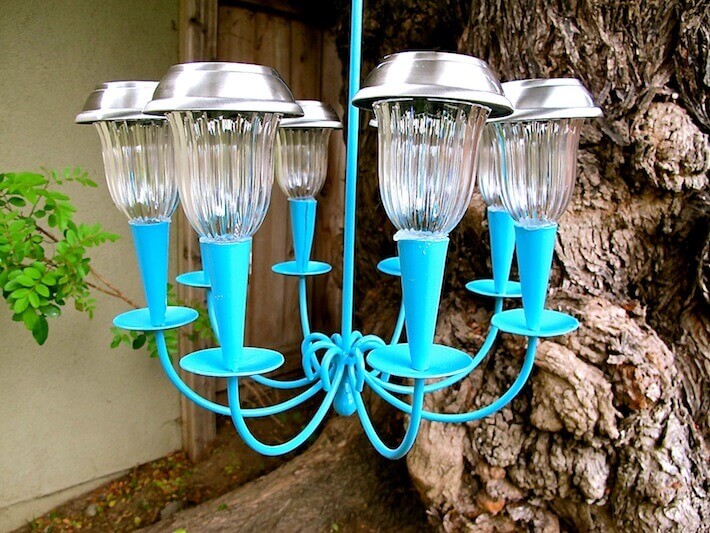 A few solar lights replace thin candles to create this thrifty outdoor version of an elegant candelabra. Spray a coat of your favorite bright or bold paint to give it a clean look as you add your set of solar lights to finish this masterpiece. You'll love the look and light provided by this interesting and refreshing candelabra that's perfect for hanging over your picnic table outback.
16. Overhead Hanging Glass Jar and Burlap Light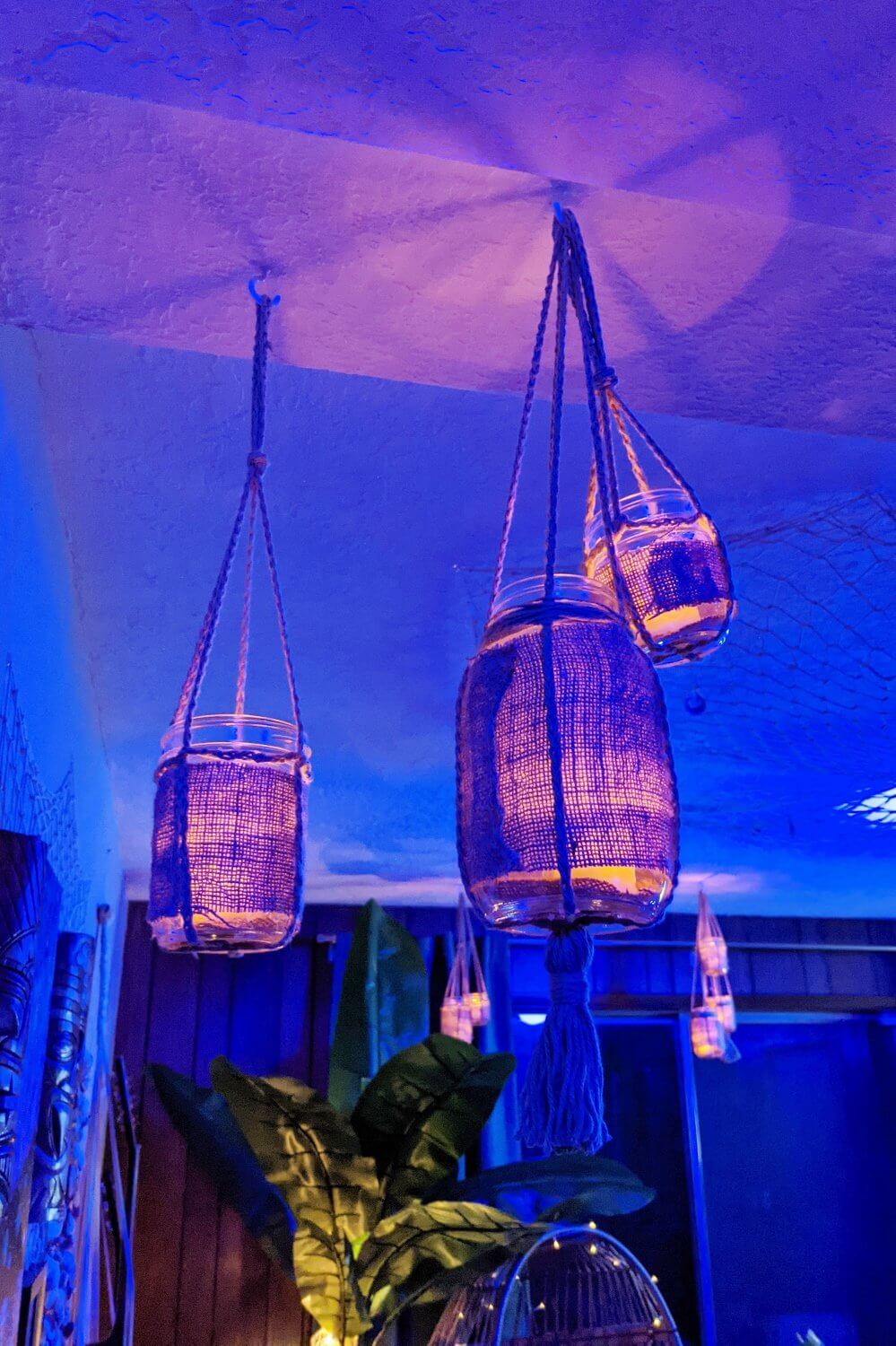 Give your favorite backyard space an update in the lighting department with this creative spin on glass jar lighting. Wrapped in a swatch of burlap, the light from within forms a soft glow as it meanders through the small square crevices of the fabric. Tied with a knot and hung overhead, this lighting display looks beautiful and adds so much cozy comfort to your nighttime relaxation.
17. Old Fashioned Edison Bulb Outdoor Light Strand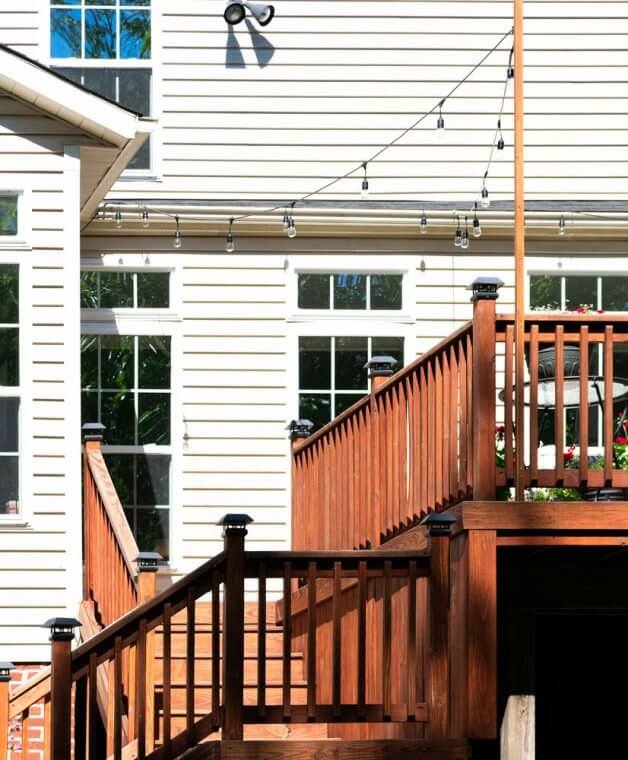 Feast your eyes on this simple strand of outdoor lights that have a lot of styles. Using old-fashioned Edison-style light bulbs, these lights can be strung all around your entertaining space in your own backyard. Light up your patio, deck, or pool area as you create a cozy and comfortable outdoor space to enjoy after dark. Stringing them in a large tree would also be a nice way to create a conversation space that everyone will enjoy.
18. Painted Soup Can DIY Lantern Idea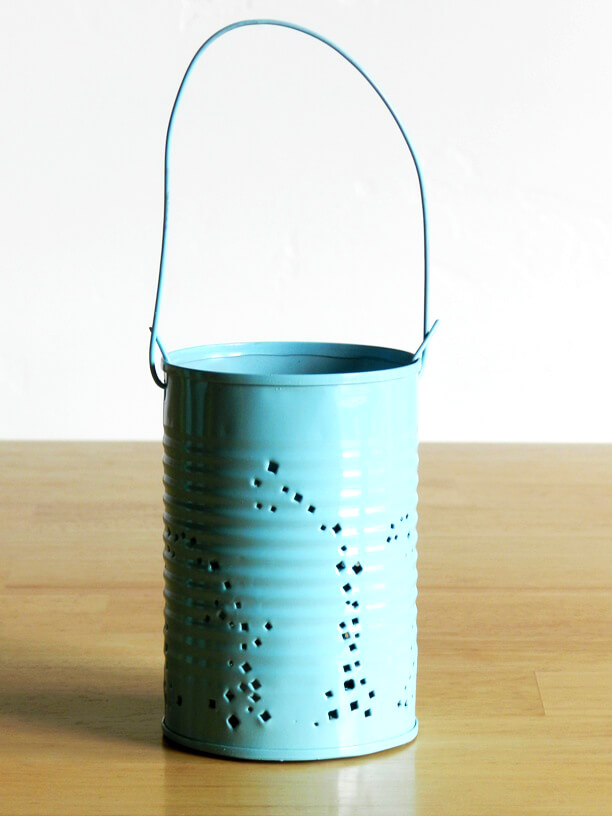 A fresh coat of paint and your choice of design work together to create this unique soup can lantern project. Your hand will guide a hammer and nail in crafting a silhouette of a firefly, sunburst, or your choice of design to allow the candle within to shine through. A bright paint color makes it look amazing during the day while the votive within will make it a showstopper at night!
19. Newspaper Decoupage Glass Jar Outdoor Lighting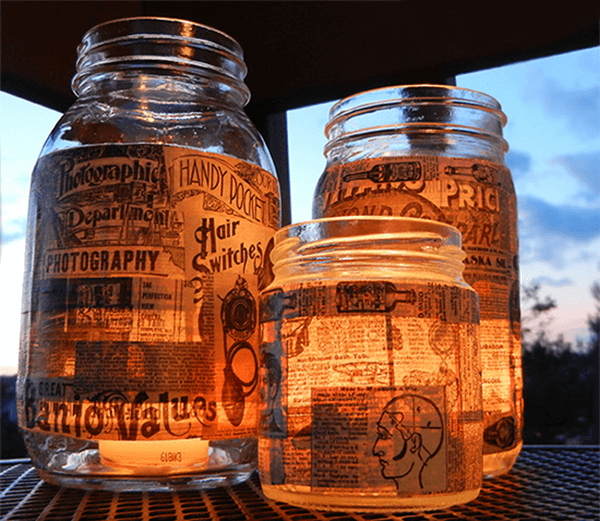 Here's yet another great way to jazz up those glass jars you have lying around your home. Cut some old magazines to fit and apply a coat of decoupage to transform the jar into an ambient outdoor lighting fixture. These jars can be set in groups or alone to provide the perfect amount of amber lighting to your outdoor entertaining space.
20. DIY Outdoor Hurricane Light with Tuna Cans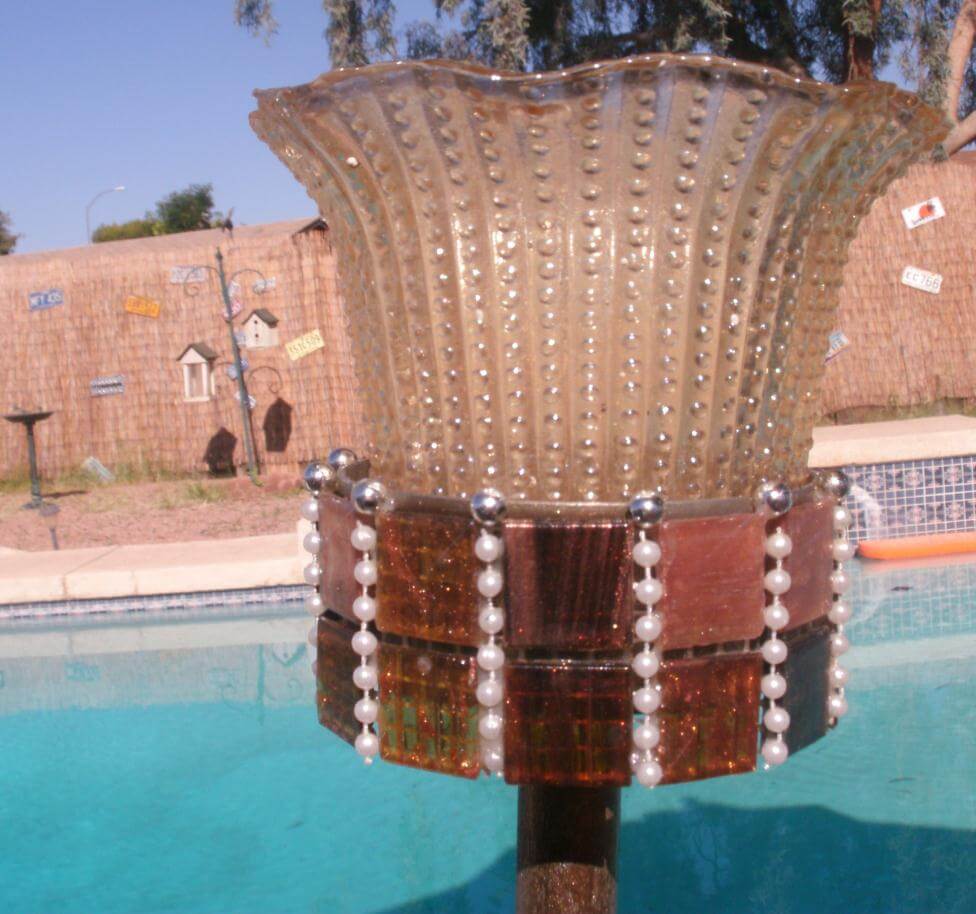 Upgrade your craft game and create this amazing tuna can hurricane outdoor light. You may choose to perch it on a pedestal or attach it to a rod to create a freestanding lighting fixture for your backyard paradise. Adding some beads and pearls gives your tuna can hurricane light an elegant flair without spending a lot of money. Choose a fresh coat of paint that shows off the peachy pink goodness of treasures from the sea to further embellish your unique outdoor lighting fixture.
21. Hanging Glass Bottle Tea Light Display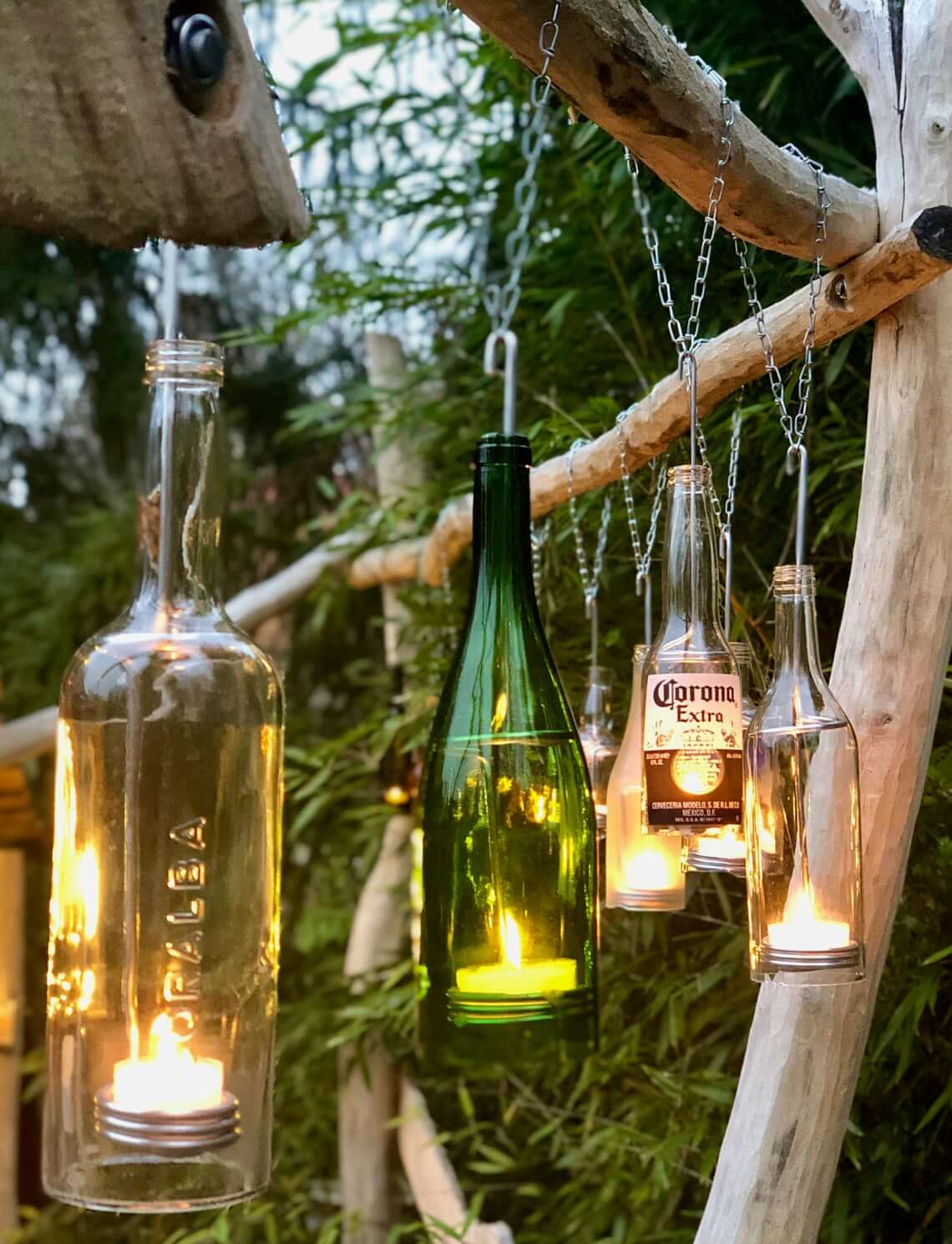 Create a unique and fabulous garland of glass bottles that string around to give you some style and light at the same time. Your recycling bin is filled with these hidden gems just chomping at the bit to be used. Together they create a charming look around the porch or at the top of the pergola to give you the light you need to entertain your family and friends on summer nights.
22. Outdoor Beauty Mason Jar and Beaded Chandelier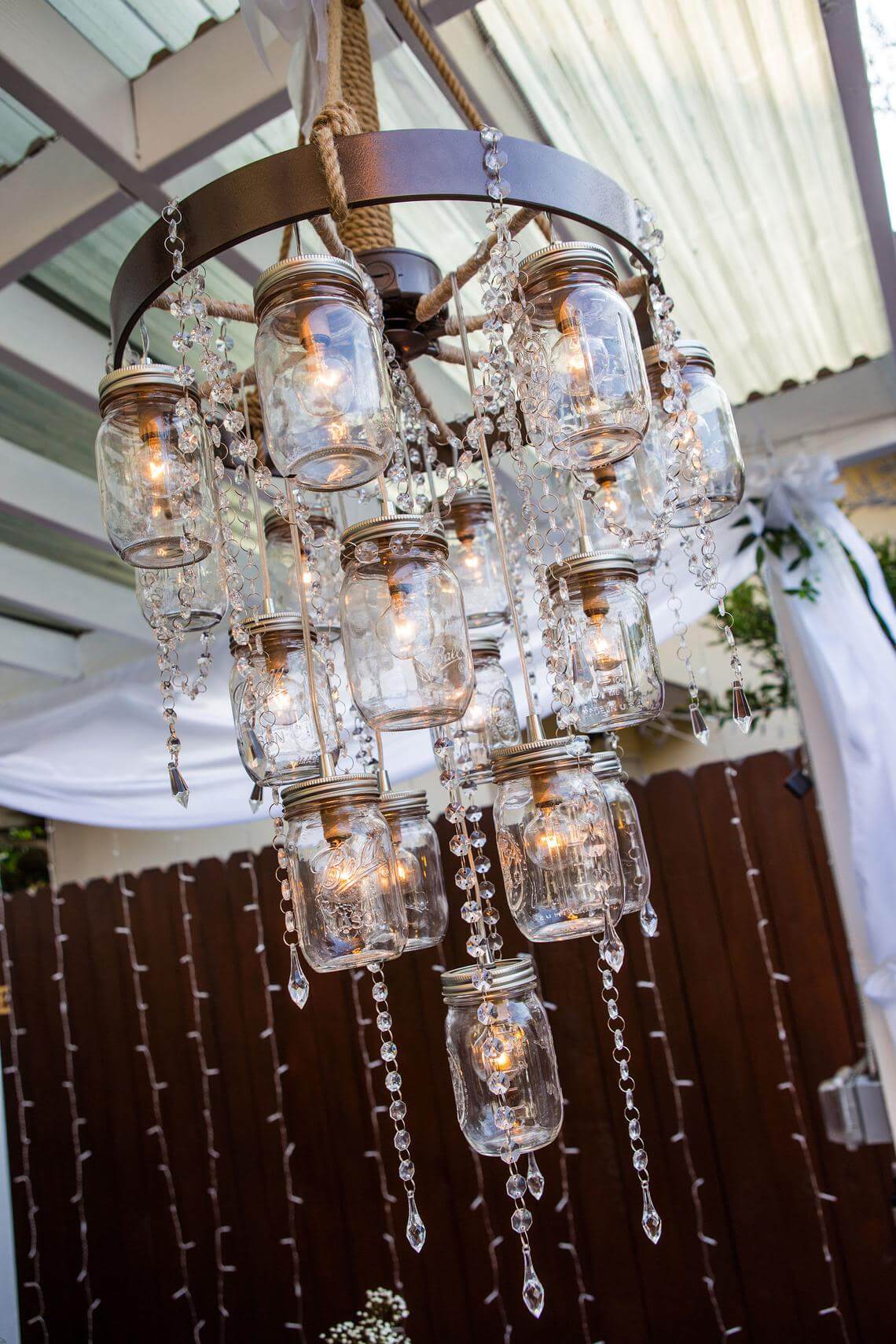 With a few simple supplies, you can create a spectacular focal point in the form of an outdoor lighting fixture for your summer adventures. Each evening you'll be glad you made this mason jar chandelier that provides plenty of light as well as tons of character and beauty to your outdoor space. Several would make a breathtaking display for an outdoor wedding reception.
23. Decorative Colored Glass Torch Lights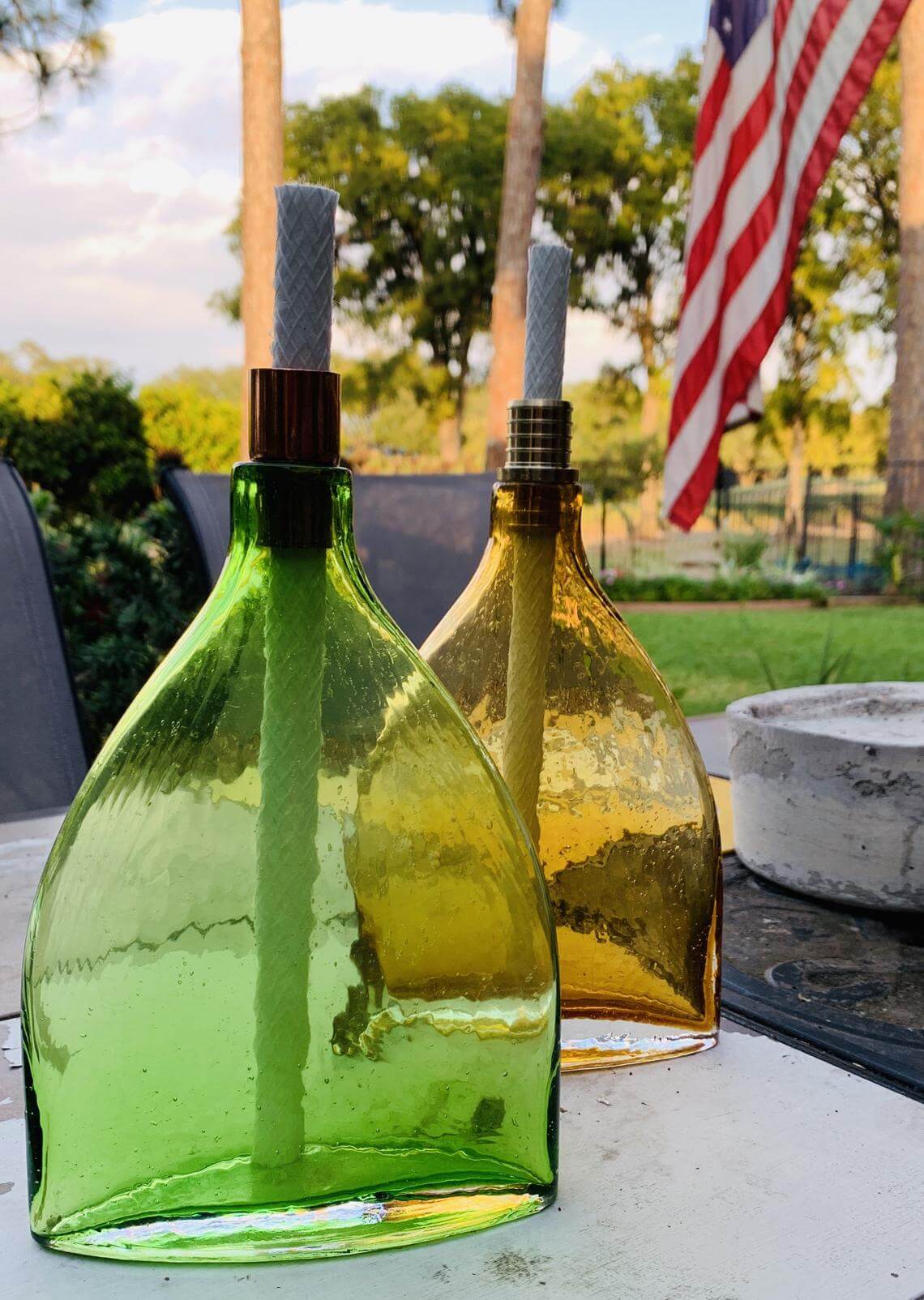 Nothing says summer lighting quite like a torch. Add some beauty before the wick gets lit with some gorgeous and colorful decorative glass vases. They make the perfect bases for securing your wicks to light up the firefly sky. Arrange them around your patio or pool for a relaxing display of subtle colors and calming lights for everyone to enjoy after dusk.
24. Vinyl Lettering Camp Rules Illuminated Bucket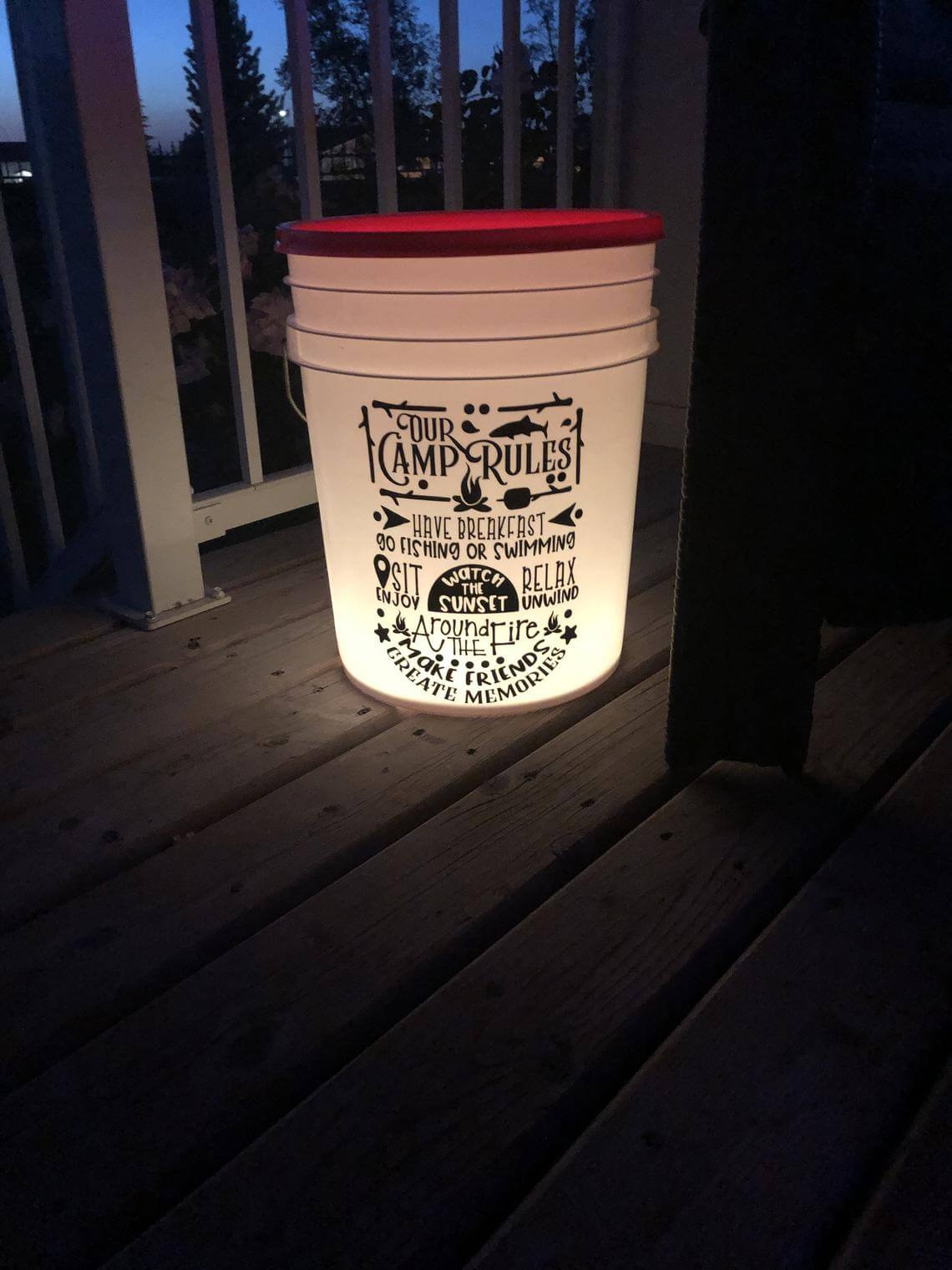 Add a personal touch to your family's favorite camping spot with this fun illuminated bucket. The white bucket shines from within to make it easy to read the laid-back attitude of the vinyl lettering on the side. Sit back and relax by the fire as you enjoy this creative spin on a decorative camp sign that's truly one-of-a-kind.
25. Upside Down Basket Dome Outdoor Lighting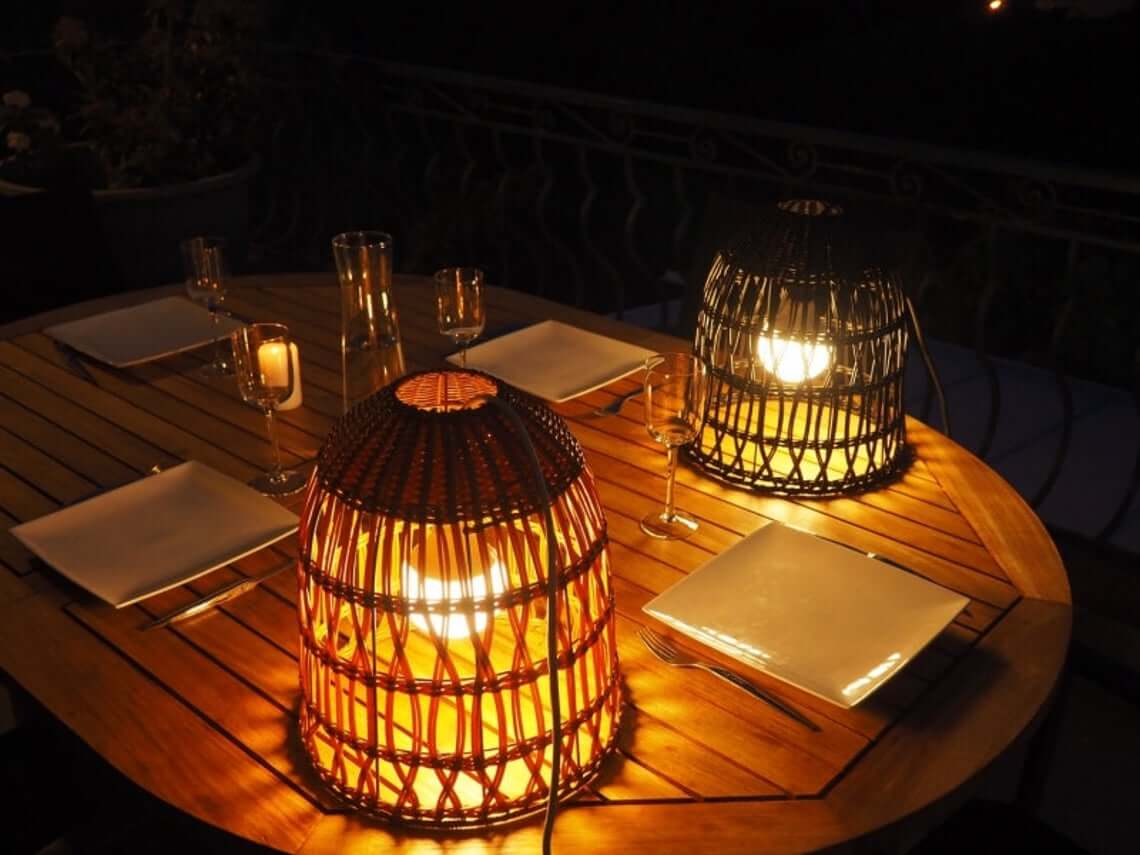 Your tabletop can use some additional light so convert a couple of baskets into these unique domed lighting fixtures. The woven basket allows the light to penetrate out in a gentle way while keeping little fingers safe from touching a hot bulb. Everything on your table will be easy to see so you can continue a late-night buffet or card game for as long as your heart desires.
26. Make a Chandelier from a Hula Hoop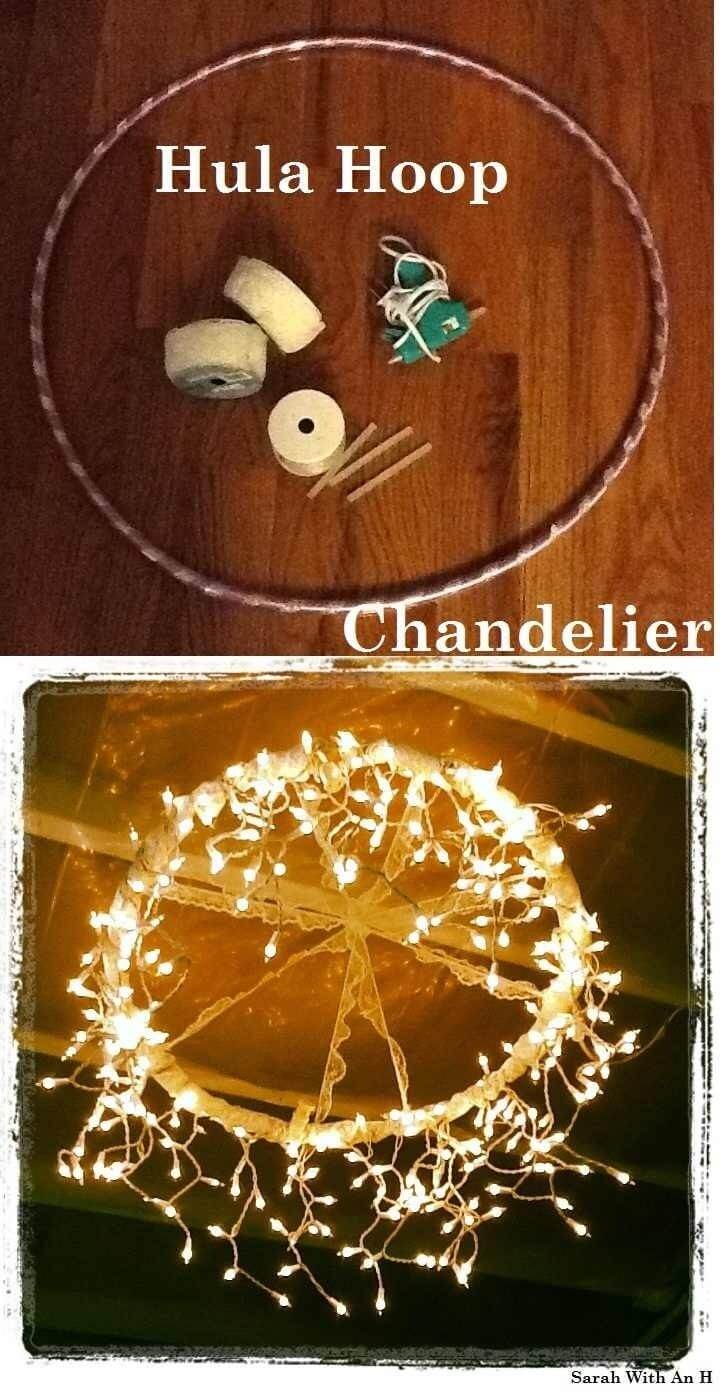 27. Make Wine Bottle Torch Lamps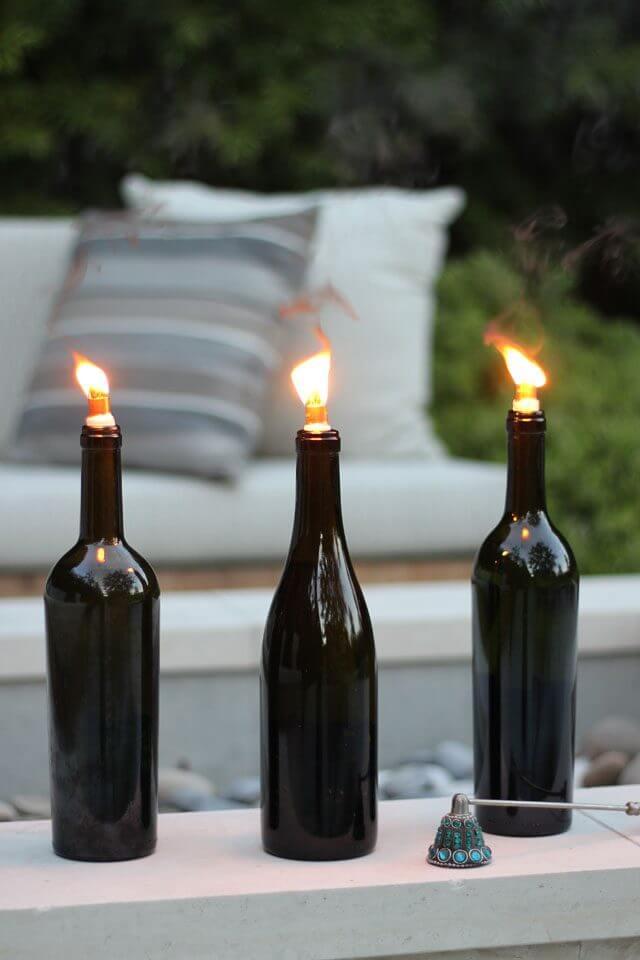 28. Hang Charming Mason Jar Candle Lanterns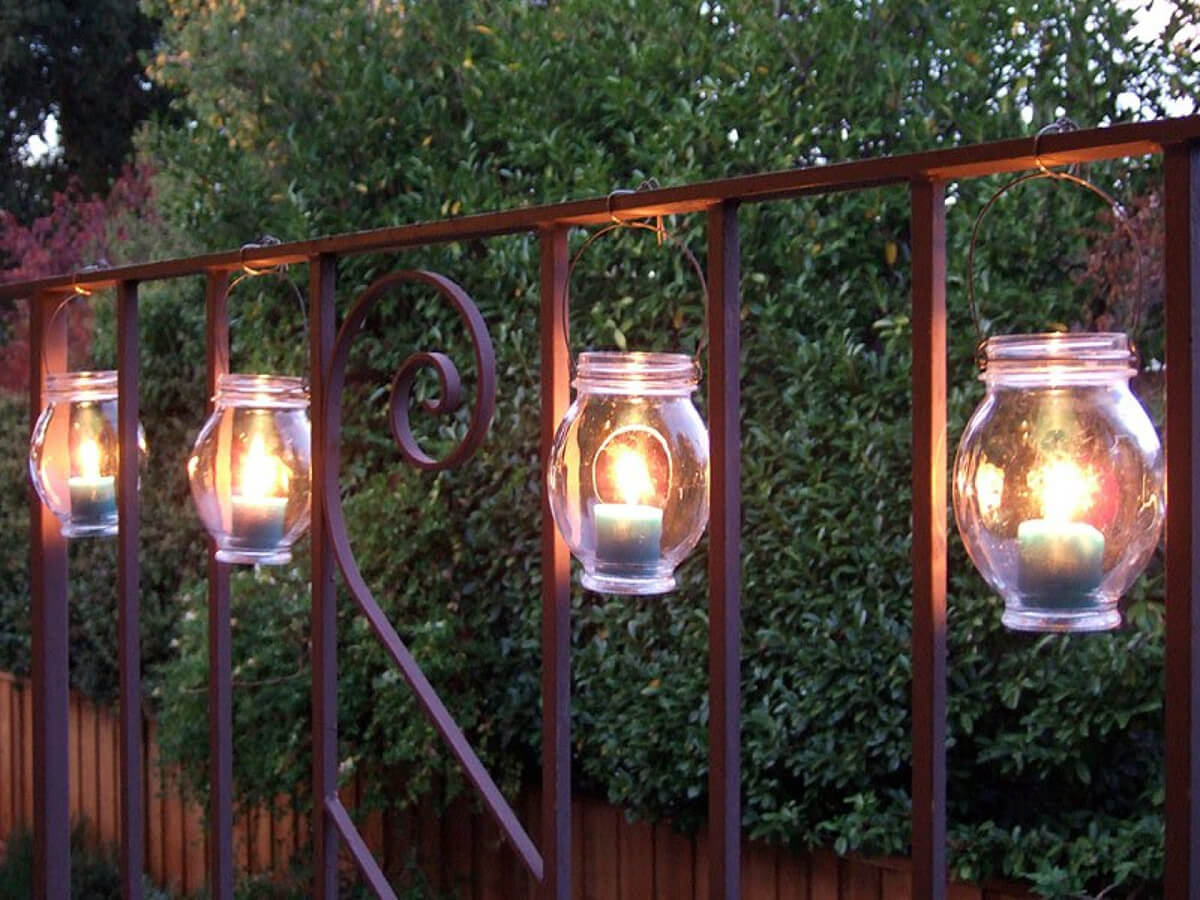 29. Surround a Globe Light with a Rope Sphere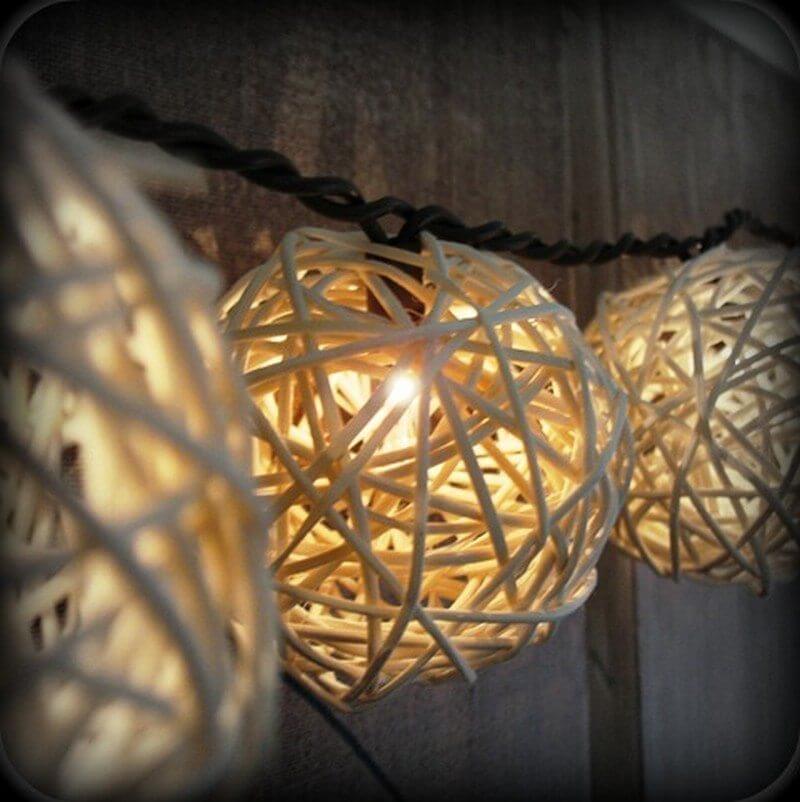 30. Make Your Own Chandelier with Tin Cans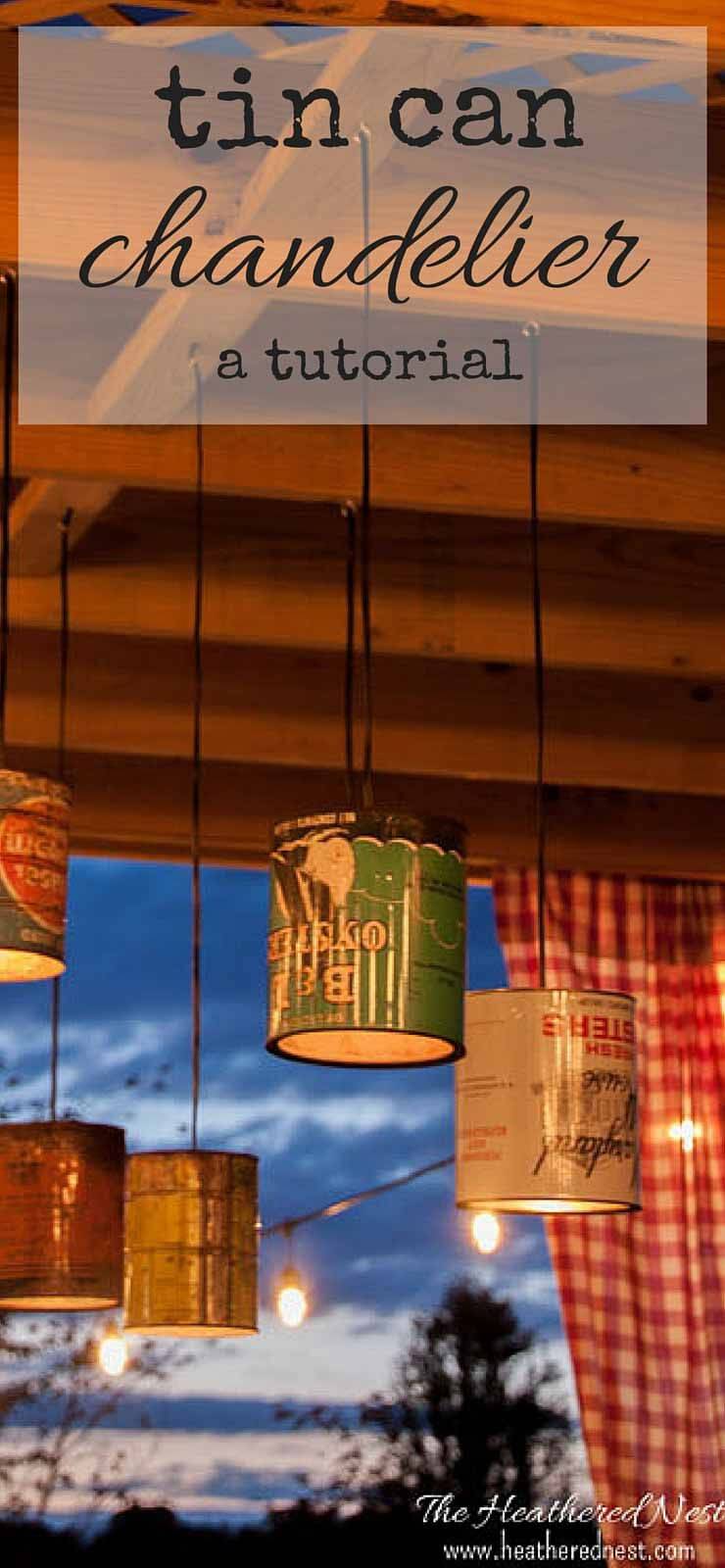 31. Use Planters to Make an Outdoor Light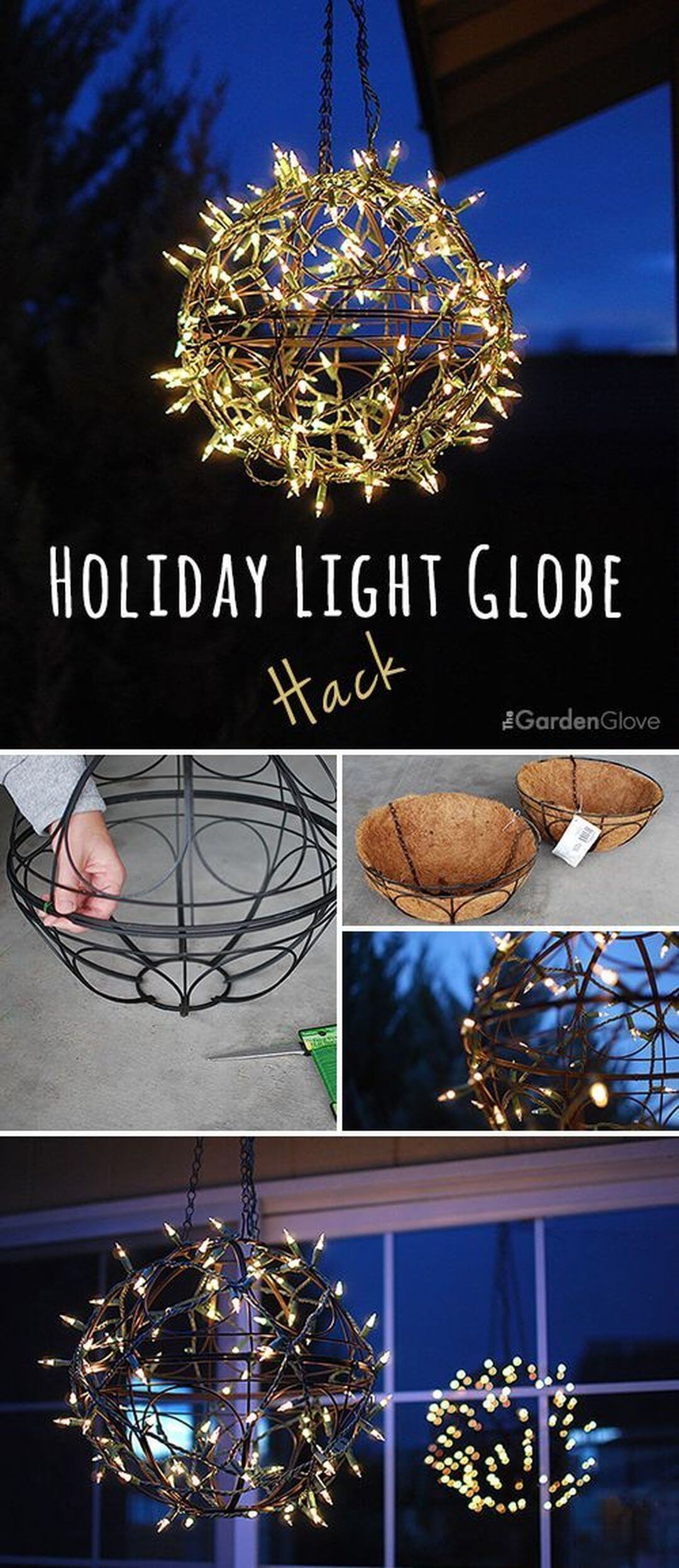 32. Decorate a Lamp Shade with Burlap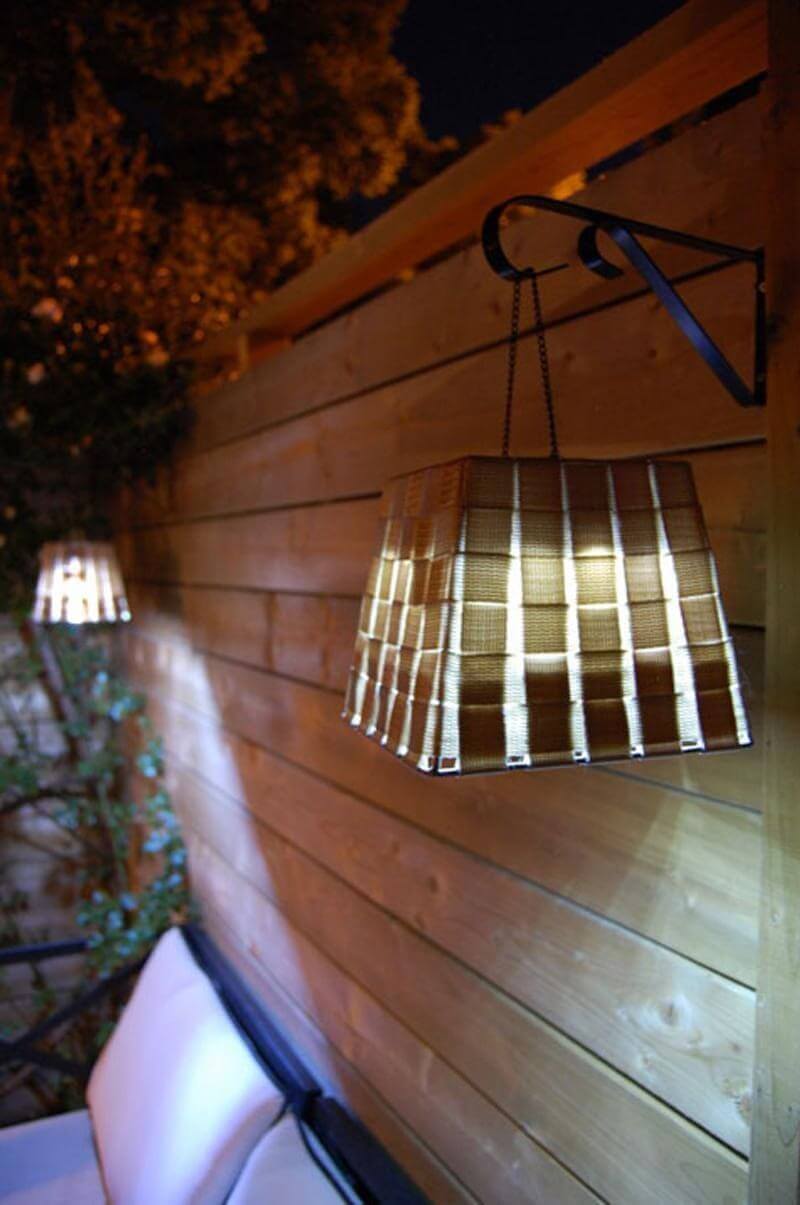 33. Make a Tiki Torch with Industrial Style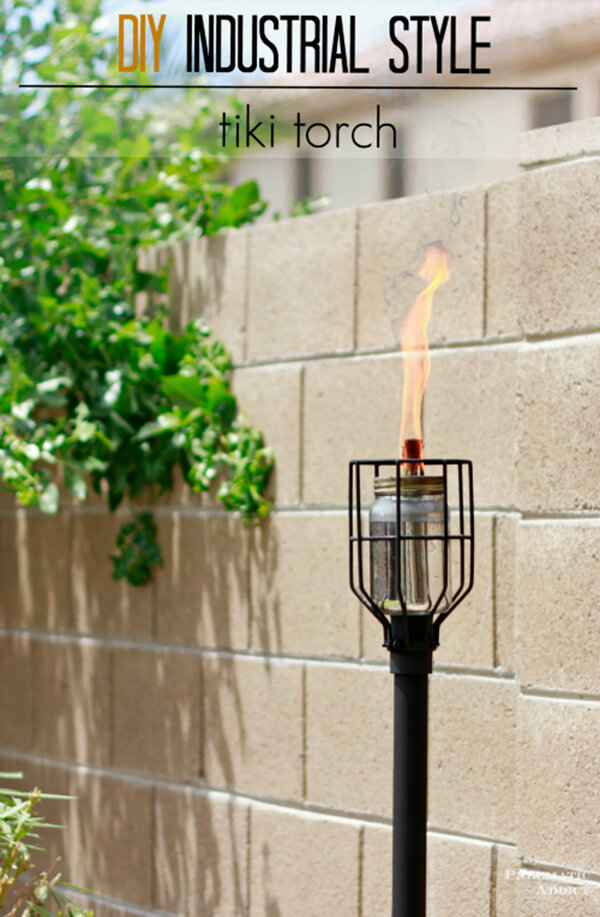 34. Knotted Jute String Lanterns with Candle Holders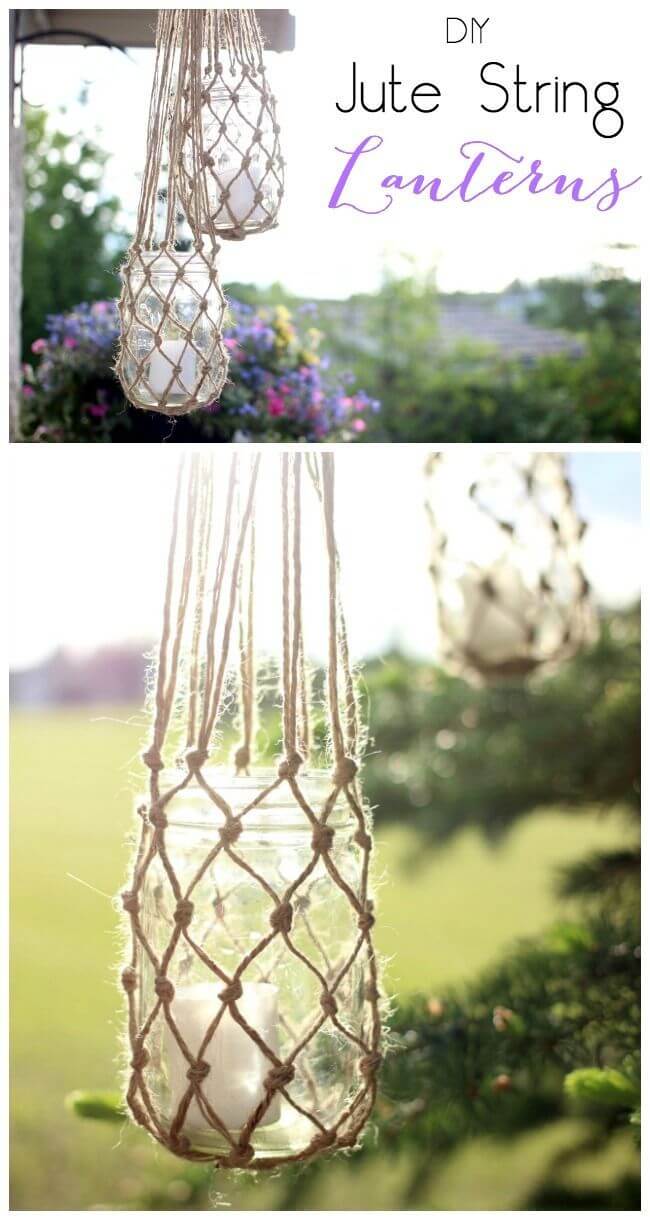 35. String Edison Lamps from Tall Light Poles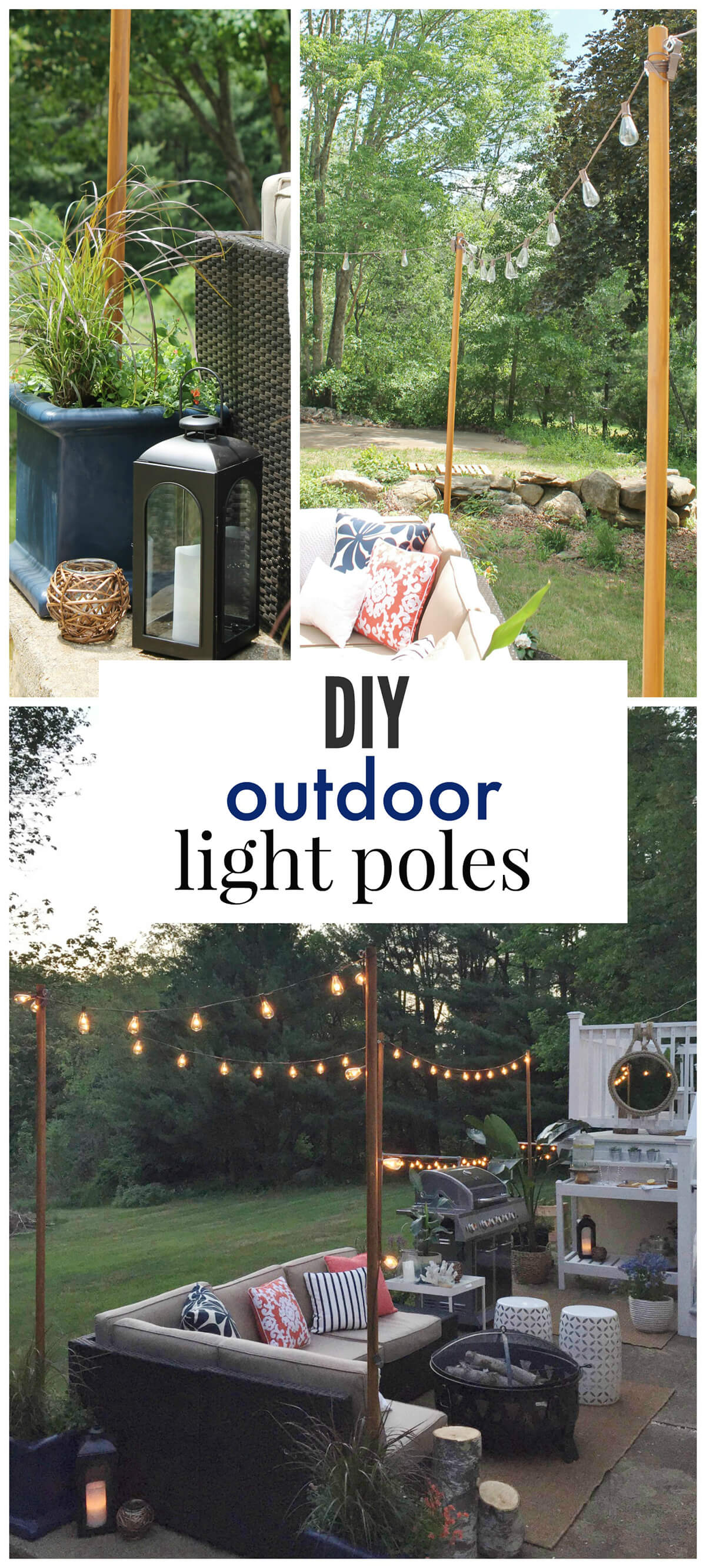 36. Make Your Own Tiny Fire Pit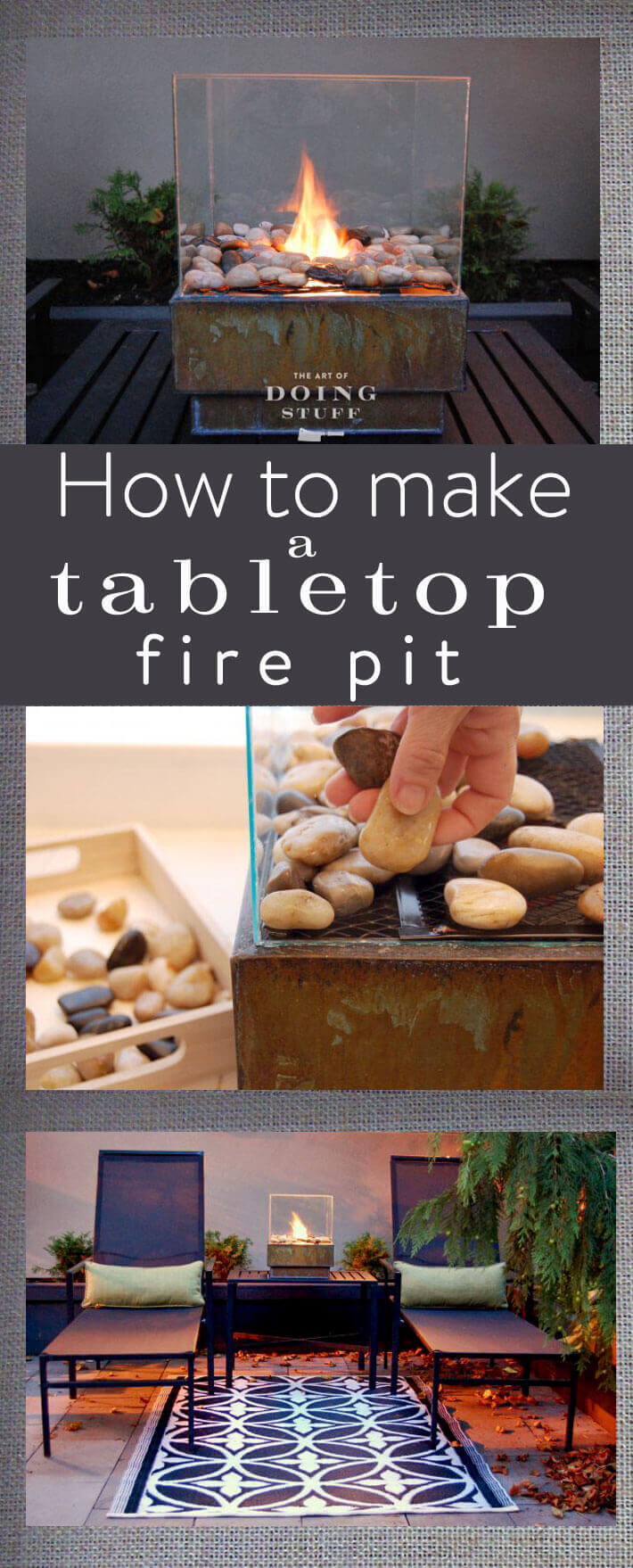 37. Use Glass Globes and String Lights Together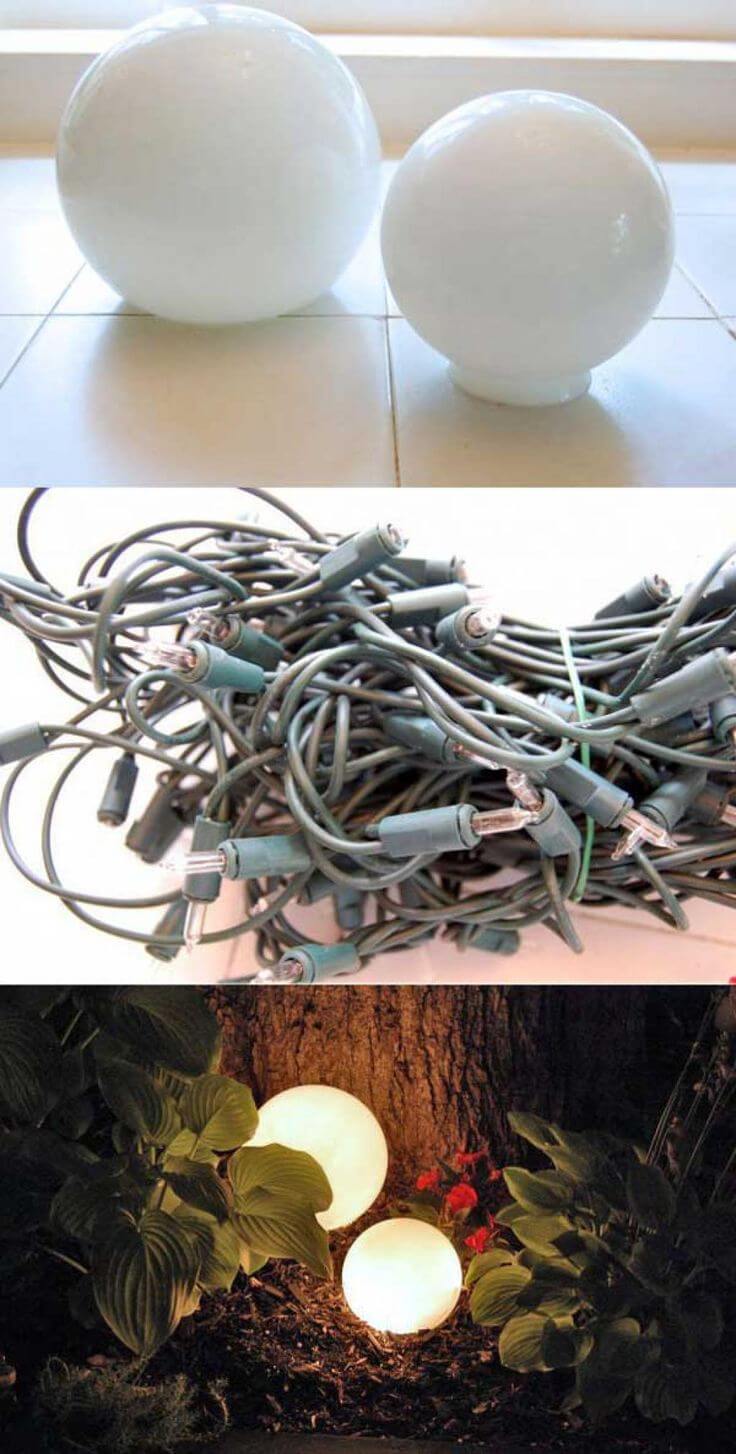 38. Give Solar Lights a New Base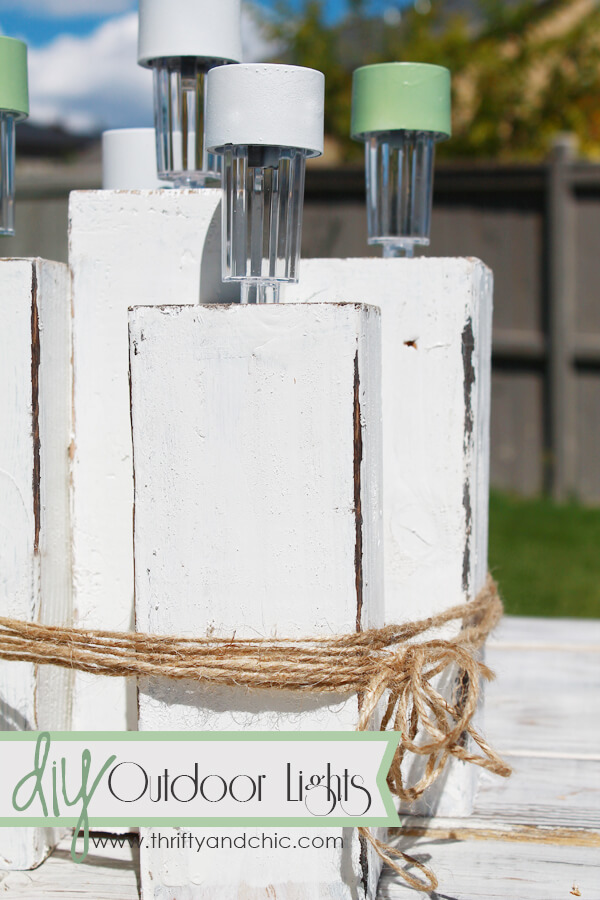 39. Make a Lantern with a Solar Light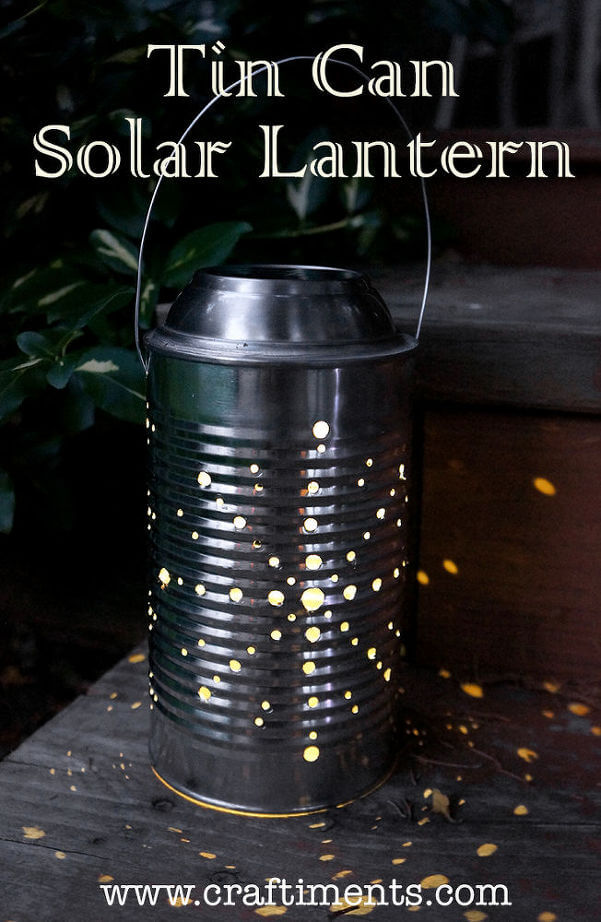 40. Glass Bricks Make Lighted Paving Stones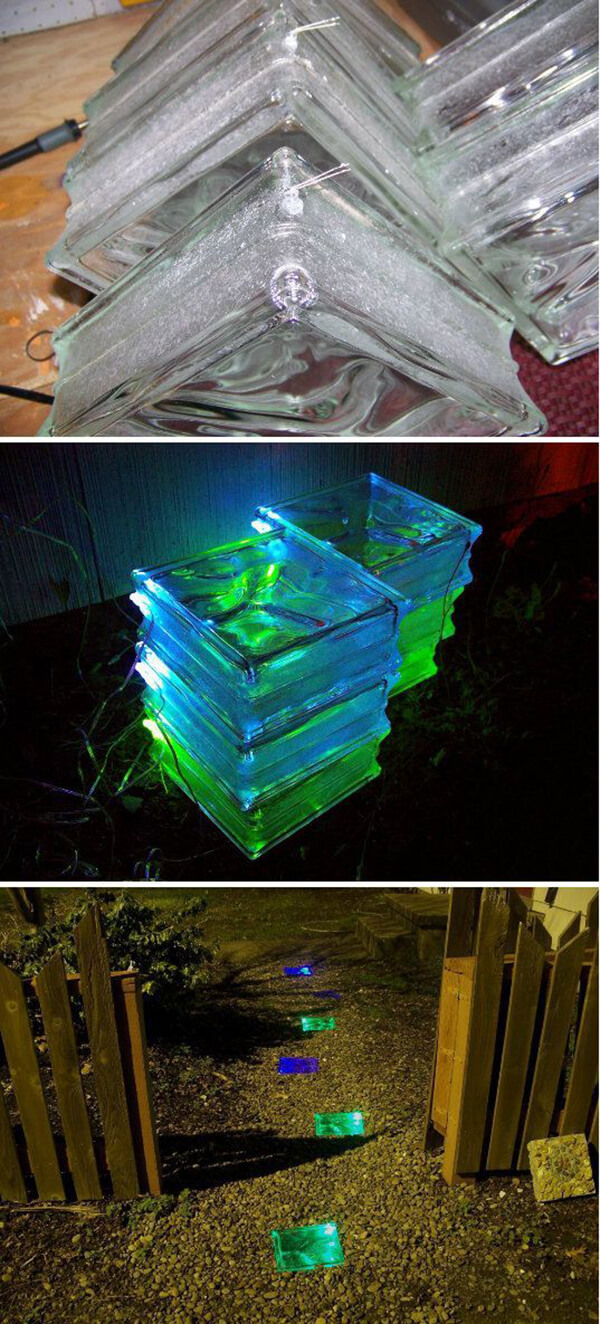 41. DIY Outdoor Lighting Idea with Mason Jars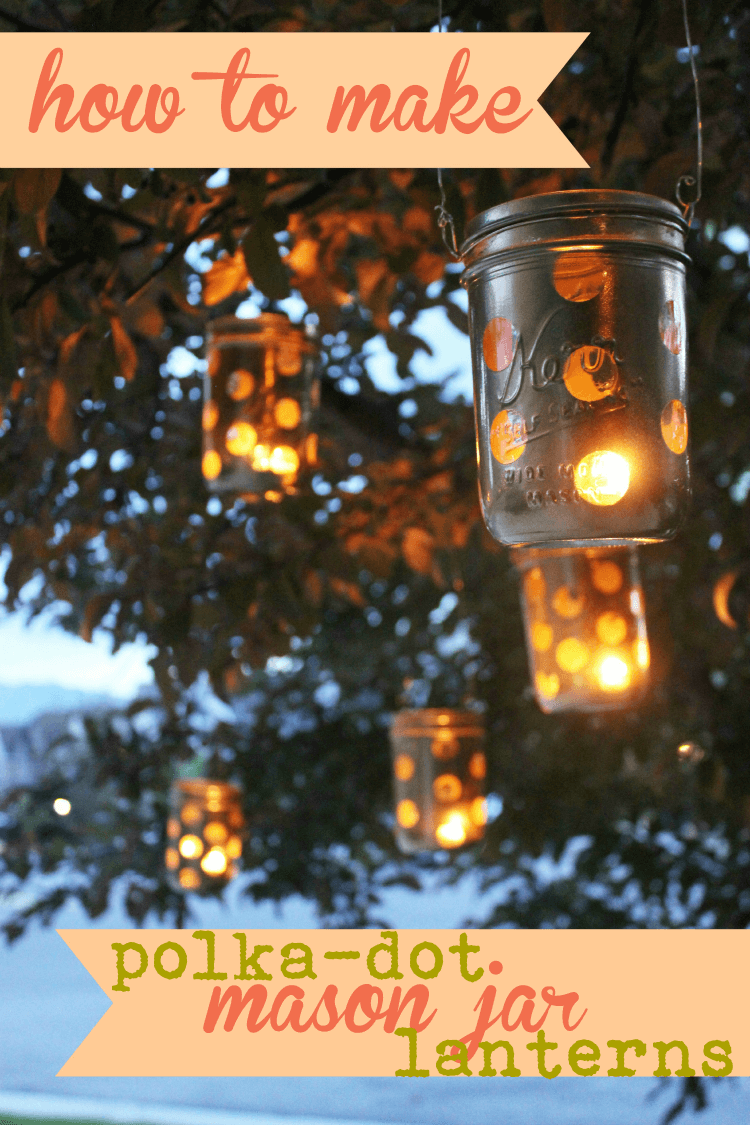 42. Large Mason Jars with Rope Handles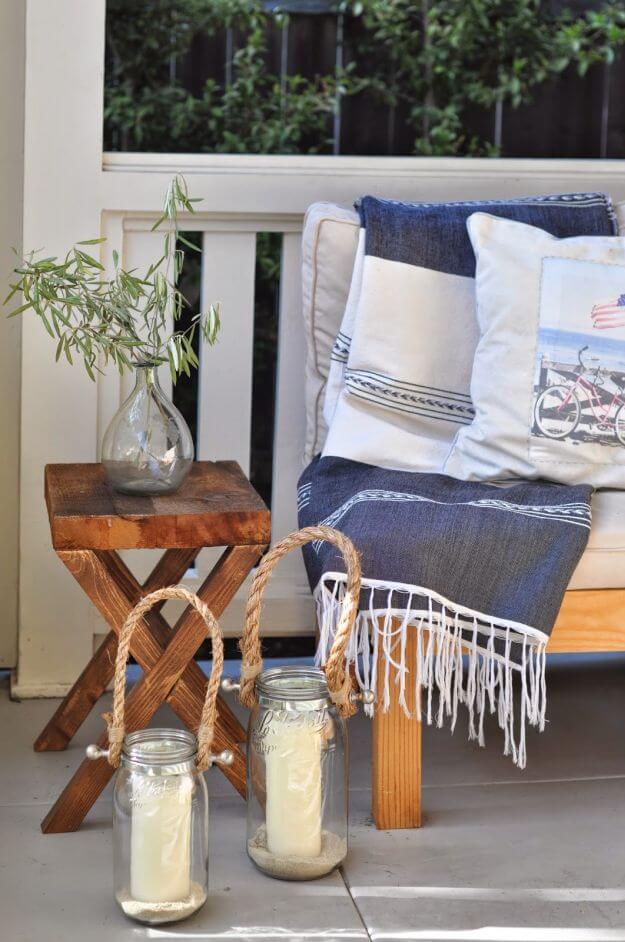 43. Glassy Ice Bowls for Outdoor Lighting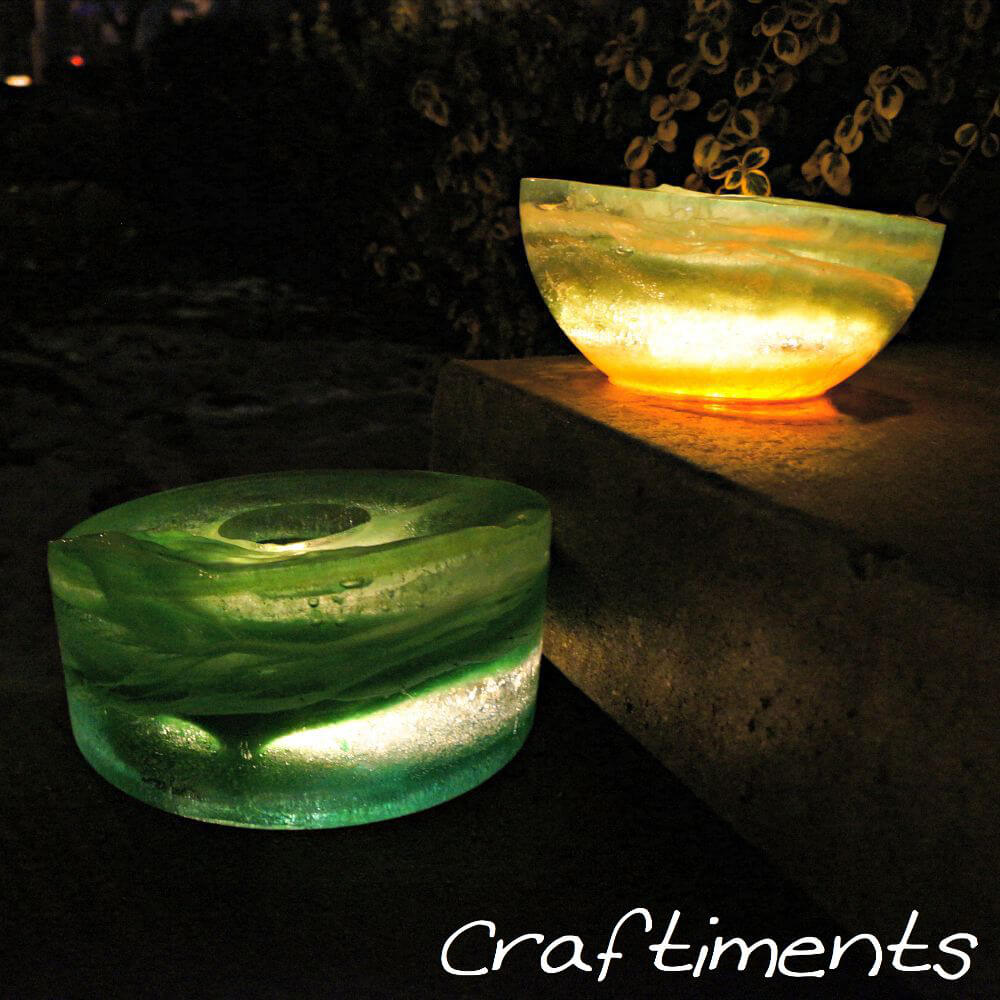 44. Make Your Own Lighted Wood Letters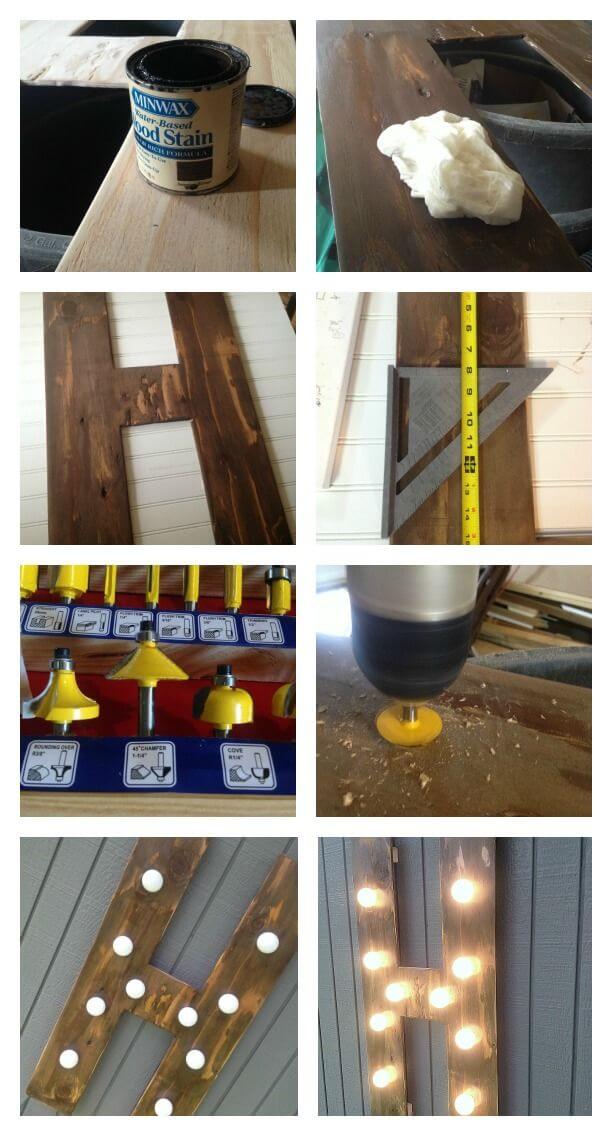 45. Simply Put a Tea Light in a Mason Jar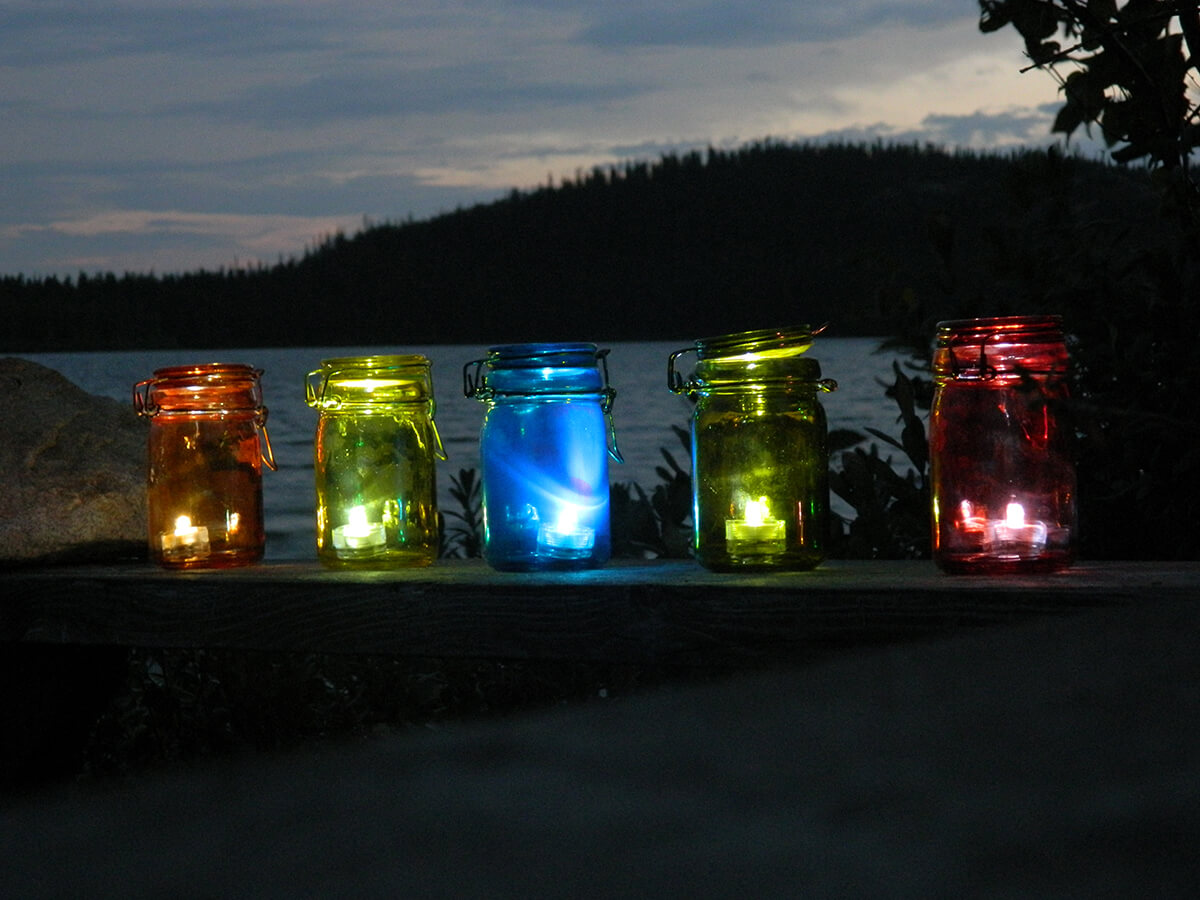 46. Candles and Succulents Together on a Shelf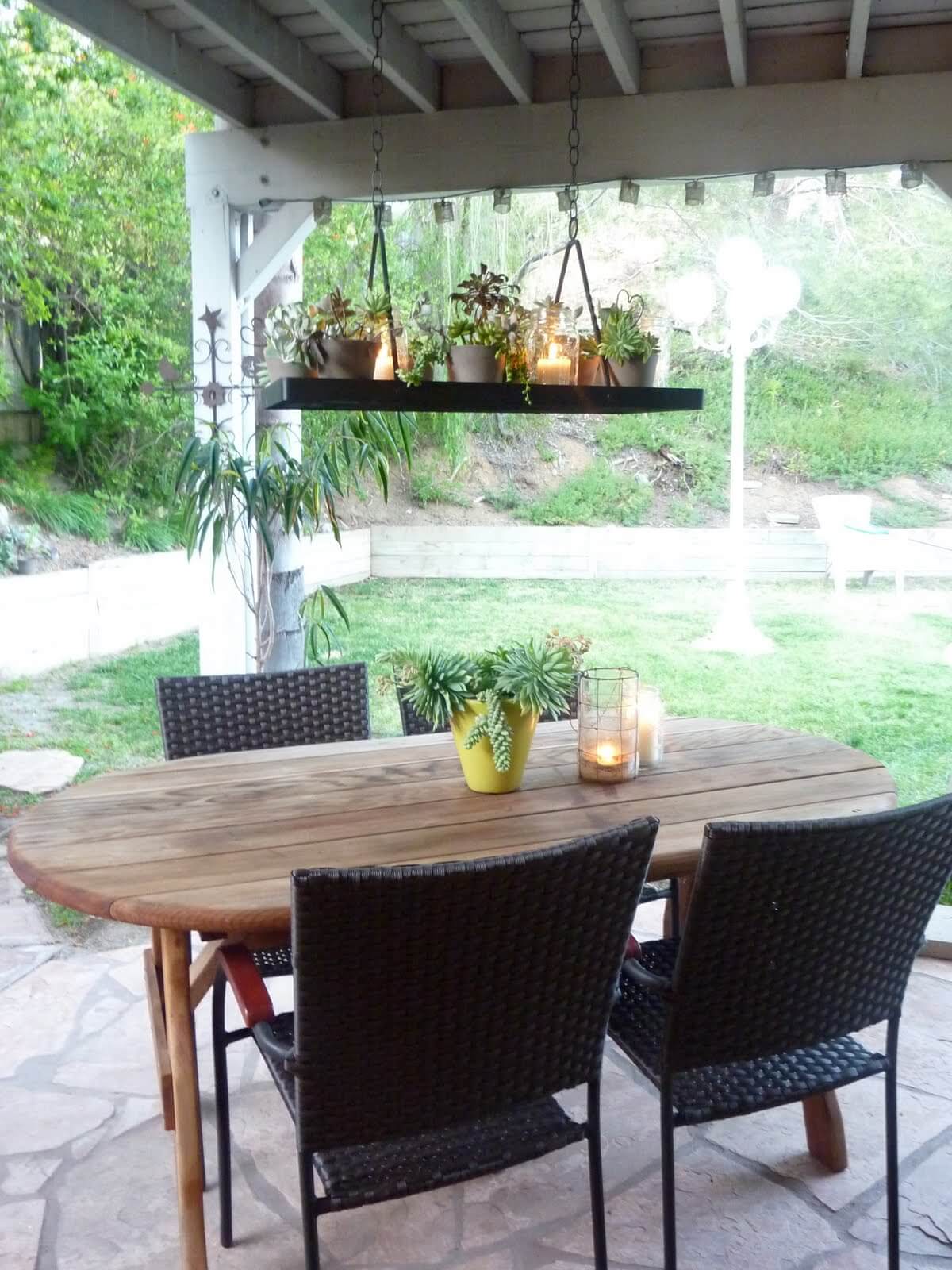 Our Favorite Outdoor Decor Lighting to buy on Amazon