With a little re-imagining and a lot of resourcefulness, you'll be amazed at all of the best DIY pallet garden ideas that you can easily craft in little to no time at all! And if you're thinking "why pallets," my answer is "why not?" Utilizing all of the abundances of these wooden gems just makes sense due to their availability and low cost.
22 Colorful DIY Pallet Projects for Your Garden

For starters, we are witnessing a shift in our world where more and more people are realizing the need to make better decisions on purchases. How much we buy, the origins of our things, and what we plan to do with these items over time all contribute to a better consumer purchasing plan. Not only will the earth thank you for this thoughtful endeavor, but your wallet will too.
Since pallets are plentiful and often free, there's no wonder why so many do-it-yourselfers are hitting the drawing board to discover all of the ways these cheap wooden pieces can be repurposed for everyday use.
Some of the best concepts include using pallets in your garden. This could be using them as your personal miniature garden, complete with built-in rows, or as an ideal backdrop for starting your family's herb garden. And the creativity doesn't stop there!
As the temperature outside begins to rise, we seem to mingle outdoors to enjoy the fresh air and feel the gentle breeze. This becomes a whole lot more comfortable when we envision an outdoor gathering space that closely resembles the ones we've cultivated within the walls of our homes. So it's no surprise that one of the other most popular ways to reuse these pallets is by turning them into outdoor furniture. From chairs and couches to tables and serving bars, you can't go wrong with any way you choose to use pallets in your next DIY project.
1. Easy DIY Outdoor Pallet Couch with Chaise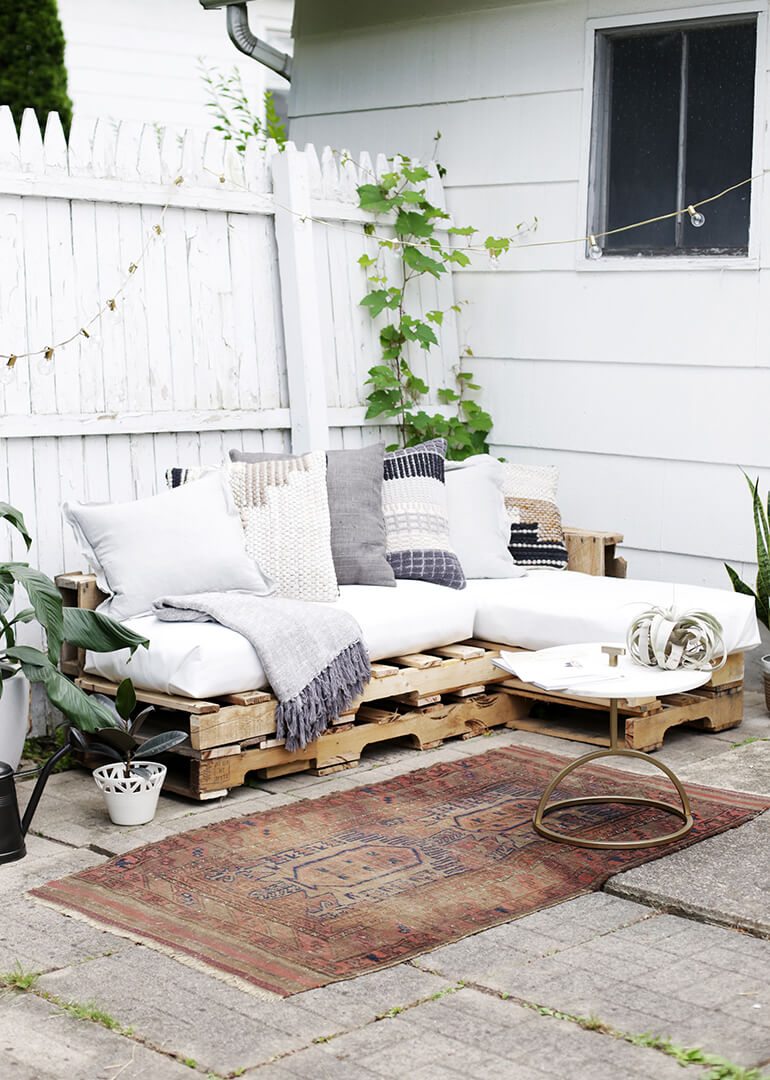 Comfort and style collide on a shoestring budget with one of the best DIY pallet garden ideas for custom outdoor furniture. Not only will your patio get the much-needed seating it demands, but you'll find a new favorite spot to relax with the chaise at the end of this comfy couch. Use removable cushion covers for easy washing and cleaning up. Add some decorative accent pillows for a decorative element to this cool pallet couch. It makes a unique way to incorporate pallets in your garden since they effortlessly transform into savvy and budget-friendly outdoor furniture.
2. Repurposed and Reclaimed Wire Spool Outdoor Table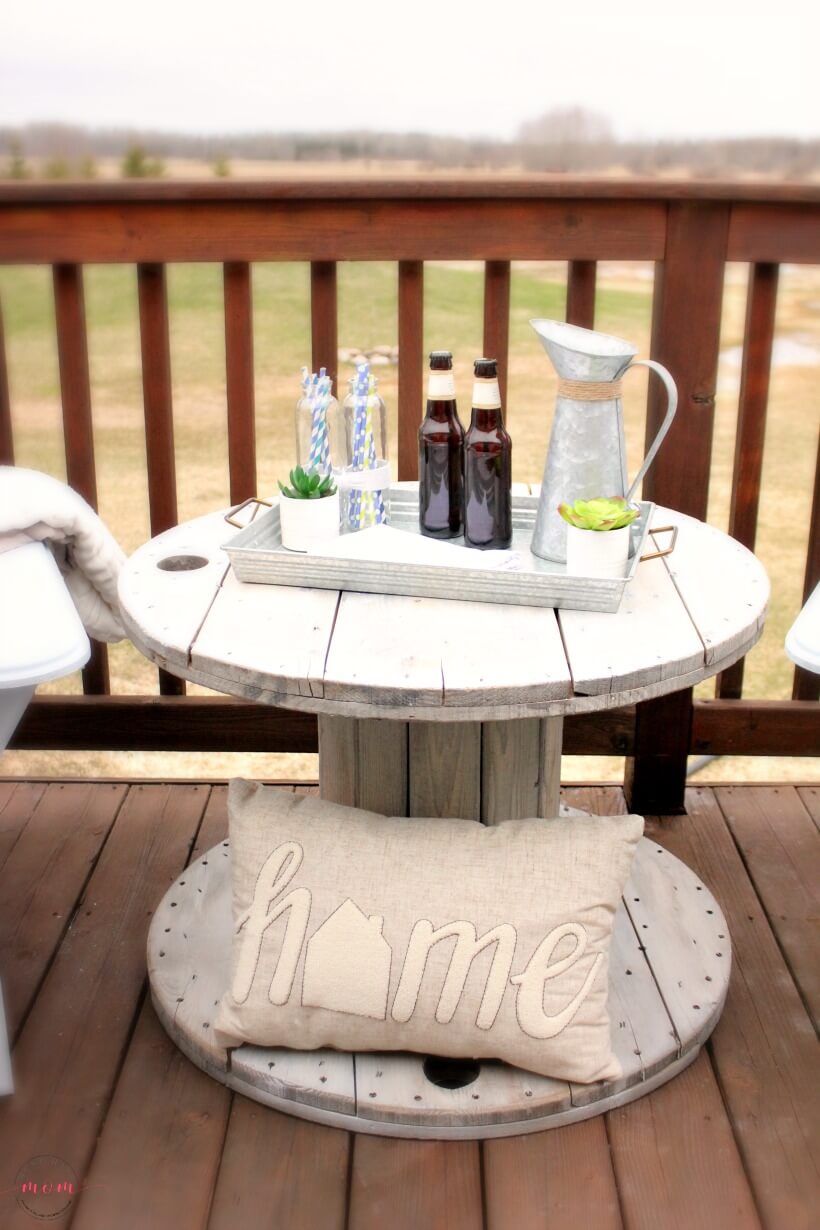 Featuring a shabby chic white-washed finish, this wire spool table gives your outdoor space a nice table while adding lots of style and character. The round design adds a visually interesting and cool look to the traditional square shapes of tables and other furniture pieces. Nestled between two chairs, this repurposed table offers a wonderful platform for setting drinks and snacks as well as some decorative elements. An accent pillow below further embellishes the cozy and comfortable conversation space surrounding this reclaimed wire spool outdoor table design.
3. Extra Long Pallet Picnic Table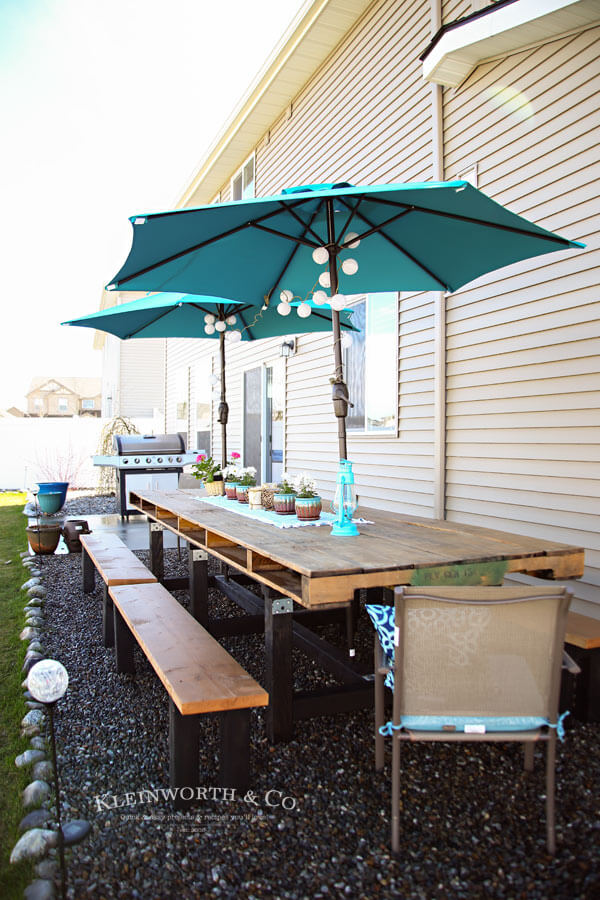 Here's one of the best DIY pallet garden ideas you'll enjoy with all of your family and friends. This extra long picnic table provides more than enough table space and seating for a large gathering of family and friends. Add a couple of umbrellas and your dining experience can be enjoyed out of the sun's reach. Since a picnic table is a near essential backyard piece of furniture for summer, why not use your resources wisely and construct this large concept from some unwanted pallets?
4. Reclaimed Pallet Turned Wooden Planter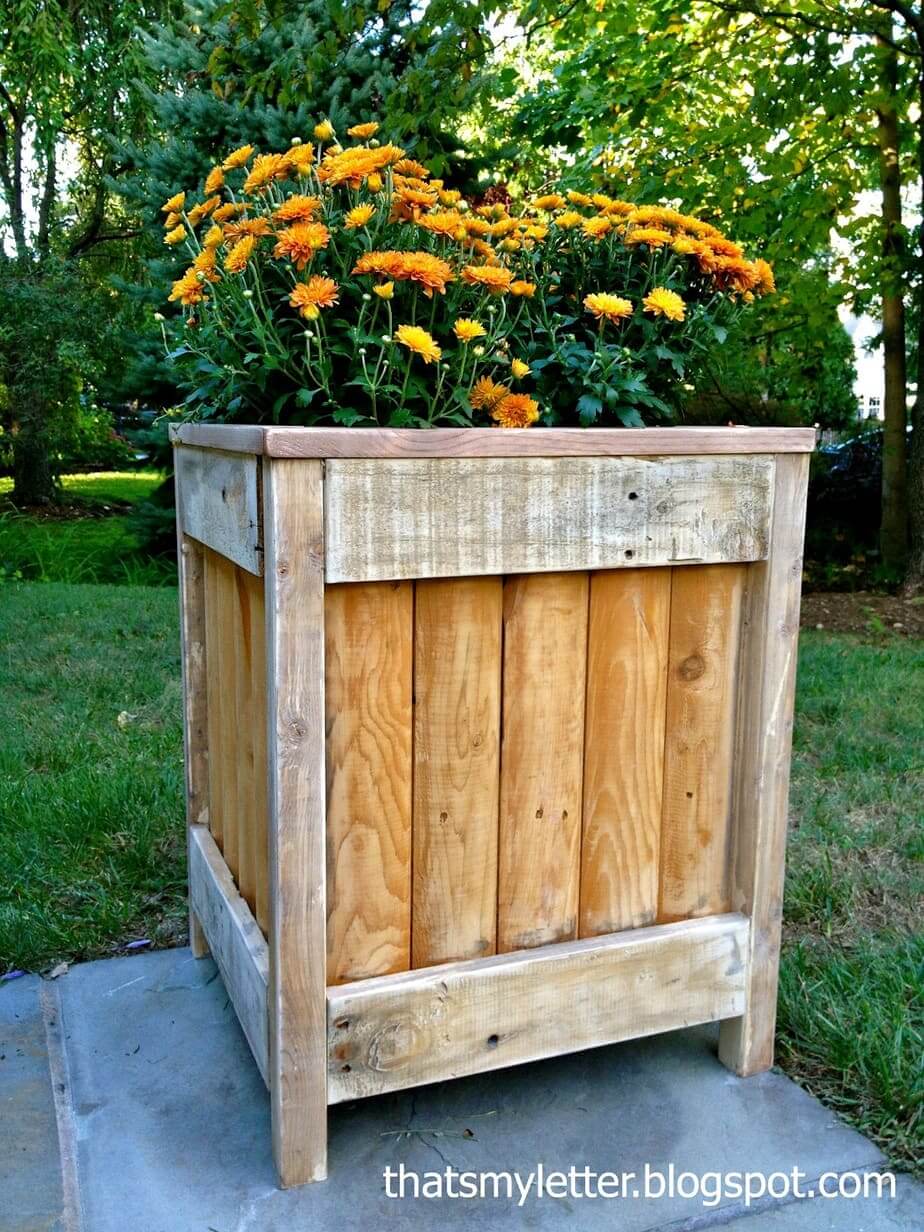 Give a brand new life to an otherwise useless pallet as you reimagine it as a gorgeous wooden outdoor planter. You can add a beautiful place to plant your annual flowers to put some much-needed pops of color onto your porch or patio space. This is one easy pallet outdoor furniture idea that can be completed in an evening or afternoon. Constructed on short legs, this wooden planter adds some height and dimension to your gardening scene as you can show off your favorite budding beauties at counter height to be easily seen.
5. Classic and Simple Traditional Chairs from Pallets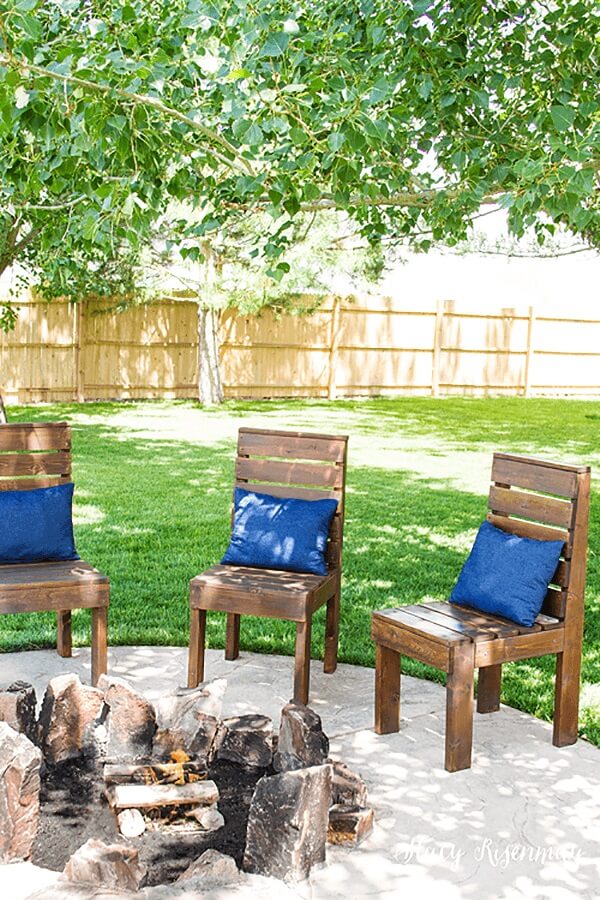 Imagine a superior set of outdoor chairs that closely resemble the classic and traditional design of the ones in your dining room. Now picture them being crafted from repurposed pallets. This amazing and earth-friendly concept shows an easy pallet outdoor furniture design that makes the perfect cozy seating for your fire pit area. Each guest will enjoy having his/her own seat providing him/her with the personal space needed to completely relax and enjoy the warmth of the fire. Choose a rich, dark stain to really emphasize the beauty of simple wood. Pair these great chairs with a side table or two and you'll have a complete outdoor fire pit gathering place.
6. Perfectly Potted Pallet Vertical Herb Garden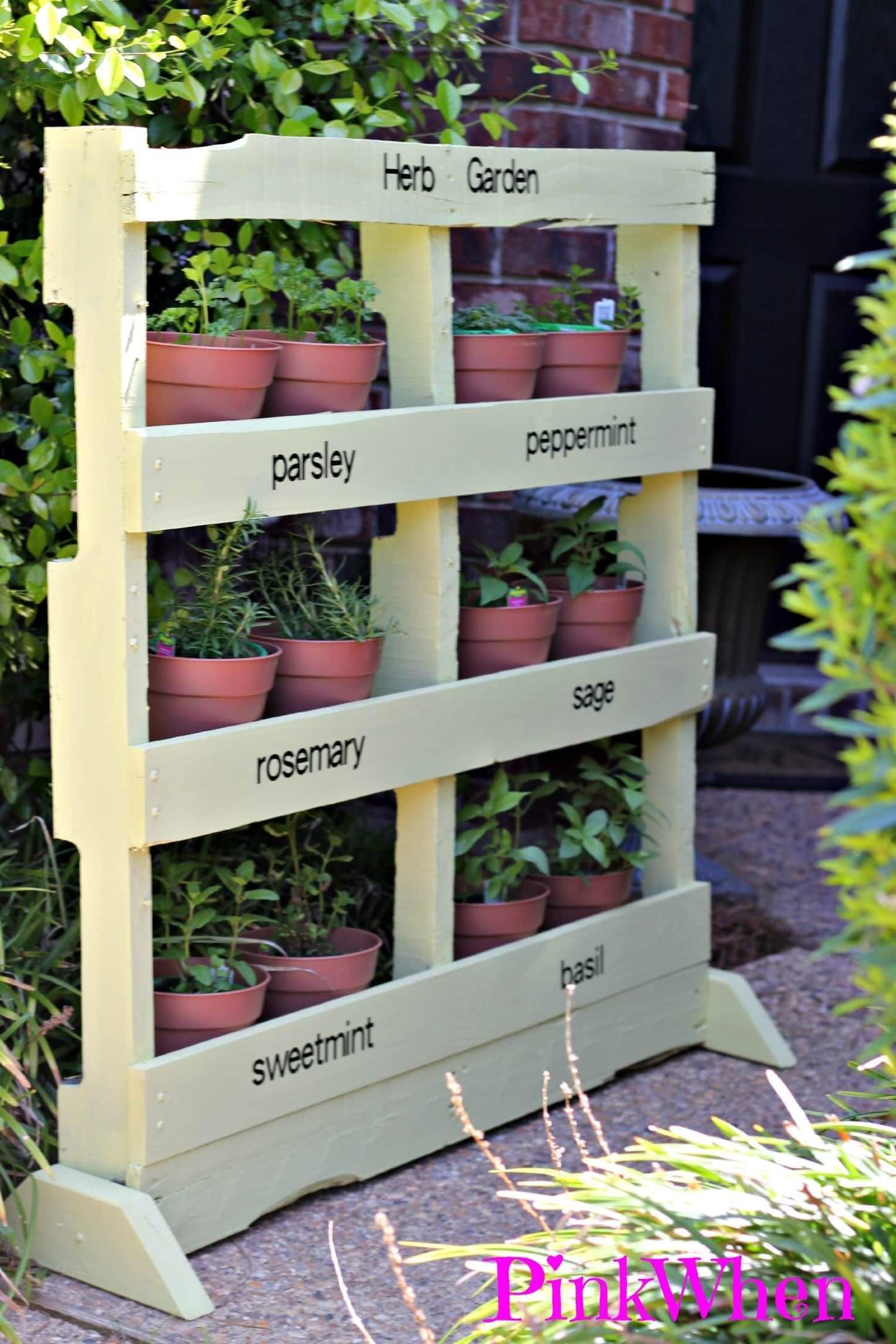 Standing tall and proud, this pallet transforms into an amazing and perfectly practical herb garden. Plant your most loved herbs in your small terracotta pots and organize them in this vertical herb garden that's a great wood pallet idea for gardens. Everyone wins with this pallet herb garden from tree huggers to dining guests. The enhanced flavors in your alfresco summer dishes will be embraced by your taste buds as you utilize this incredibly organized and easy-to-use outdoor pallet herb garden.
7. Upright Pallet Shallow Backyard Bar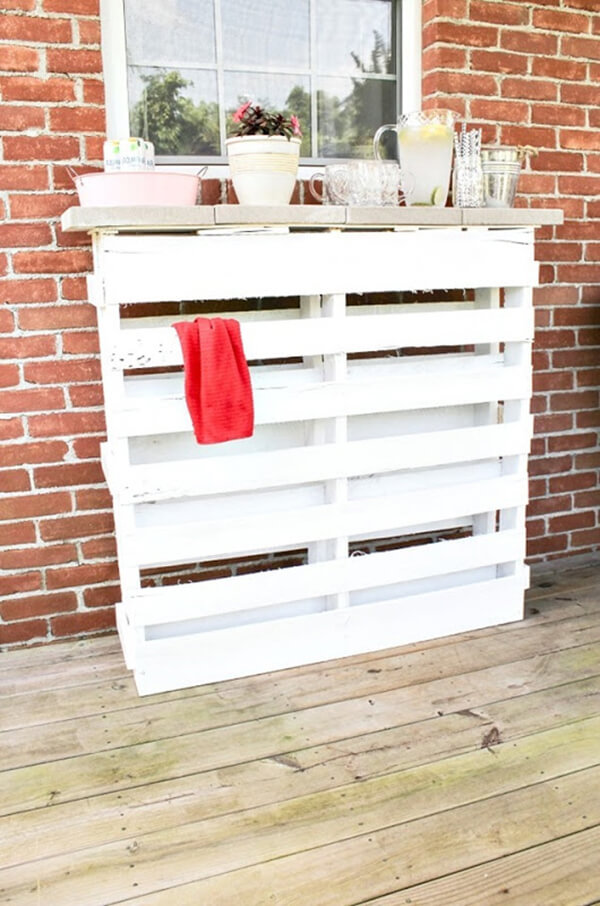 If you're tight on space you can still add some repurposed pallets into your design. This single pallet stands upright to take up less surface space. At the top, a slender tabletop creates a bar space with just the right amount of counter space for a miniature bar area. Set up a serve-yourself bar or use it as the condiment station for your party. Guests will meander throughout the night to find your confined space offers adequate party essentials that are easy to use.
8. Stacked and Painted Pallet Crates Outdoor Storage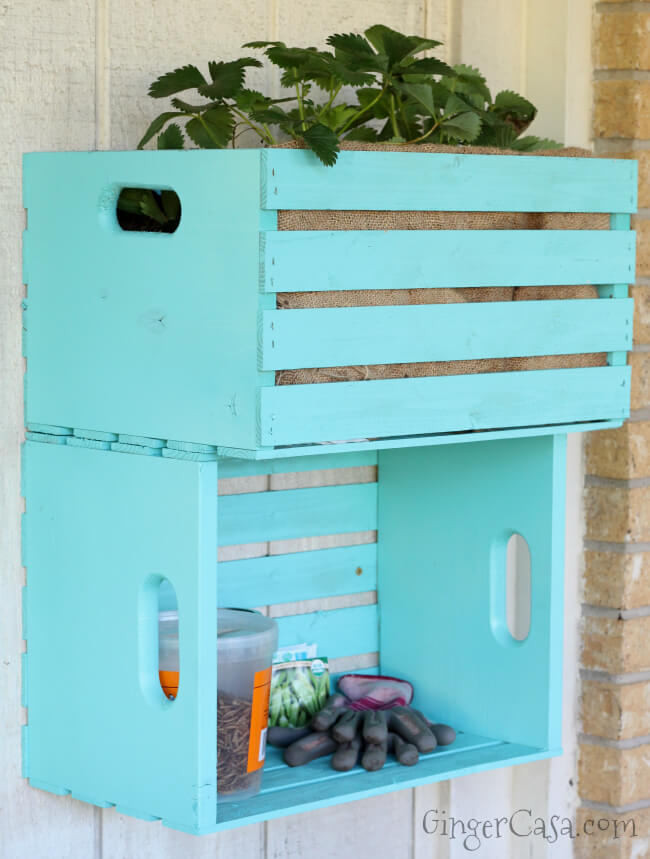 Stacked and stoked, this pair of painted pallet crates adds additional storage and a little style to your back porch or patio area. You can customize it in your favorite bright summer color or brush on a traditional neutral tone. Now you'll enjoy a place to store some summer staples like gardening gadgets or sunscreen sprays and lotions. With the wall mounting capabilities, your extra storage solutions won't crowd your walkway. Keep sharp trimmers and hand shovels out of reach from tiny fingers. This is simply another way to utilize these crafty crates that seem to pop up everywhere in the design world nowadays.
9. Gorgeous Stained Outdoor Pallet Herb Garden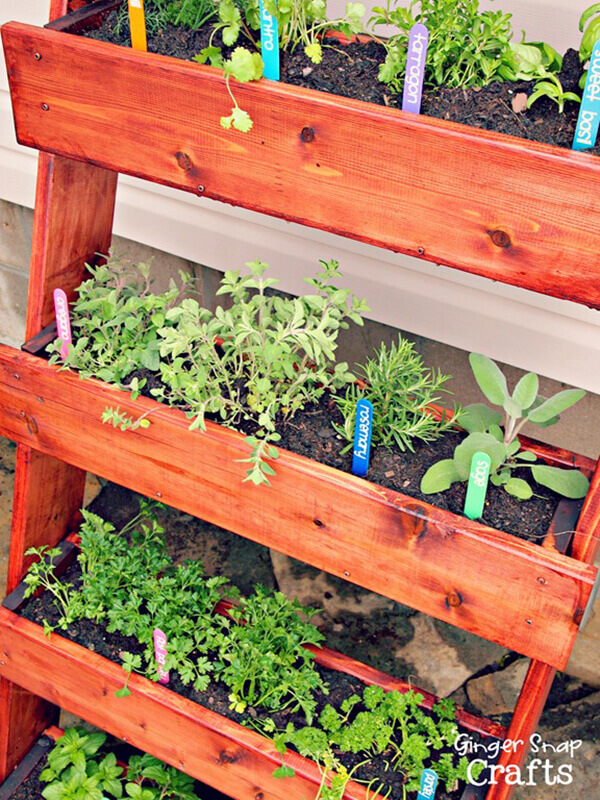 Grab that pallet and slap on some stain to create this incredible wood pallet idea for gardens. You'll love the beauty it provides to your back patio while everyone seated around your table will enjoy the fresh taste of the seasoned meal. It's easy to keep it organized with labeled popsicle sticks as your green-thumbed beauties grow in their designated rows. Kids will want to dig into this easy garden concept as well so be sure to include them in the planting and harvesting of these fresh herbs and spices.
10. Freestanding Outdoor Cushioned Pallet Swing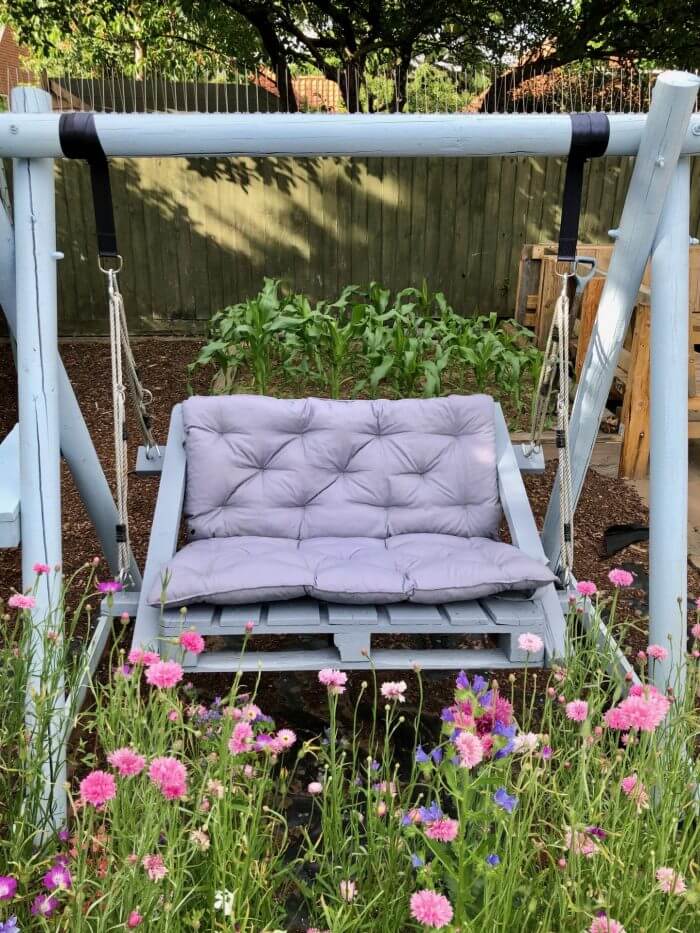 Give your backyard another fun place to hang out with this freestanding pallet swing. A sturdy, thick cushion makes this one of the best places to kick back and read a good book during a summer afternoon. It's a new spin on the classic hammock and offers a gentle swaying motion that blends in with a summer breeze. Kids and grown-ups alike will enjoy spending a few hours in the splendor of this backyard swing. Place a pair under a big shade tree for an enjoyable time for friends to catch up and relax.
11. Tile Top Pallet Outdoor Serving Bar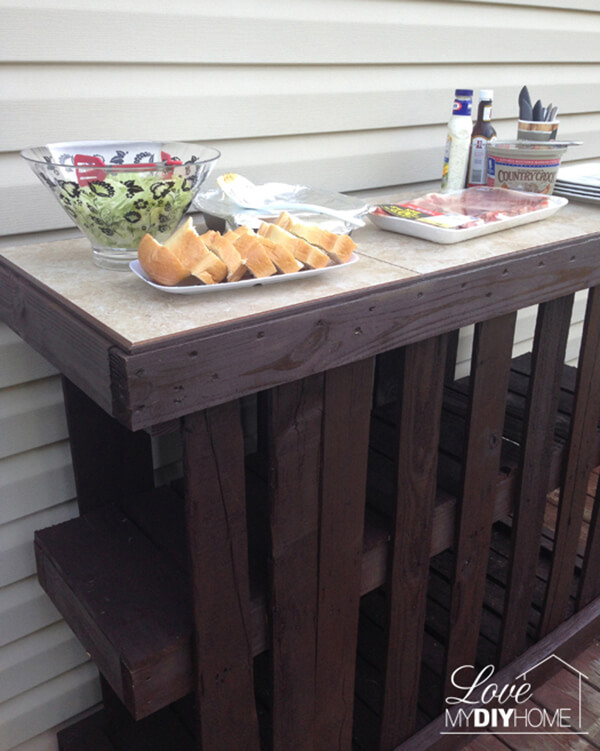 Entertaining makes its way to the great outdoors as the temperatures rise, so be prepared with plenty of designated spaces to make your next backyard party a success. One great wood pallet idea for gardens is to incorporate an outdoor serving bar so guests can enjoy your backyard garden while sipping a refreshing beverage. This slim vertical pallet transforms into a unique outdoor bar where anything from drinks to appetizers can be served on its tiled top. With its vertical design, it takes up minimal floor space giving you the extra gathering space for friends and family to enjoy.
12. Large Wooden Pallet Planter Box with Back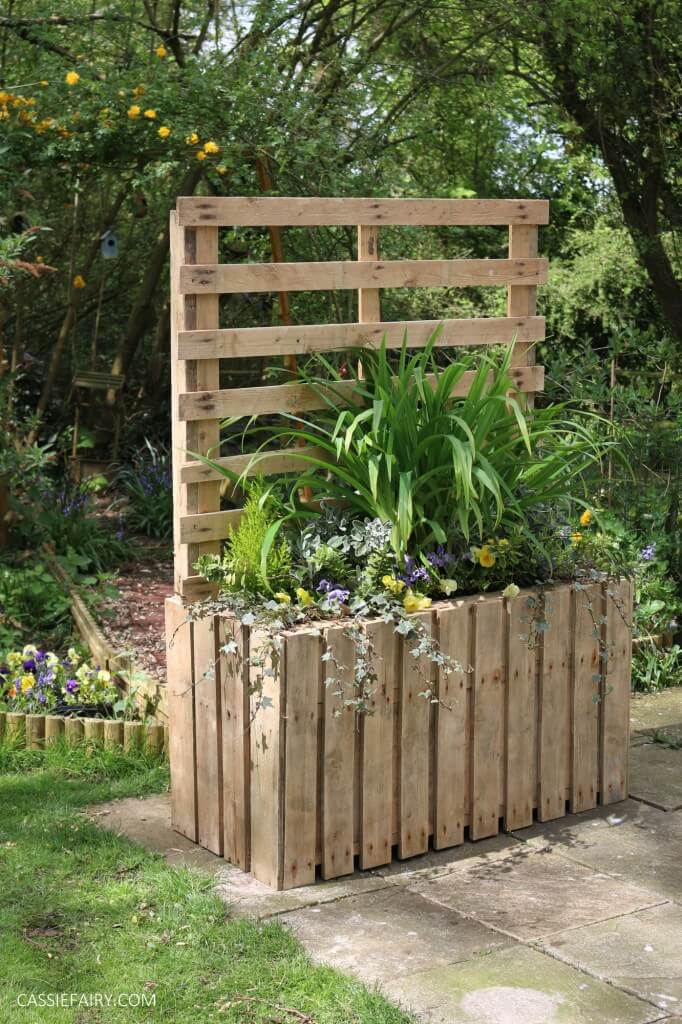 Add a little privacy and a lot of planting space to your backyard with this interesting and creative pallet planter box. The addition of the pallet back on top of this planter box gives your conversation spaces a little more privacy from nearby neighbors while also providing your lovely climbing plant friends a place to vine out. The box has plenty of space for showing off your collection of seasonal flowers. You'll love the way this planter box adds a whole new dimension to your outdoor space by defining a specific nook for friends to gather and enjoy a relaxing night under the stars.
13. Rustic Pallet Outdoor Grill Table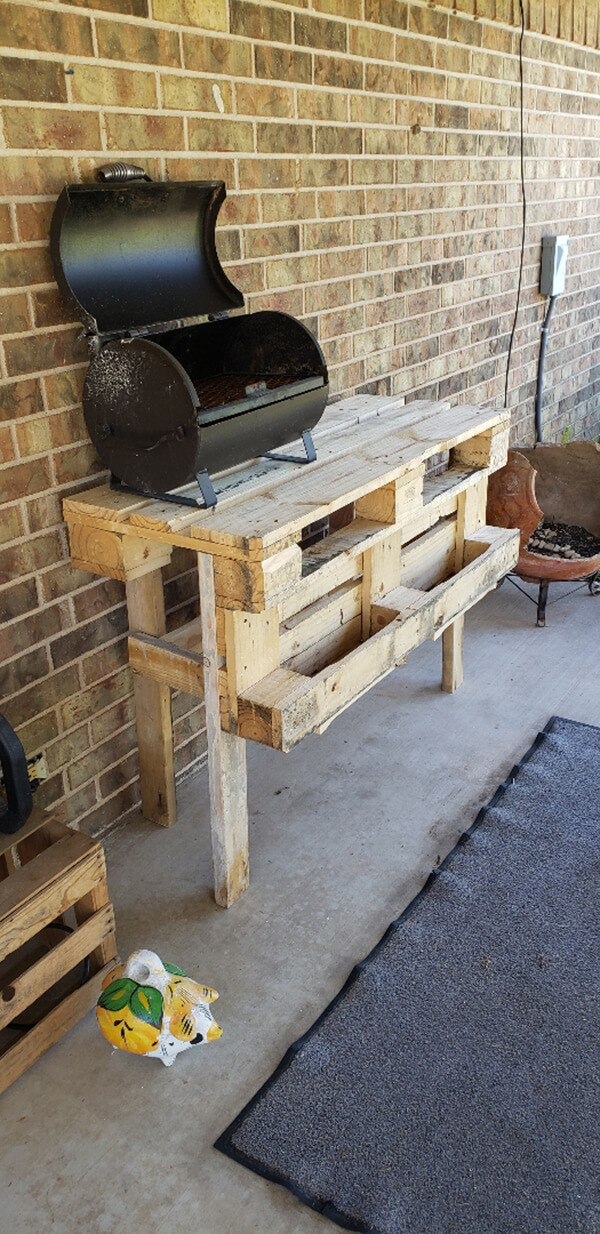 If you're using a smaller tabletop grill, this rustic pallet table should be on your must-have list for summer. Under the covered porch or on the patio, this outdoor grill table is just the right size for grilling and all the supplies it includes. A little below the top, you'll discover an amazing storage solution for housing your tongs, spatulas, spices, rubs, and other essential grilling tools. Creating a special space for your family grill master is easy with this simple pallet table that makes mealtime more fun.
14. Distressed Wooden Outdoor Pallet Coffee Table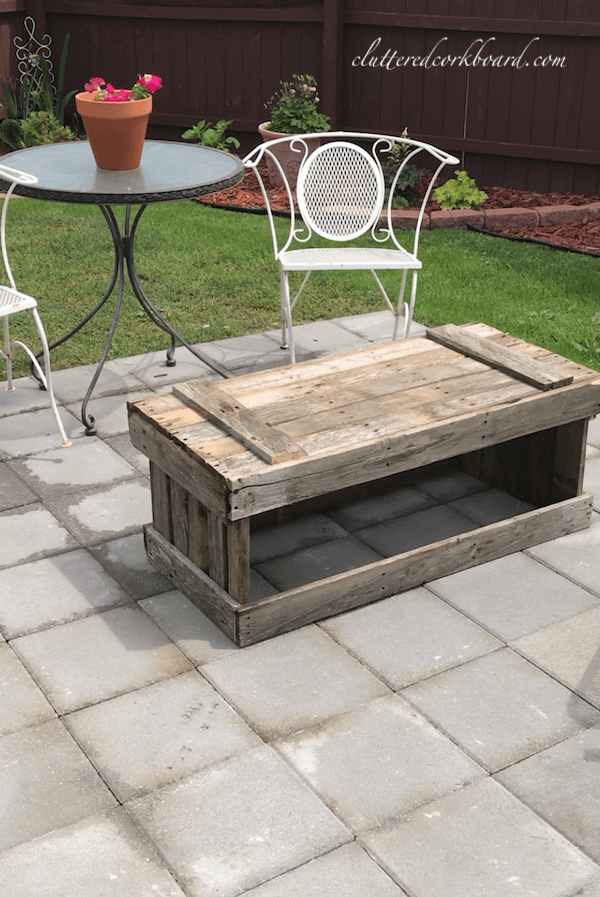 Getting together with friends and family during the summer months usually means spending special time together in the backyard. While entertaining in such a way, be sure to create some convenient and cozy conversation stations throughout your space. One way to do so is by defining areas and that's easy to do with essential living room pieces like a coffee table. Since people tend to gather around tables, this outdoor pallet coffee table offers you the same atmosphere as an interior one snuggled within the perimeter of your couch and chairs. It gives guests a place to rest their drinks and a designated space to arrange your outdoor furniture too.
15. Repurposed Pallet Raised Garden Bed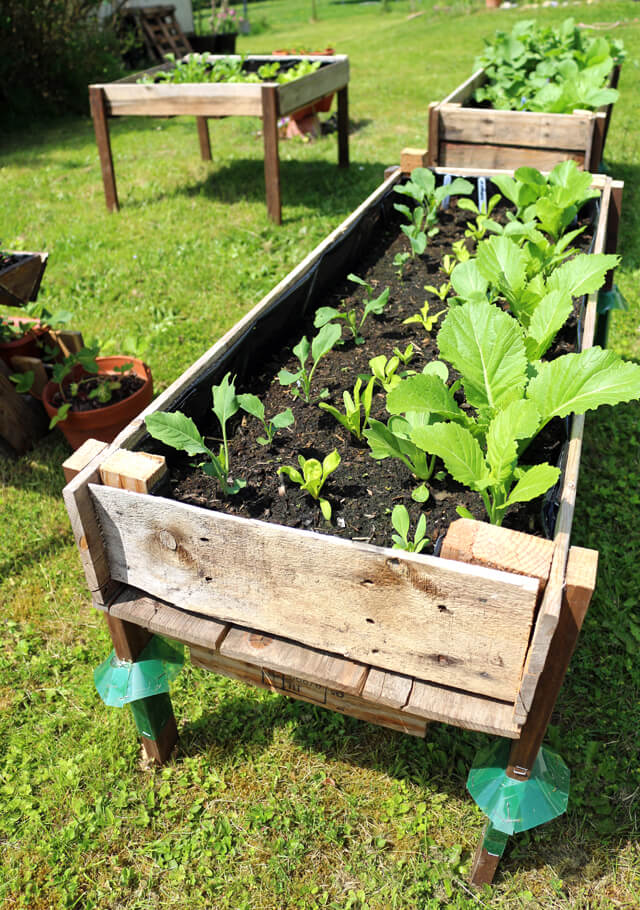 One of the best DIY pallet garden ideas has to be this essential backyard gardening piece- the raised bed. It's perhaps the most productive and resourceful way to use pallets in your garden. No more sore knees from tending your veggies as the raised bed allows you to work from a standing or seated position. Including more than one in your backyard allows for separate garden beds to make the most of your space. Try one with herbs, another for varieties of lettuce, and one for your favorite collection of tomatoes. You can't go wrong with the natural goodness of fresh garden veggies and adding this repurposed pallet raised bed is the best way to go!
16. Outdoor Living Room Pallet Furniture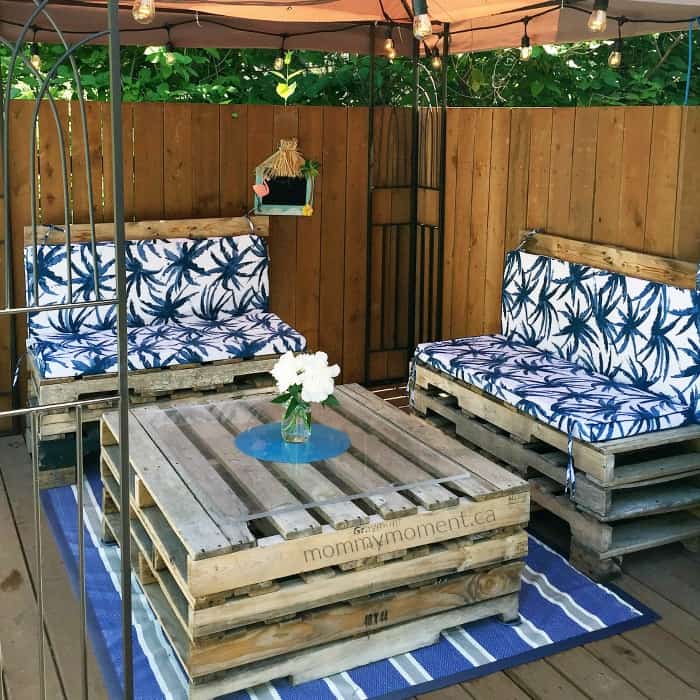 Create a dreamy and comfortable outdoor living room with easy pallet outdoor furniture. Crafted from leftover pallets, your outdoor living room can boast the same cozy feel of your indoor space complete with an oversized coffee table and couches. The addition of a glass top makes the table feel a bit more refined and polished while a large set of cushions makes the couches ever so inviting. Now you can designate a corner of your patio or porch space as your second living room where great talks with friends can linger long after the sun goes down.
17. Simple Tall DIY Gardening Box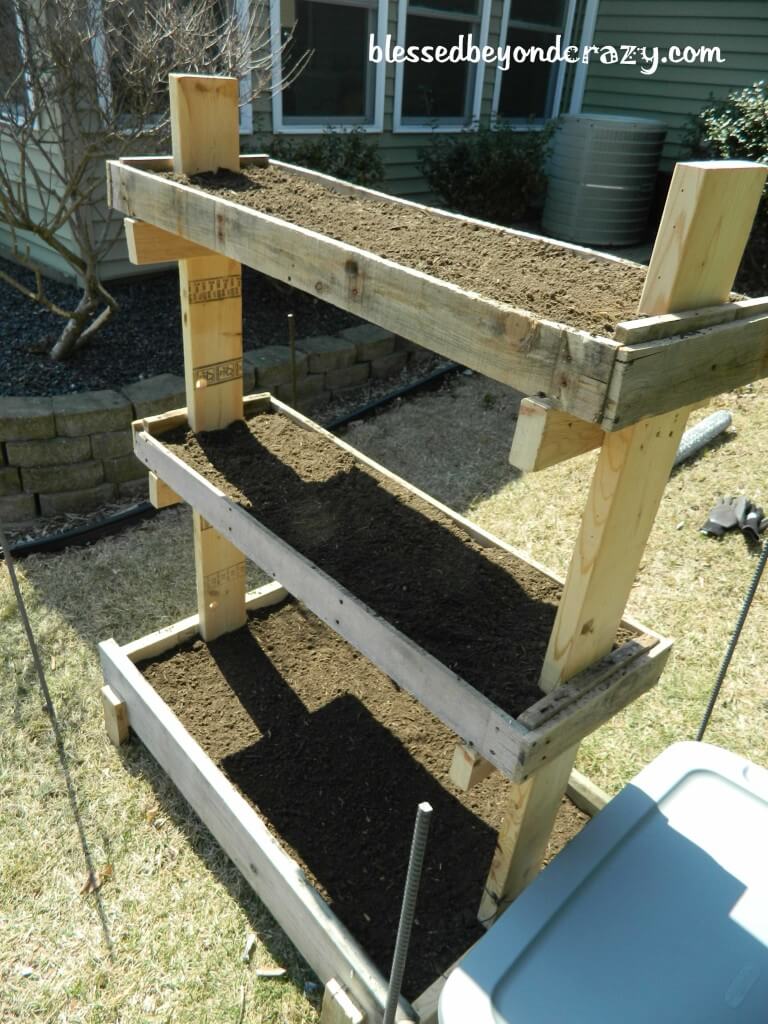 With pallets, you can create a simple and effective gardening box that will look great with the rest of your garden. Layering the box like this gives you plenty more space to add a few different items to your garden no matter what it is you wish to grow. Also, there is the bonus that the vertical design brings besides making everything look neater. You will subsequently have more space in your yard. This is helpful if you are indeed adding this to a larger portion of your garden, or if you simply are using the rest of your backyard for other things such as a playground for kids.
18. Rainbow Style Deck and Seating Area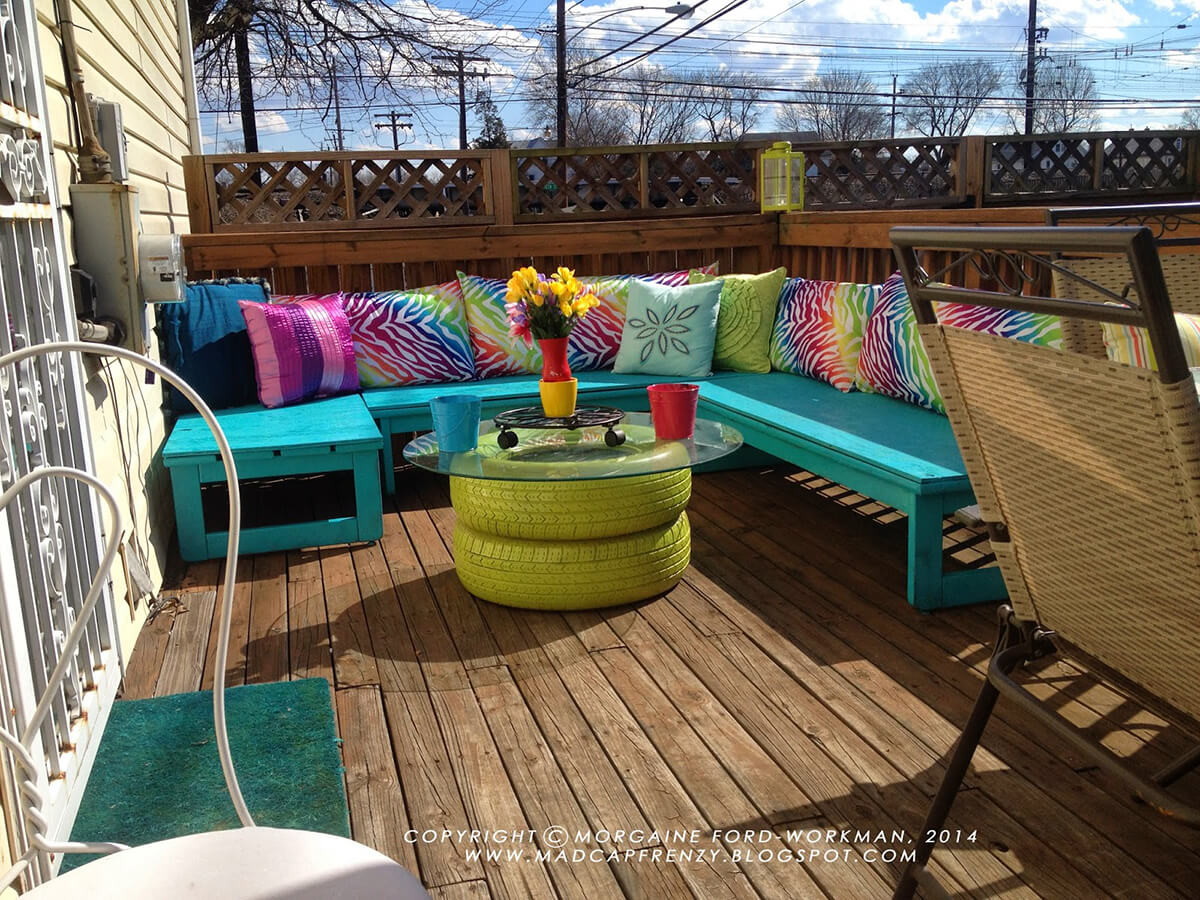 Sometimes a space is in desperate need of some color, and this setup is the perfect way to capture the attention of your guests. Going for a bold and light tone for the bench sets the mood right away. From there, your main focus should be on adding the right decorative items throughout. Throw pillows can become your best friends in this case, especially when they are rainbow-colored because everything just ends up so lovely and bright. They also allow you to aim for a variety of different colors for the rest of your items such as the cool and colorful tire-based table and decorative flowers.
19. Pretty Painted Pallet Outdoor Garden Center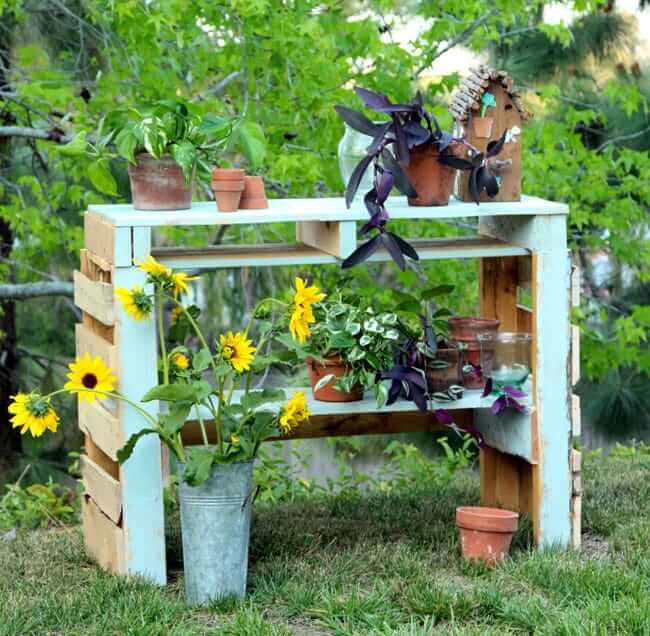 Check out this small and quaint outdoor garden center that's been created from a pallet. A distressed coating of paint gives it a vintage vibe as it transforms from the shipping department to the lawn and garden section. A hefty shelf underneath the tabletop further adds the extra storage space you need for plants, pots, soil, and seeds. On top, the counter space gives you the room you need to sow seeds and arrange plants into different pots as well. Its small girth allows it to be a perfect fit for any sized space, so if you're tight on room in the backyard this is a cool way to add a garden center to your own backyard.
20. Rainbow Pallet Porch Planter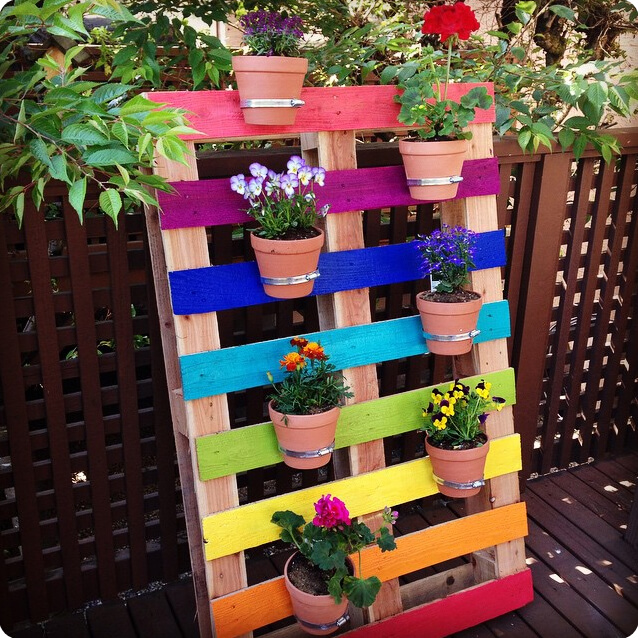 Birds of a feather flock together and so will all of your favorite potted annual flowers with this spectacular rainbow pallet porch planter. Each strip features another painted color of the rainbow from red to violet. Planting pots are secured to give you lots of vertical space for adding several flowers at a time. From pansies to geraniums and many petals in between, you'll cherish the simplistic beauty of this cheap pallet flower planter concept. Prop it up against the backyard fence or rest it on a side of your porch so it can bring that splash of color that your outdoor decorating scene needs for summer.
21. Painted Black Outdoor Bar from Pallets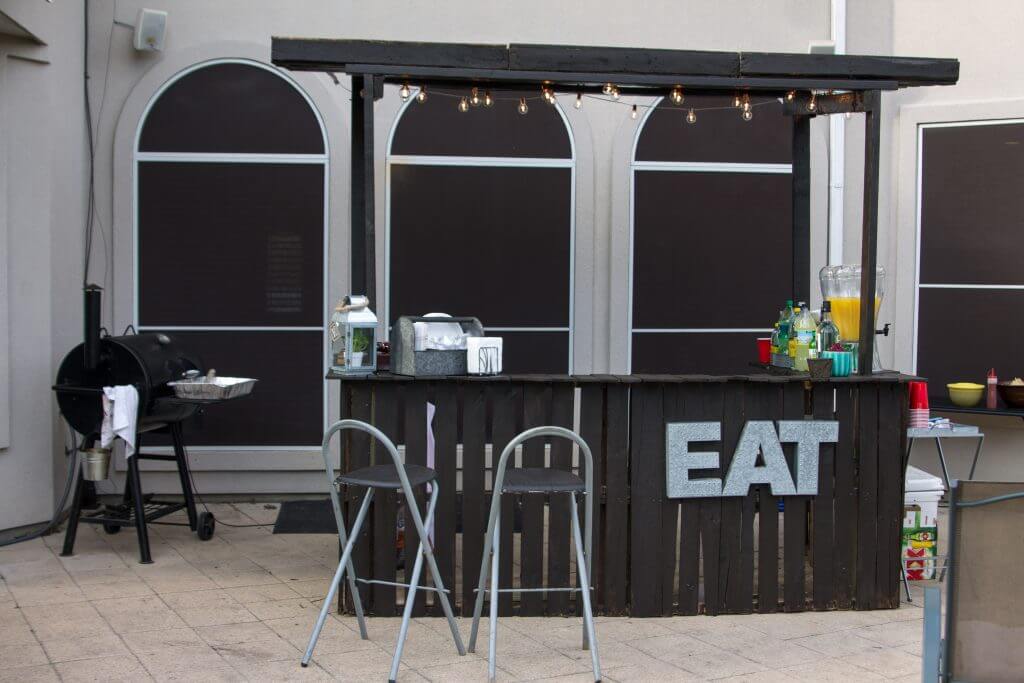 Another spin on outdoor pallet decor is a painted backyard bar. With room overhead to hang a strand of lights and a small counter space at hip level, this backyard bar is the place to serve up some cocktails or a little tailgating food buffet. Your guests will form a line and wrap themselves through your mouth-watering display as they enjoy a backyard barbecue like no other. Create a designated beverage bar on one end and house all of your serving ware on the other. Designate an amateur bartender to keep the party going and serve up some special gulps this summer.
22. Wonderful Window Box Pallet Planter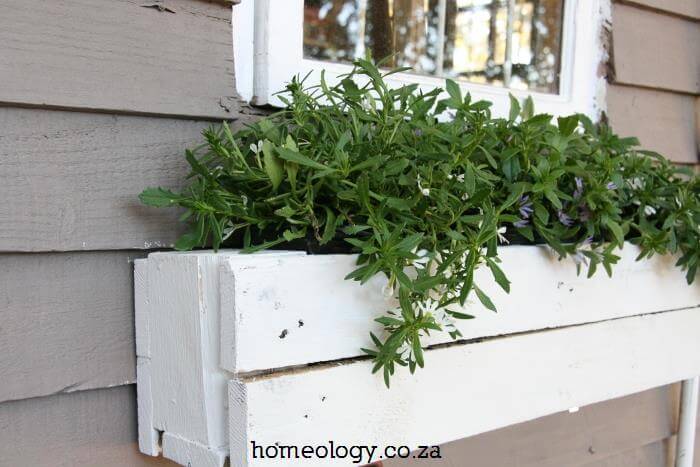 Add some instant curb appeal to your home with a window box. And while you're at it, there's no need to break the bank since an unwanted pallet and some paint is all you'll need to create one. Measure your window and make your custom creation where you'll enjoy a generously sized planting box that rests right below your front window. Use one or attach one to each and every window on the front of your home to make a more dramatic design. Neighbors and butterflies alike will delight in the beauty of your planted flowers as they spill over from these creative and low-cost pallet window box planters.
23. Clever Repurposed Pallet Miniature Garden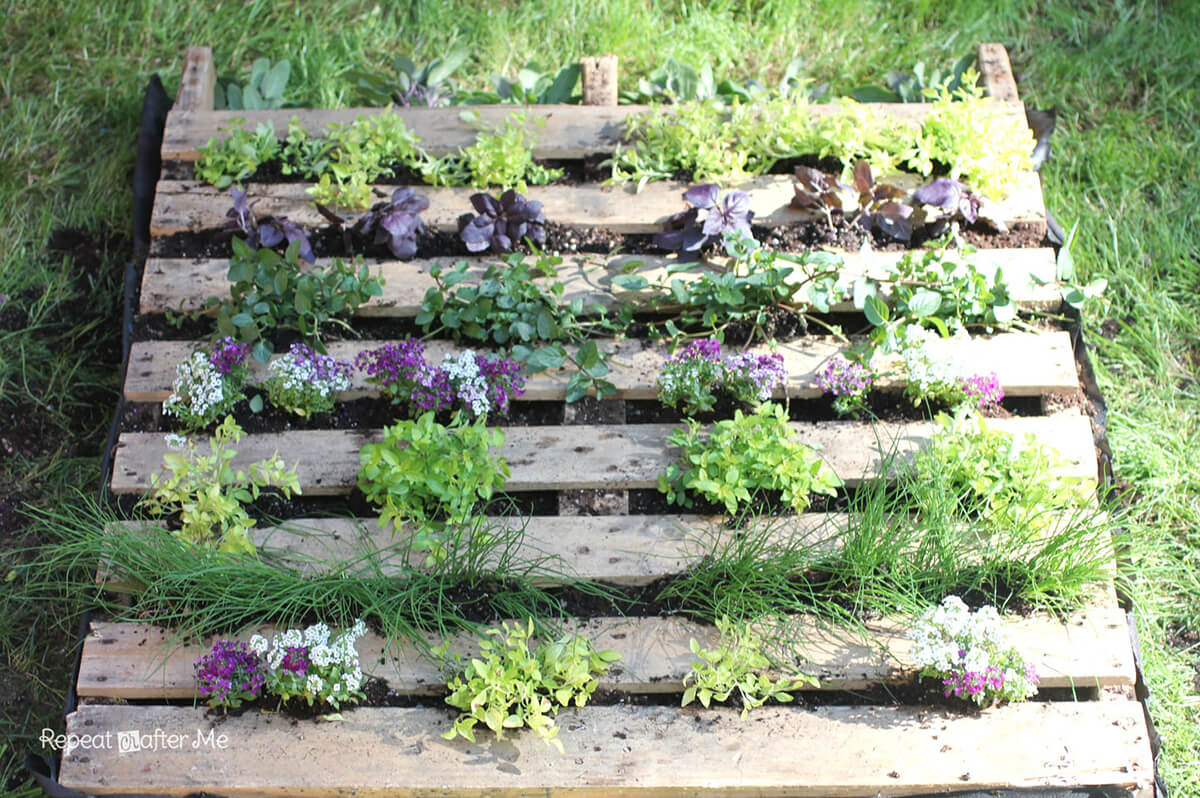 Create a small square miniature garden space in your backyard with this repurposed pallet. The concept is simple and the project is easy as you capitalize on the existing foundation of the pallet as pre-made garden rows. Maybe you'll grow your favorite herbs for adding some fresh flavor to your homemade dishes, or you simply strive to add some greenery and flowers to jazz up your outdoor space. Either way, this leftover pallet provides the perfect place to plant your seeds for some summertime fun. It's also a wonderful way to spark some gardening interest in your kids or grandkids as this could be their special garden spot to enjoy while you're partaking in your own gardening endeavors.
24. Pretty Painted Pallet Porch Swing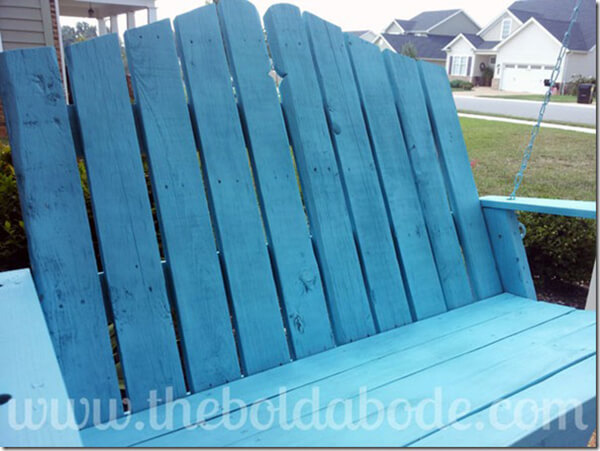 Nothing draws you outside like a front porch swing on a breezy summer day. Using a leftover pallet, this porch swing requires a fresh coat of paint and a little hardware to become a much-loved and favorite relaxation station for the whole family. Kids will enjoy it just as much as adults. Make your friendly summer evening conversations a little more fun with the gentle rocking motion of this comfortable seat. Stay in motion and up to speed on community events as you gather with friends on your front porch. This pretty painted pallet swing will encourage guests to stay a little longer as the fireflies fill up the sky.
22 Creative DIY Pallet Projects that will Spruce Up Your Garden
For a cheap and practical summer project, you've just discovered some of the best DIY pallet garden ideas that add both fun and function to your backyard space. Whether you dream of growing your own vegetables and don't have the time or space to plow a plot, you can easily convert a single pallet into the raised bed or herb garden of your dreams.
Maybe you lack a green thumb and aspire to create a cozy outdoor conversation space where everyone loves to gather. Simply add a pair of chairs next to a repurposed wire spool to create a quaint space for a personal chat. Or you might want to get the whole gang together, so work on a set of chairs along with a couch and large coffee table to draw everyone in.
Since everyone seems to eat when they meet, don't forget where you're putting your food. Many pallet projects show simple ways to transform themselves into small and slim serving bars that make ideal places to offer cool drinks and serve up some tasty treats.
No matter how you decide to dream up your pallet project, the end result is sure to be a pleasing one for your entertaining endeavors and garden growing goals while keeping more money in your pocket at the end of the day!