Christmas is closer than you think! It's time to start pulling out the craft idea books and holiday decorations. When I go into the craft stores and smell the cinnamon-scented pinecones, I know Christmas can't be far way. Scented pinecones are a wonderful use for them, but don't forget all the great decorative uses of the common every day pinecone, especially for the holidays. Here before you are 25 DIY Pinecone Crafts that demonstrate the versatility of the simple pinecone.
25 Easy DIY Pine Cone Crafts to Jumpstart the Holidays
To start with let the kids have fun this holiday making the gumdrop pinecone ornament, Rudolf the Red-nosed Reindeer pinecone head , or Santa's woodland elves adorably adorned in red and green. And they will love hanging the Santa Wreath with its big fat Santa belt on the front door. The pinecone Christmas trees will add a charming woodland touch around the house. Hang the pinecone kissing ball in the living room doorway for a light-hearted romantic appeal and deck the halls and mantle piece with the pinecone ornaments dipped in sparkly white glitter or white paint.
For outdoor decorations pinecones are the natural solution. You will not be disappointed with the outdoor ideas you find in the 25 DIY Pinecone Crafts. Use the pinecone star to decorate under the eaves of your home. And the pinecone wreath with a touch of Christmas greenery lends a classic air to your front door. Couple the wreath with two pinecone bushes in a stoneware pot on either side of your door for a regal look.
You will only find pleasure and satisfaction this holiday season as you decorate with these 25 DIY pinecone crafts. And you will find that others will love them too.
1. Star-topped Pinecones In Silver Planters

Groupings of these DIY Pinecone Christmas Trees displayed on your table, buffet, or anywhere else in your home will add rustic Christmas charm. Painted green and placed in silver flowerpots, the pinecones are topped with silver stars to create these Pinecone Christmas Trees.
2. Evergreen Pinecone Kissing Ball For Your Doorway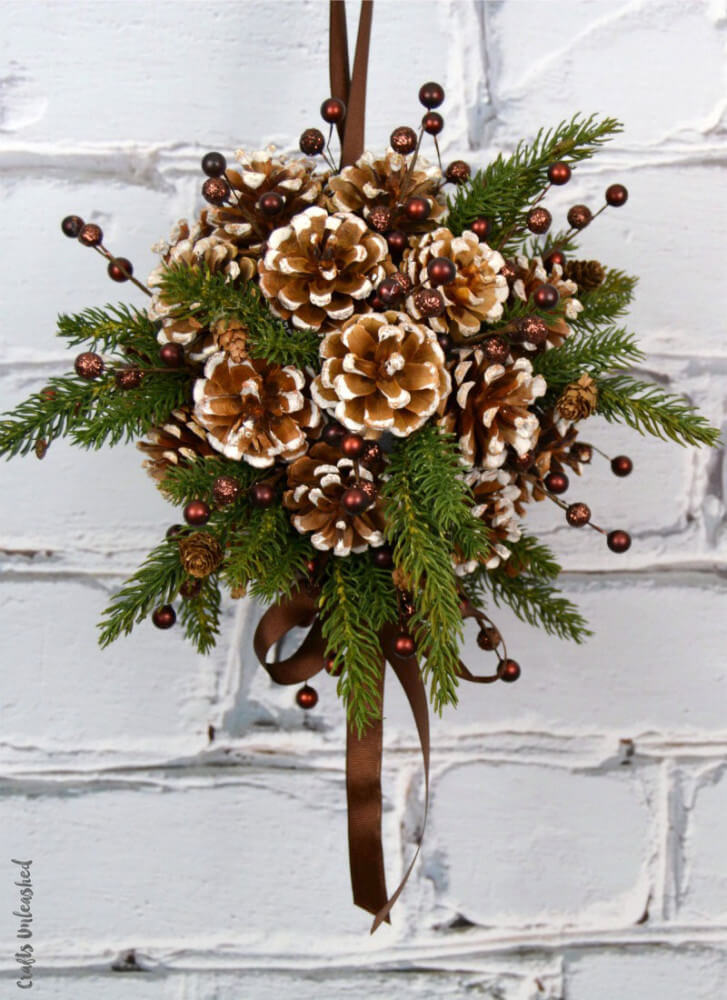 For this Pinecone Kissing Ball, use a Styrofoam ball as the base, make a loop with brown satin ribbon, and attach it to top of the ball. Use the ribbon to tie a bow at the bottom. Attach the pinecones, pine branches, and berry picks. Then, hang this Pinecone Kissing Ball in a prominent location.
3. Bowlful Of Pinecone Flowers In Pastels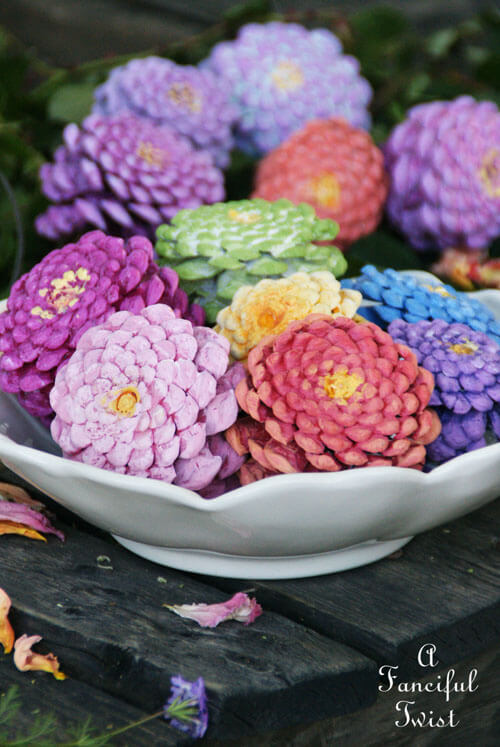 To make the Pinecone Zinnias, remove the top of the cone. Paint the cones in bright pastels. Then, paint the centers yellow. Place a bowl of these anywhere for some bright Christmas cheer.
4. Pinecones In Wintry Lights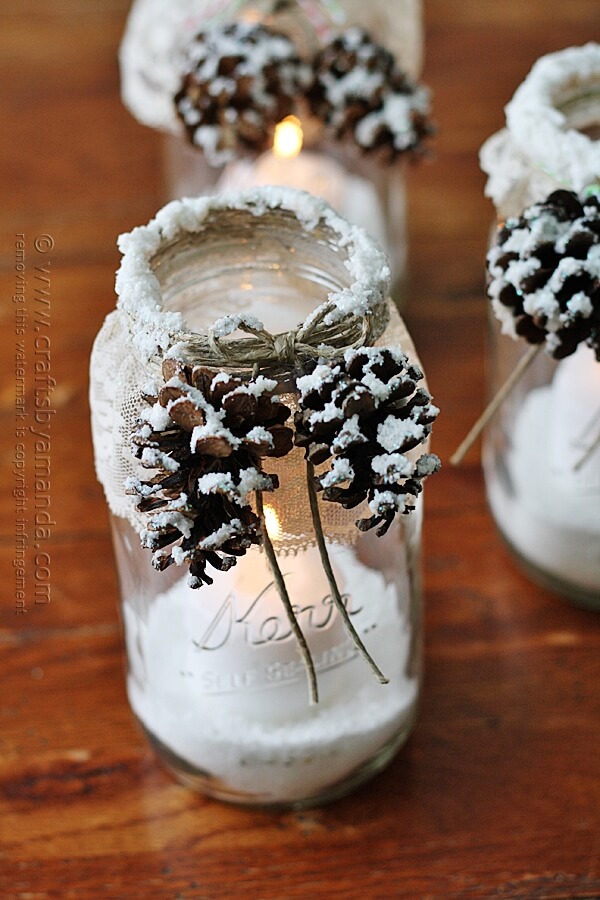 A row of these Snowy Pinecone Votive Candle Jars will add a festive touch to your table setting or any room. The lit votive candle on a bed of snow inside a canning jar with a snow-covered rim, pinecones, lace trim, and twine bow creates a old-fashioned Christmas feel.
5. Natural Pinecone Wreath With A Touch Of Christmas Green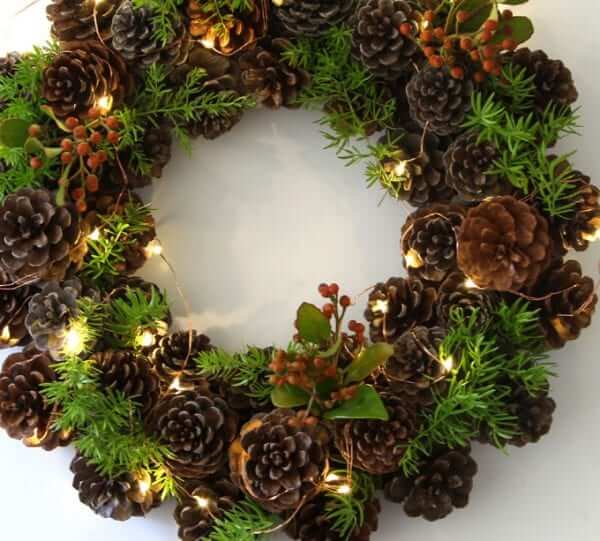 Make this lighted Pinecone Wreath a focal point on your wall or door. Pinecones on a wire frame with a string of white lights, pine branches, and berry picks tucked in between the pinecones adds an elegant Christmas touch to your home.
6. Visions Of Gumdrop Pinecone Ornaments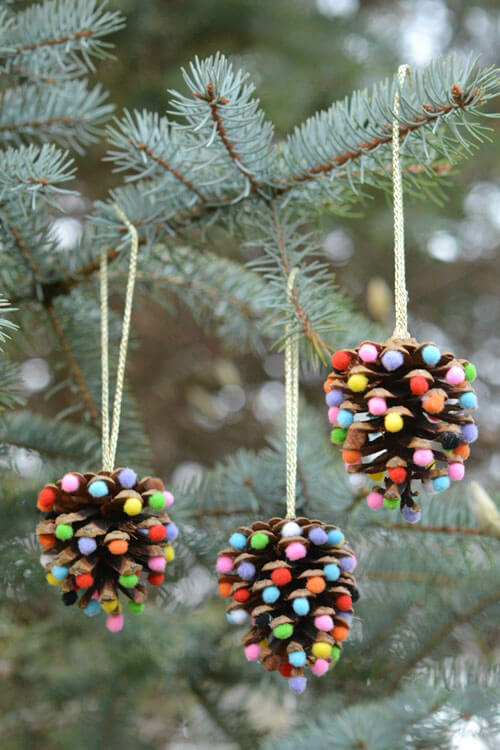 Colorful Gumdrop Pinecone Ornaments add a woodland feel to your Christmas tree. Miniature pompoms glued to the pinecones hung from metallic rope are a quick and easy way to add a natural touch to your decorations.
7. Santa's Whimsical Pinecone Wood Elves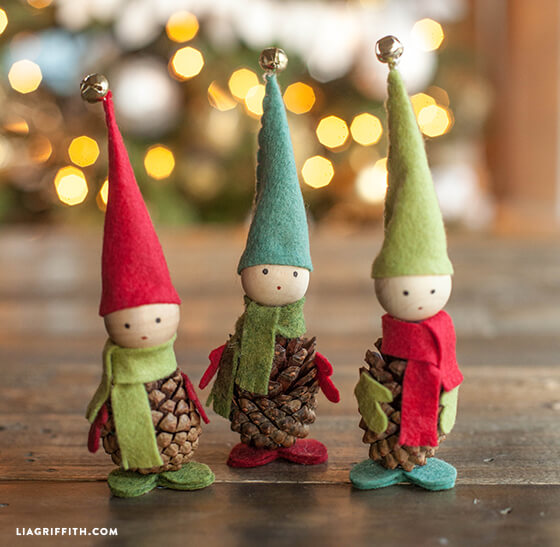 These cute Pinecone Elves have wooden ball heads; felt scarves, mittens, and feet; and jingle bell topped, cone-shaped felt hats. They can be used singly or in groupings amid your other holiday decor.
8. Simple Pinecone Tree On A Pedestal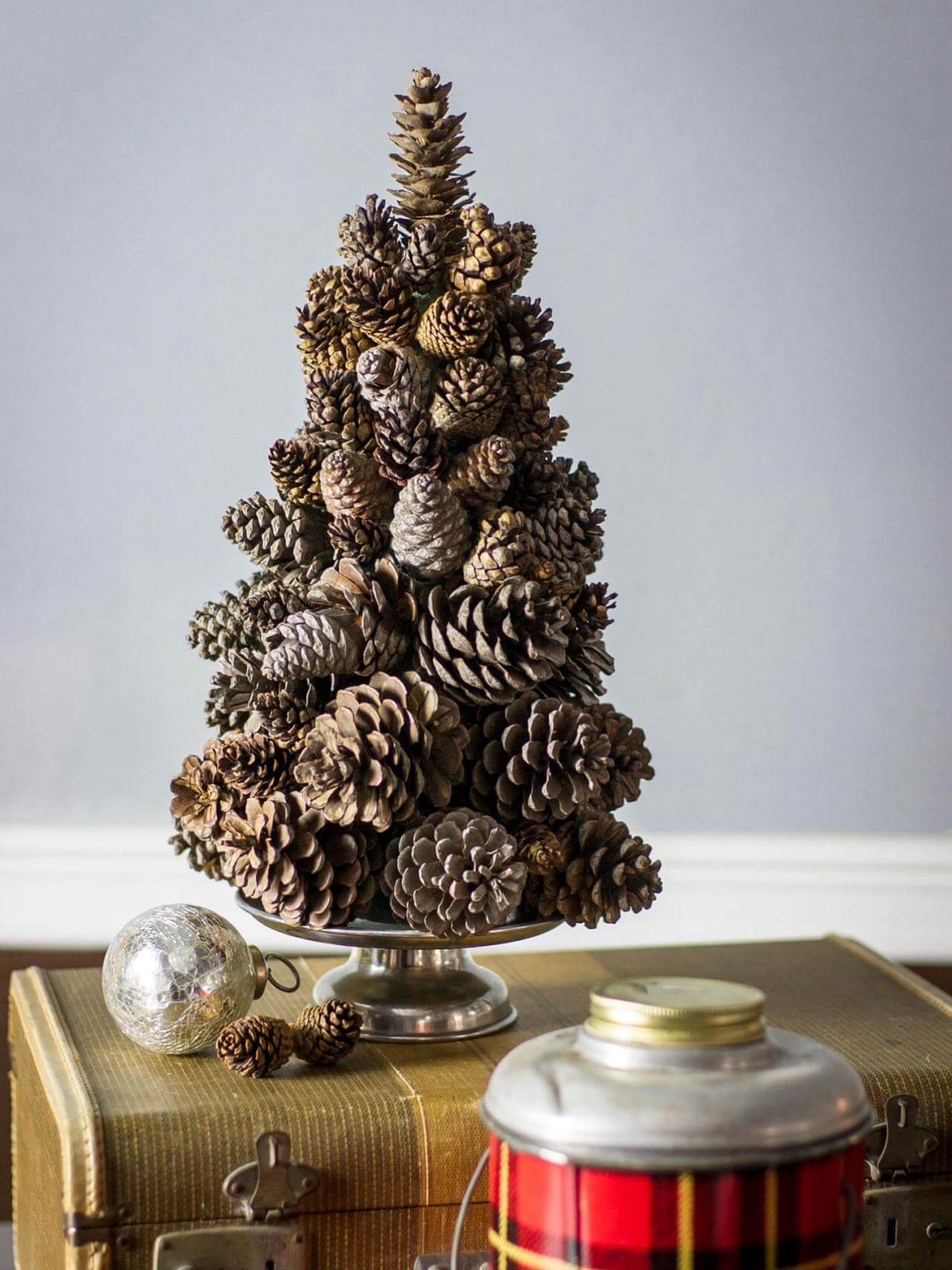 This natural and elegant Pinecone Tree can fit anywhere in your home. The pinecones are attached to a Styrofoam cone, and a raised cake plate is used for the base.
9. Natural Pinecone Hung With A Bow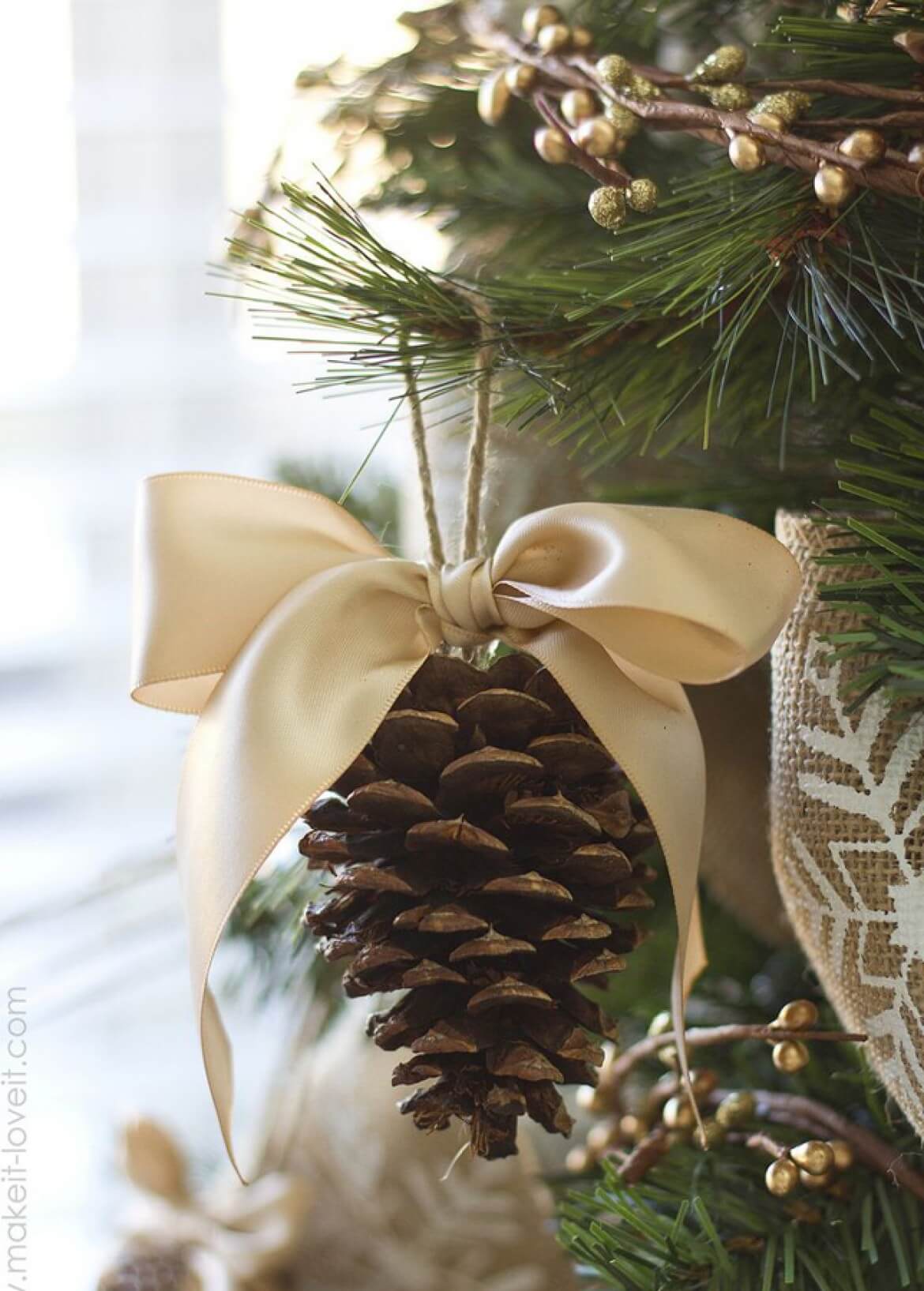 Give your Christmas tree a natural look with these Pinecone Ornaments hung with twine and topped with a tan satin ribbon. Continue decorating your tree with natural materials such as berries, uncoiled grape vine wreaths, miniature grape vine wreaths, burlap ornaments, and burlap ribbon for a sophisticated, rustic look.
10. Pinecone Star Of Wonder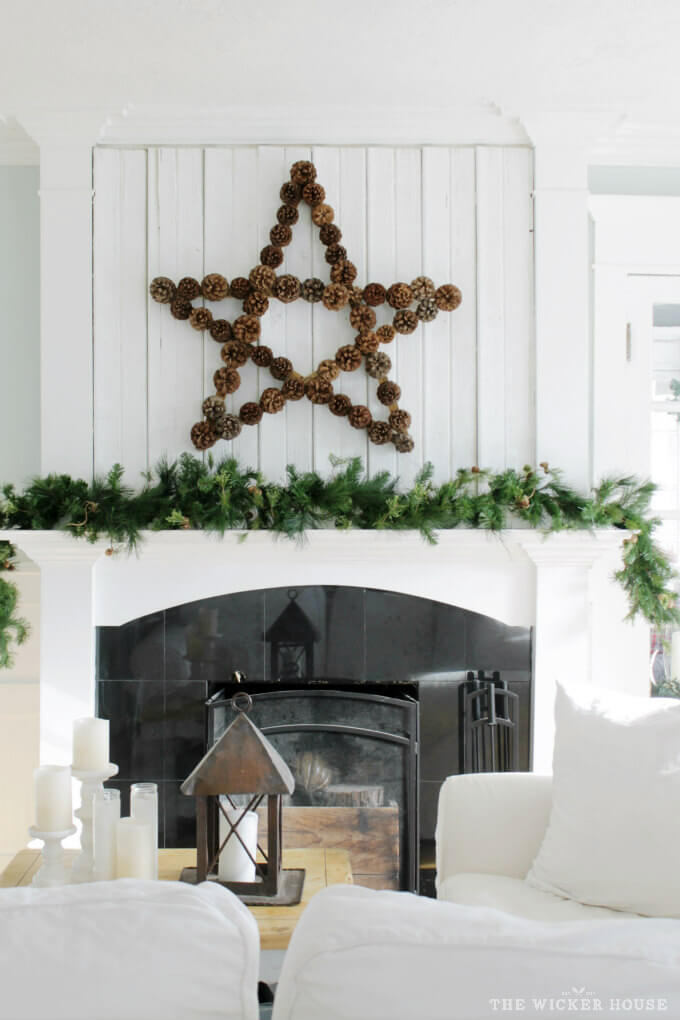 For a rustic look on your wall, make this Pinecone Star by creating the frame with yardsticks and attaching the pinecones. Hanging this Pinecone Star over a fireplace with pine roping on the mantel creates a focal point in your room, or use it to decorate the exterior of your home .
11. Charming Rudolf The Red-nosed Reindeer Pinecone Ornament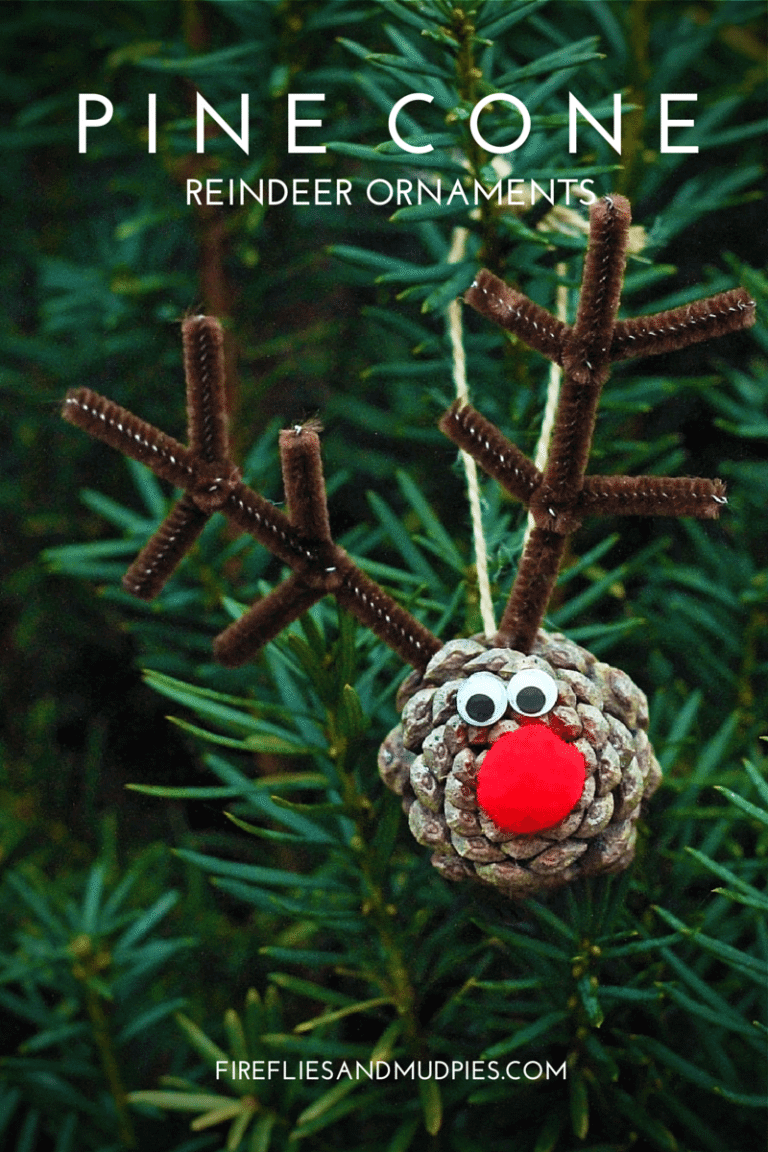 The Pinecone Reindeer Ornament is sure to be a hit with kids. Use brown pipe cleaners for antlers, wiggle eyes, and a large red pompom for the nose. Attach twine for hanging, and you have a simple, fun ornament.
12. Pinecone Forest Of Mini Christmas Trees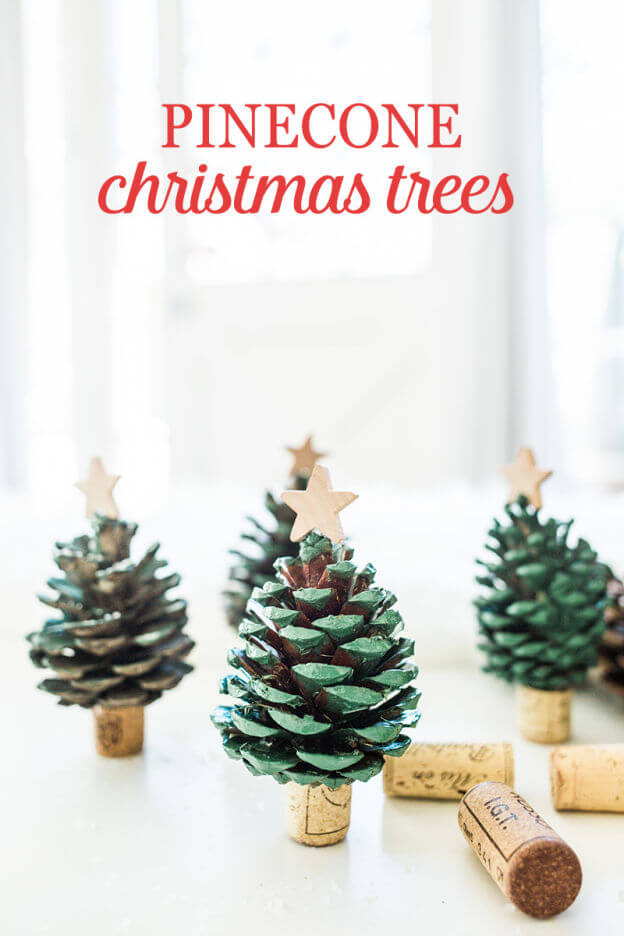 Create Mini Christmas Trees with small pinecones. Paint the pinecones green, attach them to wine corks, and top them with wood stars. Use groupings on your table and throughout your house.
13. Dangling Sparkly Snow Pinecones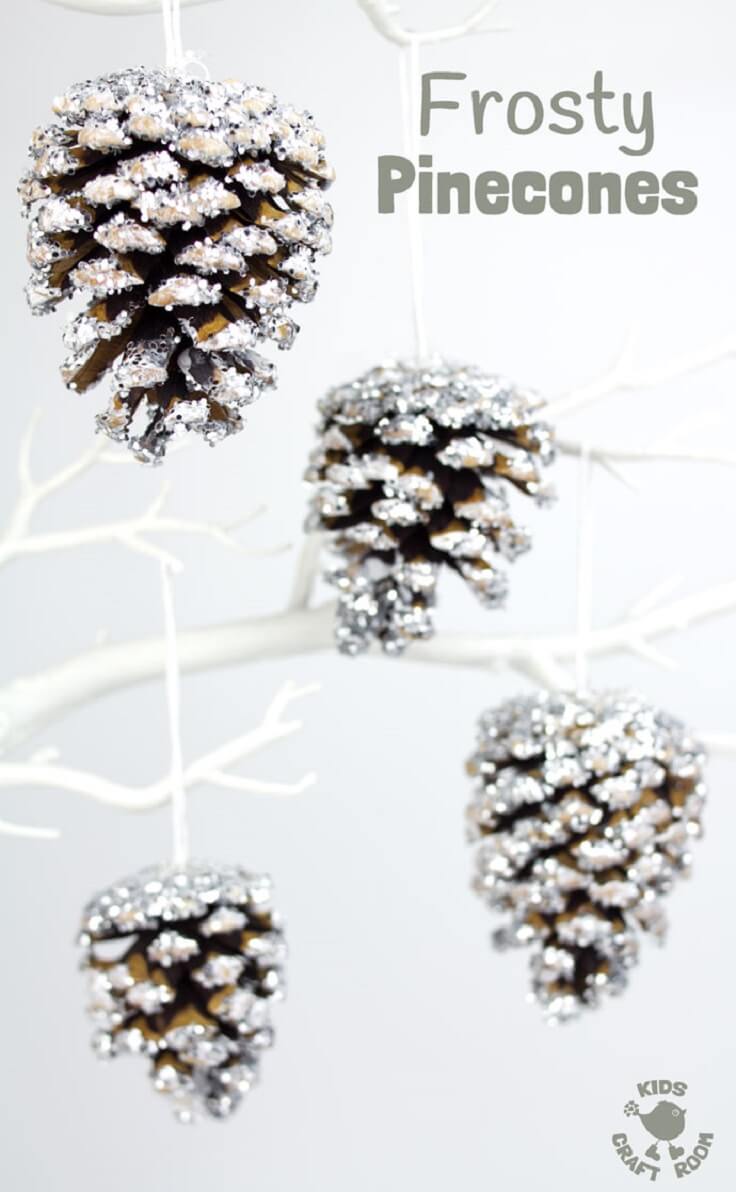 Add some snowy sparkle to your Christmas tree with these Frosty Pinecones. Just cover the pinecones with white glitter, attach a white cord, and hang them from your tree.
14. Pinecone Pieces Form Woodsy Pinecone Tree

To create this rustic Pinecone Tree, remove the individual scales from the pinecones and attach them to a Styrofoam cone. This natural Pinecone Tree can be used singly and in groupings in displays anywhere in your home.
15. Elegant Pinecone Candleholders Cast A Warm Glow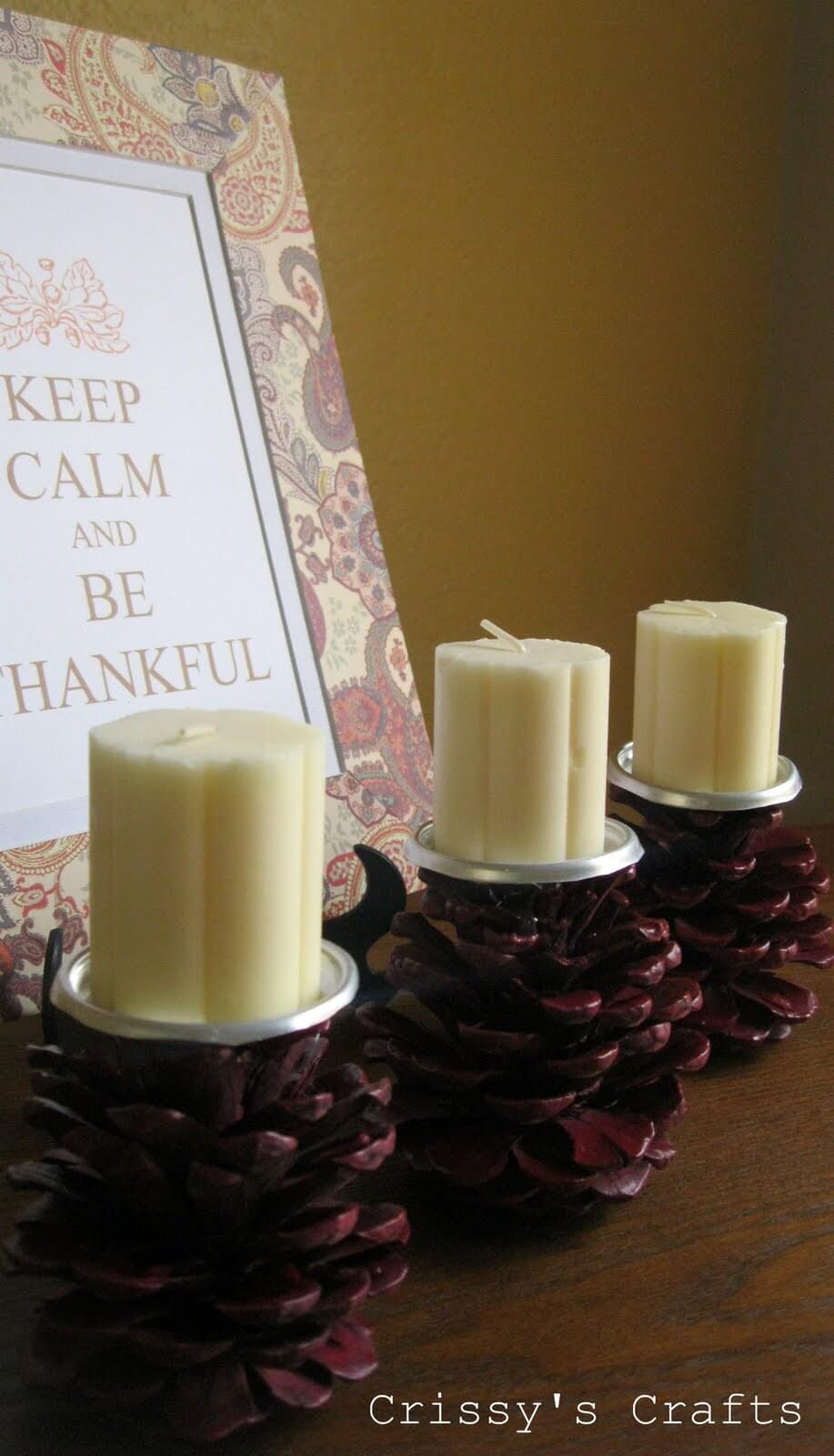 These Elegant Pinecone Candle Holders are created with large pinecones. Remove the top of the pinecone, insert metal candle holders, and you are ready to add a warm Christmas glow to your home.
16. Bunch Of Pinecones Beribboned In Red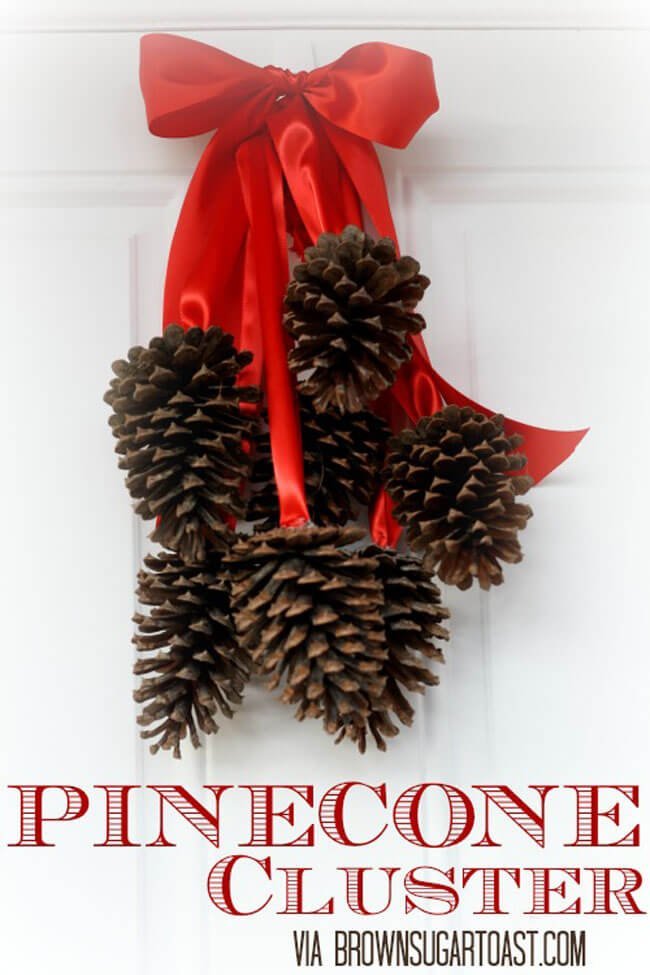 Greet your guests with this Bunch of Pinecones Beribboned in Red. Attach pinecones to both ends of red satin ribbon. Gather the ribbons together with a bow, and hang on your door for some welcoming Christmas cheer.
18. Stringed Pinecones With A Hint Of Snow

Flock pinecones with snow, and string the pinecones together with red yarn to create roping for your mantel. This Stringed Pinecones with a Hint of Snow roping is an unexpected natural roping for your mantel.
19. Pinecone Fire Starter Makes A Great Gift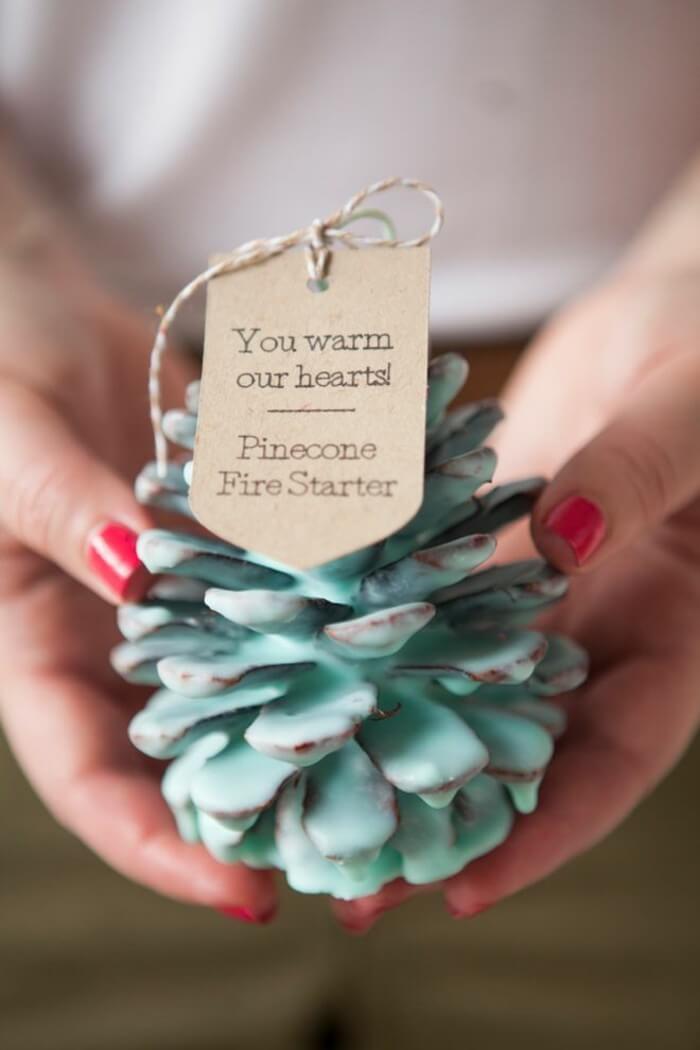 Pinecone Fire Starters are great party favors for your guests. Dip pinecones in colored, scented candle wax. Print out gift tags and attach them to the pinecones with twins. Place a Pinecone Fire Starter at each place setting.
20. Vivid Pinecone Flowers In Rectangular Arrangement

For a large, colorful Christmas display, paint pinecones in vivid colors, and add a touch of yellow to the centers to create these Pinecone Flowers. Then, arrange them in a tray or picture frame.
21. Pinecones Dipped In White Glitter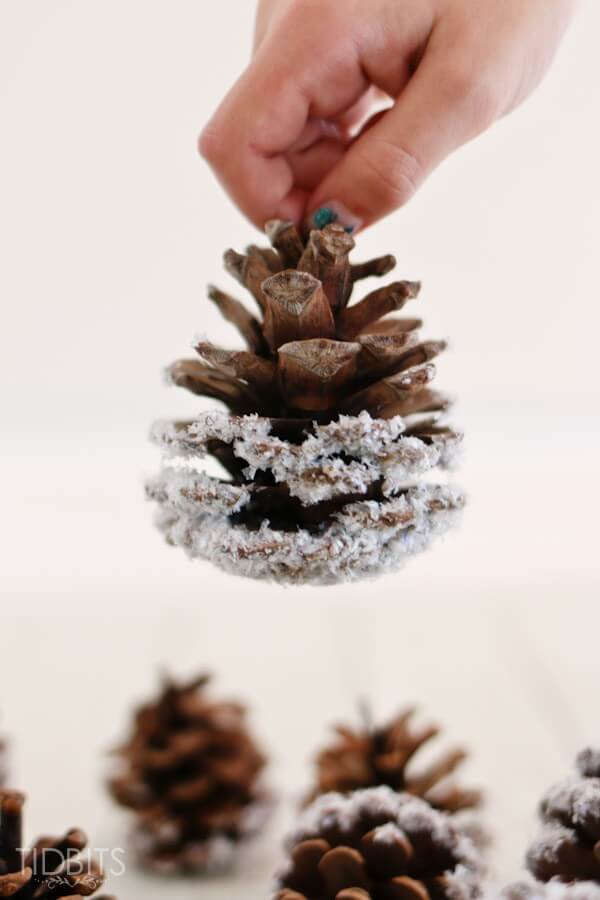 For a snowy pinecone display, dip pinecones in white glitter. Then, spread glitter or artificial snow on surface and scatter the pinecones around the areas.
22. Santa And The Red Pinecones Wreath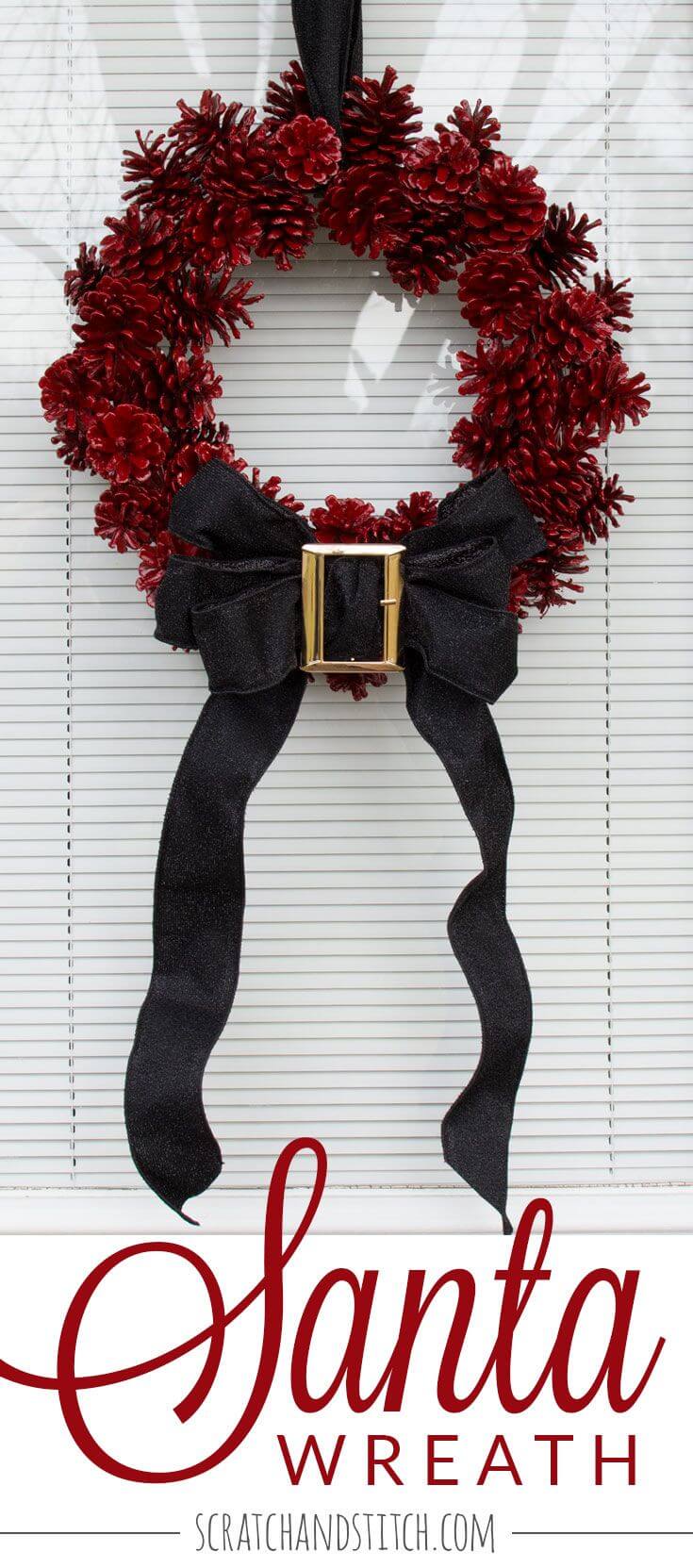 This Red Santa Belt Wreath will add Christmas cheer to your front door. Paint the pinecones red, attach them to a wire wreath frame. Make a bow from heavier black ribbon, and attach a large belt buckle to the center of the bow. Attach the bow to the bottom of the wreath. Make a ribbon hanger with more of the black ribbon, hang the wreath on your front door.
23. Little Red Pinecone Fox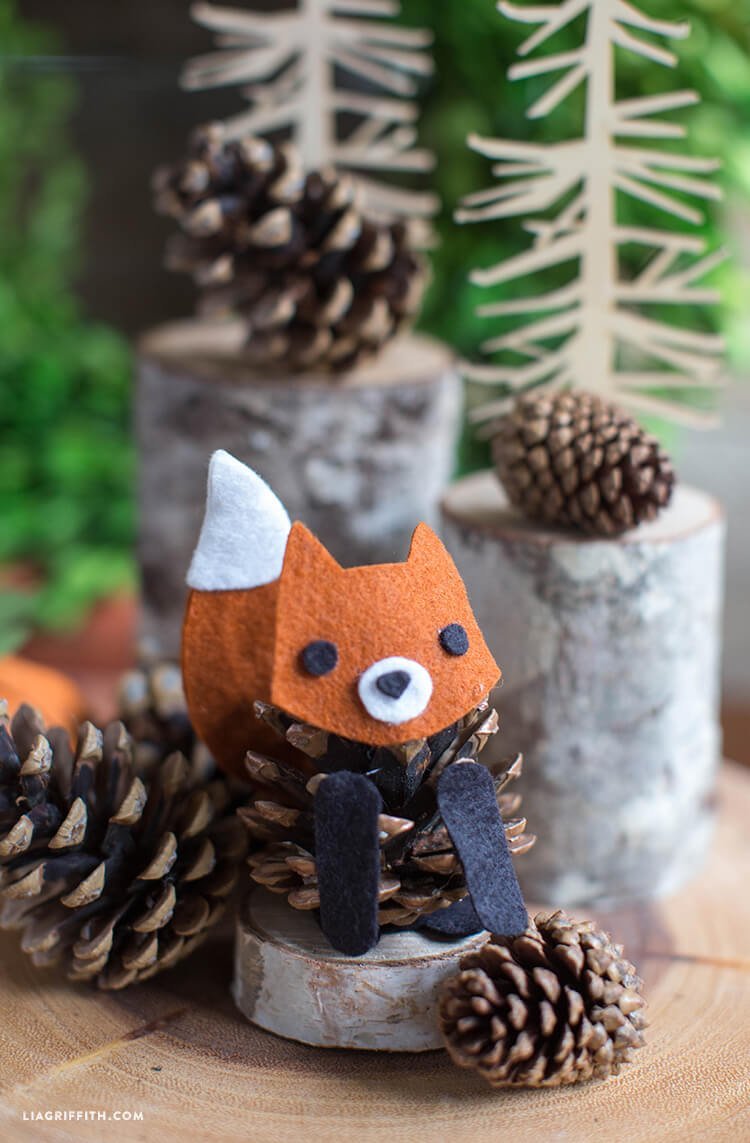 This Little Red Pinecone Fox will add some fun to your woodland Christmas displays. Cut the tail and the head out of reddish brown felt. Add a white felt tip to the tail, and a white snout and black eyes and nose to the face. Cut legs and paws out of black felt. Attach the felt pieces to the pinecone, and add the fox to your display.
24. Pinecone Napkin Rings Tied With A Bow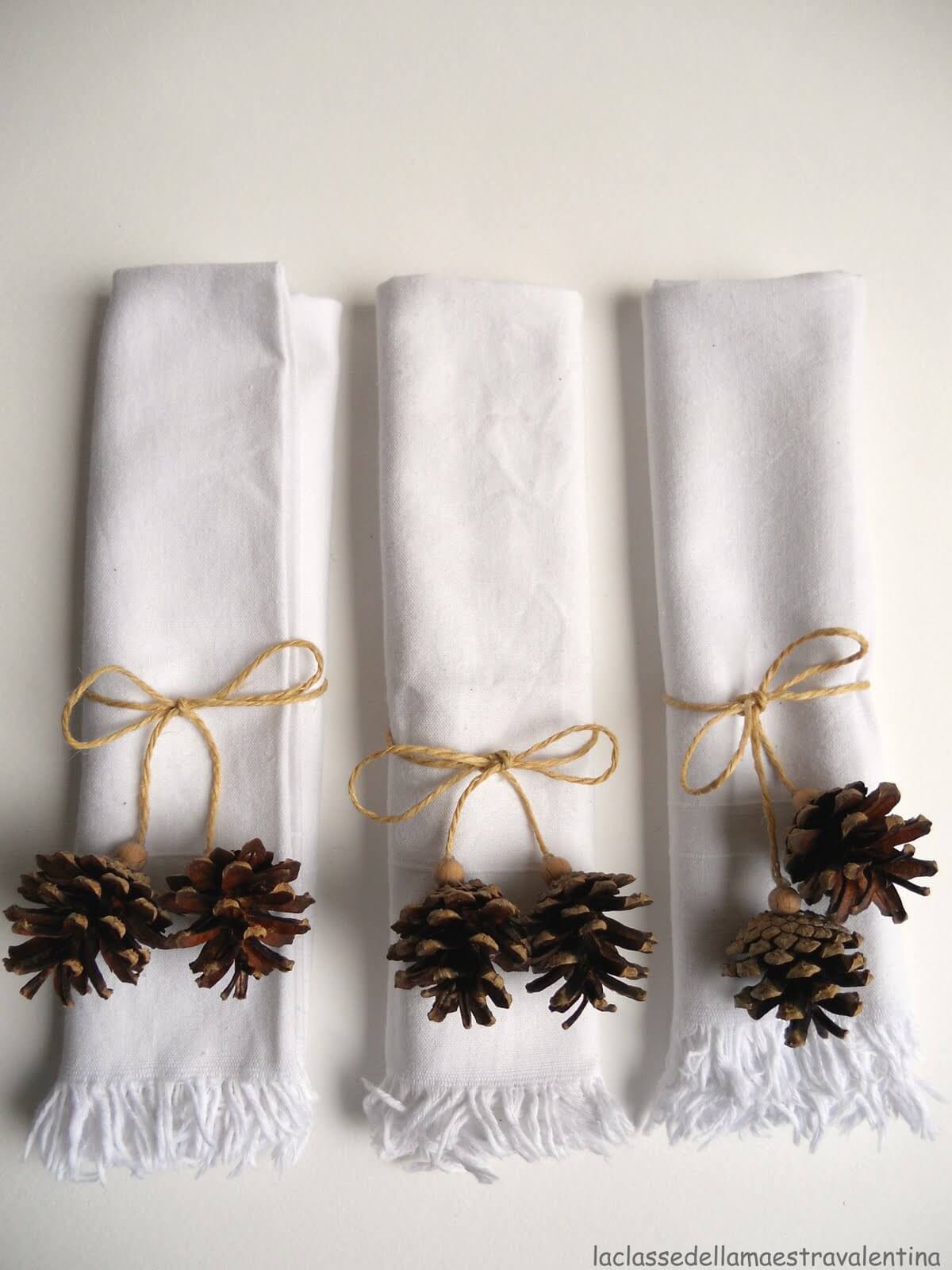 For a natural table decor, choose these Pinecone Napkin Rings. Cut some twine, attach wood beads to each end, and then attach the pinecones. These Pinecone Napkin Rings add just the right touch to your natural table decor.
25. Pinecone Wreath With Pom Pom Polka Dots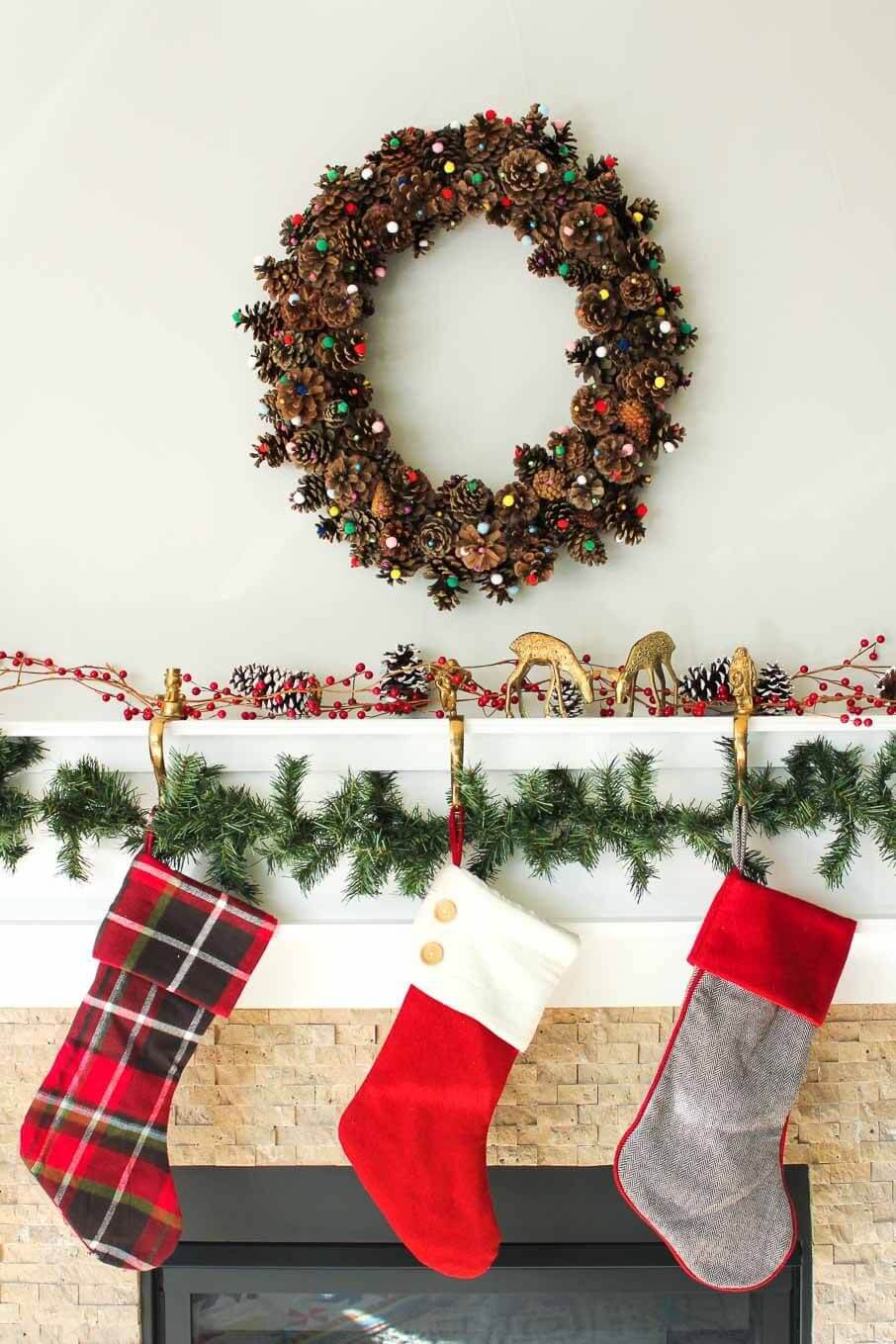 This Pinecone Wreath with Pompom Polka Dots creates a festive touch above your mantel. Attach pinecones to a wire wreath frame, glue on miniature pompoms, and you are ready to hang your wreath.