Christmas is closer than you think! It's time to start pulling out the craft idea books and holiday decorations. When I go into the craft stores and smell the cinnamon-scented pinecones, I know Christmas can't be far way. Scented pinecones are a wonderful use for them, but don't forget all the great decorative uses of the common every day pinecone, especially for the holidays. Here before you are 35+ DIY Pinecone Crafts that demonstrate the versatility of the simple pinecone.
35+ Easy DIY Pine Cone Crafts to Jumpstart the Holidays

To start with let the kids have fun this holiday making the gumdrop pinecone ornament, Rudolf the Red-nosed Reindeer pinecone head, or Santa's woodland elves adorably adorned in red and green. And they will love hanging the Santa Wreath with its big fat Santa belt on the front door. The pinecone Christmas trees will add a charming woodland touch around the house. Hang the pinecone kissing ball in the living room doorway for a light-hearted romantic appeal and deck the halls and mantlepiece with the pinecone ornaments dipped in sparkly white glitter or white paint.
For outdoor decorations pinecones are the natural solution. You will not be disappointed with the outdoor ideas you find in the 35+ DIY Pinecone Crafts. Use the pinecone star to decorate under the eaves of your home. And the pinecone wreath with a touch of Christmas greenery lends a classic air to your front door. Couple the wreath with two pinecone bushes in a stoneware pot on either side of your door for a regal look.
You will only find pleasure and satisfaction this holiday season as you decorate with these 35+ DIY pinecone crafts. And you will find that others will love them too.
1. Shiny Rustic Brown Pinecone Collection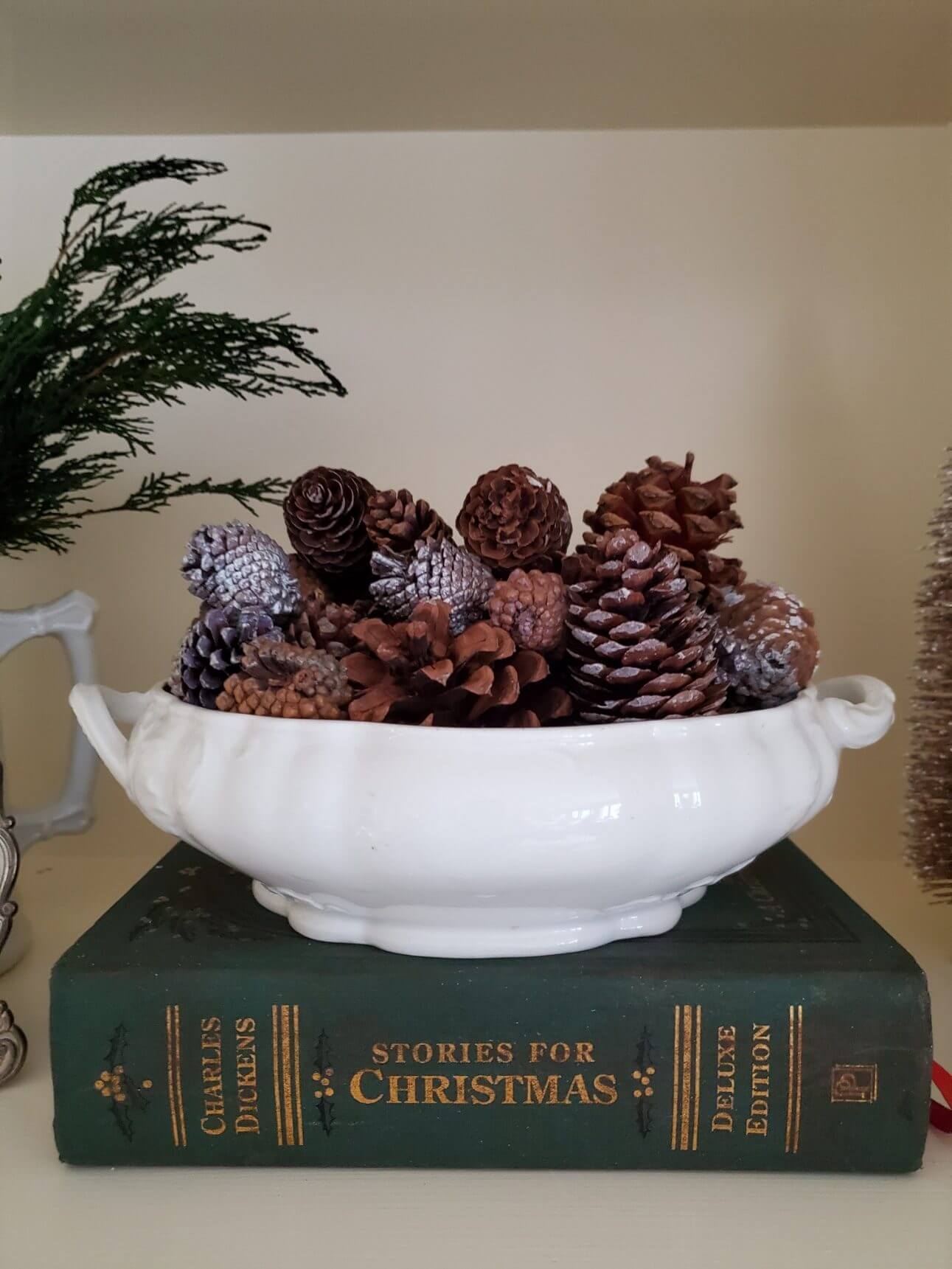 Select a pretty dish to display this forest-friendly collection of pinecones. Leave some in their natural, rustic brown state and spice up some of the others with silver paint to add a touch of sparkle to your winter decorating scene. Arranged in a piece of pottery, their natural beauty and texture will help bring some extra warmth into your home.
2. Cool DIY Rustic Pinecone Tree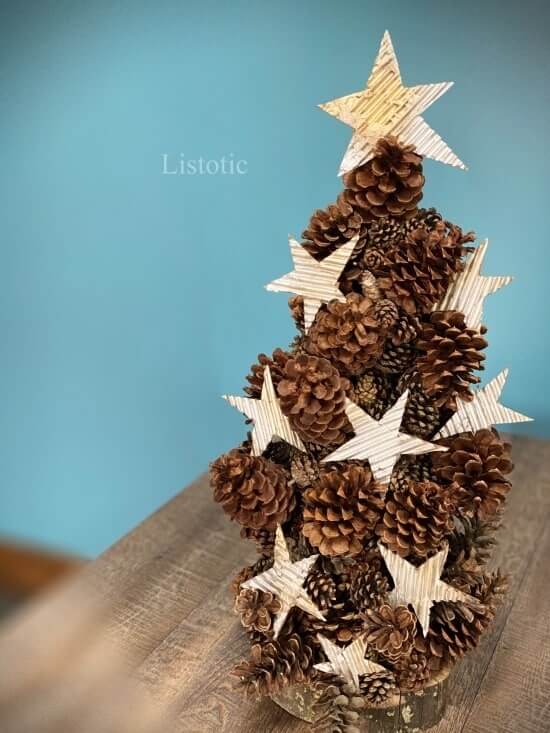 You can properly dive into the holiday season with this awesome crafted pinecone tree. It works especially well when you utilize pinecones of various sizes as it makes for a more realistic looking "tree". This crafting project even gives you room to add onto the tree with additional decorations if you wish.
3. Unique Dipped Pinecone Fire Starter Favors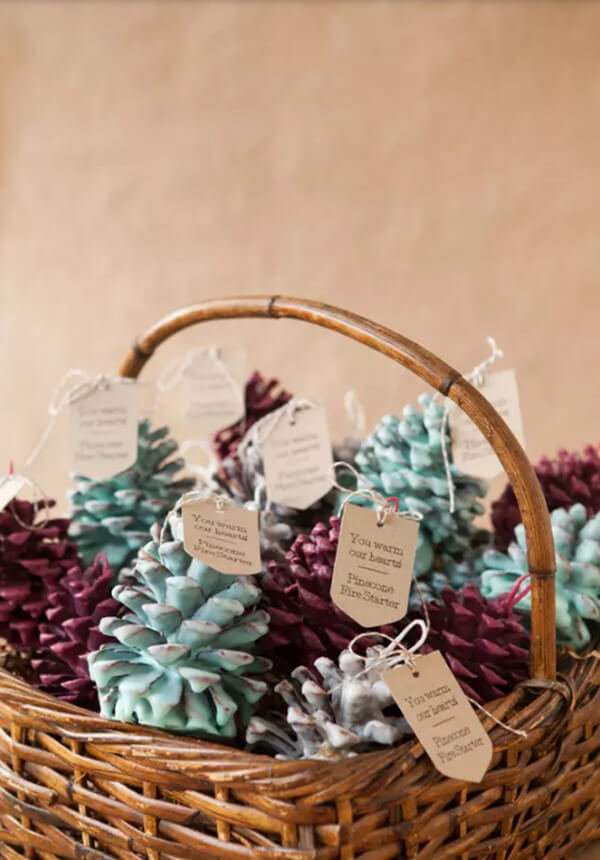 A winter-themed wedding needs fun party favors, and pinecones are perfect to use for the occasion. This fire starter project is a fun way to stick to the vibe of the season not just with the use of pinecones, but for the sake that whoever gets one can actually warm up with it thanks to it acting like a giant candle.
4. Gorgeous Potted Pinecone Topiary Arrangement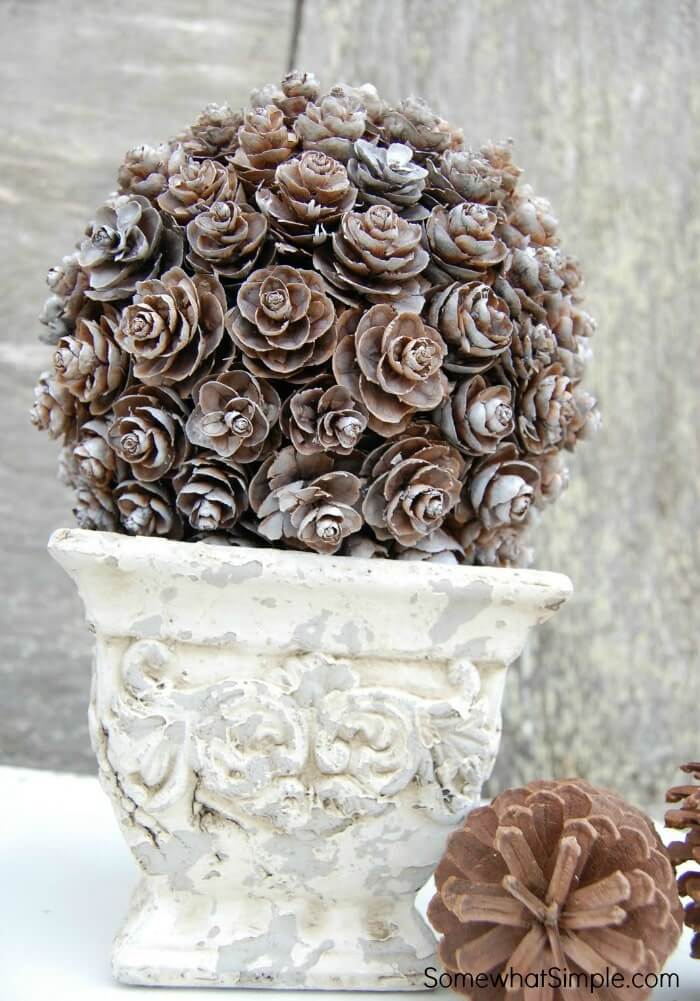 This topiary arrangement is a beautiful way to bring in the winter season through your décor. It may be time-consuming to put together, but the result is worth it. The white spray paint easily makes the pinecones look as though they are covered in a lovely dusting of snow without having to be outside.
5. Versatile Festive Glittered Pinecone Display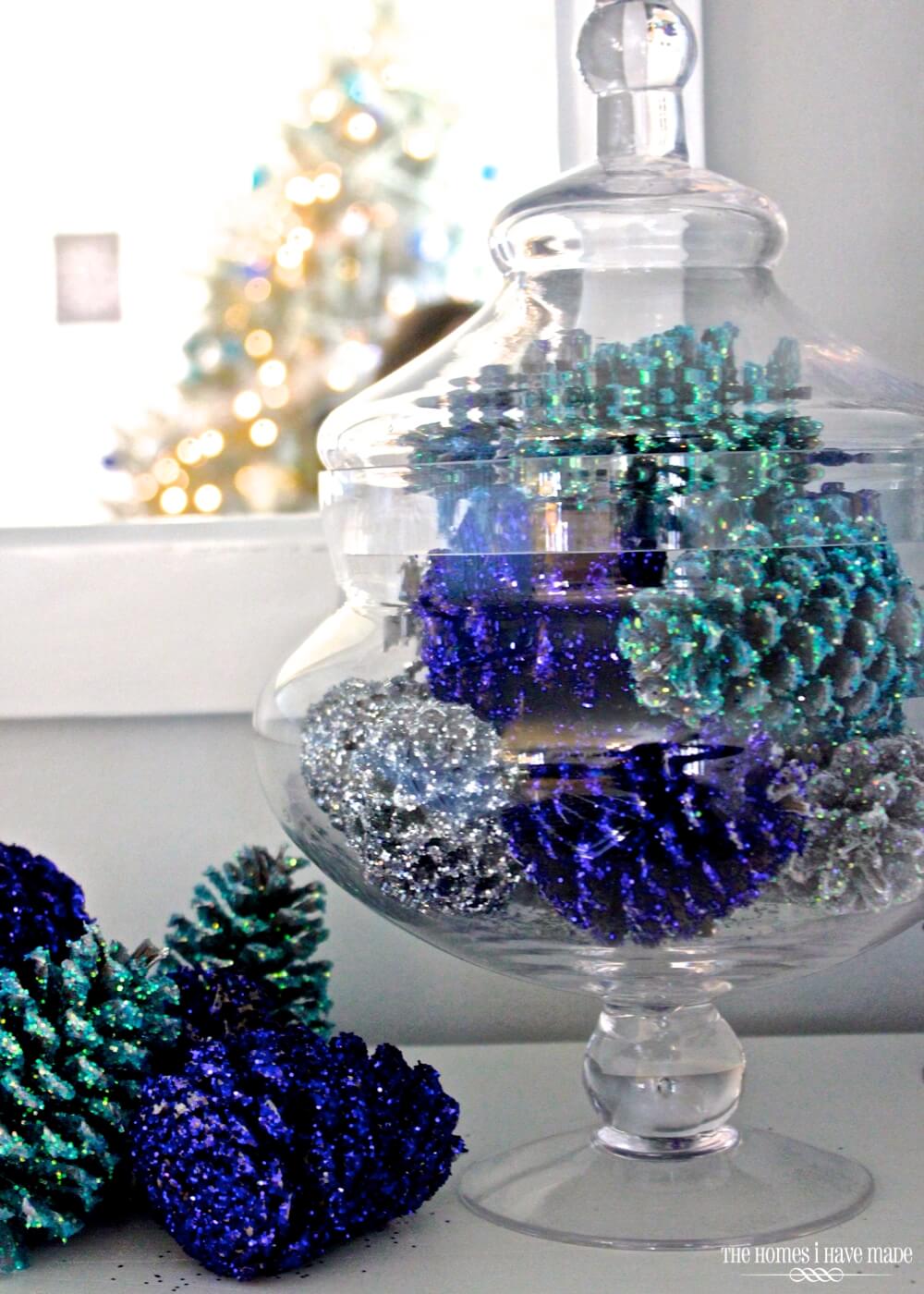 Glittered pinecones are a popular decorative choice in the season thanks to how versatile they are. You can display these sparkly treats any place you think needs a bit of sprucing up, and you can use whatever colors best fit your current décor theme. The glitter makes the pinecones look as though they are truly shining.
6. Upcycled Pinecone Acorn Fall Décor
Do you have a few plastic eggs still clogging up space from Easter? You can adapt them to fit the autumn season by crafting this incredible acorn pinecone project. A little paint goes a long way in transforming these eggs, and using the pinecones on top can really help sell the image. It's a simple way to get your home décor ready for the holidays.
7. Hanging Multicolored Pinecone Garland Display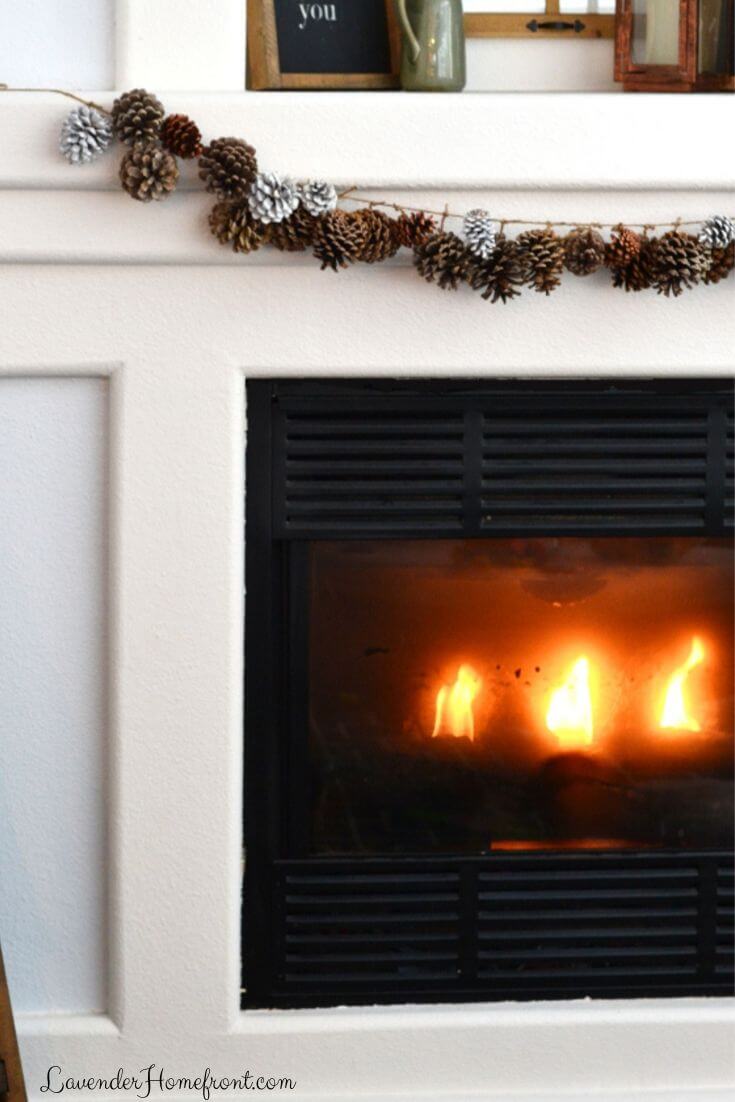 Garland is always a fun way to decorate since it can easily accent any other items you have around. Rather than use traditional greenery, you can create a cool garland using pinecones. When doing this crafting project, consider painting some of the pinecones a different color. This can help it stand out more rather than be one simple, muted color tone.
8. Door Hanging Pinecone Decorative Arrangement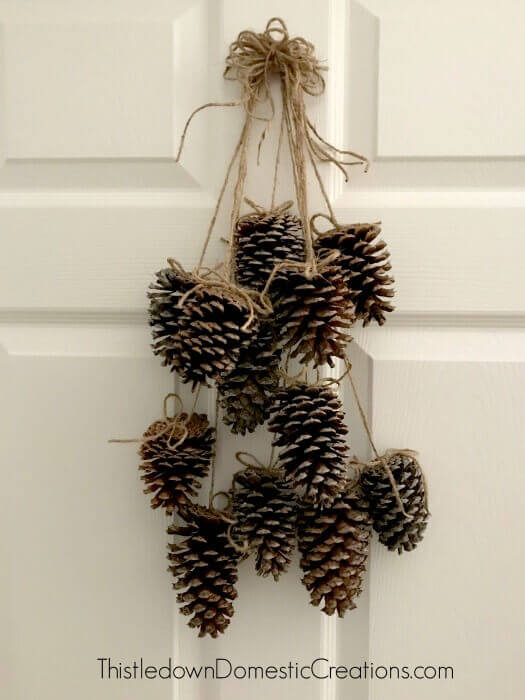 Who doesn't appreciate a good door decoration for the holidays? You can always take a distinctive approach away from the multiple wreaths that are out there and create a hanging display made from pinecones. These can hang from any door in your home too so you can bring in the holiday fun everywhere. Keep them as-is or paint them to match your other décor. The possibilities are endless.
9. Joyful Pinecone Christmas Tree Ornaments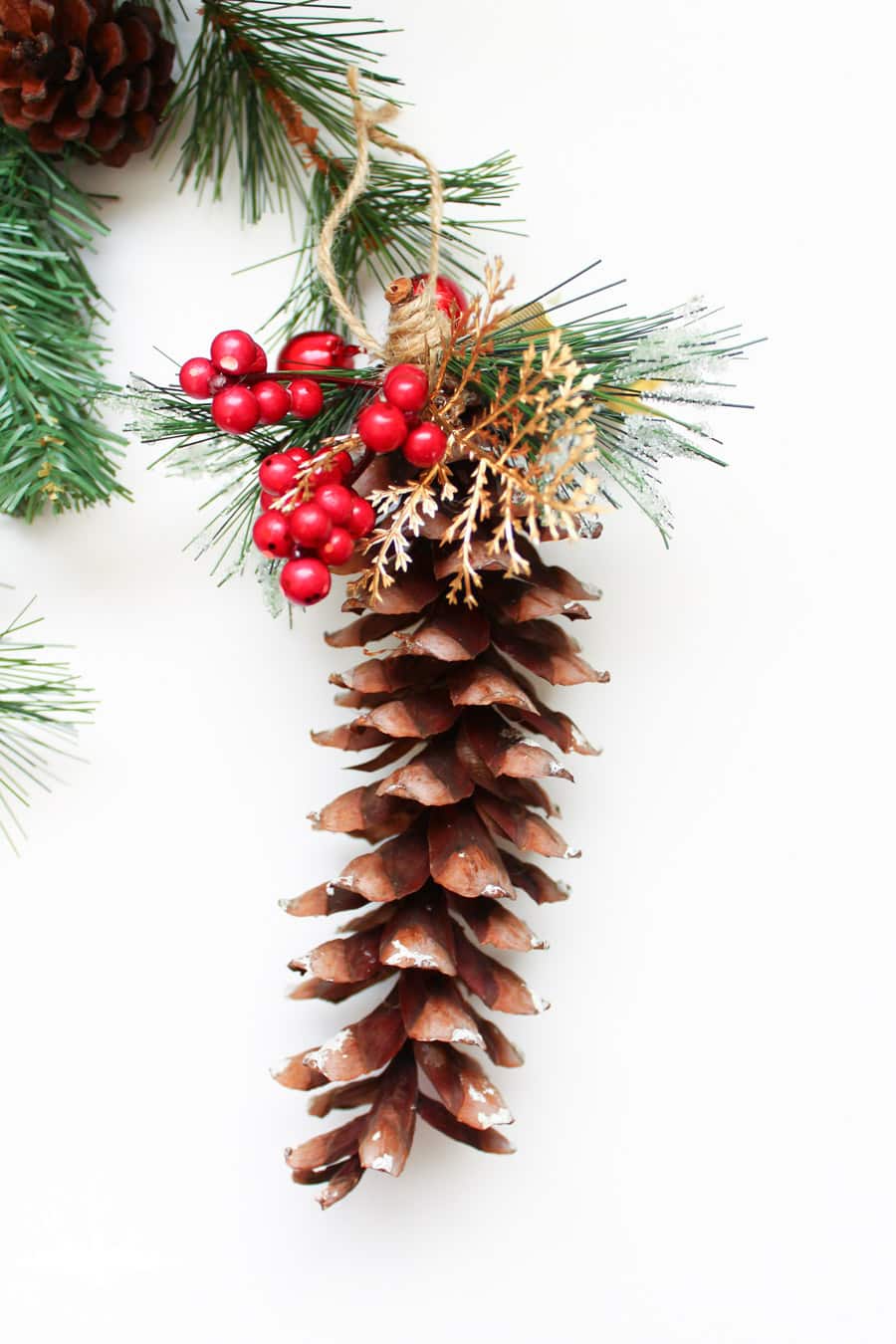 Do something different when decorating your Christmas tree this holiday season by using crafted pinecone ornaments. They can work well with any other ornaments as they add a nice rustic accent to the rest of your tree. This gives you space to throw on additional seasonal-themed décor to the pinecones as well from ribbons to faux berries.
10. Pinecone Picks for Floral Arrangements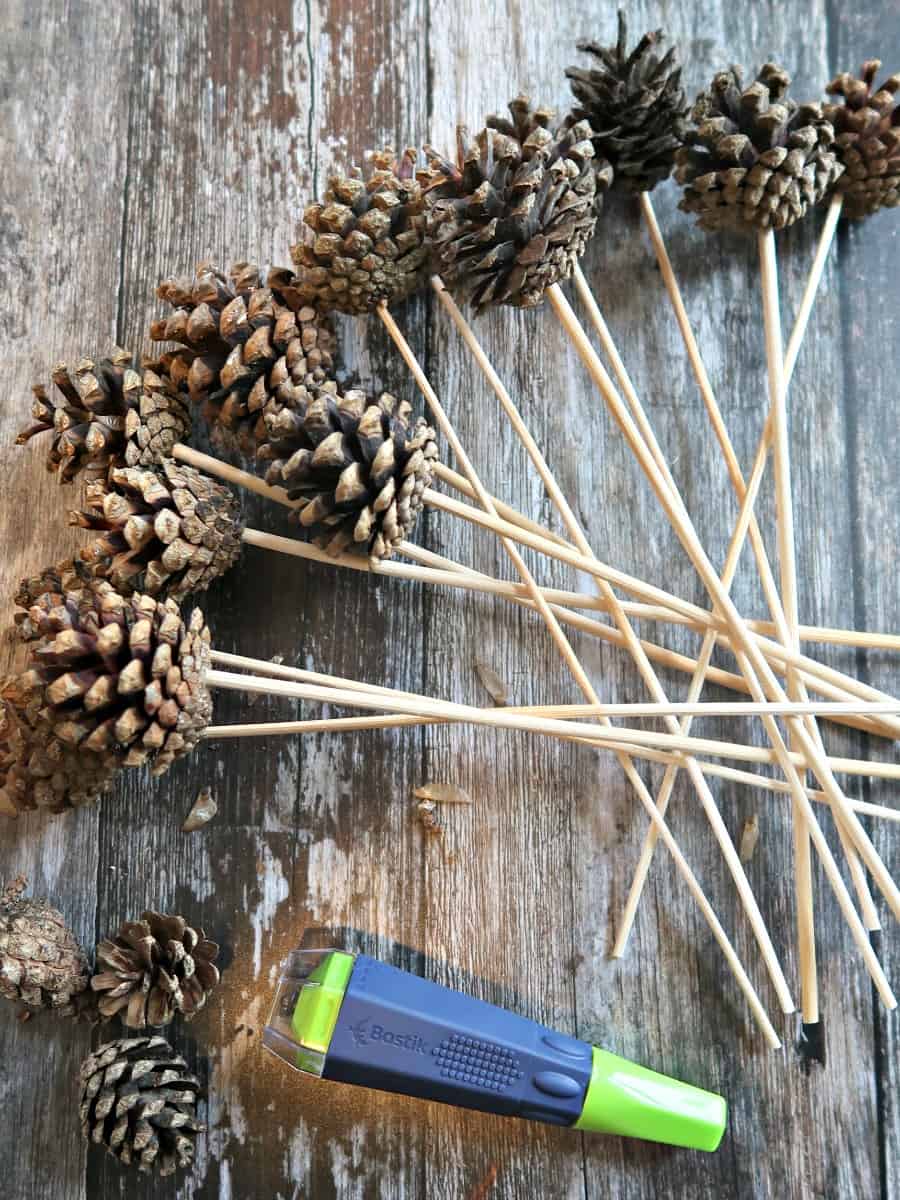 If you're creating a floral arrangement or even a wreath, these pinecone picks will make the process go by much smoother in a few ways. For one, you can slide them into your arrangement at different angles with ease. Also, you don't have to waste time trying to figure out a way for them to stay in place as the sticks support them well enough.
11. Bold Red Santa Pinecone Wreath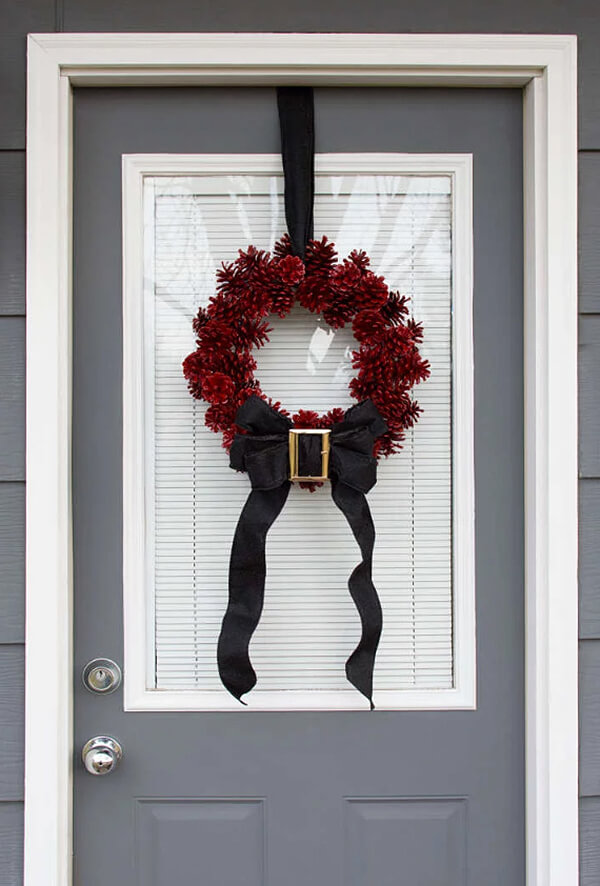 From a distance, this looks like your everyday holiday wreath. Up close, however, you notice the intricately painted pinecone display. Using a glossy paint can help these pinecones "glow", and with the added large black bow, this wreath really does feel like something Santa would proudly hang from his door.
12. Decorative Multicolored Painted Pinecone Display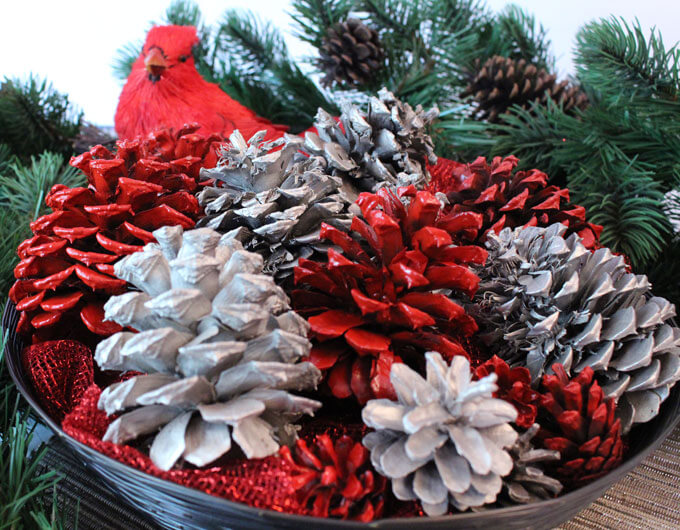 It's always fun to do something a little different with your décor, and these painted pinecones help you achieve just that. Feel free to gather up multiple sizes too as it can help the pinecone display flow a bit better, more so when painting them with various colors for a well-rounded display. Set them up in a bowl in your home or pass them along to someone else as a gift.
13. Adorable Crafted Sleepy Pinecone Gnomes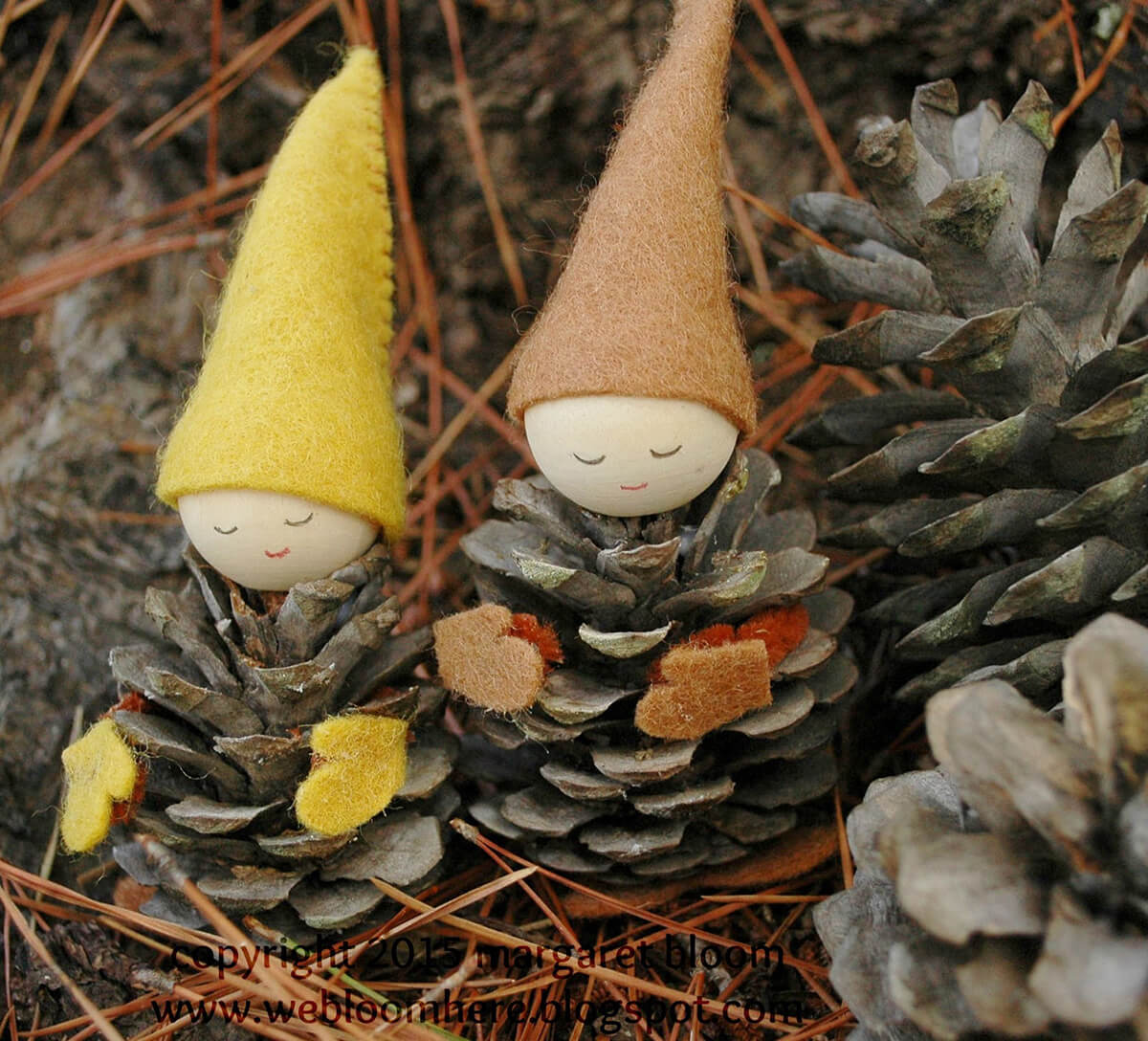 Love gnomes but want to use them on a smaller scale this holiday season? Then check out these adorable sleeping pinecone gnomes. You can arrange them outside alongside regular pinecones as they can instantly capture the attention of anyone who sees them.
14. Simple Frosted Tip Pinecone Christmas Garland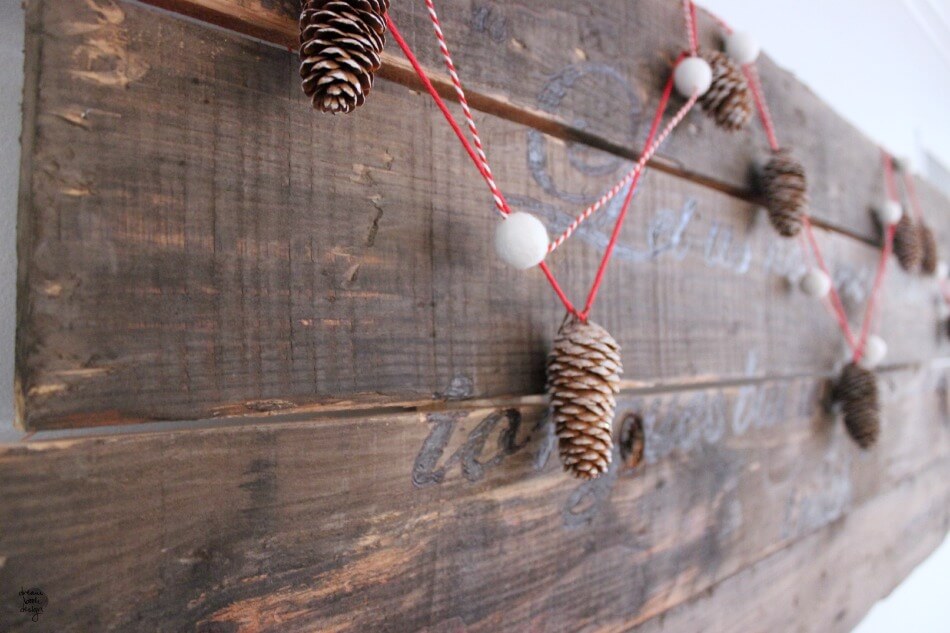 This garland project is an easy way to decorate for the coming season. All that's needed is a few pinecones, preferably with frosted tips so they can seem more apparent when hung up. You can string this garland up on another décor you have on the wall too so it can serve as a fun accent piece.
15. Oversized Stunning Pinecone Garland Banner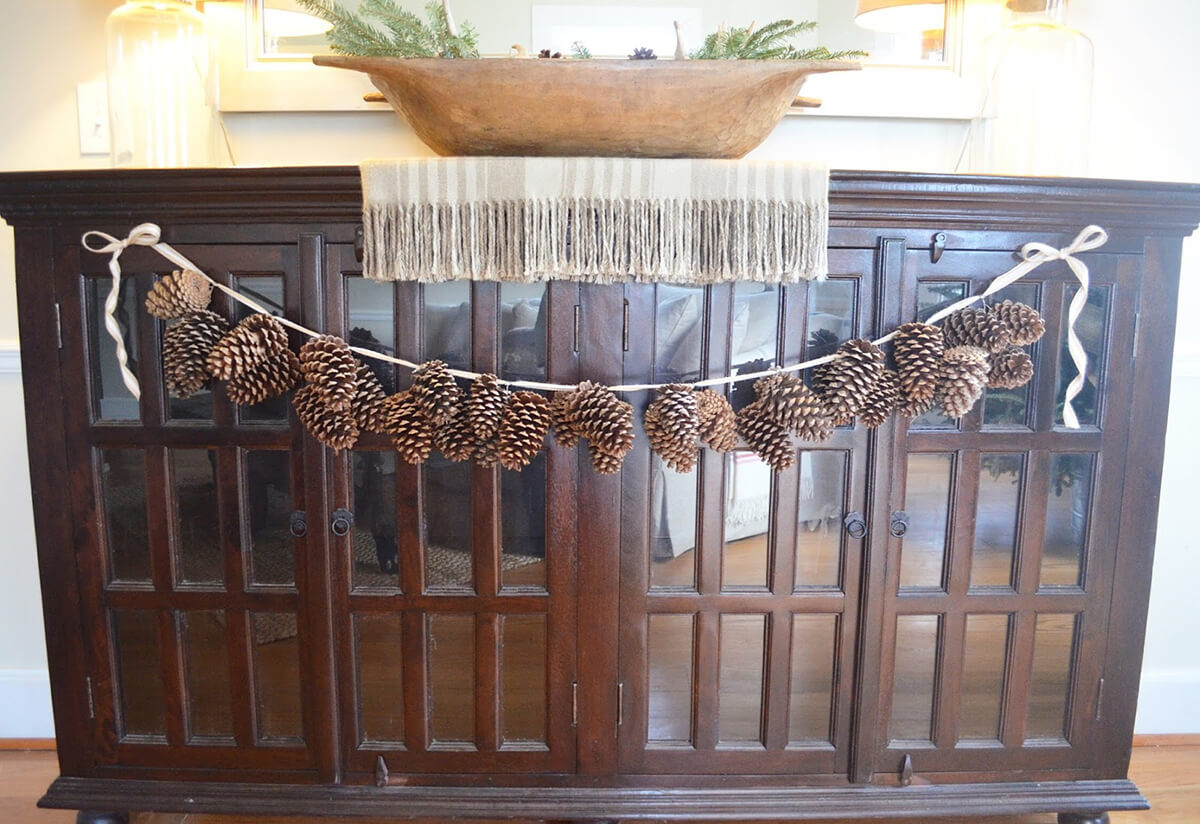 If your yard is littered with large pinecones, you can put them to good use by creating an oversized garland banner. There's no need to paint these if you don't want to as the large pinecones stand out effortlessly. Using a brighter toned ribbon to hang them on may be helpful though.
16. Star-topped Pinecones In Silver Planters

Groupings of these DIY Pinecone Christmas Trees displayed on your table, buffet, or anywhere else in your home will add rustic Christmas charm. Painted green and placed in silver flowerpots, the pinecones are topped with silver stars to create these Pinecone Christmas Trees.
17. Evergreen Pinecone Kissing Ball For Your Doorway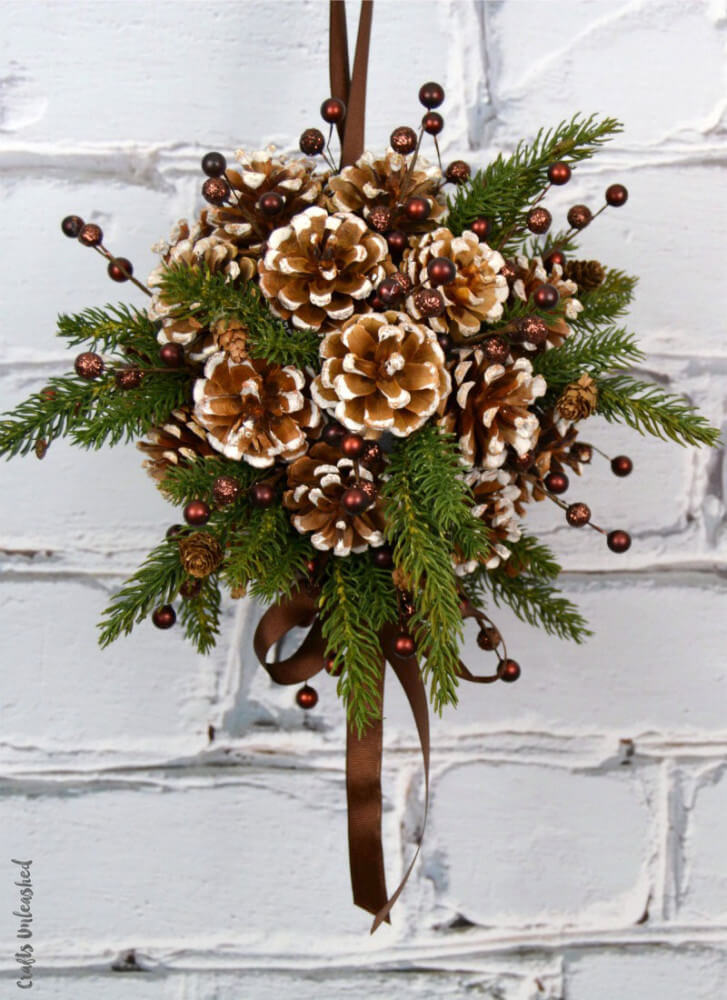 For this Pinecone Kissing Ball, use a Styrofoam ball as the base, make a loop with brown satin ribbon, and attach it to top of the ball. Use the ribbon to tie a bow at the bottom. Attach the pinecones, pine branches, and berry picks. Then, hang this Pinecone Kissing Ball in a prominent location.
18. Bowlful Of Pinecone Flowers In Pastels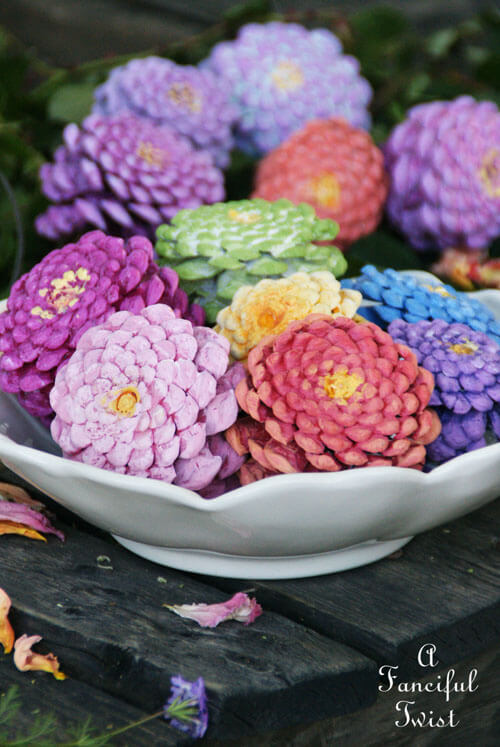 To make the Pinecone Zinnias, remove the top of the cone. Paint the cones in bright pastels. Then, paint the centers yellow. Place a bowl of these anywhere for some bright Christmas cheer.
19. Pinecones In Wintry Lights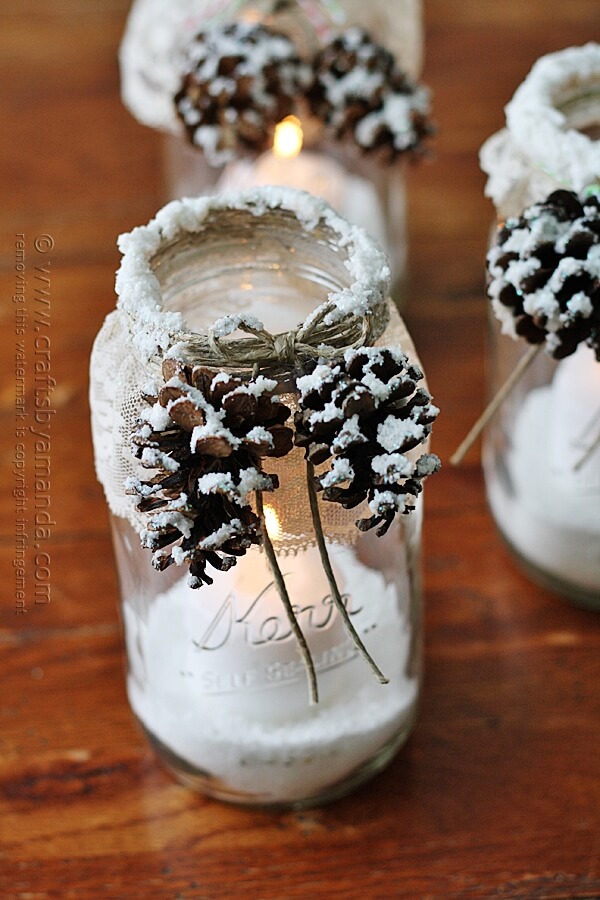 A row of these Snowy Pinecone Votive Candle Jars will add a festive touch to your table setting or any room. The lit votive candle on a bed of snow inside a canning jar with a snow-covered rim, pinecones, lace trim, and twine bow creates a old-fashioned Christmas feel.
20. Natural Pinecone Wreath With A Touch Of Christmas Green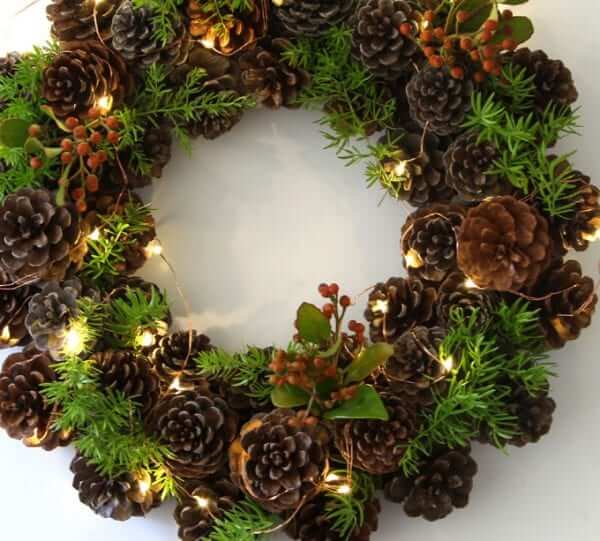 Make this lighted Pinecone Wreath a focal point on your wall or door. Pinecones on a wire frame with a string of white lights, pine branches, and berry picks tucked in between the pinecones adds an elegant Christmas touch to your home.
21. Visions Of Gumdrop Pinecone Ornaments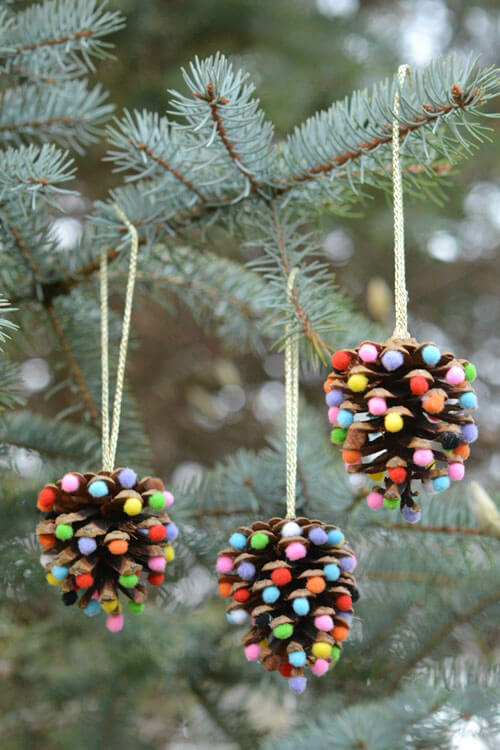 Colorful Gumdrop Pinecone Ornaments add a woodland feel to your Christmas tree. Miniature pompoms glued to the pinecones hung from metallic rope are a quick and easy way to add a natural touch to your decorations.
22. Santa's Whimsical Pinecone Wood Elves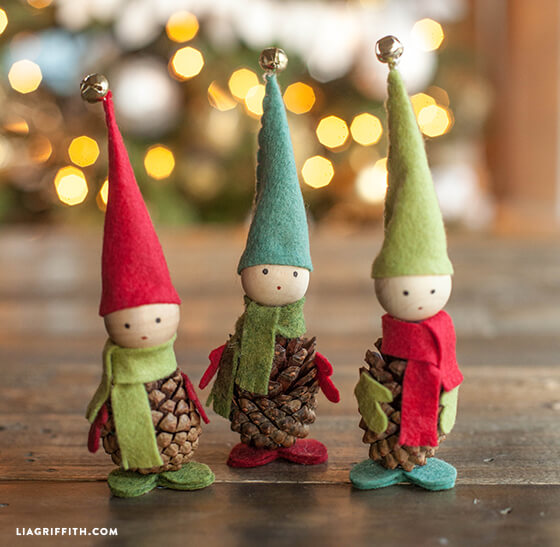 These cute Pinecone Elves have wooden ball heads; felt scarves, mittens, and feet; and jingle bell topped, cone-shaped felt hats. They can be used singly or in groupings amid your other holiday decor.
23. Simple Pinecone Tree On A Pedestal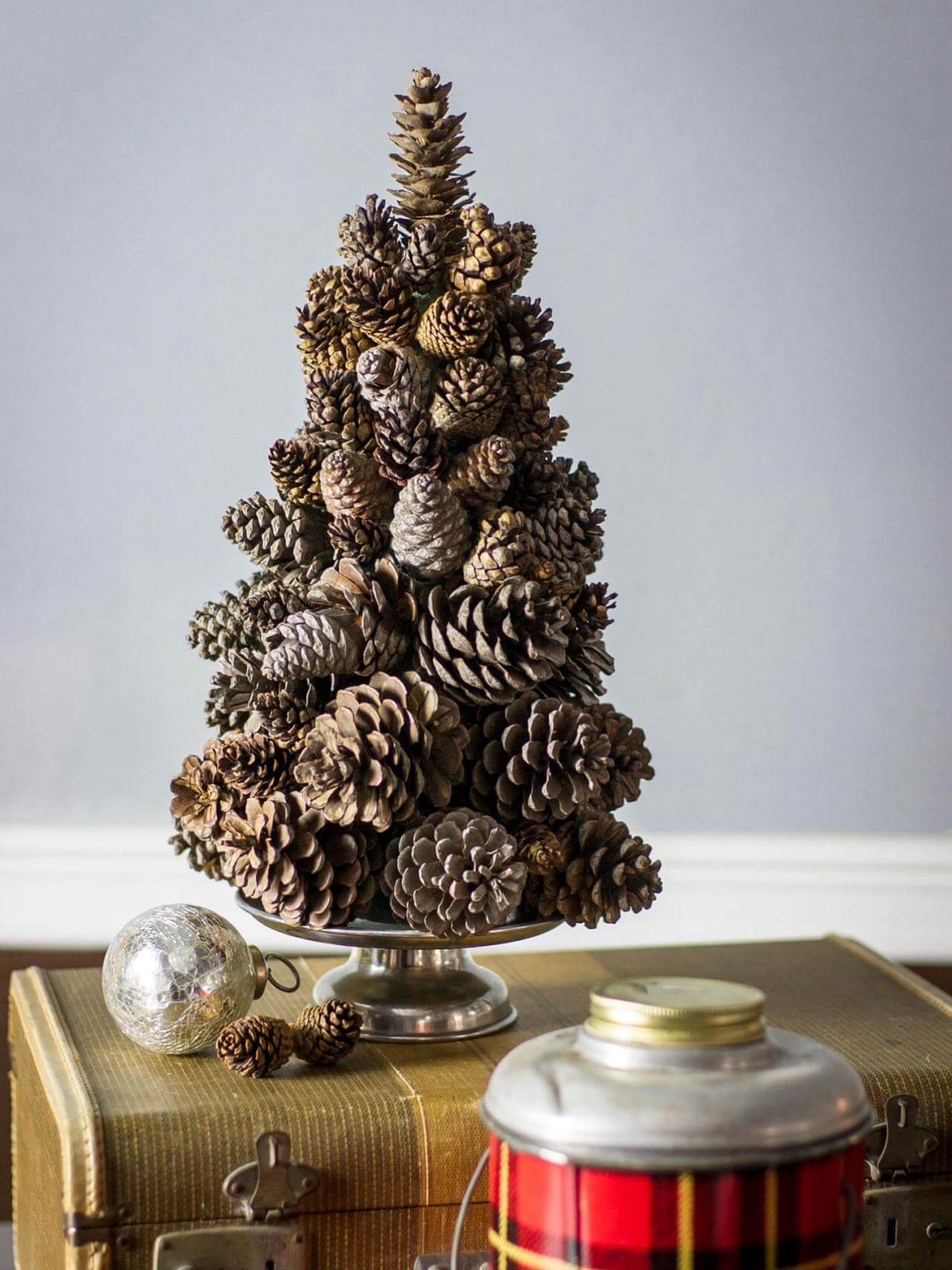 This natural and elegant Pinecone Tree can fit anywhere in your home. The pinecones are attached to a Styrofoam cone, and a raised cake plate is used for the base.
24. Natural Pinecone Hung With A Bow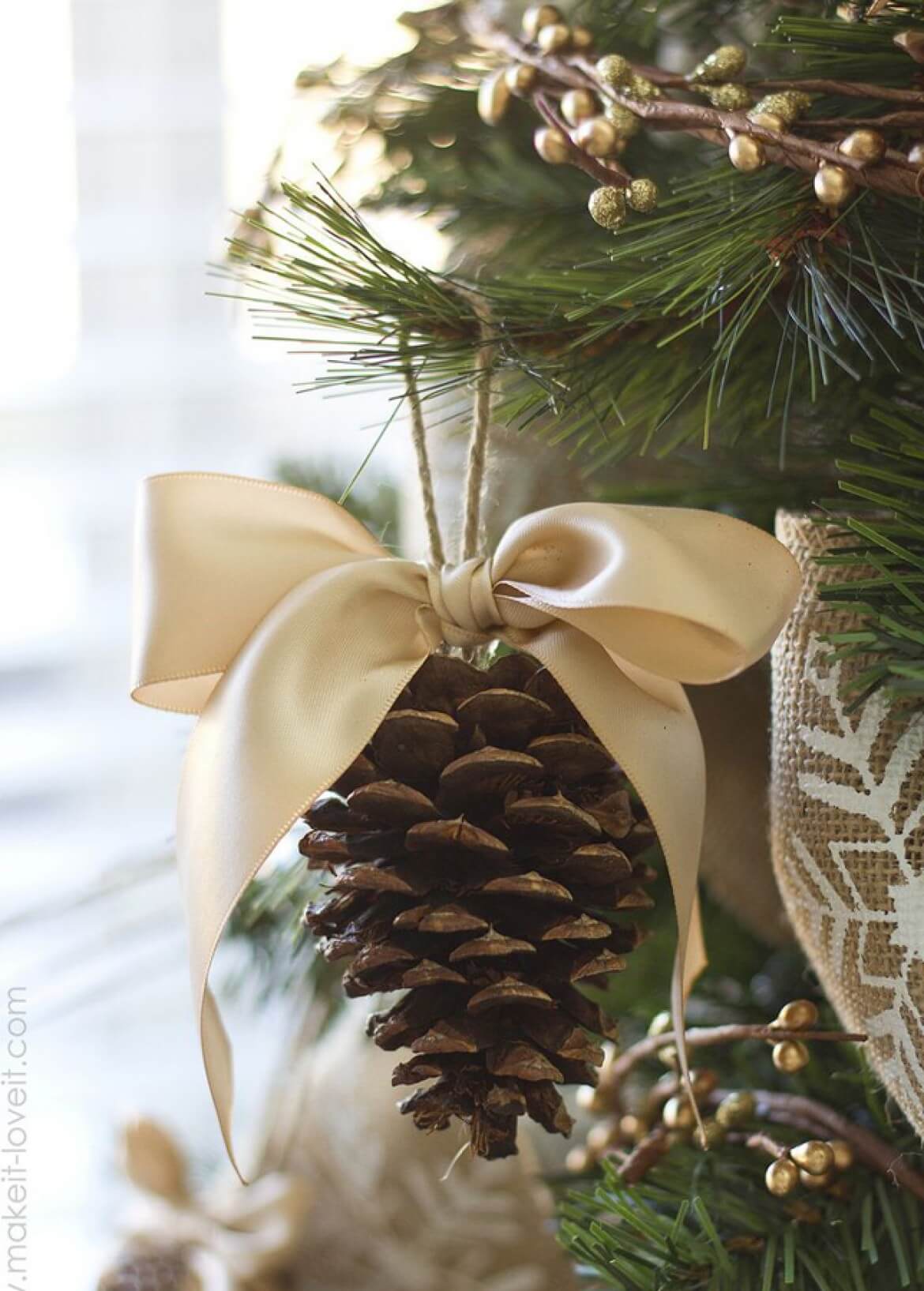 Give your Christmas tree a natural look with these Pinecone Ornaments hung with twine and topped with a tan satin ribbon. Continue decorating your tree with natural materials such as berries, uncoiled grape vine wreaths, miniature grape vine wreaths, burlap ornaments, and burlap ribbon for a sophisticated, rustic look.
25. Pinecone Star Of Wonder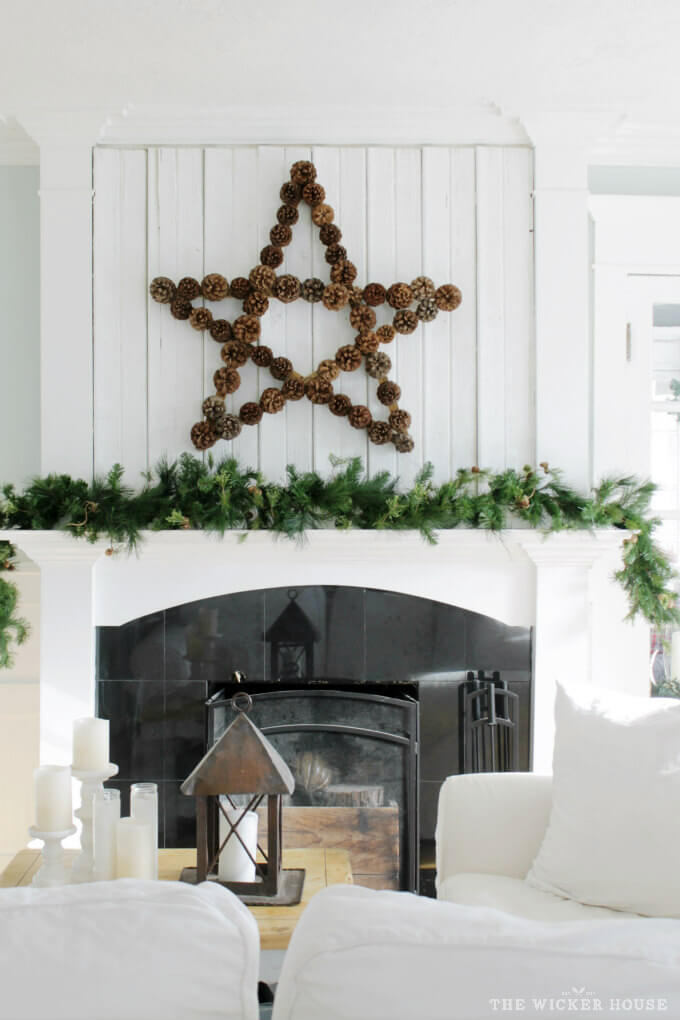 For a rustic look on your wall, make this Pinecone Star by creating the frame with yardsticks and attaching the pinecones. Hanging this Pinecone Star over a fireplace with pine roping on the mantel creates a focal point in your room, or use it to decorate the exterior of your home .
26. Charming Rudolf The Red-nosed Reindeer Pinecone Ornament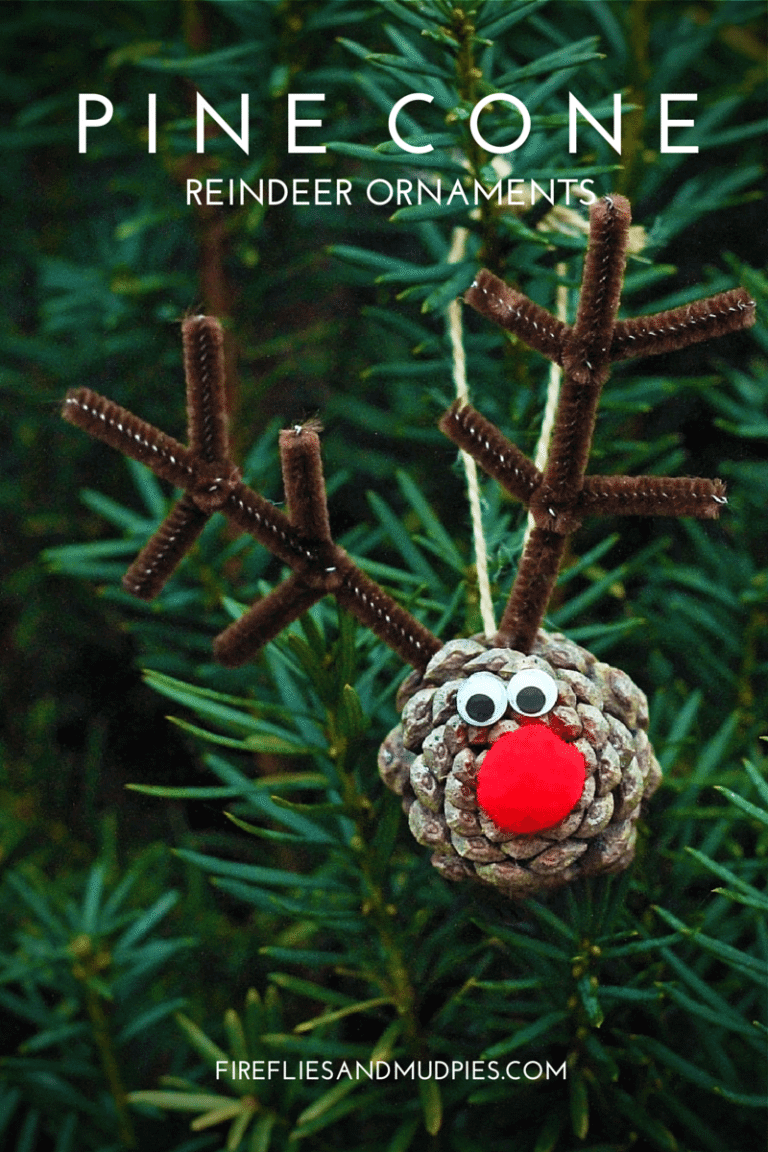 The Pinecone Reindeer Ornament is sure to be a hit with kids. Use brown pipe cleaners for antlers, wiggle eyes, and a large red pompom for the nose. Attach twine for hanging, and you have a simple, fun ornament.
27. Pinecone Forest Of Mini Christmas Trees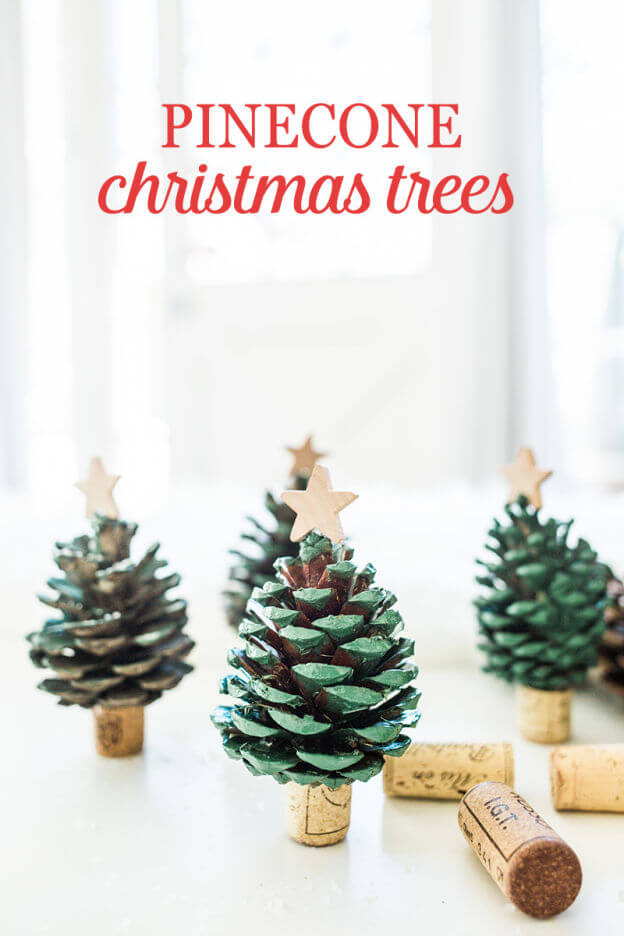 Create Mini Christmas Trees with small pinecones. Paint the pinecones green, attach them to wine corks, and top them with wood stars. Use groupings on your table and throughout your house.
28. Dangling Sparkly Snow Pinecones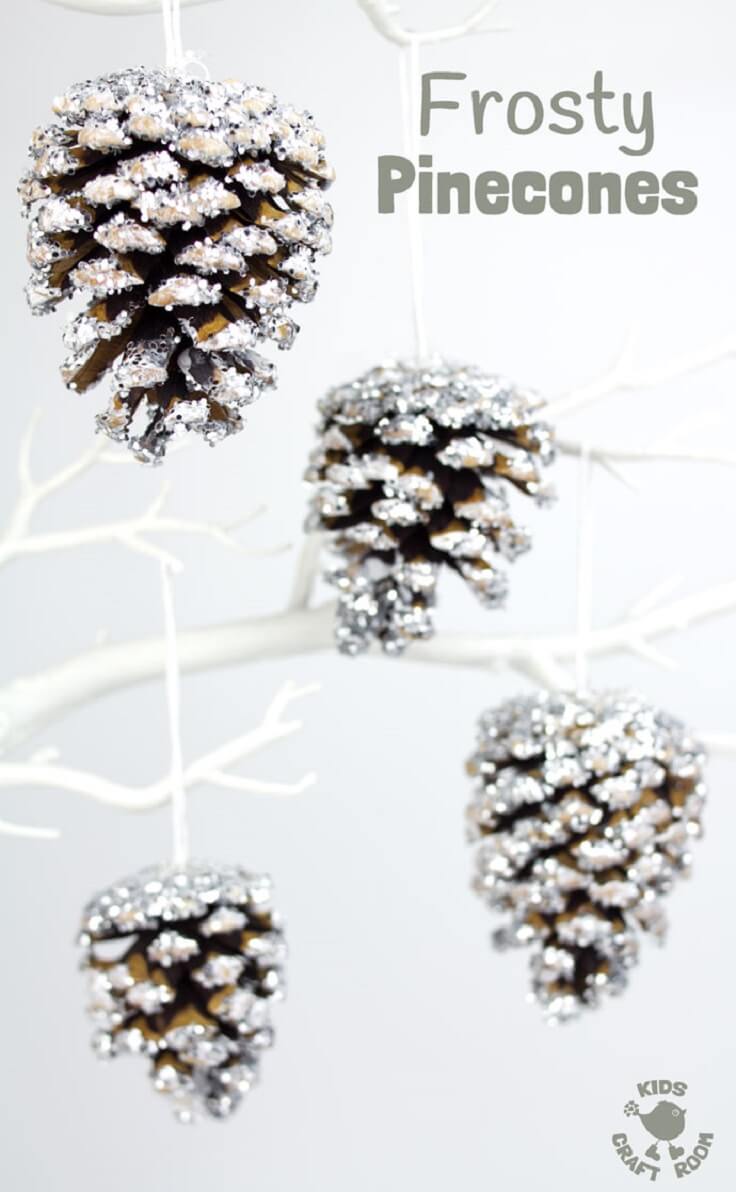 Add some snowy sparkle to your Christmas tree with these Frosty Pinecones. Just cover the pinecones with white glitter, attach a white cord, and hang them from your tree.
29. Pinecone Pieces Form Woodsy Pinecone Tree

To create this rustic Pinecone Tree, remove the individual scales from the pinecones and attach them to a Styrofoam cone. This natural Pinecone Tree can be used singly and in groupings in displays anywhere in your home.
30. Elegant Pinecone Candleholders Cast A Warm Glow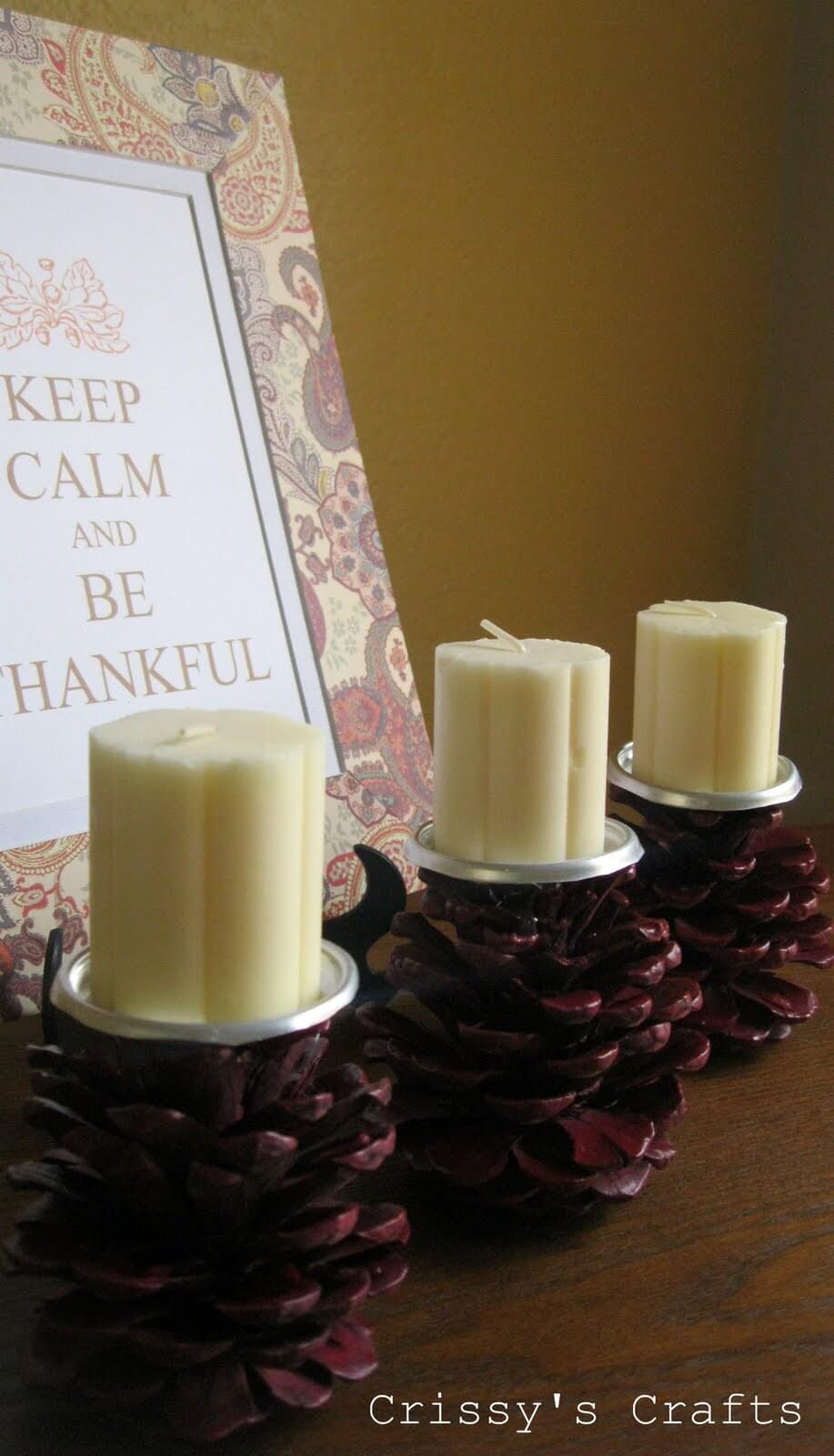 These Elegant Pinecone Candle Holders are created with large pinecones. Remove the top of the pinecone, insert metal candle holders, and you are ready to add a warm Christmas glow to your home.
31. Bunch Of Pinecones Beribboned In Red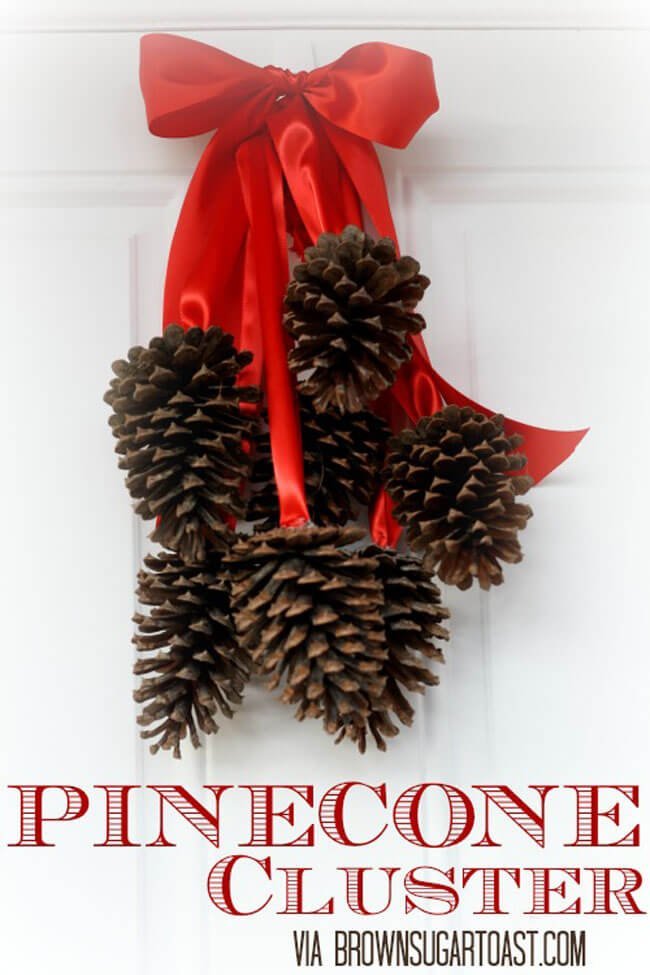 Greet your guests with this Bunch of Pinecones Beribboned in Red. Attach pinecones to both ends of red satin ribbon. Gather the ribbons together with a bow, and hang on your door for some welcoming Christmas cheer.
32. Stringed Pinecones With A Hint Of Snow

Flock pinecones with snow, and string the pinecones together with red yarn to create roping for your mantel. This Stringed Pinecones with a Hint of Snow roping is an unexpected natural roping for your mantel.
33. Pinecone Fire Starter Makes A Great Gift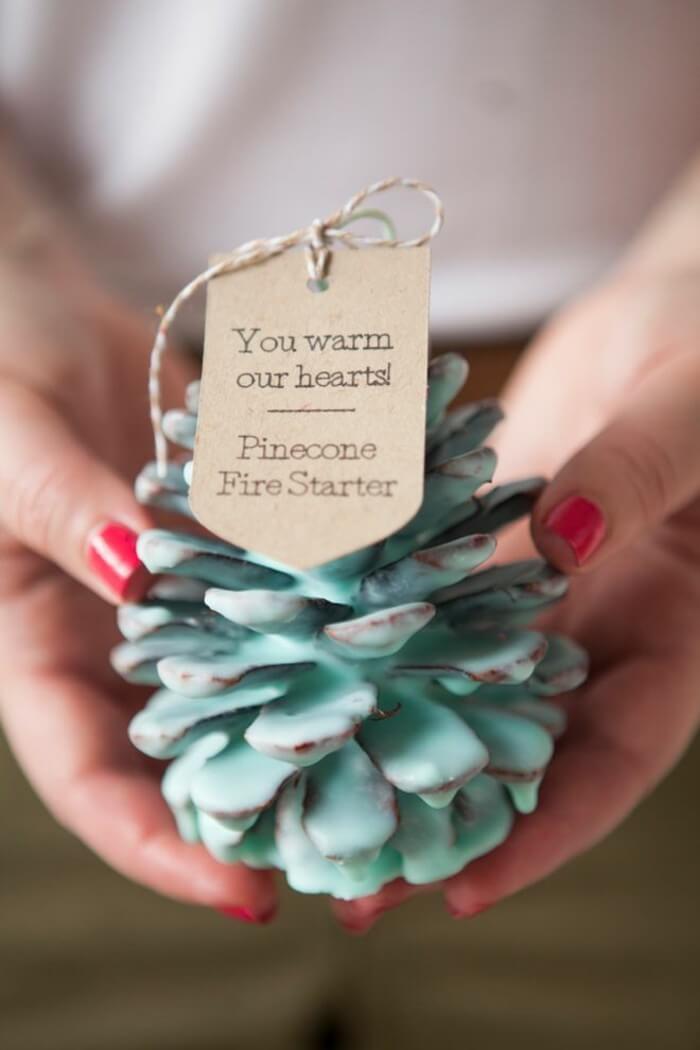 Pinecone Fire Starters are great party favors for your guests. Dip pinecones in colored, scented candle wax. Print out gift tags and attach them to the pinecones with twins. Place a Pinecone Fire Starter at each place setting.
34. Vivid Pinecone Flowers In Rectangular Arrangement

For a large, colorful Christmas display, paint pinecones in vivid colors, and add a touch of yellow to the centers to create these Pinecone Flowers. Then, arrange them in a tray or picture frame.
35. Pinecones Dipped In White Glitter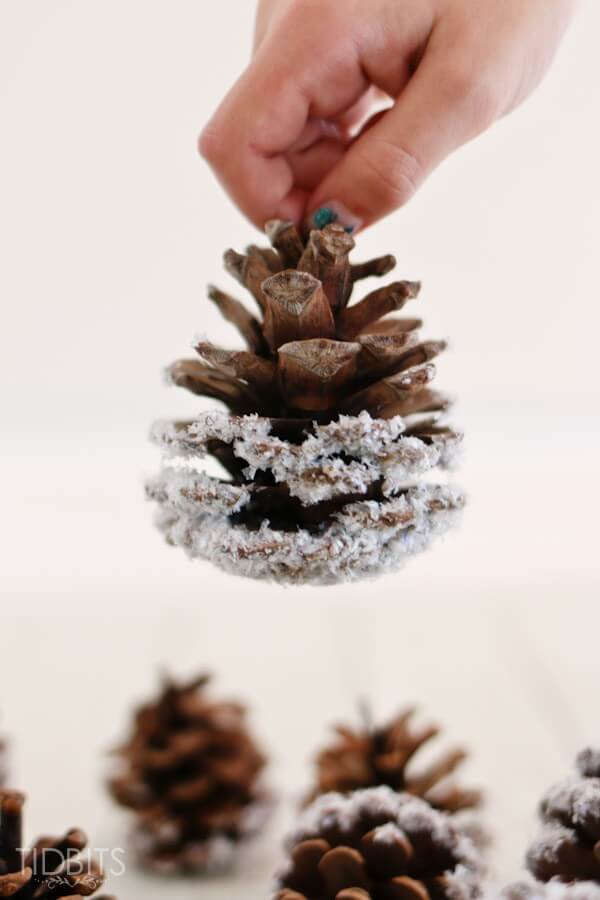 For a snowy pinecone display, dip pinecones in white glitter. Then, spread glitter or artificial snow on surface and scatter the pinecones around the areas.
36. Santa And The Red Pinecones Wreath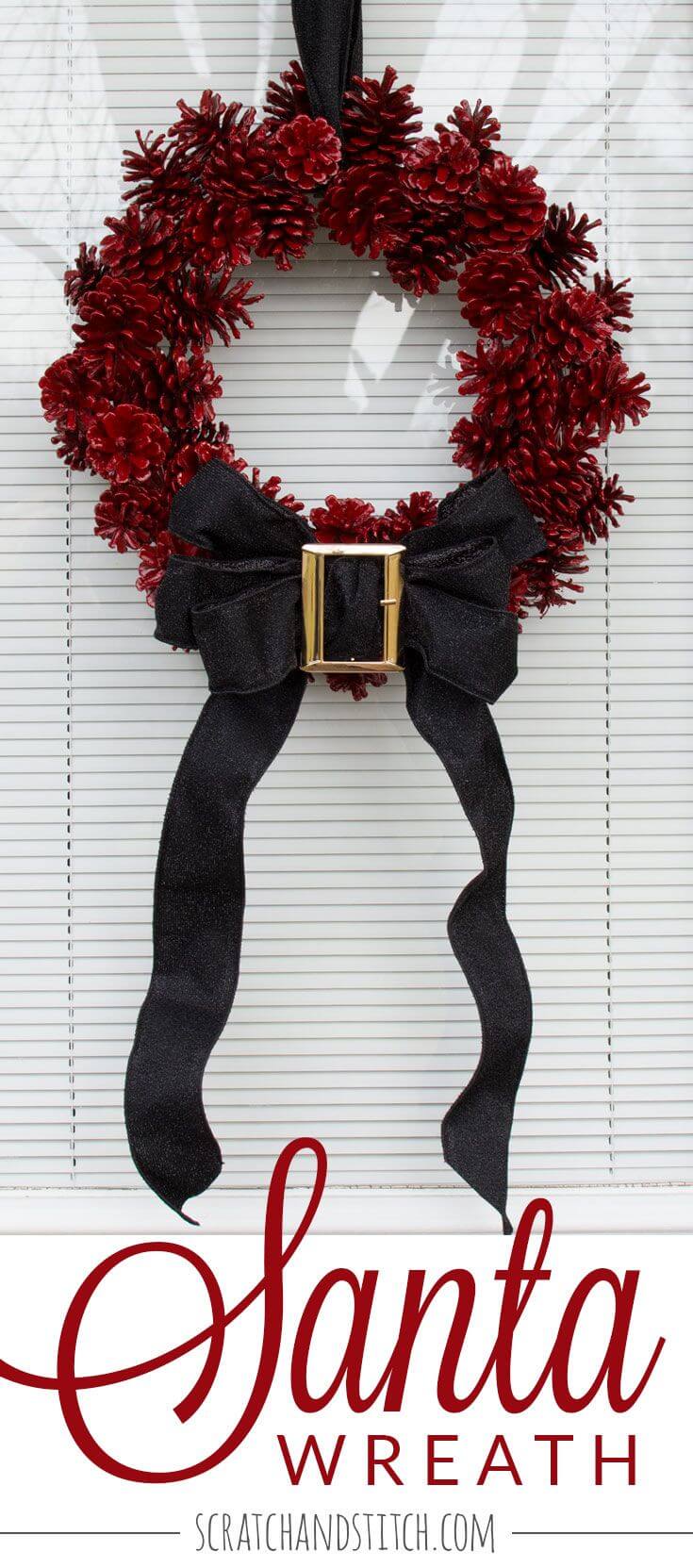 This Red Santa Belt Wreath will add Christmas cheer to your front door. Paint the pinecones red, attach them to a wire wreath frame. Make a bow from heavier black ribbon, and attach a large belt buckle to the center of the bow. Attach the bow to the bottom of the wreath. Make a ribbon hanger with more of the black ribbon, hang the wreath on your front door.
37. Little Red Pinecone Fox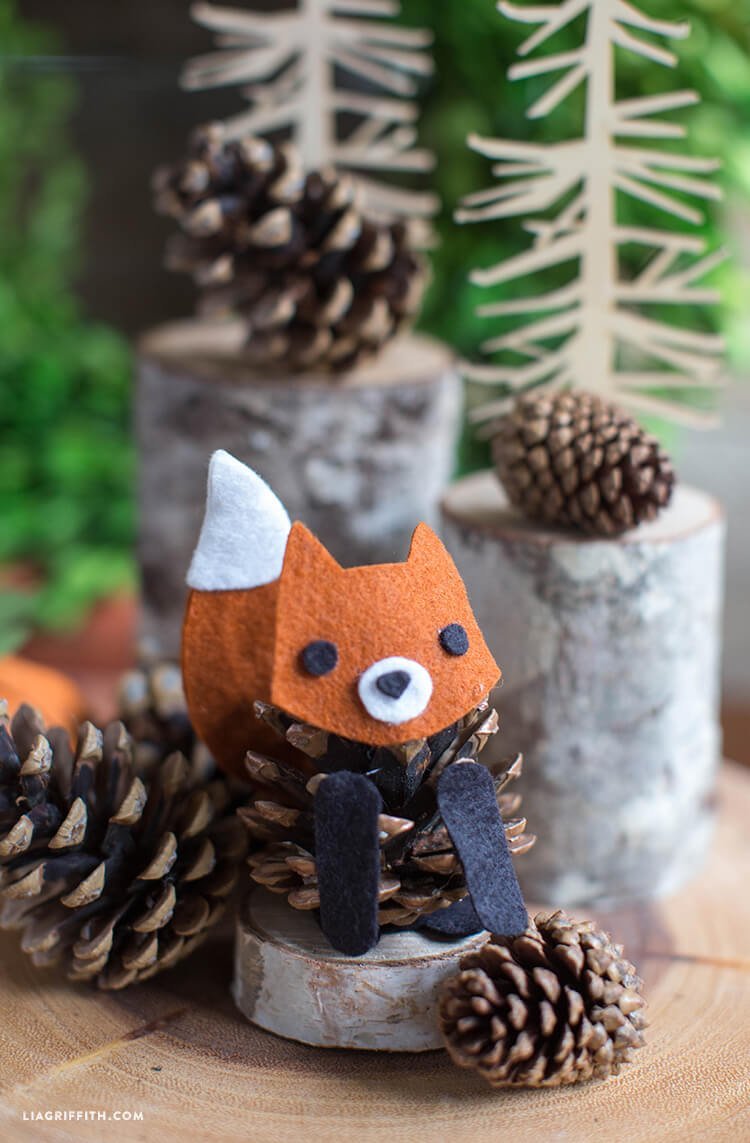 This Little Red Pinecone Fox will add some fun to your woodland Christmas displays. Cut the tail and the head out of reddish brown felt. Add a white felt tip to the tail, and a white snout and black eyes and nose to the face. Cut legs and paws out of black felt. Attach the felt pieces to the pinecone, and add the fox to your display.
38. Pinecone Napkin Rings Tied With A Bow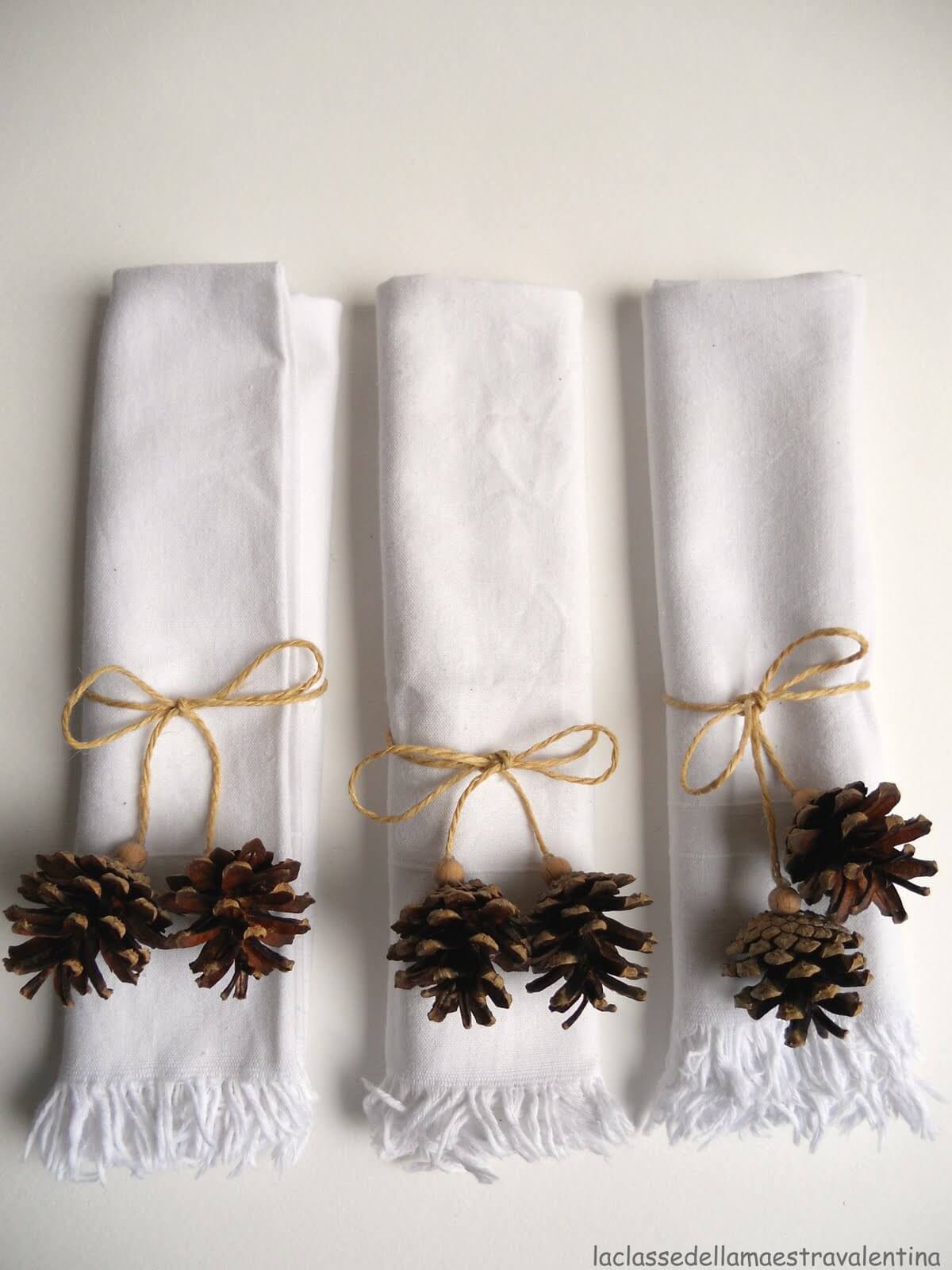 For a natural table decor, choose these Pinecone Napkin Rings. Cut some twine, attach wood beads to each end, and then attach the pinecones. These Pinecone Napkin Rings add just the right touch to your natural table decor.
39. Pinecone Wreath With Pom Pom Polka Dots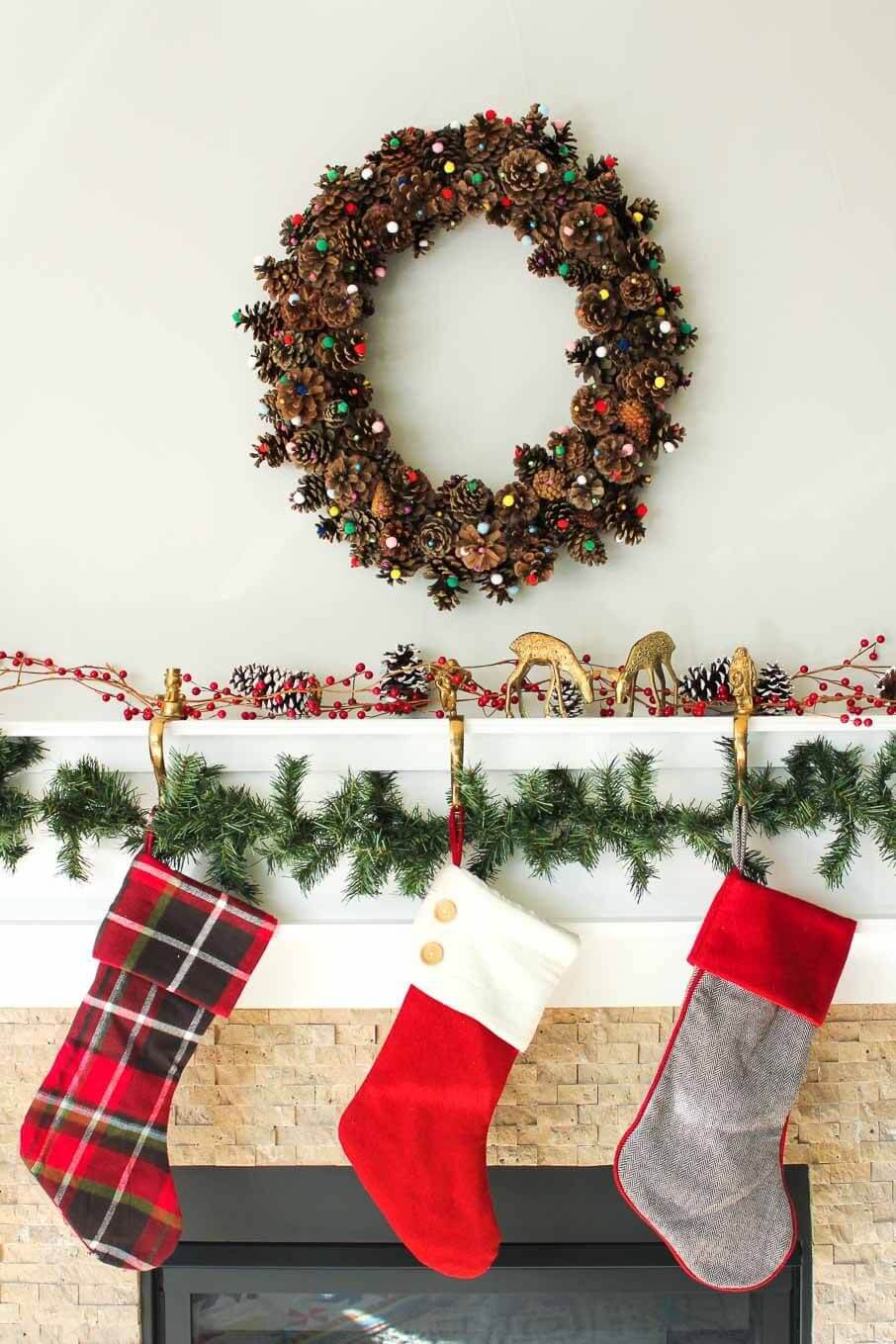 This Pinecone Wreath with Pompom Polka Dots creates a festive touch above your mantel. Attach pinecones to a wire wreath frame, glue on miniature pompoms, and you are ready to hang your wreath.