Many homes have radiators, but they don't have to be an eyesore when you have the best DIY radiator covers available.
Radiators are essential for heating homes, especially if you live in an area prone to cold weather conditions. However, they aren't always the most appealing set pieces in the room. In fact, they can completely throw off the décor. Not only that, but if you have kids and pets, it's far too easy for them to venture over and touch it, harming themselves in the process. With a cover, you can make the radiator look nice and make it safer for everyone in the home.
15 Fun and Easy Homemade Radiator Cover Ideas to Style Your Home

On the safety aspect, a radiator cover will leave it less exposed. This way, there is less chance that a child can wander over and burn their tiny hands. On the decorative front, adding a cool radiator cover will help the rest of the décor in your room better stand out rather than the radiator being the first thing people see when they enter the room.
There are numerous ways you can go about this. If you're handy around the house, then feel free to make your own radiator cover. This gives you full control over how it looks and ensures that it actually fits the radiator in question. On the other hand, there are other handmade radiator covers out there that you can purchase instead.
No matter what road you travel down, having the best DIY radiator covers is essential if you want to leave your heating element less exposed. If you are unsure which route you want to take from making it yourself to purchasing it from other professionals, then check out our extensive list below. We balanced out home projects and premade products so that you can best find which one suits you the most.
1. Elegant Painted Radiator Cover Design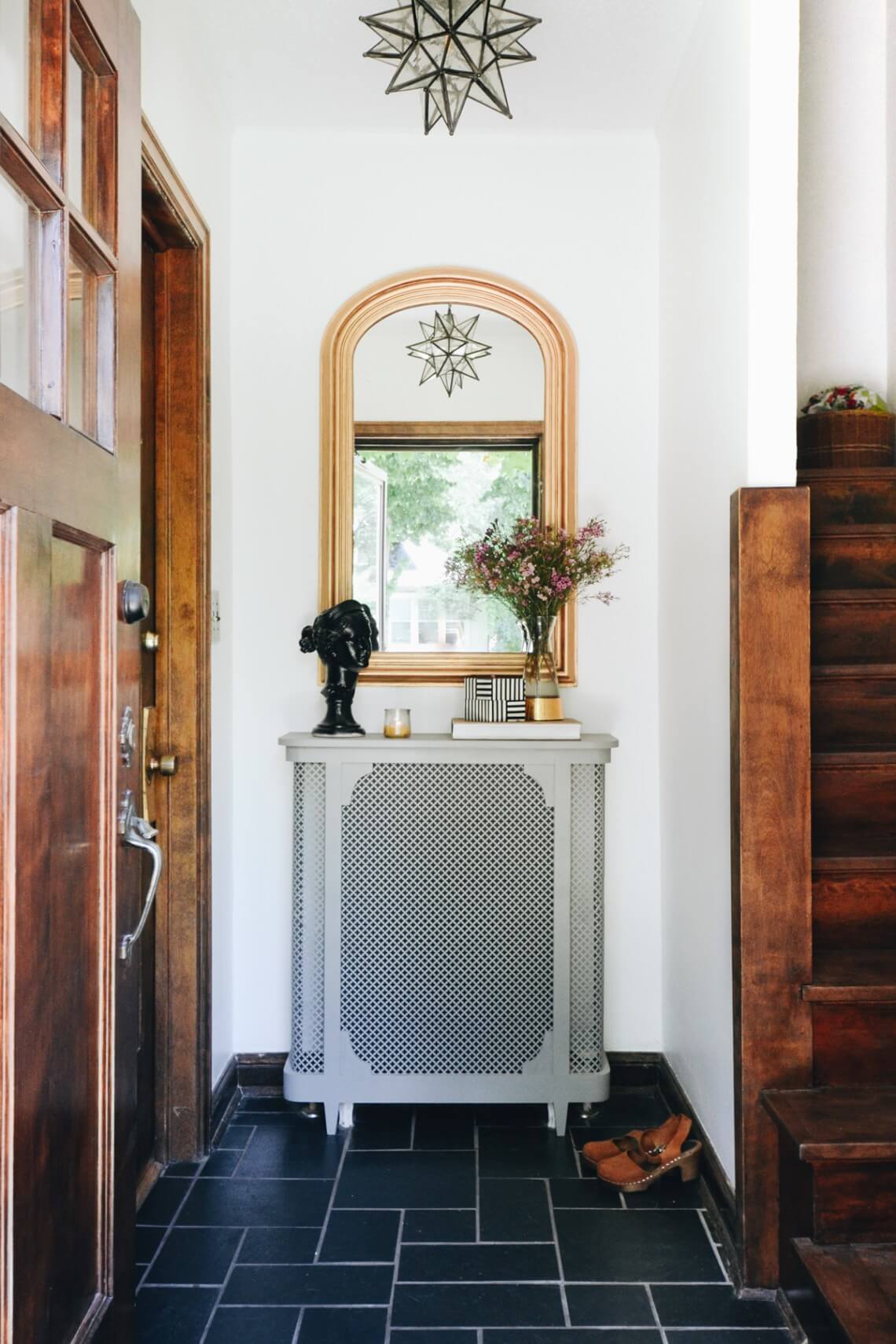 If you are looking for a touch of sophistication to hide a heating element, then check out this elegant radiator cover design. There is an incredible pattern on this cover that makes it seem like it was always meant to be a decorative piece in your home. This is especially true once you paint it. You can go for any color that is fitting for the room and choosing paint with a matte finish helps it further stand out as it gives the paint job a bit more texture. Remember to sand this easy homemade radiator cover down so that the wooden surface is smooth to the touch.
2. Window Bench Heating Element Cover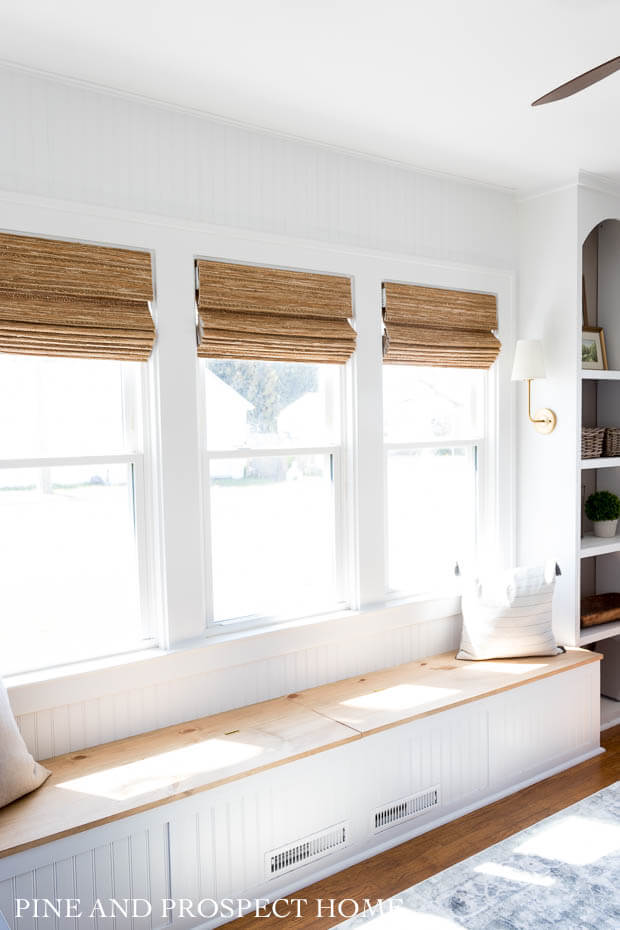 If you want to make your own radiator cover and have the time and skill available, then building a window bench is a great way to hide the heating element. This is certainly an innovative way to go about it too since it requires making an entirely new permanent feature inside the room. The bench design is a helpful way to go about covering up a floor heating element since you can provide the right number of vents all around without making it overly obvious. Instead, much of the focus will be on the bench itself rather than the heat source.
3. Sleek Upgraded Radiator Cover Project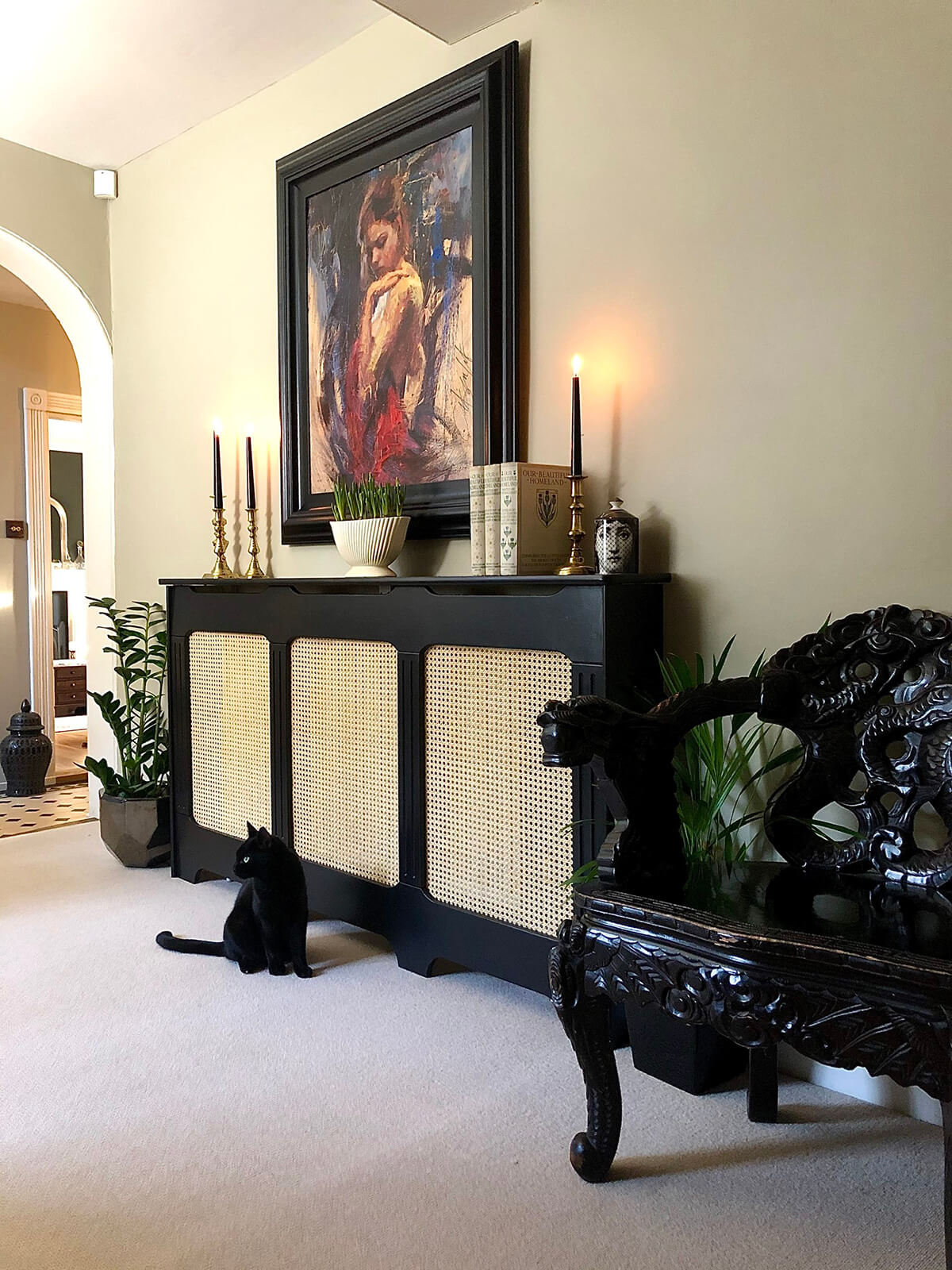 It is easy enough to purchase a radiator cover, but even then, you can still add a touch of personalization to it. This way, it will better match your décor and look even more custom-made. A simple paint job can greatly elevate any radiator cover, so consider opting for one that fits in with the décor in the room. This can be a good way to both hide a radiator and draw attention to the decorative cover. Adding in some different webbing is another nice touch as well as it can make it look a touch more unique rather than traditional.
4. Cool Custom Industrial Radiator Cover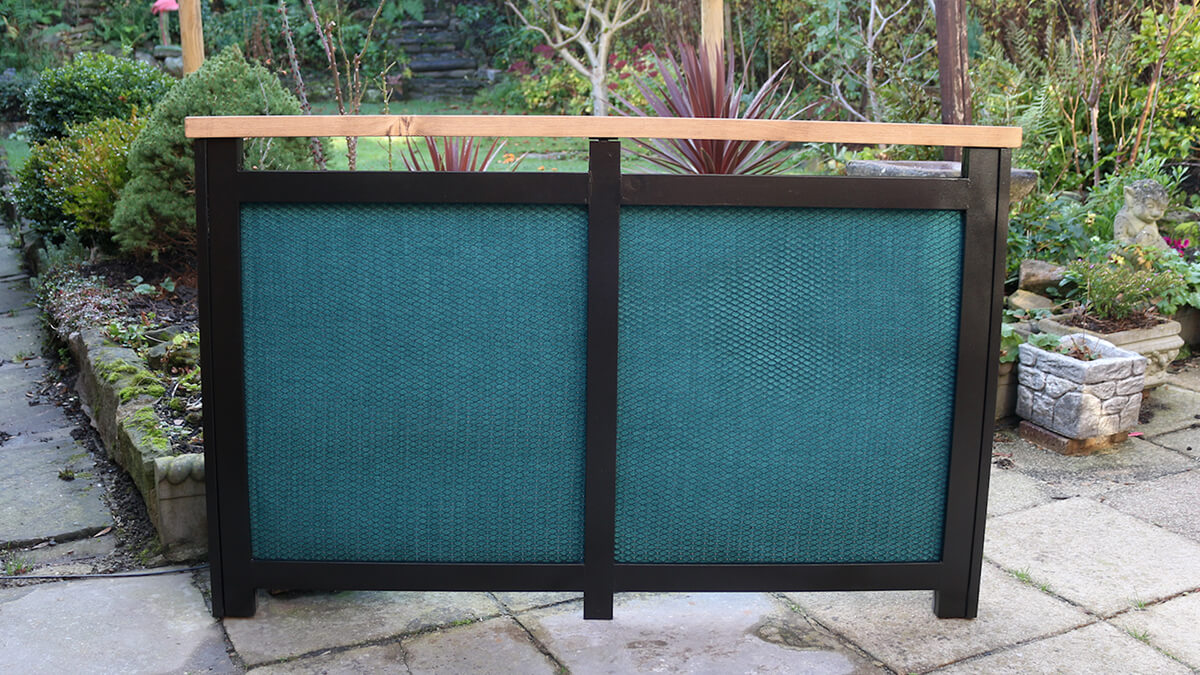 This DIY radiator cover is perfect if you have industrial décor that you want to keep in tack. This cover is kept simple using MDF as the main base. The diamond mesh used helps keep this all aligned with the aesthetic at hand too while the addition of fabric adds a layer of modernism to the cover. You can always tweak this to best suit your specific room decorations, however, such as going with a different color of the fabric and the paint. No matter which way you go with this, the cover itself is built well to hide away any radiator and give you an additional space to set other decorations on top.
5. Custom Made Wood Radiator Cover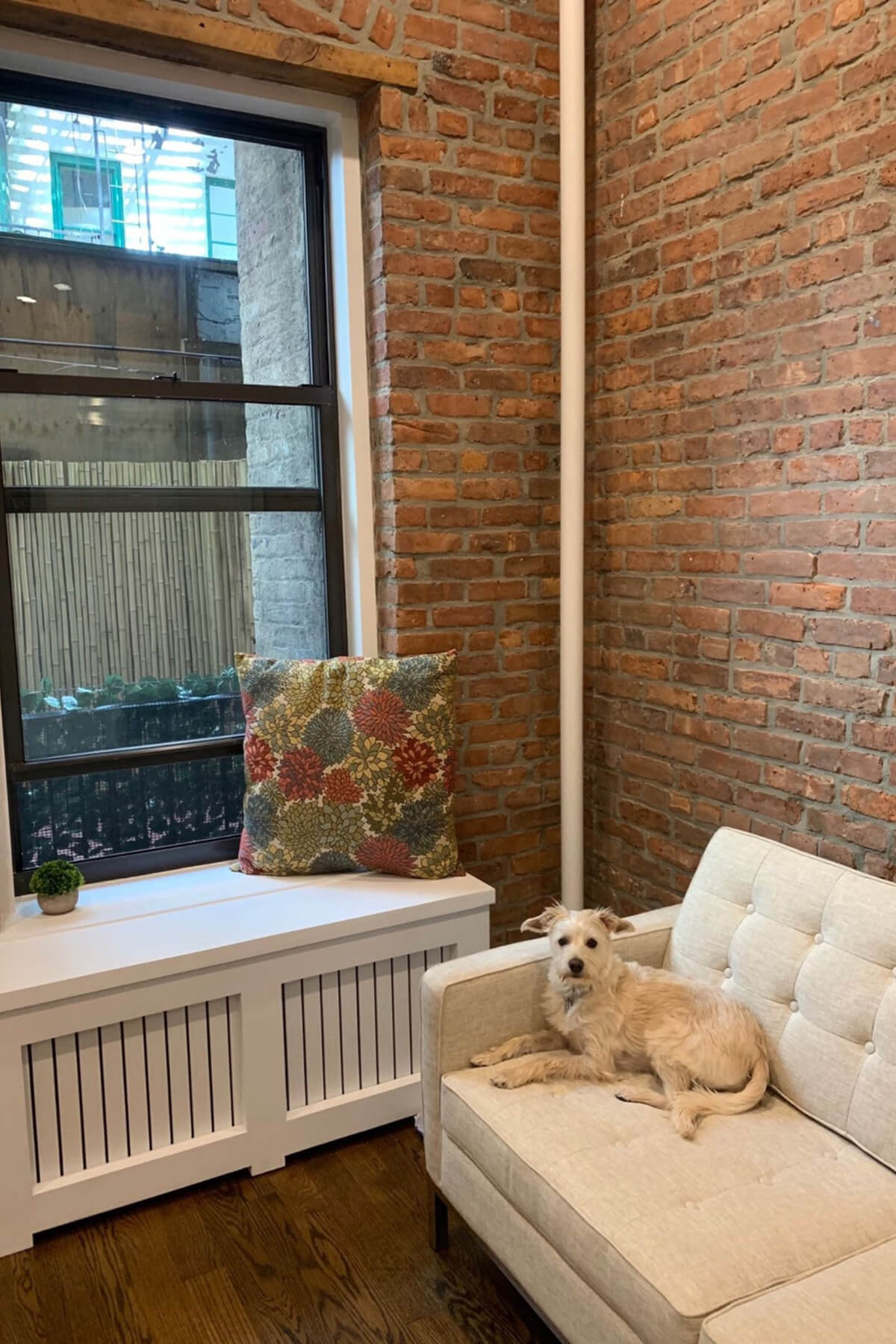 This handmade radiator cover is custom-made to best cater to your needs, so you can send in your exact dimensions to get the right size. The finished result can come unfinished so that you may paint it however you'd like. If you don't want to do anything extra, then you can always order it with a white finish. This is a perfect way to cover up a radiator without making it so obvious. It has a clean, farmhouse-like feel to it that still manages to work out well alongside various décor. As for its uses, it has a nice amount of space on top so you can place other items on there.
6. Bespoke Radiator Cover with Drawers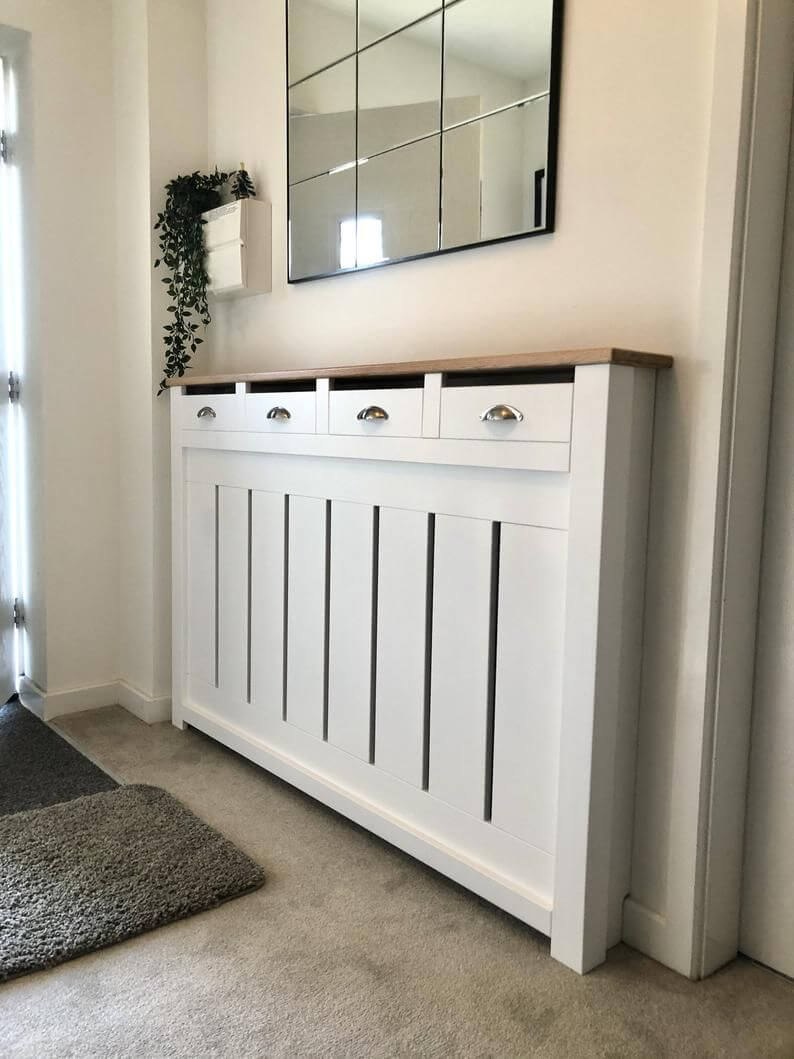 This radiator cover is certainly a cool way to hide the heating element in your home. It is distinctive enough that it readily looks like a side table. What you'll get is completely unique too with real timber material used to create the smooth top shelf. You can choose the top shelf to be made from oak, pine, reclaimed scaffold board or painted MDF. Also, you can select to have the main body painted in any color. Another nice feature is that this cover comes with functional drawers that have enough room to hold small items. You can even request to have them made with runners if you'd like.
7. Beautifully Elegant Baroque Radiator Cabinet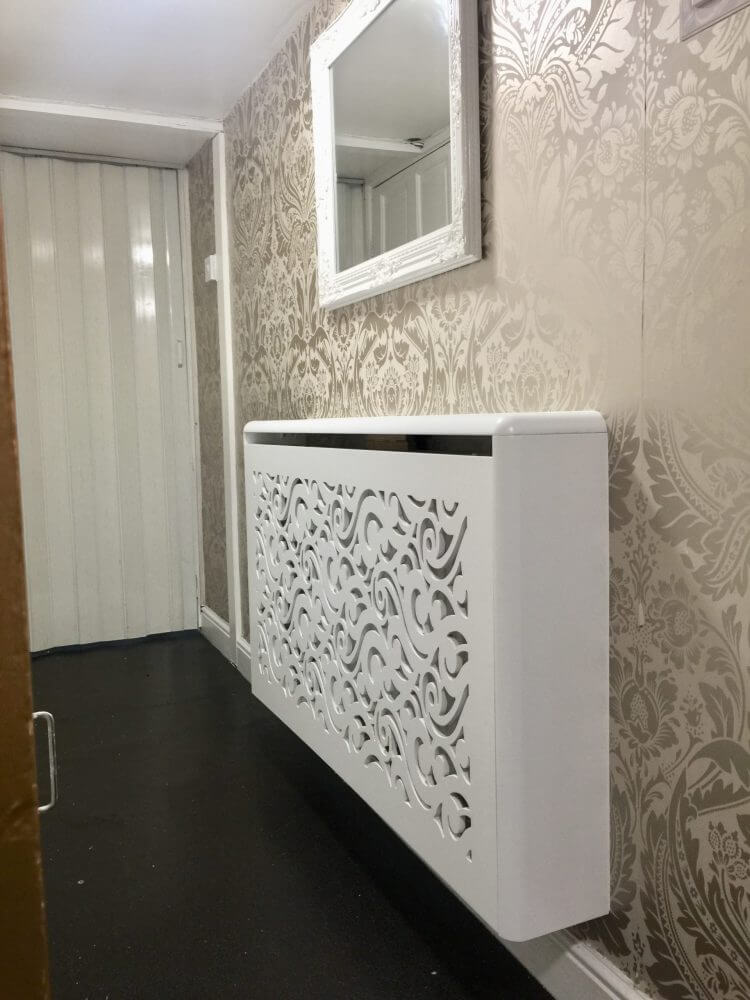 This floor-standing radiator cabinet makes for a wonderful choice to give any room a more romantic, elegant feel. It's made from heavy material that isn't at risk of distorting by being so close to a heating element. They even have a color matching service so that they use the heat-resistant paint color of your choosing to best suit your décor. The styling on the cover immediately jumps out no matter the color, however, as the intricate pattern can instantly make anyone forget that there was ever a radiator there in the first place. Simply send in your measurements to get a customized cover that fits your radiator perfectly.
8. Rustic Radiator Console Table Shelf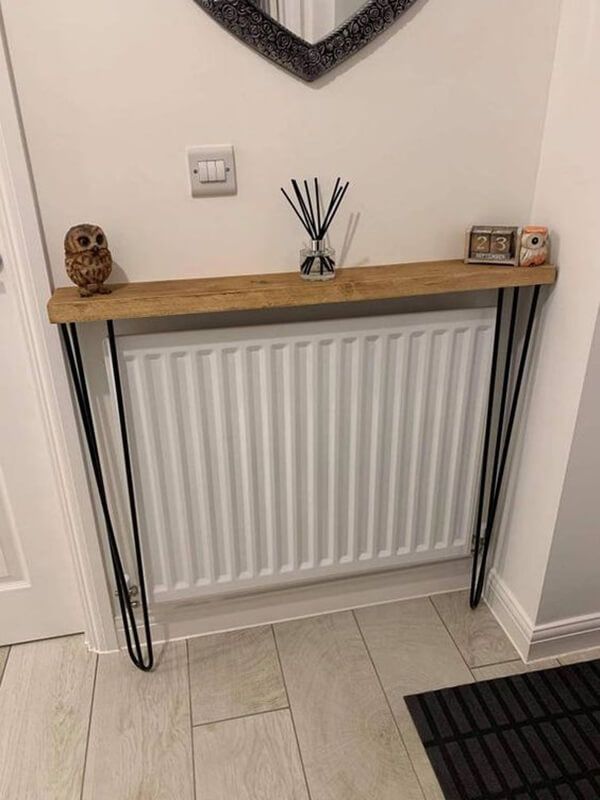 For those of you seeking a minimalistic approach that simply covers a radiator without hiding it, this console table will do the job. There are numerous height and width configurations you can get so that you find the right measurement to fit your radiator. Because of this, it works on heating elements tall and short. If you don't want this made in their usual rugger brown color, then you can request a specific color instead. With the use of reclaimed wood, it is a great radiator cover that's also environmentally friendly. The design also allows it to not look out of place in a rustic-themed room.
9. Graceful Romford Radiator Cover Design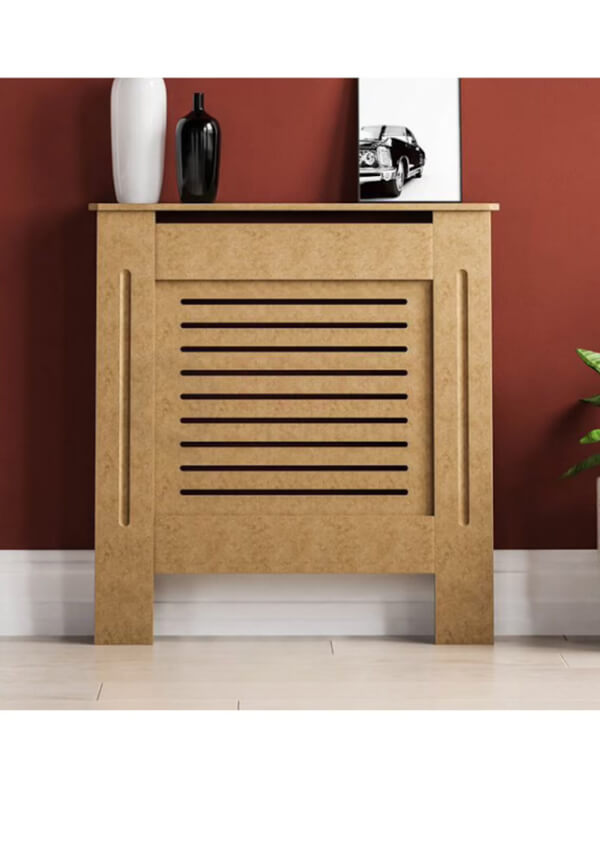 With a bit of grace, you can ensure your radiator remains functional, but in the background so that it doesn't take all the attention with this cool radiator cover. It is handmade using MDF, and it's properly sanded down and primed so that it feels just as smooth as it looks. This has a lovely white paint job applied too so that it can fit into any coloring theme you have in the room. Setting this up is easy too as it includes magnetic clips so that the shelf holds into place. In no time, you can set up this easy homemade radiator cover and have a decorative piece in the room.
10. Wooden Radiator Heater Top Cover Shelf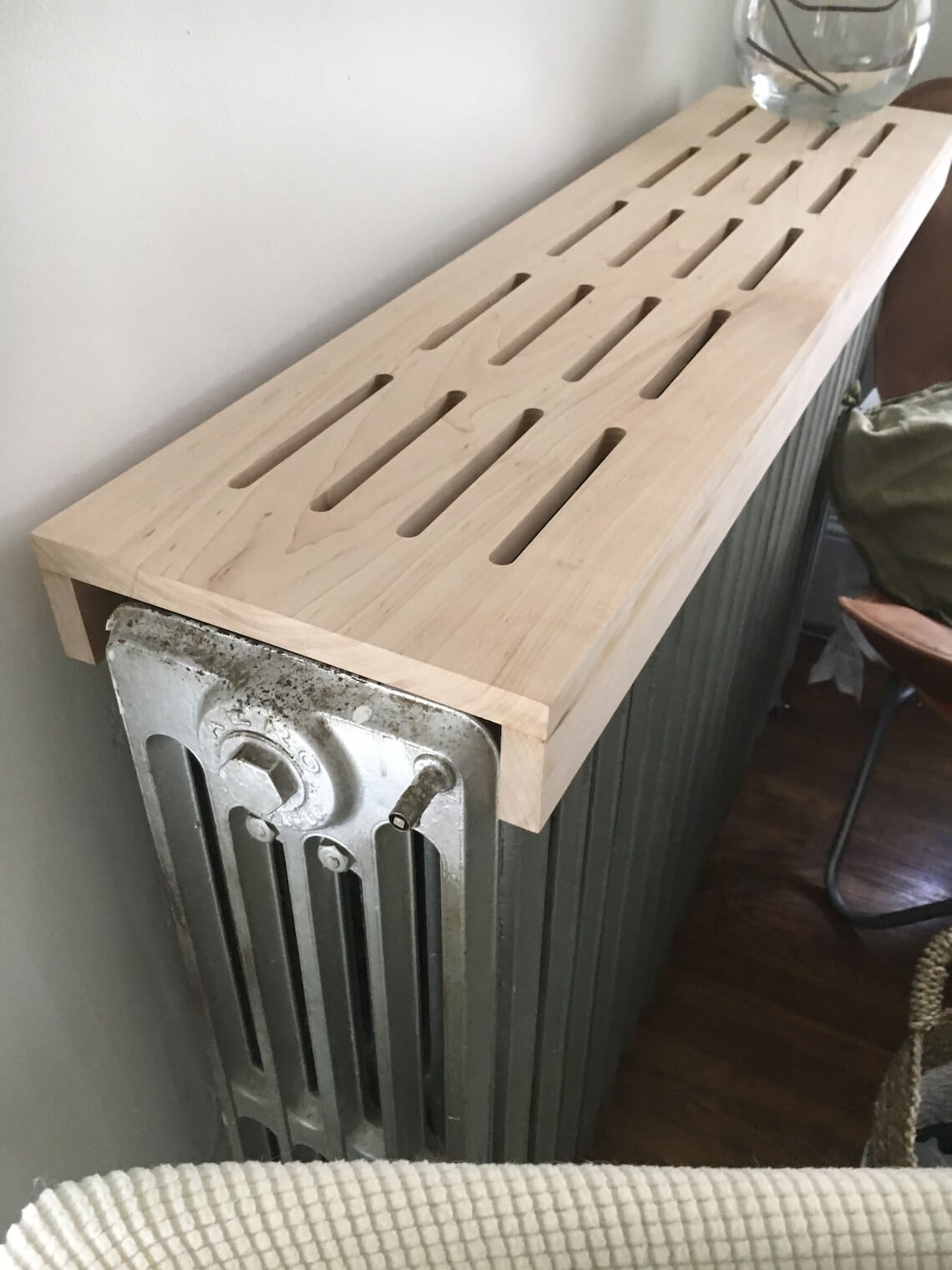 If you're looking for something simple, some of the best DIY radiator covers focus on only hiding the top section of the heater. This wooden shelf cover comes in either oak or maple material, and it is a good choice if you still want to show off a more unique radiator design but keep it a bit more secure at least from anyone touching it on top. You can order this in custom sizes or use several of the pre-set sizes available. In the end, you're left with a minimalistic design that can elevate your radiator without completely hiding it.
11. Arlington Modern Cabinet Radiator Cover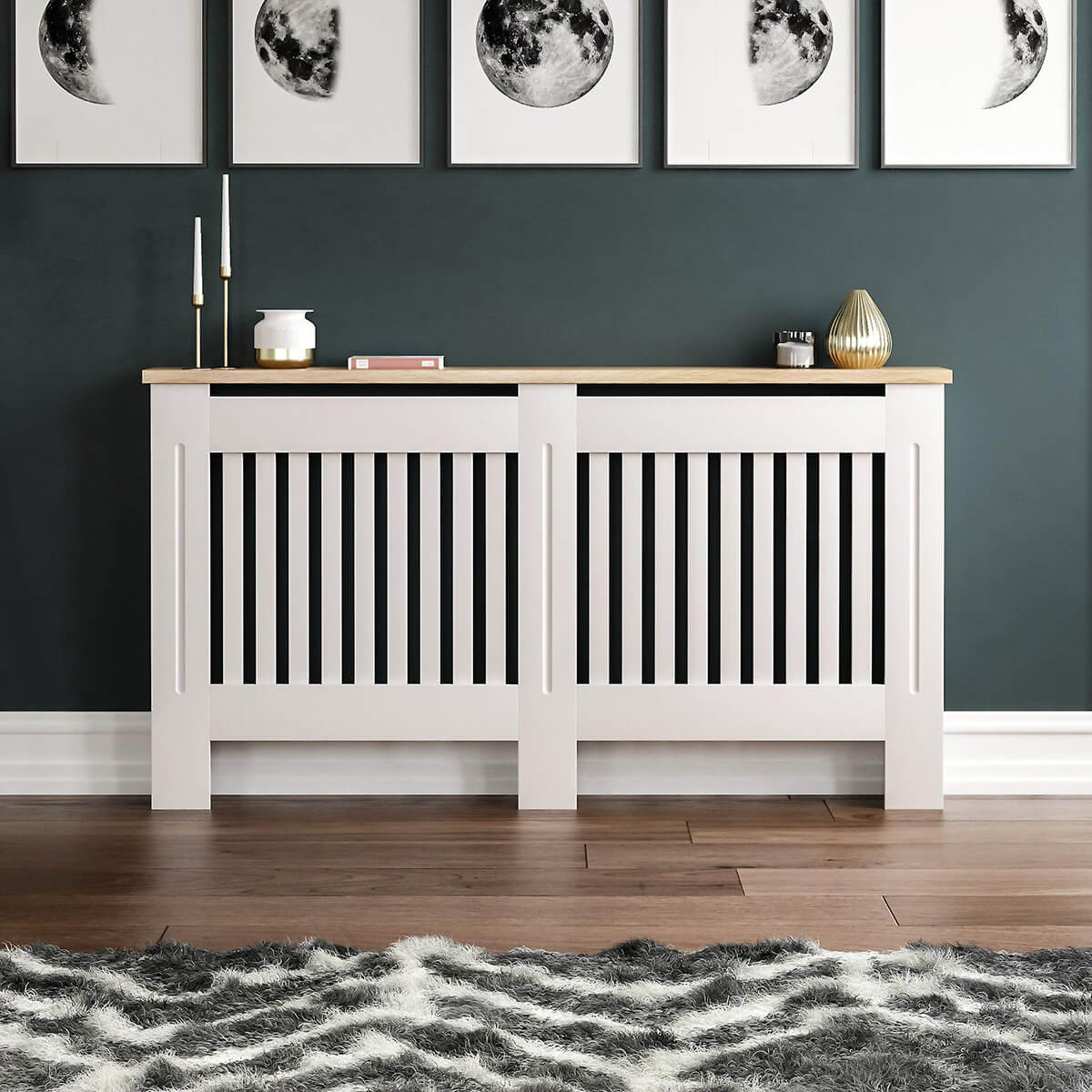 Bring a traditional touch to your home with this beautifully designed radiator cover. This features safe, rounded edges as well as a slat grill pattern on the front. It is a design that is both modern and stylish, and it is available in multiple sizes so that you can find one that best fits your radiator. Also, the shelf on top is spacious enough for you to use the surface for anything you need such as holding other decorative items. Self-assembly is required, but it is an easy homemade radiator cover to install. It does come with wall-mounting brackets for a quicker setup.
12. Simple Empire Radiator Cover Table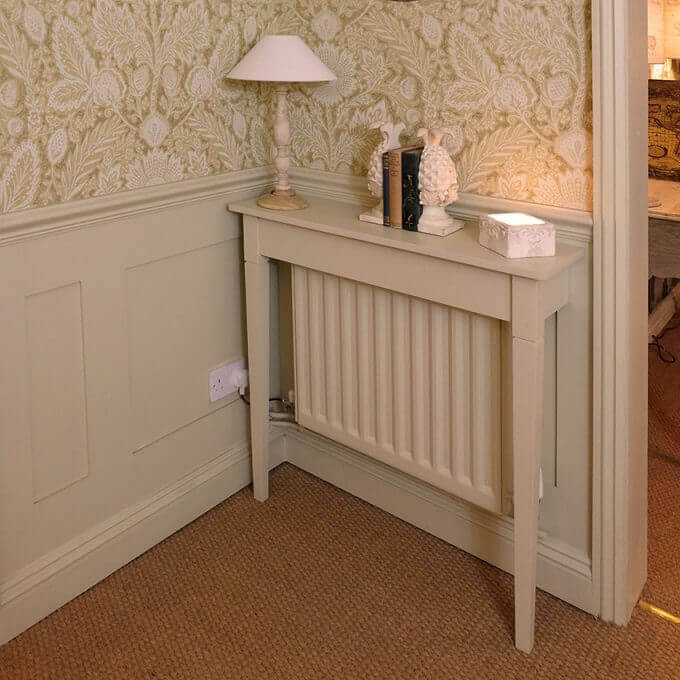 You can help your radiator blend into the background better with a nice table cover such as this one. It is straightforward to set up as, in most cases, it can just hook to the radiator for support. Otherwise, you can fix it on the wall. This features a well-made MDF top for additional storage options as it can support numerous small items. Although it looks simple, you can always request for some personalization such as choosing from the company's paint options, to even getting it with a more distressed look if that will better suit your décor.
13. Rustic Handmade Wooden Radiator Cover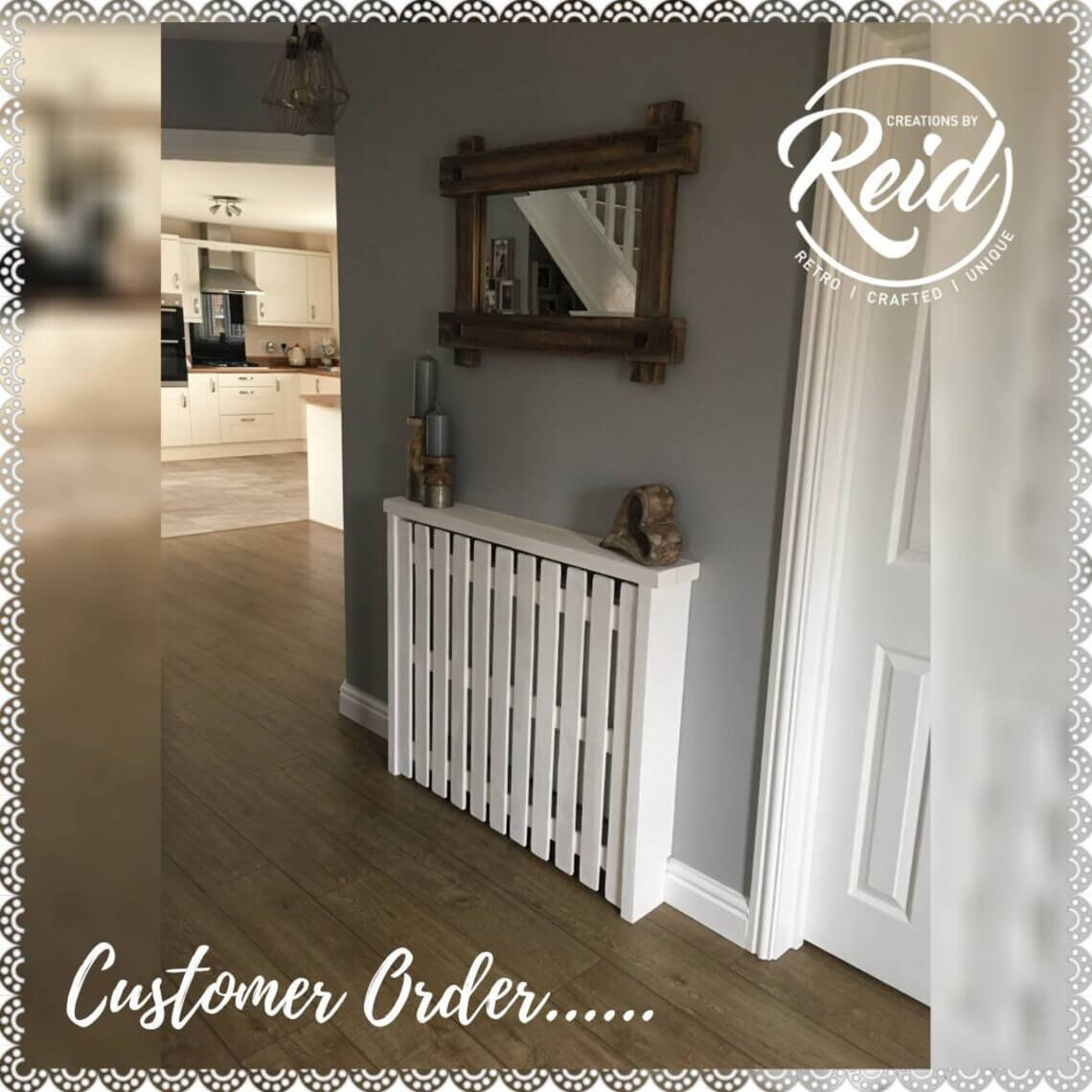 In case you wish to go simpler with a more rustic, rural design, then check out this wooden radiator cover. Not only does this cover the radiator well, but it is a great option when you want to use the area as a place to hold smaller decorative items from plants to picture frames. As these are made to order, you can always specify if you would like particular staining applied. This way, you can get something that is more unique to your decorative needs. Also, the radiator cover comes in three different size ranges to support a variety of radiators.
14. Wooden Rustic Radiator Cover Décor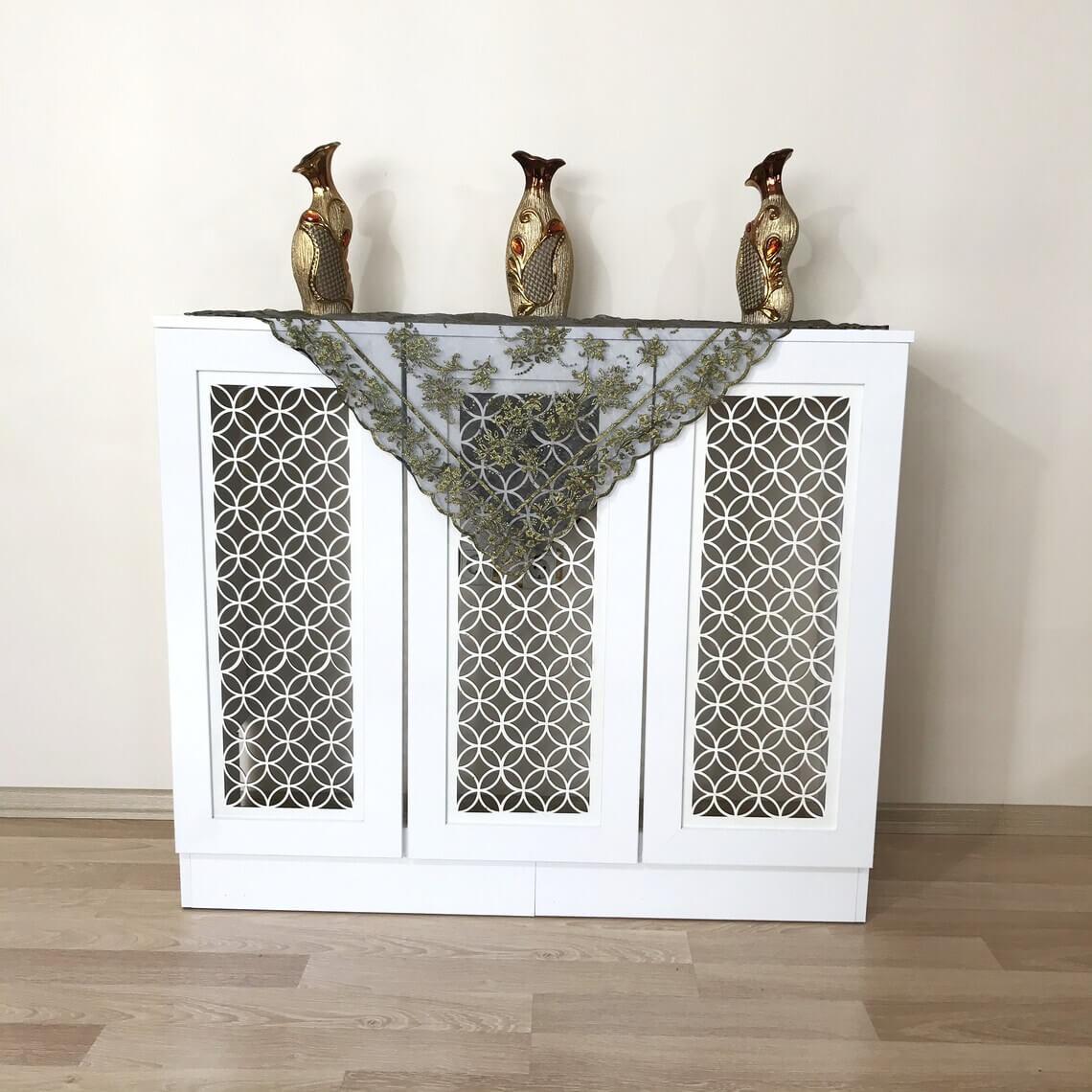 Going with a blended style for a radiator cover is a nice choice to adapt to just about any décor styles. There is a nice touch of rustic with this piece in addition to a layer of elegance. It's the intricate design pattern on the front of the cover that makes this the perfect choice to add some stylish flair when it comes to hiding your heating element. There is also plenty of space left on the surface for you to toss on other items to keep decorating the area. It's easy to get this stunning piece in the right size too as you can choose from the pre-selected sizes or send in your own dimensions.
15. Bold and Large DIY Radiator Cover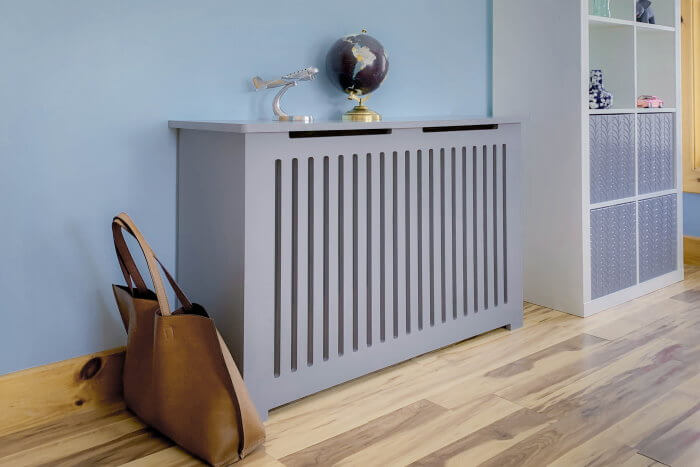 When you want to truly make a statement, this bold DIY radiator cover can help with that. It is a nice large size, giving you more than enough space to house extra accessories on the top shelf. This also helps the cover come across as a side table instead of anything hiding a radiator away. It has a nice metro grill screen pattern that is traditional, yet stylish. You can even customize this when you order it as you can choose from a few add-ons such as access doors or a multi-panel top. This is sold unfinished, however, which leaves you with the space to paint this cover however you'd like. It's a good way for you to further personalize the cover.
15 Incredible Handmade Radiator Cover Ideas for your Next Home Project
With the best DIY radiator covers, you no longer have to witness that necessary, yet blemish of a unit, sitting in your home anymore. Instead, you can make things a touch more decorative. There are no limits in how you can handle this either. There are plenty of handmade radiator covers that completely hide the heating element away. In other cases, there are some that only cover the top portion of the radiator. It all depends on exactly what you need.
You can always make your own radiator cover with the right plan and materials. Of course, if DIY isn't exactly your thing, then you can find some custom-made covers to purchase instead. Many are designed to suit different decorative styles as well. So, it's helpful to know what statement you're trying to make in the room as this can help you come to a decision. With our list, you should have a good place to start looking for the right radiator cover.