With nearly limitless potential, the best DIY resin craft ideas can help your home's decor reflect your personality, create personalized gifts, and make jewelry that speaks to your soul. Before diving into this incredible art form, it is important to understand the basics.
25 Crafty DIY Resin Craft Ideas to Take Your Projects to the Next Level

Homemade resin ideas are usually split between two categories: casted projects and poured artwork. Casting resin is formulated to be mixed, decanted into a mold, and left to cure. Alternatively, pouring resin is meant for pouring on a surface like a canvas and, to give you more time to finish your artwork, does not set as quickly. Although they have different uses, both types require mixing a hardener component with the resin. However, a few types of resin such as ultraviolet resin and Liquid Glass do not require this mixing step.
Resin crafting is not restricted to transparent clears – you can create nearly any color for your project. Some of the ideas illustrated below include acrylic paint, mica powder, resin-specific colorants, and even enamel formulated for models. Try mixing and layering colors to bring your vision to life. Half the fun of resin crafts is finding the perfect items to preserve in resin. This can include nearly anything inorganic like glitter, small toys, glass, and stones. Flowers and other organic materials need to be dried before they can be added to your projects. If they are not properly dried, they decay within the resin to a disheartening effect.
With all the possibilities, it is easy to see how resin crafts can thrive harmoniously within your decor. While the resin is tough enough to withstand clobbering, it can also reflect your style. Whether your decor is funky, minimalist, elegant, or inspired by nature, there is a way to customize these homemade resin ideas to fit your aesthetic.
1. No Maintenance Resin Succulent Garden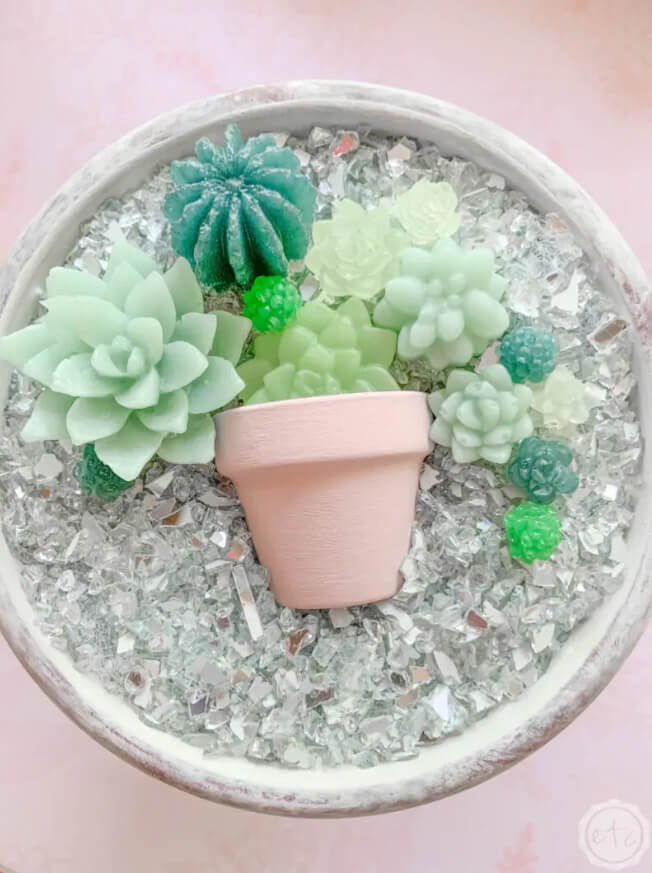 If you are one of the many who never enjoy good luck with plants, this is one of the best DIY resin craft ideas. Because these succulents are resin, you do not have to worry about caring for them. Also, unlike living plants, these succulents thrive in a bed of glamorous crushed mirrors. A soft blush pink tops off the palette, but you could use any colors that work for you. However, because the crushed mirror is loose, this project may not be right for those with sassy pets or active kids. Of course, an adhesive can remedy that.
2. Faceted Onyx Resin Fridge Magnets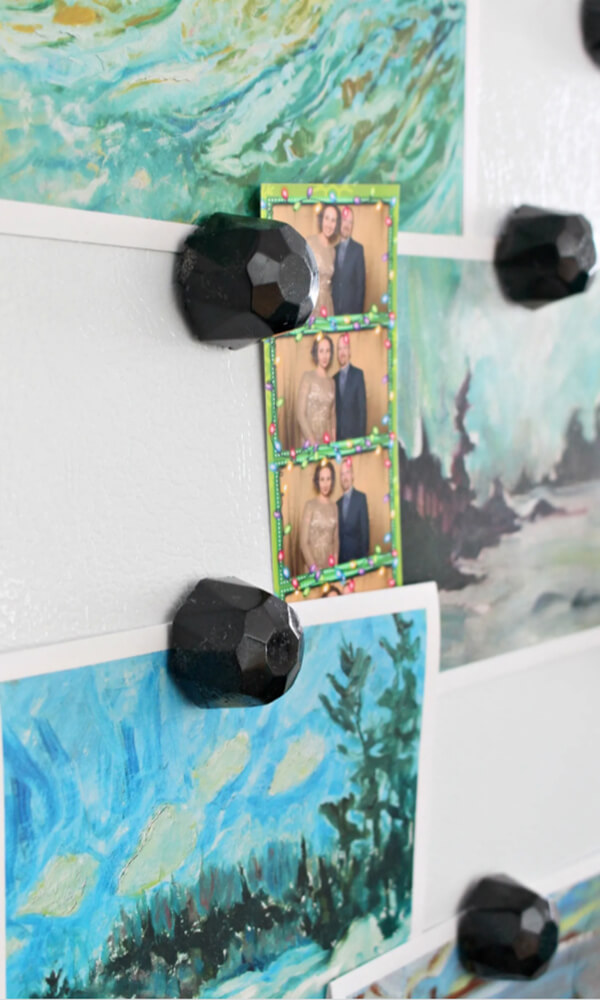 Although uncommon, onyx gems are the perfect way to add a little moody glamor to a space. As a black-hued gem, these magnets look fantastic in nearly any color scheme. However, if you prefer bright and cheerful to these mysterious gems, use a different colorant. Of course, you can achieve a chic marbled effect by experimenting with a few complimentary colors. Add some glitter for a little extra glamor. For a unique effect, try using clear resin with dried flowers inside. Because gem magnets are incredibly practical as well as decorative, this tutorial is one of the best DIY resin craft ideas for anyone who enjoys a little glitz.
3. Resin-Sealed Jar Lid Photo Coasters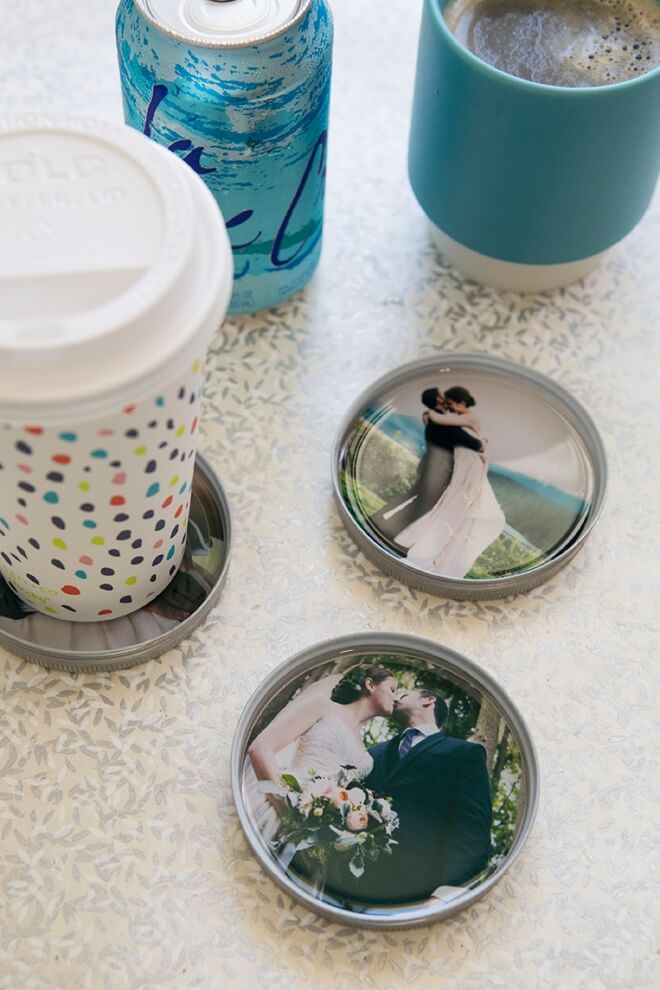 As adorable as these coasters are, they only take a few days to make. Most of that time consists of hands-off curing. All you need to do is print your photos, cut them to size, glue them to the lid, pour resin, and wait. With very little effort, you can have unique bridesmaid, wedding, housewarming, birthday, or anniversary gifts. To fit a rustic style, choose canning jar lids like the ones shown here. For a more glamorous appearance, try adding crushed diamonds to the outside. Those who strive for sustainability can use old lids that would otherwise be thrown away.
4. Confetti Tray Made from Scrap Paper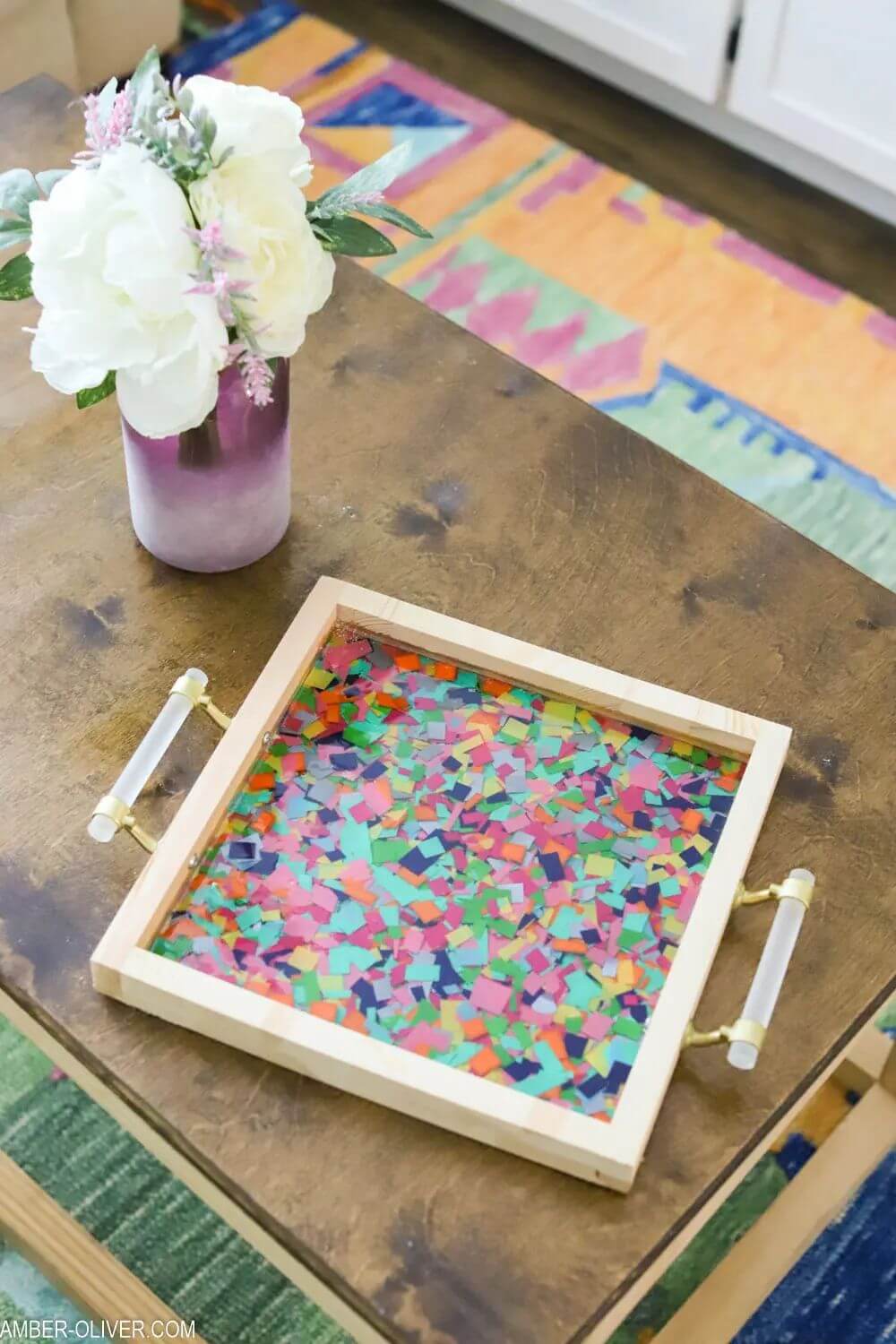 A profusion of playful colors gives this tray exhilarating energy sure to spice up any party. This image uses an eclectic palette of aqua, dark blue, green, pink, and orange, but you could choose any colors that work for your theme. If you are a little intentional about your paper placement, you could even make simple patterns to achieve a mosaic-type effect. To tailor this project for rustic-themed homes, try mixing in burlap scraps cut in the same style as the paper. For a more glamorous tray, imagine adding silk and damask scraps along with coordinating colors of paper.
5. Clear Resin Hexagonal Coaster with Daisies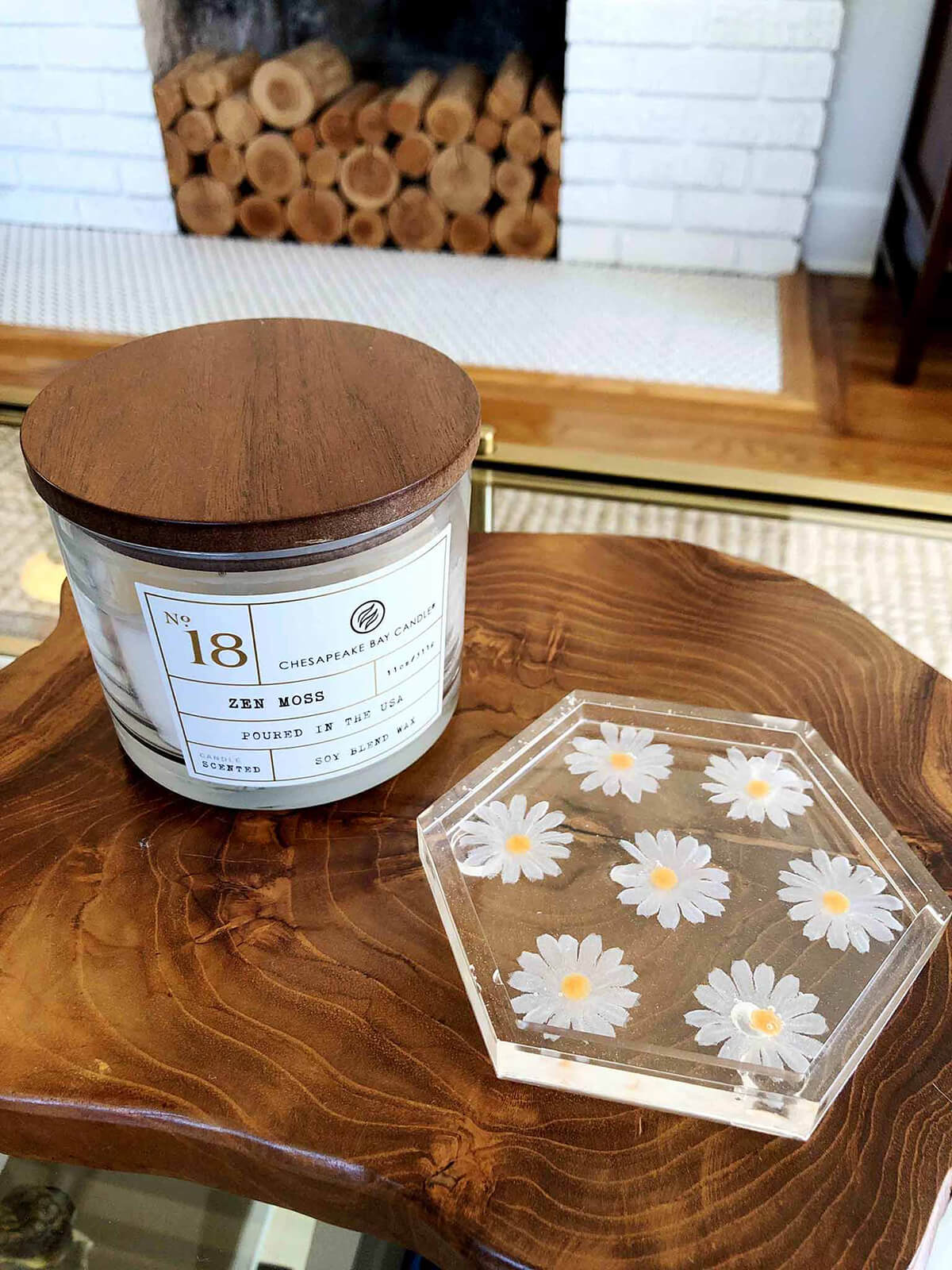 While you can achieve a variety of resin effects with colorants, sometimes leaving it clear culminates in the most impressive results. Because this coaster is clear, the wood's natural beauty is still visible. If your coasters will live on furniture with interesting colors and textures like wood or mosaics, clear resin might be the right choice for your project. For a minimalist, modern feel, leave out the silk daisies. Because handmade resin crafts are so versatile, you can include whatever you like inside the coaster. If you love all things coastal, imagine how gorgeous these would be with seashells.
6. Rainbow Resin Letter Perfect for a Nursery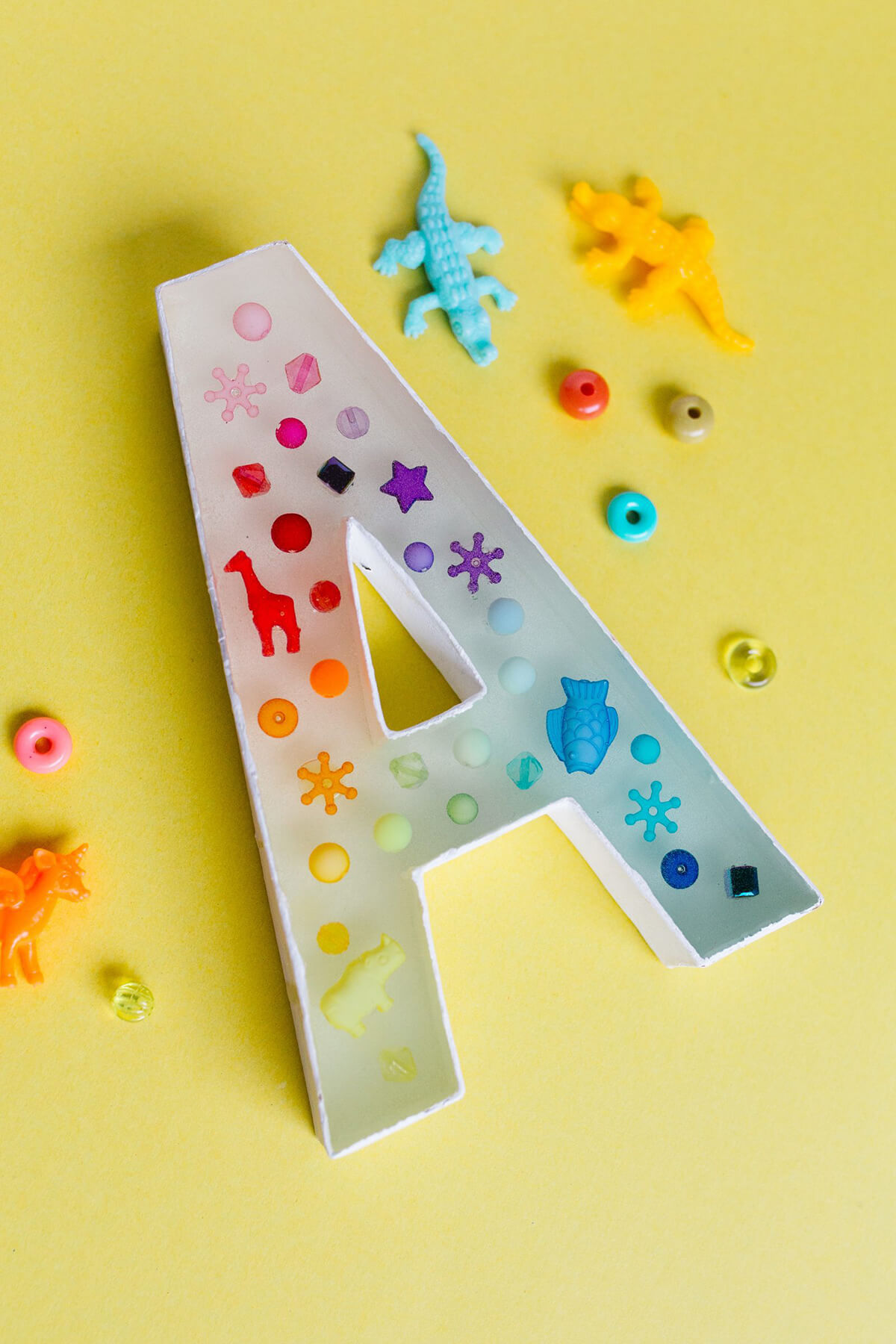 Filled with rainbow beads and animal toys, this resin letter is one of the best DIY resin craft ideas for anyone getting a room ready for a new baby. Choose charms for your letter that reflect your nursery's theme to full effect. If you cannot decide which toys to include and which to leave out, spell out an entire name. Switch out the beads and toys for glitter and more sophisticated additives, and you will have a great piece to hang in a dorm room. Best of all, because resin is durable, there is no need to worry about breakage either from overzealous toddlers or college shenanigans.
7. Botanical Hardware Made From Pressed Leaves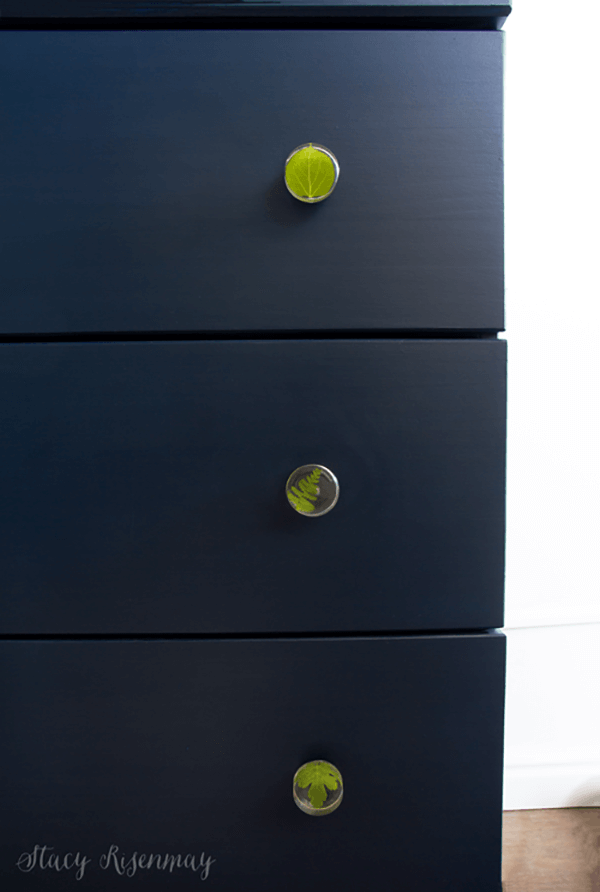 Switching out hardware is one of the easiest ways to change up your space. If you are ready to move away from traditional materials like metal, these pressed leaf pull knobs are a magnificent way to incorporate nature into your home. Although the shape depends on which molds you use, these handmade resin crafts are a great way to give any article of furniture a facelift. To add an extra layer of dimension, be intentional about which leaves are used. Imagine outfitting your kitchen hardware with pressed herbs or using dried lavender in a bedroom as a reminder to relax.
8. Creating Kid-Proof Costume Jewelry from Resin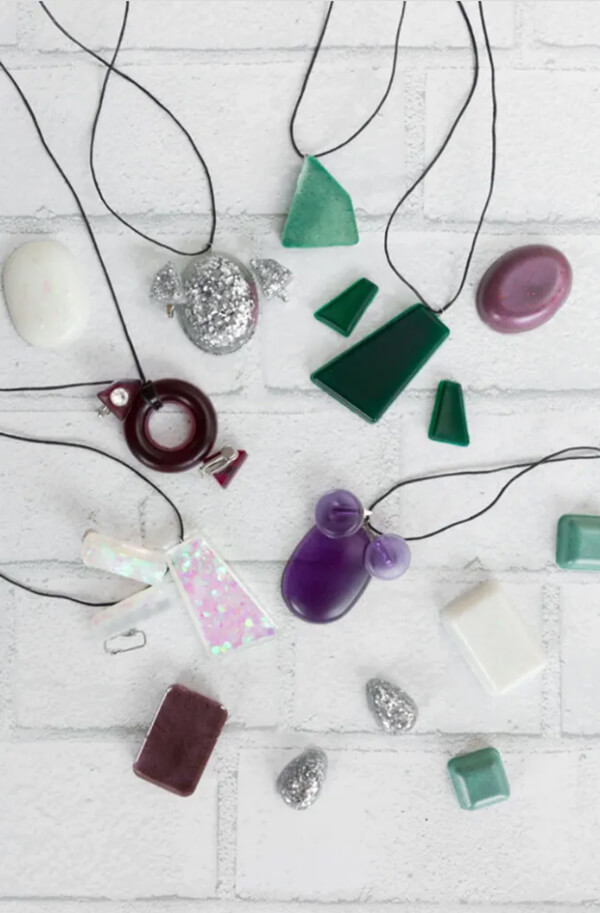 Because they are so durable, these are some of the best DIY resin craft ideas to make for children who love to dress up. This technique uses mica powder as a colorant and a few different types of glitter as additives. When the mica powder is not thoroughly stirred, it can add some intriguing marble-like streaks to the final product. Beyond jewelry, you can use these molds to craft items like a pull switch for a light or even a pendant for a curtain tieback. With all the additive and color possibilities, you can change out these small decor items with the seasons.
9. Personalized Pet Tags for Your Furry Friends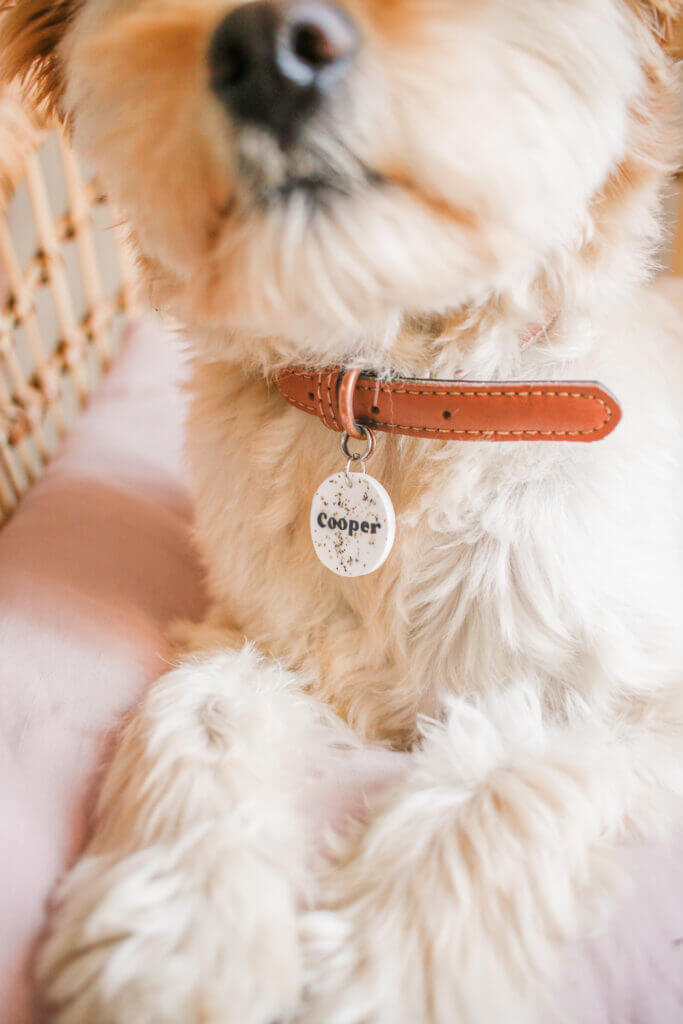 Follow the steps in this tutorial to make the perfect pet tags for all the pets in your life. While metal pet tags can clank loudly, resin pet tags are quiet. Like many homemade resin ideas, these pet tags include a variety of jazzy additives. Beyond glitter, this tutorial recommends unexpected extras like dried flowers and even black pepper. Experiment with items you have on hand to achieve an effect that matches your style. By mixing clear, gold, pearl, and white resins, you can create some intriguing marbled effects. Black vinyl lettering is the final touch to these bespoke pet tags.
10. Rainbow Layers Pencil or Paintbrush Holder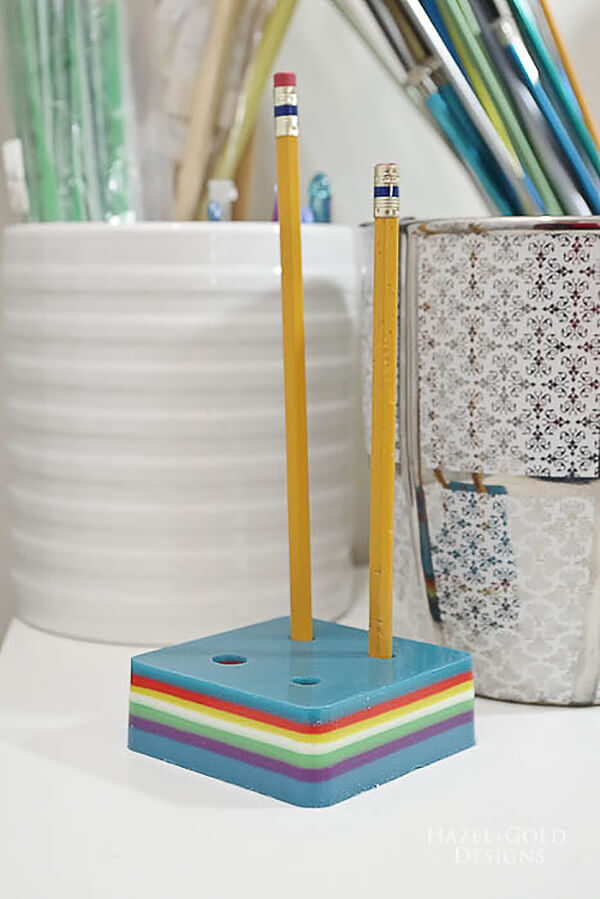 For those who enjoy breaking a project down into manageable bites, this rainbow layered craft takes a small amount of time over a few days. Instead of mixing up a large amount of resin and filling the mold at once, add one thin layer each day. When finished, drill holes to hold all your pencils, paintbrushes, or make-up brushes. Like any handmade resin crafts, you can choose any mold or colors instead of those used in this tutorial. For a simpler, more elegant look, try alternating glitter, translucent, or clear layers.
11. Unique Poured Resin Artwork with Crystal Shards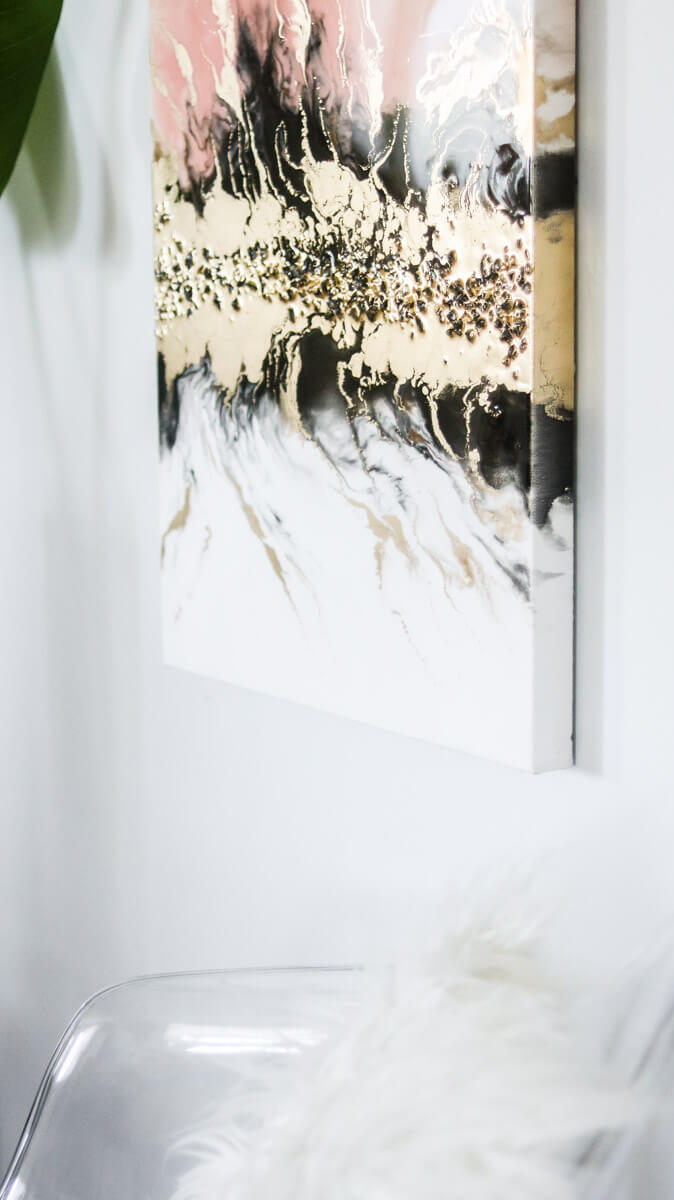 If decanting resin and additives into a mold sounds too restrictive, poured resin artwork is a great way to unleash your creative side. Because these works of art rely on color blending, you will want to invest in slower-setting art resin instead of faster-setting casting resin. With the ability to add any acrylic paints, enamels, pigments, and crystals, you can create stunning artwork personalized to your space. Although this image shows artwork with a modern feel, you can aim for any look. For a coastal home, try using seashells or pearls instead of crystals. If you love all things industrial, switch out the glass for hex nuts.
12. Look to Clear Glycerin Soap for Ideas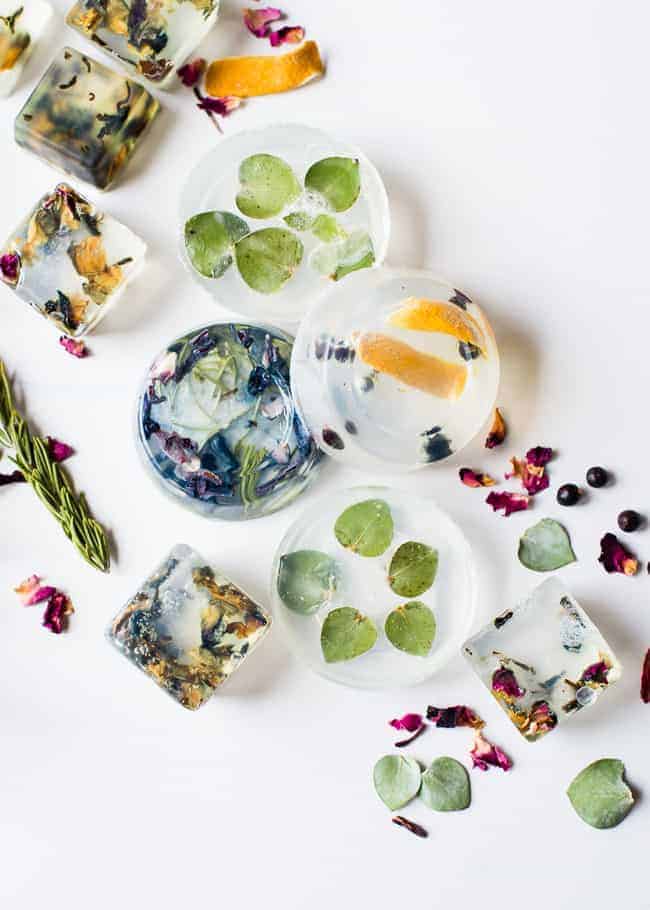 While clear glycerin soap is not resin, the process is very similar. Follow this technique to suspend herbs and spices in your resin-based crafts to transform your home into a botanical wonderland. All you need to do is find a silicone mold perfect for your purpose. From the purely practical to the wholly decorative, there are mold options for nearly anything. Then, get creative with your botanical additives. Create your own fairytale by using dried rose petals. For a more foliage-heavy look, use your favorite dried herbs. Pick the right mold, and you can have fantastic party favors, housewarming presents, or bridesmaid gifts.
13. Homemade Resin Ideas to Immortalize Special Flowers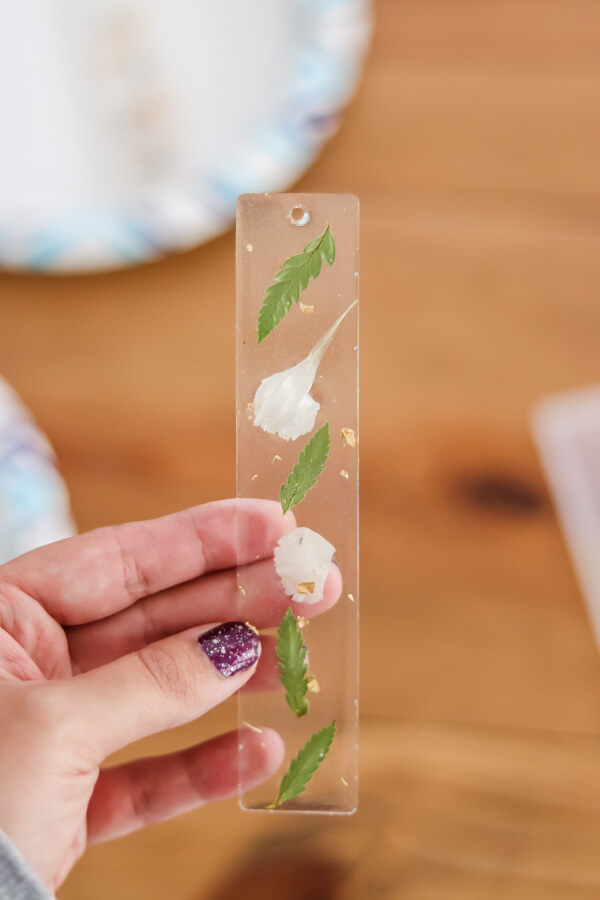 Whether you are celebrating a happy occasion or mourning the loss of a loved one, preserving a dried flower within resin can keep it fresh forever. As long as they are dried first, you can use this technique with flower petals from a bridal bouquet, floral arrangements from anniversaries or funerals, and even wildflowers from vacations. Other memorabilia can be preserved as well. If you want the flowers to act as the focal point, follow the example in this image and keep the rest of the bookmark simple with small leaves and gold foil. For a fancier project, mix in colorants and other additives.
14. Make Your Own Colorful Resin Jewelry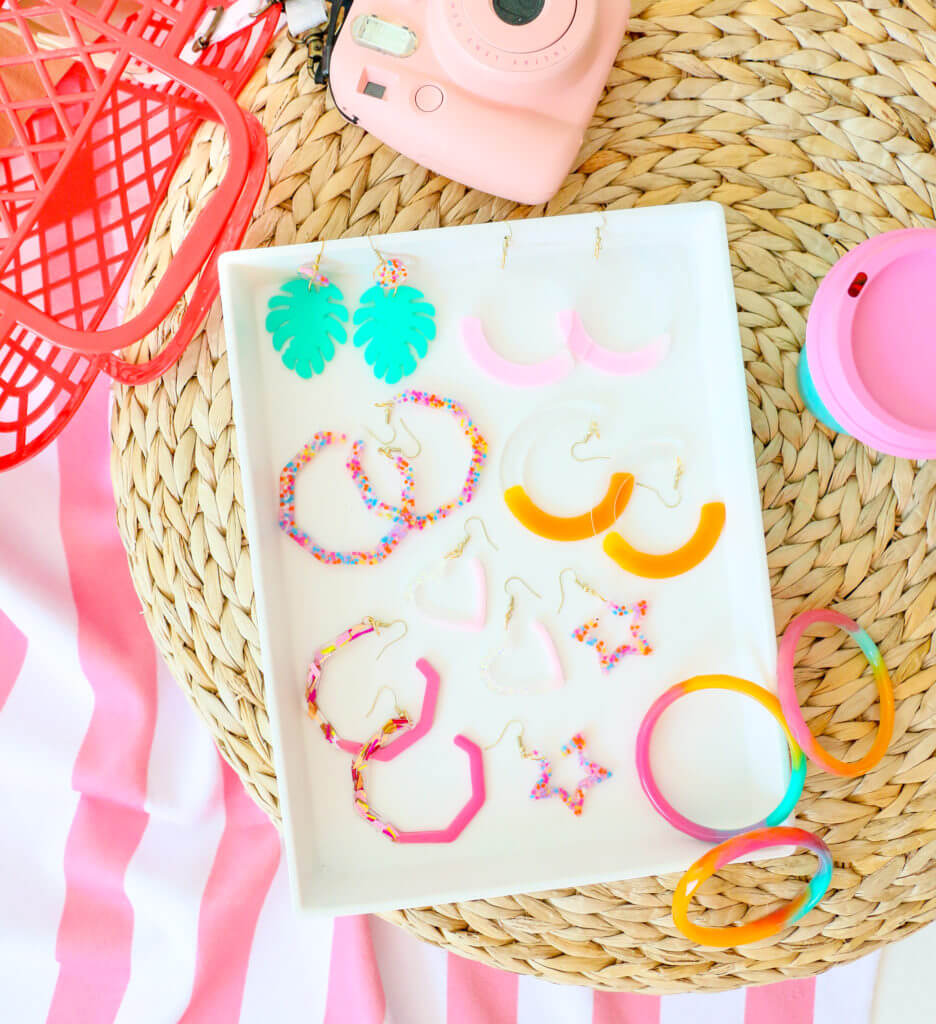 This tutorial shows that resin can be used beyond home decor – you can make yourself (and your friends) some fun jewelry. With this technique, you are only limited by your colorants, molds, and additives. Colorants are an easy way to add impact to your jewelry. While it may be tempting to go all out with the colorants, check out the bold two-toned effect achieved by leaving some of the resin clear. With the right molds, you can make matching sets of jewelry for every occasion. For a whimsical touch, use fun additives like clay sprinkles.
15. Make Your Own Glittering Resin Alphabet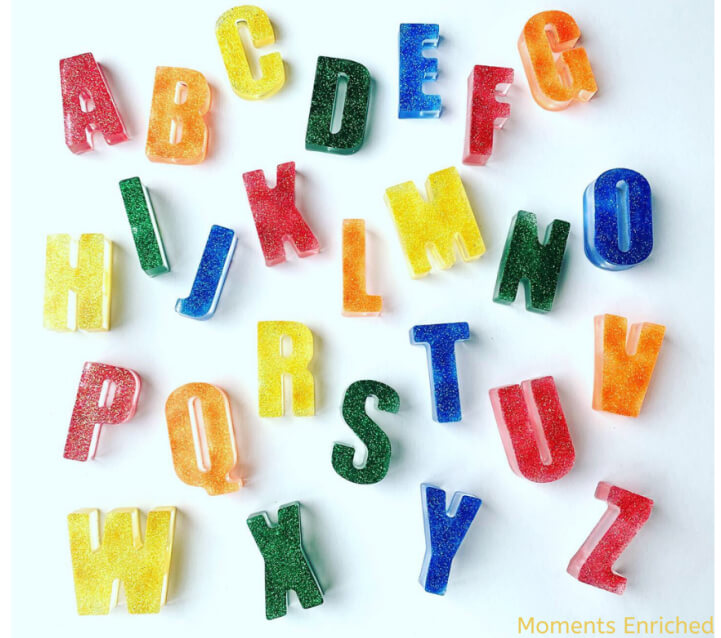 Resin letters are versatile because they are durable enough for play, but beautiful enough to shine as decor. Letters make a fantastic educational toy that can be used in sensory bins and sandbox-type activities. Make these in the playroom or nursery's color palette to have an instant baby shower or birthday present. If you enjoy a crafting challenge, use an additive that corresponds to each letter. For example, try a toy alligator in the letter "A," beads in the letter "B," and a toy car in the letter "C." For decor-sized letters, use a larger mold than the one shown here.
16. Bottle Cap Fridge Magnets Using UV Resin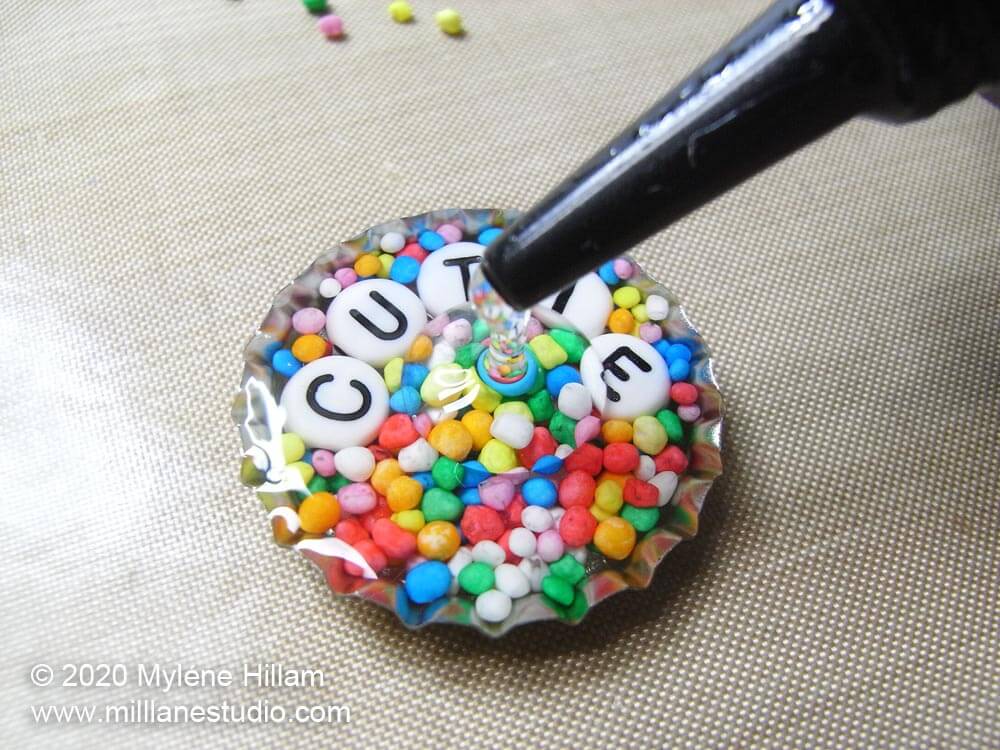 Although most of the crafts in this list are created using resin that needs to be mixed, this technique uses resin that hardens via ultraviolet light. For those who do not have the patience to wait for other types of resin to dry, UV resin is usually cured in less than an hour. However, this depends on the resin you use. This image showcases food-safe sprinkles and alphabet letters nestled in a bottle cap for a fast fridge magnet project. If you use food-safe sprinkles, you will need to make sure that the resin completely covers the sprinkles.
17. Using Glitter Instead of Resin Colorants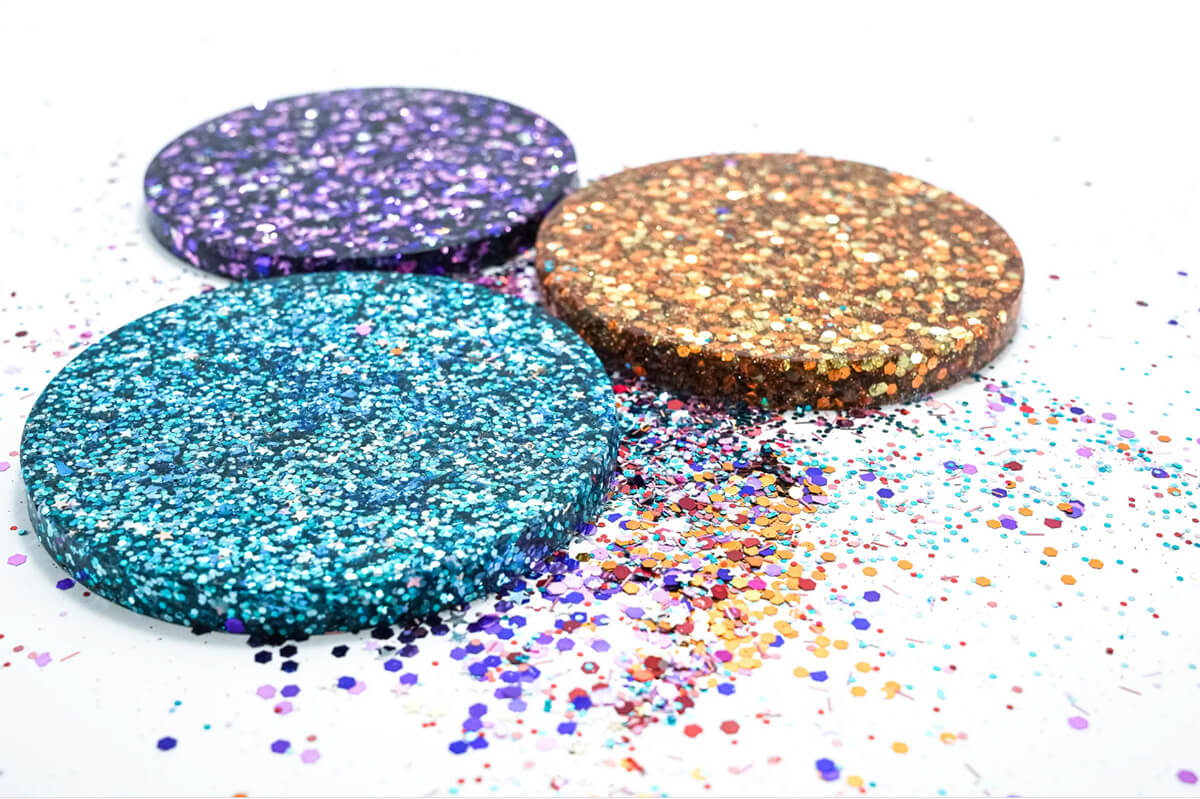 As you can see in the image, glitter is an impressive alternative to colorant. Although glitter will obscure other additives like charms or flowers, it does provide a stunning effect. Depending on what molds you use, glitter-infused resin projects can star as focal points in your decor. The key to the sparkly abundance seen here is to mix the glitter with the resin before pouring it into the mold. In this example, coaster molds and chunky glitter were used, but you could pair any type of mold with the glitter of your choice. Let your wild side out by experimenting with multiple glitters in the same mold.
18. Mixed Media Resin Crystal and Wood Bookend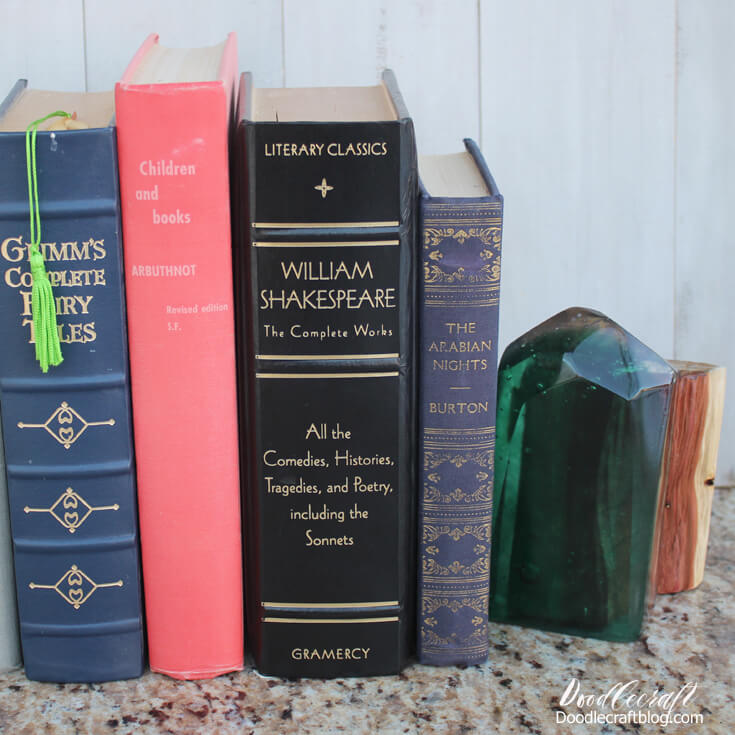 By mixing a clean crystalline silhouette with a chunk of cedar, this bookend is ready to go into Scandinavian or rustic homes. This example uses transparent green, but you can achieve any number of effects with all the colorants and additives available. Imagine a marbled effect with opaque white resin and gold enamel veining for a space searching for sophistication. If you want a fairy-garden feel, try perching a fairy figurine on the wood. Because this technique relies on wood chunks and sanding the resin down, each bookend is utterly unique. Combining wood and resin does not have to stop at bookends. Let your imagination run wild!
19. Iridescent Mickey Mouse Resin Shaker Charm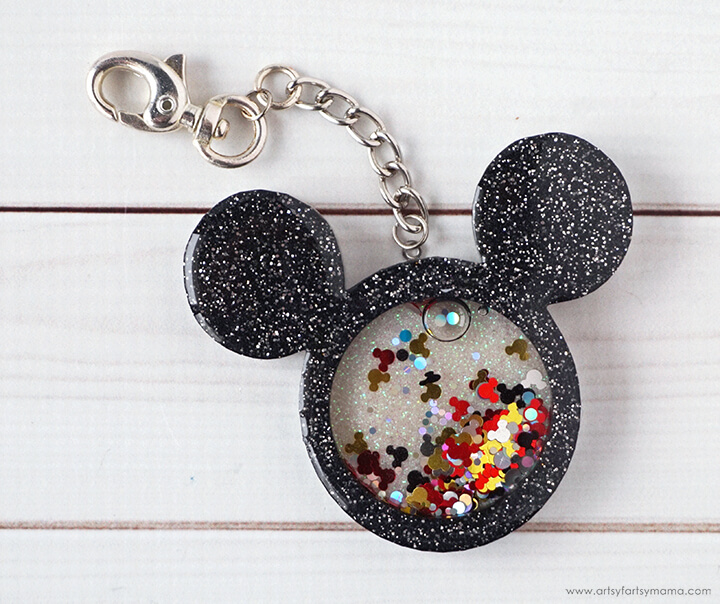 Although this shaker charm's many steps might seem intimidating, it is a manageable project even for beginners. Part of this is due to thorough step-by-step instructions. Although many portions of this project are customizable, the mold is the key to making it all possible. Switch up the colors, glitter types, and charms inside to whatever works for you. While all glitter is beautiful, this charm does a fantastic job pairing glitter with pigment. To give the black mouse ears a cool sparkle, silver and black glitter is used. Iridescent glitter in the white resin in the back gives the charm a bewitching energy.
20. Glittering Teacher Gift Coaster with Pencils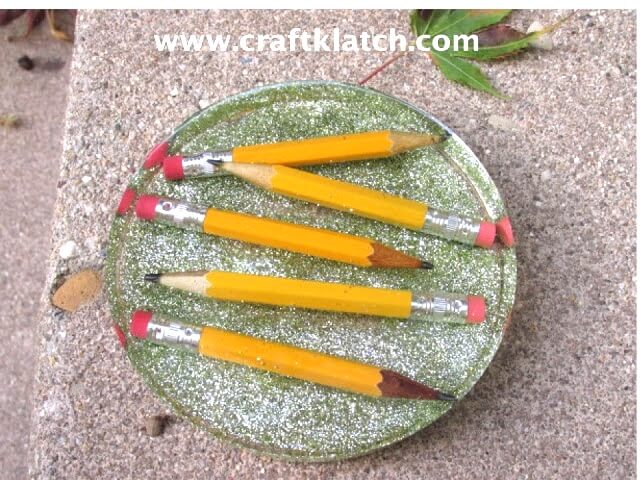 Once you have a mold and resin, coasters are an easy project perfect for back-to-school or Teacher Appreciation Week. While this example includes classic yellow pencils, you could easily personalize your coasters with novelty pencils. Arranging the pencils as a monogram letters instead of parallel lines is another way to make this coaster unique. For a magical effect, experiment with multiple colors of glitter. Before beginning this project, make sure that the resin is rated for hot beverages. Switch out pencils for something else, and you can make these coasters as a gift perfect for anyone.
21. Dried Flower Picture Frame Serving Tray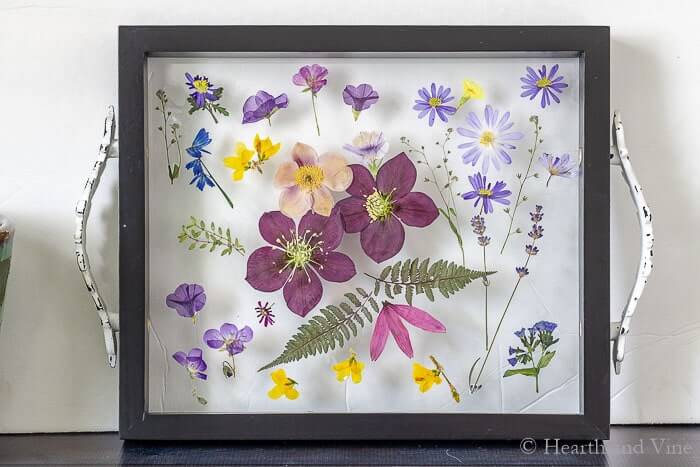 If you know someone who loves breakfast in bed, this unique serving tray makes a fantastic gift. As beautiful as the final product is, however, you may want to hang it as wall decor. You can use any deep picture frame, any handles, and any dried flowers to make the serving tray of your dreams. While dried flowers are an excellent way to incorporate nature into your home, you could use a variety of objects instead. For coffee lovers, experiment with coffee beans. To make the perfect Father's Day present, try a scattering of hex nuts.
22. Unique Rainbow Sprinkle Resin Bangle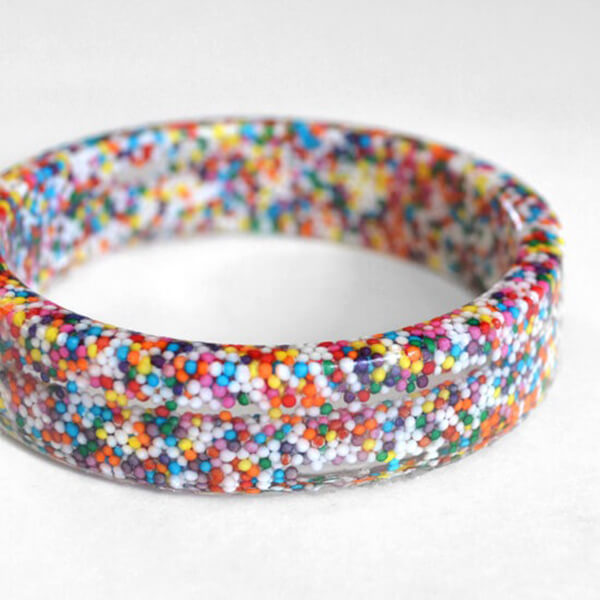 Because this technique relies on food-safe sprinkles, the design possibilities are nearly limitless. With the wide range of food-safe sprinkles on the market, there is a variety of color schemes that will resonate with you. However, it also means that you will need to be very careful to ensure that every sprinkle is coated in resin. It might take a little trial and error, but even the failed attempts can be quite beautiful. With a little practice, you can create conversation-starting jewelry. If you do not wear bangles, switch out the bangle mold for something that is your style.
23. How to Preserve Fresh-Looking Flowers in Resin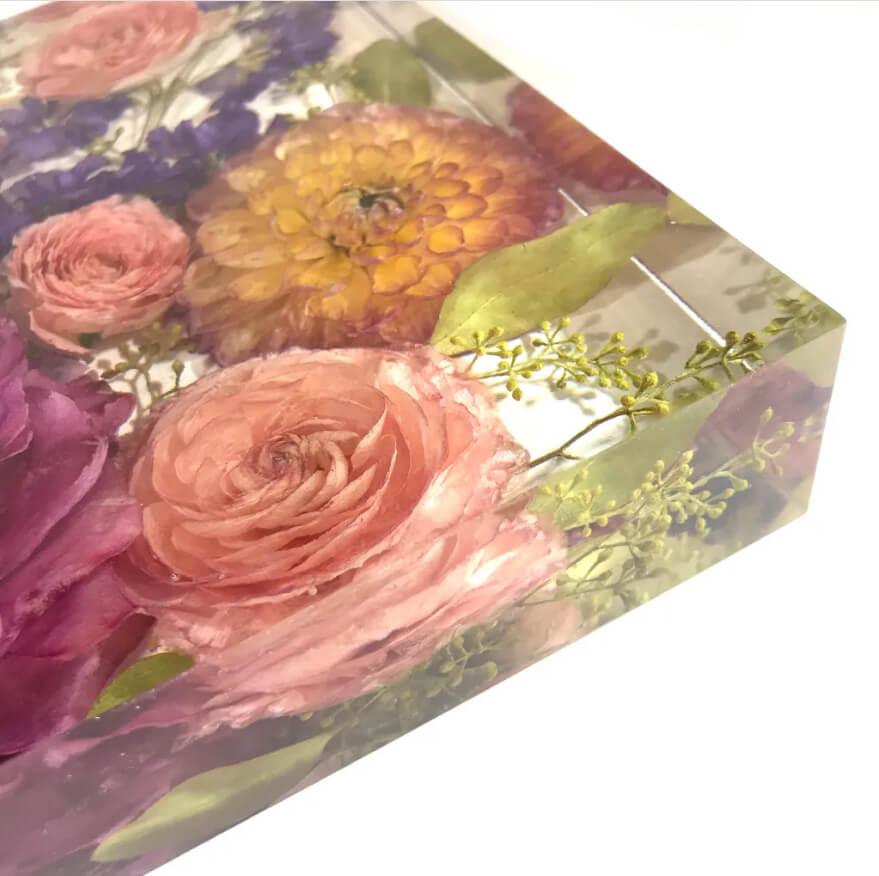 Unfortunately, if you pour resin over fresh flowers, they begin to decay. Flowers dried the traditional way can be beautiful, but inevitably look dried. To achieve the look shown here – fresh-looking flowers frozen in resin – use silica gel. By drying flowers in silica gel, they look as fresh as the day they were picked but are dry enough to remain beautiful in resin. However, any time you work with silica, always wear the appropriate protective equipment as breathing silica dust can cause long-term lung damage. Flowers that look fairytale fresh are a worthy endeavor and mean that you can enjoy fresh flowers all year.
24. Petite Pink and Gold Tray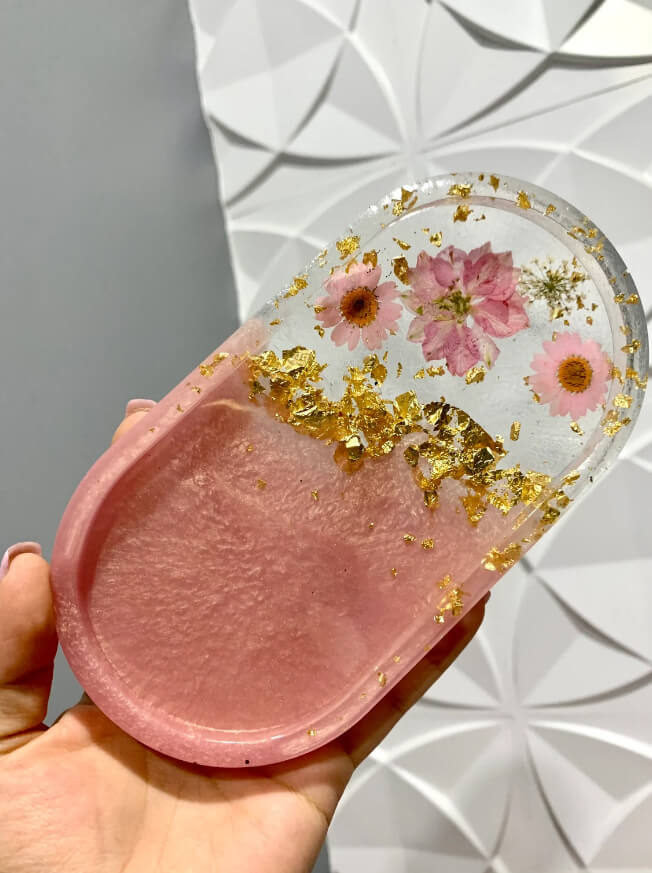 With dried flowers, gold foil, and an entrancing pink pattern, this tray is so beautiful you may not want to place anything on it. Of course, the resin is tough enough to stand up to years of holding keys, remotes, rings, soap, or anything else you might need to place in a tray. The gold foil acts as an ideal transition between the opaque pink and clear portions of the tray. That gold foil makes this the perfect accent for a space steeped in glamor. Dried flowers give it a connection to nature and can help tie it into a space with floral motifs.
25. Customizable Three-Tier Geode Tray Oozing with Elegance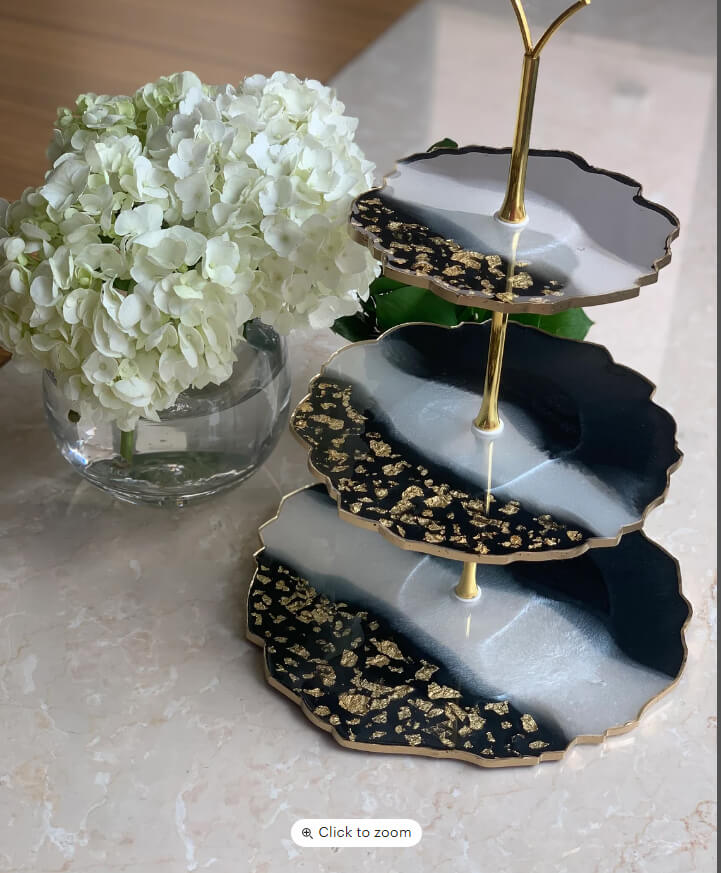 This geode-inspired tray is an effortless way to add a sense of stylish sophistication to any space. From macarons to cupcakes, any dessert will look great on these chic tiers. If you are worried that the black, white, and gold color scheme shown here will not work for your home, there are 10 color options and three hardware possibilities to choose from. If you have something in particular in mind, this shop will work closely with you to create the perfect custom order. Of course, black, white, and gold look fantastic in a modern or glamorous space. Choose colors like green and gray for a more rustic feel.
25 Innovative Ways to Use Best DIY Resin Craft Ideas for Cool Gifts and Beyond
As you have seen, the resin is incredibly versatile and can be formed to fit your style. With only a few supplies, you can transform a space with a one-of-a-kind focal point. Depending on your decor, that can mean a craft alive with glitter, bright colors, dried flowers, crystals, small toys, or even precious memorabilia.
Unlike other home decor crafts, the resin is durable enough even for high-traffic areas. To achieve this toughness, it does require a cure time which can be difficult for crafters who dislike waiting time. However, because many of these projects can be completed within a week, resin crafts make great personalized gifts.