For most Americans, the Fourth of July is the event of the summer, and creating DIY rustic 4th of july decorations is a great way to celebrate the occasion. City parades, backyard barbecues, and scenic fireworks allow us to express our love of freedom and family with a little razzle-dazzle. The holiday comes with a built-in color palette. The unmistakable red, white, and blue symbolize valor, purity, and justice respectively. Clever party hosts have translated these hues–as well as the famous stars and stripes–into all manner of patriotic summer snacks, salads, cakes, and more.
24 Creative DIY Rustic 4th of July Decorations to Spark Your Independence Day Party

Independence Day decor is also necessary to brighten our homes with patriotic spirit. With summer vacation in full swing, many family members may participate in crafting All-American decorations for every room of the house (and the backyard, of course!).
In true American fashion, we experiment with the classic shapes and colors we all know to invent all sorts of new stuff. Many DIY Fourth of July Decorations re-imagine the country's flag in different materials and on a variety of surfaces. No matter how artsy you get, the recognizable stars and stripes will keep you true to the theme.
Summer is a great time for a breezy DIY project. You can keep yourself and the kids occupied by creating some fun new decorations for the big day. The fall and winter holiday season, while thrilling, can be stressful at times. It often seems like a marathon of festive cheer. But the Fourth of July is a holiday that stands on its own. It's relaxed and it doesn't demand a huge budget. It's hot dogs, flip flops, and the smell of sparklers in the air.
That's what makes these rustic DIY Fourth of July decorations so awesome. Like the holiday itself, they are fun and simple. Their easygoing folksy style is exactly what we need for a day that honors our unique nation.
1. Multi-Tiered Tray Stuffed with Patriotic Goodies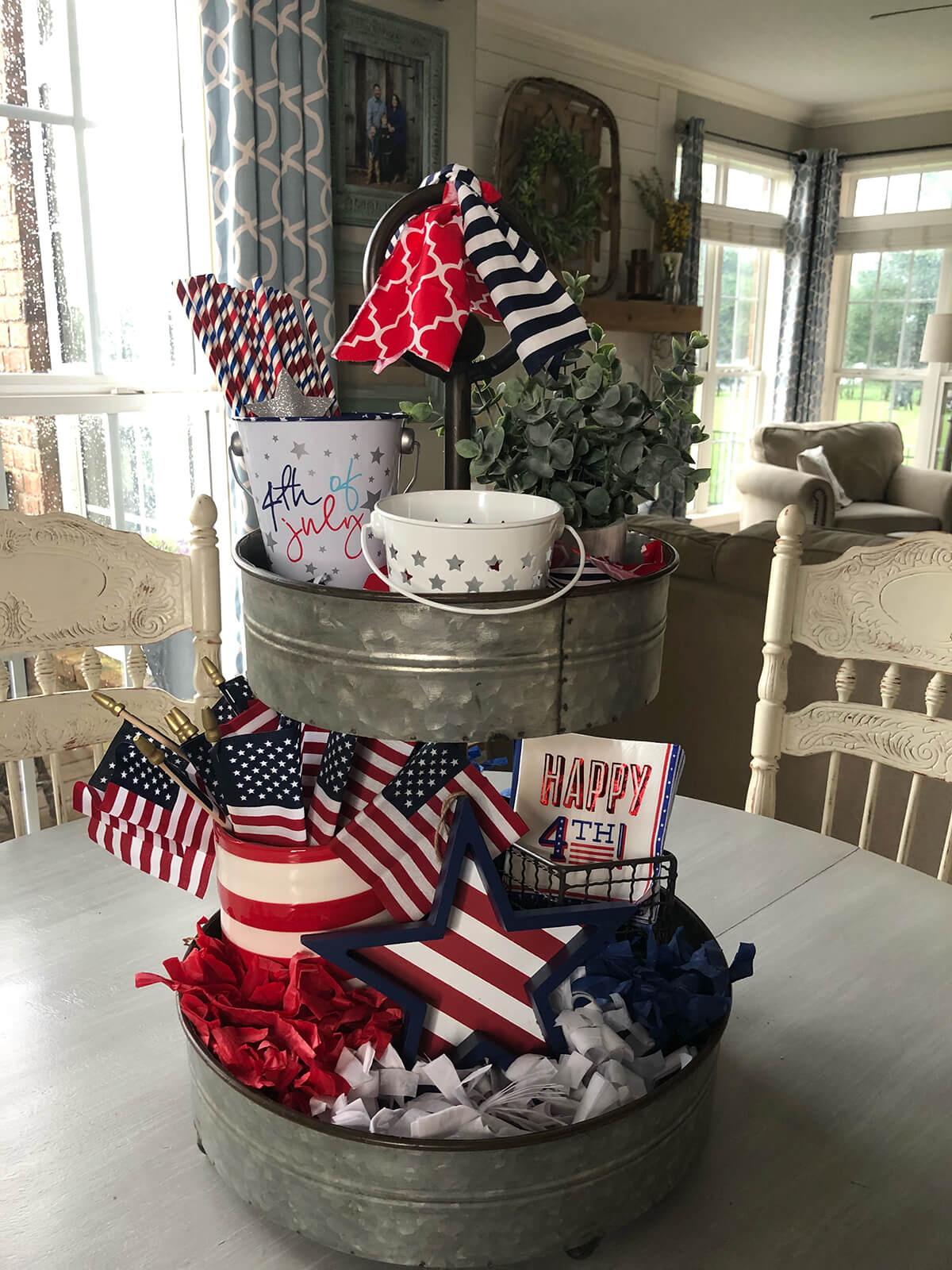 Galvanized metal lends a little edge to this two-layer tray. It provides enough depth for real storage and plenty of room for all the patriotic bits and pieces that need a home. A can of flags and a box of napkins rest on a bed of red, white, and blue paper confetti. The miniature potted plant adds a splash of green to this classic color palette. A simple fabric bow spices up the sturdy iron handle on the top. This practical tray makes a great centerpiece at the dinner table. Later, you can easily carry it outside for nighttime festivities.
2. Red White and Blue Rice Jar Candles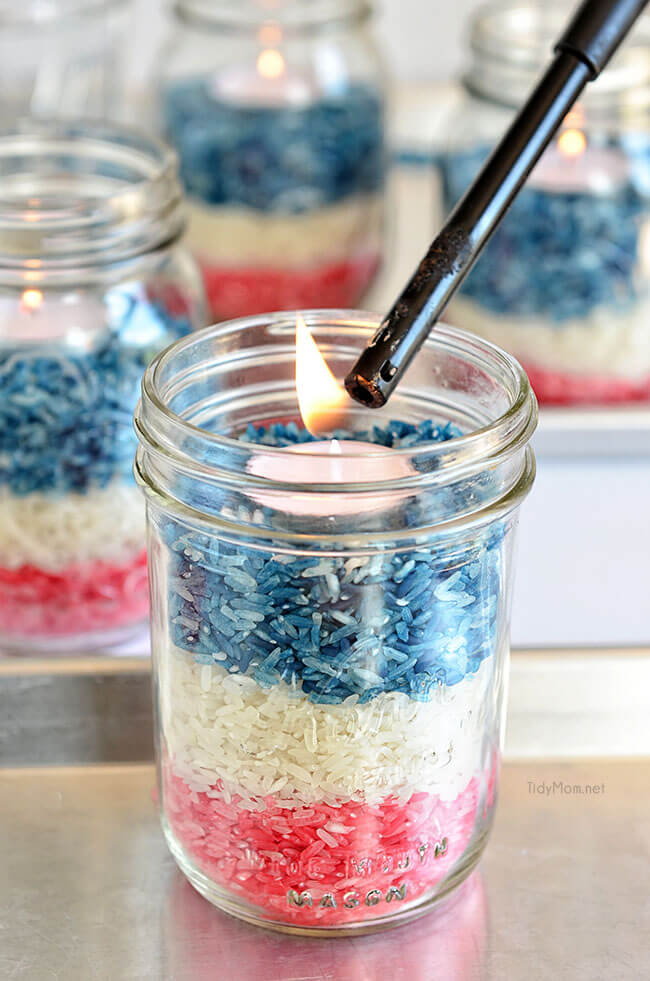 Pull that extra rice out of the pantry for these farmhouse-fresh candles. It's easy to dye white rice different hues by adding a bit of rubbing alcohol and food coloring. When you layer different rice colors in a Mason jar, the effect is simple yet striking. Equal amounts of red, white, and blue rice create the flag stripe effect. A small tealight candle sits safely atop the grains. Thanks to the rice motif, these jar lights are perfect for a Fourth of July wedding ceremony or reception. And they'll fit right in on a picnic table full of festive food.
3. Folksy American Flag made of Fabric Scraps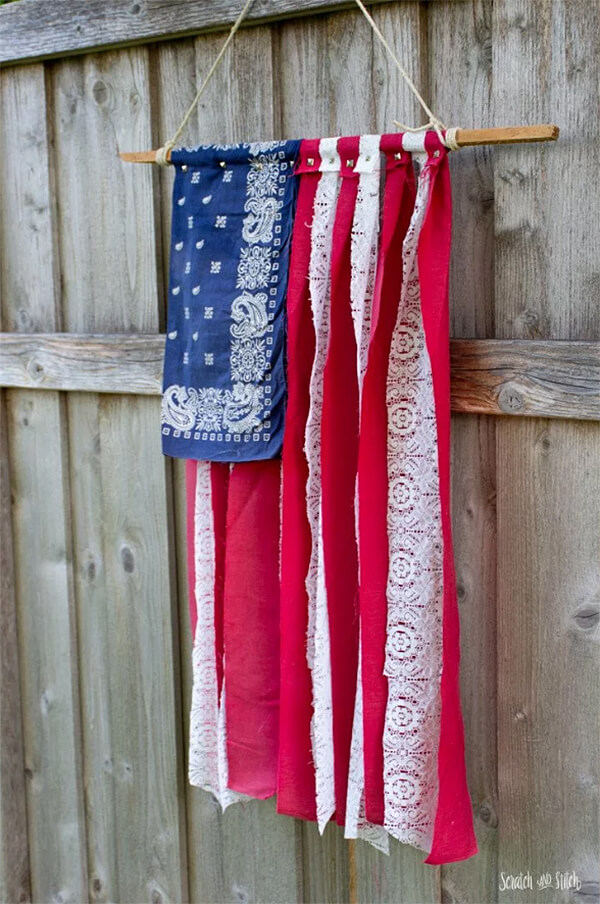 Different materials unite to fashion this one-of-a-kind flag. Silver fastening studs save you the trouble of sewing. The scrappy charm of the blue bandana complements long strips of white lace. This multi-fabric flag hangs off of a wooden dowel rod. You can suspend it over the door like a wreath or let it hang down above your table. Outside the flag's "stripes" will flutter in the summer breeze. If you're looking for a clever way to upcycle old clothes, you can make several versions of this folk-chic flag. It may be nontraditional, but this banner would make Betsy Ross proud.
4. Easy Patriotic Bushel Basket for Snacks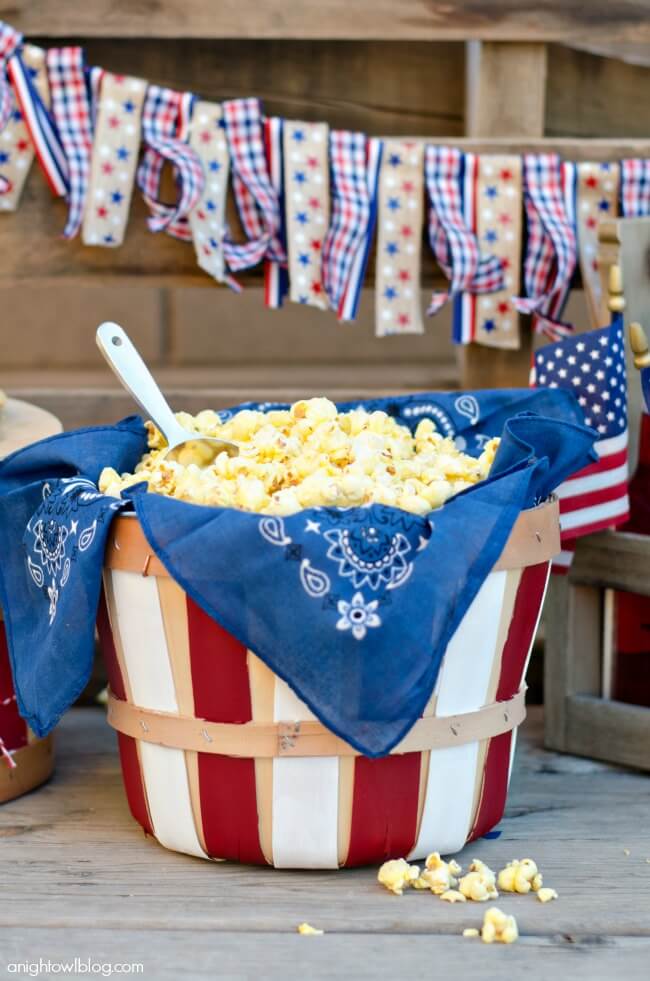 Nothing says "Americana" like the classic red and white striped popcorn box. Luckily the vintage pattern also works with the Independence Day theme. This popcorn bucket puts a twist on an old favorite. The wooden bushel basket features wide bands that make it easy to paint even red and white stripes. A blue kerchief inside the basket adds extra patterns. These painted barrels aren't just for popcorn. They hold huge amounts of any small snack food, which makes them ideal for a large outdoor Fourth of July gathering. Just don't forget to add a scoop to keep everyone's hands clean.
5. Vintage Farmhouse Style Independence Day Picnic Table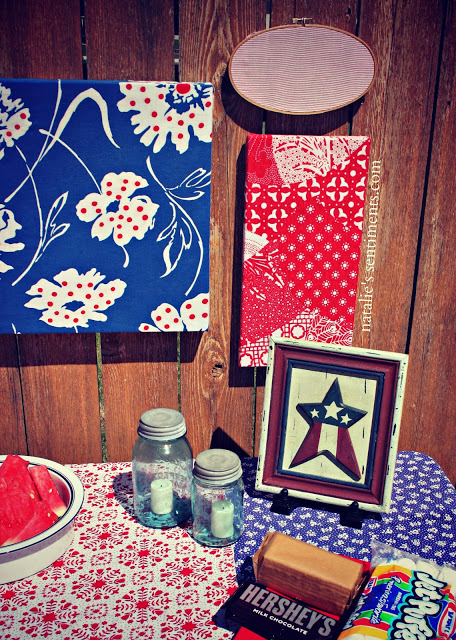 It's not all about stars and stripes. This Fourth of July, give other patterns a chance to shine. If you're into crafting, you probably have lots of unused fabric lying around. If not, you can use old shirts, dresses, etc. Find red, white, and blue material in a variety of fun prints. Overlapping patterns bring your holiday table to life. To achieve versatile background decorations, cover canvases with fabric. Circular samplers provide contrasting shapes for an interesting display. This country chic setup is unlike any other picnic table you'll see on July 4th.
6. Bold Framed America Sign Art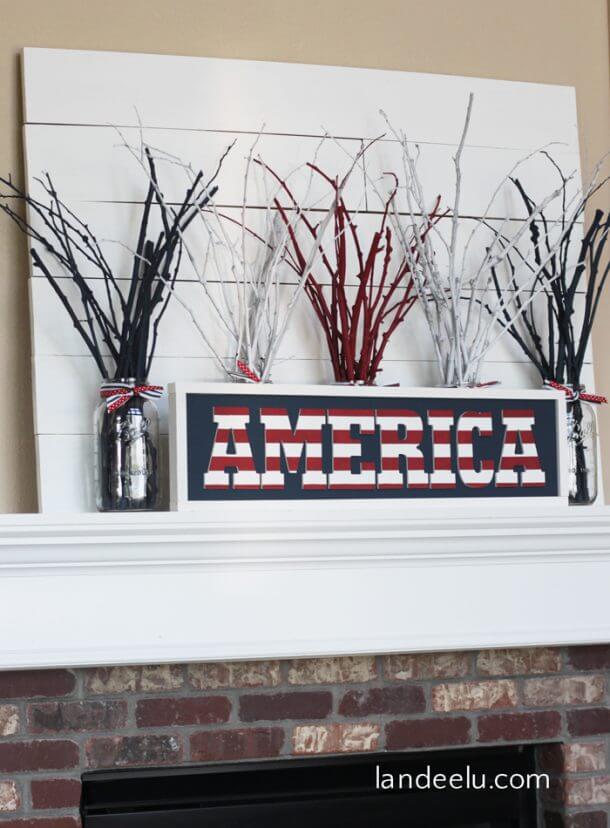 Sometimes a simple piece of decor makes a powerful statement. This framed "America" sign will rest proudly on a mantle, shelf, or coffee table. The wooden capital letters are painted with flag-worthy stripes and arranged to spell out the word on everyone's lips on Independence Day. They pop against the suitable navy blue background. When it comes to the sign's sturdy frame, a few layers of pure white paint will create a crisp border around the message. If your home decor is sprinkled with meaningful quotes and word art, this is the best Fourth of July piece for you.
7. Cute Classic Red Wagon Centerpiece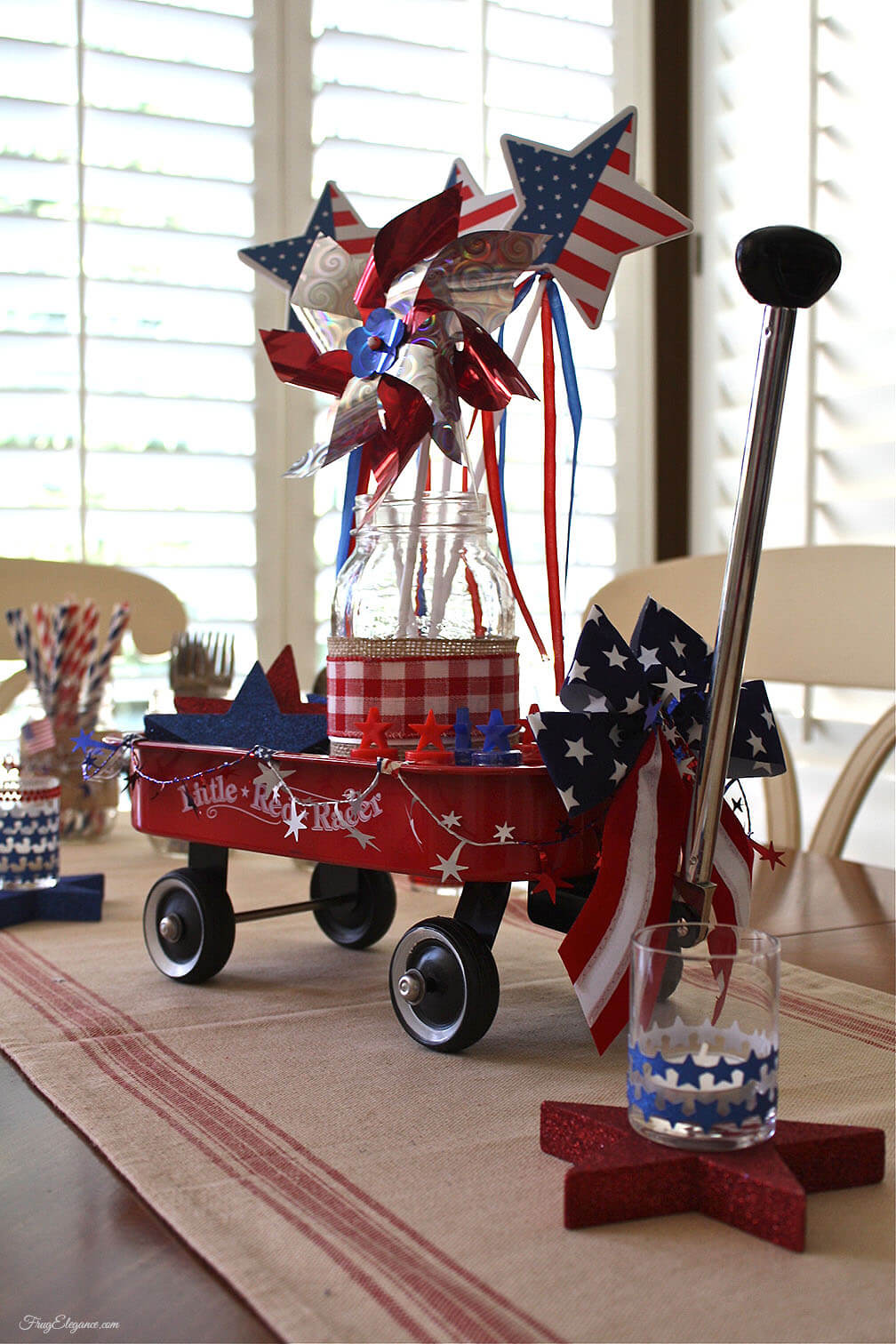 The Fourth of July conjures up childhood summer memories: sparklers, ice cream cones, and of course the iconic red wagon. Honor one of America's most beloved toys with this "Little Red Racer" centerpiece. Spruce up a miniature wagon with streamers of stars around the perimeter and a large flag bow at the front. This adorable centerpiece is also practical; treat it like a tray on wheels. If a child's birthday party coincides with the Fourth festivities, this wagon will bring the parade spirit straight to the party table. It can carry cutlery, snacks, flowers, party favors, and so much more.
8. Rustic Nautical American Flag Garland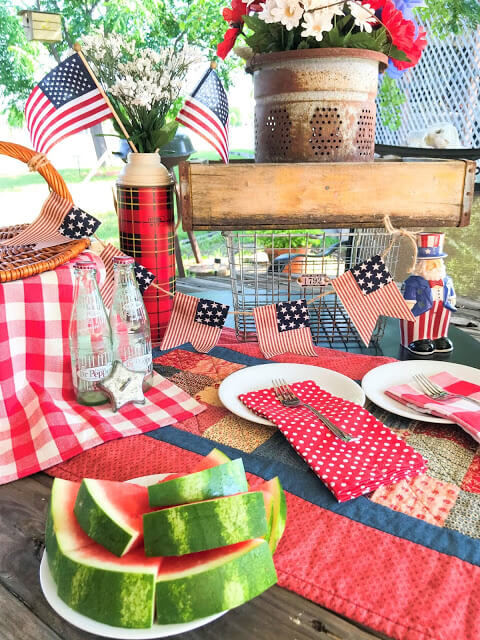 Sailors used banners of small hanging flags to send messages to other ships. This banner, repurposed for a rustic Fourth of July function, only displays one very special flag. You probably already have basic rectangular American flags. These flags are distinguished by their "swallowtail" shape–a rectangle with a V-shaped cutout. They also feature patterned fabrics that enhance their shabby chic charm. Attach them to a long string of twine. You can hang or drape this country-style flag garland just about anywhere. String it across a platform or above an entrance. You'll want to keep it hanging all year long.
9. Fun Fresh Fourth of July Wreath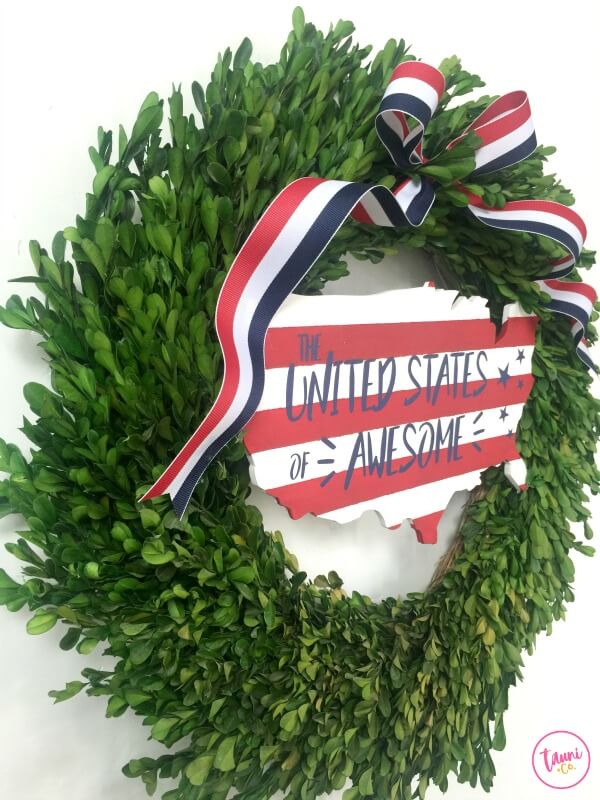 Christmas wreaths, wait your turn. This Independence Day wreath is bursting with summer greenery and a cute message to boot. A United States cutout pops against the bright green leaves. The jaunty bow made of red, white, and blue ribbon brings the whole ensemble together. This easy Fourth of July wreath is both traditional and fun. If you can't do without front door decor, display this unique circlet during the season of cookouts and fireworks. Boxwood, the plant that comprises this wreath, is famous for its longevity. It symbolizes immortality, making it a great choice for the summer holiday.
10. Patriotic Throw Pillows with Ruffled Fabric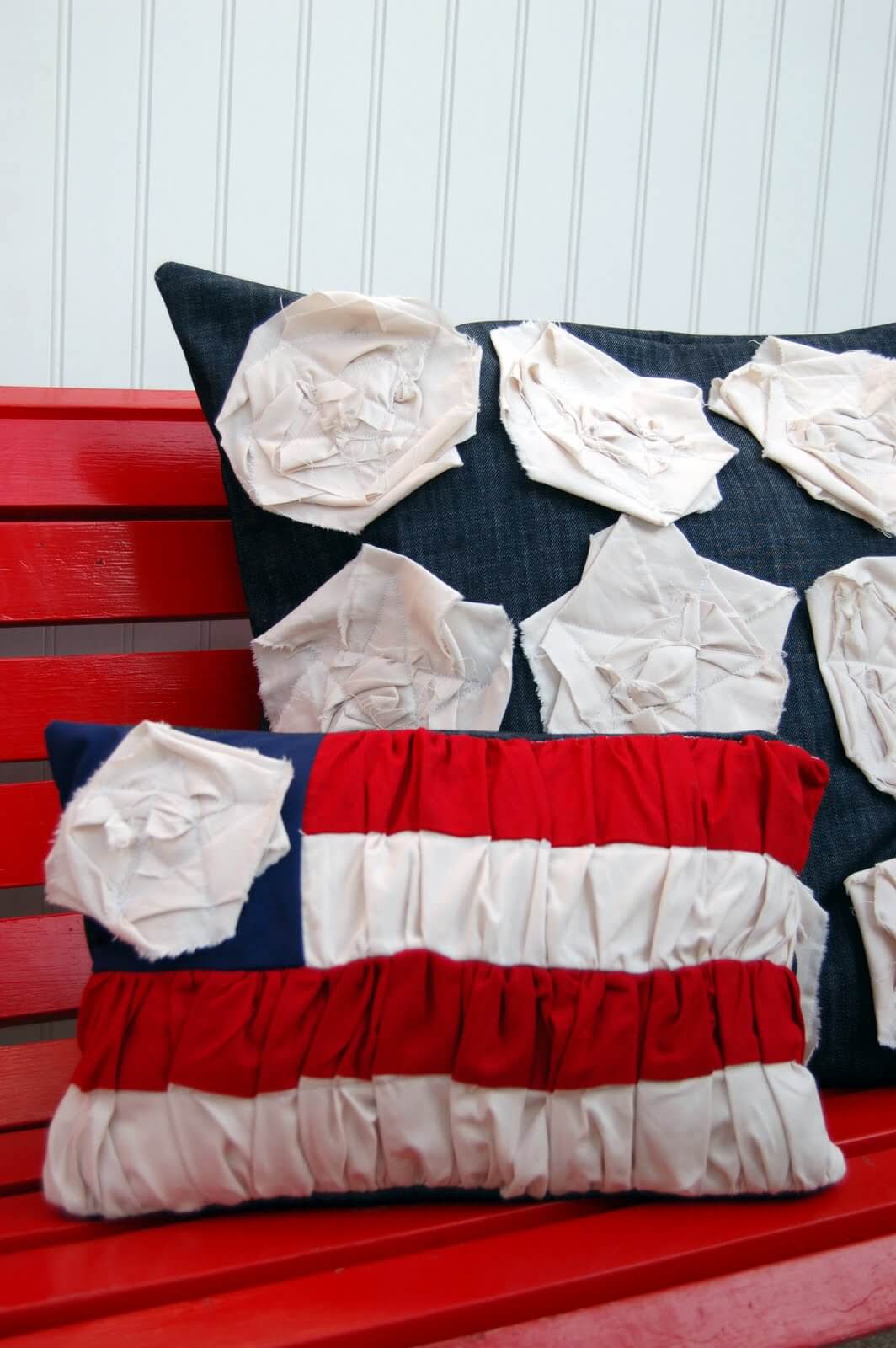 Whether you're kicking back on a deck chair or spreading out a picnic blanket to watch the show, you'll be craving an added dose of comfort on July 4th. These festive throw pillows stand out with three-dimensional textures. White fabric rosettes represent the flag's classic stars. Red and cream stripes are ruched for extra volume. With their varying sizes, these pretty pillows add variety to your patriotic decor. They will appeal to those who like the homey, comfy things in life. Long after the holiday is over, the pillows will earn a spot on your porch furniture or couch.
11. Red and Blue Yarn Stars on Stands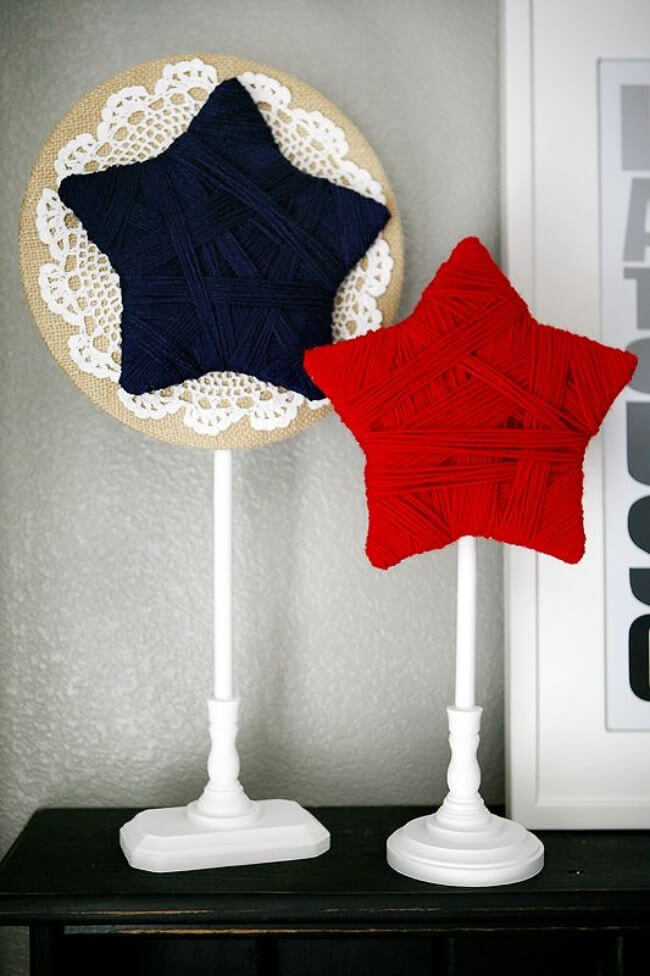 These freestanding stars are undeniably eye-catching. The large, cartoonish shapes are wrapped in yarn in the most patriotic hues. They are perched atop white dowel rods, so they can be placed on the edge of the mantel, or in another narrow space that needs some flair. In a room full of whites and neutrals, these fun decorations add a welcome pop of seasonal color. Rustic materials–yarn, burlap, and lace–are perfectly suited to a modern farmhouse interior. From the height of the rods to the fabrics used, there are many different ways that you can create and arrange these standing stars.
12. American Flag Made of Upcycled Wine Corks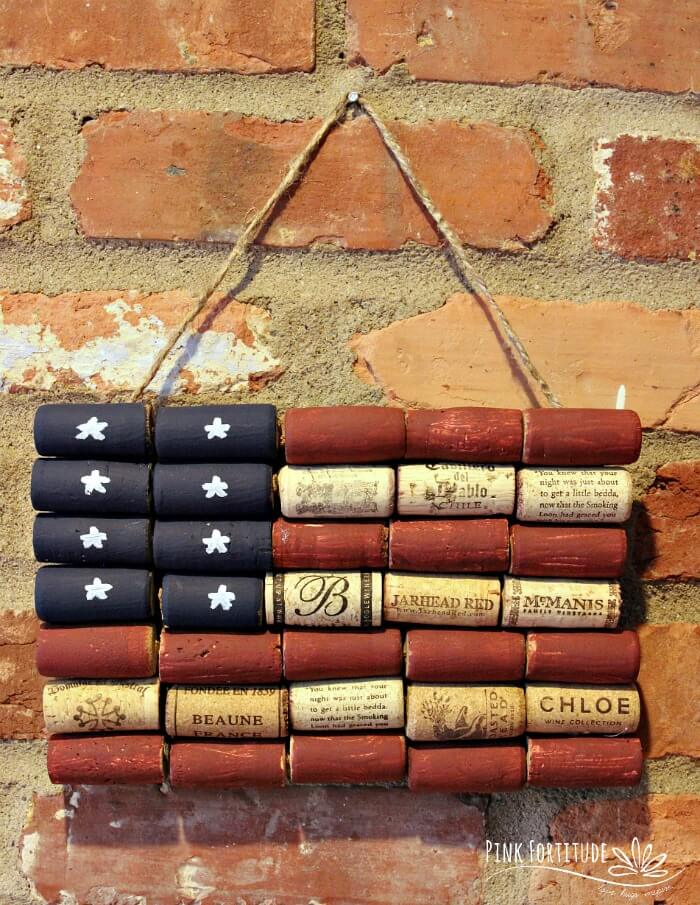 Wine lovers, feast your eyes on this creative cork flag. If you want to decorate your home bar or bar cart for the Fourth, look no further. Although the blue and red sections of the cork flag require paint, you can forgo white stripes and let the corks' different personalities show. All of the corks are fastened to a cork backing, which you can hang with a loop of twine. This miniature flag is a fun recycling project that is sure to draw compliments. If you're hosting an adult Fourth of July party, you'll want to give this a try.
13. Quirky DIY Foam Fireworks with Household Objects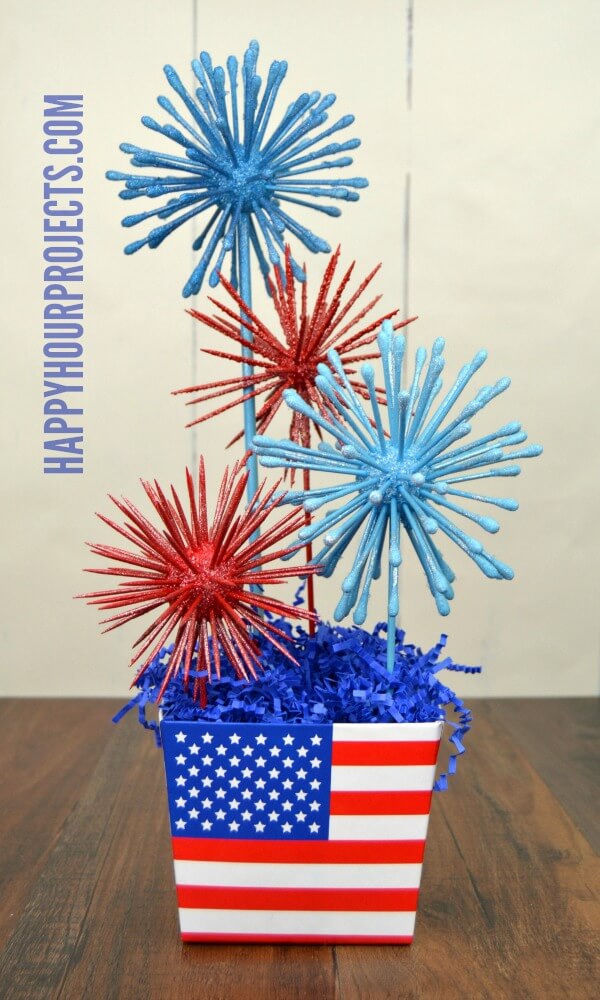 Instead of red and blue flowers, try turning heads with a bouquet of miniature fireworks–no lighter required. Look closely at these radiant bursts, and you'll see some objects you recognize. Toothpicks and q-tips stick out of foam balls, which are jazzed up with spray paint and glitter. Blue paper confetti and an American flag container provide a fun base for this faux firework display. This craft would be a great table centerpiece. You could also make multiple "fireworks" and place them on either side of the front steps. Mingle the containers with potted plants for an unexpected burst of pizzazz.
14. Beautiful American Flag Mason Jar Candle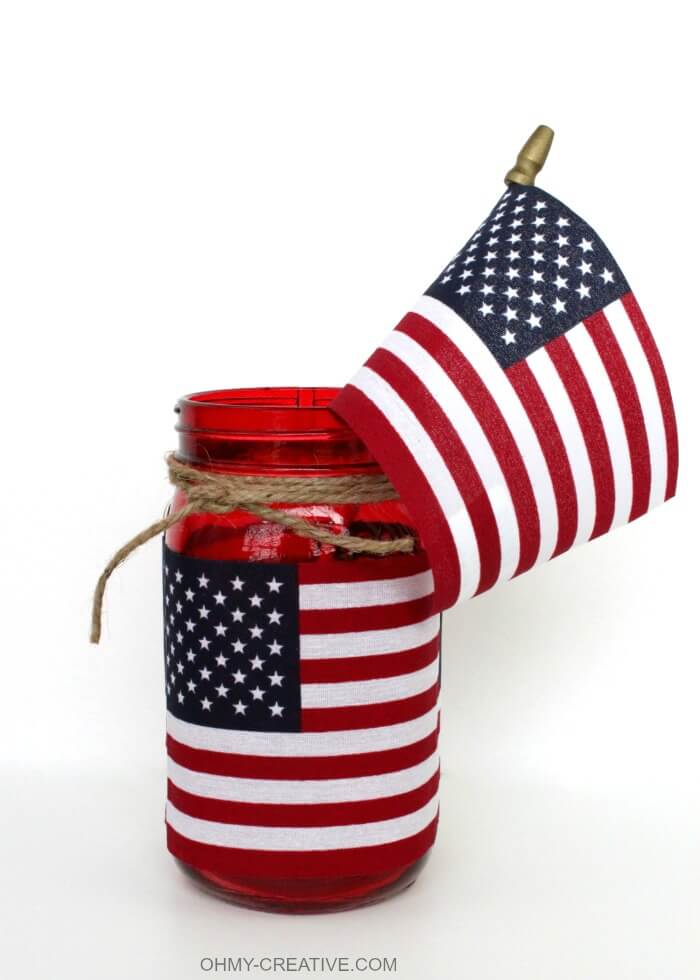 Mason jars are an All-American favorite. John Landis Mason, a New Jersey tin worker, patented the design, and Ball Corporation mass-produced it, stamping "Made in the USA" onto each glass jar. Today, no rustic farmhouse is complete without a plethora of sturdy containers. Candles in red glass jars produce a beautiful ambiance on a summer night. Go a step further and wrap a flag around the outside of the jar. Knotted twine adds a touch of rugged spirit. When the sun sets on the Fourth, you'll want to show off these classic festive jar candles on every surface.
15. Wooden Star Wreath for July Fourth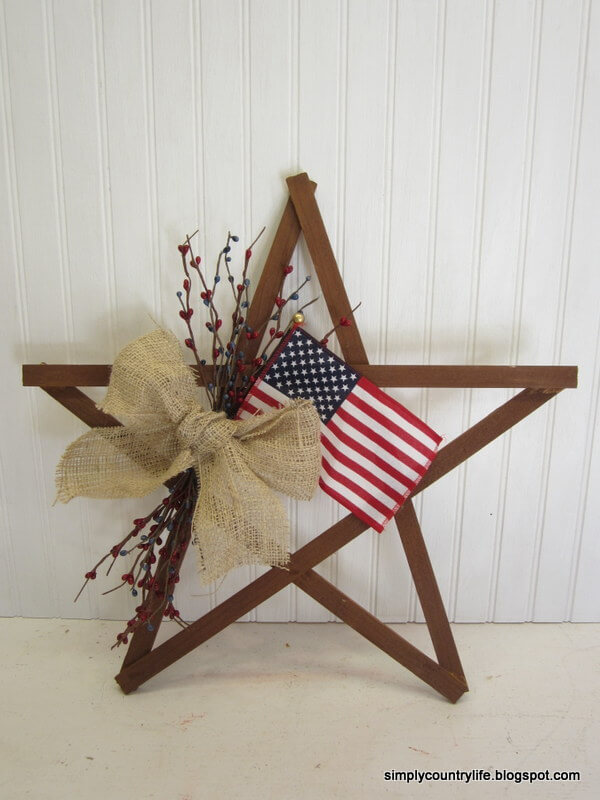 This sweet minimalist wreath could adorn the front door of a cottage style home. Use narrow slats of scrap wood to construct a five-pointed star. The edges don't align perfectly, but that only adds to the charm. The adornments are simple: a few branches of pip berries, a burlap bow, and an American flag. Their asymmetrical arrangement gives this wreath its artsy appearance. If you like your decor fresh and simple, you'll be attracted to this star-shaped wreath. It doesn't require paint, beads, or sequins, but you may want to artificially age your wood using steel wool and vinegar.
16. Simple Shutter Transformed into Patriotic DIY Rustic 4th of July Decor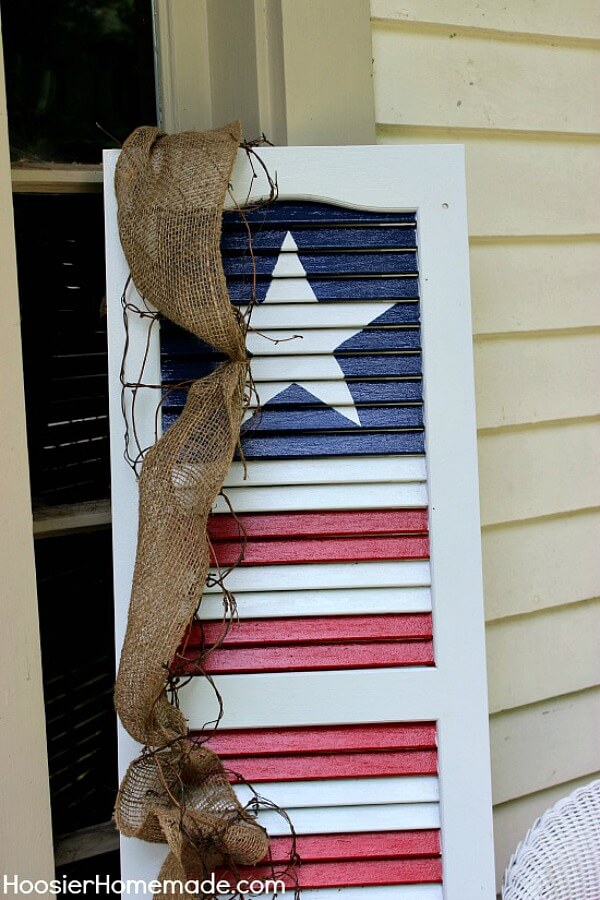 Louvered shutters are made of overlapping horizontal slats that allow light and air to pass through. The original American farmhouses often included louvered window shutters because of their functional design. You may have a plastic or wood shutter lying around from a home improvement project. The sideways slats are perfect for spray painting red and white flag stripes. A patriotic shutter is a lovely addition to a country home's front porch. Lean it against the wall behind a table or another July 4th decoration. Draw attention to the stars-and-stripes shutter with a looping grapevine and a length of burlap ribbon.
17. Creative Chalkboard Bottles with Paper Stars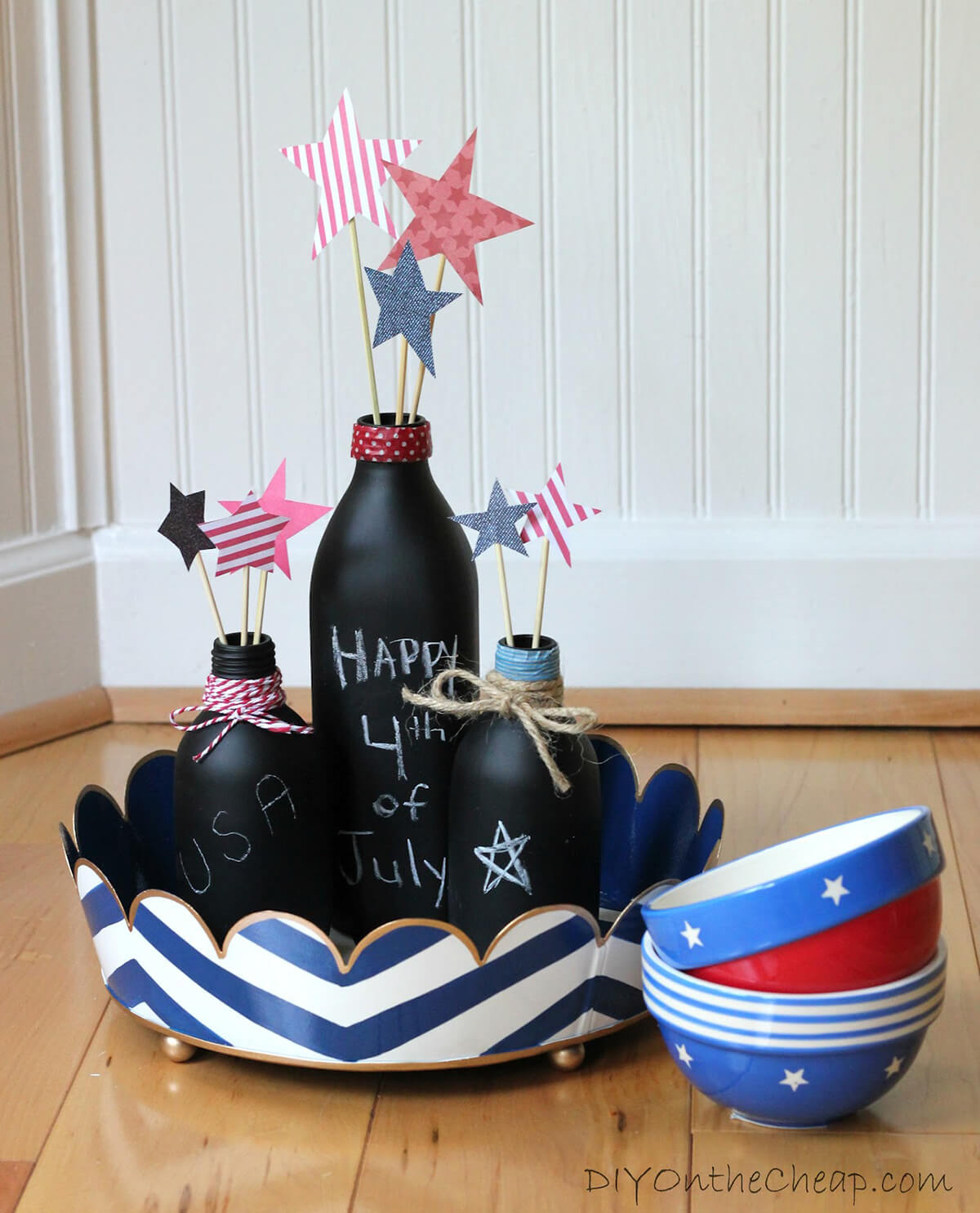 Bring new meaning to the term "bottle rocket." Recycle your old glass bottles by cleaning them, then sanding and priming their surfaces. Spray each bottle with a generous coat of chalkboard paint. Now you can doodle patriotic messages on the bottles with chalk. Add some color by wrapping strips of washi tape–patterned masking tape–around the lip of the bottle. These bottles could be flower vases, but why not get in the holiday mood? Cut out scrapbook paper stars in different sizes and attach them to wooden skewers like wands. Star clusters pop out of the black bottles like sparklers.
18. Charming Burlap Stars and Stripes Banner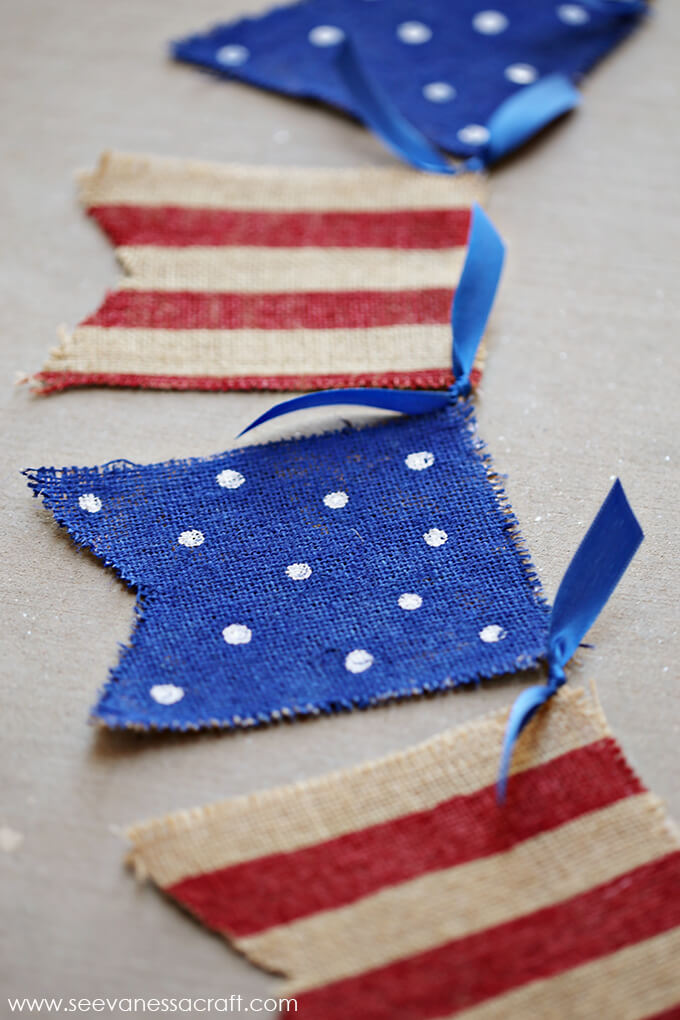 The word "burlap" comes from an Old English term meaning "coarse." The humble woven fabric has been used in everything from potato sacks to painting canvases to religious garments. Today, it's a common feature of American folk art and quaint decor. This kid-friendly burlap flag banner is a patriotic delight. Use a sponge brush to apply red and blue acrylic paint to the fabric, and a round pencil eraser to stamp on white polka-dot "stars." This cute flag garland could decorate an Independence Day-adjacent baby shower or child's party. Hang it above the kids' table on the Fourth of July.
19. Tin Can Wind Socks as DIY Rustic 4th of July Decorations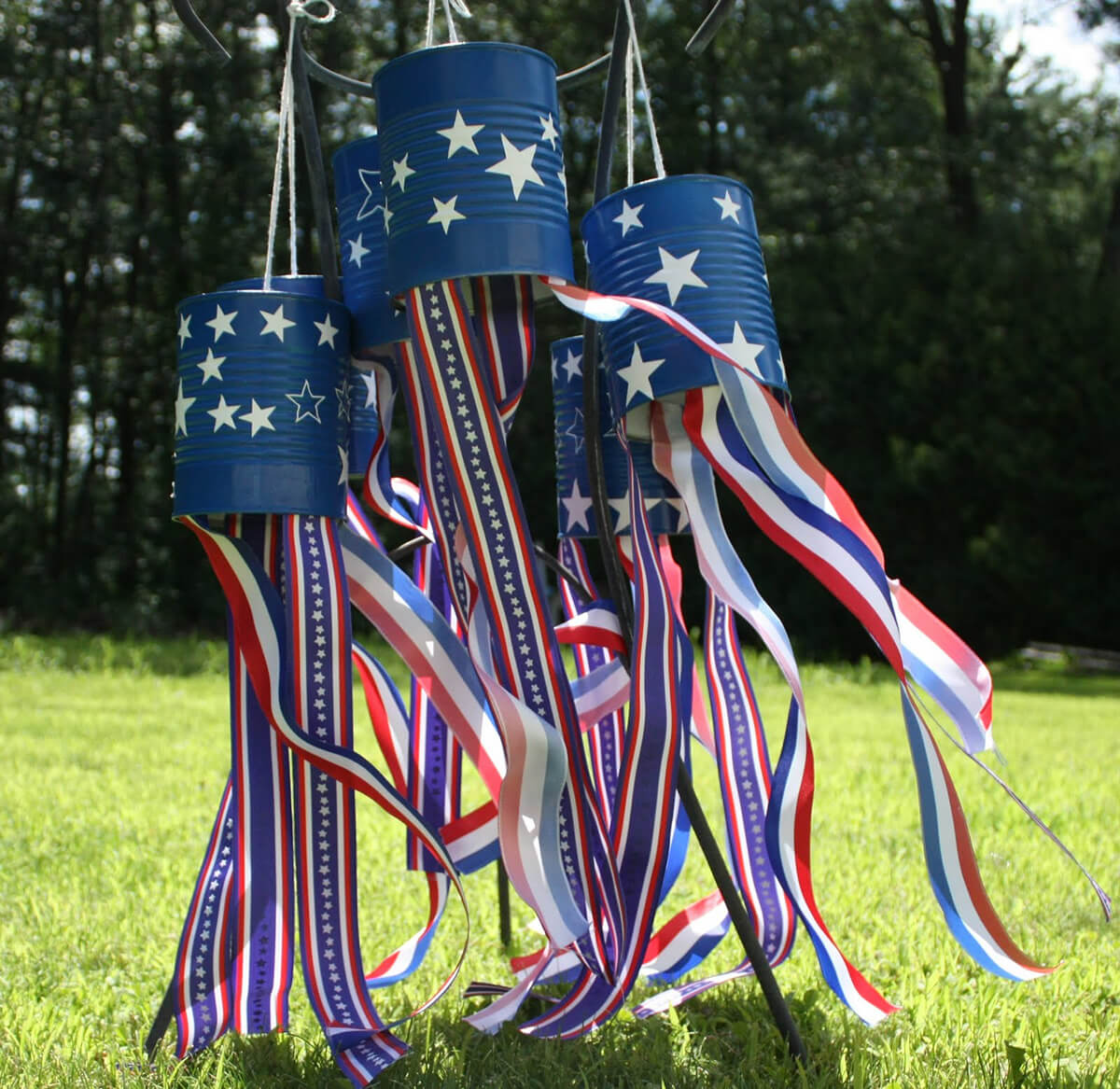 This patriotic project is fun for the whole family. Plus, you can re-purpose all those used tin cans in your garage. Be sure to remove their labels and wash them first. A group of matching painted blue cans echo the starry blue field at the top corner of the American flag. Choose your favorite Fourth of July ribbons and attach one end of each ribbon to the inside of a can's base. Keep adding as many ribbons as you want. The clinking cans provide a gentle summer soundtrack, while the long, flowing streamers announce your patriotic pride to the world.
20. Pretty Patriotic Scrapbook Paper Flowers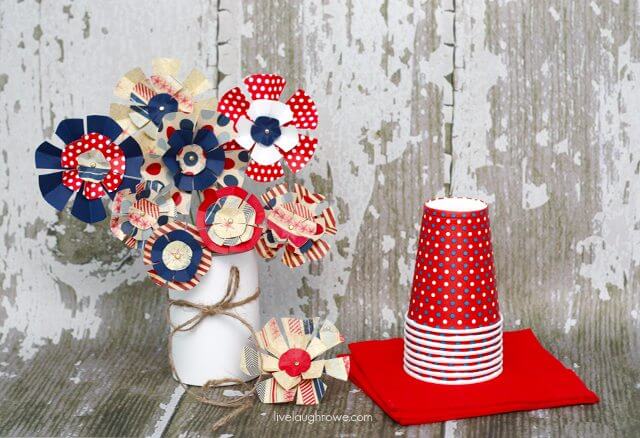 Gorgeous patterned paper flowers are a neat alternative to the real thing. Scrapbook paper offers many funky variations on the red, white, and blue theme. You don't need to be an origami expert to cut out and layer paper circles. Cut short slits around the perimeter and fold the flaps to make petals. Fasten the layers together with brads. A playful mix of patterns is the key to this paper bouquet. It's the ideal centerpiece for a low key Independence Day brunch. After the holiday, you can easily the flowers from their wire "stems" and use them for another project.
21. Pledge of Allegiance Typographic Flag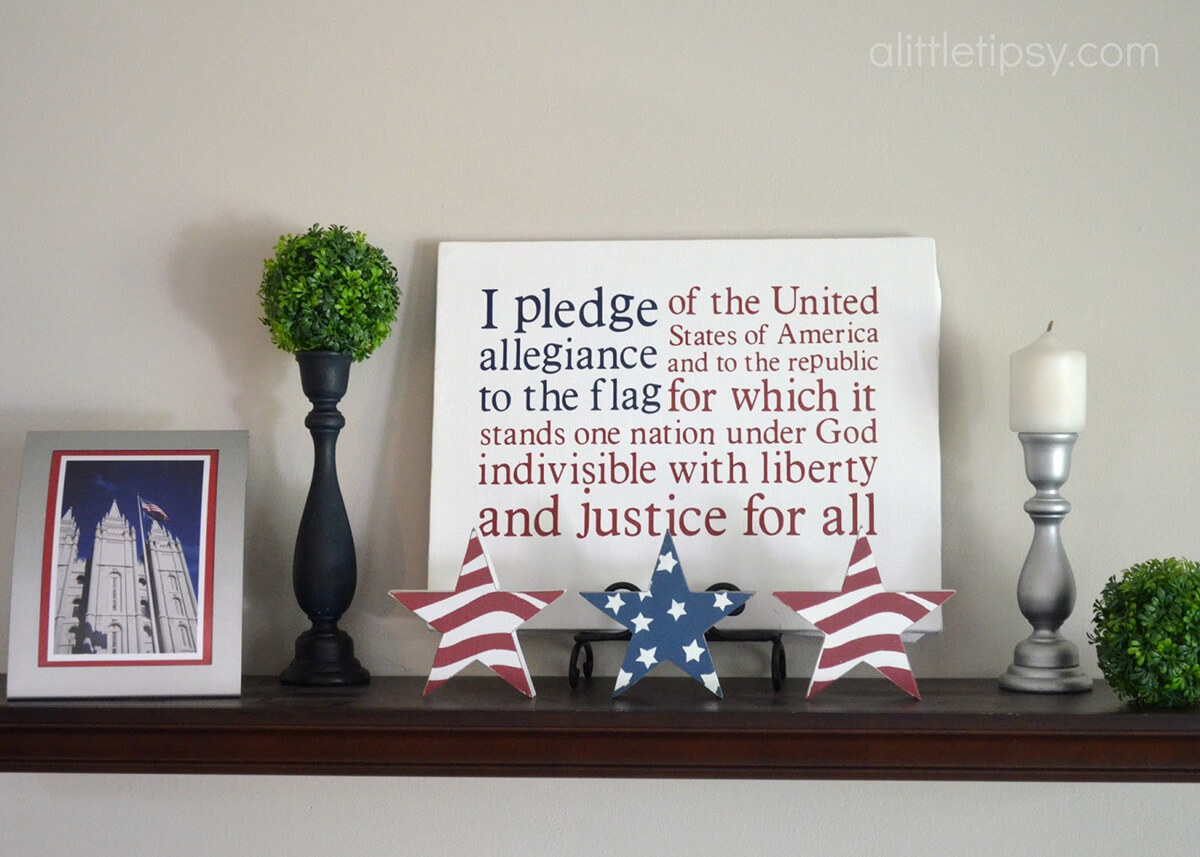 Many of us grew up reciting the Pledge of Allegiance. The rousing speech was penned by an Army Officer in the 1800s. This striking word art piece cleverly creates an American flag using the familiar words of the Pledge. You can print the words on vinyl and transfer them onto a white canvas. If you don't want to mount the canvas on the wall, you can simply prop it up on a metal stand. This wordy decoration instantly adds interest to any room in the house. Since it demands attention, surround it with simpler pieces like these small wooden stars.
22. Red White and Blue Hanging Wire Basket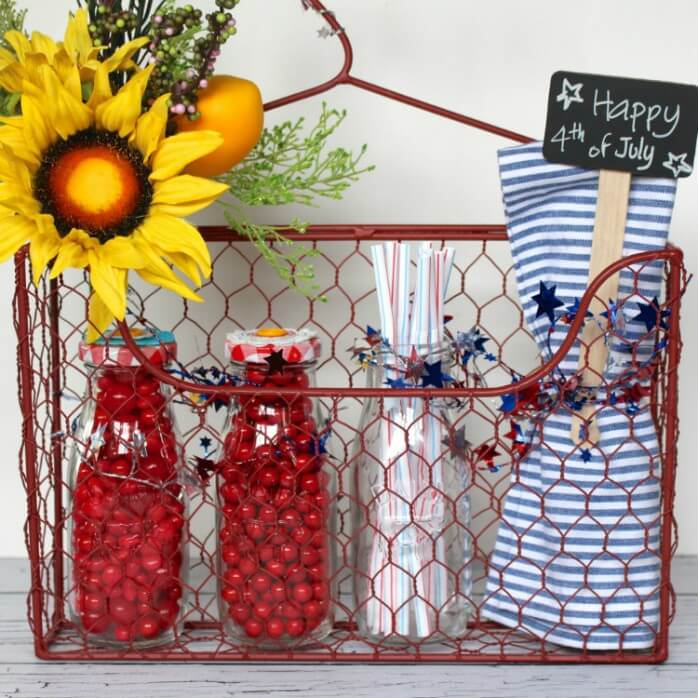 Both useful and attractive, this red wire caddy is any host or hostess's dream. It holds jars full of party supplies–patriotic candy, straws, napkins, and whatever else you need. Strings of foil stars make the basket sparkle. A garland of faux sunflowers and lemons adds a bright splash of summer. You can hang this basket between fence posts so Independence Day guests can grab utensils on their way to the picnic table. Or stock the caddy with sunscreen, sunglasses and bug spray and bring it down by the pool. Later on, place boxes of sparklers in this fun, festive basket.
23. Adorable Kids DIY Tissue Paper Flag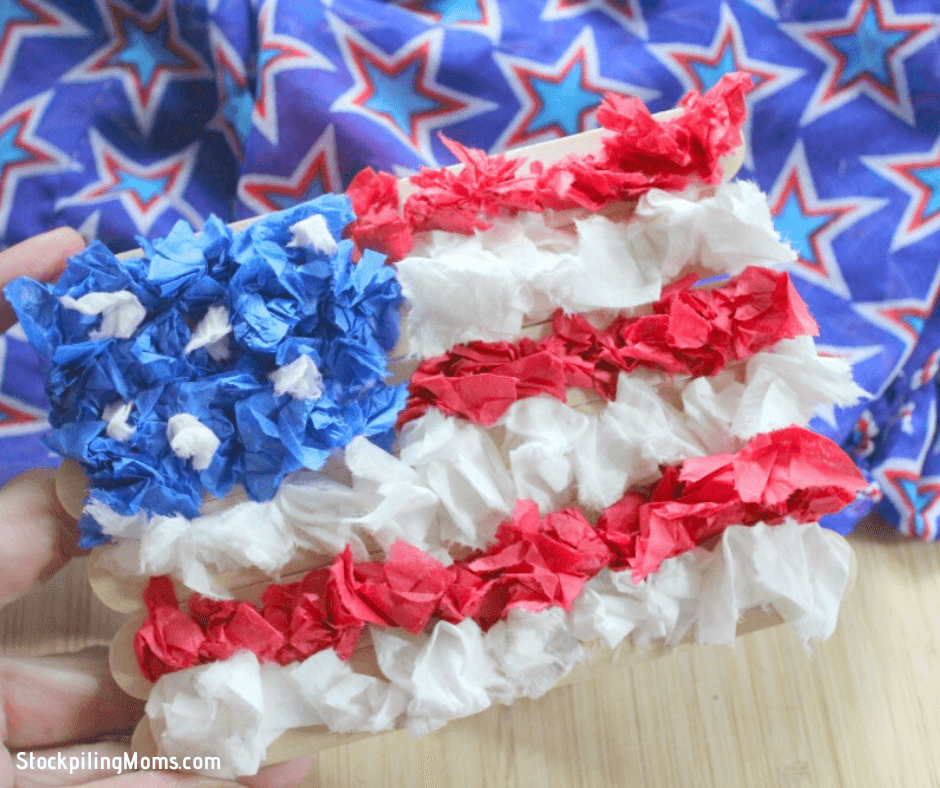 Rally all the kids to assemble these precious paper flags. Little kids will love tearing up strips of red, white, and blue tissue paper and crumpling them into tiny wads. Meanwhile, the adults can craft a kiddie version of a wood pallet by hot-gluing several popsicle sticks together horizontally, with one diagonal stick for stabilization. Glue the paper wads to the sticks in accordance with the American flag's famous design. These fluffy little flags can be a standalone Independence Day craft for the little ones. But you can also fashion them into patriotic place tags if you so desire.
24. Patriotic Painted Wooden Letter DIY Rustic 4th of July Decoration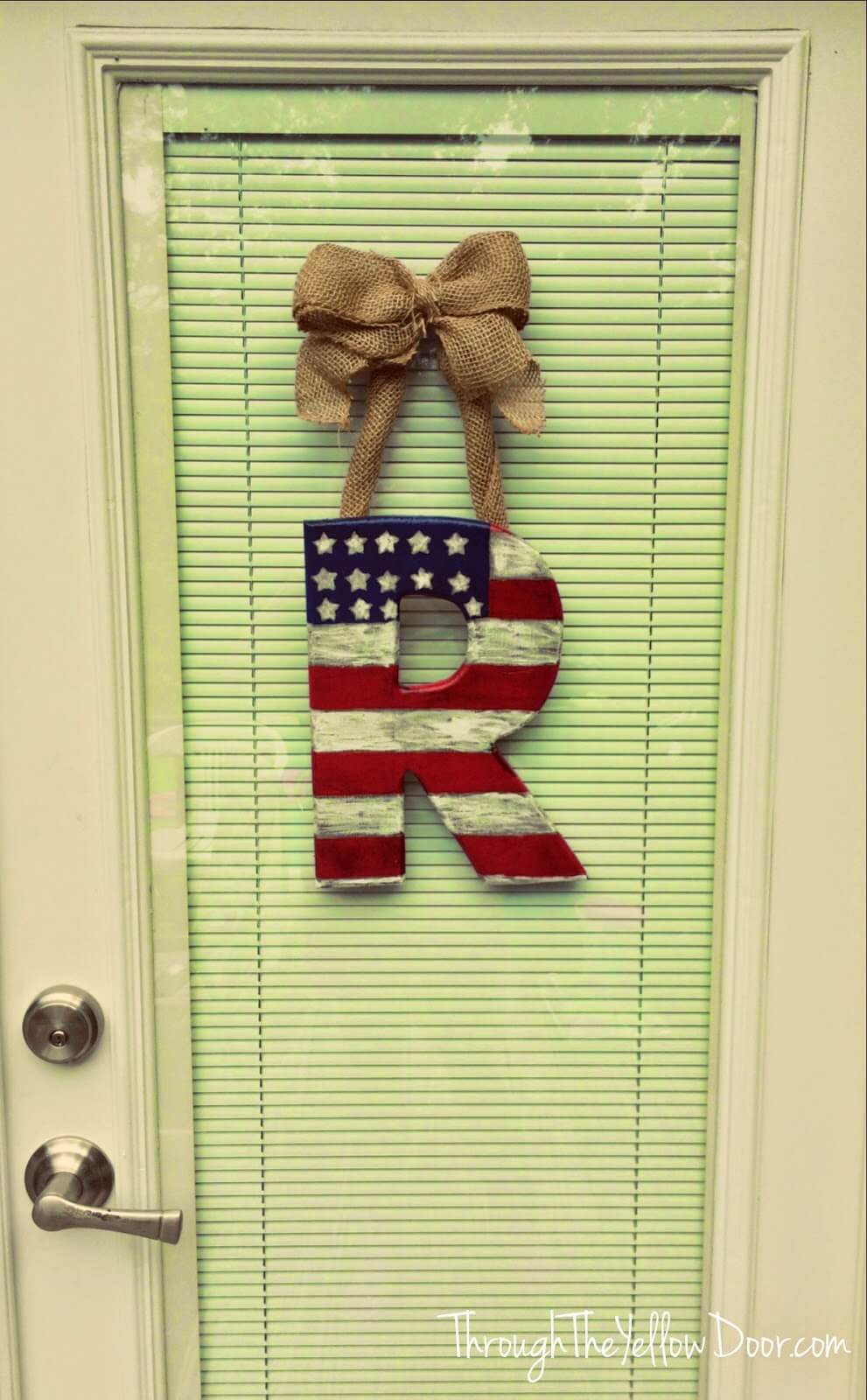 Express your individuality and your American pride at the same time. Purchase a large wooden letter from any craft store. Paint a flag onto it. Remember, when it comes to home decor, personality is more important than perfection. Hang your All-American initial on a huge burlap bow. The rough, plain fabric won't distract from your letter of choice. When you see the finished product on your front door, you might love it so much you leave it there all year. But you can also make it more specific to the Fourth of July by choosing the letters U, S, and A.
24 Fun DIY Rustic 4th of July Decorations to Create when the Summer Boredom Hits
Summer might not be the peak holiday season, but it's a great time to turn your house inside out and do some serious upcycling. Summer cleaning projects can bond seamlessly with the arrival of Independence Day festivities. Simple crafts are often the most fun. These DIY Rustic 4th of July Decorations revamp the stars and stripes using a wide range of interesting techniques. From toothpicks to fabric scraps to planks of wood, there are many ways to incorporate old materials into new decorations for the banner celebration of the summer.
The rustic farmhouse style is the hottest decor trend of the past few years, and it shows no signs of slowing. Arguably no holiday aligns with this down-home motif more than the Fourth of July. Many country homes feature patriotic pieces year-round. And as the Fourth approaches, you can expect to see flags of all shapes and stars in all sizes. Stoke your creativity with these DIY Fourth of July decorations for both indoor and outdoor spaces. Some are splashy and some are subtle, and some are even possible to create with the kids. But above all, each piece broadcasts the patriotic pride that defines July 4th for a nation.