When you make the best DIY Santa Claus decorations, you are filling your home with holiday glee. After all, who elicits more joy than the iconic red-and-white Santa Claus? Beyond beautifying your space, these handmade Santa Christmas crafts make fantastic gifts. Some of the projects below may take a little planning, but several can be made in a matter of minutes from materials you already have on hand. This flexibility makes the crafts on this list perfect for Christmas craft afternoons.
26 Inspiring Ideas for the Best DIY Santa Claus Decorations to Make with Friends & Family
Many of the homemade Santa decorations below can be made with kids, family, and anyone who is young at heart. While several of these projects can be made with really young kids as they are, you can modify aspects of others to make them possible to craft with children. Whether you plan on crafting solo or with help, these handmade Santa decorations are a relaxing way to make memories. When you make and display a Santa decoration, you are filling your space with magic and joy. Something about Santa Claus seems to unlock childlike exuberance even in those who are long past childhood.
What exactly makes a Santa craft Santa? Classic Santa decorations often incorporate red velvet, white (faux) fur trim, a black belt, and a gold buckle. However, the benefit to handmade Santa Christmas decor is that you can tailor it to your space. If your tastes run to the minimal, you can always distill the traditional Santa details down to his iconic hat or belt with belt buckle. If crimson does not work with your palette, you can tone your Santa decorations down with cool silvers or crisp whites. Whichever colors, materials, and styles you decide to use, the best DIY Santa Claus decorations are personalized and will be utterly unique.
1. Easy Nordic Christmas Gnome Trio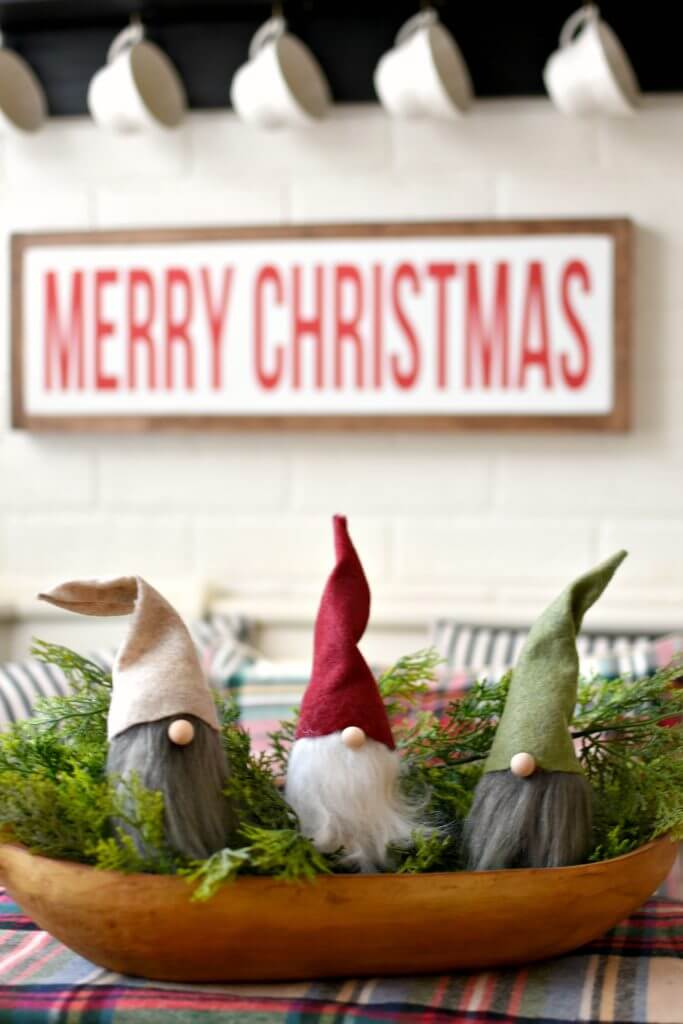 Obviously, three Santa gnomes are better than one! These gnomes make quick crafts and have inviting rustic minimalism. By using floral wire to shape the hats, you can create a distinct personality for each gnome. You can easily customize these gnomes by adding ribbon, bells, or anything you have on hand to make them more fun and reflect your decor theme. Although these three gnomes look great when all the same size, you could experiment with different sizes of spools to add some dimension to your space. Imagine pairing these gnomes with reindeer statuettes or placing them in a pine tree forest display.
2. Super Simple Santa Napkin Ring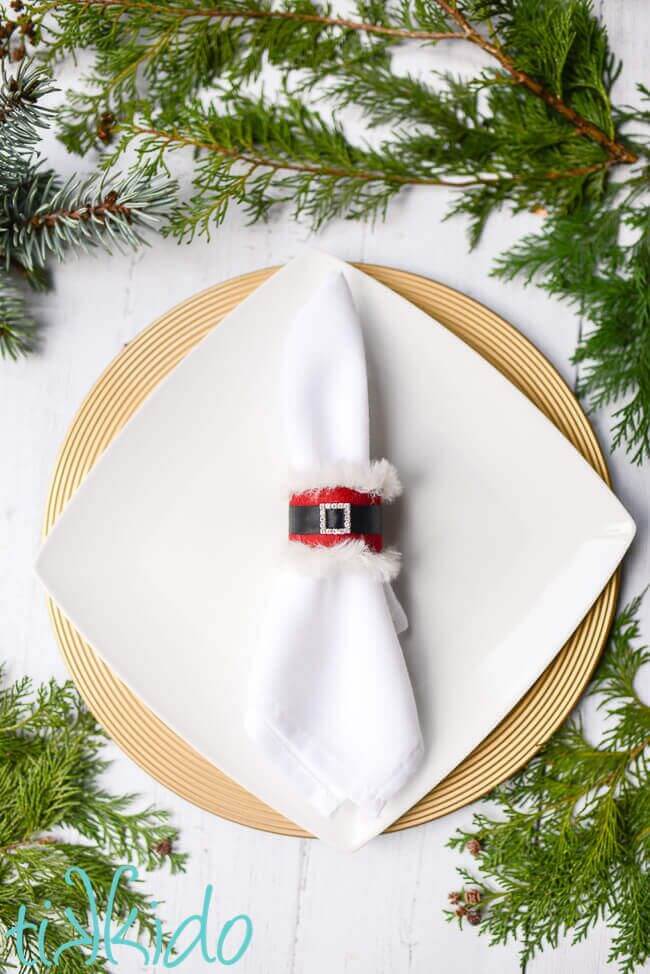 These stylized Santa napkin rings might be easy to make, but they bestow a fun elegance that finishes your table settings. You probably have everything you need to make them in your craft room. This tutorial uses red felt and a simple black ribbon, but you could use whichever materials will look best with your ambiance. Crimson crushed velvet material would give a glamorous effect while red canvas would look perfect with a rustic space. Transform these napkin rings into a kid-friendly activity by using construction paper and glue sticks instead of felt and a hot glue gun.
3. Festive Vintage Mug Display in Three Tiers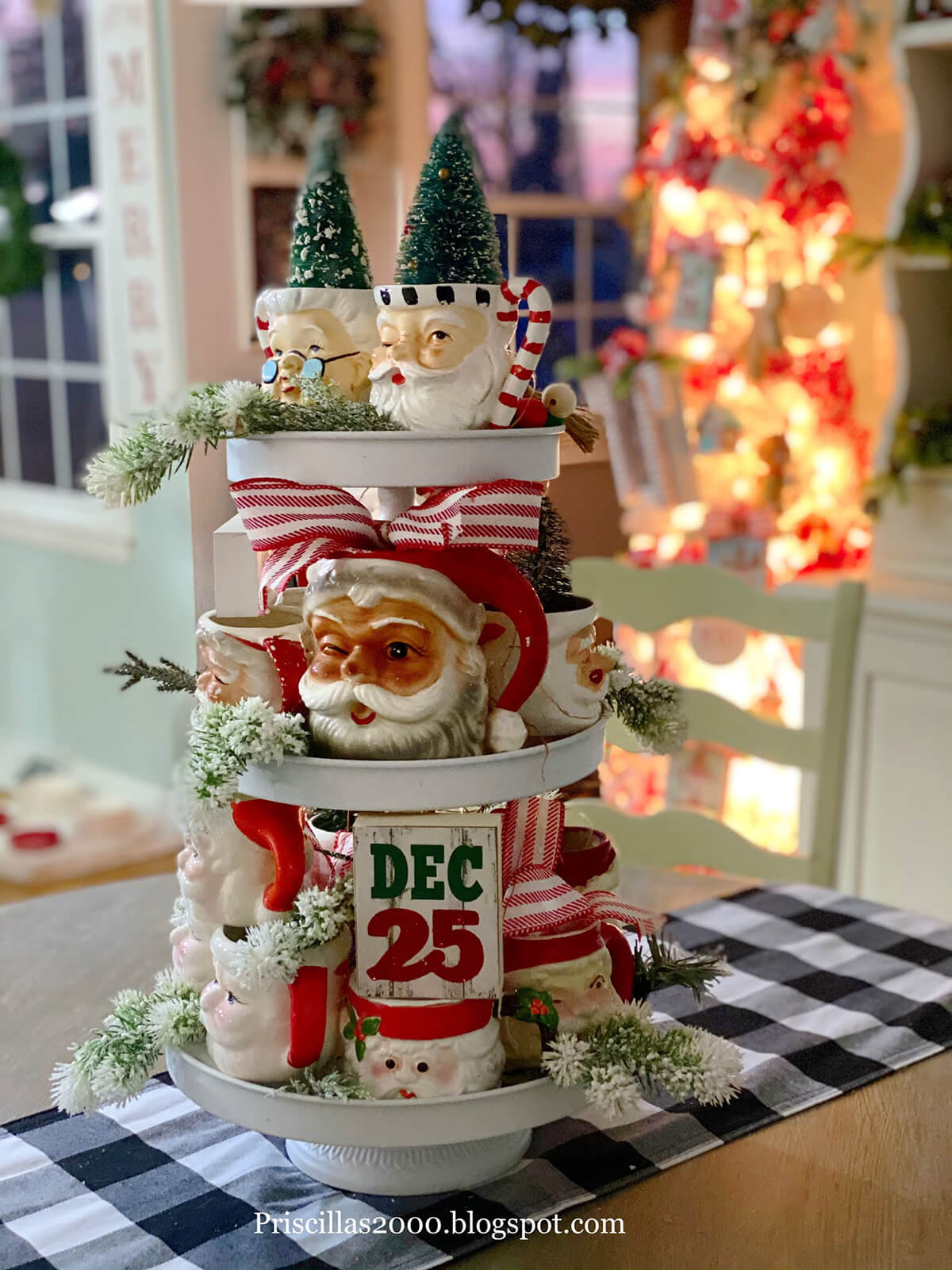 The trick to creating a fabulous display like this is to use small circles of foam in each tiered tray so that the mugs are fully visible. Of course, this idea can be used to display any variety of Christmas decorations. To make your very own magical Christmas display, you can add bits of greenery, ribbon, wooden signs, and fairy lights. Using a tiered tray adds height and is a creative way to display more cheerful Christmas decorations with less flat space. By storing instant hot cocoa packets in the mugs, you could even use this tray as a mobile hot cocoa bar.
4. Minimalist Santa Gnome Pom-Pom Ornaments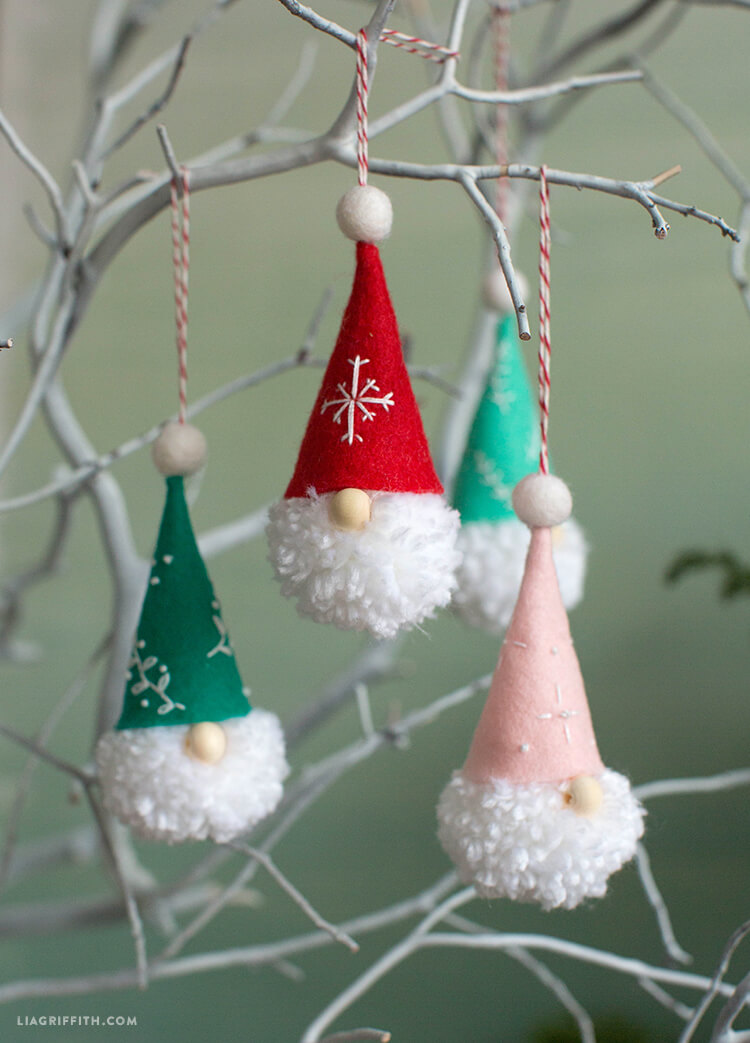 By focusing on geometry, these pom-pom ornaments are a fantastic way to add Christmas ambiance to a space. Because you can make them however small or large as you desire, they make a great decoration for miniature Christmas trees. The ornaments in this picture feature felt hats of different colors, but you incorporate a more luxurious material like velvet to achieve a regal effect. To blend in a rustic or farmhouse space, you could switch the felt out for canvas. Skip the embroidered patterns for true minimalist Christmas ornaments or embellish the hats with beads to create unique Christmas decorations.
5. Santa Clothespin Ornament Kid-Friendly Craft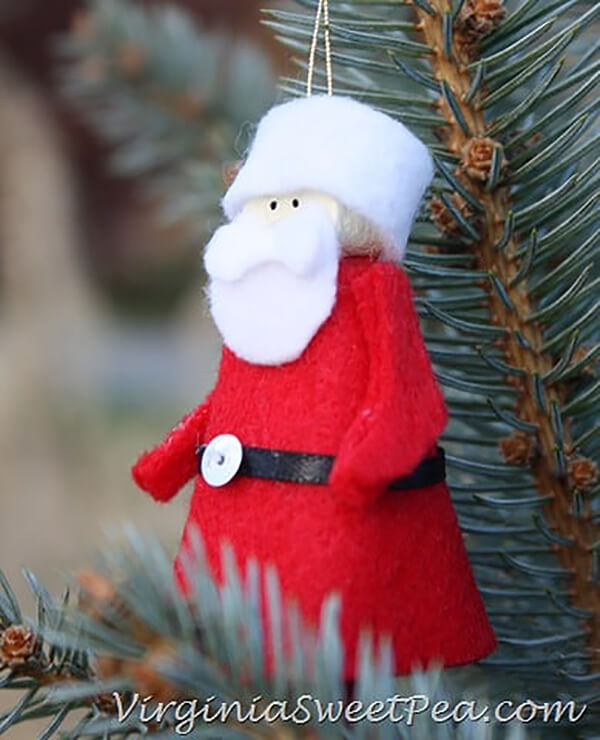 Inspired by a Martha Stewart Santa ornament, this tutorial shows how easy it is to transform a clothespin and some felt into cheerful ornaments. Although this is not a craft suitable for toddlers, older kids will have a lot of fun customizing their Santa ornaments. To add more character, you could use antique buttons instead of sequins for Santa's belt buckle. If you prefer a more luxurious beard for your Santa decorations, you can glue yarn or faux fur to the felt base. Because these ornaments are so fun and easy to make, they make fantastic gifts.
6. Ultra Fluffy Stylized Santa Claus Wreath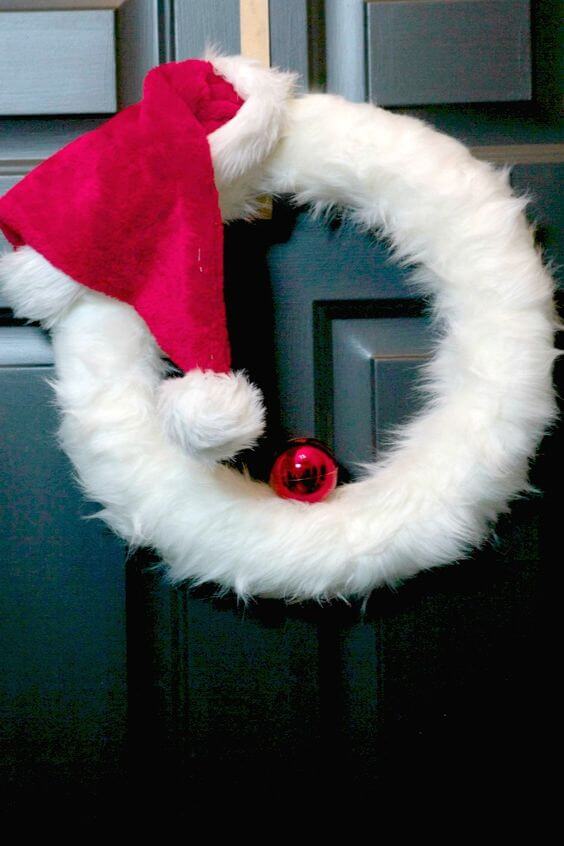 White fur carpets this wreath for an unexpected and whimsical way to welcome guests. A single red ornament acts as Santa's jolly red nose, although you could leave it off for a more minimal effect. However, you could also go the other way and add some festive embellishments. Imagine securing your favorite Santa gnome from the list above to this wreath to create a surprisingly fun Santa perch. If farmhouse décor is your favorite, experiment with a chalkboard Christmas sign. Of course, you could make this wreath just like the tutorial shows and you will have a fancifully unique door decoration.
7. Wooden Homemade Santa Decorations in Gray Tones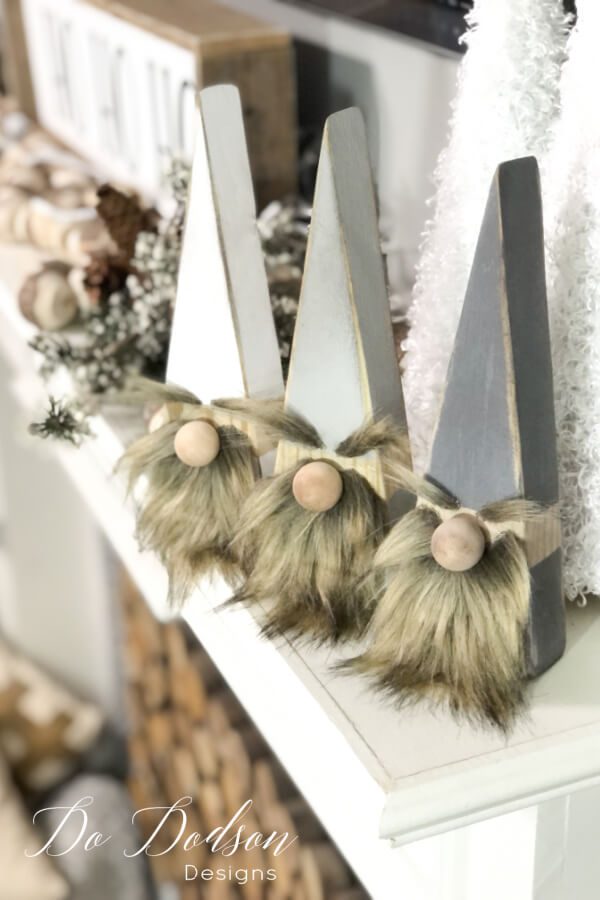 With only a wooden triangle base, it is amazing how much potential these unique Santa decorations have. Cool grays, natural wood, and fluffy fur come together in these gnome-inspired Santa decorations. For those who prefer the iconic red-clad Santa, red paint and white faux fur could easily be used instead. If you enjoy white Christmas vibes, you can use silver and white stead of gray. Experimenting with different sizes, paint colors, and varieties of faux fur will result in a merry army of Santa gnomes. Although they are easy to create, they are durable enough for display year after year.
8. Snowman & Santa Claus Recycled Wine Bottle Creations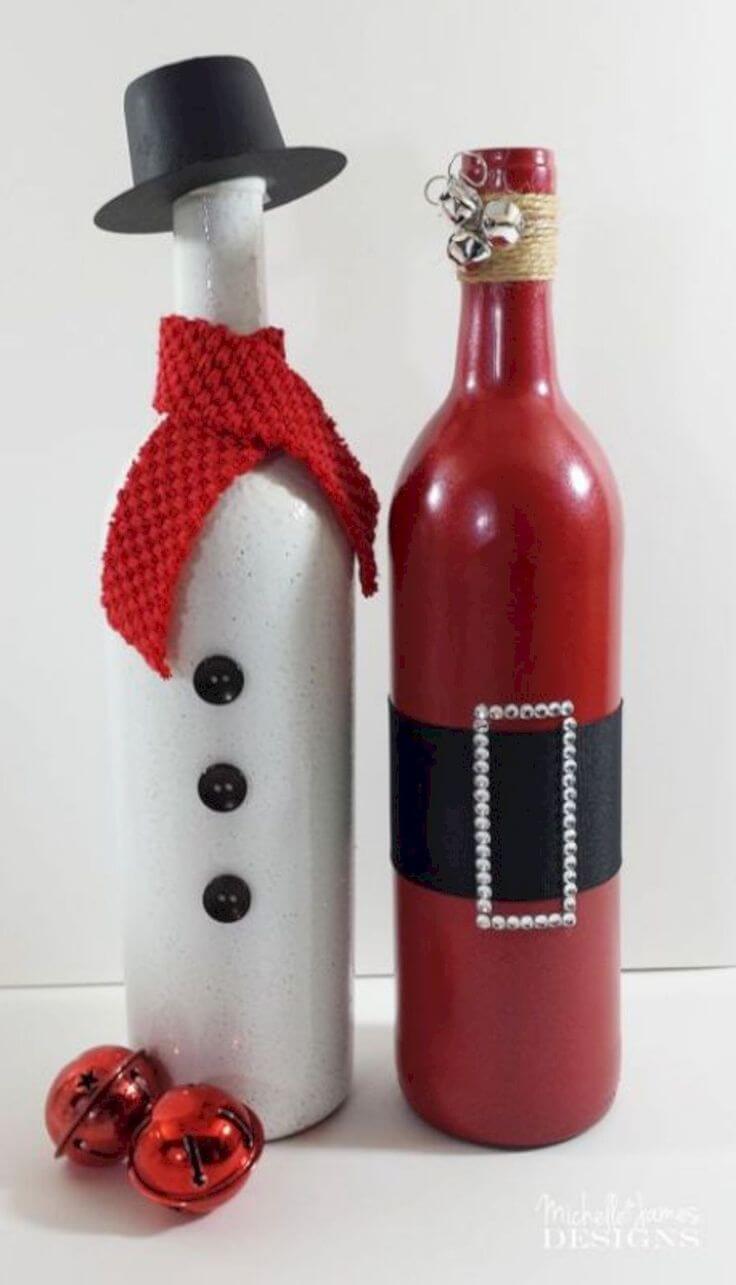 A thick coat of metallic red spray paint can transform any wine bottle into one of the best DIY Santa Claus decorations. Of course, if you do not have any empty wine bottles, you can use a canning jar, empty coffee creamer container, or whiskey bottle. Forming a stylized belt buckle, rhinestones add the perfect amount of glitz. Burlap softens the look and adds an inviting texture. Use this wine bottle as a vase to display a dramatic spray of ting-ting or hold a more humble holly sprig. Although it would hide the burlap and jingle bells, you could always drape a spare Santa hat over the top.
9. No-Sew Velvet & Fur Santa Gnome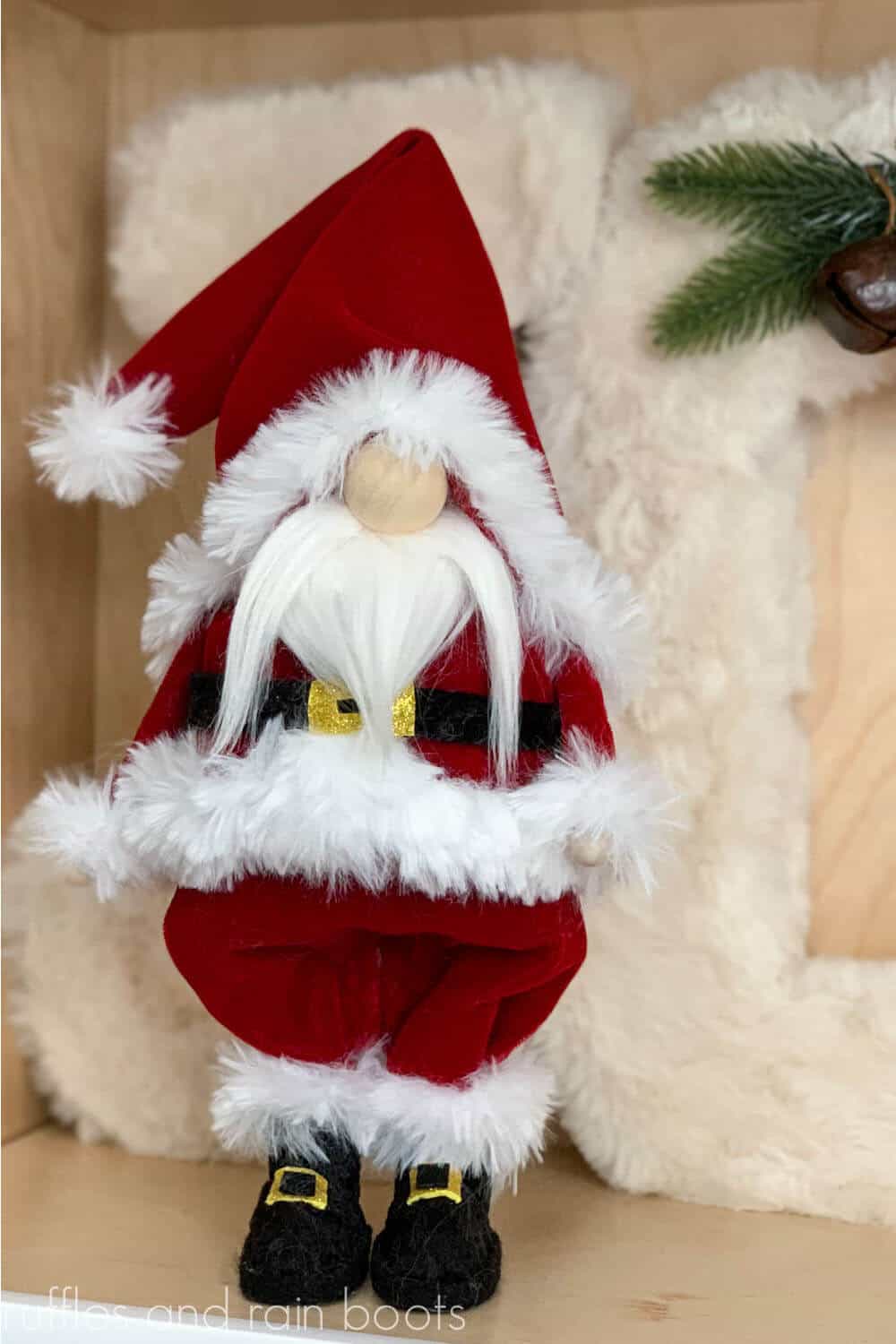 With some dabs of hot glue and a little creativity, you can harness the power of red velvet and fluffy white fur to create the classic Santa with an adorable gnome twist. This tutorial does take some finesse and is the perfect craft for a snowy afternoon. Although the instructions include hemming with a glue gun, you could skip that step for a frayed effect resulting in a more primitive Santa. For a more rustic Santa gnome, try using a red-dominated plaid. For a white Christmas theme, you could experiment with white velvet and silver fur.
10. Jingle Bell Hanging Wall Santa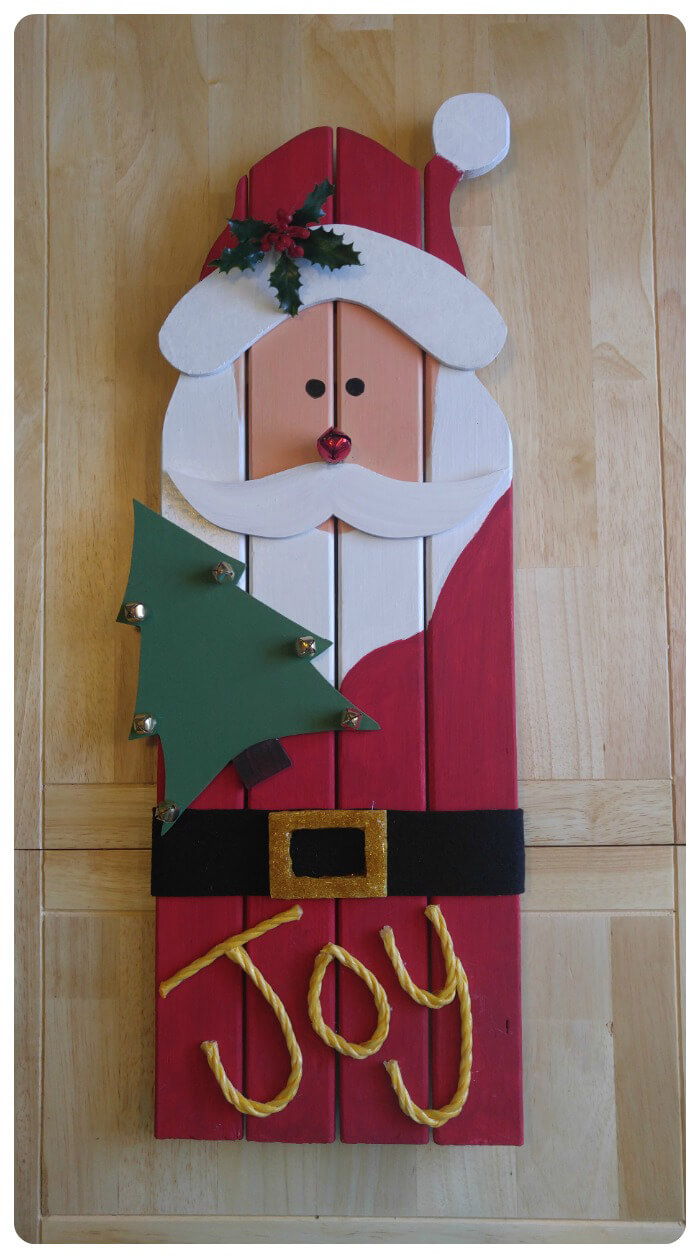 A few layers of reclaimed wood, jingle bells, yellow rope, and a holly berry garnish come together to create a charming Santa perfect for hanging. While this Santa features pristine colors, you could distress the paint for a more rustic appearance. The best homemade Santa decorations often come from materials you already have, and this Santa wall hanging is no exception. Instead of using rope, you could use an old Christmas garland. By including bells on a door hanger, you ensure that every time the door moves you will spread a little festive cheer.
11. Personalized Santa Letter Ornaments & Gift Tags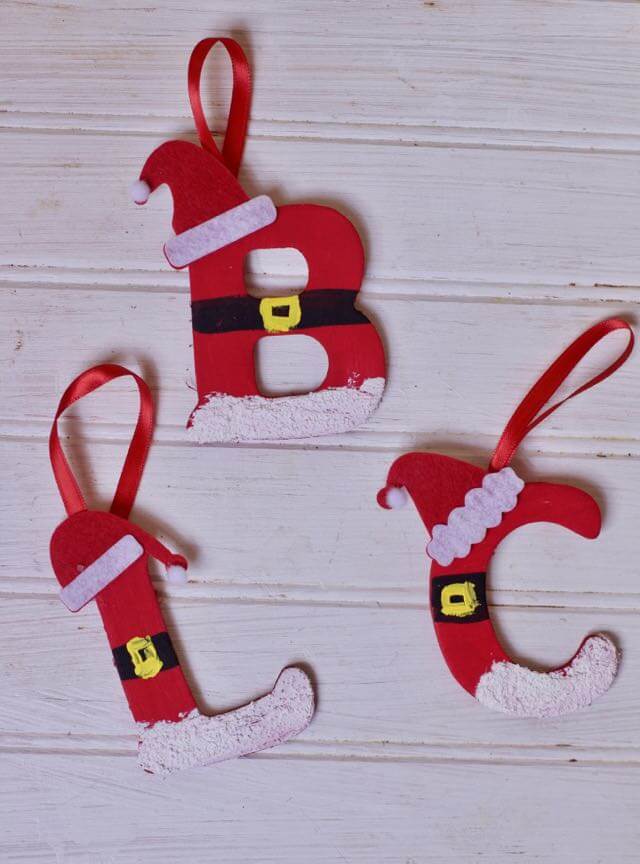 With a little love from paint, glitter, and a Santa hat sticker, you can transform wooden letters into unique gift tags and, later, ornaments. If the children in your life are old enough to wield paintbrushes, this is a kid-friendly craft. This tutorial uses glitter snow and felt stickers to create a touch of texture, but these ornaments are a great excuse to unleash your creativity. Cotton balls or white faux fur can be hot glued onto the wood to act as the "trim." The best DIY Santa Claus decorations are multipurpose, and these durable gift tags will hold up year after year.
12. Jolly Santa Jingle Belly Ornament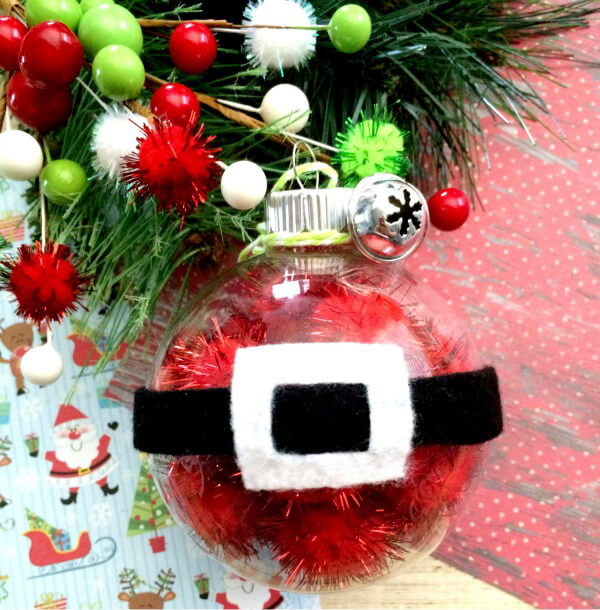 With a little preparation, these ornaments are some of the best DIY Santa Claus decorations to craft with kids. If you assemble the belt beforehand and use clear plastic ornament balls, even toddlers will have fun helping to create these cheerful ornaments. Almost anything red can replace the glittery red pom-poms. A few ideas might be wadded tissue paper, fabric, feathers, or artificial flower petals. For a more sophisticated jingle belly ornament, try making the belt from leather or velvet instead of felt. Whether you are an intermediate crafter or a toddler, jingle belly ornaments are sure to bring laughter.
13. Handmade Santa Christmas Decor Paintbrush Craft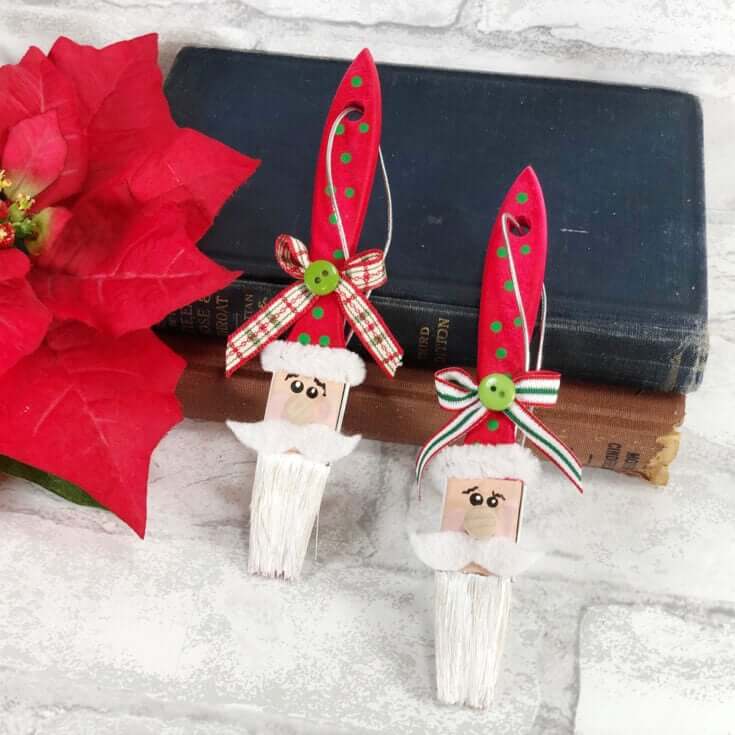 If you are all about shabby-chic decor, these Santa paintbrush ornaments will be just right. Best of all, they are easy to make and a fun activity with kids. To give the ornaments real character, a bemused expression and green polka dots bestow a little whimsical fun. Of course, if you prefer a glamorous vibe, you could use rhinestones or sequins instead of polka dots. If you think Santa needs to have a fuller beard, you could try letting the paintbrush bristles dry in a fanned-out pattern. Both adorable and budget-friendly, this tutorial is easy to follow and fun to make your own.
14. Santa Gnome on a Painted Rock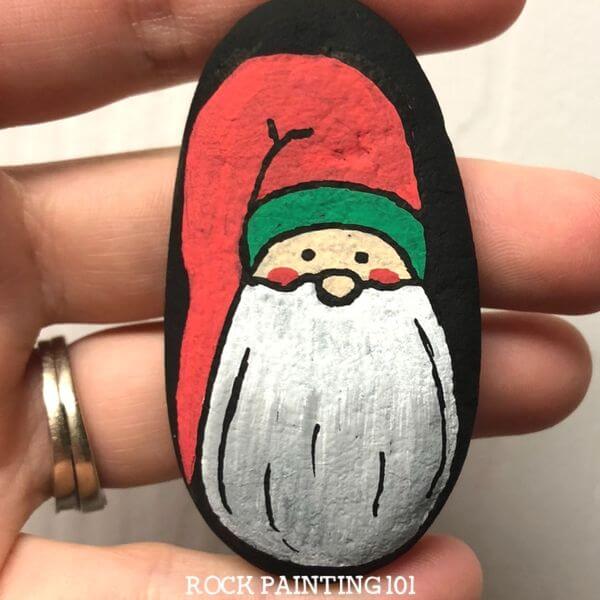 Even if drawing is not your special talent, you will be able to make charming painted-rock Santa gnomes. Each step is clearly explained and easy to follow. Dimension is achieved by using two colors in the beard. Black lines define the hat and give the beard some tasty texture. You can make these darling Santa stones in any color you like. If you are planning a Christmas craft day with kids or adults, these painted rocks are absolutely perfect. A coat of glitter varnish will add a hint of Christmas magic as well as waterproofing your painted Santa stones.
15. Crocheted Sitting Scandinavian Santa Gnome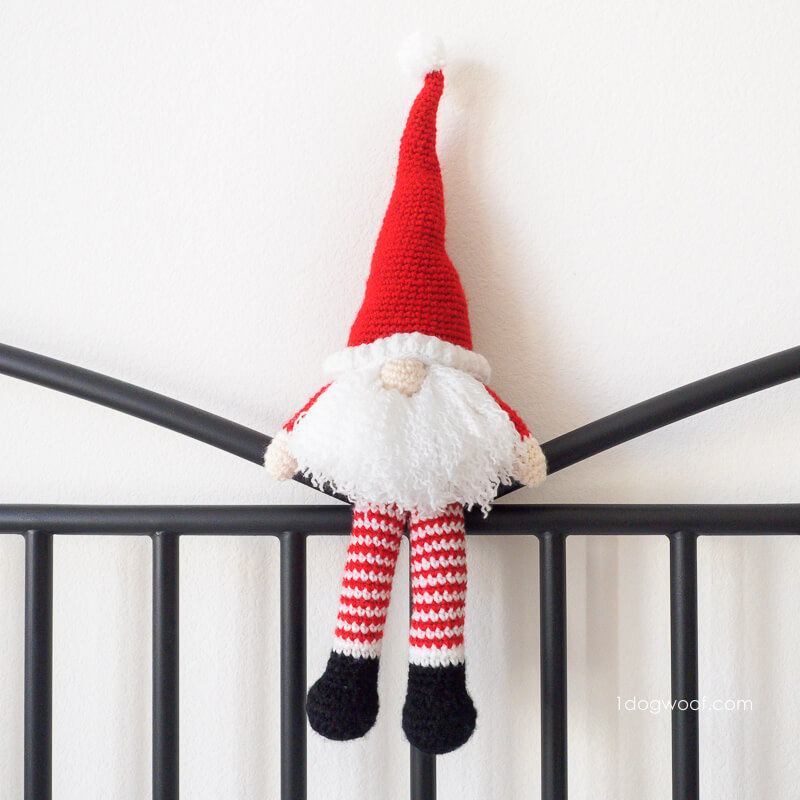 What better way to add some hygge to your space than with a Scandinavian-inspired Santa crafted completely from yarn? For anyone who crochets, this is a simple-to-follow pattern that yields absolutely adorable results. Do not be overwhelmed — each component is fabricated separately and joined together at the end. If you are an experienced crochet master, you can add another layer of tactile texture by using a chenille yarn for the red and the acrylic white yarn shown here. This tutorial also uses a small bag of uncooked rice to give this Santa decoration a pleasing weight and some sitting power.
16. Recycled Sock Rustic Santa Gnomes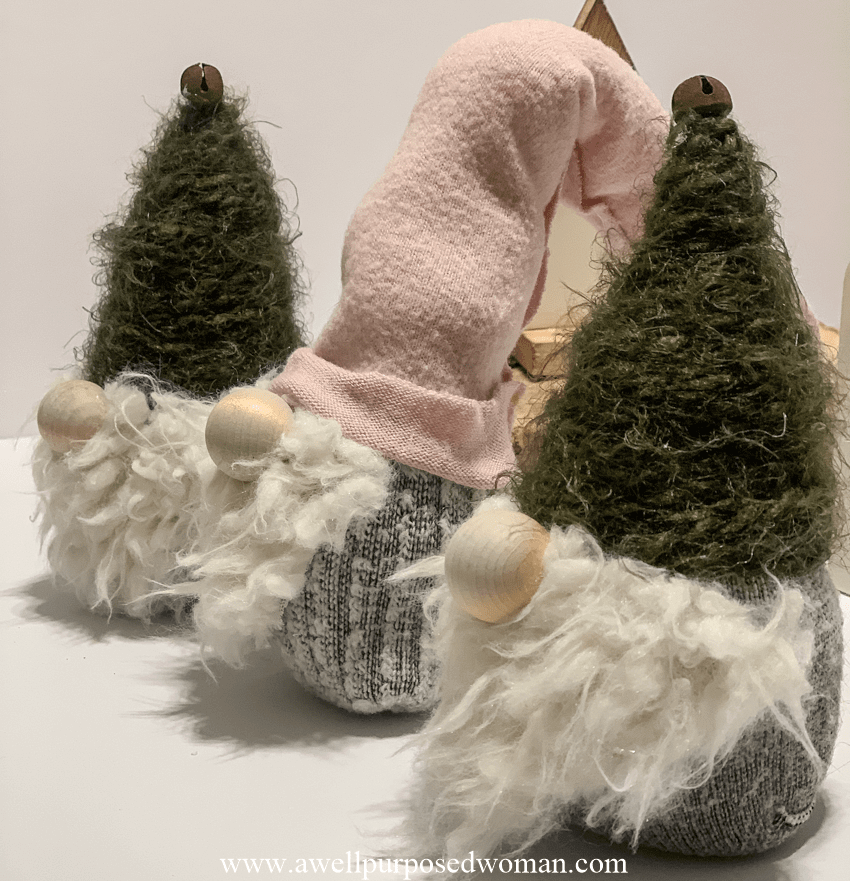 Perfect for cultivating a cozy Christmas atmosphere, these Santa gnome decorations are a feast of fuzzy textures. For those who prefer no-sew solutions, this tutorial does include an option that does not involve sewing. The hats in this tutorial can be constructed from yarn, old sweaters, or old socks depending on what look you would like to achieve. By mixing and matching short hats and long hats, you can develop different looks. For the classic red-and-white Santa, you could add a white trim to the hat. If you want to emphasize the rustic look, experiment with burlap and canvas.
17. Cozy Christmas Sock Santa Gnomes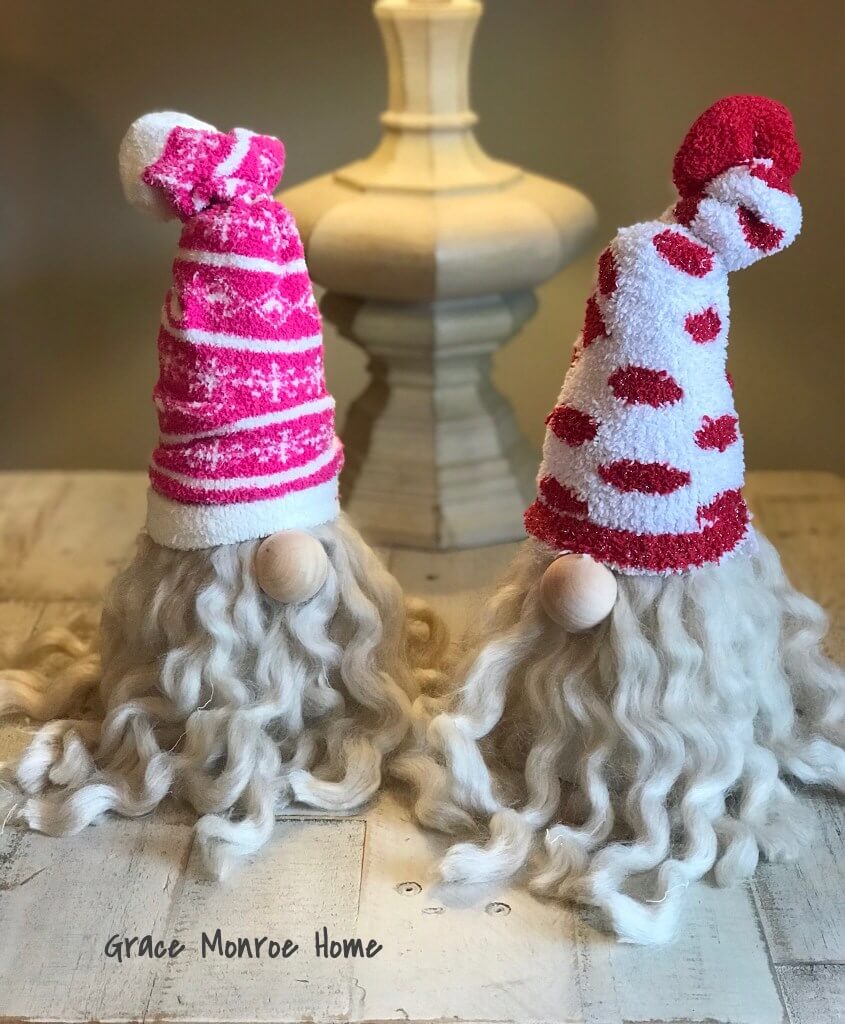 Release your inner hairdresser with these darling Santa decorations. Mix and match different types of yarn and cozy socks to create a Santa gnome that is perfect for your space. Using a chenille-type yarn will give more hygge vibes while using an acrylic yarn will give a playful, childlike effect. If you do not have any craft cones on hand, you could try using an empty coffee creamer container, although you may need more yarn to fill out the "beard." For a more luxurious Santa gnome, you could try adding white trim to the hat brim.
18. Sweet Peppermint Christmas Gnome Cupcakes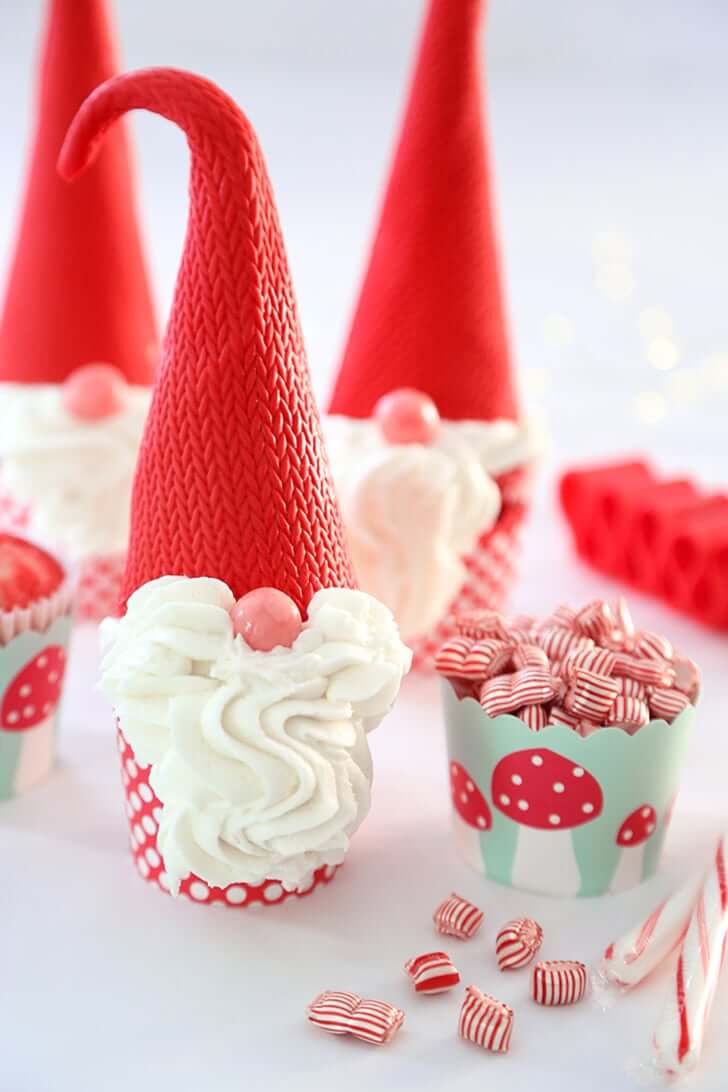 Looking for a delicious treat for your holiday get-together? These cupcakes will delight everyone at the gathering. Peppermints are a staple around this time of the year, and they can easily be found adorning the Christmas tree. However, you can use them in more unique ways such as with these cupcakes. Not only is the flavoring ideal for the holiday, but the overall appearance of the cupcakes truly sells the theme. Everything is topped off well with the gnome design on top of the cupcakes. These look so good that you may just be hesitant to eat them and instead want to show them off.
19. Simple Santa Design Yarn Balls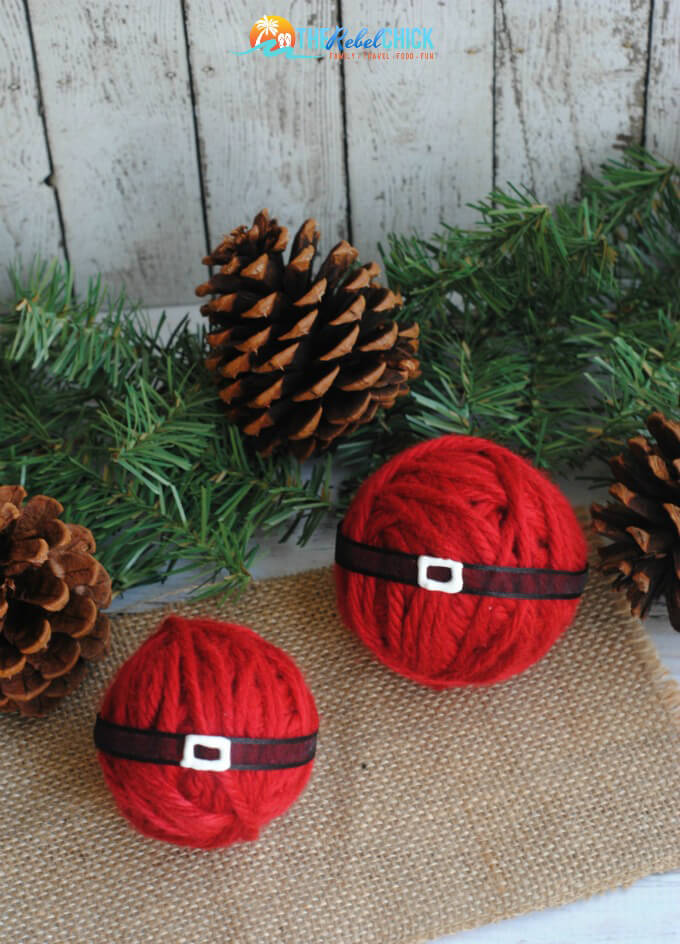 When you're in the mood for minimalistic holiday décor, these Santa yarn balls will look great set up with your other decorations. The yarn ball alone has a nice design and texture, but the simple belt that goes around the yarn takes what would otherwise be a basic decoration to another level. Such a look allows these Santa yarn balls to work out well when you place them around other decorations perhaps on the coffee table or a console table. The varied sizes give them more contrast when set up around each other too.
20. No-Sew Holiday Gnome Decoration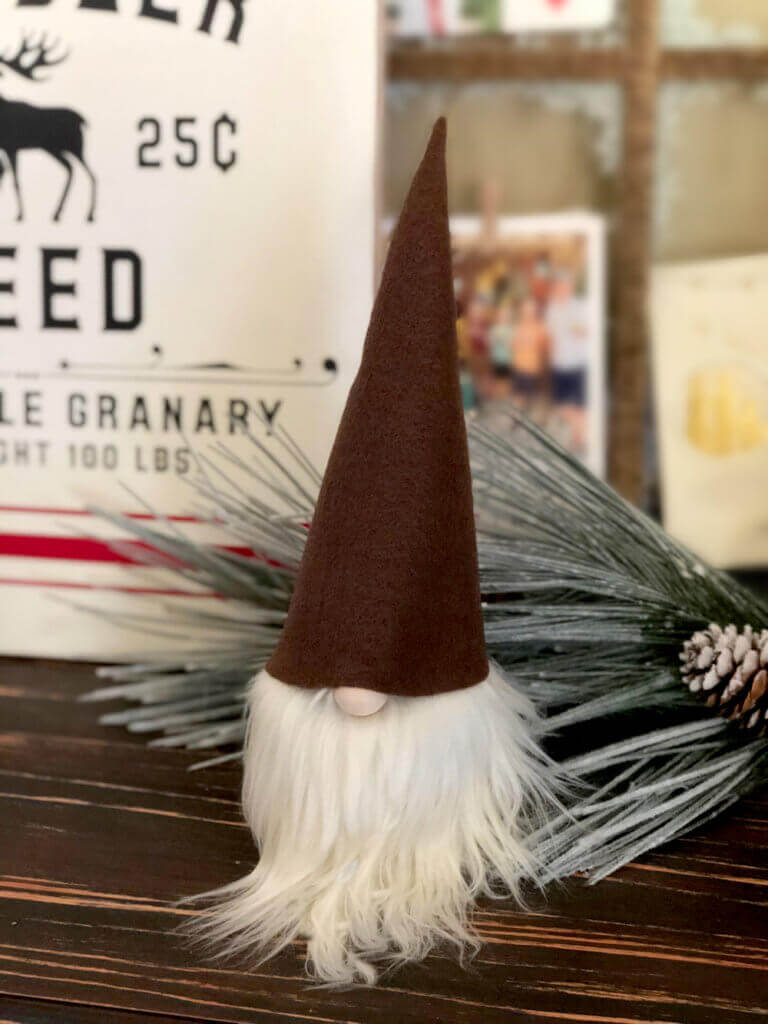 This holiday gnome design is wonderfully designed just in time for the holiday season. It balances the line of being simple in appearance, yet still creative enough to make a bold statement. There is certainly a layer of tradition found in the design of the gnome seeing as we only witness his nose. The oversized hat and incredible beard take over all else, and perfectly so. Best of all, the gnome grabs attention without being too over the top. This way, it is easy to set the gnome up with other decorative Christmas items.
21. Cute Felt Santa Tree Ornament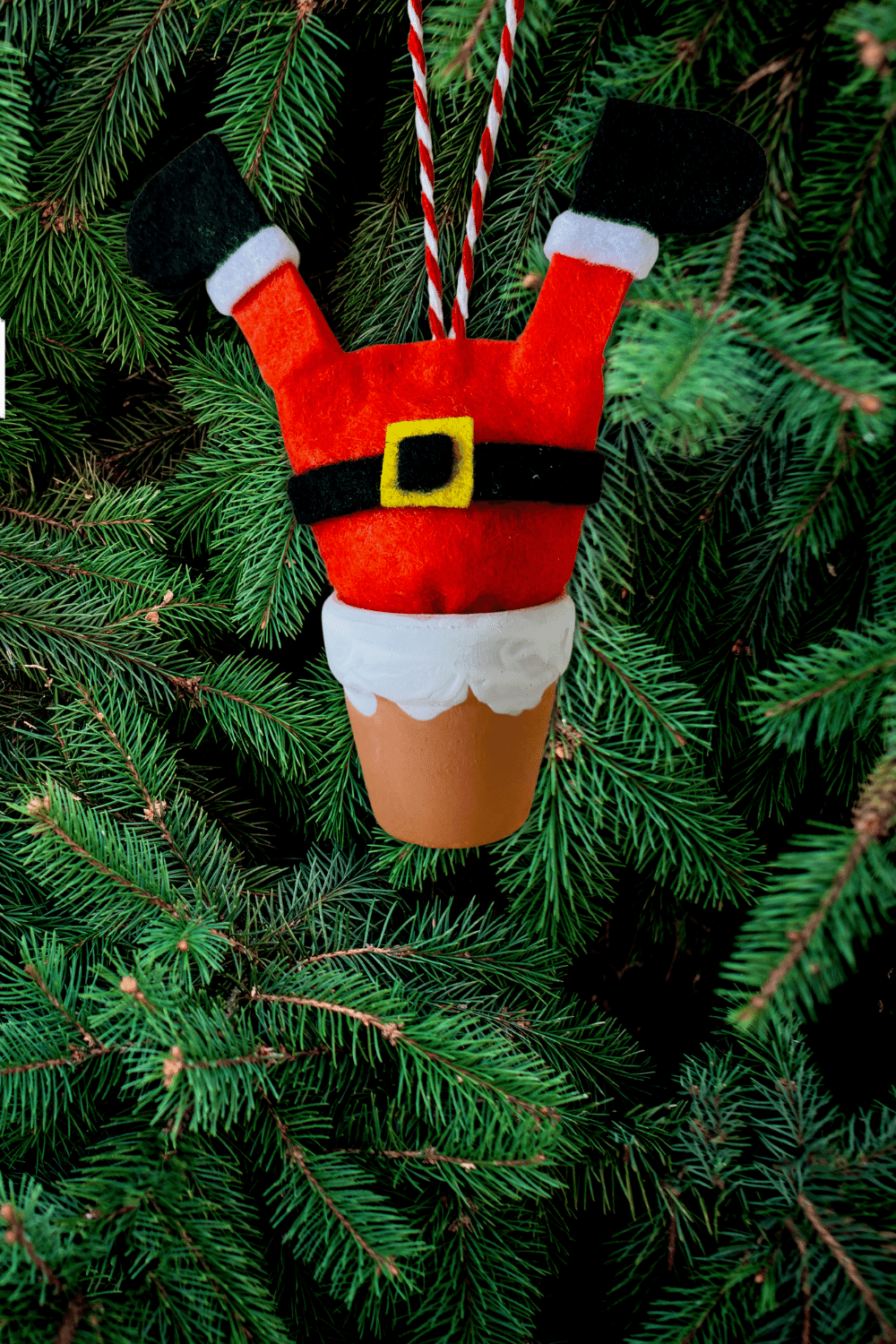 For your Christmas decorations, consider adding this adorable Santa to sit among the rest of the ornaments on the tree. It is an instant stand-out decoration thanks to the unique approach. Rather than have the entire Santa or even his upper body, his lower body is all that's shown as the rest of him sticks out from the potted plant. This is a good way to represent the jolly gift-giver coming down the chimney for Christmas only to find himself stuck. Anyone, especially children, will find it rather amusing to look at. It's so small and simple that you can make a few of these and hang them all around.
22. Imaginative Needle Felted Gnome Ornaments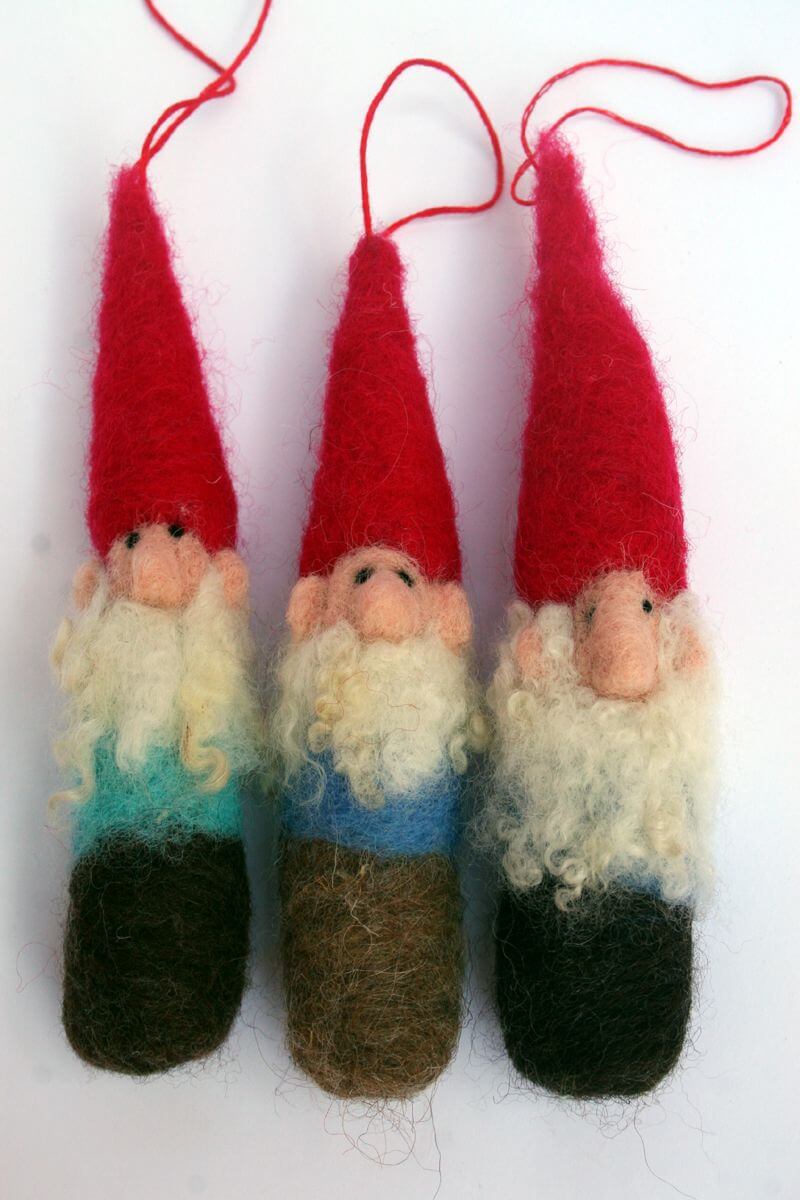 These gnome decorations take a distinctive approach to sprucing up the Christmas tree. With their design, it is easy to see the entire gnome from head to "toe". They have a vintage and rustic appearance about them too, and this helps them fit in with a more classic Christmas thing you may have going on with your decorations. With their design, they are also simple and fun to hang up in various spots around the tree. If you wish, they even look well hanging around the home to liven up the holiday spirit even more.
23. Cute Christmas Santa Hat Wreath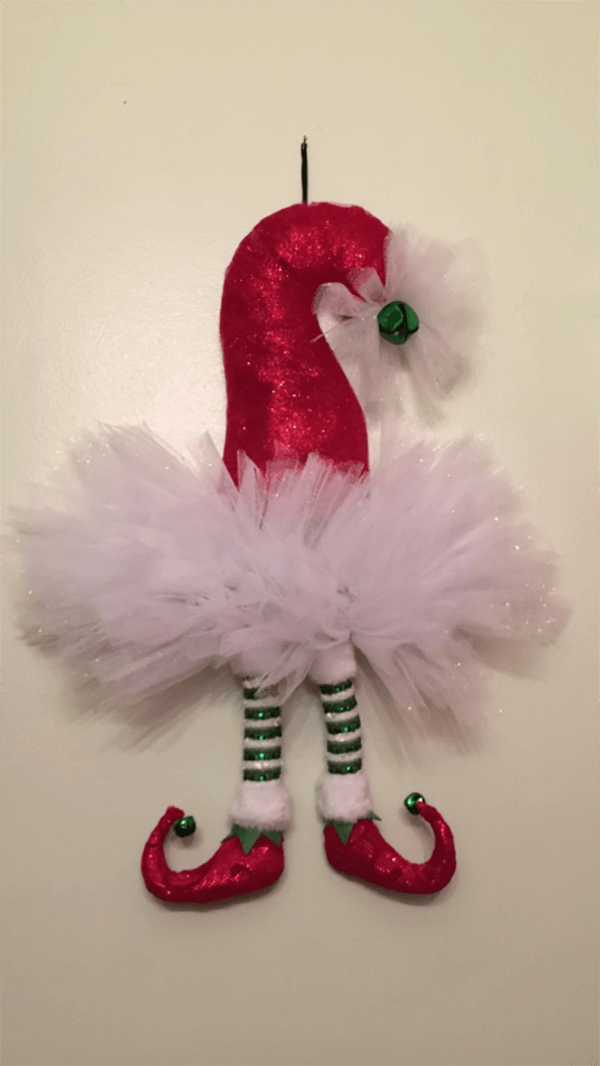 This Santa hat wreath provides some uniqueness to the holiday décor. Rather than the traditional circular wreath, this one has a distinctive appearance that will capture attention. The hat has a great amount of sparkle to it that allows it to capture light, and the simple green bell is enough to help accent it more with Christmas colors. The tulle is lovely, of course, and it works well to blend the hat with the fun legs that stick out from the bottom. It brings everything together so that you are left with an adorable and exciting holiday wreath to hang up anywhere around the home.
24. Fun Crochet Mini Christmas Gnome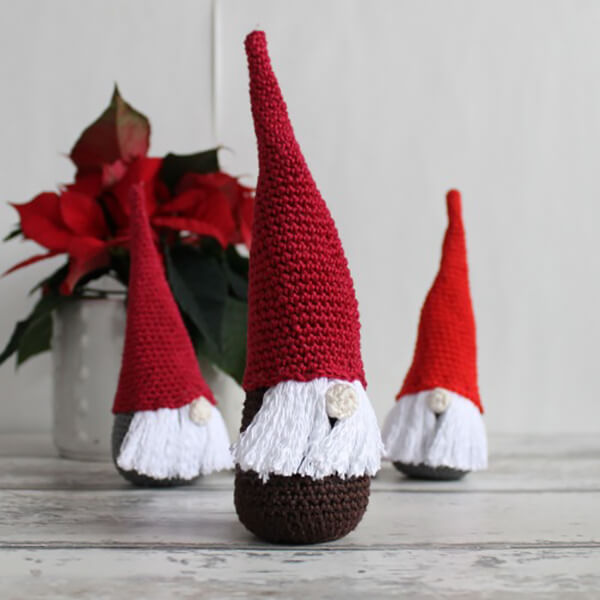 When you need something small and cute to decorate a few areas with around the home, these miniature Christmas gnomes are perfect for the job. These have a simple, yet effective, pattern. It allows this to have a vintage-like quality, effortlessly managing to elevate something traditional. The gnomes have a homey-like quality to them as well. They can leave a nostalgia feeling this holiday season, and with the varied sizes, they have a sense of flow that makes them blend well with another décor. These also look great designed with either male or female gnomes, and the multi-colored style provides a nice amount of contrast.
25. DIY Norwegian Holiday Christmas Gnomes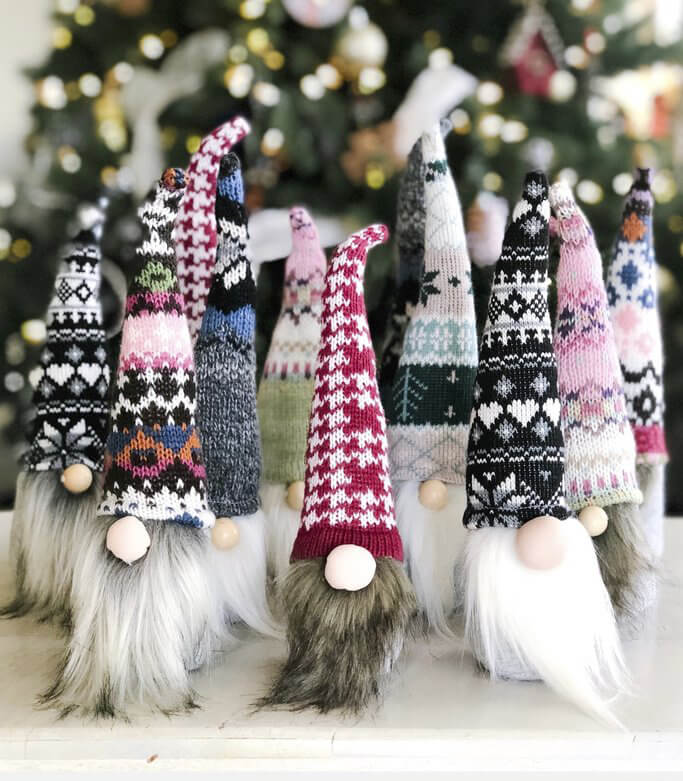 These Norwegian gnomes take a different approach to decorate for the holidays. It's common to see gnomes just sporting Christmas-like coloring. However, these ones are still traditional while keeping in with the culture at hand. The thick beards with the solitary nose pointing out still have a distinct look that it's easy enough to differentiate between the gnomes so that they don't blend together. Their hats complete that contrast as they all have a cool design with vibrant coloring that gives the gnomes much more personality.
26. Beautiful 3D Printed Santa Sleigh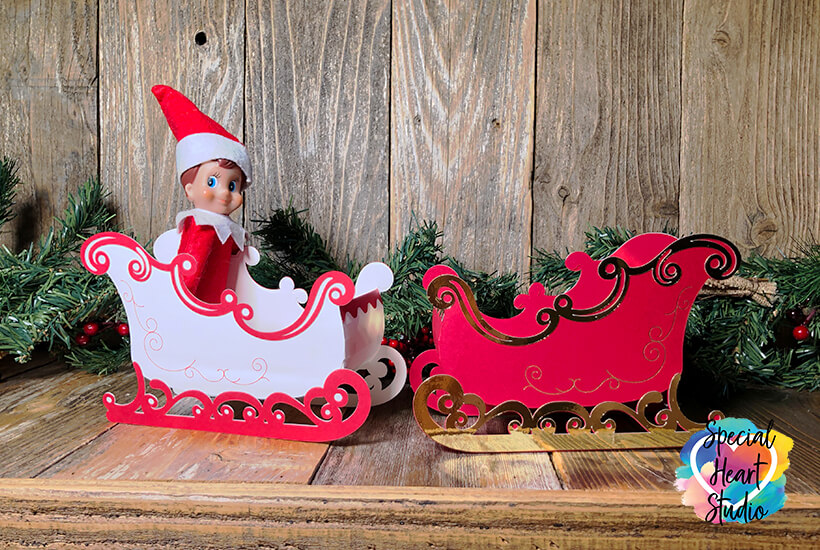 This 3D Santa sleigh is perfect for adding a bit more atmosphere to your holiday decorations. It's small, but it leaves a heavy impact. The gold is bold and vibrant, easily catching attention from a distance to encourage anyone to take a closer look. This also has a lovely and elegant design pattern throughout that allows this to come across as sophisticated. At the same time, it has a classic appearance that helps reign in the holiday. With its design, it works well alongside anything else you want such as adding smaller decorations to it or simply using it to hold candy.
26 of the Best DIY Santa Claus Decorations to Design an Enchanting Ambiance this Christmas
Handmade Santa Christmas decor is a way you can make the holidays special even on a budget or with limited product availability. Many of the ideas above can be made from materials already in your craft room. The best part about making your own décor is that you can use your creativity to find ways to make your DIY Santa decorations perfect. The list of ideas above is only the beginning – you can mix and match any of the ideas above or use them to create your own custom Santa decorations.
Even if bright red is not in your Holiday palette this year, adding a Santa decoration or two is not impossible. If you combine untraditional Santa colors like white or rich greens with a gnome design, your Santa crafts can be on display throughout the winter season.
Handmade Santa Christmas decor is a way you can make the holidays special even on a budget or with limited product availability. Many of the ideas above can be made from materials already in your craft room. The best part about making your own décor is that you can use your creativity to find ways to make your DIY Santa decorations perfect. The list of ideas above is only the beginning – you can mix and match any of the ideas above or use them to create your own custom Santa decorations.
Of course, Christmas décor is not about the colors, textures, or shapes. What makes it special is how it makes the ones you love light up with joy. Whether you are decorating a shared space, making crafts, or making gifts, keep in mind that what really matters are the people who make your life worth decorating.