If you're looking to update your style by going back in time and don't want to spend a lot of money doing it, then these DIY shabby chic decoration ideas are exactly what you need! Redesigning your living space doesn't take much. Maybe a few rolls of lace, some crafting glue, sandpaper, and a couple cans of spray paint and you'll be well on your way to enjoying the relaxing atmosphere of shabby chic décor styled after a simpler mode of living. And, once you're done, forget about worrying over scuffs and scratches ruining your furniture, because that's what shabby chic is all about: merging feminine elegance with the regal vibe of time and weather.
45+ Amazing DIY Shabby Chic Decoration Ideas You Can Finish in One Weekend

These DIY shabby chic decorations use simple accents – like fabric roses and newspaper prints – along with varied textures – like burlap, lace, and chalk paints – to give off just the right feel.
1. Rustic Chic Side Table Redesign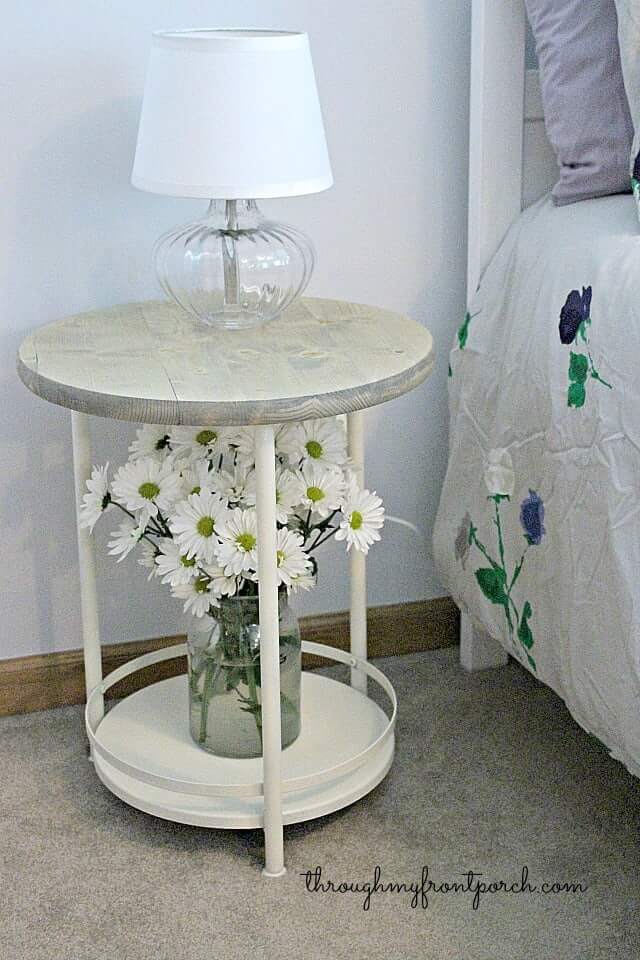 Even the worst-looking tables can be elevated to appear elegant and bold. This redesign project can make a table look like a high-fashioned vintage with a lighter paint job applied. The wooden top goes a long way as well into this transformation, especially if you find wood that has a natural weathered appearance already. You're left with something that is more unique and stands out well.
2. Incredible Vintage French Chair Redesign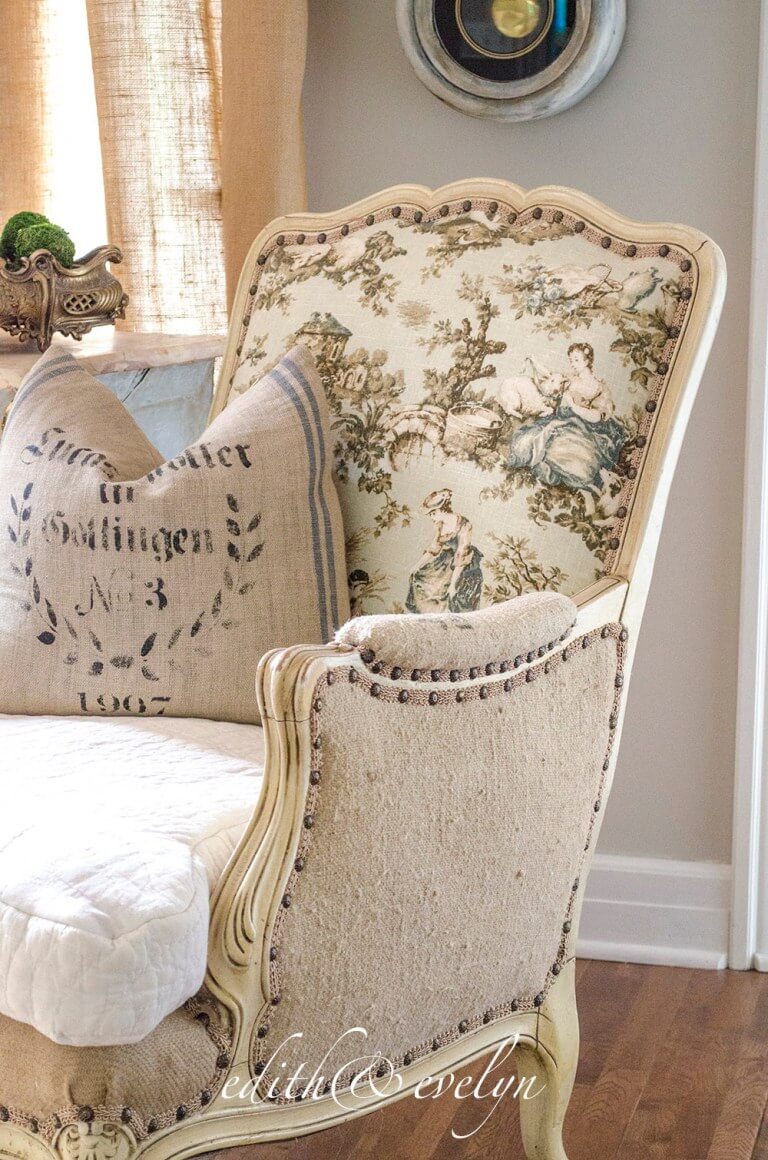 Just because a hair is old, that doesn't mean it isn't worth something. For your next upcycling project, consider breathing new life into an antique chair. Some toile fabric is perfect for helping this transformation along, and it is a nice way to add some pops of color to the chair. Furthermore, a nail head trim can contribute to the vintage style while also allowing it to still look a touch stylish.
3. Cream Colored Weathered Side Table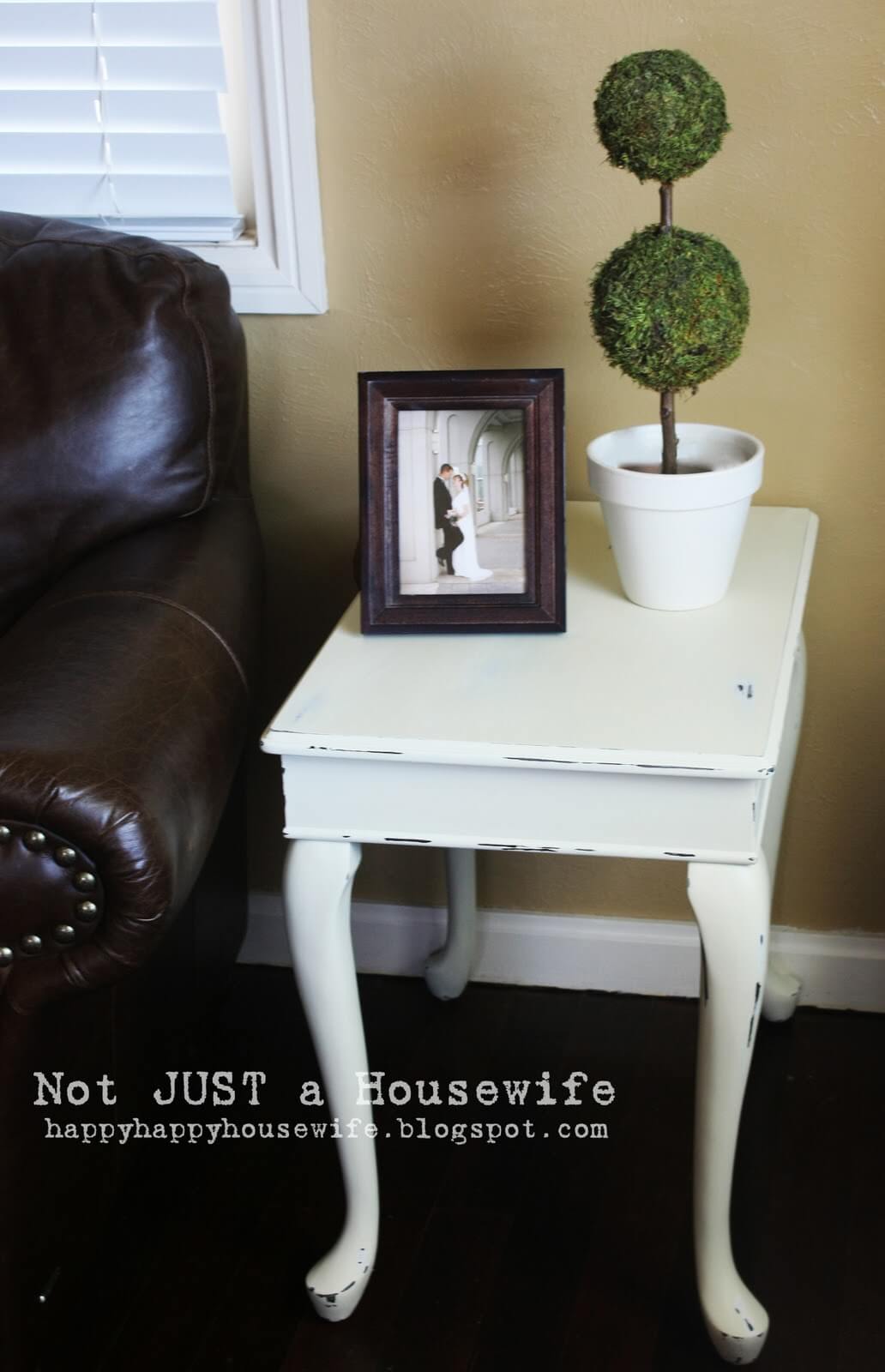 Shabby chic is all about having that airy-like look about it, and this side table design does just that. It is simplistic too, making it fitting for that minimalistic style many people love. The cream coloring applied allows the table to make just enough of an impact to stand out. Alongside that, there is the slight weathering appearance with the old wood showing through some parts of the paint that grant it the scruffy, yet fashionable, look.
4. Whitewashed Wooden Picture Frame Renovation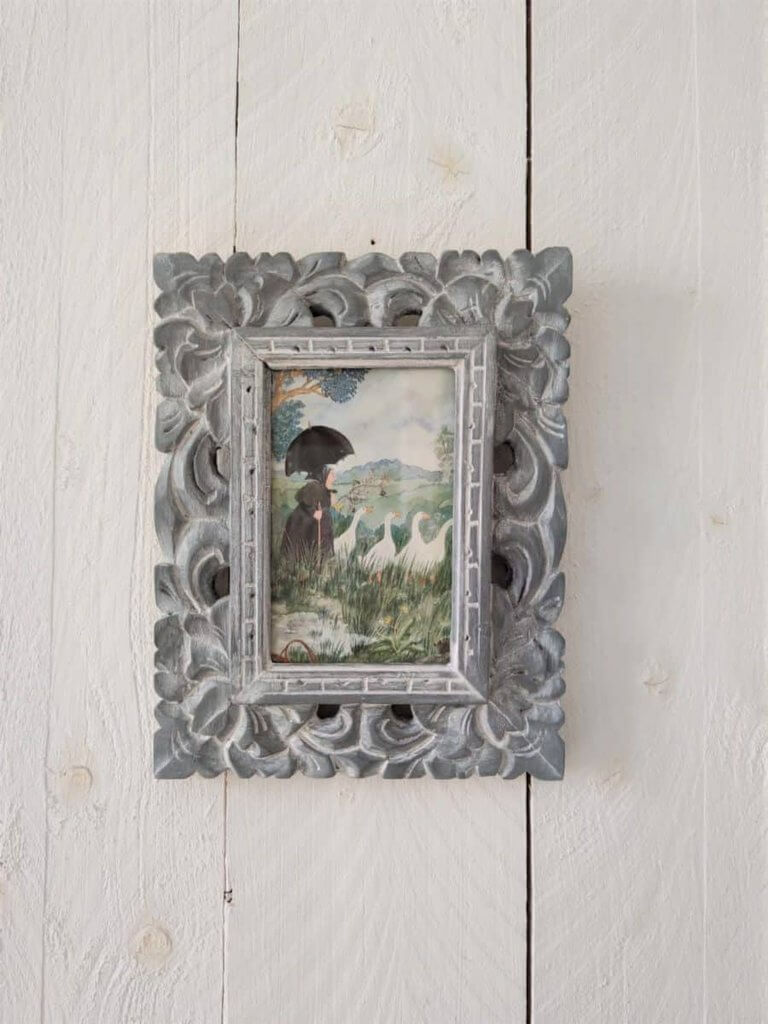 A wooden picture frame with an elegant design is the perfect base for your next makeover project. Finding a frame with that chic pattern is key as this will help you show off the chic style you want to achieve. At the same time, the painting design you choose will highlight a more old-fashioned look that will blend effortlessly with the overall pattern on the frame.
5. Tavern Green Shabby Chic Desk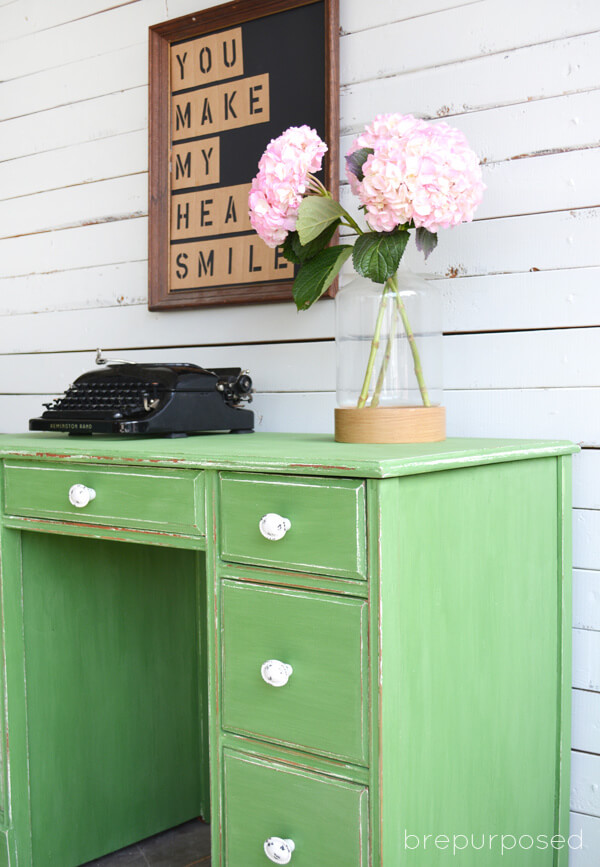 Nothing is quite as fun as sitting at a vintage desk to do your work. With a fresh paint job, the desk is elevated with ease into something that makes more of an impact. The bright green coloring has such an old-school vibe while still looking a hint elegant. Add on some weathering and you've got yourself a perfect vintage set piece.
6. Upcycled Decoupage Bottle Flower Vase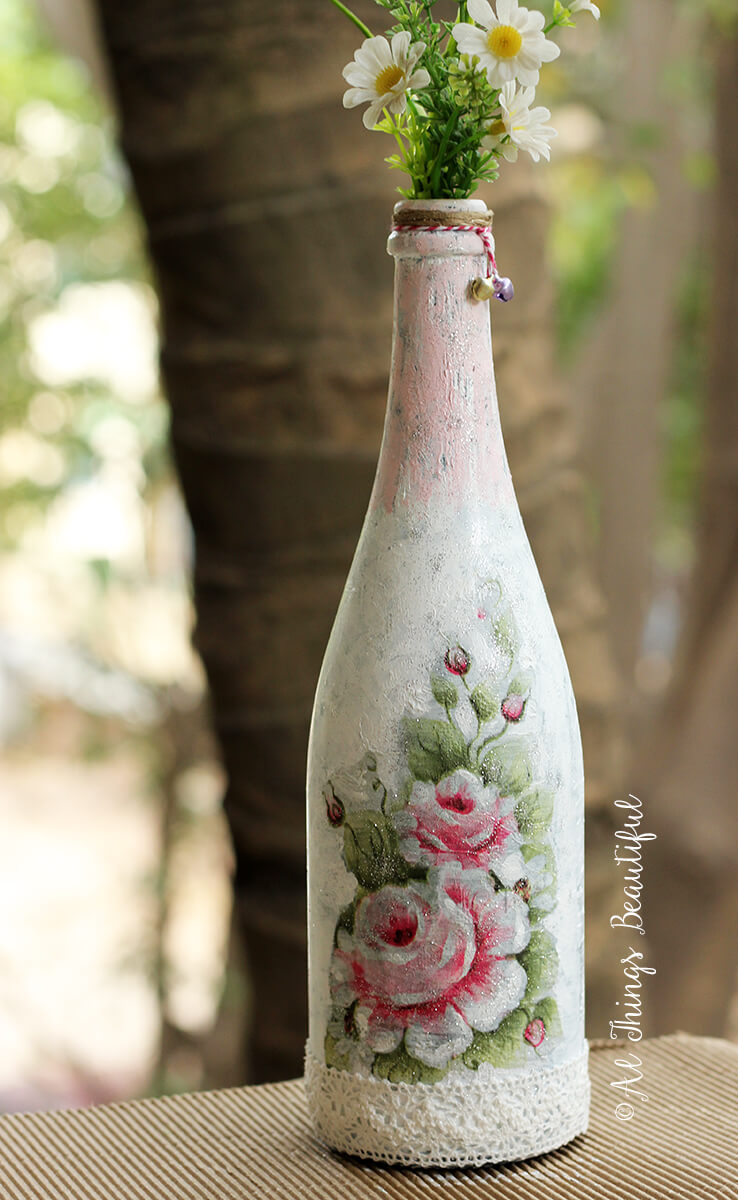 Decoupage is such an interesting paper craft that hasn't lost its popularity over decades of use. With this technique, you can easily transform a typical bottle into a flower vase that has an old-school elegance about it. There are plenty of ways to go about using this craft, but opting for some vintage-looking flower images works well for the style you're aiming for. Plus, it is a great way to upcycle an old bottle into something more useful.
7. Shabby Chic Pumpkin Design Decoration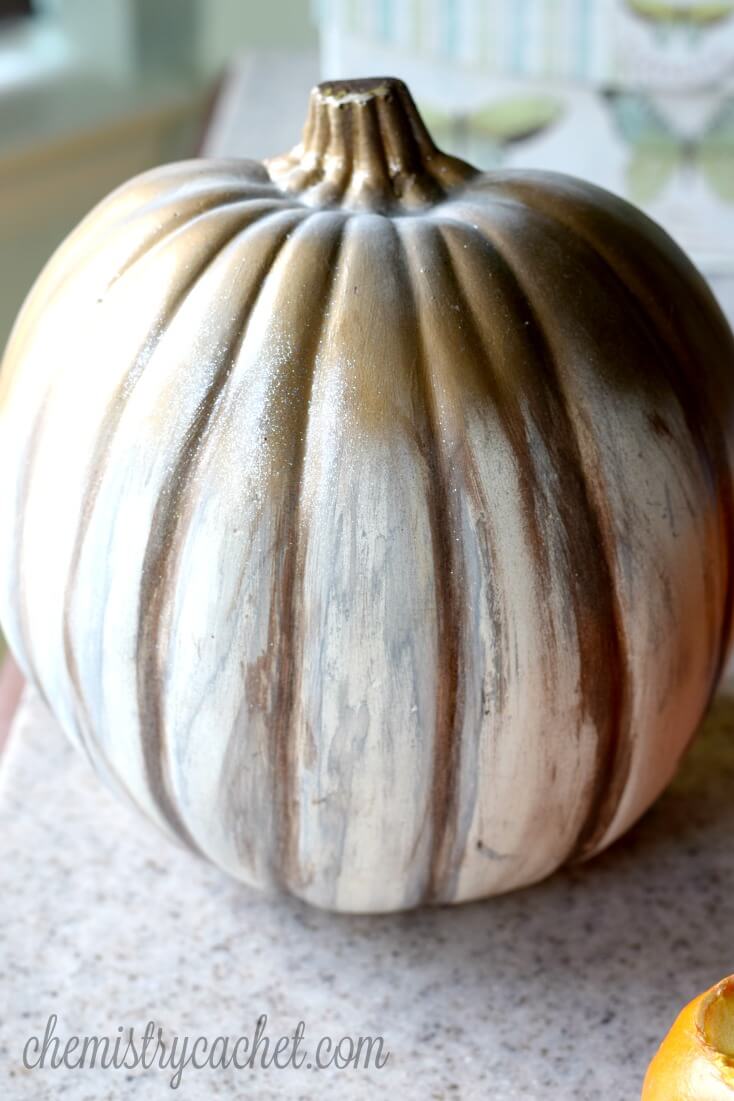 With the fall season, pumpkins are a décor staple. There's a way for them to fit with your style though without going for the usual bright orange coloring. Instead, you can mix up the color so that it has a rustic appearance fitting for that shabby chic look. It is a perfect way for your pumpkins to stand out while still working side by side with your home's decorations.
8. Shabby Chic Stenciled Dresser Renovation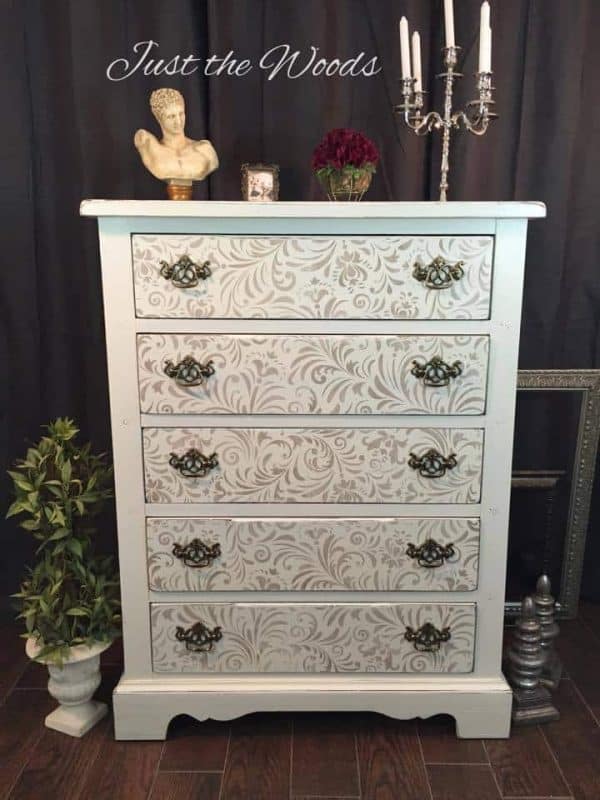 Even if a dresser already has that vintage appearance, it can always be further transformed to apply that level of elegance so commonly seen with the shabby chic style. You can do so with some lighter paint as well as some stenciling. It's a great way to leave a sophisticated pattern that looks well alongside the old-school fixings on the dresser.
9. Upcycled Dining Room Chair Design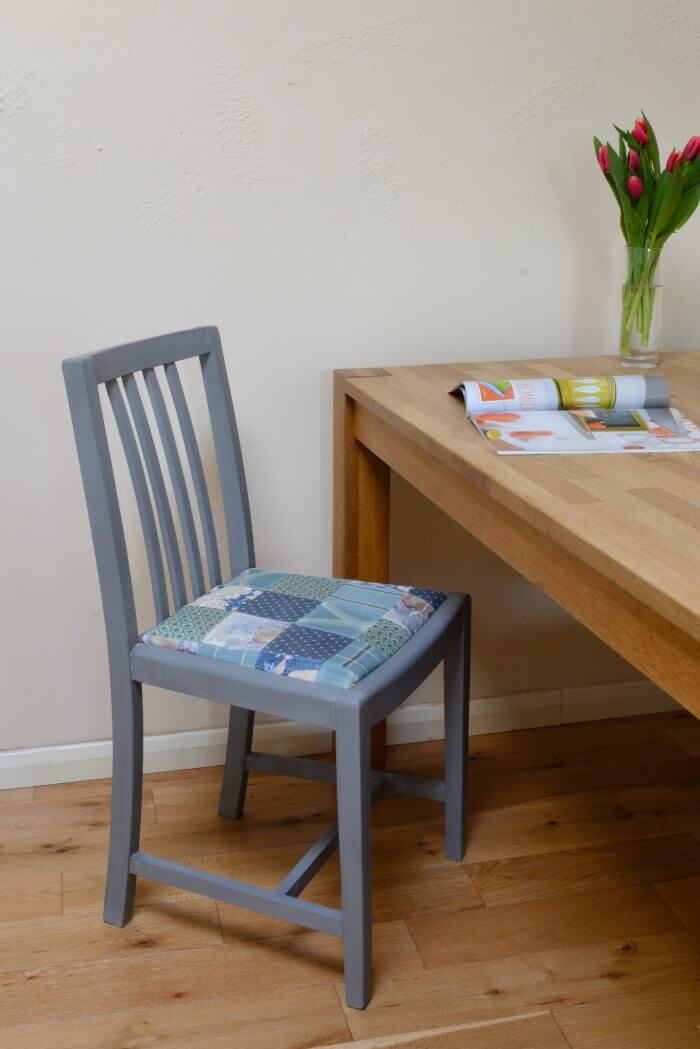 Rather than buying those fancy dining room chairs that have been given that rustic look, you can simply find old chairs and upcycle them yourself to have that sophisticated, vintage appearance. Some simple coloring and a new cushion are all you need to completely overhaul the chair into something that is perhaps more comfortable to sit on and more attractive to look at.
10. Rustic Elegant Decorative Towel Hanger
Why settle for just any towel hanger when you have one that is just as decorative as it is functional? You can find a vintage piece at any thrift store, but you can improve it more with some paint. White works well in this case as it instantly stands out. It is also easier to apply some weathering to the hanger so that it looks more vintage.
11. Cute Shabby Chic Shutter Box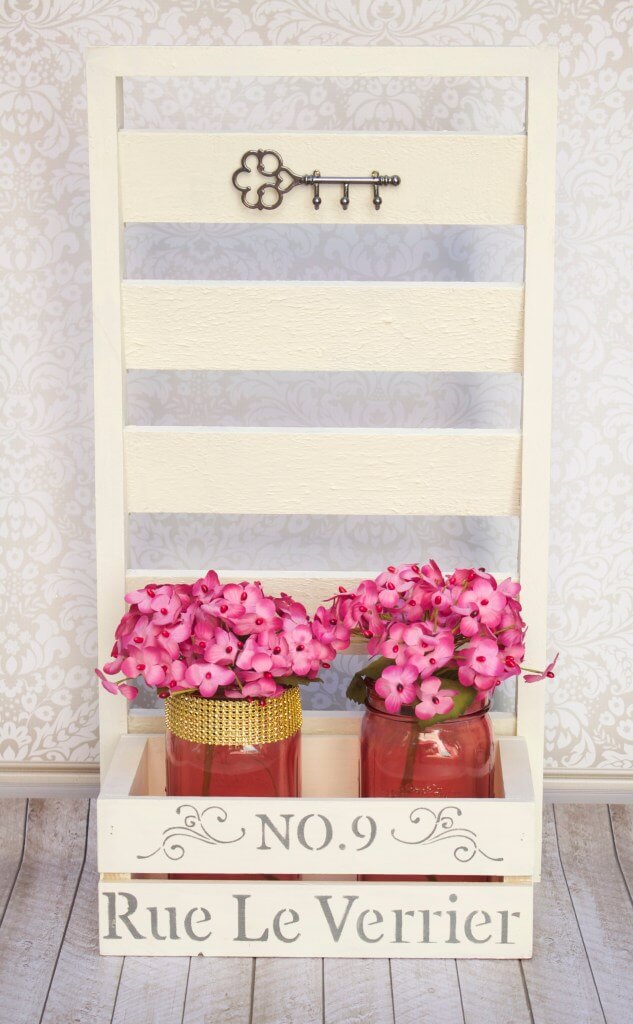 With this project, you can both have a gorgeous piece of décor added to your home while also better organizing the space. The shutter box is functional in that it can hold a variety of items from different decorations to the mail that we so commonly toss aside. Meanwhile, the box can even look good when empty thanks to the light paint job applied and any stencil design you decide to put on it.
12. White Old-School Bedside Table Design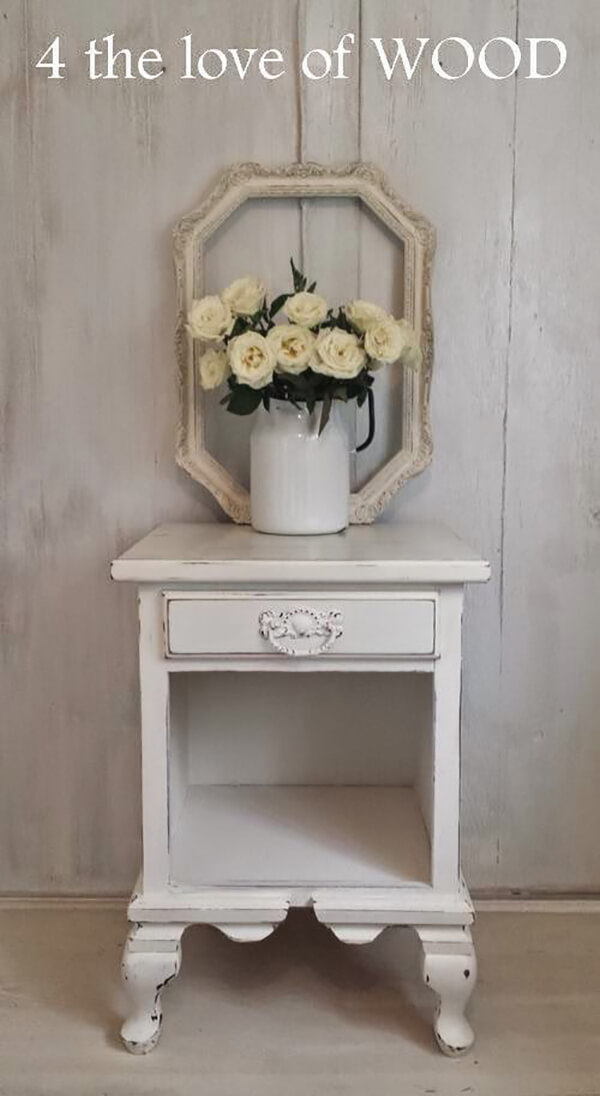 Whether the nightstand is old or not, it is a piece of furniture just begging to be redesigned. You have much freedom here with a project like this to help it look shabbier than it actually is depending on how you paint it. You can even add some more weathering to it if need be for that extra bit of texture and personality. It's a simple project that can instantly brighten up the bedroom.
13. Shabby Chic Pin Board Design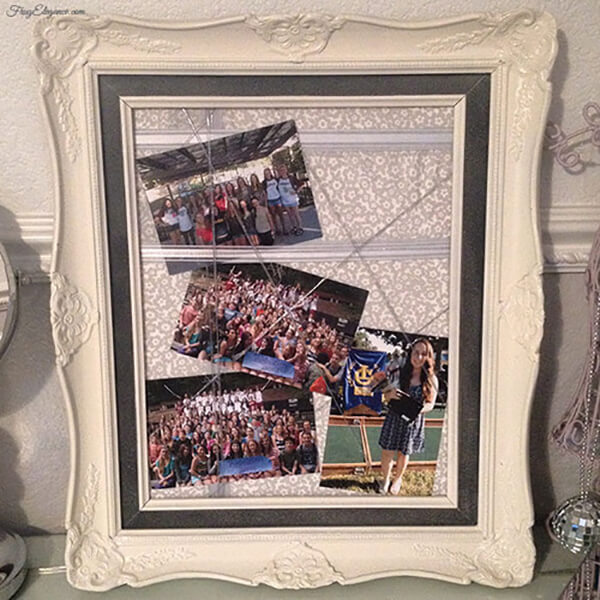 Pin boards are such a cute way to frame a variety of pictures or other important notes while still making it all look decorative. You can use some material you have right at home like linen or a pillowcase to create this too. Anything that has a vintage look will work well here as it allows the background to stand out just as much as what you pin to the board does.
14. Colorful Ruffled Shaggy Pillow Design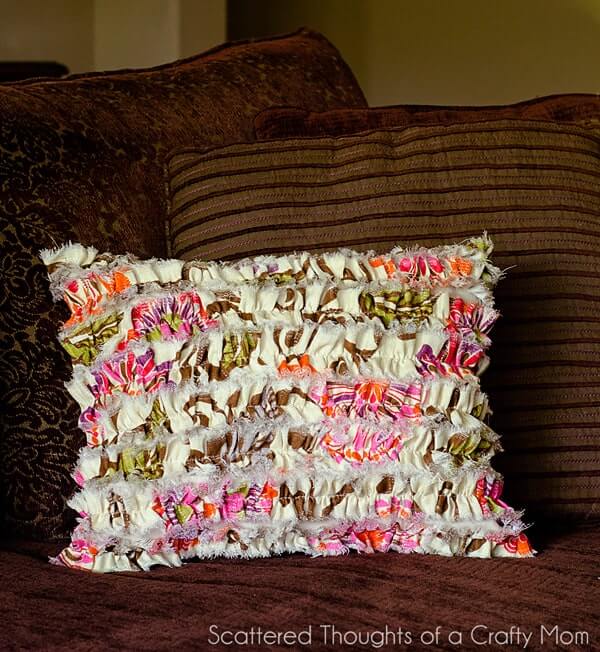 The ruffle style is always a nice way to show off a chic theme, but you don't have to buy such pillows when you can make them yourself. You can opt for some different color fabrics with various patterns. This way, the pillow has a more decorative appearance, readily complementing any couch, chair, or bed that you place it on.
15. Bright and Colorful Spring Wreath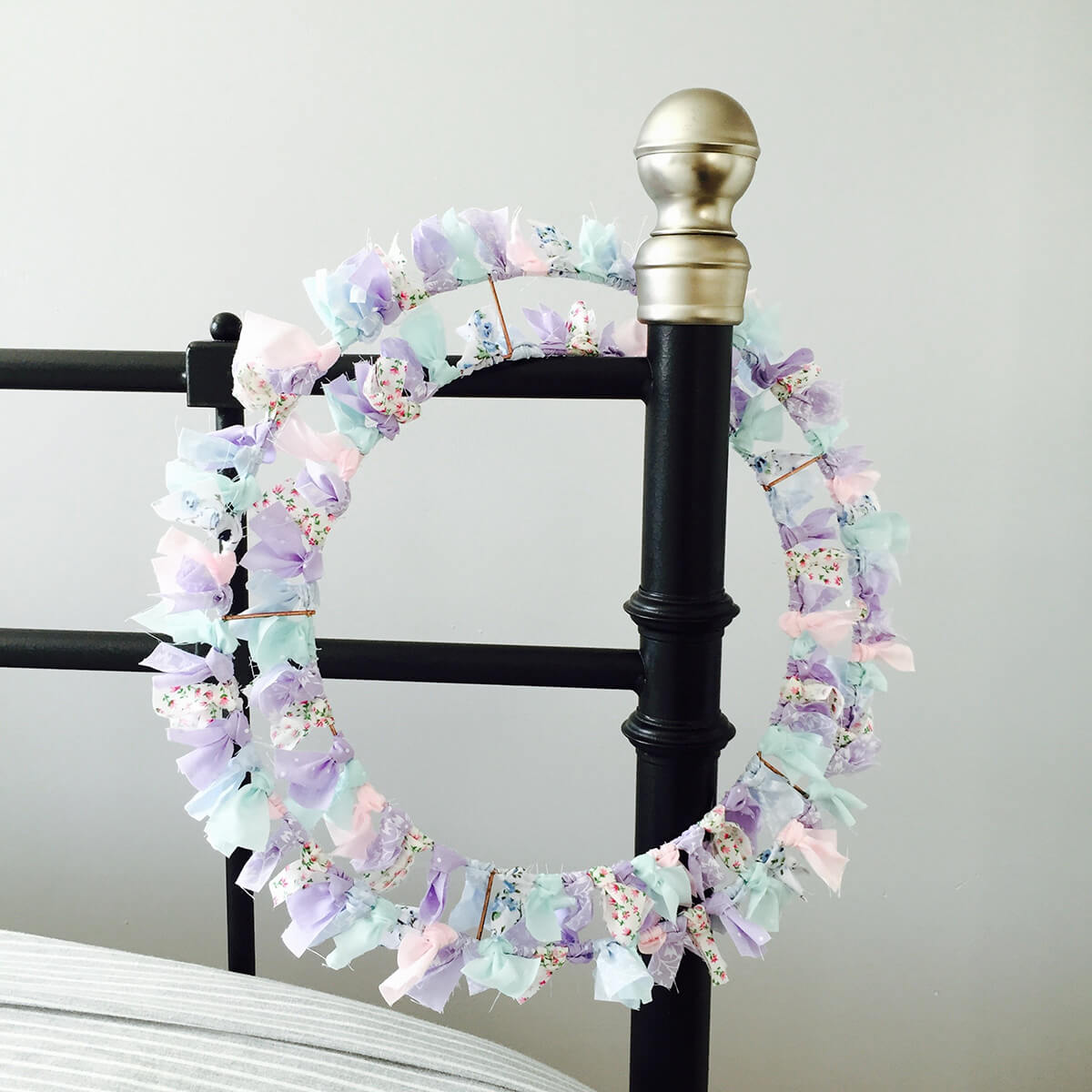 When you're trying to create something vintage and sophisticated, you don't have to rely on just various tones of white and cream to do so. Instead, some color added to this wreath can create a wonderful vibe that is fitting whether it is the spring season or not. What cements the wreath with the shabby chic style is the material the wreath is made from. The fabric strips hang in such an interesting way that the wreath is bound to capture attention.
16. Cool Shabby Chic Cookie Box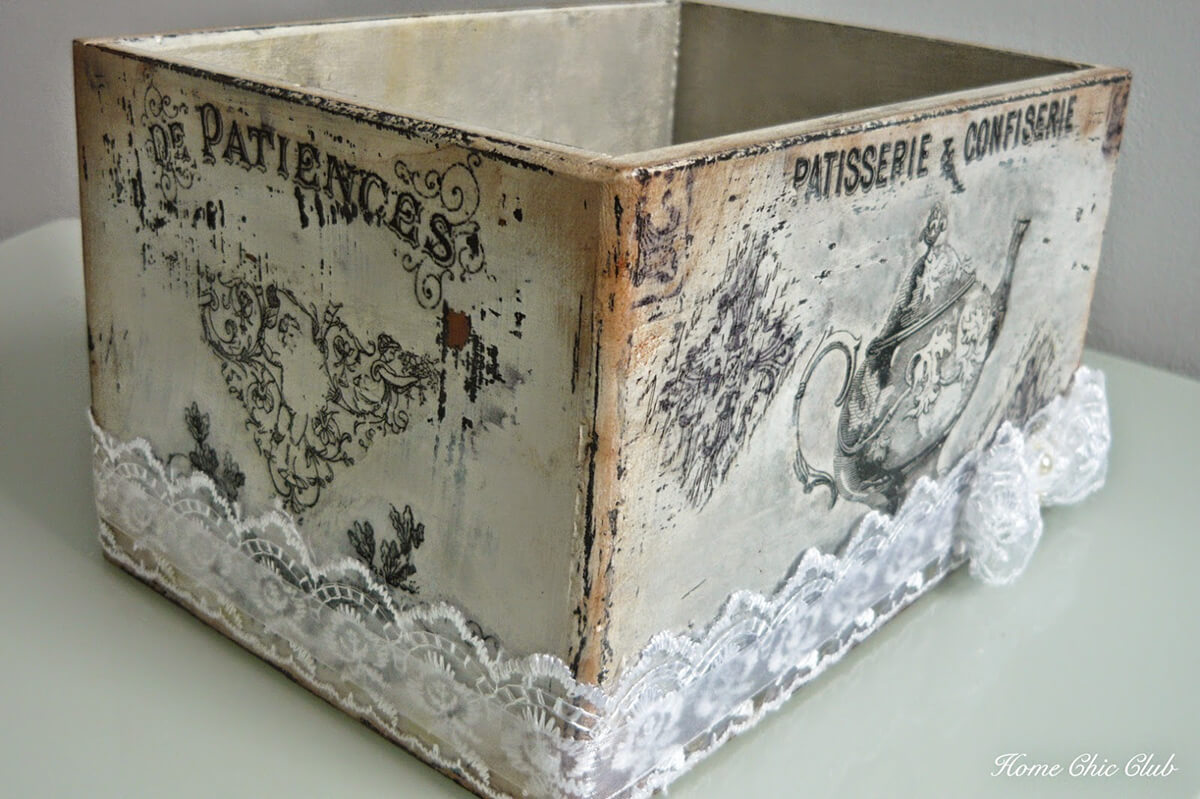 A plain wooden box is all you need to create a storage box that is far more fun to look at. This cool box easily transforms something plain into something more fitting for your décor. It can stand out no matter what you decide to store inside of it. Also, you can choose any images you'd like to grace the box, adding to the overall vintage look while keeping things sophisticated.
17. Shabby Chic Bedroom Makeover Idea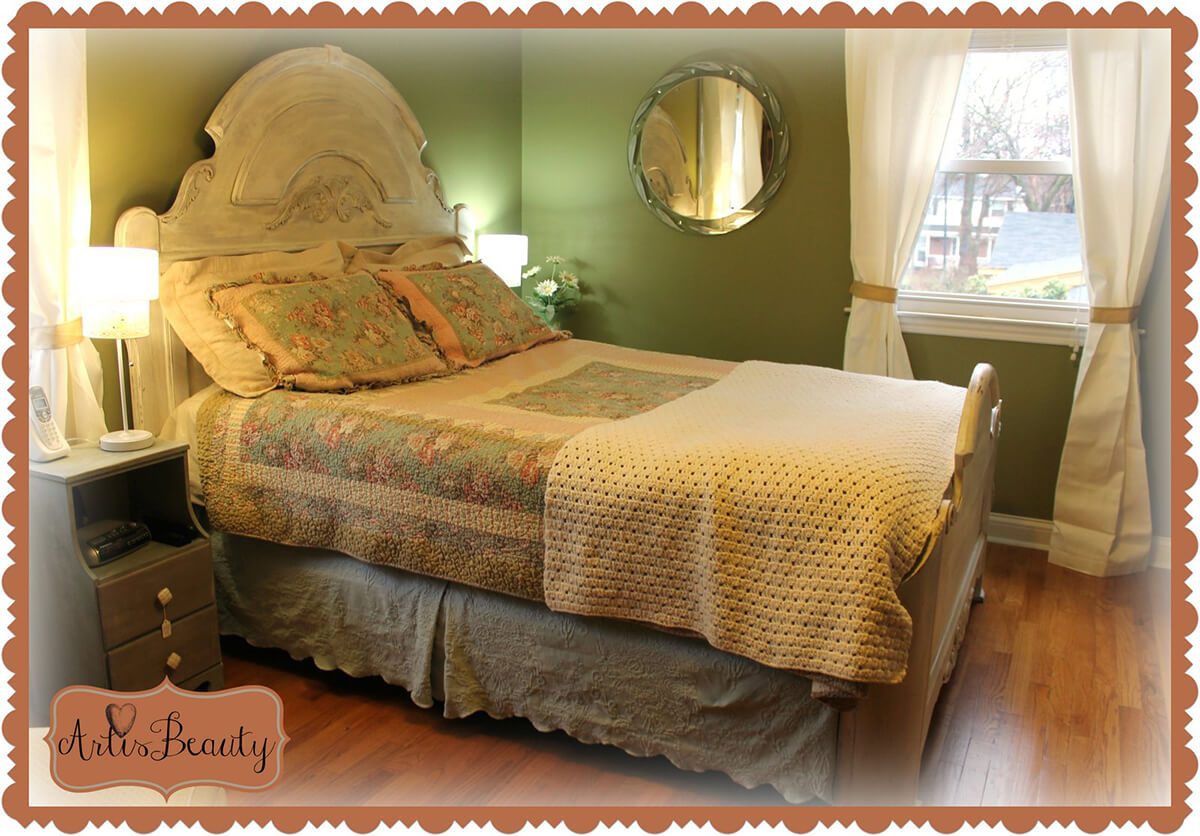 Are you looking for a total overhaul of your bedroom? There are many ways you can transform your space into a shabby chic masterpiece. The right bedframe painted that light, airy white color with some weathering applied can elevate the space in an instant. It pairs well if you have some other gentle colors around the room from the paint on the wall to the nightstands.
18. Stunning Shabby Chic Vintage White Flower Frames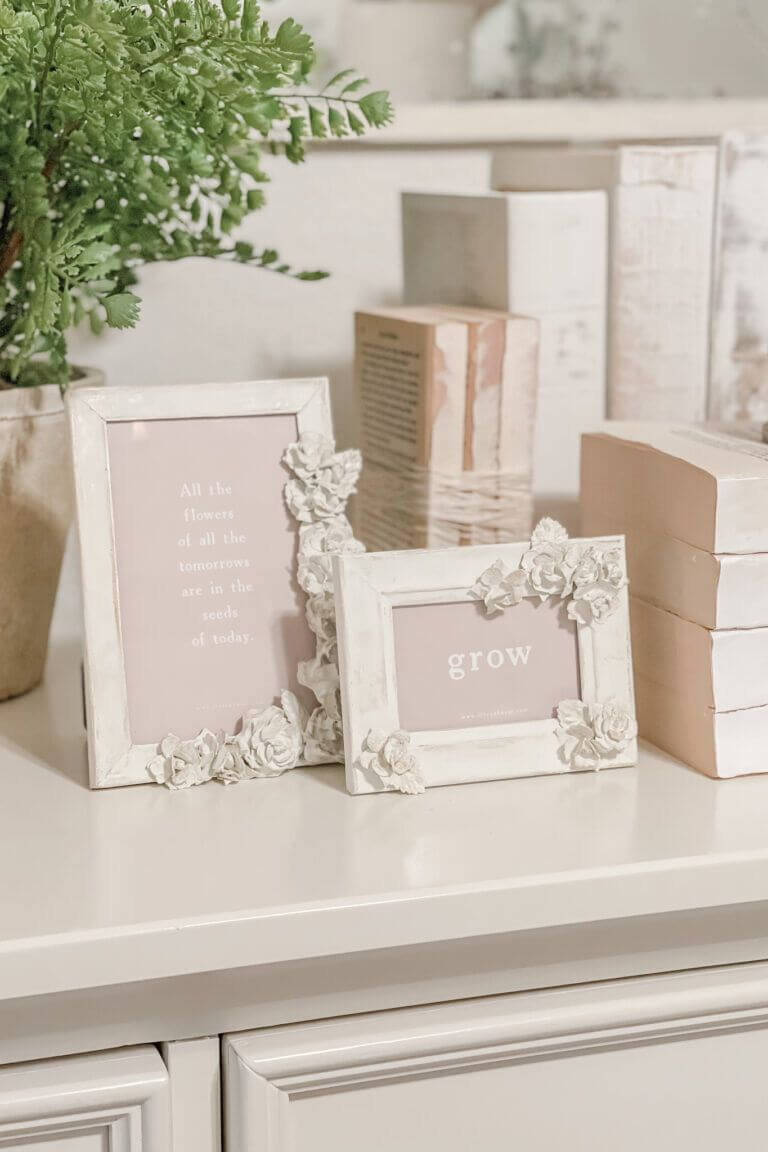 These stunning creamy frames look anything but new. Created with some cheap supplies, you'll have a collection of shabby chic frames for your home or some fabulous homemade gifts. The painted paper flowers truly add that wow factor to this project. The inclusion of the matted writing ties it all together using a coordinating lettering color set on a muted vintage-colored paper. This would be a gorgeous display for your home, but also a beautiful way to decorate for a bridal shower or wedding reception.
19. Antique White Shabby Chic Dresser DIY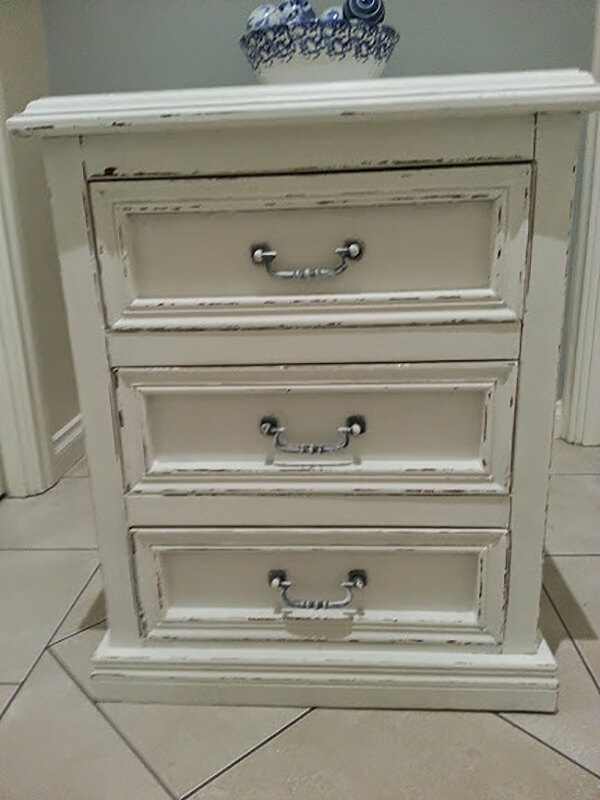 Having an eye for good bones in furniture pieces can make your dollar stretch a lot further! A good flea market find is always a great place to begin. With some antique white paint over primer and finished with some polyurethane, the final product is a shabby chic dresser fit for a showroom. Enjoy this budget-friendly project as you add some charm to your home.
20. Simple and Sweet Cotton Shabby Chic Mirror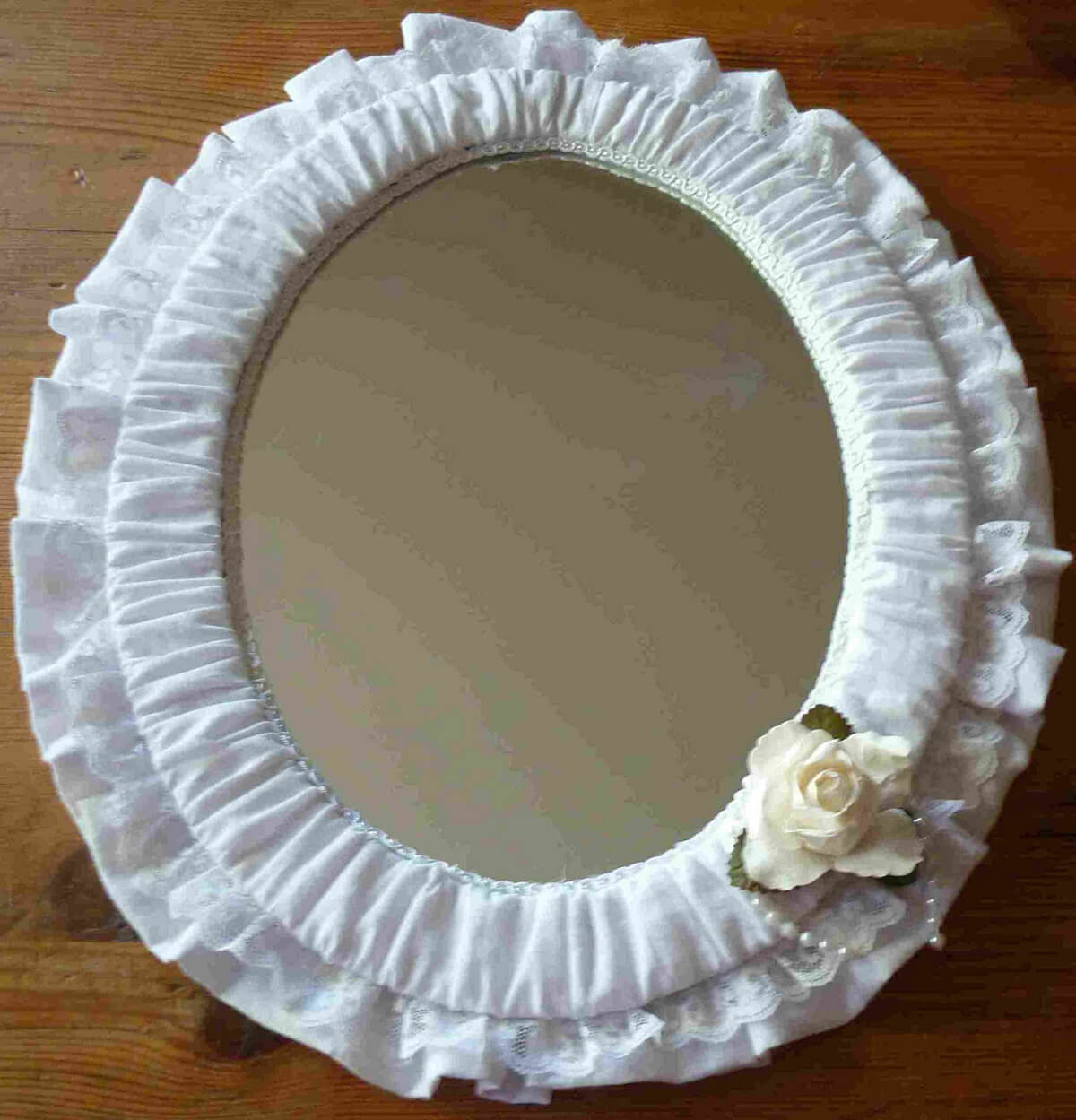 The fabric of our lives takes center stage as the main ingredient in this shabby chic mirror. Crafted with white cotton and lace, this mirror frame adds a delicate touch to your bedroom or bathroom. Hang it on the wall or set it on top of a table to serve as a decorative tray. Using simple materials like cotton and lace increase the sweet factor of this crafter's favorite frame design.
21. Super Simple Shabby Chic Flower Accents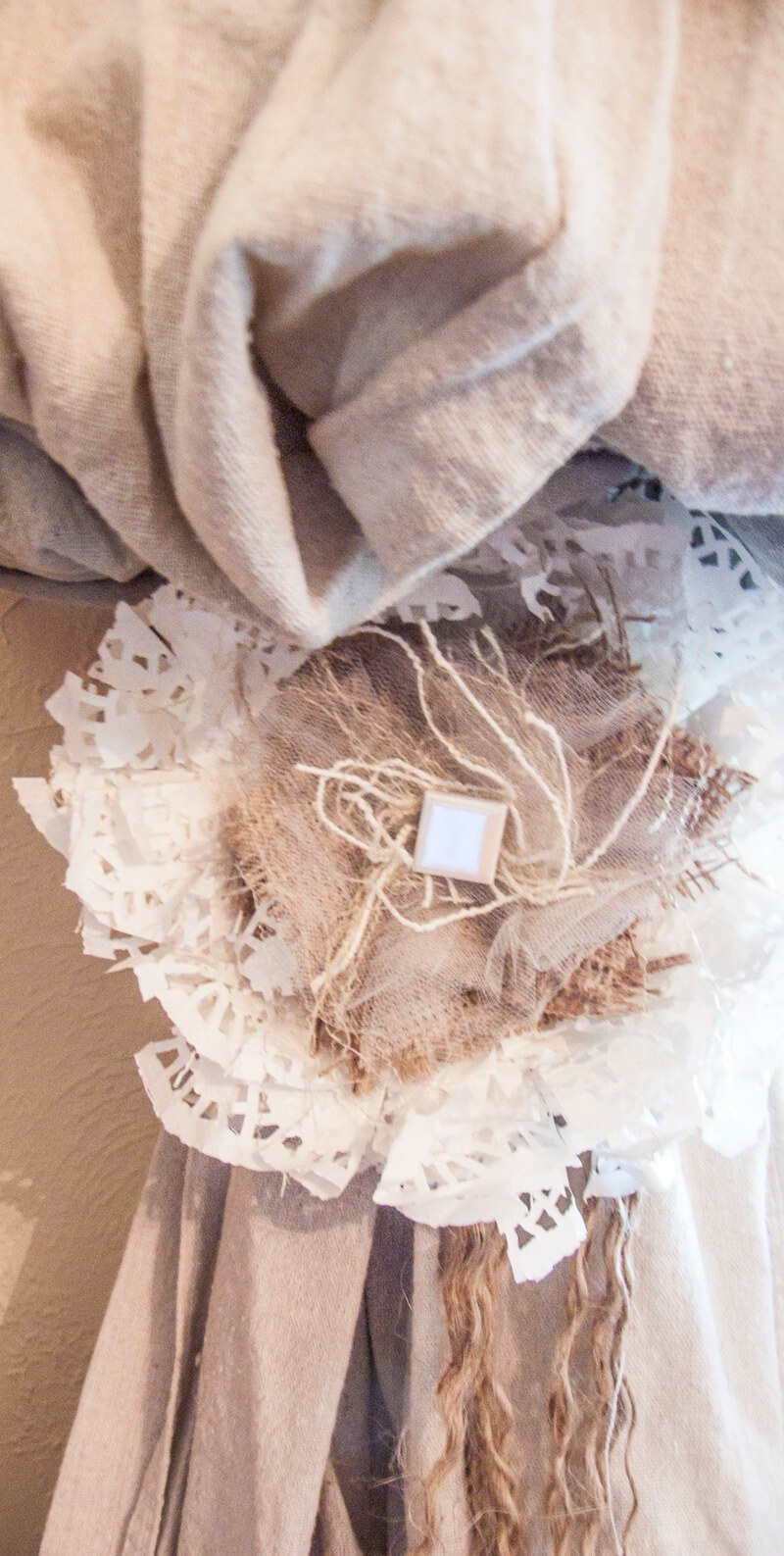 For the true shabby chic girl, this simple shabby flower makes a great accent to all of your home and closet pieces. You can craft it in little time, yet it provides the perfect embellishment to so many ordinary objects. In the home, consider adding one to your throw pillow, curtain tie-backs, decorative dish towels, or make an entire garland out of them. In the closet, add one to a purse, belt, or scarf for a little extra pizazz.
22. DIY Shabby Chic Chicken Feeder Outdoor Chandelier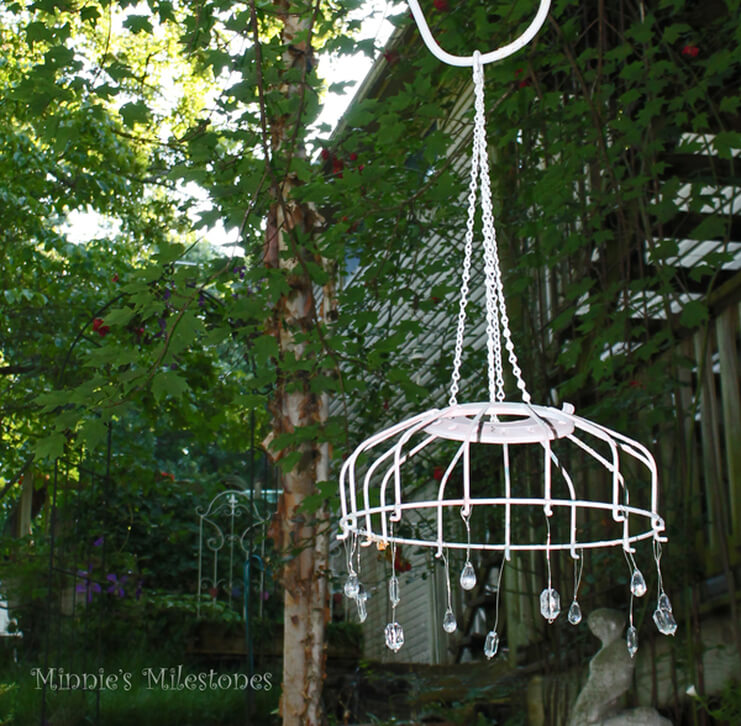 Every garden needs a defined space and it helps when you have plenty of seating and overhead fixtures. To help tackle this, begin with a focal point like an outdoor chandelier. Using a repurposed piece from an old chicken feeder, this unique version holds dangling plastic crystals to reflect the sun's rays during the day and twinkle lights at night. Serve up some tea for your friends underneath this pretty shabby chic chandelier in your favorite outdoor garden.
23. Box it Up with Roses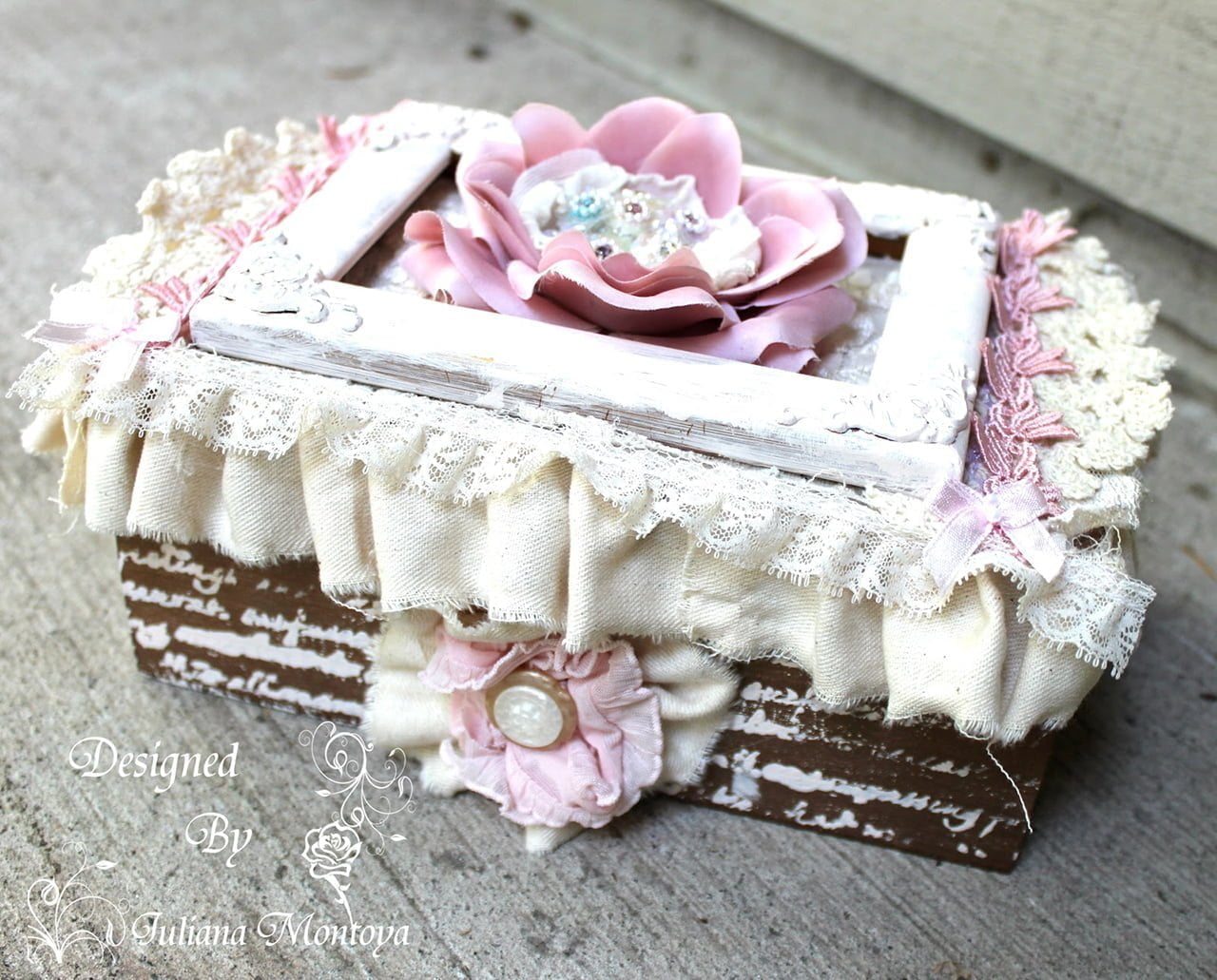 Don't let your leftover pieces of trim and spare fabric go to waste! A plain wooden box can be transformed into an adorable vintage-looking keepsake holder with some fabric pieces, buttons and a small picture frame. The exposed wood is stenciled with paint in white script writing for an even more antiqued look, making this box as cute as a button.
24. Pink "LOVE" Hanging Shutter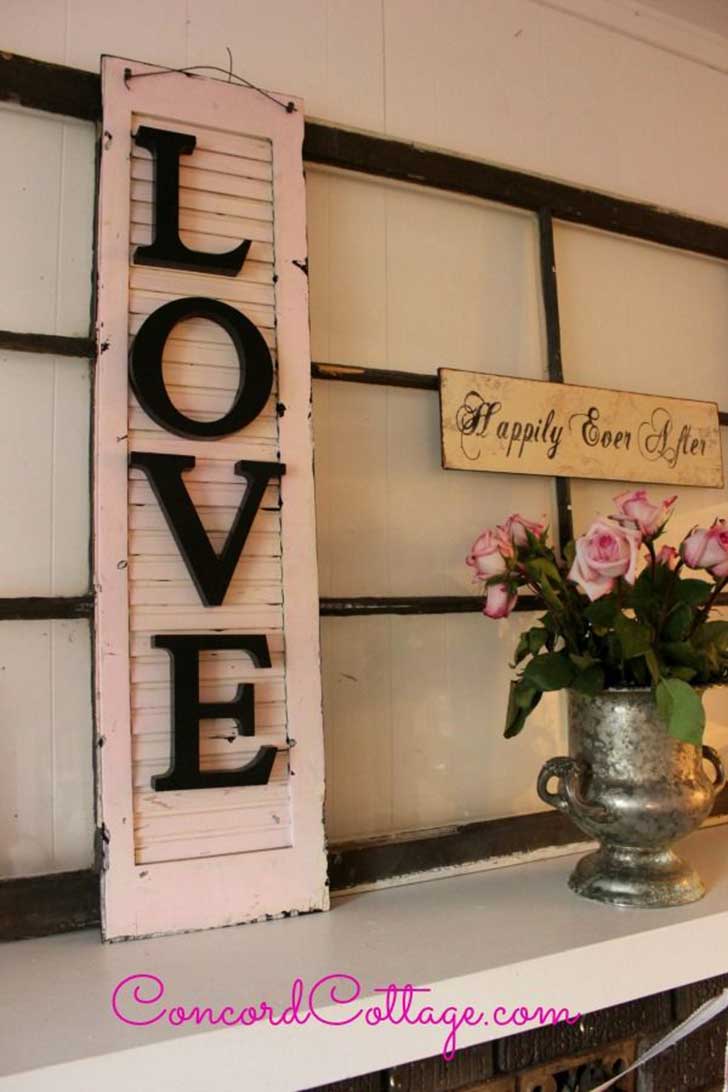 This old shutter has been spruced up with some pink paint and sanded for the perfect shabby chic look. Make your home more warm and welcoming by showing off your philosophy of "LOVE" in bold block letters. This is a wonderful way to re-purpose an old part of a house that would otherwise just be thrown away.
25. Chalked DIY Shabby Chic Décor: Victorian Mirror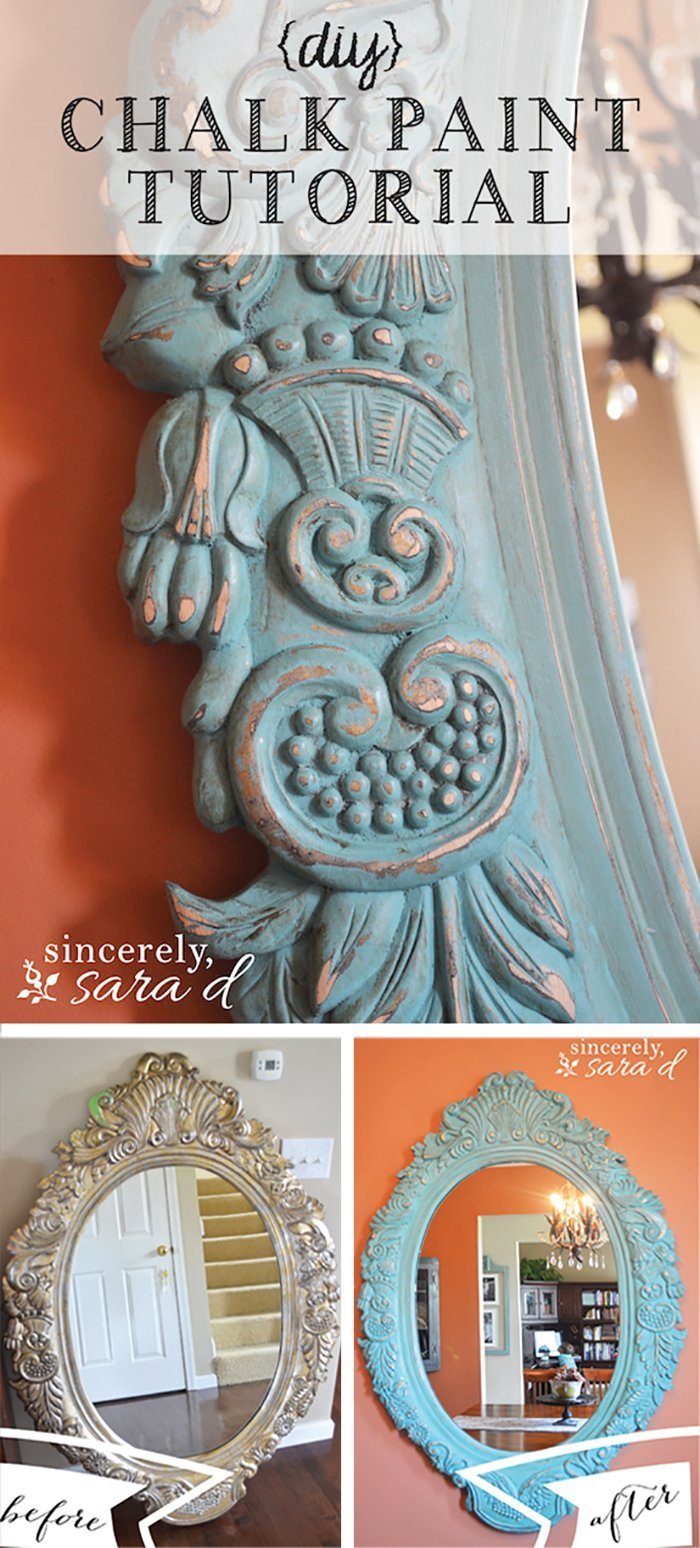 Got a fancy mirror but you're not wild about the color? That's an easy fix with a little colored chalk paint and a piece of sandpaper. This mirror went from tacky silver to a teal shabby chic dream with a coat of matte chalk paint. Sanding the edges gives it that older worn look and makes this mirror pop with style.
26. Dress Up the Lace Dresser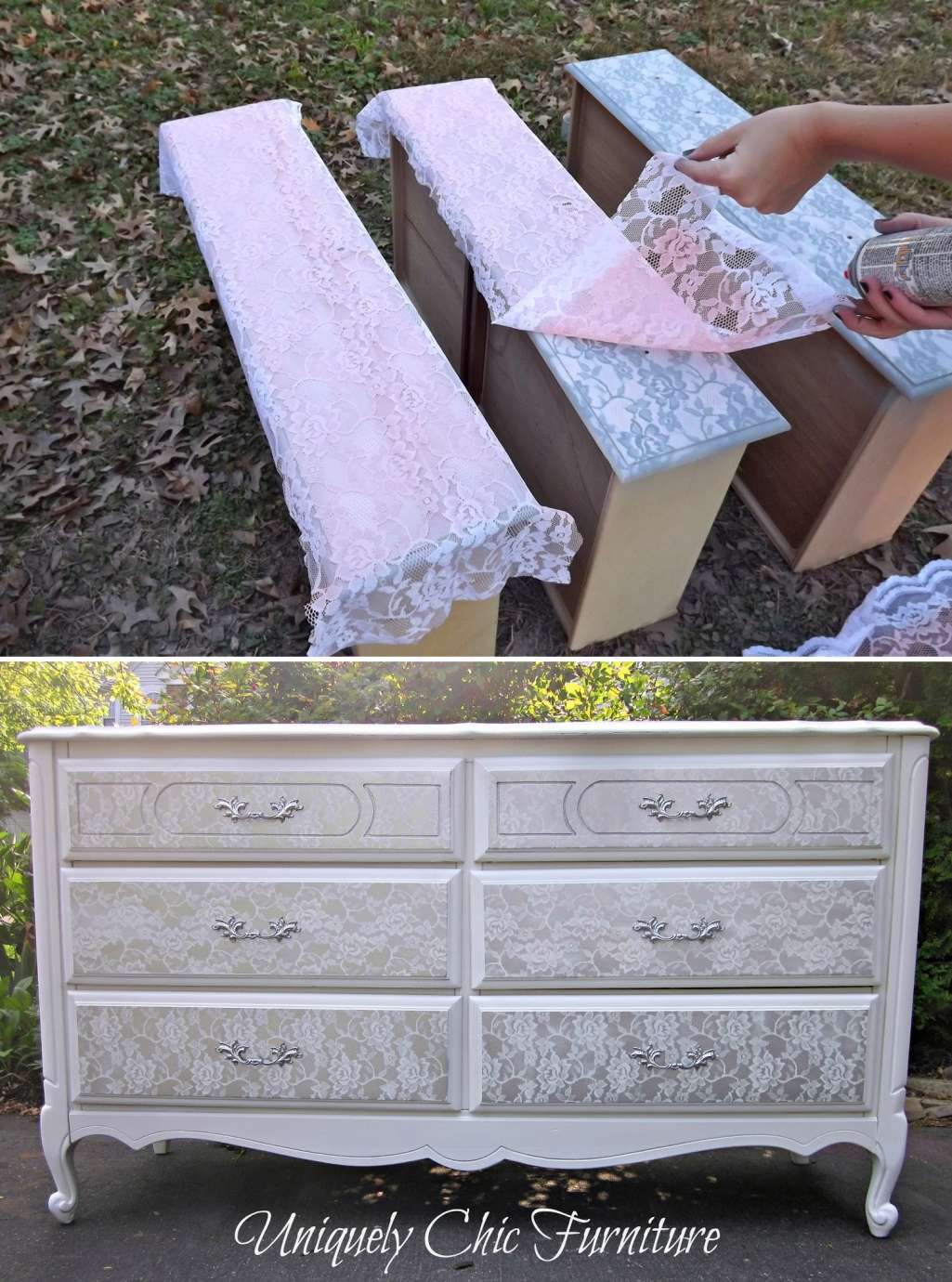 Drawers went from plan Jane to lovely in lace on this simple dresser. The key to this subtle and beautiful piece of furniture is the colors that almost match but are a few shades apart. When the lace is used as a stencil, you get a perfect pattern every time and with some matching drawer handles, this piece screams both elegance and style.
27. Simply Stylish Gold earring Frame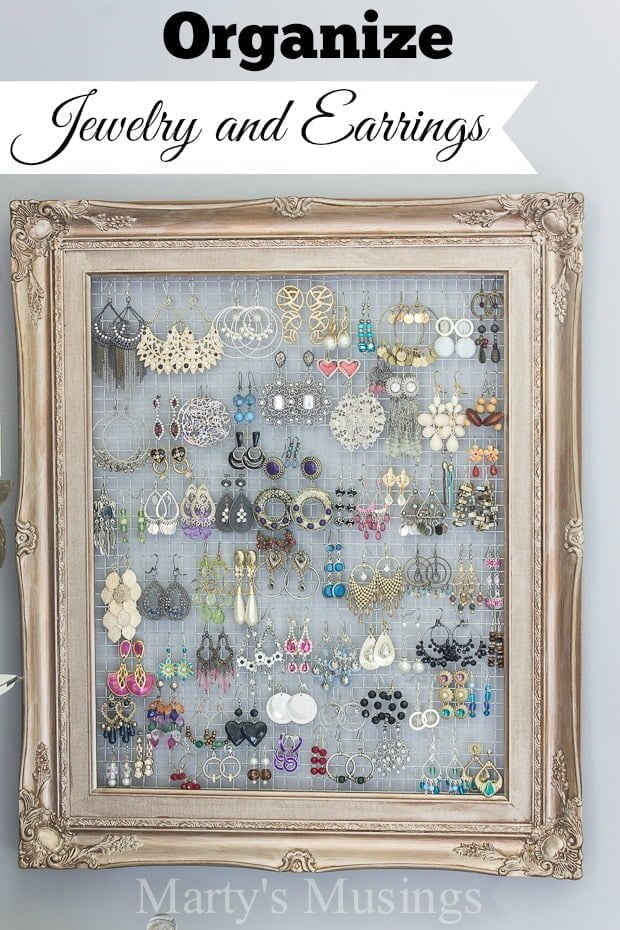 Display your exquisite taste in jewelry with this little piece of ingenious crafting. This earring connoisseur took an ornate frame and coated it with a shiny metallic color between gold and silver. The chicken wire attached to the back makes it easy to hang earrings and other jewelry so they are displayed in style and don't get tangled!
28. Antique Fabric Flower Window Frame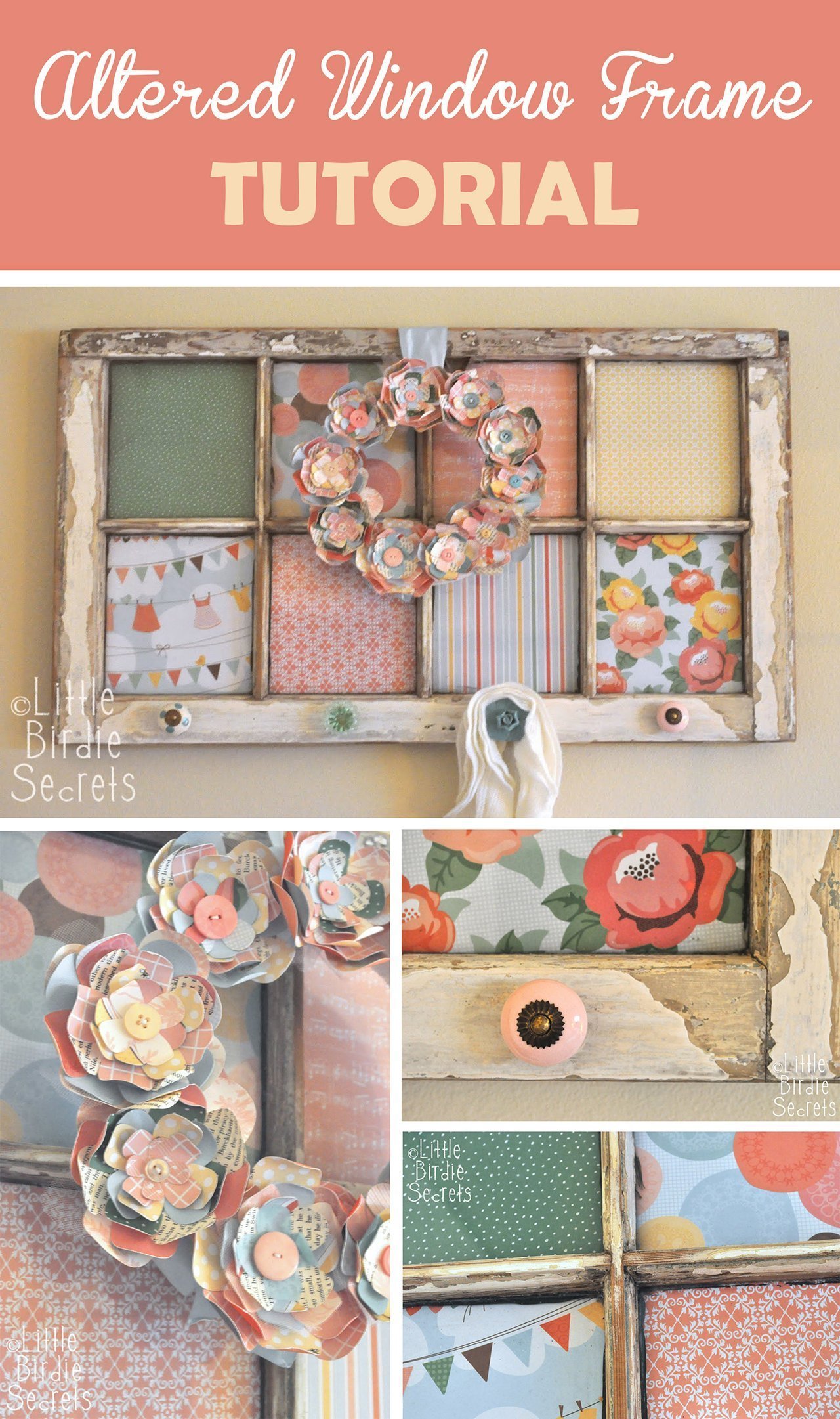 An old window frame makes the perfect foundation for this adorable bit of artistry. Spare pieces of fabric are attached to the back where the panes would be and a little wreath of fabric flowers tops it all off. This artistic piece gives almost a country-esque, homey feel to any area of the house and can be made of completely recycled materials!
29. Barely Pink Chalk Painted DIY Shabby Chic Decoration Ideas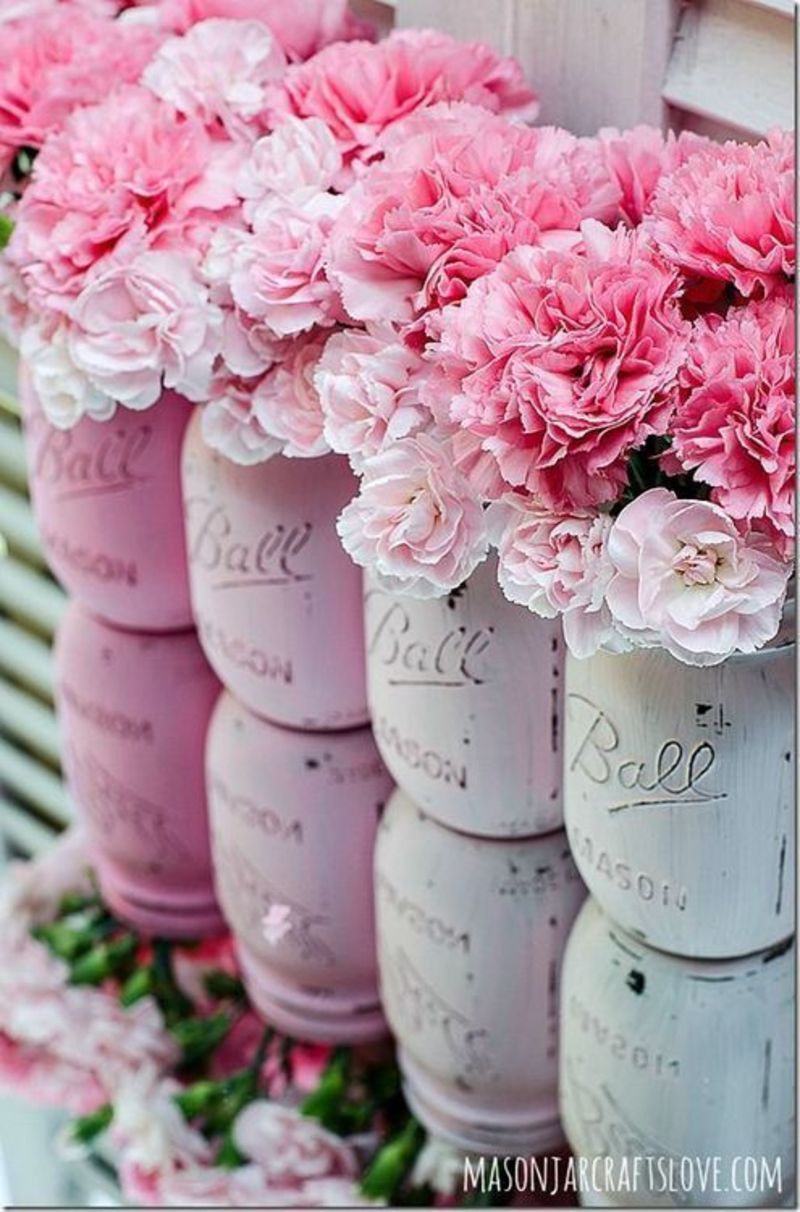 Matte colored chalk paint is a shabby chic DIY-er's best friend and can be used on a huge range of furniture and knick-knacks. Try laying a coat on old mason jars and sand the edges just a bit for a vintage yet updated look. They make great flower vases and can even be painted to match the color of the flowers. Pink is a very warm and gorgeous choice for just about anything.
30. Burlap and Floral Accent Can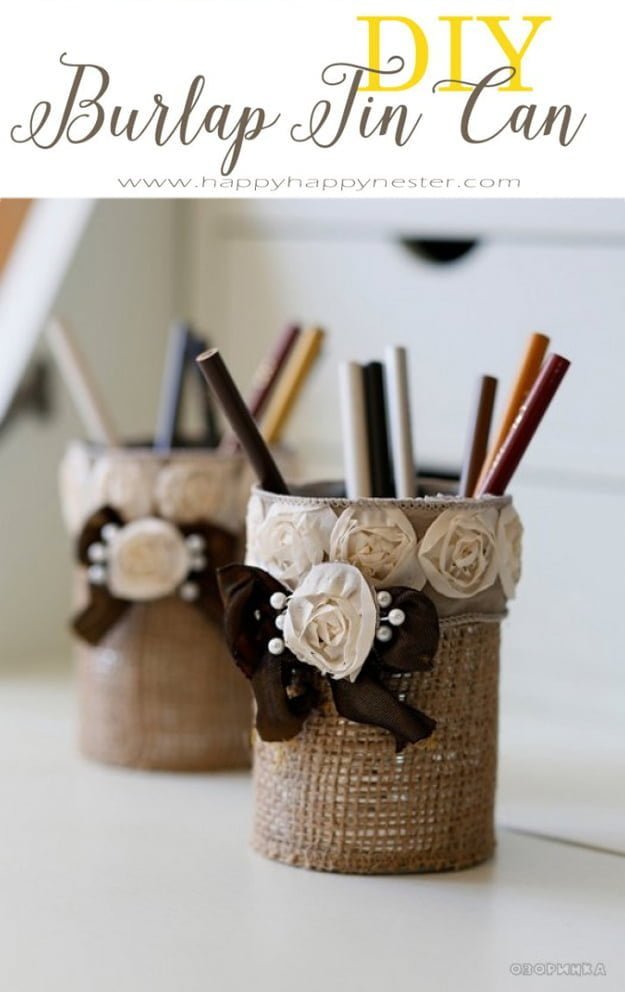 An old tin can never looked so good wrapped in a bit of burlap and lined with off-white fabric flowers and bows. You can transform any desk or work space from boring to stylish with a couple of crafty accessories like this. Plus it serves a purpose in holding spare pencils and pens instead of stuffing them in a drawer somewhere to be forgotten.
31. Old Shutters to Monogram Hanger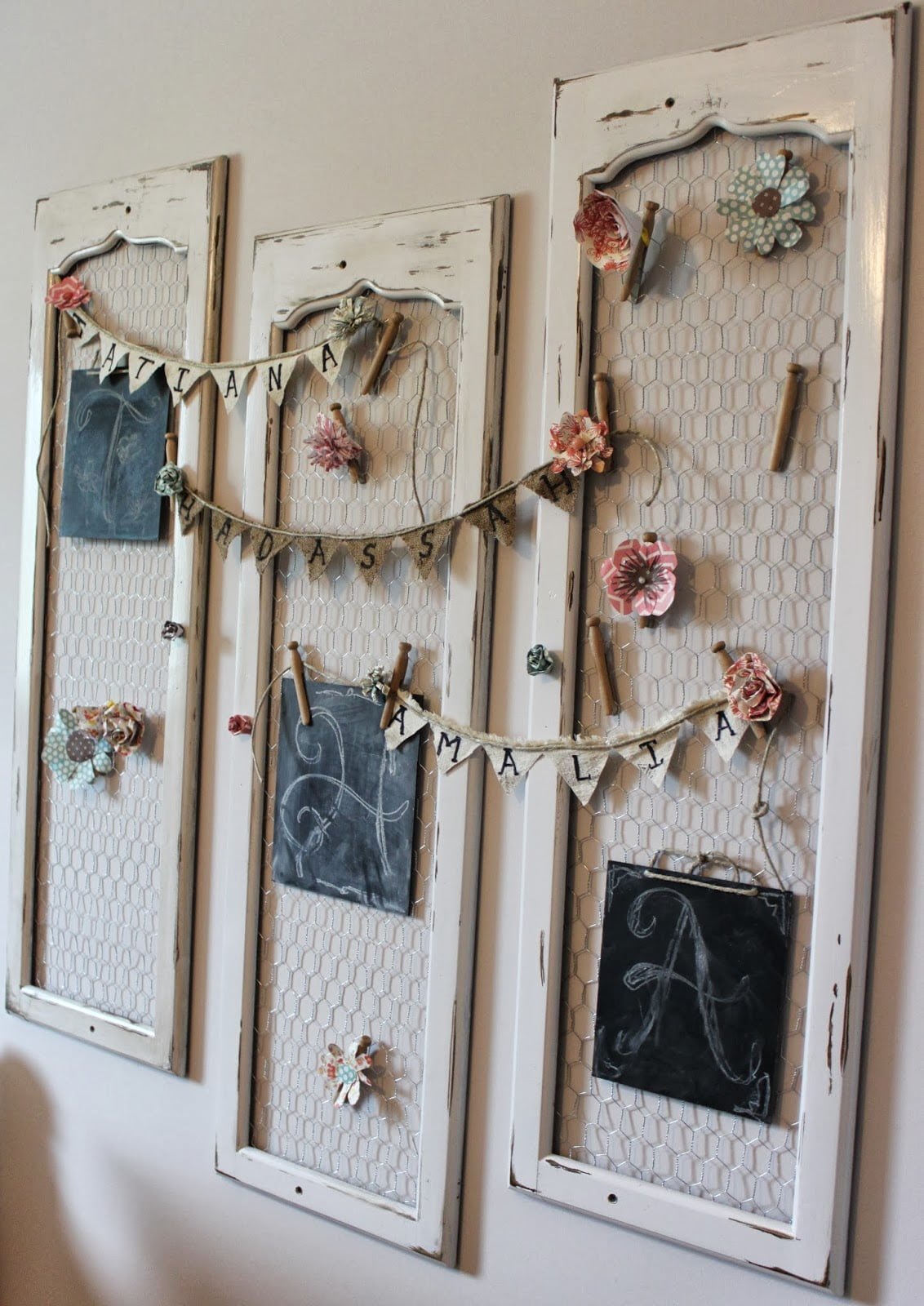 This crafter took some old wood shutters and used the outer wood as a frame with some chicken wire attached to the back to create a neat space to easily hang pictures and cute items. Decorated with some old-fashioned clothespins and finished with little monogrammed burlap flags gives these pieces a personal touch that can be customized for anyone.
32. Window to a Restful Evening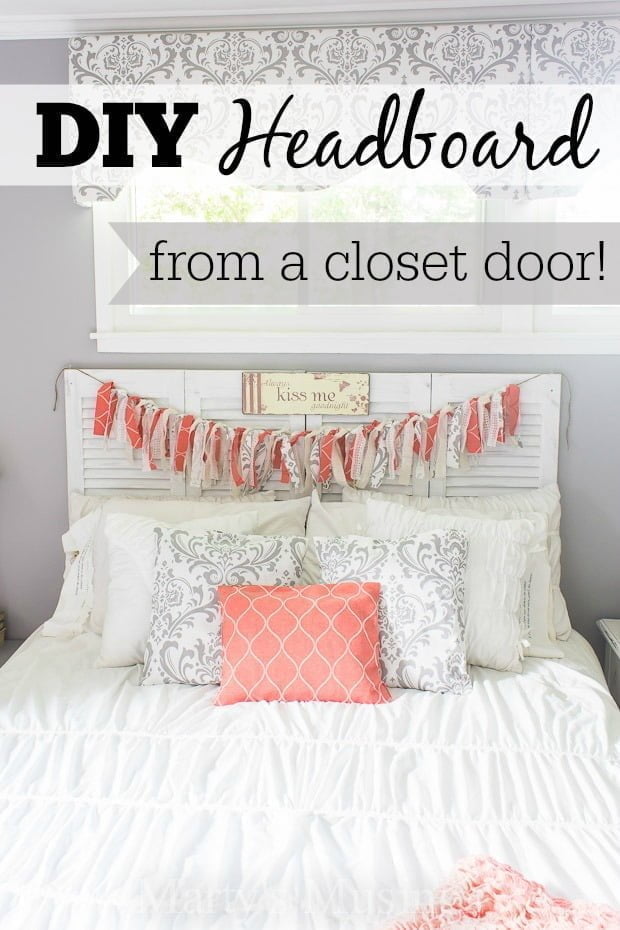 An old closet door can be used to make a simple, yet homey headboard for a shabby chic bedroom. This re-purposed door has been attached to the wall for stability and painted with a fresh coat of white, but sanded a bit for that worn look. It just goes to show you what an old piece of forgotten furniture can be turned into with a little love and imagination.
33. Plain but Perfect Side Table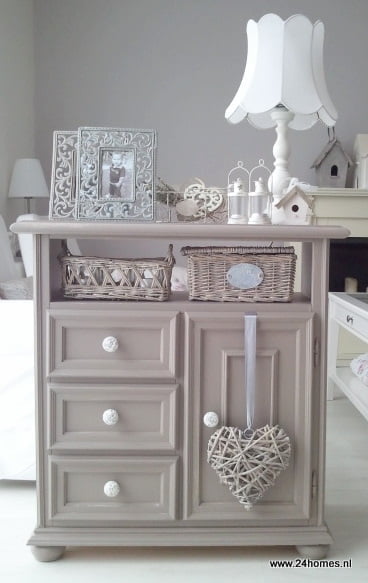 Whites, pinks and pale blues are among the greatest colors in a shabby chic decorator's arsenal, but a clay gray shade is not to be underestimated. This small night table is coated in an earthy gray tone that makes it a perfect neutral piece for adding cute decorations and accents. It is basically a base that anyone can personalize with whatever they love.
34. Note this Mache-Pressed Mason Jar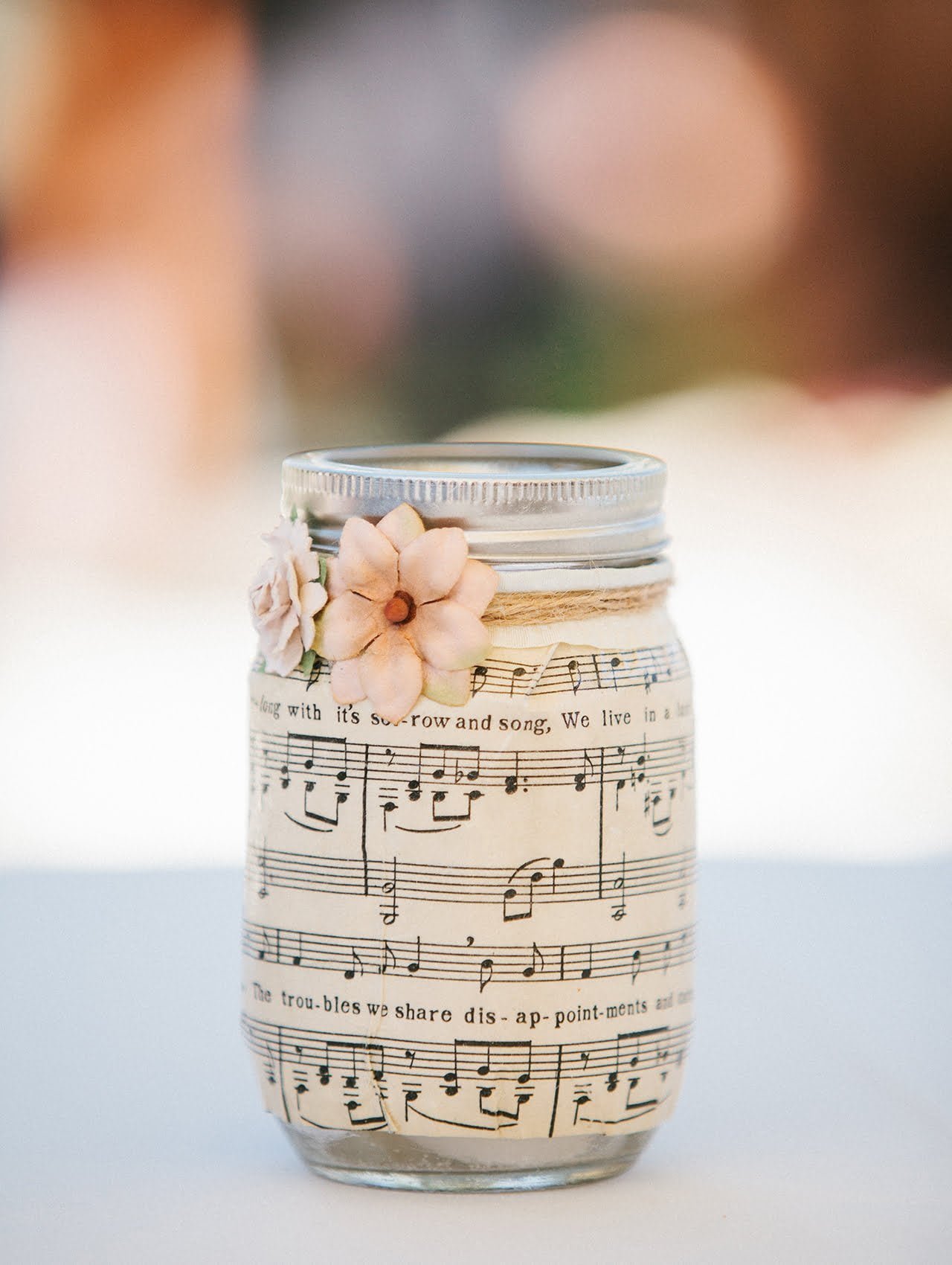 Pages from a music book aren't just for plinking away on the old piano anymore. This artist used paper mache to wrap an old piece of music around a mason jar and trimming it with some twine and fabric flowers. This is perfect for any music lover and can be used for countless possibilities, from holding pencils to preserving sugar.
35. Curled Rose Pastel Lamp Shade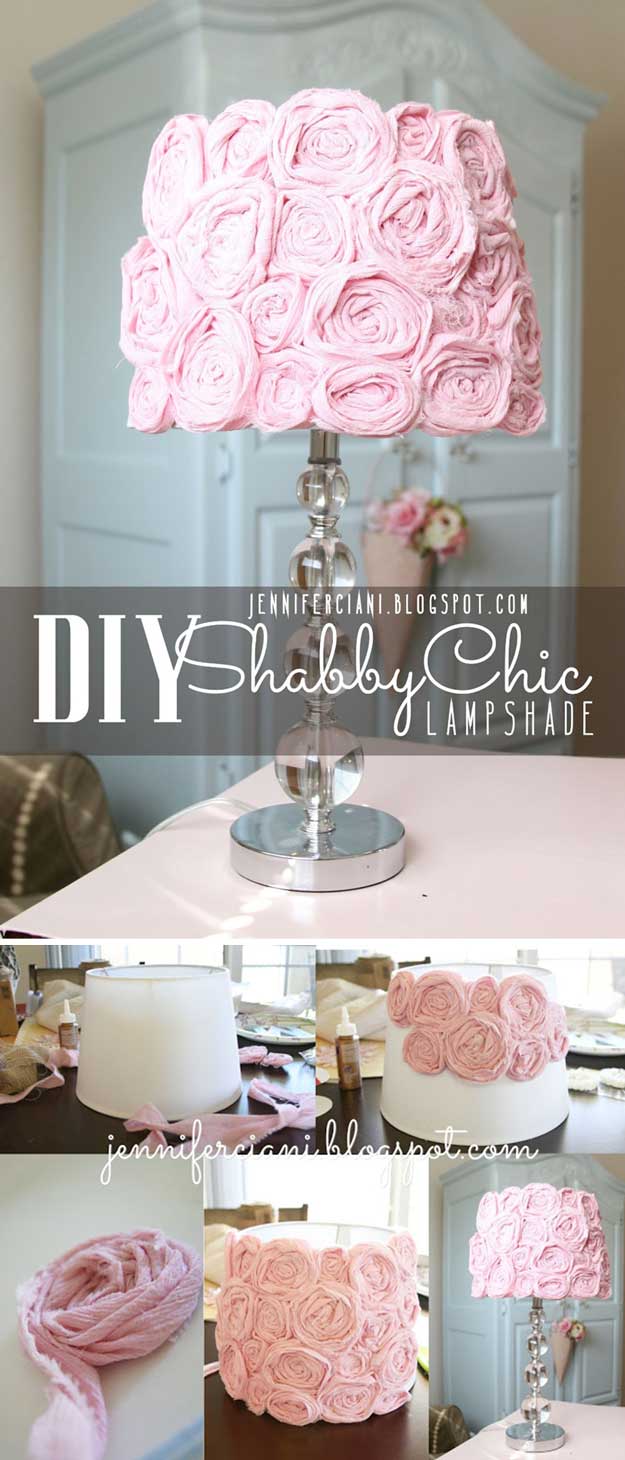 If you have a plain old lampshade that just isn't fitting in with your current style, some spare fabric pieces will completely transform it. The roses are made from fabric that is curled up like a garden hose and glued into place all over the lampshade to create a brand new look. The result is adorable and goes well with a shabby chic room that has other pink accents.
36. Delicately Flowered Porcelain Plate Chalkboard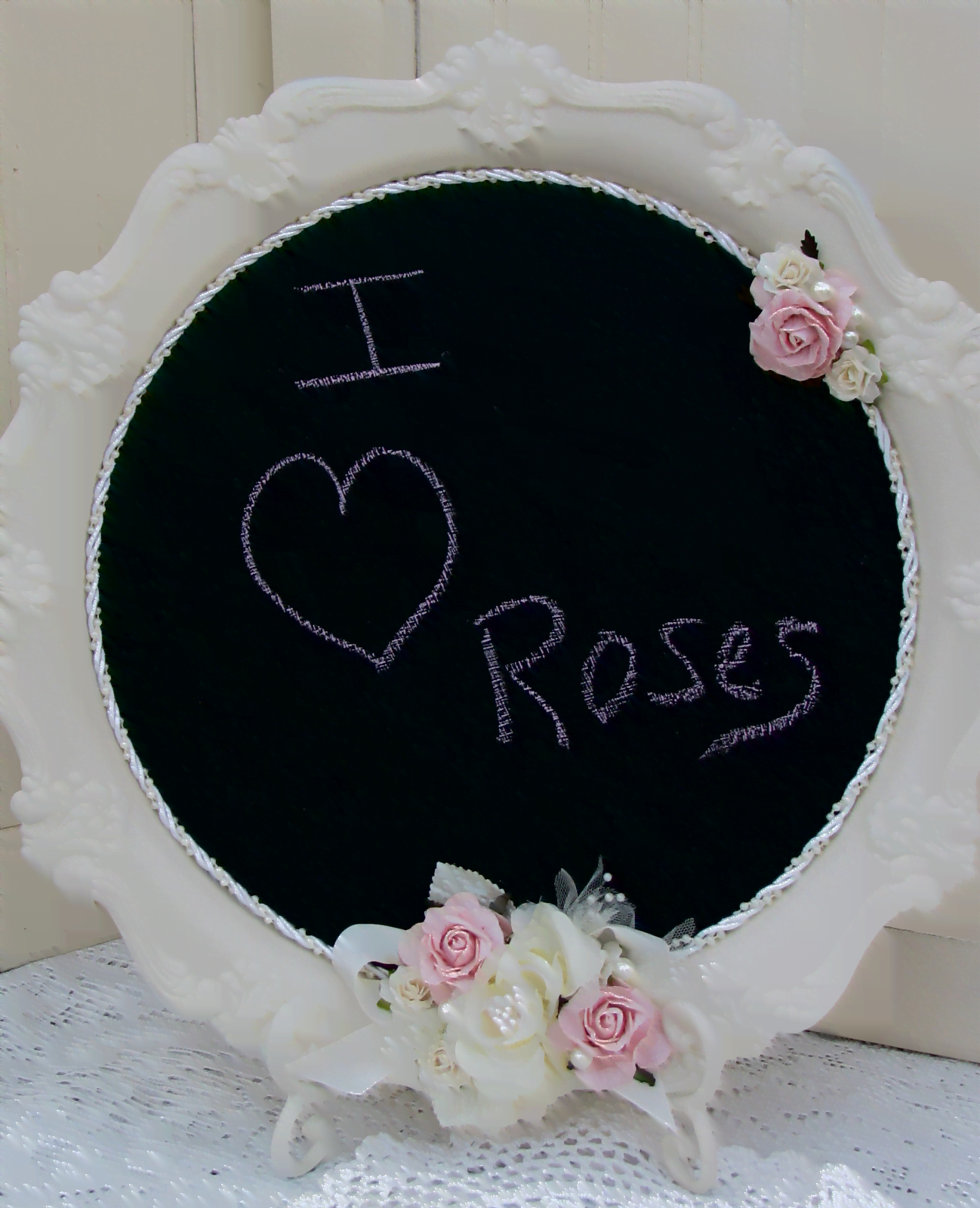 Silver platters are given new life with a coat of matte white paint in this cute craft. The middle is coated with regular black chalkboard paint that turns the whole platter into a framed chalkboard that can be used for decoration, reminders for appointments, and personalization. The sky is the limit for this cute project and you can even put some flowers around the edges for a more feminine effect.
Choose Rustic Wall Decor Ideas to Make Your Home Warm and Inviting

More DIY shabby chic decoration ideas on the next page…