15. Huge DIY Rose Throw Pillow!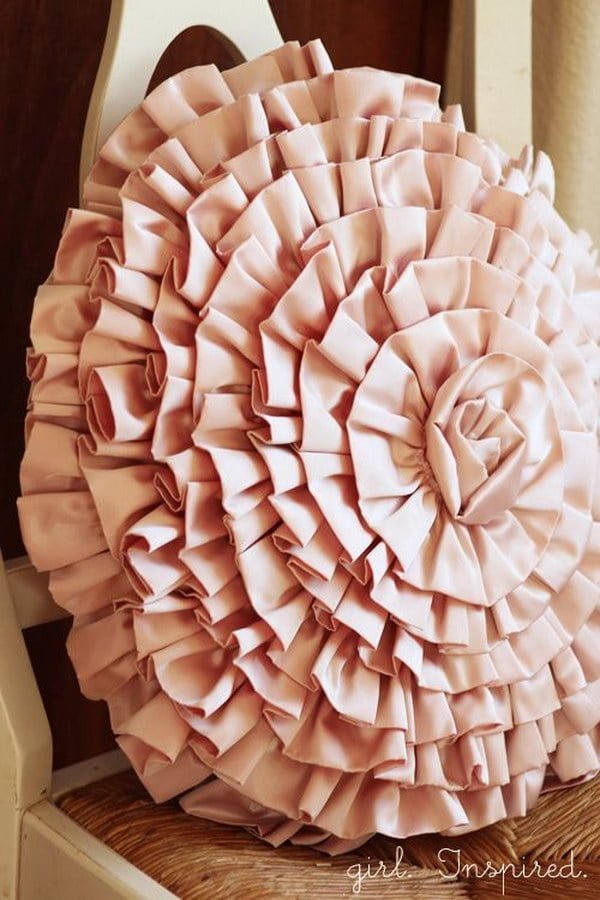 DIY Project Details: thegirlinspired.com
If you are crackerjack at making fabric flowers, you can use this skill to make a flower throw pillow of any size. The ruffled fabric is soft and inviting and will be a great compliment to any couch, chair or bed. Soft pastel colors are the best for creating this soft, dreamy and creamy look that will make you want to catch some Z's.
17. Easy Modge Podge Fabric Clock

DIY Project Details: hearthandmade.co.uk
Bored with regular wall clocks that look like they belong in an office building? All you need are some working clock guts, a cardboard circle and piece of fabric for this awesome project. The fabric of your choosing will create the clock face and seamlessly blend in with the décor of your house.
18. Purse Hooks and Antique Keys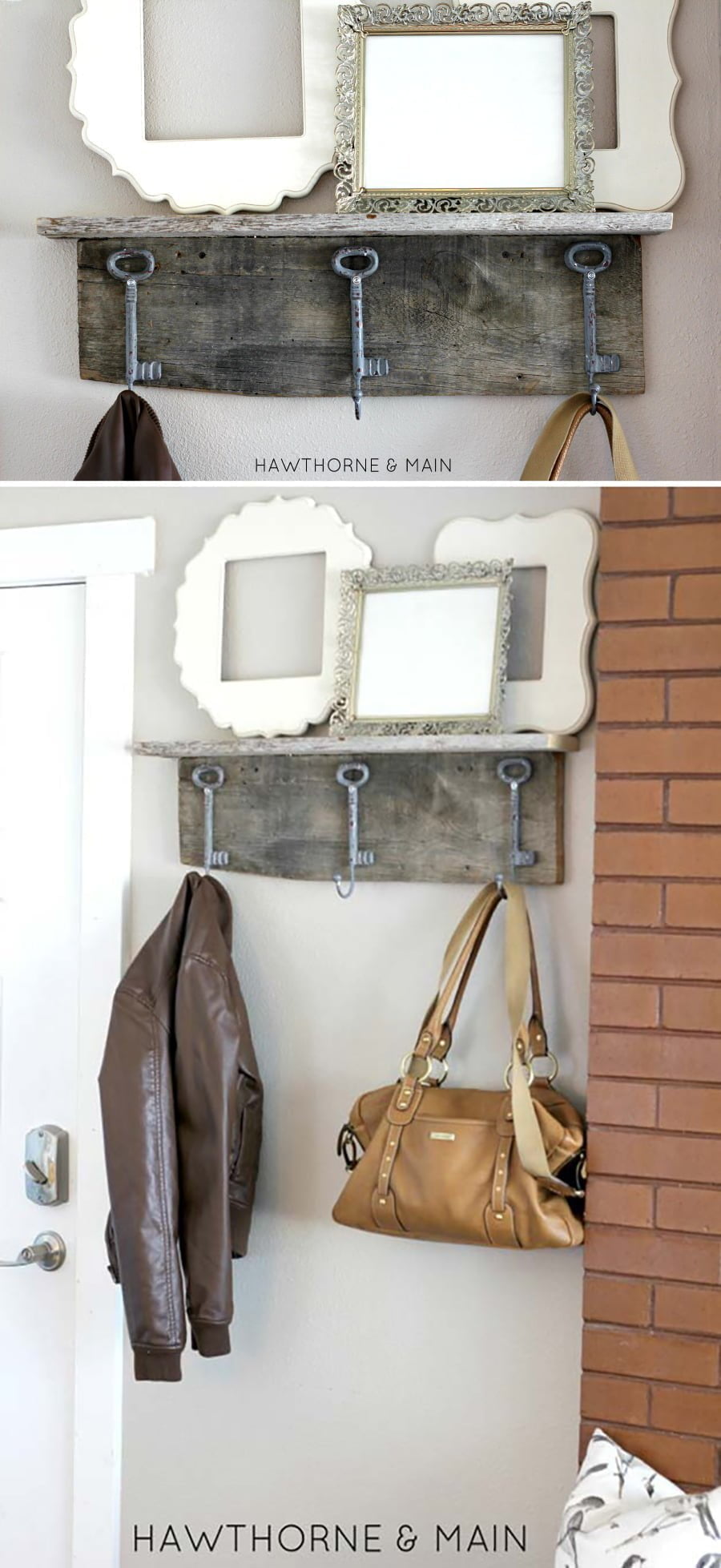 Antique keys mounted on an old recycled bit of wood can really make an entryway special. Hooks on the bottom of the keys turn this decoration into a useful little holder for purses, jackets, keys and everything else homeowners tend to misplace. Not only is it useful, but it looks spectacular and is really easy to put together.
19. Softly Sprayed Shabby Plant Pot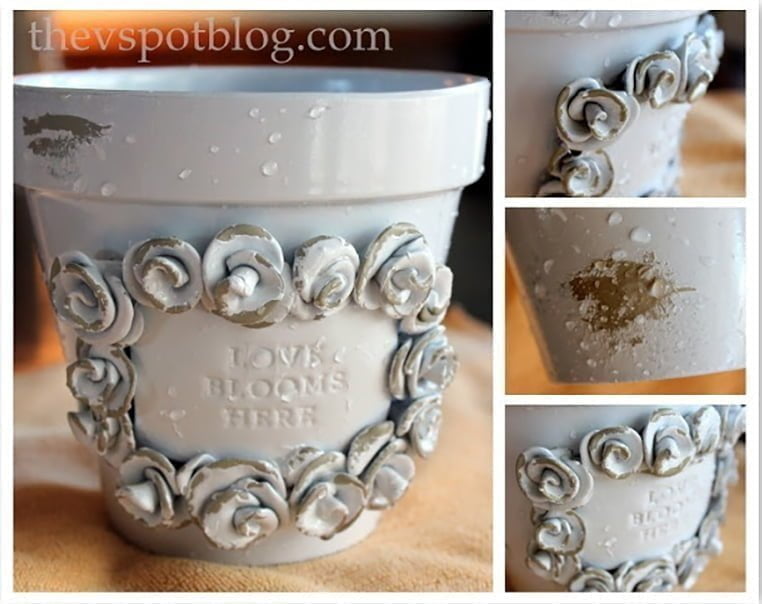 DIY Project Details: thevspotblog.com
This garden pot project takes only some clay, glue, spray paint and wax to create a personalized and adorable new craft for indoors and outdoors! The clever artist modeled the clay flowers and clay slab to make it say whatever their heart's desired and used wax to create the cute chipped look. The protective finish makes it great for any use too.
20. Super Simple Distressed Side Table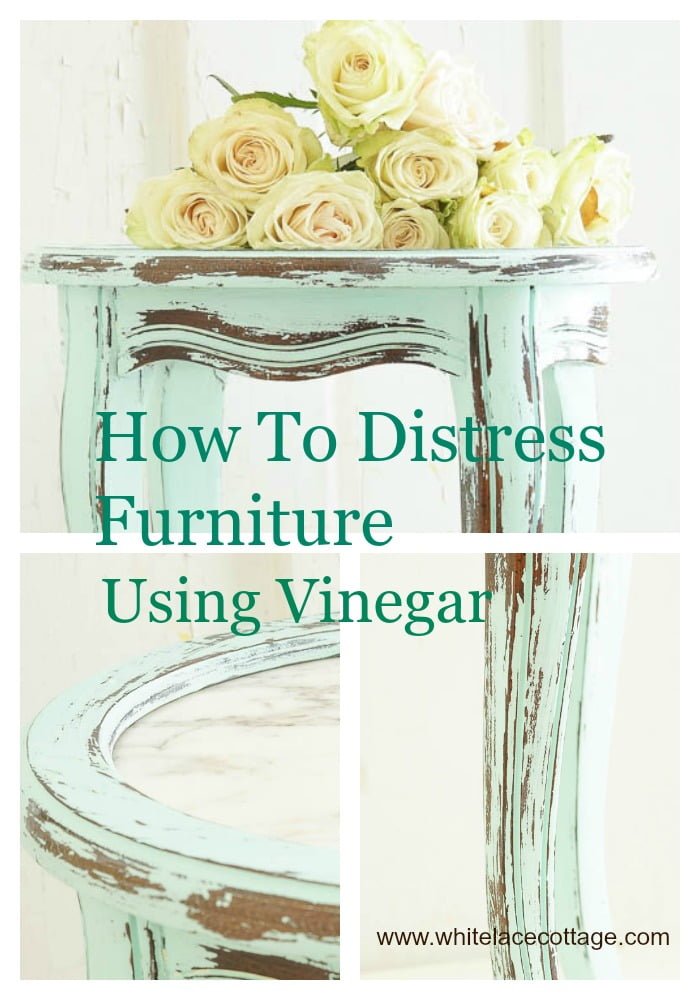 DIY Project Details: whitelacecottage.com
This brilliant crafter uses vinegar to get that distressed, worn look on her furniture. A coat of matte colored chalk paint on a regular plain wood table transforms the look. But she goes a step further by spraying vinegar on the paint job and rubbing it off with a cloth to create the shabby worn design.
21. Whitewashed Headboard Chalkboard Hallway Sign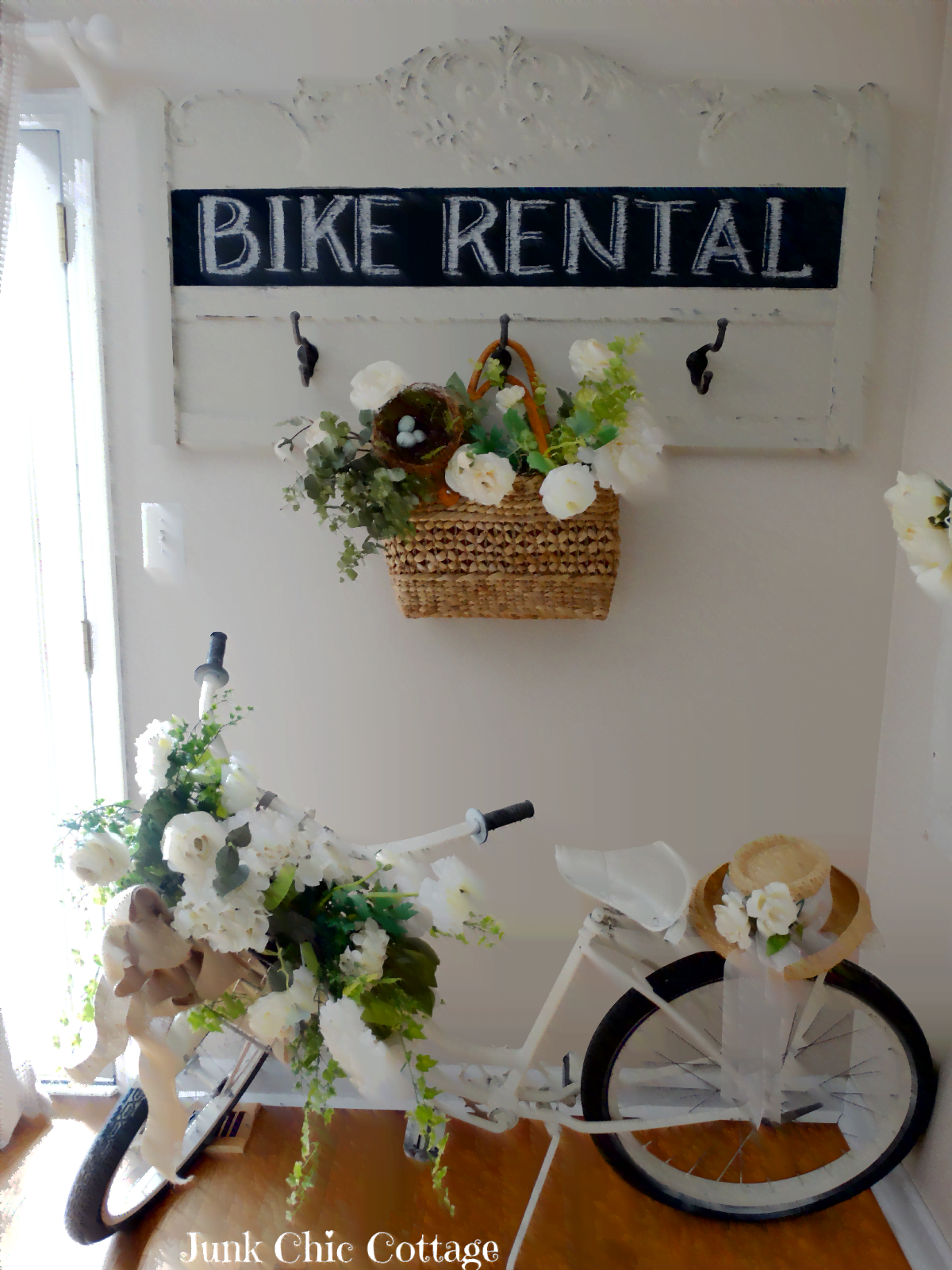 DIY Project Details: junkchiccottage.blogspot.com
You can revitalize an old hallway coat hanger board by covering it with a fresh coat of matte white paint and distressing it a little. What makes it special is the chalkboard paint on the wood panel above the hooks. You can then write anything you want on it! Make it yours and write something that speaks uniquely of you and your home.
22. Shabby Chic Nature Print Frames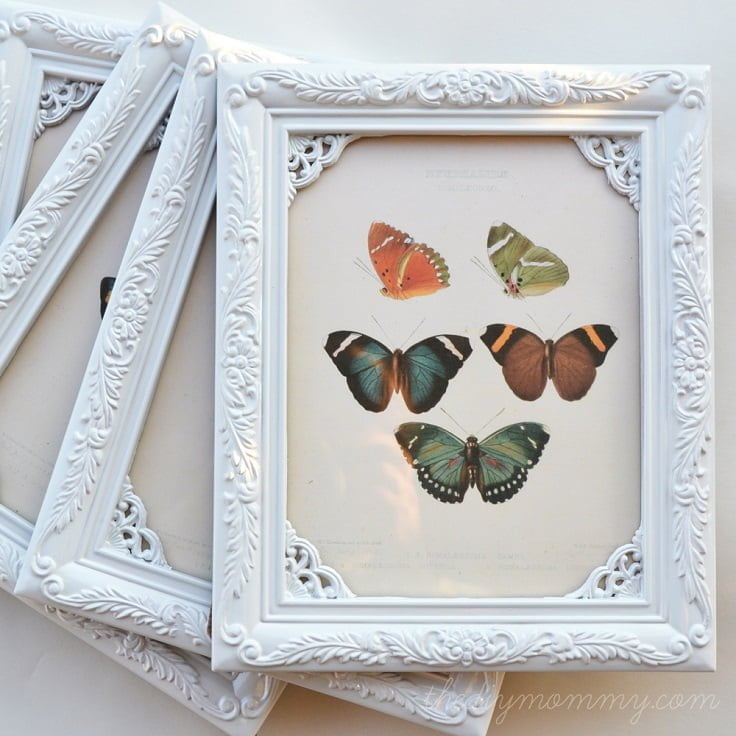 DIY Project Details: thediymommy.com
Nature prints are a great decoration for any home that is both beautiful and a bit "science-y". You can put these prints in an old picture frame or mirror that has been freshened up with a matte coat of soft-colored paint, like white or blue. Insect and sea creature prints are some of the best to use and it is such an easy project to create!
23. Lace and Burlap Heart Ornaments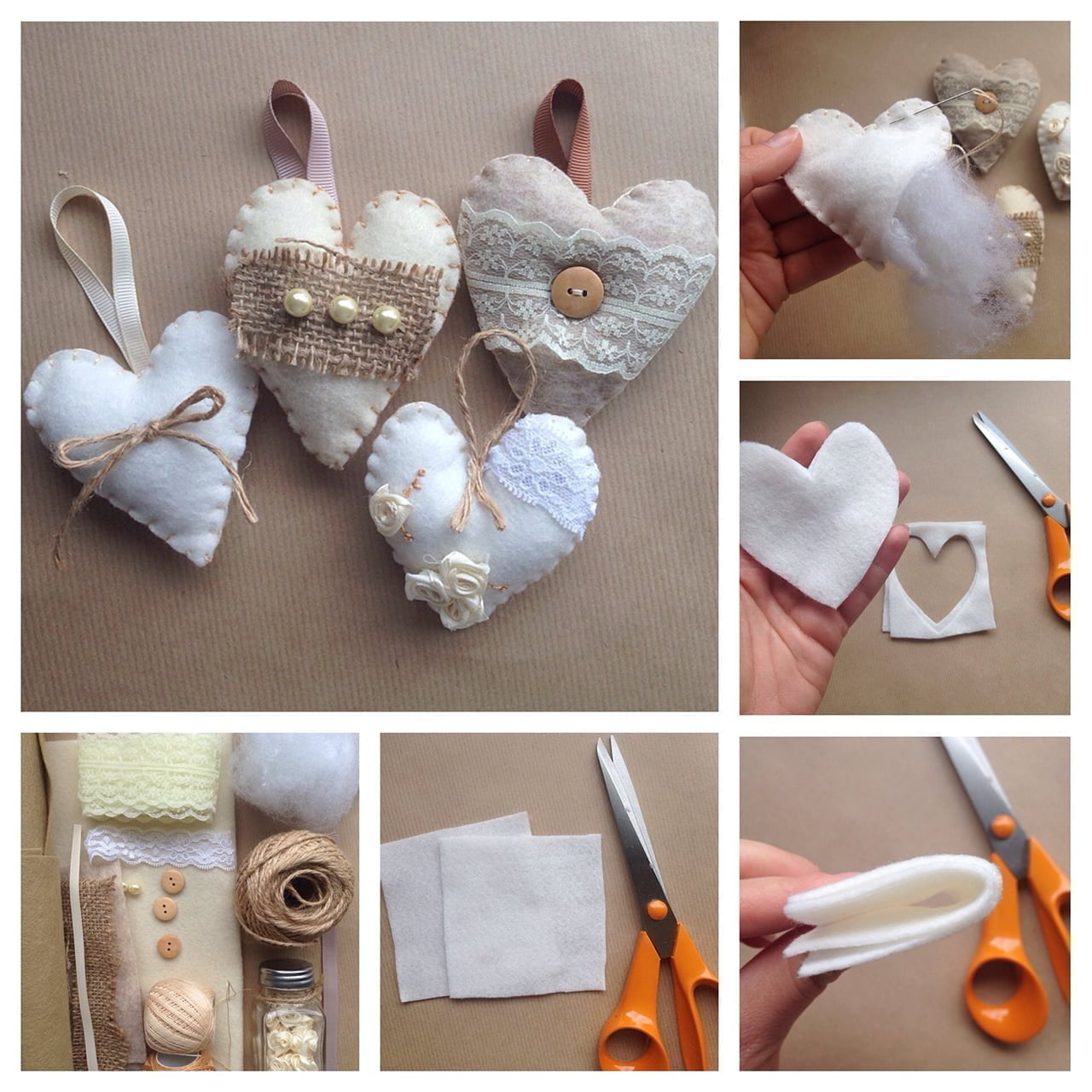 DIY Project Details: thecraftymummyblog.wordpress.com
If you're looking for a great Christmas gift or stocking stuffer, you can easily make your own felt ornaments decorated with lace, burlap and buttons. Even beginner sewers can easily complete these adorable hanging ornaments and can use them to hang anywhere; it doesn't even have to be Christmas to enjoy these crafts.
24. Turn those Flowers Upside Down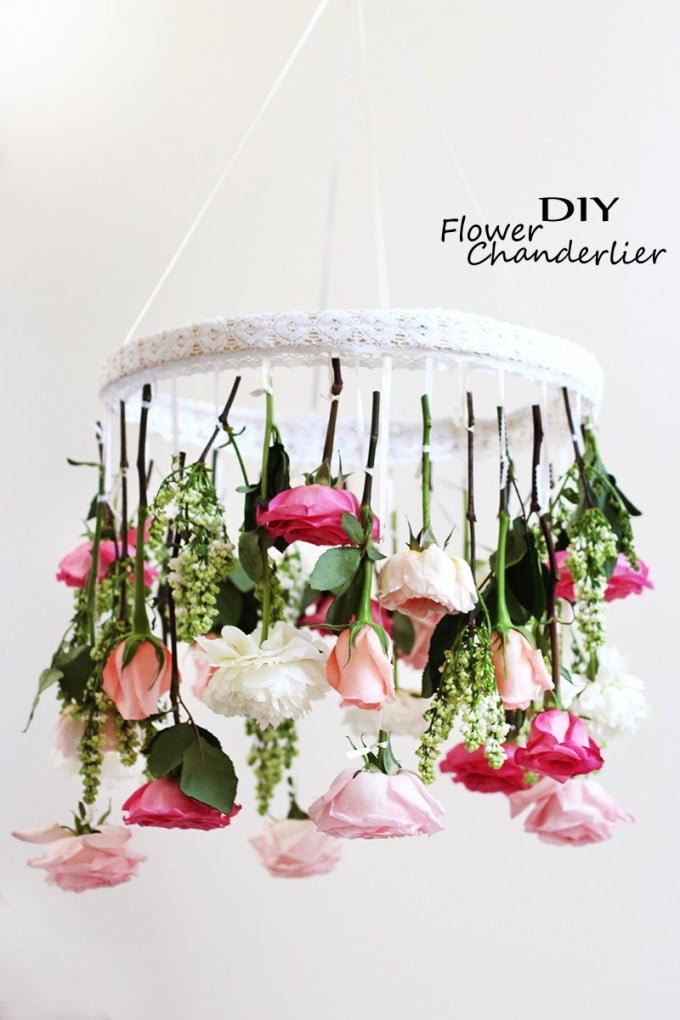 DIY Project Details: boredfastfood.com
Fake flowers and a crochet ring is all you need to make a creative and fun chandelier for any room in the house. A leftover bit of lace glued to the crochet ring completes this feminine decoration. It offers a sense of peace and comfort without the noise of a wind chime and is a great addition to a bedroom especially.
25. Shabby Chic Ladle Wall Sconces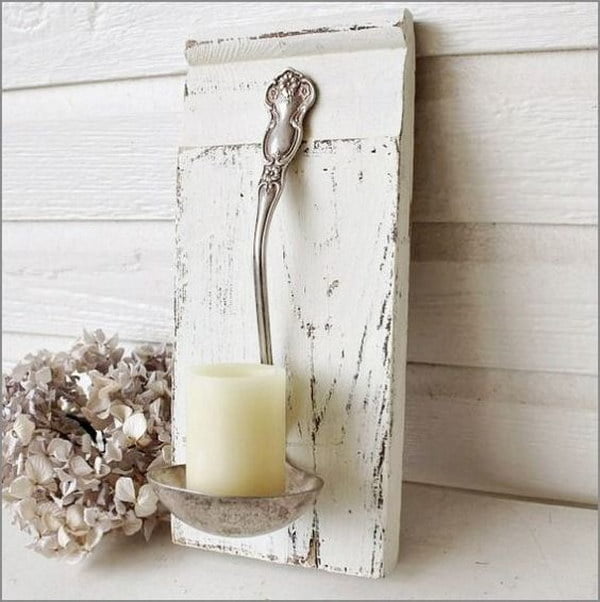 DIY Project Details: julitawozny.com
This project is a great new way to display candles and use recycled materials for your shabby chic home. Paint and distress a piece of wood and simply attach an old-fashioned ladle for a candle sconce that is elegant and old-fashioned. This project is easy and if you can find matching ladles you can make sets of sconces to adorn your chic dining room.
26. Gotta Love this "LOVE" Sign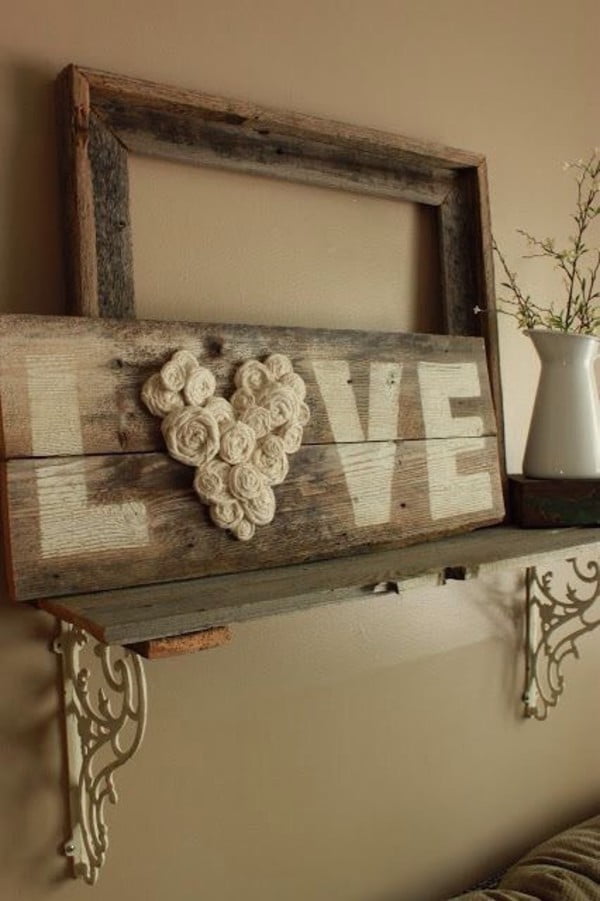 DIY Project Details: wheretoget.it
Welcome people to your warm home with this recycled wood project that makes use of distressed white painted letters. But instead of an "O", there is a heart made of twirled yarn roses. These are easy to make by twirling yarn like a little garden hose and gluing or sewing them together. The sign is light and subtle but inviting and can be hung in any room of the house.
27. Reline Your Luggage with Shabby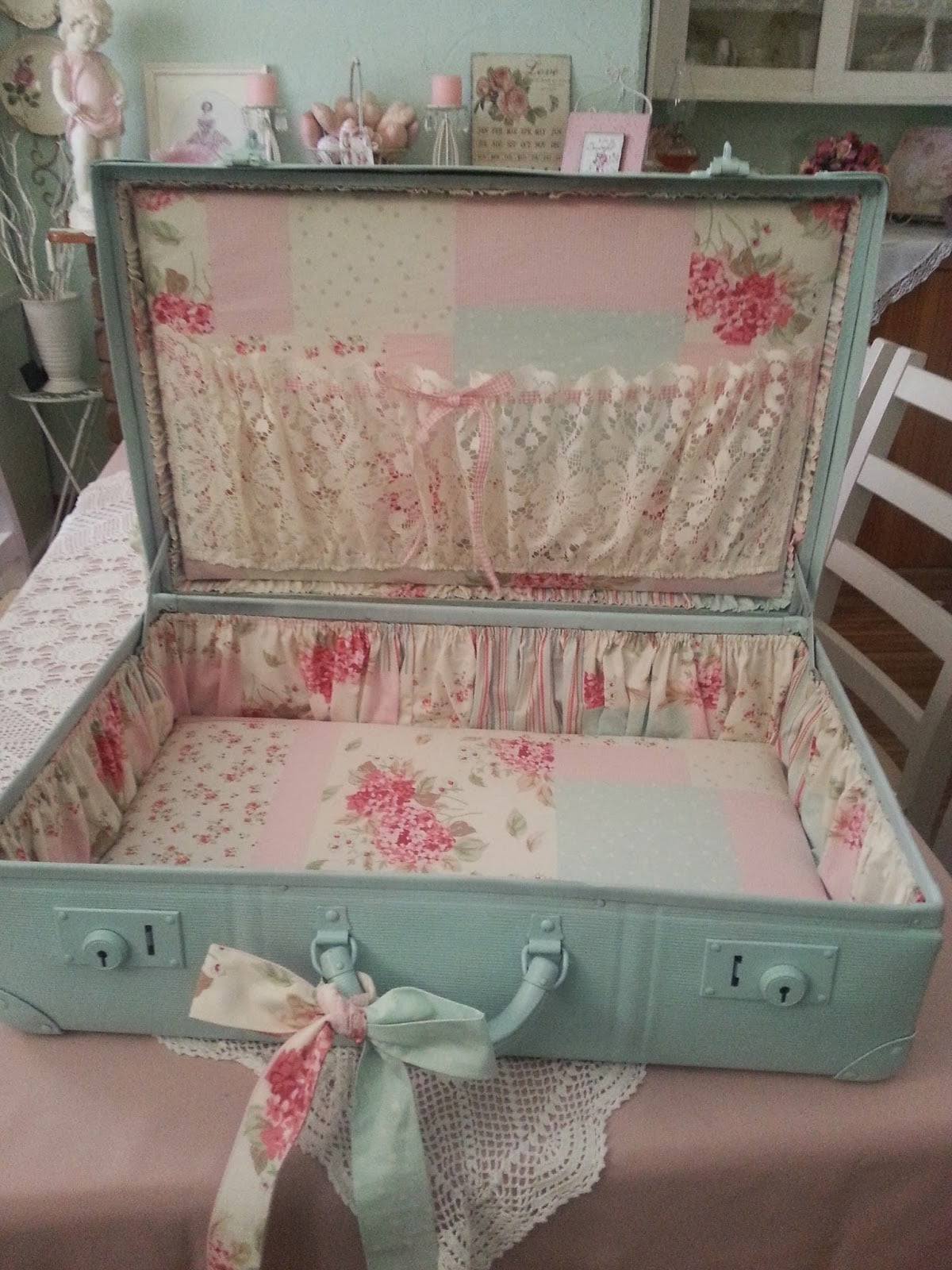 DIY Project Details: shabbyprimdelights.blogspot.com
Old-fashioned suit cases can be given a shabby chic face-lift with a little paint and new fabric to line the interior. You can choose any fabric and personalize the inner suitcase with ruffles, lace or patches for a vintage effect. You don't have to use these suitcases for luggage either, they can be for display or holding precious items.
More DIY shabby chic design ideas on the next page…