When you have the best DIY shoe rack ideas at your disposal, you can quickly design and create a compelling piece of furniture to house your shoes in style.
19 Incredible DIY Shoe Rack Designs for a Stylish Home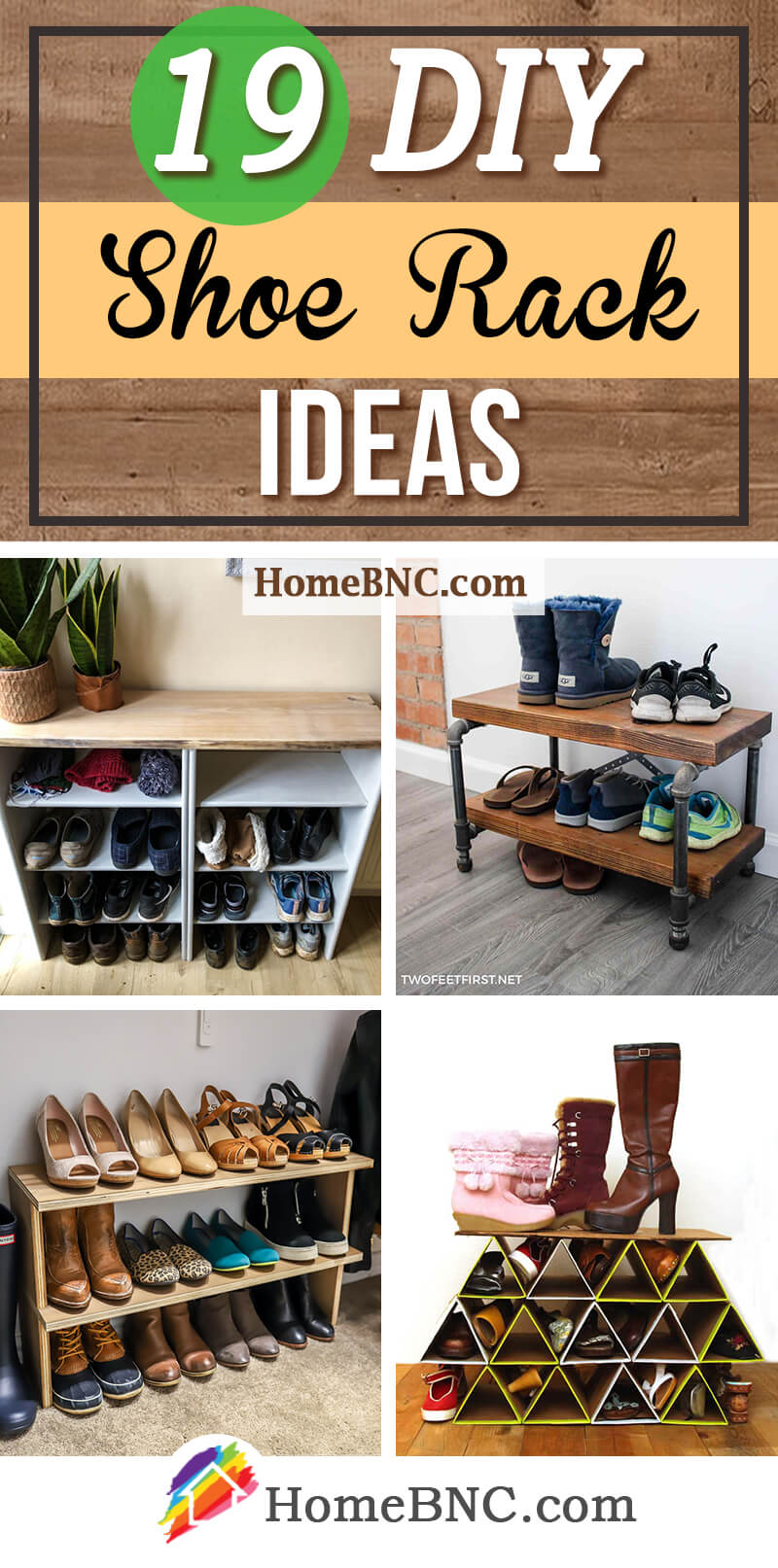 Shoes can quickly get in the way of everything else in your home, especially if the home has a lot of household members. This is even true whether you have kids of walking age or not. Shoes can be a bit clunky or cumbersome when it comes to storing them away, so it helps to look for storage options that will ensure your home remains clutter-free. When you're trying to work out a design, be aware of the various sizes that shoes can be as this will help you narrow down your focus. Also, you must wonder if you want boots along with your shoes on the rack as they can take up a good deal of space.
A great DIY shoe rack design can also accommodate every style and size of shoe. By doing so, you are able to share the space and keep the larger footwear cozy on the new rack as well. Another thing you want to consider is the way you wish to store the boots. Is it easier if they were hanging up high? Or do you prefer them on the ground? These are important questions to raise because they will firmly set you on the path of designing a particular kind of rack.
There is a slew of materials you can make good use of when designing a shoe wrack. Your choice of material can also impact the decorative style of the shoe rack once it's done. Some can come across as rustic and industrial what with the use of metal and wood. Others are more simplistic, but never in a negative manner.
So, have you decided yet on just how you plan on organizing your shoes? If you haven't, then our list of some of the most inspiring DIY shoe storage ideas should kick you off in the right direction.
1. Rustic Handmade Industrial Shoe Rack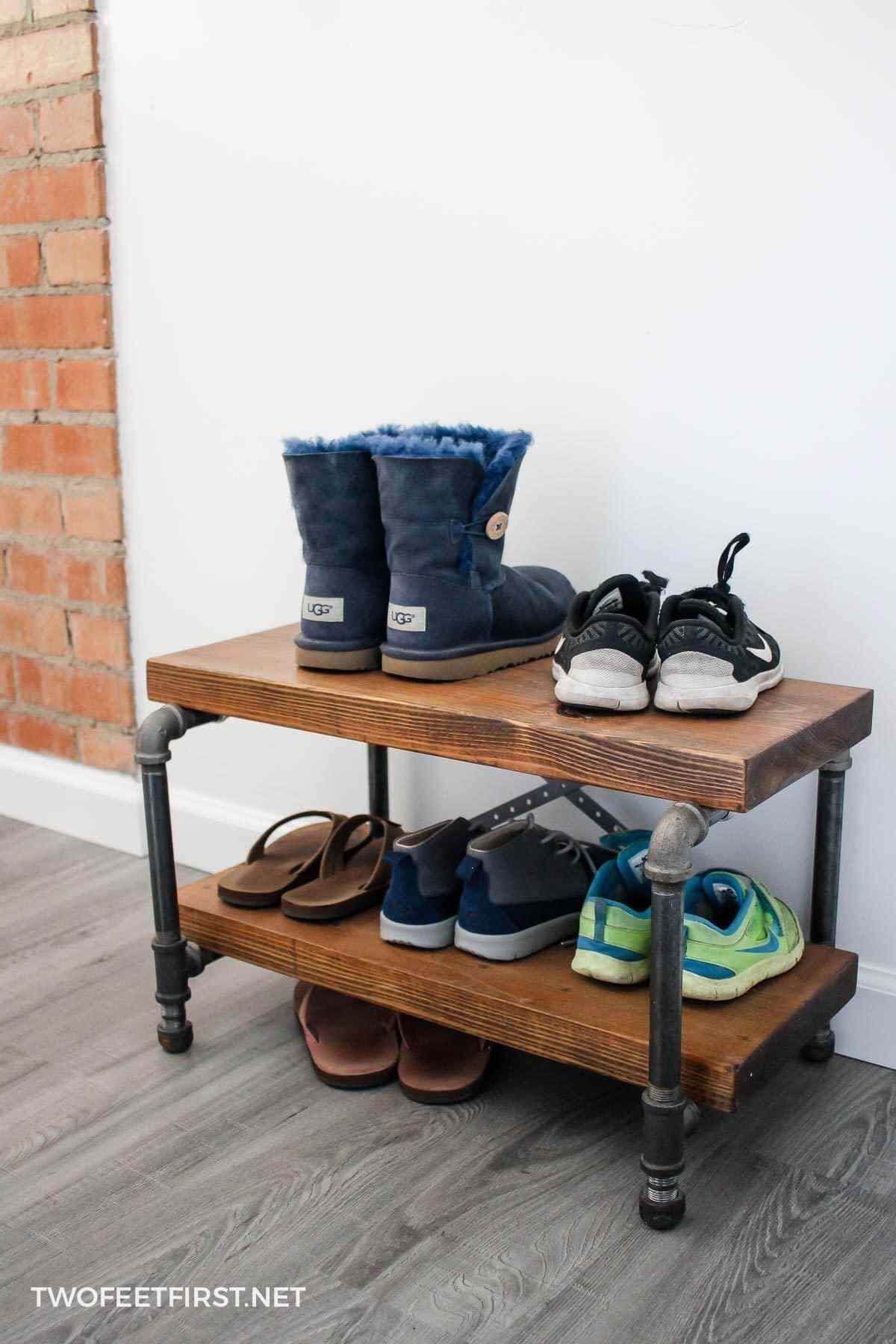 Going for a classic industrial look is always appealing in homes with various decorative styles from vintage to modern. This is among the best DIY shoe rack ideas that leave you with something that looks store-bought rather than made at home. The pipes provide both reliable structural support, while they also have a slightly weathered appearance that gives them a more vintage feel. This pairs well with the wood itself that isn't free of blemishes and instead boasts personality. The shoe rack winds up coming across as both simple and stylish.
2. Wall Hanging DIY Boot Rack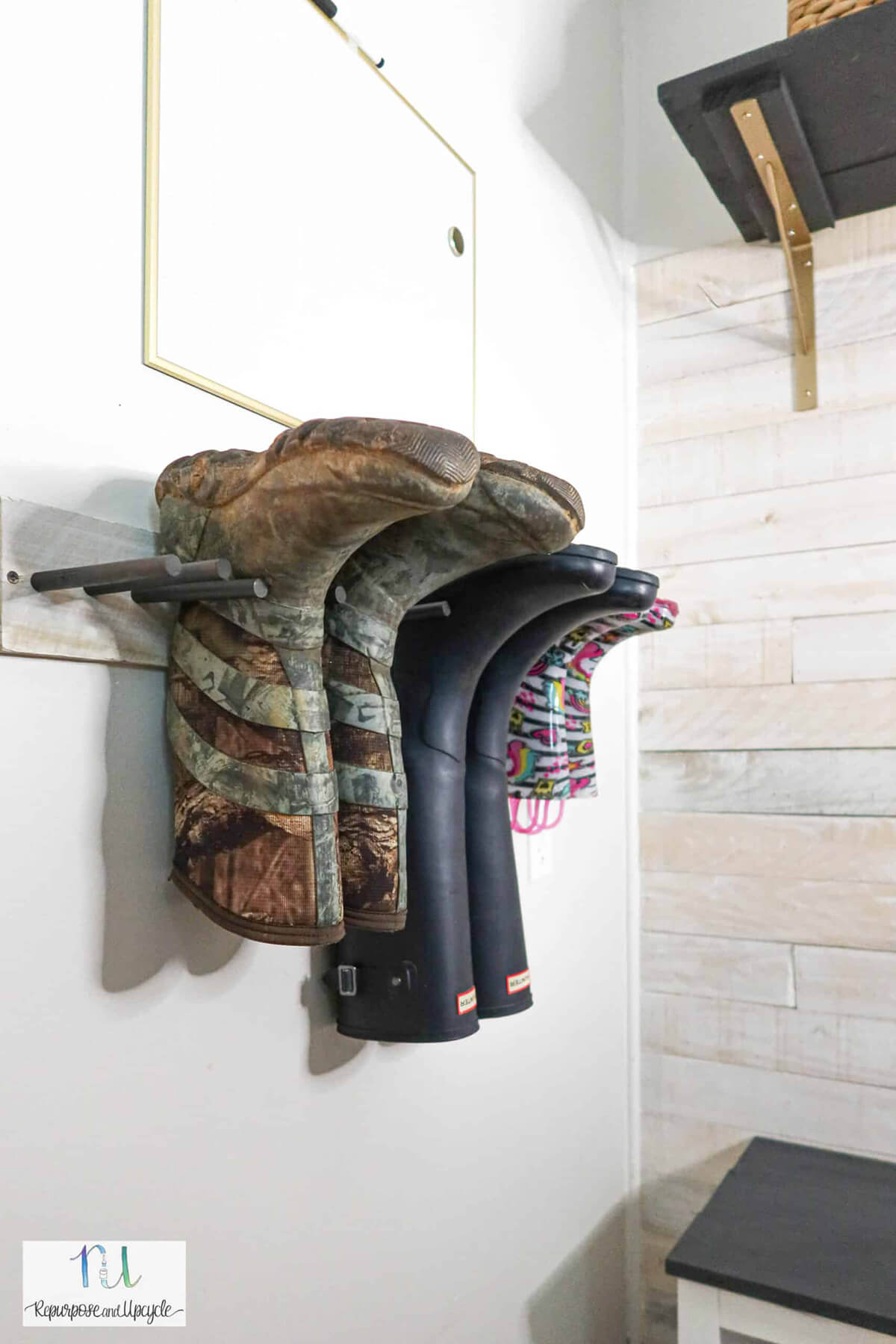 Do you have a mudroom that seems to be getting a bit too crowded? Then why not raise those boots higher with an awesome wall hanging rack? This DIY design is a unique way to clear up space while still being simplistic in terms of decorative style. It blends well with a minimalistic décor while having just a touch of an industrial feel to it. The studs work effortlessly to keep boots elevated, and since it's easy to hang them upside down, the rack is ideal for those muddier or snow-filled days. Finally, having the rack on the wall does make the boots easier to grab while on the go.
3. Space-Saving DIY Outdoor Boot Rack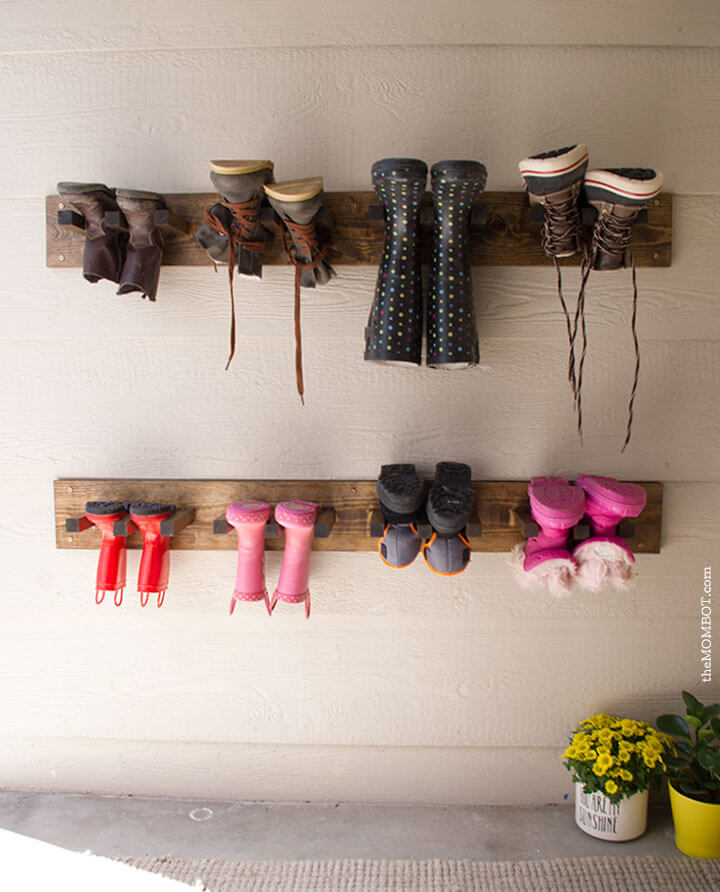 Many of us would prefer to keep our boots outside, and with this homemade outdoor boot rack, you can easily accomplish that. This organizer hangs along the wall, making it simple to slip off your boots and hang them upside down. It's a great way for the boots to drip-dry too, so it will help if you leave something underneath to catch everything. With how the slots are designed, the organizer supports boots of different styles and sizes as well so that you can use them year-round for rain boots, snow boots, or just everyday boots.
4. Simple DIY Wall Hanging Shoe Rack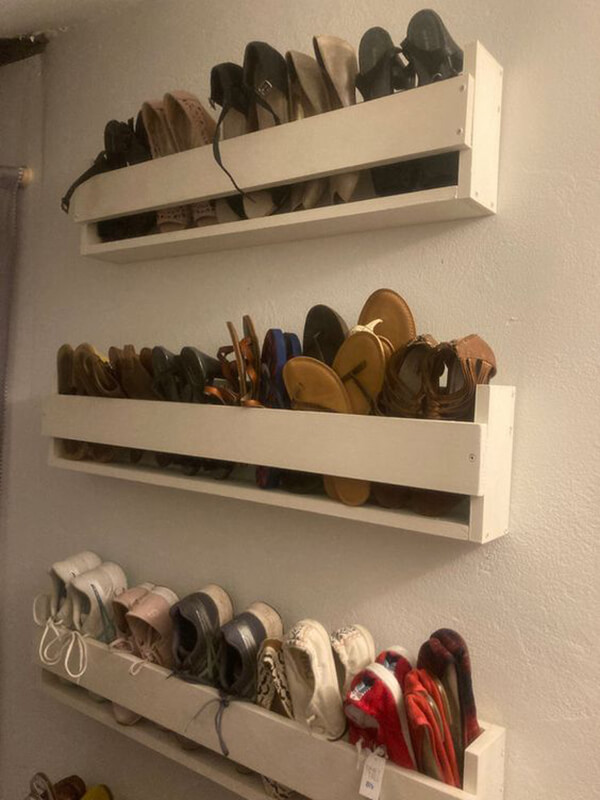 If you're handy yet don't want to use too many materials, this project is ideal. It only uses five pieces of wood, and the result is a sturdy and well-designed shoe rack that you can hang up on the wall. This is perfect too if you just want something that's simple and straight to the point in terms of looks and functionality. Depending on how long your pieces are, you can hold multiple shoes or just build multiple racks to hang up. You can use this in the hall near the door for the whole family, or simply design this to organize the shoes in your closet or bedroom.
5. Crown Molding Hanging Shoe Rack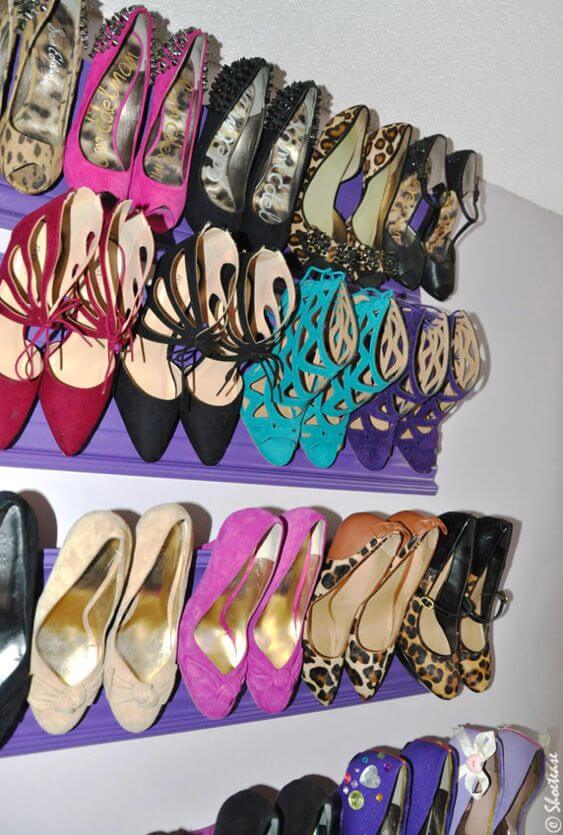 Who knew just how versatile crown molding could be? You can easily hang it up on your wall and use it to organize your shoes. In particular, this design works great for heels. Feel free to give it a paint job too so that you can better match this with your personal style or the theme of your room. There is a wonderful amount of simplicity with this shoe organizer too, but at the same time, it can have an elegant look about it depending on how you decide to paint it up a bit.
6. DIY Hanging Porch Boot Rack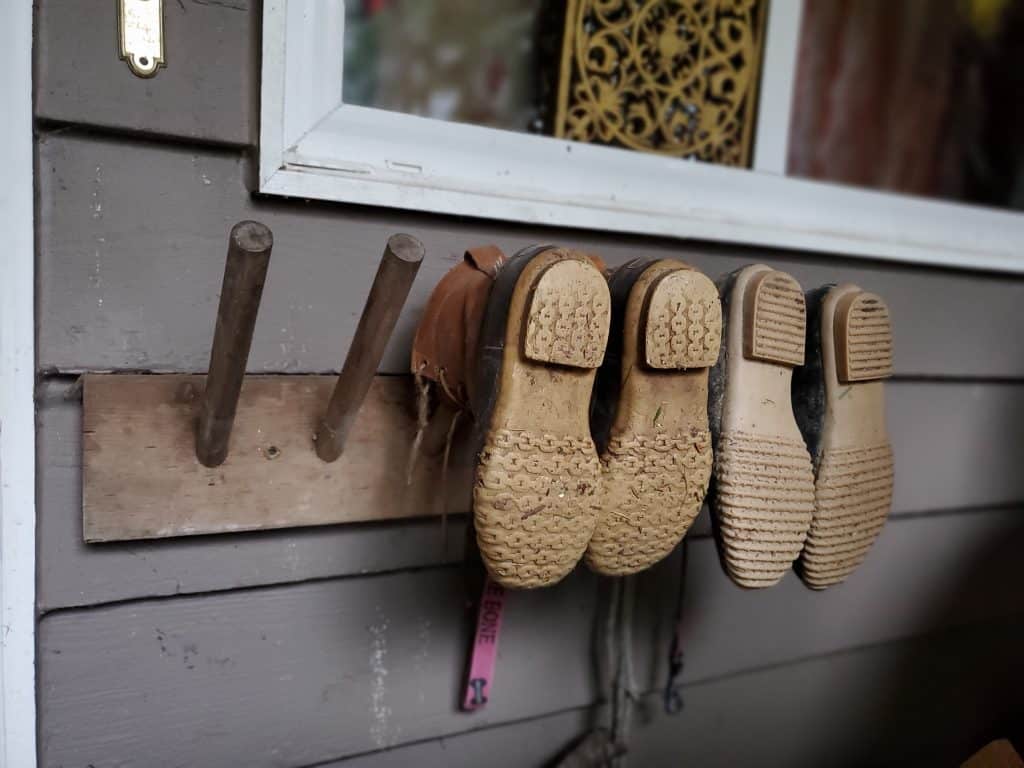 The porch is a great place to hang a boot rack as it keeps hazards off the ground and allows your boots to properly dry if they're wet. This is the best solution if you're in a household that has loads of boots whether for work or for play. The design is rustic in appearance, and it fits well outdoors without appearing out of place. So, it winds up being both functional and aesthetically appealing for adding a hint of décor to your outdoor setting. Plus, it's reliable seeing as the angle of the posts ensure the boots can't slide off on their own and cause a mess.
7. Quirky Hanger Flip Flop Rack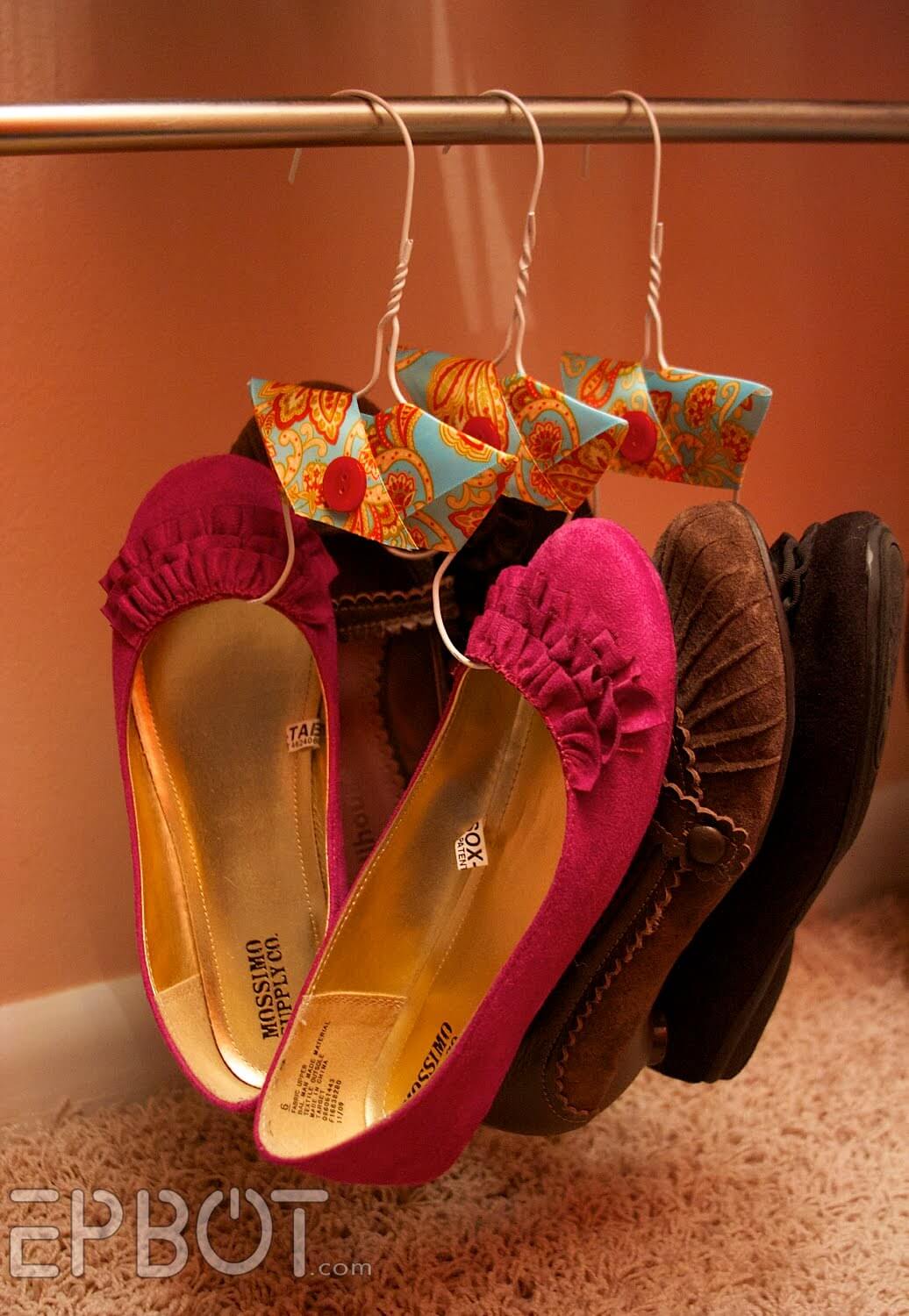 It's just so easy to find yourself owning dozens of flip-flops, but it can quickly get hectic when trying to store them all. When it comes to handmade shoe rack designs, this hanger rack is brilliant. It is just the right amount of cute and quirky, which just manages to gel well with flip-flops. Also, it is a nice way to do something useful with those old wire hangers, and you can spice things up with colorful designs on them all. These work exceptionally well when hung on an elevated shoe rack too so that you can keep all your fashionable items in a single space.
8. Fun Hexagonal Wooden Shoe Rack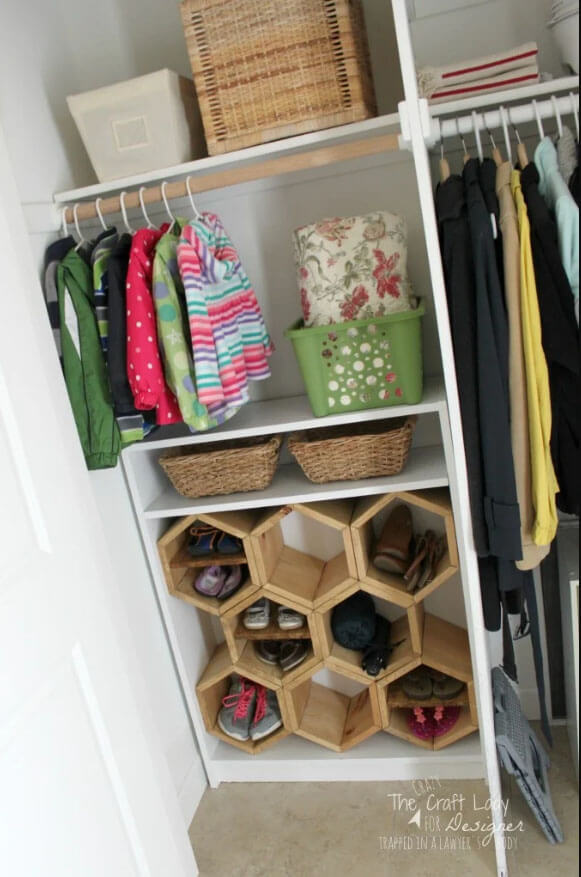 It's always nice to liven things up a bit with your DIY projects, and this hexagon wood shoe rack design can do all that and more. This may take some time to get the shape just right, but once finished, this wooden rack will slide into place within your décor. There is something so great about this style that makes it work well in a contemporary or modern home without detracting from anything that may be around it. And also: the hexagon design is just a cool way to store your shoes rather than having them stand upright or hang.
9. Smooth DIY Wooden Shoe Rack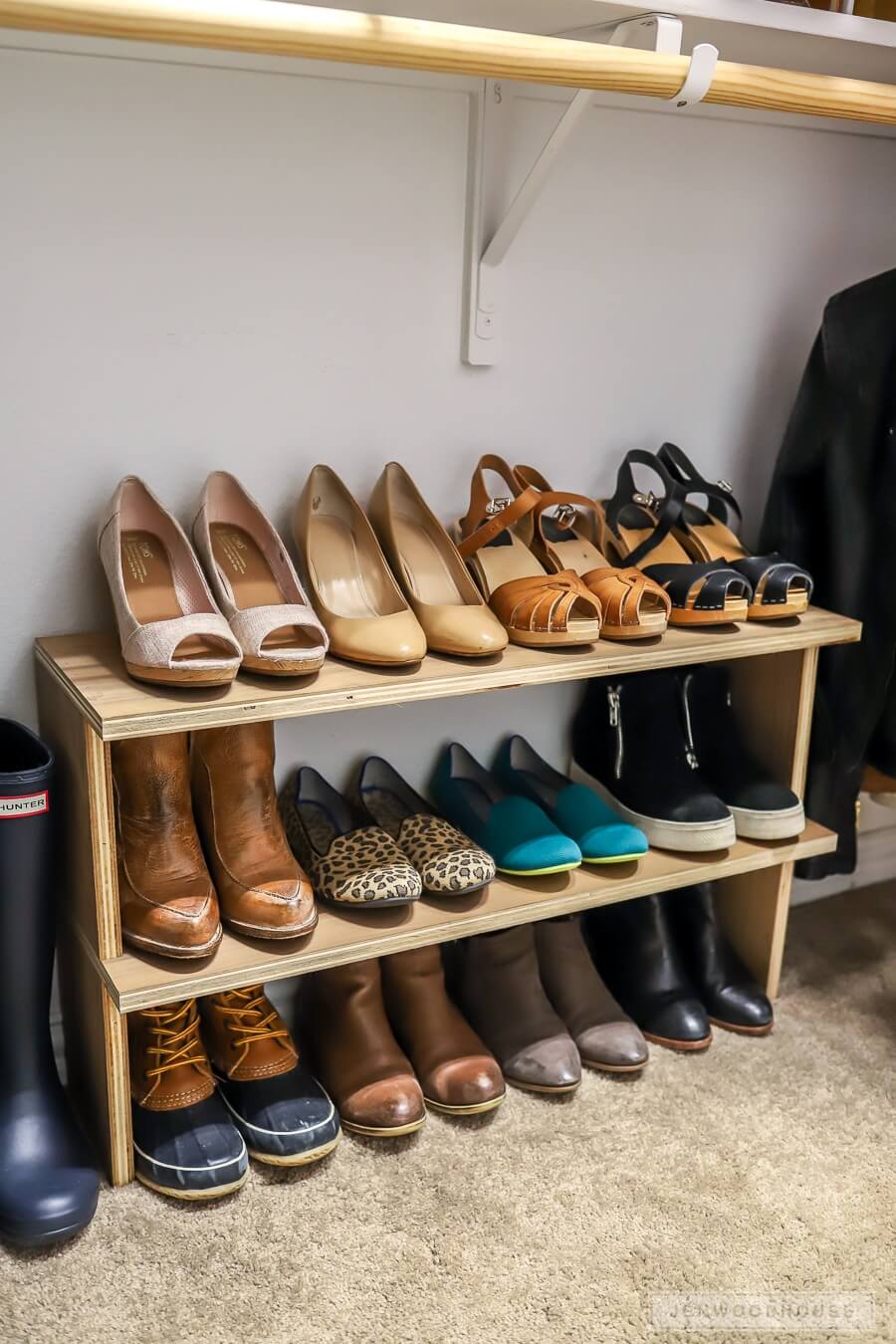 Sometimes the best DIY shoe rack ideas keep things more traditional as with this wooden rack. There is something that appears so effortless about this rack. There's no bottom shelf, but shoes can slide underneath perfectly, and this design still gives you three sections to work with. There's ample breathing room between the shelves too so that you are not stuck squeezing your shoes in place and tugging them out. The wood has such a clean look about it that further nails down the pleasing, simple aesthetic the rack has to offer. It won't look out of place either no matter where you set this up whether that be by the door, in the hallway, or in your bedroom closet.
10. Kid-Friendly Fun Shoe Rack Design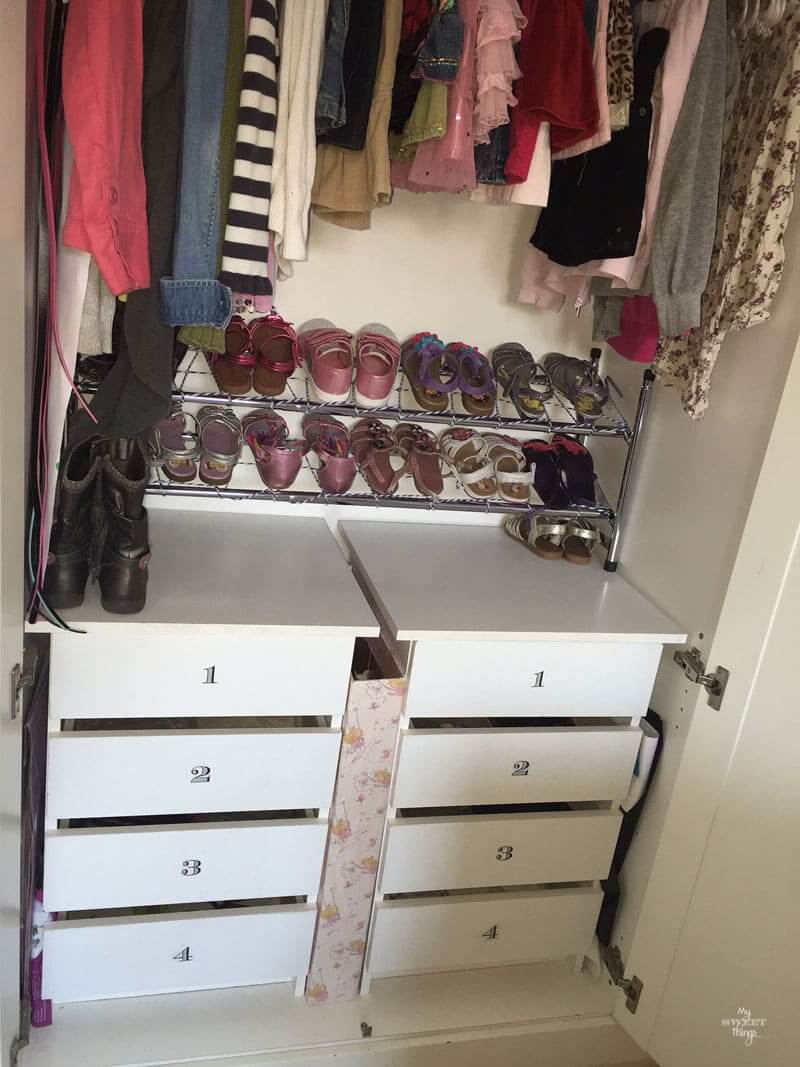 Sometimes, all you need to create a lovely shoe rack is to take one that's already made and give it a little upgrade. This is true in the case of this standard metal shoe rack. It has two sections with a good amount of width to support numerous shoes. However, if the shoes fall through the cracks, then you should consider updating this piece with some handmade netting using the likes of twine and other similar material. It is also fitting for use in a child's room, perhaps tucked away in a closet to make things less hectic.
11. Simple DIY Hallway Shoe Rack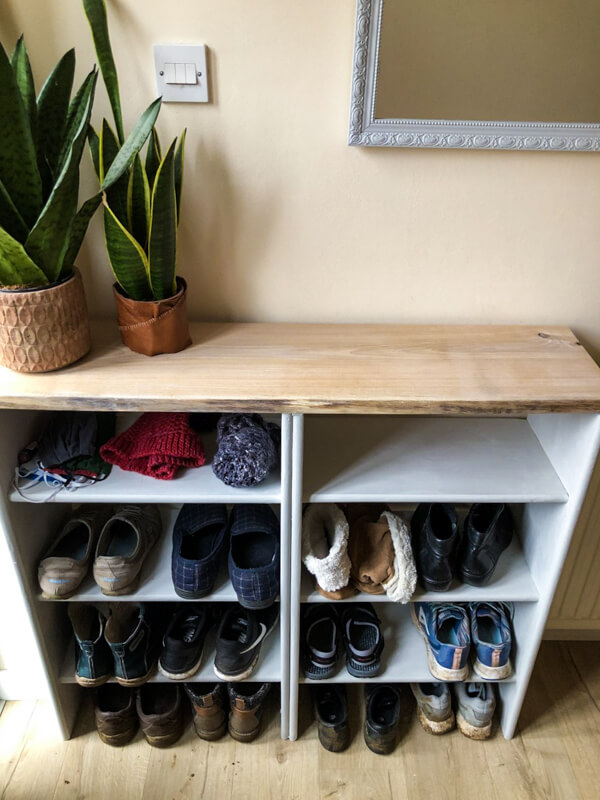 For the minimalistic designer, this shoe rack is perfect for your home. It is simple, yet wonderfully effective at helping you save on space and de-clutter the hallway. Instead of shoes lying around, this rack helps set them up so that they are easier to find. With the multiple shelves, it's simple to fit plenty of shoes on the rack for the whole household (or just you). Also, this comes with the added bonus of having space on the top that you can use for additional items. This gives you more space to decorate without having to sacrifice storage for your shoes.
12. Upcycled Old Ladder Shoe Rack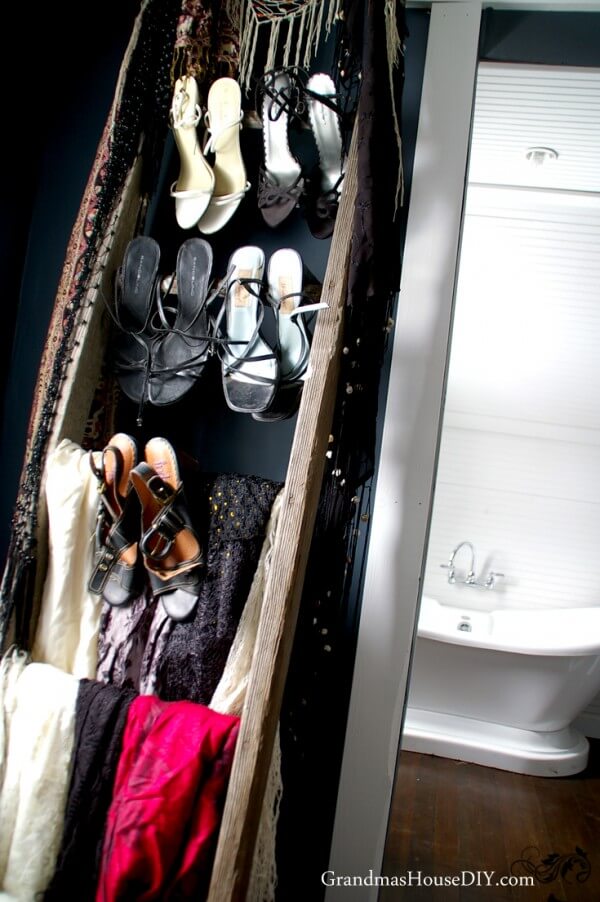 A cool upcycling project involves using an old ladder as your "brand new" shoe rack. There isn't too much you need to do with the ladder to complete this look either, so as far as DIY shoe storage ideas go, this is as simple as it gets. If anything, it can be cut to size considering the space you have available. Once that's done, it takes little time to hook on shoes like heels This can be a wonderful addition to a walk-in closet to keep your heels separated from the rest of your clothing yet always available within arm's reach when needed.
13. Pebble Tray Shoe Rack Storage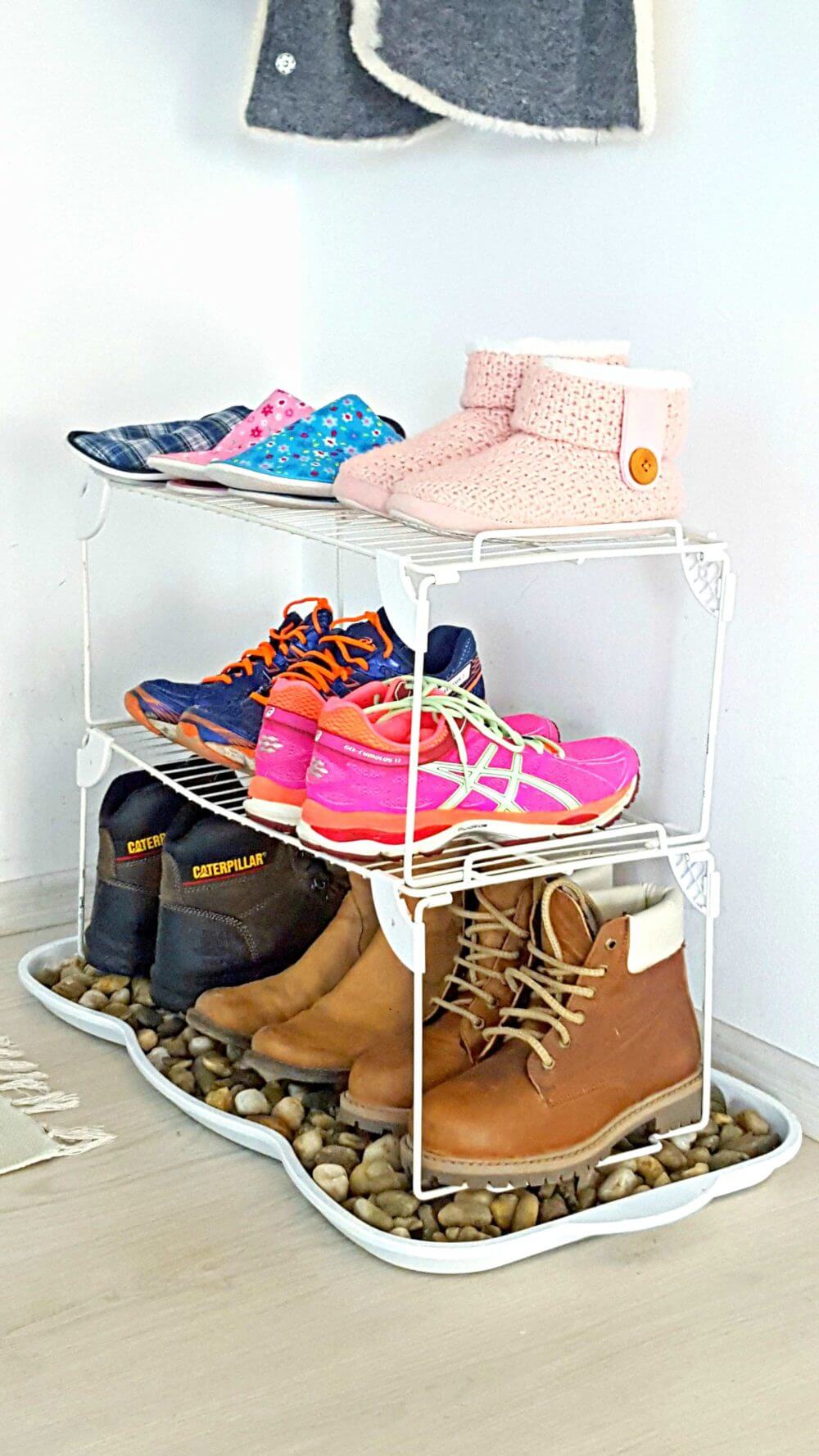 If you're in the market for a more unique shoe rack, then check out this sweet pebble tray storage area. The pebbles grant the shoe rack a more outdoorsy feel, which is fitting considering it is designed to store shoes and boots. Not only does this look eye-catching and distinctive, but it functions well as the pebbles can serve to hold rainy or wintery boots with ease. Meanwhile, you can always place a wire rack or two on top, giving enough clearance for the boots below while still having more room to store other shoes as well. It is an effortless way to save space and make more room for all the shoes in the house at the same time.
14. Cool DIY Cardboard Shoe Rack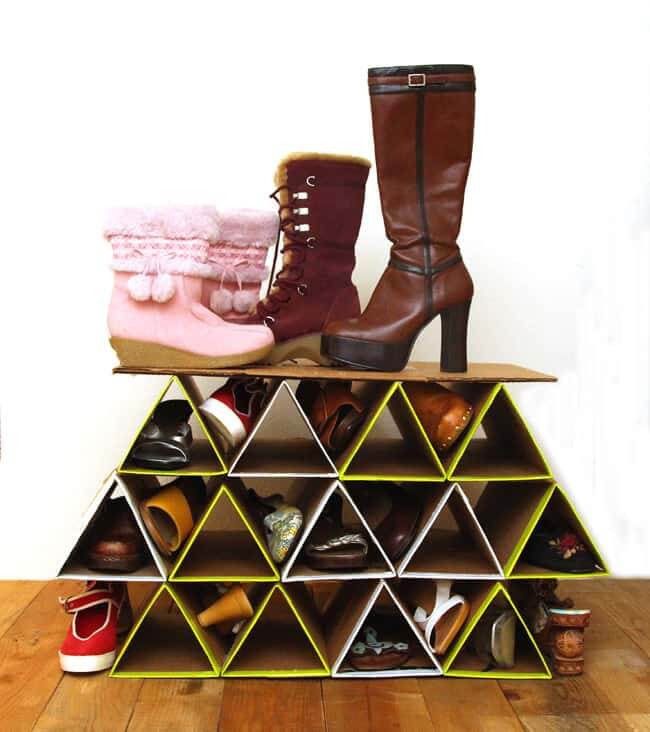 If your supplies and space are both minimal, then this DIY cardboard shoe rack is perfect for your living area. This is made entirely of cardboard. Not only is it far more budget-friendly, but it is beginner-friendly too for those of you not used to creating handmade furniture. This can instantly tidy up a small shoe area in an apartment or dorm. Also, since it is made from cardboard, you can personalize it with ease by adding on some paint to it. Additionally, it's okay if you have to break it down because it's just as easy to remake again when needed.
15. Wall Hanging Garage Shoe Organizer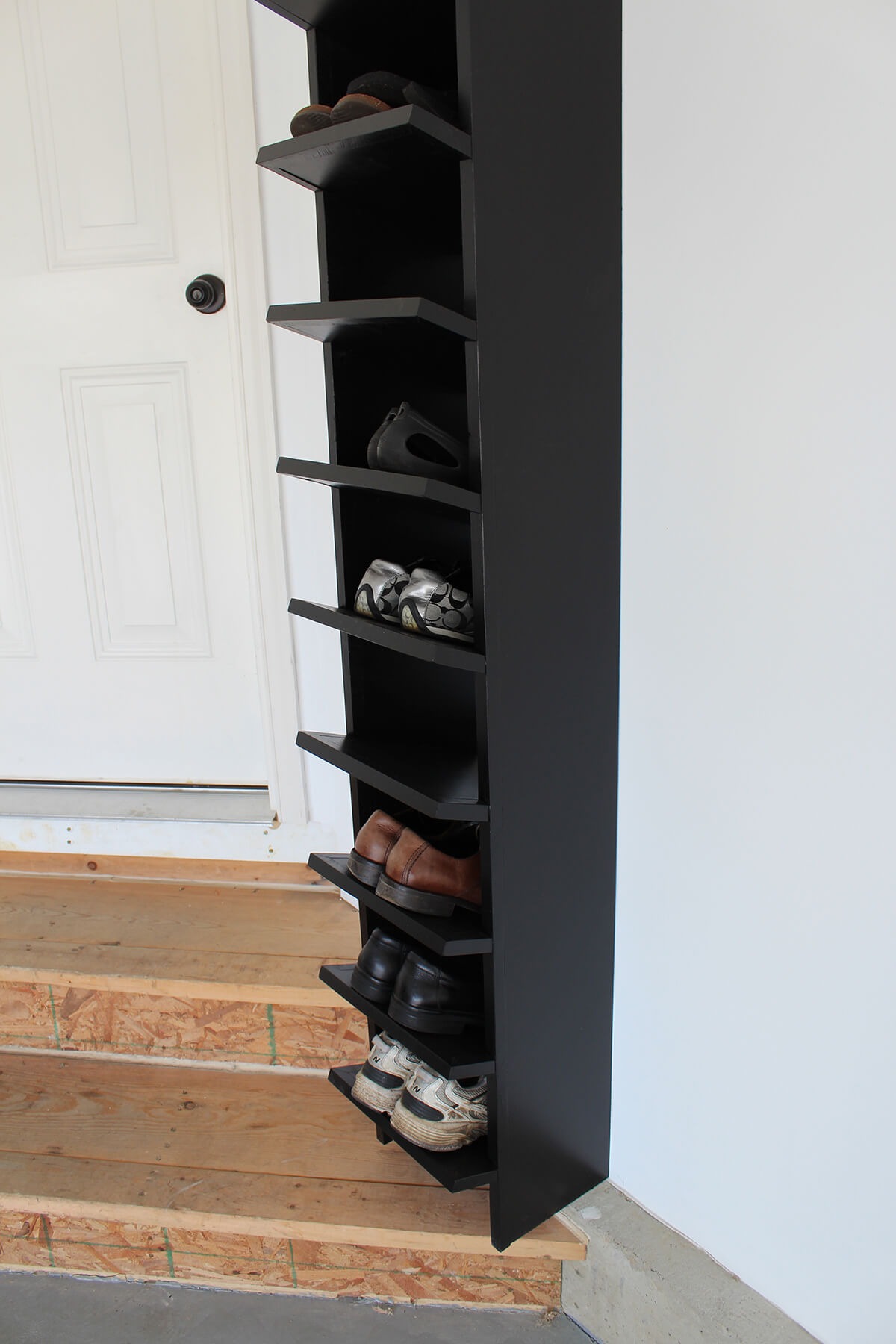 For those of you with an attached garage, having a shoe organizer inside can save a lot of trouble when it comes to tracking dirt, mud, and snow into the house. What's cool about this shoe organizer is that it resembles a ladder, making it fit seamlessly inside the garage. The slight slant allows you to easily store shoes of different sizes too, and by hanging it on the wall, there's no chance that they'll fall out. Besides that, hanging it on the wall is a great way to save on space too if you lack the room for a floor-based shoe organizer.
16. Small Space Hanging Shoe Storage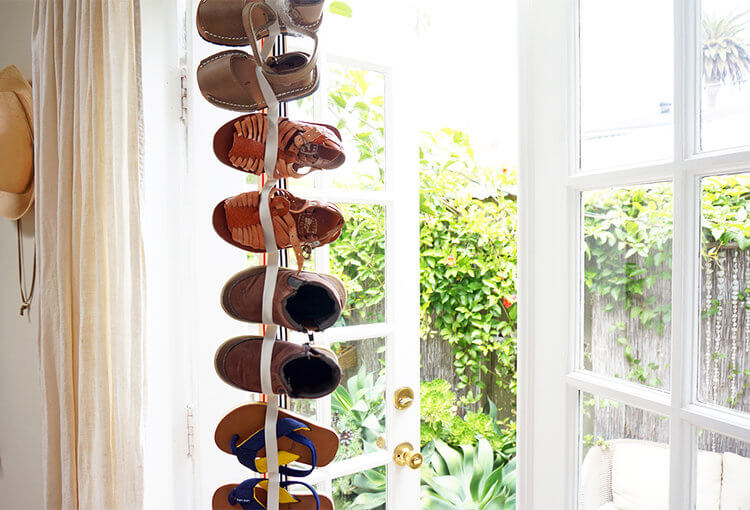 Keep shoes off the ground with this fun hanging shoe storage layout. It is especially ideal for children and baby shoes, more so if you don't have much space in their rooms for all their footwear. This hanging tower can move around as needed so that you can keep it out in the open or tuck it away out of sight in a closet. There are plenty of shoes that you can fit on this hanging storage too, and with it being within reach of children, they can easily pick and choose what they want to wear without causing a mess. Everything is well-supported too so there's minimal risk of anything falling.
17. Decorative Shoe Rack Table Design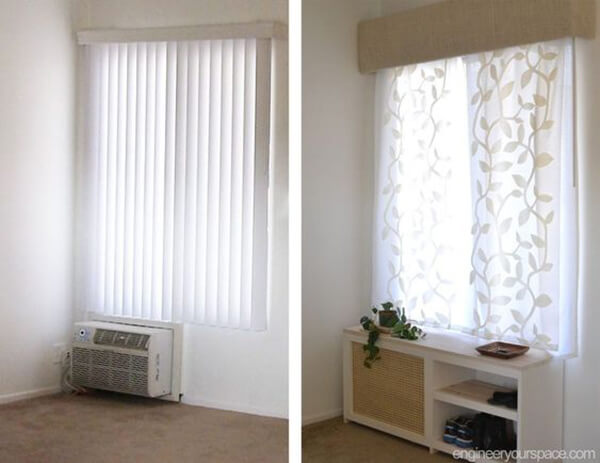 This design is so incredible because it manages to do two things. First off, it shows as an impeccable shoe rack with two different spacious sections to hide shoes away. Secondly, the table serves to hide away what tends to be obtrusive A/C units. It is great for small space living when you want to spice up your decorations, but it comes with hiding things away too so that your décor is front and center. There's still room on top of this shoe rack table too so that you can continue stretching your creativity with your decorations.
18. Easy Pallet Wood Boot Storage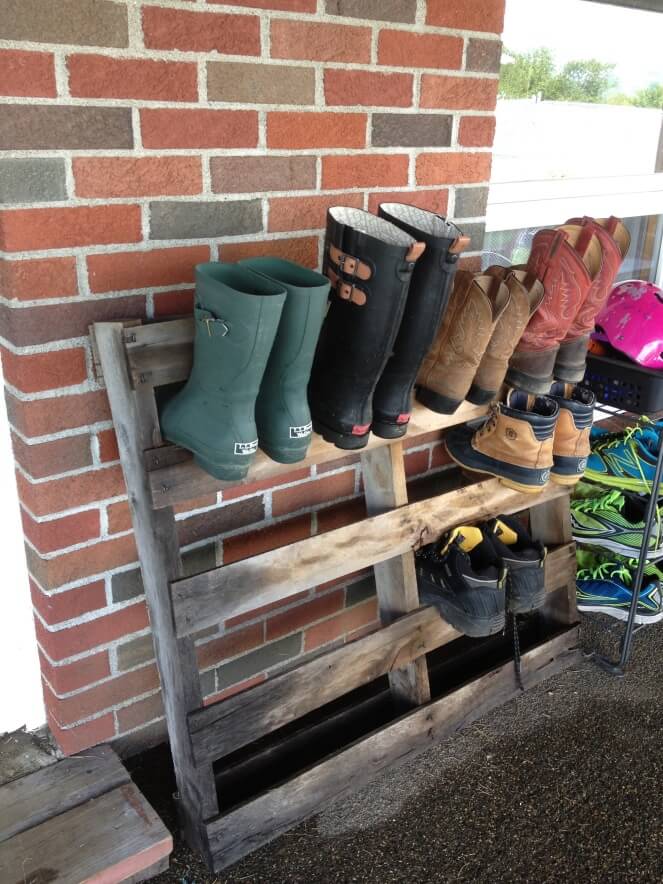 Sometimes, you don't need to buy or build anything at all when it comes to boot organization. If you have or can find some pallet wood, you can use the wood as-is. The natural separation can effortlessly fit both boots and shoes, keeping them up and out of the way once you lean the pallet wood against a wall. It is an affordable and easy way to organize your shoe and boot collection without having anything elaborate. Also, this design works out well too if you are aiming for a farmhouse or rustic theme, more so if the pallet wood is a bit aged.
19. Distressed 6-Pair Boot Storage Rack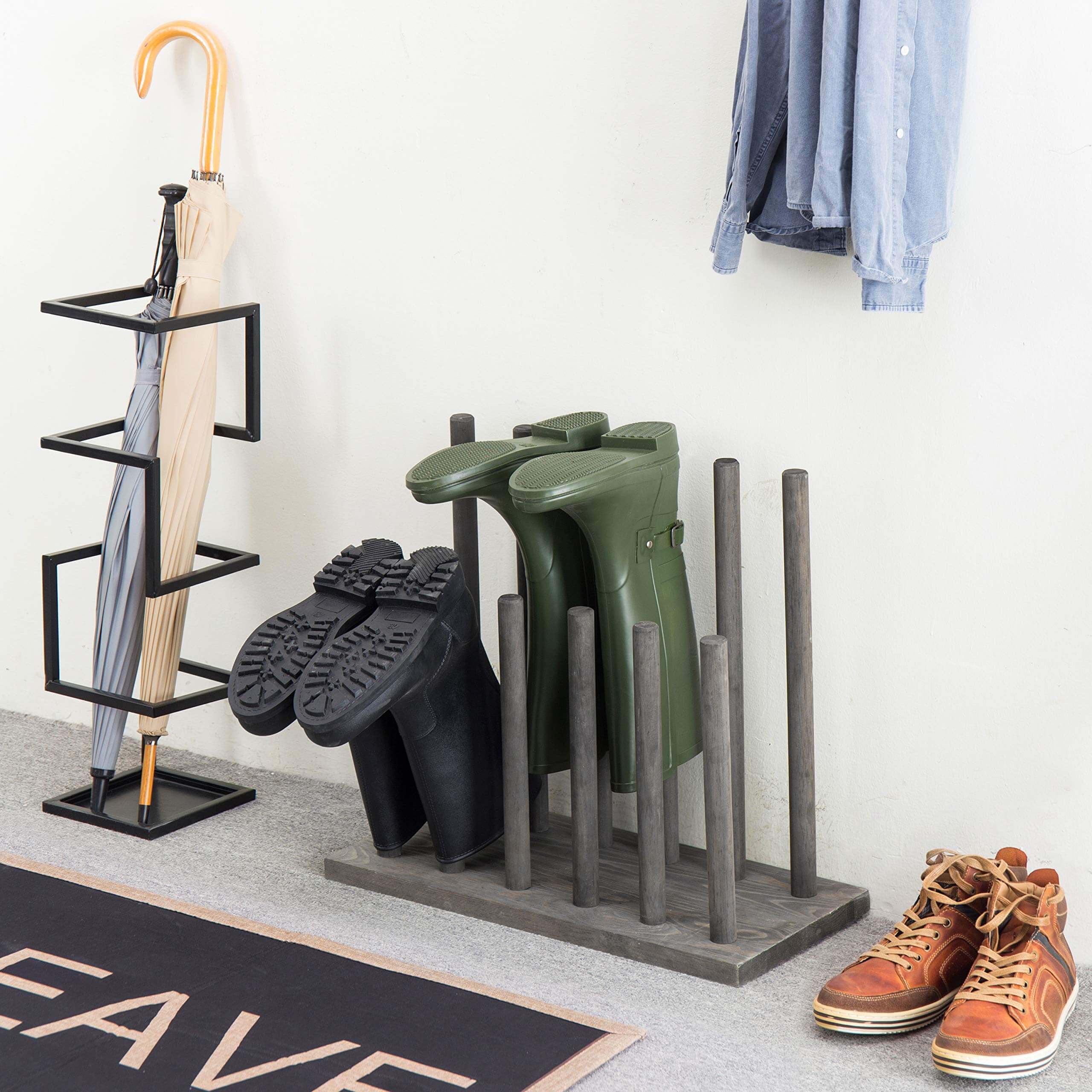 It can be difficult to properly store boots since so many organizers are designed with shoes in mind. This storage rack, however, is perfect for boots tall and short. This wooden post can fit six pairs in all, and thanks to its inverted design, you can ensure that the boot shaft maintains their shape. The design even helps prevent wrinkles and creases so that they will look new for longer. Hanging them also makes it remarkably easy for them to dry if you've been in the rain or snow recently. This post isn't bulky either, so you can set this up wherever you need to.
19 Trendy DIY Shoe Storage Ideas for Your Next Space-saving Project
All too quickly can you find your home overwhelmed by shoes and all types of shoes at that? From the hallway to the bedroom, and even right at the front door, shoes can take over everything. So, having the best DIY shoe rack ideas can help you figure out a game plan to confront the issue that's taken root in your home. The only trouble then is deciding which route you want to go down as there are numerous ways you can design and build your very own personalized shoe rack.
You can always go a traditional route that is simple but still highly effective. These tend to blend well with almost any style of décor so that your shoe rack fits with the rest of the room. However, you can always tackle a more unique approach that's befitting your personality and taste. This includes finding designs that don't have the shoes standing upright in a similar manner but instead do something different like hanging them up.
A lot of this depends on exactly what you need too. Always consider where you are going to set this shoe rack up, and from there, you can decide what you really want it to look like. Some ideas are larger than others, while some shoe racks work well at leaving as small a footprint as possible. We hope that our list opens up some new paths for you to explore in your DIY journey.