Are you looking for a way to get your child excited about playing outside this summer, and wonder where you can find the best DIY swing set plans? Well, you've come to the right place. Almost all of us have childhood memories of the backyard swing set and playset. No matter where you grew up in the world, it's likely you had some version of this in your yard or play area.
14 Unique DIY Swing Set Plans and Ideas

The swing set was more than just a bit of cobbled together yard fun; it could be anything your imagination dreamed up. In the morning it was a spaceship rocketing to Mars. In the afternoon it was a pirate ship sailing towards Treasure Island. Backyard swing sets have many benefits for children. They offer more than just a chance to steer the imagination, they also offer an incentive to get outside and exercise and play. Addiction to screens is a rising problem in the younger generation, and fewer children are getting the outdoor play time they need. A swing set or play set in the backyard, especially a custom-made or unique one, encourages children to get outside more often.
Simple swing set kits are easily found at the nearest home improvement or hardware store, or ordered online. However, do-it-yourself sets are also worth considering. Many homemade swing set designs for outdoor play sets are made of recycled or leftover materials from construction projects, which encourages recycling and cuts down on waste. With the right plans and tools, assembly can go as fast as a single afternoon or a few days over a weekend. Putting together a play set also encourages parents to get outside themselves and work on a project with their children, for there is much a child can do to help in the assembly of the set.
Depending on the age of the child, this would also be a good project to begin teaching about woodworking and tools and how to properly use them. Most people already have the tools they will need in their sheds, but plan to have a good wood saw, both Phillips head and flat head screw drivers, a socket wrench, a carpenter's square, a drill and a tape measure. If building out of wood, try to find treated cedar or some other type of wood that ages and weathers well and is not prone to rot. Keep reading for some of the best DIY swing set plans we have found.
1. Mom's Swing Hideaway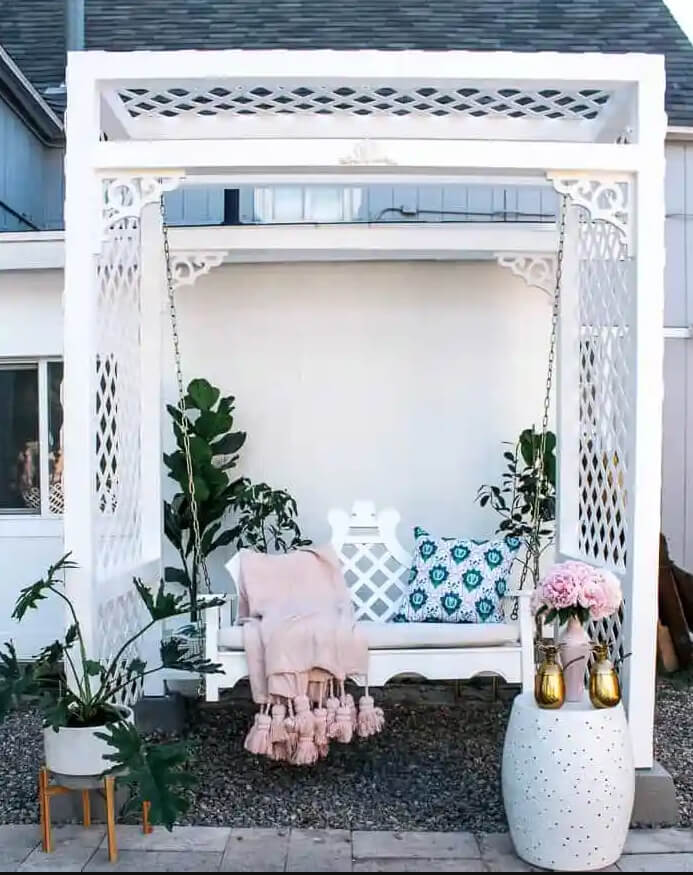 Swing sets aren't just for kids! Adults can appreciate a soothing backyard hideaway too. Constructed from sturdy wood, with lattice walls that provide some privacy while also letting in a breeze, this porch-style bench swing with comfy outdoor pillows is a great place to spend a summer day with a book and a glass of lemonade. This perfect swing nook shows off some style with scroll-work along the beams and provides a shady and semi-private place to relax. This design is best made of sturdy white oak, and sealed and painted to protect against weathering.
2. Simply Sofa Porch Swing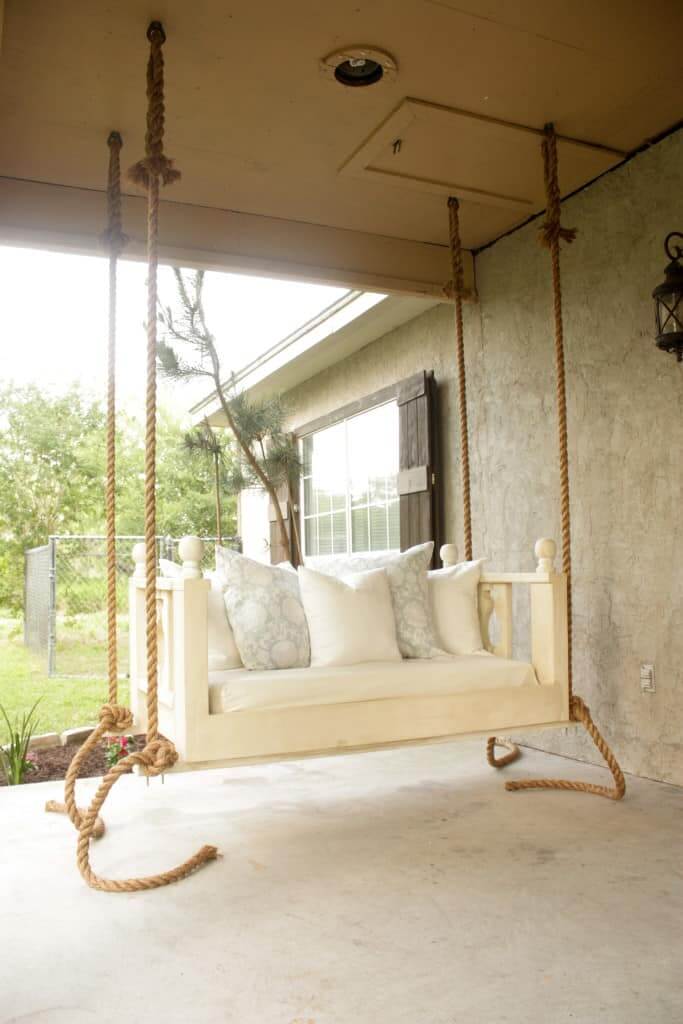 It's easy to get fancy with a variety of handmade swing set ideas or porch swing ideas, but sometimes simple is best. This porch swing is suspended from the ceiling using thick ropes with whipped ends to prevent fraying. The swing itself can be made from nearly any sort of leftover lumber or even pieces of broken furniture, in this case, a bed frame. The former slats of the furniture make for an excellent arm and backrest, and when topped with outdoor cushions and pillows and a fresh layer of paint, you suddenly have a classy and functional porch swing.
3. New England Style Playhouse Swing set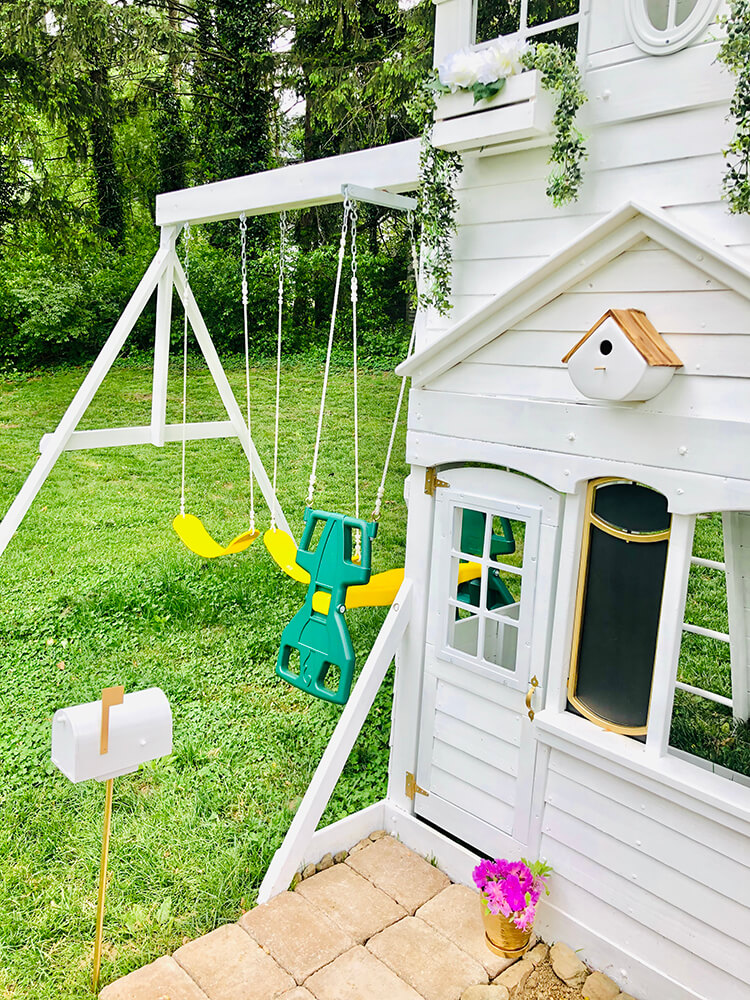 This cool and quaint playset is much more than just a swing set, it's an imagination station! Although not a full playhouse, the façade of this DIY set certainly gives the image of one. A standard connected A-frame supports a swing set with two swings and a glider, while the front of this play area has the appearance of the front of a clapboard siding house, complete with door and windows, flagstones forming a front porch, even a mailbox! A cute little bird house sits above the door, and flower boxes grace the miniature windowsills. The lower level has a roomy play area, while the upper level, accessible by a ladder, keeps the weather off and is covered by a shingled roof.
4. The Ivory Tower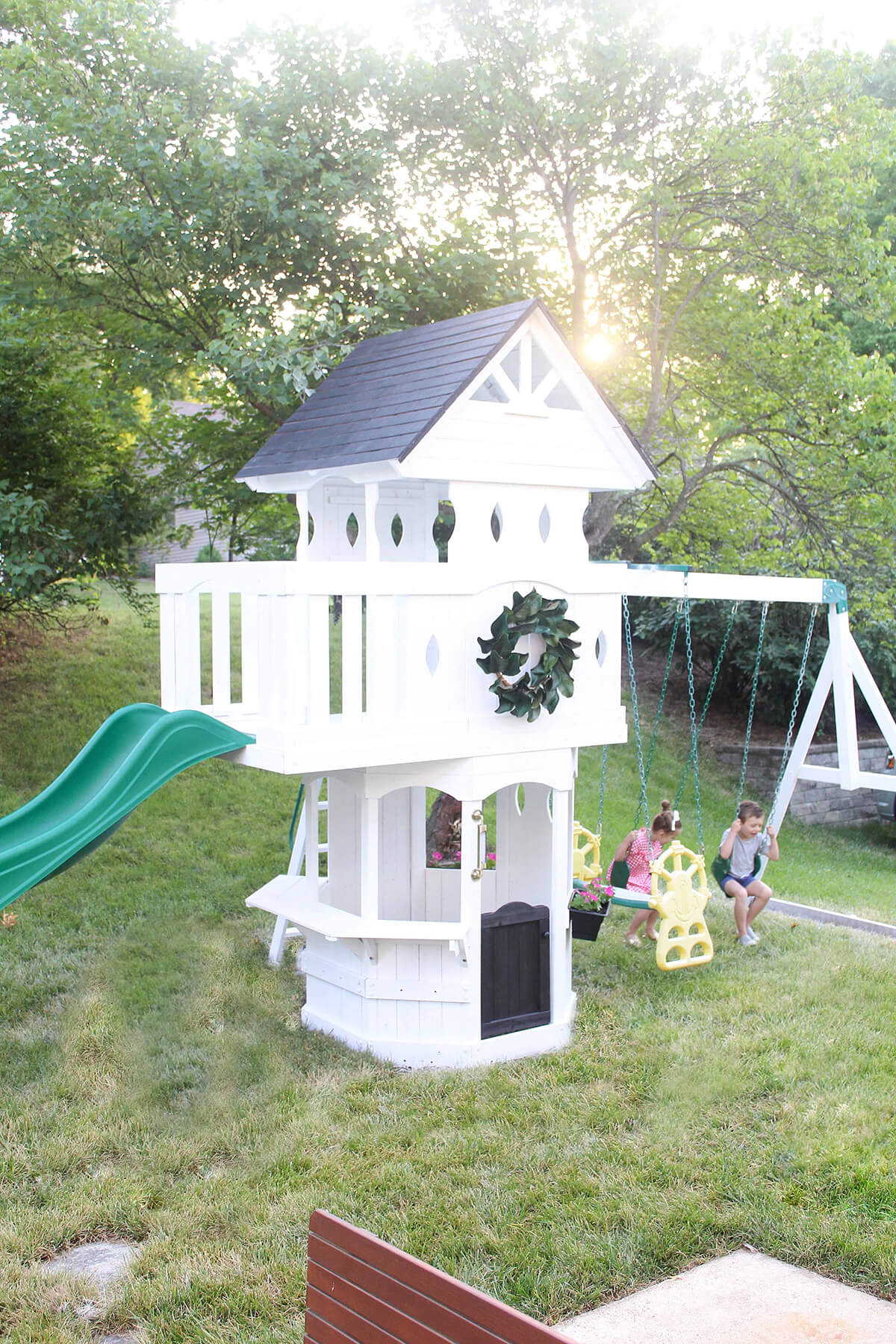 This play set is whimsical and unique, with a swing set on one side featuring suspension swings and a glider swing on an A-frame, connected to a play set that is reminiscent of a light house. This dual-level construction features a swinging half-door on the lower level, set in an octagon shape, and a ladder to the upper level. The second level has a balcony with a slide down and a covered platform with a shingled roof. Built of white oak and sealed with paint, this playset is sure to last several years for tons of outdoor fun.
5. Junior Swing and Sandbox Station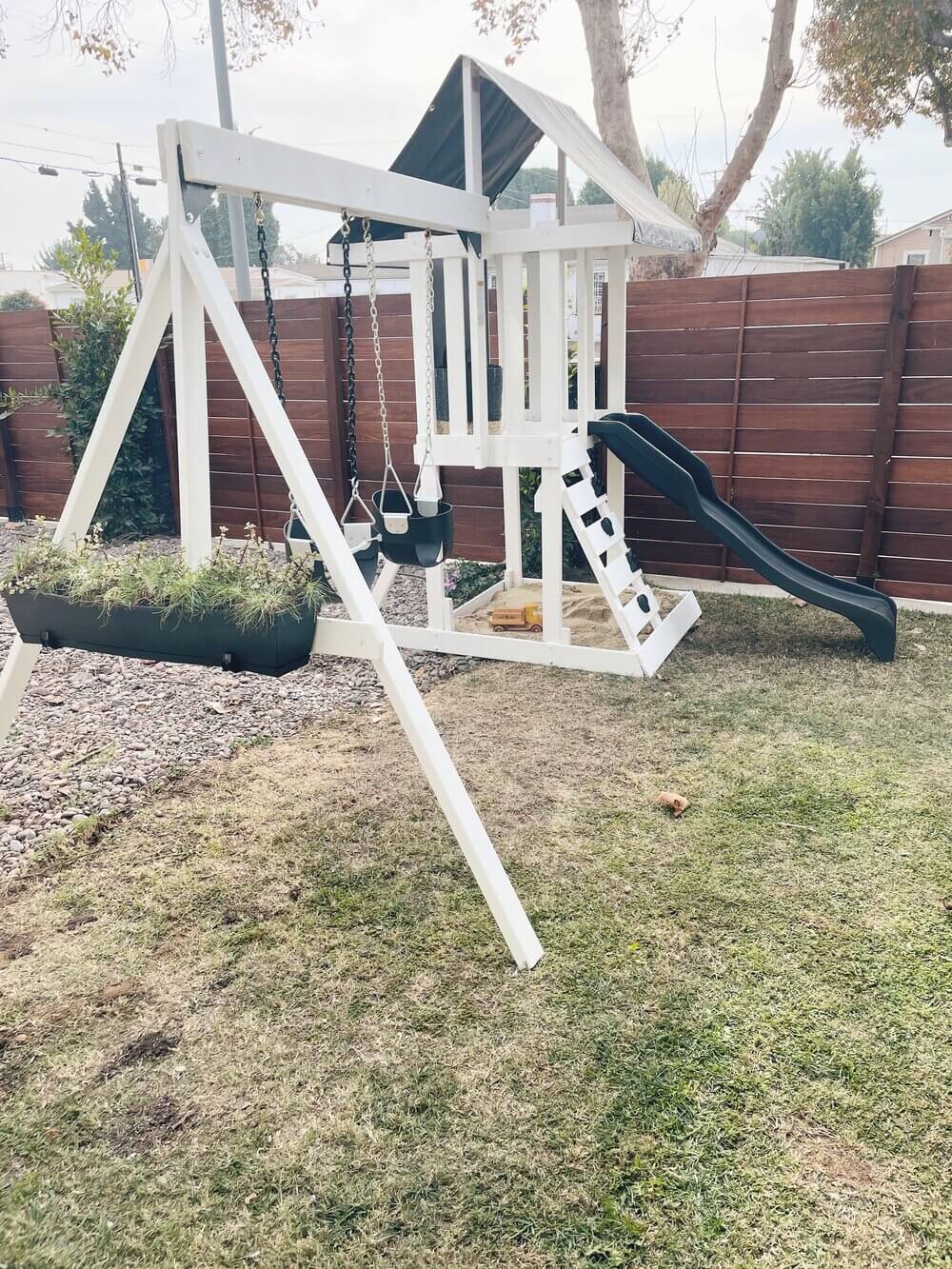 This is one of the better handmade swing set ideas for younger kids and toddlers. This classy yet simple play set features a swing frame set with junior support swings and is decorated with an herb planter along the support bar. The play area is made up of a two-level play set, though short enough to ensure it is not dangerous for smaller kids. The first level sports a small sandbox for easy access, while the second level is accessible by a small climbing frame ladder. Getting down from the upper level is easy using the bumpy slide, perfect for youngsters. The sun is kept off by a canvas awning forming a roof overhead.
6. Playset Manor House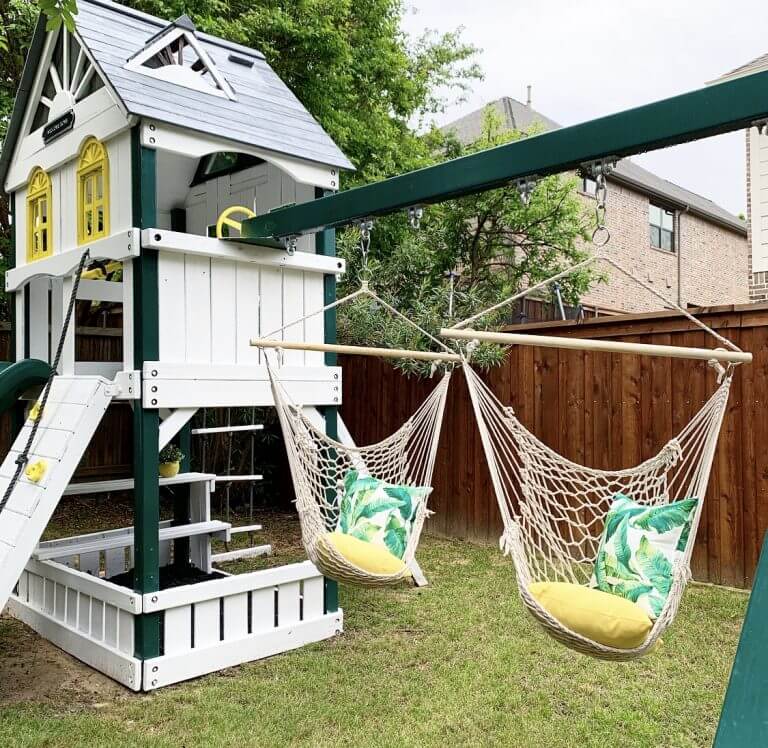 This playset has every possible feature needed for fun in the backyard, and then some! Far more elaborate in design than some other DIY sets, this playset features not only an attached swing set, but suspension hammock swings, which you don't see every day on children's playsets. The two-level, shingle-roofed play set is loaded with features, including a climbing wall to the second level with a rope, and a rope ladder. Also attached is a slide to get back down. The upper level has a shingled roof with transom windows, and the lower level has an in-built picnic table, perfect for lunch outdoors. Of all the possible designs to consider, this is one of the best DIY swing set plans.
7. Classic Anywhere A-Frame Swing Set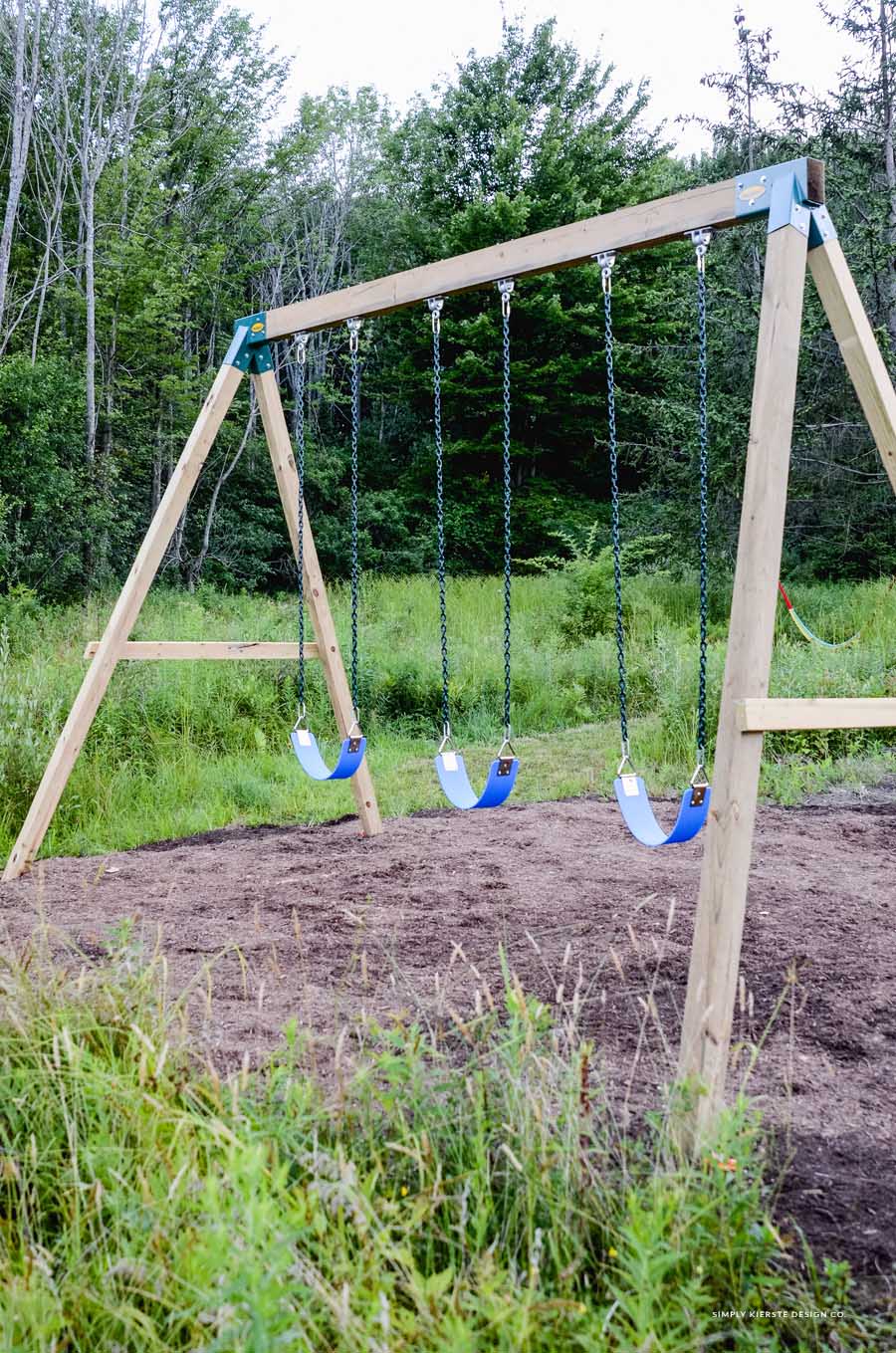 The classic A-Frame swing set design is so well known because it's so easy to make. Very little woodworking skills are needed to construct this simple structure from which to suspend a few swings. Structures like these can be put nearly anywhere, from backyards and parks to campgrounds. Make use of metal brackets and cedar, cypress, or white oak beams to construct the frame, and be sure to secure it to the ground with concrete. Chain link swings are best for children at least five years old.
8. The Kid-Friendly Fun Set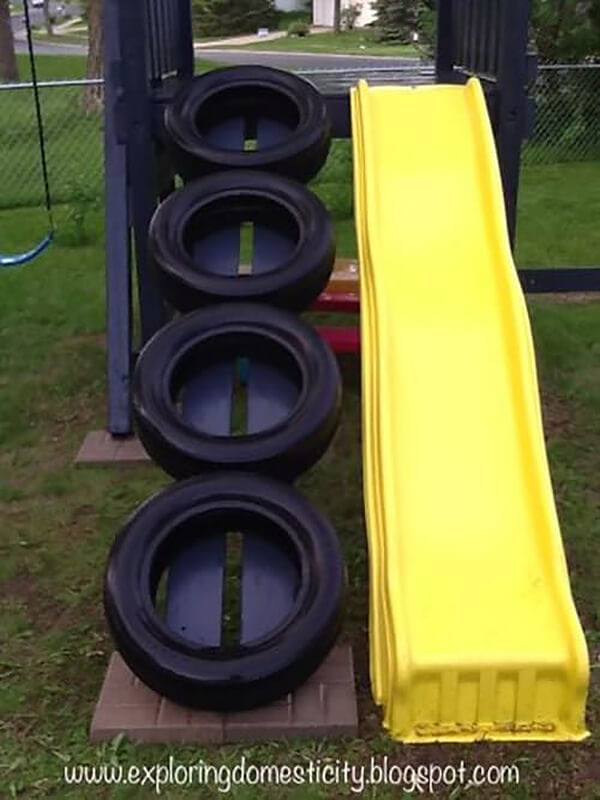 A simple A-frame swing set is certainly enough to keep a child occupied for hours, but add-ons to the set can make it a full playground. Some spare tires nailed to a slanted board going up to a platform make a makeshift ladder. A plastic slide from the platform provides a way back down. The platform is simple enough to construct, with four support posts suspending an elevated platform between them and painted a lively color. Constructed from cedar or cypress and sealed against the elements, this play set can last a long time and is one of the best DIY swing set plans to try.
9. Easy Cypress Swing Seat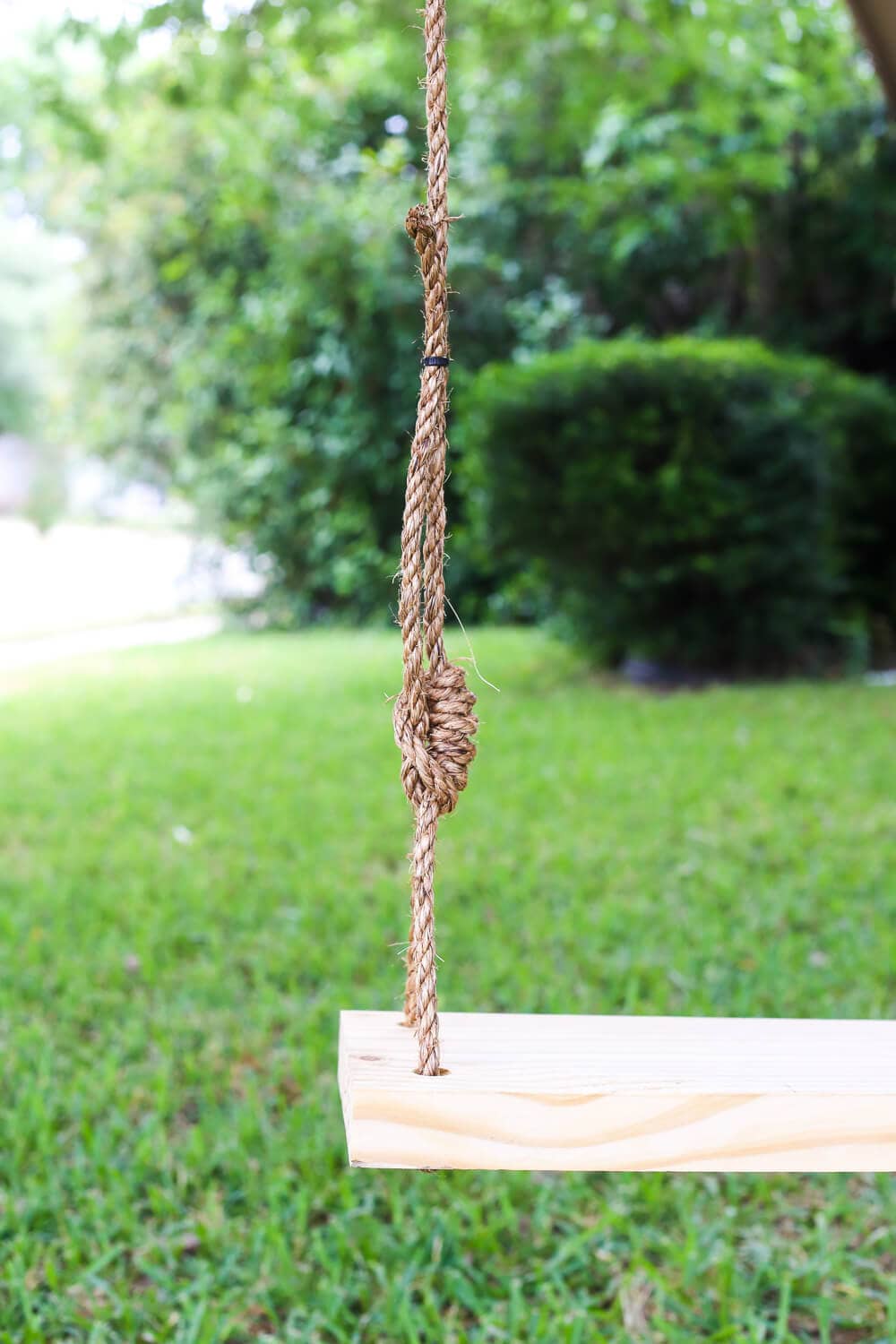 No swing set is complete without … swings. Of course, rubber and plastic swings are easily found at any hardware store. However, it is not difficult to make some swings that fit anywhere. Some sturdy rope and a strong wooden board are all you need to make a long-lasting swing that suspends well from a constructed frame or even from a tree branch. A hemp rope is best for suspending the swing; it is thick enough to hold the swing, and sturdy enough to endure some rough handling. Tie the rope with a few swing hitch knots to ensure stability. This simple swing complements any number of handmade swing set ideas.
10. Easy Backyard Swing Set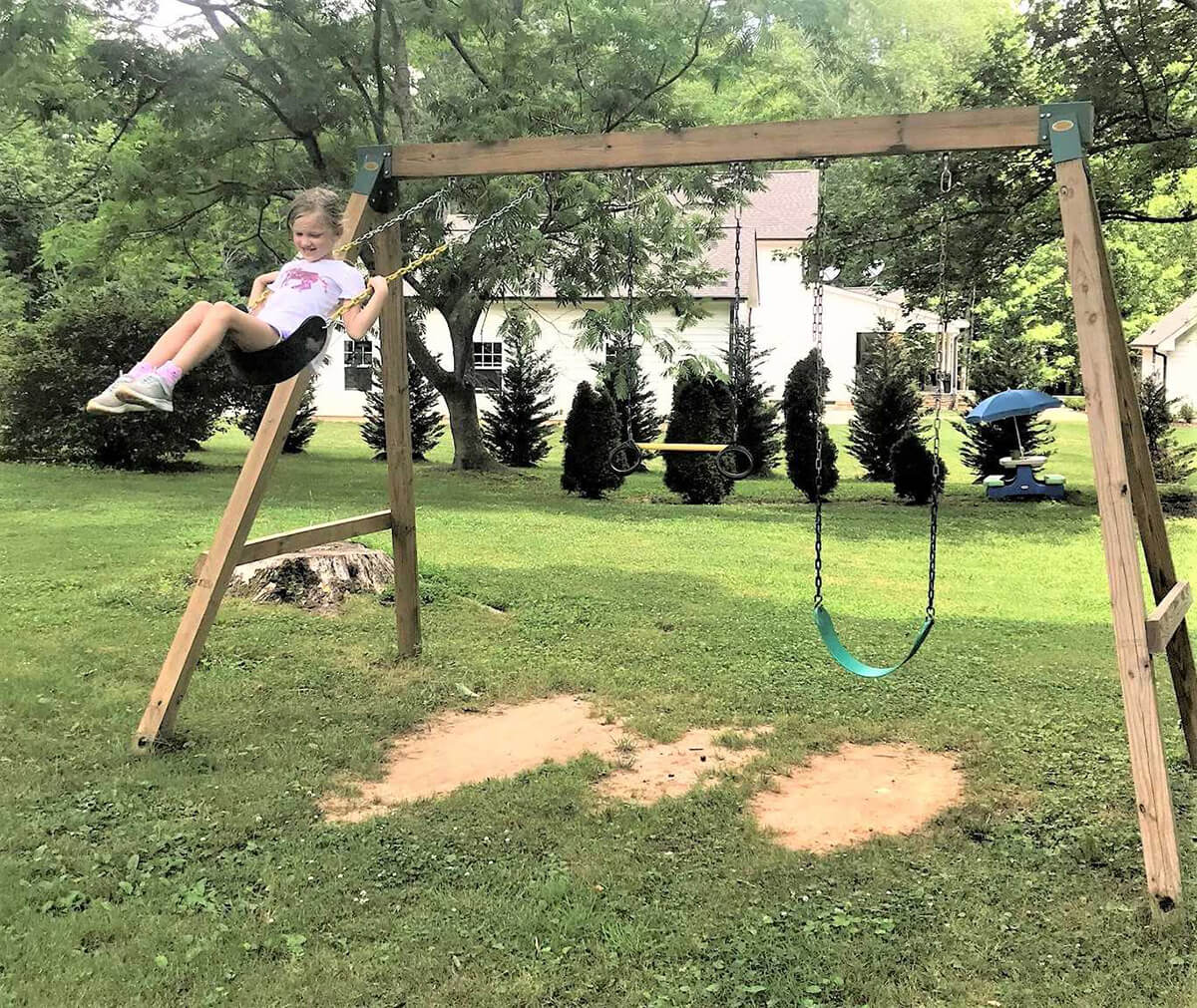 The A-Frame wood swing set is a stable and long-lasting design, especially for older children. It's made of white oak or cedar and lasts a long time. Be sure to use treated metal brackets to hold the structure together. Older children will enjoy the regular chain link swing, but this set is easily upgraded with a trapeze or gymnastics rings as well. With weather-coated chain links, the swings will resist rust and last several years. The best part about A-frame designs is that they can fit into nearly any size backyard or outdoor corner, and they are cheap and easy to build.
11. A Seaside Swing Set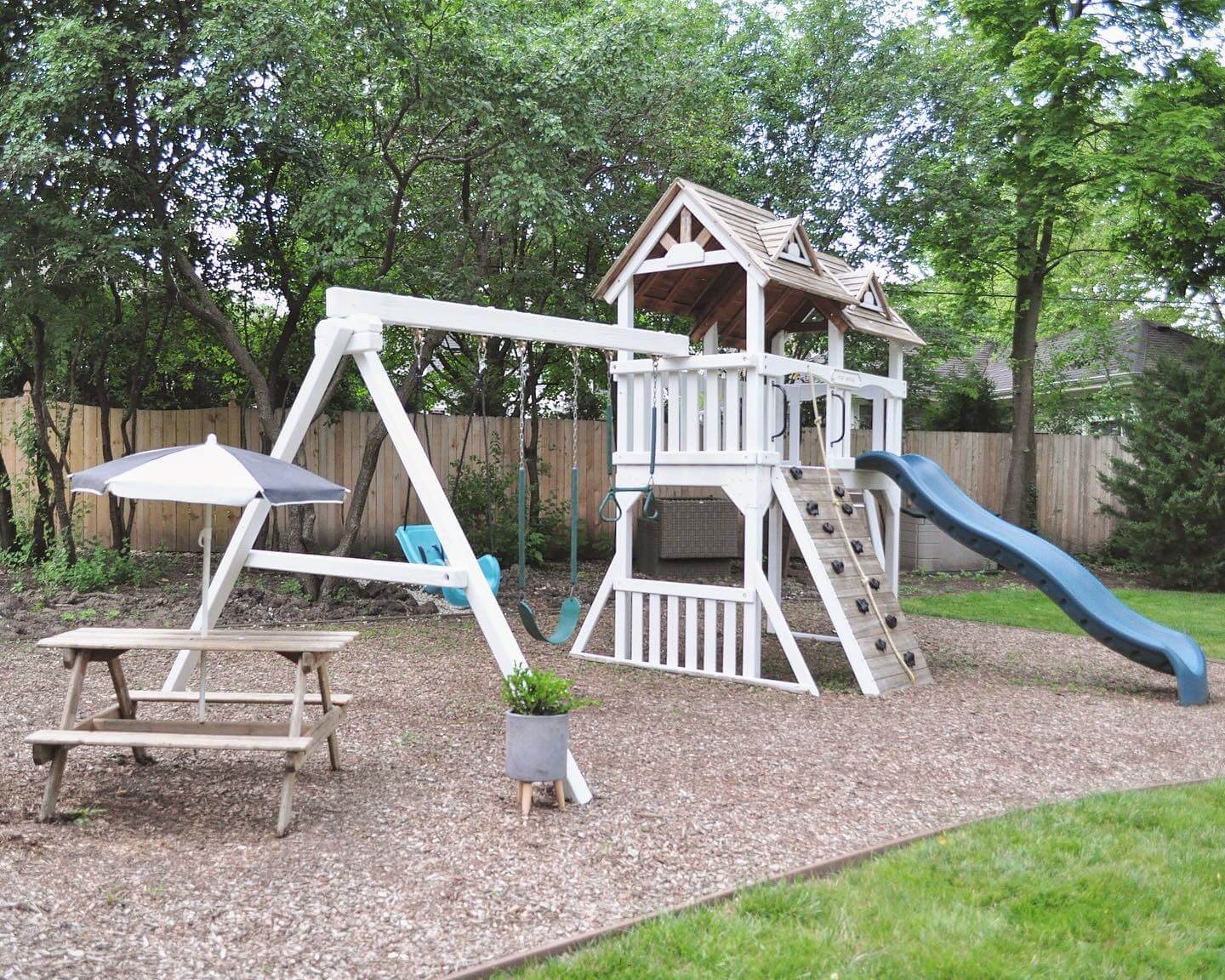 This great swing and playset combo has a design similar to a white board beach house, but with enough cool features to keep kids occupied. Part A-frame swing set, part playground, this design features the suspended rubber swings, gym rings, and infant swing, but also a raised platform with a shingled roof. Going up to the platform is a climbing wall with a rope, and going down is a plastic bump slide. A small picnic table completes the set for all manner of outdoor summer fun. Painted white, the wood structure is well protected from the elements. This design features high on our list of the best DIY swing set plans.
12. Cozy Country Cottage Playset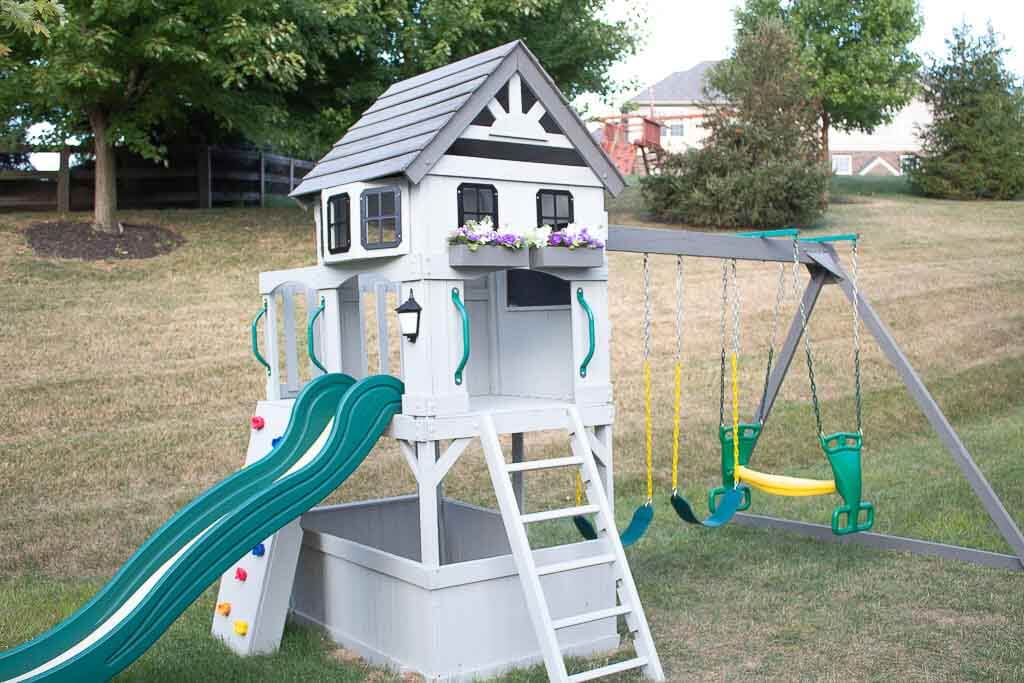 This sweet play set/swing set combo has everything a child needs for backyard fun. With three-seat swings and a glider swing, little ones have access to a traditional swing set. However, the attached playset is where this design really shines. This set has an upper and lower level, with the upper level accessible by a ladder and miniature rock wall. A slide offers access back down. The upper level has a balcony and a roof with transom windows that hearken back to a country cottage look.
13. Stylish and Simple Toddler Playset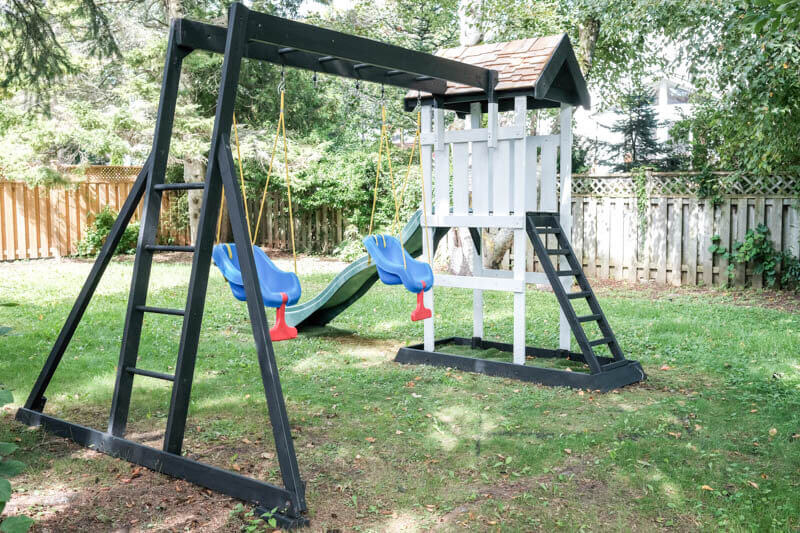 Of the many homemade swing set designs out there, this one is sure to be fun for all ages, especially for toddlers. The toddler and infant-safe swings suspend not just from a simple beam but from a set of monkey bars, accessible from a ladder on the frame. A small play fort supports the other side with a raised covered platform serving as a playhouse. Kids will have fun tumbling up into the small play area via a sturdy ladder and sliding back down on the bumpy slide. This basic play set design can easily be erected in a weekend.
14. Simple Swing for Baby and Friends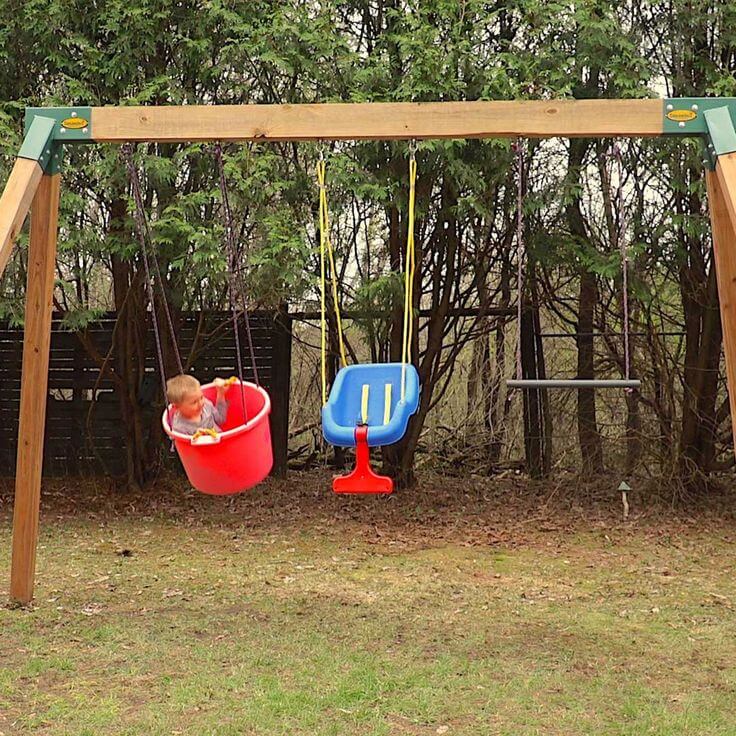 Your little one doesn't need anything fancy as a first swing set. Most children under the age of three are happy with a simple swing, especially if they feel safe and secure in the seat. A simple A-frame swing set made of durable cedar, with treated metal brackets to hold everything in place is all you need to assemble this single-bar swing set. The posts should, ideally, be set in concrete in the ground for added stability. Hand a child-safe swing seat or deep plastic bucket from sturdy ropes to swing your toddler in easy arcs that is both thrilling and soothing at the same time.
Have Fun With the Whole Family with these DIY 14 Swing Sets
There are no shortage of homemade swing set designs out there to try, but first make sure you know your own child's needs and preferences. A toddler likely will not appreciate a super elaborate play area with climbing walls, rope ladders, and a fireman pole, but you also want something a child can grow into and still enjoy, perhaps even something that can accept add-ons later on. Some of the best DIY swing set plans allow for this growth, incorporating simple designs with features a child can learn to use later on or the ability to add features and improve the original design as the child outgrows simpler features. Pick a design your child will love, one that friends will love, but one you will also enjoy building, maybe even together!
Inspiration description: Make a family project out of these swing set ideas and get your kids playing outdoors this summer! These DIY play sets are sure to get your little one excited about the backyard again! Show off your woodworking skills by building a little clubhouse with swings, slides and climbing walls that your children and their friends are sure to love.