Tealights can look phenomenal in any room, and with the best DIY tealight candle holder ideas, you can elevate these tiny gems that much more.
There are simple, straightforward ways to set up tealights. However, if you want these lights to act as a part of your décor, then it is important to use something a bit more creative, more distinctive when setting them up. Mason jars, for instance, are a good way to make fun of tealight holders as there is plenty you can do to decorate them to work with a specific style. You can always slip something on top of the tealights too so that the lights serve to elevate another piece of decoration rather than be the focal point of the setup.
25 Adorable DIY Tealight Holder Decor Ideas for a Fun Afternoon Project

If you want, you can even use regular-sized candles or make some yourself to hold the tealights at a higher level. Of course, you can still veer close to the traditional holders while also creating something that is more unique by opting for a different shape besides the circular tealight design. This way, you can keep things smaller and compact while still having a holder that manages to stand out.
Another cool aspect about tealights is that you can place them just about anywhere. They look just as well creating a welcoming ambiance in a living room as they do to add some style to a bathroom.
With the many ways, you can make holders in the comfort of your home to the various rooms you can set them up in, it's understandable if you don't quite know where to begin. So, we compiled our list of some of our favorite homemade tealight holders to help you decide which project makes the best addition to your home.
1. Tall Personalized Tealight Candle Holders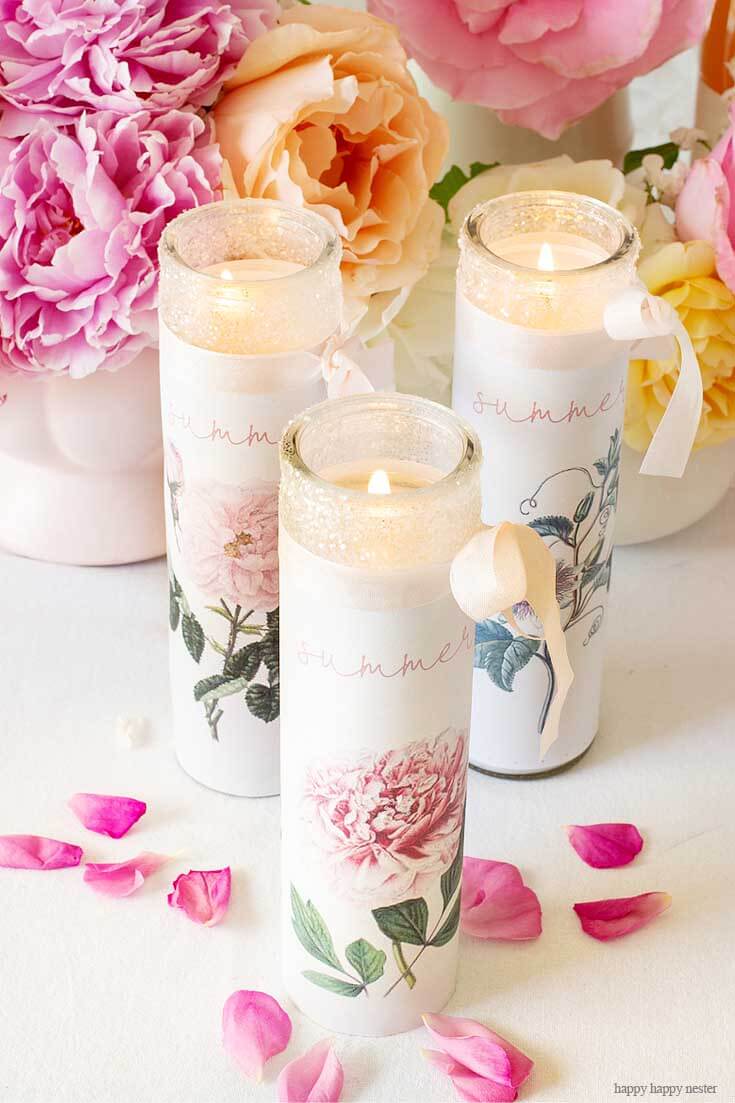 Tall candles can serve as such lovely statement pieces that they can fit into any decorative style you have in your home whether you are dressing the house up for the holidays or simply keeping to the season at hand. They are versatile considering you have more than enough room to decorate the outside of the candles, adding whatever personalization you want. The limits are just what you can imagine and print out. This is more helpful if you have old candle holders in which the candle has long burned out. Cleaning them out and adding in something to create a base for the tealight candle can make these more long-lasting, especially if you go for LED lights instead.
2. Rustic Raffia Tealight Holder Decoration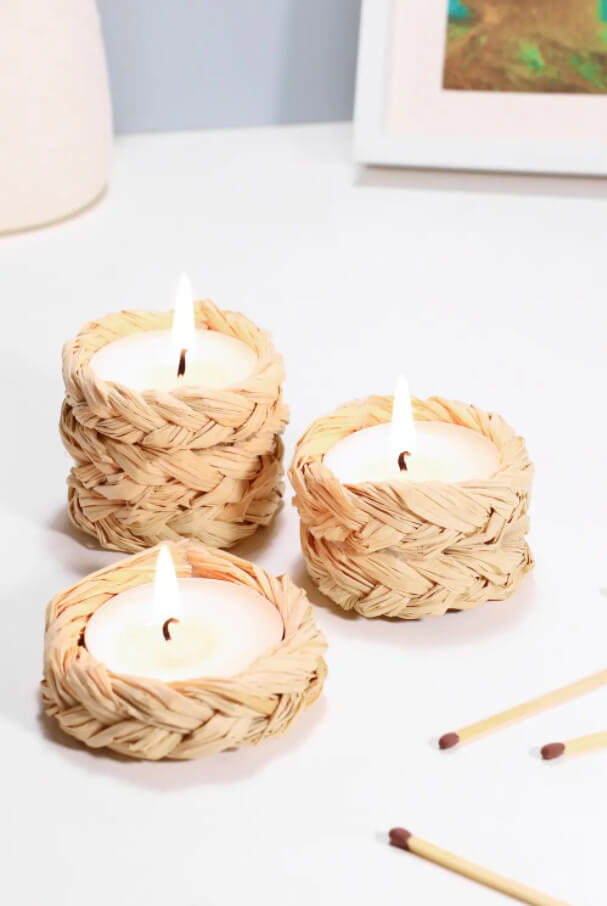 The use of raffia material is a perfect way to achieve a more rustic, rural appearance in your home's décor. They make for wonderful tealight holders with their texture providing an interesting layer of style. A nice aspect about making holders with this material is that they don't all have to be a single size. You can create some that are just big enough to properly hold a tealight, or you can go for a few different height sizes. Aiming for a difference in size is a worthwhile endeavor as it works to let your decoration set up better flow.
3. Floating Votives Faux Pumpkin Holder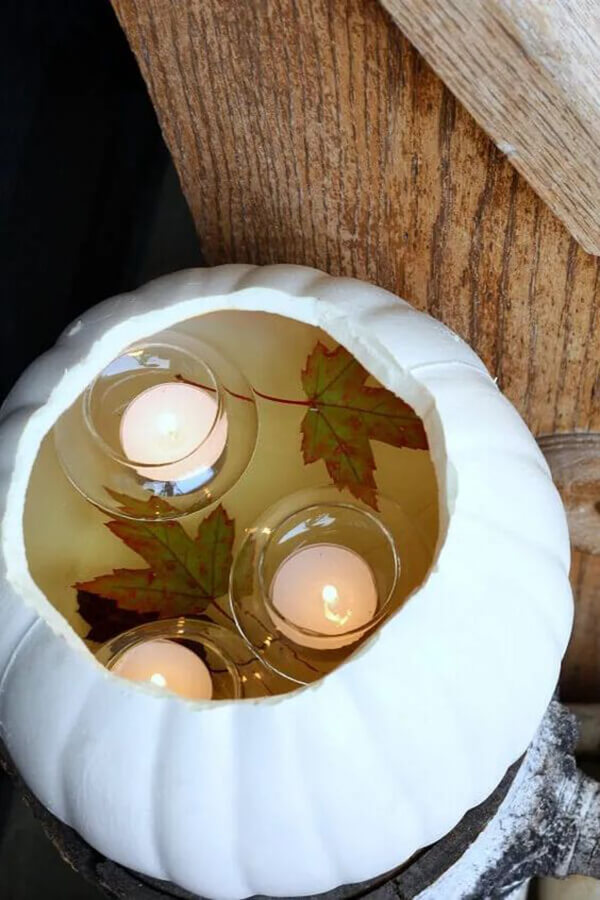 Faux pumpkins can serve as lovely bases for tealight holders. You can paint these any color you'd like, but brighter tones like white seem to instantly stand out, especially when the pumpkins are used alongside another décor with more fall themes in their coloring. Fill these up with some water, and they can give off such an awesome autumn vibe with the decorations inside. The tealight candles float well while adding in some leaves further creates the fall vibe you are aiming for and works to add some coloring to the pumpkins if you opt to paint them white. You can keep the tops on so guests can get a surprise when they lift them up to look inside.
4. Himalayan Salt Tealight Candle Diffusers
With Himalayan salt, you can create unique candle holders for your tealights. Everything serves a purpose in this decorative item too. The salt already has a nice appearance, offset by the lighter color of the tealight. Once lit though, the heated salt can transform the holder into a diffuser, more so if you add in a few drops of essential oil. So, the result is an awesome tealight candle holder that gives off a welcoming vibe that you can see, feel, and smell. It can also easily elevate any type of décor you have around, so feel free to use this with any holiday or seasonal decorations.
5. Birch Wood DIY Tealight Candle Holders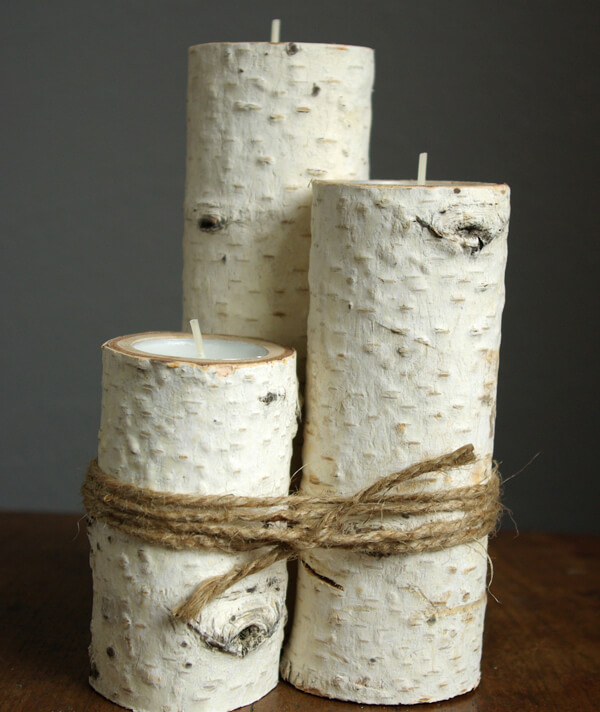 With the fall and winter seasons, bringing the outdoors into your home can make for some incredible DIY decoration projects. Pieces of birch wood go a long way into sending the right seasonal vibe to your home, creating this beautiful rustic feel that will allow anything else you have decorated the space to stand out even more. They are just the right size to support the tealights too so that you won't take up too much room when you place them around. You can make these in different heights too so that the setup blends and flows much better.
6. Autumn Pumpkin Tealight Candle Holders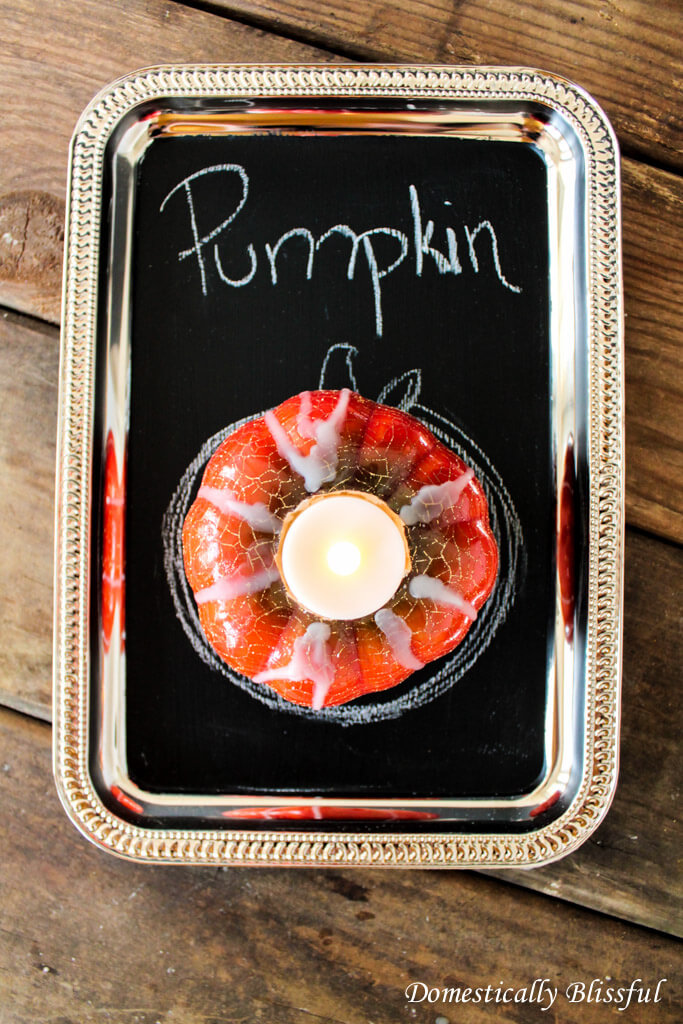 You don't have to sacrifice any autumn décor to have your tealights stand out just as much. Pumpkins and candles seemingly go hand-in-hand if this project has anything to say about it. You don't even have to go for anything real. Faux pumpkins and LED tealight candles are the right choices as this ensures that your cool decorations will remain as such season after season. The most real thing in this design is the wax dripping down the pumpkins that give this entire piece more depth to create such an amazing appearance that is almost magical in a way.
7. Frosted Jar Tealight Candle Holders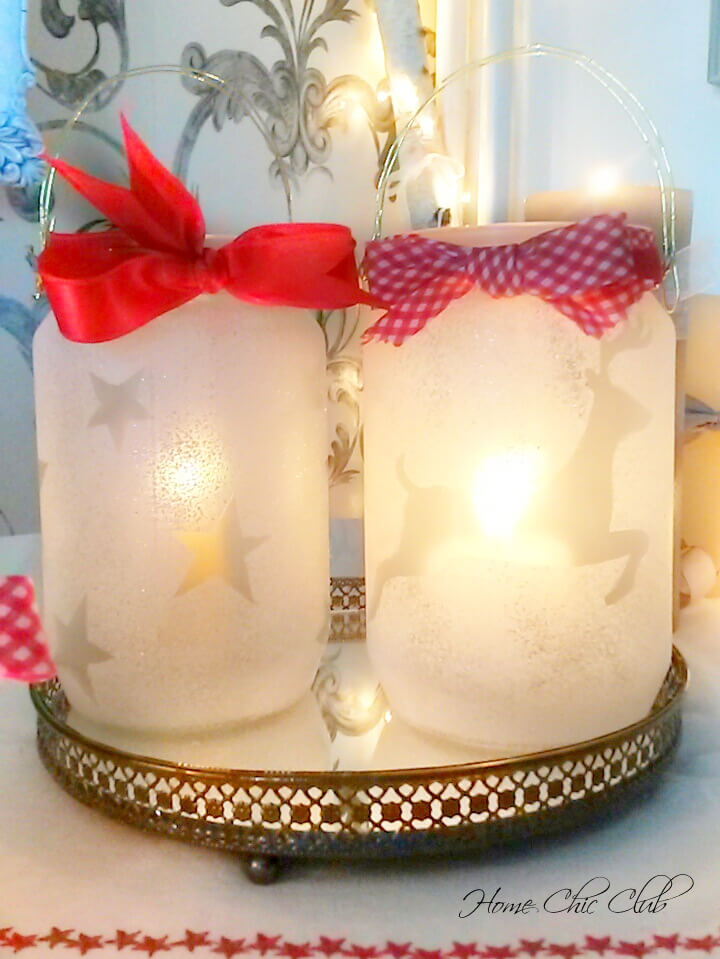 Tealight candles can provide gentle warmth to your Christmas décor, more so when you have a wintery holder such as these frosted jars. Sponging on toothpaste and glitter are great ways to create the frosted effect, making the jars truly look as though you pulled them free from a snowstorm. And with the tealight candle holders lit up inside, the flickering appearance gives off a hauntingly beautiful vibe that will look even more stunning at night. Place this among your other holiday decorations to reign in the season and create a winter wonderland right in the warmth of your home.
8. Chic DIY Votive Candle Holder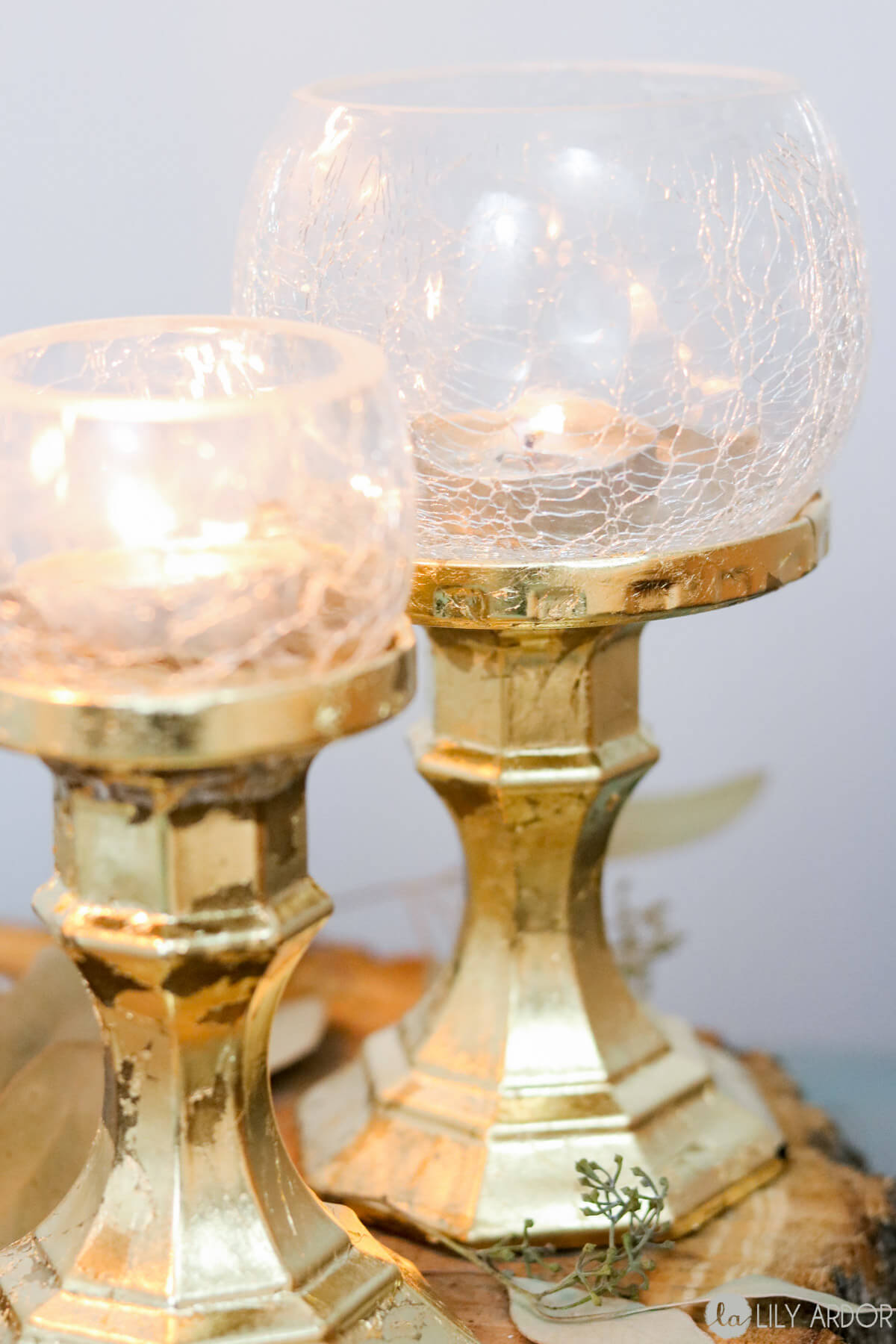 Recycled items and dollar store hauls can be all you need to create tealight candle holders that have a sophisticated chic look about them. Depending on how you paint them, they can even have a vintage look about them. Metallic works well in this case, but you can just as easily age up to any paint. Otherwise, you can opt for a solid color so that the candle holder fits effortlessly with any type of decorations you have set up around your home. The top portion provides an interesting effect that can make these candle holders look a bit haunting.
9. Spring Themed Tealight Jar Holder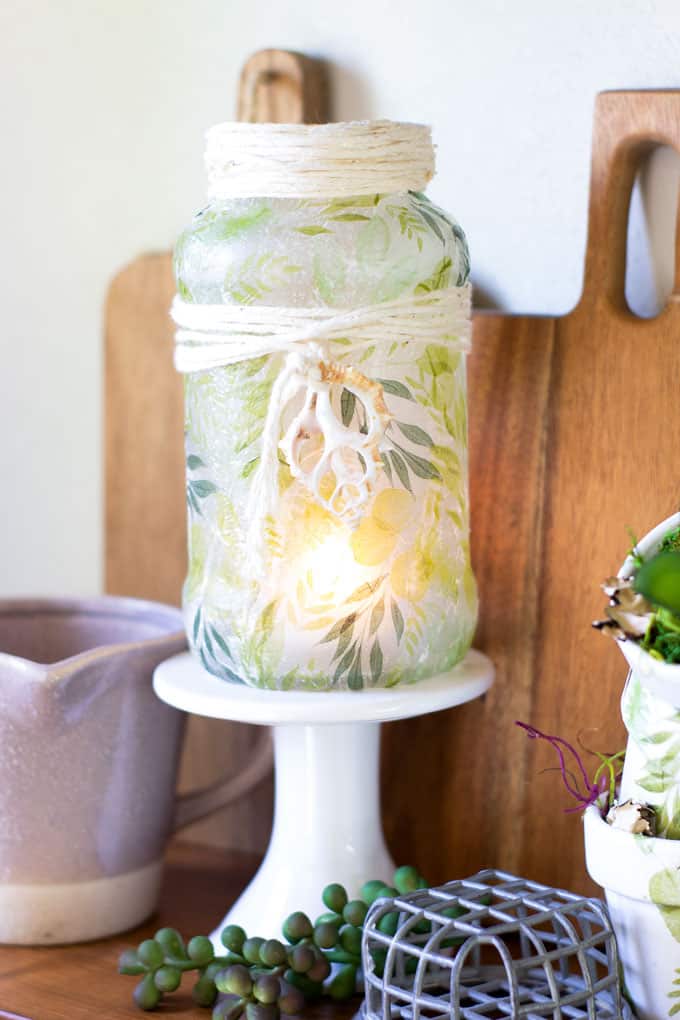 For those in need of something colorful or something that is more spring-like, this jar holder is an awesome choice. There is a beautiful, gentle design along the entire outside of the jar that keeps things feeling fresh and full and live. This design isn't too overwhelming, however, to block out the light inside. Instead, the tealight still shines with enough brightness so that it is readily noticeable. The use of twine can help give this tealight jar holder have a lovely boho feel to it as well that further helps this fit in with a laidback, pleasant vibe.
10. Awesome Pressed Flower Tealight Holders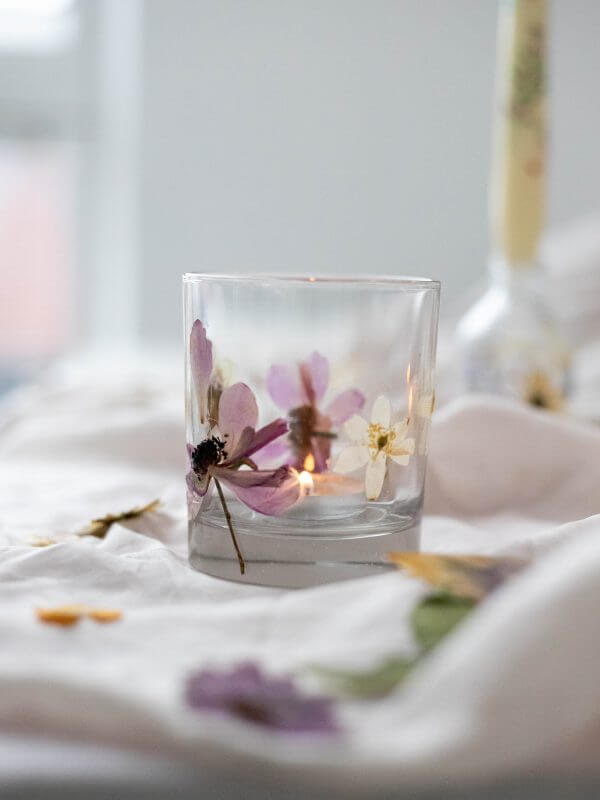 Pressed flowers have a way of adding some sophistication to any decorative item, especially when used to create these compelling tealight holders. There is a simple, yet stylish, look to these too. They are also among the best DIY tealight candle holder ideas that can fit in with a multitude of different decorative styles. Furthermore, these are a nice way to bring in a cozy feel to your home even if they are not in season. They have a warm feeling, more so as the lit tealight candles will show proudly through the glass. It is a straightforward way for you to add more lighting and decorative flair to any room.
11. Oven Bake Clay Tealight Holder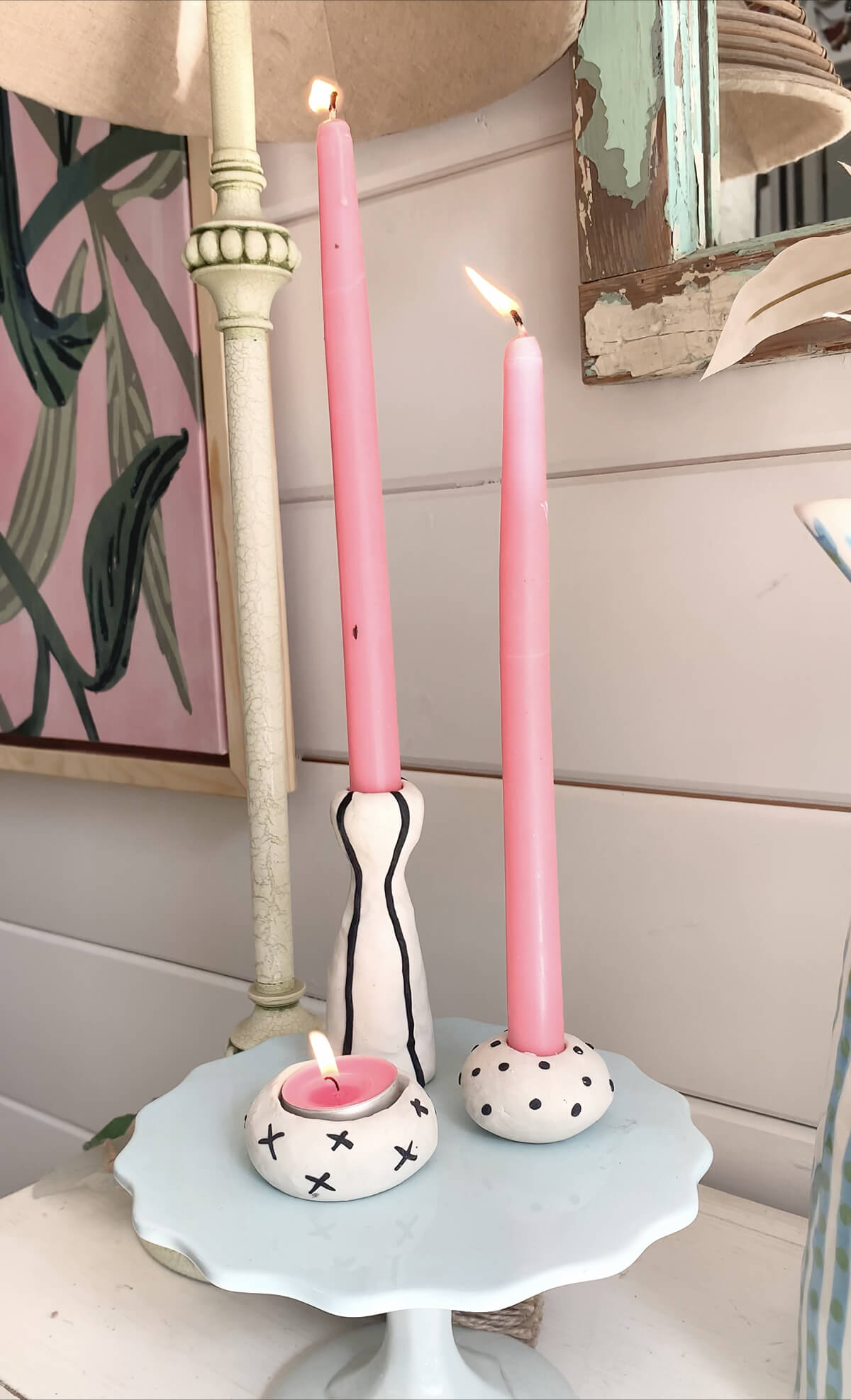 When it comes to handmade tealight holder decor, using oven-bake clay is such an exciting way for you to stretch some creativity. This tealight candle holder has a lovely appearance too with a simple black and white design, freeing this up to blending in well with a variety of different decorative styles. Adding holders with various designs on them can help the tealight holders better contrast against one another as well. It is just the right size for the average tealight candle, and this clay does well at holding up against a flame, so you can comfortably use a real tealight candle inside of this holder.
12. Winter Snowflake Votive Tealight Holder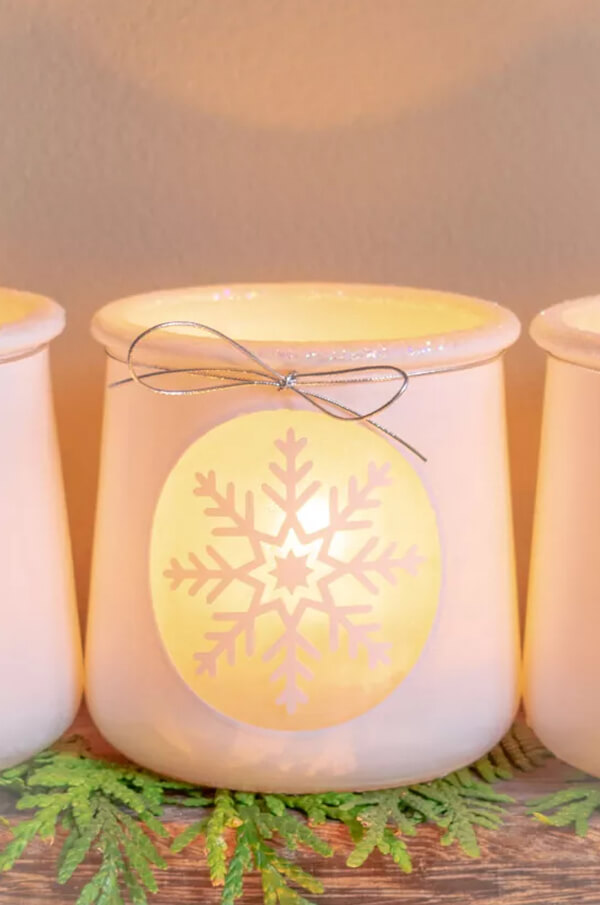 Great for the winter season, this snowflake votive tealight holder is a wonderful way to bring some accent light to a room. It is even an upcycling project, so the holder works well for those who seek some more environmentally-friendly decorative items inside their home. When making multiples, it is fun to have a variety of snowflakes considering the general distinctiveness of snowflakes. Besides that, it helps the tealights inside to shine even brighter. The rest of the holder is gorgeous as well as the glitter makes the holder look as though it is glistening after a fresh snowfall.
13. Aged Bedspring Coil Votive Tealight Holder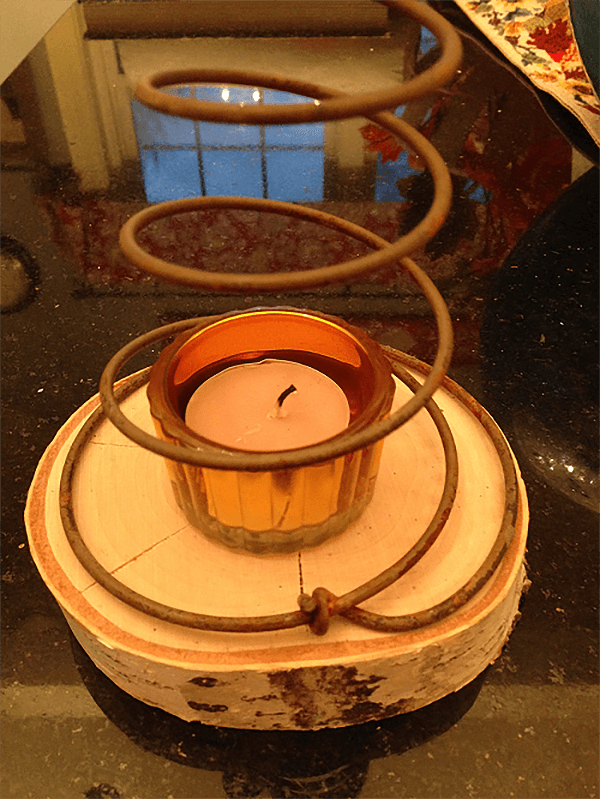 If you have or can find some antique bedspring frames, they can be transformed into incredible tealight candle holders. This is the perfect way to add an element of vintage to your lighting decorations. Also, the use of the log as a base is another wonderful feature that gives the entire holder a pleasantly rustic, outdoors feel to it. Not only that, but this candle holder is fitting for your holiday décor. The darker tones can help you add some classic personality to your Christmas decorations as well as spruce up your fall décor as well.
14. Handmade Decorative Glass Tealight Holder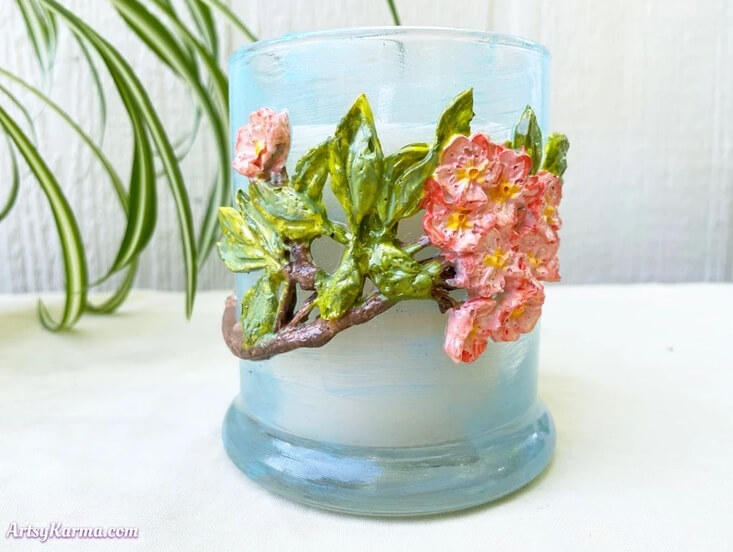 With this homemade tealight holder, you can build something that looks like you just bought it from a store. It is something that takes some time what with the mold creations, but the end results are more than worth it thanks to just how stunning everything looks once applied to the glass container. There is a nice natural look about this decorative holder too, but it isn't overly rustic, allowing it to blend in with numerous decor themes. Also, with the light paint applied, you can still easily see through the holder so that the tealight better illuminates.
15. DIY Sink Strainer Tealight Holder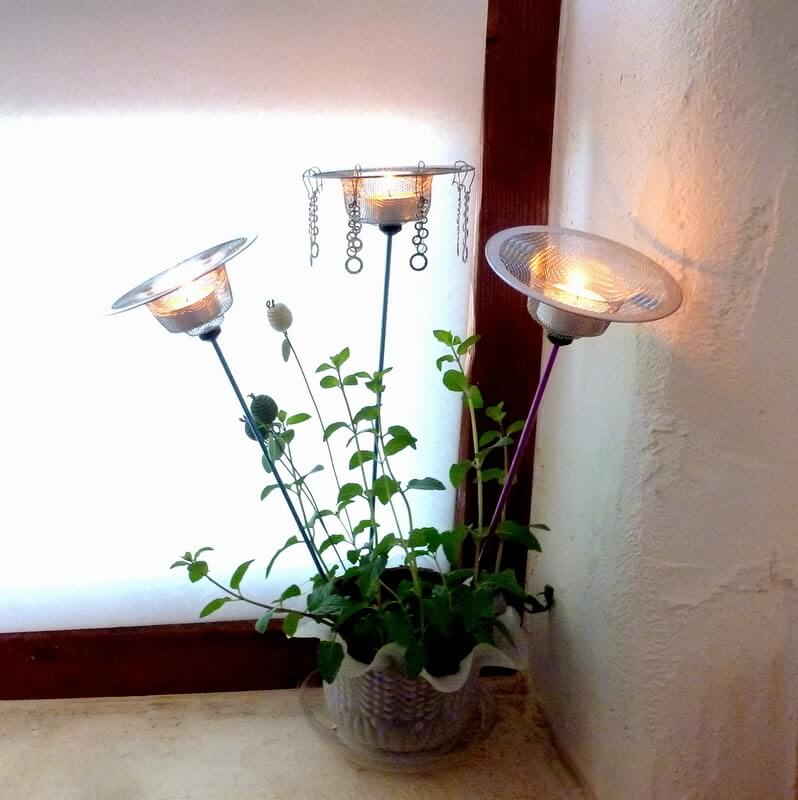 Who knew that you can use some inexpensive sink strainers and knitting needles to create incredible and stylish homemade tealight holders? From a distance, these look store-bought. It is certainly simple, and it is among the quickest crafts you can do at home. This is fitting if you need something on the fly to hold your tealight candles. Another lovely aspect about this design besides its look is that you can use this with real or fake tealights. This gives you more freedom in how you wish to set up your decor and where you want to place these fun holders such as within a plant.
16. Rustic DIY Wooden Tealight Holder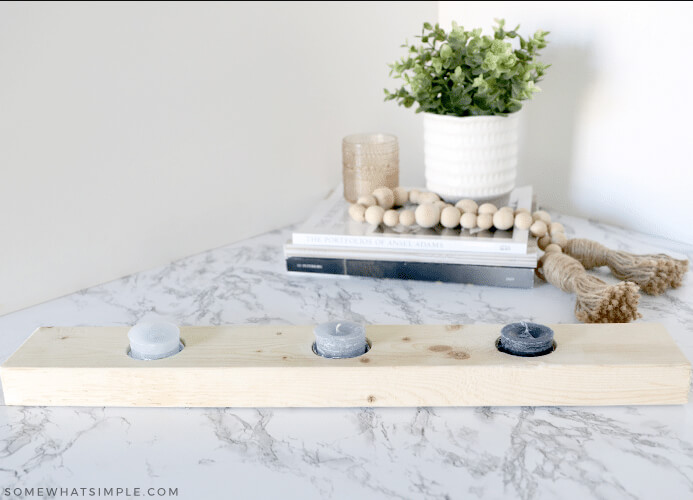 The most basic projects can create some truly captivating decor. This wooden tealight holder is simple on the surface, yet it captures such an aesthetically pleasing rustic vibe while also sticking to a more minimalistic style. Additionally, this design is something that is rather versatile. It can work in a boho setting, a vintage setting, and a Scandinavian setting. The tealight candles are spaced far enough apart so that each of them individually stands out. You are also free to light either real tealights or use electronic ones. No matter which route you take, you are left with a piece that effortlessly breathes more life into a space.
17. Faux Marble Candle Holder Design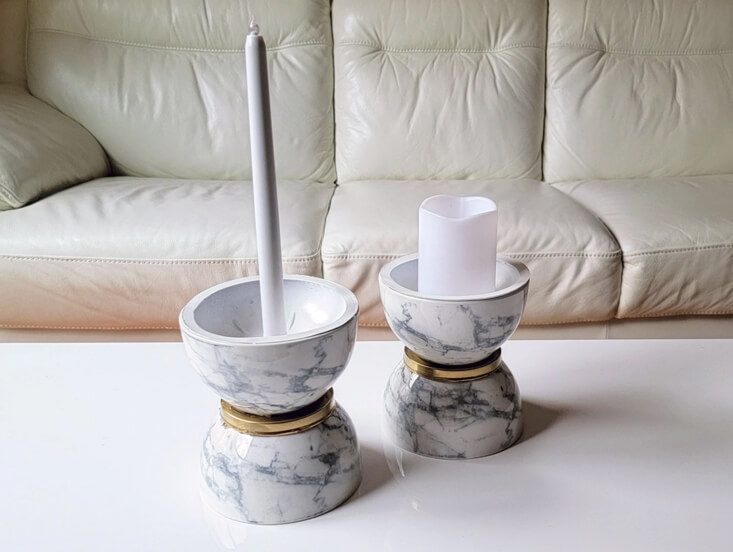 When searching for homemade tealight holders, some of the best ones are when you can make something budget-friendly appear high-end. This project uses items you may already have. Some paint goes a long way into making the plunger tops appear as though they are a part of the marble-colored bowls. Going for gold in between allows for a nice break in the coloring of the bowls, giving your eye somewhere else to travel toward as well. Toss in some LED tealight candles, and no one would be the wiser that these aren't expensive and sophisticated candle holders, and instead something you created without breaking the bank.
18. Fall Decorative Jar Tealight Holders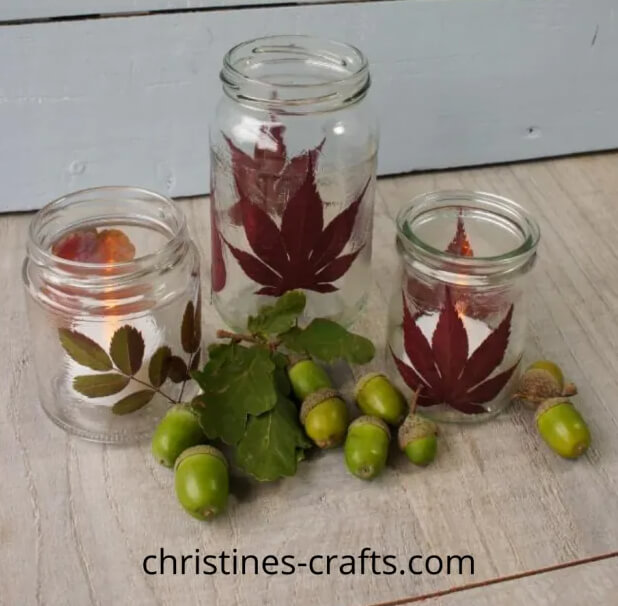 Some clear jars can give you the right amount of space to spruce them up for the season, and what you end up with an even last you throughout multiple seasons. The use of leaves is such an easy way to capture fall and the holidays that come along with it. In fact, this is among the simpler handmade tealight holder decor as you simply glue the stemless leaves to the clear jars. You can, of course, add more to it, personalizing it further so that it properly supports your decorative style. Once the tealights are lit inside, the light can look absolutely stunning when shown through the leaves and anything else you have placed on the jar.
19. Concrete Christmas Tree Tealight Holders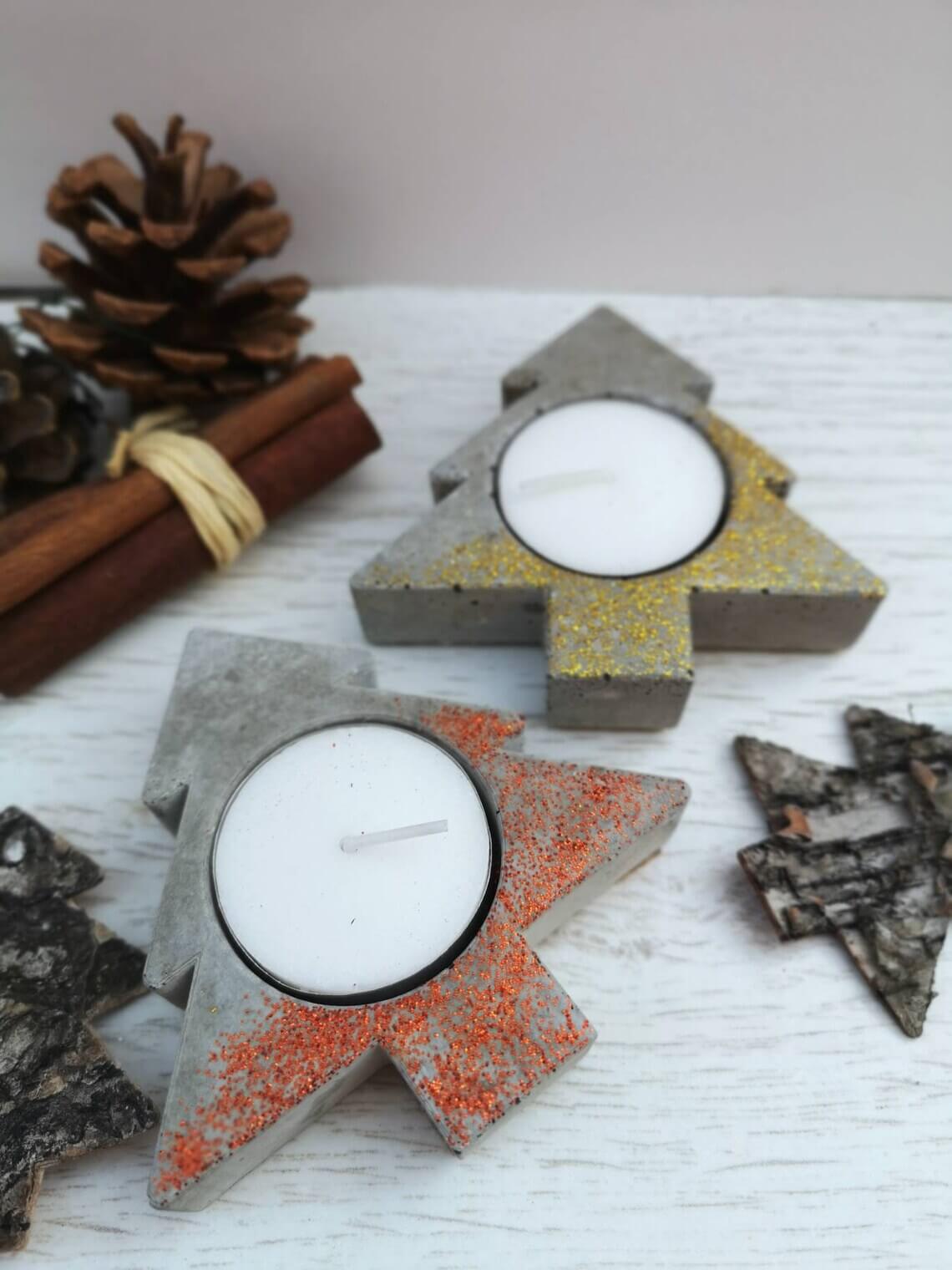 Right in time for the Christmas holidays are these awesome Christmas tree tealight candle holders. Made using concrete material, these holders will certainly be the talk of all your guest's thanks to their distinct appearance. The concrete gives them good depth as well as makes them last longer so that they can be your go-to decorations you pull out whenever it is time to decorate for the holidays. Using tealights adds such a powerful look to the trees overall, more so when you light them up. Also, you can choose from having the trees feature gold or red glitter as well as choose between light or dark concrete. This offers you some room to decorate according to your current style.
20. Handmade Wooden Tealight Candle Holders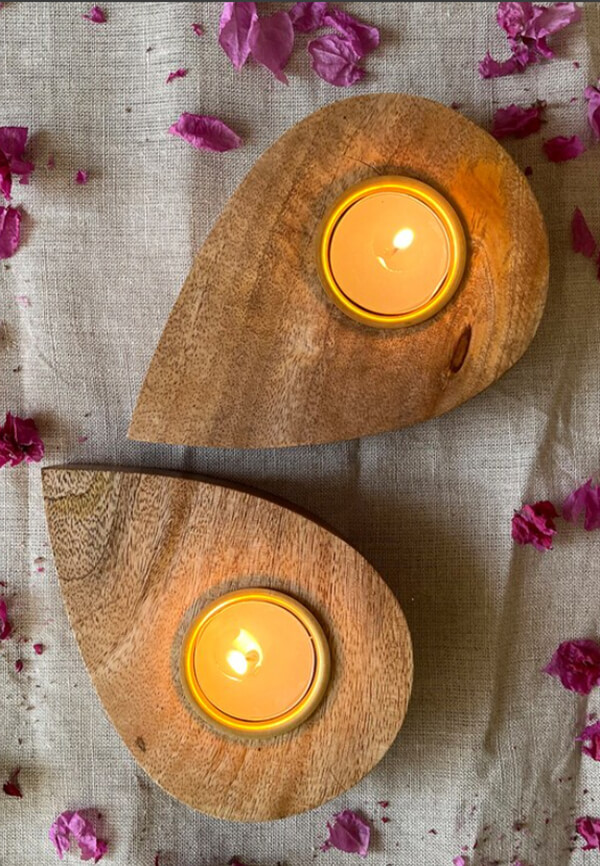 Make any celebration one remember when you use these beautiful wooden crafted tealight candle holders. Whether you give them away as gifts or keep them for yourself to decorate the space, they will easily capture attention. They have a distinctive shape to them that creates a sense of movement when you set them up, more so if you decide to use them to accentuate other decorations. From all to winter, these holders will fit right in. Plus, you can decide to get them made using plain wood or opt for a cool effect that makes the wood look cracked instead to get something with a bit more texture.
21. Stylish Concrete Tealight Candle Holders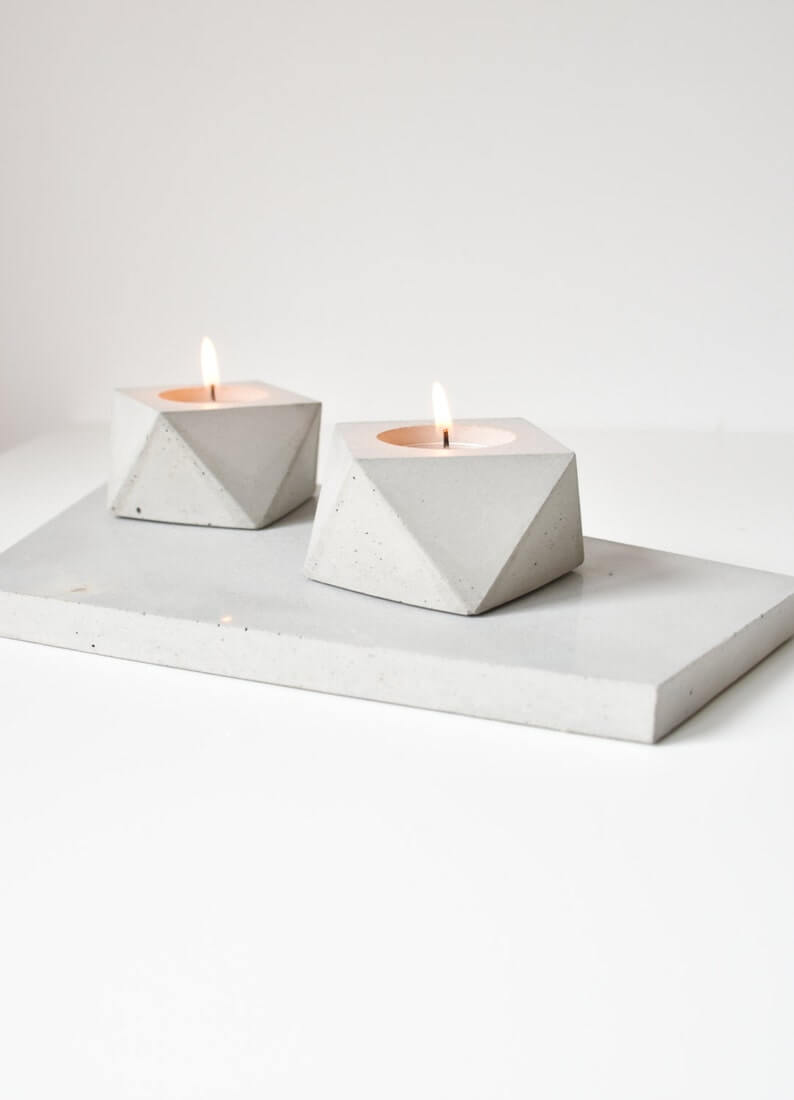 Looking to make a modern statement to your decorations? Then these set of two candleholders will fit right into your home. They are versatile enough that you can still use them with the changing of seasons and holidays. With the sharp angles, these can look artistic as well, making it modern chic. There are color options too so that you can find the right set to suit your decorative style. This is made in either a gray set, a white set, or a black set, and you can also get them with or without a base to hold them up together.
22. Multi-Sized Concrete Tealight Candle Holder Set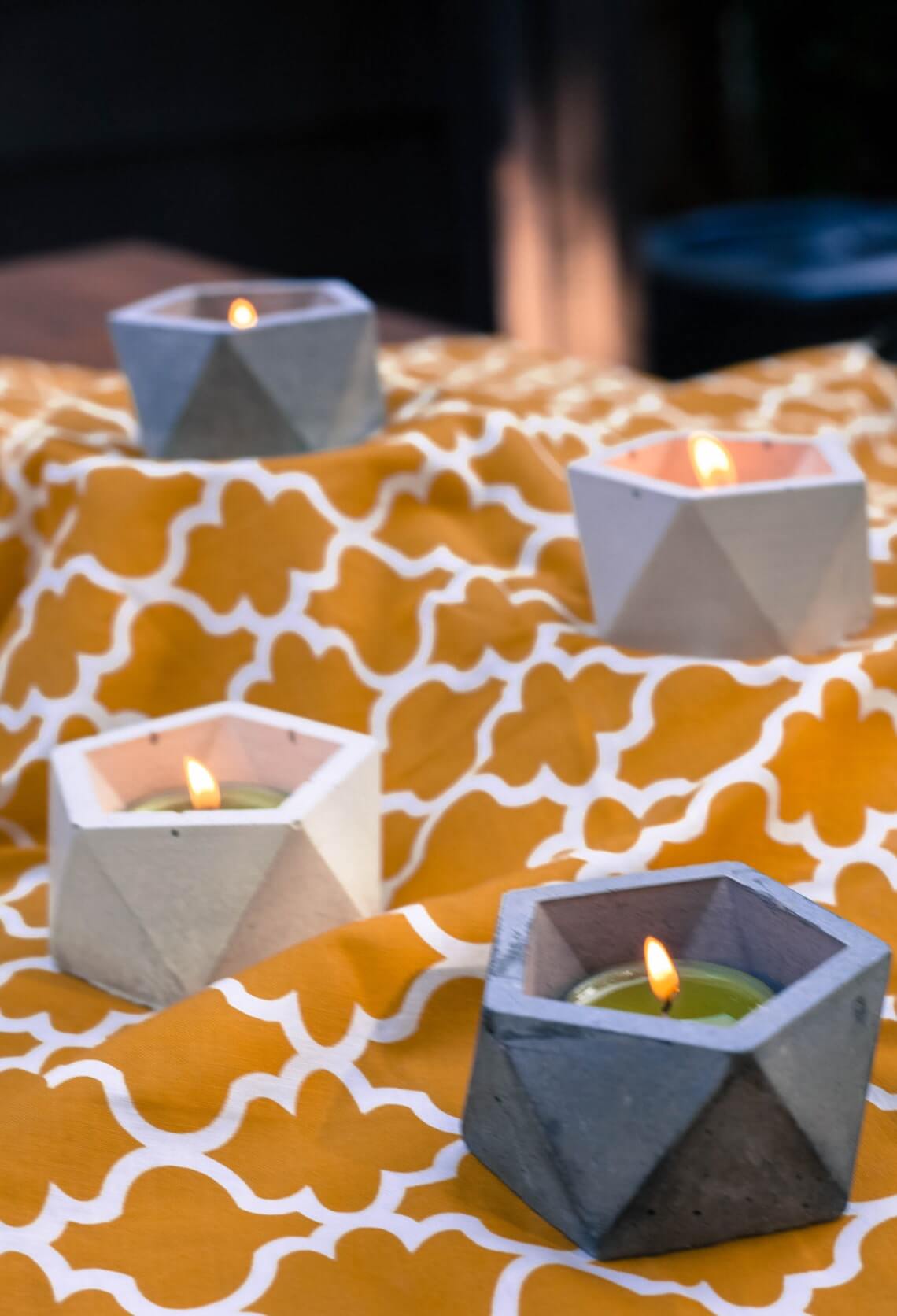 Some of the best DIY tealight candle holder ideas focus on using concrete with how reliable and versatile the items can be. These come in three different sizes so that you can mix and match your decorations up. The tealights fit well inside, but you can also use some other items inside like succulents to create a well-rounded decorative set up inside your home. The plain, natural coloring of the concrete, whether you opt for light or dark, can help these fit with different decorative styles too.
23. Colorful 3 Pack Tealight Holders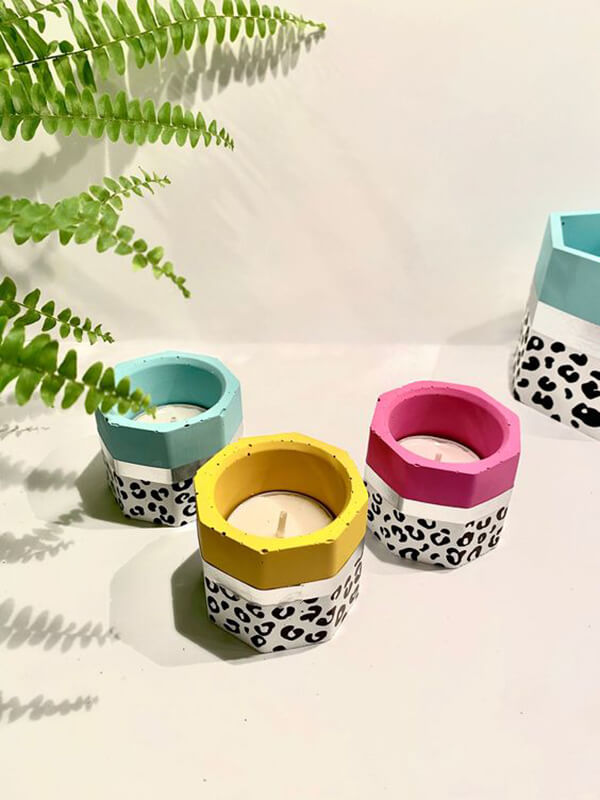 With these colorful holders, you can add some art deco to your home's décor. The colors are vibrant and appealing, and with them being in three different shades, it gives the holders far more creativity and artistic flair that makes them so welcoming to use. Meanwhile, the leopard print further enhances the colors without overwhelming the holders overall. With that said, these even come with tealights so that you can set these up right out of the box and add your personality to your décor.
24. Silicone Mold Tealight Candle Holder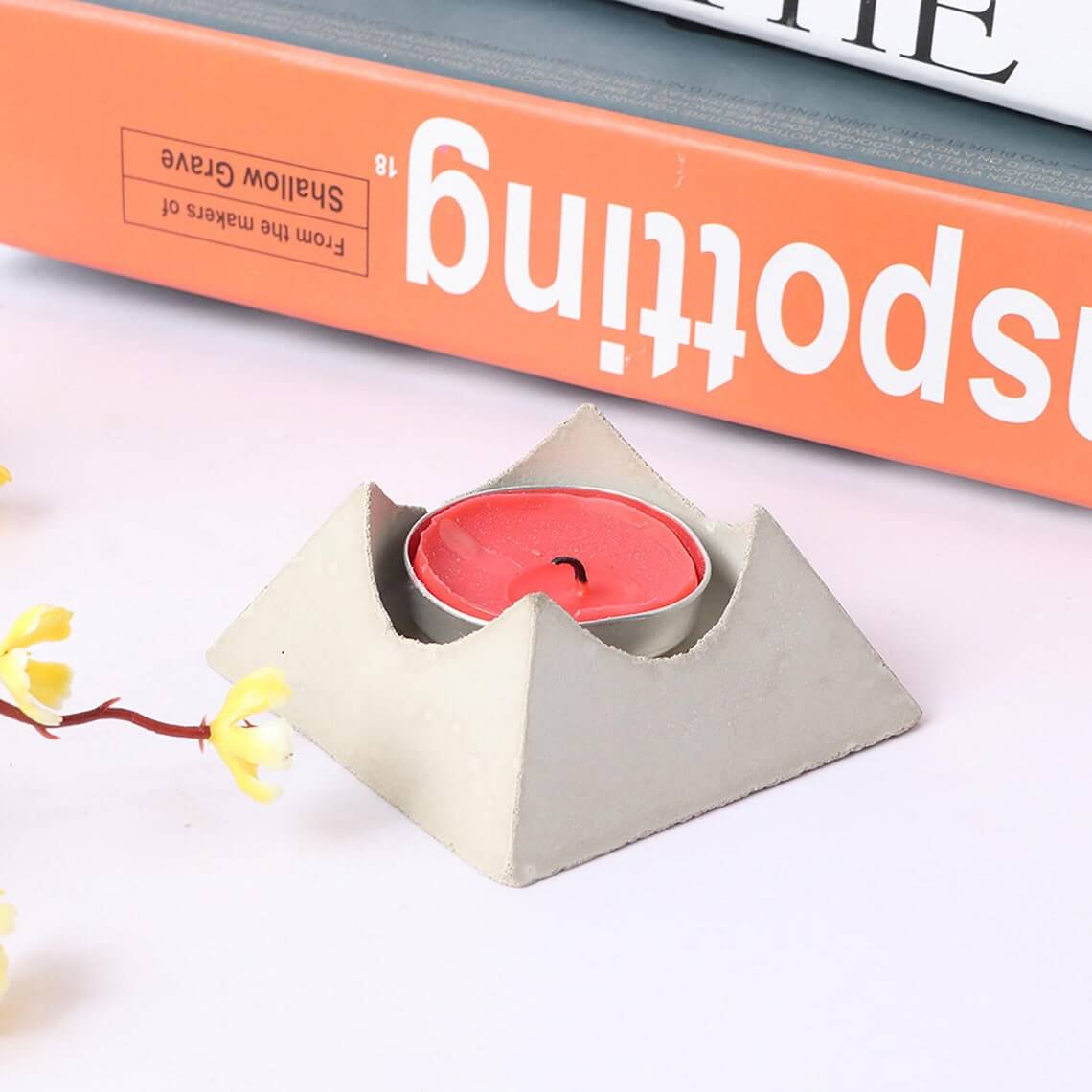 This interesting silicone mold makes for a geometric-like design, allowing you to get something that is more unique. It is a wonderful way for your décor to have more of an impact this upcoming season, especially since the mold seems to fit in well with various styles. They are just small enough to support those compact tealights, allowing you to purchase as many as you need to fill up the space. Also, seeing as they are made from silicone, they have a high heat tolerance so that you can use real tealight candles if you wish rather than LED ones.
25. Simple Beech Wood Tealight Holder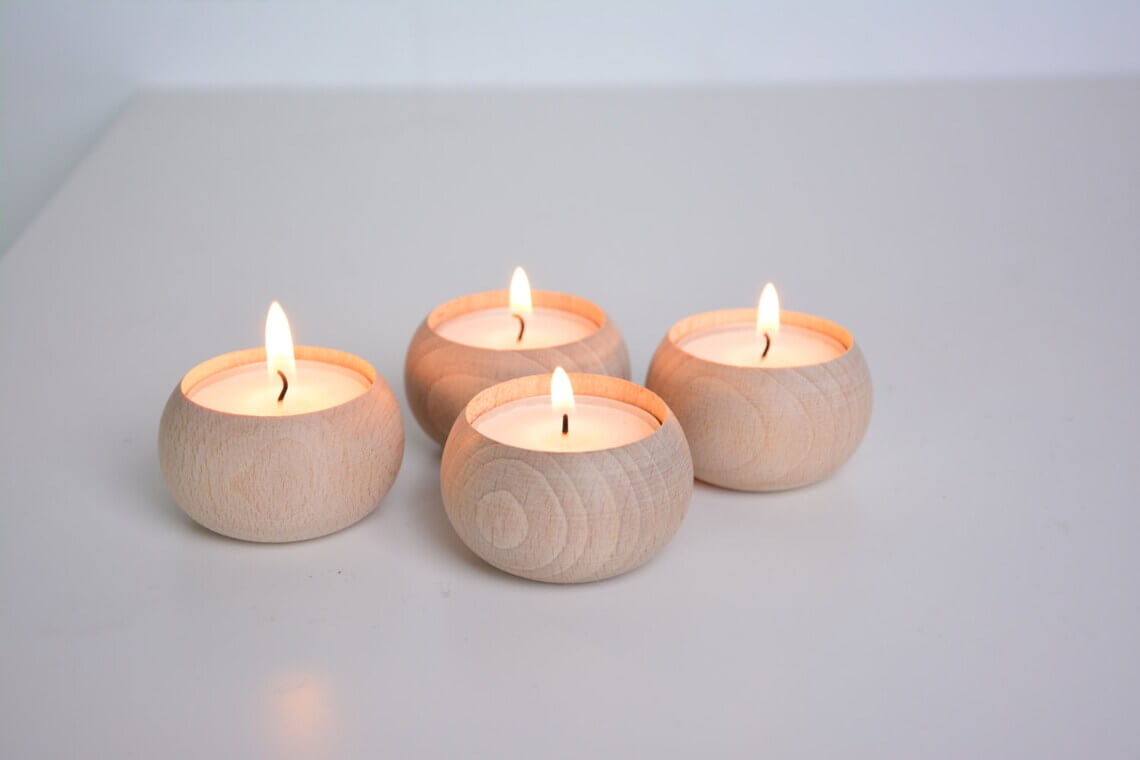 Some of the best homemade tealight holders revolve around simplicity. Things can't get simpler than with this appealing, compact tealight holder that is just the right size for the item at hand. The wood used for this is lovingly carved, and with it remaining unfinished, it has a slightly old-school look about it that provides your decorations with a bit more uniqueness. Rather than anything else standing in the way, the wood itself is able to give the right vibe while offering a natural textured pattern that doesn't stand out too much. It is fitting for not just a seasonal fall or winter look, but it also works well for those with a minimalist, Scandinavian style.
25 Amazing Homemade Tealight Holders to Dress Up Your Décor
Tealights are among some of the most versatile items to use as decorations, more so when you place them in the right holders. There is no need to buy these though as you can make some stunning handmade tealight holder decor that will help showcase your style and give a much-wanted personal touch to your décor overall. You can opt for a minimalistic approach that is fitting for the quaint size of tealights, making smaller holders with great designs that let them look geometric, for instance.
Other fun ways to go about this is by building larger holders, using tealights as a way to elevate another decorative item you may be using. Creating a tealight holder you can adapt is a good way to keep up with seasonal decorations as well. With how many directions you can head toward, we hope that our list of some of the best DIY tealight candle holder ideas gives you a good place to start.