If you're anything like us, you'll have plenty of tin cans left over from cooking canned veggies, sauces, and soups by the time recycling pickup rolls around. Instead of simply tossing out all those empty cans, they can easily be turned into a variety of useful project, from planters, to storage container, and even some eloquent looking home décor with a little creativity.
16 DIY Tin Can Projects that are Practical and Easy to Make

When preparing to work on these projects, be sure to have a pair of work gloves handy, as sometimes the edges of the cans can be a bit sharp depending on they style of can that you're using. Also if you're cutting into the can for some of these projects, the cut edges can be pretty sharp also, so having a pair of pliers handy to fold in any rough edges left over can also come in handy. With these DIY tin can projects, you can repurpose those empty cans into something a little more appealing.
1. Springtime Colorful Rustic Hanging Planters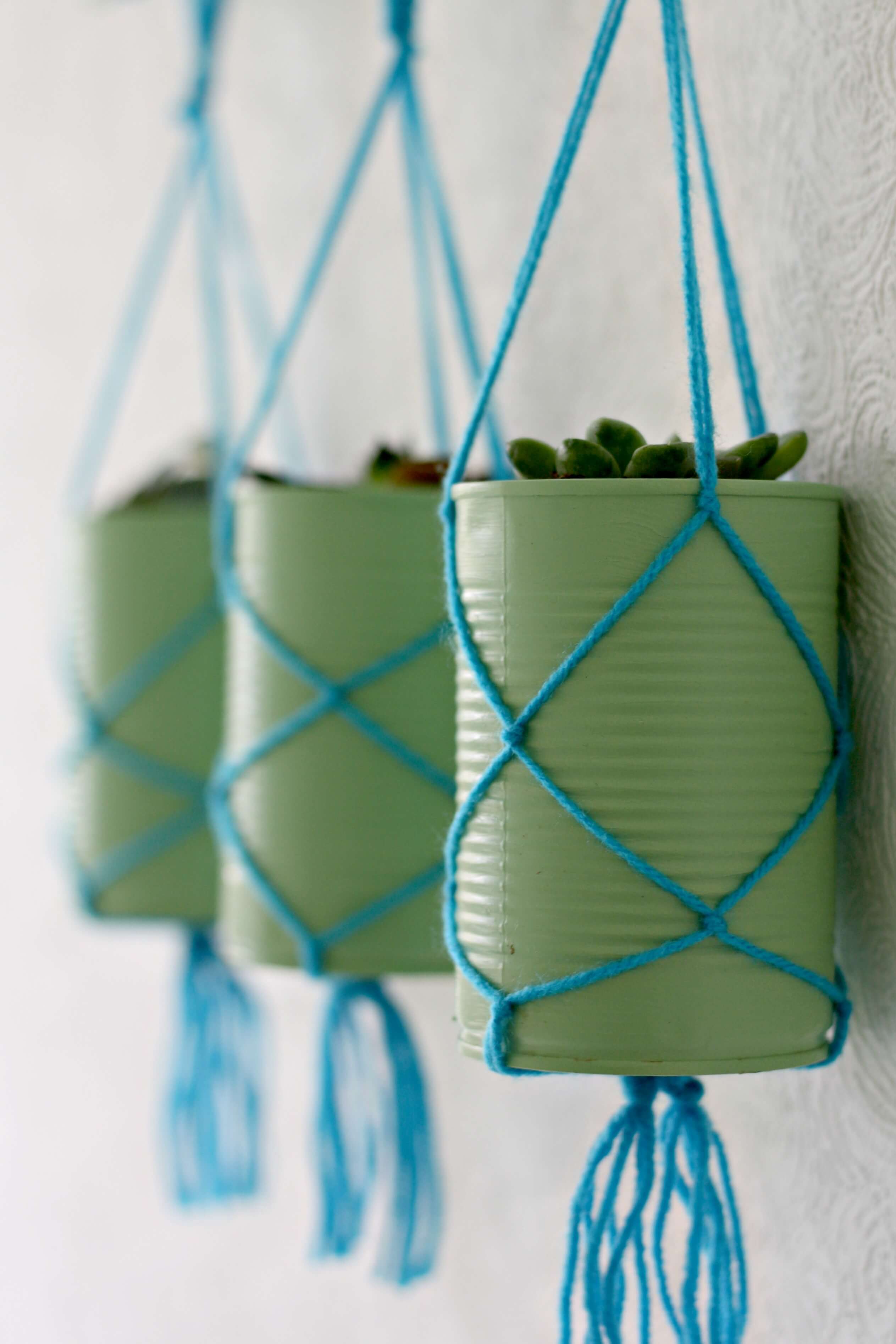 If you're looking to add a little rustic charm to your yard, this is a great way to do it. Using a little bit of paint, stain, or even adding a bronze or even an oxidized finish to get either that rusted metal effect, this DIY tin can projectcan add a splash of color to your yard with only a little bit of effort.
2. Painted Fun Free Standing Planters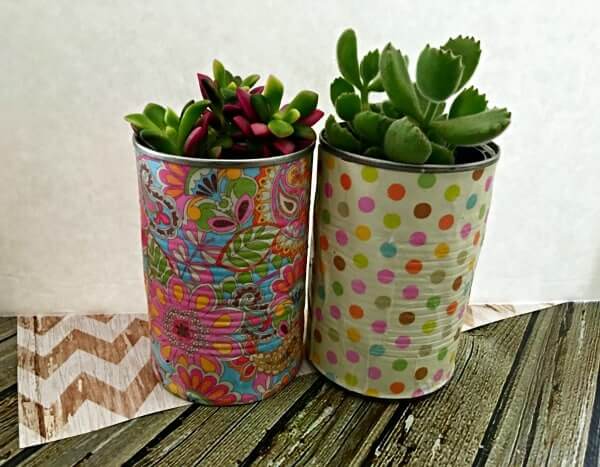 If you're looking for something more for using indoors, or have a lot of counter or windowsill space on your deck or porch, you can make free standing planters using a little bit of paint, some old stencils and other patterns.
3. Free Standing Colorful Caddies and Organizers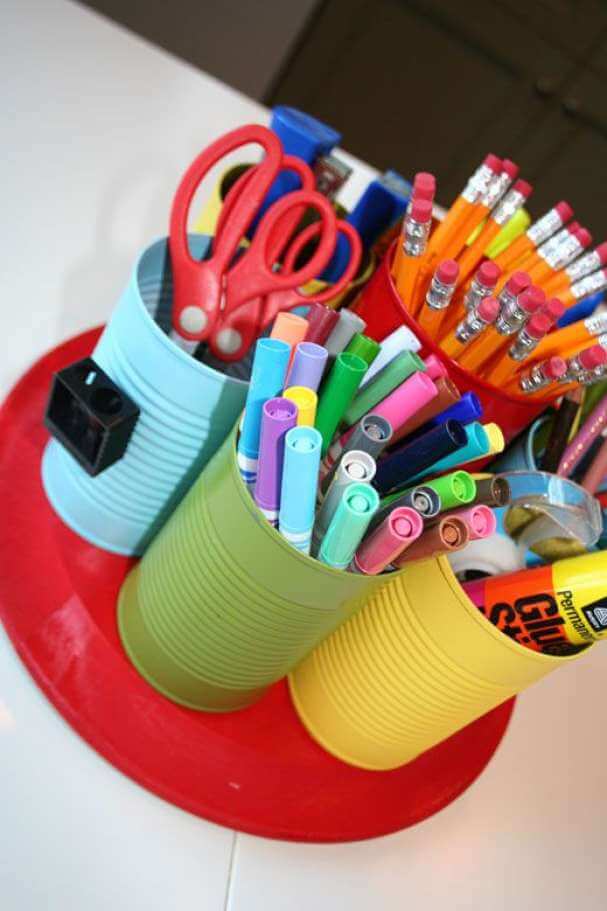 Be it for school, home, or the office, being organized is super important. With this DIY tin can project, you can create quirky and stylish supply holders for all of your needs, be it pencils and pens in your office, craft supplies, or for school supplies in the classroom.
4. Kitchen Canisters from Home Cooked Meals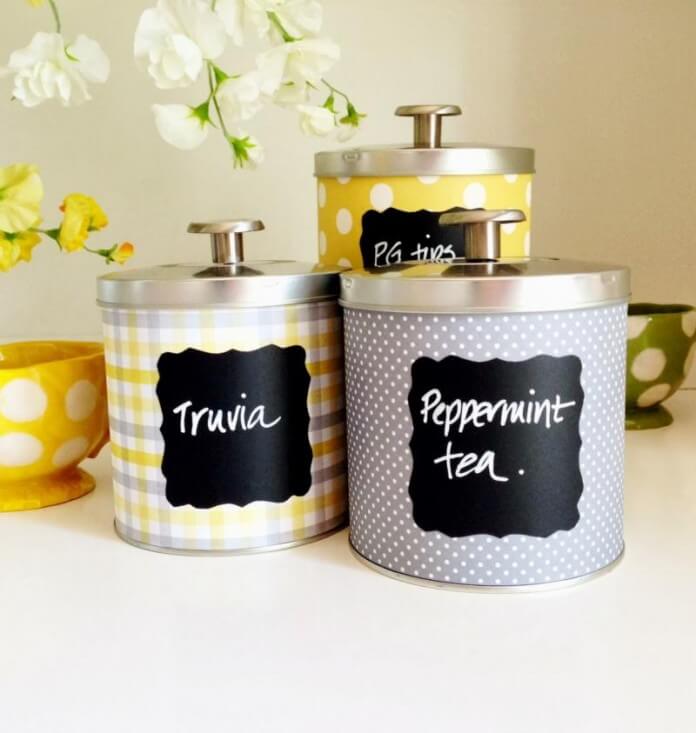 With a little bit of wrapping paper or scrapbooking paper, you can transform your old tin cans into kitchen canisters that will give your kitchen that nice homey charm. Whatever you decide to store in them, be it sugar, spices, herbs, or even assorted candies for the kids, they'll be both stylish and functional.
5. Buffet Style With Portable Silverware Caddies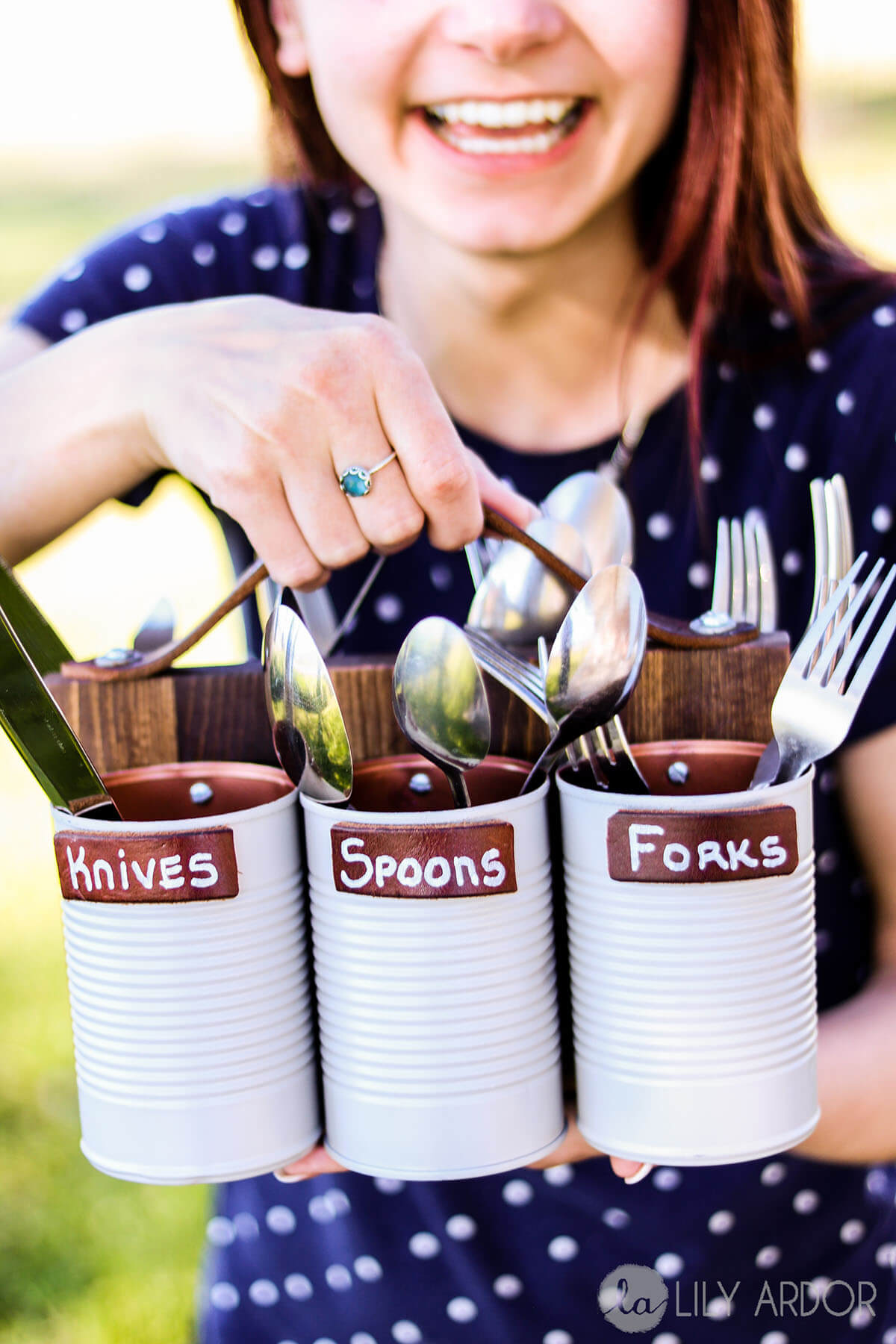 If you're looking to have a buffet style meal at a party, or just want a fun and creative way to present your tableware at the next outdoor barbeque, this project is a great way to do it. Great for both indoor and outdoor use, this caddy has room for knives, forks, and spoons, and can even be used to hold your serving utensils if need be.
6. Over the Garden Wall with More Colorful Planters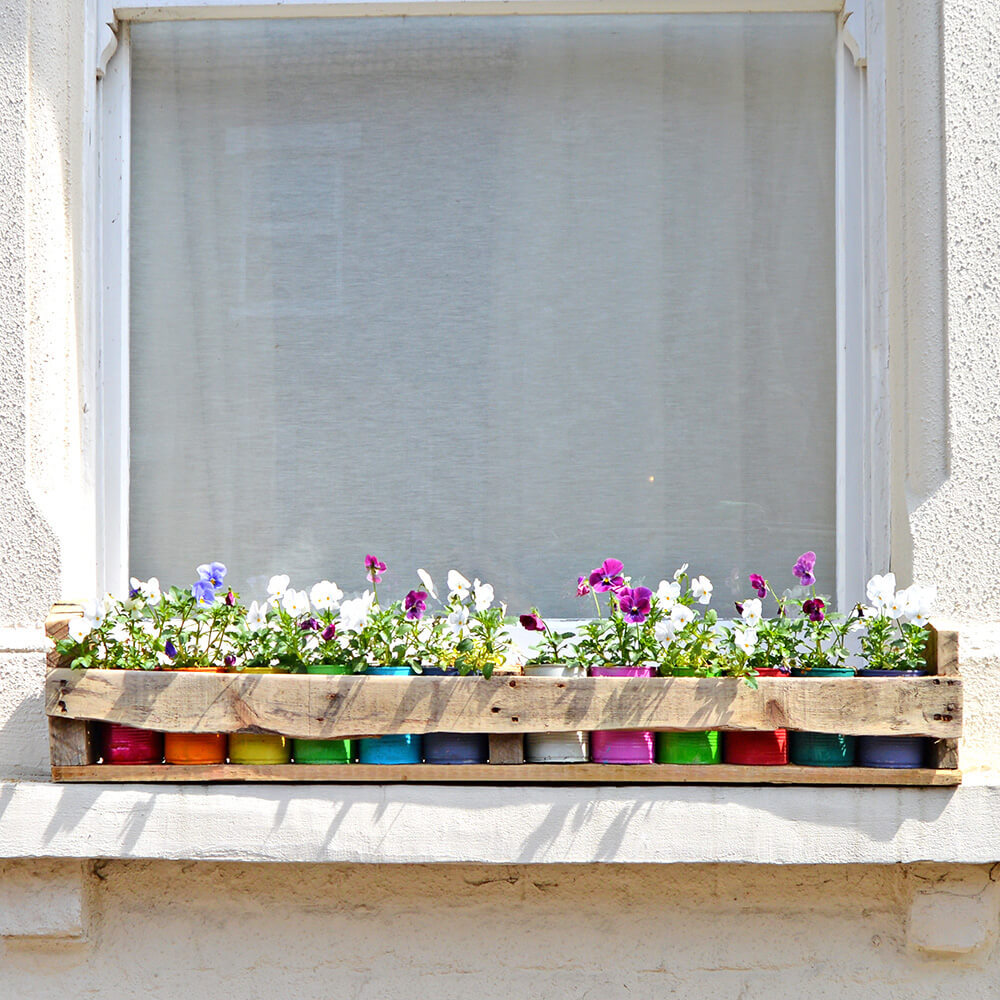 If you have a small awkward nook that needs filling in your yard, be it to cover a small basement half window, or a part of the home foundation that's not exactly flush with the rest of the siding, this little project can help hide those unsightly blemishes. Using similar techniques as with the free standing planters and a few planks of wood, you can repurpose and hide those little uneven nooks behind a small little garden of planters.
7. Portable Rustic Outdoor Utensil Caddy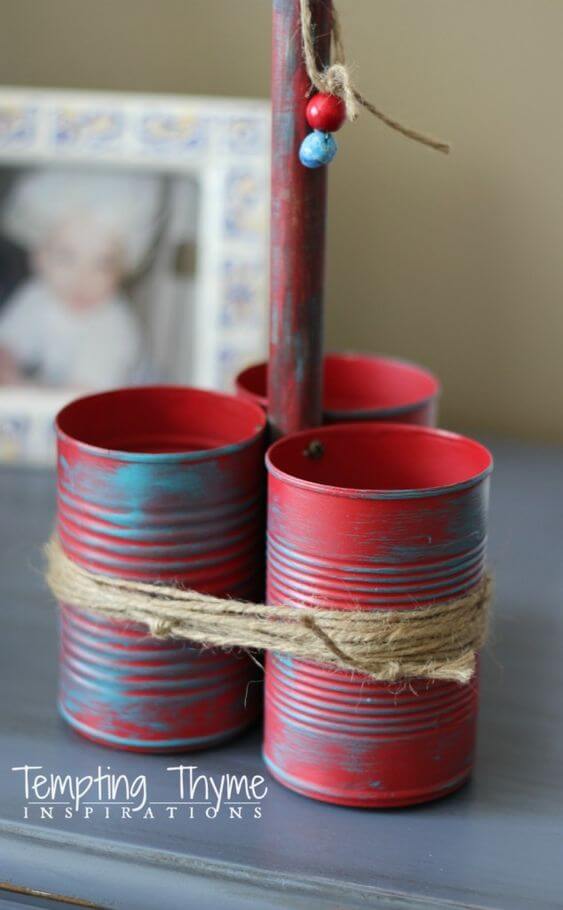 With barbeque season right around the corner, this is a great project to do in preparation for all those family and neighborhood barbeques. Using a dowel, some glue, and a little bit of twine, you can make a stylish portable utensil caddy for your outdoor seating area. You can use it for utensils, napkins, or even holding all those much needed barbeque and buffalo sauce bottles at the next family gathering.
8. Walking Tall With Tin Can Stilts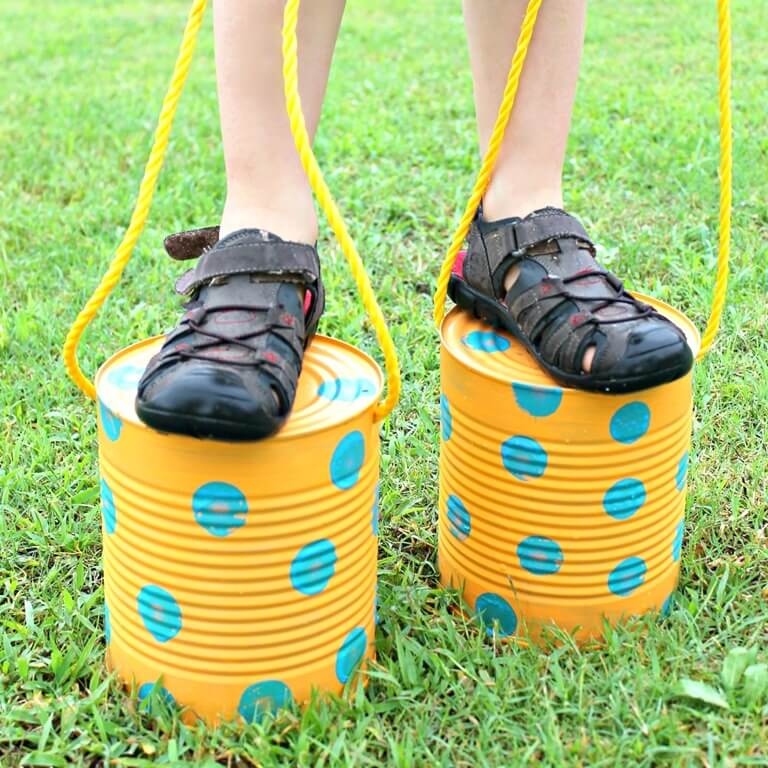 This is a great one to do with the kids. If you have any large cans, like the 32oz ones that hold those large peach or pineapple chunks, or even old paint cans, grab some twine, some paint, and your kids and get to work. They'll not only have fun making and decorating them, but they'll get hours of fun out of using them as well.
9. Inviting Hanging Bird/Animal Feeder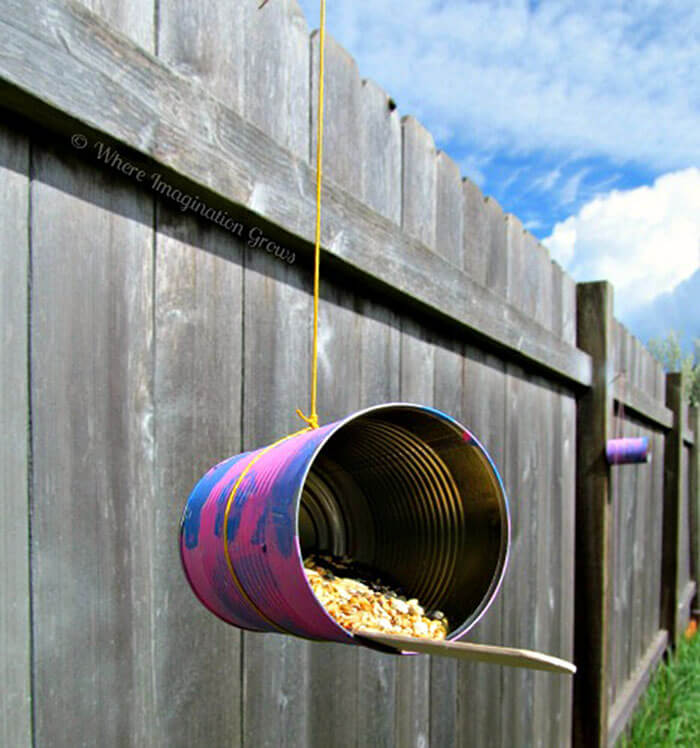 If you have a lot of birds that like to come visit, or you're just looking to attract more avian friends to connect a little more with nature each time you step out into your yard, these next DIY Tin can projects are for you. With just a little bit of twine, your tin can and a dipstick, you can create an effective animal feeder or bird feeder for your yard that'll be sure to attract plenty of visitors, as well as give your yard a nice little accent piece.
10. Woodsy Twine Bound Candle Holder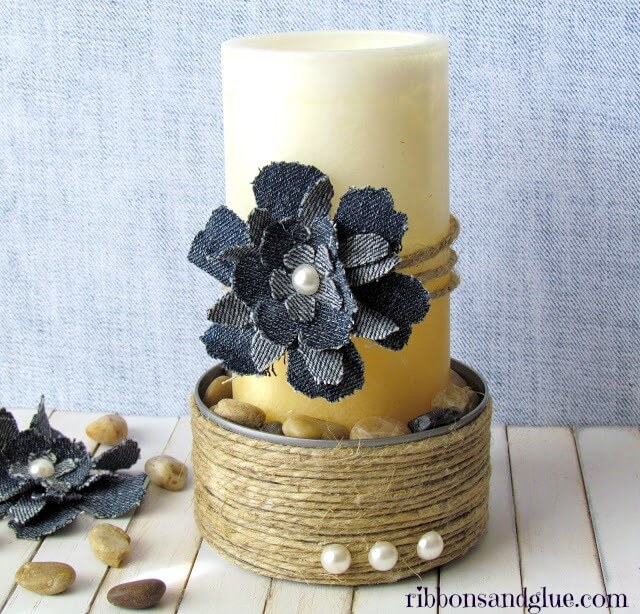 While most of the other projects so far have kept that tin can aesthetic, this project uses some twine, beads, and other decorative elements to cleverly hide the tin can and make an elegant candle holder. You'll definitely want to bring along some gloves for this one, as you'll be cutting the can down and sanding the sharp edge.
11. Practical Labeled Painted Herb Planters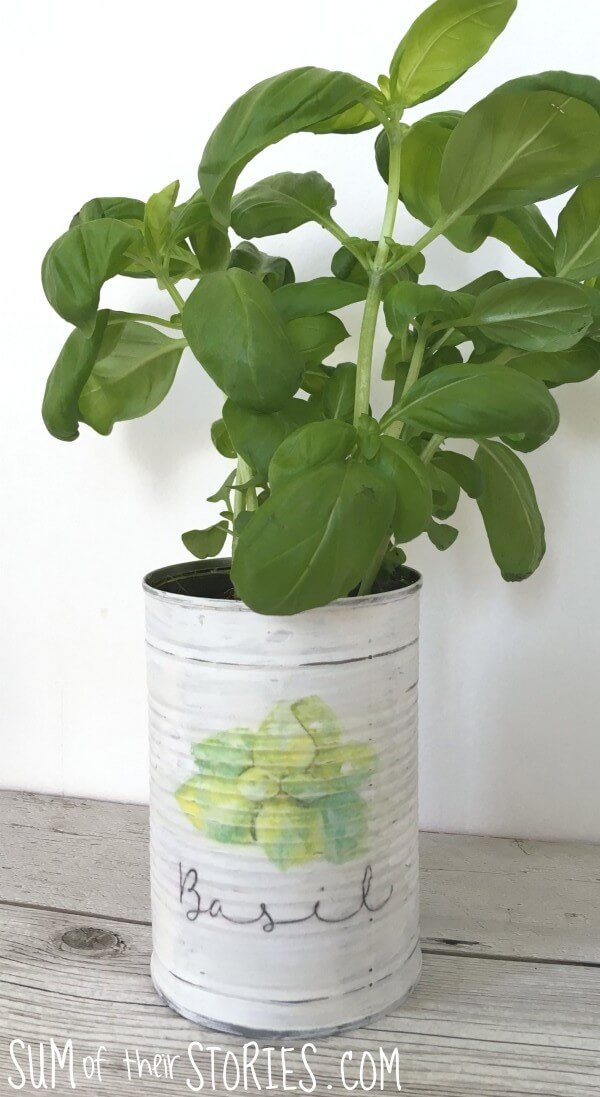 If you're big into planting your own herbs to use in the kitchen, this project will give you a nice way to display those herbs, while at the same time making it clear as day which herb is which. These labeled planters will add a touch of rustic class to your kitchen and fill the room with the delicious aroma of fresh herbs.
12. Elegant Three Tier Decorative Stand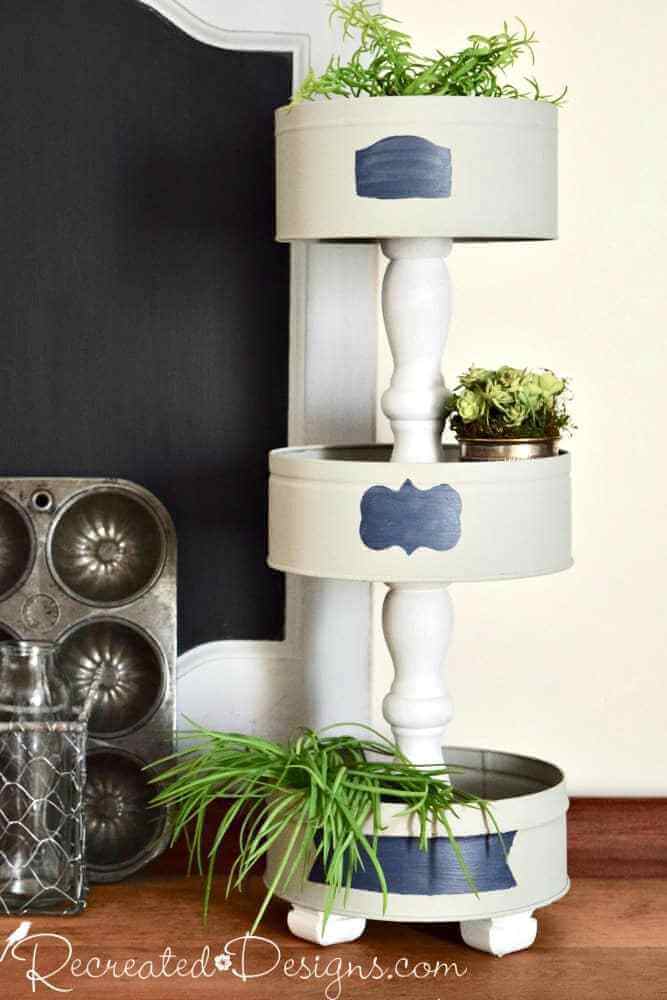 Using some larger cans and some banister poles, you can make a classy decorative stand to hold anything from cakes and goodies, to flower, or other decorations. Since you'll be cutting down the cans to make low, flat display shelves, it'll look almost like something right out of the home goods store.
13. Tin Can Essential Oil Burner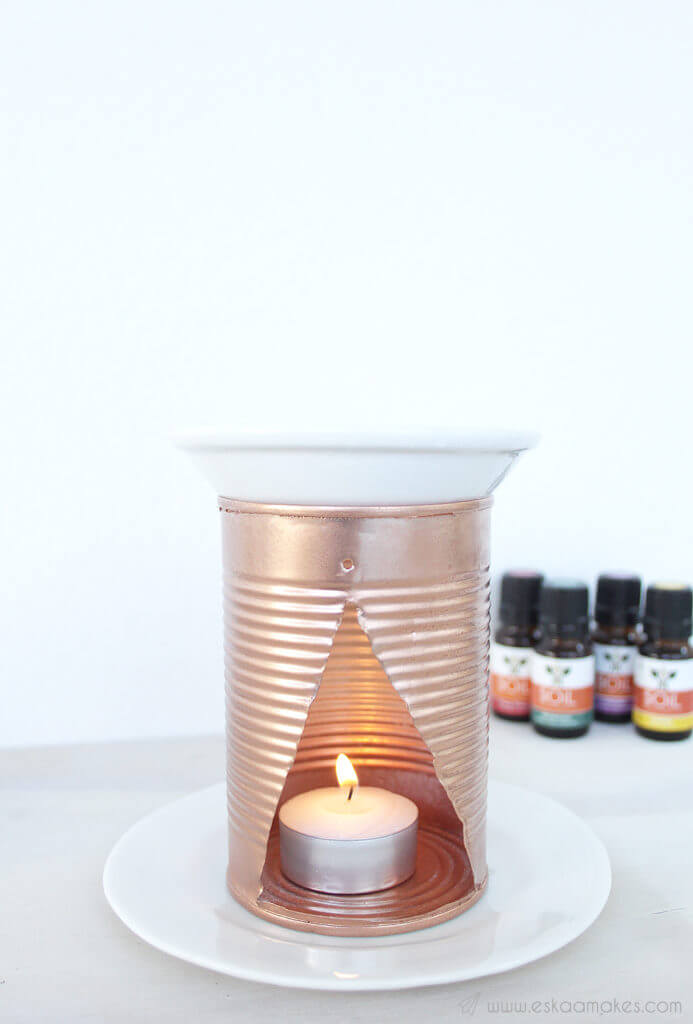 With a little bit of creativity, a small ceramic bowl and some wire cutters and pliers, you can make a quaint little essential oil burner to help keep your home smelling fresh with whichever soothing scent you like best.
14. Wired Atmospheric Hanging Pendant Lights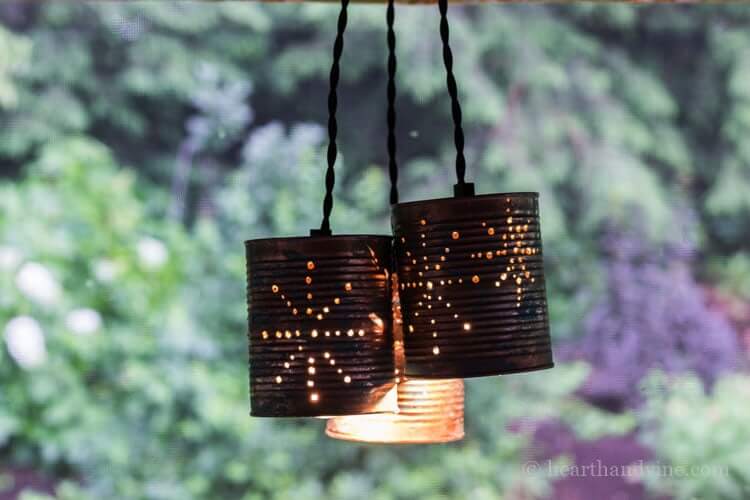 This is another great project if you don't want something that will take you all day, since all you'll need is a tin can, a stencil or pattern to tape over the can, and something to poke holes in it like a hammer and nail. You'll want to do the prep work in making the top hole where the hanging light will go first, and have a printed stencil ready to go. Once you're all done, you'll have some incredible outdoor accent lighting for your porch at night, or for out on the deck.
15. Festive Holiday Tin Can Tree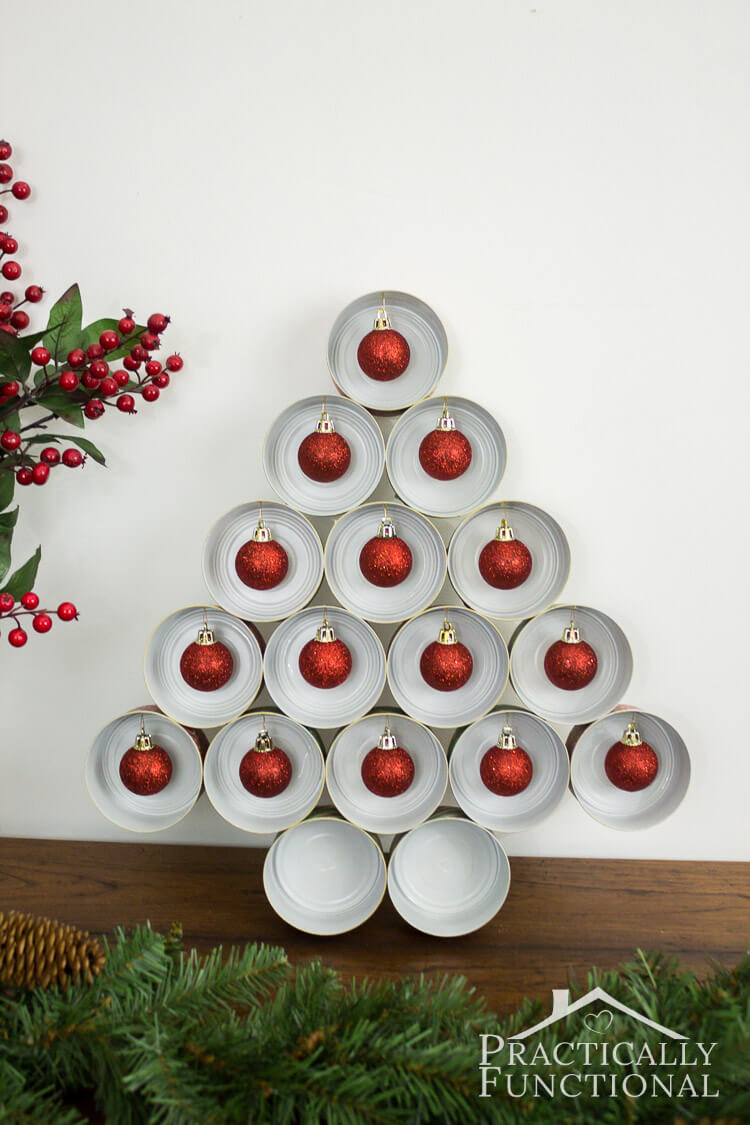 If you like the holiday season as much as I do, you'll love this next project. This holiday tree made out of tin cans can be a great accent piece on the fireplace or even hanging on your wall. Just grab a pack of assorted ornaments to help decorate it, put on some holiday music and take on this project to help get you in the festive holiday spirit.
16. Fun For The Kids: Bowling For Soup Cans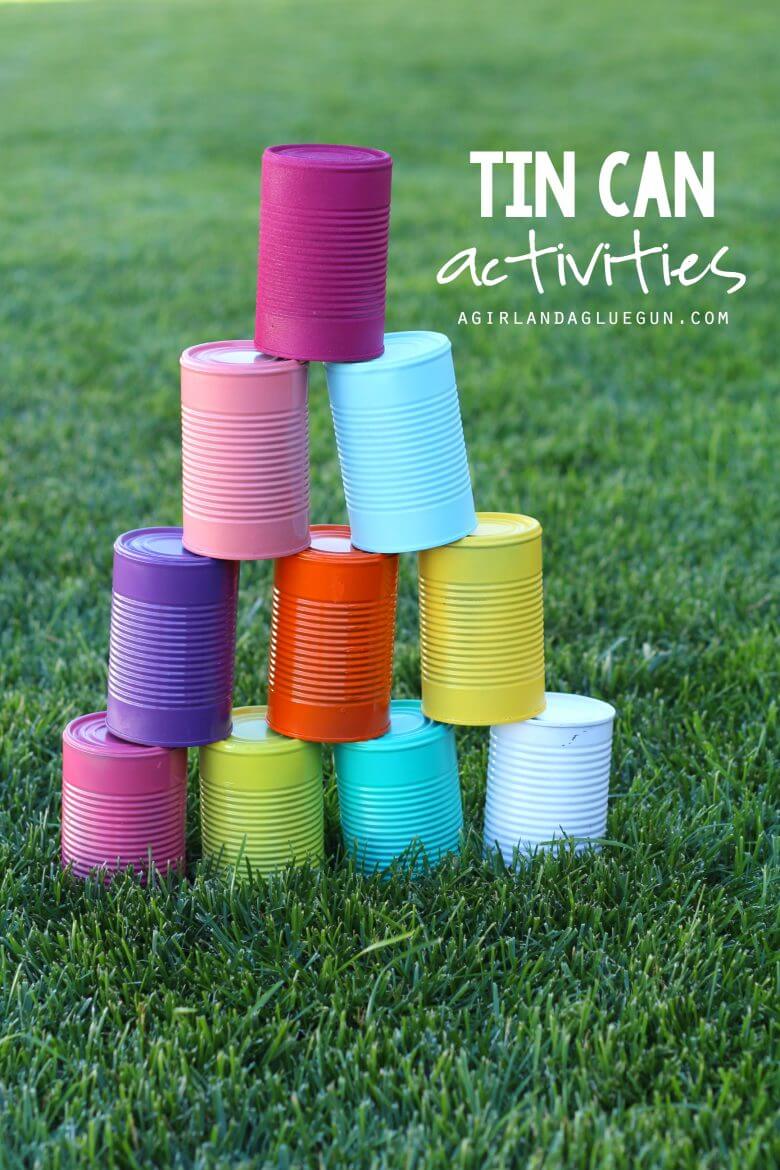 Another great project to do with the kids, divvy up the cans evenly among yourself and your kids to help decorate. Use paint, glitter, stickers, anything you want to make them look fun and quirky. From there, all you need is a baseball or handball and you're ready to play!