Offering balance between aesthetic and exertion, the best DIY wedding favors are a way to share something tangible with your guests. Crafting your own favors is also an affordable way to customize them to fit your wedding vision without busting your budget. Surprisingly, you can make many of these ideas well ahead of time without any specialized equipment. You just need to consider per-unit cost, timeframe, and how much energy you want to invest in creating your dream wedding favors.
The Top 22 Best DIY Wedding Favors to Make Your Wedding Memorable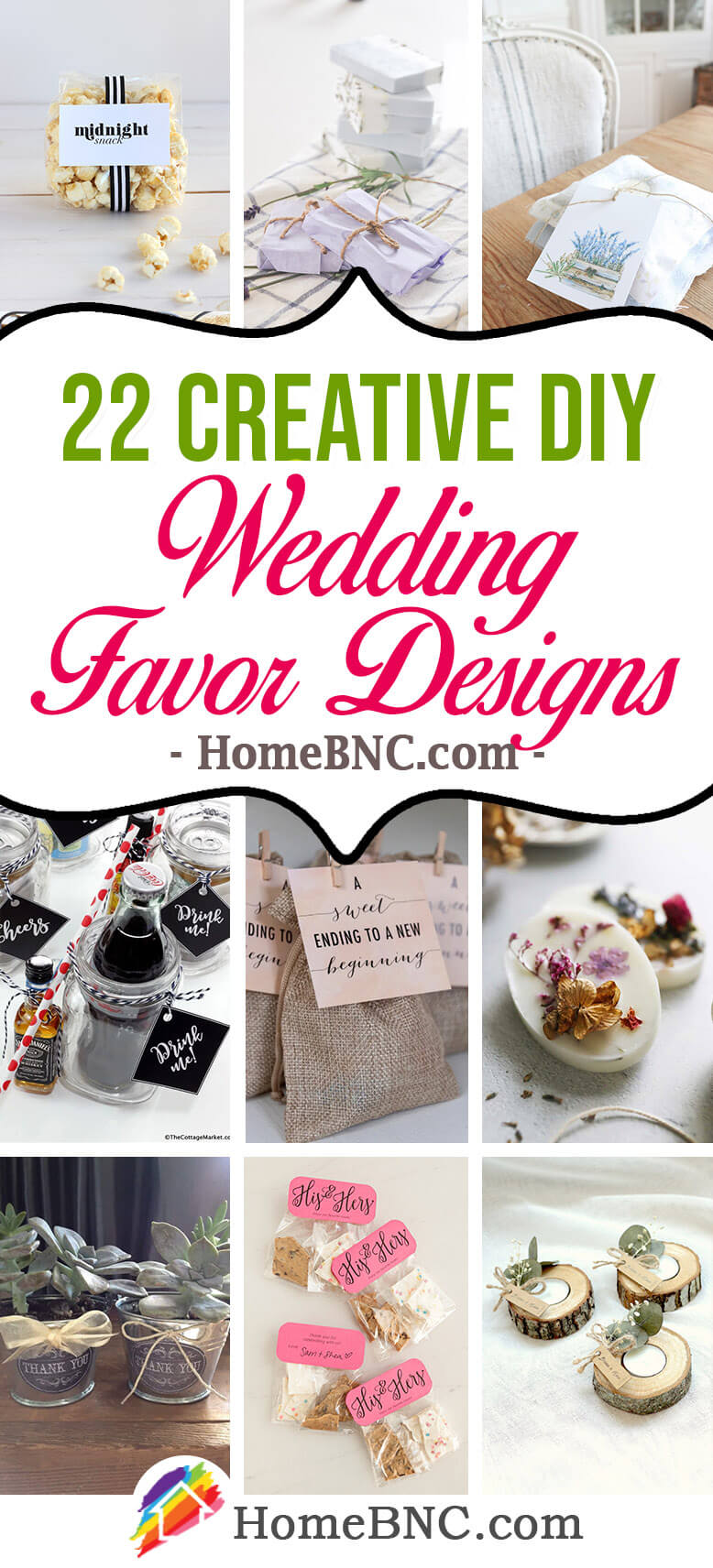 Before falling in love with a handmade wedding favor idea, consider how many you will need to assemble. Some ideas are easy to scale into massive batches while others are better suited for smaller weddings. A good way to stick to your budget is to estimate the per-unit cost of a wedding favor before making a final decision. This is also a good strategy if you need a tie-breaker between two fantastic ideas. How much time you have is another important consideration in figuring out which favors are right for your wedding. Some require time to cure and need to be made at least a few months in advance. Food-based favors might need to be made shortly before the big day. Still others such as paper bookmarks do not have any time constraints and can be assembled according to your schedule.
Wedding planning can be exhausting. It is as important to budget energy as it is to budget finances. As you evaluate wedding favor ideas, consider how much energy each will take to get ready. Make sure to funnel your efforts into the areas important to you. Every wedding finds equilibrium among packaging, personalization, and, of course, the favor itself. Once you have the perfect plan in place and materials purchased, invite a few friends over to make them.
1. Handmade Wedding Favors that You Can Eat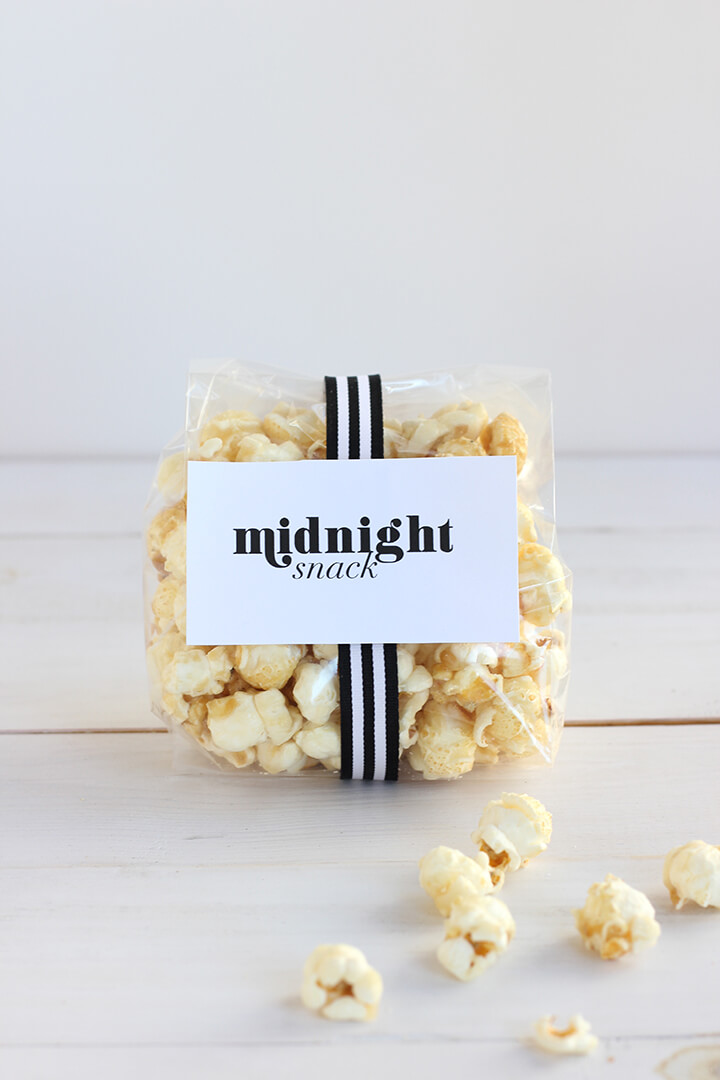 Who says that wedding favors need to be taken home before they can be enjoyed? This strategy is easy to assemble and means your guests can enjoy a scrumptious treat on your special day. While popcorn is shown here, you could pair the ribbon and printable with chocolates, pretzels, flavored popcorn, or your favorite shareable treat.
2. Posh Lavender Soap Bars as Wedding Favors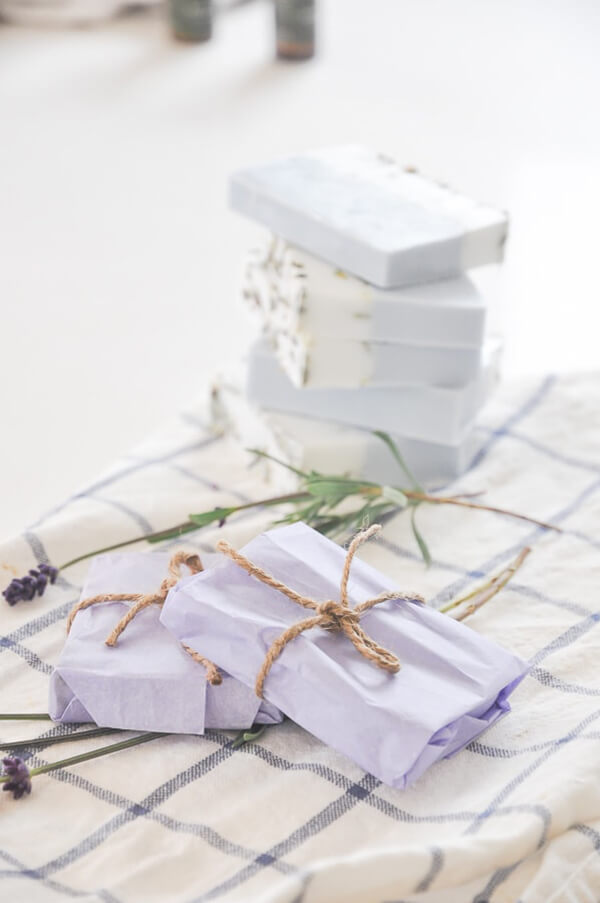 With only a soap base, mold, colorant, and botanical additives, you can craft luxury wedding favors at an affordable price. Because the lavender colorant features cool undertones, it works well with the pale purple tissue paper packaging shown here. Personalize this favor with a stamp on the soap itself or a label on the wrapping.
3. Canning Jar Cocktail (or Mocktail) Wedding Favors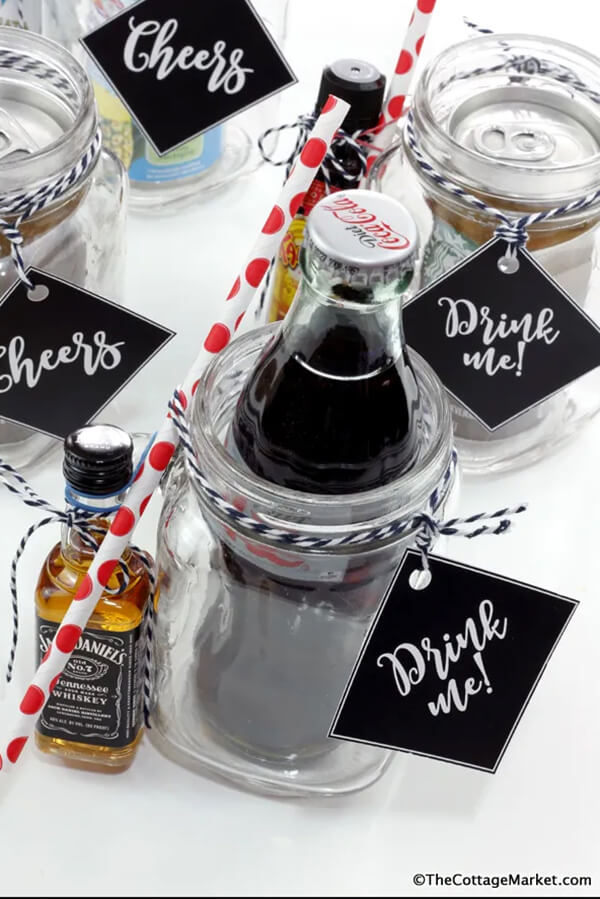 The best DIY wedding favors are those that your guests will enjoy the most, and this idea is a creative way to bring joy. Pair your favorite spirits with mixers, and get ready to party the night away. A non-alcoholic modification might include a lemon-lime soda in the jar and an individual bottle of fruit juice.
4. Rustic Raw-Edged Sachet Pillows Filled with Lavender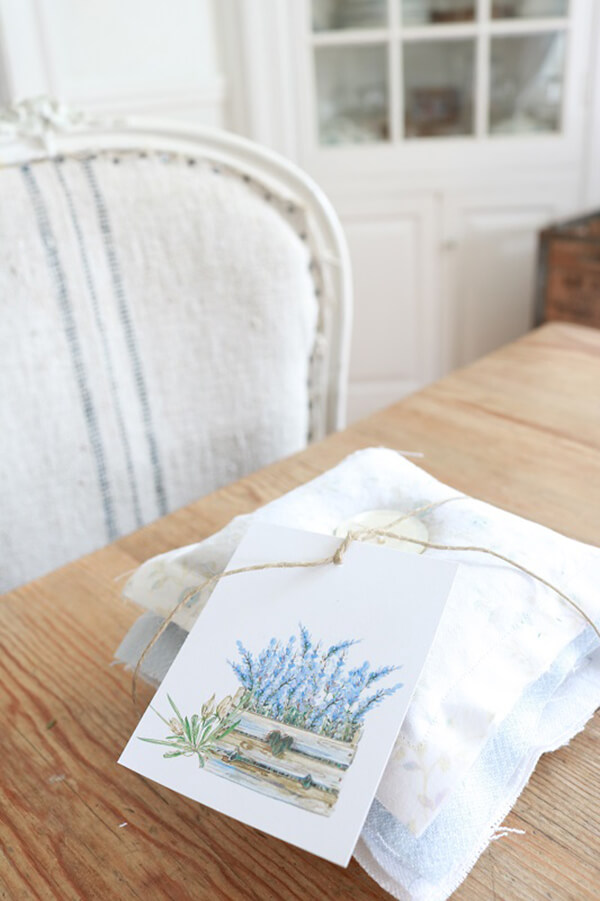 If you love lavender and have access to a sewing machine, these are some of the best DIY wedding favors that you can make. An unfinished edge is enough to give each sachet a delightfully rustic vibe. Dress that up with a unique button and a gorgeous label, and you have achieved country-chic wedding favors.
5. His and Hers Customizable Candy Bark Favors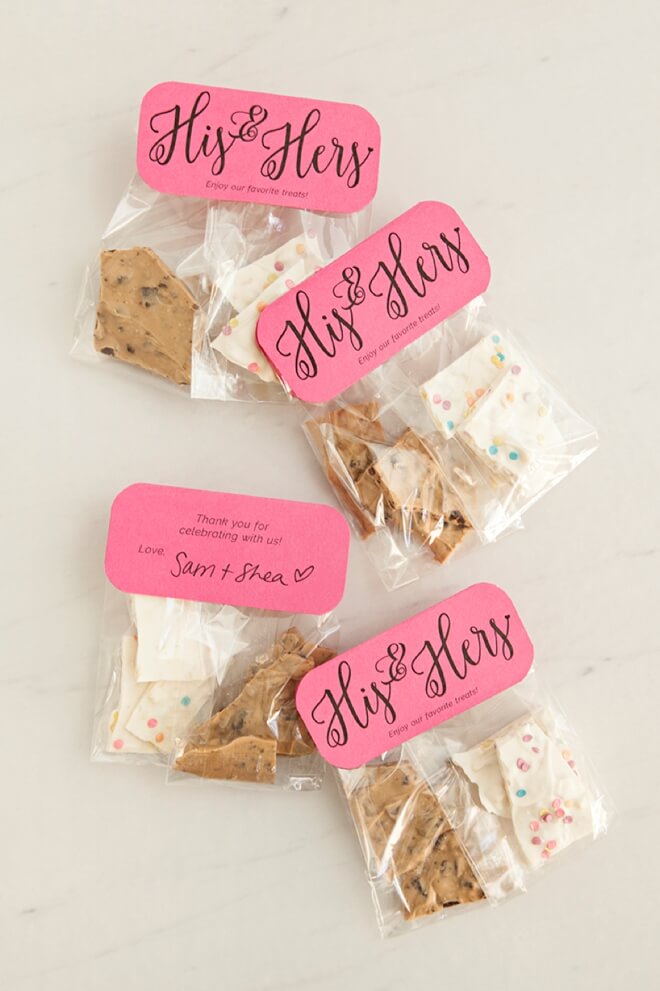 Because they require a tasty day of testing, these homemade wedding favors are among the most fun to prepare. You and your love each get to pick your favorite combination of candy melt and mix-in to create unique wedding favors. This is a special way to give your guests a glimpse of your love story.
6. Making Your Own Boutique Soap Wedding Favors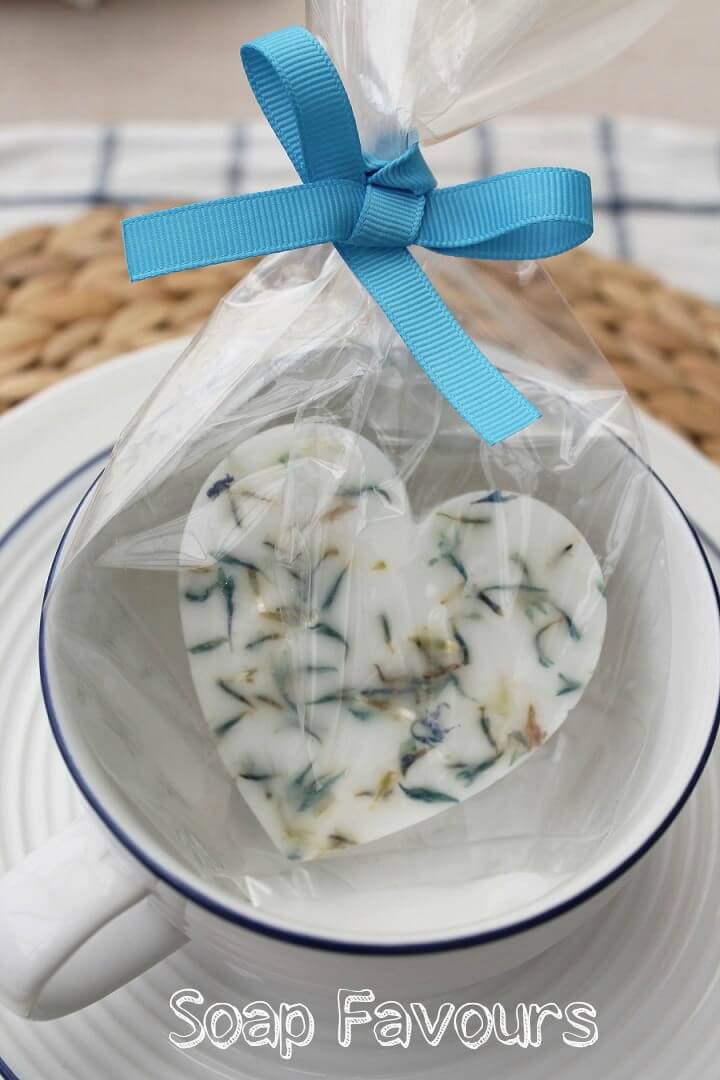 To personalize your artisanal soap favors, choose a base color and dried herbs that complement your wedding colors. Imagine using a cutter like a letter, monogram, or the classic heart shape shown here that reflects your theme. Before adding glittery additives to your soap shapes, make sure they are safe to wash down the sink.
7. Dressing Up Burlap Bags for Your Wedding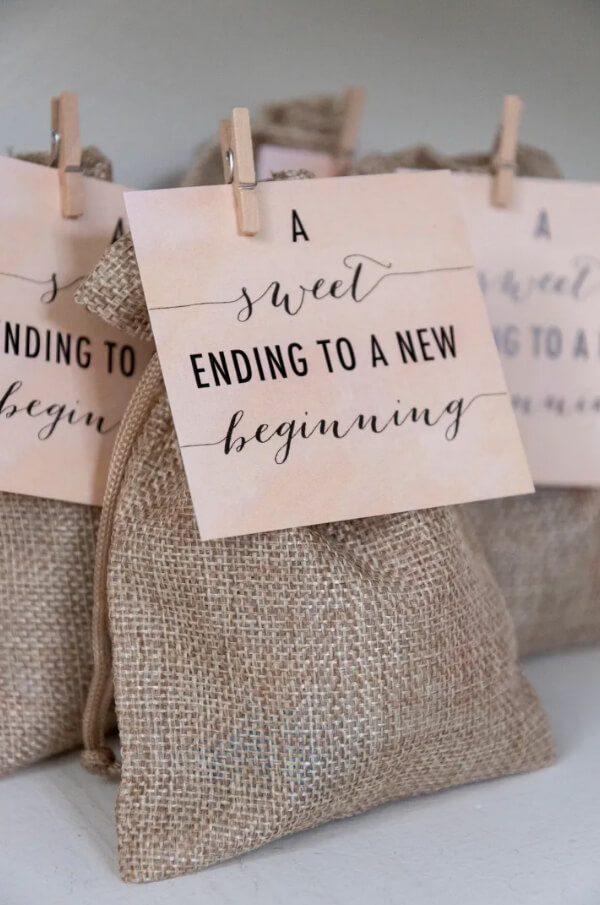 Because of their versatility, drawstring bags are a great way to package your favors. However, they can seem too simple for some styles. Take your drawstring bags to the next level by adding a cute saying with a miniature clothespin. The "a sweet ending to a new beginning," saying works well with any kind of favor.
8. Wax Sachet Shapes as Homemade Wedding Favors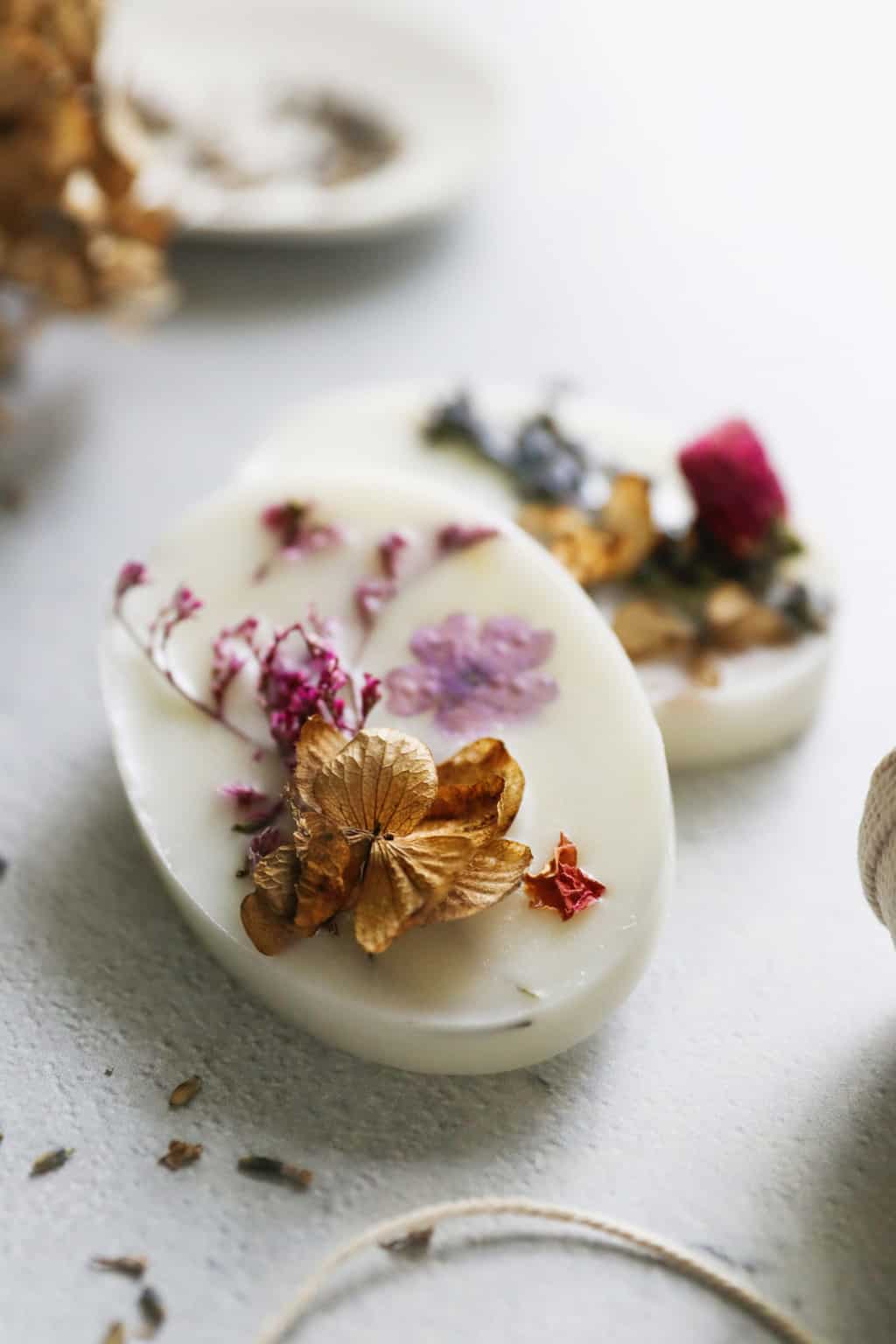 Beautiful to look at as well as to smell, wax sachets studded with dried botanicals are a way to add a touch of romance to your wedding. White soy wax in an oval mold creates instant sophistication, but you could also use beeswax and any mold shape of your choice. Essential oils add an extra dimension.
9. Pamper Your Guests with Sugar Scrub Favors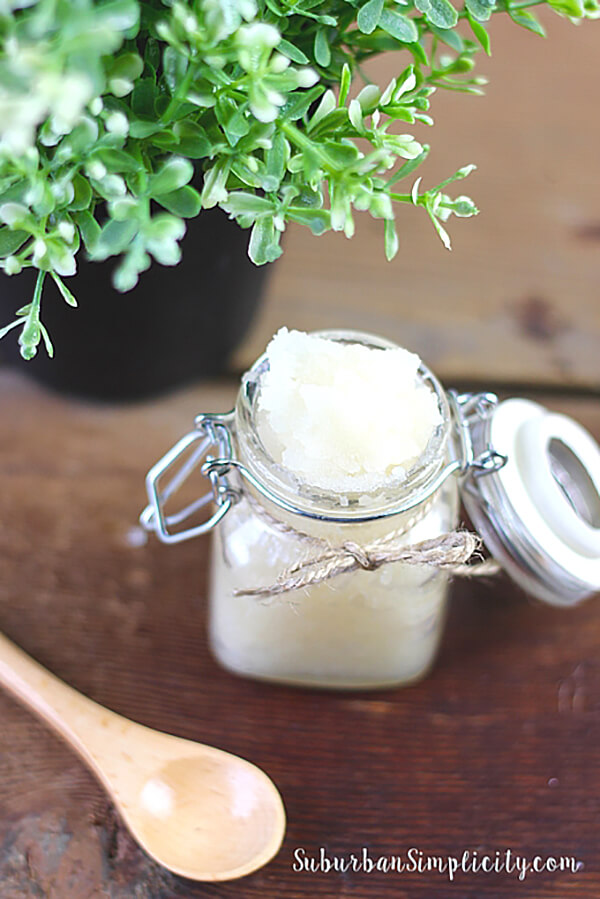 Whipping up a big batch of sugar scrub is an easy way to check this task off your list. The scrub shown here exudes a soothing lavender scent, but you could use any essential oil that speaks to your soul. To give your sugar scrub a more rustic appearance, switch out white sugar for brown sugar.
10. The Perfect Favors for a Literature-themed Wedding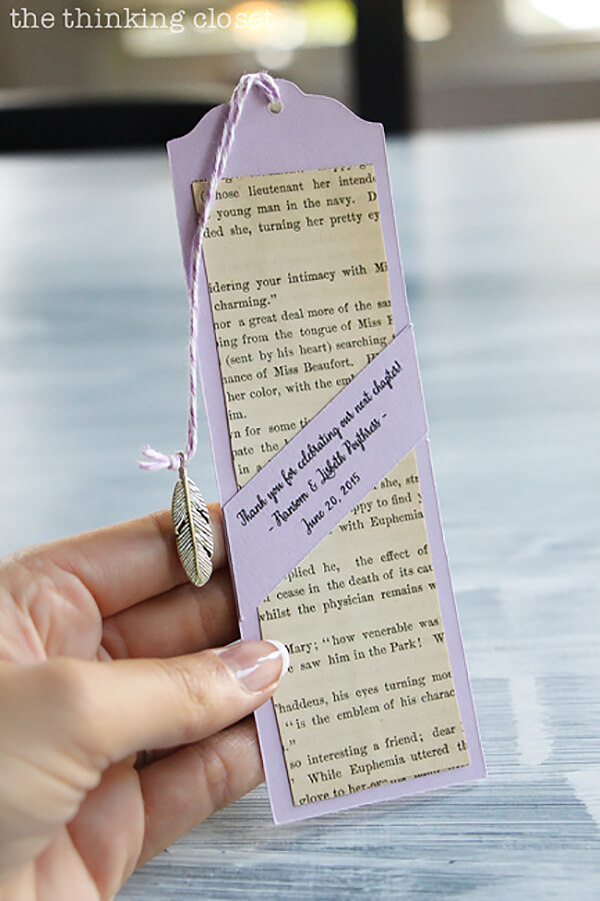 Whether you choose to make them in advance or need last-minute wedding favor ideas, bookmarks are an excellent option. There are so many ways to customize this idea. To get started, change up the shape, color, twine, or charm. Even if your theme is not book-based, the vintage page possesses a sense of sophistication.
11. Mixing and Matching Ribbons on Succulent Favors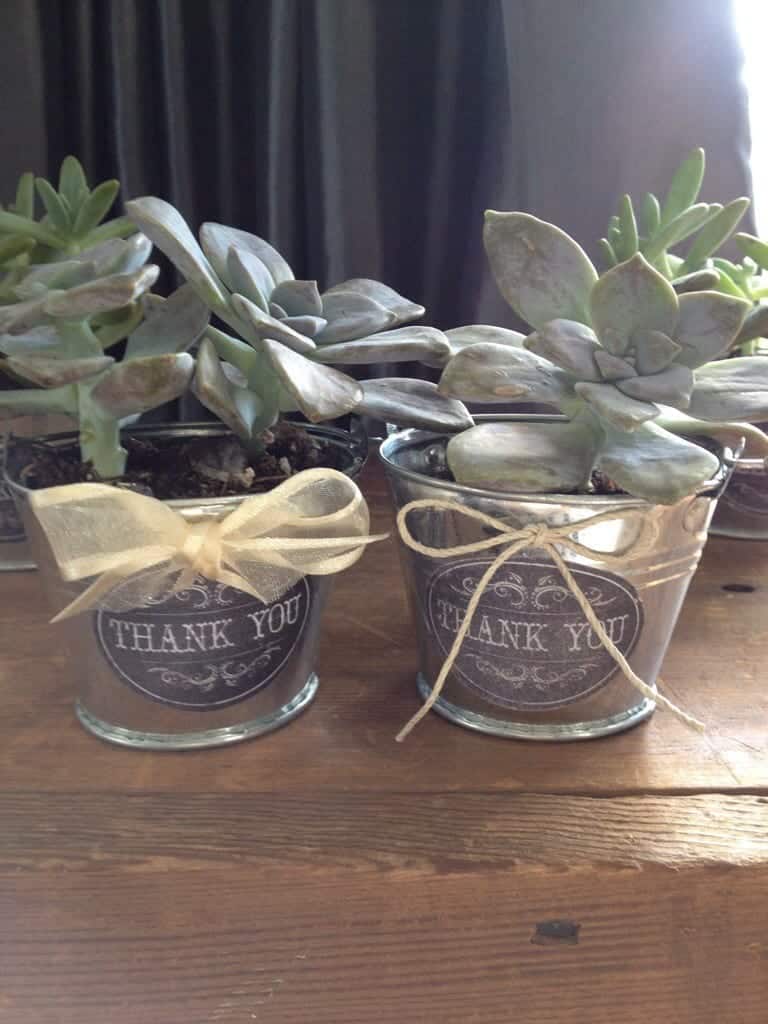 Low-maintenance succulents make fantastic handmade wedding favors. Without being overbearing, different styles and materials of bows bring the galvanized buckets into the festive celebration. Do not be afraid to experiment with color. The plant pots, too, offer endless opportunities. Scale up the Bohemian charm by using a macédoine of items as pots for your succulents.
12. Formulating Baking Extracts as Homemade Wedding Favors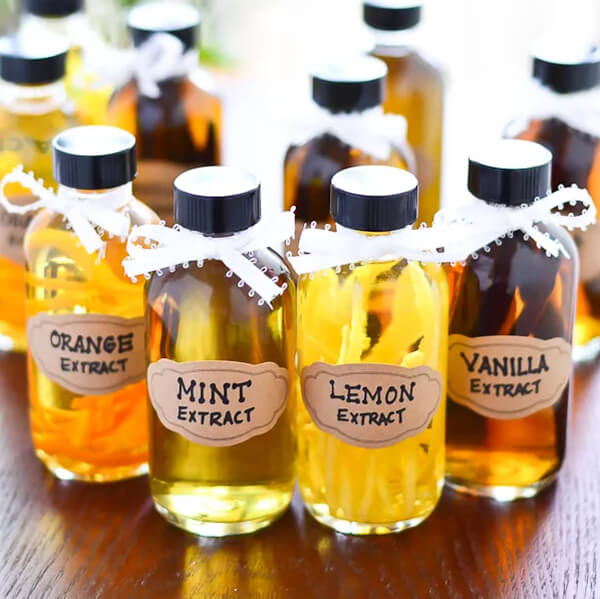 Homemade extracts are a wedding favor that your guests can take home to enjoy either in cocktails or baking adventures. Get creative with your flavors, bottles, labels, and ribbon to have wedding favors that look fantastic with your theme. Because extracts need time to cure, these favors are a great project to make ahead of time.
13. How to Help Small Bottles Look Special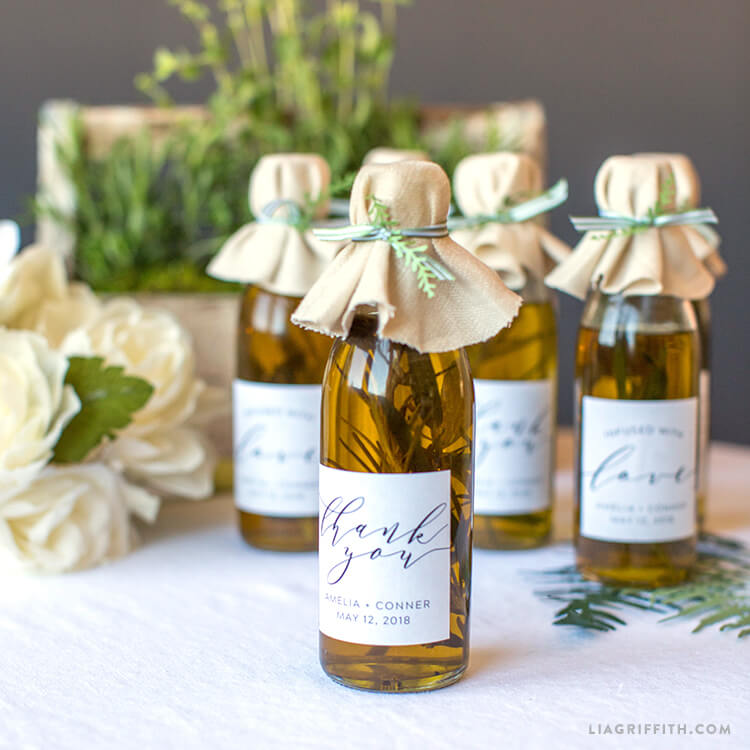 The key to a memorable wedding favor is to find something meaningful to the happy couple. Then, find an attractive way to package it and give a small portion of it to the guests in an exquisite way. In this example, burlap, ribbon, and paper greenery bring that together. The personalized label finishes the look.
14. Infusing Local Honey for Sweet Wedding Favors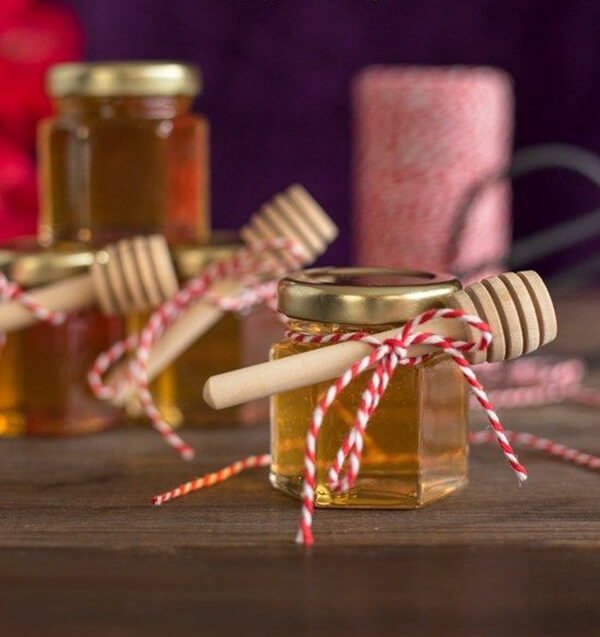 Cinnamon-spiced honey might sound like a decadent treat but is actually an easy-to-make wedding favor. To tailor this idea to your wedding theme, switch up the twine color or add a label to the hexagonal honey jar. The miniature dippers might be completely optional but are an adorable touch that instantly identifies these favors as honey.
15. Unique Packaging for a Wintertime Wedding Favor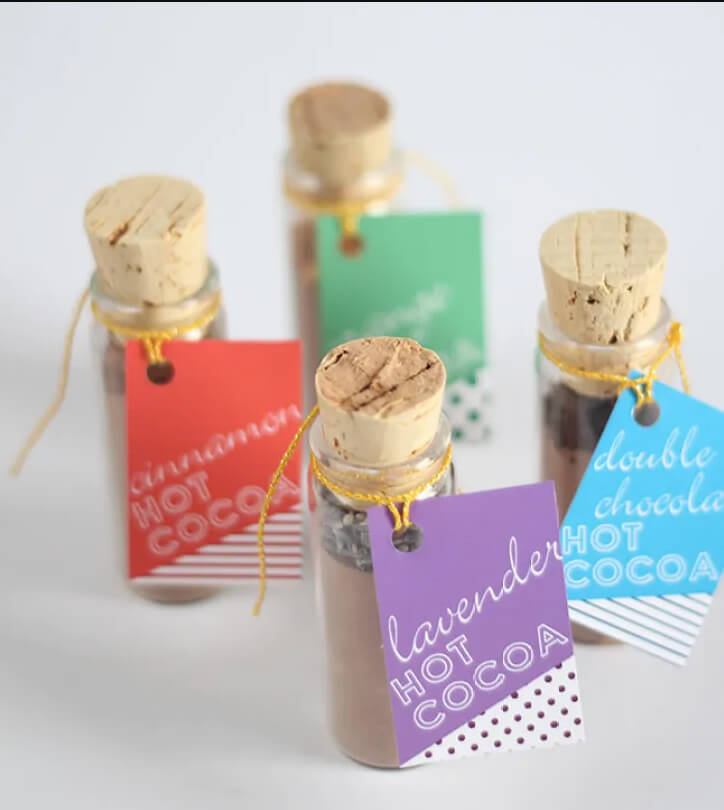 While hot cocoa might be a winter wedding mainstay, delicious flavorings and creative presentation make these favors memorable. A mélange of flavors means that every guest will find something to their liking, but you could also stick to a single flavor for simplicity. If your wedding is near the holidays, why not use crushed peppermint?
16. Making Favor Boxes with a Cutting Machine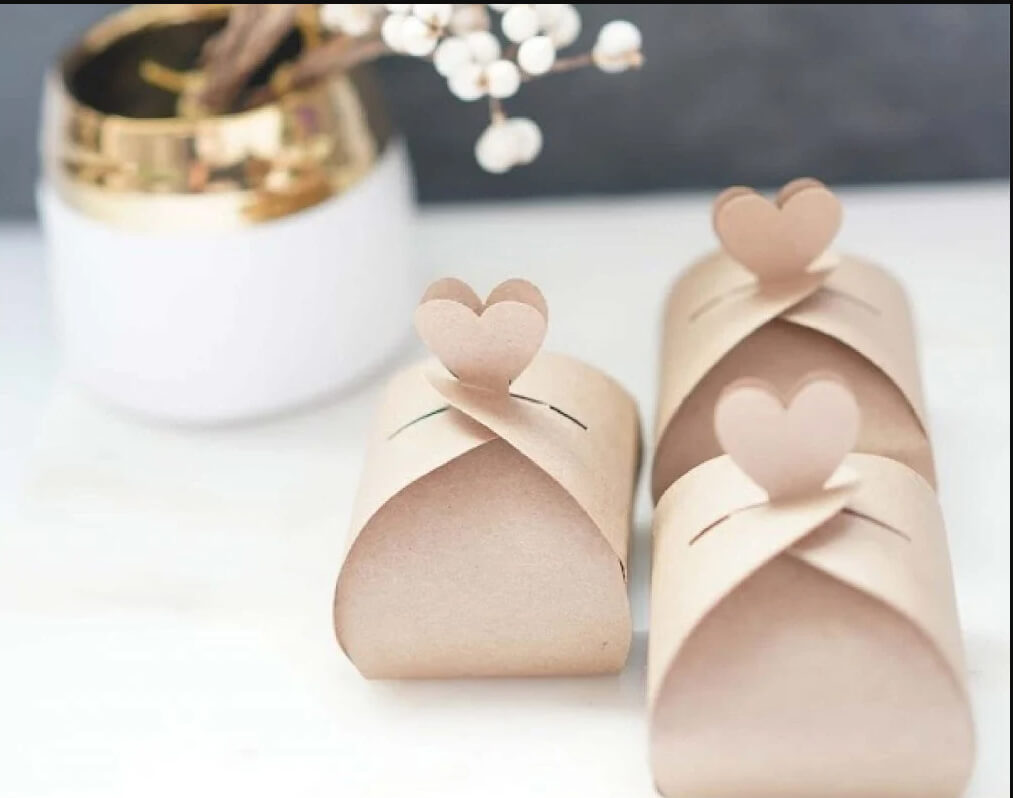 Once you have chosen the perfect wedding favor, figuring out how to present it can be a challenge. Brimming with elegance, these favor boxes are an affordable way to celebrate your special day. While these boxes are made from humble craft paper for a minimalist effect, you can use any paper compatible with your cutting machine.
17. Personalizable Oak and Eucalyptus Candle Holders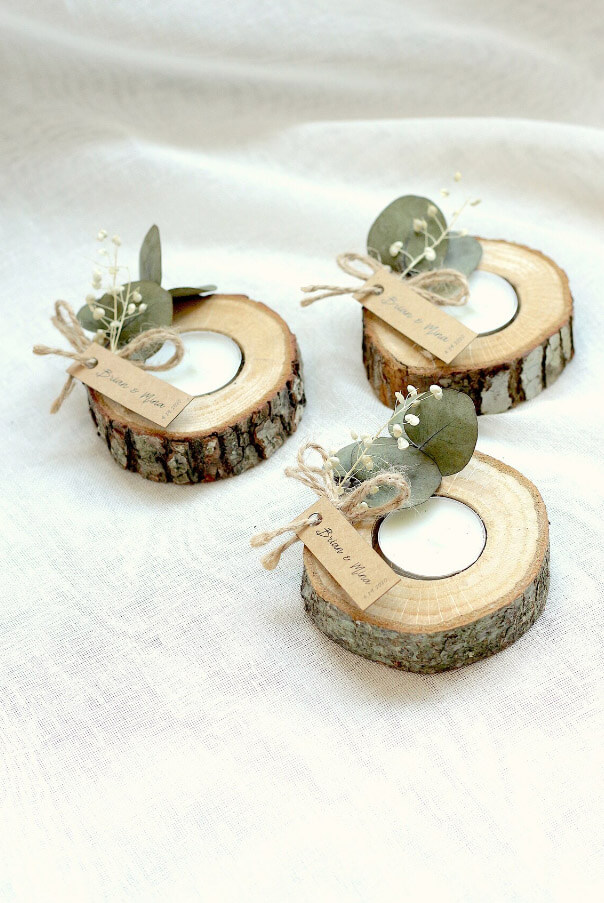 From the sprig of baby's breath to the slice of solid oak wood, each of these wedding favors is a masterpiece. Because the candles are included, you have one less item to worry about. To save even more time, you can order these with the elegant name tags shown. However, you can also make your own.
18. Harvest Abundance Lavender Sachet Bag Wedding Favors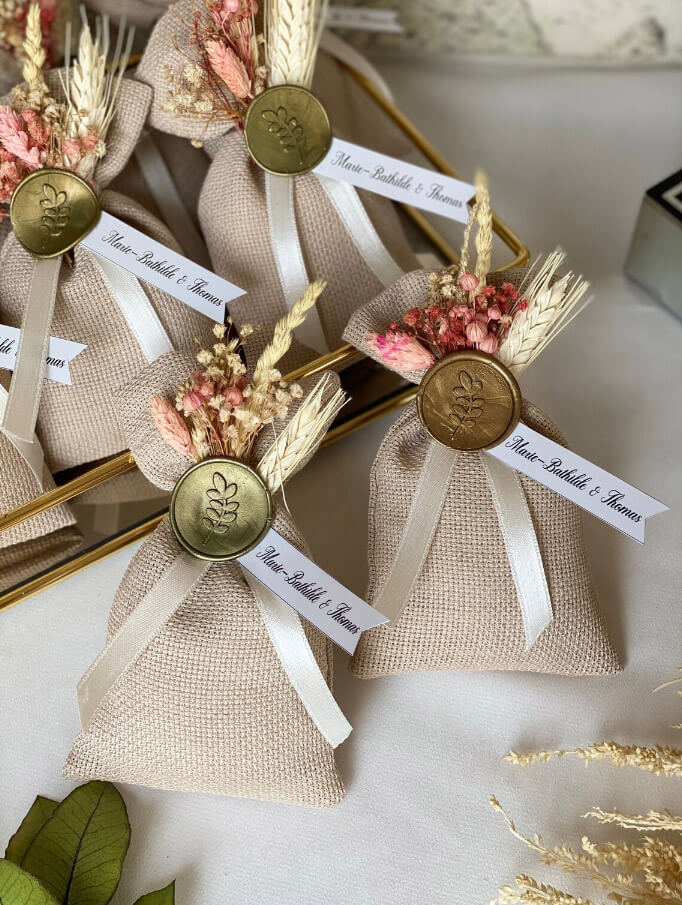 Burlap bags decorated with dried flower arrangements are the ideal addition to any fall wedding. A sprig of wheat ties into the harvest theme while the metallic seal elevates this sachet to new heights of elegance. To coordinate this sachet with your colors, this shop does offer color options beyond the neutral shades shown here.
19. Petite Personalized Candles Embellished with Dried Flora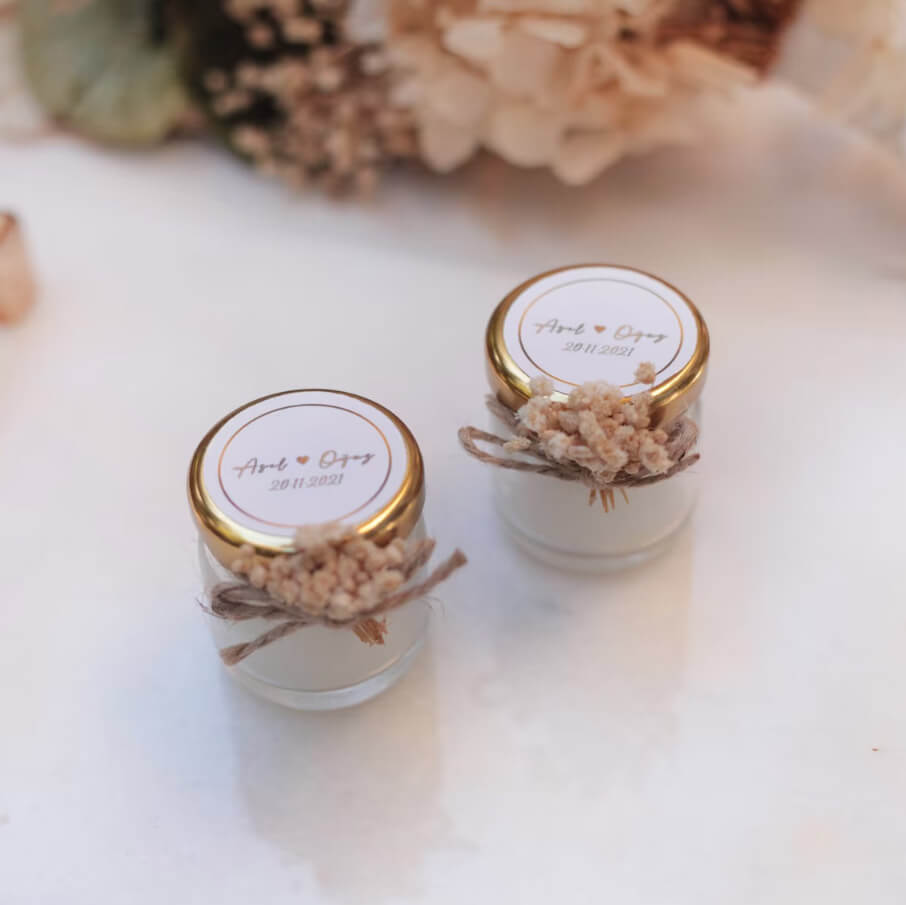 In a wedding, small details make all the difference. From the personalized labels to the dried flowers, every aspect of these candles is utterly exquisite. To achieve wedding favor perfection, you can choose among 18 label designs. If the dried flowers are too much, you can opt to leave them off for a more minimalist effect.
20. Enchanting Whole-Bean Coffee Blends as Wedding Favors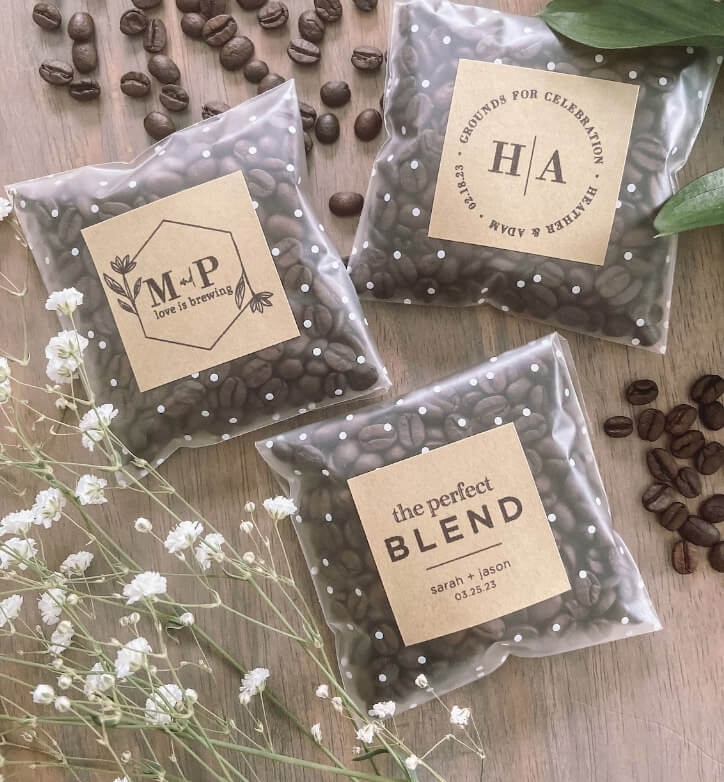 Although this favor requires some assembly, it is a great way to share your love for coffee with your guests. Hand-stamped labels and bags spotted with playful polka dots take these wedding favors to the next level. Because coffee beans are not included, you and your significant other can pick your favorite brand of coffee.
21. Matchbox Completely Customizable to Your Wedding Colors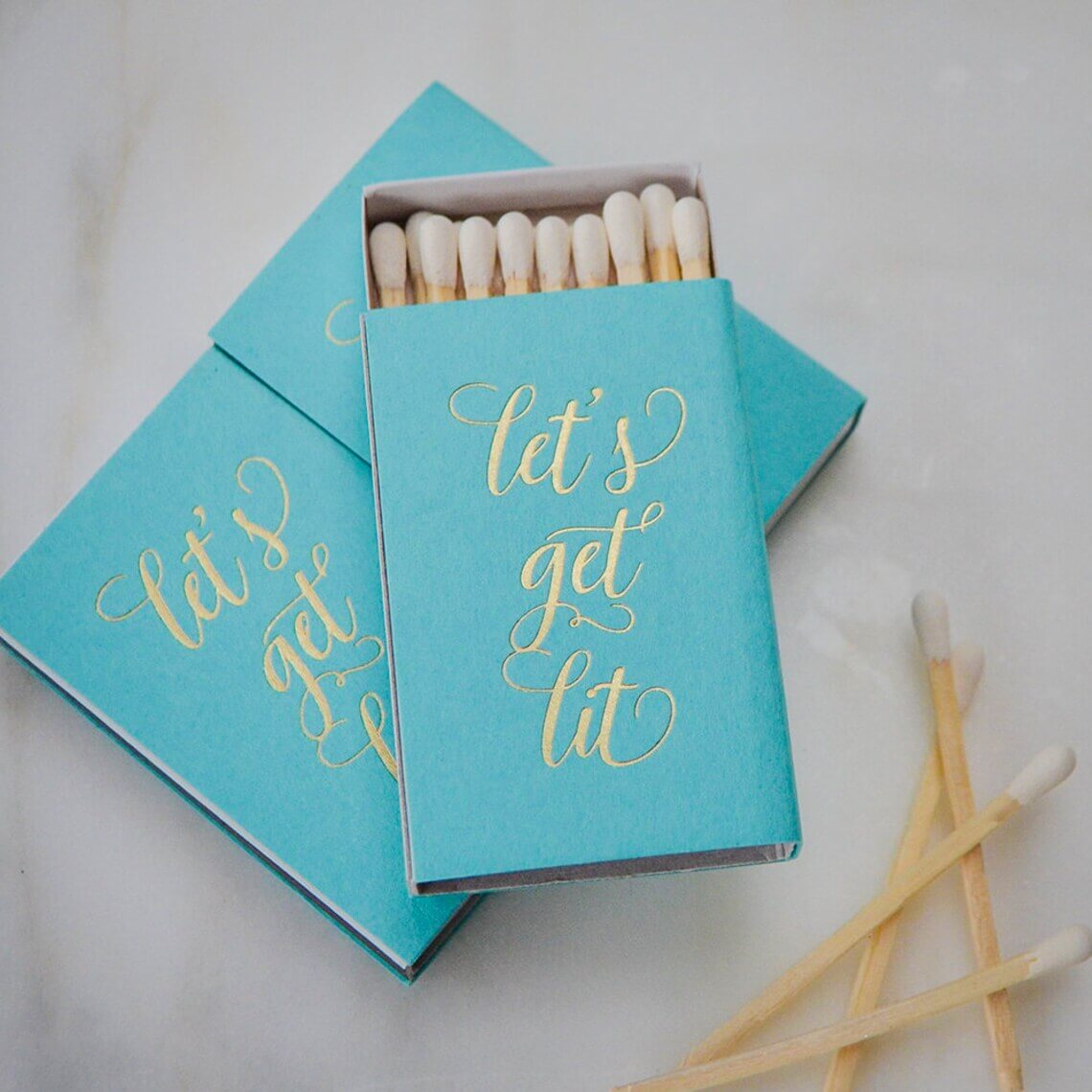 As a classic wedding favor, matchboxes pair perfectly with sparklers for a grand exit. Best of all, nearly every aspect of this matchbox can be personalized to your preferences. With 91 color options, eight finish choices, and a wide variety of custom fonts, you can create a matchbox that reflects your style as a couple.
22. Cute Customized Miniature Tic Tac Container Label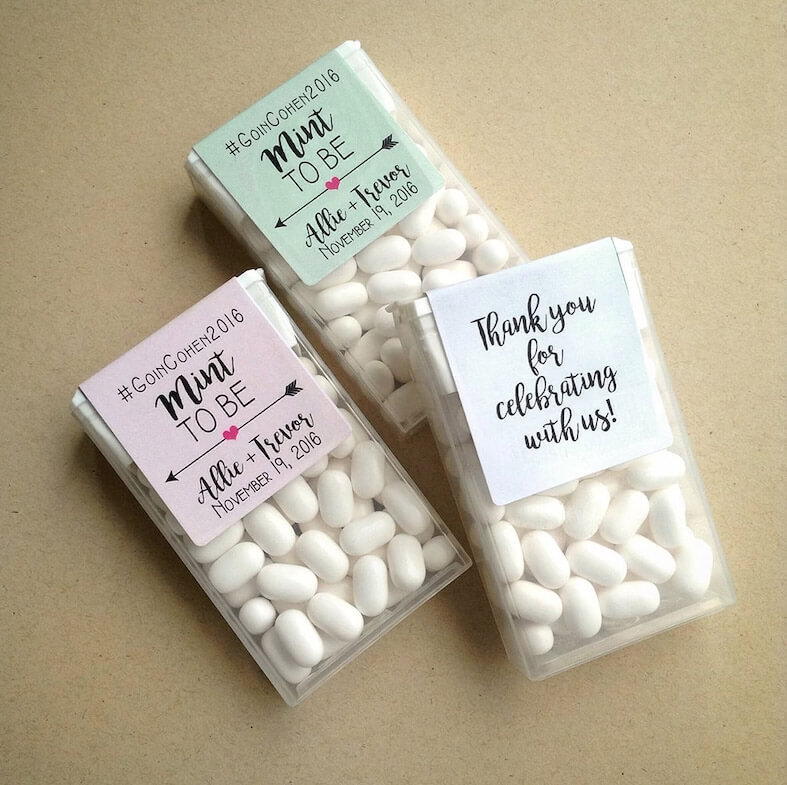 This adorable label turns a mint candy container into the perfect parting gift for your guests. They are available in seven colors including cool hues like lavender as well as warm shades like pale yellow. Beyond the ability to personalize the label with your wedding hashtag, it also features the pun-filled "Mint to be" message.
22 of the Best DIY Wedding Favors that are Both Easy and Fun to Make
Personalization is often what makes a good wedding favor great. Incorporating your wedding colors and overarching theme with your wedding favor plan is an excellent place to start, but there are so many ways that you can customize your wedding favors. That might mean a label with your names, wedding date, or hashtag. To highlight how special a wedding favor is, you could even include a short message detailing how it relates to your love story. However you decide to customize your wedding favors, follow your heart and stick to your style.
Remember that your guests are excited to share in your joy by sharing your important day. Wedding favors are a fun way that you can thank them for celebrating with you. Instead of focusing on making the most opulent or intricate favor, find the one that fits your personality and wedding theme. When you have decided which direction to go, it is as simple as sticking to your budget, acquiring the materials, and, of course, actually getting the favors ready to go. Get a group of friends together, and you might even have as much fun making them as your guests will have enjoying them.