With some of the best DIY wine rack ideas, you can keep your wine bottles out of place and within sight in a more decorative way.
Whether you have just a couple of wine bottles or several, it can become a hassle figuring out where to store them at. This is truer if you have minimal space such as the case in smaller homes or in apartments. That is where some good DIY wine racks come into play. There are various ways to create a distinctive wine rack that stores your bottles or even some that store glasses as well. This way, you have everything you need in one place.
29 Cool Homemade Wine Storage Ideas to Match Your Décor

The right handmade wall wine rack ideas can also keep your bottles off the ground or countertop if you don't have any room otherwise. This can be a great way to save up even more space while adding some decorations to your walls if desired. So, if you're willing to embark on a home project, here are some quality DIY wine rack ideas to take your storage to another level.
1. Built-In Wall Wine Rack Storage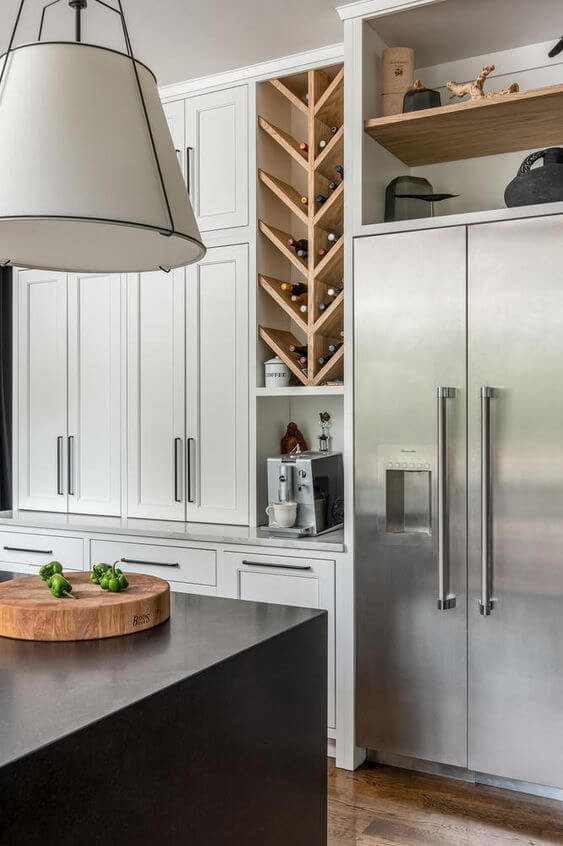 Some wine storage racks look best when built into the wall, and this design highlights that fact well. This can easily provide a kitchen with some elegance considering the slanted pattern the shelves fall in. It is a modern take that frees you up on storing all the wine bottles you need. Besides this having such a lovely appearance, this is also among the best DIY wine rack ideas that work to save you space. With it being built into the wall, it permanently keeps your wine bottles completely out of the way while still providing you with ease of access.
2. Chic DIY Wall Wine Rack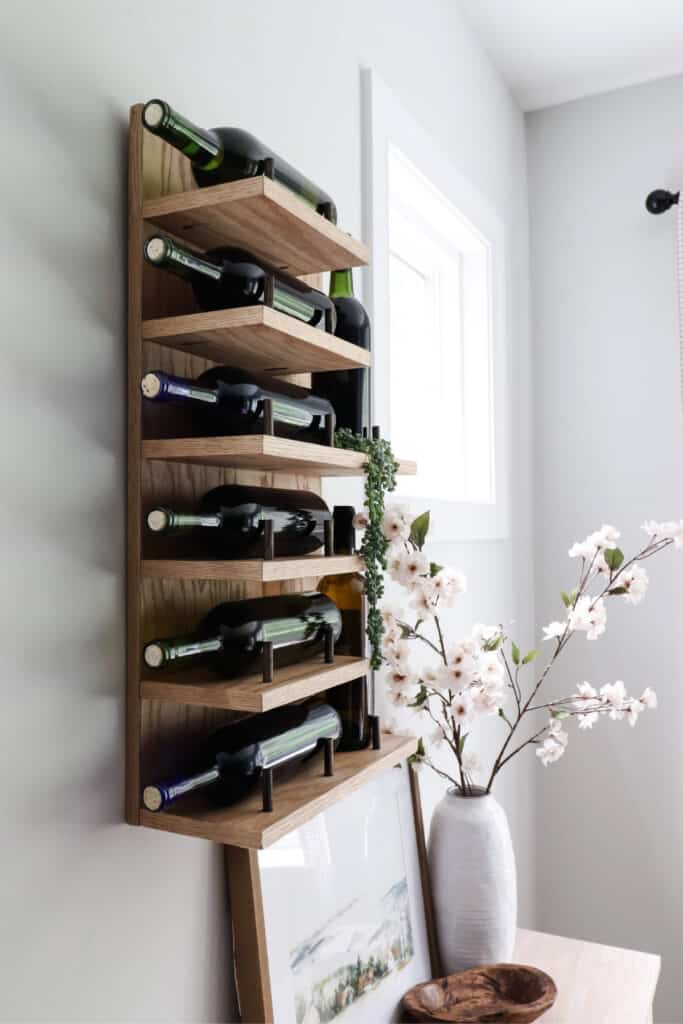 Are you in need of something to add to your stylish décor? Then try your hand out with this chic handmade wall wine rack. This beautiful piece has several built-in shelves to easily support various wine bottles. There's no risk of them rolling off either as everything is kept in place with hardware that is reliable while still looking good. With the extra sections to stand a couple of bottles up, this wine rack can come across looking more like simple décor rather than being anything functional. If you don't want to hang this up, then you can just as easily use it as a tabletop storage option instead.
3. Minimalistic DIY Tabletop Wine Rack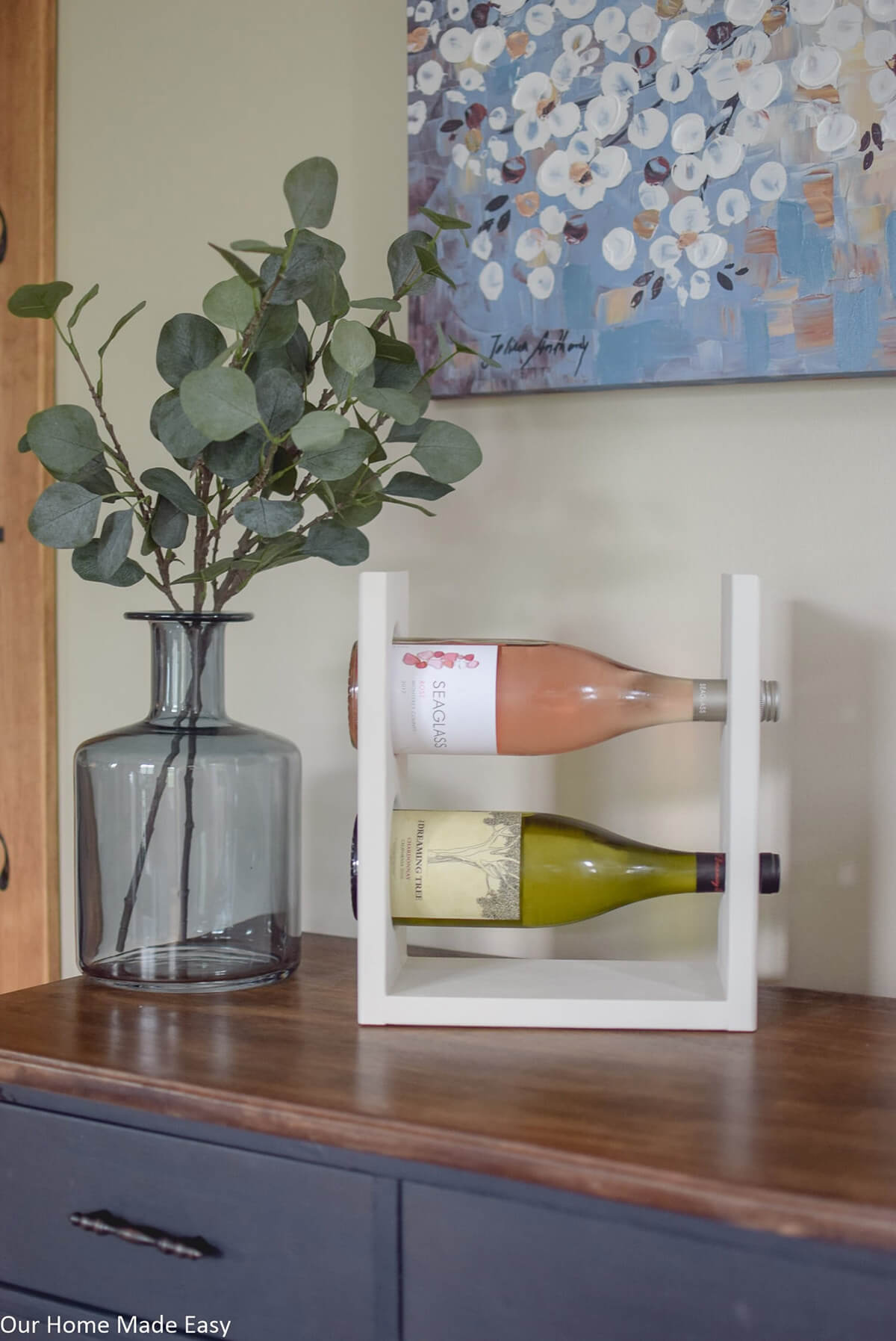 For those of you in need of something simple and small to handle just a couple of wine bottles, this tabletop wine rack is perfect for you. It can hold two bottles with ease, which can be more than enough for some people. The bottles simply look good settled in that position too as they come across not just as something to drink, but also as décor within their own rights. This is why it is such a wonderful idea to place out where everyone can see such as in the dining room. It can breathe new life into your room's décor, providing the area with something clean yet bold enough to stand out.
4. Elegant and Tall Wine Riddling Rack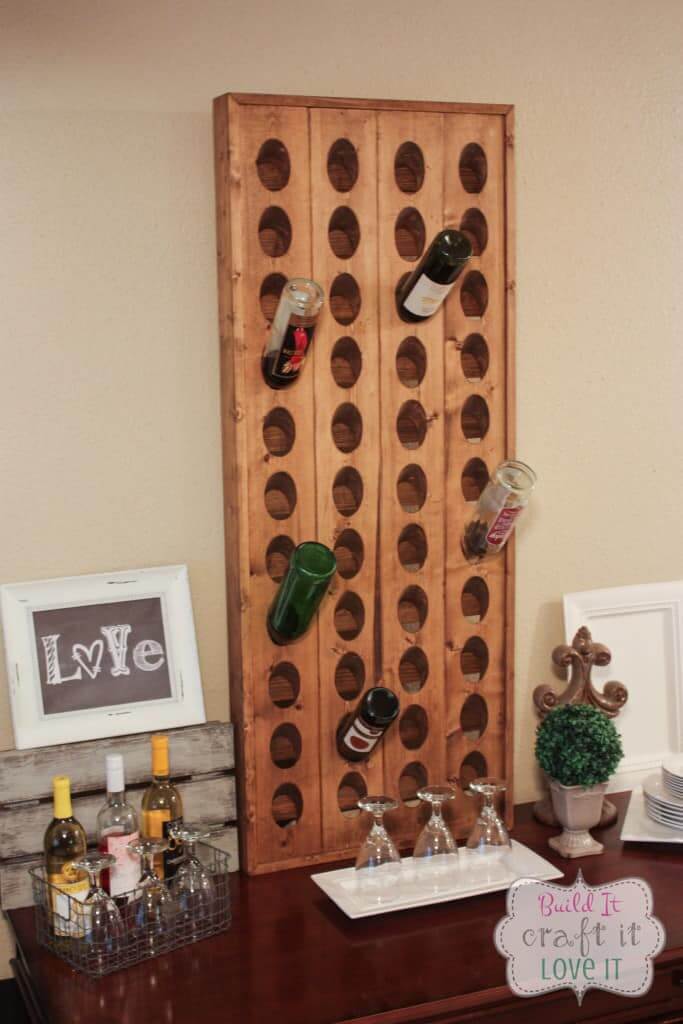 A wine riddling rack has a way of blending into your décor as to not look out of place while also standing out to leave a lasting impression. This one seems simple at first glance, but there's an elegance to it that makes it so charming that you can't help but admire it. Everything is wonderfully uniform too, leaving an interesting pattern throughout that is offset only by the type of wine bottles you decide to place on the rack. It stands up well against a wall, so it can look good when set up alongside a barware corner in your home.
5. Upcycled Rolling Wine Storage Cart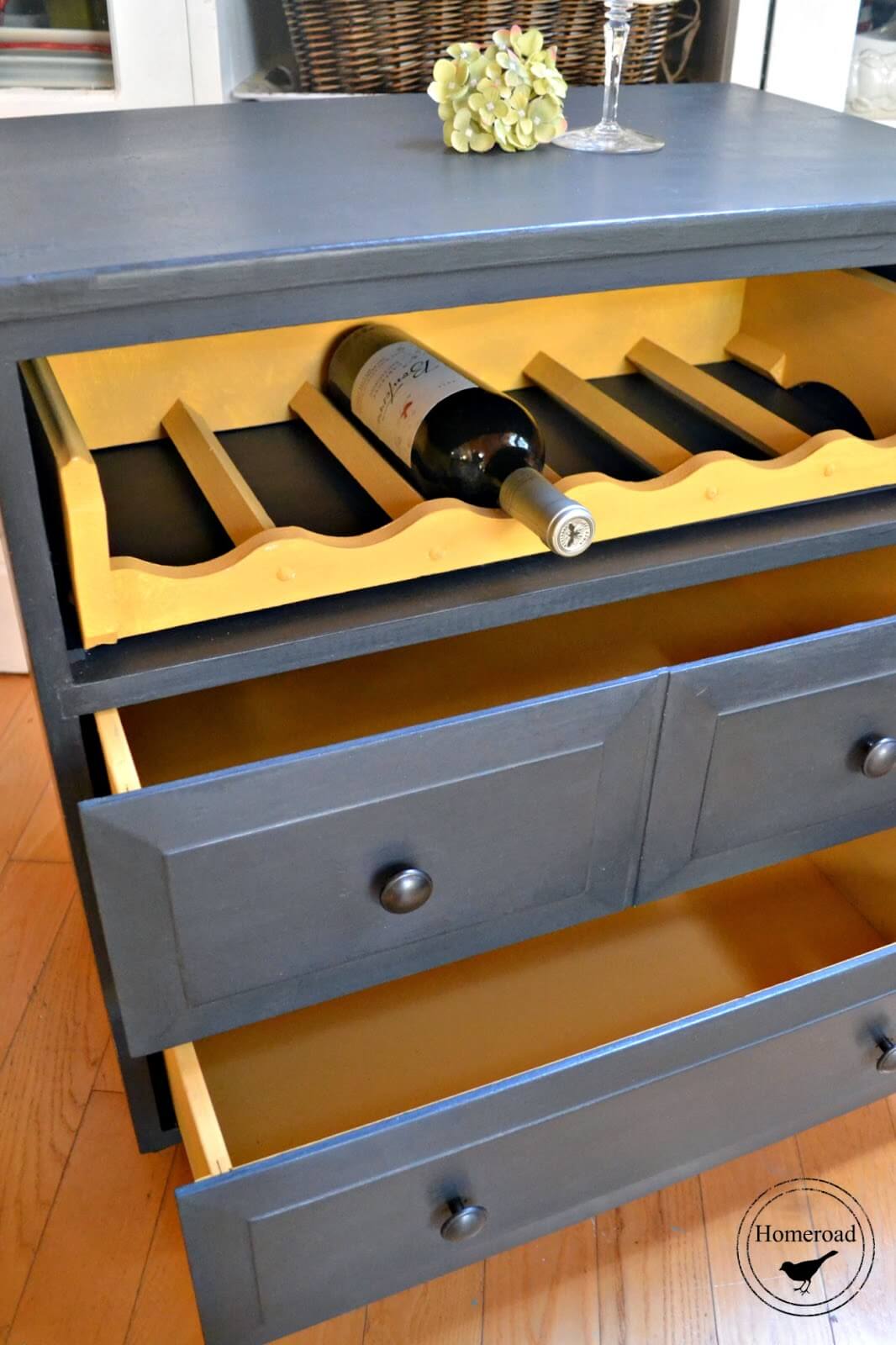 Nothing quite beats a good upcycling project, and with this one, you can completely transform something old into something cool and new. An antique dresser turns into a rolling wine cart, and such a design makes it seems like this was a cart the entire time. A good paint job can make this appear far more modern than what it started too if you want to add this to your contemporary décor. Furthermore, you do have a nice helping of storage for the wine, but you also get additional storage areas thanks to the bottom drawers. This way, you can keep anything else needed in one space.
6. Unique Wall Hanging Wine Storage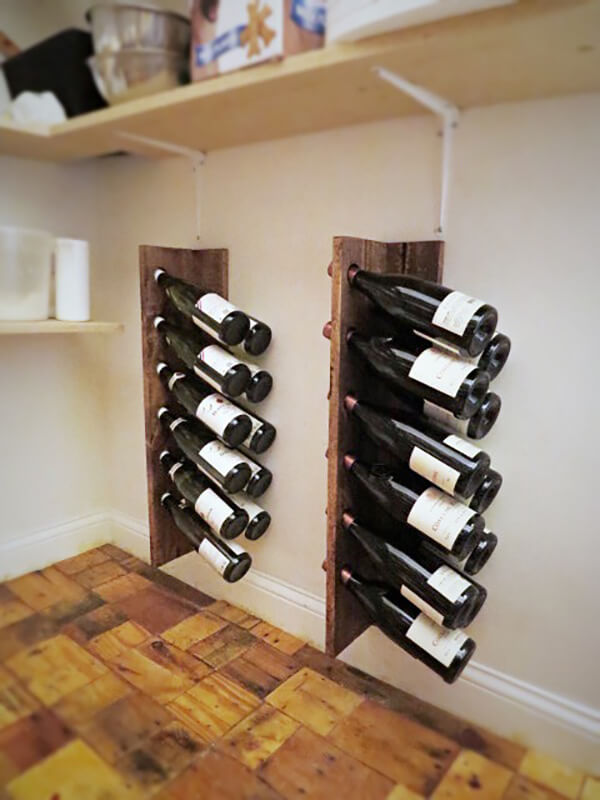 Are you looking for a way to keep your wine within reach yet still out of the way? Then consider going for handmade wall rack ideas such as this one. The stained wood offers a lovely dark tone to the piece overall, and it helps this blend vintage and modern themes together. There is a uniqueness found with the storage too considering how the wine bottles hang from the holes. This method provides the storage with a sense of movement while capturing the attention of anyone who walks into the room. Also, there is an ample amount of room available to hang numerous bottles.
7. Industrial Chic Wine Rack Storage Idea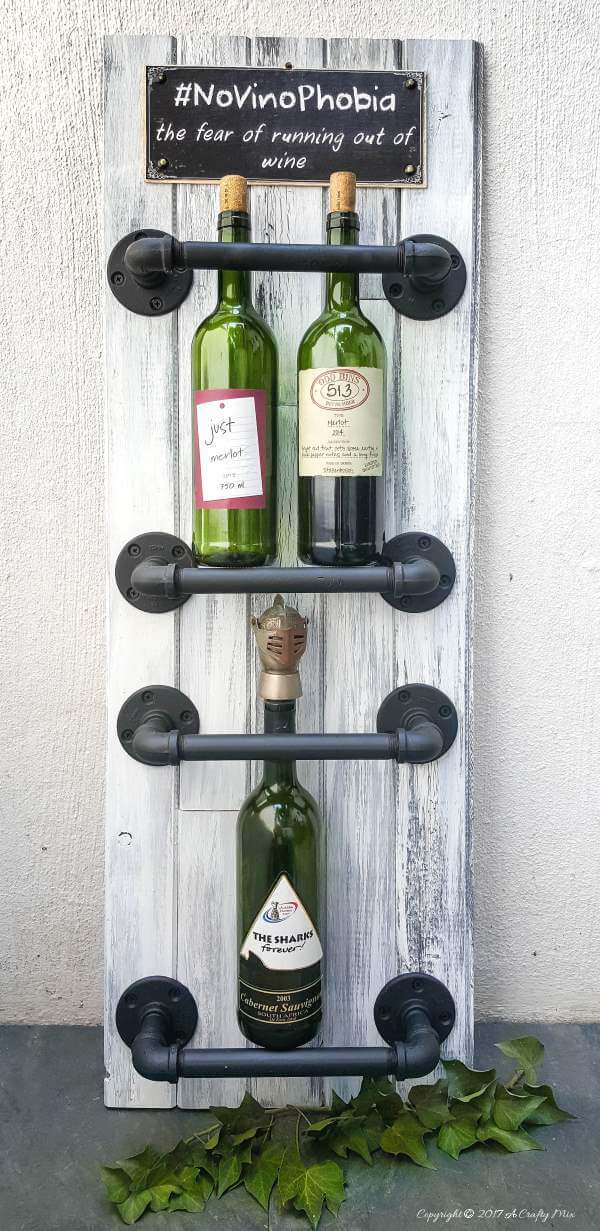 As far as homemade wine storage ideas go, this one can fit effortlessly into an industrial-themed home. The use of pipes works great to support the wine bottles as well as to offer the storage a bit of style. There is no denying the industrial qualities to the rack, but there is also a hint of chic found within this too that makes the rack ideal for use among fashionable décor as well. Perhaps it is the dark coloring of the pipes that plays well against the vibrant white background. It offers the piece a good amount of contrast so that your eye travels up and down the entire piece.
8. DIY Pallet Wine Rack Storage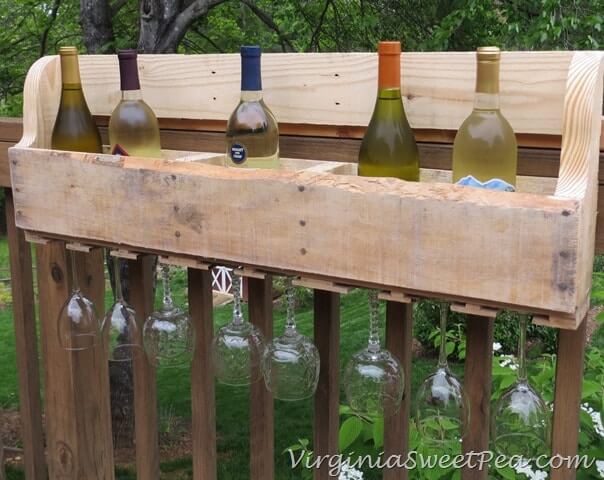 Pallet wood is always a good option when tackling a home project, especially when creating a wine rack. Simplicity is key with this design. It has a rustic look that allows it to fit outside the home just as well as it can when used inside the home. When set up outside, this pairs well with your outdoor seating area, making it an attention-grabber at dinner parties. No polishing up is needed either so that it sticks with this decorative theme. Besides it offering plenty of space to support wine bottles of various sizes, this storage rack offers more than enough room to hang a few glasses underneath so that glass is always within reach when you need it.
9. Wall Mounted Vintage Wine Rack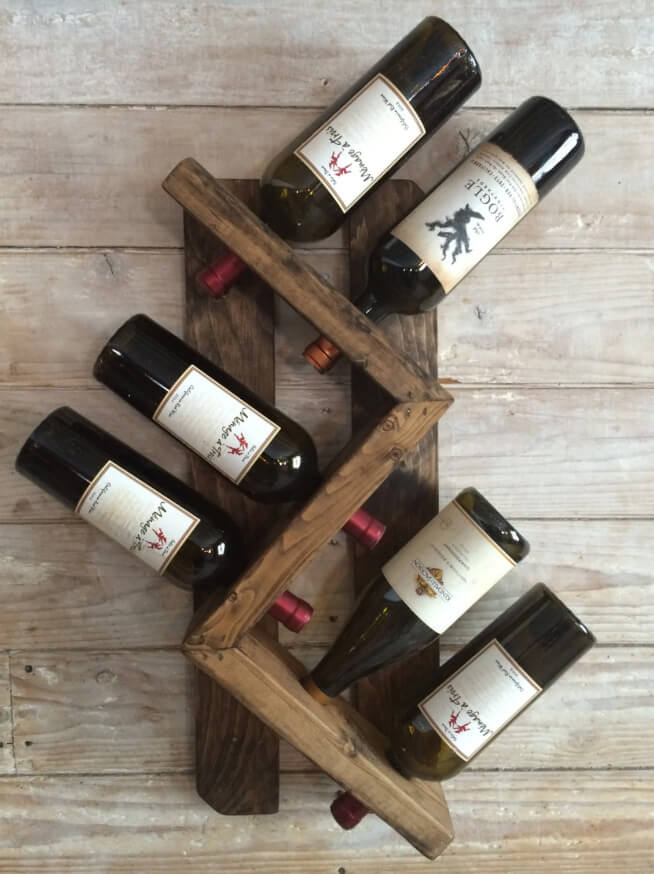 This wall-mounted wine rack stands among the best handmade wall wine rack ideas that have a distinctive look about it. It slants in a way that you may initially think it's about to fall, but it couldn't be sturdier. In fact, it has an artistic look about it that meshes a vintage style with something more contemporary. It is a beautiful way to display your wine bottles as it holds six standard size bottles with ease. There are three finishes too that can further help this lean toward one particular decorative style over another.
10. Stackable Countertop Wine Bottle Storage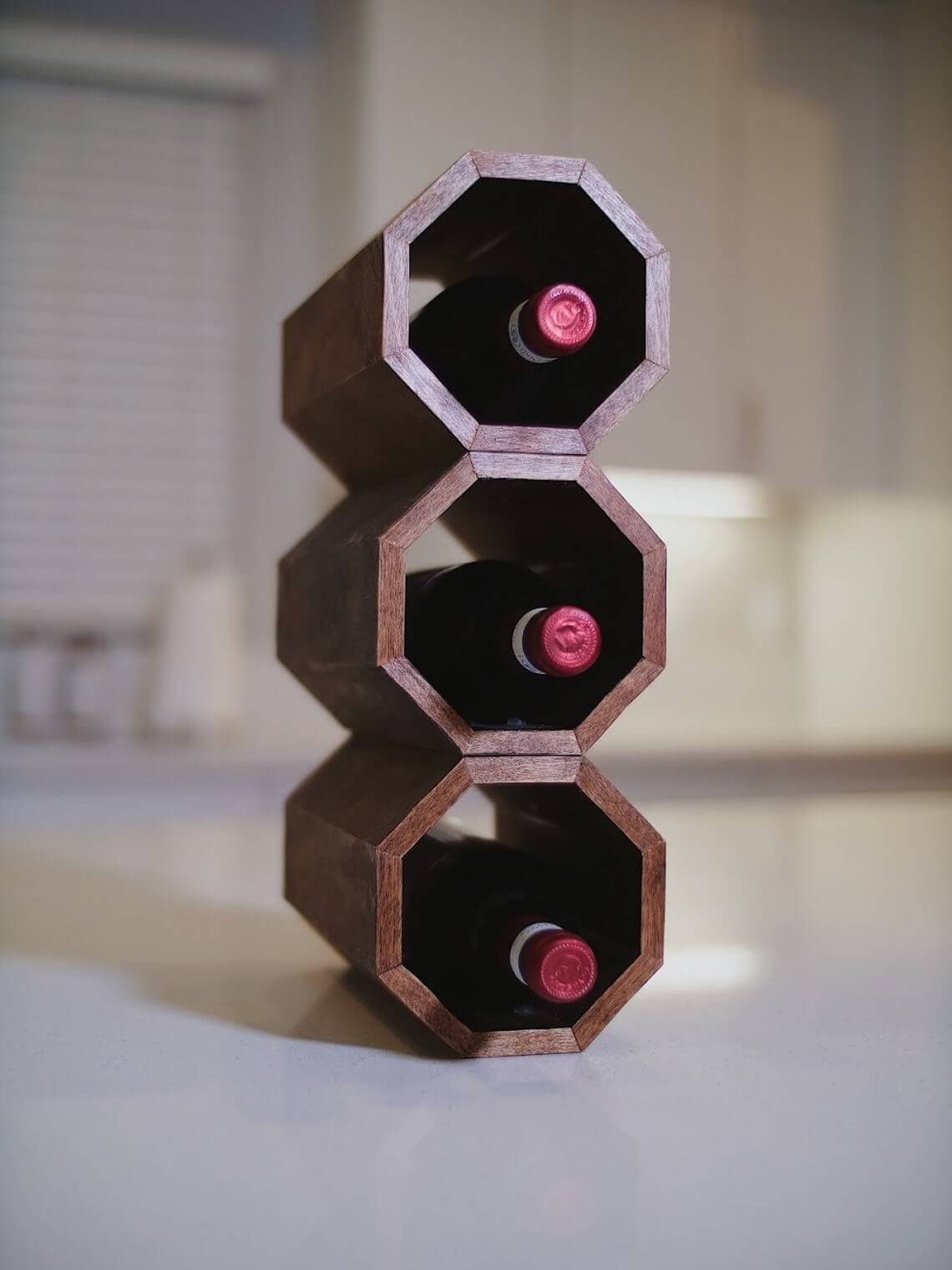 Keep your wine bottles close at hand with this nice wine bottle storage. It fits well on a countertop so that you can add to the décor in your kitchen, settling these bottles off to a specific corner in the room. This way, you save on space while elevating your decorative style. There is a nice geometric pattern to these holders too so that they look more appealing. Consider that you can also choose from various colors, and there are three different sizes to pick from too. They are designed so that they can stack on top of each other.
11. Personalized Rustic Wine Storage Rack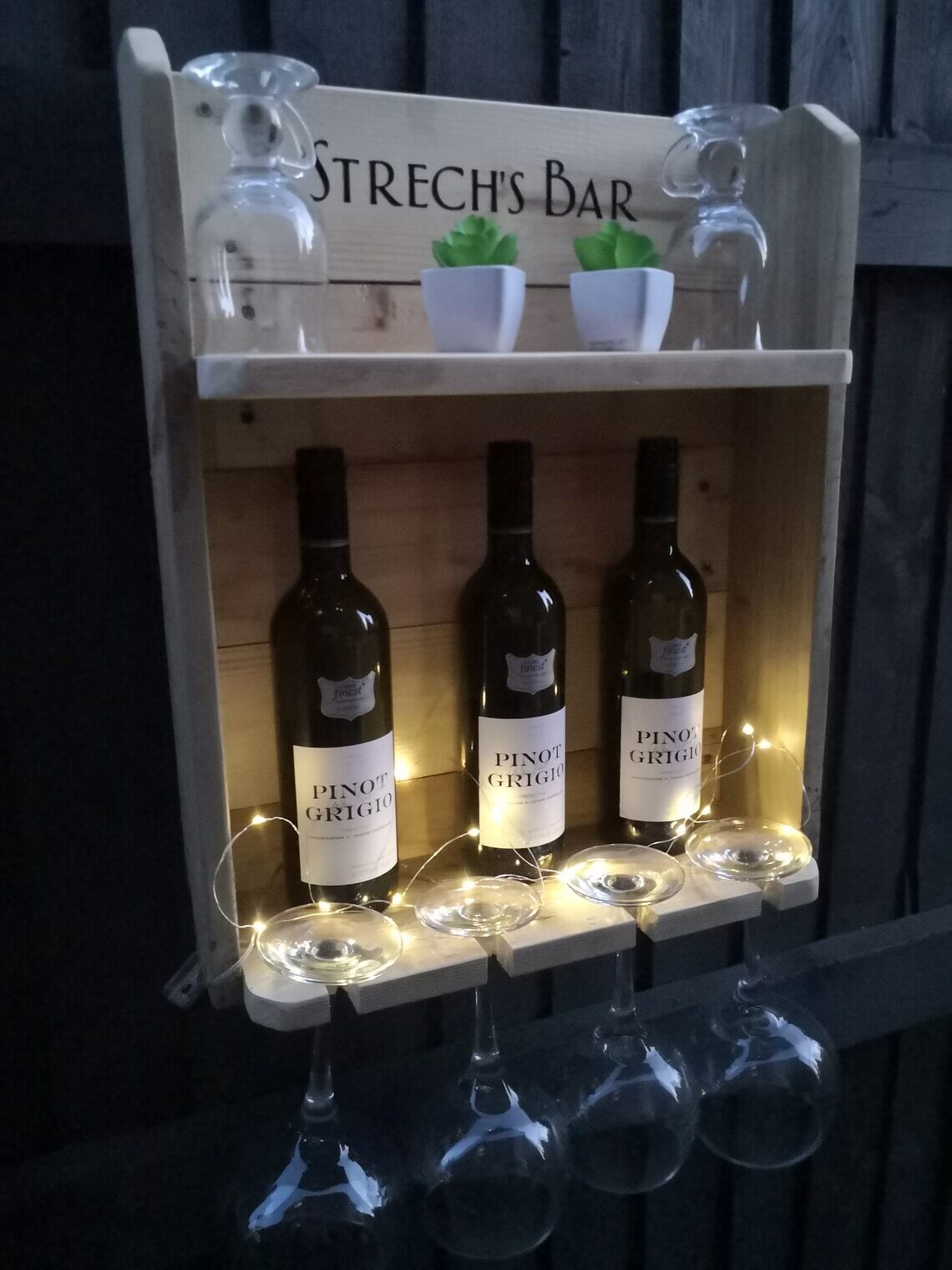 Properly customize your home's décor with this personalized wine rack. It is perfect to hang up on the wall near a bar whether that is in the kitchen or in its own area like a basement. This holds a couple of wine bottles, but it can also support numerous glasses whether you hang them on the bottom or sit some of them on the top rack. Otherwise, you can place different decorative items on the top section too if you want to help this blend even more with your room's décor. Thanks to the rustic appearance of the wood, it can suit a vintage style as well.
12. "Wine Bar II" Wine Rack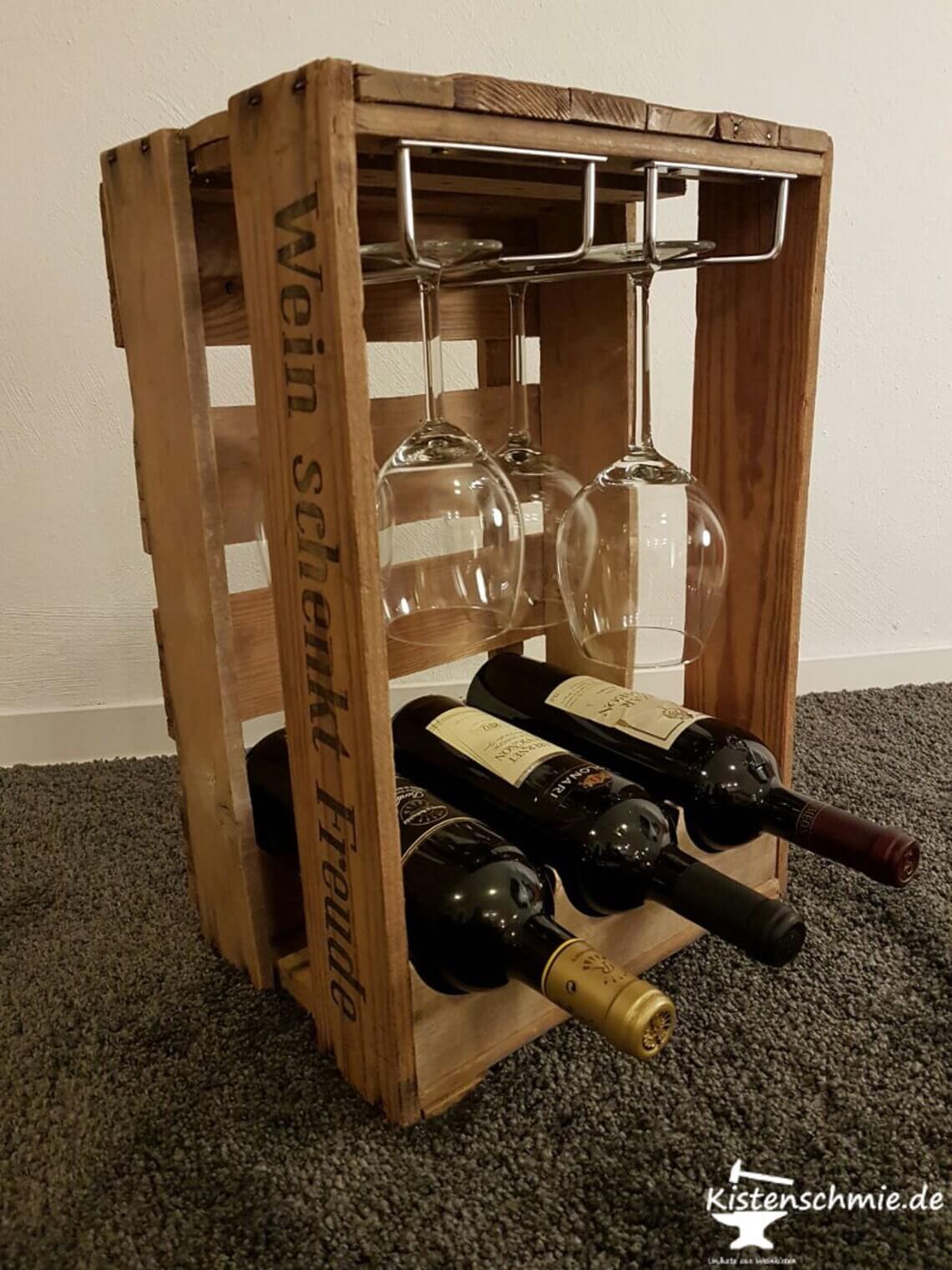 Some good homemade wine storage ideas use something that comes with wine in the first place such as wine boxes. This design has a nice vintage quality to it that makes it instantly attractive. It can support three wine bottles with ease too, and due to its size, you can freely set this up as a tabletop storage option or keep it on the floor. With the supplied hardware, you can even fix this to the wall. There is even space for you to stash some wine glasses as well so that you can quickly fulfill your drinking needs without straying too far from the storage rack.
13. Minimalist Rustic Wine Bottle Holder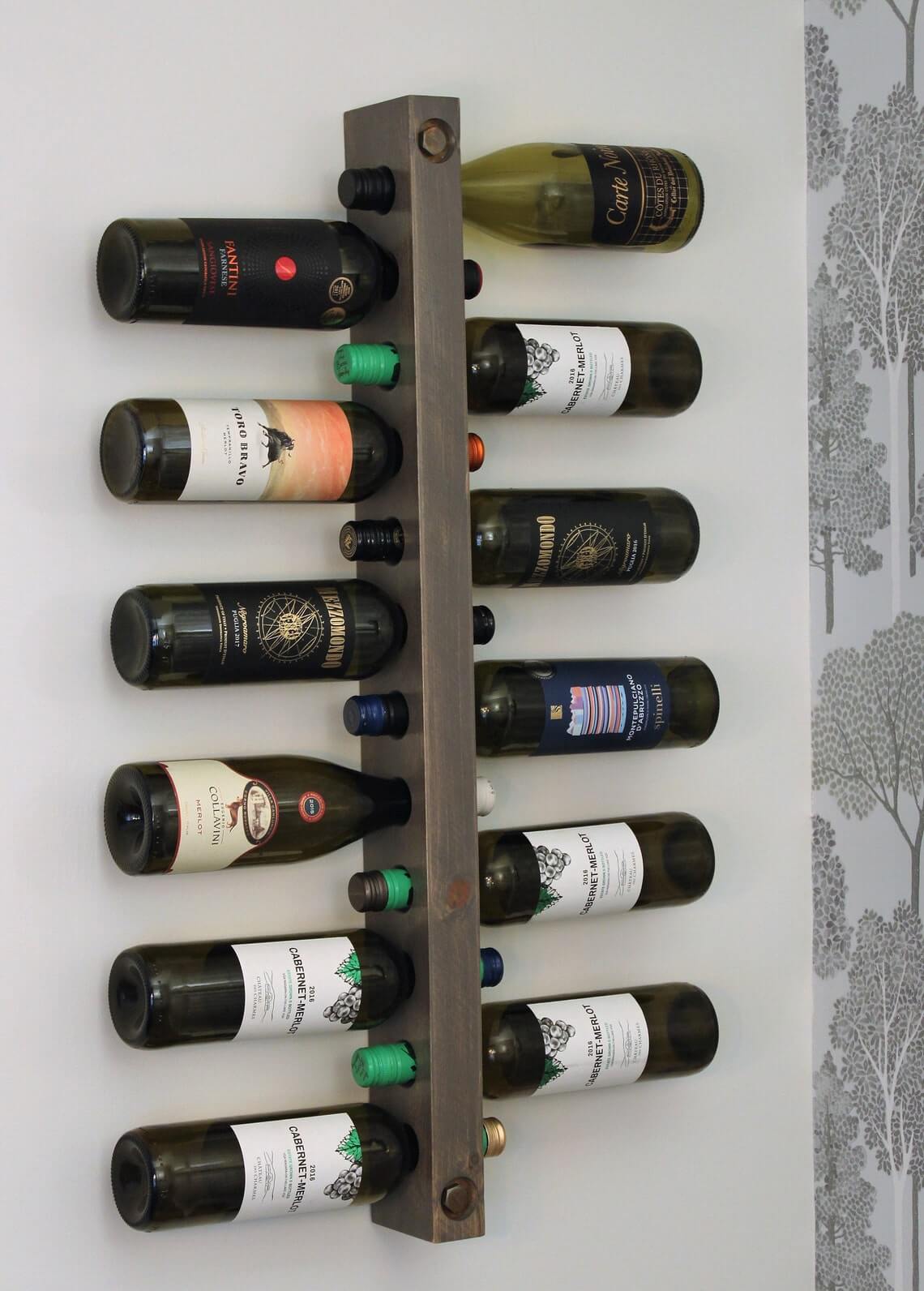 For those of you that need to save more space, then this minimalist wine bottle holder is perhaps the best option for you. This hangs on the wall well, but it also has a thin design so that it doesn't hog too much of the wall. By doing so, you can set this up in an apartment or condo setting well enough. It gives you space to stash your wine bottles, and it also can help you add to the decorations in the room. There are several wood stains you can select from as well so that you can personalize this as much as possible to best suit your home's style.
14. Shabby Chic Wooden Wine Rack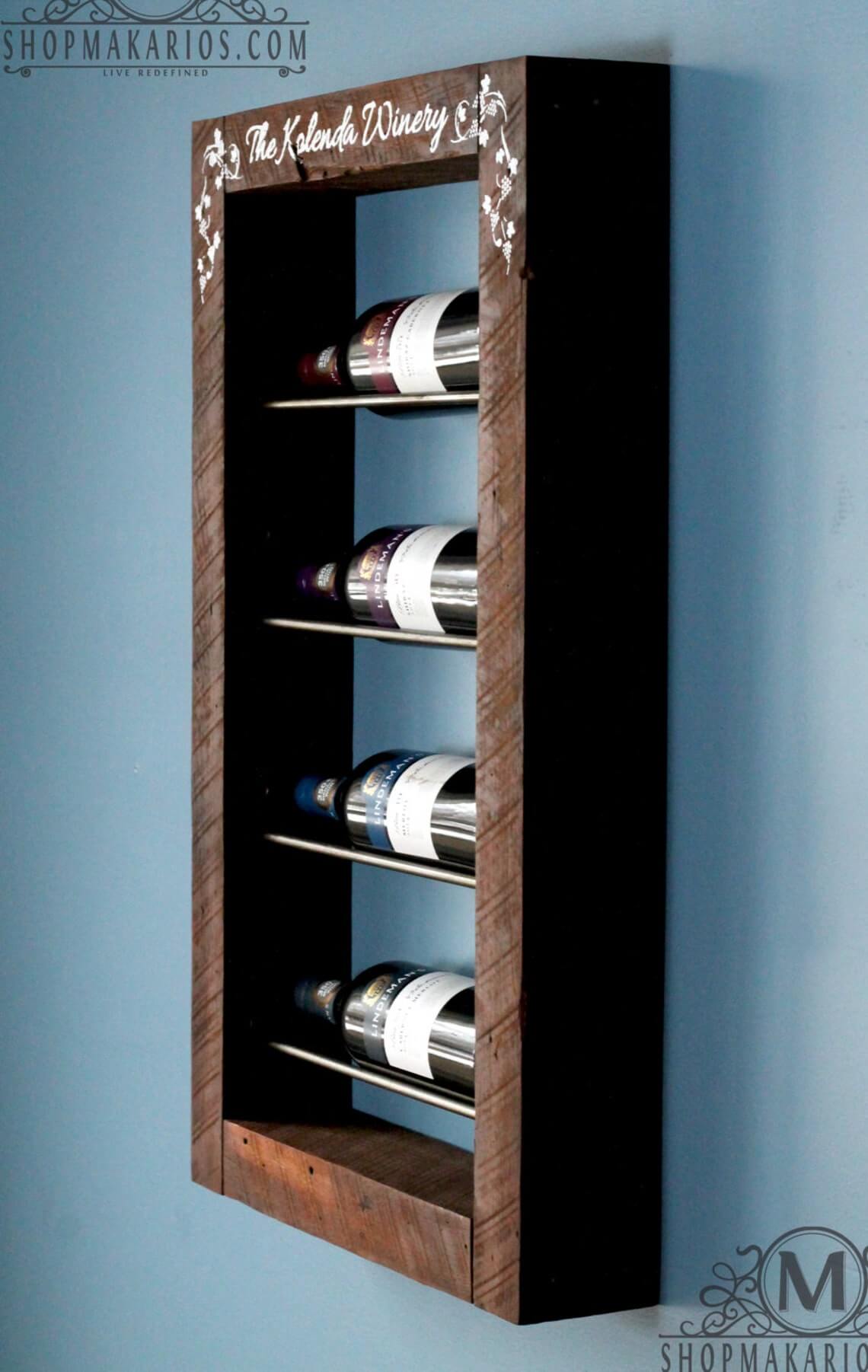 Add more to your shabby chic décor with this wooden wine rack. There is something so simple, yet so powerful about this piece that makes it attention-grabbing. It supports four wine bottles, and there is a clean look to it that helps this fit well with a minimalistic, rustic room. There are various wood colors to choose from as well as several text colors for whatever writing you wish to have on top. Of course, you can also get it without text to simply show off the plain wooden wine rack.
15. Freestanding Vertical Wine Bottle Storage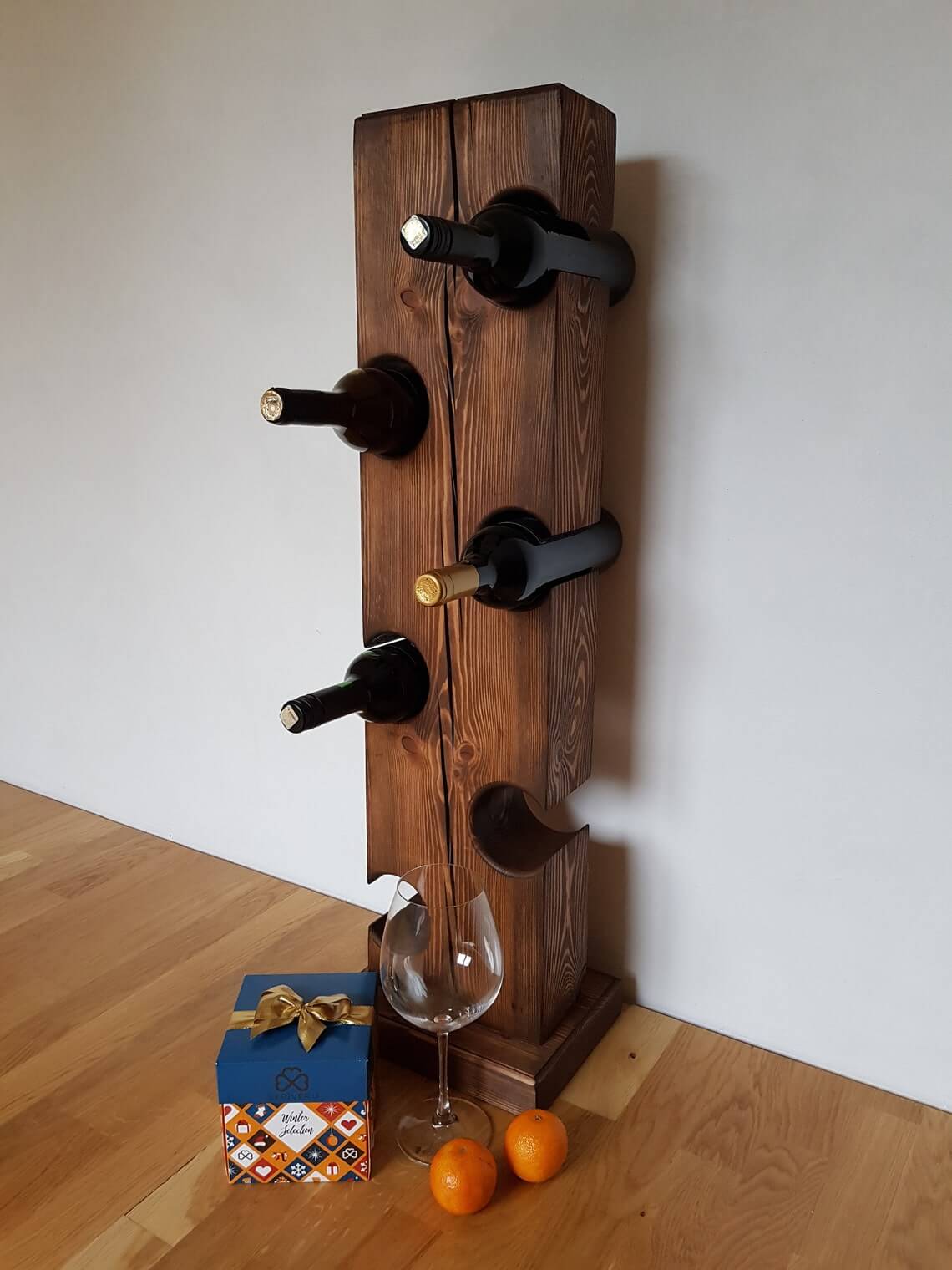 This handmade wine bottle storage can add a touch of elegance to a modern setting. You can set this up in a living room and it won't look out of place. Honestly, it's designed in a way that it can blend inside almost any room in your home. Capable of holding six bottles, this storage setup has an appealing layout that encourages you to look closer to see just how each bottle flows within the setting. You may just be reluctant to take anything from the rack as it looks so well as décor.
16. Kitchen Cabinet Wine Rack Storage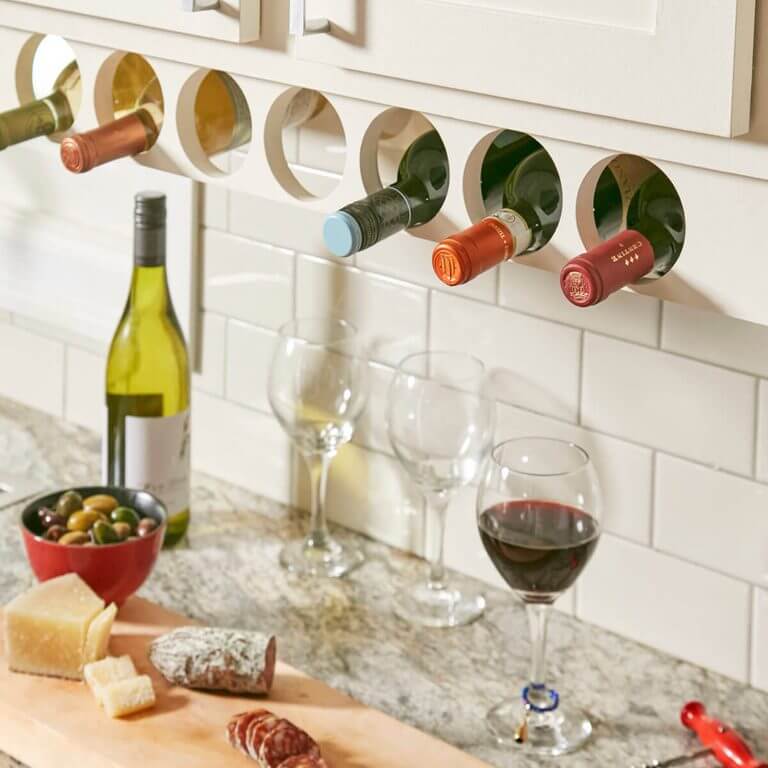 Are you out of room to store your wine, but still want to keep it within reach? Then consider going the route of using your kitchen cabinets as a base for your wine storage. With just a couple of wooden boards, you can add to your cabinets, giving more personality to your kitchen without taking up much room. This is great for those small-space designs. Also, the wine bottles are always right where you need them to be so you don't have to wander too far to make a drink.
17. Rustic Tabletop Wine Storage Rack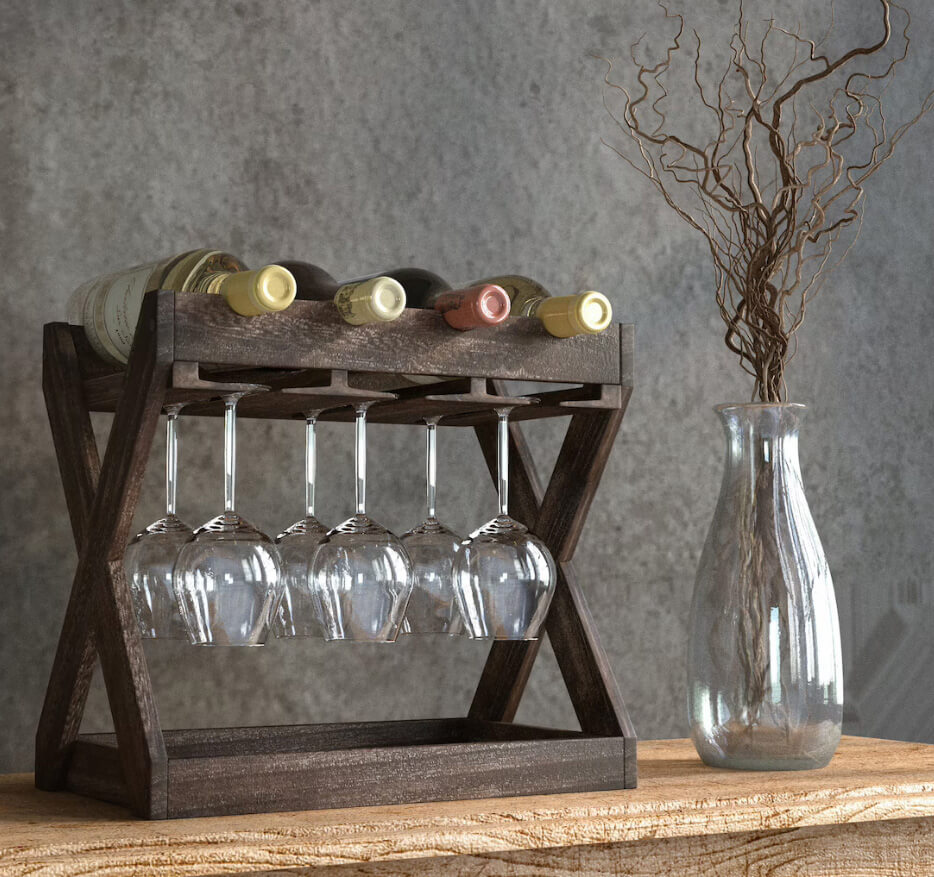 Store your wine with flair and style with this gorgeous tabletop wine rack. The wooden construct has a stunning look that gives it a rustic look fitting with a farmhouse-styled room. Wine bottles lay perfectly on top so that they are easily accessible, especially considering that this rack sits on the countertop or table. This can even hold several hanging wine glasses to give this a more stylish look. The piece is rounded out well thanks to the tray at the bottom that can hold the wine corks, more so for those of you who enjoy saving them.
18. Modern Geometric Handcrafted Wine Rack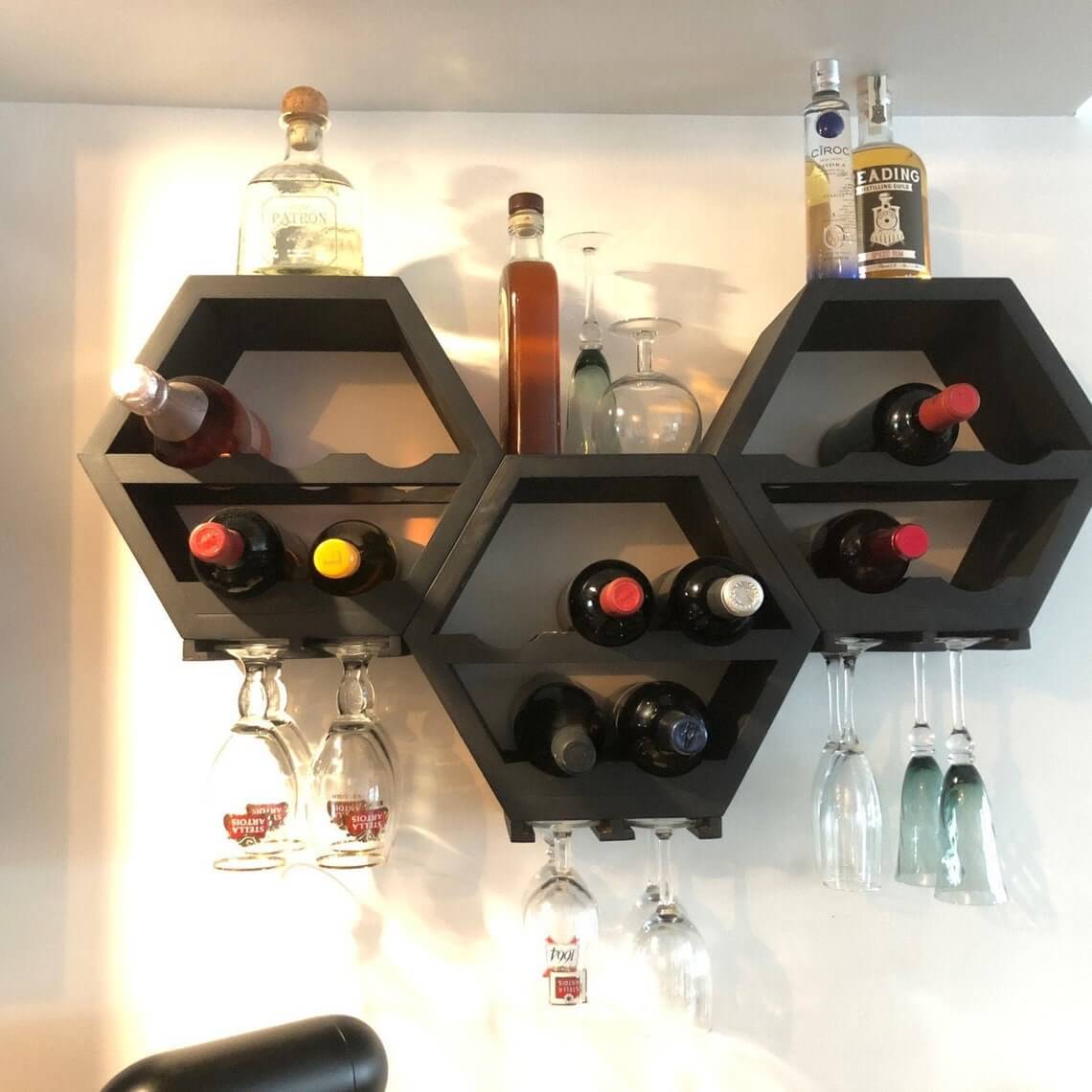 When you are in the market for something more unique, check out this geometric, handcrafted wine rack. Available in a set of three, these have a hexagonal shape and are set up in a honeycomb style that looks appealing when hung on the wall. This lets it flow well, more so if you hang it up around a bar area or kitchen area. In fact, you can hang this up in any pattern you wish that best fits your particular style. Also, this can be made in a handful of different wooden materials from darker ones to lighter ones, allowing the wine rack to blend with various types of décor.
19. Handmade Modular Wine Rack Storage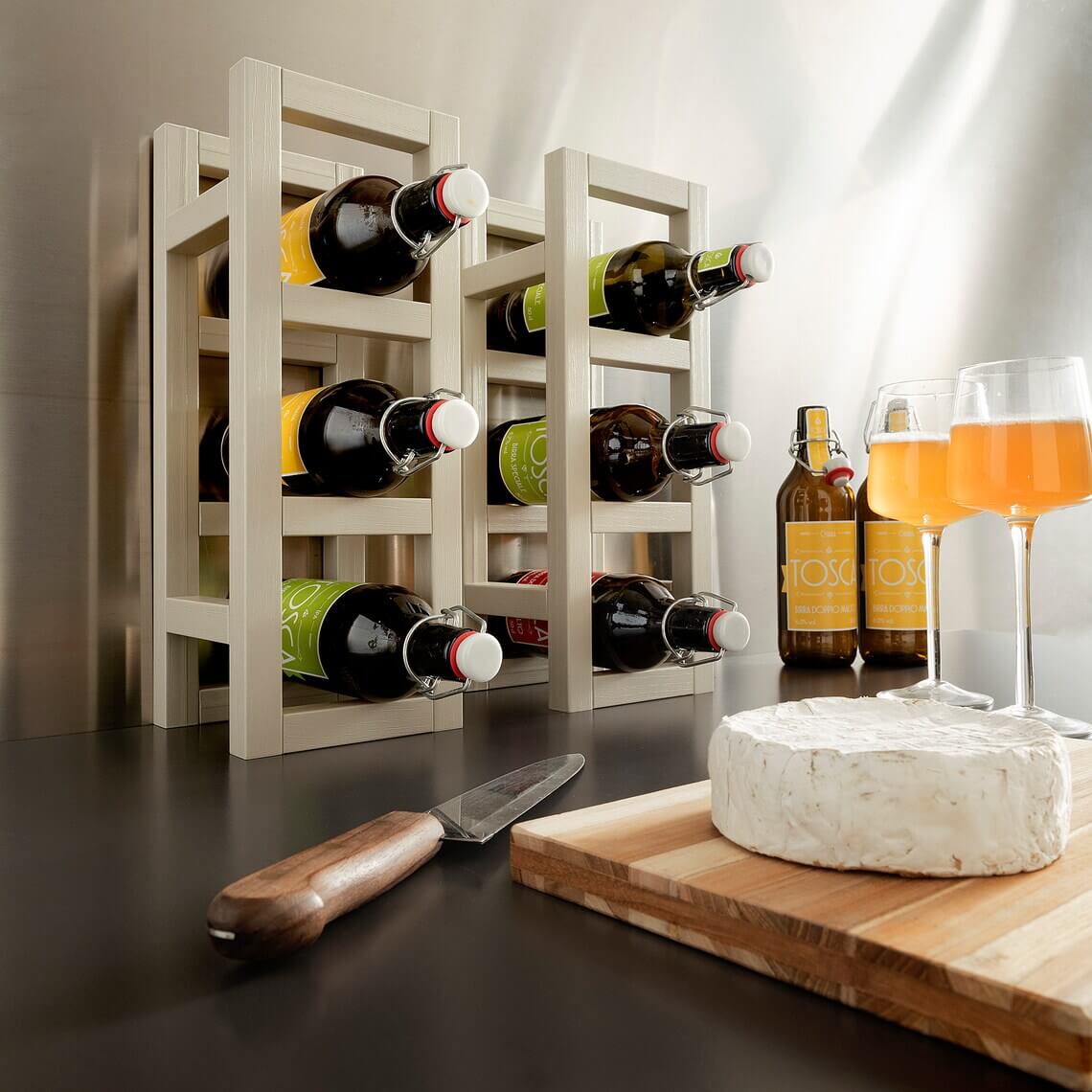 Create a unique little wine cellar with this modular wine rack design. You can place the bottle holder vertically or horizontally, and if you buy multiple ones, you can set them up together to form one cohesive piece. The single storage option holds three bottles well enough, and it works well if you place it on the ground or if you elevate it on a countertop or table. It has a clean and modern appearance that allows it to blend well in a contemporary room. Also, there are six different color styles you can choose from so that you get the best fit possible for your style.
20. Wooden 22-Bottle Wall Mounted Wine Rack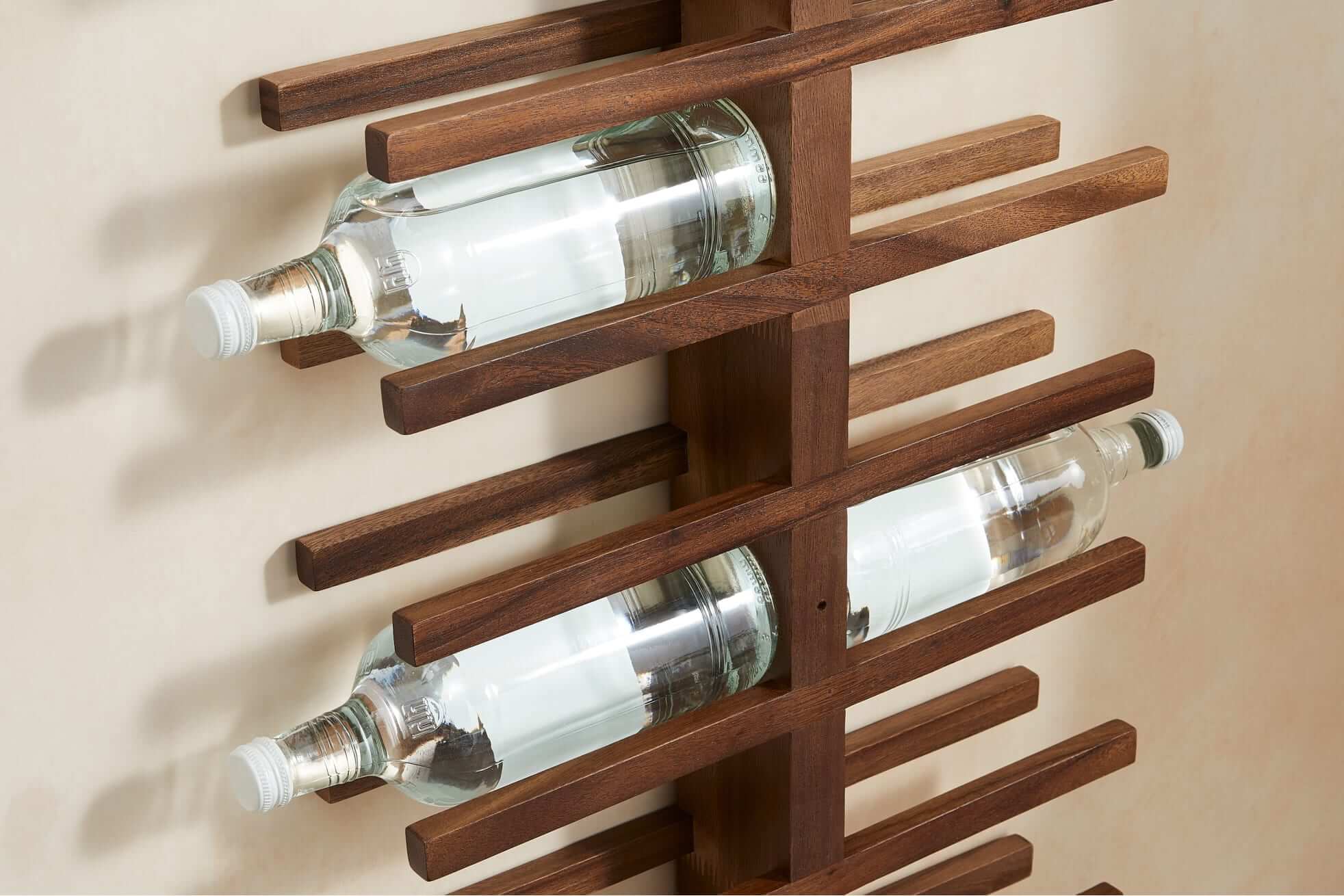 This wall-mounted wine rack is the perfect way to add something sleek and stylish to a room no matter where you set this up from the kitchen to the dining room. At first glance, it has a simple appearance. The straightforward approach works in favor of this rack as it gives it a humble sort of beauty. This way, it can readily fit in with just about any type of décor you have. The dark acacia wood stands out well, and although it has a thin look about it, it can readily fit more than a dozen bottles. It has such a nice look that it can be functional to support wine bottles you need while also simply being a decorative piece to hang on the wall.
21. Pallet Wood Wine Rack Floor Storage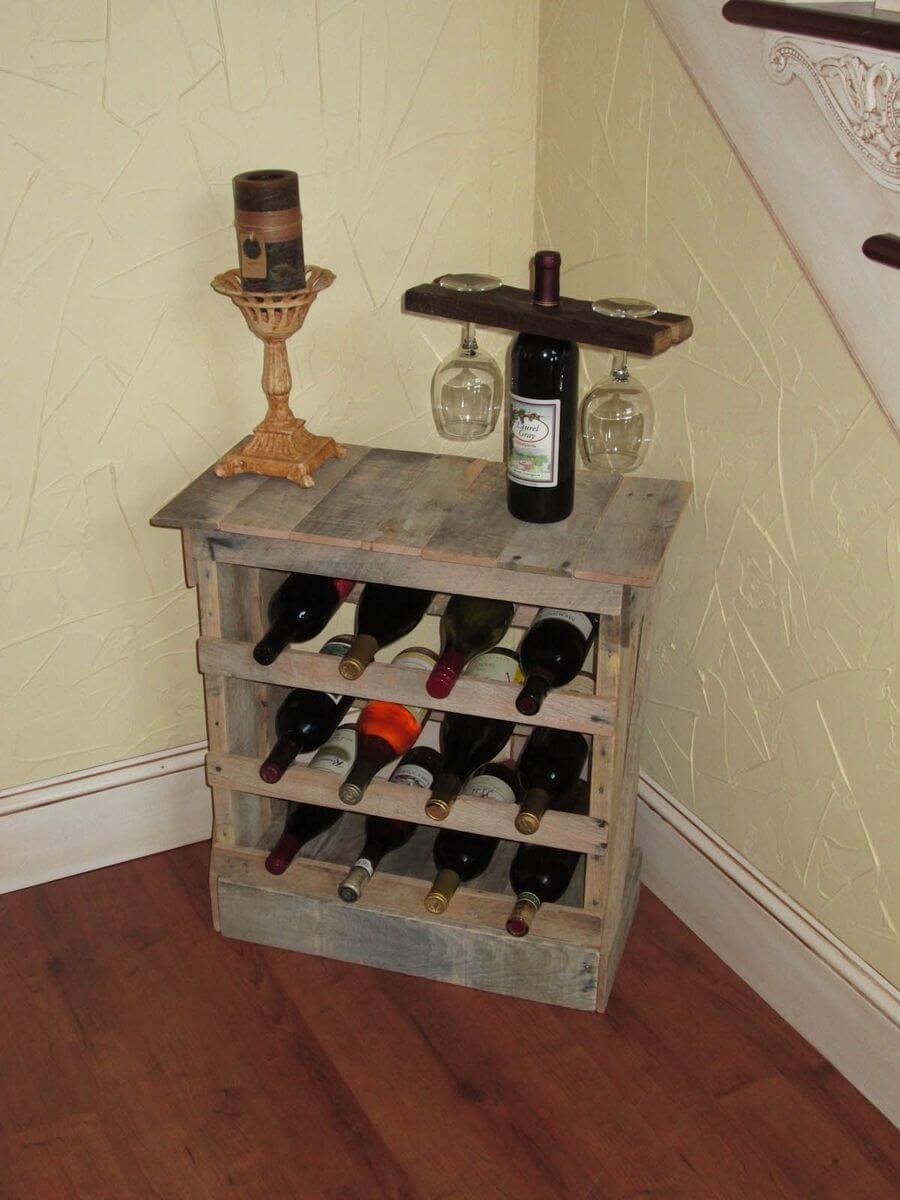 This storage utilizes reclaimed wood to create a unique wine rack that sits well on the floor. Settle it off to a corner to add more to your room's decorative style. The three shelves work well at holding multiple wine bottles so that you can store as much as you need. At the same time, the pallet wood floor cabinet also has plenty of space on top for that extra bit of storage. You can use this for more bottles, glasses, or for anything else that you wish to add to your wine rack. With this rack, you not only get something stylish, but you also receive something good for the environment considering it uses that reclaimed material.
22. Steampunk Style Wine Storage Rack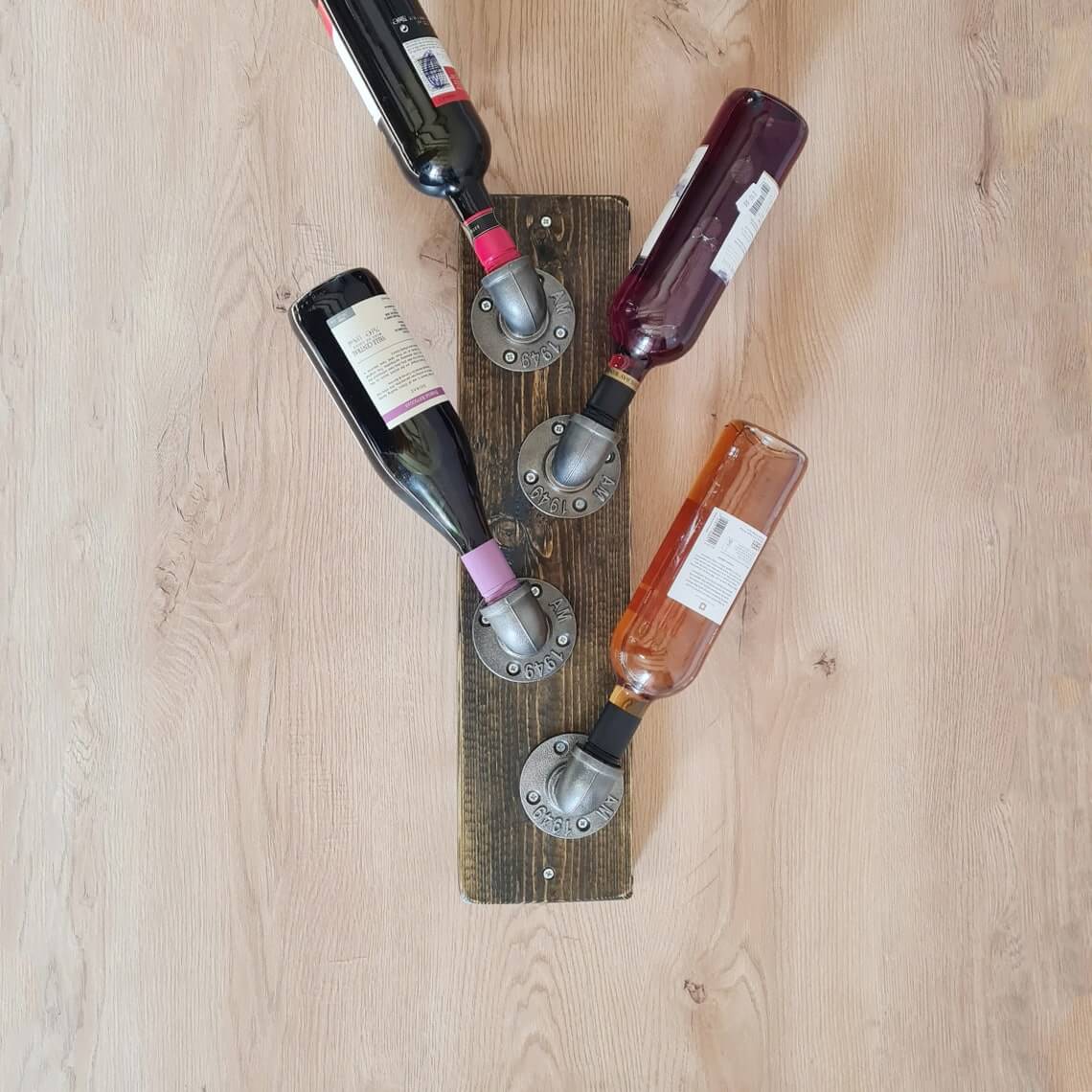 For the home in need of more vintage décor, this wine rack will fit in well. In fact, it has a cool and fun steampunk style that allows this to be more distinct and exciting to hang up on the wall. You stash the wine bottles via the industrial pipe fittings, and with how they are supported on the rack, they will grab attention at once. It is a charming way to store a few of your wine bottles, and at the same time, add more to your decorations so that you can better highlight your personality and style in a unique way.
23. Handmade Artistic Vintage Wine Rack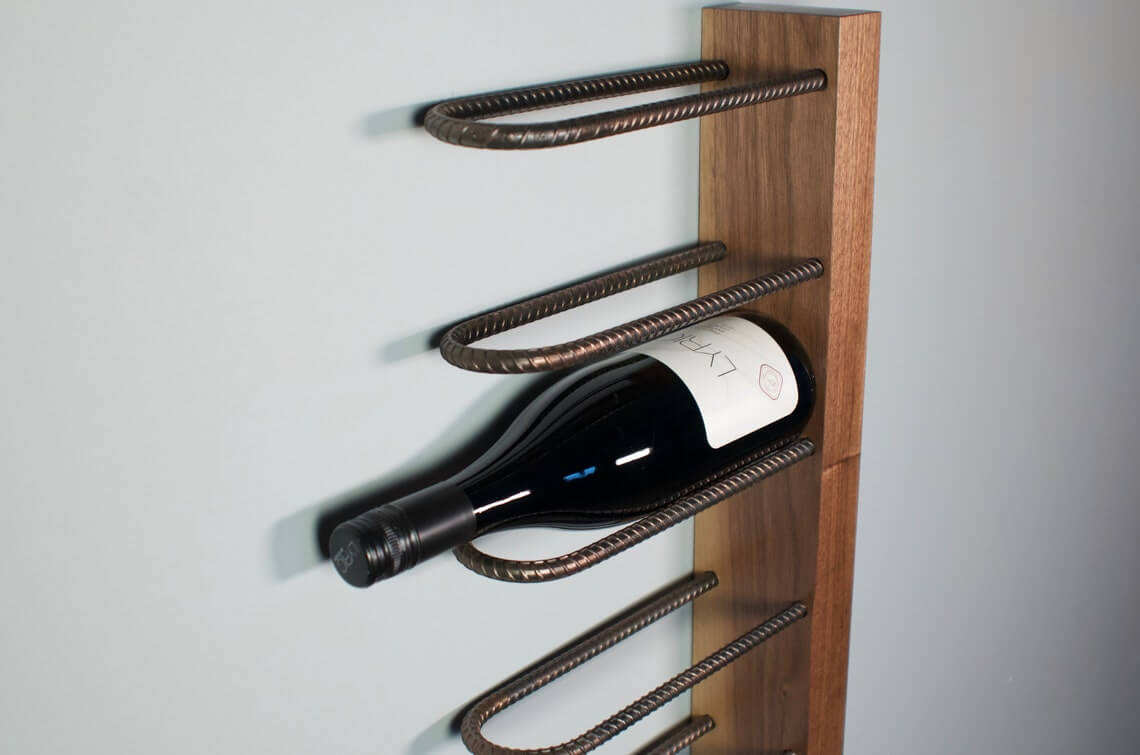 With this hand-built wine rack, you can add something artistic and creative to your wall. There is not much to the design as it is a simple piece of wood with a rebar, but this simplicity works for the piece. The way the rebar is shaped works well to support various wine bottles, and when it is hung on the wall, it offers a decorative quality even without the wine bottles on it. Its simplicity also allows it to be hung in various rooms such as a kitchen, dining room, and living room.
24. Rustic Wine Cooler Cabinet Storage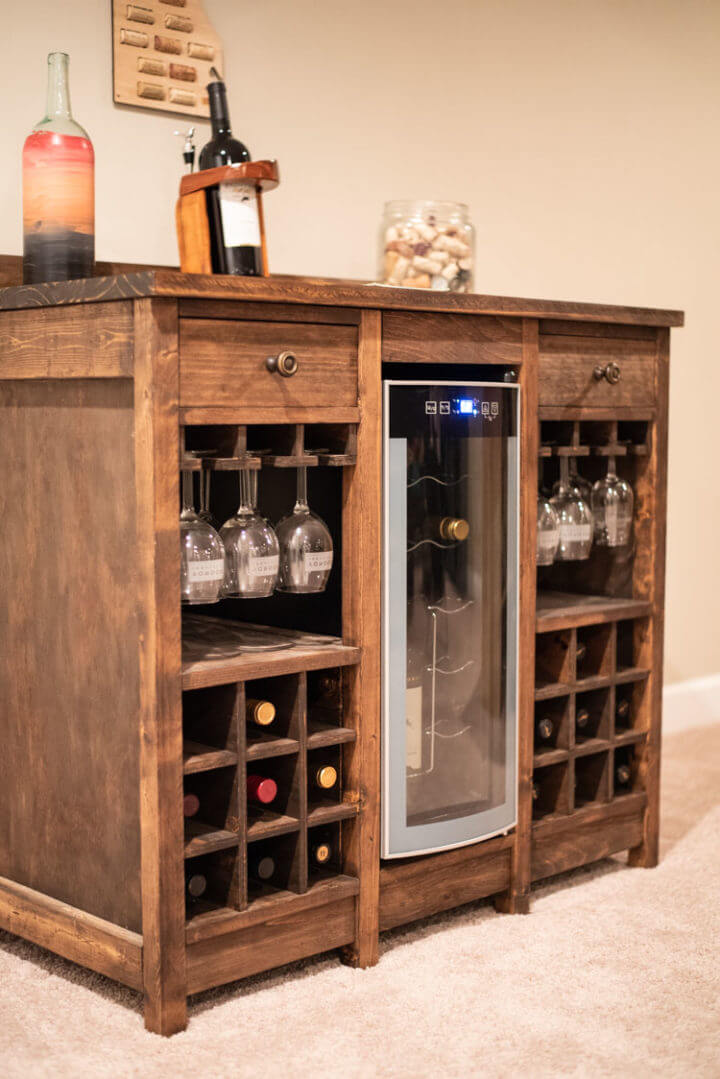 This DIY wine cabinet looks exceptional, and it is the perfect décor addition to any home. In fact, you can use it as an entire bar but just for wine. There is room not just for the bottles, but also room for the wine glasses too. Feel free to add anything else you'd like on top too to round the lookout. With the cooler in the center, you can easily alternate your wine bottles so that the ones you need remain cold and the others remain close by for when you want to switch. This balances both sleek and rustic into one cohesive piece that will make any guest jealous.
25. Creative PVC Wine Bottle Holder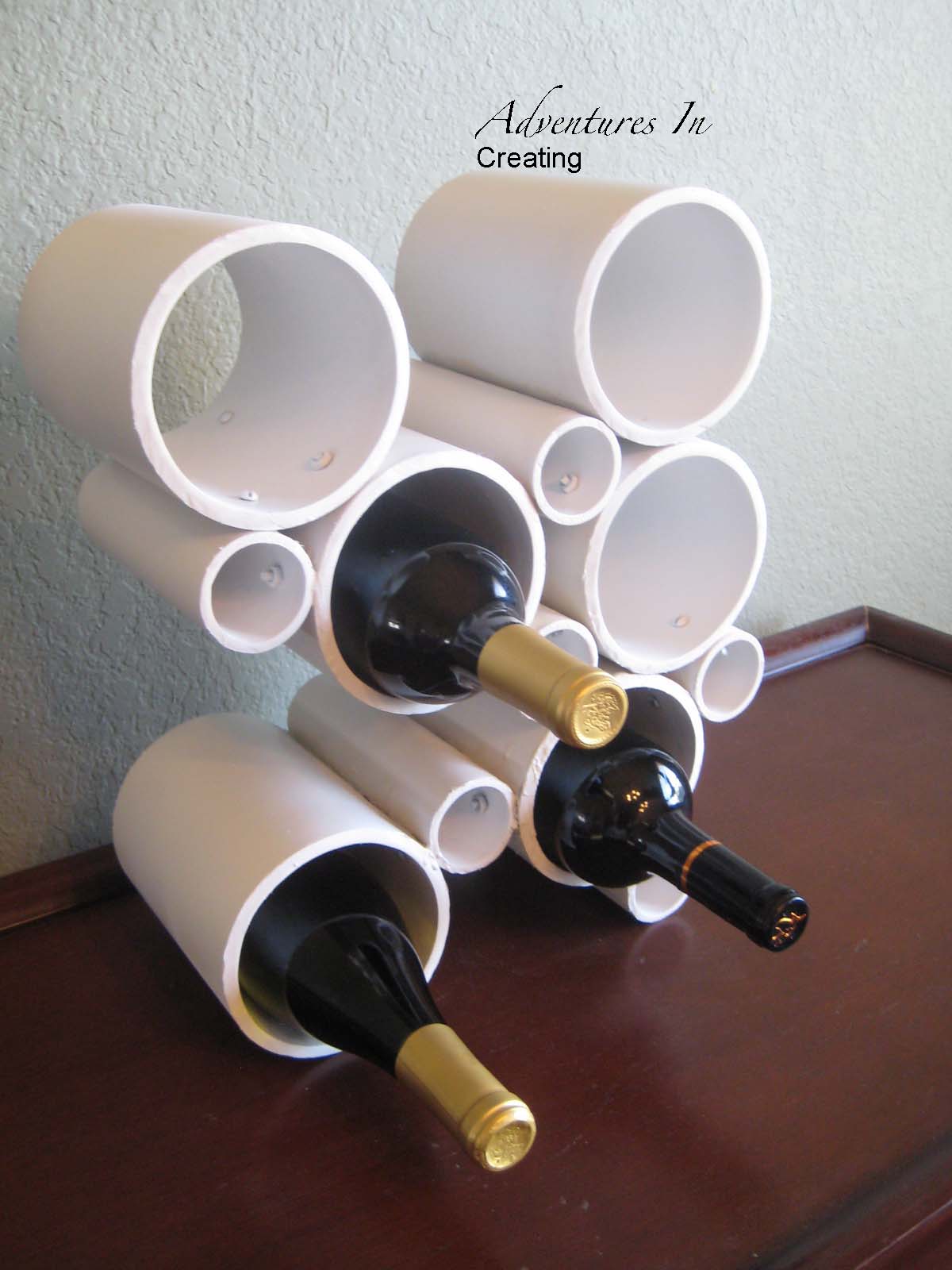 If you're proud of your wine collection, you might as well show it off and boast some of your creative skills in the process. This wine bottle holder utilizes PVC pipes in the best way possible, and what you are left with is something that has a contemporary and artistic appearance. It is reliable too so you can slot in multiple wine bottles. You will love displaying this out in the open in the dining room or kitchen so that all your guests can see just how elegant your style can get. Feel free to leave the pipes their natural white coloring, or you can always decide to paint them if you wish. The freedom is yours to make this design as unique as possible.
26. IKEA Wine Rack Storage Hack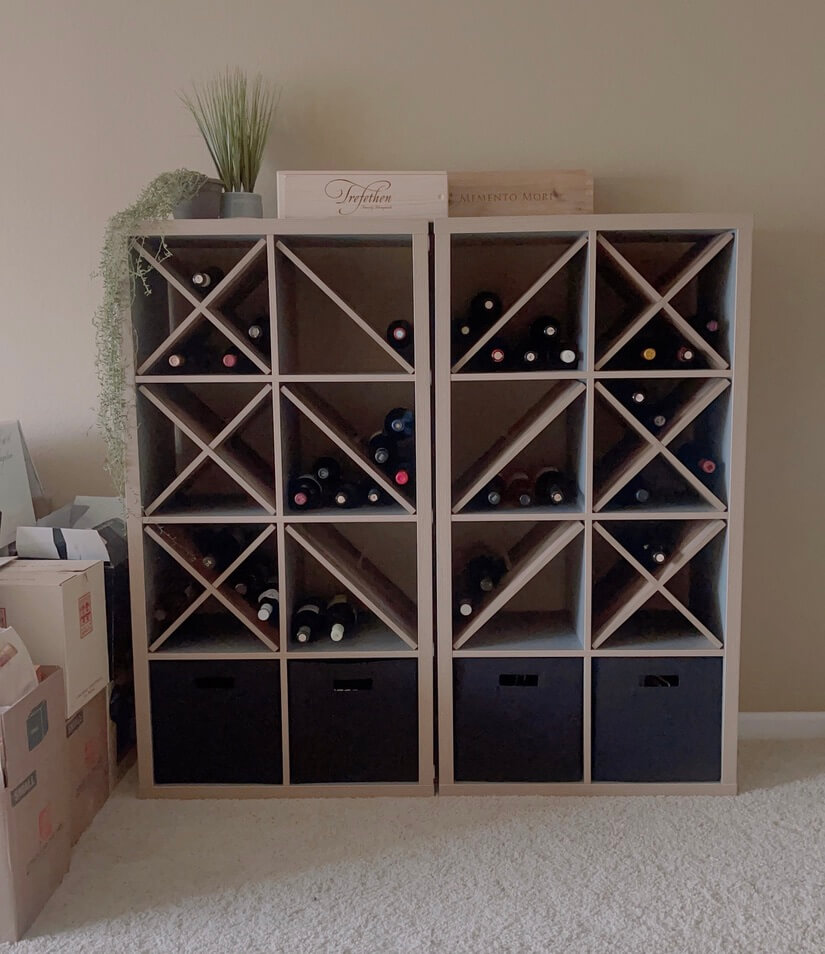 There's much fun to be had with IKEA furniture as it allows for some great hacks. Case in point: this cool wine storage. Originally, this design stems from IKEA Kallax shelves. From there, all you need to do is build or buy some wine inserts or X-inserts. You can fill up the entire thing with the wine inserts or leave some space at the bottom for storage bins if there is anything else wine-related you need to keep close by. This is such a quick and easy way to organize all those wine bottles that have been clogging up your pantry or cupboards.
27. Dresser Wine Rack Upcycling Storage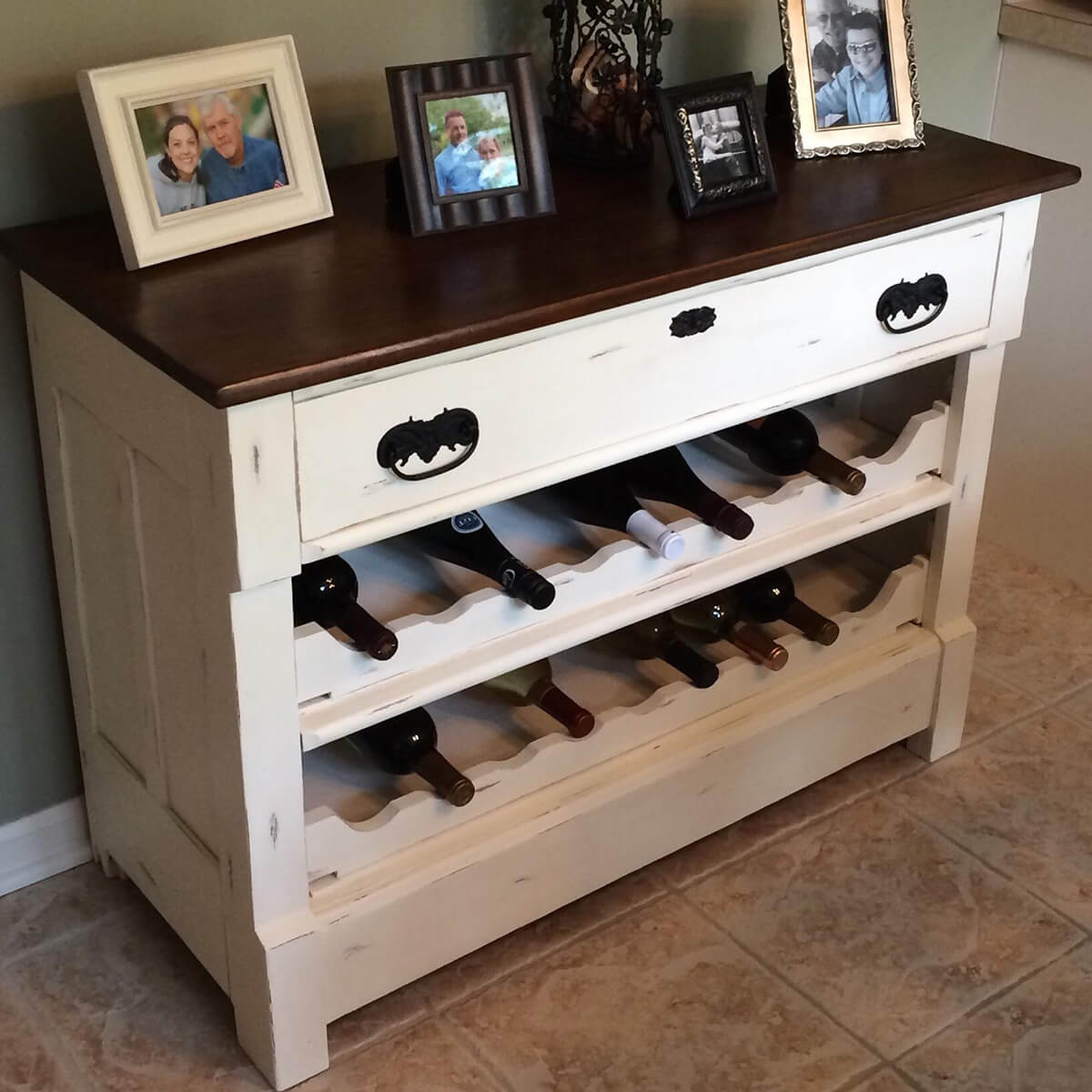 Don't toss out that old dresser when you can put it to much better use. As an upcycling project, you can transform this dresser into a wine rack. A paint job and taking out some of the drawers go a long way into making this seem like a wine bottle storage that you've bought rather than built at home. Depending on how you paint it and the type of dresser you have, this can have a pretty cool farmhouse look to it that won't look out of place if you set this up in your family room or dining room. You can even use the top of the dresser for extra storage for other decorative items.
28. Space-Saving Wine Rack Storage Cube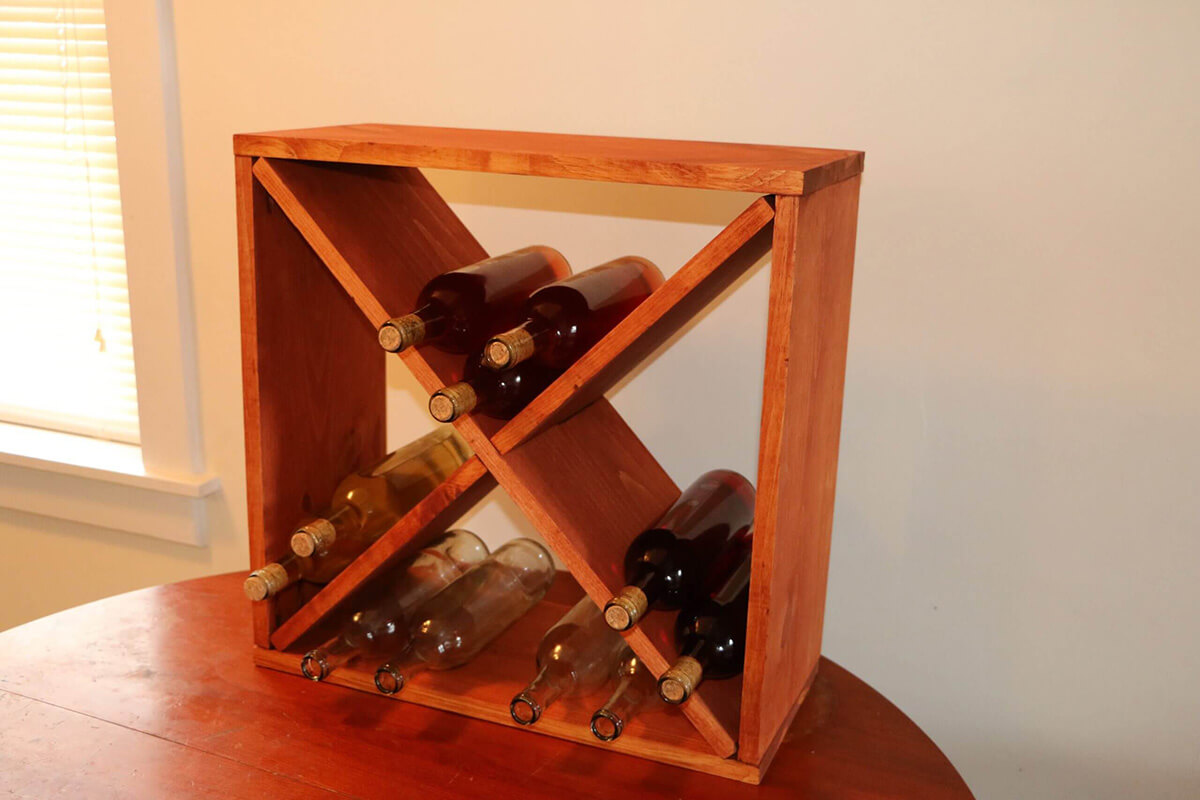 If you've got some time and the right supplies, you can make a pretty cool wine rack cube to fit a good helping of bottles. This storage cube doesn't look like much at first glance, but the simplicity is where it shines. With one giant X insert, you can stow away numerous wine bottles without them all looking cluttered or disorganized. This cube has a good thickness to it so that it also acts like decoration beyond just being functional. Set it off on a table to show off your wine collection as well as have one on stand-by whenever you need one.
29. Industrial Styled Wine Rack Storage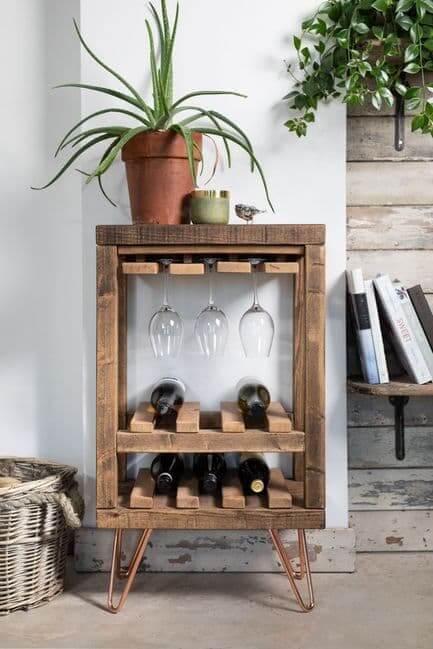 When you just need to store a small amount of wine bottles and glasses, this wine rack storage option is a good choice. It has an industrial appearance thanks to the hairpin leg design, but it also has a bit of a farmhouse-like feel too due to the chunky wood used throughout. Even though it is minimalistic, it manages to store six wine bottles and nine wine glasses. There's enough room on top to add more decorations too. So, feel free to set this up in your dining room or living room to add to the décor too.
29 Incredible Handmade Wall Wine Rack Ideas for Your Next Project
Who wants to settle to just sticking their wine in a cabinet? A specific storage rack to show off your wine collection, big or small, can leave a lasting impression on your home's décor. It can elevate it to new levels, more so if you feel like a room is just missing something to pull everything together. What is even better is that there are plenty of ways you can build your own wine rack storage. This way, you are able to get exactly what you want whether you need something just for the wine bottles or something that has additional storage for glassware.
Alongside that, these can fit well with numerous decorative styles. Whether you want something vintage, something rustic, or something modern, there is a handmade wine storage rack out there that is great for your home's décor. If you are unsure where to start, then the best DIY wine rack ideas laid out above should give you a good starting point. Many projects are straightforward enough for beginners to handle, while some require a bit more time and patience to master. You can always check out sites like Etsy if you want something homemade yet are unable to do it yourself.