Whether or not you already know your candlestick style, the best DIY wood candle holder ideas are the ones, which resonate best with your space. Depending on your approach, the wooden candle holder you make can add sophistication, playfulness, simplicity, or wildness to your decor. Including candles in your space means soft light and an inviting ambiance. Wood, too, has a reputation for warming up a space as well as being versatile. You can cut it, carve it, paint it, stain it, glue decorations onto it, or leave it beautifully unfinished.
29 DIY Wood Candle Holder Ideas to Elevate Your Space

Choosing a candle holder finish will determine what kind of energy it will exude. Painting wood opens the door to countless color possibilities, but obscures the wood grain. Stained wood showcases that wood grain while helping your candle holder blend with another décor. However, stain limits the color potential. To create complex weathered effects, use one or both of these along with sandpaper. Maybe charred wood is the look for you. Another possibility is to use glue or nails to add decorations to the outside. Maybe those decorations are seashells, buttons, melted wax, or even additional pieces of wood. Which finish and decoration you choose will change how the candle holder fits in your established space.
Before embarking on this journey, you also need to figure out what size candles you plan to display. Tapers are treated differently than big, chunky candle pillars. Your candle holder will need to be large enough to safely accommodate your chosen candle. In the list below, you will find tutorials for all skill levels. While some are advanced and require woodworking equipment, others are simple and can be made using only a few basic tools. Whatever your skill level or style, there is a wooden candle holder design out there waiting for you.
1. Rustic Wood Chunk DIY Candle Holder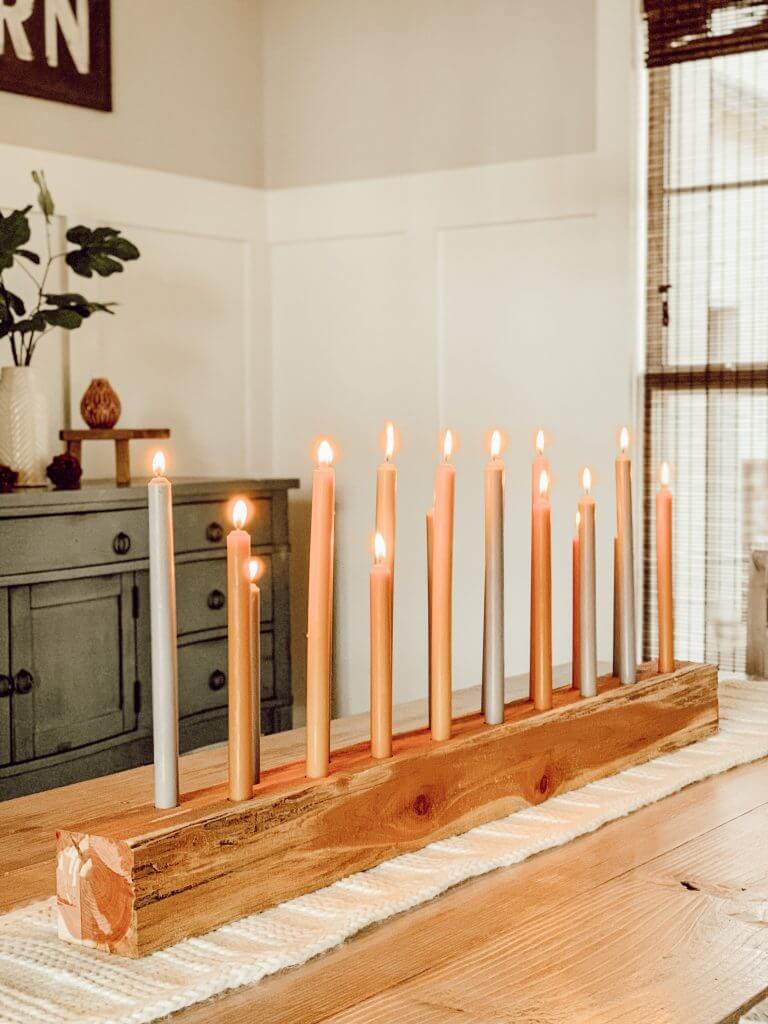 Use your hands to create this natural wood candle holder. It makes a fabulous centerpiece decoration for your dining room that will work throughout the year. Change up the colors of candles to coordinate with the changing seasons. You can even weave some garland through the bottom of the tapers for a more detailed and specific holiday theme. Candles always make a good choice for centerpiece displays and this long wooden base offers plenty of spots for filling up with several for a gorgeous glow!
2. Natural Wood Branch Tea Candle Holders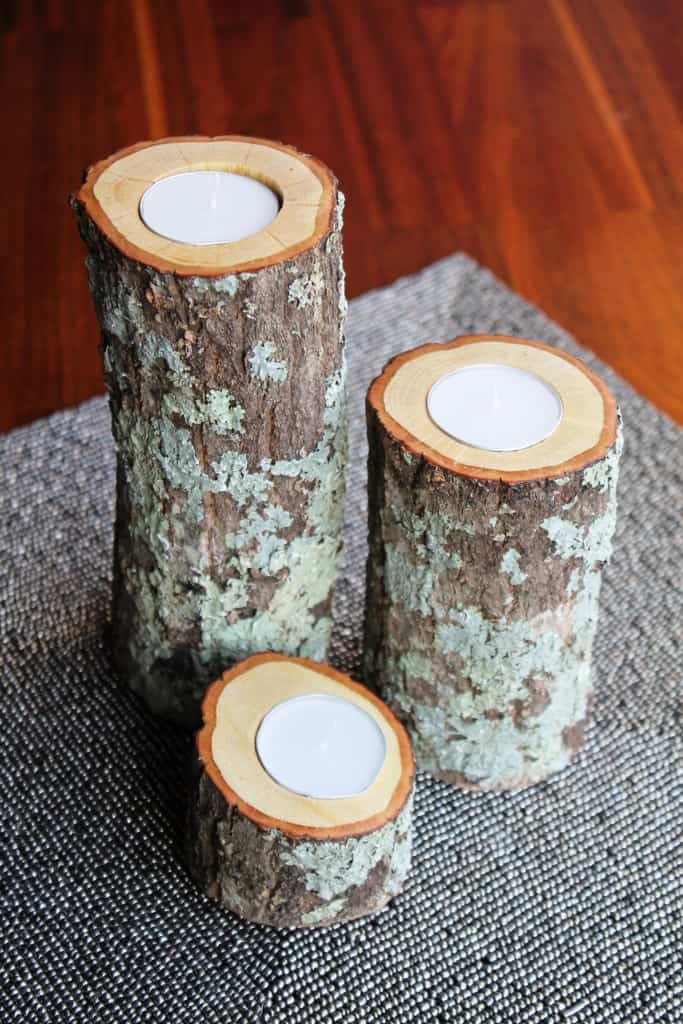 When the wind blows a hearty branch from your tree, embrace Mother Nature by turning the trash into treasure. Cut pieces from the branch in varying lengths to create a candle holder display at descending heights. Each piece has been drilled out to form the perfect pocket for cradling a tea light candle. A fresh coating of varnish polishes off the project. Arranged together, these natural DIY candle holders offer a soft glow to your living room. They would be a wonderful gift idea for a cabin-residing friend too.
3. Slender Natural Wood DIY Candle Holder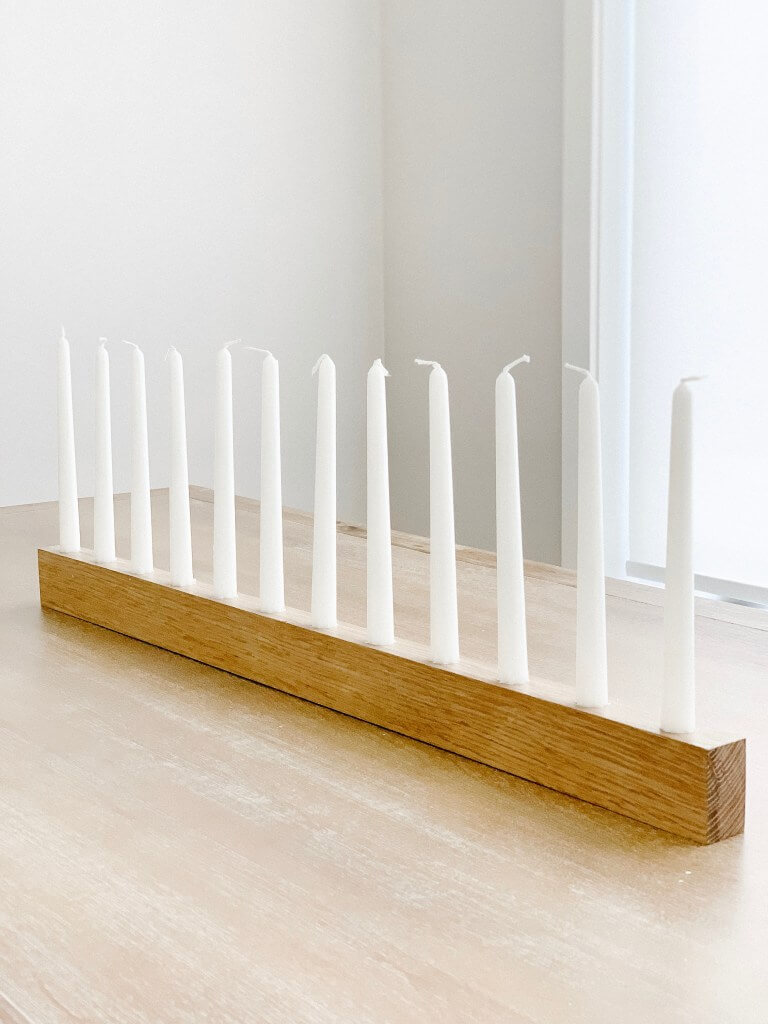 If you're looking for something that's versatile and low-key, this natural wood candle holder is for you! It's crafted from a slender piece of wood that shows off a streamlined and slim silhouette for the center of your table. On top, holes in the base provide a place for positioning your taper candles to light up the room. Create a cozy and comfortable atmosphere for your next dinner party with this natural wooden beauty. Its slim nature makes it a great choice for lining the mantel, kitchen windowsill, or center of the kitchen island too.
4. Wooden Centerpiece with Plants and Tapered Candles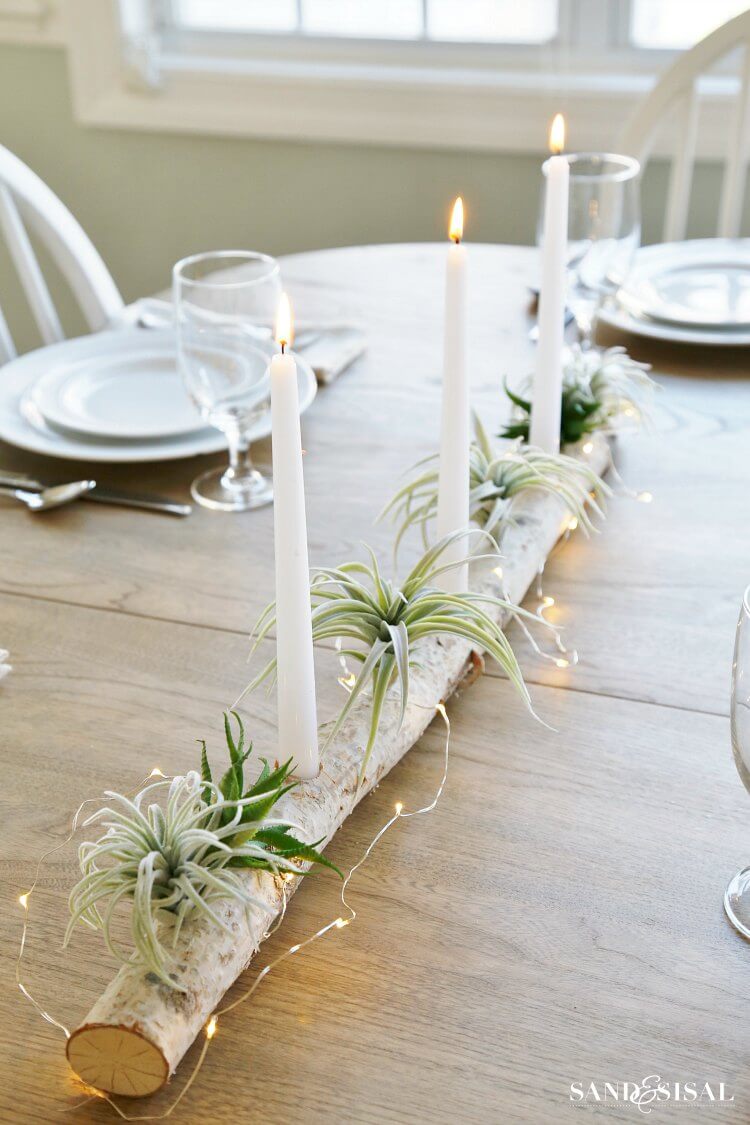 To bring the rugged outdoors inside, make your own wooden centerpiece like this one. The white taper candles and string lights add a sense of ethereal magic to the piece. Although artificial succulents take no botanical maintenance, you can use living or artificial plants in your centerpiece. To add color, choose faux plants with bright flowers, and coordinate the candle color with the plants. It might cost a little more, but you can create mood lighting with color-changing string lights. To spice up your centerpiece every season, skip the glue and change up your plants to match your décor.
5. Upgraded Wooden Candle Holders with Half Beads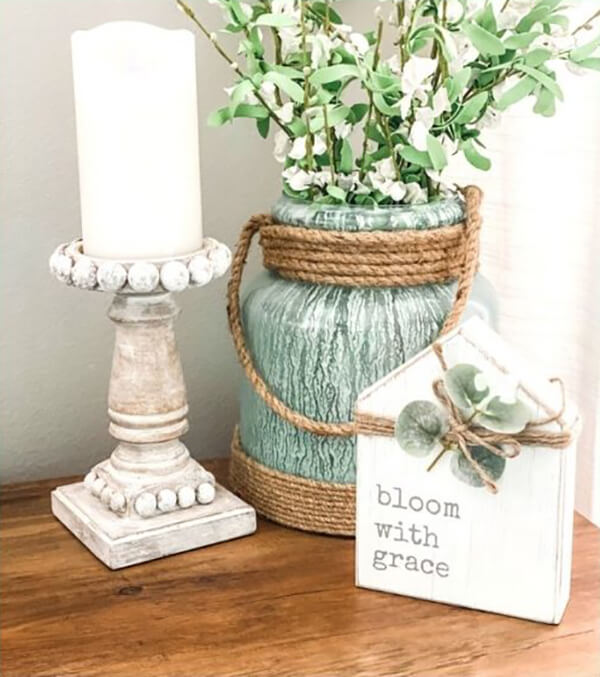 It happens to everyone – those candleholders were perfect back then, but are just not your style anymore. This tutorial shows how to rejuvenate your candle holders so they can shine in your space again. It is as easy as applying paint and hot glue to half beads. However, this idea can be harnessed with any style to create the perfect homemade candle holders out of wood. Spray the entire piece to give your candle holder a whole new life. For a Bohemian update, paint the half beads in a variety of bright colors before gluing to the candle holder.
6. Weathered Wood Block Candlesticks Perfect for Parties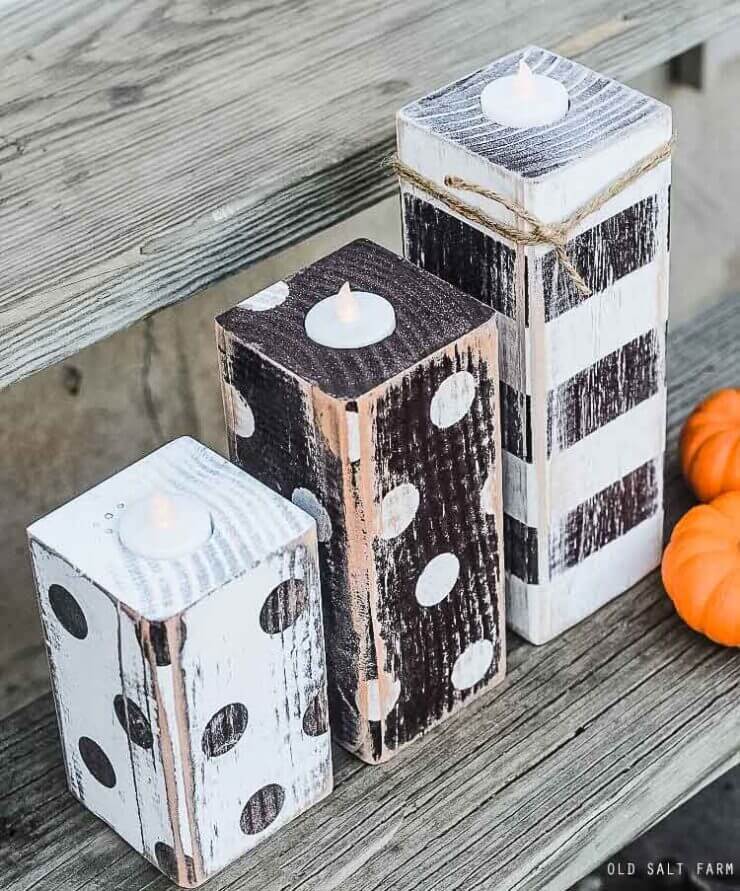 When you put polka dots and stripes together, you make magic. If you have a woodblock and some spray paint, these handmade wooden candle holders are a fast and fun project. While this tutorial uses espresso and white, you could substitute any contrasting colors. If polka dots are not right, use stencils to create candle holders that are entirely unique. For a more Scandinavian appearance, skip the paint and let that natural wood finish shine. Because these are so easy to make, you might just find yourself making a set for every holiday to spice up your seasonal decor.
7. Birch Branch Candle Holder Bursting with Personality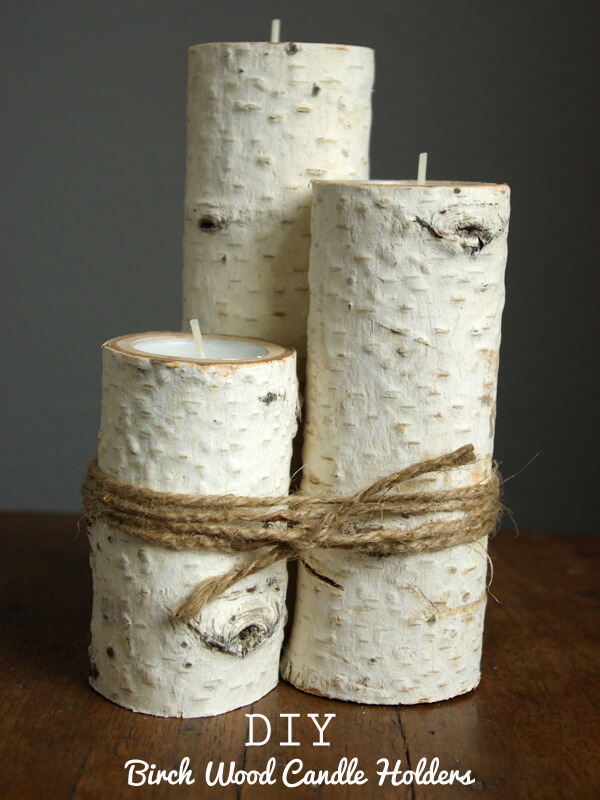 These candleholders are ideal for imbuing your space with a rustic vibe. They appear as real birch branches because they are real birch branches. Of course, you could use any sort of wood you have on hand. However, you will want to let the wood dry out for a month or two before beginning this project. Using different heights of branches for your candle holders feels balanced and harmonious. To cultivate a feel of symmetrical order, use branches that are all the same height. If you are worried about a fire hazard, use battery-powered candles instead of real candles.
8. Scandinavian Scrap Wood Candle Holders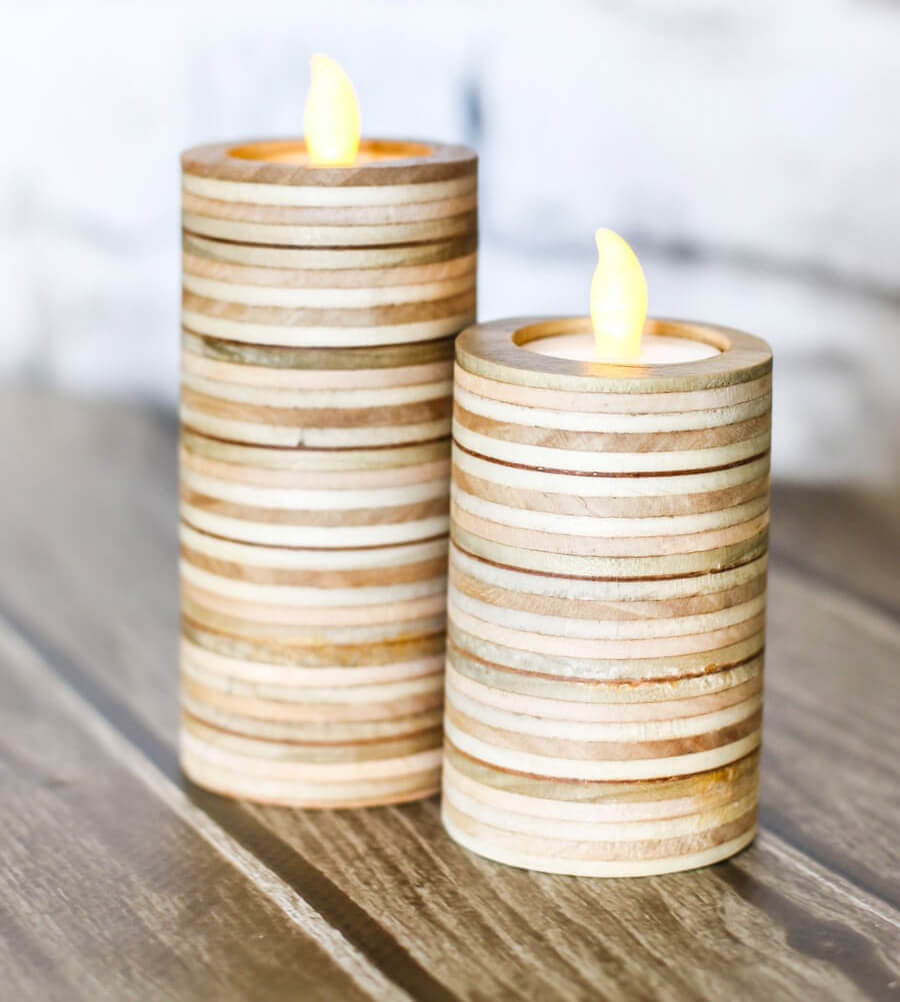 When used together, layers of contrasting scrap wood create a candle holder with impact. This example uses the different hues at random to eye-catching effect, but, with a little intentionality, you could create some cool results. For an ombré effect, layer darker pieces at the bottom and lighter pieces towards the top. The natural wood finish gives these candleholders a delightful Scandinavian appeal. If a cylinder is too simple, try experimenting with different sizes of plywood circles to form a more complicated shape. However, a simple shape means that attention is placed on the subtle variations in the wood discs.
9. Upgrade Battery-Powered Candles with Old Candlewax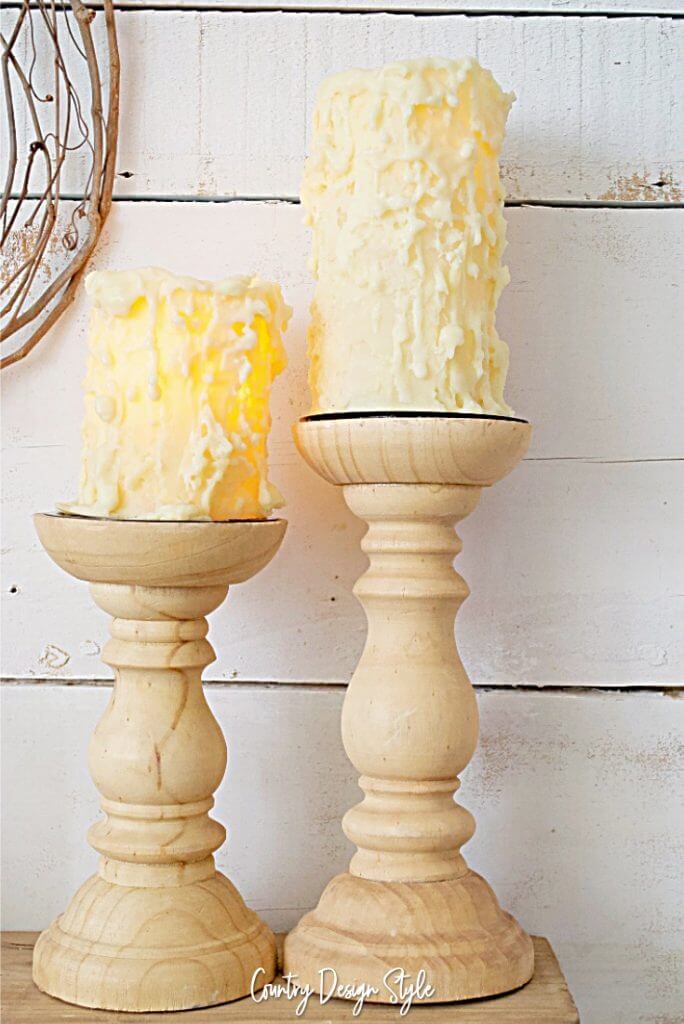 After you have invested all this effort into crafting an amazing candle holder, do not skimp on the candles! With a few old candles, you can create this phenomenal texture on the outside of nearly any naked candle. If it does not work out the first time, simply wipe it away and try again. For even more interesting effects, try mixing and matching candle colors with wax colors. Imagine layering rich red and cream waxes onto a plain candle to create opulent Valentine's Day or Christmas candles. To include your wooden candle holders, dribble a little wax onto them too.
10. Pallet Wood Lantern-Style Candle Holders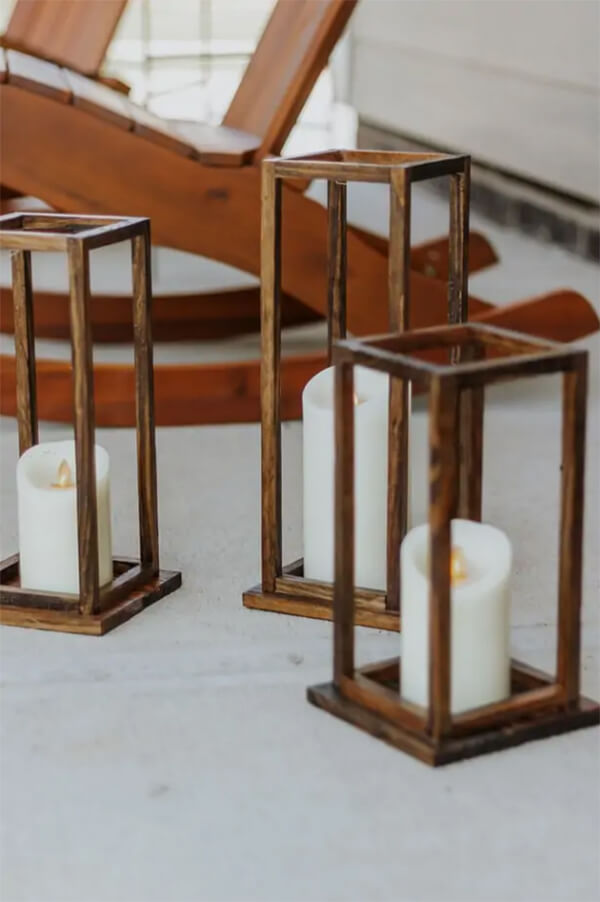 Because of their versatility, lanterns are one of the best DIY wood candle holder ideas. Although this tutorial involves sawing pallets into square dowels, you could instead purchase square dowels. With all the angular edges, these lanterns imbue energy in a space. To give your lanterns the more traditional symmetrical shape, stick a wooden base over the top. However, this will slightly reduce the amount of light that escapes. Keeping the wood grain exposed gives these lanterns a nuanced beauty and incorporates natural textures in a space. Of course, they would look fantastic in a fresh coat of paint, too.
11. Furniture Leg Candle Holders with Metal Lampshades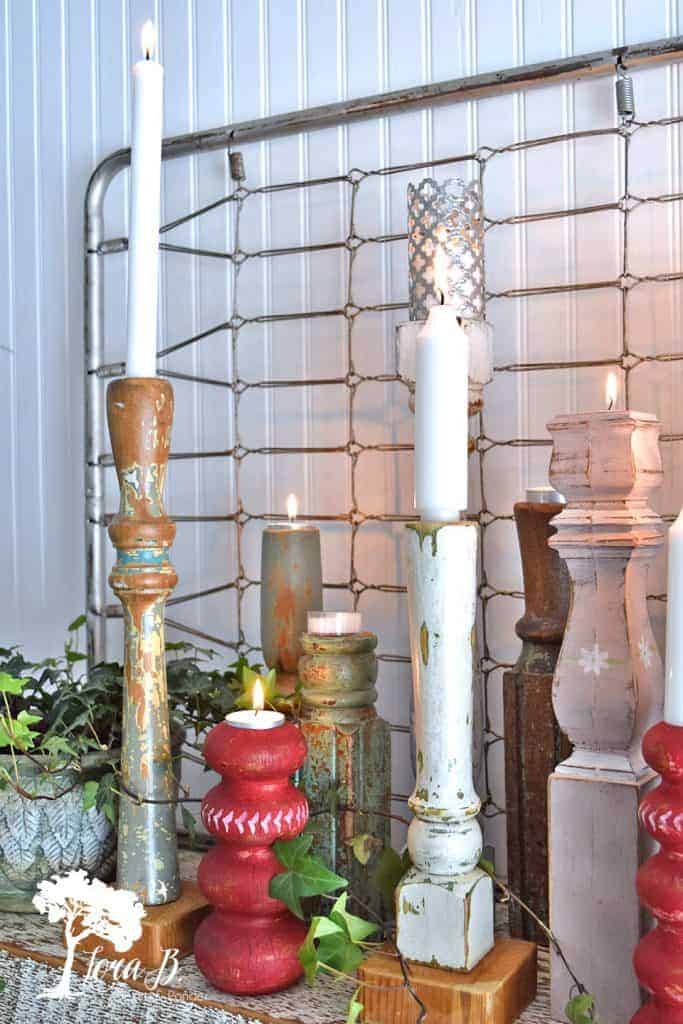 Have you ever looked at table legs and wondered if they would make good candle holders? If you happen to have a stash of furniture legs, these are some of the best DIY wood candle holder ideas. Chair spindles work magnificently as well. Turning the legs upside down switches them up for even more crafting fun. For an absolutely dazzling effect, paint them different colors and display them all together. To add some folksy flair, paint simple repeating designs on top of the base color. If the rustic vibe is not right for your space, try reflective metallic paint.
12. Farmhouse Candle Holders Using Reclaimed Spindles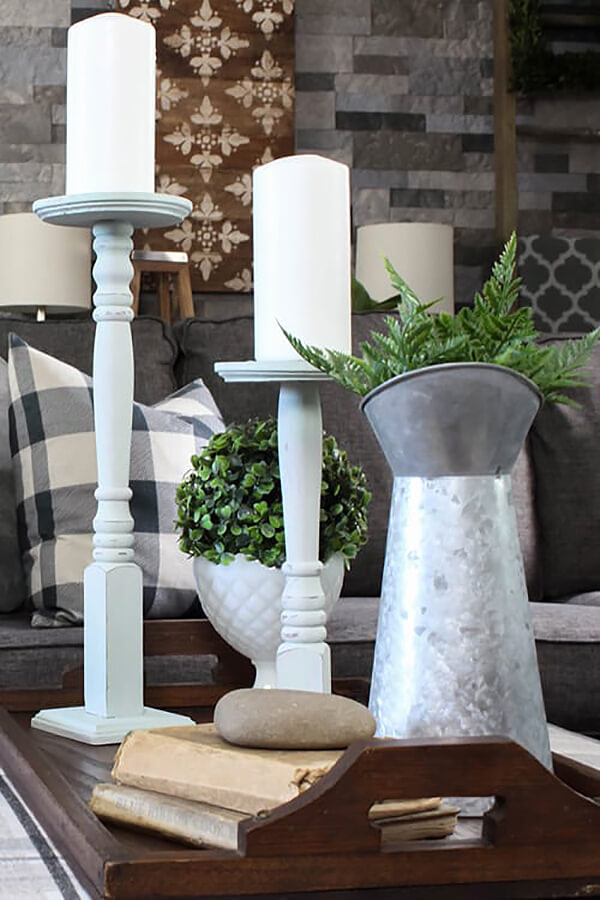 Instead of stressing out about your candle holders coordinating, use the same spindle to make two. Spindles often feature repeating patterns, so cutting them at different lengths will result in candle holders that complement each other without being identical. By using a square base and a circular candle platform, you create the perfect balance between soothing and energizing. Because of the ornate details, spindles seem to add sophistication wherever they are placed. For true farmhouse vibes, use matte paint and distress the edges. With all the effects possible via layering paints, stains, and varnishes, this technique has unlimited potential.
13. Bamboo Skewer and Woven Raffia Lantern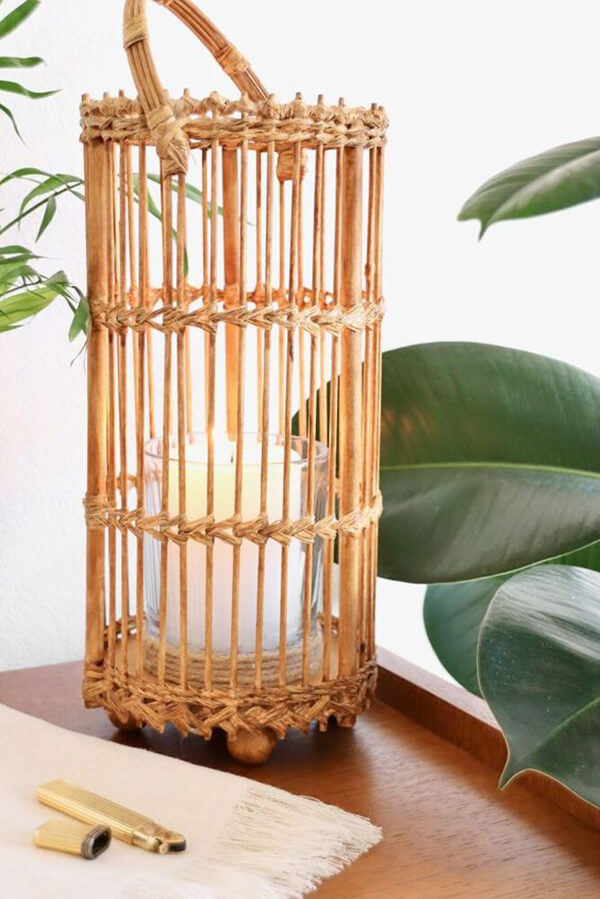 You do not need woodworking saws or expert knowledge of weaving to make these untamed bamboo lanterns. To achieve the intricate handmade look, this tutorial illustrates simple raffia weaving techniques with clear descriptions and easy-to-follow pictures. If you are an experienced weaver, you can use those skills to make it a little fancier. Bamboo and raffia are great additions to Zen and Scandinavian spaces. Dial-up the wild ambiance by pairing it with large-leafed greenery. To customize this lantern, try painting the skewers before assembling or use colored raffia. For those who love glamor, try breaking out the glitter.
14. Stained Wood Farmhouse Candle Holders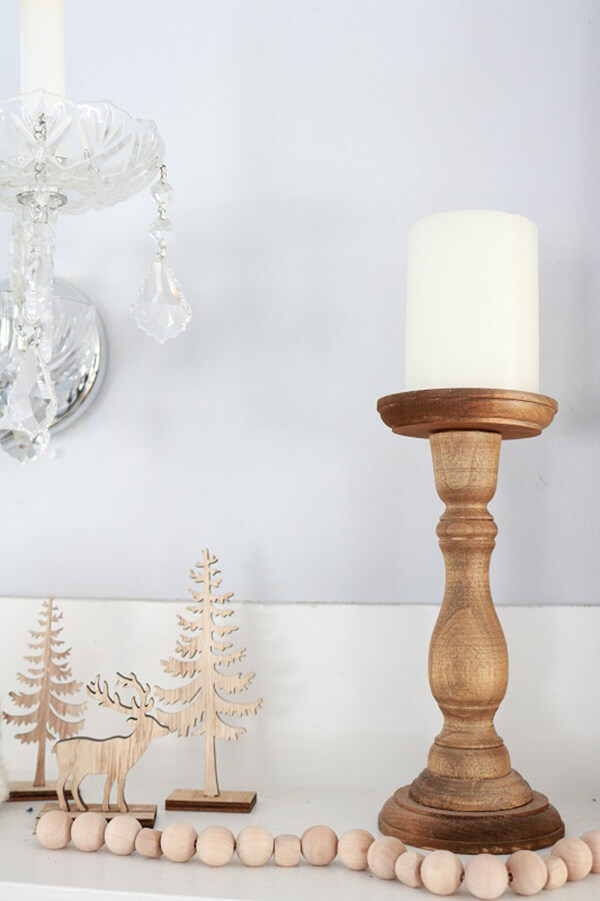 All you need for this project are the lumbar, glue, and wood stain. Pick a candle platform that will comfortably fit your candle without being a safety hazard. If the ornate candlestick spindle is not your style, and sturdy wood cylinder will work as long as it is level on both ends. Besides looking great with farmhouse decor, this candle holder technique could be used to create a Scandinavian candle holder. If you want something Bohemian and have a touch of artistic talent, imagine taking a fine paintbrush and painting vertical lines on the curvy part of the candlestick spindle.
15. Candle Holder for Crowds of Colorful Candles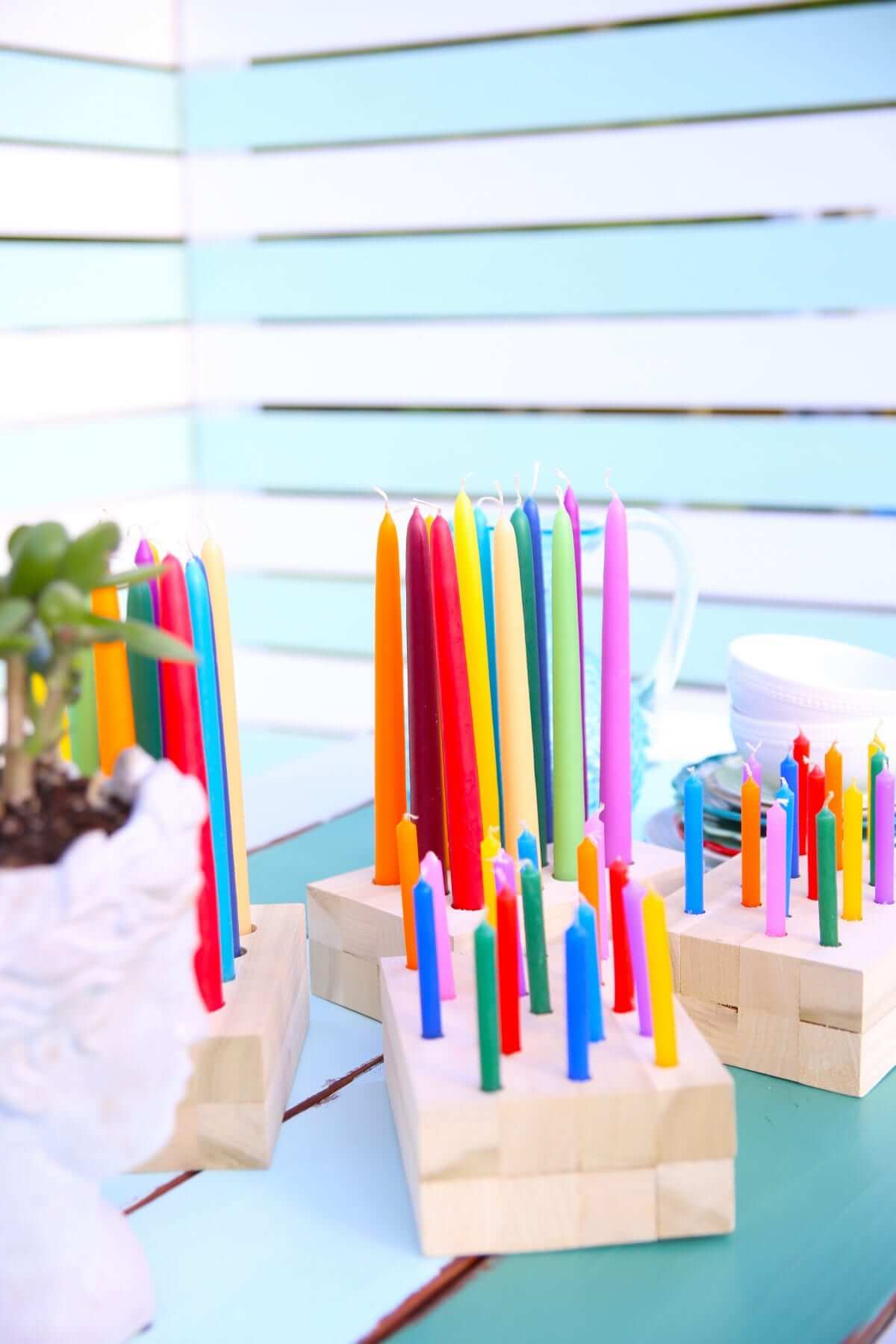 When you cannot decide which color of candle to put out, check out these handmade wooden candle holders. The simple design puts the candles in the spotlight. Because this project is so easy, it is a way to infuse your space with color very quickly. This candle holder is the right choice if you love displaying homemade or swirled taper candles. For larger candles, drill larger holes. If all that color would overwhelm your space, imagine a dark stain on the wood and classic white candles. Pair that look with some greenery (living or artificial) for an elegantly off-beat centerpiece.
16. Antler and Wooden Cup Candle Holder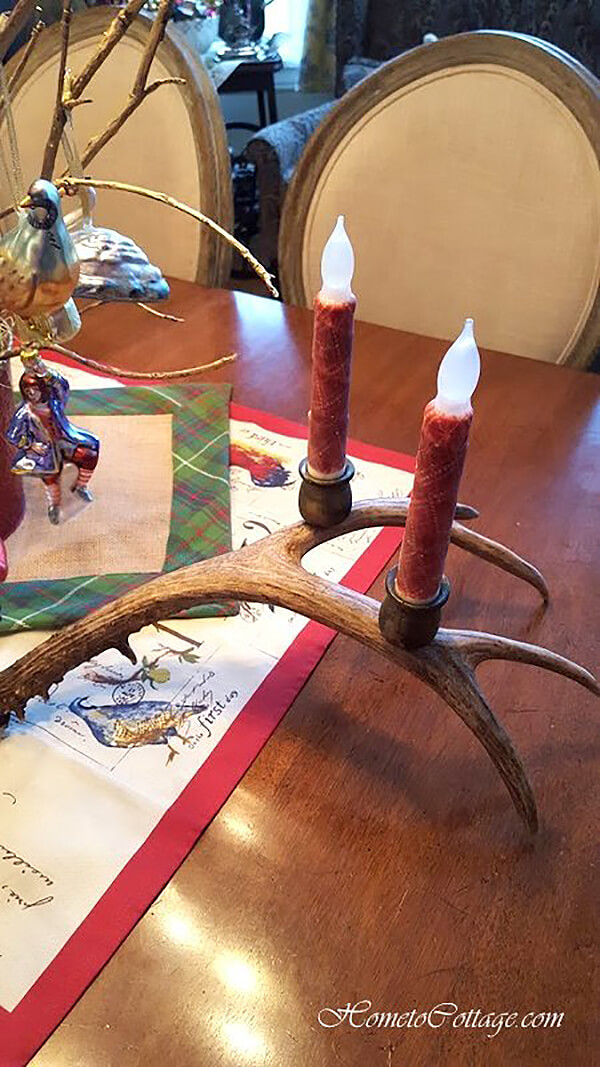 If rustic elegance could be distilled into a candle holder, it would be tapered candles mounted on antlers. Because no two antlers are identical, your antler candle holder will be utterly unique. The candles shown in this image have a vintage vibe, but, as long as they fit inside the candle cups, you could use any sort of candle. Tapers may be classic, but you could definitely try some pillar-type candles. One important aspect of this project is to build the perfect finish on the candle cups. This tutorial explains how to achieve this look using wiped-away reflective gold paint.
17. Matching Candle Holders from Recycled Table Legs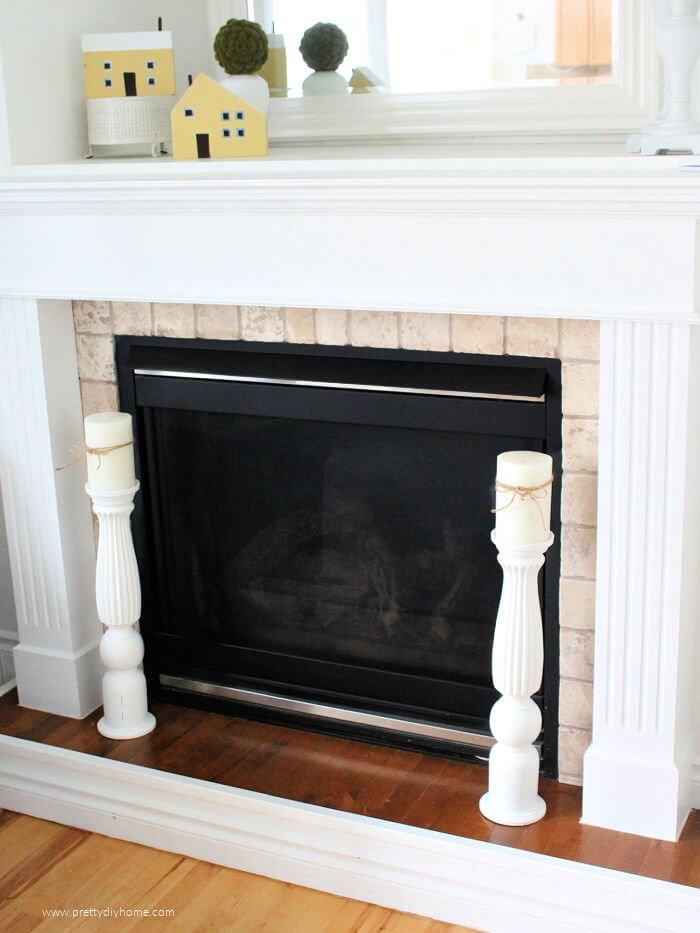 Ornate table legs are easily transformed into elegant candle holders. The more elaborate the table legs, the more baroque your candle holders will be. Glue a terracotta saucer on top to hold the candle and a wood disc to the base for stability. For everything to look cohesive, this tutorial applied coats of primer and paint. Cool, crisp white helps lift a space up, but you can go with a brighter color for a more eclectic feel. For a glamorous result, try using metallic paint. Distressing that paint a little can make these candle holders perfect for a farmhouse feel.
18. Old World Carved Wooden Wall Sconce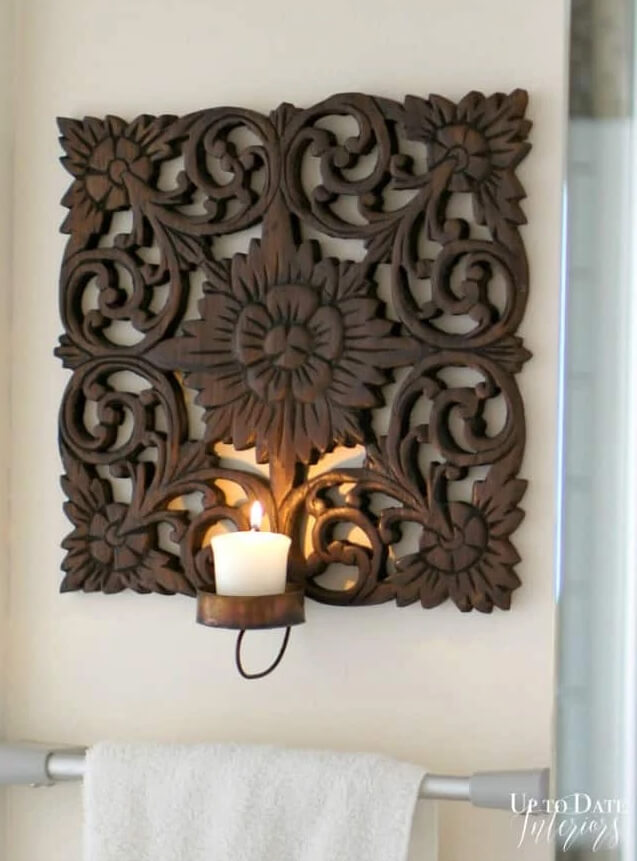 Instead of the candle stealing the show, this wooden wall sconce is the center of attention. Even if you cannot find any carved wooden panels like this one, use this idea to create your own homemade candle holders out of wood. Although it would lack the hand-carved quality, you might be able to make something similar with a plywood sheet and the right woodworking tools. If you go that route, you can design your own pattern. Imagine including an initial, date, animal, or motif seen elsewhere in your space. Use this technique with a mirror to double the candlelit radiance.
19. Unique Burned Wood Candle Holders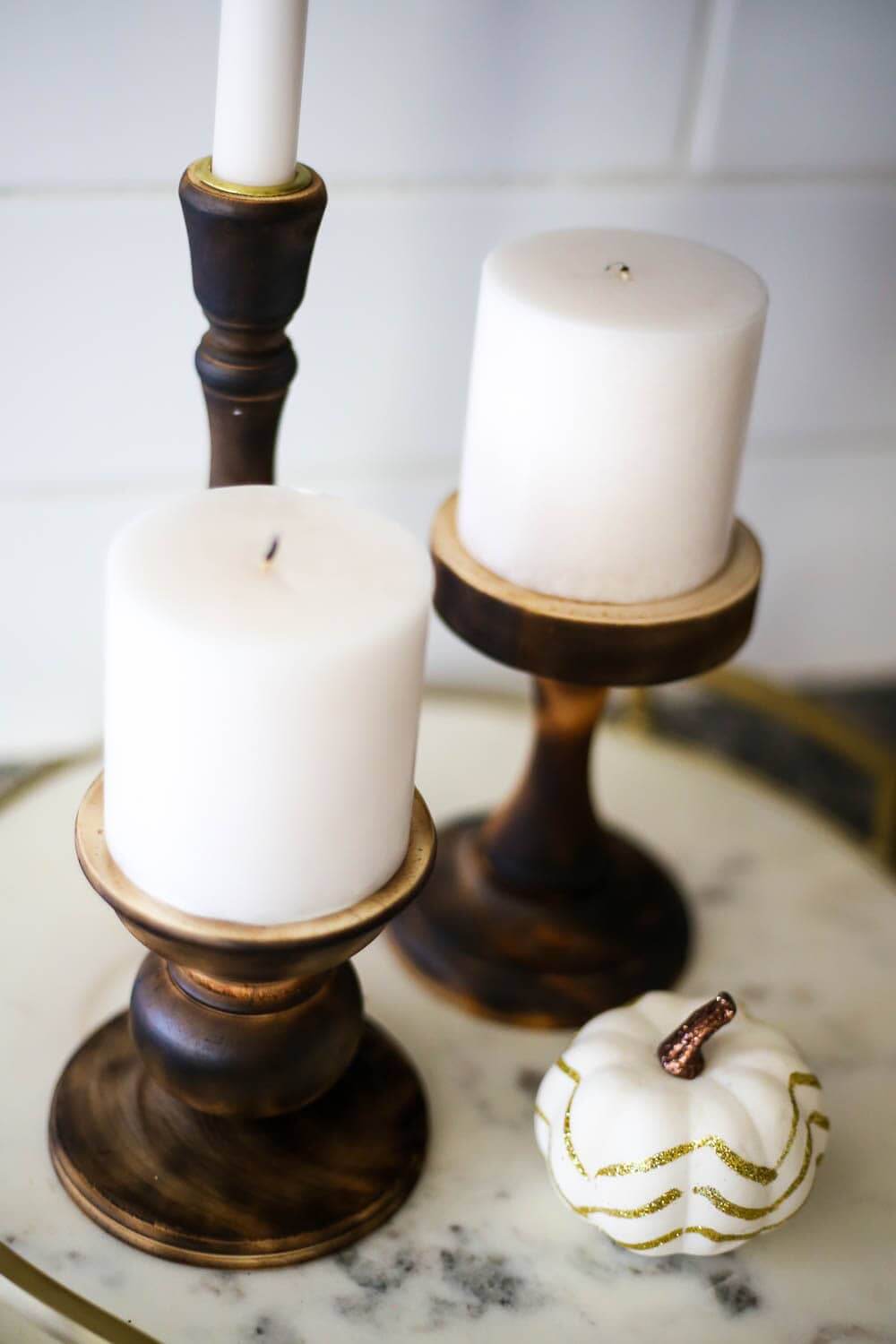 A heat gun can unlock so much potential in your wood projects. By burning wood straight from the craft store, you create charred texture as well as delicious color. With this technique, you do not have to muck around with stains. Best of all, you can use it on any candle holder shape. By adjusting your heat gun temperature and the amount of time you spend on an area, you can control the color and texture. For maximum contrast, use a pale candle like the ones shown in this image. To create a moody atmosphere, consider a deep red candle.
20. Sturdy Wooden Pillars for Oversize Candles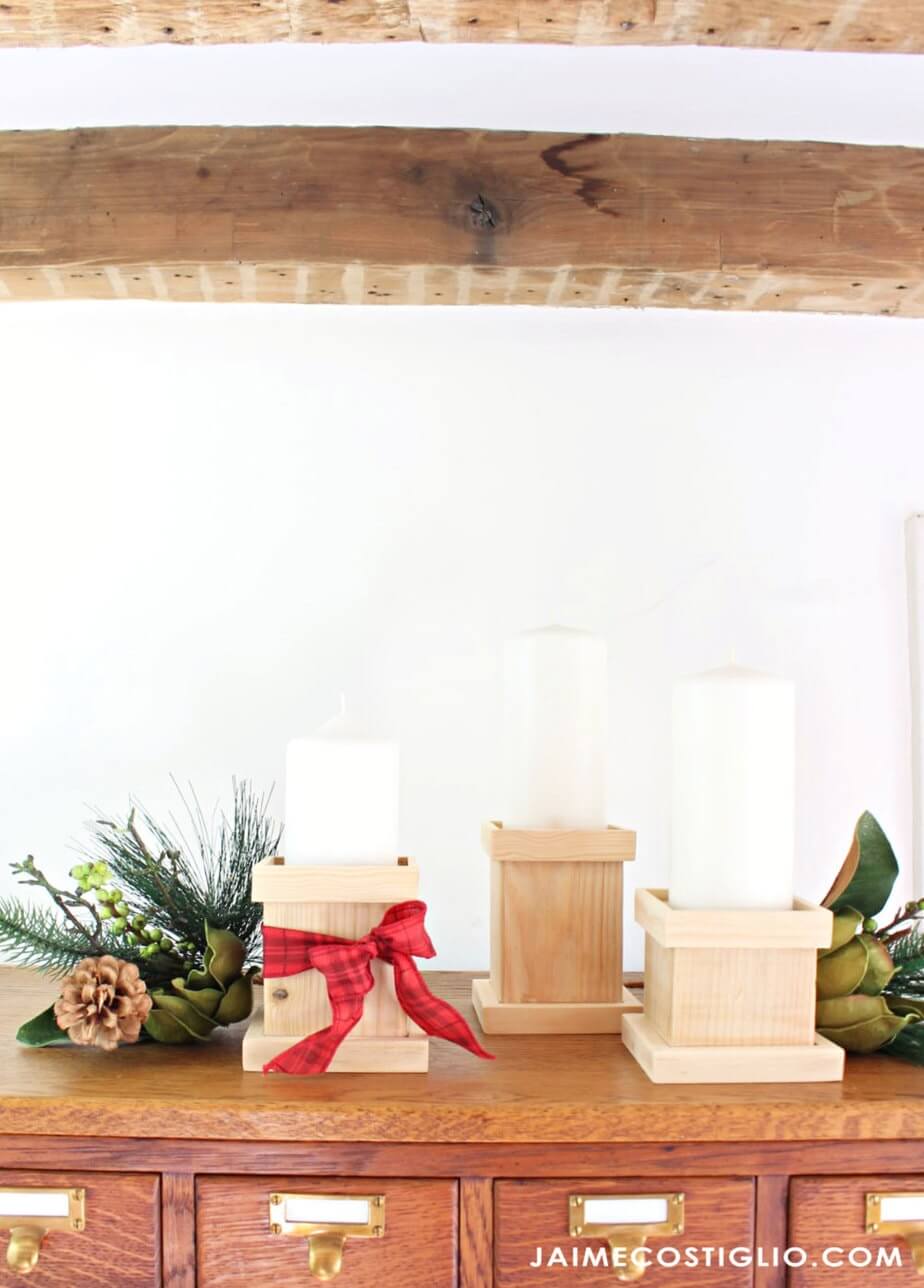 When sifting through the best DIY wood candle holder ideas, it can be challenging to find candle holders that can support big candles. These handmade wooden candle holders are the perfect home for even the largest candles. With the solid design and inset platform, you do not have to worry about top-heavy candles falling. If you make multiples, you can use one to display a candle, and the others to showcase seasonal decor. To draw attention to the wood's natural beauty, leave it unfinished. Another approach that would yield gorgeous results would be to apply your favorite paint or stain.
21. Curtain Ring and Sphere Wooden Candle Holder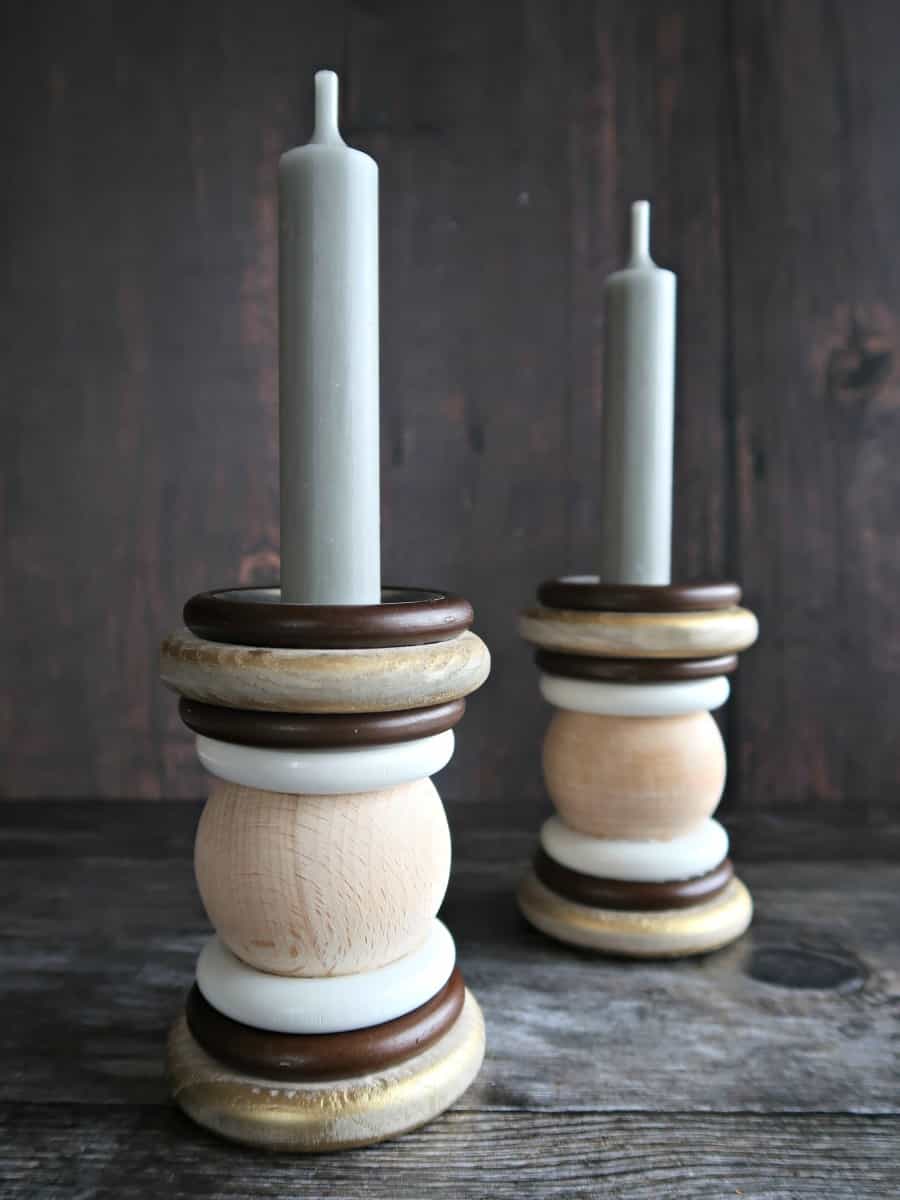 Who knew that playing with geometry could be so much fun? Experiment with the curtain rings' existing finishes and natural wood to create an eye-catching handmade wooden candle holder as shown in this image. For a candle holder that settles into the background ambiance, consider painting it once assembled. Regardless of the finish, the true genius is outfitting the candle holder with a candle kit. This makes the whole operation safe. Even if you do not have a box with hundreds of old curtain rings, you can use this idea as a springboard – nearly anything can make a unique candle holder.
22. Tall Table Leg Candle Holders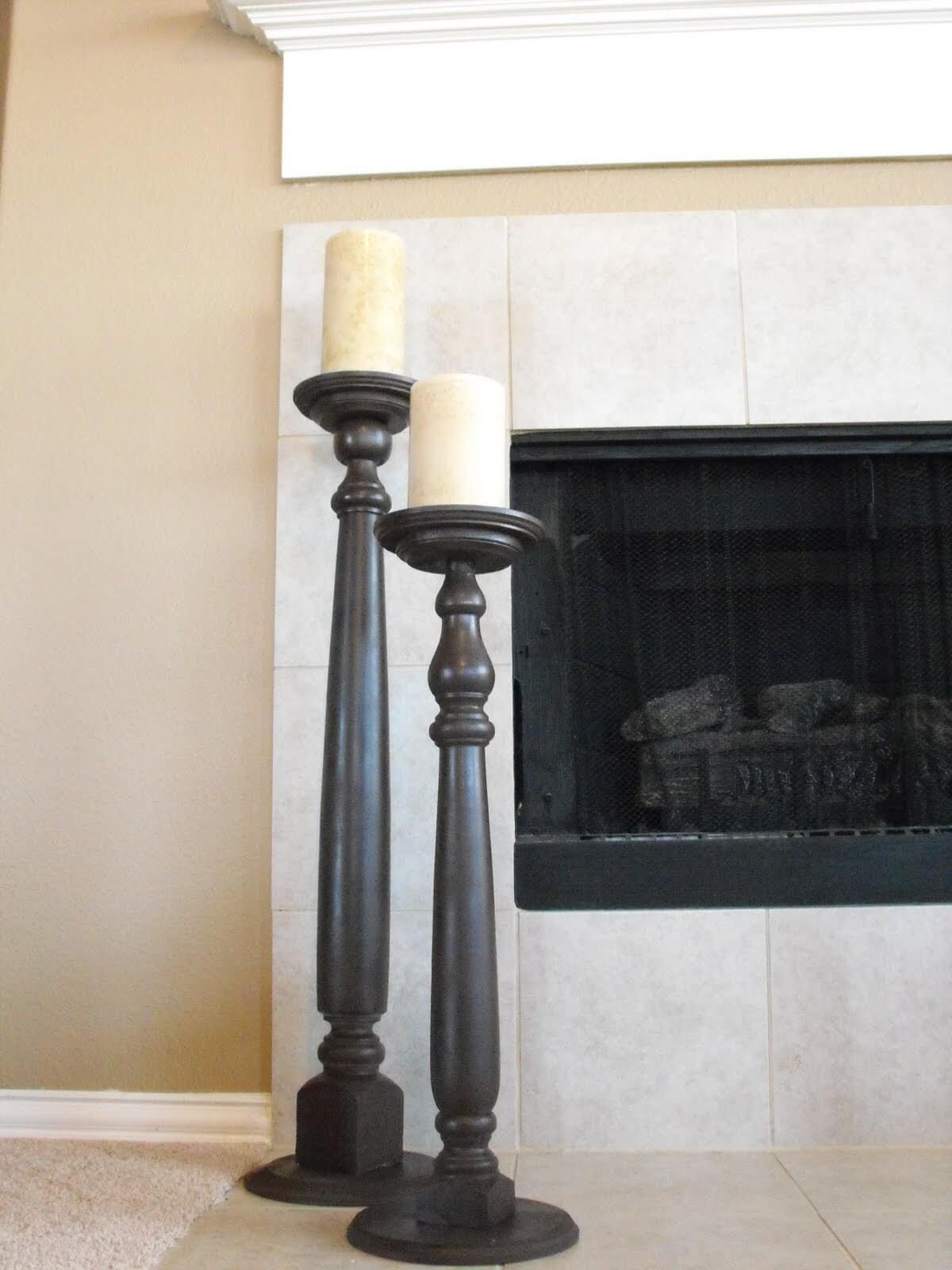 To give your space a refined finish, make a few of these extra tall candle holders. Paint them black like this image for candle holders that will fit in any room. However, any paint color or finish will look amazing with your décor. For a rustic look, try distressing your candle holders to achieve a little more character. Which table legs you pick can change the candle holder's whole feel. To soften your space, choose table legs with lots of curves. To energize, select table legs with lots of straight lines. A mix of curves and straight edges imparts balance.
23. Easy Painted Plant Pot Project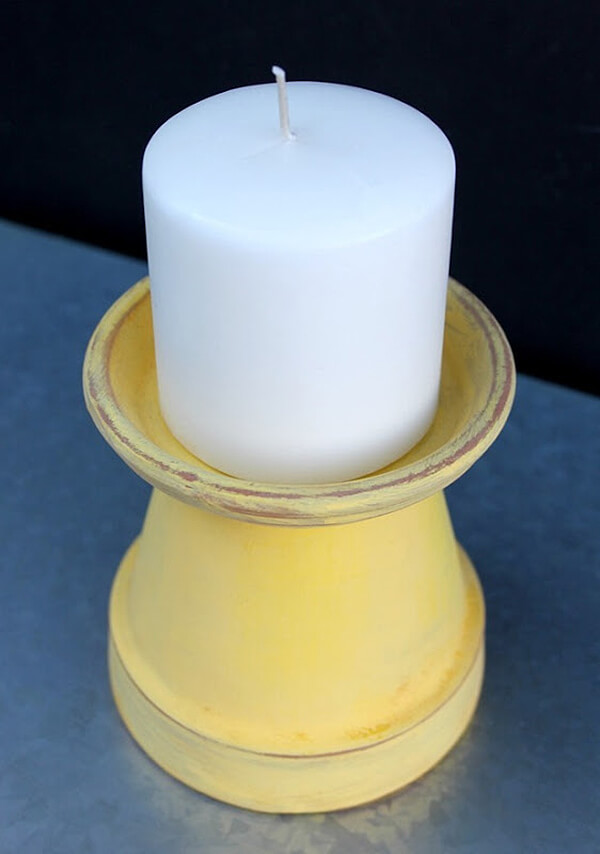 As shown in this tutorial, you can make homemade candle holders out of wood, terracotta, or nearly anything you can find. Sometimes, you just have to turn something upside down to see the potential. When turned over, the pot's lines seem to direct attention upwards to the candle. The wide base means this candle holder is sturdy. The saucer glued on top is the coup de grâce, as it seems designed to cradle a chunky candle. When wooden articles do not possess good candle platforms, try gluing a clay saucer on top. For a sophisticated look, use a porcelain saucer.
24. Elegantly Stained Wood Candle Holder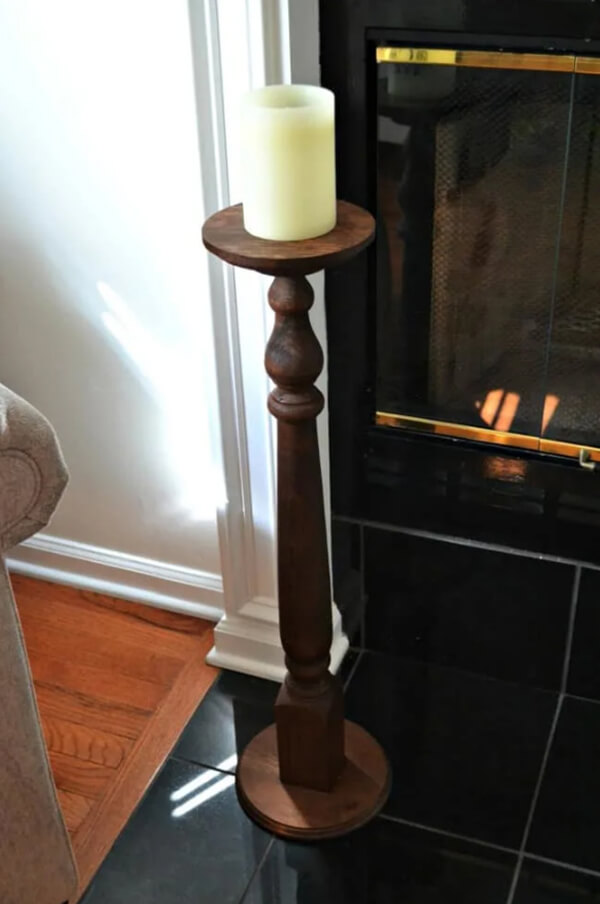 Use this technique to have a freestanding candle holder in only 30 minutes. The matching candle platform and base give it a symmetrical balance. Because the candle platform is so generous, you can display a variety of candles. The wide base means that you do not have to worry about this candle holder becoming a fire hazard. Depending on your mood, you could switch out a candle for a plant, figurine, or other decoration. Stained wood bestows warmth, but, for a cool feel, you could opt for paint. To achieve a Scandinavian effect, skip the stains and seal the wood.
25. Circular Silhouettes in a Walnut Candle Holder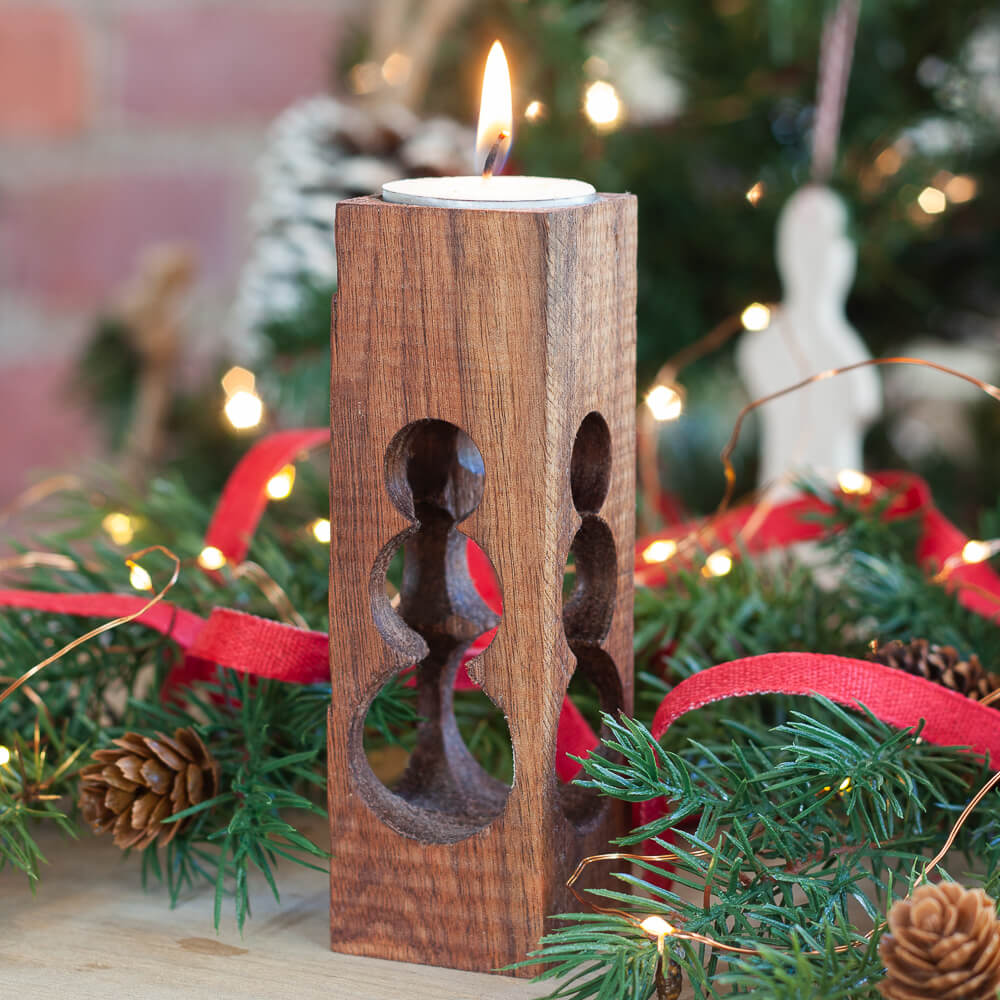 During the holiday season, this candle holder is a snowman. For the rest of the year, it looks like a celebration of geometry. This one is made from a plain section of a table leg, but you could use any square piece of wood. The larger your chunk of wood, the larger candle you can place inside. For a magical effect, coat the inside with glitter or glossy metallic paint. If the snowman is not your style, imagine offsetting circles and blue paint for a coastal candle holder. To give it a more refined look, add a platform to the bottom.
26. Rustic Barn Wood Tea Light Candle Holder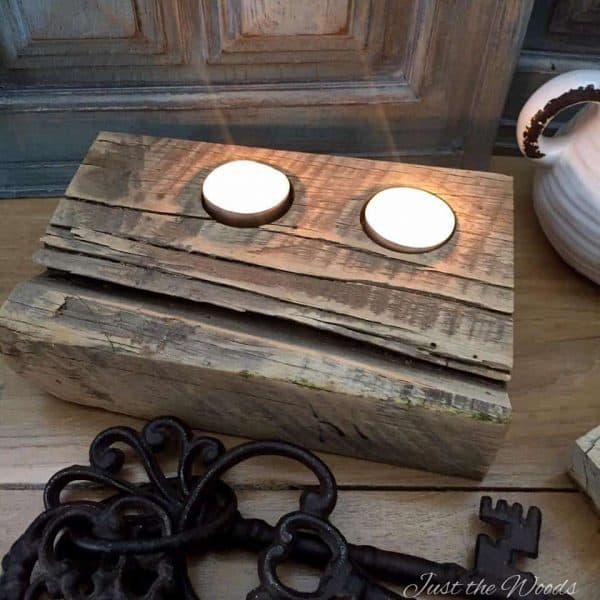 What do you do with scraps of barn wood that just do not fit into any of your other projects? Sand them down so that no one gets splinters, drill a few holes, and plop some candles inside. You do not need to use barn wood – any chunk of wood will work. That is the beauty of this technique: it is a way to incorporate any piece of wood into your space as a functional piece. Leave the bark on one side to emphasize the rustic look. Drill a hole in a painted wood cube for a modern-themed candle holder.
27. Rustic Wood and Horseshoe Wood Candle Shelf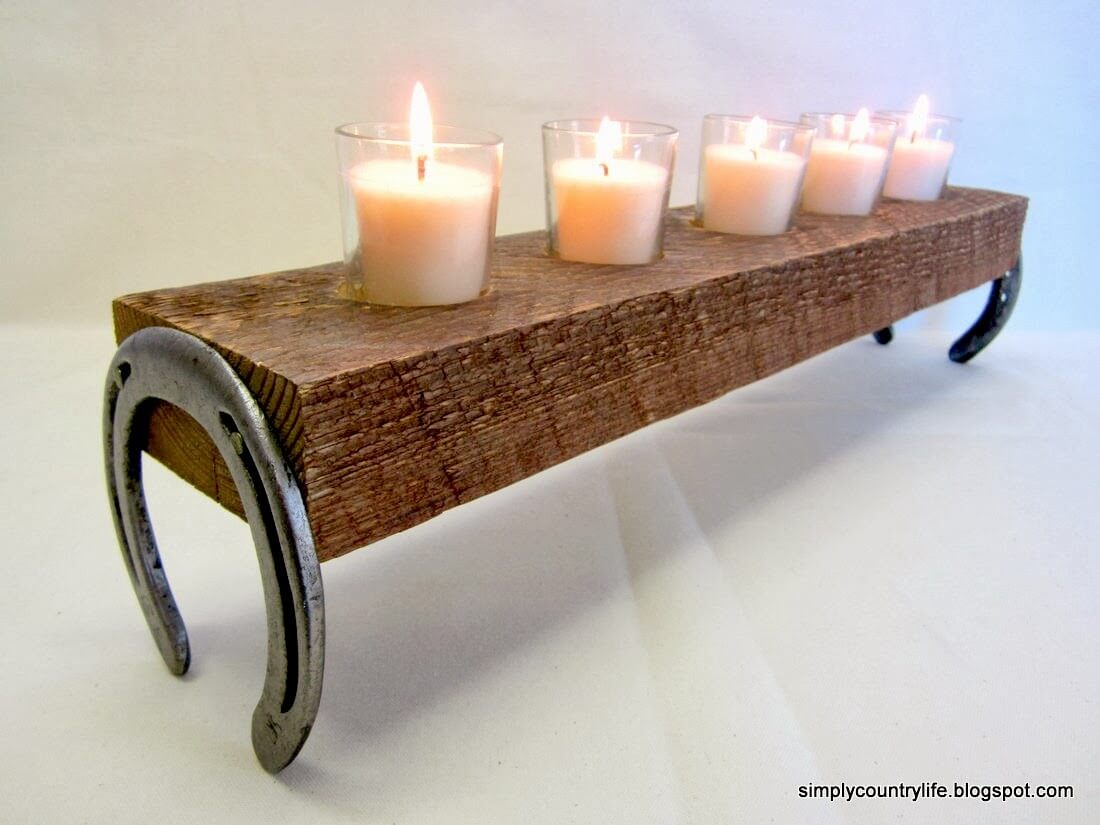 For the ultimate rustic candle holder, look no further than rough-hewn wood and scrap horseshoes. You do not have love horses to fall for this candle holder. If the horseshoes look too precarious for your household, nail them to your hunk of wood such that the horseshoe legs overhang upwards. Alternatively, you could choose a block of wood taller than the horseshoes. Whichever way you attach the horseshoes, this candle holder is a stunning centerpiece. If you enjoy living things, one of the best DIY wood candle holder ideas is to alternate small plants and candles in the drilled cavities.
28. Coastal Skyscraper-Style Candlestick Holder Covered in Shells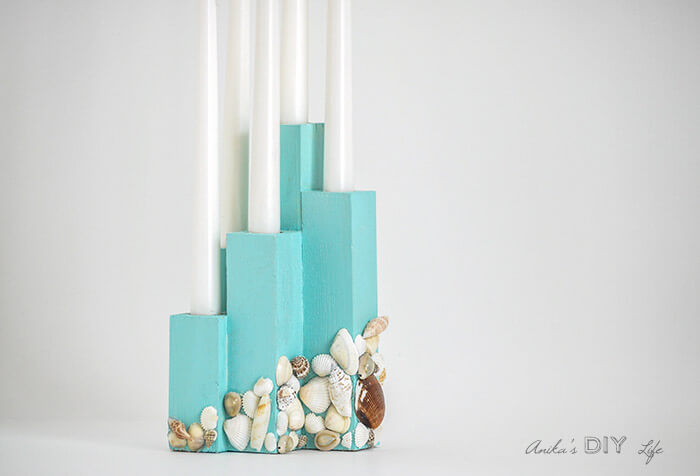 Arranging scrap wood pillars, gluing, and decorating are all it takes to have your own skyscraper-style candle holder. This image shows a seashell-encrusted coastal example, but you could easily use your favorite things to create a unique candle holder perfect for your space. Imagine using a different wood stain on each pillar to achieve a pleasing combination of natural wood. For a primitive effect, you could use antique buttons instead of seashells. Apply old pennies or hex nuts for an industrial vibe. You can achieve a startlingly pleasant minimalist effect by skipping the decorations and letting the wood pillars shine.
29. Medium-Sized Table Leg Candlestick Holders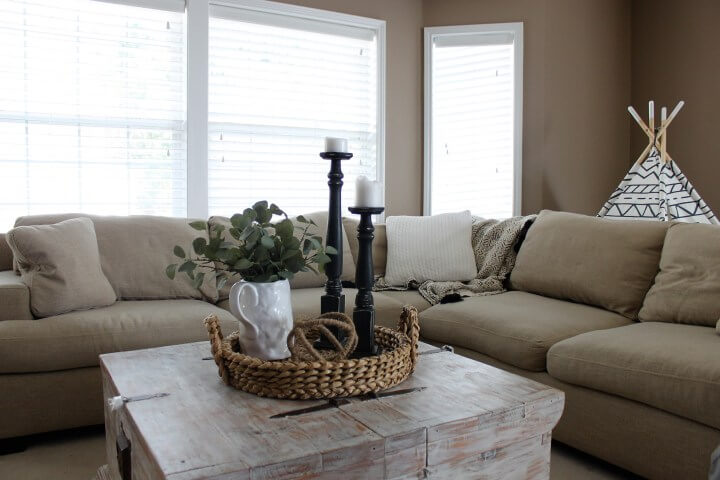 Choosing the right table leg size is one of the most important decisions you face. These are too tall for most dining tables, too small to be freestanding on the floor, but the perfect height to display on a coffee table. Beyond size, you will need to check your table legs for bolts. To use this tutorial, Select table legs that do not have those pre-installed bolts. After adding a craft store plaque to each end, you are ready to apply your finish of choice. To feel more connected with nature, you can experiment with wood stain instead of paint.
29 Ways to Apply the Best DIY Candle Holder Ideas for a Warm and Inviting Feel
The best DIY wood candle holders for your space perfectly balance style, finish, color, size, and safety. Is your candlestick style simple and geometric or playful and ornate? After you have decided on the shape, you get to choose whether to stain, paint, burn, or leave your wooden project in its natural finish.
Then, pick your favorite candle for your new candle holder. Delicate tapers impart sophisticated elegance while chunky candles might be just what your rooms are yearning for. Battery-operated candles deserve some love too, because you can use these without worrying about a fire hazard.
As you begin your wood candle holder journey, be careful because these projects are easy and addictive. Candles are versatile, and you might just make one for every room. With so many possibilities, each candle holder will add its own personality wherever you decide to put it. Beyond your space, wooden candle holders make fantastic housewarming, wedding, and Christmas gifts. Whether you choose to keep or to give away your handmade wooden candle holders, they will add ambiance wherever they go.